If you have 2 days in Siena, you are in for a treat! This stunning Tuscan hill town is a feast for the senses and a Gothic dream.
Siena is famous for its medieval architecture, incredible art, and delicious cuisine. With this 2 day Siena itinerary, you will explore charming streets, visit museums crammed with Renaissance art, climb to breathtaking viewpoints, and visit one of the world's greatest cathedrals.
Siena was at its zenith in the Middle Ages. The city was renowned for its banking and textile industries, and was governed by the Council of Nine.
Sienna was also a major rival to Florence in terms of political, economics, and art. The city was home to some of Europe's most important painters — Duccio, Simone Martini, and Ambrogio Lorenzetti.
In 1555, however, the Medici family of Florence conquered Siena, bringing an end to the city's independence. Despite this defeat, Siena's decline ultimately had a silver lining.
When the city fell into obscurity, it was left largely untouched. This meant that Siena's architecture and landmarks were preserved mostly intact. As a result, Siena remains a beautiful city that transports you back in time to the medieval era.
Overview of 2 Days In Siena Itinerary
Here's a snapshot glance at what you'll see with two days in Siena.
Day 1: Piazza del Campo, Palazzo Pubblico, Siena Cathedral complex, Basilica of San Domenico
Day 2: Wine tour, Siena museums, Santa Maria dei Servi Church, Sanctuary of St. Catherine, Contrada tour, dinner at Tuscan farmhouse
Before You Go: Here's How To Plan Your Visit To Siena
If you're in a hurry, below are some of the top tours, hotels, and experiences for Siena. Don't forget to plan ahead when visiting, especially in high season.
Best Tours & Experiences:
Best Hotels:
2 Days In Siena Itinerary
If you have 2 days to spend in Siena, here is a sample itinerary to help you make the most of your time.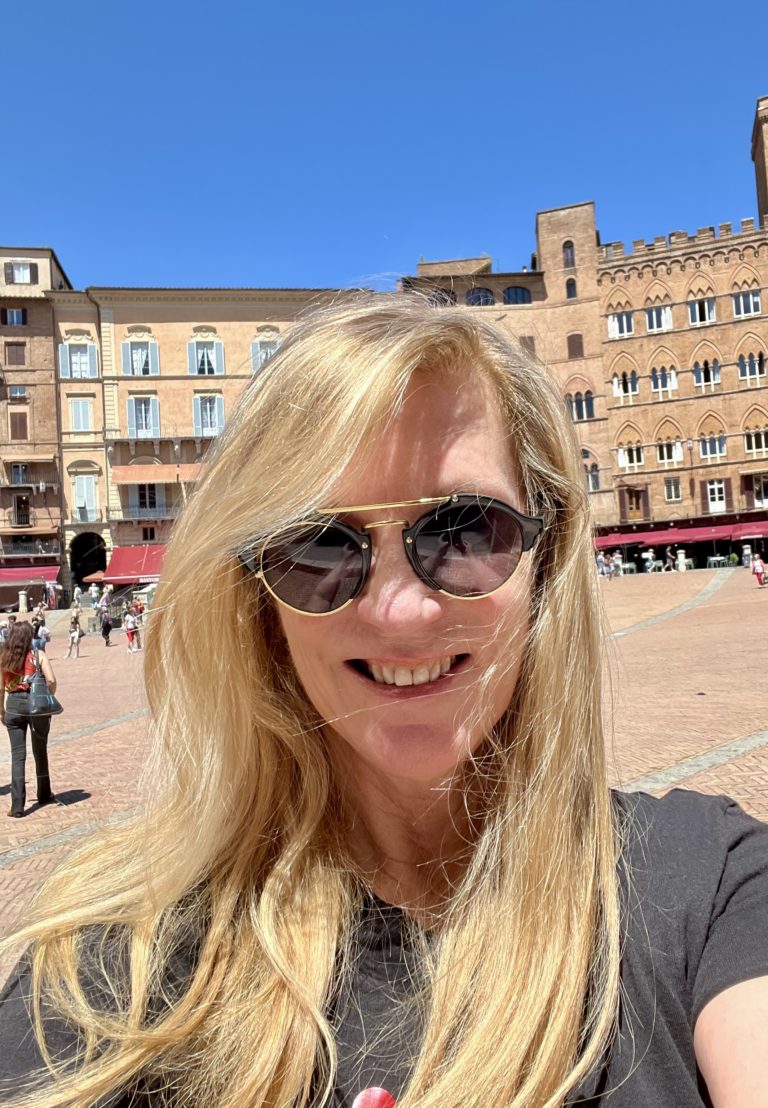 Il Campo
The first stop on your 2 days in Siena itinerary should be the Piazza del Campo, also known as Il Campo. It's one of the most impressive medieval squares in Europe — maybe THE most impressive — and is the heart and soul of Siena.
The square is shell shaped and resembles an amphitheater. It's flanked with beautiful buildings, including the town hall, Palazzo Pubblico.
The paving is arranged in a herringbone pattern and divided into nine sections by stripes of white stone. Those sections recall the Council of Nine.
Take some time to relax. The square is like a stage set and is the perfect place to watch the world go by.
Twice a year, the beautiful pizza is transformed into a racetrack. 50,000 people cram into this space to watch the Palio, the world's most fiercely contested horse race.
It's the single most important event in the life of a Sienese person. Winning or thwarting your rival from doing so, is the single greatest achievement of a lifetime.
Palazzo Pubblico
Next, head inside the Palazzo Pubblico. This stunning palace was built in 1297-1309 for the Council of Nine. It's one of the most important civil structures in Europe. Today, it houses Siena's Civic Museum.
The palace itself is a harmonious example of early Renaissance architecture, and it's perfectly intact. It has a curved brick facade and beautiful trifoliate arched windows.
If you're an art lover, you need to venture inside the museum. There's plenty to explore, but the highlight is the Room of Peace, or "Oval Office," where the Siena council used to meet.
The room features an incredibly important painting cycle called the Allegory of Good and Bad Government by Ambrogio Lorenzetti. It's a charming and vivid narrative composition, spread across two walls.
The secular cycle portrays the consequences of bad government and tyranny — run down homes, assassinations, war. Conversely, it also depicts the benefits of a good government — allegories of the virtues, booming prosperity, farming, and dancing. Happily, the "good government" side is better preserved.
You can also see an important Maesta, or Madonna enthroned, painting by Simone Martini. It was his first major work and the first piece the Council of Nine commissioned for the palace.
Click here to pre-book an entry ticket to the museum.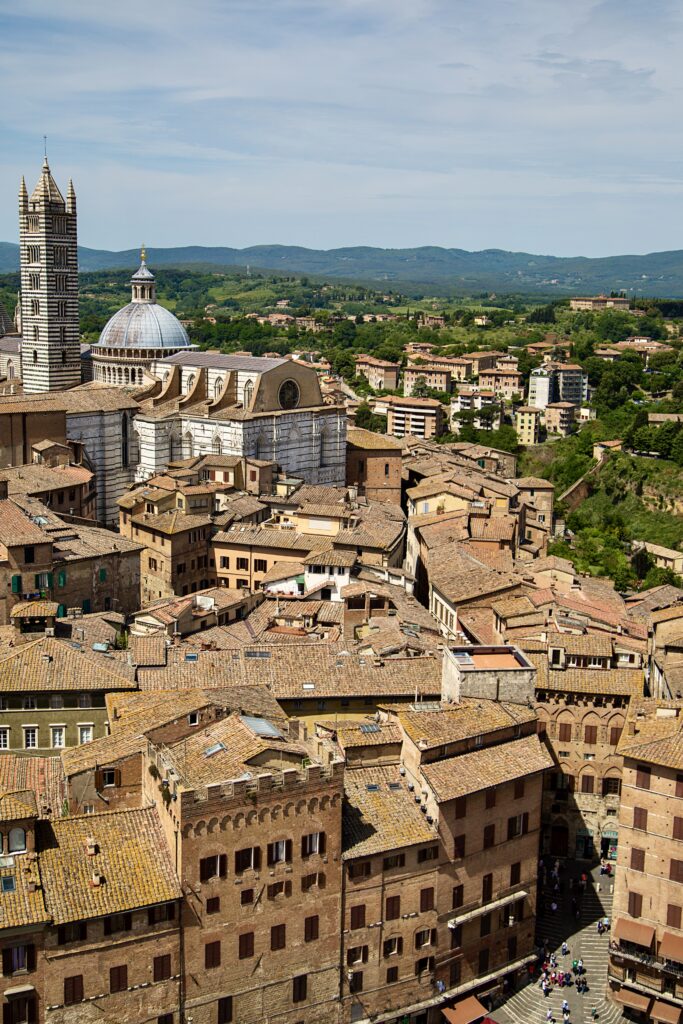 Tower of Mangia
If you're looking for some exercise, the Tower of Mangia might be the challenge you're after. It's 503 steps to the top.
It might not be for everyone. There's no elevator. And the ascent is steep and somewhat claustrophobic. But the views are incredible.
An interesting fact about the tower is that it's the same height as the steeple of Siena Cathedral. It's also a 1:1 ration with Il Campo, which is an aesthetically pleasing architectural device.
After your climb, grab some lunch. I would head into the back streets behind Il Campo, rather than eating on the square itself. You'll find more authentic (and less expensive) food.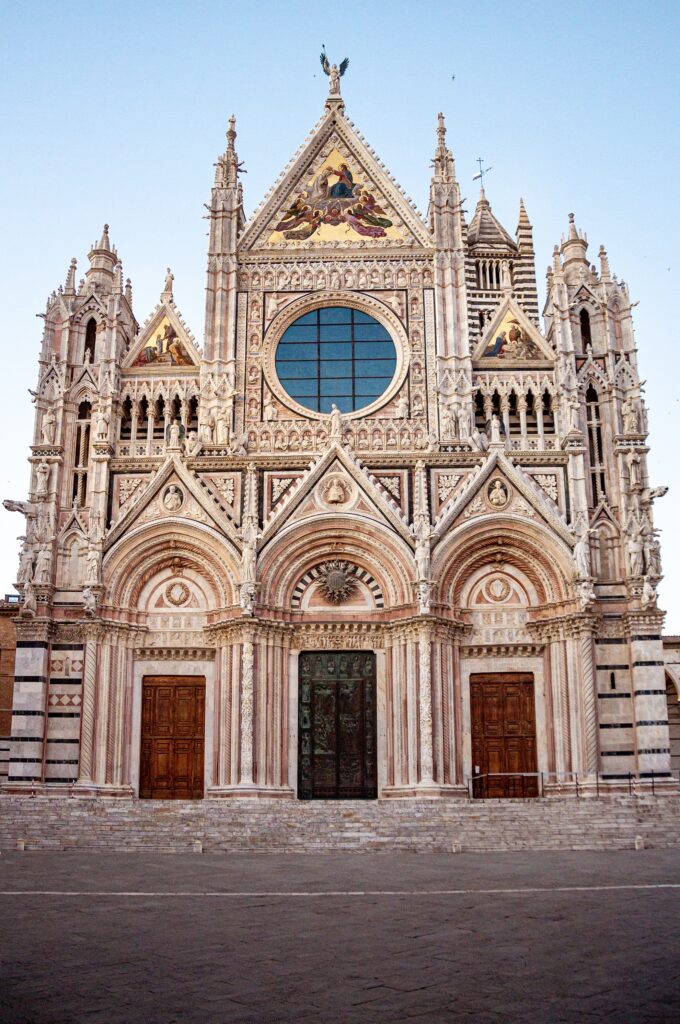 Siena Cathedral
After lunch, your next target is the famous Siena Cathedral, also known as the Duomo. It's the city's #1 attraction and a must visit on any 2 days in Siena itinerary.
Dating from 1266, the cathedral is one of the most striking examples of Gothic architecture in Europe. And Italy is not particularly known for its Gothic architecture.
To experience the entire complex, you will need to purchase the Opa Si Pass in advance. That pass gives you access to the different parts of the complex — the Duomo, the Baptistery, the Piccolomini Library, the Facciatone viewing terrace, and the Duomo Museum.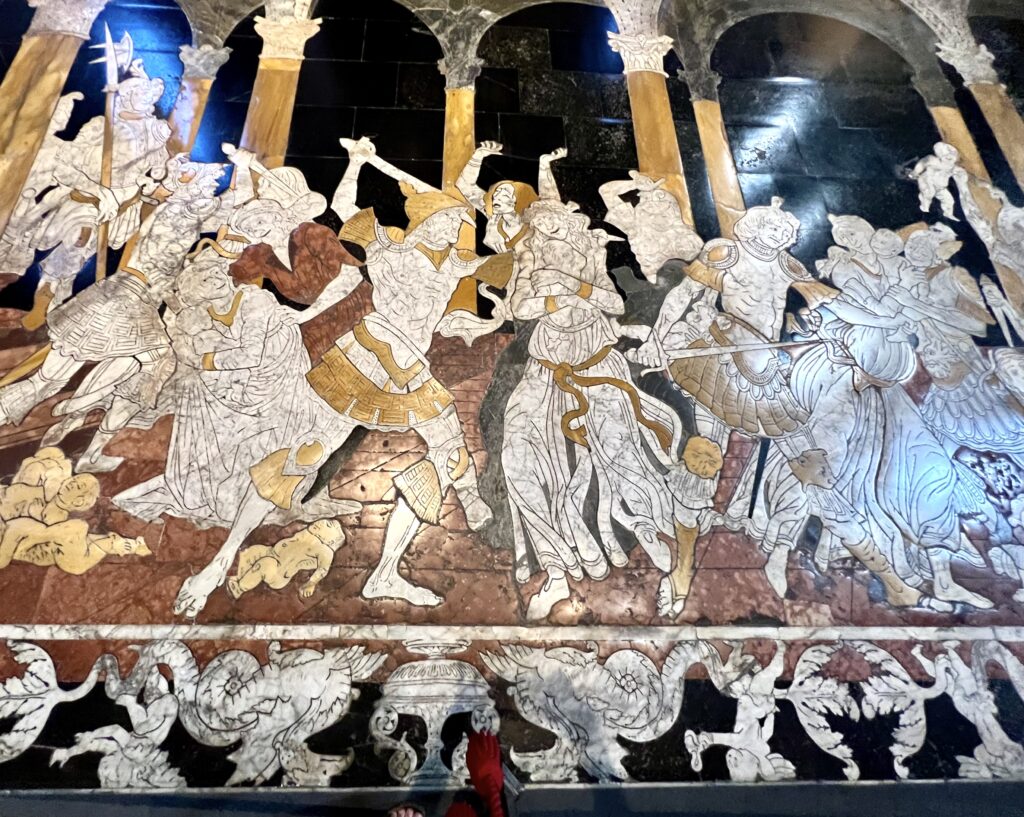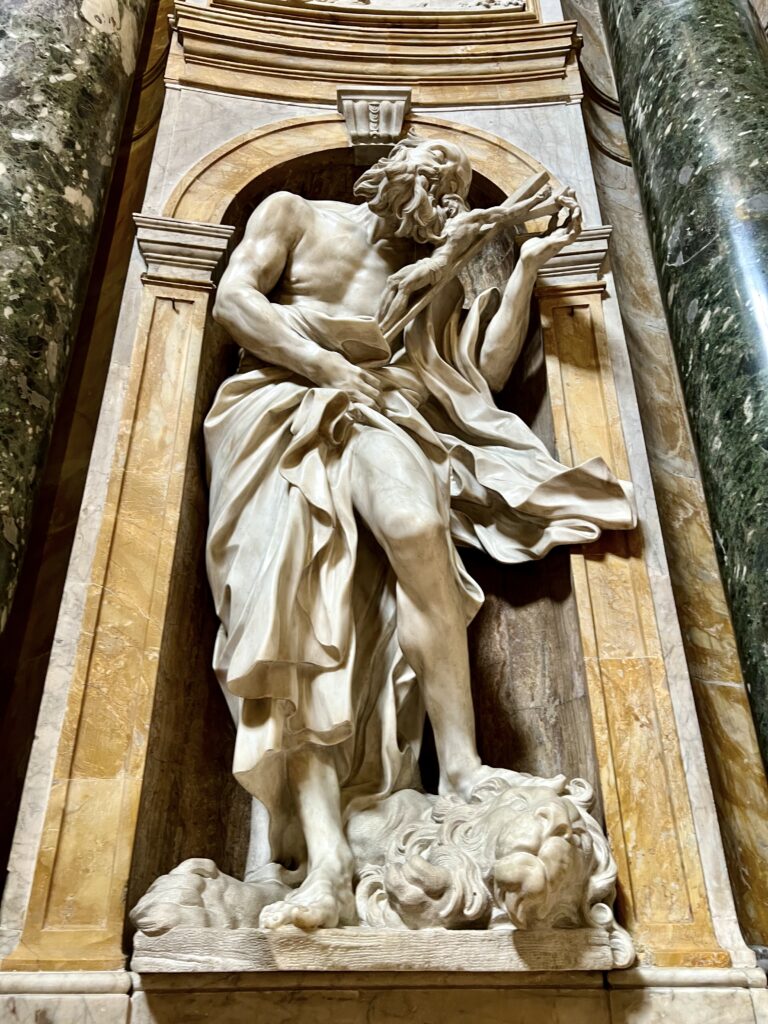 You will likely need 2-3 hours to explore the entire complex.
The facade is a vision of intricate design, polychrome marble, and vibrant colors. The lower portion is made of white and greenish-black marble, which gives it a striped appearance.
There are three elaborate portals with bronze doors depicting bible scenes. The central portal has a relief of The Last Judgment. Above the portals are sculptures of prophets, patriarchs, Christ, and the apostles. At the top is a beautiful rose window.
If you think the facade is over-the-top, wait until you go inside! Every inch of the ceiling, floors, and walls is covered in decoration. In Siena, it seems that more was never enough.
The highlight may be the Piccolomini Library. The fresco-studded library is akin to visiting the Sistine Chapel in the Vatican Museums. The frescos were created by the great Early Renaissance artist Pinturicchio.
You'll also want to inspect the pulpit carved by Nicolas Pisano, which is made of marble and granite. It's considered a masterpiece of Gothic sculpture and is the oldest object in the cathedral.
When you're done inside, take a spin through the Baptistery. It's found, not in front of the cathedral as is more typical, but in the back. It has the effect of elongating the church.
The Baptismal Font is a gem. It was a collaboration among many artistic luminaries, including Ghiberti, Diovani di Turino, Donatello, and Jacopo della Quercia. The most beautiful panel is the Feast of Herod by Donatello.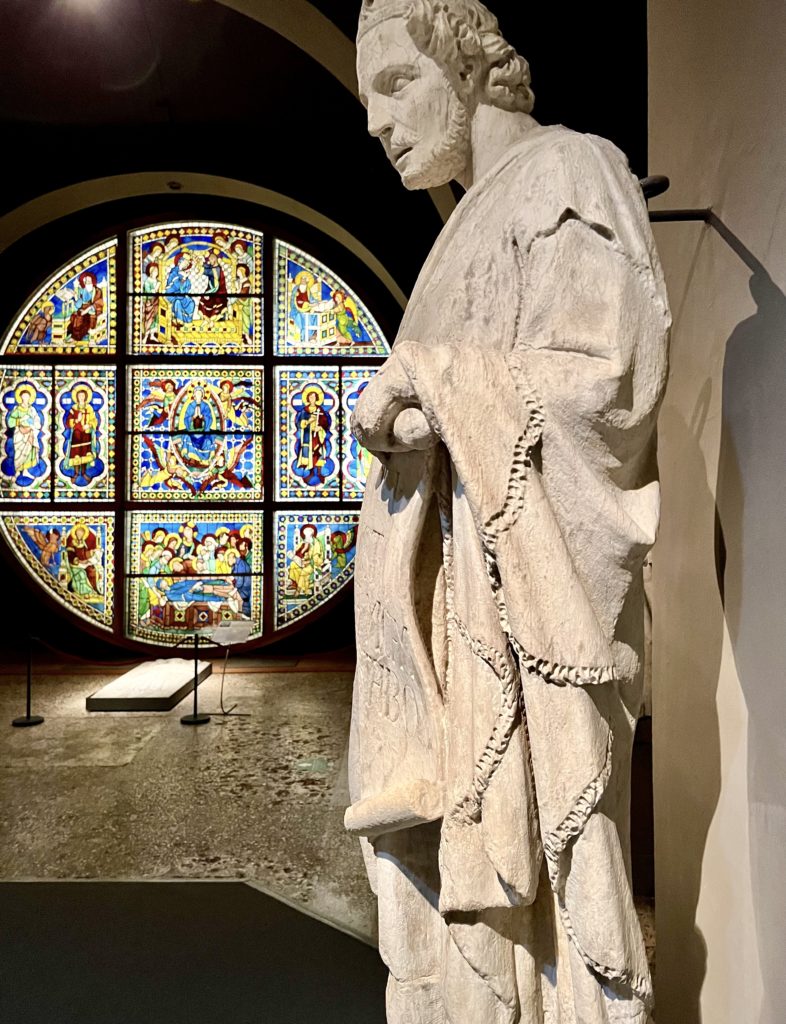 The Museo dell'Opera is also a must visit. It's home to the most famous painting in Sienna – Duccio's Maesta. There are 26 scenes depicting the passion of Jesus.
It was once the high altar piece of Siena Cathedral. It's a wooden panel that is 7 feet tall and 14 feet wide. Mama Mia, it's enormous! Some historians speculate that the painting actually served as the cathedral's rood screen, separating the clergy and the laity.
You'll see sculptures by Pisano, Donatello, and Bernini, along with a gorgeous rose window. The museum is also where you'll find the Facciatone viewing platform. I think it provides an even better view than the Tower of Mangia in Il Campo.
For more information, you can check out my detailed guide to the Siena Cathedral complex. Click here to pre-book a skip the line ticket for the cathedral. Click here for an amazing private guided tour of the cathedral complex.
Old Town Stroll
In the later afternoon, take a leisurely stroll through the picturesque streets of Siena's UNESCO-listed medieval center, including the charming Via di Citta and Via dei Rossi.
Walking through these dreamy streets is like stepping back in time. The narrow back streets are quaint, colorful, and picture-perfect. Flowers spill from balconies and there's beauty everywhere you turn.
As you explore, you'll notice that some of the streets are lined with flags of the Contrade, Siena's neighborhoods.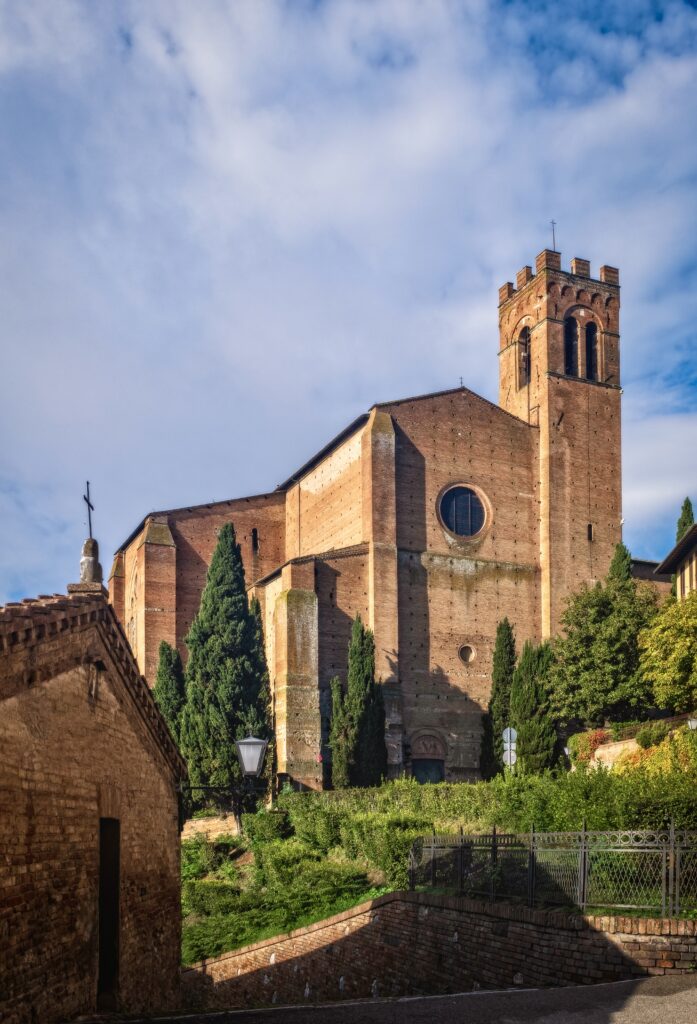 Basilica of San Domenico
In the early evening, watch the sunset over Siena from the stunning panoramic viewpoint at the Basilica of San Domenico.
The basilica is celebrated for both its scale and because it houses Siena's most important religious relic — the disembodied head of Catherine of Siena, a 14th century mystic. It's stored in a tabernacle on the high altar.
The church has a severe Gothic facade designed by Giovani Pisano and was completed in the 14th century. The facade features sculptures and carvings from the life of St. Dominic.
Inside the basilica, you will find a cavernous nave, lined with frescos by Sienese artists including Lorenzetti and Martini. You can also explore chapels and, of course, the high altar.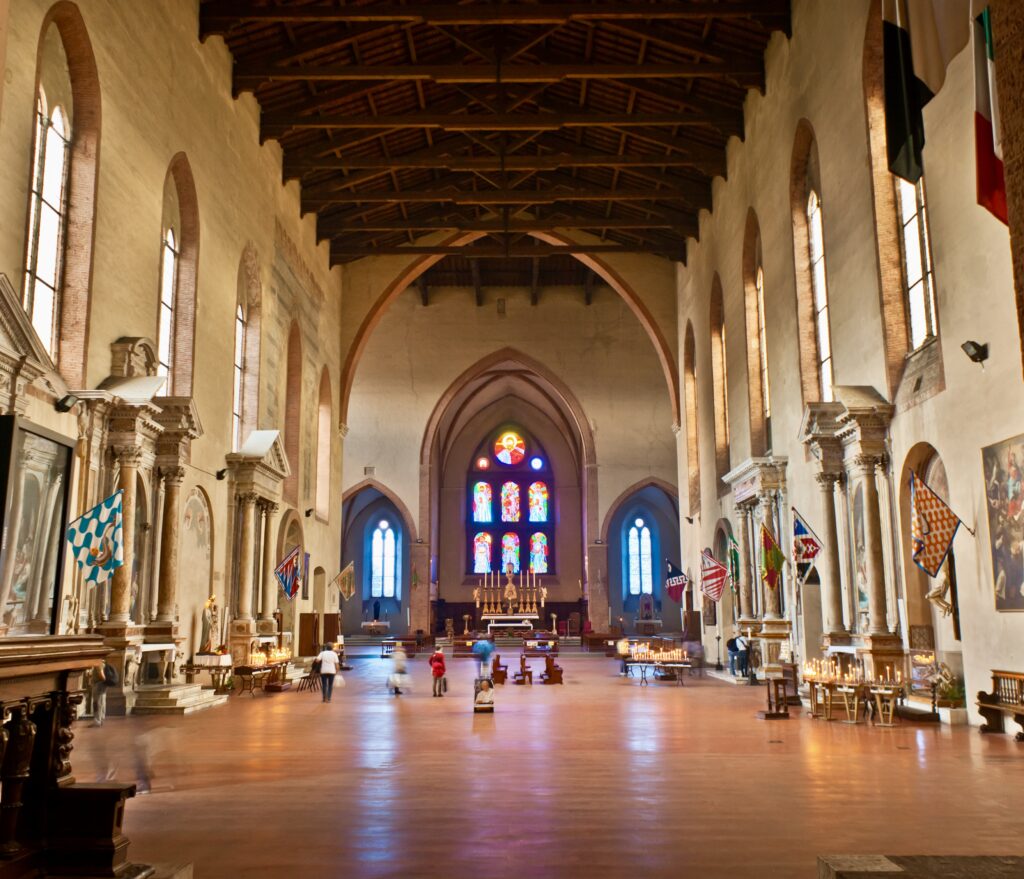 The pretty Chapel of Caterina is decorated with frescos and marble sculptures, including two masterpieces by Il Sodoma. It also contains another relic of the saint, a finger.
Finish day 1 of 2 days in Siena with dinner at one of Siena's many restaurants.
I can personally recommend:
La Campagnia dei Vinattieri (Italian food and a great wine cellar)
Osteria Il Rialto (cozy seafood spot)
Ristorante Guido (a great tagliolini and wine list)
Enoteca Ristorante Tre Cristi (fine dining amid Renaissance architecture)
Wine Tasting
In the morning of your second day in Siena, explore the nearby Chianti region. It's a beautiful area famous for its wine and picturesque countryside.
Visit a winery for a tour and tasting, and enjoy the breathtaking scenery of the Tuscan hills.
You can also book a 3 hour guided tour of the vineyards around Siena or go on a guided wine tasting tour to the beautiful towns of Pienza and Montepulciano in the Val d'Orcia.
Upon your return, you can explore some of Siena's lesser-known attractions. For example, there are two more museums that are definitely well worth a visit for Renaissance aficionados — the Santa Maria della Scala Museum and the National Picture Gallery.
Museums
Santa Maria della Scala is a stunning building with mullioned windows and a gorgeous Renaissance wooden ceiling.
It was originally built in the 13th century and was one of the oldest hospitals in Europe. Today, the hospital has been transformed into a rather large museum, situated next to the Duomo.
The complex includes a number of buildings and courtyards, some dating back to the 13th century.
The Pilgrim's Hall has a fresco cycle by Domenico di Bartolo. You can also marvel at frescos and paintings by Simon Martini, Ambrogio and Pietro Lorenzetti, and Sebastiano Conca.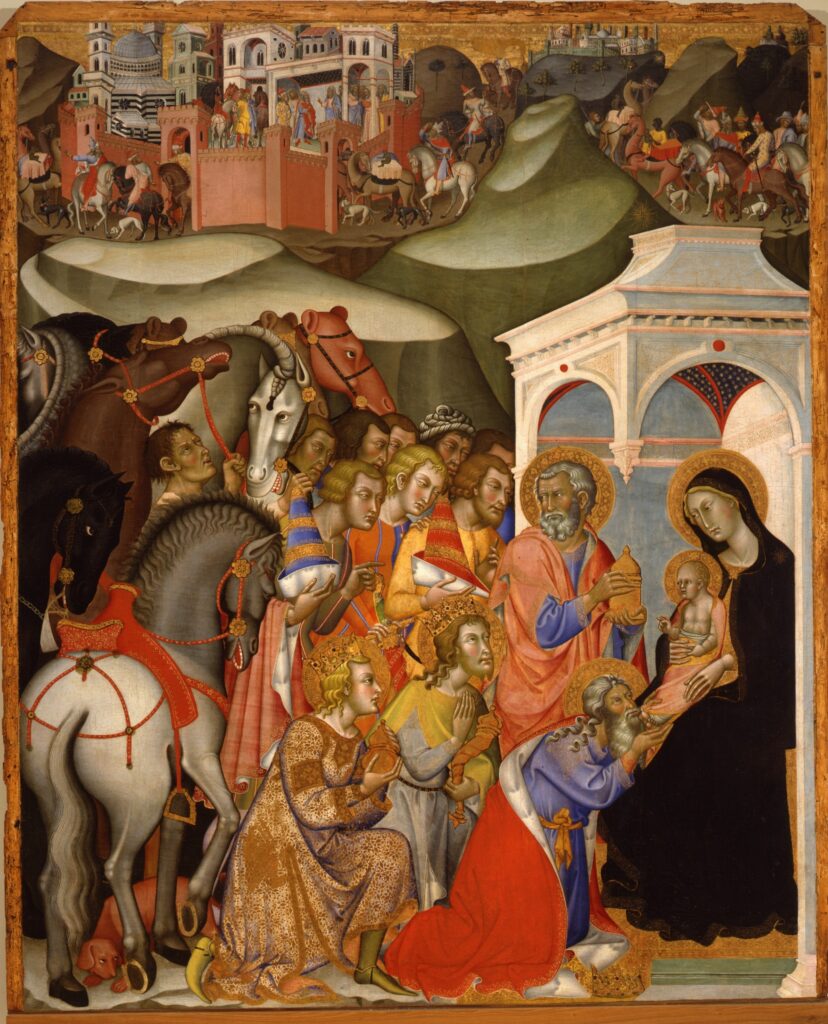 The National Picture Gallery is undoubtedly Siena's best museum, housed in a stunning Gothic building.
Spread out over 30 rooms, the museum houses a large collection of pieces by Sienese artists from the 12th to 16th centuries. You'll see a lot of madonna con bambinos.
What really sets the museum apart are its Early Renaissance works. Some of the most brilliant paintings are Duccio's Madonna of the Franciscans, Fredi's Adoration of the Magi, and Federico Zuccari's Portrait of Queen Elizabeth I.
Contrada Tour
Another fantastic activity to consider while spending 2 days in Siena is taking a tour of one of its contrade. For context, a contrada is essentially a neighborhood within Siena.
During my last visit, I was fortunate to have a personal tour of the Caterpillar Contrada with a member named Dario. The experience was absolutely fascinating. I gained insight into the nature of these unique communities and how significant the Palio is to them.
It was a rare glimpse into the underpinnings of a society that dates back to the Middle Ages. This was hands down the most interesting thing I did in Siena. (Well, maybe after the cathedral.)
You can enter a contrada and learn all about the Palio on this 3 hour Palio-themed walking tour.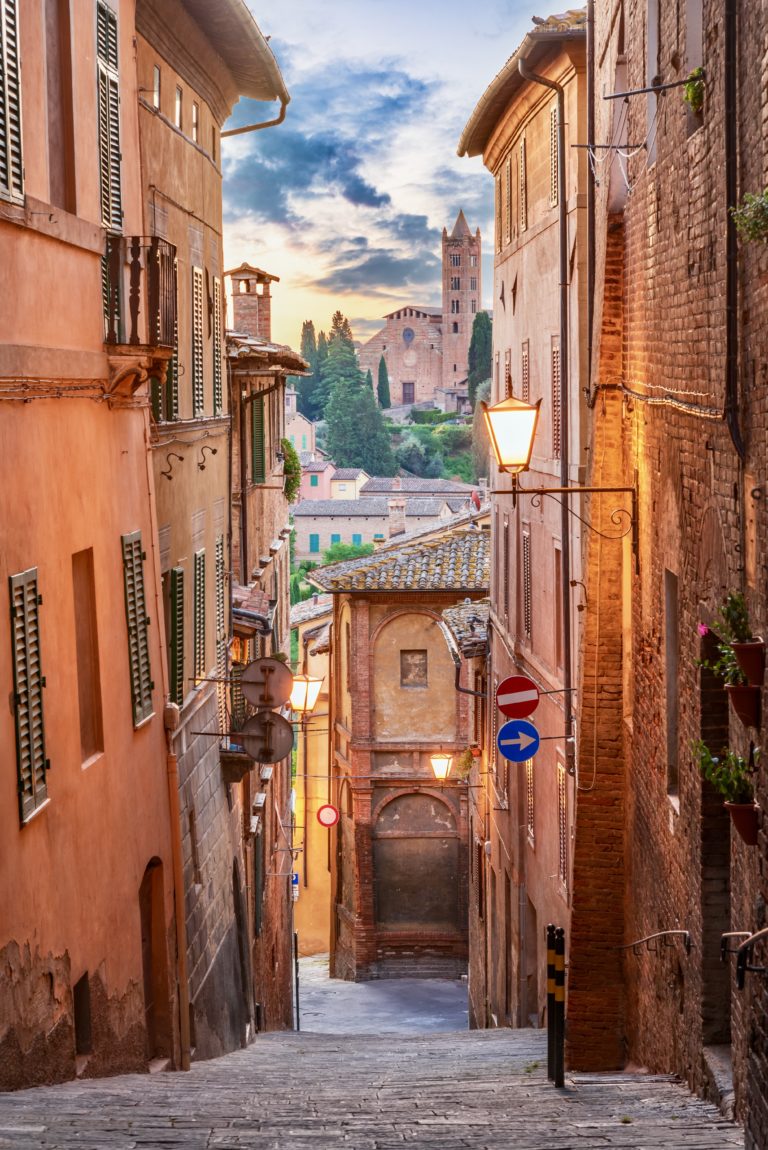 Santa Maria dei Servi Church
You could also opt to take a walk out to Santa Maria dei Servi Church. It's just outside the city walls in the northwestern part of the city.
Honestly, it's worth the hike just for the views of the surrounding Tuscan countryside.
The church has a Gothic-style facade with intricate decorations and sculptures. Inside is a notable collection of art work. You'll find pieces by Bartolo di Fredi and Taddeo di Bartolo.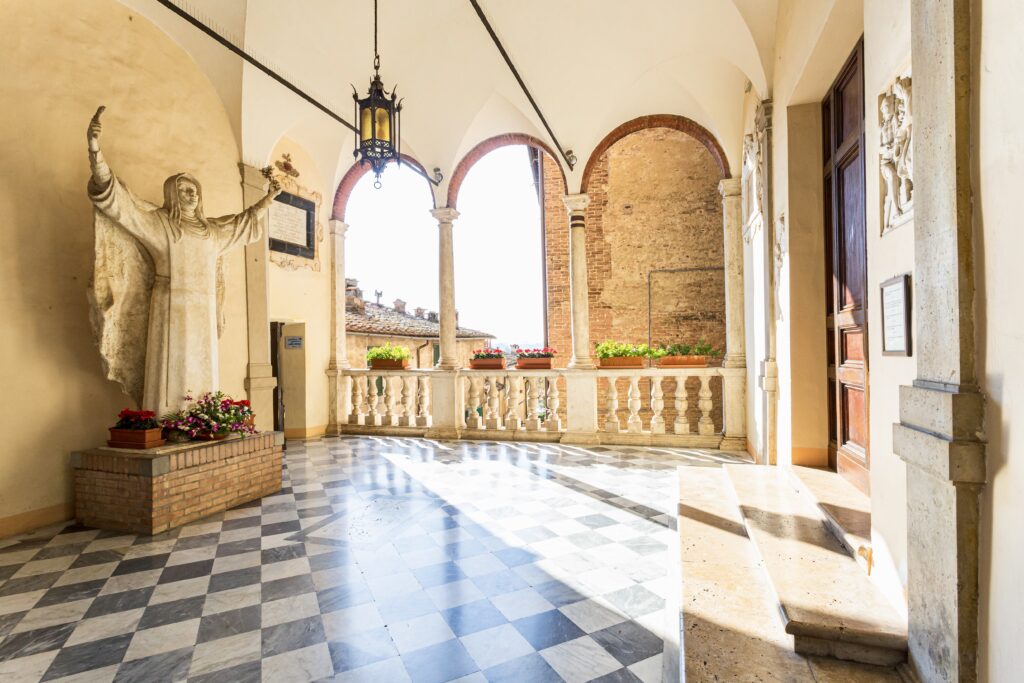 Santuario di Santa Caterina
Another alternative is to visit the Sanctuary of St. Catherine, Siena's patron saint. It's an important pilgrimage site in Siena.
The complex consists of four main buildings built over the house where Saint Catherine was born and lived in the 14th century.
The small Baroque-style Church of the Crucifix dates back to the 17th century. It holds the crucifix that purportedly gave Catherine her stigmata.
The Oratorio della Cucina was the family's former kitchen, which is decorated with frescos.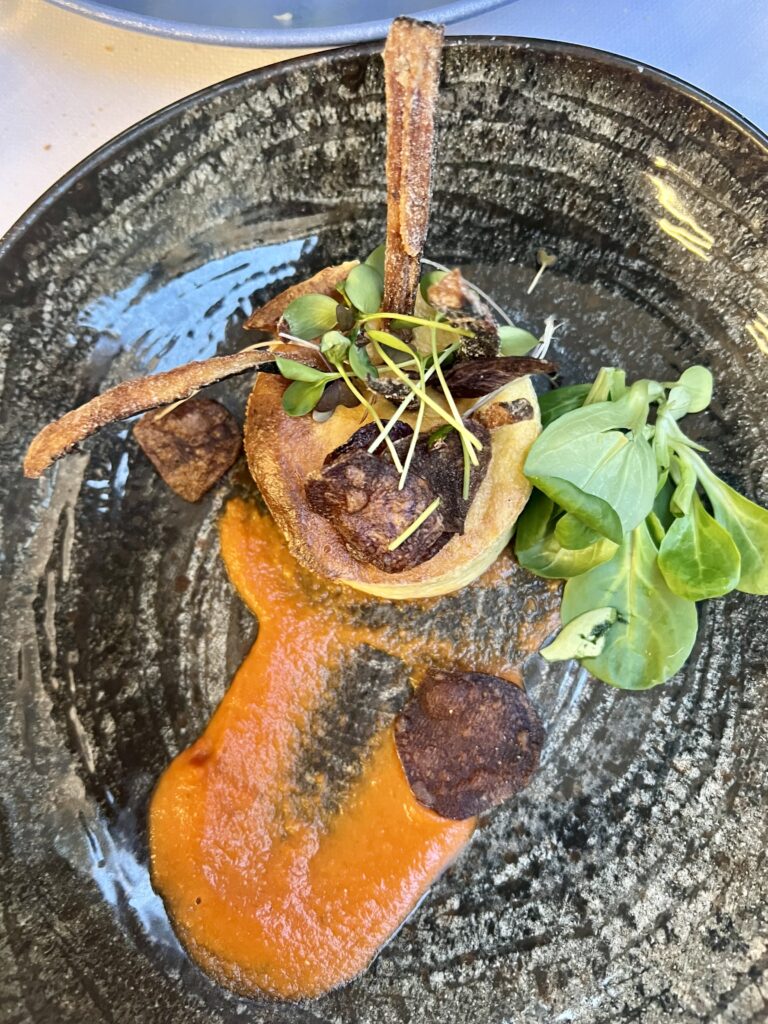 Evening
Polish off your 2 days in Siena itinerary with a traditional Tuscan dinner, complete with local specialties and wine, at one of the many excellent restaurants in Siena.
Some Sienese specialties include pasta with truffles, ribollita (hearty soup), pici (thick pasta with wild boar), gnudi (dumpling with ricotta), panforte (sweet cakes), and cantuccini (almond biscuits).
You could also opt for dinner at a Tuscan farmhouse under fairy lights or take a sunset tour to San Gimignano.
You can also book a nighttime walking tour of Siena, which would be nice without all the daytime crowds.
Tips For Spending 2 Days In Siena
1. How To Get To Siena
By Car:
If you've got a car, it's easy to drive to Siena. Siena is a little over an hour from Florence. It's 45 minute drive from San Gimignano.
Siena is surrounded by city walls with big gates. But there are plenty of car parks outside.
You can't drive into the city center. But there are parking lots close to it. You can leave your car at your hotel or park for free at the train station. You can also park for free by the fortress.
By Train
You can also get to Siena by train from Florence's Santa Maria Novella Station. 16 trains leave daily and take between 1:10-1:30.
Click here to check the official website, Trenitalia, for times and fares. If you arrive in Siena by train, you'll be at the bottom of a hill.
You can take a bus into the city center. Or hike up, with escalators to help along the way. When you reach the top, it's just a 5 minute walk to the old town gate.
By Guided Tour:
You can also visit Siena on a day trip from Florence. One popular day trip combines Siena, Pisa, and San Gimignano, giving you big bang for the buck.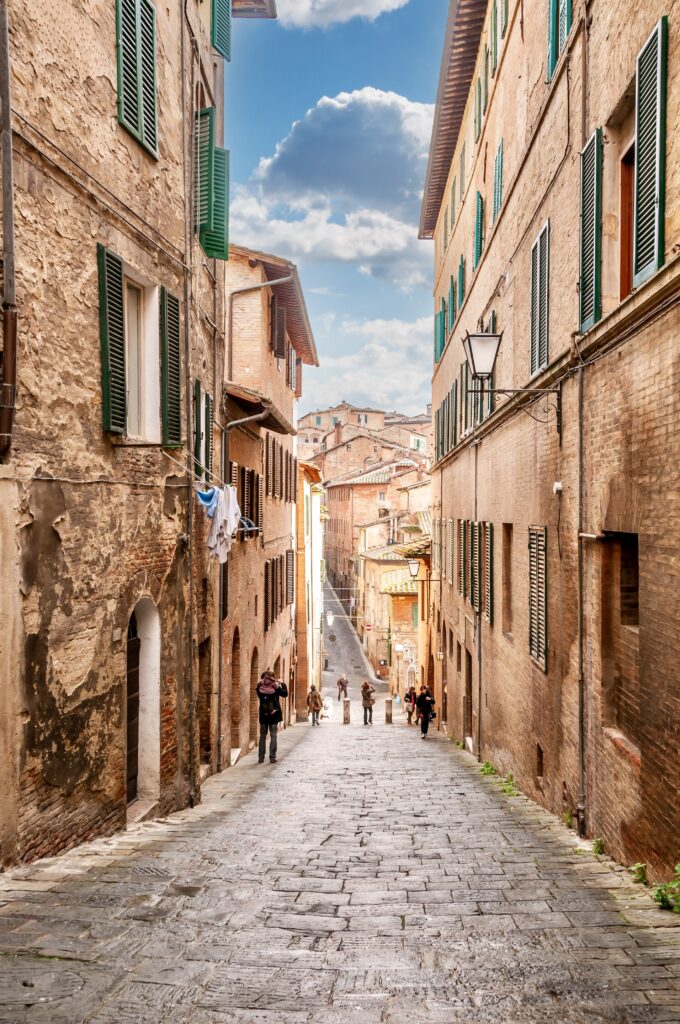 2. How Many Days In Siena?
Are you wondering how many days to stay in Siena? Most people only visit for one day. But I think that can feel a bit rushed.
There are so many sites to see in the city. A 2 days in Siena itinerary means you can explore at a more leisurely pace.
And you can enjoy the city at night when the day trippers have left. This is a magical time to experience the city, with its beautiful architecture illuminated by the soft glow of the fanciful streetlights.
3. Where To Stay in Siena
Siena has some excellent accommodations for a 2-day stay. You can stay in luxe hotels, castles, or palazzos.
You should consider the Grand Hotel Intercontinental (vintage grandeur in a former palazzo), Hotel Certosa di Maggiano (converted 14th century monastery), or the Regio Relais (centrally located hotel in a historic building with a terrace).
You can take a romantic mini-break in the beautiful Palazzo Ravizza, with a garden and panoramic view. Or enjoy a boutique guest house in an unbeatable location, the Il Battistero Siena. The Relais degli Angeli is the epitome of Tuscan elegance.
The last time I was in Siena, I stayed at Borgo San Felice. It's about a half hour away in the hills of Siena. It's a resort situated in the old palazzi of a medieval village. It was stunning!
4. When To Visit Siena
I'd avoid visiting Siena in July and August. This time of year is brutally hot and it's crowded.
Shoulder season, spring and fall, are the best times to visit. October is the best month to visit most of Tuscany, with sunshine-y days, great weather, and cooler nights.
If you don't mind crowds and heat, you should plan a visit — WAY in advance — during the Palio. As I mentioned, the Palio is Siena's centuries old, twice yearly, horse race held in July and August. For everything to know about the race, you can check out my guide to the Palio of Siena.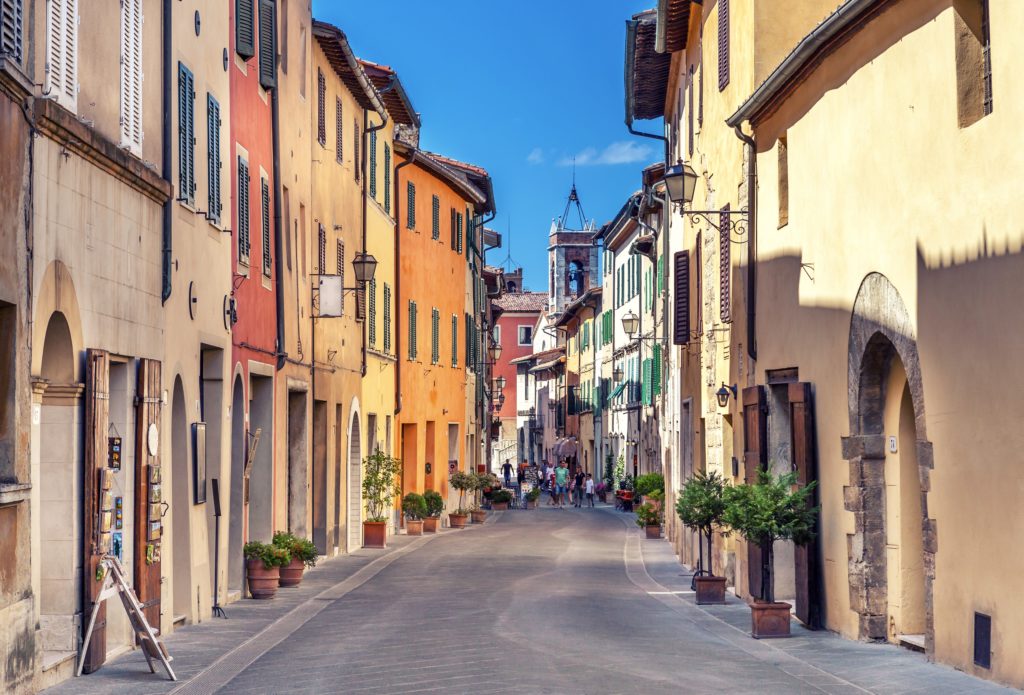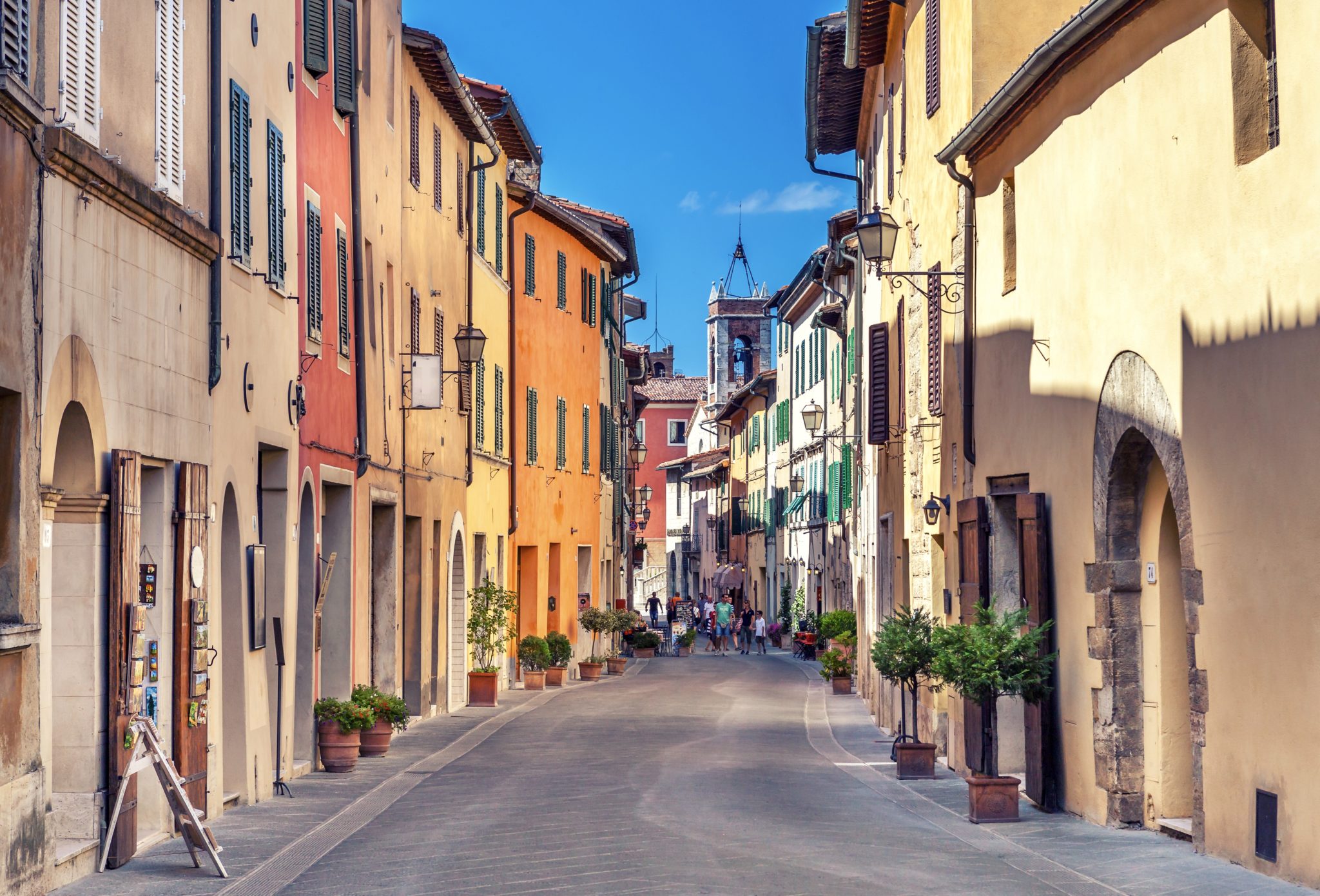 5. Day Trips From Siena
If you have more than 2 days in Siena, there are smashing towns to visit nearby. My picks for the best day trips from Siena are San Gimignano, Lucca, Montepulciano, and Pienza.
They are all adorable towns in Tuscany. You can visit Montepulciano and Pienza in one day if you start early.
Click here for options for guided day trips from Siena. For more ideas in Tuscany, you can also check out my guide to the best day trips from Florence.
I hope you've enjoyed my 2 days in Siena itinerary. You may enjoy these other Tuscany travel guides and resources:
If you need a 2 day guide to Siena, pin it for later.