Mantua is a charming town in the Lombardy region of northern Italy, famous for its art, architecture, and rich cultural heritage. If you're planning to spend just one day in Mantua, this guide has everything you need to make the most of your time.
Mantua is a small town with big art, perfect for art lovers and history buffs. Yet, Mantua remains one of Europe's best-kept secrets. It's like a mini-Florence but without the constant tourist siege.
The town is known locally as a "sleeping beauty" that hasn't changed since the Middle Ages. Aldous Huxley even called it "the most romantic city in the world."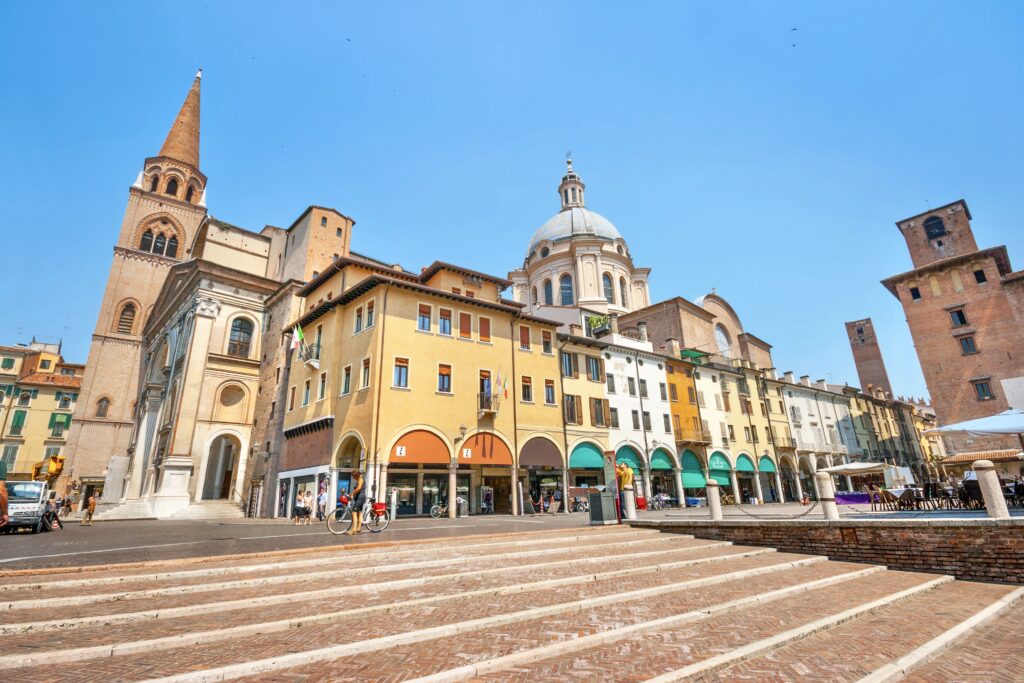 In 2008, the entire historic center became a designated UNESCO site. In 2016, the town was named the European Capital of Culture. And in 2017, Mantua was listed as the European Capital of Gastronomy, offering specialties such as pumpkin ravioli and donkey stew.
Mantua is easily accessible as a day trip from Milan, Venice, Bologna, or Verona. It's a perfect place to stop for a day or two on a road trip from Venice to Milan.
Mantua's compact center is surrounded by three lakes and boasts a dramatic water-reflecting cityscape of spires, domes, and towers. The town's arcaded streets, cobbled lanes, pretty squares, and graceful buildings make it perfect for strolling.
Overview Of One Day In Mantua Itinerary
Here's a quick snapshot glance of what you can see with one day in Mantua
Piazza Sordello
Ducal Palace
St. Peter's Cathedral
Basilica of Sant'Andrea
Palazzo Te
Church of San Sebastiano
Rotonda di San Lorenzo
Palazzo San Sebastiano
Teatro Bibiena
If you're in a hurry, below are some of the top tours and experiences for Mantua. Don't forget to plan ahead when visiting, especially in high season!
One Day In Mantua Itinerary
Start your day at the Piazza Sordello, the central square of Mantua. If you need an espresso or pastry for breakfast, check out Caffè Borsari or The Place.
Ducal Palace
Piazza Sordello is home to some of Mantua's top attractions — the Ducal Palace, the Duomo, and the Cathedral of St. Peter.
The piazza is dominated by the impressive 13th century Palazzo Ducale. It was the residence of the Gonzaga family and is an absolute must visit with one day in Mantua. For the best experience, book a guided tour to explore its magnificent rooms, frescoes, and sculptures.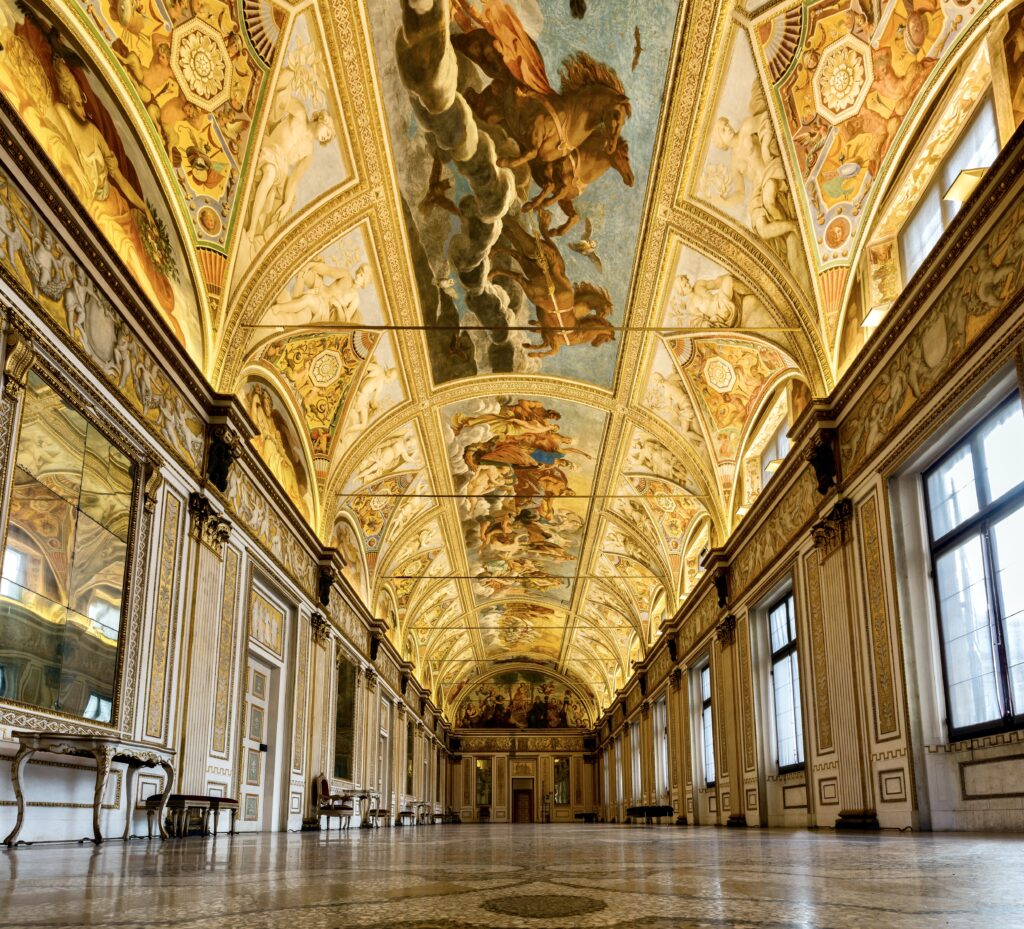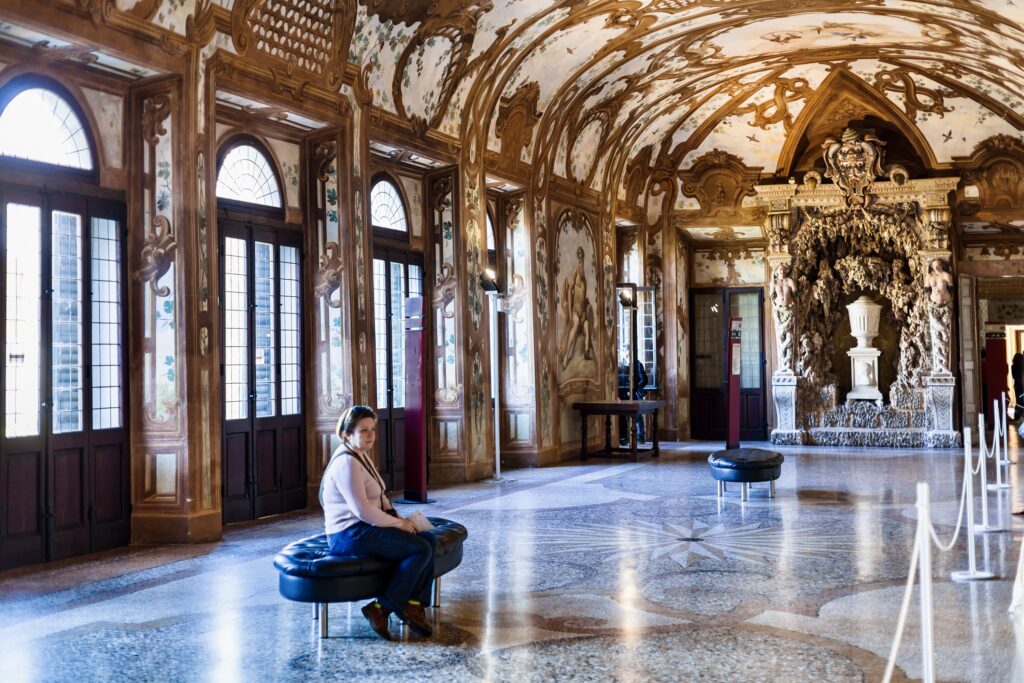 The palace is divided into four main parts that each offer a unique glimpse into the history of the Gonzaga family, who ruled Mantua for 300 years.
The Old Court features medieval buildings and provides a glimpse into the palace's early days. The New Court, designed by Giulio Romano in the 15th and 16th centuries, is a stunning example of Renaissance architecture.
The palace also features a Renaissance-style church and the medieval fortress castle of San Giorgio.
Inside, you can explore the Gonzaga's former apartments and view what remains of their impressive collection of treasures. With 900 rooms, the palace is a maze of ornate gilded, frescoed, and marbled chambers, culminating in the breathtaking Hall of Mirrors.
The Zodiac Room was originally the bedroom of Guglielmo Gonzaga. It features a fantastical fresco by Lorenzo Costa painted in 1579. The fresco depicts an astronomical scene with a pregnant Diana riding in a chariot pulled by a pack of dogs among the constellations.
But the real highlight of the palace is undoubtedly the famous Camera degli Sposi. This magical room is frescoed with illusionistic paintings by Andre Mantegna. They are considered a hugely influential masterpiece from the Early Renaissance.
The fresco is considered the first trompe l'oeil in the history of painting. This technique creates an optical illusion that tricks the viewer's eye into believing the painting is three dimensional.
The paintings cover the walls and ceiling of the room, depicting the Gonzaga family, along with their guests and courtiers. The most famous painting in the room is the portrait of Ludovico III Gonzaga and his wife Barbara of Brandenburg, which occupies an entire wall.
Address: Piazza Sordello, 40
Hours: 8:15 am to 7:15 pm
Ticket price: 15 euros, guided tours 8 euros. Click here to book a ticket.
St. Peter's Cathedral
Mantua's cathedral is also on the Piazza Sordello and you should pop inside for a quick look. The Duomo has a long and storied past that stretches back 900 years.
Its exterior is a stunning blend of architectural styles, with a pastiche of 15th century Gothic red brick enveloped by an 18th century white marble facade.
The interior resembles a classical temple. After a fire, the interior was remodeled based on the designs left behind by the brilliant Giulio Romano, a high Renaissance painter who was a student of Raphael. The result was a stunning restoration that honors the cathedral's rich history.
One of the cathedral's most notable features are the frescoes that adorn either side of St. Peter's altar. The artworks commemorate a historic meeting held at Mantua with various popes. They were painted by Italian Baroque artist Giuseppe Antonio Petrini.
Address: Piazza Sordello 15
Hours: 7:00 am to 12:00 pm & 3:00 p to 7:00 pm
Ticket price: Free
Basilica of Sant'Andrea
To continue your 1-day Mantua itinerary, make your way to the stunning Basilica di Sant'Andrea. This Renaissance church boasts a breathtaking marble facade and houses impressive artwork inside.
Commissioned by Ludovico III Gonzaga, the basilica was designed by Renaissance architect Leon Battista Alberti. Completed in the 15th century, Albert's concept became a milestone in architectural history.
The triumphal arch facade is a radical return to classicism. The facade is divided vertically into three bays by four colossal pilaster bands.
Named after Saint Andrew, the church crypt holds a holy relic of Christ's blood that was hidden so well by the Mantuans that they forgot its location. In a vision, Saint Andrew appeared to the people and led them to the relic, earning the church its dedication.
Inside, there's a single large nave with a massive barrel vault. Alberti's inspiration for the nave was the ruins of the Basilica of Maxentius and Constantine, an archaeological site in Rome.
On the sides are massive walls with recesses or niches for chapels. The first chapel on the left is the resting place of Mantegna, designed by the artist himself.
The dome has a massive fresco by Annibale Carracci, the Assumption of the Virgin. The Chapel of St. Longinus has two large frescos by Giulio Romano.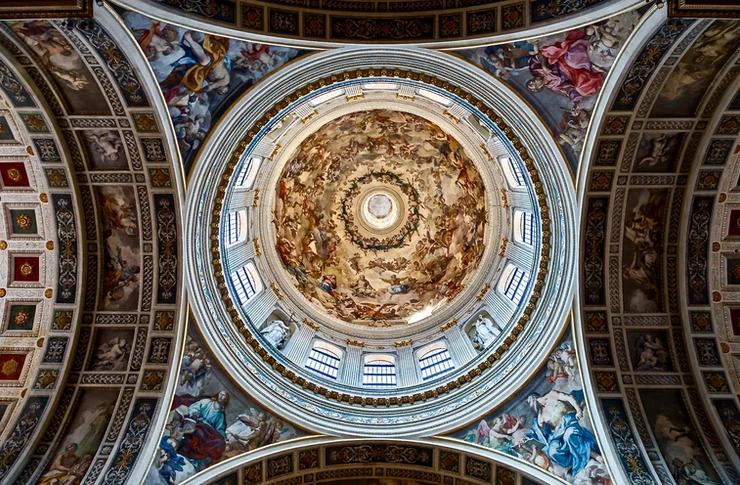 You can also climb the dome, which is the second largest dome in Italy after St. Peter's Basilica in Vatican City, for stunning panoramic views of the city. The climb is rather strenuous, with 200 steps up a spiral staircase.
Access to the dome may be limited during certain times of the year, and there is be a small fee to climb to the top.
The Renaissance bell tower next to the basilica is called the Torre dell'Orologio, which means "clock tower" in Italian. Designed by Luca Fanelli, the tower stands at 75 meters tall and was built in the early 16th century.
The tower is sometimes open to the public. If not, but you can admire the architecture.
Address: Piazza Andrea Mantegna 1
Hours: 8:00 am to 12:00 pm & 3:00 pm to 7:100 pm
Ticket price: Free, small fee to climb the dome
For lunch, head to Trattoria ai Due Cavallini. It's a cozy restaurant serving traditional Mantuan cuisine, which boasts a wisteria covered garden.
Palazzo Te
In the afternoon, visit the Palazzo Te. It's another must do with one day in Mantua. To get there, take the Via Principe Amedeo and walk for approximately 20 minutes.
The Te is a stunning palace built in the 16th century for the Gonzaga family. It's a low slung geometric structure built around a square courtyard, giving the illusion of being a massive complex.
The palace was designed and decorated by the talented artist-architect Romano. The highlight is his staggering Salle dei Giganti, also known as the Hall of the Giants.
This famous grotto-like hall is adorned with colossal figures that create an almost alternate reality. The fresco cycle in the hall depicts a disaster story from Ovid's Metamorphosis, in which the gods take revenge on Polyphemus and his cadre of ugly comic-book faced giants.
Romano portrays this epic battle between the gods and giants with stunning detail. In a seemingly endless storm, the gods fling down pillars and lightning bolts, buildings topple, and the giants cringe and scream at their terrible fate.
The frescoes are pulsating, powerful, and rhythmic, conveying the incredible force of the gods' wrath. In person, the Te Palace frescoes are so awe-inspiring that they can be compared to the experience of visiting the Sistine Chapel in the Vatican Museums.
For more information and details on the frescos, here's my complete guide to Te Palace. Click here to book a skip the line ticket and here to book a 1.5 hour guided tour. You can also save a bit by booking a combined ticket for Palazzo Te and the Ducal Palace.
Address: Viale Te 13
Hours: 9:00 am to 6:00 pm. On Monday, the palace doesn't open until 1:00 pm.
Ticket price: 15 euros
Church of San Sebastiano
Not far from Palazzo Te is the Church of San Sebastiano. It's a unique building in Mantua that was designed by both Leon Battista Alberti and Ludovico Gonzaga.
Construction of the church began in 1460, before Alberti's death, and the rest of the project was overseen by Luca Fancelli. The church was originally intended to serve as either a mausoleum for the Gonzaga family or a votive church.
The church has a Greek cross configuration. Its facade and vestibule, which open at the sides, are reminiscent of Sant'Andrea. It is divided into two floors and has a simple plan with perfect mathematical proportions.
The square facade features five portals and is surmounted by a tympanum, with a Syrian arch above it. Initially a symbol of dynastic power, the church is now primarily used for worship.
Address: Via Giovanni Acerbi
Hours: 10:00 am to 6:30 pm. On day Monday, it doesn't open until 1:00 pm.
Ticket price: Free
Rotunda di San Lorenzo
If you're looking for a peaceful place to take a break, look no further than the Rotonda di San Lorenzo. This unique church, which dates all the way back to the 11th century, is a true architectural gem.
Built by the Canossa family, the rotunda is a circular building that is modeled after the Holy Sepulchre in Jerusalem. Despite its age, the church's impressive red brick Romanesque architecture still stands tall.
Amazingly, the rotunda was lost to history for many centuries, buried under the facades of other structures. It wasn't until 1907 that it was rediscovered. In 1926, the dome was reconstructed to restore the church to its former glory.
Today, the Rotonda di San Lorenzo is once again consecrated and open to the public, with free entry for all. You can marvel at the remains of Byzantine and 15th century frescoes that adorn the interior of this remarkable building.
Address: PIazza Erbe
Hours: 10:00 am to 1:00 pm & 2:00 pm to 6:00 pm. On weekends, it's open from 10:00 am to 7:00 pm
Ticket price: Free
Palazzo San Sebastiano
If you have any time left on your one day in Mantua itinerary, visit the Palace of San Sebastiano. It was built by Francesco II Gonzaga in the 16th century.
The palace once held one of Mantegna's most famous fresco cycles, The Triumphs of Caesar. But the frescos were sold off and are now housed in London's Hampton Court Palace.
When the palace was renovated in 20th century, grotesque frescos were discovered. Grotesques are the unique frescos that were popularized after Renaissance artists discovered Nero's Golden House, Domus Aurea in Rome.
Since 2015, San Sebastiano has housed Mantua's civic museum. There, you'll find works of art owned by the municipality and associated with Mantua's various historic periods, from its origins to the 18th century.
Address: Largo XXIV Maggio 12
Hours: 9:00 am to 7:30 pm. On Monday, it doesn't open until 1:00 pm.
Ticket price: 12 euros
In the evening, polish off your one day in Mantua itinerary with a stroll along the charming streets of the historic center. Stop for an aperitivo at one of the many bars and cafes.
For dinner, you can try Ristorante L'Orto dei Mori, which serves creative Italian cuisine with a focus on local ingredients. The atmospheric restaurant is housed in a 14th century building with exposed brick walls, wooden beams, and a fireplace.
Another good option if Restaurant Il Cigno, which is in a historic building with a beautiful garden. Il Cigno is known for its high quality ingredients, including fresh seafood, homemade pastas, and local meats.
Some of the popular Mantuan dishes to try include risotto alla pilota (a traditional dish made with pork sausage and red wine) and tortelli di zucca (a pasta dish filled with pumpkin and amaretti cookies).
The local wine in Mantua is called Lambrusco Mantovano. It's a dry sparkling wine with a deep ruby red color and fruity aroma.
Teatro Bibiena
You could also end your one day in Mantua itinerary with a performance at the Teatro Bibiena. It's an 18th century theater with beautiful architecture and acoustics. Despite its diminutive size, the theater considered one of the best Baroque theater in Europe.
It hosts a variety of performances throughout the year, including opera, ballet, theater, and classical music concerts. You can also take a guided tour of the theater.
The theater's programming changes seasonally, so it's best to check their website or box office for current listings and ticket information. Some examples of past performances at the Teatro Bibiena include Verdi's La Traviata, Puccini's Tosca, and Beethoven's Symphony No. 5.
Address: Via Accademia 47
Hours: Tuesday through Friday 10:00 am to 1:00 pm & 3:00 pm to 5:00 pm. Saturday and Sunday from 10:00 am to 5:00 pm.
Ticket price: 3 euros
Tips For A One Day In Mantua Itinerary
Here are some tips for enjoying your one day in Mantua itinerary.
1. How To Get To Mantua
By Train:
Mantua is well-connected by train to many major cities in Italy.
If you are traveling from Milan, you can take a direct train from Milan's Porta Garibaldi or Milano Centrale station to Mantova station. The journey takes about 1 hour and 10 minutes.
If you are coming from Venice, you can take a direct train from Venezia Santa Lucia station to Mantova station. The journey takes about 1 hour and 20 minutes.
From Verona, you can take a regional train from Verona Porta Nuova station to Mantova station. The journey takes about 30-40 minutes.There are also direct train connections from Bologna, Florence, and other cities in the region.
The historic center of Mantua is a 10-15 minute walk from the train station in Piazza Don Leoni. You can also can take a taxi or the local bus. Mantua's tourist office is located in the Piazza Mantega.
2. How To Get Around Mantua
Mantua is a relatively small city and most of the historic center is pedestrianized. So, it's easy to walk around and explore. The main sights are all located within a short walking distance of each other.
In fact, walking is probably the best way to see Mantua, as it allows you to appreciate the city's architecture and urban design, as well as its numerous piazzas, churches, and palaces.
There are also several picturesque bridges that cross the city's three lakes, which are a highlight of the city's landscape.
However, for those who prefer not to walk, there are also other transportation options available, such as buses and taxis. Bicycles are also available for rent, and Mantua is known for its extensive network of bike paths.
3. Where To Stay In Mantua
You have some nice hotel options if you decide to overnight in Mantua.
4. When To Visit Mantua
Spring is the best time to visit Mantua, with mild temperatures, fewer crowds, and blooming flowers. Fall is also nice, when the heat of summer is gone and fall colors are out. In September, Mantua holds a popular literary festival.
Winter is not an ideal time to visit unless you like very cold weather. Still, there are Christmas markets and the town is decked out for the holiday season.
5. Is One Day In Mantua Enough?
One day in Mantua is enough to savor the city's top attractions.
But a longer stay might be more rewarding. Then, you can take your time to really absorb all of Mantua's magnificent attractions and avoid sensory overload.
Plus, you really want to have ample time to see both the Ducal Palace and Te Palace, especially since Te Palace is slightly off center.
6. More Than One Day In Mantua?
If you have more than a day in Mantua or are using the city as a base, there are plenty of other attractions and towns to visit nearby.
In Mantua, you can check out the homes of two artists, the Casa del Mantegna and the House of Guilio Romano.
Sabbioneta is small town is 19 miles from Mantua and is a UNESCO World Heritage Site. Like Pienza in Tuscany, it was built in the late 16th century as a perfect Renaissance city and features several well-preserved impressive palaces and public buildings.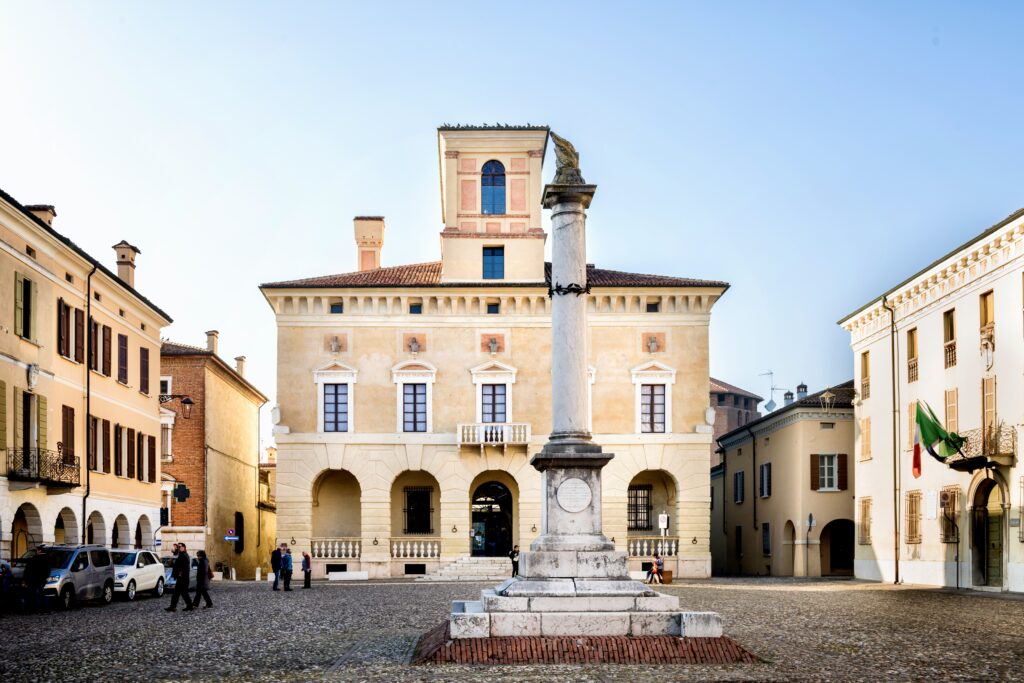 Verona is another historic city just 25 miles from Mantua and is famous for its well-preserved Roman amphitheater, medieval city walls, and romantic connections to Shakespeare's Romeo and Juliet.
Lake Garda is beautiful lake is located about 30 miles north of Mantua and is the largest lake in Italy. It features several picturesque towns, such as Sirmione and Desenzano del Garda, as well as numerous outdoor activities, such as hiking, swimming, and boating.
Parma is just 43 miles from Mantua and is famous for its food, particularly its Parmesan cheese and prosciutto. It also features several impressive art monuments and art museums. The Romanesque cathedral and baptistery are clad in white and pink marble and feature frescos by Correggio.
For more information, you can check out my one day in Verona itinerary and my one day in Parma itinerary.
I hope you've enjoyed my one day in Mantua itinerary. You may enjoy these other Italy travel guides and resources:
If you want to spend one day in Mantua, pin it for later.