So you're planning a trip to Florence? Welcome to one of my favorite small cities. To help you have the best experience, I've put together a step-by-step 2 days in Florence itinerary.
Two days in Florence isn't much time. But, with some advance planning and ambition, you can spend a wonderful weekend there. This Florence itinerary takes you to the city's top attractions, famous landmarks, and world class museums.
There's something just so iconic about Florence. The city is the star and the backdrop of so much great history and Renaissance art.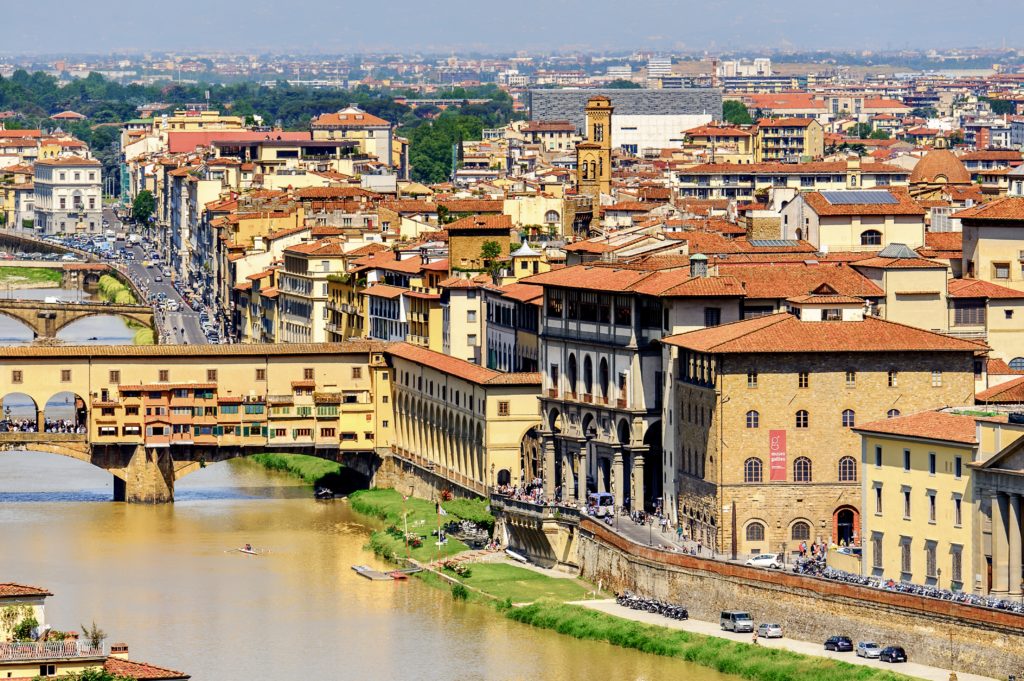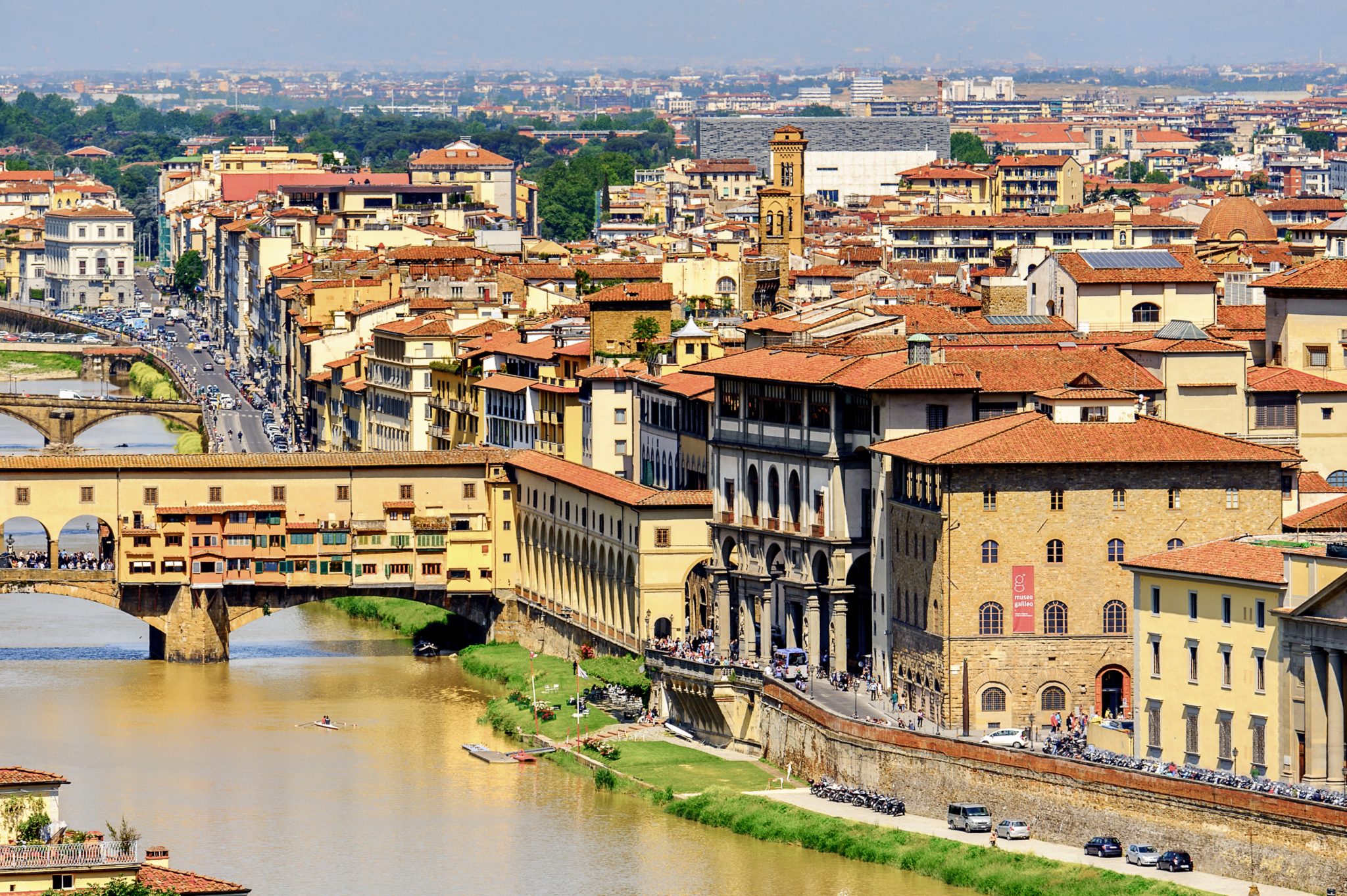 It's a city that appeals to all different passions — museum lovers, foodies, history buffs, devotees of architecture, and even those who just want to serendipitously wander the winding streets of an ancient city.
Because there's just so much to do in Florence, planning a trip to can be a bit overwhelming, especially for first time visitors.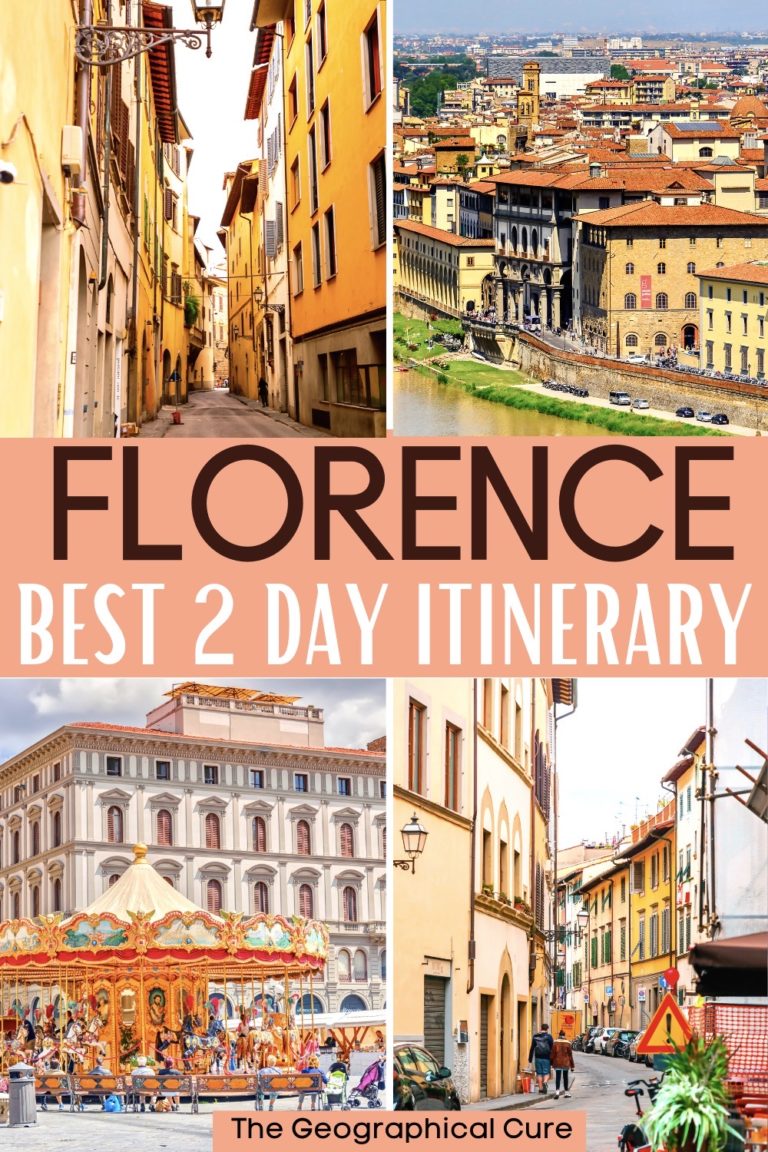 My recommended 2 days in Florence itinerary will help you see the city's highlights and have an efficient visit.
Overview Of 2 Days In Florence Itinerary
Here's a quick snapshot of what you'll see on each day of your 2 days in Florence.
Day 1:
Day 2:
2 Days In Florence Itinerary
As with all of my suggested itineraries, I recommend that you use this 2 days in Florence itinerary as a guide. You can tailor it to suit your individual interests, needs, and pace of travel.
Day 1 Of 2 Days In Florence AM
1. Accademia Gallery
Start your first day in Florence bright and early at the Accademia Gallery. The museum opens at 8:15 am. I recommend getting an early time slot reservation so you have plenty of time left in your day.
The Accademia is home to the world's most famous sculpture, Michelangelo's David. It's a stunning 17 feet tall statue taken from the Bible story of David and Goliath.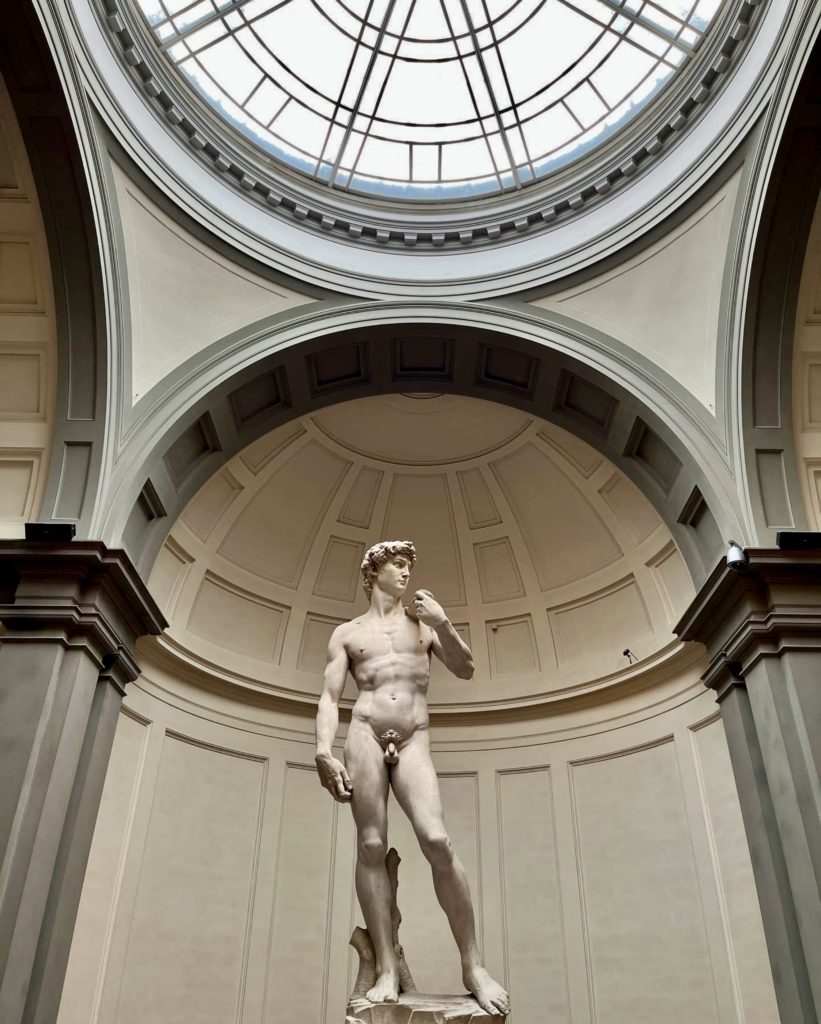 Michelangelo depicts the underdog David in the moment before the battle, slingshot in hand. As we all know, David defeats Goliath. Historically, Florence viewed itself as an underdog city state and the city took David as its symbol.
David was originally commissioned to be put in a niche on the facade of Florence Cathedral. But the city thought it was too beautiful to go there.
Instead, it was placed in front of the Palazzo Vecchio, Florence's seat of government. David stayed there for three centuries before being moved into the museum in 1873.
David gets all the attention. But there are some other beautiful works of art in the Accademia.
The Hall of Prisoners is home to four of Michelangelo's Slaves. The unfinished sculptures were intended for the tomb of Pope Julius II, but that project was never completed.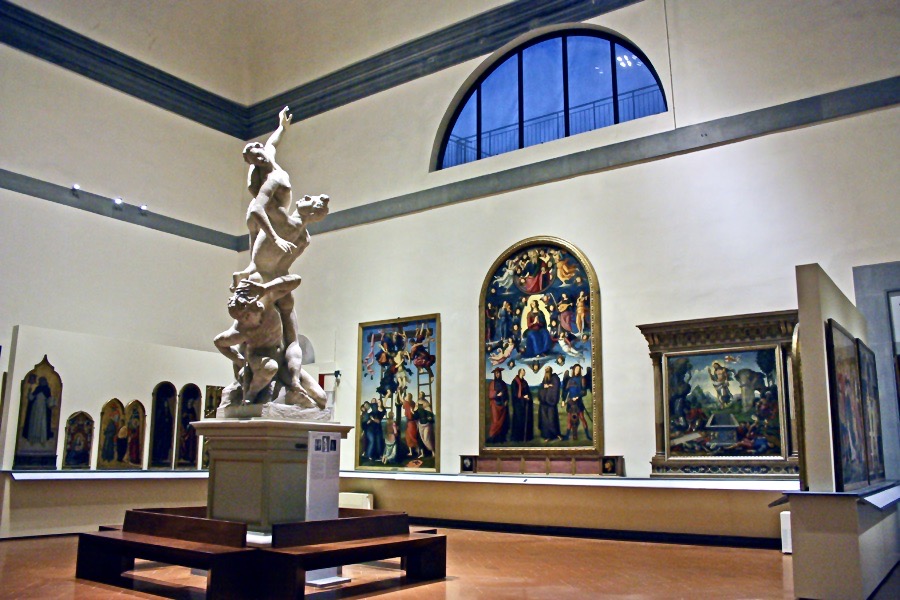 Looking at the Slaves, you can see Michelangelo's creation process. They seem to be struggling to emerge from the marvel.
The Hall of the Colossus houses the plaster cast of Giambologna's famous Rape of the Sabine Women. The marble version is on display in the Piazza della Signoria.
This hall is also home to some of the museum's finest paintings. There are works by Sandro Botticelli, Paulo Uccello, Filippino Lippi, and Domenico Ghirlandaio, Michelangelo's teacher for one year.
In the Hall of Models, you'll find a huge number of 19th century plaster casts by Lorenzo Bartolini. He was one of the great sculptors and brilliant professors of the Academy.
You should definitely pre-book a skip the line ticket for this extremely popular Florence attraction. You can also opt for a 1.5 hour guided tour with fast track ticket.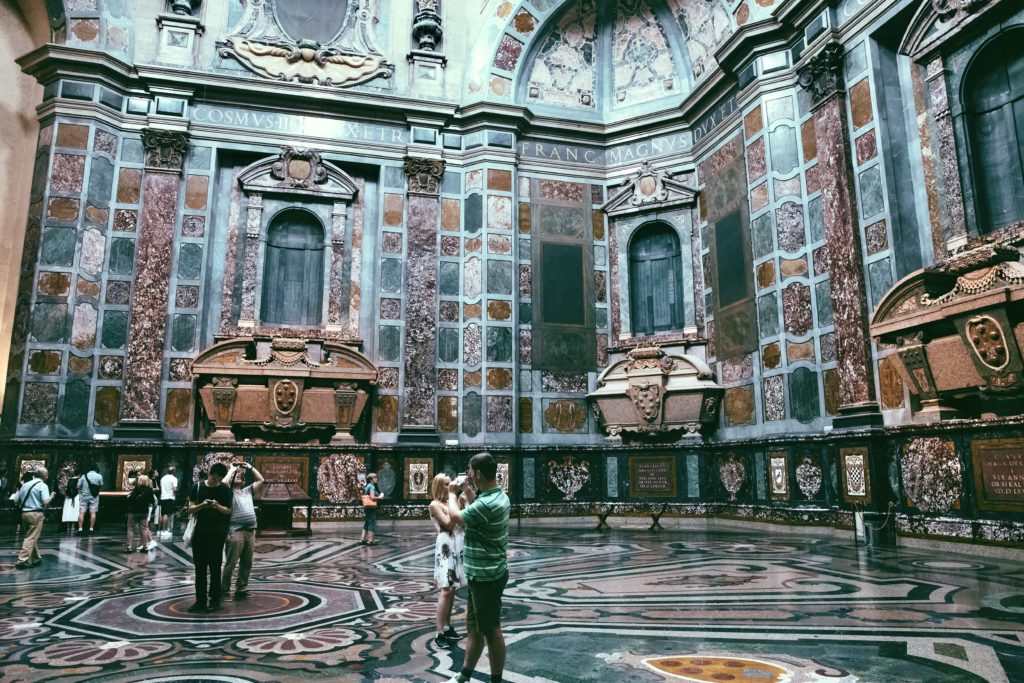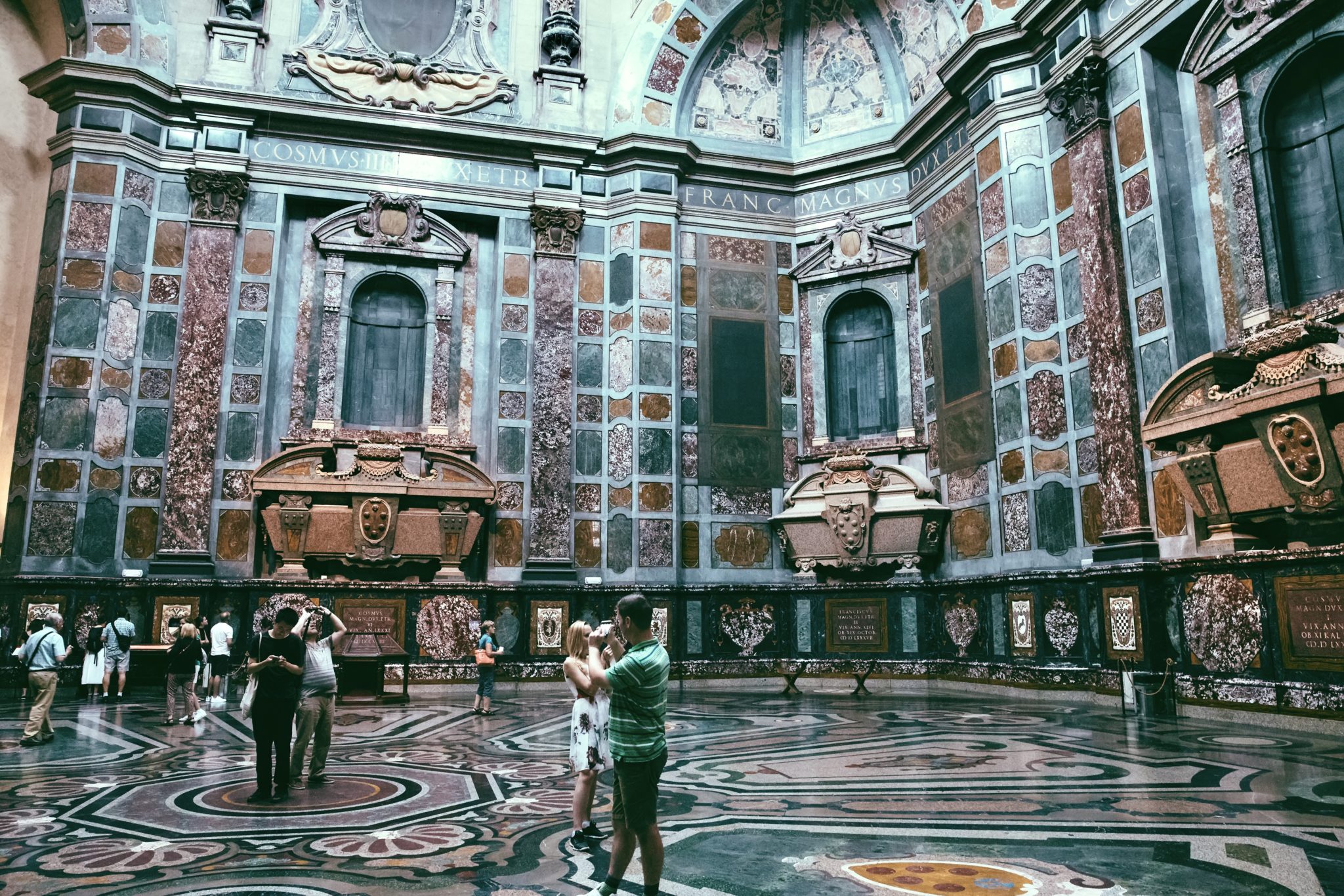 2. Medici Chapels
When you're done admiring David, it's time to see more Michelangelo sculptures. Walk about 10 minutes over to the Medici Chapels.
They are part of the vast Basilica of San Lorenzo complex. But there's a separate ticket and entrance for this beautiful small museum.
The Medici Chapels are the shrine and mausoleum for the Medici family, a powerhouse dynasty that ruled Florence for centuries. You can visit the crypt, the Chapel of the Princes, and the New Sacristy.
READ: History of the Medici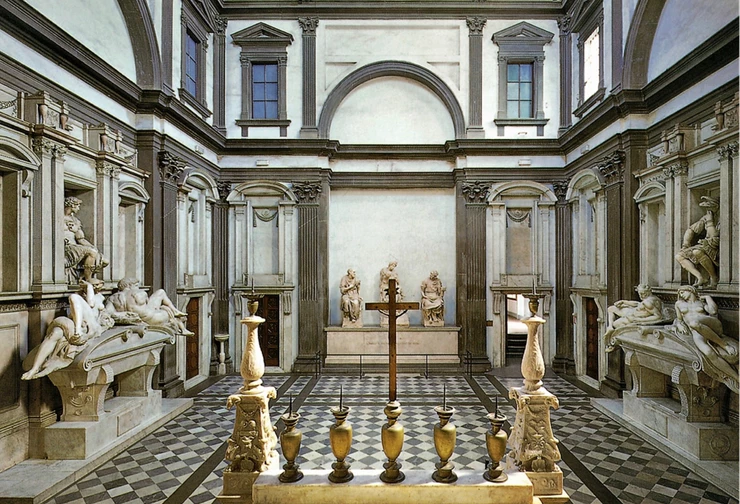 The crypt houses the remains and tombs of the grand dukes. You'll first see glass display cases, which house part of the Treasure of San Lorenzo, including precious reliquaries.
The Chapel of the Princes is a grandiose room with the tombs of the Medici grand dukes. The chapel walls are clad with polychrome marble and semi-precious stones.
Your last stop is the New Sacristy. It was designed and decorated by Michelangelo. It holds seven Michelangelo sculptures — the most you'll find in Florence. The most famous sculpture is Night.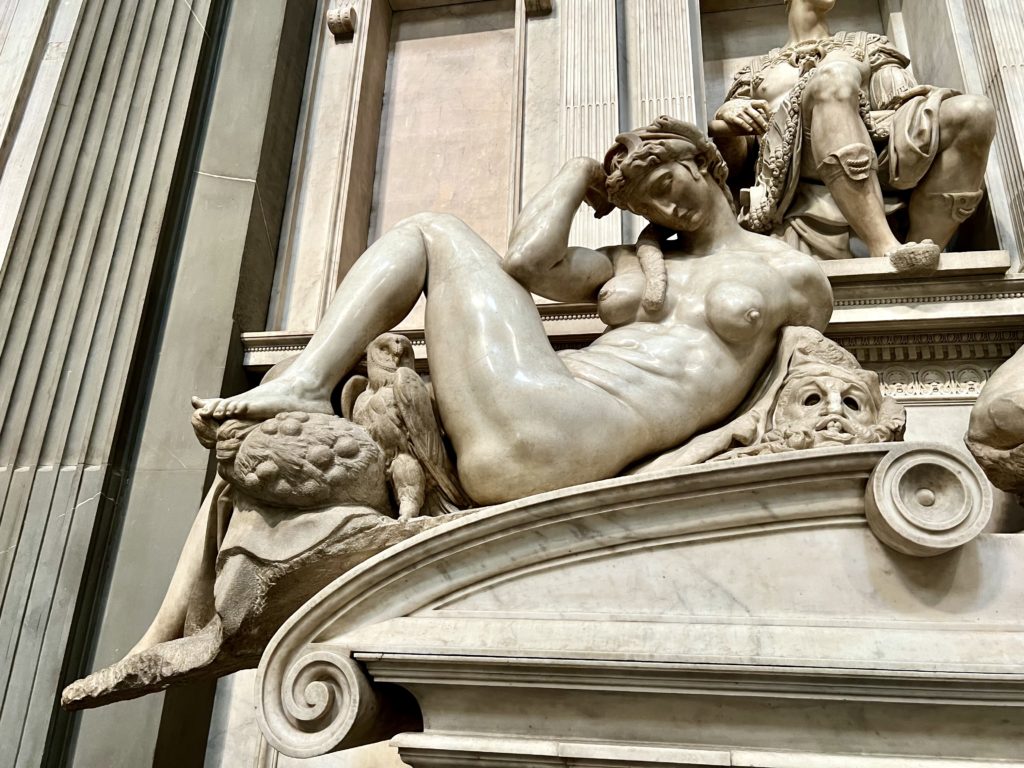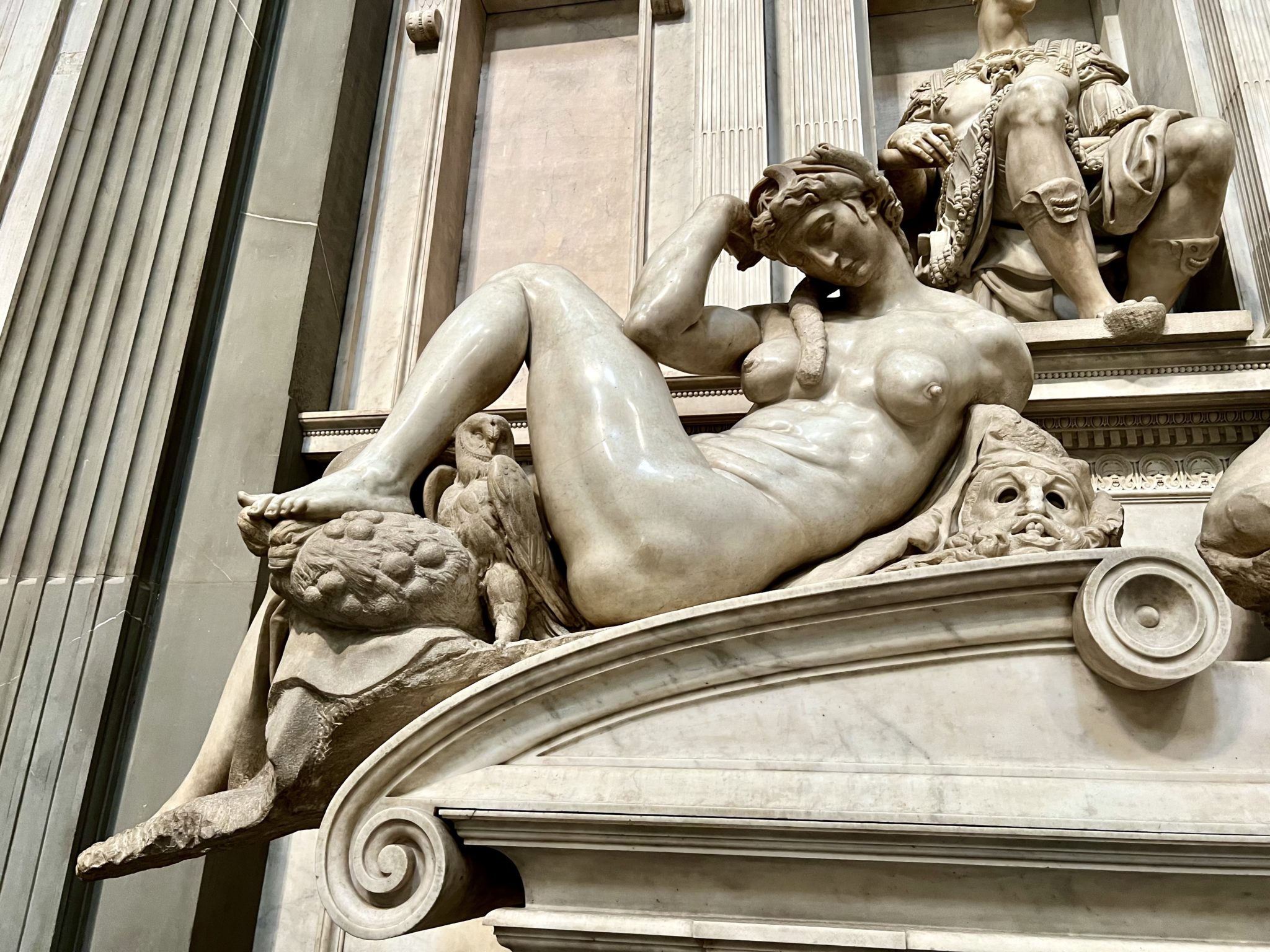 The allegorical sculptures are sublime, a stunning combination of artistic virtuosity and symbolism set amid theatrical architecture. This fact alone makes the Medici Chapels well worth a visit.
Like the Accademia Gallery, this is a popular attraction. You'll need to pre-book a ticket with a time slot reservation. These fill up fast, so don't delay.
You can also book a guided tour of the chapels. This isn't a bad idea because there's not much explanatory signage.
3. Basilica of San Lorenzo
Right around the corner is the Basilica of San Lorenzo. This was the parish church of the Medici family.
On the outside, it has a rusticated sandstone exterior. But on the inside, it's a haven of Renaissance art and architecture.
The Old Sacristy was designed by the famous architect Filippo Brunelleschi in 1419 and completed in 1429. It's one of the world's most famous sacristies and considered the first truly Renaissance building in history.
You'll also find two pulpits designed by early Renaissance sculptor Donatello, the Passion Pulpit and the Resurrection Pulpit.
You should also check out the Martyrdom of Saint Lawrence by late Renaissance artist Bronzino. Bronzino's painting tells a gory tale of San Lorenzo's patron saint, Saint Lawrence.
4. Palazzo Medici-Ricardi
Depending on how quickly you covered the first three sites, you may have time to pop into the Palazzo Medici-Riccardi before lunch. It's right next to the basilica.
The palace was designed by Michelozzo in 1444 and is considered the first Renaissance style family palace.
Two of the greatest historical figures of the Renaissance lived in the palace — Cosimo the Elder and Lorenzo the Magnificent. Michelangelo even worked in the palace gardens.
The palace has a beautiful courtyard and Hall of Mirrors. But the thing you'll really need to see is the Chapel of the Magi. It's one of the most beautiful chapels in Italy.
It's decorated with gorgeous frescos by Benozzo Gozzoli. The frescos depict scenes from the life of the Medici and are meant to glorify the family. They've been restored and the colors are brilliant.
You could spend just a half hour here and then move on.
Day 1 Of 2 Days In Florence PM
After seeing these wonderful sites, it's time for lunch. Your next stop is the Duomo complex.
A great place to eat nearby is La Grotto Guelfa. When I ate there, the service was amazing and the pasta dishes delicious.
1. Overview of Duomo Complex
After lunch, it's time to tackle the Florence Cathedral complex. This consists of 5 separate sites: Florence Cathedral, Brunelleschi's dome, the Baptistery, the Duomo Museum, and the Giotto Bell Tower.
If you buy the Brunelleschi ticket, you have entry to all the sites. You can only enter each attraction once, but you have 3 days to use the pass. I suggest you visit them all this afternoon.
There's a lot to absorb at these wonderful attractions. You may want to book a guided tour to get the full scoop.
To climb the dome, you also have to make a time slot reservation. This attraction is always sold out, so I advise booking your ticket well in advance.
People will start to line up for the climb 15-20 minutes in advance.
2. Duomo Museum
It makes the most sense to start your visit to the Duomo complex in the beautifully renovated Duomo Museum, which gives you the history of the Duomo.
This is a stunning small museum, a fabulous treasure box of Medieval and Renaissance sculpture. Honestly, it was one of my favorite museums in Florence.
When you walk in, you're greeted by the almost overwhelming Hall of Paradise. It's a reconstruction of a Medieval facade that was torn down to make way for a Renaissance facade.
On the ground floor, there are sculptures by artists such as Donatello, Michelangelo, Arnolfo di Cambio, and Nanni di Banco.
On the first floor, you'll find a stunning gallery lined with 16 statues that were formerly on the Giotto bell tower facade, including five by Donatello. The most famous ones are Donatello's Jeremiah and Habakkuk.
On the second floor, you'll find a film on how Brunelleschi built his famous dome. There are also models he used to build it.
You can also step out on the Brunelleschi Terrace for panoramic views of Florence.
3. Florence Cathedral
When you're done in the museum, head to the Florence Cathedral, once the world's largest cathedral.
Nicknamed the Duomo, Florence Cathedral is the most prominent, and popular, landmark in Florence.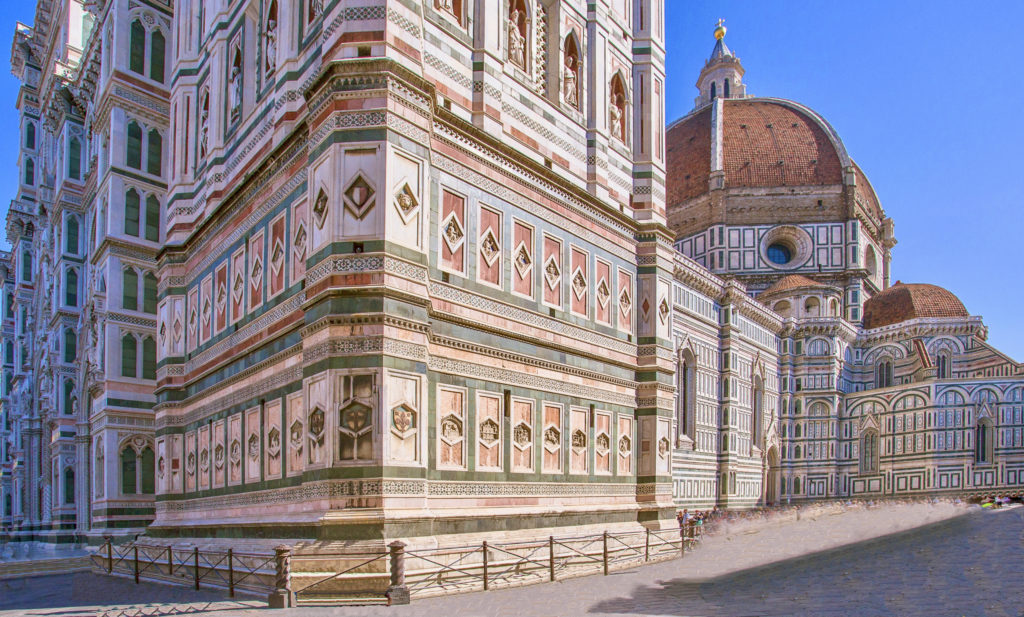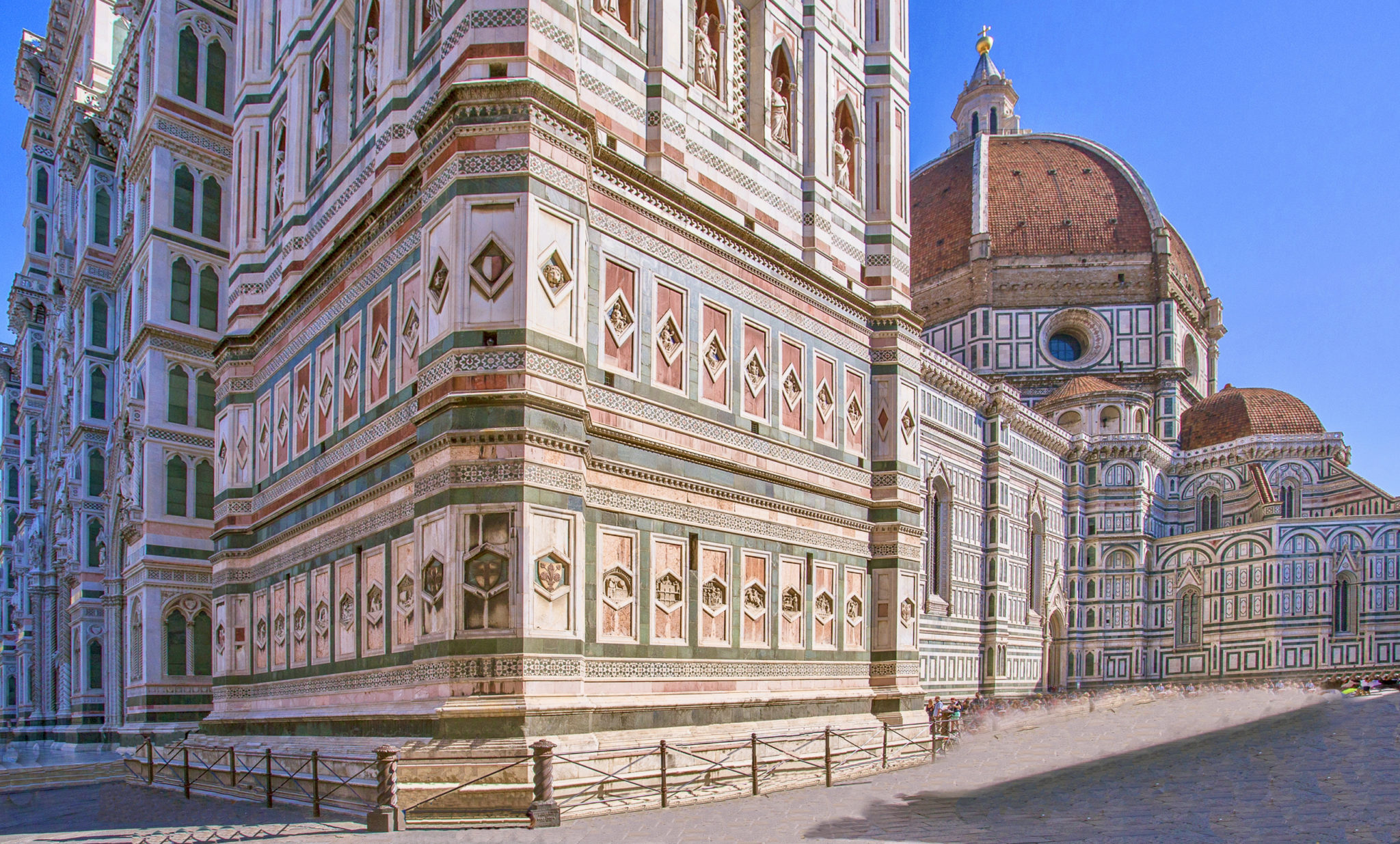 The Duomo was built over 172 years, beginning in 1296. The cathedral facades are beautifully faced with pink marble (from Tuscany), green marble (from Prato), and white (from Carrera) marble.
You can just marvel at the facade. Or, you can use your skip the line ticket to go inside. But you'll have to go through a security line, which be long.
You may want to book a guided tour of the Duomo itself. You can also book a guided tour of the Duomo that includes access to the dome and secret terraces that you wouldn't see on a regular visit. I did the second one on my last visit and I enjoyed the views.
4. Brunelleschi's Dome
Now, it's time to climb Brunelleschi's dome. Filippo Brunelleschi's magnificent terra cotta colored dome was built from 1420-36. It's a true Renaissance masterpiece.
It's 463 steps to the top of Brunelleschi's dome. Be forewarned, it's not the easiest climb and there's no elevator. The spiral stairway is very tight.
It can be hot, stuffy, and potentially claustrophobic. In the summer, it's a body- melting inferno. There are places where there are no handrails and you have to watch your head.
About 2/3 of the way up is a viewing ledge at the base of the dome's drum. From here, you have a splendid view of Giorgio Vasari's fresco of The Last Judgment.
They were painted from 1572-79 and restored in 1996. Covering some 3,6000 square meters, it's the world's largest fresco.
When you reach the top, there's a steep ladder and you're finally atop the dome. You'll have a close up view of the lantern.
The views are stunning. You can check out my video:
4. Baptistery
After your dome climb, pop into the Florence Baptistery. Dating from 1059, the Baptistery is over a thousand years old.
As its name implies, the Baptistery is dedicated to St. John the Baptist, the patron saint of Florence and the inventor of the act of baptism.
The baptistery is famous for its three sets of bronze doors and spectacularly decorated Byzantine-style mosaic ceiling. It depicts The Last Judgment.
Unfortunately, the Baptistery is under renovation right now. Half of the mosaics are covered, as is the famous baptismal font designed by Andrea Pisano.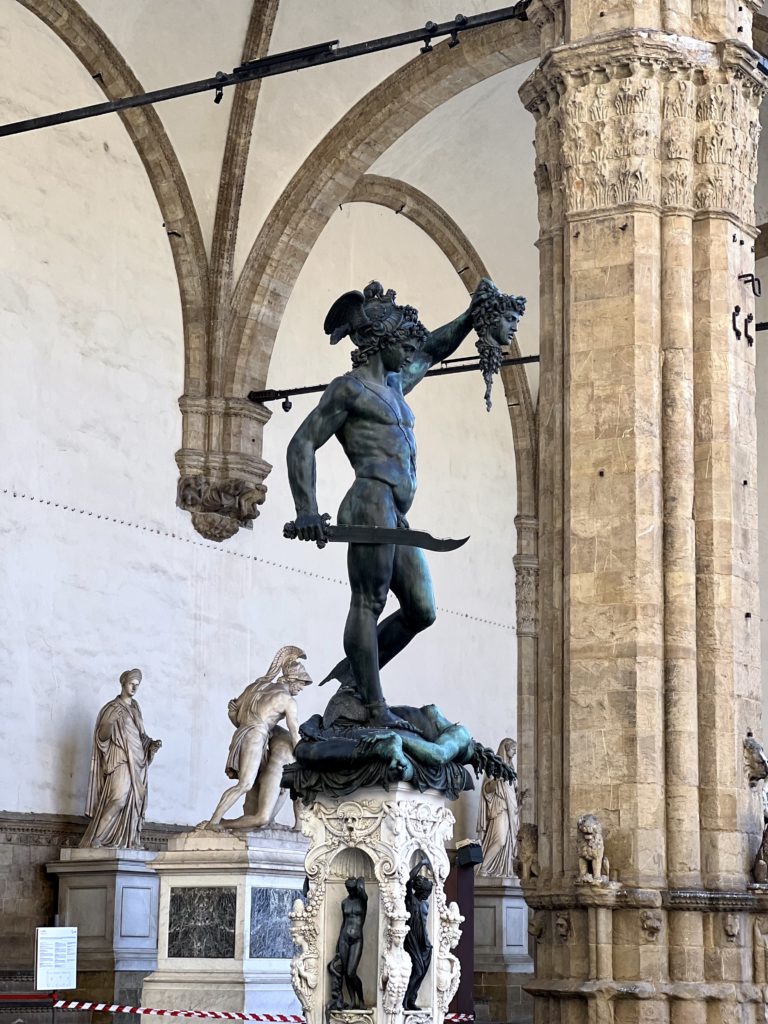 5. Piazza Della Signoria
Then, take a stroll in the beautiful Piazza della Signoria, Florence's central square. It's the jackpot of outdoor street art.
The piazza is filled with sculptures by the greatest artists of the Renaissance. At the center is a massive fountain with the god Neptune gleaming in white marble.
When you're done admiring the sculptures, pick a spot for dinner. Stay away from restaurants with a plastic menu touristico. Try to follow the Italians!
Look for a family run trattoria serving up homemade pasta or Florence's signature dish bistecca all fiorentina, a huge T-bone steak that's just delicious and priced by weight.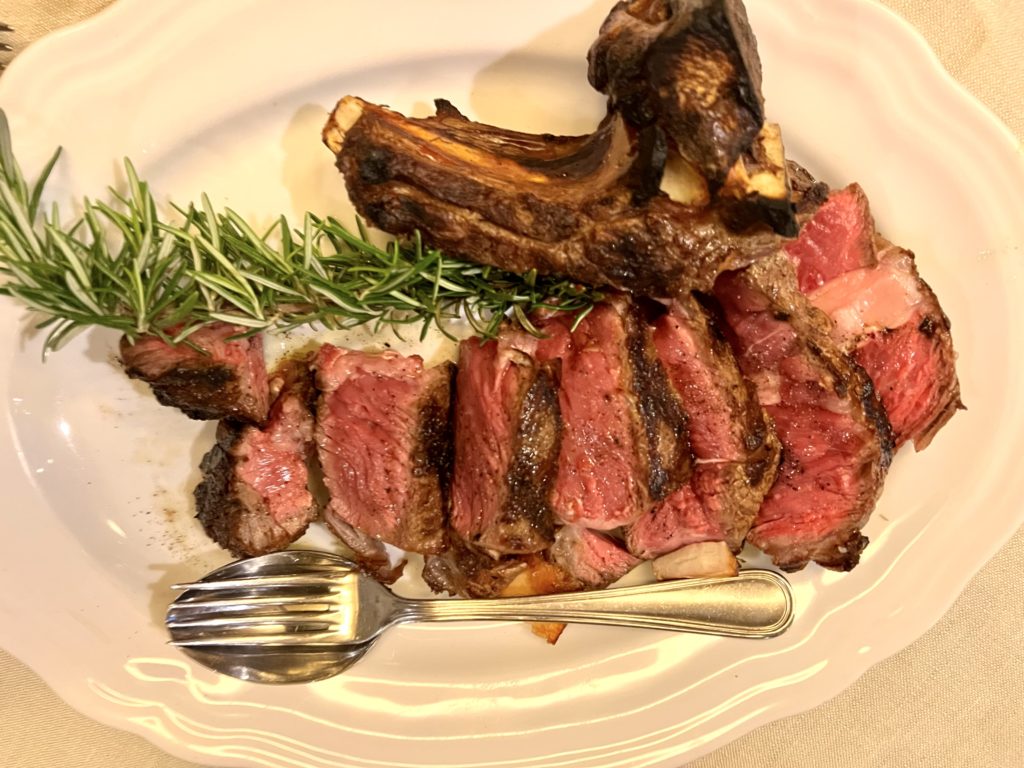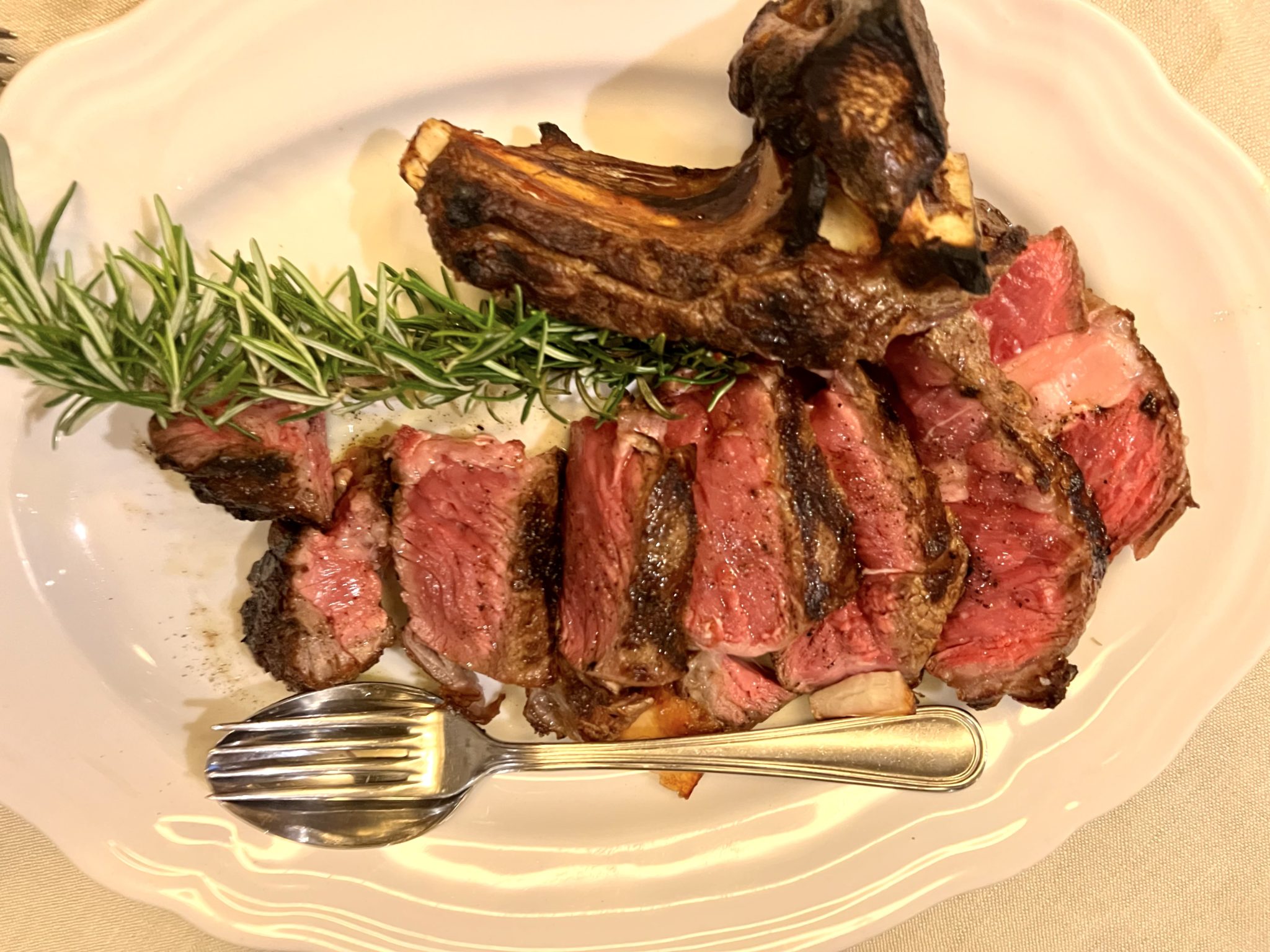 You can sample this dish (and others!) at Regina Bistecca or Osteria Vino E Vecchi Sapori.
If you want a fine dining experience, Florence also have six Michelin starred restaurants.
Another great option in Florence is to go on an authentic food tour in the evening.
This 3.5 hour guided food tour includes wine tasting and bistecca. With this 3 hour guided tour, you'll sample everything from gelato to cheese to Tuscan soup.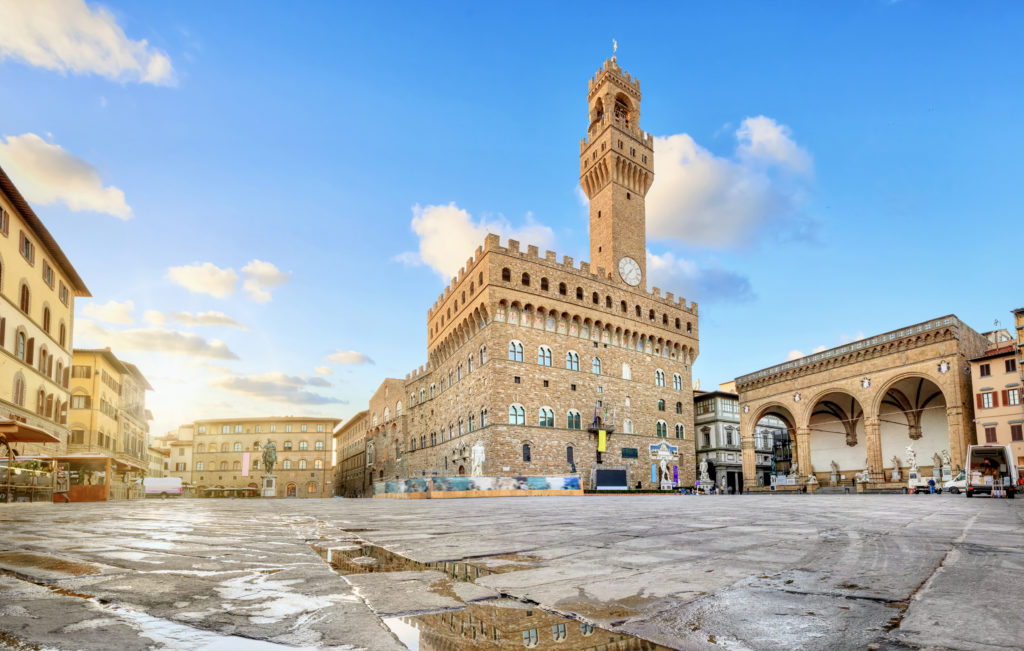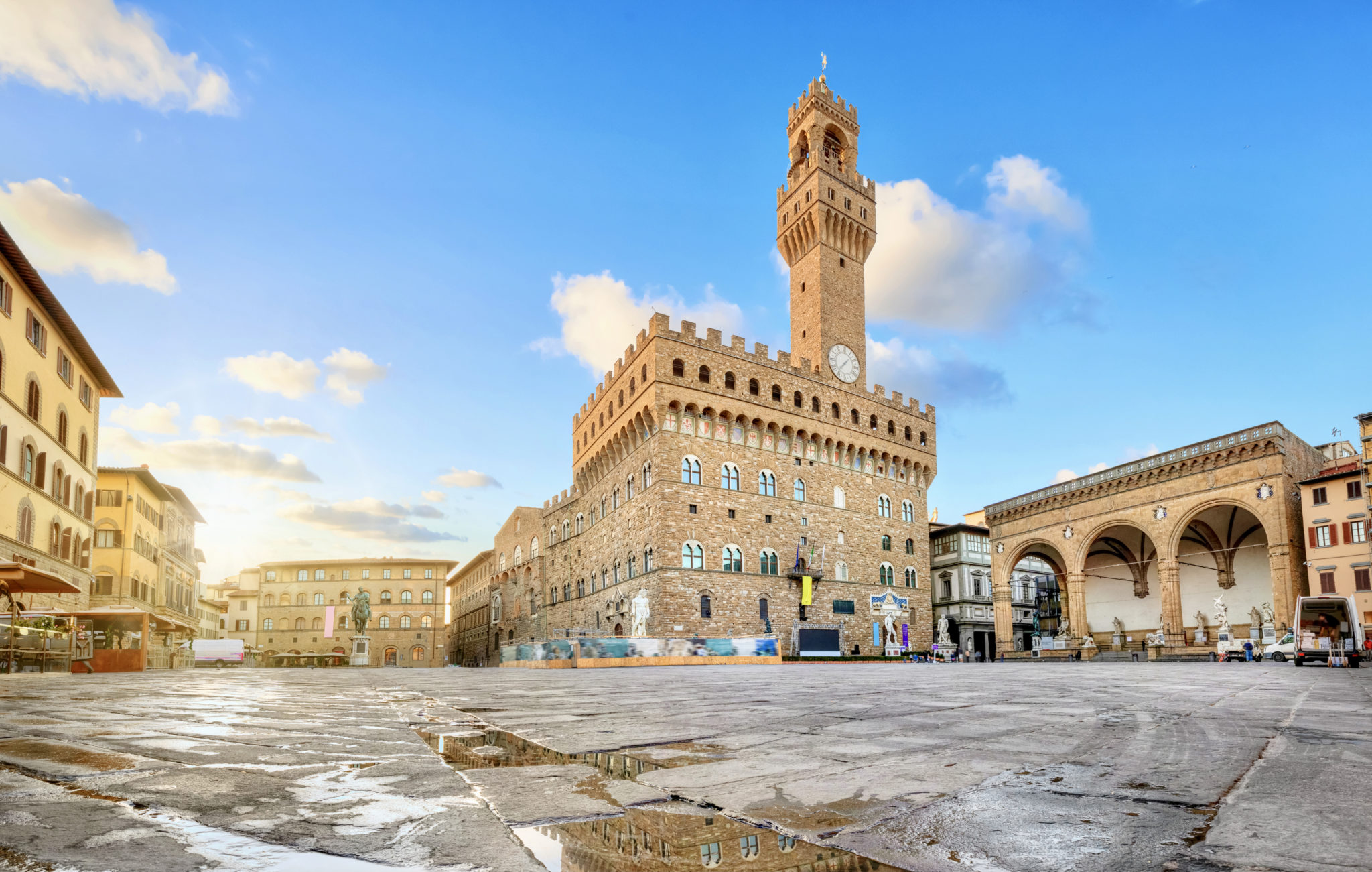 6. Palazzo Vecchio
The Palazzo Vecchio is the one attraction in Florence that's open late. So you could make a pre or post dinner visit. From April to September, it's open until 11:00 pm.
The Palazzo Vecchio is a doughty medieval fortress on the outside. Inside, it's a resplendent Renaissance palace filled with artistic treasures.
The Palazzo Vecchio was Florence's seat of power, the home of the City Council that governed the Republic of Florence.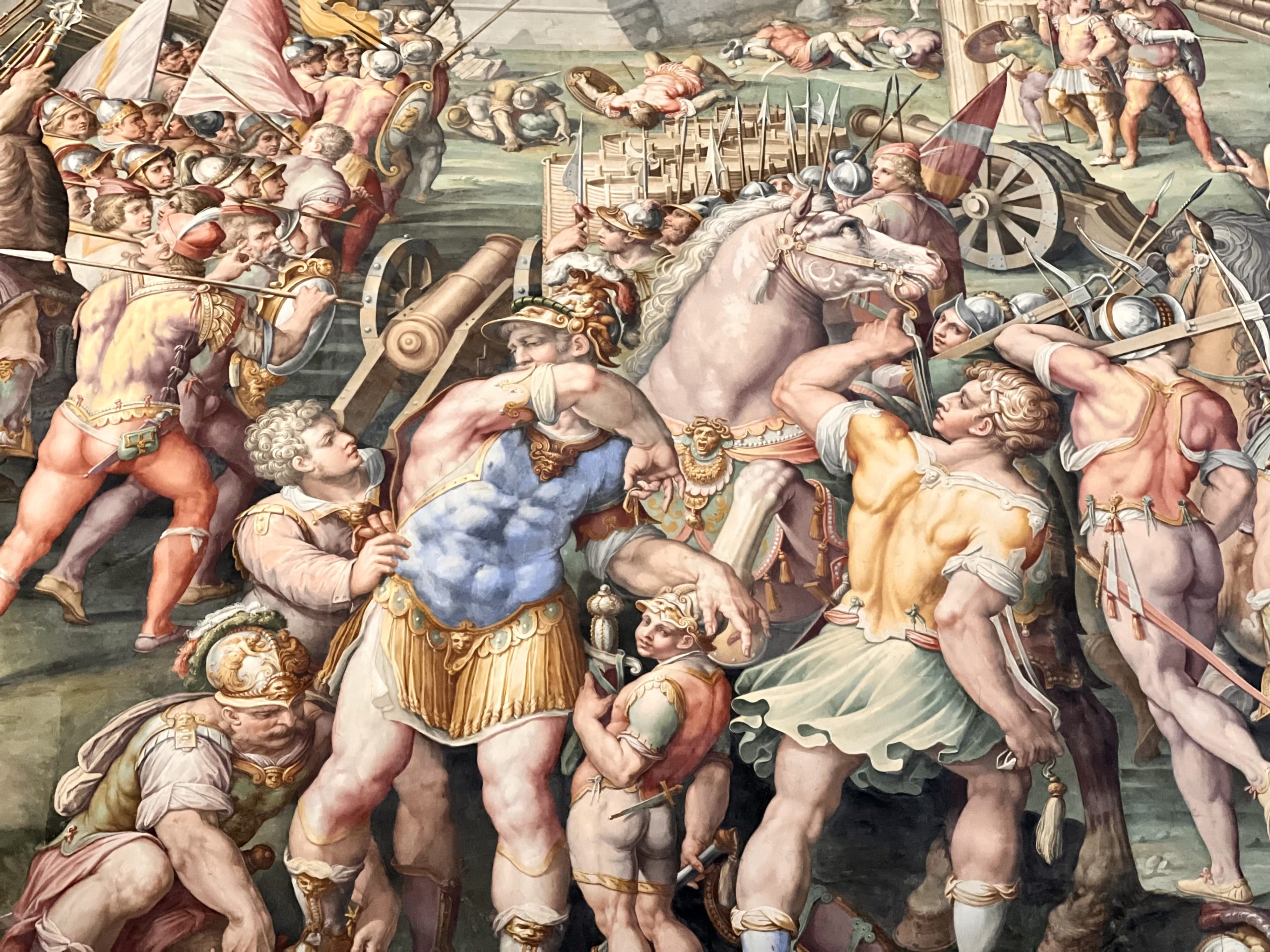 Inside, you can explore the grand Hall of the Five Hundred, admire Michelangelo and Donatello sculptures, and gaze admiringly at beautiful Renaissance frescos at every turn.
Click here to book a skip the line ticket with a time slot reservation.
You can also book a guided tour of the palace. There's a guided secret passages tour with lunch.
This guided 2 hour tour covers the palace and the Piazza della Signoria.
Day 2 Of 2 Days In Florence AM
1. Basilica of Santa Croce
On day 2 in Florence, you'll start your day at the the 13th century Basilica of Santa Croce. You may have already seen a glimpse of it if you've climbed Brunelleschi's dome.
Santa Croce is truly a place of superlatives. The basilica has one of the greatest assemblages of paintings, sculptures, and funereal monuments in existence.
It's home to celebrity tombs, magnificent frescos by the greatest early Renaissance artists, and Donatello sculptures. This is where you can pay homage to Michelangelo, who is buried there in a tomb designed by Vasari.
The basilica opens at 9:30. You should arrive then with a pre-purchased skip the line ticket.
Be sure your knees and shoulders are covered or you will be turned away. The basilica doesn't give out disposable cloths to cover yourself.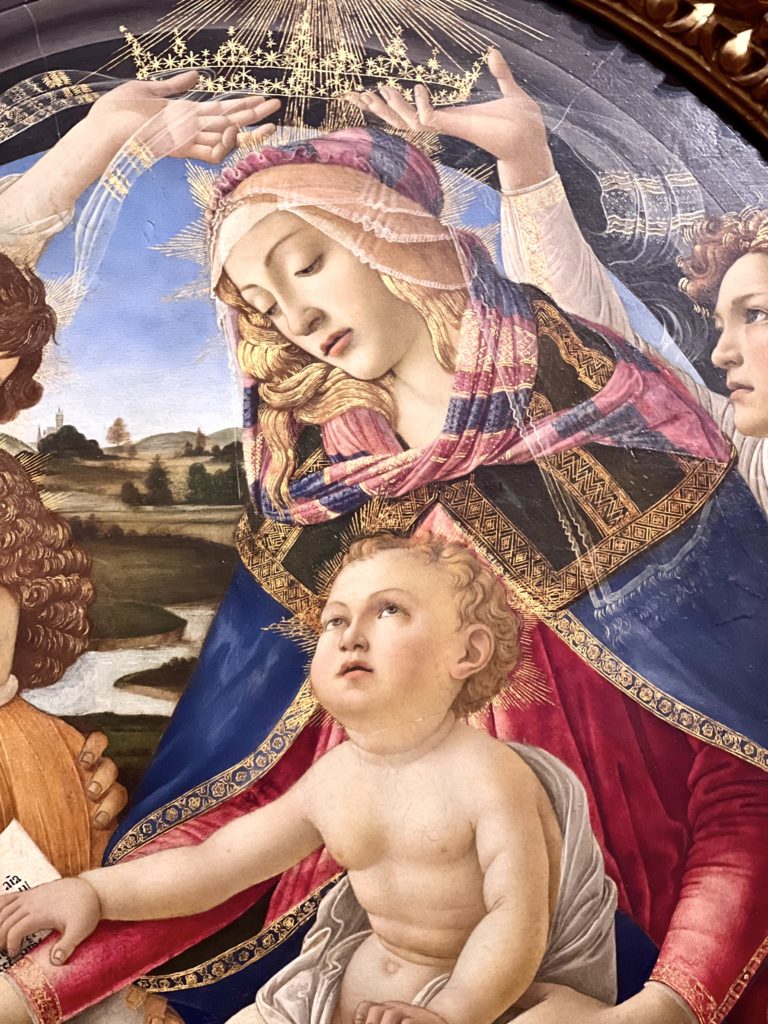 2. Uffizi Gallery
After Santa Croce, head to the Uffizi Gallery. The gallery is Florence's premiere museums and one of the best museums in the world. This is where you come to admire Botticelli, Leonardo da Vinci, and Michelangelo.
The museum is huge and just stuffed with masterpieces. You could spend hours there. The most popular rooms are the two Botticelli Rooms and the Raphael and Michelangelo Room.
Start on the second floor to see these rooms and other magnificent Early and High Renaissance paintings.
On the first floor below, you'll find paintings from the Mannerist (late Renaissance) and Baroque periods, including several by Caravaggio, Vasari, and Artemisia Gentileschi.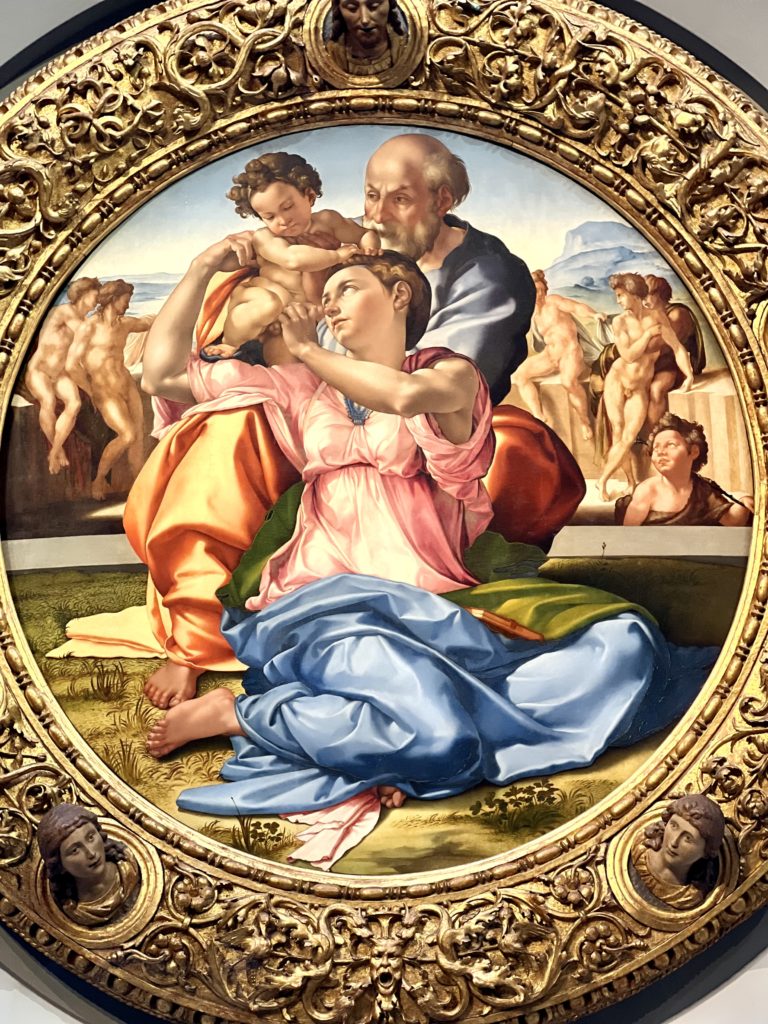 You won't be able to visit the Uffizi, almost in any season, without pre-booking a skip the line timed entry ticket. Once inside, keep the ticket with you because they ask for it at several checkpoints.
You may want to book a guided tour of the museum. The last time I was there, I booked a 2+ hour private guided tour. The guide was excellent and made the museum come to life for my husband, who's not really an art lover like me.
3. Galileo Museum
If you're not a fan of Italian art, you could substitute the Galileo Museum for the Uffizi. The museum is housed in a medieval palace, the Palazzo Castellani, and is perfect for science buffs.
Over two floors, you'll find an impressive collection of scientific instruments from the Renaissance, including telescopes, clocks, anatomical models, and astrological models. They reflect Italy's claim as the center of the first scientific revolution.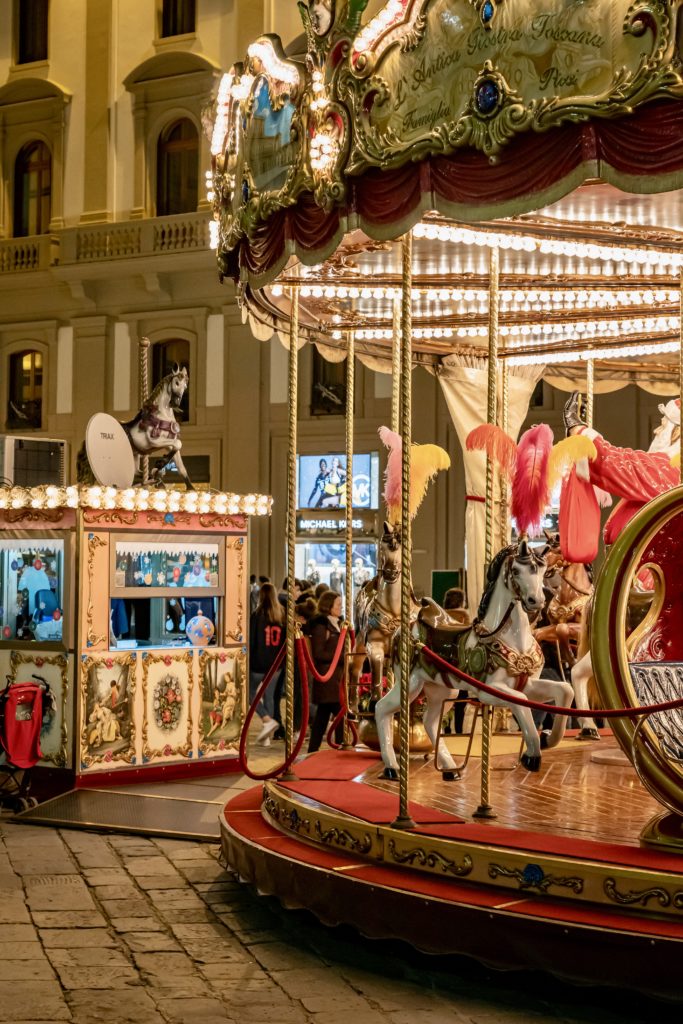 4. Piazza della Repubblica
After your museum visit decompress with a stroll around the Piazza della Repubblica.
This is the Roman heart of Florence and one of the main squares in the city. The Column of Abundance, dating from 1431, marks the point where once the Roman forum stood.
Today, you'll find historic cafes, street artists, and a carousel for kids.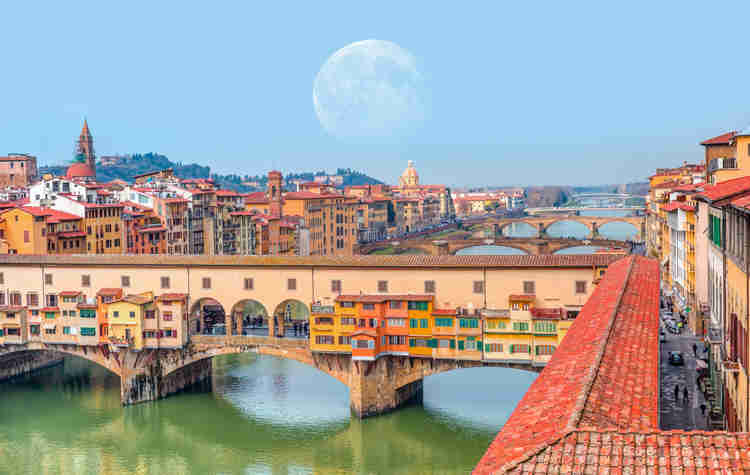 5. Ponte Vecchio
Then take a stroll across Florence's storybook bridge, the Ponte Vecchio.
It looks like cobbled together houses suspended over the Arno River. The bridge has three arches topped with a jumble of 48 pocket size shops. They exclusively specialize in high end gold and jewelry crafted by local artisans.
On top of the shops is the Vasari Corridor, which connects Palazzo Vecchio with the Pitti Palace. It's scheduled to open to the public in November 2022, but one guide told me this was highly unlikely.
The Ponte Vecchio is definitely the most crowded spot in Florence. At night, musicians play and people mingle.
If you'd rather admire the bridge from afar, head a couple blocks down to the the Santa Trinita Bridge where you'll have great views of the Ponte Vecchio.
6. Lunch
A good authentic place to grab lunch near the Ponte Vecchio is Amici di Ponte Vecchio. I had a delicious porchetta sandwich there one day.
Another good place to eat well and relax in this area is Il Magazzino. If you are craving something lighter with more veggies, try 5 E Cinque.
I also had a good pizza at Pizzeria Lo Sprone. Though it's a casual spot, you'll need a reservation to sit outside.
7. Pitti Palace
The magnificent Palazzo Pitti was the regal home of the Medici family. The palace is the largest palace in Florence and one of Florence's most stunning architecture gems.
Inside, you'll find over 500 Renaissance paintings, chock-a-block on top of each other amid lavish stucco and silk furnishings. You'll find works by Raphael, Caravaggio, Titian, Rubens, and Giorgione.
In the five Planet Rooms, there are beautiful ceiling frescos by Pietro da Cortona.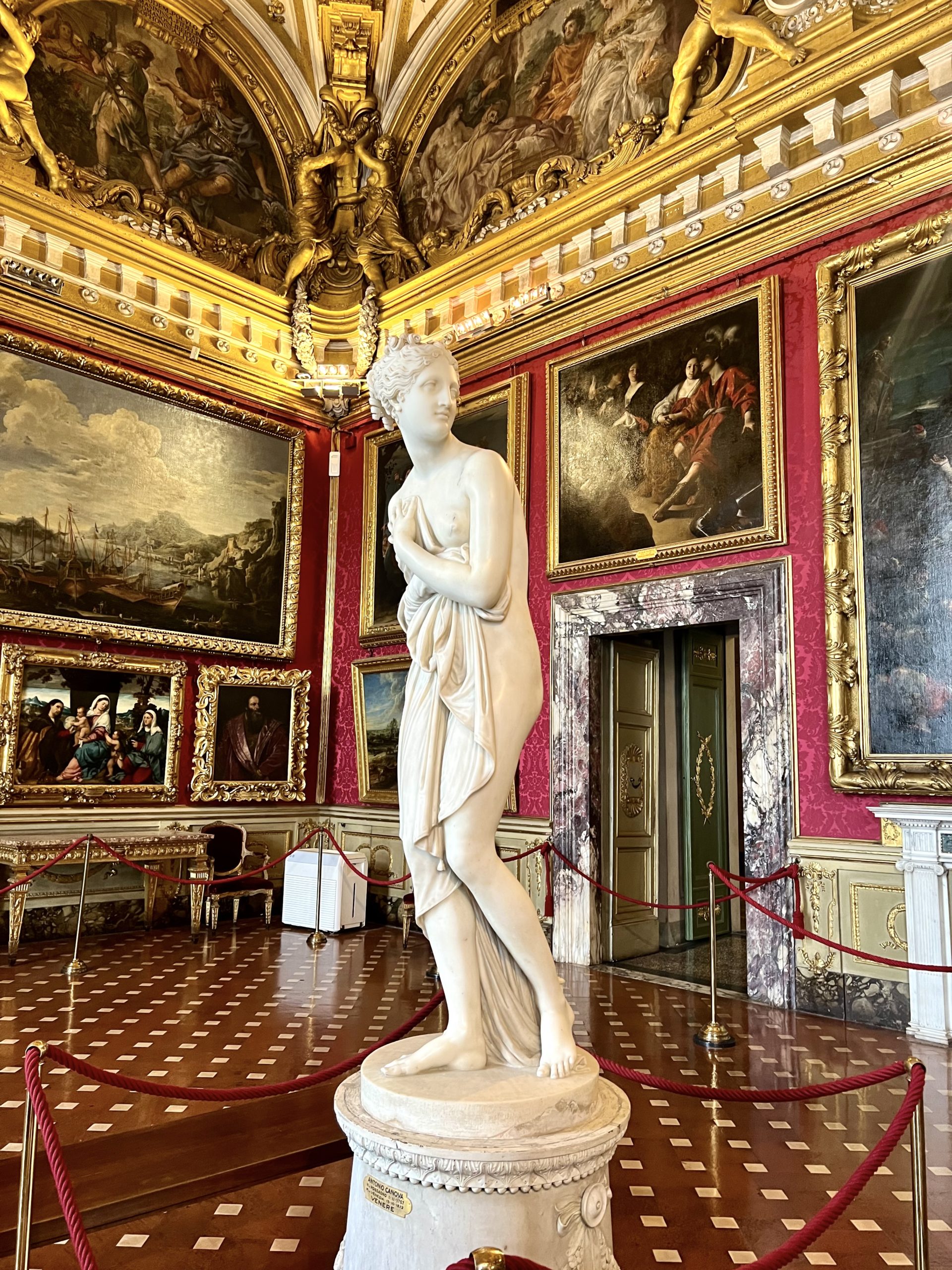 You should definitely pre-book a skip the line ticket to the palace.
There's no signage in the museum, so you may want to book a guided tour to know what you're looking at.
Most people visit the Boboli Gardens, which are the backyard of the Pitti Palace. I was just there and was underwhelmed.
The gardens apparently weren't well maintained during the pandemic. It's really more of a park than a beautiful palace garden.
After your palace visit, it's time for some gelato. I sampled a lot of gelato while in Florence. Hands down, the best gelato was La Strega Nocciola in the Oltrarno. It's about a 5 minute walk from the Pitti Palace.
8. Florence Viewpoints
Piazzale Michelangelo
Fueled up with gelato, it's time to climb to one of Florence's viewpoints. The most popular one is Piazzale Michelangelo in the Oltrarno.
You get there via a serpentine path from Piazza Poggi. You can also take bus #12 from the Boboli Gardens. The hop on hop off bus also stops in the square.
Like Piazza della Signoria, the square has a monumental copy of Michelangelo's David, which was delivered by nine pairs of oxen in 1873.
San Miniato al Monte
If you walk 5-10 more minutes further uphill, you can visit a spectacular and well preserved medieval jewel, the Basilica of San Miniato al Monte. At 1,000 years old, It's one of the oldest structures in Florence.
It's worth the steep climb, I promise. San Miniato is an oasis of calm away from the hurly burly of Florence.
San Miniato has Florence's emblematic geometric white and green marble facade. The Gothic interior is spectacular. Every inch is covered with inlaid marble, mosaics, gold leaf, and depictions of mythical creatures.
From the church, you'll have unsurpassed views of Florence. The perspective over the city is absolutely extraordinary.
I arrived at 5:30 pm, just in time to hear the monks chanting vespers.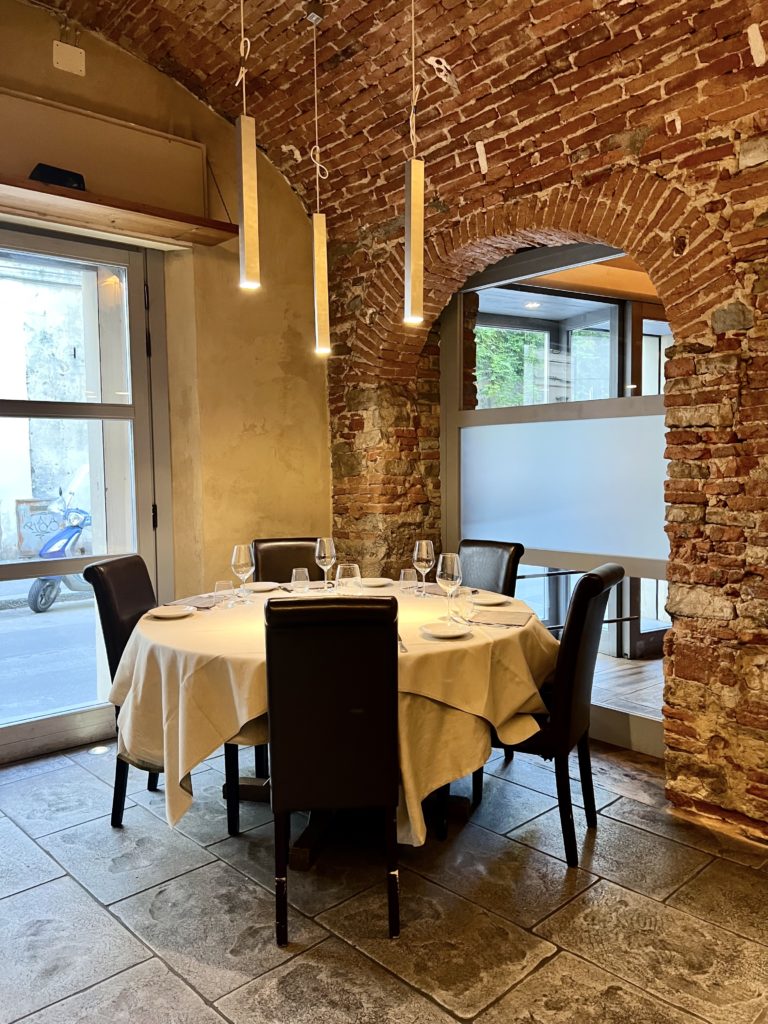 9. Drinks and Dinner in the Oltrarno
End your 2 days in Florence with a glass of wine and dinner in the Oltrarno neighborhood. This is Florence's trendy neighborhood, across the Arno River.
For a cocktail, head to the Piazza Santo Spirito. It's lined with cafes with locals.
For dinner in the Oltrarno, you have some good options. For something casual, try Babae or Beccafito. Beccafito is a fairly new restaurant and has everything — steaks, homemade pasta, charcuterie boards, and vegetarian options.
If you're craving a traditional Florentine trattoria, I loved Cammillo Trattoria. It's a Florentine institution and you'll need to make a reservation to eat here. There's a noisy room and a quieter room under brick vaults.
Another place I enjoyed was Osteria dell'Enoteca. The restaurant is very elegant and set under vaulted ceilings. The sommelier brings you back to the wine cellar to personally help you select your wine.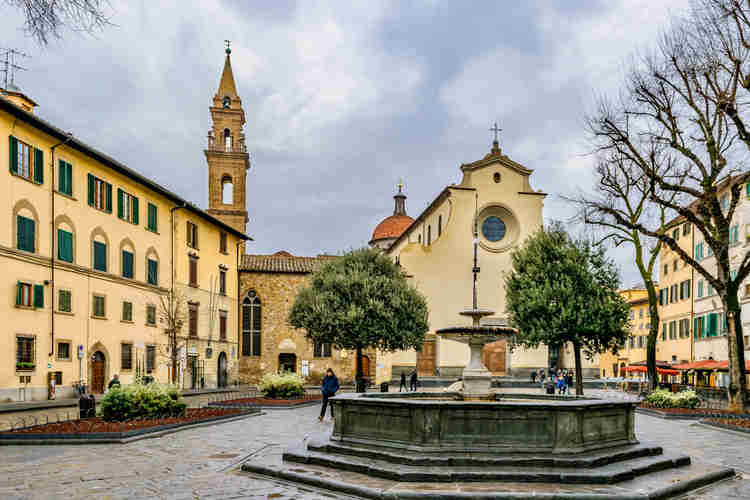 Is 2 Days In Florence Enough?
Two days in Florence is enough to see the top attractions and get a flavor of the city. You'll be gobsmacked by the amazing Renaissance art and architecture.
With 2 days in Florence, you'll leave wanting to come back and explore everything you missed the first time around.
I have a 3 days in Florence itinerary, if you have an extra day. I also have a guide to the hidden gems in Florence, if you're a repeat visitor looking for some more unusual things to do in the city.
Must Know Tips for Visiting Florence
I've written an article with must know tips for Florence, that you can check out for details.
The two most important rules are: (1) always buy tickets well in advance; and (2) try to avoid high season (May through September). Millions of tourists swarm the city annually at that time.
1. How To Get To Florence
The easiest way to get to Florence is to fly to Florence Airport. From there, it's just a short cab ride to the historic center.
You can also reach Florence via the airports in Rome or Milan, proceeding on to Florence via high speed train.
If you only have one day in Florence, you can also book a guided day tour from Milan. Or, you can visit both Pisa and Florence on a guided day tour from Rome.
2. How To Get Around Florence
Florence isn't a big city. You can traverse the entire city in 30 minutes.
So plan to spend your time walking for the most part. It's partly pedestrianized, so there's not a huge amount of traffic.
But there are lots of other fun ways to get around Florence. You can:
3. What Days To Visit Florence
If you only have 2 days in Florence, which days should you visit?
I would get the latest opening hours from the tourist information office. There's one in the Piazza del Duomo.
Check your guidebook (or go online) to see which sights are open on which days. Some sites, like the Medici Chapels, close early.
In general, Sundays and Mondays are not ideal days for sightseeing in Florence. Many museums are either closed or have shorter hours.
Sights may also have shorter hours off-season. Even restaurants may be closed on Sunday night.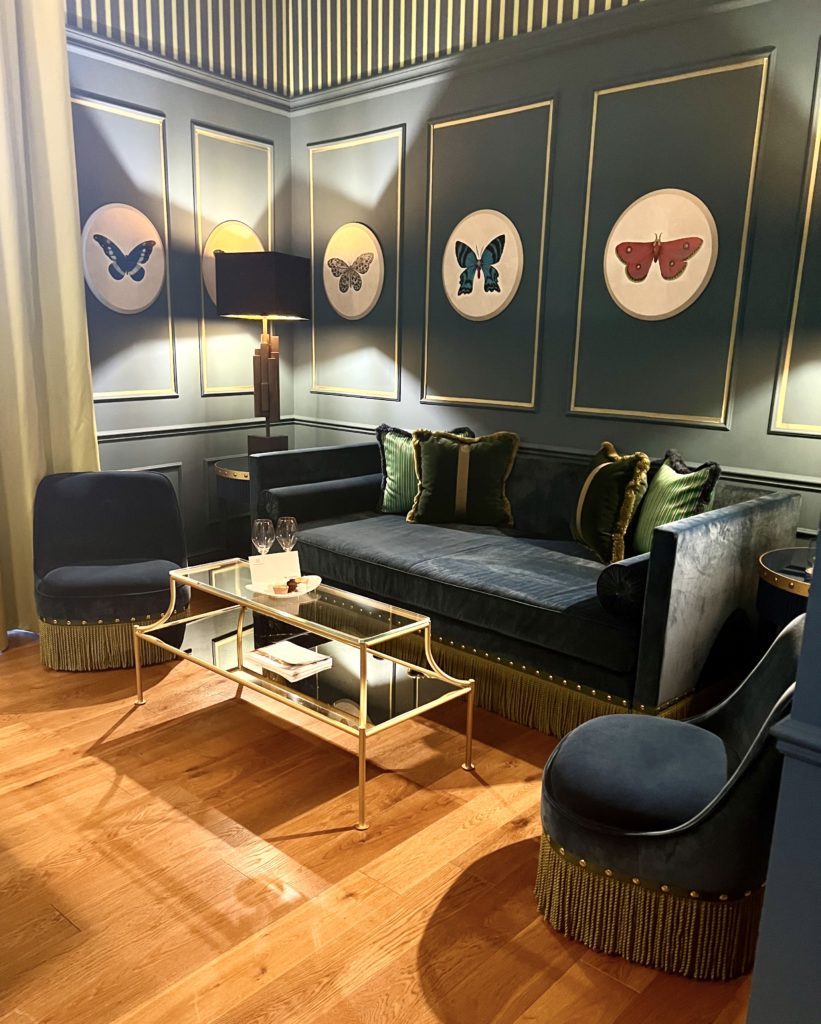 4. Where To Stay In Florence
There are plenty of amazing hotels for a 2 day stay in Florence. You're really spoiled or choice.
If you want something central, book at Il Touranbouni, Hotel Brunelleschi or Portrait Firenze. Portrait Firenze is one of the most sought after hotels in Italy and is just steps away from the Ponte Vecchio.
I just stayed at Il Tournabuoni on my most recent visit and it had an ideal location — near the Ponte Santa Trinita and perfectly located between the historic center and the Oltrarno neighborhood.
The Palazzo Vecchietti is housed in a beautiful 16th century townhouse. The St. Regis is a beauty too, right near Santa Maria Novella. Il Salviatino has a patrician feel and offers Duomo views.
In the Oltrarno, I also really like Villa Cora with its stunning views and Renaissance style suites. It may not be the best place to stay with only 2 days in Florence. But if you have planned a longer stay or are a repeat visitor, it's a great place to stay in Florence.
5. Day Trips From Florence
If you have more than 2 days in Florence, the city also makes a great base for day tripping in Tuscany. I've written a guide to the 17 best day trips from Florence.
But my top 3 picks would be Sienna, San Gimignano, and Lucca.
Siena
Siena is a gorgeous medieval city that's effectively an open air museum. It's a burnt orange dream with some first rate art and stunning architecture.
You can admire the city's art-laden Siena Cathedral, gaze at a famous fresco cycle in the Palazzo Pubblico, and stroll the vibrant streets full of artisan shops and boutiques.
You should book a ticket to the Duomo complex. Then, I would add on a ticket to the Palazzo Pubblico. It's worth it just to see the stunning Allegory of Good and Bad Government frescos.
Siena is just a one hour drive from Florence. You can also book a guided day tour to save you the hassle of arranging transportation.
San Gimignano
San Gimignano is an enchanting walled town with a bristling cityscape of 14 spiky honey-colored towers. You can climb the Torre Grossa for spectacular views.
Apart from the towers, San Gimignano has a lot to offer art buffs, with fresco cycles by early Renaissance luminaries in its Duomo and Civic Museum.
San Gimignano is an hour drive from Florence. You book a guided walking tour of the town and/or pre-book a ticket for the Duomo and Torre Grossa.
You can also visit via a guided day trip tour to San Gimignano.
Lucca
Lucca is lovely town that endears itself to everyone who visits. The beautifully preserved town is still entirely contained within its stout Renaissance walls.
Lucca's appeal lies in its relaxed old world charm. It's best to stroll along the pretty streets and piazzas. Romanesque churches are around every corner.
The main pedestrian drag is Via Fillungo. Lucca's central square, Piazza Anfiteatro, was build around an ancient Roman arena.
You can book a 2 hour guided walking tour in historic Lucca, go on a food and wine tour, or visit Lucca and Pisa on a day trip from Florence.
You can visit both Lucca and Pisa on a guided day tour from Florence. Pisa is worth visiting not for its Leaning Tower, but for the monuments on the Field of miracles.
I hope you enjoyed my 2 day itinerary for Florence. You may like these other Florence travel guides:
If you'd like to spend 2 perfect days in Florence, pin it for later.