The Boston Museum of Fine Arts is an absolute world class museum and the crown jewel of the Boston art scene. The museum can be daunting to visit because it's so massive. To help you decide what to see, here's my guide to the MFA, with an overview of the museum and description of the must see masterpieces.
Established in 1870, the MFA is the fourth largest museum in the United States. The museum is housed in a Beaux Art building. The museum was later expanded by architect I.M. Pei.
The collection has everything from Egyptian mummies to minimalist Mondrians. The museum's collection of Impressionist and Post-Impressionist work is among the world's finest, second in the United States only to Philadelphia's Barnes Foundation.
Overview & Layout of the Museum of Fine Arts Boston
The MFA Boston is divided into 7 sections:
Art of Ancient Egypt
Art of the Classical World
Art of Asia
Art of Oceania and Africa
Art of the Americas
Art of Europe
Art of Our Times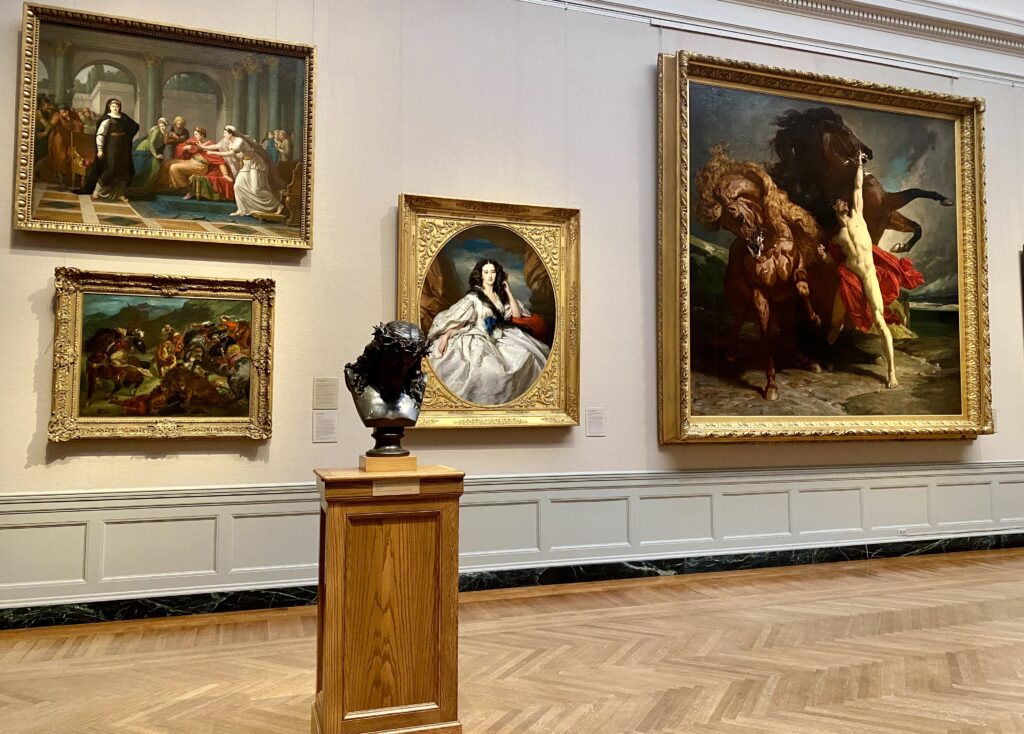 The museum's layout is designed to guide visitors through its extensive collections and to highlight various periods, styles, and themes in art history.
The MFA is housed in multiple levels in several buildings, including the Art of the Americas Wing, the Linde Family Wing for Contemporary Art, and the West Wing.
The Art of the Americas Wing features collections of American art from pre-Columbian times to the present day. The Linde Family Wing houses contemporary art collections and installations.
The West Wing houses European art from the Middle Ages to the 20th century, as well as collections of art from Africa, Oceania, and the ancient world.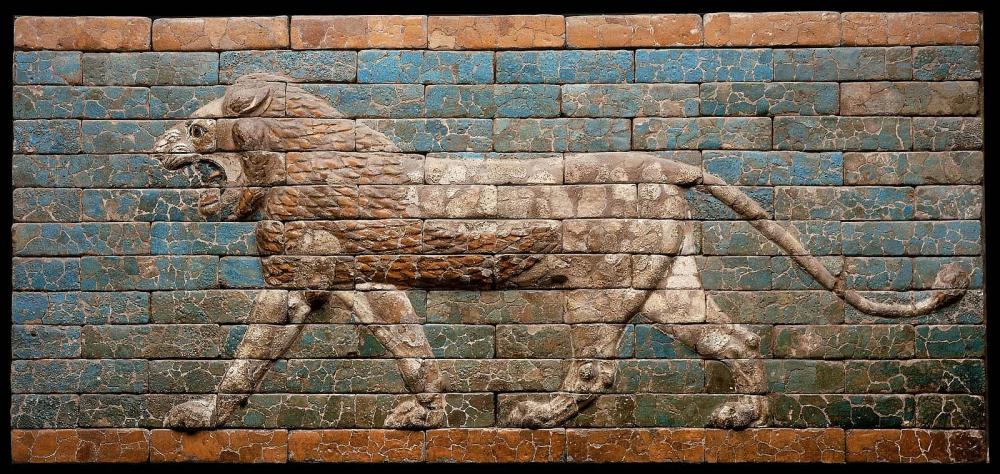 Guide To The Boston Museum of Fine Arts: Masterpieces To See
Here are the highlights of the MFA Boston.
I've focused principally on the masterpieces of the European and American collections which are the most popular spaces. But I'll give you a brief run down on the other sections, which are no less fascinating.
Ancient Egypt
The MFA's Egyptian collection is one of the world's largest and most comprehensive collections of ancient Egyptian art and artifacts.
You'll find over 6,500 works that include sculptures, busts, reliefs, sarcophagi, golden amulets, jewelry, daggers, and mummy masks.
Some of the must sees are a pair of statues of King Menkaura (Mycerinus) and his queen, the triad of King Menkaura, and the goddess Hathor.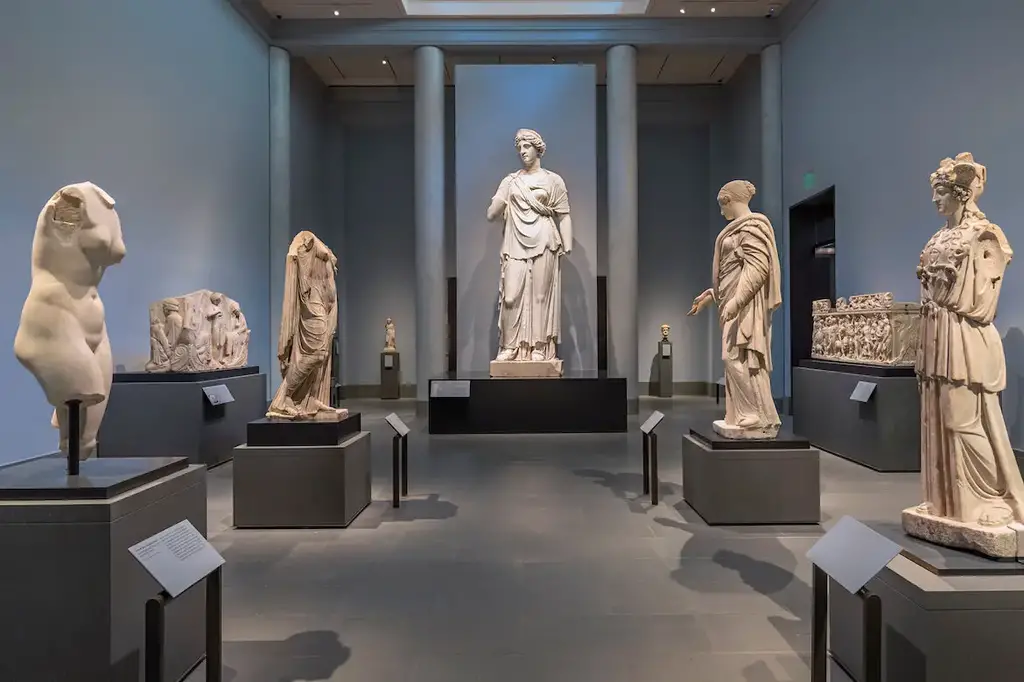 Classical World
Who can resist a good collection of Greco-Roman art? Not me, for sure.
The MFA's collection includes 17,000 works from 2800 B.C to the Early Byzantine period in 600. It's especially strong in coins, gems, Greek vases, and Roman portraiture. Plus, the galleries were recently renovated and are now in innovative displays.
Among other things, you'll find a large bronze statue of Hercules, a 13 foot tall marble statue of Juno, a bust of Emperor Augustus, Roman mosaics, and an extraordinary group of wall paintings from the imperial period.
Asian Art
The MFA also has a fine collection of Asian art, though not at the level of the Smithsonian Museum of Asian Art in Washington D.C.
You will find a nice array of statues of bodhisattvas, ganeshas, buddhas, and shivas, along with some ceremonial carpets, painted screens, and wall hangings.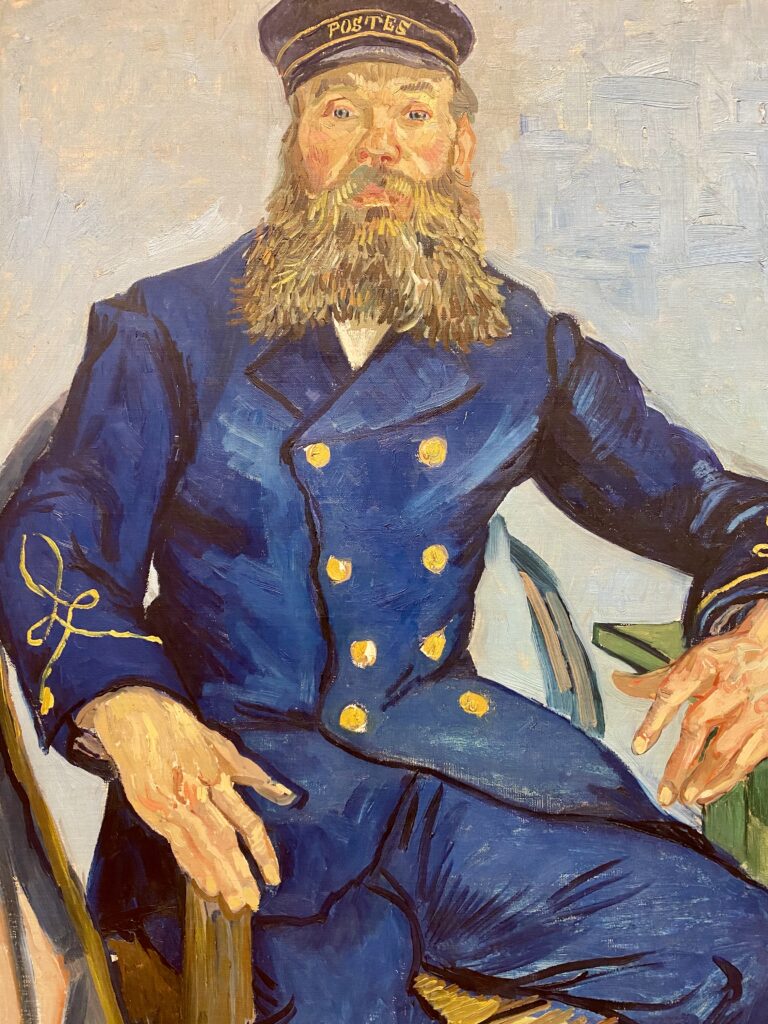 European Art
There are almost too many fabulous paintings to mention in this popular section of the museum! I'll discuss some of my favorites.
Van Gogh Paintings
The MFA has two major Van Gogh paintings in its European collections. Van Gogh is, of course, one of the world's most popular artists. He rejected the Impressionists' methods and instead used color and line to express emotion.
Van Gogh made six portraits of the local postman in Arles, who had a beard "like Socrates." The artist tried to "paint him as he felt him." As a result, the figure looks intense, especially his hands.
The next painting is of the wife of the postman. There's a flat background of floral wallpaper. She holds a rope that is connected to a cradle she is rocking. Van Gogh, however, saw it as a metaphor for melancholic isolation.
Monet, Grainstack Sunset
The MFA Boston has an impressive collection of Monet paintings, some acquired during the artist's lifetime. They include his grainstacks, poppy fields, water lilies, and other landscapes like Rouen Cathedral.
The Grainstack has its own wall at the MFA Boston, set against a stark black wall to highlight the pastel colors.
The painting was part of a series Monet painted over and over. He displayed them for the first time in 1891 and they were a critical and commercial success.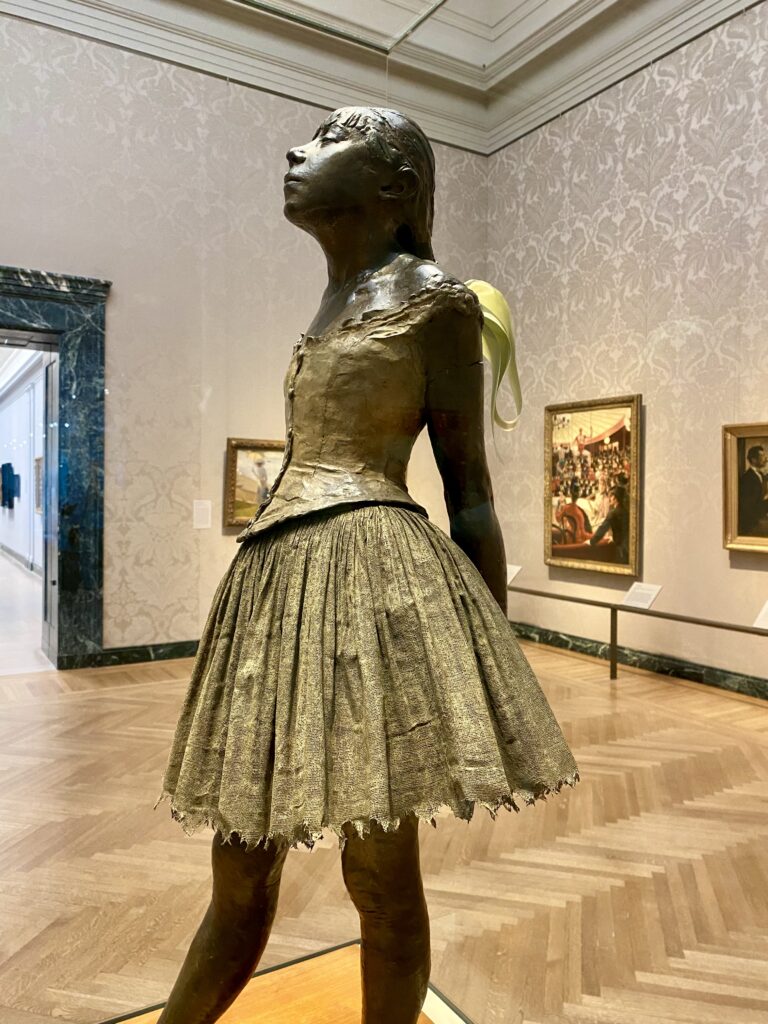 Degas, Litter Dancer Aged 14
Degas first unveiled this beautiful sculpture asa wax model at the Impressionist Exhibition of 1881. He intended to portray a young girl dreaming of becoming an illustrious ballet dancer.
But she's rendered as an everyday person from the streets, not idealized or heroic. Degas placed her in a glass case, asserting the Dancer's status as a work of art.
Degas fitted the sculpture with found objects — real hair, bodice, tutu, and dancing slippers. The sculpture is extremely naturalist, almost anthropological.
The critics hated Degas' attempt at hyperrealism, calling the urchin girl "bestial" and a deliberate "image of ugliness." Now, she's beloved.
The MFA's sculpture was cast after 1921. It's Degas' largest surviving sculpture.
Edvard Munch, Summer Night's Dream
Edvard Munich is Norway's most famous painter. He's an Expressionist painter most famous for his painting The Scream.
The MFA's Summer Night's Dream is from his Frieze of Life series. It deals symbolically with the themes of love and death, like much of Munch's work.
This painting depicts a young woman's adolescent awakening. The viewer stands in the place of her expected lover. It was inspired by Munch's first, and ultimate painful, first love affair.
Cezanne Paintings
The MFA owns a fine pair of Cezanne portraits. Cezanne was a Post-Impressionist who Picasso credited as "the father of all of us." He wanted to solidify what the Impressionists saw as ephemeral.
Cezanne's Self Portrait was created near the end of his life, after 30 years of portrait painting. His geometric volumes almost become abstract. The lack of detail in the eyes suggest a psychological distance.
The portrait of his wife, who he painted many times, is an early Cezanne portrait. The small blocks of color give it a quiet monumentality.
The color scheme of blue and red is fantastic. The green touches of paint on her face give the portrait a distinctly modern quality.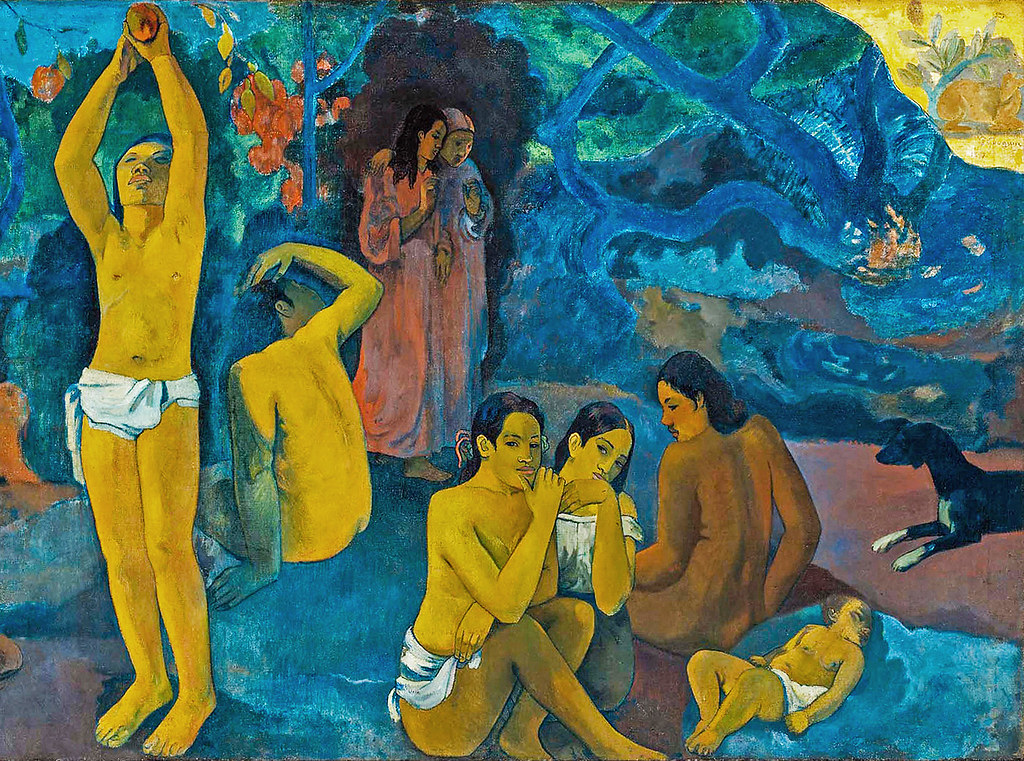 Gauguin, Where Do We Come From? What Are We? Where Are We Going?
Paul Gauguin is known for his saturated colors, flat planes, and simplified forms. He was influential in the development of the Symbolist and Post-Impressionist movements.
This massive painting is Gauguin's masterpiece. It's meant to be read from left to right. You can only see a detail above because the painting is simply too large to photograph!
In it, the artist seeks to capture an inner world of fantasy and dream. The painting was created during a sojourn in Tahiti.
It's an allegorical work featuring a group of Tahitian figures arranged in a series of tableaux across a lush, tropical landscape. The figures are depicted in various states of repose and contemplation.
Gauguin intentionally left it mysterious. Obvious symbolism, he thought, would make it less of a poem.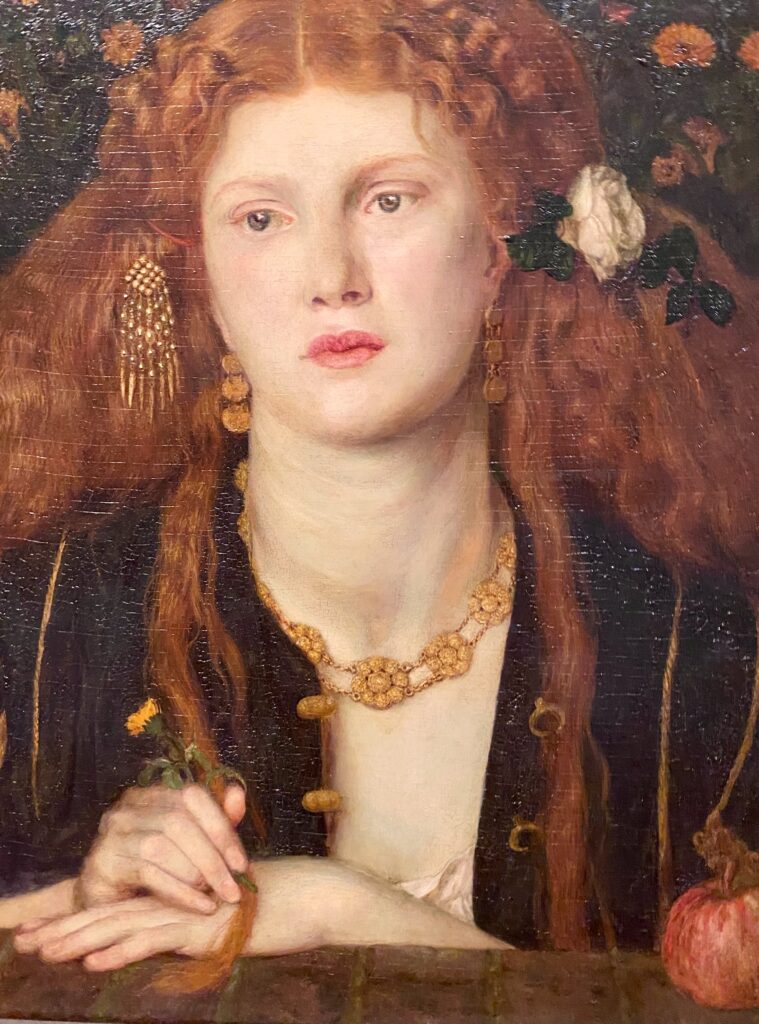 Rosetti, Bocca Baciata
Rosetti was a leading member of the Pre-Raphaelites in London, and you won't typically see many of their paintings outside that city.
The Pre-Raphaelites had a strong aesthetic, which is instantly recognizable. It was typified by a jewel-like palette, exquisite attention to detail, and striking representations of women.
The title of this painting means "kissed mouth" in Italian. It's a portrait of Fanny Comforth, who was Rosetti's employee and mistress. Her copper hair and pale complexion fit the Pre-Raphaelite model of ideal beauty.
The painting was first exhibited in 1859 and was considered scandalous due to its sensuality. it's a work of art that was simply beautiful, without any moralizing.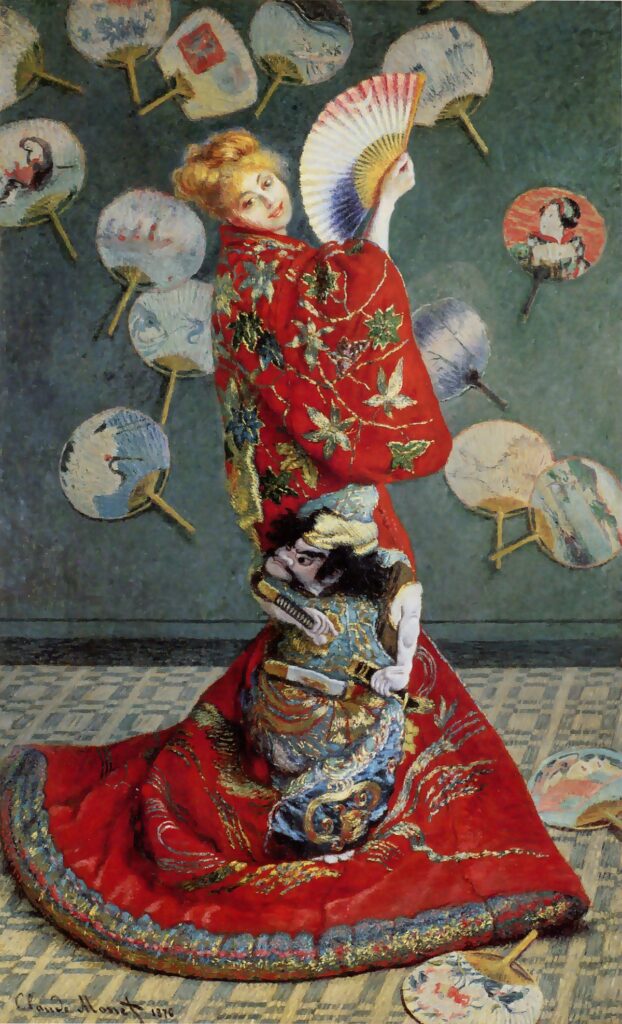 Monet, La Japonaise
La Japonaise is a rather over-the-top painting by the French Impressionist artist Claude Monet, created in 1876. The artist depicts his wife Camille in a kimono and blond wig. She holds a fan and stands in front of a background of brightly colored fans.
The paintings reflects the then-prevailing fascination with Japanese culture in the late 19th century. But it has the Impressionist trademark of capturing the effects of light and color in paintings.
A recent collaboration with museum's Japanese colleagues revealed that the robe is decorated with a Japanese fable. The demon you see at the bottom is actually a disguised warrior.
J.M.W. Turner, Slave Ship
Slave Ship is one of Turner's most celebrated paintings. Turner may be Britain's most famous and important artist. Most of his paintings are in the Tate Britain.
In the mid 19th century, Turner shocked his colleagues with his loose brush strokes and fiery palette. He launched the Romantic movement and presaged the later Impressionist movement
Slave Ship show Turner's fascination with violence. A true story of a British ship inspired the paintings.
In it, a captain throws the sick and dying overboard so he can collect insurance money for those "lot at a sea." You can see the horror of the story in the churning color and light.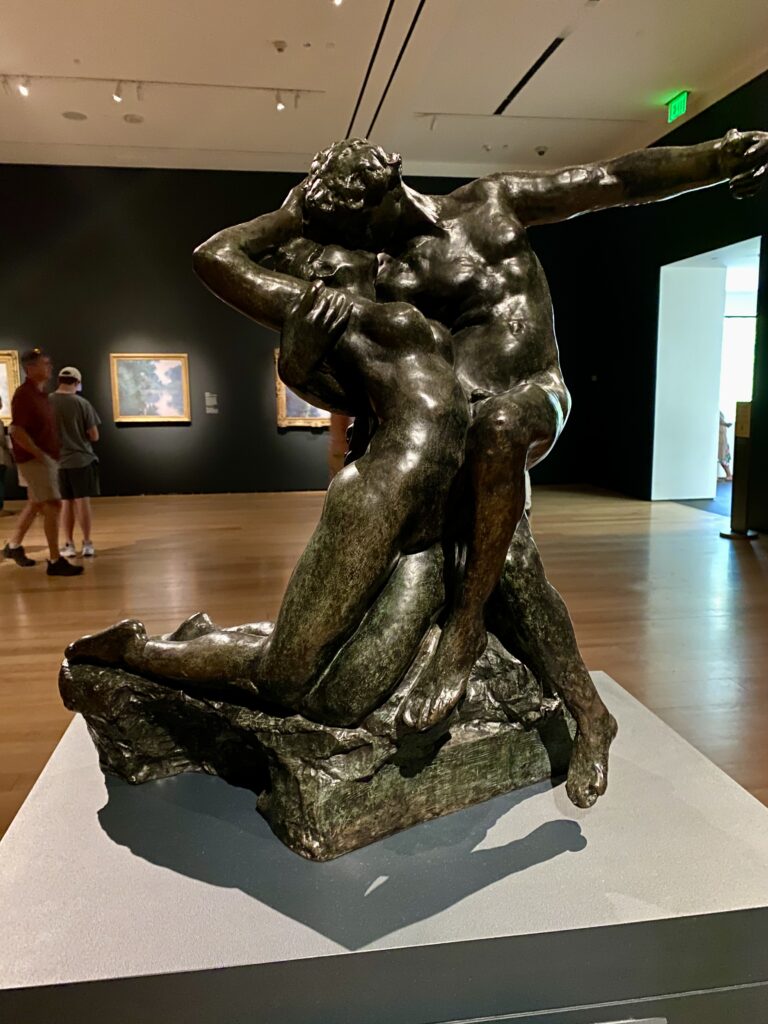 Rodin Sculptures
America's great museums have a love affair with the sculptures of Auguste Rodin. He was the French artist who, more powerfully than anyone since Michelangelo, dramatized our struggle with our physical, sexual natures.
In Eternal Springtime, Rodin created a pair of lovers expressing their bliss in an almost dance-like way.
With its rhythmic movement, the sculpture remind me of 18th century decorative sculpture. It was very successful and was cast many times in bronze and marble.
You can also see Psyche, a completely different kind of Rodin work. In it, Psyche, the beloved of Cupid, sneaks a furtive glance at her lover. Rodin cuts deeply into the block of marble, evoking the darkness of night.
There's also a video onsite showing how Rodin created his sculptures.
American Art
Mary Cassat, In the Loge
Cassat was the only American to exhibit with the Impressionists. Along with Berthe Morisot, she was a rare female painter of that era.
Like her friend Degas, she was attracted to painting detached views of modern life. This painting shows the complex relationship between the gaze, public spectacle, gender, and class privilege.
In it, a woman in sober attire uses her open glasses to scan the boxes. She is unaware of the man who leans out of a nearby box, her eyes fixed elsewhere.
Jonathan Singleton Copley, Paul Revere
John Singleton Copley's 1768 portrait of Paul Revere is one of the most beloved icons in the American collection.
It depicts the patriot, who was a Boston silversmith and midnight rider. Copley presents his subject as a working man. He seems to be momentarily distracted or contemplating a design for a new job.
Revere holds a tea pot. It's unclear what the purpose is.
Was it something being made by Revere? Or was its inclusion in the portrait a political statement against the tea taxes of the time?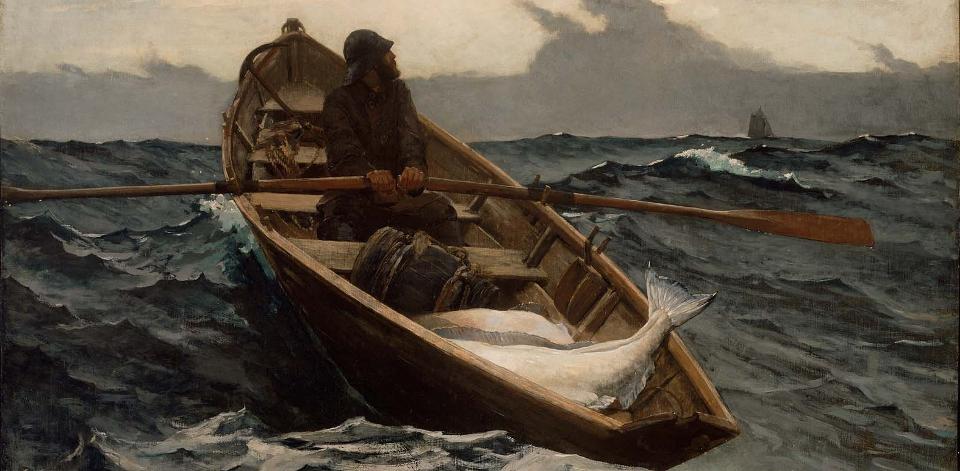 Winslow Homer Paintings
The MFA has a rich collection of works by Winslow Homer. He was an American landscape painter, known for his seascapes. He is considered one of the foremost painters in 19th century America.
In The Fog Warning, he captures a scene on the rocky coast of Maine. The painting explore's man's constant struggle with the sea.
In it, you see a fisherman struggling to get back to the mother ship before a storm hits. It was the first Homer painting to enter a public collection.
Frida Kahlo, Dos Mujeres
Kahlo was an artist in the Mexican Modernist movement of the first half of the 20th century. She's known for her self portraits and compelling storytelling. Her paintings celebrate Mexican folklore and are often quite dreamlike.
Dos Mujeres was allegedly the first painting she ever sold, in 1929. It was held privately until the MFA acquired it in 2016.
The painting is a dignified double portrait of two women in her mother's household. Kahlo appears to portray the working class women as saints.
John Singer Sargent Murals
In 1926, Singer Sargent was asked to create murals for the newly built MFA. The project appealed to the artist, who thought mural painting was a higher calling than portraiture.
It was a challenging project. But he created 8 giant oil paintings on canvas for the rotunda. Beginning in 1921, he produced another set of murals for the stairway.
As his subject, Singer Sargent chose stories from the Classical past, including one of a debate between Classic art and Romantic art.
The murals were restored in 1998. You can see their lush colors and skillful draftsmanship.
Modern & Contemporary Art
Jackson Pollock, Troubled Queen
Pollock was an Abstract Expressionist painter who invented the drip technique for which he is world famous. This painting is a somewhat early version of that period, from 1945.
In it, you can see two face-like forms emerging from coils and jagged lines. They resemble Picasso's own use of mask-like figures.
This was one of the last Pollock paintings with any figuration. Soon, figures would disappear from Pollock's work, replaced with pure abstraction poured on the canvas.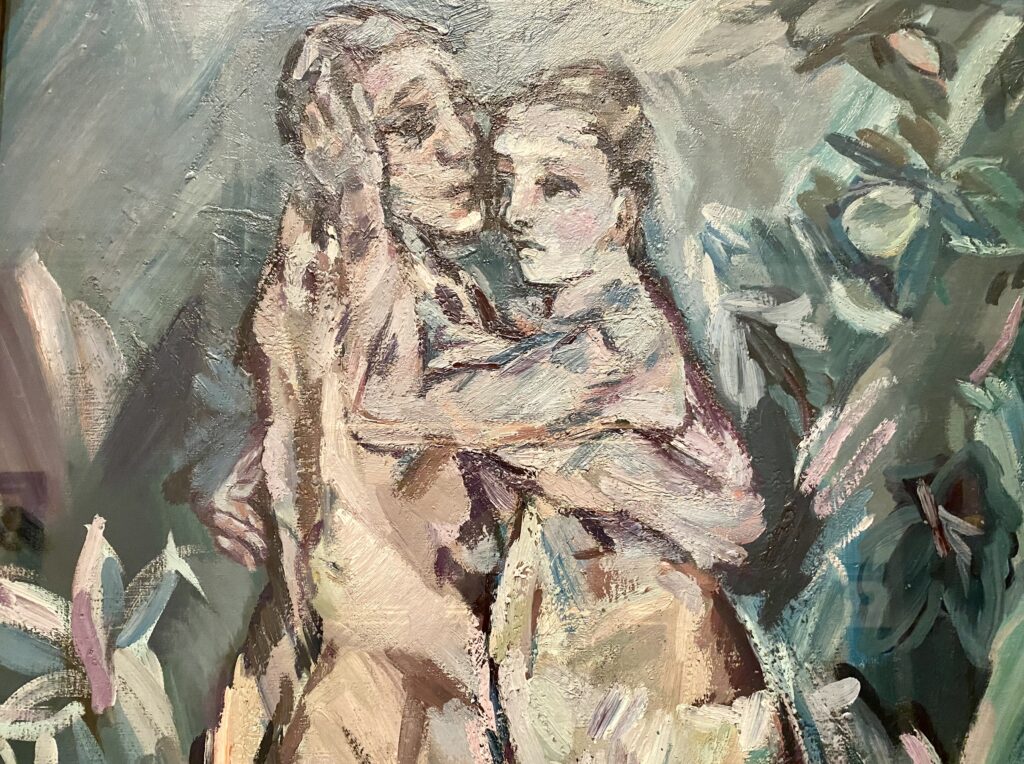 Oscar Kokoschka, Two Nudes (Lovers)
This is an excellent double portrait. A painter from the German Expressionist movement, Kokoschka created it just before WWI.
In it, two lovers are in a haunting and ambiguous pose. They seem to both move together and back away from each other. The interlocked pose almost suggests a formal dance.
The ambiguity was intentional and reflected Kokoschka's complex and stormy relationship with Alma Maher, the wife of the composer Gustave Mahler.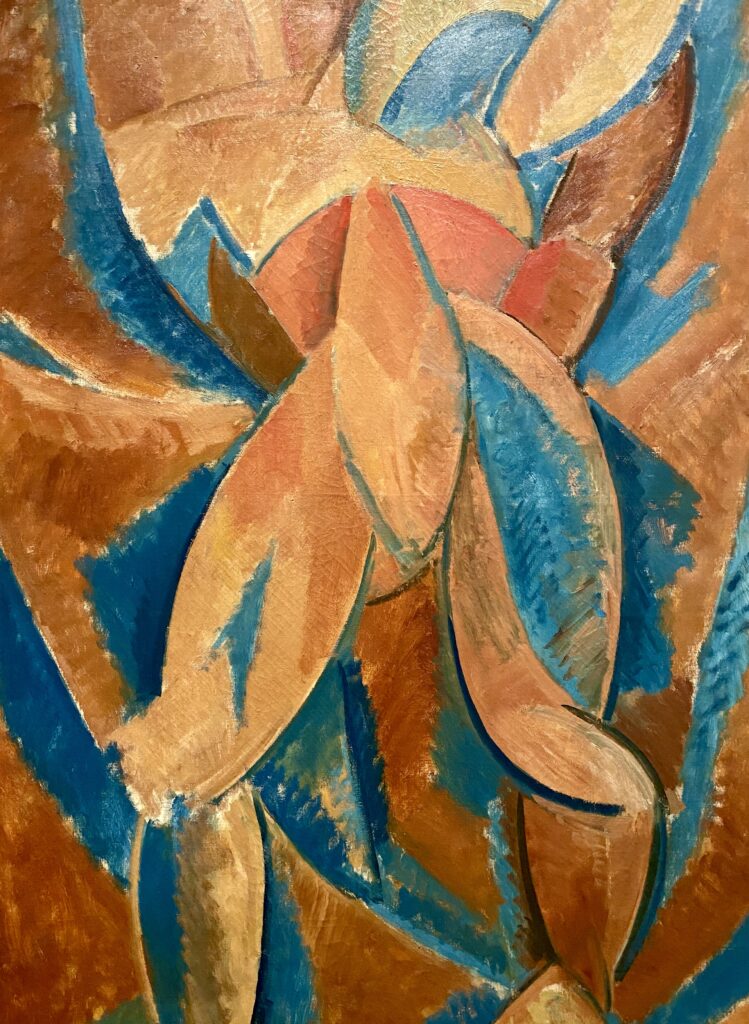 Pablo Picasso Paintings
This first Picasso work is considered a milestone in the development of Cubism, the most influential art movement of the 20th century.
Cubism sought to render 3D figures in a 2D space with simplified components. Standing Figure is an early example of the theory using the classic subject of the female nude.
The MFA has another Picasso, Portrait of a Woman, where this technique has advanced. You can barely make out her face amidst the monochromatic and geometric shapes.
Rape of the Sabine Women, shown above, is a later work that Picasso completed when he was 82. It's a classic theme from early Rome. Picasso renders it as a powerful image of outrage and despair.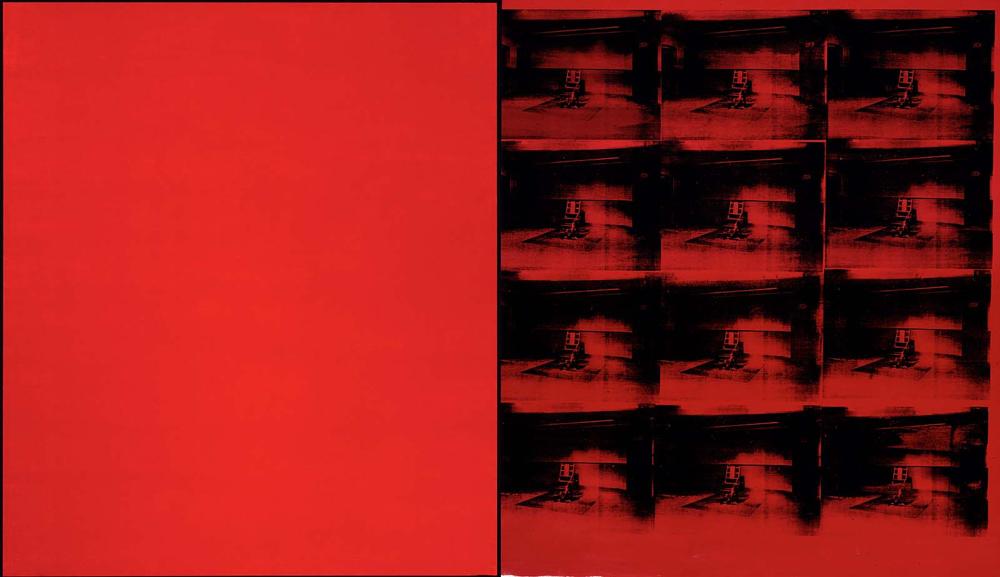 Andy Warhol, Red Disaster
After becoming a successful commercial artist, Andy Warhol launched into a career as the Prince of Pop. He was known for producing series of silk screens with a theme — soup cans, celebrities, etc.
This silk screen is from his Disaster series. The electric chair was the first subject in this series.
Red Disaster was based on a photograph of a death chamber at Sing Sing Prison. It's hard to decipher the meaning as Warhol no doubt intended. It could be a condemnation of capital punishment or just reflect the repetitiveness of man's inhumanity.
Practical Guide To Boston MFA
Here are some must know tips for visiting the Museum of Fine Arts in Boston.
Address: 465 Huntington Avenue, Boston MA
Opening Hours: 10:00 am to 5:00 pm daily, except closed Tuesdays. Open until 10:00 pm on Thursday and Friday nights.
Tickets: $27. Entry is included in the Boston Go City Pass.
Metro: Take the Green Line E train to the Museum of Fine Arts stop, the Orange Line to the Ruggles stop, or the Commuter Rail to the Ruggles (Zone 1A) stop.
Parking: The museum has its own parking garage, called the MFA Parking Garage, which is located at 20 Museum Road, just behind the museum. It's accessible via both Museum Road and Huntington Avenue.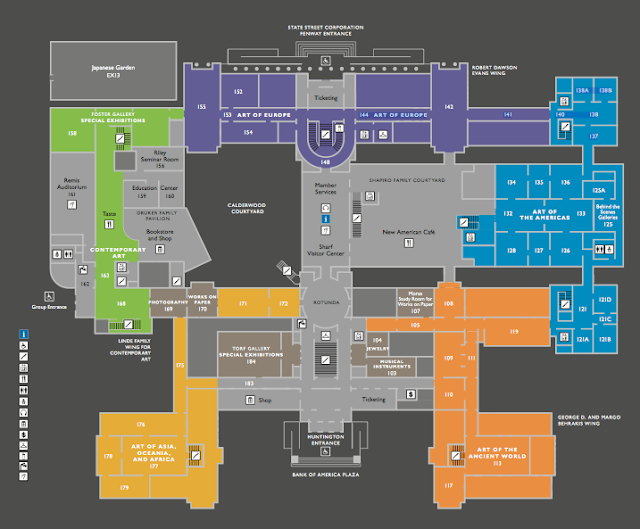 Cafes:
The museum has plenty of dining options — the Garden Cafeteria in the gift shop, the New American Cafe, and the Taste Cafe. They all offer various soups, salads, and sandwiches. Click here to check them out.
Pro Tips:
I've visited the MFA many times. It's a massive museum and you won't be able to cover it in one visit.
If you plan to stay for 2-3 hours, about the time museum fatigue sets in, you should prioritize a couple departments to focus on. You could also take a lunch break at the museum and then go back for more.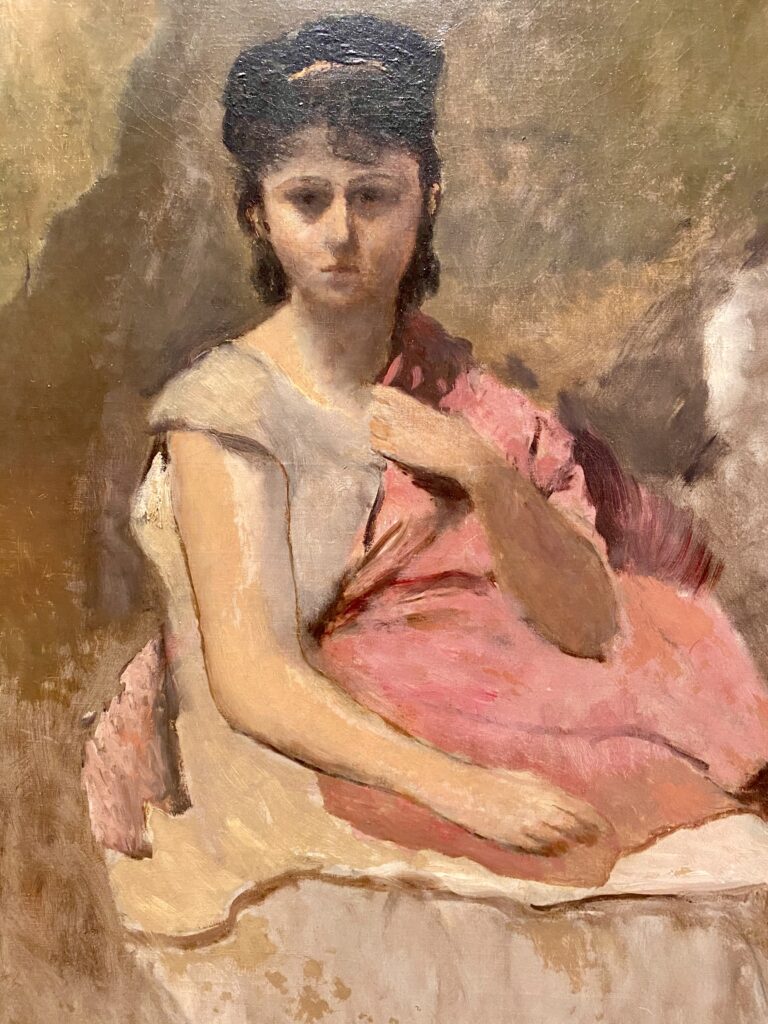 The MFA offers maps and self-guided tours, as well as audio tours, which can help visitors make the most of their time.
I hope you've enjoyed my guide to the Boston Museum of Fine Arts. you may enjoy these other New England travel guides and resources:
If you need a guide to the MFA Boston, pin it for later.