Exploring Venice? You'll want to know all the best things to do in the San Polo neighborhood.
San Polo is one of the six historic sestieri of Venice. It's located in the heart of the city and is known for its bustling atmosphere, historic landmarks, charming canals, and vibrant local life. This is where you'll find the iconic Rialto Bridge and Rialto Market.
It can seem touristy at times. But if you step off the beaten path, you'll find some hidden gems well worth visiting.
San Polo is also a treasure trove for art lovers. The Frari Church and the Scuola Grande di San Rocco have the greatest concentration of art outside Piazza San Marco and the Galleria dell'Accademia.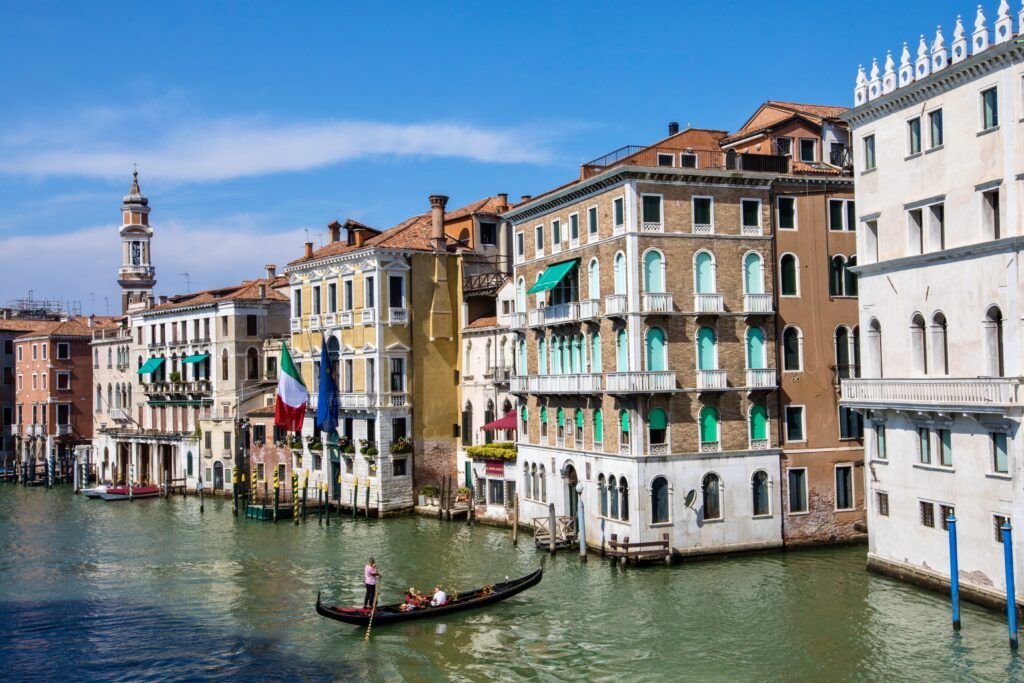 Best Things To Do in San Polo
So, here's my run down of all the top attractions and things to do in the Venice's San Polo district. To see it all, you may want to book a sightseeing tour with a local.
1. Rialto Bridge
The Rialto Bridge is probably the top attraction in San Polo. It's a masterpiece of architectural ingenuity and a tourist favorite.
The bridge elegantly spans the Grand Canal, connecting the San Marco and San Polo districts. The bridge's design features a central stone arch flanked by two smaller arches on either side, creating a harmonious composition.
Crafted from durable Istrian stone, the bridge's steep central arch allows boats to pass beneath. Balustrades adorned with sculptures and reliefs enhance its beauty.
Once upon a time, this was the commercial center of Venice. This was the trading hub where merchants came to do their daily business.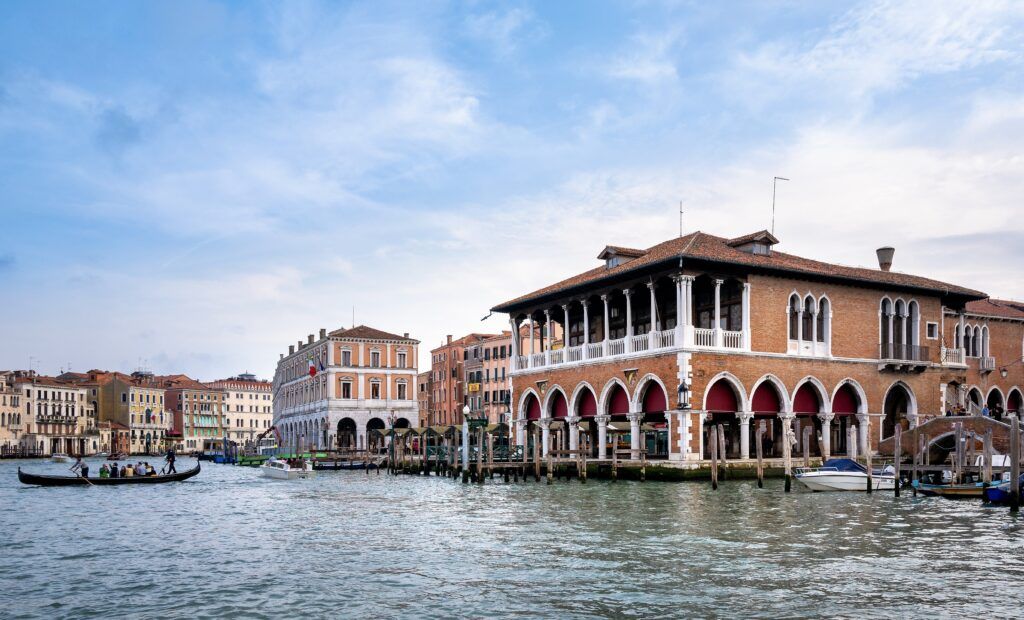 2. Rialto Market
Just west of the Rialto Bridge stretch the stalls of the Rialto Market, housed in a Neo-Gothic arcade. It's the best place in Venice to buy seasonal fruit, vegetables, and seafood.
The locals have been mingling and trading goods here for almost 1,000 years. You'll smell the fish even before you arrive.
The busiest part are the fish stalls of the Pescari. You'll see fishmongers in their long aprons and gloves wrapping fish in paper and taking orders from customers. You'll find find soft shell crabs, tiny shrimp, cuttlefish, octopus, and some swordfish and sea bass as well.
>>> Click here to book a Rialto market food and wine tour
3. Church of San Giacomo di Rialto
The foundation date of this little church is the same as Venice herself, 421. It's undergone many radical renovations since then, the last one in 1601.
The original Greek cross plan is still preserved. The interior has columns of ancient marble with 11th century Corinthian capitals.
The church was famous for Pope Alexander III granting an annual plenary indulgence for visitors. The doge himself was known to take advantage of that.
The church currently hosts an exhibit of musical instruments.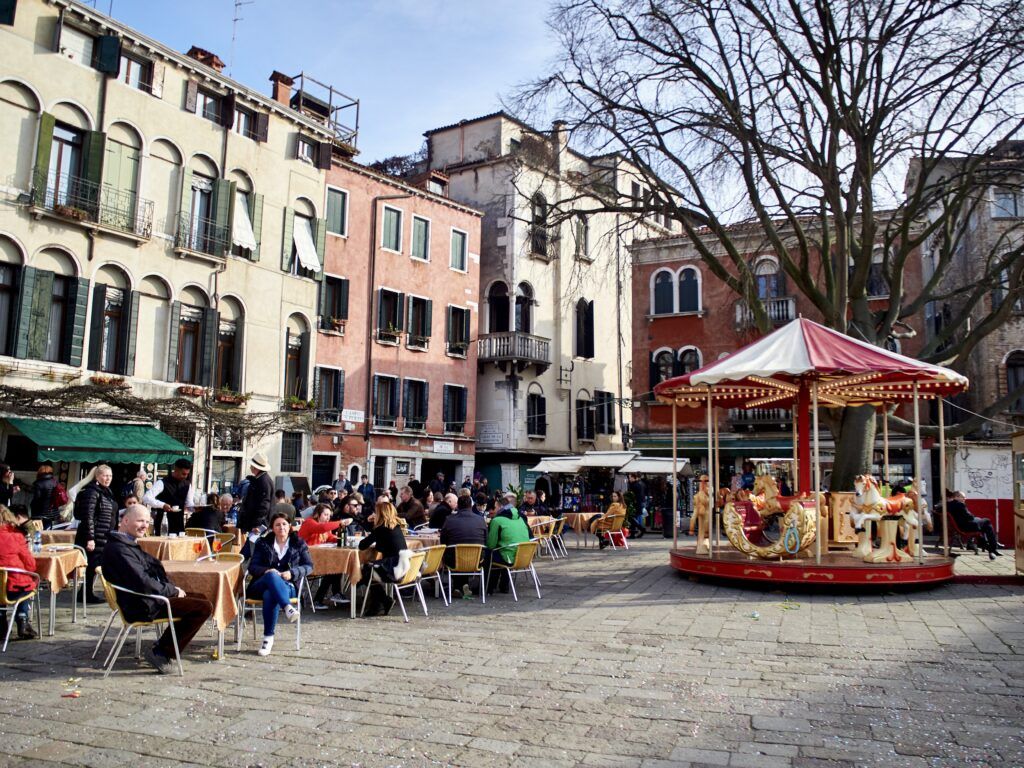 4. Campo San Polo
Camp San Polo is a sunny open expanse home to a church of the same name. It's the largest square on this side of the Grand Canal.
In the past, it was used for popular occasions such as bull baiting, religious ceremonies, parades, and theatrical spectacles.
Today, the square is filled with cafes and playing children. In the winter, there"s an ice skating rink.
Some pretty palazzi ring the square, including the Palazzo Corner and Palazzi Soranzo.
San Polo is a Gothic church that faces away from the square. It's now got a Neo-Classical look after renovation and the interior is a bit of an awkward hybrid. You'll find some paintings by Tintoretto and his son Giandomenico Tiepolo.
5. The Camerlenghi Palace
The Camerlenghi Palace is an architectural marvel that reflects the city's rich history. It's not open to the public, but you can see it from the Rialto Bridge.
Built in the 16th century, the Renaissance palazzo served as the headquarters of the Camerlenghi, who were the chief financial officers of the Venetian Republic. Today, it houses magisterial courts.
The palace showcases Venetian Renaissance architecture, characterized by its elegant arches, intricate detailing, and harmonious proportions.
Designed by renowned architect Giovanni Antonio Rusconi, the palace stands as a symbol of Venetian maritime power and economic prowess. Its facade features a series of columns and arches. Its upper floors are adorned with decorative elements that epitomize Venetian artistic flair.
6. Frari Church
A visit to the Basilica di Santa Maria Gloriosa dei Frari is one of the best things to do in San Polo. It's one of Venice's most beautiful churches and a veritable mini museum.
It was the seat of the Franciscan order, built in the 14th century. The interior was made almost entirely of brick. There are wooden beams to prevent the settling of the building on the pilons below the water.
There's a surviving choir or rood screen separating the chancel (or sacred space) from the masses. Behind that is a beautiful painting by Titian, Assumption of the Virgin Mary, above the high altar.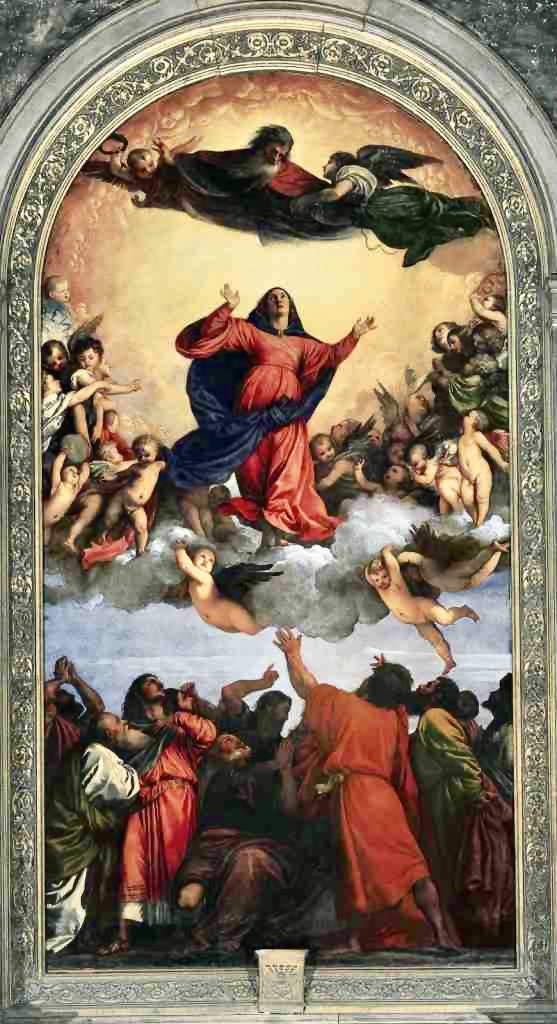 This is a massive early work by Titan. In contrast to static early Renaissance works, Titian's piece is a drama-filled scene that's expressive and dynamic.
Still, it was a bit unconventional in its day. Mary isn't portrayed in the normal fashion. She's appears much more sensual than usual, a hallmark of Venetian art.
In the sacristy, there's a splendid Renaissance masterpiece, Madonna, Child, and Saints by Giovanni Bellini. It's a bit "medieval" for a Renaissance painting. But the faces are very expressive.
Titian's Pesaro Altarpiece in the left aisle is also a must see. This painting revolutionized altarpieces with the rich humanity of the beautifully portrayed family.
And the church lays claim to having the only Donatello sculpture in Venice, St. John the Baptist from 1438.
>>> Click here to book a ticket
7. Scuola Grande di San Rocco
One of the absolute top attractions in San Polo is the Scuola Grande di San Rocco. It was an exclusive club for wealthy Venetians who performed philanthropic works. It's the only still active scuola in Venice.
The scuola's exterior looks a bit like the Doge's Palace. More importantly, it's a truly magnificent treasure chest of paintings by Tintoretto.
The most famous painting is the heart-stopping Crucifixion in the Albergo upstairs. It's like the Cecil B. DeMille of painting. It's a theatrical work filled with action scenes and emotional renderings.
The great Chapter Hall is known as the "Sistine Chapel of Venice." All the paintings were executed by Tintoretto over 23 years. They're orchestrated to the max, executed with furious brush strokes.
You'll be amazed by the sheer abundance of canvases that adorn the walls. Thankfully, portable handheld mirrors are provided. They allow you to appreciate the ceiling paintings without straining your neck.
When you enter, pick up a free explanatory leaflet and audio guide. You'll get a primer on the individual paintings and can follow the development of Tintoretto's style.
It's best to begin upstairs in the Sala dell'Albergo. To check out the must-see highlights, here's my complete guide to the Scuola Grande di San Rocco.
>>> Click here to book a walking tour of the Frari and San Polo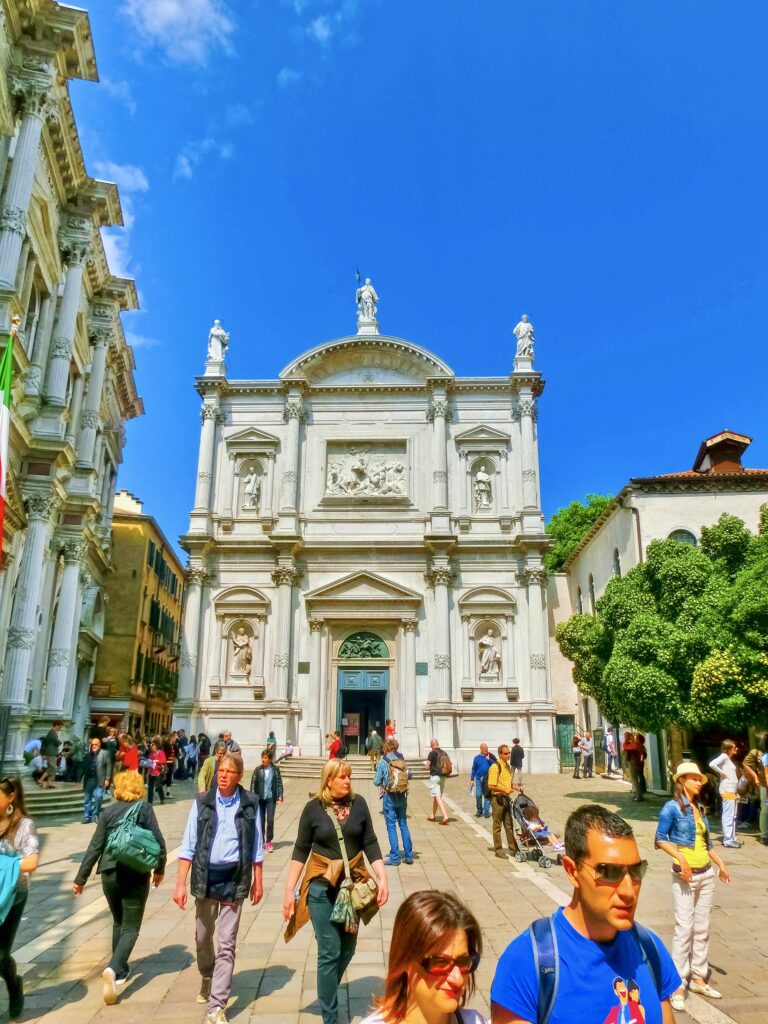 8. Church of San Rocco
If you have toured the scuola above and want still more Tintoretto's, head next door to the Church of San Rocco. It was built in a Ventian Renaissance style by Bartolomeo Bon, but altered radically in 1725.
There are paintings by Tintoretto (and his workshop) on both sides of the entrance door, in the altars, and on both sides of the chancel. The theme in nearly all of them is the life of St. Roch, the scuola's patron saint.
Unfortunately, they're not very well lit. But, still, a must see for Tintoretto lovers.
9. Scuola Grande di San Giovani Evangelista
This scuola, like the Grande is San Rocco, is one of the six scuole of Venice. Founded in 1261, it's the most ancient of the sextet.
The scuola moved into its present digs in 1340. It grew in size and prestige after acquiring a fragment of the True Cross. Now carefully restored, it's one of Venice's most magnificent structures and a top attraction in San Polo.
The scuola stands in a courtyard. The entrance is a screen with a superb eagle pediment carved by Pietro Lombardo.
The upper floor is accessed by a magnificent Renaissance double staircase. The ceiling frescos are painted, in part, by Tiepolo's son Giambattista.
The Oratorio della Croce once held paintings by Bellini and Carpaccio. They're now on display in the Galleria dell'Accademia. Beyond this room is the Sala dell'Albergo, which has a cycle of paintings by Palma Il Giovane.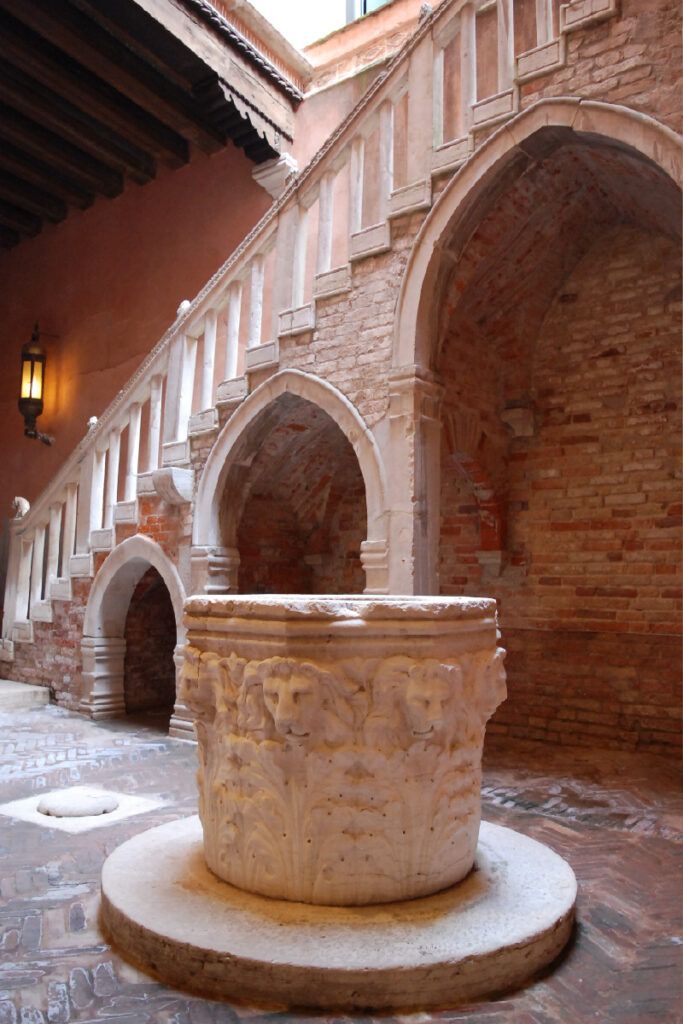 10. Casa di Carlo Goldoni
The Casa di Carlo Goldoni is a historic residence in San Polo. The former resident, Carlo Goldoni, was a renowned Venetian playwright and librettist, best known for his influential contributions to Italian comedy.
The house is associated with Goldoni's life and work and dedicated to preserving his legacy. It offers up insights into his creative process and the cultural context of his time.
You can explore the rooms where Goldoni lived, gaining a glimpse into his daily life and the atmosphere that inspired his theatrical masterpieces. The museum also houses a collection of memorabilia, manuscripts, and documents related to Goldoni's career.
11. San Silvestro Church
This humble church is located on the Campo San Silvestro. On the outside, it's a rather fierce looking Neo-Classical structure that was rebuilt in the mid 19th century.
But it's worth popping in quickly to see the art. There's a Baptism of Christ by Tintoretto, a St. Thomas a Becket Enthroned by Girolamo da Santacroce, and 18th century frescos in an upper floor.
The Baptism is a twilight scene. Christ stands in a pool of light, off center as usual. The painting radiates spiritual certainty.
12. Ca' Pesaro: International Modern Art
Ca' Pesaro is a grandiose Baroque architectural palace from the 18th century. The architectural virtuosos Baldasarre Longhena and Antonio Gaspari brought this grandeur to life. The palace still contains some of the original frescos and decorations.
While perhaps not as widely celebrated as the Peggy Guggenheim Collection in the Dorsoduro, Ca' Pesaro is still a must visit for modern art aficionados.
Within its walls, there's a collection of mostly Italian art from the mid 19th century to the 1950s, with a particular emphasis on the Expressionism and Surrealism
Ascending the staircase, the iconic Rodin sculpture Burghers of Calais warmly welcomes visitors. The artworks include masterpieces by luminaries such as Kandinsky, Chagall, de Chirico, Ernst, Matisse, Miro, and the incomparable Gustav Klimt.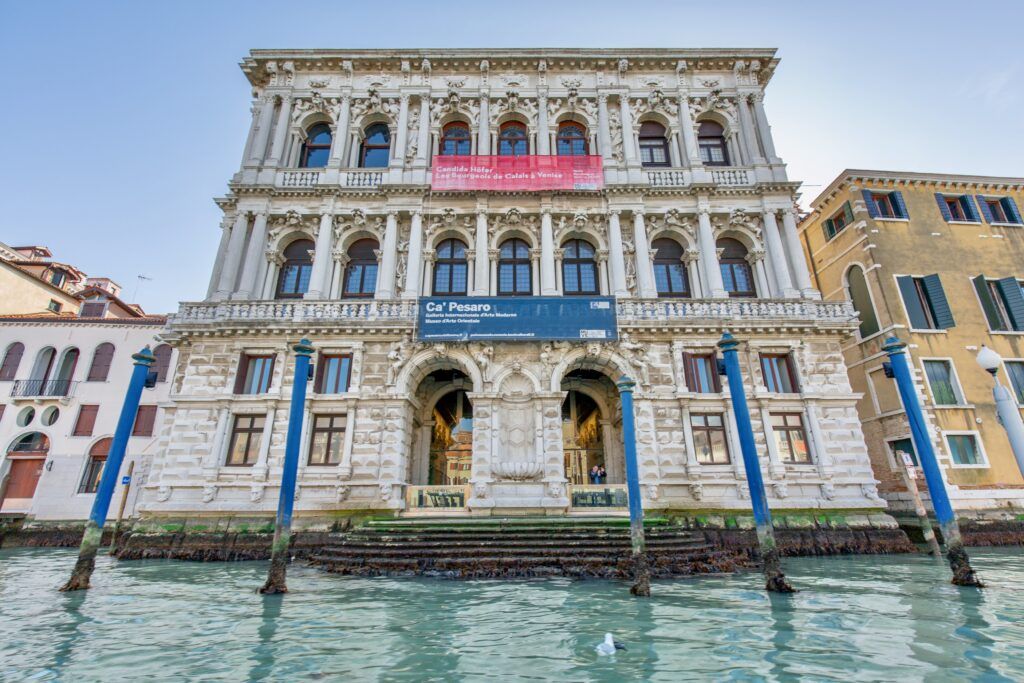 The pinnacle of the collection is undoubtedly Gustav Klimt's resplendent Judith II. In this creation, Klimt paints Judith with exquisite detail, evoking her allure with a sensuous countenance and hands adorned with jeweled, claw-like elegance.
13. Ca' Pesaro: Oriental Museum
On the third floor of Ca' Pearl is the Museum of Oriental Art. It's one of the most important European collections of Japanese art and weaponry from the Edo period (1600-1868). It also houses important artworks from China and Indonesia.
It's an eclectic collection put together by Count Eenrico di Borbone in an around the world voyage. The collection was sold off, but then returned to Venice as WWI reparations.
14. San Cassiano
San Cassiano is a church of contrasts. It has a resolutely dull exterior and heavily decorated interior.
It boasts a recently restored ceiling fresco by Tiepolo-esque painter Constantino Cedini.
More importantly, there are three Tintoretto paintings:
Crucifixion
Ressurrection
Descent into Limbo
The Crucifixion is the most arresting. Like many Tintoretto's, it has an unconventional viewpoint. The horizon is so low in the painting that you might feel like you're lying in the grass in the foreground.
Tips For Visiting San Polo
Here are some must know tips for visiting the attractions of San Polo.
1. How To Get There
If you arrive at Marco Polo Airport, you can take a water taxi, water bus, or book a private transfer to get into town.
If you're already in Venice and relatively close to San Polo, you can walk to the neighborhood.
If you're coming by vaporetto, the vaporetto stops in San Polo include San Silvestro, Rialto Mercato, Rialto, and San Tomà.
2. How To Get Around
San Polo is Venice's smallest sestiere, connected on both sides of the Canal Grande via the famous Ponte di Rialto. This makes it easy to explore most of its attractions on foot without the need for extensive transportation.
3. Where To Eat
Compared to other places in Italy (Bologna for instance), Venice is not particularly famous for its food. And it's easy to go wrong with overpriced tourist restaurants.
Yet, there are some good places in the San Polo if hunger calls.
Don't miss out on savoring cicchetti, delightful bite-sized treats akin to tapas. Pair them with wine at the charming bacari, local wine bars.
Indulge in Venice's culinary delights like sarde in saor (marinated sardines), risotto al nero di seppia (squid ink risotto), baccalà mantecato (whipped salted cod), fritto misto (assorted fried seafood and veggies), and bigoli in salsa (hearty pasta with onions and salted fish).
Here are some specific places to check out:
High End: Antiche Carampane, Da Fiore
Trattorias & Osteria: Bancogiro. All'Amarone, La Zucca, Trattoria Antiche Crampon
Casual Cafes & Bars: All'Arco, Alla Ciurma, Do MOri, Al Merca'
Gelato: Gelateria Millefoglie da Tarcisio
To get a real Venetian experience, you could also book a Rialto market tour and cooking class or a private cooking class.
4. Where To Stay
The last time I was in Venice, I stayed in San Polo in an Air Bnb for a week. But there are some nice hotels in this sestiere.
H10 Palazzo Canova is a stone's throw from the iconic Rialto Bridge. This new 4 star hotel blends modernity and tradition within a 19th century building. The establishment features elegant rooms, a top-floor terrace bar with stunning Grand Canal views, and a restaurant for breakfast.
Venezia Palazzo Barocci is a luxurious hotel located along the Grand Canal. With its historic charm, modern amenities, and stunning views of the Rialto Bridge, it offers a unique and comfortable stay.
Palazzetto Madonna has a convenient location near the Grand Canal and the Rialto Bridge. It boasts charming rooms and a rooftop terrace.
Hotel L'Orlogio is a stylish and modern boutique hotel. Its name, which means "The Clock" in Italian, reflects its themes of time and luxury. Each room is dedicated to a specific watch brand.
I hope you've enjoyed my guide to the best things to do in San Polo. You may find these other Venice travel guides useful:
If you want to visit the top attractions in San Polo, pin it for later.