Here's my guide to visiting the amazing town of Arles in southern France. It covers all the top attractions and best things to see and do in Arles.
Arles is a UNESCO site and a must see town in southeastern Provence. It's filled to the brim with Roman treasures, fantastic art, and colorful pastel houses. The town is fast becoming a cultural center.
Arles is also a stepping stone to the Camargue.
When I last visited Arles, I had just seen the hip hop wunderkind musical Hamilton. It reminded me of Arles.
Odd you say? Yes, most certainly. But bear with me.
Both Hamilton and Arles feature an intriguing and rare blend of old and new, an intertwining of ancient history and contemporary themes.
In Hamilton, a historic revolutionary era backdrop is layered with musical present. In Arles, a Roman past is leavened with the dazzle of contemporary art and architecture. In both, the duality is quintessential to success.
Most people don't understand or appreciate the vibe and authenticity of Arles … but they soon may.
"Happy as a cicada," Van Gogh sliced off his ear in Arles. Picasso frequented the bullfights at the Roman Amphitheater in Arles.
Arles was once one of Gaul's most venerated cities. Arles is a sun-kissed, biscuit-colored town built on a cliff overlooking the Rhone and is the gateway to the Camargue.
It seems almost like an island. Great balls of fire, Arles is a UNESCO site.
Isn't that enough to be on every Provence to do list?
Apparently not.
The town of Arles is rarely at the top of or even on most "must see" Provencal sites. People are busy chasing the Luberon villages, going to Aix-en-Provence (why exactly?), or eating and drinking their way through the Provencal markets.
READ: Guide to the Luberon Villages
I kind of get it. I am just naturally inclined to ignore something that is too obviously pleasing.
And I wondered, was the venerated Rick Steve's fond endorsement of Arles as "unpolished and a little dirty" actually counterproductive? Is he unintentionally driving would be tourists away from a city he loves for its un-obvious beauty?
Why You Should Visit Arles
To find out, I based myself in Arles on a recent trip to Provence, Happily, I was greeted with a tsunami of historical and cultural stimulation. In fact, I think Arles might well become the newest "hot spot" in Provence.
To be sure, Arles is not synonymous with the languid romance and disney perfection of Provence's small medieval hilltop villages. So if all you want is a tiny cliffhanger, Arles may not suit.
But for the more discerning, Arles awaits, ready to seize your imagination and wrap its tentacles around the warm blood of your heart.
What Arles may lack in the most obvious scenic beauty, Arles makes up for with some of the top attractions in southern France. It seduces with sensuality, Rosé, the smell of lavender, and Roman goodies a plenty.
Throw in a huge dollop of art, two smidgeons of Mediterranean influence and a dash of Italian flavor, and you have an ideal cultural home base for western Provence.
With its cultural atmospherics, Arles has become a buzzing honeypot for road tripping cosmopolites.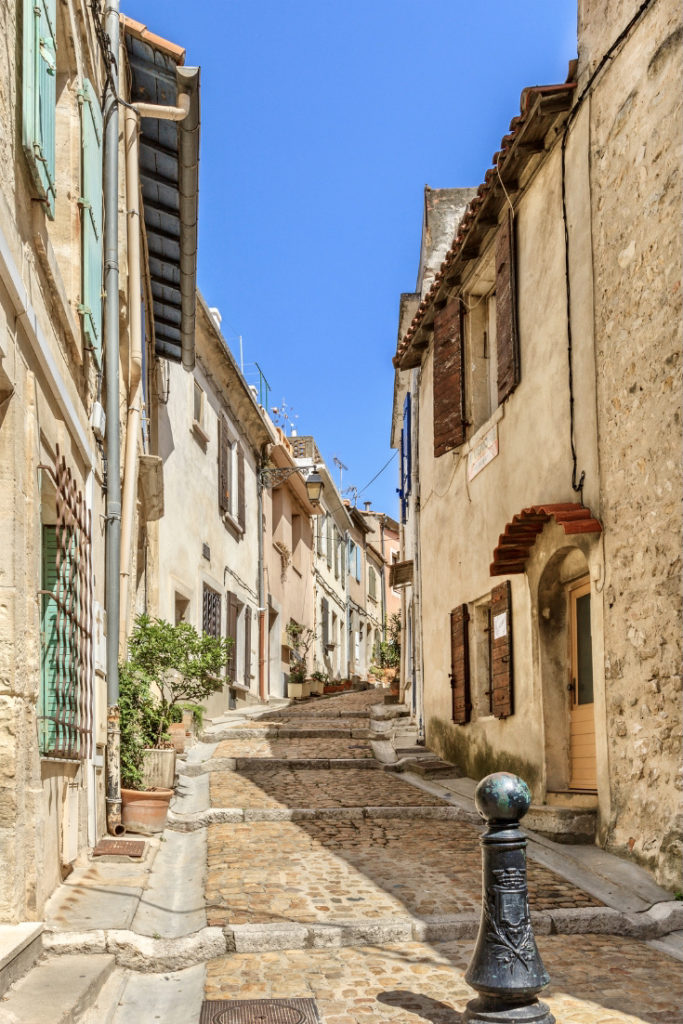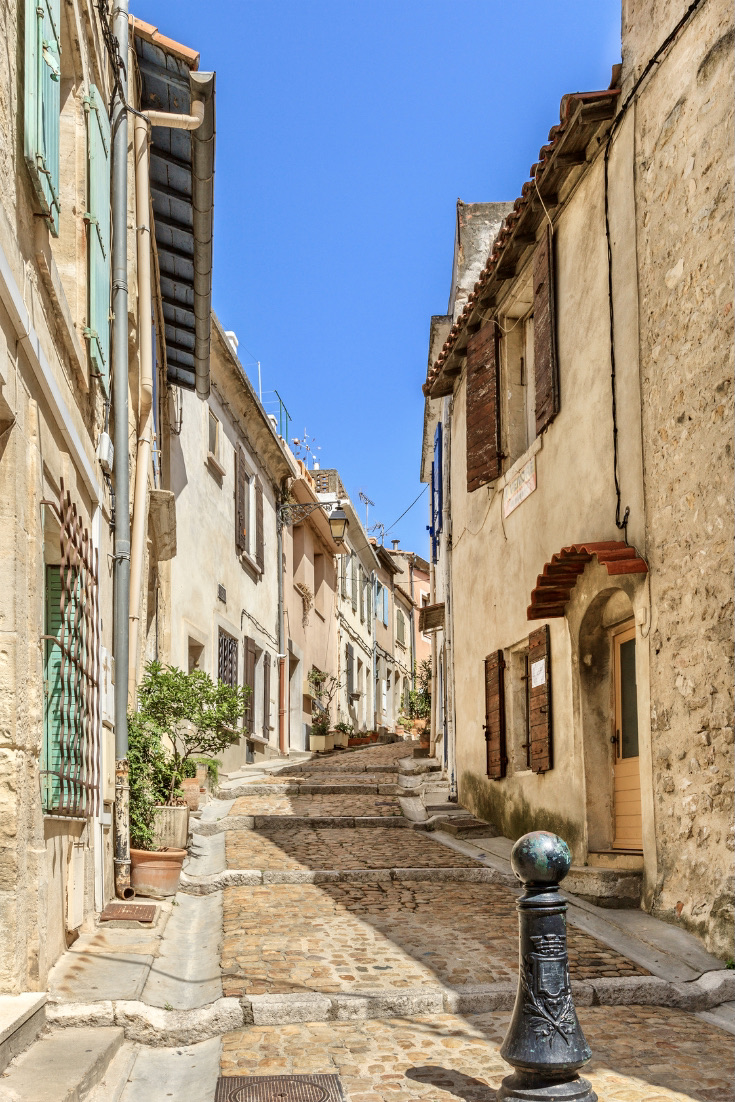 Top Attractions In Arles
Here are my picks for the top attractions and best things to do in Arles. I cover the top cultural destinations and the many Roman sites.
To get oriented, you may want to book a guided walking tour of the city.
1. Fondation Vincent van Gogh
Fondation Vincent van Gogh, Arles' fine art museum, is one of Arles' top attractions. It's the first stop for art lovers or those on the Van Gogh heritage trail.
Recently opened in 2014, The Foundation is the beautifully restored Hotel Leautand de Danines, a stone mansion off the Place du Forum.
Ironically, you won't see a lot of Van Gogh — the Post-Impressionist genius who was maniacally prolific in Arles and loved its sun-drenched light. But there are usually several pieces on loan from the Van Gogh Museum in Amsterdam.
Apart from it's main collection (a Joan Mitchell piece was a favorite of mine) the Fondation has temporary thematic modern art exhibitions.
Address: 35 Rue du Dr Fanton
2. L'Espace Van Gogh
L'Espace van Gogh is the next attraction in Arles that's a Van Gogh lover's magnate.
This former hospital is where Van Gogh, often drunk and psychologically impaired, sought treatment after his bloody self mutilation.
In 1974, L'Espace stopped functioning as a hospital and reopened as a cultural center. There's honestly not much to see here.
But, standing in the lovely courtyard, you may feel like you have stepped into a real Van Gogh painting — "Le Jardin de la Maison de Sante a Arles."
Address: Place Felix Ra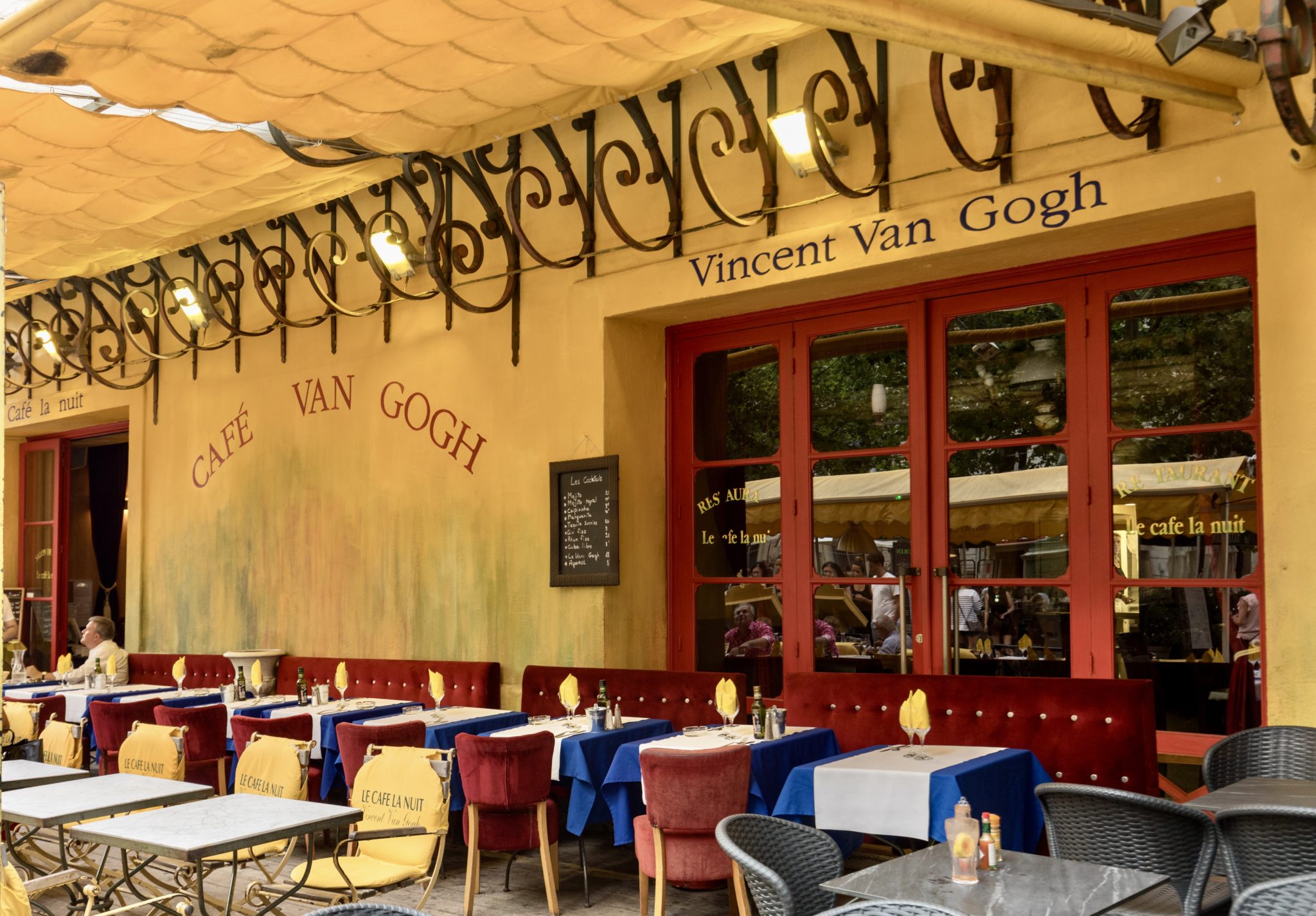 3. Cafe Terrace
Van Gogh's Café Terrace at Night was painted in Arles. It's housed in the Kröller-Müller Museum in the Netherlands, which is home to the second largest collection of Van Gogh paintings.
The original Café Terrace, which inspired this painting, still operates at Place du Forum. However, it now goes by the name Café Van Gogh. It's a sort of a mecca for Van Gogh fans and one of Arles' top attractions.
Address: 11 Place du Forum
4. Photography Festival
Arles is also the international capital of photography. It's home to the oldest photography festival in Europe, Les Rencontres Internationales de la Photographie, which is held there each summer.
Thousands of photographers and cosmopolites descend upon Arles to see cutting edge photography. Since it almost entirely showcases unseen work, the Rencontres is a visionary creative melting pot and has an international impact.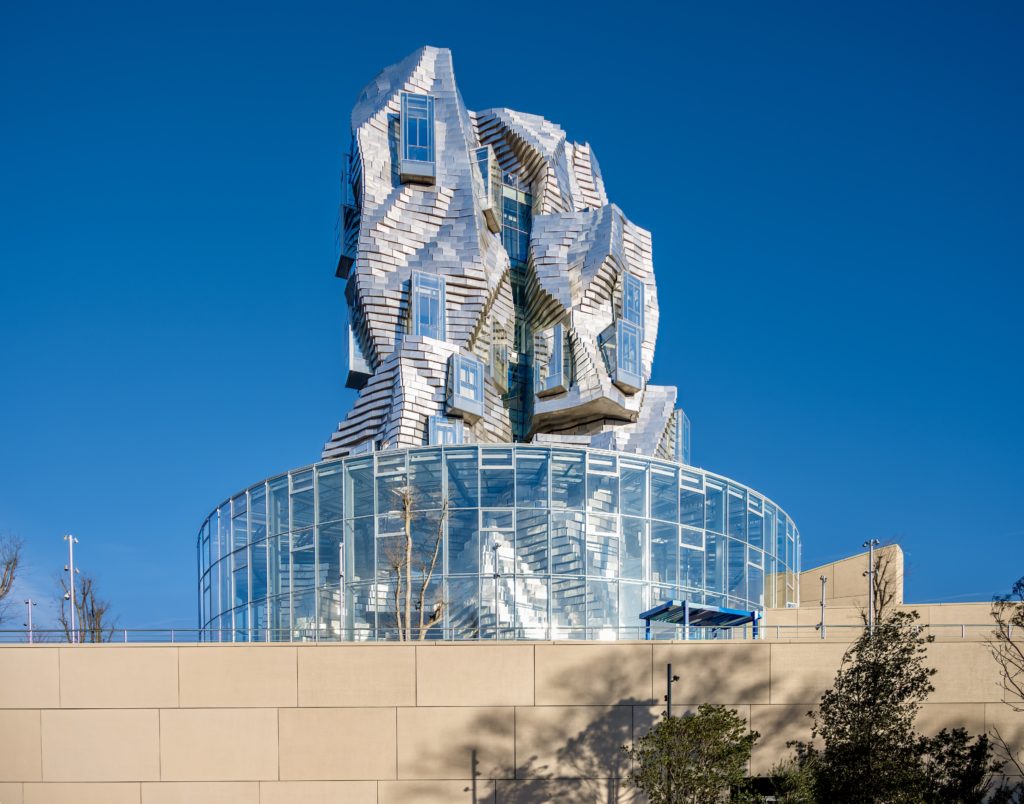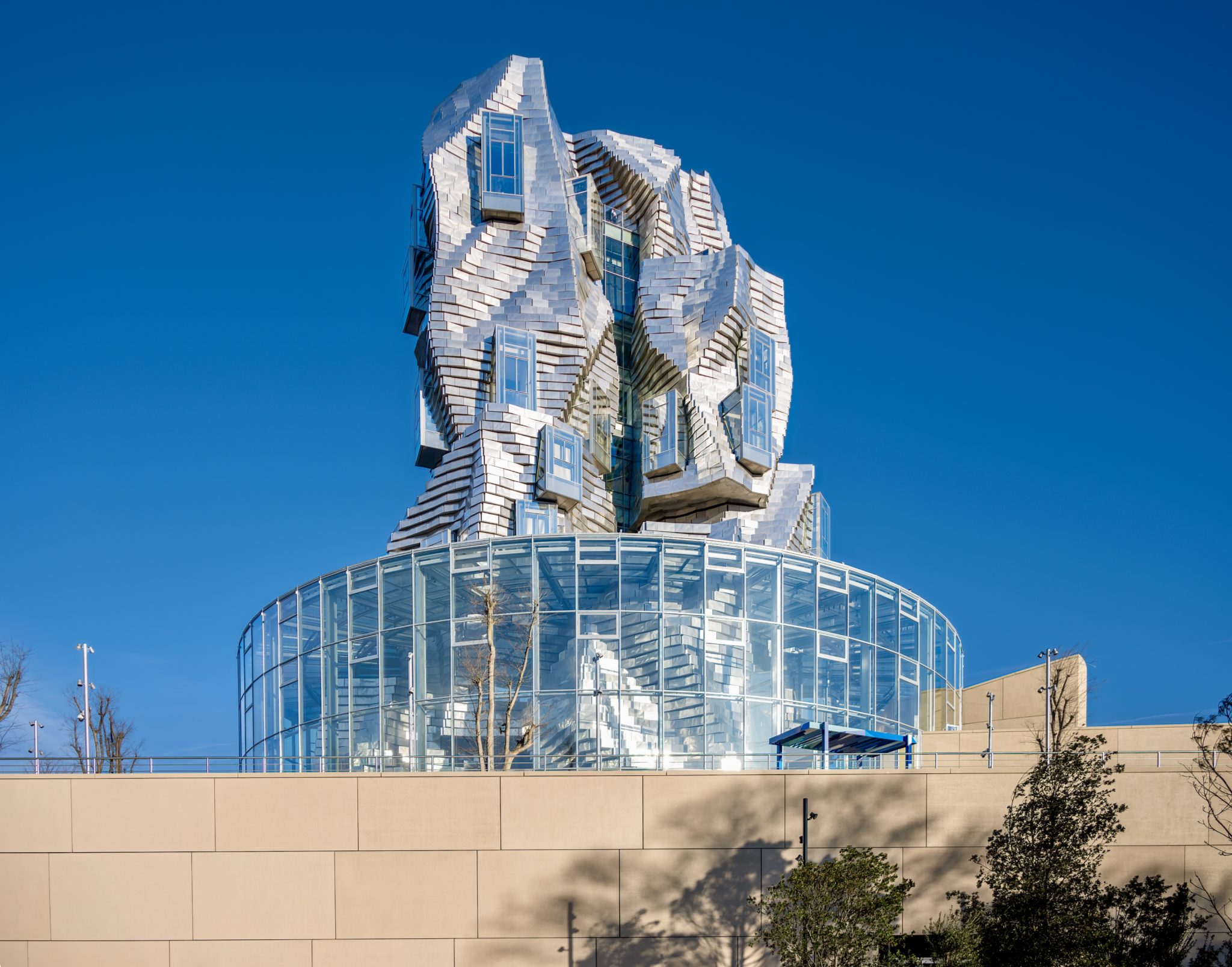 5. Luma Arles
One of Arles' top attractions with real real wow factor is the game changing Luma Arles. The 27 acre complex is the $150 million art center. It was the brain child of Swiss art patron Maja Hoffman.
Luma Arles is half art museum, half think tank, and all Frank Gehry. the word renowned architect designed the 10 story glass building.
It's a twisting tower clad in reflective aluminium tiles designed to attract the international art jet set. The building is meant to evoke Van Gogh's famous Starry Night masterpiece.
Gehry has a reputation as the go to architect for starchitecture projects since his Guggenheim Museum Bilbao opened in 1997. The museum saved the underrated city of Bilbao, metamorphizing it and giving teeth to the transformative effect of art.
In Arles, the hope is that the "Guggenheim effect" will erase, Bilbao style, Arles "gritty" stereotype and usher in a "New Arles." Luma Arles opened on on June 26, 2021.
Hoffman calls the multi-purpose complex an "archipelago" where the "future is being produced." Luma Arles has exhibitor spaces, artist and rehearsal studios, installation spaces, an archive, restaurants, and cafes.
Address: 33 Avenue Victor Hugo
6. Musee Reattu
Musee Reattu is a splendid small museum in Arles. The museum is named after the French painter Reattu and located in his house-studio.
The collection features fashion drawings from Christian La Croix, a native of Arles.
You'll also find drawing by Picasso. In 1971, two years before his death, Picasso sealed his attachment for Arles by bequeathing the museum 57 drawings.
Address: 10 rue du Grand-Prieure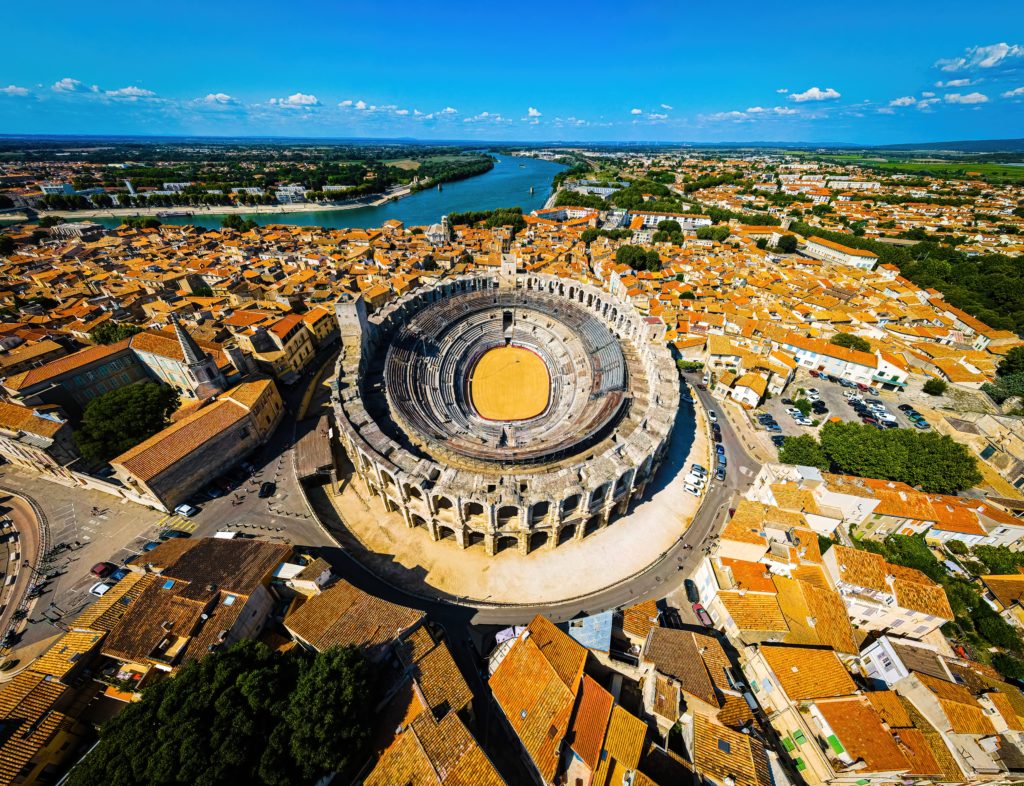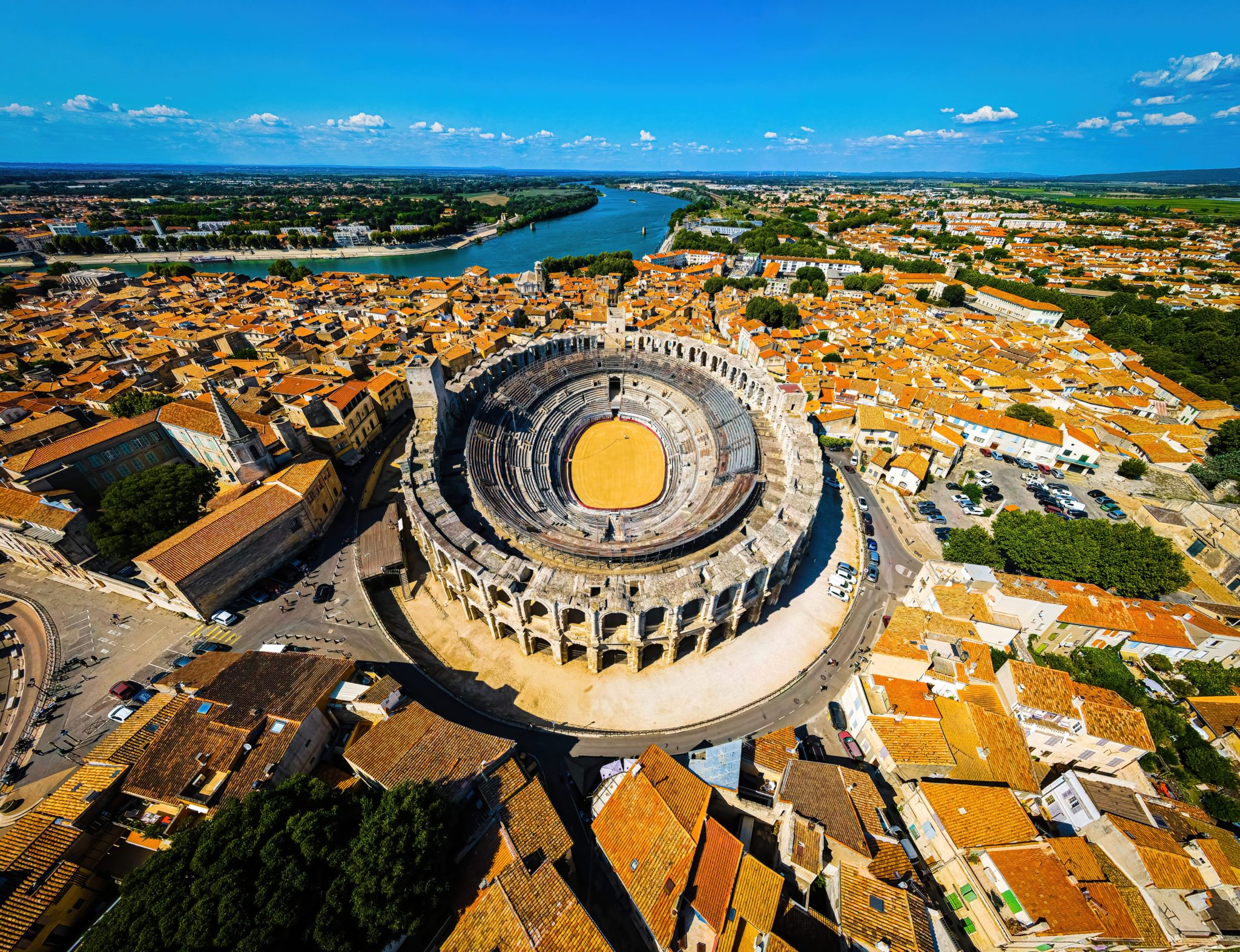 7. The Amphitheater
Now that we've covered Arles' top cultural attractions, let's get down to the things that make Arles a UNESCO destination.
Like nearby Nimes, Arles' amphitheater was inspired by Rome's Colosseum and is largely intact. Built in the 1st century when Augustus reigned, the two tiered arena can hold up to 25,000 people.
READ: Nutshell History of Ancient Rome
The amphitheater is beautifully preserved. Much of the structure's original architecture remains, including terraces, galleries, and the original Roman drainage system.
Today, the arena hosts spectacles and concerts befitting a cultural hot spot. It also features Camargue-style bull runs and controversial bullfighting, which while beloved by Picasso is controversial or illegal elsewhere in France.
Address: 1 Rond-Point des Arènes
Hours: 9:00 am to 6:00 pm high season, closing at 5:00 pm in the winter
Entry fee: 9 €
8. The Roman Theater
Another top attraction in Arles is the Roman Theater in the Rue de la Calade.
Like the Arena, Arles' Roman Theater is of Augustian vintage. With seating for 8,000, it's as large as the famous theater in Orange France.
While I was there, I was lucky to witness a dance performance at night.
With the lights flickering across the roman stones and the few remaining pillars standing guard in the darkness, I felt catapulted back in time. It was exactly as affecting as it ought to have been.
Address: 8 rue de la Calade
Hours: 9:00 am to 6:00 pm high season, closing at 5:00 pm in the winter.
Entry fee: 9 €
9. Constantine's Baths
My next stop was the Baths of Constantine, which date from the 4th century A.D. and were part of the imperial palace of the Roman Emperor Constantine the Great.
Only a small part of the original site is excavated, but it is well-preserved and you can glimpse some of the engineering that supported it.
Roman baths were, of course, an important part of Roman public and social life and are now fittingly part of Arles' UNESCO classification.
Address: Rue Dominique Maisto
Hours: from Nov 2-28, 1 pm to 5 pm, from Mar 1 to Apr 30, 9 am to 12 pm & 2 pm to 6 pm, grom May 5 to Sept 30, 9 am to 12 pm & 2 pm to 7 pm, from Oct. 1-31, 9 am to 12 pm & 2 pm to 6 pm
Entry fee: 4 €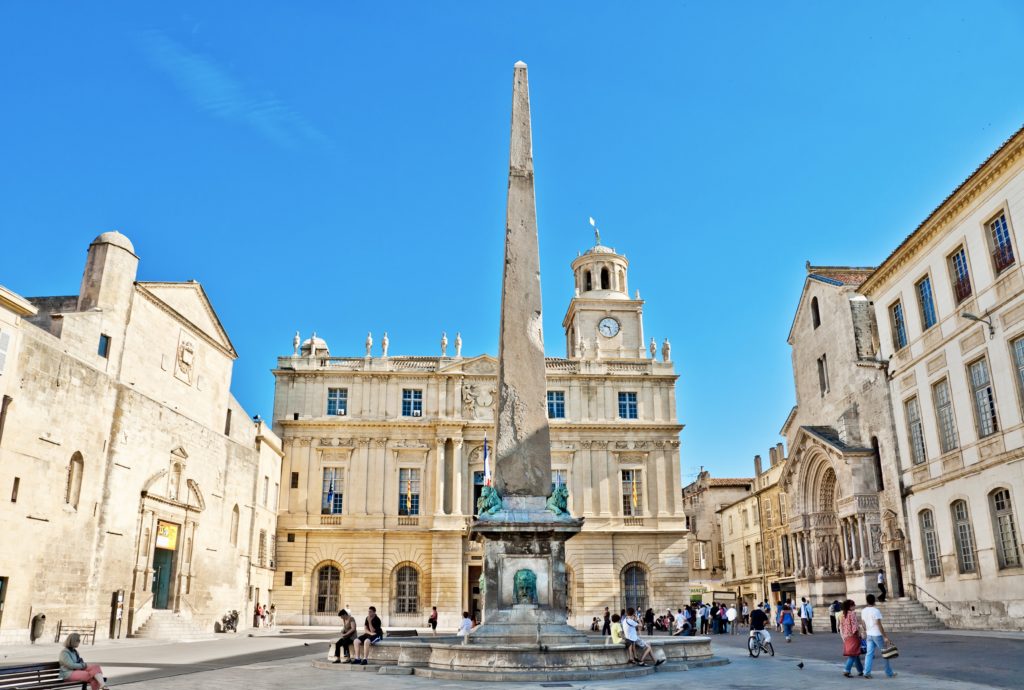 10. Place de la Republique
The place de la République is Arles' main square.
Some of the top attractions and main monuments are on the square, including the Town Hall and the churches of Saint-Trophime and Sainte-Anne.
In the center is a Roman obelisk. It was discovered in the 14th century and added to the square in the 17th century.
11. Eglise St. Trophime
When the Roman sites are a fait accompli, tucked away in the northeast corner of the Place de la Republique is the Eglise St.Trophime.
Built between the 12th and 15th centuries, St. Trophime is an important example of medieval architecture. It made the UNESCO list in 1981.
The church has an elaborately carved Romanesque portal telling bible stories via sculpture. Inside, it's austere, but not without adornment.
The church houses some of the world's finest examples of Romanesque sculpture, including what I call the "approved public stoning" piece.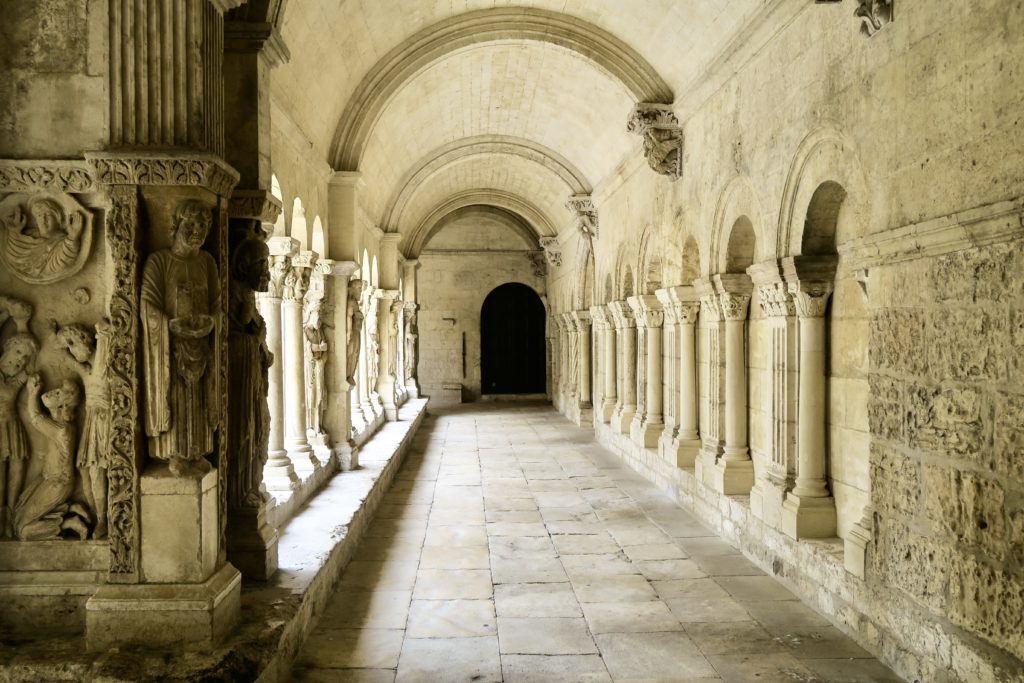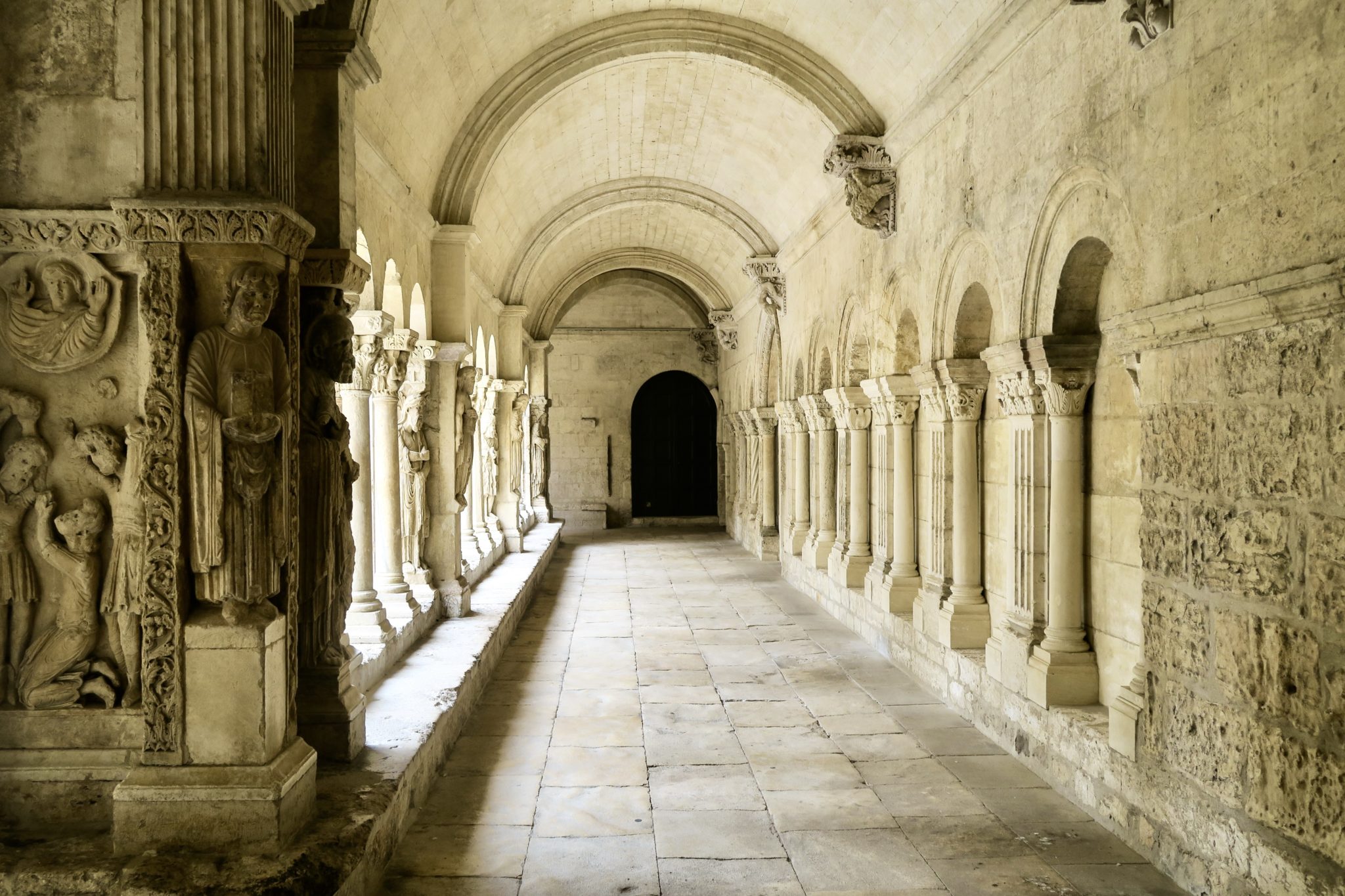 For better or worse, the church has been laser cleaned, wiping away more of the apparently tourist deflecting Arlesian grime.
The church's cloister, however, is one of Arles' top attractions. It's exceptionally well preserved. There's a separate entrance to visit and you'll find interpretive displays.
Address: east side of the Place de la Republique
Hours: Open daily 8:30 am to 6:30 pm, Cloister: Nov-Feb, open daily 10 am to 5 pm, Mar, April & Oct open 9 am to 6 pm, May-Sept open 9 am to 7 pm
Entry fee: Free admission to the church; cloister 5.50 €
12. Les Alyscamps: Death and Glitter
Alyscamps is a famous tree-lined Roman necropolis a short distance outside the walls of the old town. It's near Jardin d'été, shadowed by the Chaine des Alpilles Mountains.
Dating from 241 BC, Les Alyscamps is a hybrid place, both a lichen covered stone cemetery for former aristocrats and a serene tree-lined promenade for those of more recent vintage.
During the middle ages, it was forbidden to bury the dead inside the city walls for religious and hygienic reasons. Cities like Arles created suburban "Aurelian Ways" lined with tombs just outside the city.
Alyscamps was the most coveted burial site outside of Rome. In fact, it became so popular that sarcophagi were shipped from around Europe to be interred.
Legend holds that Jesus Christ himself attended the burial ceremony of Saint Trophimus (the first bishop of Arles), leaving an imprint of his knee on a sarcophagus lid.
Van Gogh and fellow artist Paul Gaugin often came to stroll in and paint what they considered the romantic "Champs Elysées" of Arles.
Their relationship, like their art, was turbulent. Van Gogh apparently razored off his ear after one of their absinthe-fueled quarrels.
Both loved vibrant colors. Gaugin once remarked of Van Gogh (and you can see it his 1888 painting of Les Alyscamps above):
Oh yes! He loved yellow did good Vincent…When the two of us were together in Arles, both of us insane, and constantly at war over beautiful colors, I adored red; where could I find a perfect vermilion?"
There's a satisfying contrast between the serene feeling of the ancient cemetery and the dusty bustle of Arles within spitting distance.
Arles has so many Roman attractions that Alyscamps could easily be forgotten when sightseeing in Arles.
Address: Avenue des Alyscamps
Hours: Daily 8:00 am to 7:00 pm
Entry Fee: 4.50 €
Perhaps no longer.
In May 2019, the serene quietude of Alyscamps got a fiery makeover when it became the star-studded backdrop for Alessandro Michele's Gucci Cruise 2019 show.
With the Alyscamps' mysterious aura and long medieval history, the location was the perfect setting for a creative director's ethereal gothic universe.
Church bells tolled and sepulchral music played. The audience was treated to "yet another phantasmagorical extension of the multilayered, time-collapsing world inside Michele's head."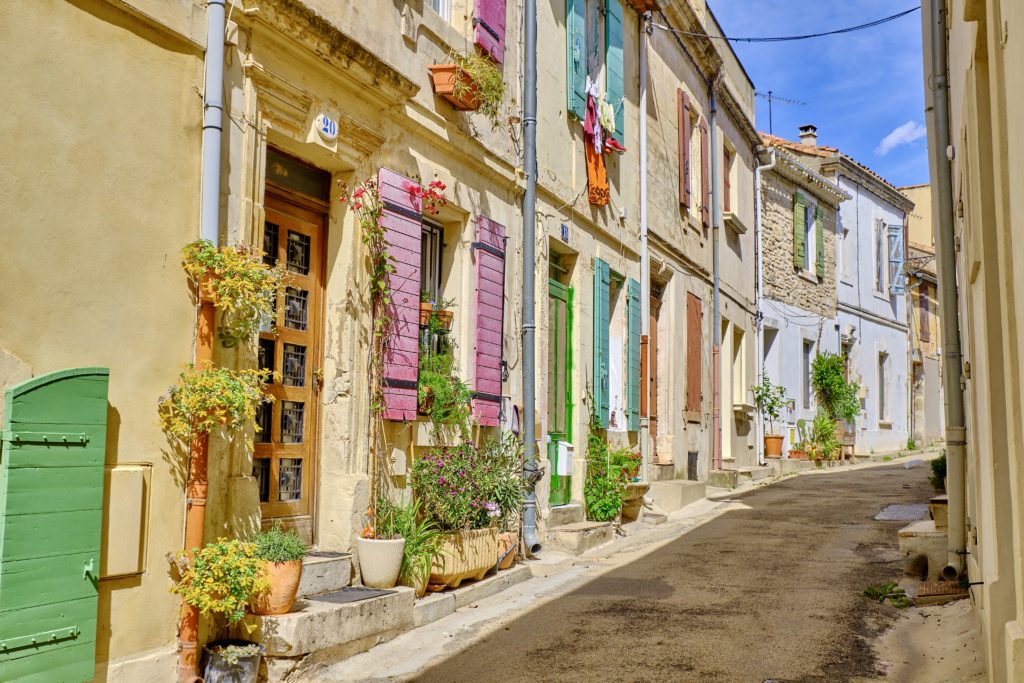 13. The Laid Back La Roquette Neighborhood of Arles
If you're feeling culturally oversaturated, catch your breath and get off the beaten path in Arles' La Roquette neighborhood. It's a charming spot in southwest Arles that dates back to the middle ages.
It's an excellent place to stay if you don't have a car. Otherwise, you must park across the river with some very minor inconvenience and cost.
Nestled between the Quai de Rhone and the Boulevard Clemenceau, La Roquette is a funky bourgeois bohemian neighborhood with nearly every type of architectural detail.
It's been spectacularly restored and is crammed with narrow streets, open air cafes, and artisan shops. There are colorful flowers and vines everywhere, spilling out of and surrounding the beautifully renovated homes.
14. Arles: Stepping Stone to the Camargue
More time in Arles? Just 30 minutes from Arles lies one of France' stop notch wildlife destinations. You can take a guided 4 x 4 safari day tour from Arles.
When I think of southern France, my mind turns to enchanting medieval villages and bucolic lavender fields. I don't expect to see wildlife. So imagine my surprise when I arrived in the Camargue, on a fantastic day trip from Arles.
I saw wild bulls and white horses galloping in the countryside and pale pink flamingos flapping their wings in the salt flats. Because of its biodiversity and natural splendor, the Camargue is on the tentative UNESCO list.
The Camargue is a river delta where the Rhône meets the sea. Not only is it an outdoor enthusiast's and birdwatcher's dream, it's a very off the beaten path destination in southern France.
Much more so than Arles. Visitors can hike, cycle, or ride horses in peace and quiet.
Or unwind by cruising the waterways. If you want to see thousands of flamingos, they're on the coast between Les Stes Maries and Salin-de-Girard. Boats leave from Les Stes Maries.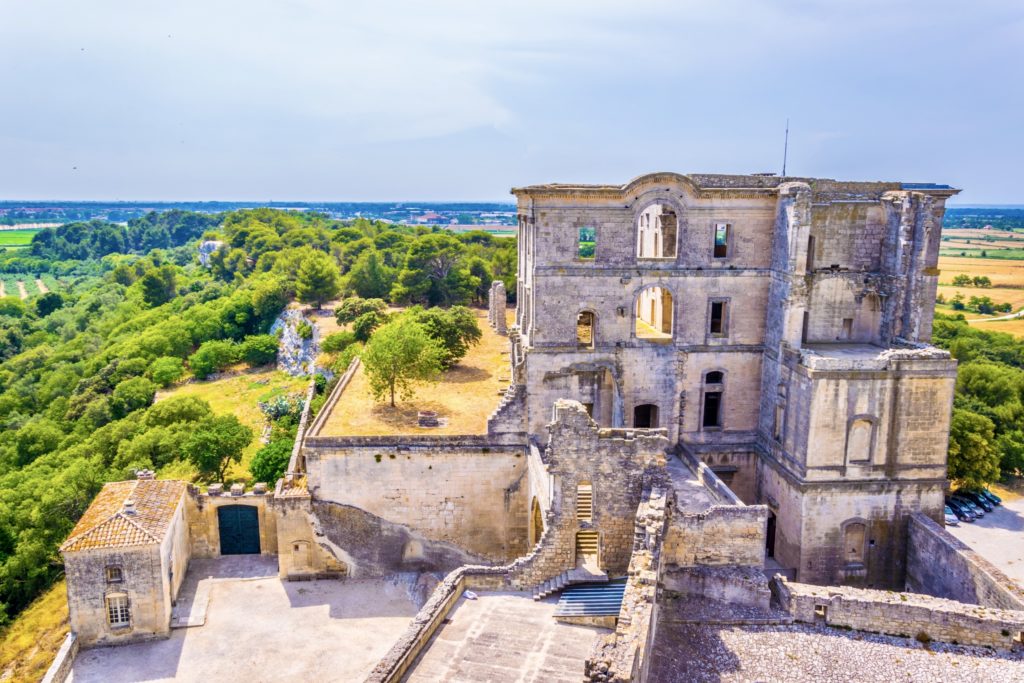 15. Abbey de Montamjour
Just 15 minutes northeast of Arles is the monumental Abbey de Montmajour. The ancient Benedictine abbey was founded in the 10th century. It was built between the 10th and 18th centuries.
Because of the different building initiative, the abbey is an ensemble of a Roman cloister, Romanesque abbey church, a cave chapel, and a necropolis dug right into the rock.
In the Middle Ages, it was an important place of pilgrimage. Van Gogh was fascinated with the abbey and went there to paint.
Address: Rte de Fontvielle 13280 Arles
Entry fee: 7.50 euros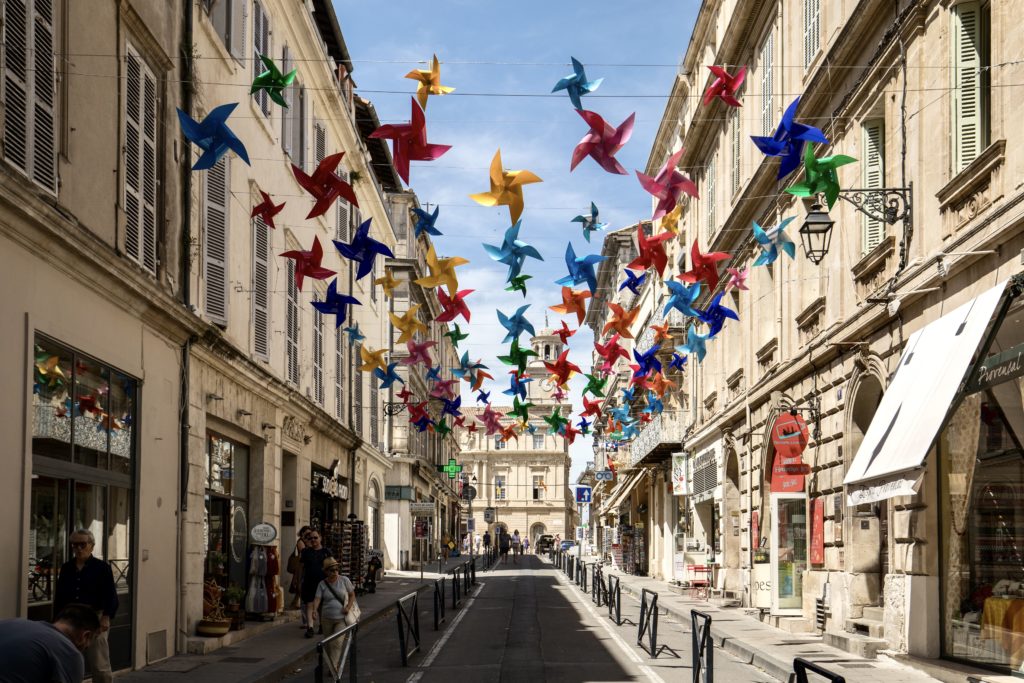 How To Get To Arles
Trains connect Arles with other major cities in southern France.
You can reach Arles in 20 minutes by train from Avignon, 50 minutes from Marseilles, and 20 minutes from Nimes.
You can book a guided day tour to Arles with wine tasting from Avignon. You can take a Van Gogh themed guided tour from Avignon.
You can day trip to Arles from Aix-en-Provence. You can book a guided day tour from Marseilles that also includes Les Baux and St. Remy.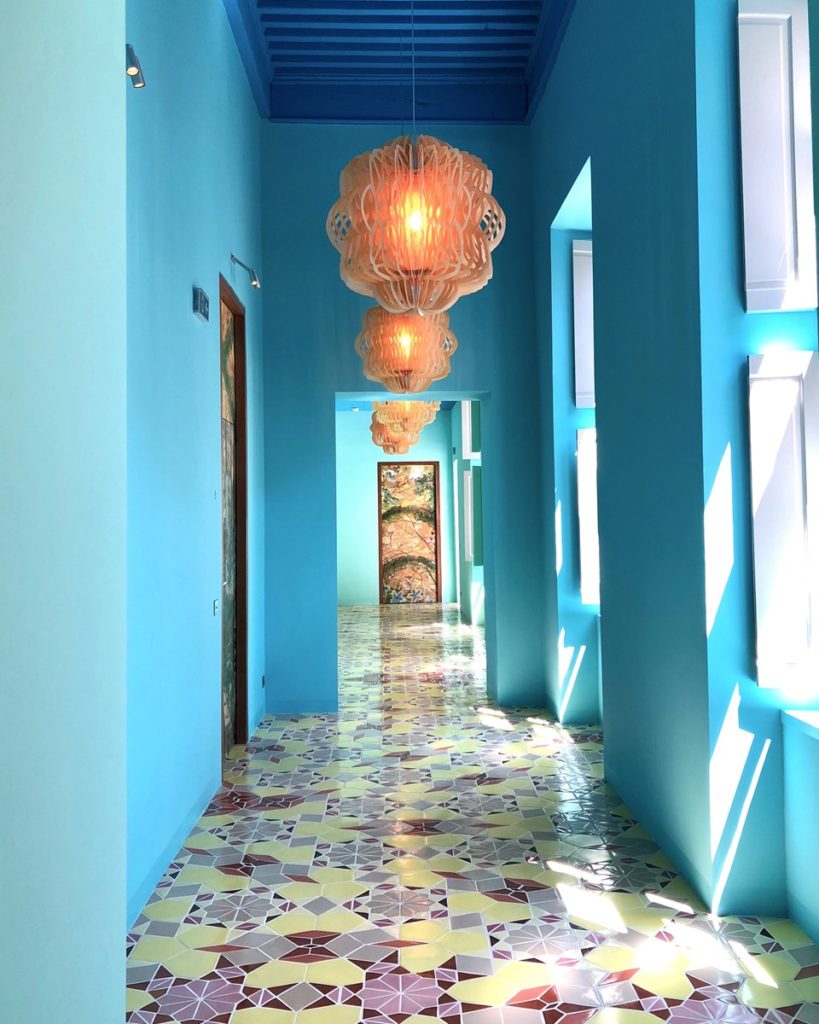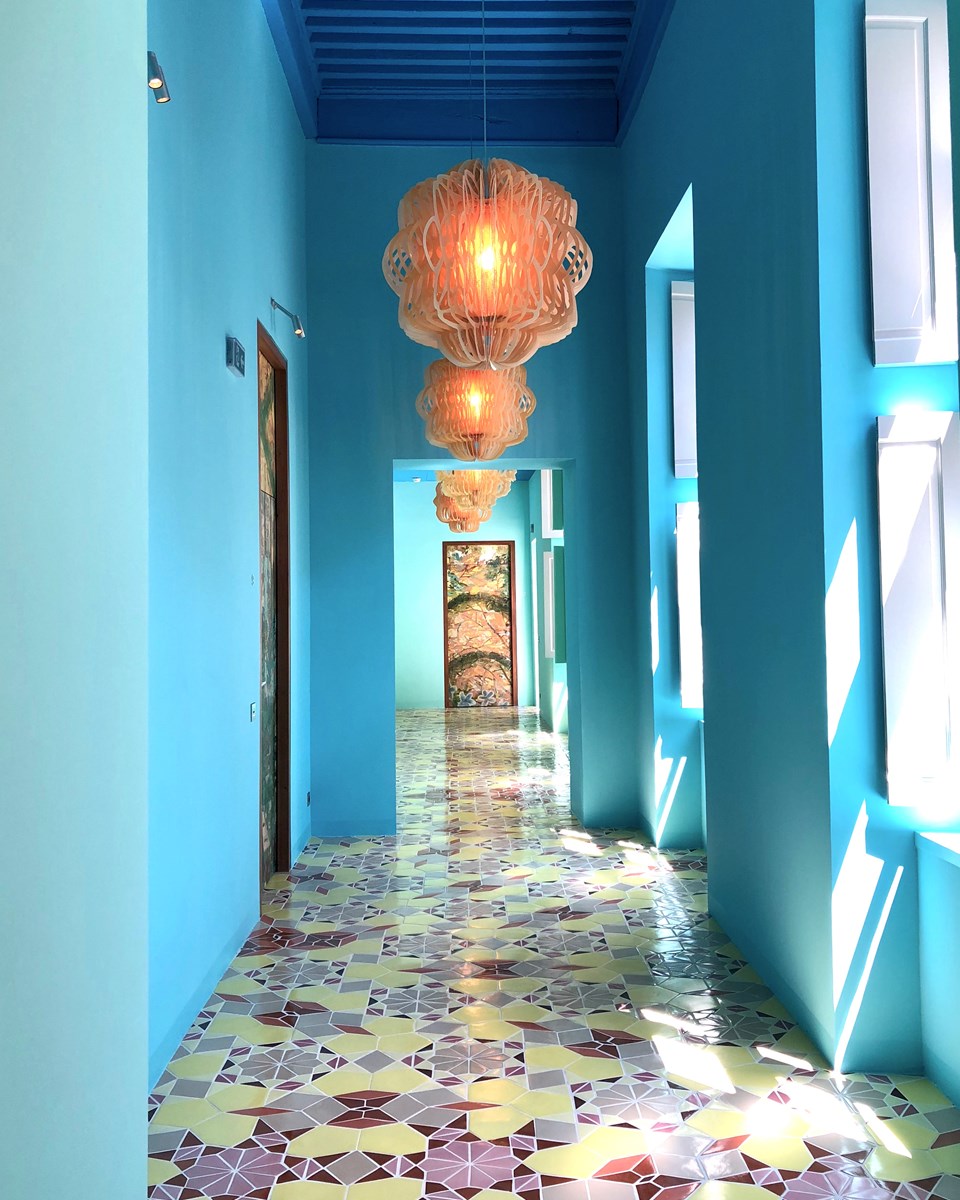 Where To Stay In Arles
Arles has some great hotels if you're using the town as a base. Like the city itself, international design influences have begun to shape the burgeoning hotel scene.
L'Hotel Particulier Arles is a beautiful 5 star with old world charm in a 19th century mansion with a limestone pool.
You should also check out the Hotel & Spa Jules Cesar Arles, which is housed in a former convent. La
The astoundingly pretty L'Arlatan is housed in a 15th century townhouse. It's been fully renovated and gleams withcolors influenced by Van Gogh.
Arles is no longer the sleepy small post-industrial town crystallized in most people's perceptions.
Flash forward, it is differently embodied, with more gloss than grit. Like the Broadway smash Hamilton, Arles flawlessly combines the ancient and the modern to riveting effect.
I would say Arles is a veritable jewel in the crown of Provence and a must visit 21th century cultural center.
Go ahead, take a step back into the past and a glimpse into the future in Arles. Have I convinced you?
I hope you've enjoyed my guide to the top attractions in Arles. You may enjoy these other travel guides for southern France:
​If you'd like to visit Arles, pin it for later.