If you like to travel with a theme, you've come to the right place. This is the ultimate guide to Antoni Gaudí's UNESCO-listed architecture in Barcelona Spain.
Gaudi is Spain's most famous architect. His fantastical architectural masterpieces are among Barcelona's top attractions.
Even if you aren't an architecture geek, these Gaudi buildings are a magnet for the curious. They're compelling and eye catching. Gaudi was like a sculptor playing with form.
To many Catalonians, Barcelona is Gaudí. Or at least he's its unofficial saint.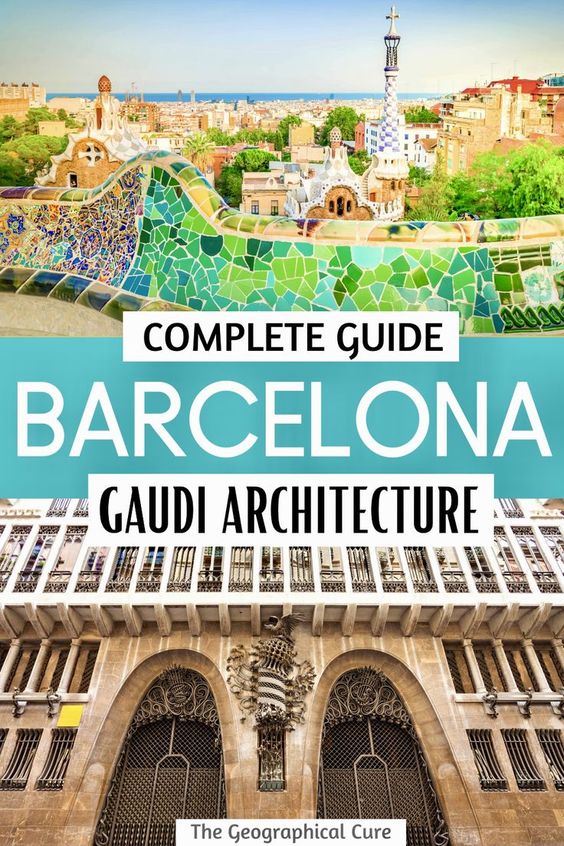 There's been no artist in history to have such an absolute influence on a city. Gaudí designed everything from mansions, to churches, to public parks in inimitable style.
Seven of Gaudí's magnificent architectural creations in Barcelona are designated UNESCO World Heritage Sites This list includes Park Güell, Palau Güell, Casa Milà, Casa Vicens, Gaudí's work on the Nativity facade and crypt of La Sagrada Família, Casa Batlló, and the Crypt in Colonia Güell.
I've written about several Gaudí sites separately. I admit I'm a little obsessed. Everything about his work is so unique. It captivates me.
If you're at home and or just can't afford the hop overseas to Spain, there's also a fix. You can see these amazing Gaudi attractions online. I've posted links to virtual tours you can take.
The Life of Antoni Gaudí, Spain's Greatest Architect
But, first, let's set the scene with an overview of the life of Antoni Gaudi.
In 1851, Gaudí was born in Reus, Spain to humble origins. He showed an early predilection for architecture.
Gaudi attended the Provincial School of Architecture in Barcelona. His eccentric talents were immediately apparent.
1. Early Life and Career
Despite poor grades, Gaudí eventually graduated. The dean of the school remarked, "I am not sure to whom I presented a diploma today, to a madman or to a genius."
Over Gaudí's 50 years of independent practice, he concocted some of the most imaginative architectural forms in history. They are mostly in Barcelona, but there is a beautiful villa in Comillas in northern Spain as well.
As a young man, Gaudí was a handsome man and a dapper dresser. He wore well cut suits, attended opera at the famous Liceo theater, and enjoyed dining out. As a young man, he wasn't particularly devout.
Later in life, that all changed while working on the Sagrada Família. Gaudí adopted an ascetic lifestyle and neglected his appearance.
In family-centric Spain, he never married. He was a private man. He devoted his life exclusively to his work and the Catholic faith.
Gaudí fasted frequently, once endangering his own life. In his last decades, he was consumed only with religion and the Sagrada Família.
Gaudí was a multi-disciplinary artist. He went through several design phases in his life. Gaudi's architecture in Barcelona reflects this evolution. He used Neo-Moorish, Neo-Gothic, and more naturalistic styles.
Gaudi didn't just design buildings. He also designed interiors and furniture. Gaudi didn't like to draw architectural plans though. He worked mostly from models.
2. Gaudí's Accidental Death
In 1926, Gaudí was hit by a tram on a busy street on his way to church. He was knocked unconscious. He was dressed in tatters and didn't have any identification on him.
People assumed he was a homeless person and left him on the street. Eventually, Gaudí was taken to a hospital, but received subpar medical care. By the time people realized who he was, it was too late to save him.
At his funeral, half of Barcelona dressed in black.
3. Gaudí's Legacy
Gaudí was not revered in his lifetime, except in his home city of Barcelona. He died without knowing how famous his body of work would become.
Gaudí never fit into any stylistic movement. He was a genius who broke all the rules to create his own vision.
Gaudí 's architecture in Barcelona was quite controversial. It contained Orientalist, Gothic, and Art Nouveau elements.
Gaudi's work reflected his obsession with nature. Gaudí famously said: "There are no straight lines or sharp corners in nature. Therefore, buildings must have no straight lines or sharp corners."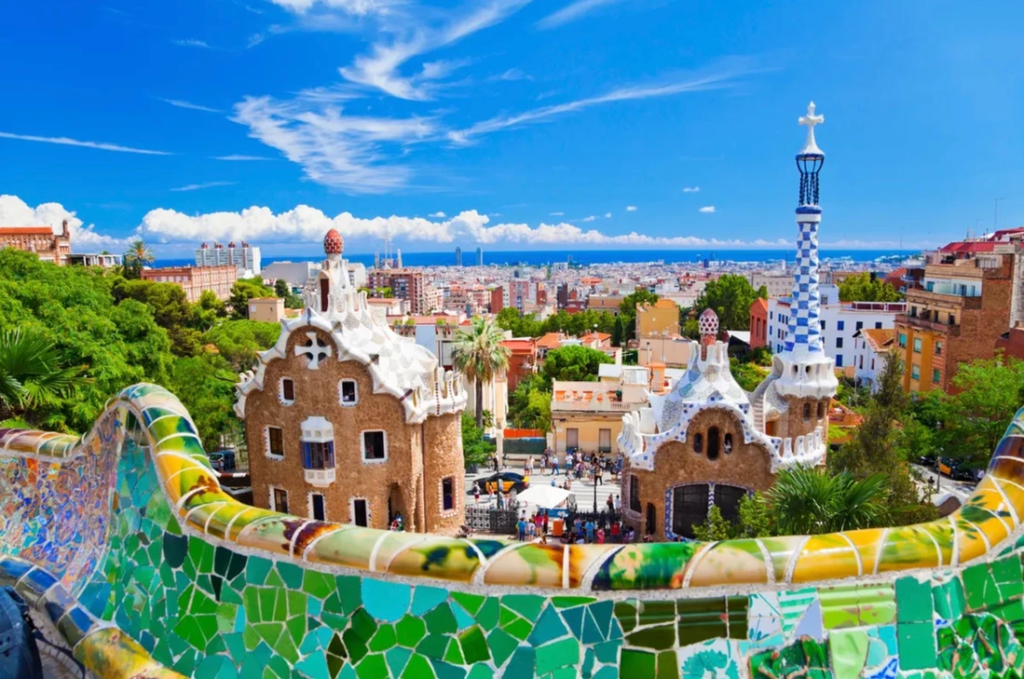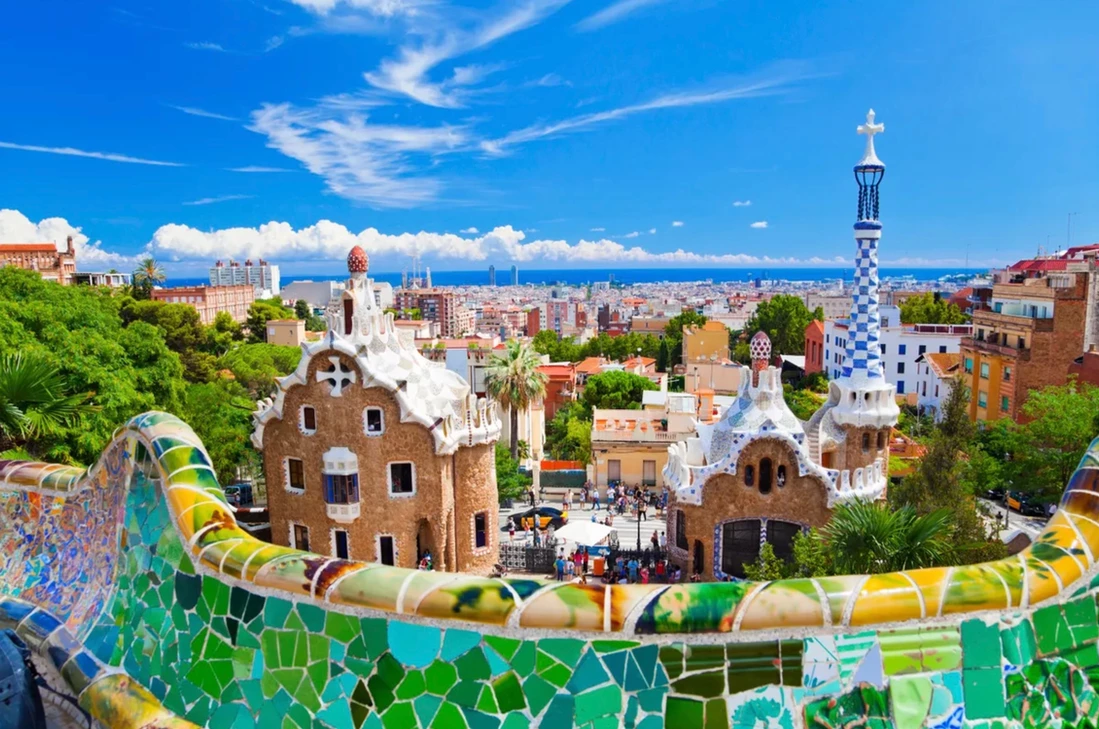 Aside from architectural decoration, Gaudí is equally notable for his advances in engineering. He studied geometry in his youth.
His work regularly featured innovative shapes — catenary curves, hyperbolic paraboloids, hyperboloids, and helicoids. Gaudí used these shapes to create efficient, but still organic looking, buildings.
Although he was an architectural missionary, Gaudi never wrote a book. He didn't deliver any lectures or publish articles about this theories.
Interest in Gaudí's work declined after his death during anti-clerical times. But interest was revivified. Gaudi's architecture in Barcelona won widespread acceptance in the 1950s.
Now, Gaudí is regarded as a genius. His characteristic style is distinctive in architectural history, both awe-inspiring and bizarre. It's never really been emulated.
4. Sainthood?
Since 1992, there's been a fast track campaign to make Gaudí a saint. Most artists aren't beatified, so this would be an unusual move.
But Gaudí not only devoted his architectural life to Sagrada Família, he led an exemplary Christian life in the tradition of a religious mystic.
Gaudí didn't die a martyr's death. Without that qualification, before beatification, the Vatican requires proof of a miracle.
Nonetheless, in 2003, the Vatican expressed interest in the portfolio of research submitted about Gaudí. No doubt reports of miracles will soon be forthcoming.
In 2010, in a further positive sign, Pope Benedict XVI consecrated the Sagrada Família as a basilica.
The Modernista Movement in Barcelona
Spain's "Modernista" architecture is a movement that flourished from the late 1880s to the early 1910s. It's limited to Catalonia.
READ: Guide To Modernist Works in Barcelona's Eixample Neighborhood
But could be considered the Spanish branch of the Art Nouveau movement. Bourgeoise ideas were rejected. The requirement to strictly follow a given historical style fell out of favor.
Driven by the industrial revolution, Barcelona was a fertile environment for the new movement. The city was bursting at its medieval seams and needed to grow.
Somewhat ironically, the city's wealthiest industrial barons commissioned modernist architects like Gaudí. They wanted him to create villas that were magnificent showplaces.
Barcelona Modernism is a mix of ingenious and whimsical creations. The movement valued curves over straight lines.
It elevated asymmetry, rich decoration and detail, use of natural and organic motifs, and dynamic shapes. Overall, Modernism is highly ornate, with much focus on aesthetic details.
Gaudí's Architecture In Barcelona:
With that preview, let's get down to business and tour the top UNESCO-listed Gaudi attractions in Barcelona. Along with an overview of Gaudi architectural masterpieces, I also given you practical information and must know tips for visiting.
1. Sagrada Família
The undisputed Gaudi architectural jewel in Barcelona is Sagrada Família. The basilica is Gaudí's wildly creative opus. The phantasmagorical behemoth inspires emotion.
People tend to either love it or hate it. George Orwell, for example, famously derided Sagrada Família was "one of the most hideous buildings in the world." Its melting exterior definitely left me slack jawed and amazed.
Gaudí began work on the "Sandcastle Cathedral" at age 31. He slaved away exclusively on it for the last 11 years of his life, eschewing other work.
He claimed that his client, God, was "not in a hurry." Though he built his reputation building fancy homes for the rich, Sagrada Família was to be a "cathedral for the poor."
Construction began in 1882. Gaudí was hired the next year. When Gaudí died in 1926, only one quarter of the very vertical basilica was complete.
Moreover, there was no end in sight. Over 130 years later, the basilica still isn't finished. The tentative projected completion date is 2030.
Gaudí was a devout Catholic and is often referred to as "God's architect." Sagrada Família is a complicated blend of nature and religion themes. In rather megalomaniac fashion, it was supposed to constitute a complete history of the Catholic faith.
The interior is the best and most luminous part. It's effectively a sculpture, reinvented as architecture.
The nave is lined with pale columns. They look like a forest, with columns branching out like trees. And, in fact, Gaudí believed that "trees were buildings."
When completed, the mud colored basilica will have 18 towers, with 6 awaiting completion. The tallest tower, now 85 meters, represents Jesus Christ and will be 172.5 meters high when finished.
Then, in ascending order of height, there will be 12 towers representing the 12 apostles, 4 towers for the Evangelists, and one tower for the Virgin Mary.
The exteriors' facades are like huge altarpieces.
There are three of them: (1) the Nativity Facade that was finished during Gaudí's lifetime; (2) the dour and controversial Passion Facade that marks the crucifixion; and (3) the Glory Facade.
The last facade is still under construction now. It will eventually depict the road to eternal salvation.
Tickets & Tours
It's essential to book a skip the line ticket for Sagrada Familia. There's so much to see at Sagrada Familia that you might want to book a guided tour. There are several options you can choose from.
Sagrada Familia Virtual Tour
Sagrada Familia has opened its digital doors You can now take an extensive virtual tour right on its website.
You can visit the Passsion Facade, the Nativity Facade, the interior, the apse, the Cloister of the Rosary, the Western Sacristy, the Crypt, and Gaudi's Tomb.
Smarthistory also has a great YouTube video about the Sagrada Familia. And Rick Steves has a excellent audio guide. For my complete guide to Sagrada Familia.
Practical Information for Visiting Sagrada Família:
Address: Carrer de Mallorca, 401, 08013 Barcelona. The main entrance is by the Nativity Facade. Ticket windows are near the Passion Facade.
Hours: Open daily 9:00 am to 8:00 pm in summer, 8:00 am to 6:00 pm in winter
Ticket prices: 20 euros on line. Check here for other prices and discounts
Passes: Entry is included in the Barcelona City Pass, but you can't skip the line. The Barcelona Card gives you a small discount, if you choose either an audio guide or top views tour.
Pro tips:
Buy a timed entry ticket online in advance for shorter waits. Be prepared to specify what you want to add (audio guide, Gaudi house, tower access) to the basic ticket.
There is a free 1 hour mass every Sunday at 9:00 am.But you can't take photos or tour the place.
Getting there: It's on the HOHO tour bus route and at Metro Sagrada Família
Sagrada Familia Blog: with all the latest analyses and updates on construction
2. Casa Batlló
Casa Batlló is Antoni Gaudí at his hallucinatory, dreamlike best. It's one of the most famous landmarks in Barcelona.
This time, Gaudí conjured a building in the image of a dragon. The strange bone-like facade commands your attention.
It's studded with skull mask balconies and capped by a sinuously scaled roof with a solitary sword-like tower.
The original building that was transformed into Casa Batlló dates from 1877. In 1900, Josep Batlló y Casanovas, a wealthy textile industrialist, purchased the building. In 1903, he hired Gaudì and gave him full creative freedom.
Casa Batlló adopts the Art Noveau style in vogue in Barcelona and the world at that time. But it's an extreme curvilinear version.
Nonetheless, it was an instant hit, unlike La Pedrera. Casas Battlo was nicknamed the House of Bones.
Another must visit work of Gaudi architecture in Barcelona is Casa Batlló. This Modernist building might be Gaudì's most iconic facade. It's a kaleidoscope of blue, mauve, and green tiles.
Though it's a bit hard to see, the facade's actually uneven and slightly wavy, like a calm sea. Its marine-like surface that doubles as a dragon's skin.
The interior is no less beautiful, filled with bright tiles, curved wood, and stained glass — all in organic forms and curvy shapes. The motif is an undersea grotto lit by skylights shaped like tortoise shells. The ceiling droops and swerves poetically.
The long gallery of the main suite is called the Noble Floor. It overlooks the Passeig de Gràcia via a magnificent window. The oversized window is astonishing, decorated with bone-like pillars and watery colors.
The curved wood windows are so large that they have spawned another nickname for the building — the House of Yawns.
Here's my complete guide to Casa Batllo. Click here to purchase a must have skip the line ticket. You can also book a 2 hour guided tour of this magnificent Gaudi attraction.
There is also now a Magic Nights event. You can visit Casa Battlo and here a concert.
You can now peak at Gaudi's endless allusions to Mother Nature on a 360 virtual tour of Casa Battlo on its official website or on this excellent YouTube video. Here's my complete guide to Casa Battlo.
Practical Information for Visiting Casa Batlló:
Address: Passeig de Gràcia, 43, 08007 Barcelona
Hours: Open daily 9:00 am to 9:00 pm, last entrance at 8:00 pm
Entry fee: Check here. Free entry with the Barcelona Pass and a discount with the Barcelona Card
Metro: Passeig de Gràcia (Green Line, L3), Calle Aragó-Rambla (Catalunya exit).
Tel: +34 932 16 03 06
3. Casa Milà | La Pedrera
One of my very favorite Gaudi attractions in Barcelona is the intriguing Casa Milà. Or, as it's more commonly known, La Pedrera, which translates to "The Quarry."
It's a masterpiece of nature. In classic Gaudí fashion, the nature theme is visible in its overall look and down to the tiniest detail. Everything carried forward the theme.
The building ripples and waves like a burbling ocean. There's not a right angle or straight line anywhere. Gaudí wanted it to resemble a "petrified wave." To that end, he used contrasting elements — a heavy stolid stone facade and a wavy shape.
The undulating facade isn't a load bearing wall. It's a self supporting curtain wall that connects to the internal structure of each floor via curved iron beams.
This gave Gaudí freedom to create irregular floor plans. It was one of his cutting edge architectural innovations.
Notice the expressive grills of the 32 exterior balconies. No two are alike. The grills look modeled after seaweed or sea life from the ocean.
They look like they're moving, being tossed around by waves. Between the building's curves and the balcony grills, you could be viewing an underwater landscape.
You enter the interior via a wrought iron door that resembles a butterfly. Inside, unlike outside, there's riotous color.
The paintings in the entrance hall were created and overseen by Symbolist painter Aleix Clapes. The dreamy paintings are tapestry like and contain mythological and floral themes.
But perhaps La Pedrera's most notable feature is its lunar landscape roof. The undulating, uneven roof has winding pathways and a spiky forest of 30 chimneys.
It's filled with whimsical structures, lording over and guarding the building. Some chimneys are freestanding structures. Others are joined in groups of 3 or 4. Some are covered with fragments of marble and broken tile.
La Pedrera is now considered one of the crown jewels of the Art Nouveau movement. It's been used in 15 movies. (To me, the rooftop is reminiscent of Tatoine in Star Wars.) It's a main setting in Dan Brown's 2017 novel, Origin.
In the evenings, a spectacular audiovisual show takes place on the terrace. Casa Mila's rooftop terrace and stairwells are illuminated with projections set to music.
Click here to purchase a skip the line ticket for La Pedrera. If you want to explore Gaudi's main architectural sites in Barcelona, click here for a 3 hour tour.
You can take a 360 virtual tour of Casa Mila/La Pedrera here or here.
Practical Information for Visiting La Pedrera/Casa Milà:
Address: Passeig de Gràcia, 92
Metro: Diagonal
Phone: (+34) 902 202 138
Entry fee: 25 euros. Night show is 35 euros. Entry is free with the Barcelona Pass and you get a discount with the Barcelona Card.
Hours: Monday-Friday: 9 a.m. to 6 p.m. Saturdays, Sundays, and holidays: 10 a.m. to 2 p.m.
4. Güell Palace
Located off La Rambla, Palau Güell, or Güell Palace, doesn't immediately scream Gaudí. The palace is different than his other works of architecture in Barcelona.
It's more traditional and dark. It's almost almost like a luxurious Venetian palace.
Palau Guell has a creepy Gothic vibe. And I mean that in a good way. Don't miss this wondrous building.
The Palau Güell commission came at the outset of Gaudí's career, when he was establishing himself as an architect.
Built between 1886-88, it was designed for Eusebi Güell, a prominent industrialist and Gaudí's greatest patron. It was the family's residence until they moved to Park Güell in 1910.
The home centers on a main room that was used to entertain wealthy guests. It has a 17 meter high ceiling crowned by a parabolic dome.
Small holes are perforated near the top, where lanterns are hung at night to give the appearance of a starlit sky. It's almost like a planetarium experience.
Gaudi used 40 different types of columns in the house. They range in material too, from brick to marble.
Most of Gaudí's experimentation is in the basement. This part of the palace reflects Gaudí's early enthusiasm for using natural shapes, with pillars in the form of mushrooms.
The roof, like many Gaudí creations, also features colorful ceramic shapes and 20 chimneys. One conical chimney looks like a stack of green olives smooshed together.
Gaudí tended to put his most innovative work in the top and bottom of buildings to avoid the ire of his clients.
Click here to book a guided tour of Palau Guell. You can take an interactive virtual tour on the official website.
Practical information for Visiting Palau Güell:
Address: Carrer Nou de la Rambla 3-5, Barcelona
Hours: Open Tuesday to Sunday from 10:00 am to 5:30 pm.
Entry fee: 12 euros, with discounts available for students, seniors, and children. Audio guide included in entrance fee. There's a 25% discount with the Barcelona Card.
Pro tip: Expect to spend 1-1.5 hours there
5. Park Güell
Park Güell might be Gaudí's most innovative architectural creation in Barcelona. It's a 45 acre public park and garden complex located on Carmel Hill in Barcelona. It's a colorful little wonderland.
Initially, Eusebi Güell asked Gaudí to design a mini city with luxury homes. Gaudí worked on the project from 1900-14. But the plan backfired; it was a commercial flop. Only 4 of the planned 60 houses were built.
Before the plug was pulled, Gaudí had created a plaza, two Hansel and Gretel gatehouses, a serpentine bench, colonnaded walkways, and steps.
He actually purchased one of the homes. He lived there for almost 20 years before he moved permanently into Sagrada Família.
The mot elaborate tile work is the cheery serpentine bench that enclose the park in a nautilus shell. Gaudi used fragmented tiles in a rainbow of hues to pave the curving bench.
Probably the most famous icon at the Park Güell is the multicolored mosaic lizard known as "El Drac," or the dragon. Gaudí collaborated with Joseph Maria Jujol, a much younger architect, on the tile work.
Most of the park is free to visit and provides some nice views over the city. But the central Monumental Zone has a fee.
If you want to visit the former home of Gaudí, the museum is located just outside the Monumental Zone in the free section of the park. He lived there from 1906-25. The museum requires a separate timed entry ticket to visit, which you can buy online.
Most of the Park Guell is free to visit and you'll have some nice views over the city. But you'll need a ticket for the central Monumental Zone. You may also want to take a 2 hour guided tour of the park.
You can take 360 virtual tour of Park Guell here. Or on this YouTube video or on the BBC YouTube video here. You can also take a virtual tour on Google Arts & Culture.
Practical Information for Visiting Park Güell:
Address: Calle Claudi Güell, 08690 Colònia Güell, Santa Coloma de Cervelló, Barcelona
Entry Fee: 10 euros, with discounts available. Free admission with the Barcelona Pass and a discount with the Barcelona Card
Pro tip: Park Güell requires walking up a hill from most locations. It's close to Sagrada Familia, so you can visit both on the same day.
6. Casa Vicens
The regal looking Casa Vicens is the "house where it all began." It was Gaudí's first major architectural commission in Barcelona after completing his architectural degree.
Can Vicens was one of Europe's first Art Nouveau type buildings and marked the beginning of the Spanish Modernista moment.
Casa Vicens was commissioned by Manuel Vicens, the owner of a brick and tile factory. Gaudí worked on the home for five years from 1883-88. Gaudí appeared to have carte blanche and a generous budget.
Technically, this is considered one of Gaudí's "orientalist works" in which he used Neo-Moorish designs. At Casa Vicens, he amped up the drama. He wanted the facade to look like lush vegetation was growing on the walls.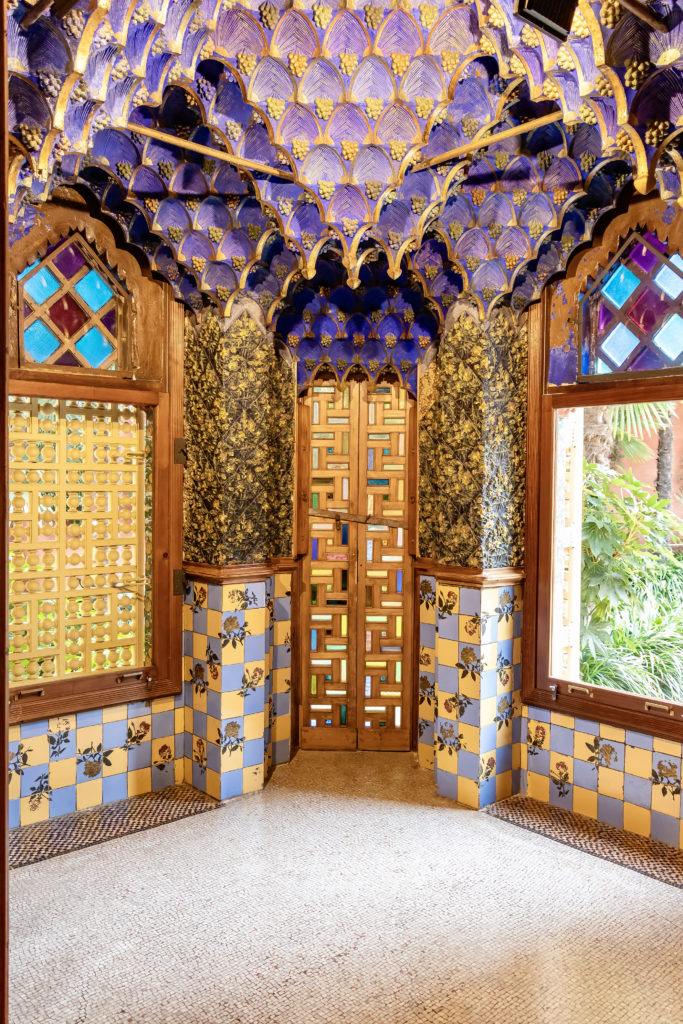 Gaudí used contrasting materials and forms — geometric patterns, colorful ceramic tiles, a horseshoe-shaped staircase, nature motifs, iron balconies, and abstract brick ornamentation.
I liked the small yellow flowers decorating the tiles. Overall, the design looks more tesselated than organic, but Gaudí's concept was new.
Inside, Casa Vicens is a riot of color. The walls are covered with plant, bird, and seashell motifs. The ceiling are remarkable, decorated with paper mâché plant motifs between the beams. Every ceiling is different.
The main floor consists of the dining room, smoking room, and covered porch. The bedrooms are on the first floor, full of exuberant leafy decor. The second floor has a display on Casa Vicens' history.
In 1925, Gaudí was asked to build an addition to the home by Casa Vicens' new owner. Hard at work on the Sagrada Familia, Gaudí declined.
He recommended his colleague Joan Baptista Serra de Martínez, who extended the home in perfect harmony with Gaudí's original work.
The building was a private residence until 2014 when it was purchased for an unspecified amount (the asking price was 35 million euros). Luckily for us travelers, it was restored and refurbished for two years to return it to its original state.
In November 2017, Casa Vicens opened for public tours. It's fast becoming a Gaudí hotspot in Barcelona, especially for those on the UNESCO route.
Click here to book a skip the line ticket. Click here to book a guided tour of the magnificent house.
You can take a virtual tour of it here.
Practical Information for Visiting Casa Vicens:
Address: Carrer de les Carolines, 18-24, 08012 Barcelona
Entry Fee: 16 €, discounts available. Entry is free with the Barcelona Pass. There is a discount with the Barcelona Card.
Metro: Metro: L3 stop Fontana
Hours: Open daily Monday to Sunday 10:00 am to 8:00 pm, last admission 6:40 pm. In the winter, open until 7:00 pm, last admission 5:40 pm
7. The Crypt in Colonia Güell
The must visit Gaudi-designed Colonia Güell is located in the sleepy village of Santa Coloma de Cervelló. Gaudí patron Güell moved his textile operations there.
He established an industrial estate to be run by and on behalf of his employees, Colonia Güell. Güell built Mondernist style homes and a parish church for the "colony.
Gaudí began work on the church in 1908. Unfortunately, it was left unfinished when Güell pulled the funding in 1914.
At that point, only the crypt-like lower nave had been completed. The plans for a soaring leave were scotched and the upper floor was bricked over.
In 1915, the lower nave was blessed by Barcelona's bishop. The crypt has functioned as a church ever since.
The crypt's exterior has whimsical stained glass windows. Inside, its an intimate, earthy space with a circular nave. Its held up by dramaticaly lurching stone pilars.
There's a giant clam shell repurposed as a holy water font. Gaudi designed the beautiful ergonomic pews designed himself.
The crypt church was a nice warm up for Gaudí's later work on Sagrada Família. It allowed him to experiment with new materials and innovative designs. The crypt was renovated in 2000.
Click here to book a ticket for Colonia Guell. You could also book a combo tour that combines Casa Vicens and Colonia Guell.
You can take a virtual YouTube video here. There are also some beautiful images on the Colonia Guell website.
Practical Information for Visiting The Crypt in Colonia Güell:
Address: Carrer Claudi Güell 6, 08690, Barcelona Hours: May 1 to Oct. 31 10:00 am to 7:00 pm, Nov. 1 to April 31 10:00 am to 5:00 pm
Entry fee: 10 euros. Free with Barcelona Pass and a discount with the Barcelona Card.
Getting there: The church is in a suburb of Barcelona called Santa Coloma de Cervello. Start your trip in Plaza España station on Lines S33, S8 or S4. Spraypainted footprints will lead you to the church.
I hope you've enjoyed my guide to the must visit Gaudi architecture in Barcelona. You may enjoy these other travel guides and resources for Barcelona:
If you'd to visit Gaudi's UNESCO sites in Barcelona, pin it for later.