Planning a visit to Carcassonne France? Here's my guide to the top attractions and best things to do in the UNESCO-listed marvel.
Carcassonne is a breathtaking city of stone with a spectacle of a 10th century medieval fortress.
As I sojourned through southern France, I initially wasn't quite sure if I'd even make it to Carcassonne. I have a rather severe crowd phobia. Over a million visitors tour the tiny town each year.
And, well would you venture to a well known tourist destination like Carcassonne in high season without some qualms?
I pondered this question as I enjoyed a leisurely stroll through the unclogged and terribly scenic rose-hued streets of Toulouse in mid June.
Toulouse was stress free compared to busy and frenetic Paris. I was reveling in its laid back vibe.
Did I really want to risk squelching my equanimity? Be subjected to tacky souvenir shops and massive crowds in choked alleys? And, even worse, be forced to wait in interminably long lines?
No, not by a long shot. But I gambled that, in mid-June with French schools still in session, I might have a fighting chance.
Plus, as most travelers do, I wondered if I would have that chance again. With few exceptions, I don't tend to be a recidivist when seeking my geographical cures. It was now or very possibly never.
So with my rental car dubbed Enguerrand, I ventured forth from Toulouse for a day trip, hopeful for medieval marvel, but with some niggling anxiety about a possible medieval siege.
The sign below greeted us as we parked our car outside the walled city. I admit, it made me feel a tad guilty about my purist fear of tourists.
But I had little to fear. Carcassonne was well worth the journey, an utterly fabulous place that you have to visit one in your lifetime.
A Short History of Carcassonne
1. Overview Of Carcassonne
The first site of medieval Carcassonne literally takes your breath away (and I mean that in the correct sense of "literally").
Carcassonne is a 13th century fantasy world of towers, spiky turrets, stout walls, winding alleys, and moats. It's a medieval junkie's dream city on steroids.
As British writer Anthony Horowitz said, much more poetically, "In no other city I've visited does history feel so alive."
Carcassonne has a double row of fortified walls stretching nearly 2 miles with 52 watch towers, each one crowned with fantastical "witch hat" turrets.
Carcassonne is ancient. It dates back to the neolithic times.
The Romans began fortifying the hilltop around 100 B.C. Then, Carcassonne passed, in a long succession of regime changes, to the Visigoths, Saracens, and Franks.
It ultimately landed in the hands of the wealthy Trencavel family. Under the Trencavels, Carcassonne became a power in the southern France, rivaling Toulouse.
2. The Cathars
Carcassonne was also a stronghold of the Cathars, a fastidiously monkish Christian sect (though most people thought they were either Christian heretics or not Christian at all).
As part of the 13th century Albigensian Crusades, the bloodthirsty crusader Simon de Montfort vanquished the Carcassonne Cathars, and the Trencavels with them, in 1214.
Sadly, Carcassonne was thereafter left to rot, used as a stone quarry, and was almost demolished in the 19th century. Under Napoleon, it was struck off the roster of official fortifications.
3. Saved From the Ashes
The French government even decided that Carcassonne should be demolished, causing an uproar among local citizens. The city was then reclassified as a historic monument.
The architect Eugene Viollet-le-Duc, France's leading Gothic revivalist in the late 19th century, was commissioned to restore Carcassonne.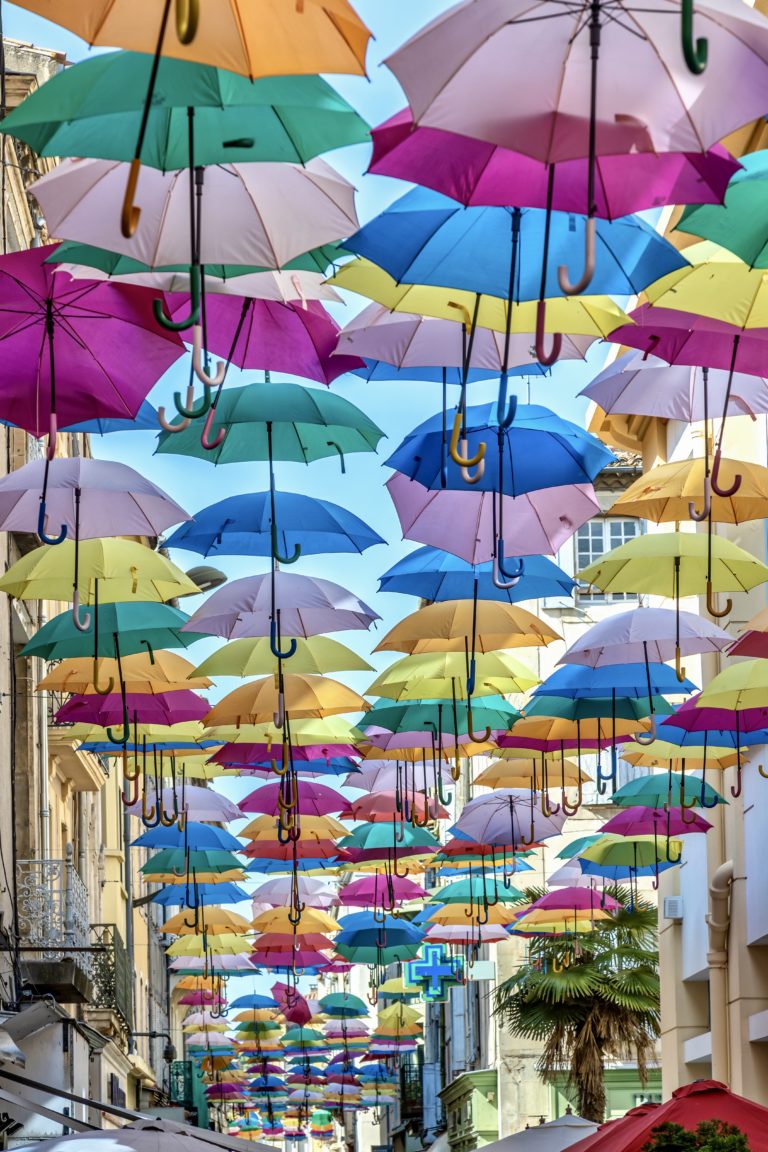 Though he may have over-embellished some parts of the old citadel, Carcassonne still has an authentically medieval feel.
Tickets & Tours For Carcassonne
Carcassonne will be busy. It's really essential to book tickets in advance. Lines are very long in high season.
Click here to book a skip the line ticket to the castle and ramparts.
You may want to book a guided tour to this mighty edifice. You have several options: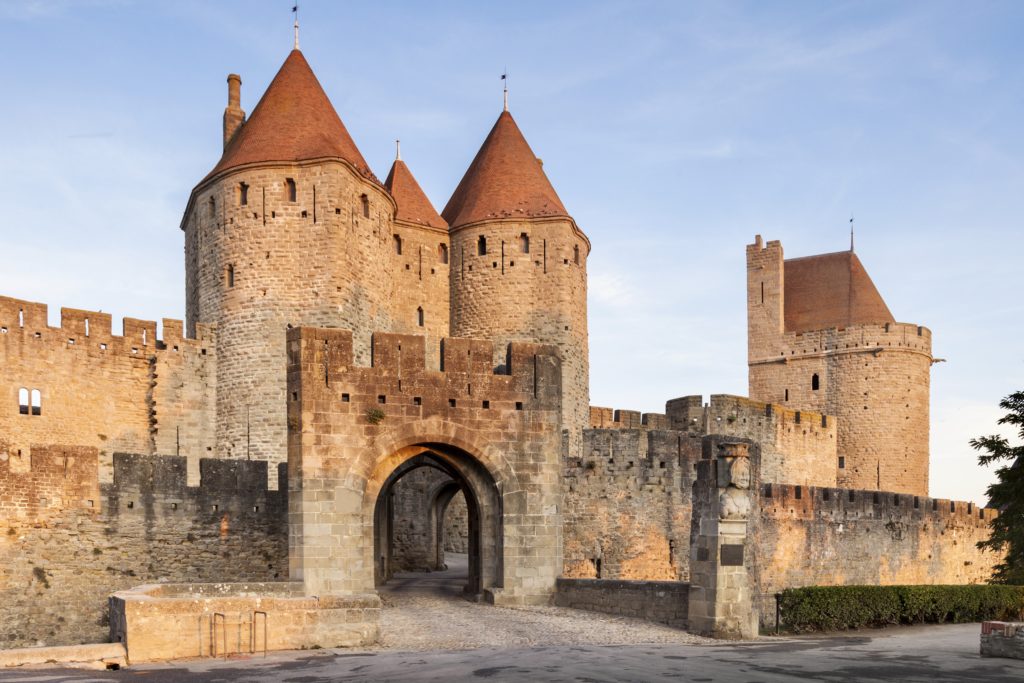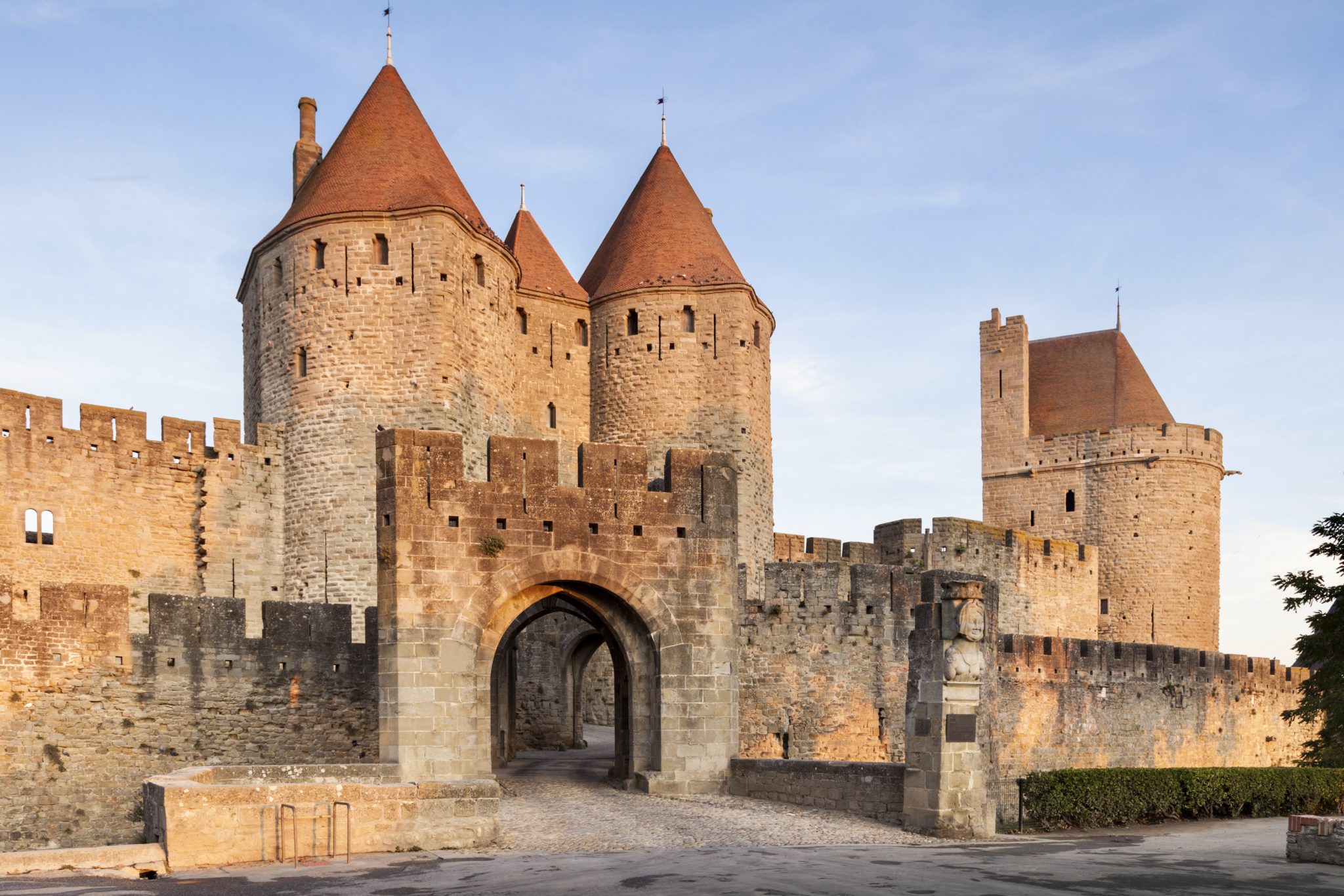 Top Attractions In Carcassonne
The tourist offices are located at 28 Rue du Verdun in the lower city, La Bastide, with another in the medieval city on Rue Cros Mayrevieille.
Bring your own map, and you won't have to wait in line for one. Here are the best things to see and do in Carcassonne.
1. Narbonne Gate
You enter La Cite through the Narbonne Gate. The huge gate dates from the second half of the 13th century. Two spur towers adjoin it.
A deep tank was built inside the gate to store water. In the niche above the gate there's a figure of the Virgin Mary.
2. City Walls
Carcassonne's ancient city walls are one of the top attractions in Carcassonne. They are part of the city's 1997 UNESCO World Heritage List designation.
They are almost 2 miles long and free to walk.
There's an outer and inner double wall. The crenelated outer wall is the work of Louis IX, but parts of the inner wall date back to Roman times.
The Roman "Inquisition Tower" housed the medieval Inquisition. Their barbaric purpose, as I've said, was to root out and prevent the spread of those dreaded Cathar rebels.
If you walk the walls at night, everything is illuminated and becomes a floodlit fantasy.
3. Chateau Comtal
The citadel includes the Château Comtal, which is the central castle of the upper town and top attraction in Carcassonne.
You enter through the drawbridge and climb up the stairs. There's a film you can watch to set the stage.
The chateau is effectively castle within a castle. The castle dates the 12th century and an amazing 31 towers.
You can see every possible military defense tactic — watchtowers, posterns, covered wooden walkways. and machicolations. The latter were used for hurling boiling oil and stones on the attackers.
As you walk the inner ramparts, there's plenty of signage to explain what you're seeing.
The views are terrific. Don't forget to cast your eyes to the roofline so you don't miss the gargoyles.
4. Basilica of Saints Nazaire
The Basilica of Saints Nazaire is Carcassonne's main church and a top attraction. It has lovely 12th century stained glass and stonework. It was a cathedral until the 18th century when the bishop moved out.
The church itself is a mix of styles after numerous additions and restorations, though still mostly Gothic in appearance. The earliest part of the church is the Romanesque nave.
The church as beautiful rose windows, dying from the 13th and 14th centuries.
As Viollet-le-Duc put it: "the Saint-Nazaire Basilica represents the invasion of the ogival style of the North into a Romance monument of the South."
It's open from 9:00 am to 7:00 pm each day.
5. Medieval Streets
The medieval streets within the citadel are Disneyland perfect. They really are.
They'll appeal to fans of the knight in shining armor era, a group in which I unabashedly include myself.
Despite the tourist hordes, the cobblestone streets retain their charm and mystique. You'll be enveloped in stone, exposed timbers, and ivy.
There are even some secret spots where you can escape the crowds. It's no mean feat if you can unglue your camera from your face.
There are trinket shops galore in the old town of Carcassonne. You can get your own Lord of the Rings dagger or a silver plastic helmet.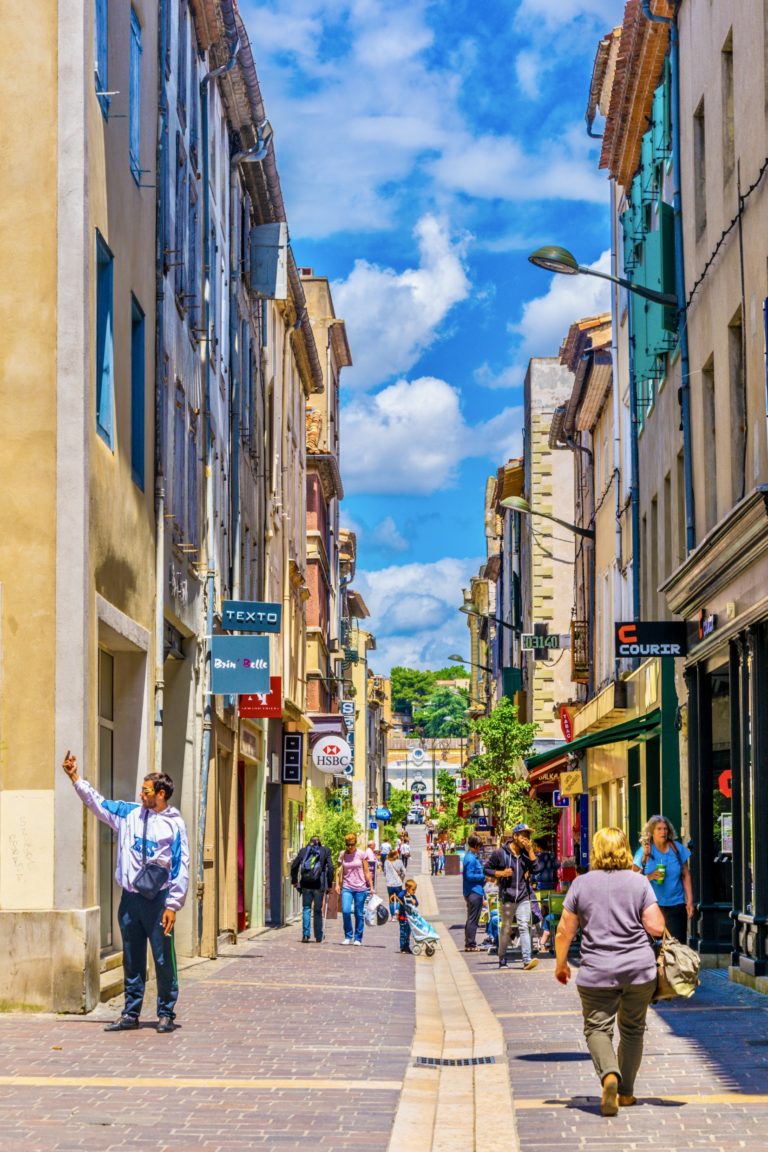 The cheesiness of the shops does take a bit of thunder out of all the medieval magnificence.
My advice for safeguarding your visit: IGNORE, IGNORE, IGNORE the sleazy tourist gibe. Don't look and it won't blight your brain or unduly diminish your experience.
6. Felice Varini Installation
On a previous visit, I also treated to a hefty cultural counterpoise to any niggling tourist gall — the "Eccentric Concentric Circles" installation by Swiss artist Felice Varini.
To celebrate the 20 year anniversary of Carcassonne's designation as a UNESCO World Heritage site, the Carcassonne tourist board covered the medieval stones with an eye deceiving optical illusion of concentric yellow aluminum circles.
The brilliantly composed and stunning finished effect was best seen at the entrance:
The locals were appropriately angry. They claimed the Varini installation "was ruining their lives," sounding like the disgruntled Londoners who dislike the The Shard projected on their famous skyline.
To me, the ephemeral nature of the installation made it eminently enjoyable. And I loved, as I so often do when traveling about on my geographical cures, the stark juxtaposition of the ancient and the modern.
On October 1, 2018, Varini's installation was removed and the torment of the locals ceased. But I wanted you to see how it looked.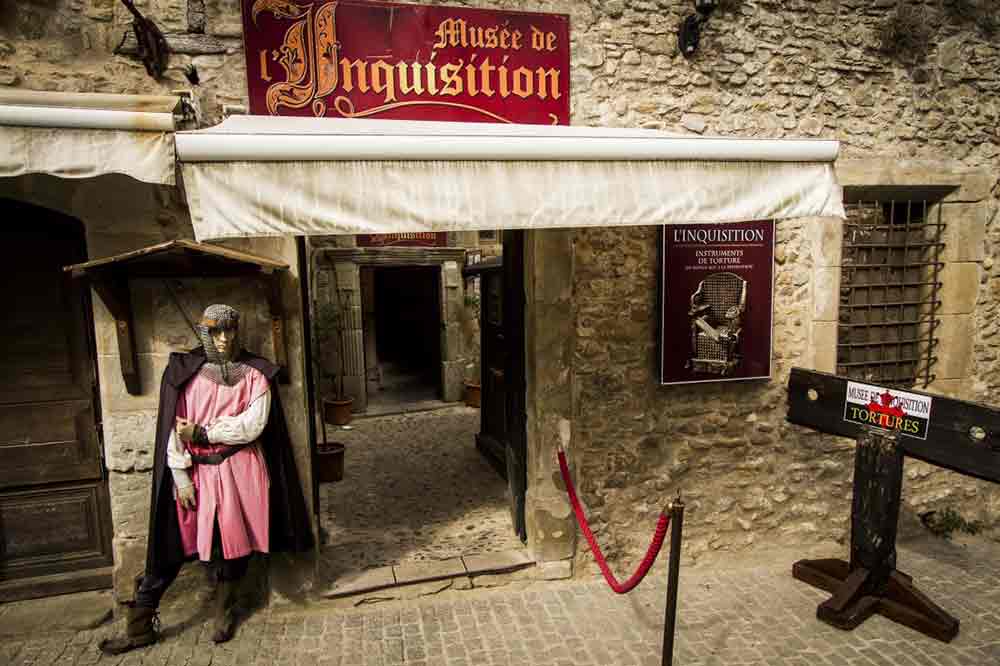 7. Torture Museum
The Museum of the Inquisition is spread over two buildings. It presents a large, collection of Instruments of torture. They range in date from the 12th century to the French Revolution.
While some may find it ghastly, it is an informative place for history buffs. You'll learn spooky facts about the different ways that have been used to kill and torture prisoners.
You'll also find exhibits on the history of the main Cathar Castles and the period of the Inquisition.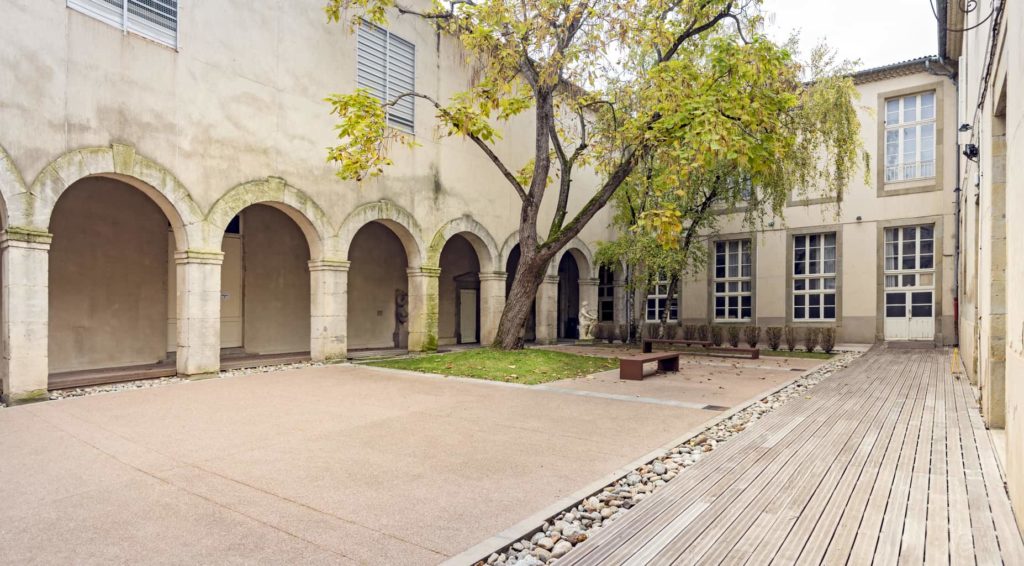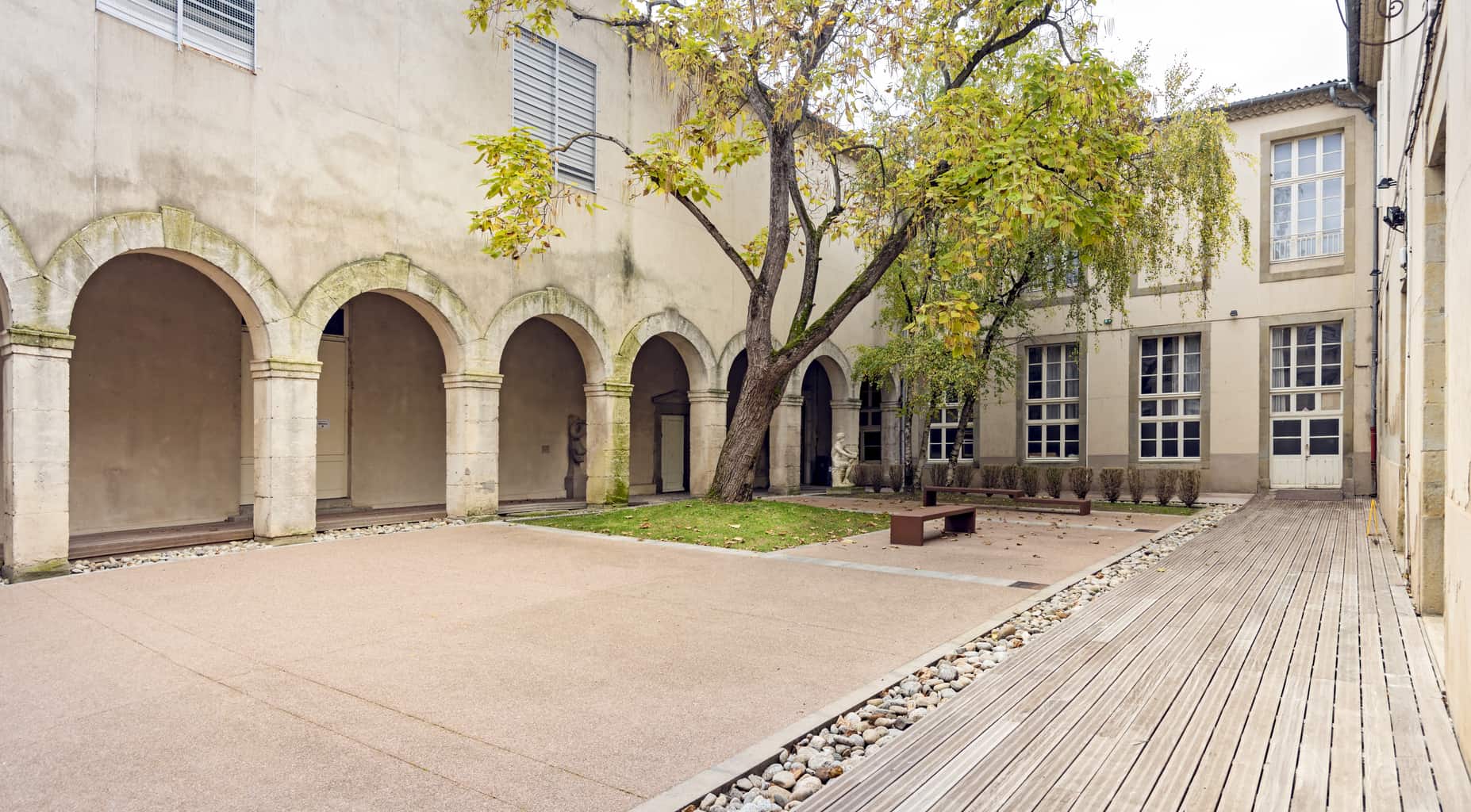 8. Museum of Fine Arts
Carcassonne's fine art museum, the Musee des Beaux-Arts, was established in 1836. It's set out over 8 galleries.
There's a pretty decent collection of French art from the 1600s to the 1900s. One gallery is dedicated to Flemish and Dutch art from the 1600s.
Featured artists include Brueghel the Elder, Mattia Preti, Jan van Goyen, Jacob Jordaens, and Gustave Courbet.
Aside from the permanent collection, the museum organizes three temporary exhibitions annually.
9. La Ville Basse: The Lower City
The Bastide St-Louis is inappropriately named the "new town," when in fact it was built in the 13th century. It has a magnificent tree-lined square, the Place Carnot, where cafes, shops, and restaurants abound.
You can also visit the Cathedral of Saint Michael and the Church of Saint Vincent.
Or, just wander along the boulevards taking in the lovely 18th and 19th-century mansions. If you must shop, do it here.
Market days are Thursday and Saturdays.
Tips For Visiting Carcassonne
1. Where To Eat In Carcassonne
The last time I visited, we lunched on some quite good homemade tapas and salads at the unassuming L'Escargot at 7 Rue Viollet-le-Duc in the old town.
Restaurant reviewers grumble about rubbish cassoulets and lackluster service in Carcassonne. Still, there's an abundance of good restaurants at various price points in both the upper and lower city:
Adélaïde, 5 Rue Adélaïde de Toulouse (outdoor terrace, spectacular views)
Auberge des Lices, 3 Rue Raymond Roger Trencavel (fine dining)
Brasserie de DonJon, 4 Rue de la Porte D'Aude (lovely stone walls and
garden)
Château Saint Martin, Hameau de Montredon (fine dining)
Chez Felix, 11 Place Carnot (unpretentious cafe in main square)
Chez Fred, 26 Rue de Albert Torney (cassoulet)
Chez Saskia, Place Auguste-Pierre Pont (delicious daily breakfast)
Comte Roger, 14 Rue Saint-Louis (lovely terrace, contemporary cuisine)
Creperie Le Ble Noir, 15 Rue de Verdun (crepes and desserts)
La Barbacane, Place Auguste Pierre Pont (Michelin Star)
La Table de Franck Putlelat, Chemin des Anglais (fancy)
If you are in Carcassonne in the evening, you can also book a dinner and wine tour at a nearby vineyard.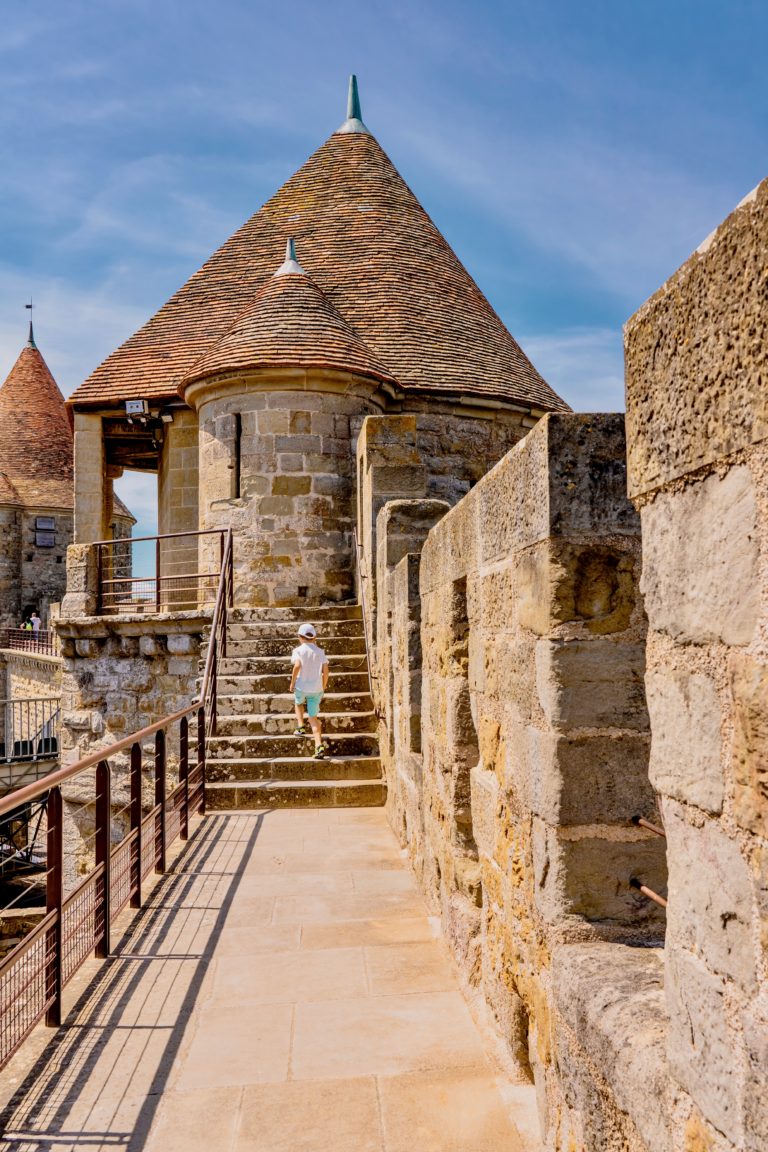 2. How To Get To Carcassonne
Carcassonne's train station is the the Ville Basse. It's a 30 minute walk to the upper city. There are also taxis waiting at the station.
By car, Carcassonne is beside the A61 "Autoroute des deux mers" motorway, which runs from Bordeaux to Narbonne. For the old city, take exit 24, signposted Cité médiévale.
If you are staying in Toulouse, you may want to book a guided tour to Carcassonne.
Or a half day tour that combines Carcassonne and the Canal du Midi. You can also book a day tour to Carcassonne and the UNESCO town of Albi.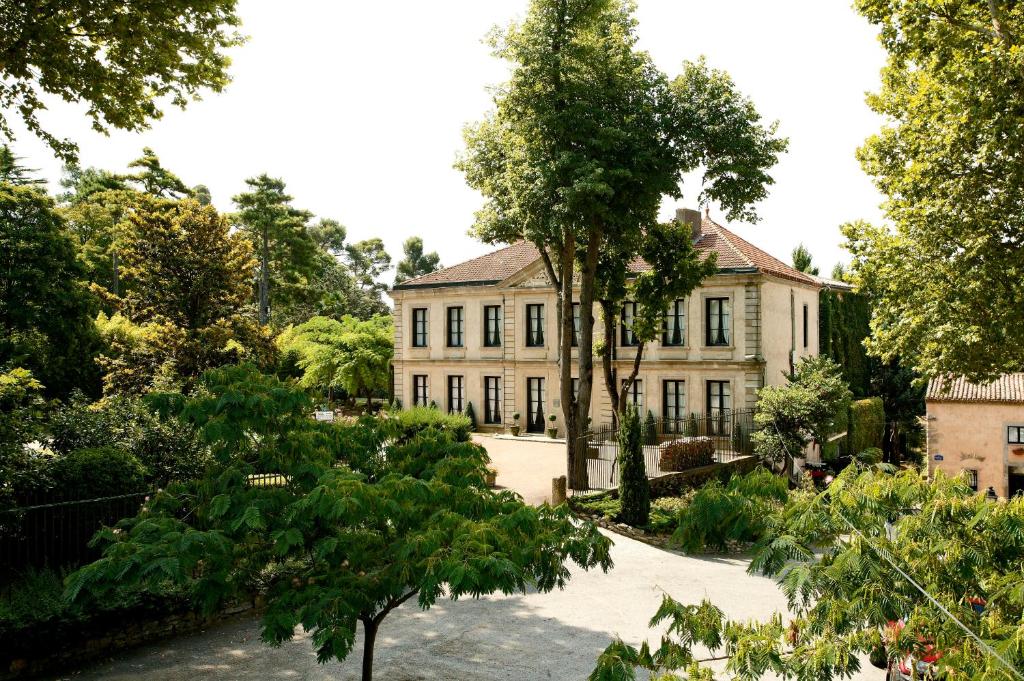 3. Where To Stay In Carcassonne
Do you want to overnight in Carcassonne and enjoy the city when the day trippers have left? You have some good options.
The Hotel de la Cite & Spa is a like a little medieval castle. It sits right next to St. Nazaire Church. It's a luxurious place with a swimming pool and spa.
Domaine Auriac is a historic hotel just outside the city. It's a luxury hotel that boasts a Michelin restaurant.
The Hotel de la Cite – MGallery Collection is a boutique literally built into the city walls. It also has a Michelin restaurant.
4. Best Day Trips From Carcassonne
If you're exhausted after exploring all the niches and parapets or tripping over map toting tourists, you can escape via the Pont Vieux.
The bridge dates from the fourteenth century and boasts a Gothic chapel at its western end dating from 1538.
There are many nearby detours to be had around Carcassonne.
1. Canal du Midi
Just across the Pont Vieux sits the Canal du Midi, another UNESCO World Heritage Site. The canal was a major 17th century feat of engineering, designed during the reign of Louis XIV to link the Mediterranean and the Atlantic.
You can stroll along the banks or take a guided boat tours. There's a quite nice 8 km circular walk of the River Aude, starting at the Pont Vielle in the medieval city.
If you've been besieged by tourists, this is your chance to escape to the peaceful countryside with only the occasional jogger for company.
2. Lastours
The village of Lastours with its vestiges of mythical medieval Cathar castles is only 10 miles north of Carcassonne.
The castles are perched on a rocky spur of the Black Mountains. You you can hike up the incredibly steep gorge via a rugged mountain trail. Access was obviously not meant to be painless.
Le Puits du Trésor, a renowned Michelin-starred restaurant, sits on the banks of the River Orbiel, if hiking stokes your appetite.
3. Mirepoix
The lovely medieval village of Mirepoix is just 50 minutes from Carcassonne. It's a real working village. Unlike Carcassonne, is not overly commercialized.
The 800 year old main square, Place des Couverts, has quaint half timbered buildings that delightfully lurch and sag. Monday is market day.
Mirepoix boasts one of the oldest markets in this part of France. This is a nice spot to be catapulted back in time.
5. Nearby Cities and Day Trips in Southwest France
If you're in the mood for a city break after being medievalized, Carcassonne is also conveniently near Toulouse (1:00), Montpelier (1:40), or Narbonne (:50).
But probably my personal favorite detour would be to the town of Albi (1:30), an underrated gem in southern France. Here's my guide to the top attractions Albi.
Albi is a red brick clad episcopal city with militaristic architecture. It symbolizes the Catholic defeat over, yes, you guessed it, the pesky Cathars.
Albi has imposing citadels — the Albi Cathedral and the Berbie Palace — and is also home to the fabulous Toulouse-Lautrec Museum.
6. Carcassonne: The Bottom Line
Carcassonne is wildly spectacular, a true medieval marvel. I was worried it would be both completely brilliant and an utter nightmare.
But, happily, it was mostly the former, at least in mid-June. I think Carcassonne is a must visit town in southern France.
To be sure, Carcassonne is a tourist magnet, and there are people who don't seem quite sure what they're looking at.
But it's all deftly managed in a subtly chic French kind of way. It's still a rare chance to experience a medieval walled city.
Be prepared to attack the imposing Citadel at off peak hours or in the off season for a gentler experience. If you do, you will be rewarded with a feast for the eyes and the mind.
7. Other Practical Information For Carcassonne:
Address: 1 Rue Viollet le Duc, 11000 Carcassonne
Hours: From Jan 2 to March 31 open daily 9:30 am to 5:00 pm, From Apr 1 to Sept 30 open daily10:00 am to 6:30 pm, From Oct 1 to Dec 31 open daily from 9:30 am to 5:00
Entry fees: 10 €
I hope you've enjoyed my guide to the top attractions in Carcassonne. You may enjoy these other France travel guides and resources:
If you'd like to visit Carcassonne, pin it for later.