If you want to get off the beaten path in London, head to the beautiful Leighton House in Kensington.
The museum is the former home and studio of famed Victorian artist, Frederic Leighton. The house is a time capsule of the artist's life and work, a place where you can step back in time to the Victorian era.
The house was designed by architect George Aitchison. Leighton moved in and then added to it over the years, creating one of London's most singular interior spaces.
Leighton created what he called a "Palace of Art" What can you see?
The house reflects the Victorian era's infatuation with Oriental style. It's crammed full of Arab tiles, gold friezes, mosaic floors, antique oriental rugs, and paintings by Leighton and other artists.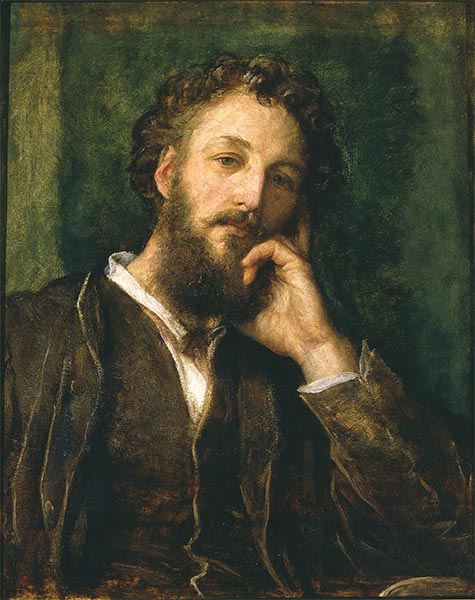 The house was fully restored to the tune of £8 million pounds, re-opening in 2022. Most of the artworks you see on display today are reproductions. But I did spot some originals by Leighton, Millais and Tintoretto.
It's simply splendid, like stepping into a painter's world. I was amazed how beautiful the end result was. You'll want to move right in, if you like a maximalist approach to decorating.
In this guide, I'll tell you everything to see at Leighton House and give you a quick primer on the artist himself.
Who Was Leighton?
So who was the man responsible for this Victorian gem?
Frederic Leighton was a prominent British artist and one of the leading figures of the Victorian art world.
His works embodied the high academic style popular at the time. He was known for his depictions of languid beauties, seemingly entangled in their long hair.
Leighton was born on December 3, 1830 in Scarborough England. Early on, he displayed an early talent for art and went on to receive formal training in Florence, Rome, and Frankfurt.
His artistic style drew heavily on the Italian Renaissance and classical themes. He often painted historical and mythological subjects.
At 26, he debuted at the Royal Academy with the painting Cimabue's Celebrated Madonna, an imaginary procession of Renaissance artists. Prince Albert was impressed and convinced Queen Victoria to purchase it.
This catapulted Leighton to stardom overnight. Later, he became the president of the Royal Academy of Arts.
Leighton's passion was travel, especially to the Middle East. On his jaunts, he gobbled up tiles, antiques, and other artifacts.
Back in London, Leighton also amassed a collection of art by his contemporaries like Dante Gabriel Rossetti, George Frederic Watts, and Albert Moore.
He didn't stop there. He acquired works by old masters such as John Constable and Italian artists like Michelangelo.
To show them all off, the independently wealthy artist built a grand home and entertained lavishly. He was the toast of London high society.
In 1896, one day after becoming a lord, Leighton died of heart failure at 65. His house opened to the public that same year.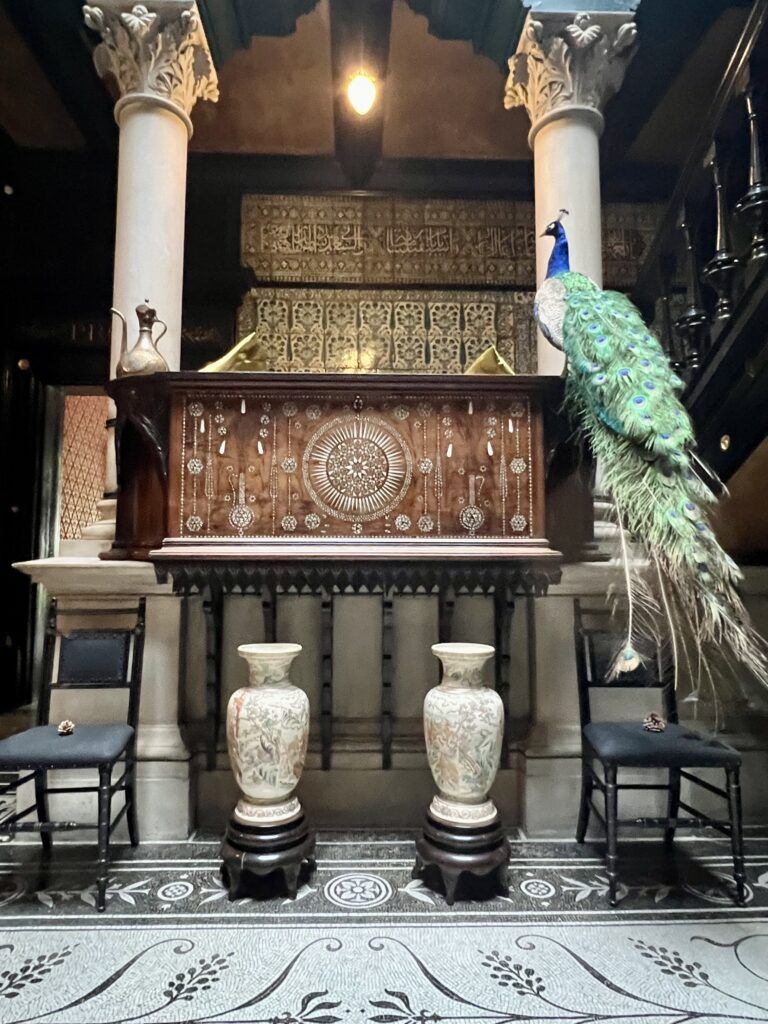 Guide To Leighton House: What To See
Here what you can see on a visit to Leighton House.
Staircase Hall
Staircase Hall is a flamboyant symphony of brown and blue. Three flights of stairs lead to the next level.
There's a stunning white and brown mosaic floor. Walls are clad in turquoise blue tiles. And you'll see a copy of Michelangelo's Creation of God fresco from the Sistine Chapel.
Against one wall is an inlaid Syrian chest topped with a stuffed peacock. In the center of the room is a bronze sculpture of a satyr from Greek mythology, the Dancing Faun.
Narcissus Hall
Narcissus Hall serves as the connecting passage between Staircase Hall and the Arab Hall.
At its heart lies an exquisite bronze sculpture of Dionysus, crafted in 1885. Interestingly, it was initially believed to depict Narcissus from Greek mythology.
And the hall captures the essence of Narcissus, the youthful character who fell in love with his own reflection in a shimmering pool. The sculpture is reflected in the room's deep blue tiles and opulent gilded ceiling.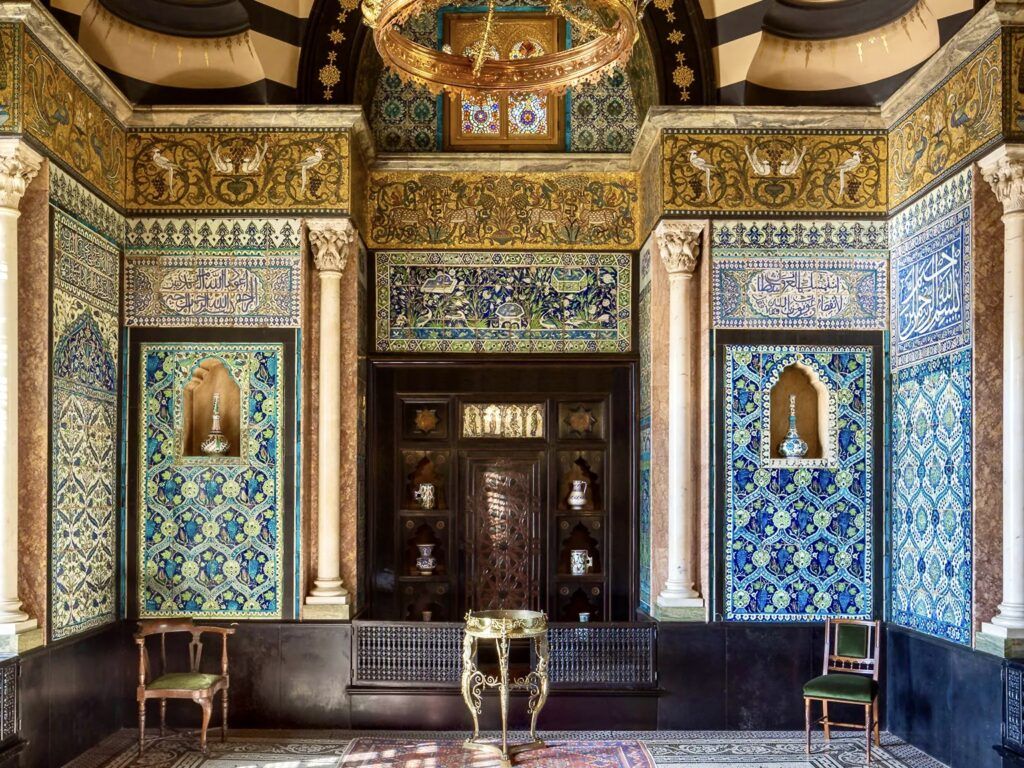 Arab Hall
The exotic Arab Hall is the museum's highlight. It was added during expansion in the 1870s. It's a shimmering blue-green hall with a golden dome.
Nothing like it existed in London at the time. And it enhanced Leighton's prestige enormously.
Leighton built it as a fantasy folly, "for the sake of something beautiful to look at."
The room was inspired by Leighton's travels in the Middle East and North Africa, in particular the La Zisa Palace in Palermo Sicily.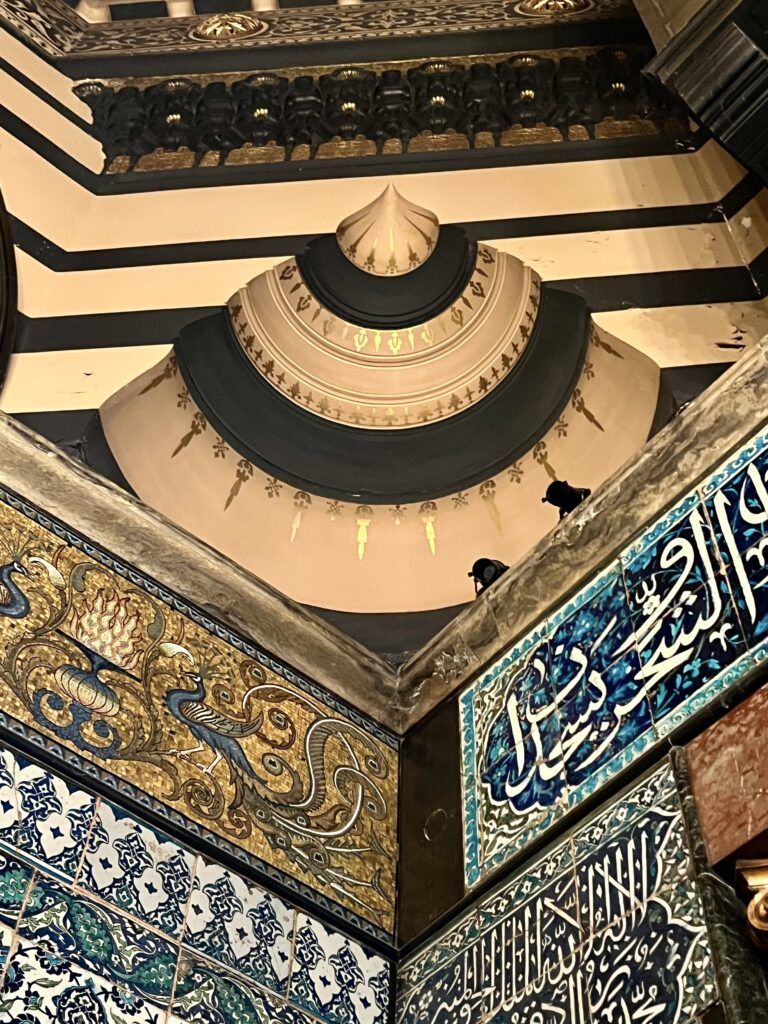 The room showcases his priceless collection of Islamic tiles.
The majority of them came from Damascus Syria, and were made in the late 16th and early 17th centuries. But there are also Persian, Turkish, and other Arab tiles.
Blue and green tiles encircle the room and are topped by a golden frieze with peacocks. Above that, is a domed ceiling with recessed geometric forms.
Below is a reflection pool set in the middle of a Pompeiian mosaicked floor. Legend holds that artists James Whisper and Edward Burne-Jones once fell into the fountain during an animated conversation.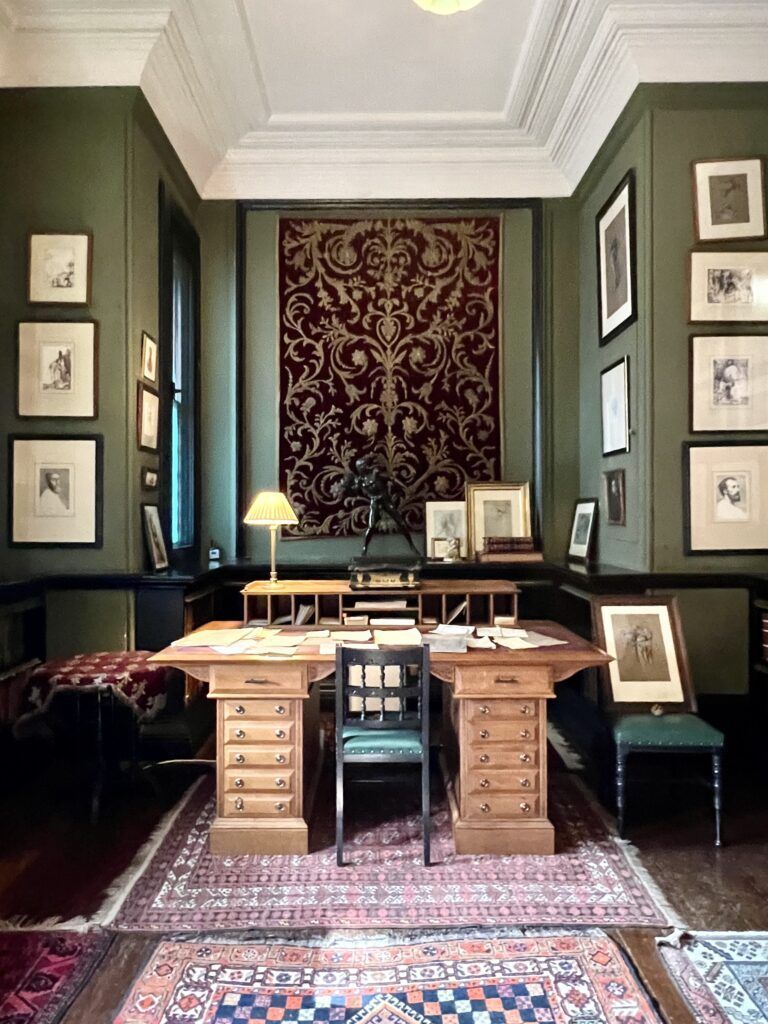 Library
The library was added to the house at the same time as the Arab Hall. That coincided with Leighton's time as president of the Royal Academy.
This was where Leighton carried out his duties and worked on household chores. The desk is by Luke Hughs & Company.
The walls are hung with prints and drawings from Leighton's collection. There is 19th century Ottoman velvet with silver work on the walls and tables.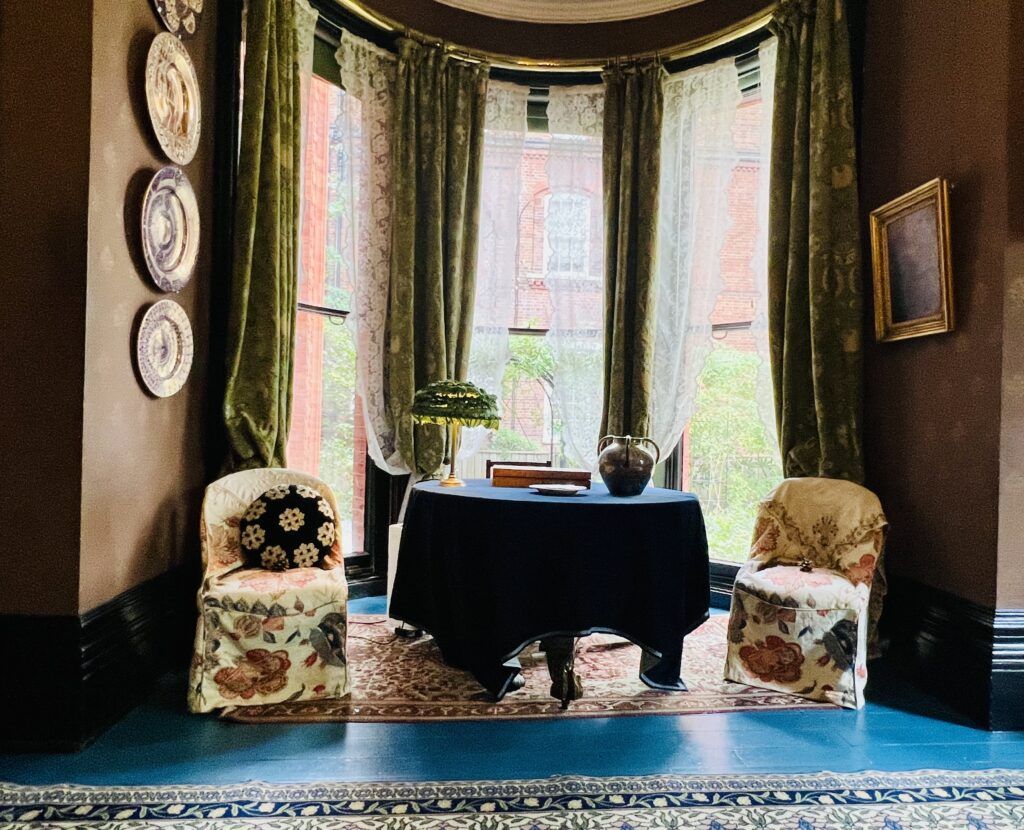 Drawing Room
Typically, in Victorian homes, a drawing room was used as a reception space. But this wasn't so for an artist's home. That role was filled by the studio.
Leighton's drawing room was instead used as a "withdrawing" room for female guests after dinner.
The room was once hung with landscapes by French and English artists that Leighton admired, Like Constable and Corot.
Hanging from the ceiling is a rather jarring Murano glass chandelier, which seemed out of place to me.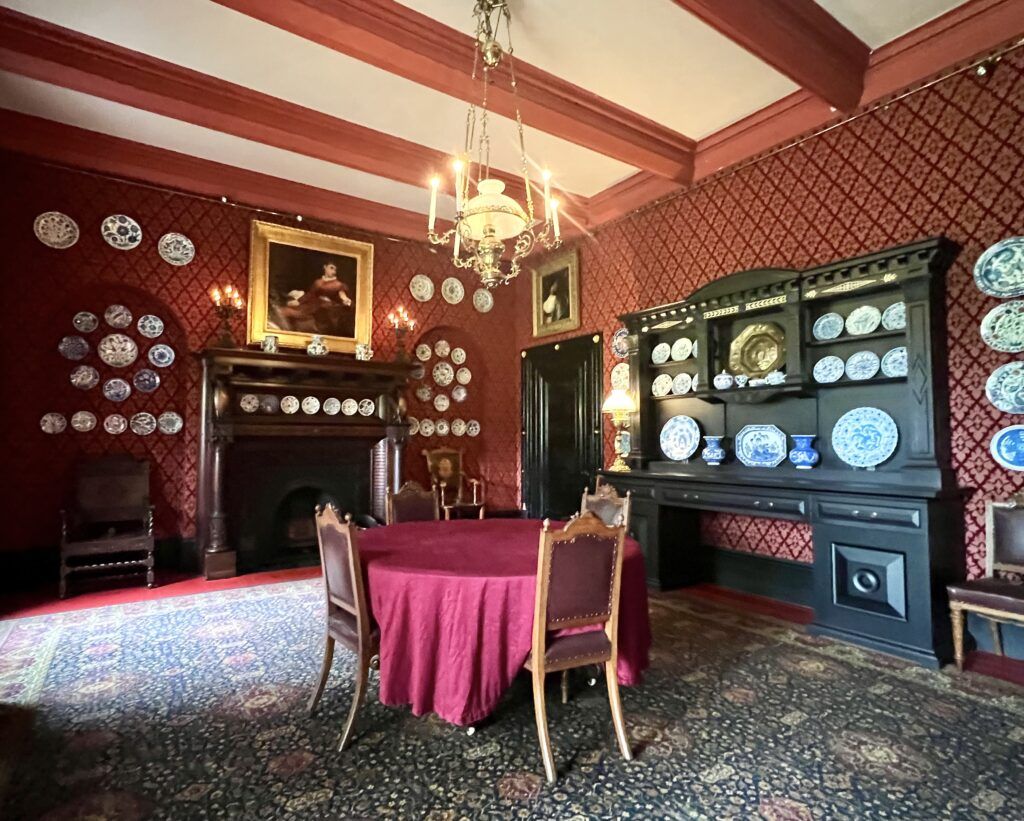 Dining Room
In his dining room, Leighton entertained many celebrated artists and society figures of his day.
Leighton himself, in a touch of vanity, reportedly used a chair slightly heighten than the others.
The red wallpapered room is mainly decorated with pottery Leighton collected on his travels. Two large niches flanking the fireplace provided additional display space.
Once the table was set for 18 guests.
Silk Room
This room is a small antechamber that Leighton referred to as his "snug." It served as a second, and more intimate, studio space.
Tiles line the walls. At the end of the room is a pierced wooden screen, which he purchased in Cairo.
The screen gave him glimpses of the Arab Room and allowed the burbling sounds from the fountain to reach upstairs.
Above the fireplace is Tintoretto's Portrait of a Venetian Nobleman, possibly from his workshop.
Later, Leighton used the Silk Room to display works by contemporary artists who were also his friends.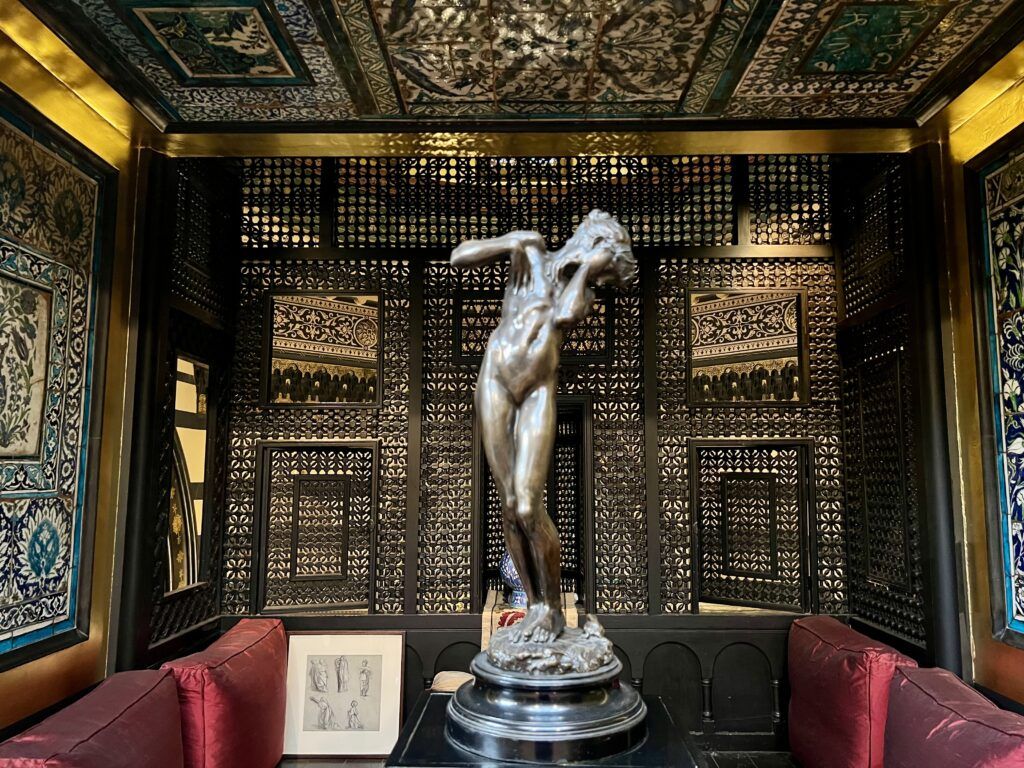 Bedroom
Leighton's bedroom was his only truly private space. Indeed, it was the only bedroom in the house except for servants quarters.
The bedroom is sparse and decorated for comfort, not to dazzle the eyes. So the contrast with the other interiors is fairly striking.
I imagine Lord Leighton may have wanted an escape from the stimulation of the bling and over-the-top decoration, just to rest the mind.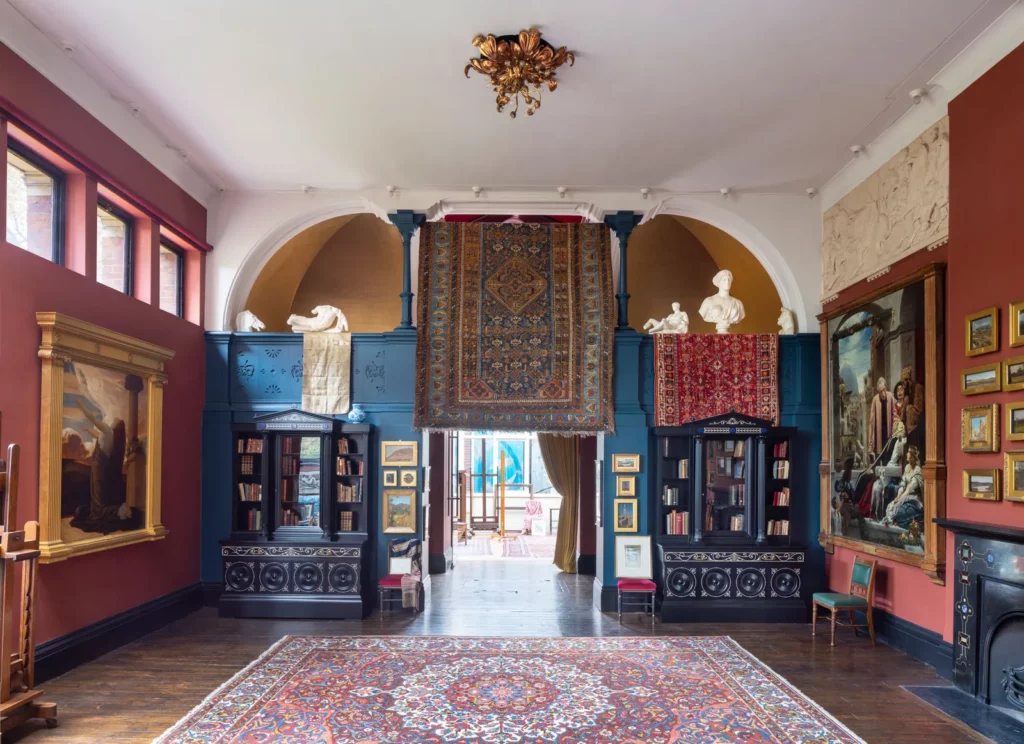 Studio
The Studio was the room where it happened. It's one of the rare surviving artist's studios in London.
It was both a showplace and functional work space. This was where almost all the paintings from Leighton's mature career were produced.
There are red walls and oriental carpets on the walls and floor. Cabinets are filled with books and decorated with sculptures.
A screen with a gallery partitions off the far end of the room. Among other things, you'll see maquettes and photographs of Michelangelo sculptures from the Medici Chapels in Florence.
A piano is in the room. In Leighton's day, every spring a concert was held in the studio for his friends.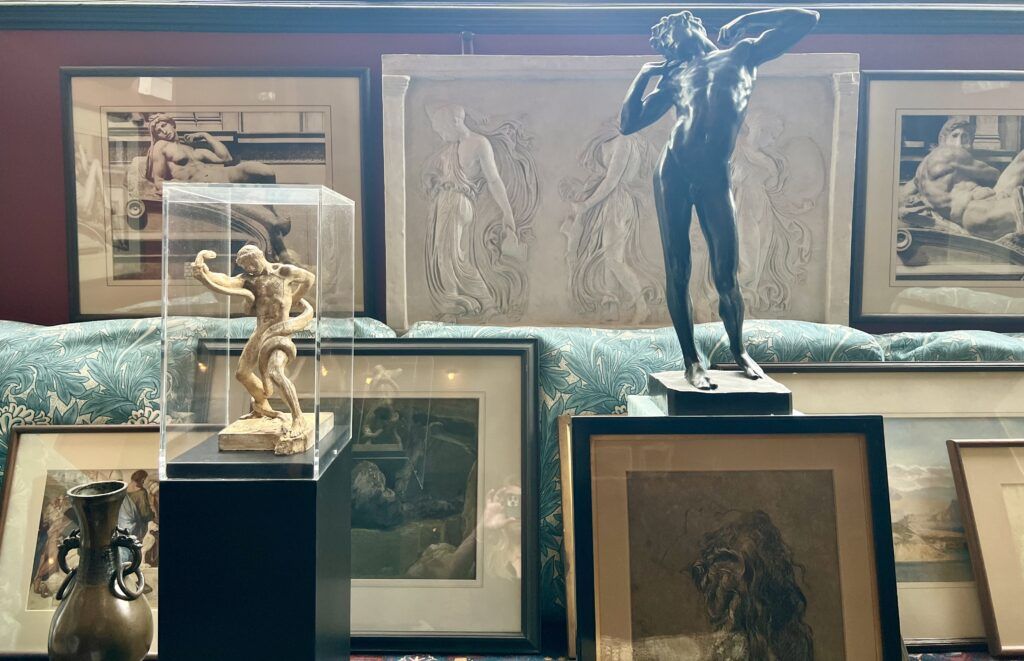 Winter Studio
Leighton's time was organized around the submission of his paintings for inclusion in the annual exhibition of the Royal Academy each spring.
Like other artists, he struggled to finish his paintings in the winter, with the poor natural light of a gloomy winter.
At the end of the 1880s, he added a winter studio, complete with a heating system. It was essentially a glassed in greenhouse.
The space allowed for the best use of natural light. Props and painting materials were stored here too, allowed the main studio to be more orderly.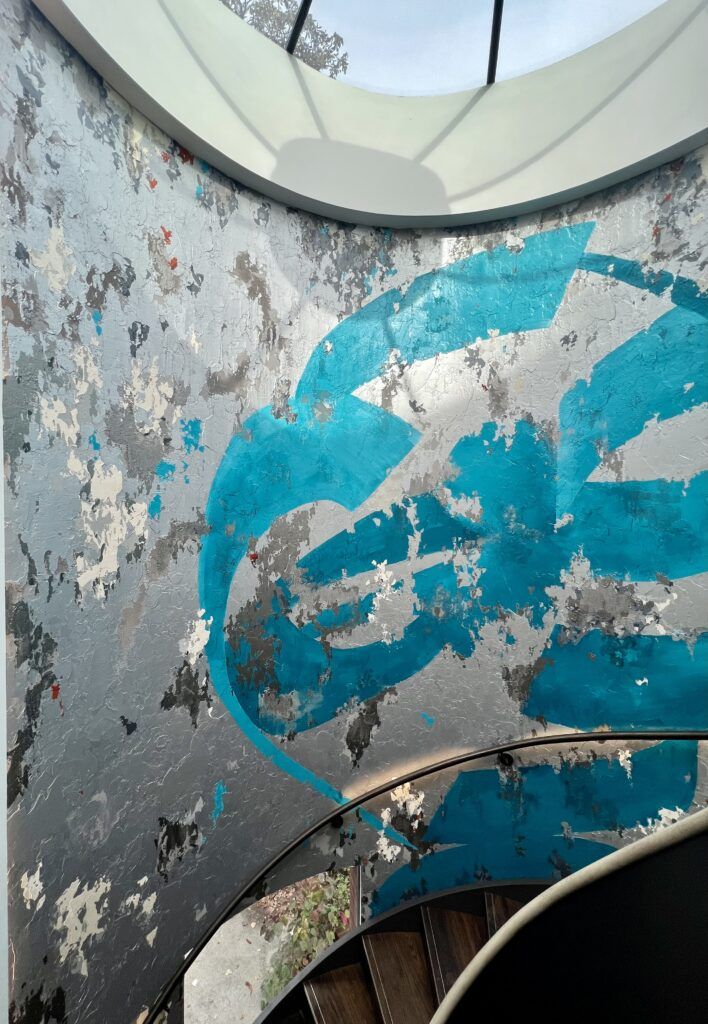 Oneness
From the studio, you head down a beautiful new helical staircase that was added during the recent renovations.
It's home to a new contemporary artwork on permanent display by Iranian artist Shahrzad Ghaffari. It's a turquoise mural painted onsite over a 9 week period.
The artist describes it as a "meeting of East and West and old and new." Strands of calligraphy twist around each other like the staircase itself. The colors resemble the tiles in the Arab Hall.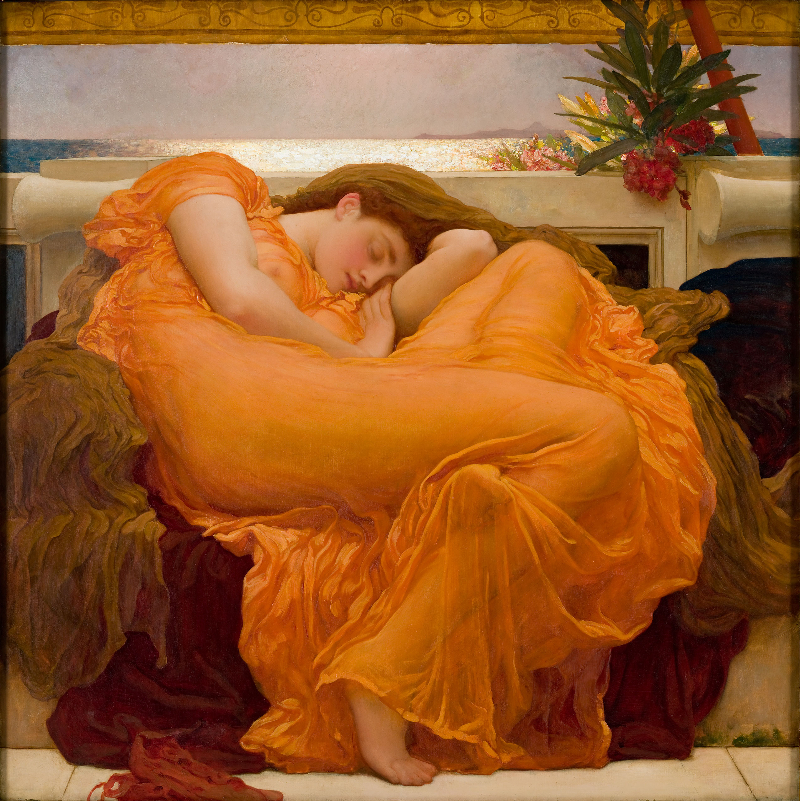 Practical Guide & Tips For Visiting Leighton House
Address: 12 Holland Park Rd, London
Hours: Open Wednesday through Monday from 10:00 am to 5:30 pm. Closed Tuesday.
Tickets: £ 11.00. You can also purchase a combined ticket that includes Sambourne House. It's another well-preserved Victorian era house showcasing the "house beautiful" aesthetic style.
How Long To Spend: Budget 1-2 hours to see the house.
Audio Guides:
You can use your smartphone to scan room labels to bring up information about the art and objects on display. And there is a short film you can watch when you first arrive and information pamphlets in each room.
Pro Tip: I found the museum was hard to photograph because it was rather dark, with all the dark wood and dark painted walls.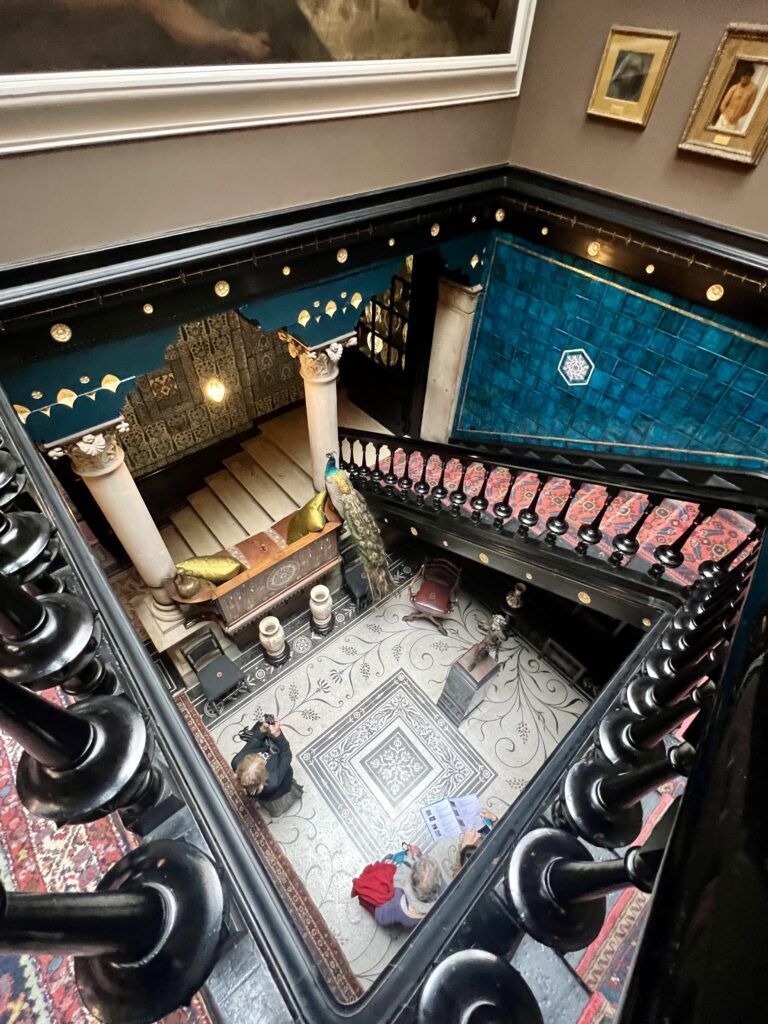 Is Leighton House Worth Visiting?
I consider the museum a hidden gem that's absolutely worth visiting. You could go just to see the Arab Hall, the standout feature.
If you happen to be in the Kensington area, it's definitely worth a stop. You could even combine it with a trip to Kensington Palace or the Design Museum.
However, if you're not particularly interested in the Victorian era or Middle Eastern design, you might want to skip it, especially if it's your first time in London.
Cafe: The DeMorgan Cafe is right below the winter studio. It offers a range of sandwiches, soups, baked goods, and drinks.
Gift Shop: There's a small gift shop in the reception era with Victorian themed items.
I hope you've enjoyed my guide to Leighton House. You may find these other London travel guides useful:
If you want to visit Leighton House, pin it for later.