Looking for some unusual things to do in Lisbon Portugal? Here's my guide to ferreting out the secret spots and hidden gems in Lisbon.
Like every splendid capital city, Lisbon comes with an obligatory to do list. From its grand squares to St. George's Castle on its highest point, Lisbon presents you with a set of glistening jewels and azulejo clad buildings. You'll undoubtedly be dazzled.
But not every stroll or reverie needs to be shared with other tourists. And Lisbon's charms are so legion, you have freedom to vary the itinerary and choose something obscure and off the beaten path that strikes your fancy.
If you have crowd fatigue or want to dig deeper, here's my guide to ferreting out hidden gems in Lisbon for the discerning traveler.
In a country famous for exploring, it's sometimes better to keep looking. Especially if you're up for a little adventure.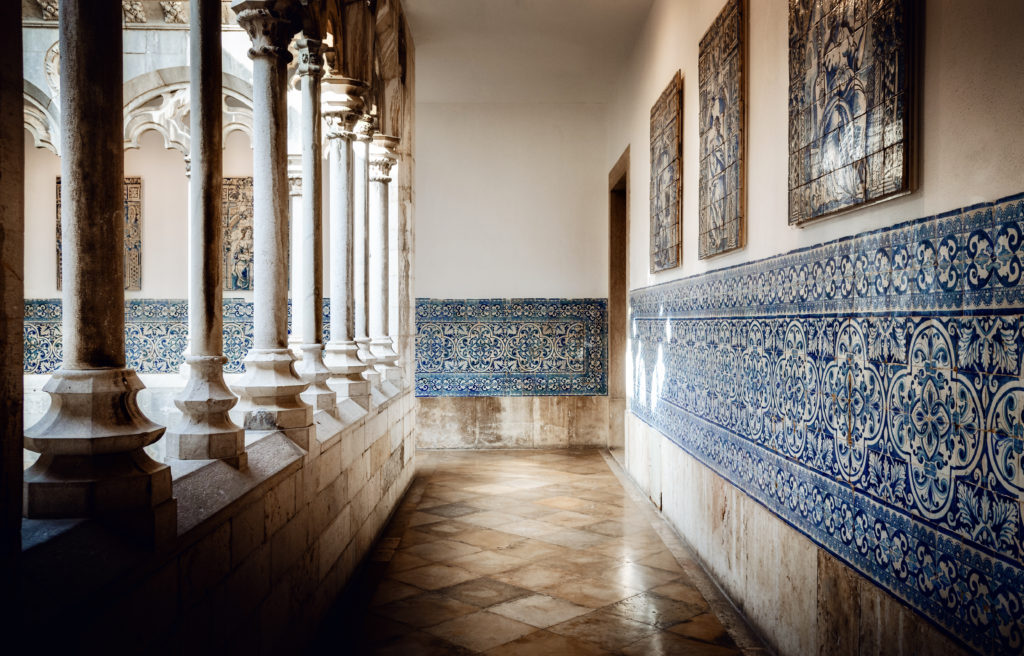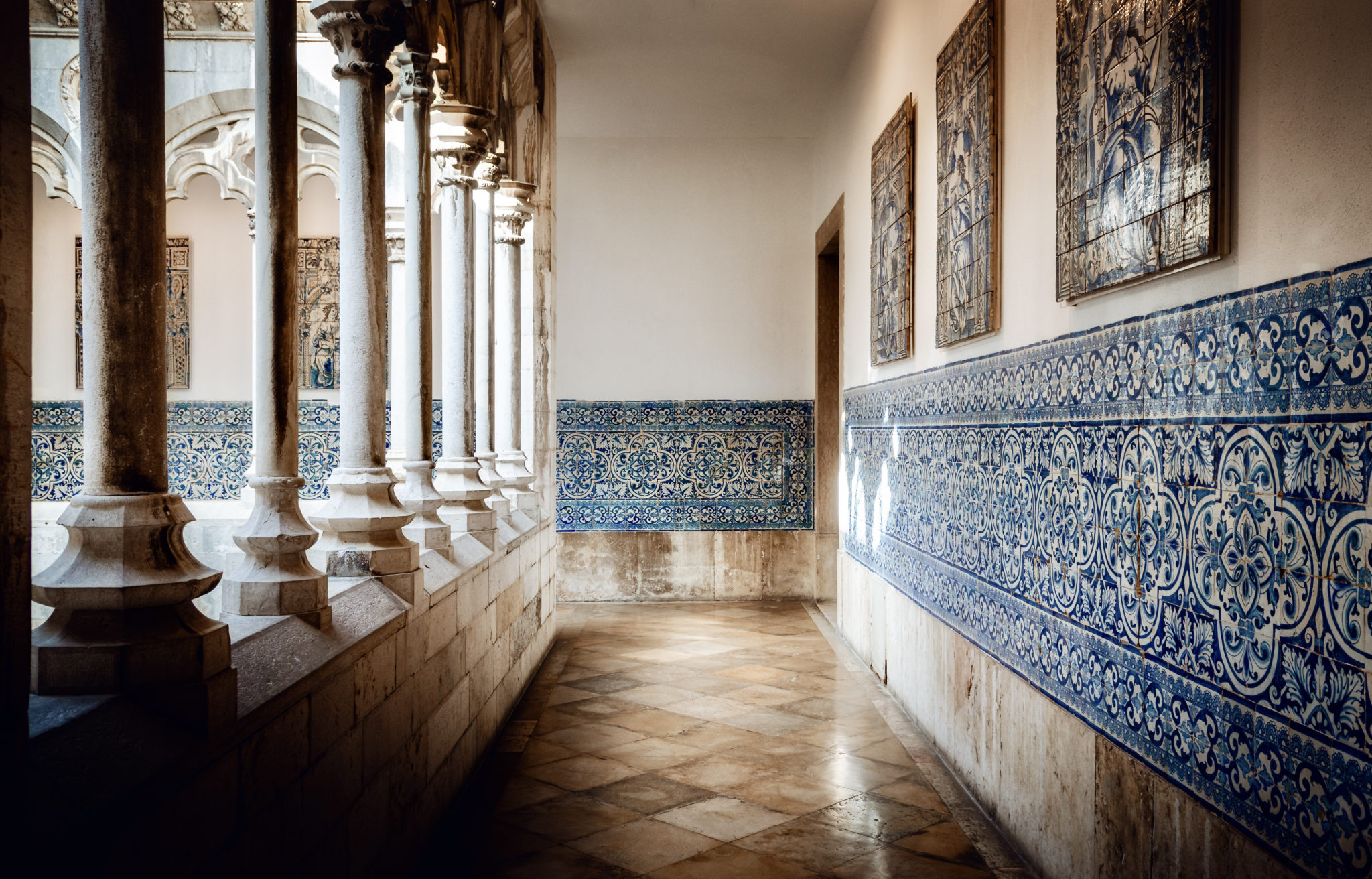 Unusual Off the Beaten Track Hidden Gems in Lisbon
Here's my list of 20 off the radar destinations you should put on your Lisbon itinerary, especially if you're a repeat visitor.
You can see Lisbon's hidden gems on a small group guided walking tour. You may also want to book a private guided walking tour to make sure you see all these Lisbon hidden gems.
1. National Tile Museum
I confess, I have a secret tile obsession. So I'm pre-disposed to like a museum showcasing beautiful Portuguese azulejos.
At first blush, you might think a tile museum sounds exceedingly dull. But Lisbon's National Tile Museum, the Museo Nacional do Azulejo, is a revelation.
It boasts a dramatic setting, housed in an ancient 16th century convent, the Madre de Deus, built in the Manueline style. The convent church is a glittery Baroque showstopper with a Rococo altarpiece.
The convent cloister is less showy but more serenely beautiful. Blue and white azulejo tiles panels are everywhere.
Inside this hidden gem museum, every inch is covered with azulejos. The exhibits are arranged chronologically from the Moorish-influenced tiles of the 16th century to abstract designs of the 20th century.
The piece de resistance is a 75 foot long panel depicting Lisbon as it existed before the great earthquake of 1755.
>>> Click here to book a ticket to the National Tile Museum
The museum's still a relatively secret hidden gem in because it's outside central Lisbon. Most visitors are too busy in Alfama, Belem, or Sintra. This museum is often left off the must see list, and, trust me, it shouldn't be.
Practical Information for the National Tile Museum
Getting there: Catch the 794 bus from the river side of Praça do Comércio. The nearest train station is Santa Apolonia. From there, it's a 20 minute walk. You can also take an Uber, which is pretty cheap in Lisbon.
Entry fee: adults 5 Euros, children: free; free admission with Lisboa Card.
Hours: 2:00 pm to 6:00 pm Tues, 10:00 am to 6:00 pm Wed-Sun, closed Mon
Pro tip: The museum has a mobile app that works like an audio guide to explain the permanent collection and the history of the convent. You can download it from Google Play store or through the museum's website.
2. Palace of the Marquesses of Fronteira
Located just outside Lisbon's historic center, and far from the madding crowd, lies the simply gorgeous 17th century Fronteira Palace.
It was built in 1640 as a swishy summer pad for a nobleman, D. Jaoa Mascarenhas, the 1st Marquis of Fronteira. And the current marquis still lives there.
The palace's Room of Battles is sometimes described as "the Sistine Chapel of Tilework." It depicts scenes from the Restoration War, the battle for Portuguese independence against the Spanish.
But its the palace's beautiful grotto-like garden that steals the show. Influenced by Italy, the garden sparkles with blue hued tile work.
It's considered some of Portugal's finest. On the terrace, you'll find Greek gods flanking azulejo panels depicting the liberal arts.
The palace could definitely use an injection of TLC and some restoration. But it's impressive nonetheless with the chic romantic aura of a slightly decaying ruin. It seems like an incredible place for an event, like a wedding or party.
Because it takes some effort to get there, Fronteira Palace is one of Lisbon's best kept secrets. The off center location also saved it from major damage during the great earthquake of 1755. So it's one of Lisbon's oldest and most historic destinations.
Address: Largo Sao Domingos de Benifca 1, 1500-554 Lisboa
Hours: Mon to Fri 9:30 am to 5:00 pm, Sat 9:30 am to 1:00 pm. Closed Sunday and holidays. The palace interior can only be visited in the morning.
Entry fee: 11 € for both the palace and garden. The interior can only be see via guided tours at 11:00 am or 12:00 pm. If you miss the tour, then you can only see the garden for 6 €.
Getting there: 10-15 minute drive from Lisbon center. Or use Uber. You can also walk from the Jardim Zoologico Metro Station.
3. Quinta dos Azulejos Garden
The 18th century Quinta dos Azulejos Garden is a true Lisbon secret hidden gem. It's so hidden that no one's there. And it's not in any guide books.
You'd have to dig deep for Quinta to be on your Lisbon radar. As a result, the garden's an oasis of peace and tranquility, with the heady scent of jasmine wafting romantically in the air as an added bonus.
Quinta dos Azulejos was built for António Colaço Torres. The garden was designed in the Moorish tradition. It's therefore inward looking with a central courtyard.
In the golden age of azulejos, the tiling at Quinta took on three dimensions. It engulfed pillars, columns, arches, benches, and other architectural surfaces.
The tiles are transformed into actual architecture. They depict elaborate scenes of chivalry, hunting, and religion.
The garden is owned by a small college, Colegio Manuel Bernardes. You can visit free of charge. But you need permission to enter.
Visit the main entrance gate of the school during normal hours and ask for a visitor's pass. Or call or email ahead to make an appointment.
Address: 1600-549 Paço do Lumiar (Colégio Manuel Bernardes)
Hours: Monday to Friday from 9:00 am to 10:00 am, and from 3:00 pm to 5:00 pm
Entry fee: free
Email: colegio@cmb.pt
4. Museum of Decorative Arts
The petite 17th century Azurara Palace houses the luxurious Alfama Museum of Decorative Arts.
Besotted with strolling the medina-like lanes of the lively Alfama neighborhood, most people skip this stop. But I have a fondness for smaller museums, as you can tell from my blog.
This sweetbox is a house-museum that groans with blingy treasures. It displays the private decorative arts collection of Ricardo Ribeiro do Espírito Santo Silva. He was a nobleman and well known art collector from the 20th century.
The outside isn't too impressive. Inside, however, it's one of Lisbon's hidden gems.
It showcases carved wood furniture, tapestries, paintings, and china — all in the style of Versailles. It's a microcosm of how Portuguese nobility lived in the 17th and 18th centuries.
In 1953, Silva donated the palace and its contents to a private foundation. To this day, the foundation remains dedicated to the study and protection of decorative arts, with artisan workshops onsite.
Address: Largo das Porta do Sol 2 Lisbon
Hours: Wed-Mon 10:00 am to 5:00 pm
Entry fee: 2 euros
Getting there: Walk up from Baixa, Tram 28, or Bus 737.
Pro tip: The museum is across the street from one of Lisbon's miradouros, the Largo das Portas do Sol.
5. Street Art of Bordalo II
Lisbon is now a city renowned for its street art. One of its most famous sons is Bordalo II, who plays in the trash.
Bordalo II is known for creating works of art from "waste" as a statement on the impact of consumerism.
He subscribes to the view that "one man's trash is another man's treasure."
On his website, he says his goal is to "create, recreate, assemble and develop ideas with end-of-life material and try to relate it to sustainability, ecological and social awareness."
There are several stunning Bordalo II pieces in Lisbon. But he works all over the world. In Lisbon, his Raccoon is in Belém near the Cultural Center. The Giant Bee is at the LX Factory.
His largest work to date, in Lisbon, 25 feet, is a large Lynx sculpture. It's currently on display in Lisbon's Exposition site, but will soon find a permanent home on the street.
You may want to book a guided street art tour to see the works of Bordola and other Lisbon artists.
6. Ler Devagar Bookstore At LX Factory
Livraria Ler Devagar, which means "slow reading, "is considered one of most beautiful bookstores in the world. It's in Lisbon's hipster LX Factory.
This is a former industrial complex turned artistic hub. It's located under the 25th of April Bridge. If you're not a hipster, it's also a great spot for bibliophiles like me.
There are books crammed floor to ceiling in the three story bookstore, with a few bars tucked in for good measure.
Check out the antique printing press doubling as a column and a bicycle flying from the ceiling. You can have a coffee and cozy up with a good book. Or chat with friends at one of the bookstore's many tables.
Ler Devagar has helped spawn bookstore restoration outside Lisbon as well. It helped turn 8 unused spaces into bookstores in medieval Óbidos, a UNESCO literary town just an hour north of Lisbon.
Address: Rua Rodrigues de Faria 103 – G 0.3, 1300-501 Lisbon
Hours: Mon: 12:00 pm to 9:00 pm, Tue to Thu: 12:00 pm – 12:00 am, Fri to Sat: 12:00 pm – 2:00 am, Sun: 11:00 am – 9:00 pm
7. Livraria Bertrand
Livraria Bertrand is the world's oldest bookstore. It's tucked away in Lisbon's Chiado neighborhood.
I was rather enchanted by Chiado with its lovely cafes, chic art galleries, and tony boutiques. It felt like a miniature Paris to me.
Livraria Bertrand opened its doors in 1732. It was destroyed by the 1755 earthquake, but rebuilt in its current location.
Books are everywhere, tucked into odd shaped nooks. There's an ancient magic to its walls and vaulted ceilings. And it's not oppressively crowded like the more famous Livraria Lello in Porto.
Address: Rua Garrett 73-75, 1200-203 Lisbon
Hours: Mon to Sat 9:00 am to 10:00 pm, Sunday 11:00 am to 8:00 pm
8. Livraria Simão
Continuing on the bookstore theme, Lisbon also has one of the world's tiniest and most whimsical bookshops, Livraria Simão.
Only one person can fit inside it. Despite its diminutive size, there are 4,000 books. Most of them are in Portuguese, but there are some in other languages.
If you want to browse, the owner steps out and you step in.
Address: Escadinhas de São Cristóvão 18, 1100-119 Lisbon
Hours: Open Mon through Fri from 10:30 a.m. to 1:00 p.m. & 3:00 p.m. to 7:00 p.m., plus occasional Saturdays from 10:30 a.m. to 1:00 p.m.
9. The Geographical Society of Lisbon, Portugal Room
History buffs will enjoy this secret and rather eccentric site. Founded in 1875, the Geographical Society of Lisbon is the research nest and unofficial scholarly headquarters of Portugal's Age of Discovery.
The Portuguese were accomplished sailers. This museum is an ode to their colonization and expansion efforts.
Vasco da Gama made the first voyage to India, bringing back spices and giving Portugal a "spice monopoly." The Portuguese were also the first Europeans to land in far flung places like Sri Lanka and Vietnam.
The Society's Portugal Room, "Sala Portugal," is 50 meters long. It's surrounded by two levels of galleries that showcase some of Portugal's most important artifacts, documents, and maps.
You can visit for free, but visits must be requested and pre-approved by email or phone. It's only open to the public once a month.
Address: Rua Portas de Santo Antão 100, 1150-265 Lisbon
Hours: open to the public the first Tuesday of each month at 3:00 pm
Entry: free
Email: geral@socgeografialisboa.pt
10. Miradouro da Graça
Lisbon's true beauty lies in its laid back artistic ensemble more than any specific sites. Among other things, Lisbon boasts 30+ miradouros with dramatic sweeping views.
The most popular miradouros can be over-touristed. Instead, head to Graça, a funky neighborhood adjacent to Alfama. It's off the usual tourist track and has an authentic local flavor.
Graça also has two of the best viewing points in Lisbon, the Miradouro da Graça and the Miradouro de Nossa Senhora do Monte. From the Miradouro da Graça, you can see Alfama on the left and Bairro Alto on the right.
Right next to the Miradouro da Graça is the Church of Convent of Graça, a rather large Baroque edifice that's been restored. There's also a lot of cool street art in Graça as well.
Address: Largo da Graça | São Vicente, Lisbon
Getting there: Take tram number 12E from Praça da Figuiera, a central square in Lisbon and get off at Largo das Portas do Sol. Walk up the hill and turn left at the square.
11. Coleção Berardo Museum
If you love modern or contemporary art ( I do) the Coleção Berardo Museum.
is your go to spot in Lisbon. Founded in 2007, it's in the Centro Cultural in the suburb of Belém. Most people head to Belém to see the Jeronimos Monastery (fabulous) and the Tower of Belem (decent).
But I think the Coleção Berardo Museum is a hidden gem in Lisbon. According to the museum's website, it's the most visited museum in Portugal. But I thought it was decidedly uncrowded, overshadowed by Belém's UNESCO sites.
The museum features two permanent exhibitions — modern art from 1900-1960 and contemporary art from 1960-2010. It also has temporary exhibitions.
It has an extensive pop art collection, with pieces from Pop artist Andy Warhol. It also boasts works by Pablo Picasso, Joan Miró, Marcel Duchamp, Piet Mondrian, Francis Bacon, Donald Judd, and others.
From the garden, you can see Bordalo II's giant Raccoon. In high season, you may want to pre-book a skip the line ticket.
Address: Praça do Império 1449-003 Lisboa
Getting there: Tram 15E from the Praça de Comércio.
Pro tip: If you want a guide to the museum, reserve a week in advance
12. Basilica da Estrela
One of Lisbon's most impressive and remarkable landmarks is the neoclassical church, the Basílica da Estrela.
Set proudly on a hill, the striking white basilica anchors the Estrela neighborhood of Lisbon. Since it's a bit off the main city center, it's happily not swarming with tourists.
The stately white building seduces at first sight. Its rooftop offers staggering views of Lisbon. From the terrace, you can see the 25 of April Bridge, which is a Golden Gate lookalike.
If you found the basilica stunning from the outside, wait until you step inside.
While the outside is made of pristine white marble, the interior is awash with pink, gray, yellow, black marble. When light pierces the dome, there's a captivating kaleidoscope effect that's quite stunning.
There's also a world famous nativity scene with 500 terracotta and cork figures.
Address: Praça da Estrela Lisboa
Hours: Basilica: 9:30am to 1:00 pm & 3:00 pm to 7:30pm; Rooftop: 10:00 am to 1:00 pm & 3:00 pm to 6:40 pm. Closed on Monday morning, Wednesday afternoon, Saturday morning, Sunday morning
Entry fee: The church is free. The Nativity Scene is 2 € and can only be accessed between 3:00-5:00 pm. To get to the rooftop for views, it's 4 €.
Getting there: Tram 25
13. Estrela Garden
Founded in 1852, and right next to the Basilica da Estrela, is the Jardim da Estrela. It's one of Lisbon's nicest garden retreats.
It has small lakes, exotic trees, and a wrought iron bandstand that sometimes hosts concerts.
It used to be inhabited by the Lion of Estrela, a beast donated by the African explorer Paiva Raposo. Nowadays, there are just ducks and some pigeons in the bucolic setting.
Address: Praca da Estrela Lisbon
Hours: Open daily from 7:00 am to midnight
Getting there: Metro Rato or Tram # 25 or 28
14. Mercado de Campo de Ourique
This is Mercado magic. The market is the smaller version of its more famous riverside cousin, Time Out Market. It's still bustling, but it's not nearly as well known and therefore less crowded.
There are stands outside the market to pick up fresh food. Or head inside to the to- die-for deli and plop down at one of the tables with a pre-prepared meal. There's everything from Portuguese tapas to sushi to exotic beers.
I wish we had more food courts like this in the US. If you're visiting the Basilica da Estrela in the morning, you can stop here for lunch.
>>> Click here to book a Lisbon food tour
Address: Mercado de Campo de Ourique Rua Coelho da Rocha, Campo de Ourique, Lisbon 1350-075
Hours: Wed to Mon 10:00 am to 10:00 pm
Getting there: The Tram 28 to the end and its a 5 minute walk
Pro tip: Some stands are closed on Sunday
15. The Calouste Gulbenkian Museum
Thanks to a wealthy oil magnate, Calouste Gulbenkian, there's a gem of a museum in Lisbon. In fact, it's one of the world's best small museums.
The museum boasts a stunning range of treasures spanning 4,000 years. Gulbenkian was a ruthless tycoon. He once told his wife, "I am the master — it is I who have the money — I will flatten everything in my path."
Housed in a complex of modern buildings, it's one of the world's largest and best private art collections. Gulbenkian compiled it over 40 years.
Then, on his death, showing a glimmer of morality, Gulbenkian bequeathed his estate to his adopted nation.
The museum is a two part collection linked by a stretch of urban park. In one section are Gulbenkian's personal pieces, including Egyptian, Greek, Chinese, Moorish, and Mesopotamian treasures.
You'll love the collection of Islamic oriental rugs, the Art Nouveau collection of Rene Lalique, and the two Rembrandt paintings.
Click here to pre-book a skip the line ticket. Click here to book a guided tour of the museum and its gardens.
The museum's other section is a modern collection, one of Portugal's finest. It features over 10,000 post-1958 pieces.
They're mostly by mostly Portuguese artists, including Amadeo de Souza-Cardoso, Paula Rego, and Vieira da Silva. The international works include paintings by David Hockney, Arshile Gorkey, Salvador Dali, Alberto Giacometti, and Joan Miró.
Address: Avenida de Berna 45a, Lisbon 1050-039
Hours: 10:00 am to 6:00 pm Wed to Mon
Entry fee: € 10 for the Founder's Collection + Modern Collection, free on Sunday after 2:00 pm. You can download the museum app or purchase an audio guide for € 2.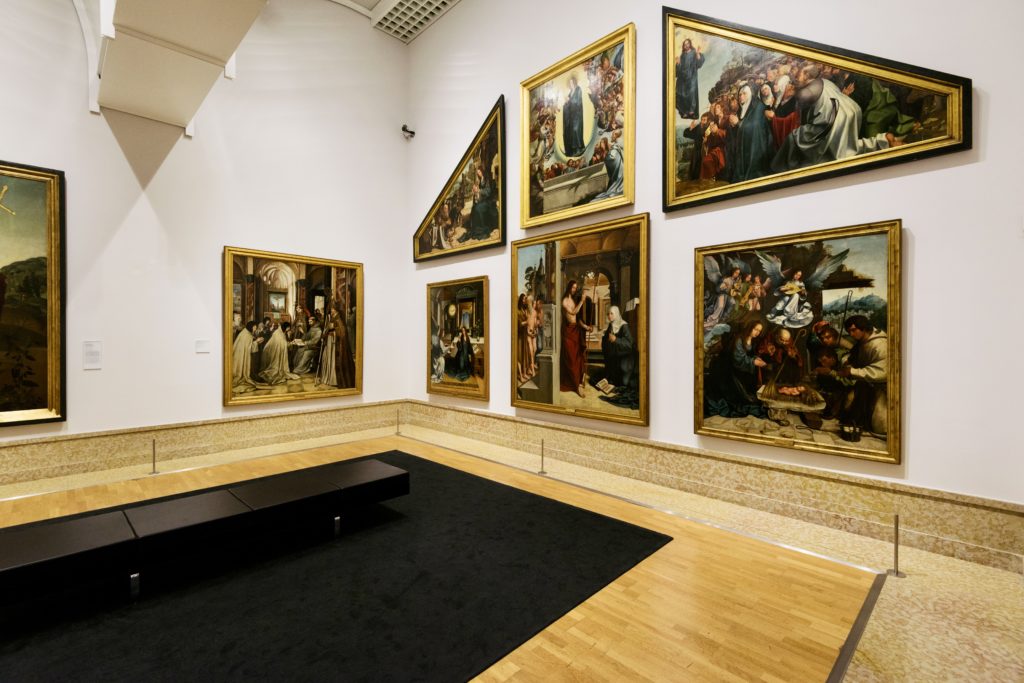 16. Museu Nacional de Arte Antica
Another hidden gem in Lisbon you may enjoy is the National Museum of Ancient Art. Founded in 1884, the museum is housed in a lemon yellow 17th century palace.
Inside, there are more state-designated "national treasures" than anywhere else in Portugal. It houses over 40,000 paintings, sculptures, jewelry, decorative arts, and artifacts.
Many of the works on display come from Portugal's churches and monasteries. There are early religious works by Portuguese artists.
Two of the museum's most important pieces are a polyptych from the Monastery of Sao Vicente de Fora and a sculpture by Florentine artists Andrea della Robbia. You can also admire azulejo tiles in the Chapel of St. Albert.
When you're done admiring the art, head for the sun-dappled gardens. There, you can admire more sculptures and also have sea views.
>>> Click here to book a ticket
Address: Rua das Jabelas Verdes
Hours: 10:00 am to 6:00 pm Tuesday through Sunday. Closed Mondays.
Entry fee: 3 euros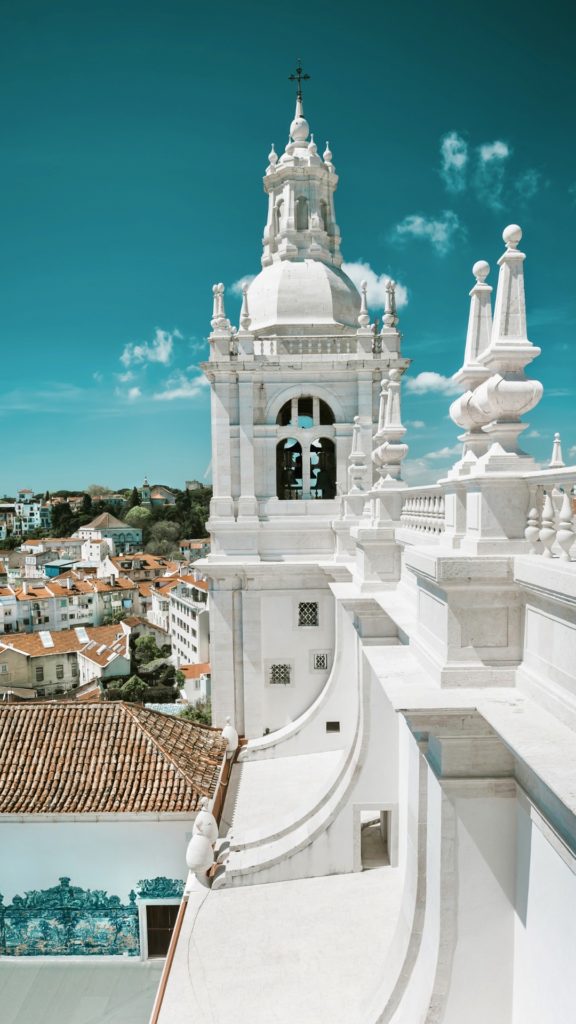 17. Monastery Sao Vicente de Fora
The Monastery of São Vicente de Fora is another magnificent hidden gem in Lisbon. It's one of Lisbon's grand architectural sites.
In fact, the monastery is hidden in plain sight, sitting atop one of Graça's highest points, not far from the Alfama district. Yet few tourists venture inside.
That's a mistake. The monastery is inexpensive, crowd free, and has a killer rooftop view.
The monastery has a sober ivory colored facade, built in the late Italian Renaissance style known as Mannerism. The real highlight is the richly decorated and sun-dappled cloister with its 18th century azulejos.
When you're done admiring the finery, head up to the rooftop for a fantastic bell tower view. It's one of the best views of Lisbon.
Address: Largo de São Vicente, 1100-572 Lisboa
Hours: Open daily Tues to Sun from 10:00 am to 6:00 pm. Closed Monday.
Entry fee: € 5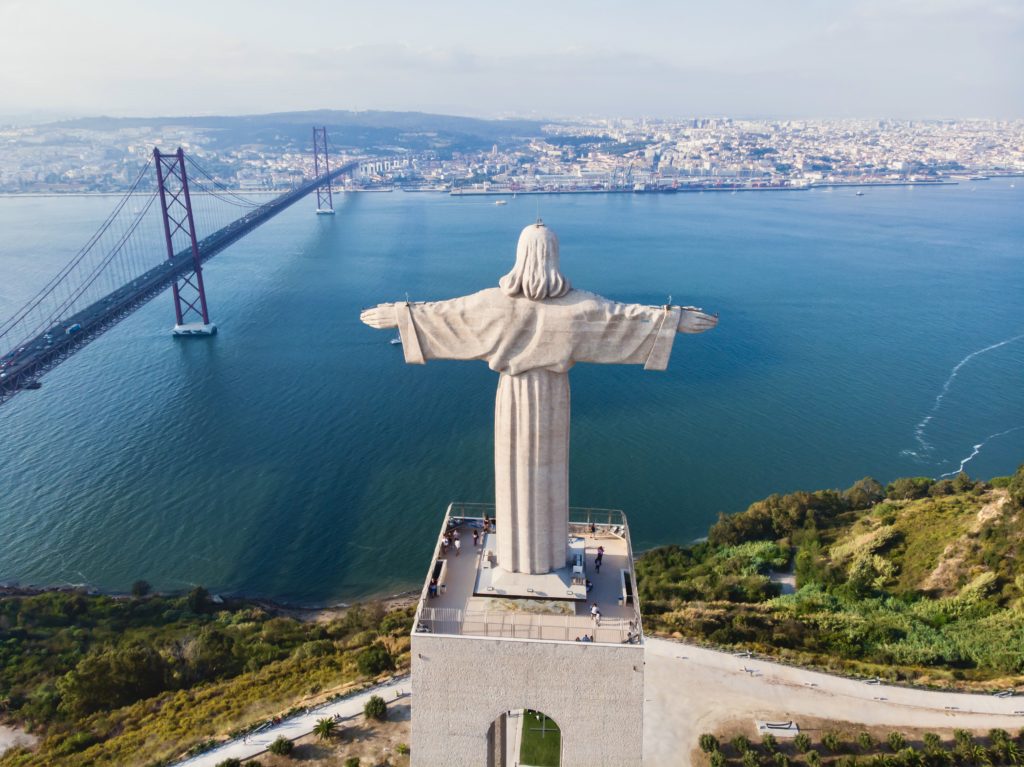 18. Cristo Rei
This is a giant size statue of Christ standing with arms outstretched. The statue is on the south bank of the Tagus River. It was modeled after the Redeemer statue in Rio de Janeiro.
Mounted on a tall pedestal, the statue was carved by Francisco Franco in 199-59.
You can see the monument from various viewpoints in the city. To visit and see it up close, you'll need to take a ferry from the Cais do Sodre to the Margem Sul and then a taxi.
Address: Sancturario Nacional do Cristo Rei, Alto do Pragal Almada
Hours: 9:30 am to 6:00 pm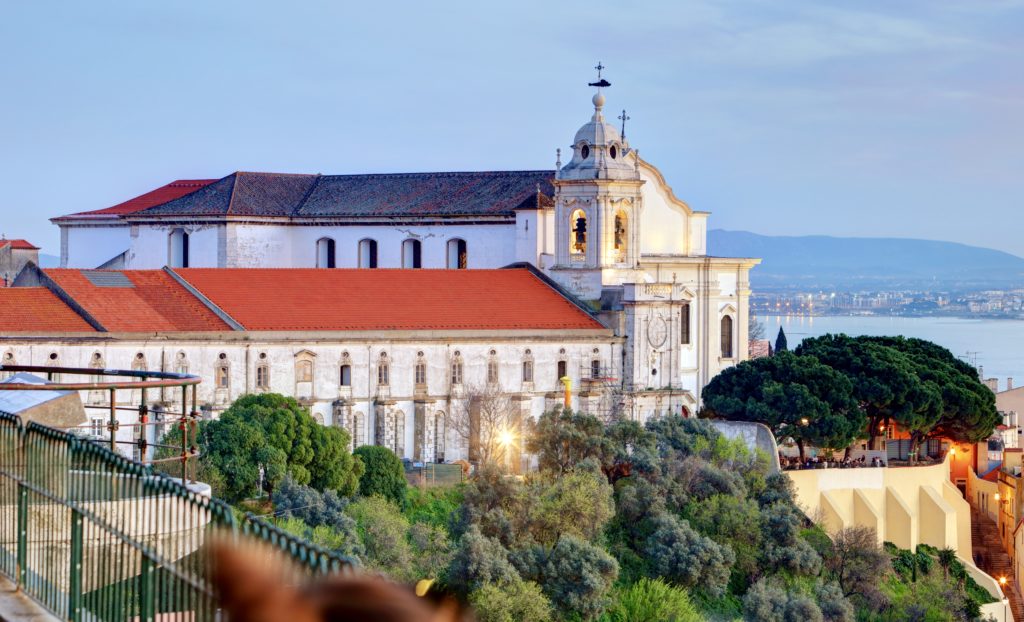 19. Church of Our Lady of Grace
For a unique perspective on Lisbon, you have to head to the Graça district, the city's highest hill. Start at the Graça Convent.
Graça Convent is one of the oldest convents in Lisbon. According the legend, in 1362 the statue of Our Lady of Grace appeared in the network of a fisherman. Much of what you see today was rebuilt in a Baroque style after the convent was demolished in the great earthquake.
Inside, you'll find a azulejo tiled chapel and Baroque cloister. It was fairly recently opened to the public in 2017 after major renovations.
Address: Largo da Graça, 1170-165 Lisboa
Hours: Open daily 9:00 to 5:00 pm, but closed Monday. On Sunday, the convent is closed between 1:00 pm to 2:00 pm.
Entry fee: free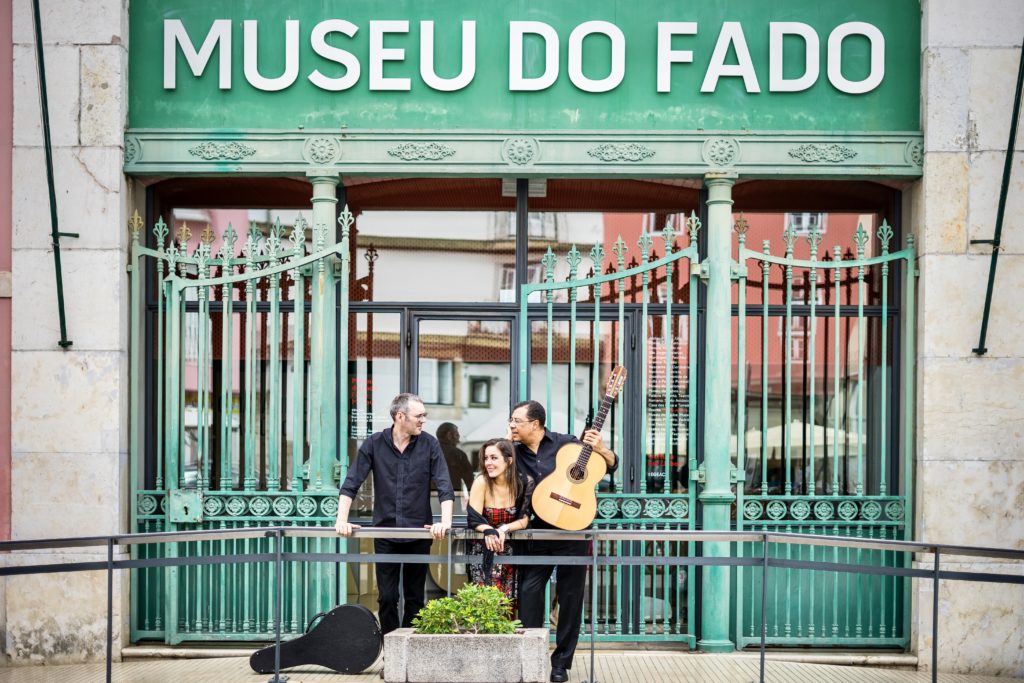 20. Fado Museum
Music lovers should stop into the Fado Museum. It pays homage to the tradition of Fado music, a genre that was placed on the UNESCO list in 2011.
Opened in 1998, the museum calls itself an interactive place to see, hear, and feel Fado. With an audio guide, you'll learn about the the instruments, posters, costumes on display.
You can also watch informative videos and listen to recorded performances. The museum would be a good place to visit before attending a Fado show.
Address: Alfama, Largo do Chafariz de Dentro 1, 1100-139 Lisboa
Hours: Open daily 10:00 am to 6:00 pm except closed Monday.
Entry fee: € 5, 20% discount with the

Lisboa Card

.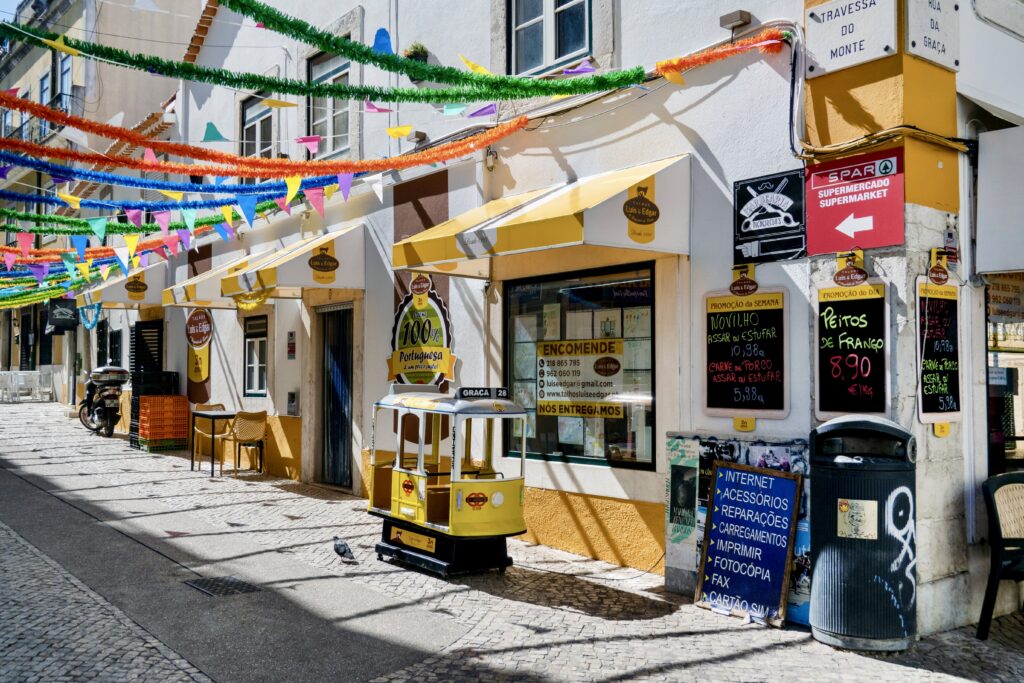 21. Mouraria District
The Mouraria district is one of the oldest and most traditional neighborhoods in the city. Mouraria means "Moorish Quarter." It's famous for its narrow streets, multi-cultural atmosphere, and vibrant heritage.
Mouraria is renowned as the birthplace of Fado, the soulful Portuguese music genre. It has a rich multicultural history, influenced by the presence of Moorish, Jewish, and African communities throughout the centuries.
The district is characterized by its colorful facades, charming small squares, azulejo facades, and murals.
>> Click here to book a walking tour of Mouraria
How To Get There: Tram 28 or Martim Moniz Metro
I hope you've enjoyed my guide to hidden gems in Lisbon. You may enjoy some of my other Portugal travel guides and resources:
If you'd like to do some unusual things in Lisbon, pin it for later.