Planning a trip to Europe and looking for some unusual places to visit? I love ferreting out unique and less touristy hidden gems in Europe.
In my lifetime of travels in Europe, it's always the tiny picturesque towns that steal my heart, don't let go, and form the sweetest and most indelible travel memories.
Here's my guide to 25 hidden gem in Europe. In these fairytale secret towns, you can (mostly) escape tourists and feel like you're in a magical world apart from everyday life. Some of these less touristy hidden gems in Europe take some effort to get to and visit.
But with crowds becoming a problem in Europe, embracing off the beaten path destinations is a smart and satisfying way to experience Europe.
These tiny off the beaten path town in Europe may be less flashy than blockbuster destinations like London or Paris. But these untouched and appealing corners of Europe are guaranteed to enchant.
25 Best Off the Beaten Path Hidden Gems in Europe
I've narrowed down my love list to 25 hidden gem towns in Europe. There's many more I could add. I'm dreaming about them now.
But a blog post can only be so long. So let's take the road less travelled and explore Europe's best kept secrets.
1. Lausanne Switzerland: a Swiss Alpine Charmer
Lausanne is not Lucerne, though it sounds similar. Located on glittering Lake Geneva, Lausanne is one of Switzerland's most stunning villages. But Lausanne usually gets ignored in favor of other Swiss hotspots. It shouldn't.
Lausanne is a breath of fresh air, encircled with green trees and Alpine scenery. You can't help but feel relaxed amid all the natural beauty.
Head to the town center and visit the cathedral for views. There's a great lookout point there. Better yet, get out on the lake in a boat or up in the air in a helicopter.
Lausanne is also a bit of a foodie town. It's known for three of life's simple pleasures — chocolate, cheese, and wine.
There's no shortage of cute eateries, chocolatiers, and gourmet shops. Sample the fondue at Lausanne's oldest restaurant, Pinte Besson.
There's things to do near Lausanne too. Take in the medieval Chillon Castle just 30 minutes away, fetchingly perched on a rock on the banks of Lake Geneva.
The beautiful terraced Lavaux vineyards are just 20 minutes away and a UNESCO site. Most of Switzerland's wine isn't exported, so try a complex white made from the Chasselas grape while you're there.
2. Vaison-la-Romaine France: Medieval & Roman Fix
The lovely Vaison-la-Romaine is an out of the way hidden gem in Provence. It's in northern Provence.
It's location may account for the fact that it's not overrun with tourists. Vaison-la-Romaine is an ancient town made almost entirely of stone and dotted with cypress trees.
Seated on the Ouvèze River, the town is dual faceted and split in two, with an upper medieval town and a lower Roman town — an efficient double dose of history. Vaison-la-Romaine was one of my favorite stops in Provence.
Based in the lower city, the Roman part of Vaison-la-Romaine was discovered in 1907. It's the most important Gallo-Roman site in France.
The luxuriousness of the restored patrician villas, filled with beautiful mosaics, reveal that Vaison was a prosperous Roman town.
When you're done admiring the mosaics, head to the the 1st century Roman theater. No one will be there. Take center stage and sing your own aria.
3. Cordes-sur-Ciel France: Up in the Clouds
Cordes-sur-Ciel seems to sit in the sky. Hence its name, which translates to ropes on the sky. It's a beautiful hidden gem town in the Occitanie region of France, near Albi and Toulouse.
Cordes-sur-Ciel is so ancient, so cobbled, so dreamy that it has a time warp feel. The dawn of modernity seems to have passed it over, exodus style.
What's left is a sweetbox escape for those who want to fall back in time.
The little village began life in 1222. It was founded by Count Raymond VII of Toulouse.
During the Albigensian Crusade, the 20 year war between the Cathars and the French crown, Cordes-sur-Ciel was prosperous. Its wealth derived from the leather, textile, and silk industries.
Today, Cordes-sur-Ciel is an artsy village, a treasure trove of local art. Its cobbled streets are filled with quaint galleries, ateliers, and cats.
You can find contemporary painting, pottery, sculpture, handmade jewelry, glassware, woodcarvings, and artisanal leather.
You can also visit the Musée de l'Art du Sucre et du Chocolat, dedicated to sugar. As a lover of backed goods, I applaud this kind of museum.
And Cordes boasts the Jardin des Paradis. The garden is recognized as one of the most "Remarkable Gardens in France."
If you visit between December and February, don't miss the town's annual truffle market. That's when harvesters sell their rare "black gold."
Cordes-sur-Ciel is a great day trip from Toulouse or Albi in France's Occitanie region. If you want to read more about the idyllic hilltop village and how I almost lost my friend's iPad in my trance-like state of adoration, read my story.
4. Senlis France: Medieval Architecture
The secret town of Senlis will appeal to medievalists and history-architecture buffs. The town is a tad larger than more popular Sarlat in the south. But it has a similar vibe and is less visited.
If you're day tripping from Paris, you can also combine a visit to Senlis with a visit to the Château de Chantilly, just 15 minutes away.
READ: Secret Day Trips From Paris
Senlis has a rich history. It's a royal town. Senlis was the cradle of the Capet Dynasty.
Hugh Capet was the Lord of Senlis before becoming King in 987. Senlis was a royal seat from the time of Clovis in the 5th century to Henri IV in the 16-17th century.
Senlis is bursting with ancient buildings and relics from the 10th to 18th centuries. A large portion of its ancient Gallo-Roman walls are intact and you can admire the 16 lookout towers.
Then, stroll the winding cobblestone streets and admire the stone houses. Senlis is the kind of town you can get lost in. Many streets still sport names from the middles ages, signifying the occupation of their residents.
There's also a historic abbey, a medieval cellar, and the ruins of a Roman arena that you can visit. Opposite the cathedral are the 12th century remains of a royal castle, now part of an open air garden.
Senlis' cathedral, the Cathédrale de Notre Dame, is an imposing highlight of Senlis. Built between 1150 and 1191, it's an impressive reminder of Senlis' past power.
It has a 78 meter tower and a magnificent carved-stone Grand Portal that's thought to have inspired the one in Chartres' cathedral.
5. Riquewihr France: Beauty and the Beast
Situated between mountains and vineyards, Riquewihr is a tiny drop dead gorgeous village in the Alsace region of France near the German border.
Most people are too busy visiting romantic Strausburg and Colmar to stray to fairytale tiny hamlet. But Disney-inspired visitors will love this living museum.
Riquewihr was reputedly the inspiration for the movie The Beauty and the Beast (my favorite Disney movie because of its bookish heroine Belle).
The words "little town it's a quiet village" may involuntarily spring into your head, while walking through Riquewhir. It's quiet, but quietly lovely with its vibrantly hued homes and elaborate signs.
Stroll down Riquewihr's pedestrianized main drag, what there is of it, called Rue du Général-de-Gaulle.
As you stroll, your head will be swiveling right and left until your reach the 13th century Dolder Tower and the picturesque Rue des Remparts.
But don't stop there. Meander down the side streets to fuel your imagination.
Riquewihr is known for its Reisling wine. They're winemaking shops in town. And you can spot the vineyards from the edge of the town. The tourist office has maps of the wine trails.
6. Frigiliana, Andalucia Spain: White Sugar Cube Houses
This is the prettiest village I saw on my geographical cure in southern Spain. In Frigiliana, everything is beautiful in a way that it almost never is.
Frigiliana is a spotless, secluded, perfectly coifed cliff town dressed in blue and white with flowing orange and purple vines and potted blood red geraniums. Just dreamy.
If you've been busy visiting Moorish fortresses in Seville and Granada, you'll be relieved that there's almost nothing to do in Frigiliana.
I was ready to just sink in the rustic beauty. Oh, and meander into ceramic shops, purchasing some lovely items to bring home.
Frigiliana's main attraction is its cobbled pedestrianized streets flanked with whitewashed houses, colorful doors, and potted plants. There's a pathway through the middle of the village called the Calle Real.
But you must stray off the path and investigate all the nooks and cranies. The hills are steep. But the seniors of Frigiliana are hiking up and down; you can too.
For a killer view, hike up to the ruins of the Castle of Izar. From the old town, you climb up long flights of steps, narrow paths, and gravel tracks to the site of the old castle.
The trek is worth it. The castle overlooks the white village and the Mediterranean sea. You'll also find signs warning you to be careful of rogue donkeys who might bite.
7. Cudillero, Northern Spain: Charming Seaside Village
Cudillero is a ridiculously eye catching fishing village in the gorgeous Asturias region of northern Spain. It might be Spain's prettiest seaside village.
READ: 10 Day Itinerary for Northern Spain
Cudillero is just 40 minutes from Oviedo and well worth the detour. A place of hills, you'll have to park outside the teeny tiny town and walk in.
In Cudillero, time has stopped. White and pastel houses are piled in a mishmash on top of each other.
There's a pleasingly startling contrast between the terra cotta roofs and the blue sea. It's said that each house in the village matches the color of the owner's fishing boat.
There are ample cafes to rest your feet, feast on seafood, and take in the sweeping views of the village and the sea.
Picture perfect Cudillero is really a must see gem in Europe. Don't miss it. It's an easy day trip from Oviedo or Gijon.
8. Evora Portugal: UNESCO Chapel of Bones
The UNESCO-listed Evora is tucked away in the Alentejo region of central Portugal. Most visitors touring Portugal are busy exploring Lisbon or Porto. Or frolicking in the beachy Algarve region in the south.
But the UNESCO-listed Evora is a hidden gem in Europe that shouldn't be overlooked.
READ: 10 Day Itinerary for Portugal
Evora is topped with a grand 14th century cathedral, commonly refered to as Evora Cathedral. But its official name is the Cathedral Of Nossa Senhora Da Assuncao.
The church isn't particularly pretty itself. But it's worth it to go inside just for the beautiful vistas over Evora from its balcony.
The star of Evora is its Chapel of Bones, attached to the large Royal Church of St. Francis. Franciscan monks slaved away in the early 17th century building this unusual site.
The story goes that the cemeteries in and around Evora were overflowing and taking up valuable land. The monks decided to relocate 5,000 corpses into a chapel.
But instead of interring them in a crypt, they put the bones on display. Above the door is a sign declaring "We bones, are here, waiting for yours." It was likely a architectural sermon — material goods are transient.
While in Evora, you should also take a moment to admire the Roman Temple on Largo Conde de Vila Flor. It was discovered in 1870.
It's since been restored. It's all the was left of a Roman forum in Evora, but still an evocative reminder of the ancient time.
9. Sibenik Croatia: a UNESCO Cathedral
Situated on a sheltered bay, between Split and Zadar, tranquil Sibenik is a hidden gem in Croatia. Most of the tourists are in nearby Split.
You can stroll its labyrinth of stoney alleyways and visit a must see piece of Gothic-Renaissance architecture: the UNESCO-listed St. James Cathedral. The gleaming white building is the beating heart of sleepy Sibenik.
Sibenik is one of the oldest towns on the Adriatic, dating from the 9th century. In 1160, it was conquered by the Venetians. They left their architectural and cultural imprint on both the town and its elegant cathedral.
READ: 10 Day Itinerary for Croatia
Sibenik Cathedral is the most important piece of Renaissance architecture in Croatia. It sits in what was Sibenik's most important square in medieval times.
The cathedral is famous for being built with stone quarried from the Dalmatian islands. It's reputed to be the world's largest church built completely of stone, without brick or wooden supports.
Sibenik is also a Game of Thrones filming location. In HBO's Game of Thrones, the town of Sibenik appears in Episodes 2, 7, and 9 of Season 5.
The cathedral doubles as parts of Braavos. It appears in Episode 9 as the Iron Bank, the greatest financial institution in the Free World.
10. Mantua Italy: Renaissance Haven
Italy is usually overflowing with tourists. But in the tiny undiscovered village of Mantua the world is still and quiet. Mantua must surely be one of Europe's best kept secrets.
Mantua lies in the north of Italy in the Lombardy region, surrounded by three lakes. It's a fairly easy day trip from Milan or Verona.
Mantua is the perfect place for strolling — with arcaded streets, cobbled lanes squares, and graceful buildings.
What makes Mantua especially dreamy is its Renaissance architecture, courtesy of the aristocratic Gonzaga family who ruled Mantua for four centuries.
Here, you'll find the grand Ducal Palace, the Te Palace, St. Peter Cathedral, the Teatro Bivbiena, and the Rotuno of San Lorenzo. For a tiny place, it's just amazing.
READ: Guide To Mantua
What makes Mantua especially dreamy is its Renaissance architecture, courtesy of the aristocratic Gonzaga family who ruled Mantua for four centuries.
Here, you'll find the grand Ducal Palace, the Te Palace, St. Peter Cathedral, the Teatro Bivbiena, and the Rotuno of San Lorenzo. For a tiny place, it's just amazing.
READ: Guide To Mantua
Mantua's most famed site is the Ducal Palace or Palazzo Ducale. It's the second largest residential building in Europe, after the Vatican.
It's a massive fortress-like residence. Inside, there'a maze of 600 ornate gilded, frescoed, and marbled rooms, topped with a Hall of Mirrors. And there's the vast art collection of the Gonzaga dynasty.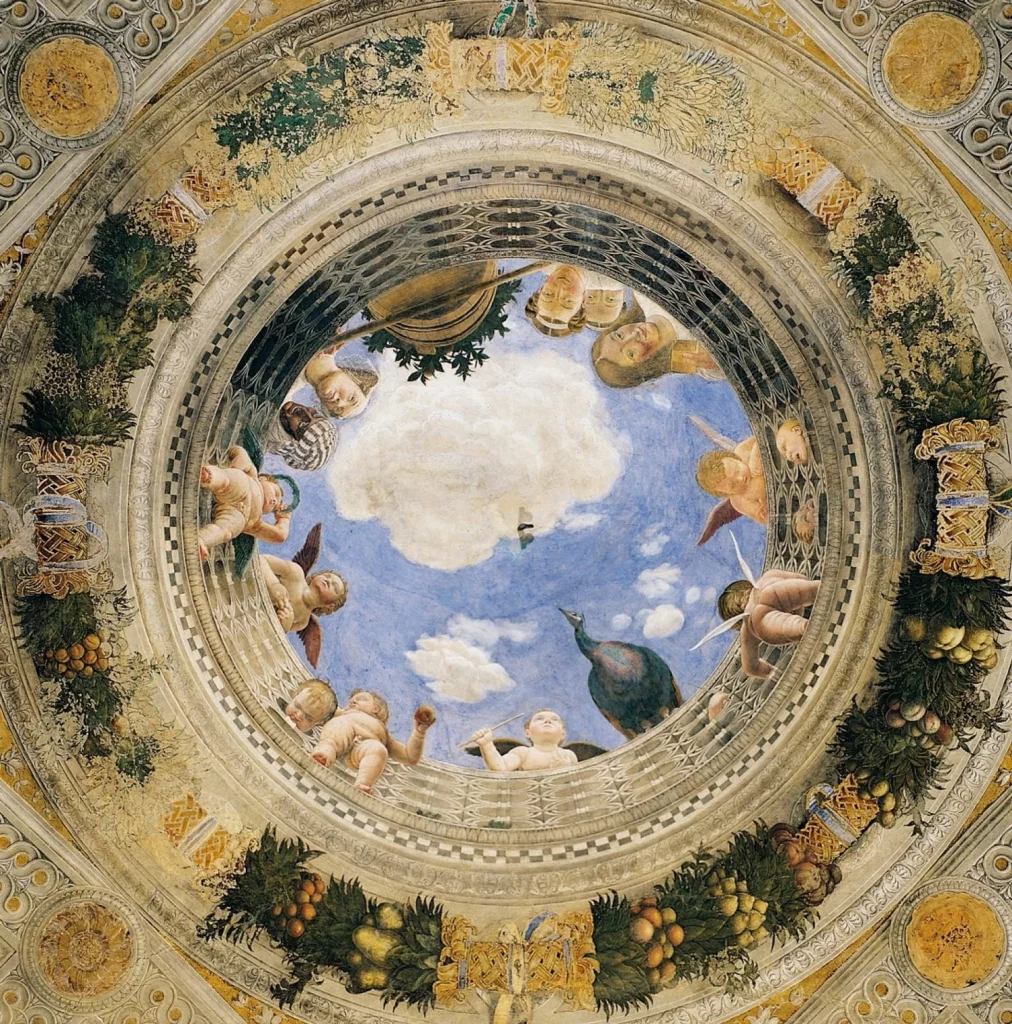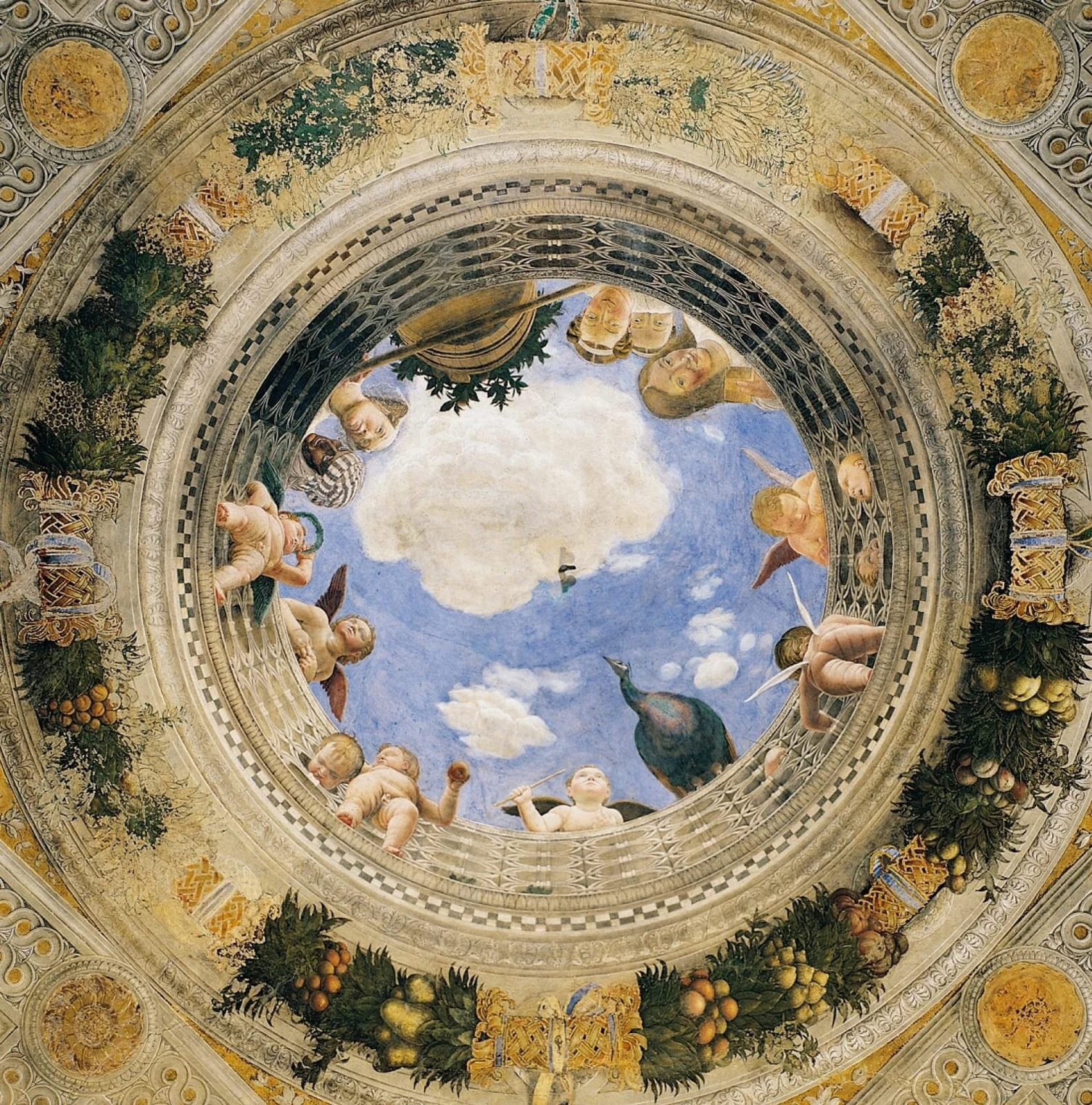 The highlight is Andrea Mantegna's groundbreaking Camera degli Sposi. It's a UNESCO-listed decorative space.
The Camera is considered the first trompe l'oeil in the history of painting. It was considered revolutionary at the time.
The Te Palace is also worth a visit. Take the Via Principe Amedeo from the town center and walk for 20 minutes.
This historic building was the summer residence of the Gonzaga family. Te Palace was built for the pleasure loving son of Isabella d'Este. He fancied himself a Dionysis type, and blinged up the palace with sybaritic frescos.
11. Monteriggioni Italy: Walled Village
Monteriggioni is an idyllic walled town in the Tuscany region of Italy. Just look how charming it is.
It almost doesn't look real. Monteriggioni was built by Sienna in the 13th century as a defense in its ongoing conflict with its rival, Florence.
READ: 10 Day Itinerary for Tuscany
There's an upper and a lower parking lot. It's especially pretty in the early morning or at sunset.
Four euros gets you entry to the walls and the museum onsite. You only need an hour or two. If you want to have lunch or dinner, try Il Pozzo.
If you're a fan of Assassin's Creed, you'll be glad to know that Monteriggioni is real. Though much smaller than depicted in the game.
The town also makes an appearance in Dante's Divine Comedy. Dante compares the spiky turrets of Monteriggioni to giants surrounding the abyss.
12. Stresa Italy: Italian Lake District
The Italian lake district is one of Italy's prettiest regions, situated in the shadow of the Alps. The main lakes are Lake Como, Lake Garda and Lake Maggiore.
Most people settle in at the swishiest village, magical Bellagio on Lake Como. But on the western Lake Maggiore you'll find a real treasure — Stresa.
Elegant laid back Stresa is easy to fall in love with. Grandiose villas line the waterfront promenade, which is made for leisurely strolling. The medieval streets are a delightful tangle.
But the best thing to do in Stresa is ferry over to the tiny off shore Borromean Islands — Isola Bella, Isola dei Pescatori, and Isolar Madre. They're open to the public between mid March and mid October. The highlight is the Borromeo Palace on Isola Bella with an 80 foot dome.
The powerful Borromeo family, like the Gazagos, were Lombardian aristocrats. Lake Maggiore was their personal playground. Their grand palace on Isola Bella is a Renaissance masterpiece.
Inside it's exquisite, with an 8th century grotto, decorated floor to ceiling with shell motifs and mosaics. The terraced Italianate gardens are just luscious, with a wafting scent of jasmine floating in the air.
READ: 10 Day Italy Itinerary: Venice to Milan
13. Civita di Bagnoregio Italy: Hilltop Village
The Etruscans founded Civita di Bagnoregio over 2500 years ago. It's largely unaltered ever since.
The isolated and picturesque Civita teeters on a hilltop in a vast canyon, north of Rome. The topography scares away most tourists, making it the perfect hidden gem in Europe for those willing to make the trek.
To access this little hamlet, you'll have to ditch your car, walk across an elevated and steep 300 meter pedestrian bridge, and enter via a massive 12th century stone arch called the Porta Santa Maria. What could be more dreamy and surreal?
Once inside, the charms of Civita are subtle. There's nothing special to do but look around in this rural village.
It's just unadulterated old world Italy. The warm stone walls glow in the sunshine. Have a seat on the steps of San Donato Church, be suspended in time, and admire the flowerpots.
Civita is usually called "Italy's jewel on the hill." But it's also nicknamed the "town that is dying" because of the town's become a crumbling precipice.
Hillside erosion may cause the town to disappear. The erosion is due to rain and hillside streams.
On foggy days, like Cordes-sur-Ciel, Civita can seem suspended in the fog. Perhaps because of all these things, it's a UNESCO candidate. Civita is a perfect day trip from nearby Orvieto and a longish day trip from Rome.
READ: 5 Day Itinerary for Rome
14. Bamburg Germany: a UNESCO Wonderland
Bamberg is an adorable hidden gem in northern Bavaria. It has crooked half timber houses, picturesque canals, and an elegant palace.
Dubbed the "city of seven hills," Bamberg brims with authentic charm, medieval architecture, and fairytale vibes.
In 1993, its Alstadt, or old town, was declared a UNESCO site. I was immediately enchanted, on my day trip to Bamberg from Nuremberg.
Bamberg is home to some appealing curiosities — smoke beer, stuffed onions, the mysterious Bamberg Horseman, and it's own "Little Venice."
The horseman is a beautiful stone equestrian statue in Bamburg Cathedral. The sculptor is unknown. Historians have debated who it was meant to depict for 200 years.
If you're touring Bavaria or on the Romantic Road in Germany, Bamberg is a fantastic stop or detour, especially if you're a history lover or beer nerd.
The horseman is a beautiful stone equestrian statue in Bamburg Cathedral. The sculptor is unknown. Historians have debated who it was meant to depict for 200 years.
If you're touring Bavaria or on the Romantic Road in Germany, Bamberg is a fantastic stop or detour, especially if you're a history lover or beer nerd.
There are a surprising number of things to do in Bamberg for a fairly small town of 75,000+. There are artistic treasures galore.
You could easily spend the whole day there. In fact, given its beer culture, you may want to stay overnight to indulge and hit the romantically-lit streets after the day trippers leave.
Bamberg's old town is seriously swoon-worthy. It's one of the best preserved medieval towns in Europe. Everywhere you look, there's vintage-y beauty with no modern eyesores.
You'll be wide eyed as you wander around the blissy cobbled streets. Some of the prettiest ones are Karolinenestrasse and Dominikanerstrassse in the western part of Bamberg.
15. Landshut Germany: Pastel Streetscape
I swear I didn't see more than a handful of tourists in little Landshut in Bavaria Germany. I stopped there for a half day while driving from Passau to Munich.
Landshut was adorable. I guess it's just eclipsed by the better known Bavarian tourist towns. Hopefully, it will stay that way.
Landshut's two main streets, Altstadt and Neustadt, glimmer with beautiful pastel gabled houses. Some consider it one of the prettiest street ensembles in Germany.
In the middle of the old town you'll find a beautiful Renaissance town hall. Landshut is also home to one of the world's largest brick structures, St. Martin's Church or Martinskirche.
It's a beautiful church. It was the site of Landshut's famous Landshuter Hochzeit, a Wittelsbach wedding held in 1475. The wedding is reenacted in full period costumes during an annual festival.
It's only a few steps from the Martinskirche to Dreifaltigkeitsplatz, where you'll have your first look at the imposing Trausnitz Castle.
Founded in 1204 by Duke Ludwig I, Trausnitz was the family castle of the Wittelsbach family. In the 16th century, it was redone in a Renaissance style. The terrace of the castle has killer views over Landshut.
READ: Guide To castles in Bavaria
I also had the most amazing lunch in Landshut. Italian is a popular cuisine in Bavaria. And the restaurant of Bellini in Landshut didn't disappoint.
16. Cochem Germany: Fairytale Castle Town
Cochem is a little gem on the Moselle River in Rhineland Germany. It's an idyllic riverside town with fairytale architecture.
Cochem is famous for its doughty romantic castle built in the 11th century. The entire setting looks like something straight out of a movie set.
The Altstadt or old town is enchanting and could occupy your whole day. Its filled with gabled, half timbered buildings topped with Moselle slate tiles.
On the Markplatz, there's a beautiful Baroque town hall, more historic architecture, and three medieval city gates.
Cochem's main attraction is the stunning Reichsburg Castle. You can either hike or take the shuttle up.
The castle was built in 1130. But its current iteration dates from the 1870s. The castle's most distinctive feature is its striking four story octagonal tower with mini turrets.
There are 40 minute guided tours. You can inspect the beautiful furnishings inside, courtesy of the Ravene family. The castle also offers killer views of the surrounding countryside.
17. Dürnstein Austria: Austria's Prettiest Village
Lying in the verdant Wachau Valley, Dürnstein may be Austria's prettiest village. It's just so darling, and charmingly sleepy.
Set against the forested hills, its beautiful blue abbey belltower is one of the Danube's most striking sights. Dürnstein is an easy day trip from Vienna, only an hour away.
Start your visit to Dürnstein by hiking up to the ruins of a fairytale castle, the Kuenringerburg, set on a rocky slope. The craggy castle was erected in the 12th century.
It was destroyed during the 30 Years War, but later partially restored. The hike takes around 30 minutes. And you'll have beautiful views over the Danube and to the village of Weissenkirchen.
The castle ruins are famous as the one time prison of King Richard the Lionheart. Richard was England's crusader king.
In ungallant fashion, Richard may have cheated the Austrian Babenbergs out of their portion of booty from the Third Crusade. So off to jail he went. Richard was eventually sprung free by his troubadour.
When you've descended from the ruins, wander Dürnstein's picturesque streets. The "new castle" was built in 1629.
It's now a swishy hotel. Pass by the 16th century town hall, the Kuenring Tavern, the Pillary, St. Clara's Church, and the romantic-looking Gothic charnel-house.
Don't forget Dürnstein's main attraction, its lovely wedding cake monastery. The abbey was constructed circa 1410.
But the new Baroque building was erected between 1720-33. It was modeled after nearby Melk Abbey. The abbey church was consecrated in 1723. There are colorful side altars and a creamy stucco vaulted nave.
18. Piran Slovenia: Seaside Beauty
I usually think of Slovenia as a gravely beautiful land of imposing green mountains and shimmering blue lakes. But on a slender finger of a peninsula, encircled by the sparkling Adriatic sea, sits the picturesque town of Piran.
You'll feel like you've been power beamed to Tuscany. It's a little jewel-like slice of Slovenia.
Semi-crumbling pastel facades that Michelangelo might have sculpted rise above ancient maze-like streets. Venetian architecture is adorned with tracery windows.
The compact historic core is one of the best preserved medieval sites in the Mediterranean. Piran's reminiscent of Venice, but without the canals or hordes of tourists.
READ: Most Beautiful Places in Slovenia
Tartini Square is the heart of Piran's old town. It's a marble-paved, sherbet-toned, red roofed oval designed by Boris Podrecca.
Tartini Square is full of chic bars, alfresco cafes, and colorful houses. It's a splendid place to snack and people watch. As you people watch, try the "Hugo," Piran's signature drink. It's a tasty mix of elderflower liqueur and Italian prosecco.
Be sure to stroll along the picturesque harbor. The marina is decorated with bobbing boats, dozens of white yachts, and a pair of Christmas colored lighthouses.
It's incredibly picturesque and the perfect laid back place for a "wind in your hair" languorous promenade. Or a sunset.
19. Mostar, Bosnia and Herzegovina: Humped Back Bridges
Ancient Mostar isn't quite as secret as it used to be. But its still one of Europe's off the beaten path hidden gems.
The Balkan town is nestled in the small Balkan nation of Bosnia and Herzegovina. Mostar can be visited on a day trip from Dubrovnik or Split in Croatia or from Sarajevo.
READ: 2 Day Itinerary for Dubrovnik
Mostar's most famous attraction is its adorable humped back bridge, Stari Most. It was originally built in the 16th century, but was a casualty in the Bosnian War.
The bridge was rebuilt in 2004. At both ends of the bridge, you'll find fortified towers.
Mostar's stony old town sprawls out in either direction from the bridge. The town seems entirely made of limestone. Tucked away on a little side street is another fetching bridge, the little Crooked Bridge. It's a miniaturized version of Stari Most.
You should also visit Mostar's bazaar, which has the look and feel of an Ottoman enclave. And see its grandest mosque, the Koski Mehmed Pasha Mosque.
The mosque dates from the 16th century, but was also rebuilt. If you climb the mosque's tower, you'll have a sweet view of Stari Most.
At the end of your day, take the long staircase down to the banks of the Neretva River. You'll have a nice perspective view of the town and may see young men bridge jumping into the clear water.
20. Delft, The Netherlands: Postcard Perfect Canals
Delft is the largest of the places I've listed. But it's still just adorable. It's tucked away enough so that not too many tourists descend.
Delft is an easy day trip from The Hague, Rotterdam, or Amsterdam. And it's home to iconic Delftware blue pottery, which you'd probably recognize upon sight.
Delft is a pretty university town with a small town vibe and old fashioned charm. It's ringed by eye catching canals. The best thing to do in Delft is wander aimlessly. You can also explore the entirety of Delft via bicycle.
The center of Delft is the Markt. There, you'll find the Deft City Hall and the New Church. If you're feeling ambitious, climb the narrow winding staircase up the tower of the New Church for stunning views.
21. Tourtour, France
Tourtour is an adorable hidden gem in Provence. Like Cordes-sur-Ciel in Occitanie, it's a fairytale village in the sky, actually nicknamed the "village in the sky in Provence." Tourtour is listed as one of France's les plus beaux villages and is known for its wine.
The main thing to do is stroll the cobbled streets of the well-restored authentic village. They're lined with pretty Provencal homes in pastel hues or stone. Admire the many fountains and manicured gardens in the pretty squares.
True to its name, which translates to "tower towers," Tourtour has two large towers, the 11th century Grimaud Tower and the 17th century Clock Tower.
Be sure to pop into Stadsbakkerij de Diamanten Ring, Delft's oldest bakery with a lovely interior. Or grab lunch at Kek, a pretty place with healthy options. Delft will delight.
Tourtour also has two turreted castles. In the historic center, the most ancient castle dates from the 12th century. It now houses an art gallery.
The other castle, Chateau de Raphelis, houses the town hall. Outside, it's adorned with bluebonnet colored shutters. Inside, there are bronze sculptures by the artist Bernard Buffet, who spent his final years in the town.
Tourtour is dominated by the Church of St. Denis. Built in the 11th century, it was partially reconstructed in the 14th while maintaining its Romanesque style.
The church has three bells from the 17th century. The panoramic views from the top are a sight to behold. In addition, Tourtour boasts no less than eight chapels.
22. Besalu, Spain
Located in the foothills of the Pyrenees, Besalu may be the most interesting Spanish village you've never visited. Once the capital of Charlemagne's 8th and 9th century feudal Spain, Besalu is the prototype of a well-preserved medieval town.
Besalu's photogenic bumpy cobblestone streets and ancient stone buildings are charming. The center is Placa de la Lliberat, chock full of cafes and artisan shops.
The ancient town's most emblematic sight is its 12th century fortified bridge, complete with crenellated battlements. But there are plenty of architectural treats in Besalu.
Sant Vicente is Besalu's best Romanesque church, dating from the 10th century. It has a particularly beautiful rose window.
The Church of Sant Pere, or Saint Peter, is all that remains of the 10th century Benedictine monastery torn down in 1835. The ruins of the convent of Santa Maria on the hill above town offer a panoramic vantage point over Besalu.
You can also visit rare Jewish baths, discovered in the 1960s. A tourist train leaves from the medieval bridge every 45 minutes and visits the baths and the two churches.
23. Cuenca, Spain
Undiscovered Cuenca is a dramatic UNESCO-listed medieval town in the region of Castilla la Mancha. This is the land of Don Quixote.
Cuenca is an easy day trip from Madrid. It's the perfect secret spot in Europe to escape the hurly burly of the city.
READ: 2 Day Itinerary for Madrid
Cuenca is home to the gravity defying "hanging houses." They cling precipitously to the top of vertical cliffs, jutting into thin air between two river canyons.
The best photo op is from the jaw dropping Puente de San Pablo, the bridge spanning a 130 foot gorge.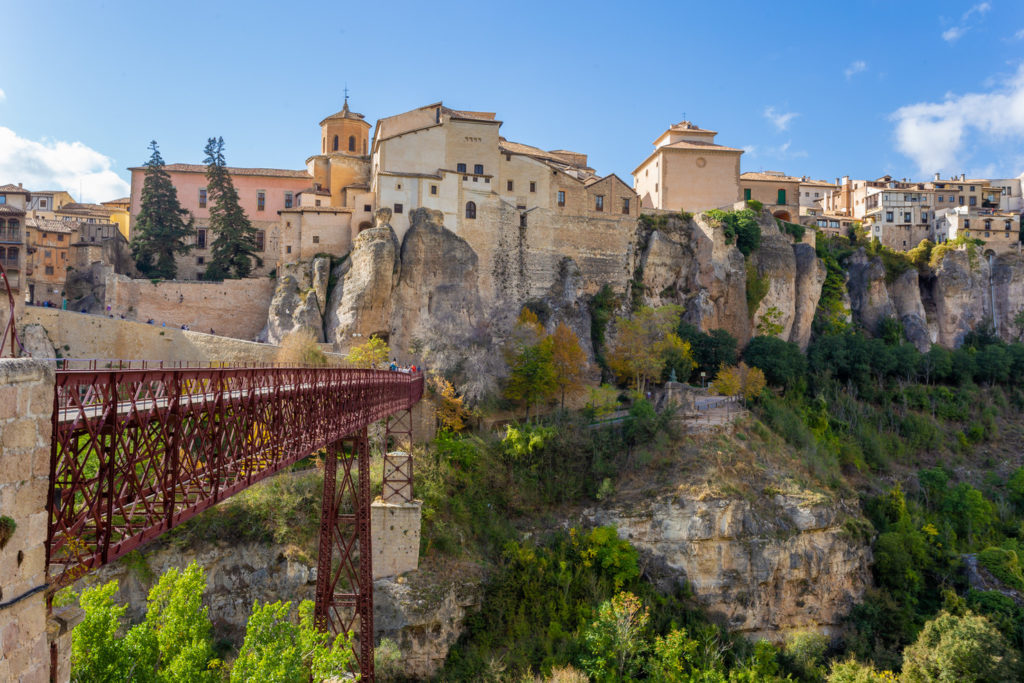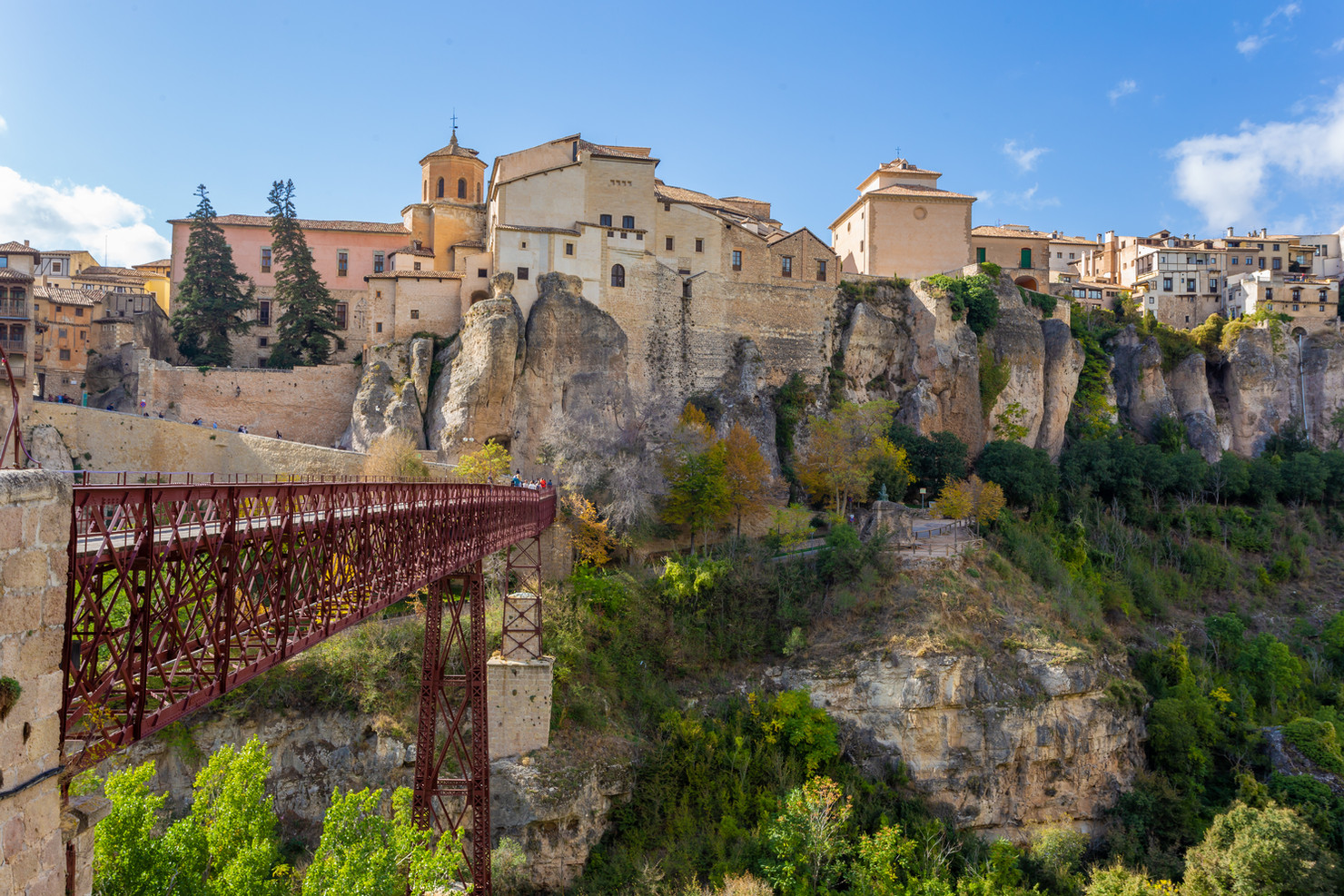 The main drag of Cuenca is Alfonso VIII Street. It's lined with colorful red, blue, and yellow houses.
Plaza Mayor boasts an elegant ensemble of buildings, including the Anglo-Norman-Gothic styled Cuenca Cathedral. There are plenty of walking routes just outside the city to keep your legs and lungs pumping.
Don't miss the Museum of Spanish Abstract Art. It's housed in a 15th century complex, with loads of gallery space. The permanent collection houses the works of Spanish modernists who lived in the area. You can also find some El Greco pieces in the Bishop's Palace.
If you want to dine with views over the Huecar River gorge, try Figon del Huecar or Posada de San Jose's Restaurant. Cuenca's speciality is lamb.
24. Vicenza, Italy
Vicenza is fantastic and underrated UNESCO-listed city where you can take a Palladian journey.
Vicenza is midway between the travel magnets of Venice and Verona. It's an easy day trip from either city.
Vicenza is one of Italy's lesser known UNESCO sites. Despite its architectural cred, Vicenza is a rare hidden gem in Europe. It's somewhat surprising because the town is so close to Venice and easy to access.
If you're an architecture geek, Vicenza will appeal. While other Italian cities, like Florence, are known for their Italian art, Vicenza is synonymous with its Renaissance architecture.
The city is variously known as the "Pearl of the Renaissance," the "Gold City," and the "City of Palladio."
Vicenza is especially renowned as the crucible for the celebrated architect Andrea Palladio. In 1994, the entire city of Vicenza became a designated UNESCO World Heritage Site specifically to protect Palladio's palazzi and villas.
Vicenza's streets are a veritable open air museum. Among the top attractions in Vicenza, be sure to see the Basilica Palladiana, the Olympic Theater, and Palazzo Chiericati.
Just outside Vicenza is the 16th century La Rotunda. This is Palladio's most famous home.
It was once a trophy house and is now a sacred pilgrimage destination. La Rotunda was the inspiration for architecture in America, including Thomas Jefferson's Monticelli.
25. Tomar, Portugal
Aften overlooked hidden gem, Tomar is located in the less-touristy region of central Portugal. It's a history's buffs paradise.
For 700 years Tomar was the headquarters of the Knight's Templar, an elite crusading force. They were later renamed the Order of Christ.
As such, Tomar boasts one of Portugal's most important buildings — the complex of the Convent of Christ. As an ancient building, it has Gothic, Renaissance, and Manueline architectural elements. It became a UNESCO site in 1983.
Tomar itself is also charming, sliced in two by the Nabao River. The main square is Republic Square. It's filled with lovely homes, a 15th century church, and a black and white checkerboard pavement.
Head down the Via Rea de Serpa Pinto for a picturesque stroll of the town. Try one of Tomar's special sweets, Beija-me Depressa (kiss me quick).
I hope you've enjoyed my guide to 25 secret hidden gems in Europe. You may enjoy these other Europe travel guides and resources:
Most Beautiful Towns in Andalusia
Secret Hidden Gem Towns in Spain
Secret Hidden Gem Towns in France
Most Beautiful Towns in Northern France
Most Beautiful Towns in Germany
50 Best UNESCO Landmarks in Europe
If you'd like to visit Europe's off the beaten path hidden gems, pin it for later.