Are you looking for a short and easy day trip from London? Then a day trip to Cambridge is the answer!
Cambridge is an idyllic university city in Cambridgeshire England, just 60 miles from London. This charming city is home to the prestigious University of Cambridge and other gorgeous 16th century buildings worth visiting.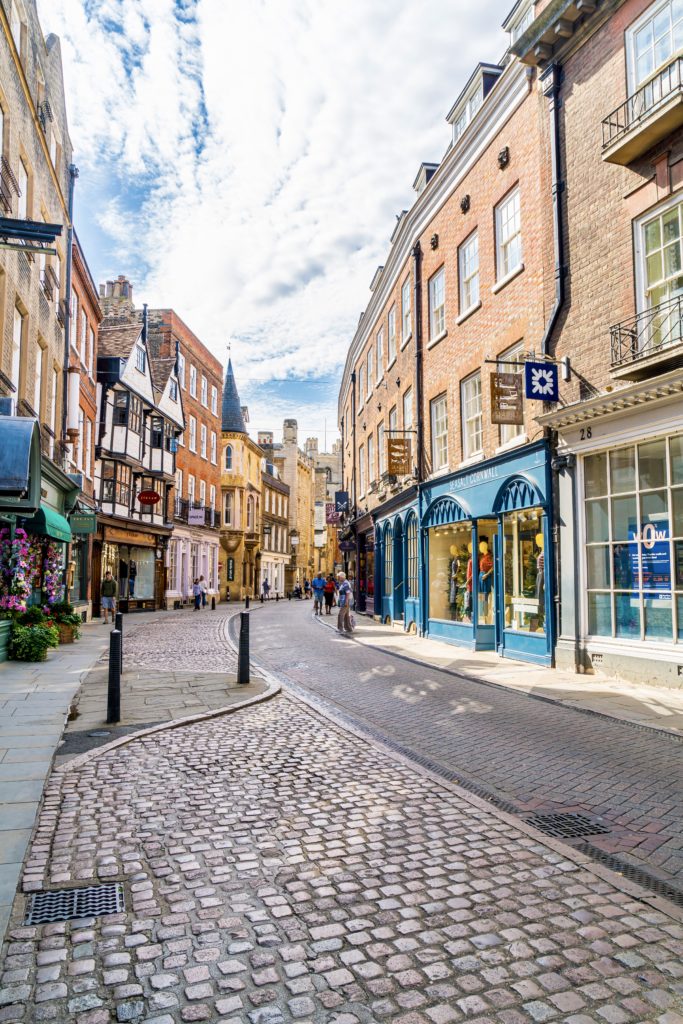 Cambridge has a genuine old world vibe. You can have a wander down cobbled lanes, admire great architecture, learn about the university culture, go on a punting tour, taste delicious Chelsea buns, and so much more.
Cambridge is one of the most popular day trips from London, and there's no doubt why many travelers visit this incredible city. It's every bit as beautiful as its neighbor Oxford, but isn't as touristy and urbanized.
In fact, Cambridge manages to be both quirky and historic and thoroughly modern.
In this blog post, you'll discover how to get from London to Cambridge, the best things to do in Cambridge in one day, and accommodation suggestions if you decide to stay overnight.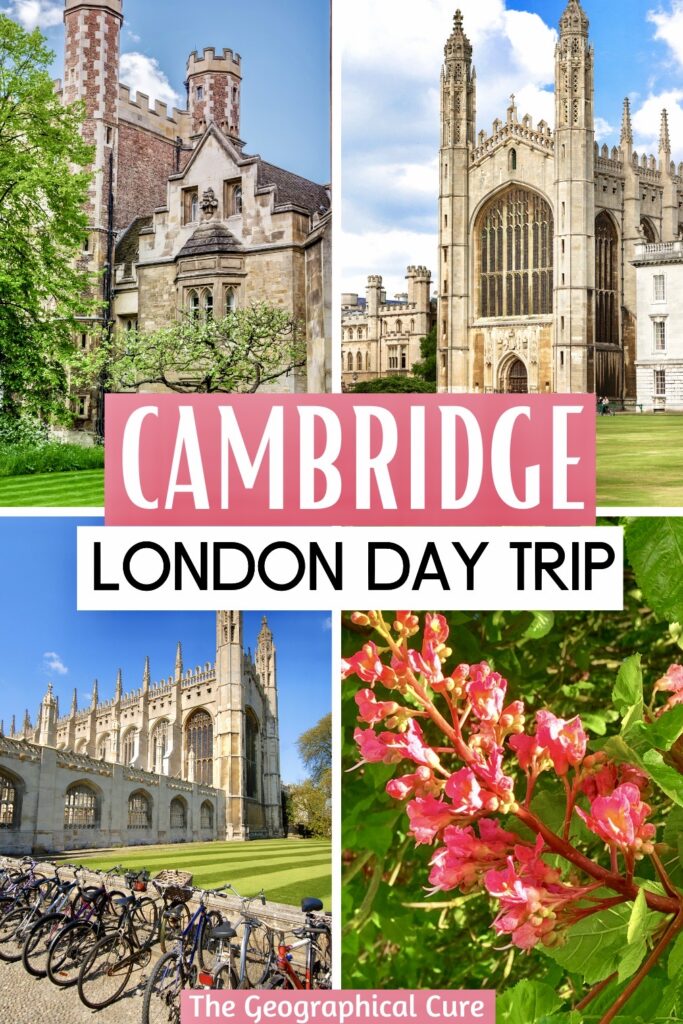 A Short History of Cambridge University
Cambridge began life as a flourishing small town along the River Cam. In 1209, scholars from Oxford arrived to escape the riots in Oxford between "town and gown" (scholars and citizens). They founded the second oldest university in the UK.
In 1248, the oldest college in Cambridge, Peterhouse College, was formed. In the following centuries, dozens of colleges were endowed and built.
In the 16th century, during the Reformation, the university became a hotbed of Protestant thought. Thomas Cranmer, the Archbishop of Canterbury, and Oliver Cromwell were both educated there.
The number of famous and influential Cambridge alumni is astonishing — Charles Darwin, Isaac Newton, Stephen Hawking, Sylvia Plath, Alan Turing, Lord Byron, Bertrand Russell, and even King Charles III.
Though the college built its reputation on science and mathematics, it has strong social sciences and arts courses as well.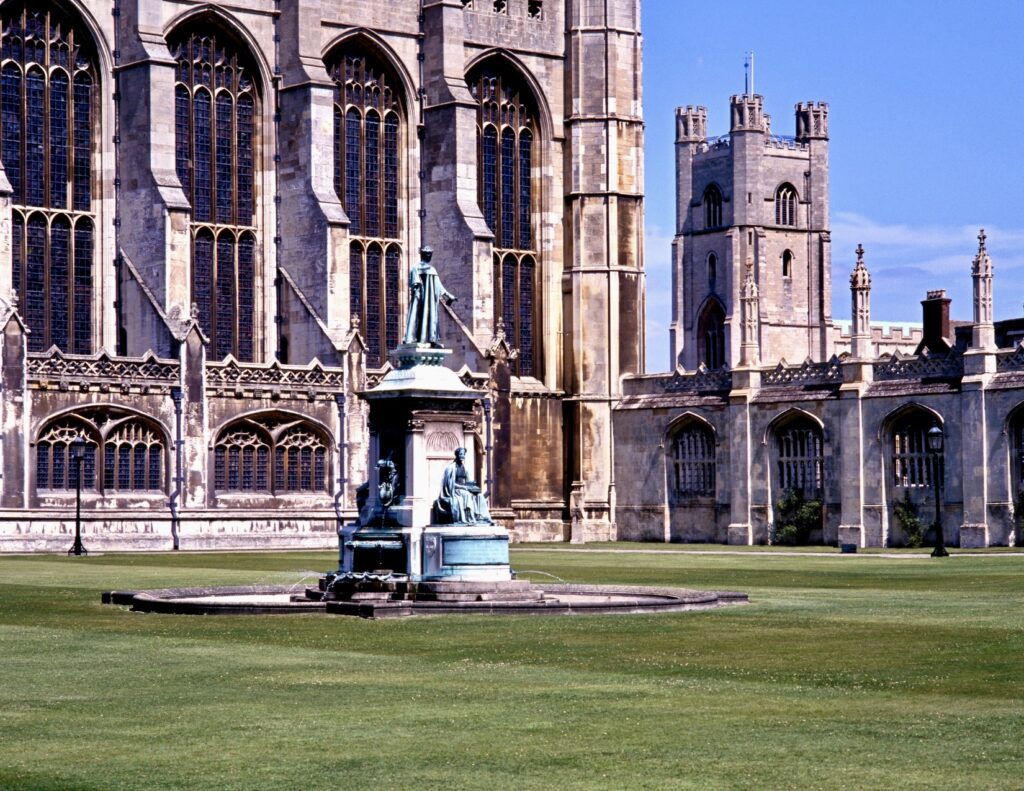 Today, Cambridge is a "collegiate" university consisting of 31 colleges that each admit their own students.
You definitely won't be able to see them all on a Cambridge day trip from London. But I will highlight a couple of them that are must visits.
Things To Do On A Cambridge Day Trip
One day in Cambridge is enough to visit the must see attractions, as the city is very compact and walkable. There are also incredible free things to do in Cambridge too.
The following 16 activities are the best things you can do with one day in Cambridge.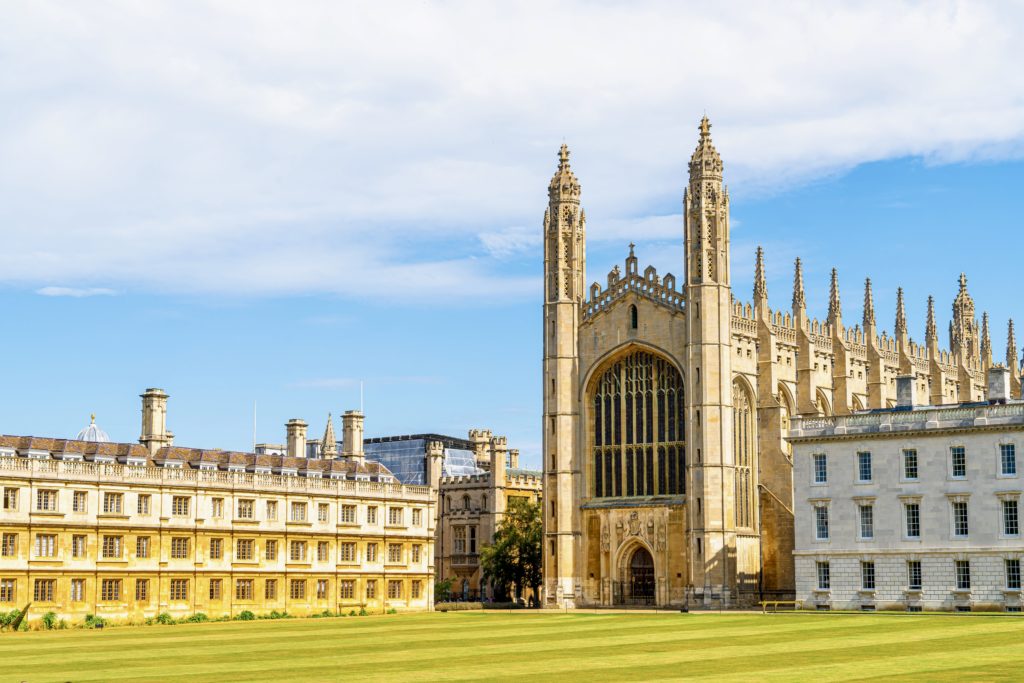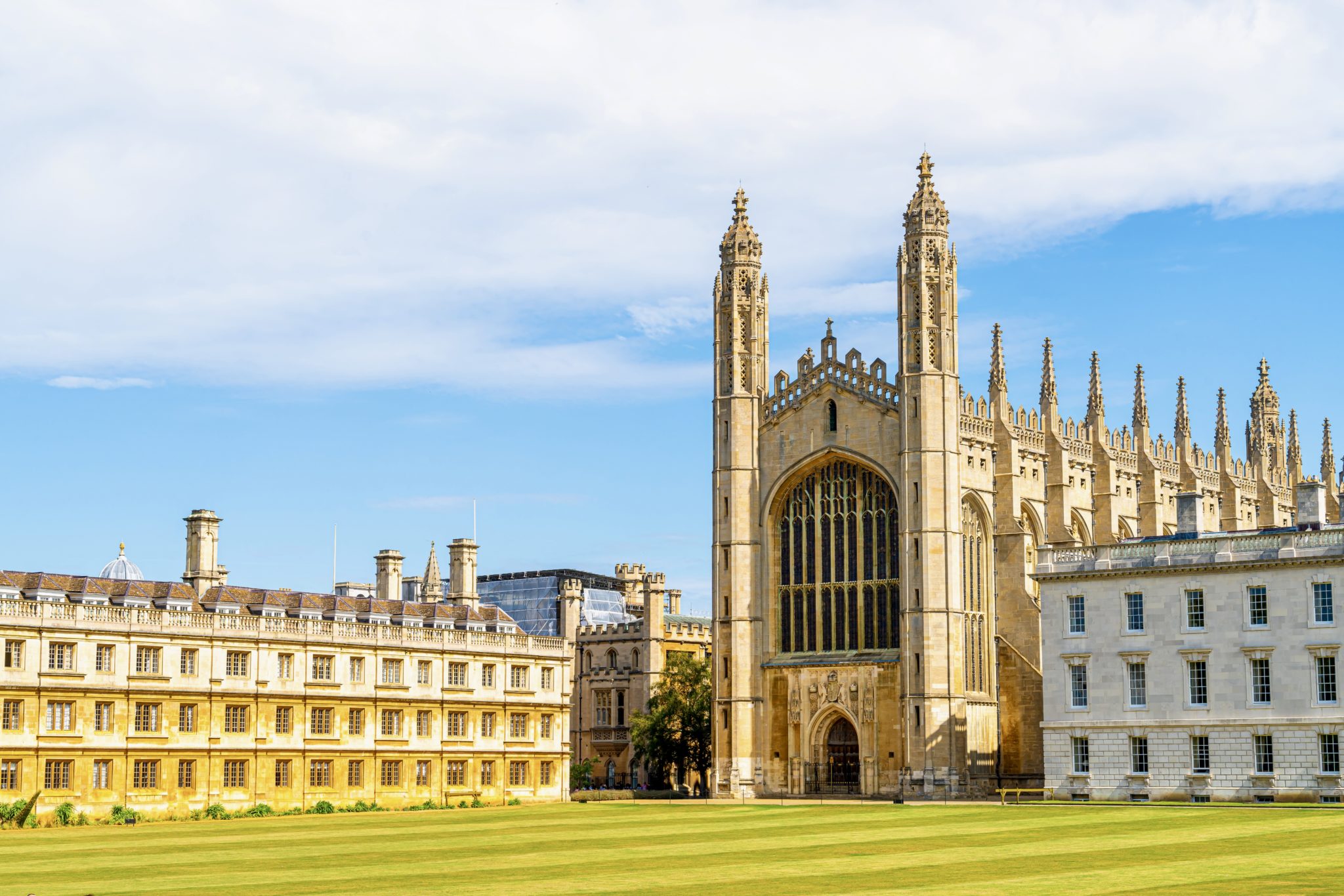 1. King's College and Chapel
Of the many colleges at Cambridge University, the one you can't miss is King's College. It was founded by Henry VI in 1441.
The photogenic King's College Chapel is one of the greatest examples of late Gothic architecture. The Tudor chapel is considered on par with St. George's Chapel at Windsor Castle. You'll be gobsmacked by the world's largest fan ceiling.
The chapel also has Renaissance stained glass, a wooden chancel screen, and a Baroque organ. It was built between 1146-1515 and is famous for its Christmas radio broadcasts.
The best way to visit by taking a guided tour. You'll learn everything about university life and the history behind one of the most famous universities in the world.
Tours are often conducted by alumni who have experienced life as students or current students.
2. Trinity College
Another college you can't miss is Trinity College.
Founded in 1546, the gateway features a bullish statue of Henry VIII. He holds a chair leg instead of a scepter. That is probably the result of a college prank.
Trinity is known for its two courtyards, which are the equivalent of Oxford's quads.
The Great Court is the largest court in either Oxford or Cambridge. It's the scene of a well know undergraduate race, The Great Court Run. The race was immortalized in a central scene of the movie Chariots of Fire.
Nevile's Court was where Isaac Newton calculated the speed of sound.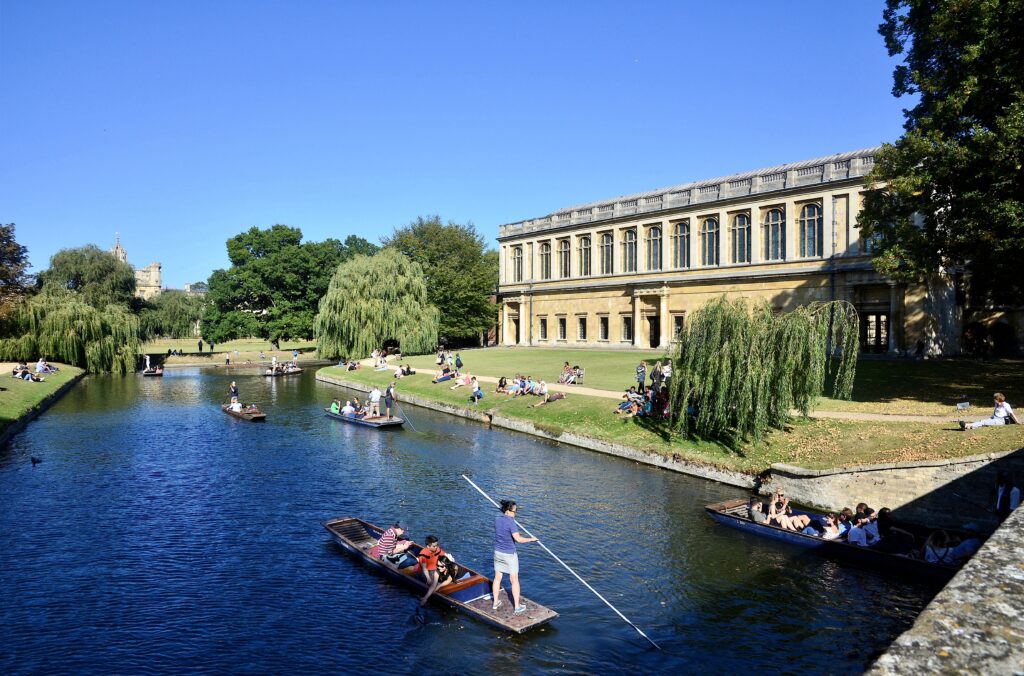 3. Wren Library
Completed in 1695, the Wren Library in Trinity College was designed by the famous architect Sir Christopher Wren, from St. Paul's Cathedral fame.
It's on the west side of Nevile's Court and is a masterpiece of the Classical style. Many regard it as Wren's finest building.
The library houses medieval manuscripts, early editions of Shakespeare, and books from Isaac Newton's personal collection. They're in bookshelves topped by busts of great thinkers.
One of the most famous books is a first edition of Darwin's Origin of the Species.
Right now, the library is still closed to the general public. But you can take a virtual tour on the website.
If you wish to make an appointment to consult an item, email wren.library@trin.cam.ac.uk. Even if you can't go inside, it's worth a proper stroll around the building.
4. Climb the Tower of Great St. Mary's
The Church of St. Mary the Great, also known as Great St. Mary's by the locals, is another must see in Cambridge. This parish and university church is situated in at the north end of King's Parade road.
Great St. Mary's is the perfect place to enjoy a bird's-eye view of Cambridge. You can climb 123 steps to reach the top of its tower, where you'll get the best panoramic view and photos.
You don't need to book in advance. But it's important to know that the last entry is half an hour before closing at 4:00 pm, so don't leave this attraction until the last minute!
5. Punting On The River Cam
You can't day trip to Cambridge without going punting. A guided punting tour is a unique experience and one of the best and most fun things to do with one day in Cambridge.
Board the flat-bottomed boat, and listen to the interesting stories about Cambridge universities while enjoying another perspective of the city and relaxing.
Punting tour guides are knowledgeable and know all the stories behind the city and its university culture, so you'll learn a lot but entertainingly. In addition, they're very friendly and funny, so you won't have a boring punting ride.
It is a perfect activity to do in Cambridge on a sunny day. But if the weather is good, expect crowds.
Most punting tours are targeted at small groups of 6 people and last 45 mixtures. But it's possible to find private punting tours if you want to have a romantic experience with your partner or simply don't want to be with others, so you have the freedom to relax, take photos, etc.
Alternatively, you can hire a boat and do it yourself. But believe me; it isn't easy to drive one. Mastering the long wood pole takes practice.
6. Get A Chelsea Bun From Fitzbillies
If you only have one day in Cambridge and want to make the most of your day, I recommend grabbing something quick to eat rather than sitting in.
Fitzbillies is a lovely cafe to get a lunch takeaway. They have delicious sandwiches and toasties, bacon rolls, pastries and cakes. However, it's extremely popular for its Chelsea buns.
You must get one of these buns if you have a sweet tooth. They're mouthwatering.
What I also love about Fitzbillies is that they offer afternoon tea picnics, so you can enjoy delicious food in one of Cambridge's many lush green spaces. They include a selection of finger sandwiches, a sultana scone with raspberry jam and clotted cream, mini cakes, and an elderflower pressé drink.
A great place to picnic is Jesus Green right next to Jesus College.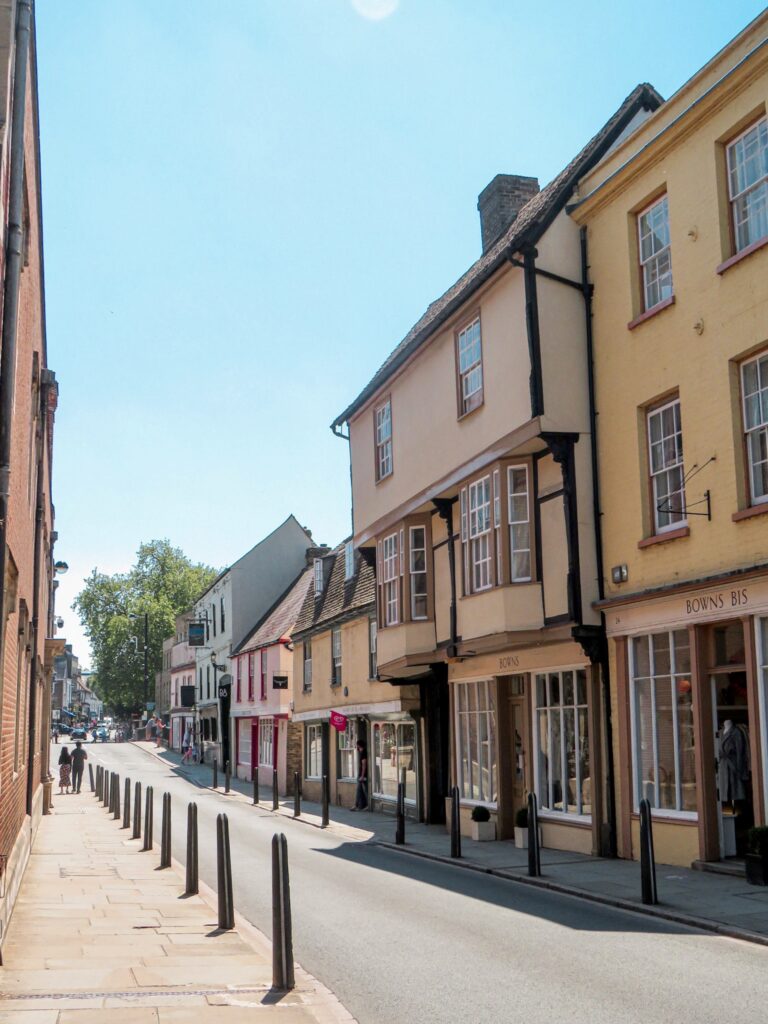 7. Magdalene Street
Are you looking for the picturesque colourful streets in Cambridge? Then, Magdalene Street is the one.
This beautiful street is located a few minutes from the meeting point for the punting tours.
The street has beautiful buildings painted in pastel colors. It's home to small independent shops, boutiques, and some lively boozers. Shops have everything from contemporary fashion to antiques to pottery.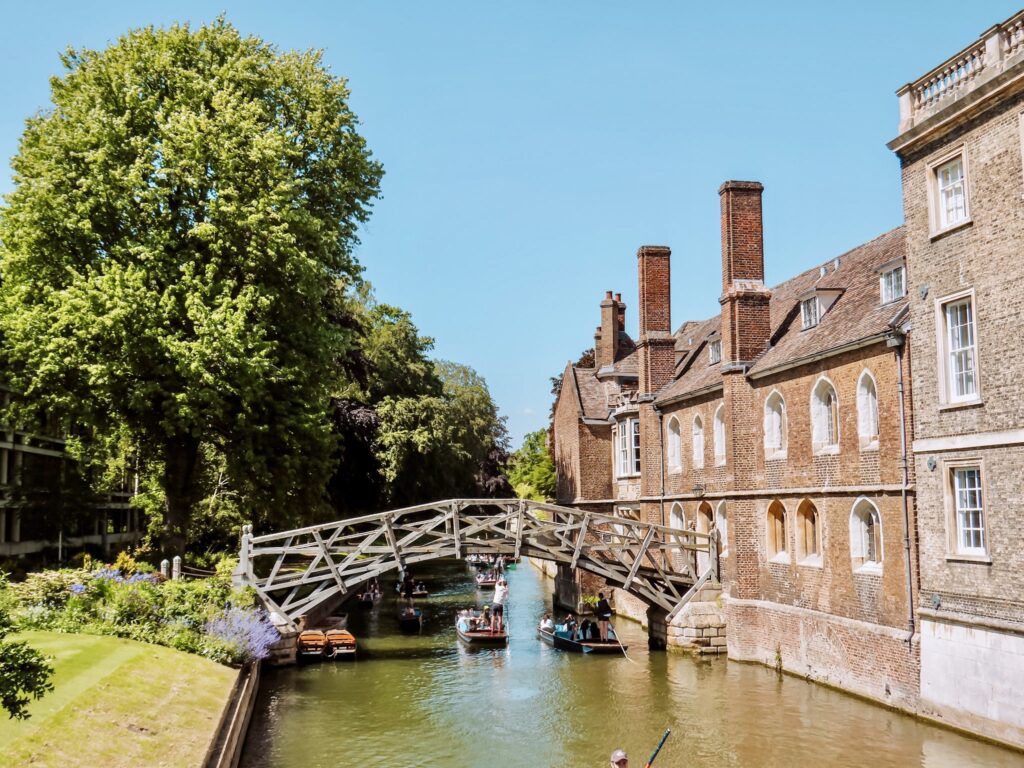 8. The Mathematician Bridge
One of Cambridge's most famous bridges is The Mathematician Bridge, also called Wooden Bridge and Queens' Bridge. This impressive bridge is a Grade II listed building that connects two parts of Queens College.
If you wonder why it is called The Mathematician Bridge, its name derives from the fact that the bridge was built entirely with straight timbers, but it still maintains an arched shape.
Legend tells us that this bridge was built by Isaac Newton. However, it was designed by carpenter William Etheridge and built by James Essex the Younger.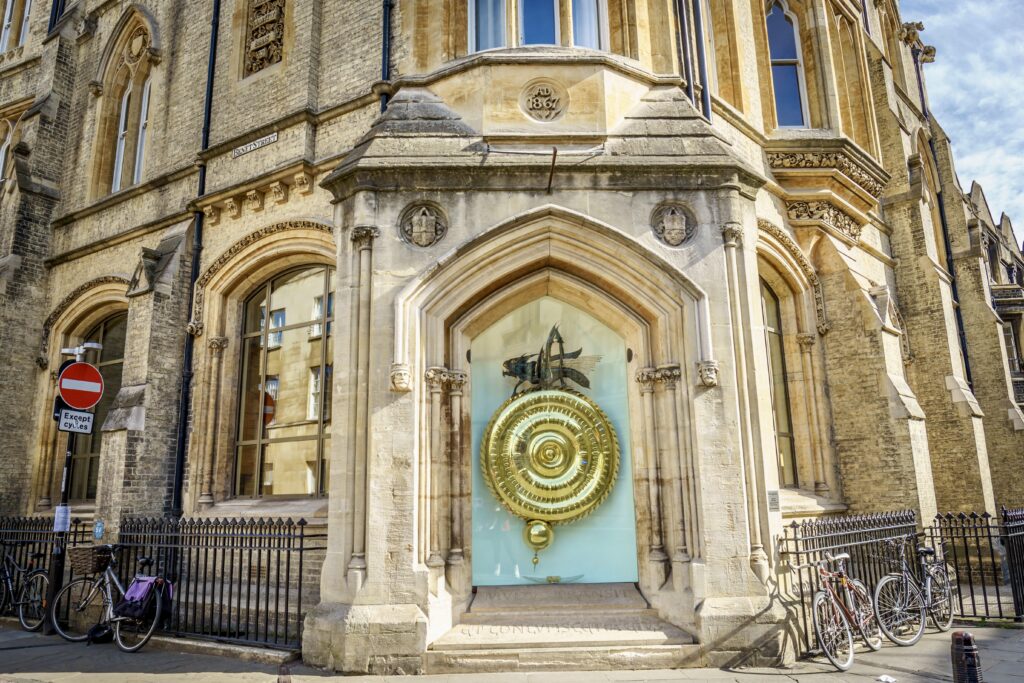 9. Corpus Clock
When wandering around the city center, keep your eyes open to see the Corpus Clock.
It's a golden clock designed by Cambridge physicist Stephen Hawking. It's also known as the Grasshopper Clock because a grotesque grasshopper is the timekeeper, eating up time.
You can find it at Taylor Library at Corpus Christi College. The clock was veiled to the public in 2008. Since then, it has become a popular spot for tourists to admire and take photos of.
What also makes this clock unique is that it doesn't have hands or numbers. It displays the time by opening individual slits in the clock, and these slits are lightened with LEDs.
10. Cambridge Botanic Gardens
Not very far from Cambridge's city center is the Botanic Gardens, a beautiful place to visit during your day trip.
Many travellers don't know about the gardens, but it's worth visiting them. Here, you can find more than 8,000 types of plants and flowers as you walk around the gardens, which are bigger than you might expect.
It's the ideal place to take a break and have a coffee, tea, or refreshing drink and snack in the main cafe with outdoor seating.
The entry fee is £8 per adult. Children under 16 enter for free.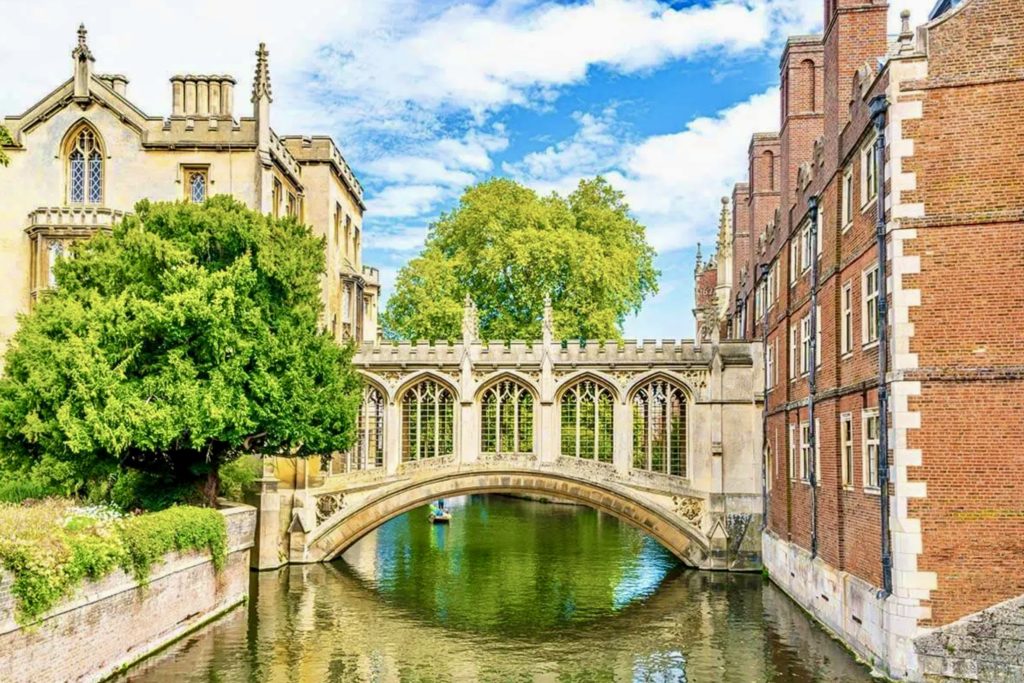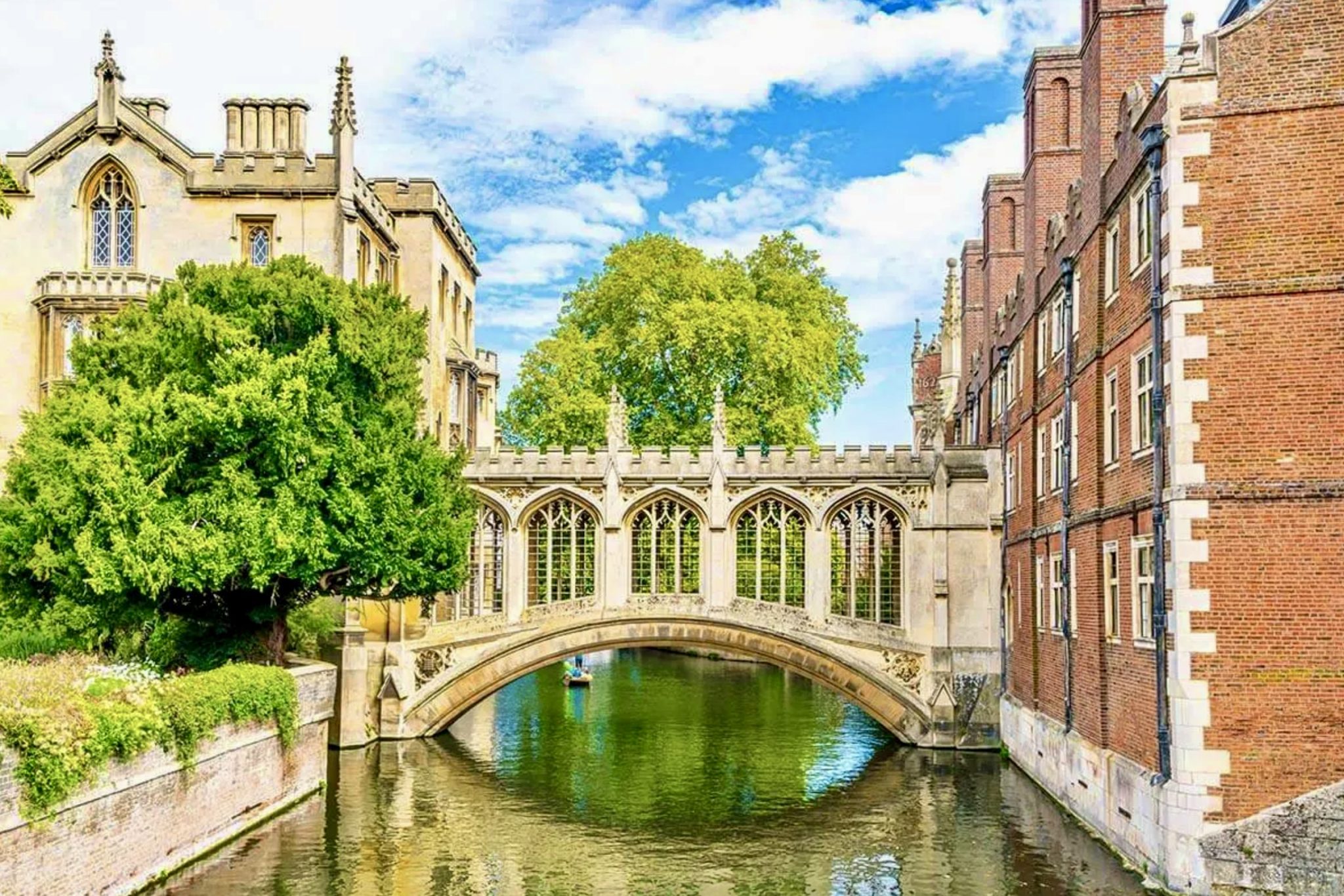 11. The Backs
On a peaceful and beautiful walk through "The Backs," you'll be immersed in nature – lush green landscapes, cows and other small animals, and locals cycling.
The name of The Backs is associated with the backs of the medieval colleges. This area offers stunning, unparalleled views of the colleges and the River Cam, perfect for postcard photos!
By walking this route, you'll also come across the famous Bridge of Sighs, Clare Bridge, the Mathematical Bridge, and a spacious park. The Neo-Gothic Bridge of Sighs is really nothing like the famous bridge in Venice. Still, you can admire the beautiful carved stone.
This route is especially beautiful in spring when you can see flowers like daffodils and crocuses.
12. Fitzwilliam Museum
One of the best things to do on a Cambridge day trip, especially if it's raining, is to visit the impressive Fitzwilliam Museum on Trumpington Street.
This is the university's main museum, with over half a million art works and antiquities. It's effectively a mini-British Museum that houses everything — Renaissance gems, Pre-Raphaelite works, Impressionist masterpieces, medieval manuscripts, and Egyptian mummies.
You'll find works by Claude Monet, Renoir, Matisse, Leonardo da Vinci, Perugino, Titian, Rubens, Franz Hals, and John Everett Millais.
If you don't have much time to visit all the museums in the city, Fitzwilliam Museum is the number one I would suggest visiting.
Not only is it the best museum in Cambridge, but it's free too! And it's just a stone's throw from King's College.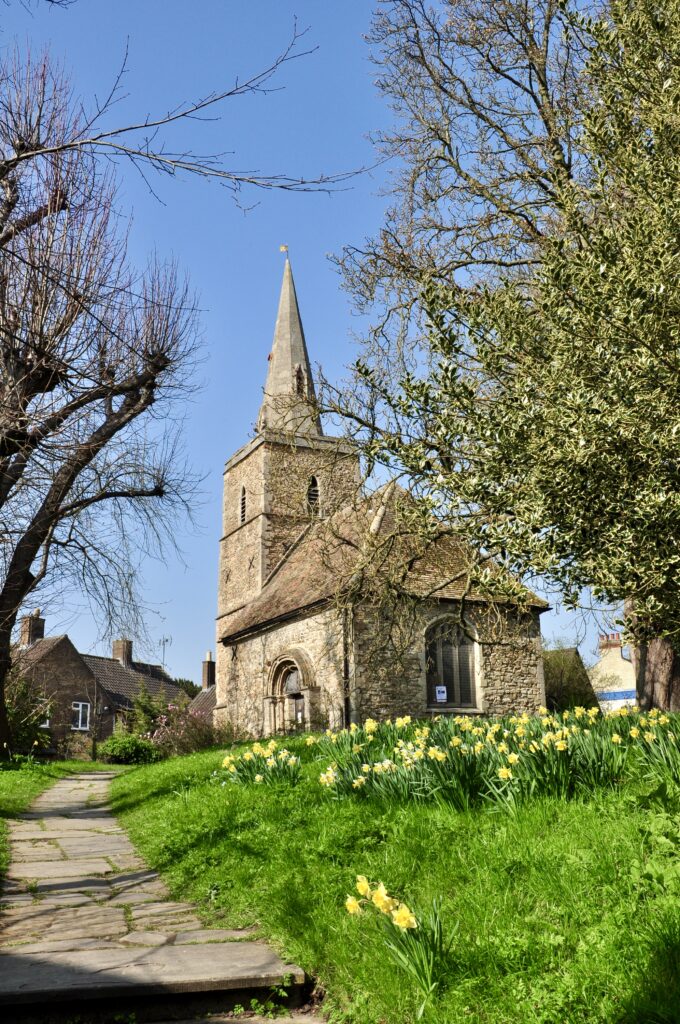 13. Kettle's Yard Art Gallery
If you have enough time on your Cambridge day trip itinerary and love art, head to Kettle's Yard. It's the University of Cambridge's modern and contemporary art gallery, just a few minutes walk from Magdalene Street.
The art gallery is in a beautiful house with incredible exhibitions and collections. The house and its contents were bequeathed to the university by Jim Ede, who required everything to be left exactly where he hung it.
Next to Kettle's Yard is St. Peter's Church, an interesting hidden gem in Cambridge. The church doesn't look much used, but you can visit it inside. It's small and a bit spooky too.
Entry to Kettle's Yard is free; you can book tickets online.
14. The Round Church
When walking around the city center, you'll probably come across the Round Church, also known as the Church of the Holy Sepulcher. It's an interesting Grade I listed building located on Bridge Street.
This 12th century building is one of the four medieval round churches still in use in England. It has an impressive Norman era door and circular nave.
It is worth stopping by just to admire the symmetry of the simple Romanesque building, which is made of the same chalky limestone used throughout the city.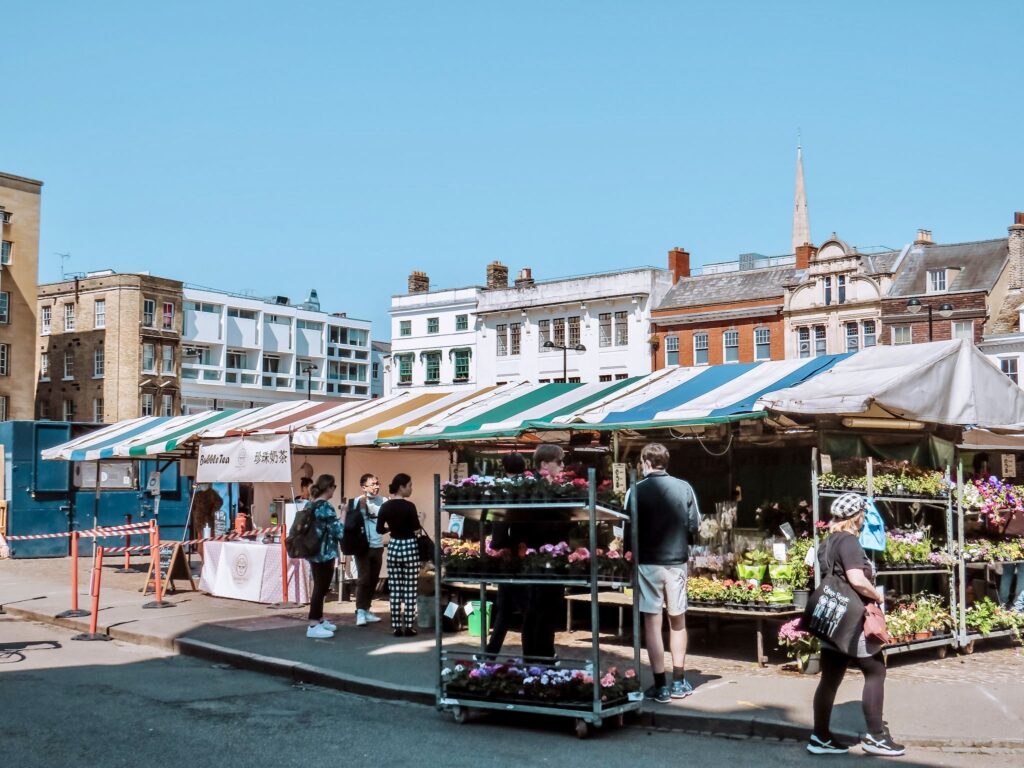 15. Cambridge Market
If you love visiting markets when you travel, you're lucky because Cambridge hosts an outdoor market every day in the city center, in front of The Guildhall.
The market has been running since Medieval times, and it's home to approximately 100 stalls with candy striped awnings. You can buy anything from quirky souvenirs and gifts — from clothes and flowers to sweets, jewelry, and books.
Even if you aren't interested in shopping in the market, it's also a great place to grab some food. If you love cakes, stop by Shelly Bakes Vegan Cakes.
16. Shop Till You Drop
You might not know it, but Cambridge has some world class shopping.
The main drag, King's Parade, is home to fine art galleries. Trinity Street has boutiques and homewares.
Bridge Street has jewelry and pottery shops. And quaint Rose Crescent Street features beauty shops, restaurants, and a Harry Potter store called The Department of Magical Gifts.
Tips For Your Cambridge Day Trip From London
Here are some must know tips for spending one day in Cambridge on a day trip from London. I also answer some frequently asked questions about Cambridge.
1. How To Get From London To Cambridge
There are different ways to get from London to Cambridge, which makes it a very accessible city to visit.
If you drive from London to Cambridge, it will take you approximately 1:30 without traffic.
It's the most comfortable way to get to Cambridge. However, it isn't the quickest, and you need to be aware that it isn't always easy to find parking. You will likely need to throw your car in a lot.
If you don't drive or don't want to, no worries. You can take the train or coach to Cambridge.
The train is perfect because the journey is shorter and faster, and you can find reasonable train fares. Just avoid peak hours, weekends and bank holidays.
I took the train from King's Cross station to Cambridge, and the journey was only 1:15. You can also take the train from Liverpool Street Station. There are around 4 departures per hour.
You can also take the bus. Buses to Cambridge run from the Victoria Coach Station and take 1:45.
If you want someone else to handle the transportation logistics, that's easy enough. You can book a 9 hour guided day trip from London or a private tour. You can also visit both Cambridge and Oxford on an 11 hour guided tour.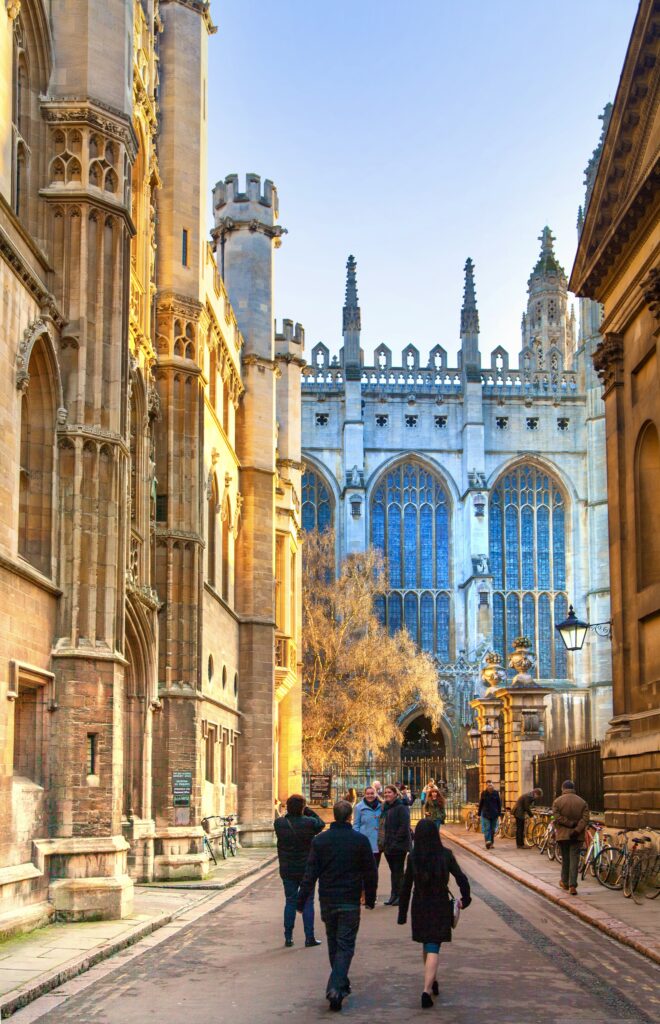 2. How To Get Around Cambridge
Cambridge is perfectly flat and eminently walkable. The city's main attractions are all clustered near the city center.
But you also have the option of the Hop On Hop Off tourist bus. You can also rent a bike or electric scooter. There are plenty of cycling lanes and you may see students and professors whizzing by.
There are plenty of guided walking tours as well. Check out a few tours before booking one.
Different types of tours can be as fun as the regular ones — for example, a secrets of King's College tour or a guided ghost tour at the University of Cambridge.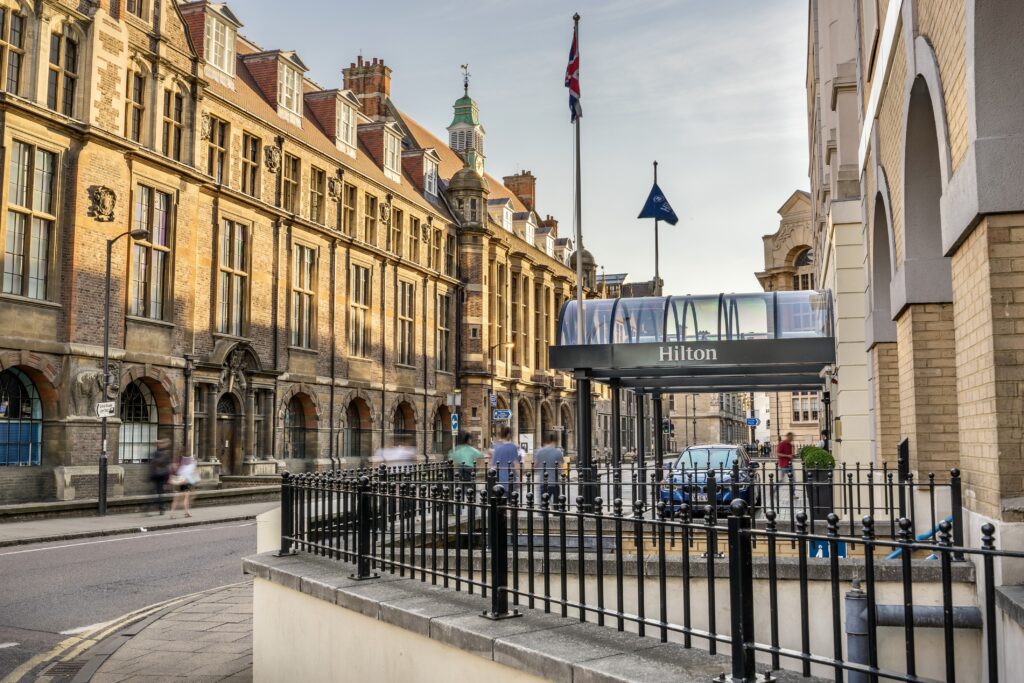 3. Where To Stay In Cambridge
There are plenty of great hotels in Cambridge if you can extend you Cambridge day trip into an overnight stay.
If you are looking for an affordable but modern accommodation, Ibis Cambridge Central Station is one of the best hotels to stay in the city.
It's conveniently located near Cambridge train station and a 15 minute walk to the town center. The hotel offers an international continental breakfast and public parking space if you come to Cambridge by car.
If you prefer accommodation in the city center, I recommend checking out The Varsity Hotel & Spa. This fashionable boutique hotel is a few minutes from Cambridge's main attractions. It also has a rooftop terrace with beautiful city views, and is the perfect place to sip a cocktail with friends.
If you are looking for a luxury stay, you can check out the Hotel du Vin, the Graduate Cambridge, or the Gonville Hotel. They are all located in the heart of the city and boast river views.
If you're a rewards member, Cambridge also has a Marriott, the University Arms Hotel, and a Hilton, the Hilton Cambridge City Centre.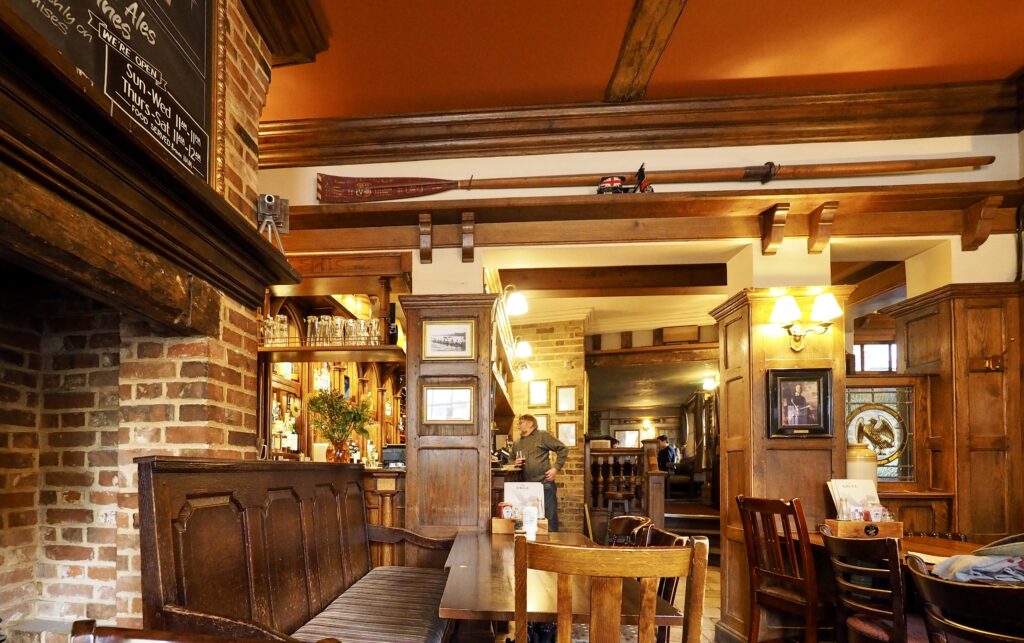 4. Where To Eat In Cambridge If You Stay Overnight
If you decide to stay overnight and are looking for a spot to have dinner, you can check out Anchor Pub. It offers a classic pub experience along with breathtaking river views.
Another good pub option where you can step back in time is The Eagle. Dating from the 16th century, it's the second oldest pub in Cambridge. Legend holds that this was where Cambridge scientists Watson and Crick announced the discovery of the double-helix structure of DNA.
For quality food and innovative dishes, you might try Oak Bistro. It's housed in a Grade II historic building and has a lovely terraced garden for outdoor dining. There are plush throws if there's a chill in the air.
If you want something fancier, reserve in advance at Midsummer House. It's also on the River Cam and has two Michelin stars.
If you are in the mood for a proper afternoon tea, Cambridge has many tea shops. Perhaps the best one is Orchard Tea Garden, a place that's been described as "forever England."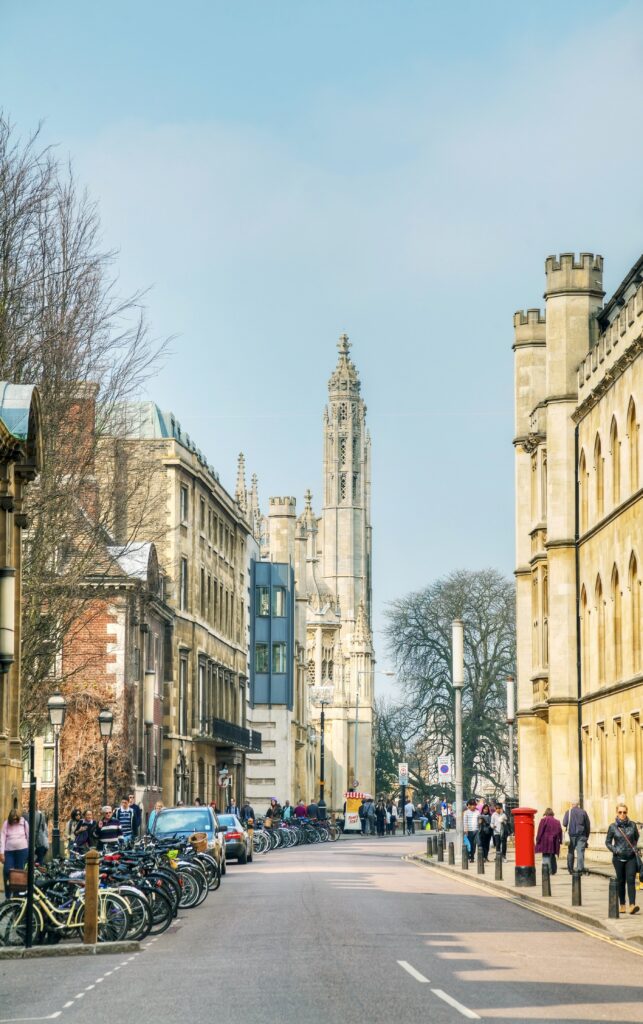 5. Is One Day In Cambridge Enough?
One day in Cambridge is enough to see the main attractions. But you won't be able to see everything.
However, if you want to travel slower and soak up all the things that the city has to offer, stay in Cambridge for at least two days.
If you are staying longer in Cambridge, you can explore nearby cities like Ely, Newmarket, St. Ives, Norwich, or Northampton.
6. What Should I Do With Only A Few Hours In Cambridge?
If you just have a few hours in Cambridge, take a guided walking tour to show you the must see attractions in the city in efficient fashion.
You can also do this on your own. But be sure to consult a map and plan your itinerary in advance, so you aren't wasting time figuring out which places you need to visit and where they are.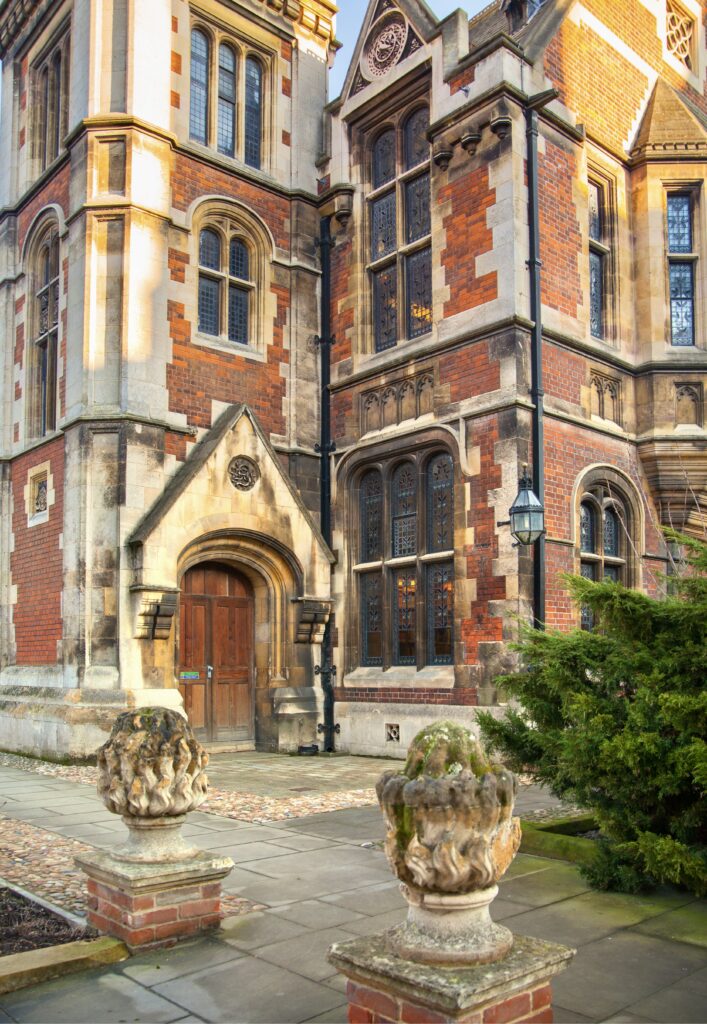 7. When Is The Best Time To Day Trip To Cambridge?
You can visit Cambridge any time of the year and find something smashing to do.
However, late spring and summer are by far the best times to visit Cambridge if you want sunnier days. You can also make the most of the days as they're longer. And it's a good time for punting.
July and August are also when the city hosts an 8 week long Shakespeare Festival that is not to be missed. The Bard's much loved works are performed in the colleges' private gardens.
READ: One Day in Stratford-upon-Avon Itinerary
That being said, Cambridge is a city for all seasons. If you day trip to Cambridge in winter, wrap up warmly. You can take a walking tour, visit the museums, or spend some time enjoying a hot drink and delicious cake at one of the many cute cafes in Cambridge.
Last but not least, Christmas in Cambridge is beautiful. Lightened-up and decorated streets and shops and the Cambridge Christmas Market make it a special time to visit Cambridge. The Christmas Market is an unmissable place to visit during the Christmas season.
I hope you've enjoyed my guide to taking a Cambridge day trip from London. You may enjoy these other London travel guides and resources:
If you want to day trip from London to Cambridge, pin it for later.