When it comes to art, Philly is an absolute treasure trove. To my mind, the only city that beats it is New York City. In Philly, you'll find art museums catering to every taste and preference.
In this article, I'll delve into the best art museums in the city, from large to small. I give you an overview of the museums, their collections, and identify the must see masterpieces.
Take a close look at the opening hours of each museum, some of which vary drastically. For example, some (but not all) of the museums are closed on Monday, Tuesday, or Wednesday.
Many of these museums are included in the Philadelphia Go City Pass. So if you're planning to visit a few of them, along with Philadelphia's historic sites, it may be worthwhile to invest in the pass.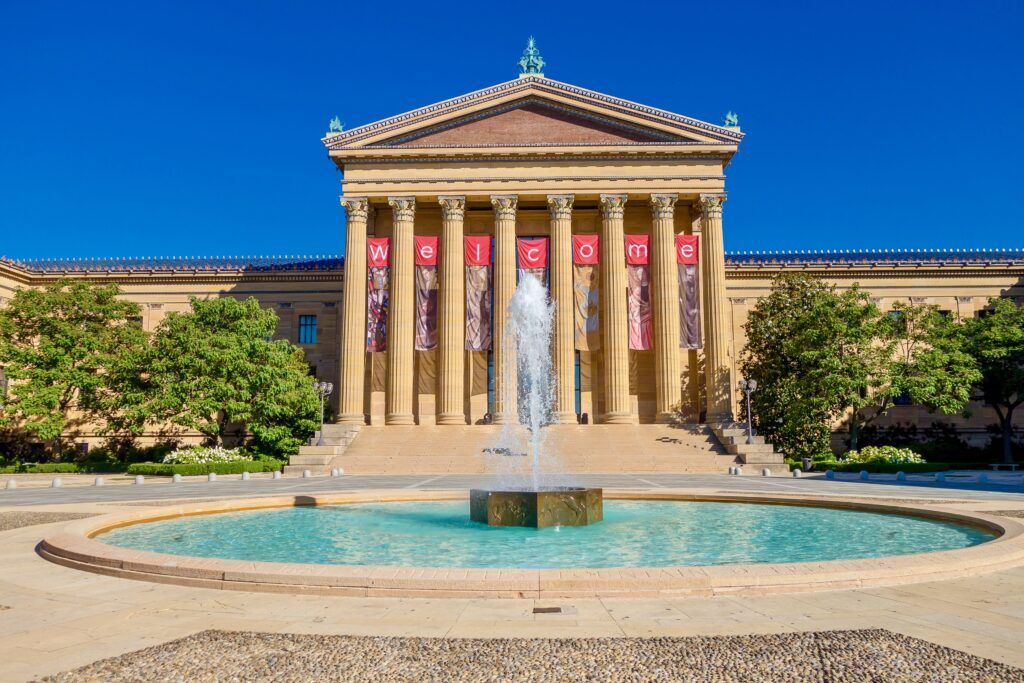 Best Art Museums In Philadelphia
So, here we go art lovers. These are the art museums you need to see in Philadelphia.
1. Philadelphia Museum of Art
The Philadelphia Museum of Art is one of the largest and most famous art museums in the country. it's one of the city's most prominent landmarks and known for its iconic "Rocky Steps."
Inside, you'll find an extensive collection of art spanning various cultures and time periods. The museum is celebrated for its impressive collection of American and European art.
Among its American treasures, you'll find a remarkable assemblage of American masterpieces by the likes of Thomas Eakins, Charles Wilson Peale, Jonathan Singleton Copley, Mary Cassatt, and Benjamin West.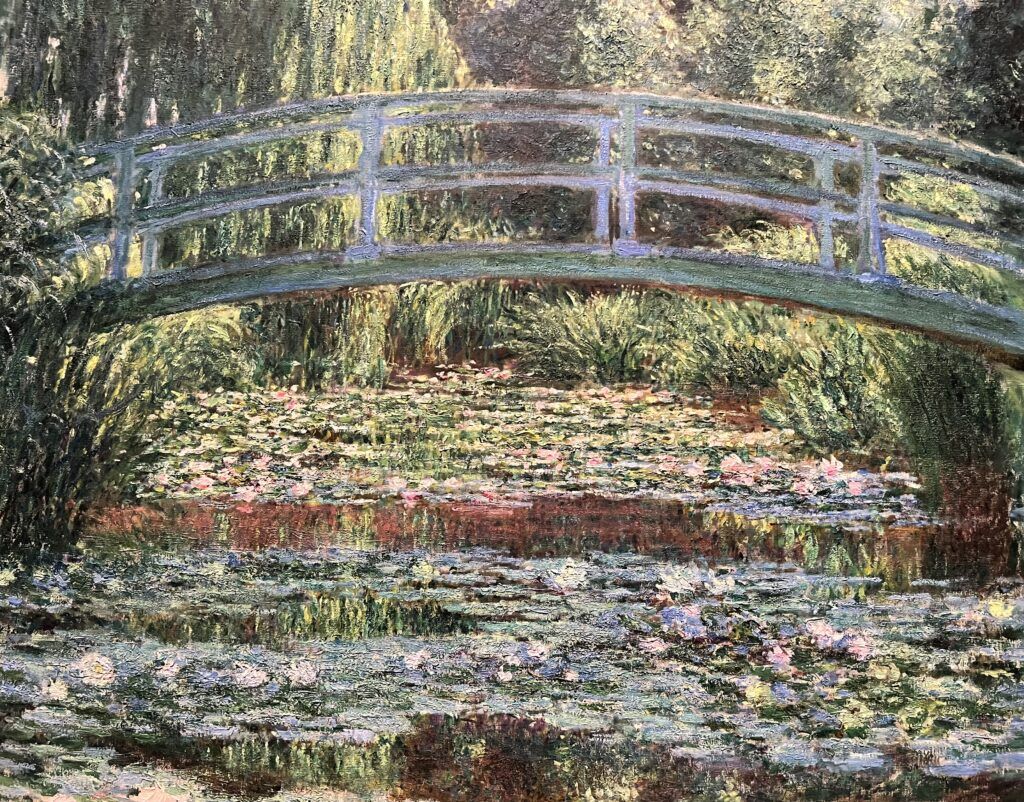 The museum also houses an impressive collection of Medieval art, British art, and Asian art.
It's especially strong in Impressionist works, with pieces by Monet, Manet, Renoir, Pissarro, and Degas. And it has Post-Impressionist pieces by the likes of Van Gogh and Cezanne.
The must see masterpieces include Cezanne's Large Bathers, Van Gogh's Sunflowers, Roger van der Weyden's The Crucifixion, Rubens' Prometheus Unbound, and Marcel Duchamp's Nude Descending a Staircase.
This is a massive museum. You probably can't cover it all in one day without some museum fatigue. Fortunately, a ticket gives you admission for 48 hours so you can break up your visit.
Address: 2600 Benjamin Franklin Parkway
Hours: The museum is closed Tuesday and Wednesday. The other days of the week the museum is open from 10:00 am to 5:00 pm. On Friday night, it's open until 8:45 m.
Tickets: Adults $30, seniors $28, students $14, under 18 free
2. Barnes Foundation
Coming in at #2 is the amazing Barnes Foundation. It's a unique museum renowned for its exceptional collection of Impressionist, Post-Impressionist, and early Modernist paintings.
The Barnes Foundation was founded and curated by Albert C. Barnes. It started out as an "art class" of sorts. Barnes would only let in people he approved of to see his private collection. This turned out to be mostly ordinary folks, not anyone he deemed an art critic or art snob.
When Barnes died, he left his private collection to a trust and stipulated that it could never be changed or altered. The paintings are hung according to Barnes' original vision, with the theme of visual connections between the art. They are hung chock-a-block on top of each other in rather haphazard fashion.
As a result, the museum is a one of a kind experience. The only other museum like it is the Isabella Stewart Gardner Museum in Boston.
As you walk from room to room, you will come upon masterpieces by Cezanne, Matisse, Renoir, Degas, Picasso, Soutine, Modigliani, and Van Gogh. In my opinion, the Matisse works are the best.
The real showstoppers in the collection include Cezanne's Card Players, Van Gogh's Postman and Smoker, Modigliani's Portrait of a Red Haired Woman, and Matisse's The Joy of Life and The Dance.
It's a small museum that you could cover in an hour or so. But if you really want to check everything out, plan on 2 hours.
There are no label or information panels. But there are "cheat sheets" with the paintings identified and marked in benches in each room.
Address: 2025 Benjamin Franklin Pkwy
Hours: Thursday through Monday from 11:00 am to 5:00 pm, closed Tuesday
Tickets: $30 for adults, $25 for seniors, and $5 for college students & under 18
3. Rodin Museum
The Rodin Museum features a remarkable collection of sculptures by the renowned French artist Auguste Rodin. It's the second largest collection of the artist's artworks in the US.
Rodin never visited the US. But US collectors were gaga over his artworks. Like Michelangelo, his rippling muscly sculptures evoked life's struggles — love, heartbreak, death, and misfortune.
The museum is housed in a gorge Beaux Arts building right on Benjamin Franklin Parkway. Yet, it's surrounded by gardens and feels tucked away and serene.
The building was designed by architect Paul Cret and completed in 1929. The Neo-Classical design was inspired by the Hôtel Biron in Paris, which served as Rodin's studio and now houses Paris' Rodin Museum.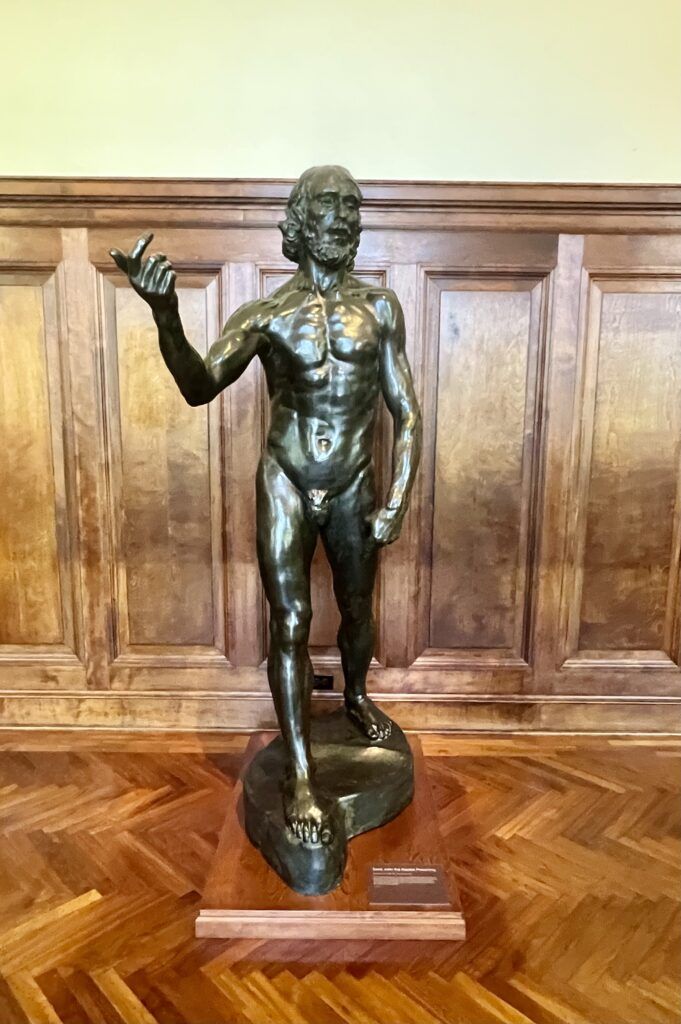 In fact, this art museum in Philly was established just 10 years after the Paris museum, and it's a similar visiting experience, like stepping into a serene oasis.
The museum is small and can be covered in an hour or so. Yet, it's home to some of Rodin's greatest sculptures — The Thinker, The Burgers of Calais, Adam, The Three Shades, and The Gates of Hell.
If you've purchased a ticket to the Philadelphia Museum of Art, you'll have free admission here.
Address: 2151 Benjamin Franklin Pkwy
Hours: Closed Tuesday through Thursday. Open the other days from 10:00 am to 5:00 pm.
Tickets: Admission is pay what you can, but they suggest $15 for adults and $14 for seniors. They definitely expect you to pay.
4. Pennsylvania Academy of the Fine Arts
Founded in 1805, the Pennsylvania Academy of Fine Arts is the oldest art museum and academy in the United States. It's an off the beaten track museum for art aficionados where you can admire great art without bumping elbows with fellow visitors.
The museum's permanent collection is internationally known for its 19th and 20th century paintings and sculptures. The museum is especially strong in early American art, with many iconic images of the Founding Fathers.
It's housed in one of the most beautiful museums I've ever stepped into. A Victorian concoction with a three story stairway, colorful interior, and gorgeous marble floors
You'll find works by Mary Cassatt, Benjamin West, Winslow Homer, Gilbert Stuart, and Thomas Eakins to name just a few.
The most famous paintings are Thomas Eakin's The Gross Clinic, Gilbert Stewart's George Washington (The Landsdowne Portrait), and David Martin's Portrait of Benjamin Franklin.
In an adjacent building, the museum shows off its contemporary art. Many of the artworks on display are by students of the academy.
The museum hosts temporary exhibitions as well. Right now, the exhibition Rising Sun has taken over the whole museum.
Address: 118-128 Broad Street
Hours: Thursday through Friday from 10:00 am to 4:00 p. Saturday and Sunday from 11:00 am to 5:00 pm.
Tickets: $18 for adults, $15 for seniors and students. $10 under 18. The museum is free on Sundays.
5. The Institute of Contemporary Art
The ICA is a cutting-edge institution dedicated to showcasing contemporary and experimental art in all mediums.
It was founded in 1963 by the dean of the School of Fine Art, who wanted to expose students to the "new and happening" in the art world. In 1965, the institute hosted the first solo show by Andy Warhol, one which propelled him to superstardom.
Today, the museum is a "crucible of creativity" committed to pushing the boundaries of contemporary art and promoting under-recognized artists.
It's a rather tiny space. Yet, despite its small size, it puts on some big, risky exhibitions. In fact, the ICA may outdo larger, more well known museums when it comes to putting on an edgy show.
Address: 118 South 36th Street
Hours: Wednesday through Sunday from 12:00 pm to 6:00 pm
Tickets: Free
6. Woodmere Art Museum
The Woodmere Art Museum is a cultural institution located in the Chestnut Hill neighborhood of Philadelphia. It's a lovely location, housed in a 19th century stone mansion surrounded by 6 acres of lawns and trees.
It features an impressive collection of works by Philadelphia artists, including the Pennsylvania Impressionists. The core of the collection is the gift of Charles Knox Smith.
His collection was particularly strong in Hudson River paintings.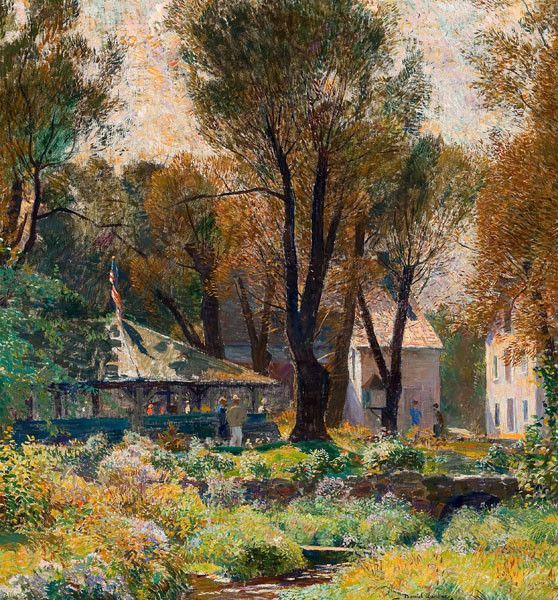 Smith donated works by Benjamin West, Rembrandt Peale, Gabriele Schachinger, and Thomas Sully. Be sure to admire the lovely marble sculpture of the The Flute player.
There are also works by Violet Oakley, Edward Redfield, Nelson Shanks, Antonio Pietro Martino, and Daniel Garber.
If you like Impressionism, this is an excellent venue. And it will be much less crowded than the Barnes Foundation.
Address: 9201 Germantown Avenue
Hours: Wednesday through Sunday from 10:00 am to 5:00pm
Tickets: $10 for adults, $7 for seniors, students and youths free. You can reserve a $35 guided docent tour online in advance.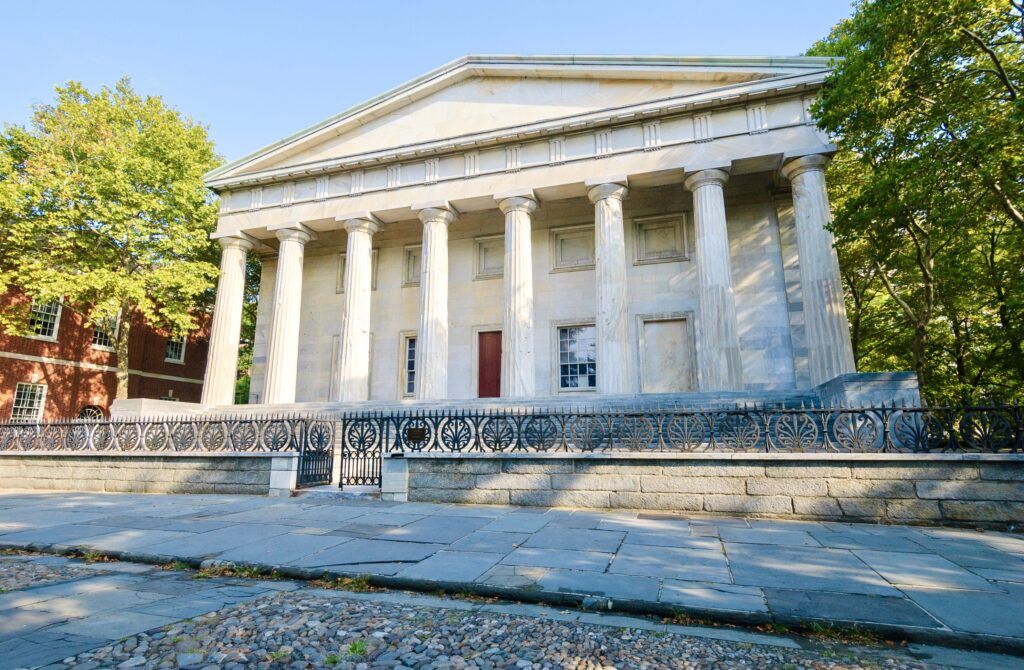 7. Second Bank of the United States
The Second Bank of the United States is often referred to as the "Second Bank Portrait Gallery" due to its significant collection of portraits.
It's not a traditional art museum but rather a historic site that houses a notable collection of 18th and 19th century portraits of prominent individuals from American history.
You'll see key figures from the American Revolution, early American government, and intellectual circles of the time.
To me, portraits are so revelatory. I'd rather see a portrait first and then go read a biography.
A whopping 84 paintings are by one of America's greatest and earliest portraitists, Charles Willson Peale.
The most famous ones are his portraits of George Washington, Alexander Hamilton, and Thomas Jefferson.
Address: 420 Chestnut Street
Hours: Thursday through Sunday from 11:00 am to 5:00 pm
Tickets: Free
8. The James A. Michener Art Museum
Located in nearby Doylestown in Bucks County, the Michener Art Museum is a regional museum housing a collection of Pennsylvania Impressionist paintings.
You've heard of the novelist James Michener, right? The Pulitzer Prize winning author didn't just write; he collected art.
The Michener museum is located in a former Victorian era town jail and was endowed by Michener. It's a beautiful building actually, in an Italianate style with some medieval details. At the entrance, you'll see the impressive sculpture Waif's Anchor.
Like the PA Academy of Arts, it's a collection focused on American artists. There are works in all mediums, including paintings, sculptures, decorative arts, and folk art.
One of the museum's highlights is its collection of Pennsylvania Impressionist paintings, featuring works by notable artists such as Edward Redfield and Daniel Garber. There are also modern works by Franz Kline and Grace Hartigan.
The museum also recreates the writer's Bucks County office, including his writing desk and typewriter.
The museum holds special temporary exhibits. And you can also wander through the Patricia D. Pfundt Sculpture Garden.
Address: 138 South Pine Street, Doylestown PA 18901
Hours: Wednesday through Sunday from 10:00 am to 5:00 pm
Tickets: $15 for adults, $13 for seniors, $8 for colleges students, $5 for under 18
9. Arthur Ross Gallery
The Arthur Ross gallery is part of the University of Pennsylvania. It's named in honor of Arthur Ross, a philanthropist and art collector. The museum is situated in a gorgeous Victorian library on campus.
The gallery is as an important cultural and educational resource within the university community. Its mission is to provide a platform for the exhibition of visual art, both from the university's collections and on loan from other institutions.
This is where you come to see exciting temporary exhibitions. The museum puts on four major exhibitions per year. Coming up is an exhibition of Francisco Goya prints from the Ross collection.
Address: 224 South 34th Street. Housed in the Fisher Fine Arts Library building.
Hours: Tuesday through Friday from 10:00 am to 5:00 pm, Saturday & Sunday 12:00 pm to 5:00 pm. Closed Monday.
Tickets: Free
I hope you've enjoyed my guide to the best art museums in Philadelphia. You may enjoy these other Philadelphia travel guides.
If you want to visit Philly's best art museums, pin it for later.