In the heart of New York City's Upper East Side lies the Frick Collection — an exceptional fusion of art, history, and luxury.
The Frick Collection boasts a splendid array of art and artifacts that span centuries and genres. Visitors can admire an impressive collection of European paintings by renowned artists like Rembrandt, Bellini, Holbein, Vermeer, and Goya.
In addition, the museum houses exquisite decorative arts, including porcelain, sculptures, and antique furniture.
For years, this was all set within the opulent former residence of industrialist Henry Clay Frick. But when Frick's mansion needed major renovations, the collection moved to the Breuer Building. For now, it's referred to as Frick Madison.
In this Frick guide, you'll learn about the museum's history and recent renovations, the must-see masterpieces of the collection, and get essential tips for visiting.
History of the Frick Collection
Here's a quick history before we dive into what to see.
Henry Frick
Henry Clay Frick grew up working class. But nothing stopped him. He was ambitious.
By 30, Frick was a prominent figure in Pittsburgh's industrial landscape. Frick distinguished himself as a captain of industry, a generous philanthropist, and a passionate patron of the arts.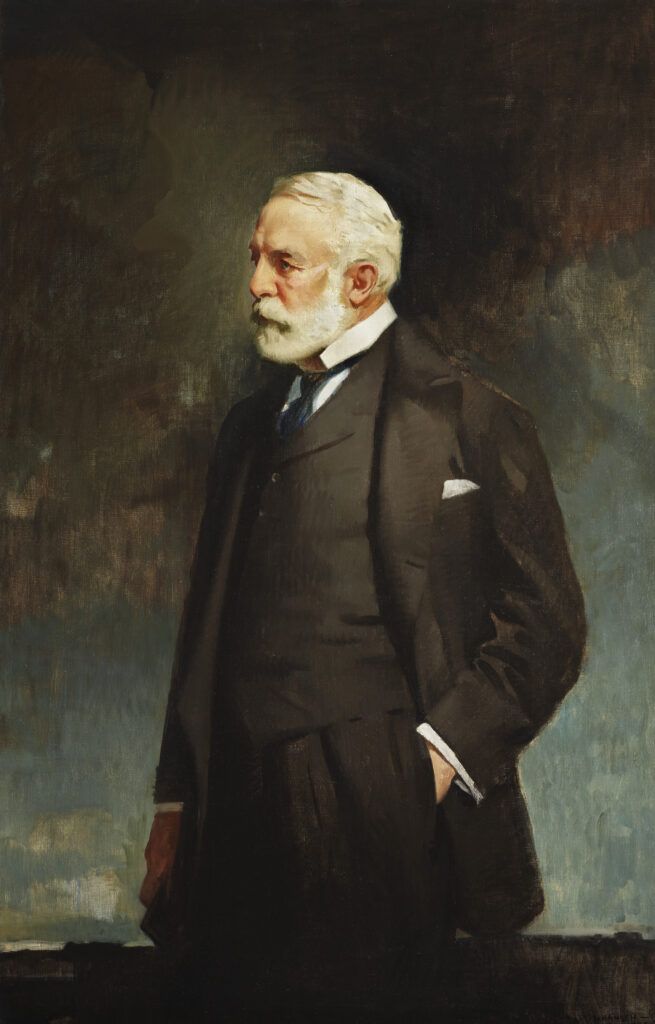 Following his partnership with Andrew Carnegie, Frick emerged as one of the most affluent magnates during the era of the "robber barons" in the United States. He lived in the luxurious Clayton House, which you can still visit today.
After breaking with Carnegie, he decamped from Pittsburgh to New York City in 1901. He built himself a classically-inspired Beaux Arts mansion the width of a city block.
The firm of Carrère & Hastings designed the 1914 structure. Frick went to town decorating its opulently appointed rooms, encasing them in marble, gold brocade, and mahogany. He amassed an amazing old masters art collection.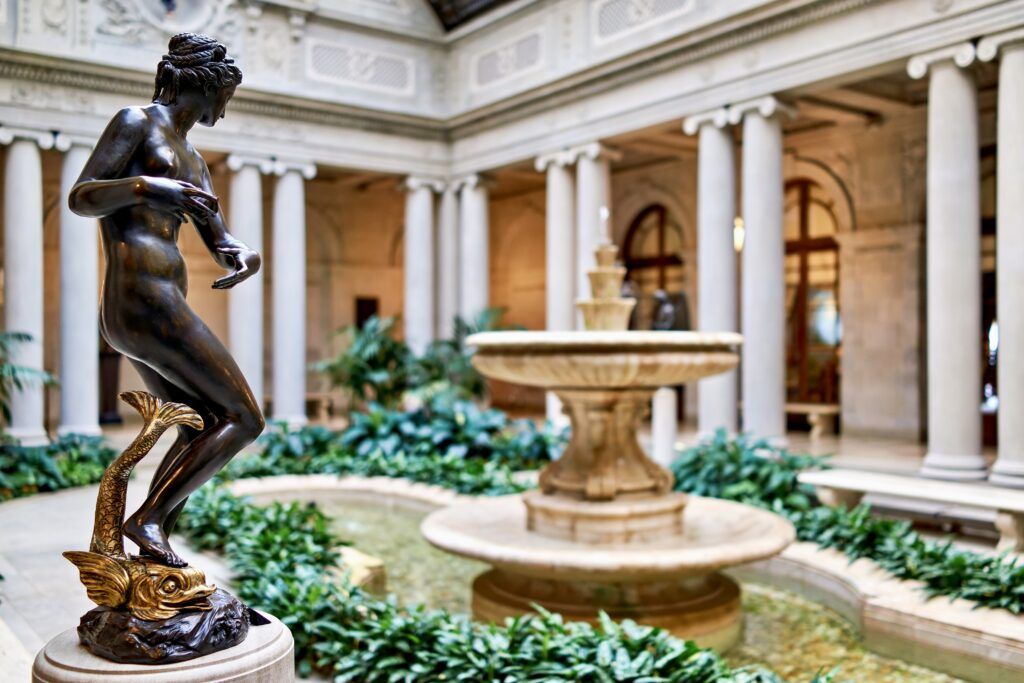 The Frick Collection
Frick's interest in art grew over the years. He began collecting Old Master paintings. His first purchase was in 1881.
Following the fashionable taste of the era, Frick purchased primarily European paintings from the Renaissance through the late 19th century. He had a decided appreciation for works by Rembrandt, Vermeer, Holbein, Goya, and Titian.
Later in life, he expanded into European decorative arts, enamels, Renaissance bronze sculpture, and Chinese and European porcelain. Collecting, Frick said, gave him "more real pleasure than almost anything."
Frick passed away in 1919, but left money for future acquisitions. He left the museum to the public, saying it was "a public gallery to which the entire public shall forever have access."
His wife died in 1931. After that, their mansion underwent a transition and galleries were added.
In 1935, the collection opened as a museum. Over 130 paintings are set amid exceptional sculptures, decorative arts, and period furniture. There are no labels. You can do your own curating.
Frick's mansion itself is a work of art, designed by renowned architect Thomas Hastings. It provides a fitting domestic backdrop for the extremely high quality of the masterpieces within.
Unlike other similar museums, the Barnes Foundation for example, the collections is not frozen in time. New acquisitions are still being added.
Frick's daughter Helen beefed up the collection with some early Renaissance paintings and the famous Ingres portrait. Most recently, the museum was bequeathed 26 works on paper by major artists such as John Singer Sargent, Francisco de Goya, and Elizabeth Vigée Le Brun.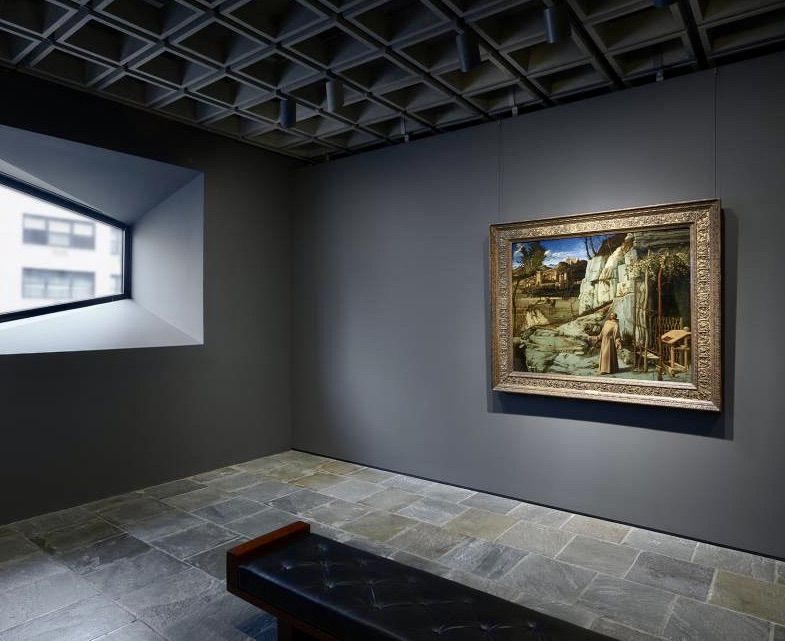 The Frick's Temporary Move
But the Frick Collection grew too large for its space. More room was needed to display a growing collection, host special exhibitions, and add areas for conservation work and education.
Most changes will be surgical, repurposing space, rather than additive. The garden designed by Russell Page, one of the foremost garden designers of the 20th century, will also be restored.
To kick off the renovations, in March 2012, The Frick Collection moved into the Marcel Breuer–designed building at 945 Madison Avenue.
The building once held housed the Whitney Museum of American Art and then a selection of the Metropolitan Museum of Art's modern and contemporary collection.
It's known as Frick Madison. The museum will return to its elegant Gilded Age home on Fifth Avenue at 70 Street, hopefully, by the end of 2024.
Museum or Mansion?
Museum or mansion, which is a better museum experience? If you've visited both places, you probably have a preference. Or perhaps you enjoyed both venues.
I personally adore the setting of private art collection curated by the owner in his or her own mansion. It's an intimate experience that's a stark contrast to the white walls of a museum. You feel like an old family friend.
So, I love small museums like the Isabella Stewart Gardner Museum, The Barnes Foundation, and the Wallace Collection in London.
But I must admit … I really enjoyed seeing Frick's works at the Breuer reframed in such an unprecedented way. Just for a change of pace.
You could see the artworks better is serene isolation, without any distraction from the sumptuous mansion setting. It's just you and the masters in empty rooms with no labels. And, for the type A among us, it was nice seeing them organized by chronology, geography, and art movement too.
Enjoy it for the next year+. This is the only time all the works have been outside the confines of their Frick stomping grounds.
Guide To The Frick Collection: What To See
Here are some of the top masterpieces and artworks you can't miss at the Frick Collection.
1. Duccio, The Temptation of Christ on the Mountain
The Sienese artist Duccio is recognized as a pioneer in the early development of Western art. Although his artworks contained traditional Byzantine elements, he imbued his creations with a sense of lyricism and authentic human emotions.
His figures radiate a distinctive tenderness, offering a glimpse into the artistic trends that would later come to define the High Renaissance. His Maesta in Siena Cathedral is the high point of early Renaissance painting.
In this work, Christ rejects the devil and his offer of material goods. The two central protagonists dominate the space.
Christ's elegant pose and his simple gesture contrast with the dark monolith that is the devil. It has the flowing colors and beautiful design typical of early Renaissance achievement.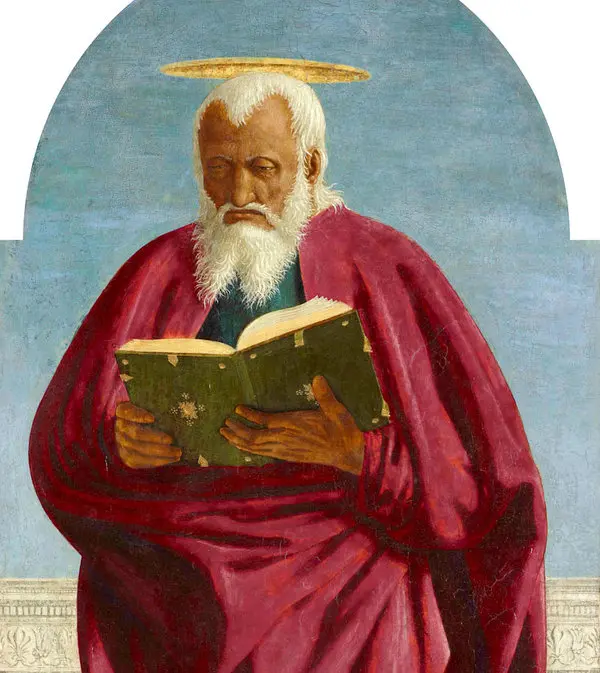 2. Piero della Francesca, St. John The Evangelist
Piero della Francesca is widely regarded as a genius and a foundational artist of the early Renaissance period, known as the Quattrocento. During his lifetime, he was held in the highest esteem, like a monarch among artists.
Piero's works are highly linear and calculated, characterized by an infused calm and geometric sobriety. His cool tones and unmoving figures created a dream-like sense of timeless stillness.
St. John was the first major painting purchased by the Frick after it opened as a museum. The museum has three other Piero works as well.
It's a large panel painting that typifies the artist's style. The saint stands barefoot, in a red cape, on a marble floor. With his customary care, Piero delineated John's weathered features, twin pointed white beard, and strong hands (which are lightly illuminated).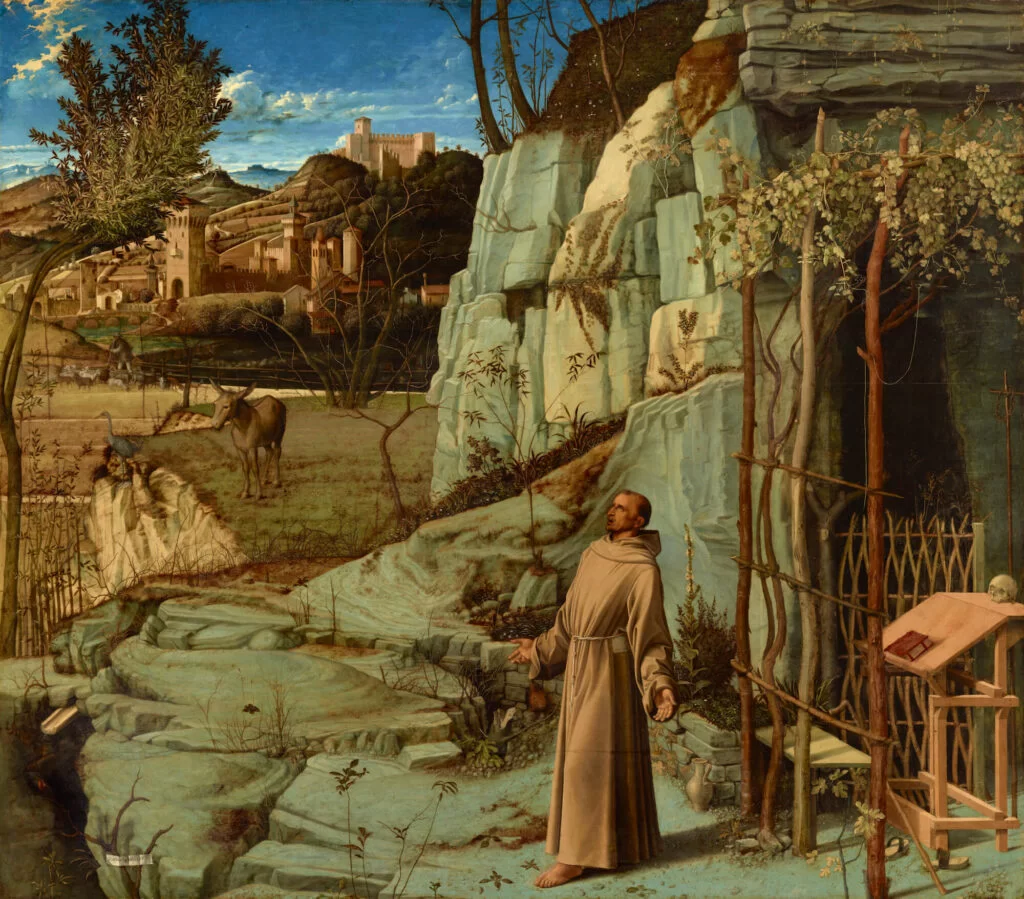 3. Giovanni Bellini, St. Francis in the Desert
This is perhaps the best painting in the Frick Collection. The majestic Bellini has its own room at Frick Madison.
Many art historians consider Bellini's work the most beautiful painting in the United States. It's certainly one of the most famous Renaissance masterpieces in the US.
St. Francis of Assisi is show in a contemplative rocky rural tableau, which imparts a sense of mysticism. It might be situated in the place Francis received his stigmata. And, with outstretched arms, Francis certainly seems like he's going through some things in the painting.
Bellini's exceptional artistry shines through as he expertly renders light, texture, and the beauty of the natural world. Its meticulous details, balanced composition, and the emotional depth are hallmarks of Bellinin's art.
The wildlife (a little bunny, a donkey, and a heron) symbolize Francis' unwavering devotion to the environment and all living creatures.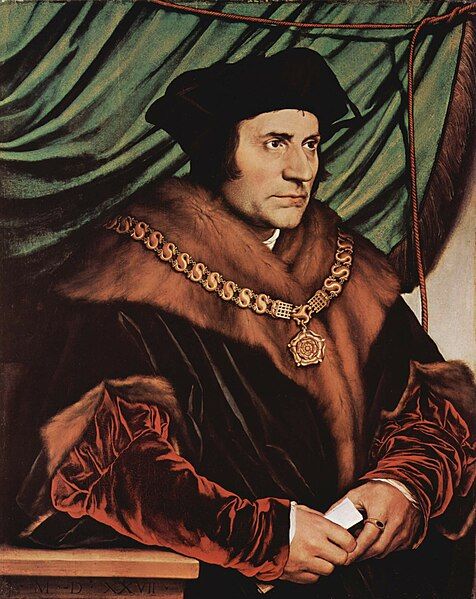 4. Hans Holbein, Sir Thomas Moore
Holbein's two famous paintings of the "Wolf Hall rivals" depict Thomas Moore and Thomas Cromwell.
They usually sit on either side of the Frick's fireplace. Holbein was popular at the court of Henry VIII. Sir Thomas Moore is one of his most riveting portraits.
Moore's portrait is a miracle of elegance and empathy, one of Frick's portraits of principled men. Moore stares fixedly to the right. The chain of office with the Tudor rose pendant marks him as a man in command.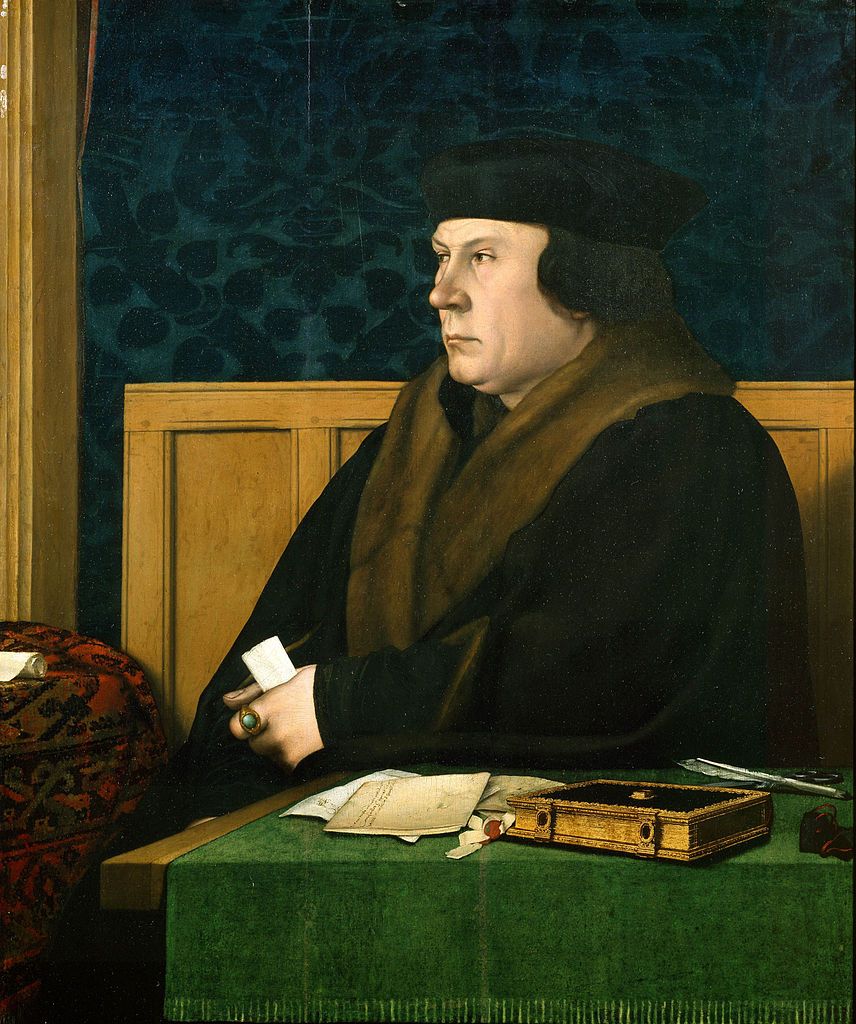 5. Hans Holbein, Thomas Cromwell
Across from Moore is his nemesis Cromwell.
He is, of course, the minister who interrogated Moore and ordered his execution, when he wouldn't go along with Henry's desire to get a divorce or annulment. In a parable of the vagaries of power, Cromwell too was executed by Henry.
In this portrait, Cromwell looks more like a churlish thug, with a severe expression, than a leader. But the portrait is rich in color.
6. Agnolo Bronzino, Ludovico Capponi
Bronzino was a Mannerist painter in the Renaissance court of Cosimo I in Florence. His works are characterized by their meticulous attention to detail, refined compositions, and an elegant (sometimes enigmatic) portrayal of his subjects.
This is an immaculate portrait of a handsome, arrogant, somehow discontented youth. Though his haughty stare still reveals a hint of vulnerability.
The youth is clad in a gorgeous outfit that features a startlingly projecting codpiece. The black and white outfit contrasts with the green drapery in the background.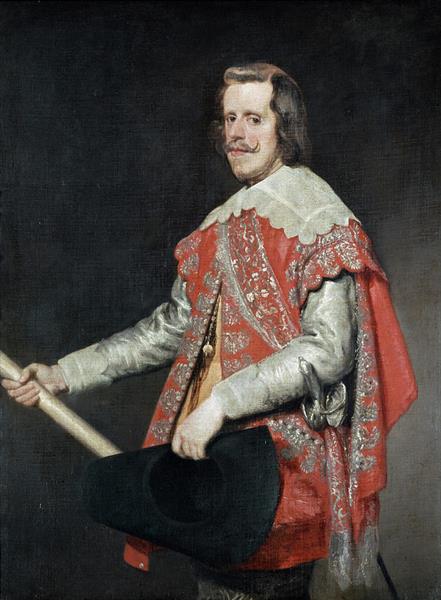 7. Diego Velazquez, King Philip IV of Spain
Diego Velázquez was a Spanish Baroque painter. He was a "painter's painter," renowned for his masterful use of light and shadow and his ability to capture the essence of his subjects with remarkable realism.
The artists was also the official court painter of the king. This 3/4 length portrait has the king's usual glum countenance and slightly sagging jowls.
The king is posing in the silver and rose costume after having just won a battle against the French. Velazquez actually had to paint it quickly under makeshift circumstances.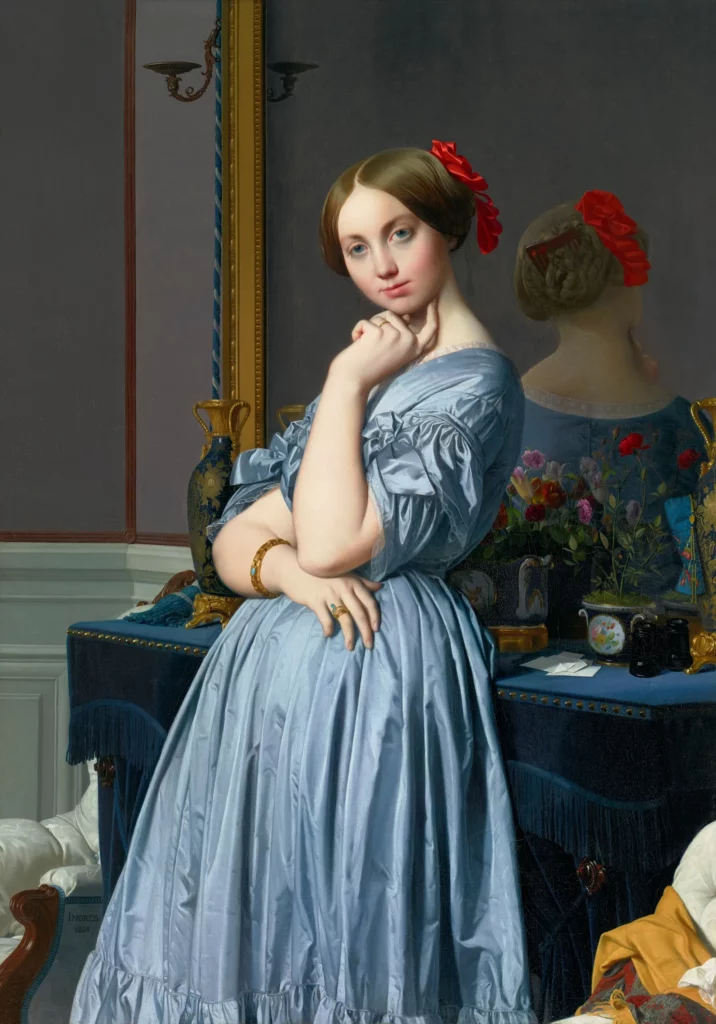 8. Jean-Auguste-Dominique Ingres, Comtesse d'Haussonville
You can't help but fall in love with this painting. Ingres was one of the greatest portrait painters in France.
The young princess in blue satin is Louise-Albertine, rendered with Ingres' famously precise line and impossible beauty. Not a brushstroke is out of place.
She stars out at the viewer with a penetrating gaze, raising her finger to a pulse point on her throat.
Her chignon, adorned by a scarlet ribbon, is reflected in a large mirror installed behind her. Accoutrements of wealth and culture—including gilt-bronze porcelains, opera glasses, and scattered calling cards—abound.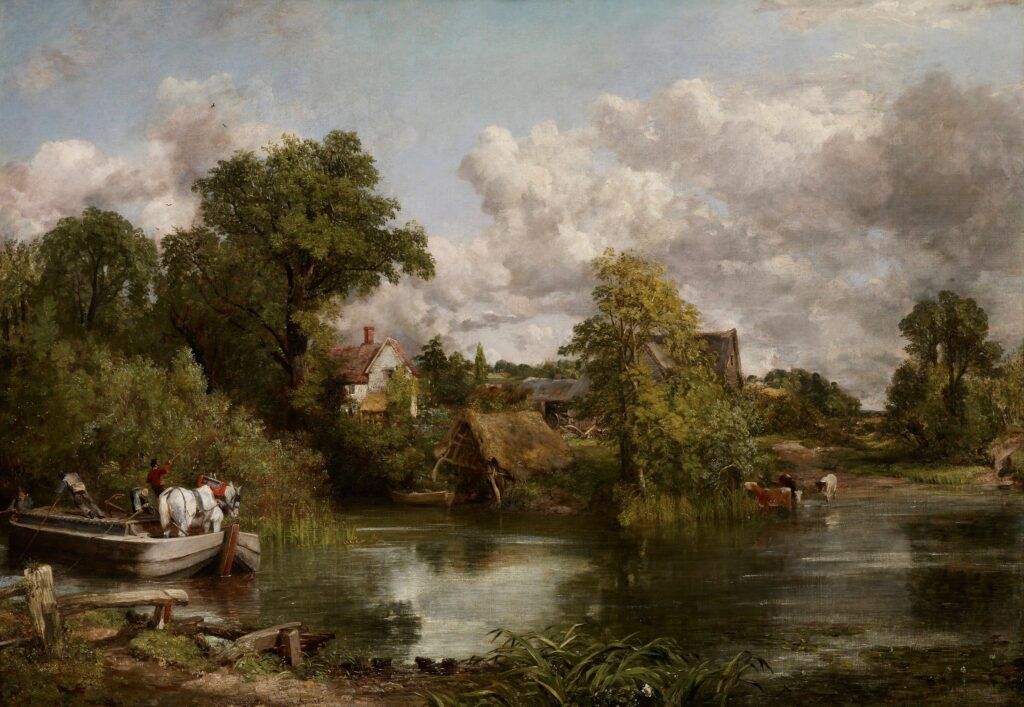 9. John Constable, The White Horse
John Constable was a prominent English landscape painter of the 19th century.
He's celebrated for his masterful ability to capture the natural beauty and atmospheric nuances of the English countryside. He was one of the first artists to work en plain air.
The White Horse is a serene scene, with a close observation of nature. Constable made many studies for the scene. It was one of his favorite works and he kept it until his death.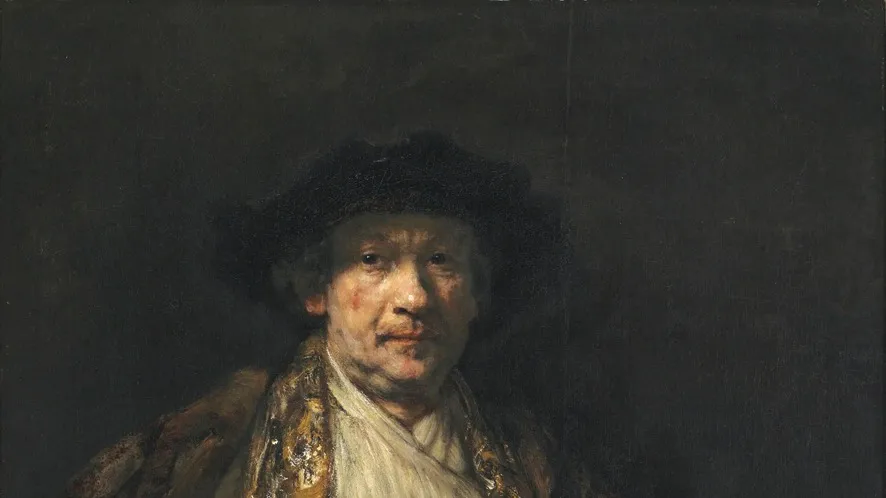 10. Rembrant, Self-Portrait
Frick and his Gilded Age peers loved Rembrandt. The artist's works have an inherent look of luxe.
This very self aware self-portrait was painted in 1658, and is definitely one of the best pieces in the museum. At the time, Rembrandt was sorely beset by personal and professional woes, and it shows in his face.
The artist was 52 when he painted this monumental image. A year earlier, he'd been forced to hawk his art collection. Soon he would lose his home.
But he kept painting, just to bring in some guilders. With that in mind, he portrayed himself in an attention-grabbing style he'd been developing and pushed it hard: rugged brushwork, chunky surfaces, tonal contrasts that could be read from across a room.
Still, despite being near financial ruin, this is Rembrandt at his best. Thick impasto gives his robe a palpable presence. His powerful hands and penetrating eyes, staring right at you, leave an indelible image on your mind.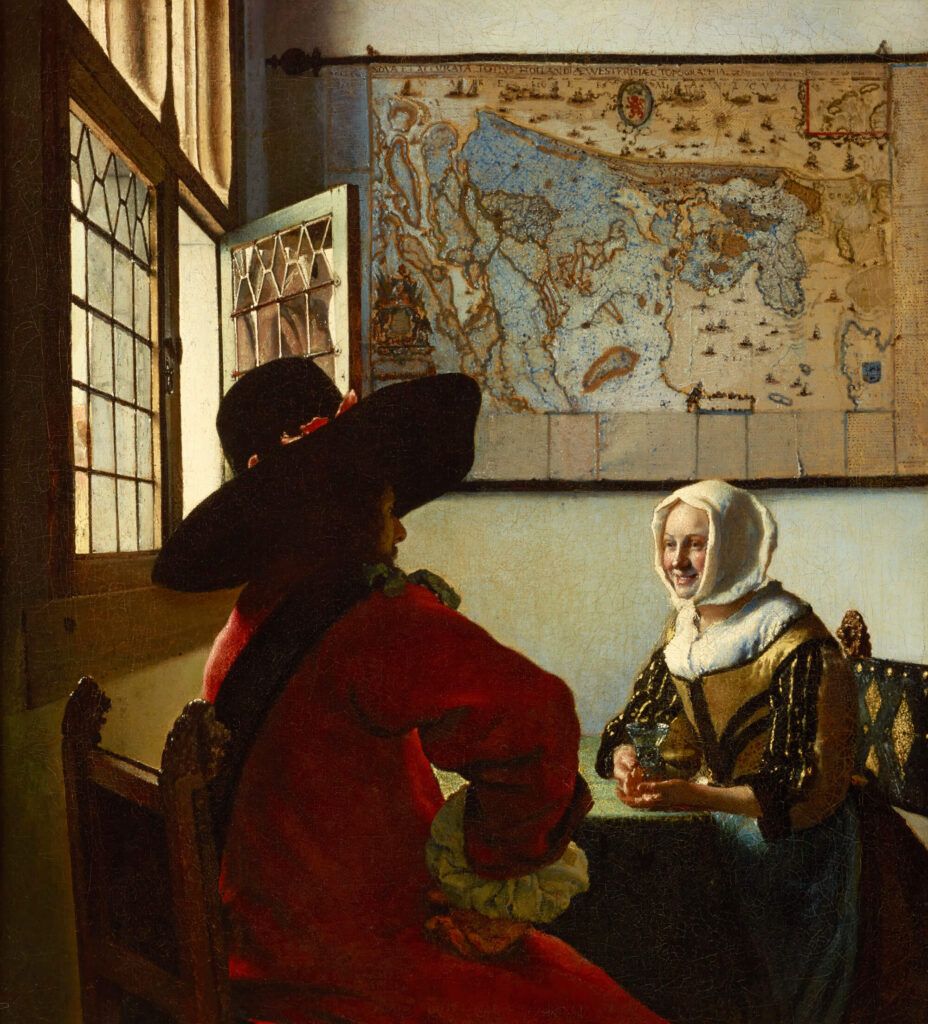 11. Vermeer, Officer and a Laughing Girl
This is the best of three Vermeer paintings in the Frick Collection. The genius in the master of the Dutch Golden Age lies in his depiction of light.
In this painting, daylight streams in through an open window at the left. It illuminates the back wall and the smiling face of the girl.
Across from her is a swaggering officer. You can't see his features.
Vermeer's paintings frequently have a subtext of love. And the officer may be flirting with the girl.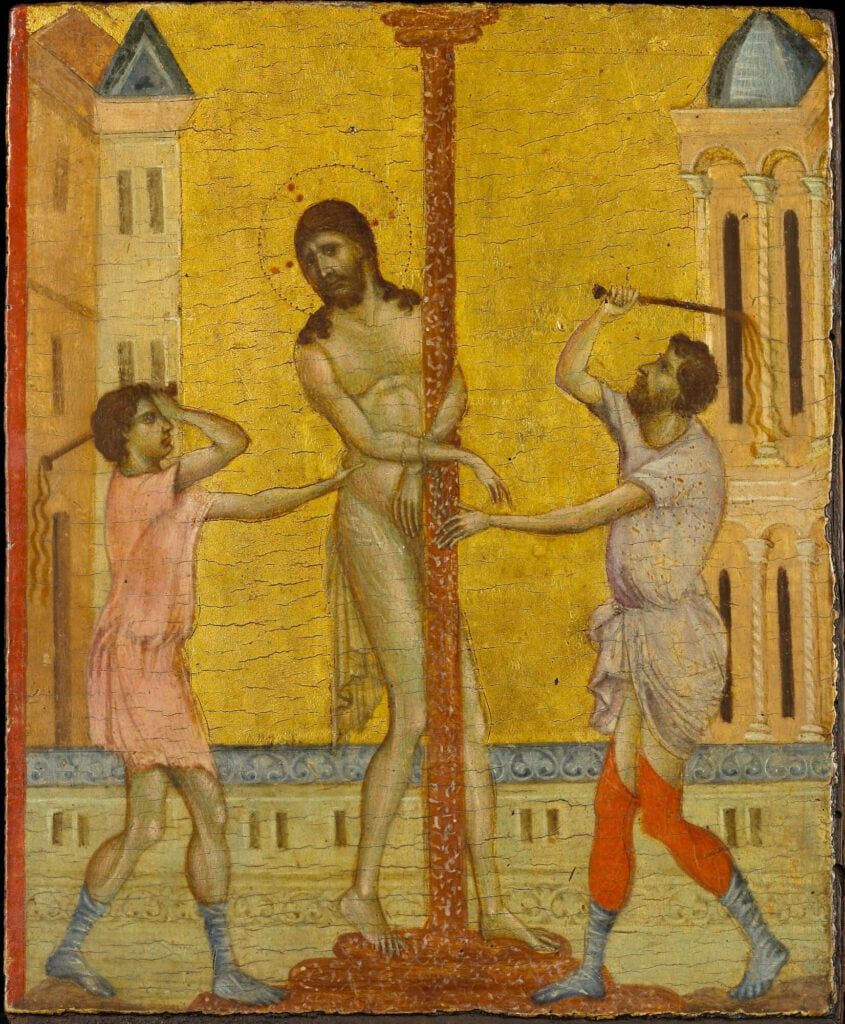 12. Cimabue, The Flagellation of Christ
Cimabue was a great painter and key figure of the 13th century. Like Giotto, he helped move painting from the static Italo-Byzantine style into the more naturalistic Renaissance style.
This is the one and only work by Cimabue in a public collection in the US. And very few of his works survive today. There are some in the Basilica of Santa Croce in Florence, in Arezzo, and in the Basilica of St. Francis in Assisi.
The Frick acquired the Flagellation in 1950. The small devotional panel has a gold ground, typical of medieval paintings in Italy. It shows the flagellation, a key moment in the passion of Christ.
But you can also see that Cimabue is beginning to break the boundaries. There is a suggestion of spatial perspective. Christ is rather elegantly attached to the porphyry column.
Because the panel was so small and his other works so large, there was a debate about authenticiity. Some art historians thought it was a Duccio. But when another Cimabue painting was discovered, it was clear that the Flagellation was part of a larger work, probably a dyptich.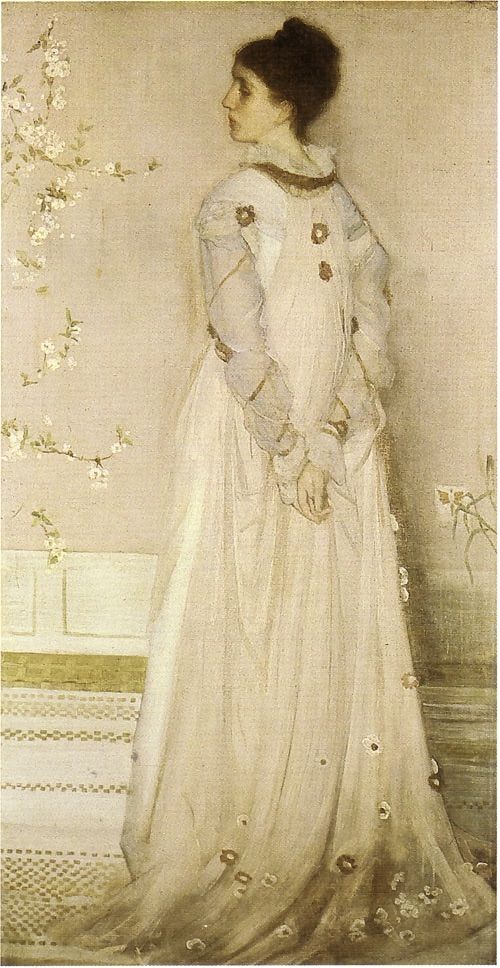 13. James Whistler, Symphony in Flesh Color and Pink
James McNeill Whistler was an American-born painter active during the 19th century.
He's renowned for his innovative approach to art, particularly in the realm of tonal harmony and capturing the ethereal qualities of landscapes and cityscapes.
This portrait of Mrs. Frances Leyland is from 1871-74. You can see his complete commitment to pure line and form. His title describes an abstraction of color akin to music.
The flowing dress is framed by almond blossoms of the same color. After this portrait, Whistler created the famous Peacock Room, which is not in the Smithsonian Museum of Asian Art.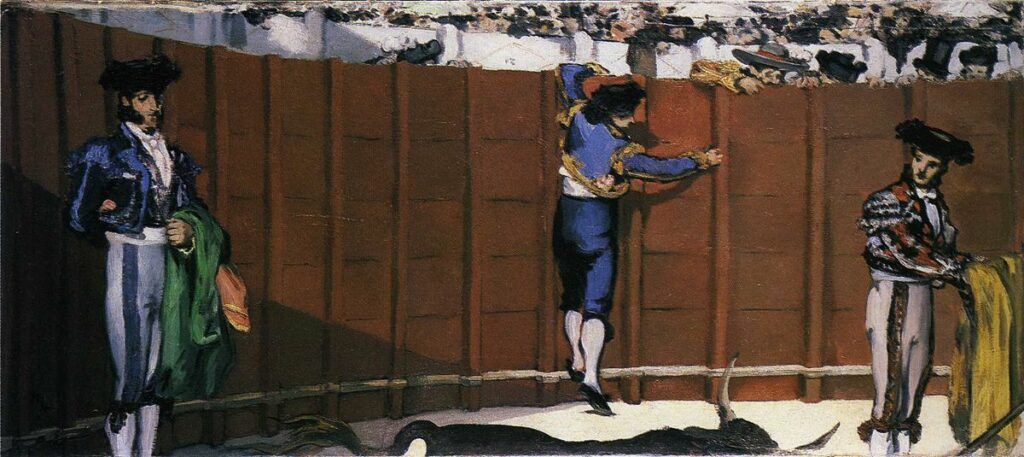 14. Edouard Manet, The Bullfight
Frick mostly collected old masters. But he also bought some French Impressionist paintings from around the turn of the century.
My favorite is the is excellent Edouard Manet painting, The Bullfight. Three brilliantly costumed bullfighters occupy the curved corner of a ring. They are created with abstract patches of color and form, very progressive for the 1860s.
Salon critics ravaged the painting. Manet took it home and cut it in half, reworking both pieces. Its fragmentary style and odd angle gives the painting an immediacy.
The Frick owns the top half. The other half is in the National Gallery of Art In London.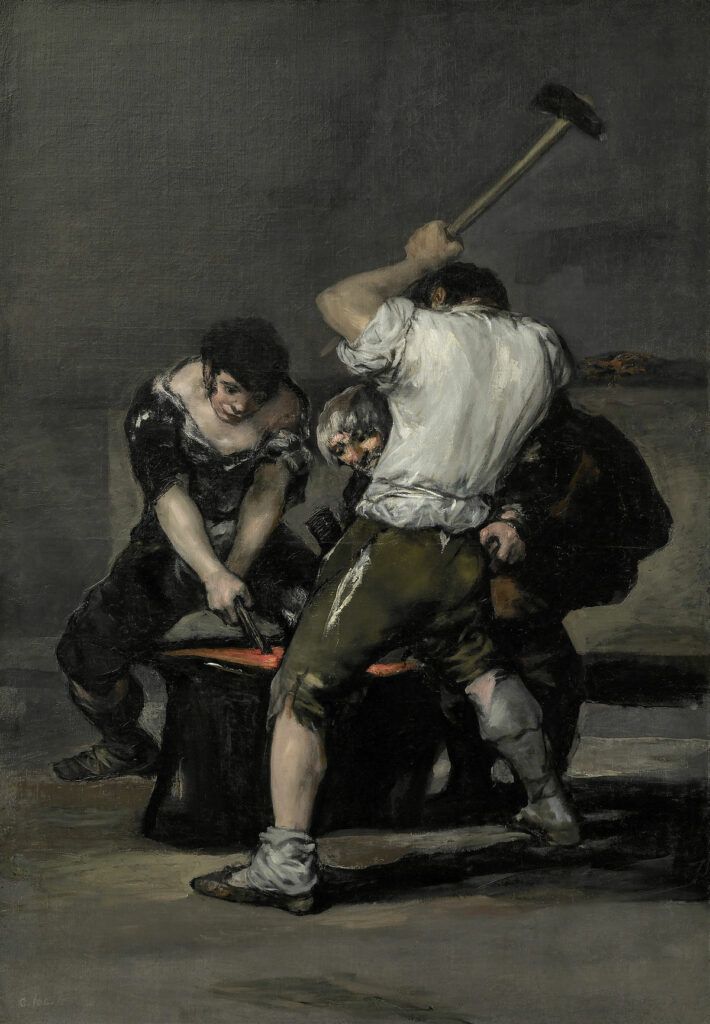 15. Francisco de Goya, The Forge
Francisco Goya was a Spanish Romantic painter celebrated for his unflinching portrayal of the human condition. Though he was a court painter, he seemed to prefer depicting the common man.
In this work three men huddle around an anvil. Their poses and expressions are intense. The black-gray-white color scheme draws you attention to the red patch int he center.
Some art historians think the painting represents the forge of Vulcan, the Roman god of fire, from mythology. But there's not evidence for that.
The roughly executed image was painted at the end of Goya's career, right before the Black Paintings in the Prado Museum.

16. El Greco, The Purification of the Temple
The Purification of the Temple is a significant work by El Greco, a Spanish Mannerist painter known for his expressive and spiritual style.
The painting depicts the intense biblical scene with Jesus cleansing the Temple. The artists used elongated figures and vibrant colors to convey the emotional and religious intensity of the moment.
Frick considered El Greco to be modern. In the collection's old digs, it was hung with Manet and Degas paintings. Another El Greco, St. Jerome, sat above the fireplace next to Moore and Crowell.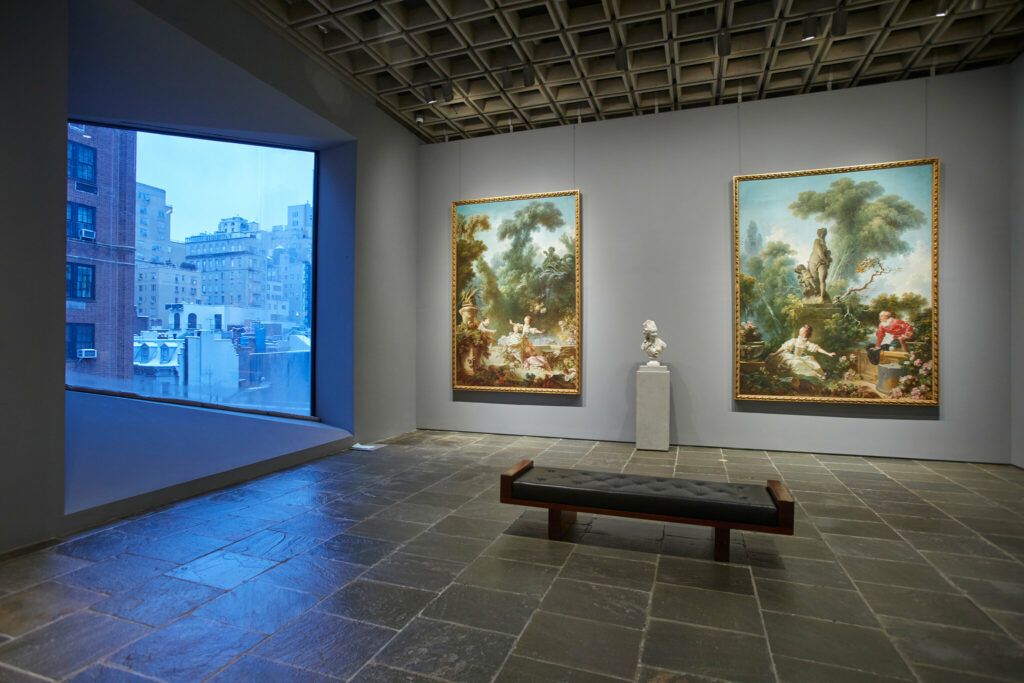 17. Fragonard Room
The Fragonard Room is named after Jean-Honoré Fragonard, one of the most celebrated painters of the Rococo era. Frick bought the paintings from fellow financier J.P. Morgan in 1898.
This room has four large canvases from The Progress of Love series. They depict scenes of courtship and love in a garden setting.
It's a theatricalize stage of euphoric adolescent love, sometimes described as a "French love bomb." Its Rococo showiness departs from the Frick's generally sober temperament.
The colors are gorgeous, the landscapes and profusion of flowers are lush. Love Letters is the last of the four canvases. In it, an adoring couple read their love letters, remembering the course of their affair.
18. Francois Boucher, The Boucher Bedroom
The Arts and Sciences is a delightful series of eight panels created by the Rococo artist Francois Boucher. He's celebrated for his mastery of decorative and playful art, which often featured luxurious and romantic themes.
In each panel, you can see the embodiment of a pair of arts and sciences, Charming young boys and girls flirt and possible hook up.
The realm of arts encompasses painting, sculpture, singing, dancing, poetry, music, comedy, and tragedy. The sciences delve into architecture, fowling, horticulture, chemistry, fishing, hunting, astronomy, and hydraulics.
These scenes, with their charming and slightly whimsical nature, evoke a sense of modern-day cartoons. Yet, beneath their surface lies a depth that becomes apparent upon closer inspection.
It's possible the paintings belonged to Louis IV's mistress, Madame du Pompadour. At the Breuer, they're lit up be a massive trapezoidal window.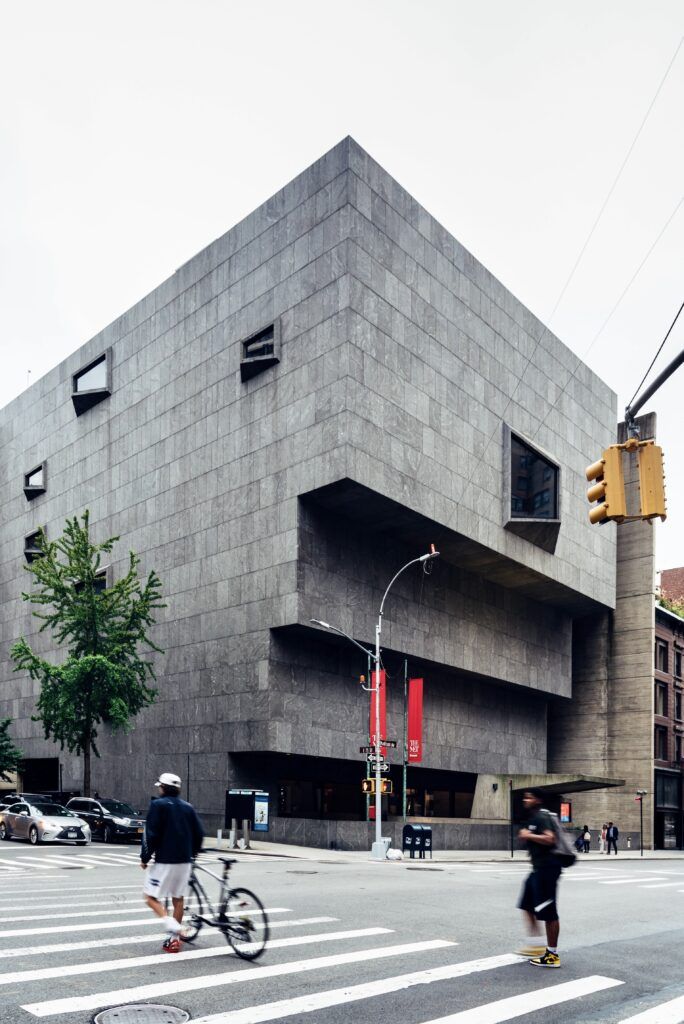 Practical Guide & Tips For Visiting The Frick Collection
Addresses:
Frick Collection (closed for renovations): 1 East 70th Street
Frick Madison: 945 Madison Avenue
Hours: Open Thursday through Saturday from 10:00 am to 6:00 pm.
Tickets:
Adults $22, Seniors $17, Students $12, Youth free. Pay what you wish on Thursday from 4:00 pm to 6:00 pm. Advanced timed entry tickets are strong recommended. Audio guide free.
How Long To Spend At the Frick Collection?
It's a very manageable size museum. If pressed, you can breeze through the collection in an hour or so. First timers or those studying particular paintings may want to allot 2 hours.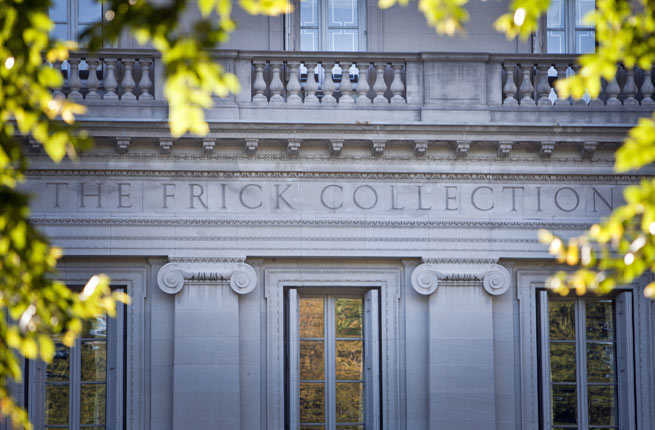 Is the Frick Collection Worth Visiting?
100%!!! Unless you don't like old masters. Though small, this is an incredibly high quality collection.
Every piece of art there is worth seeing. It's a tranquil spot to soak in some fantastic art.
I hope you've enjoyed my guide to the Frick Collection. You may enjoy these other guides to US art museums:
If you'd like to visit the Frick Collection, pin it for later.