Philadelphia is among the best vacation destinations for those who truly appreciate history. In fact, it's a mecca for history buffs.
As the cradle of the American Revolution, Philadelphia boasts a wealth of significant monuments and history museums that pay tribute to the Founding Fathers' visionary pursuits and their quest for liberty.
Whether you're gazing upon the iconic Liberty Bell or exploring the hallowed halls of Independence Hall, you'll be transported back in time to events that shaped our nation.
Philadelphia doesn't stop there — its museums delve into diverse aspects of history, including Jewish heritage, African American contributions, and ancient archaeological discoveries.
History Museums In Philadelphia
Here's my list of the 15 best history museums in Philadelphia. Many of these museums are included in the Philadelphia Go City Pass.
1. Independence Hall
Independence Hall is the ultimate Philadelphia history museum. It's a beautiful steeped Georgian building that witnessed the Declaration of Independence and the United States Constitution were debated and signed.
During your visit, you can embark on a 20 minute guided tour led by a park ranger. These guides excel in storytelling and will captivate you with intriguing historical anecdotes about how these momentous events unfolded.
You'll explore two rooms during your visit: the Courtroom and the Assembly Hall, both showcasing exquisite Georgian architecture.
The Courtroom was the venue for Pennsylvania Supreme Court cases, beginning around 1743. This room has a judge's bench, an iron prisoner's dock, and a lawyer's table.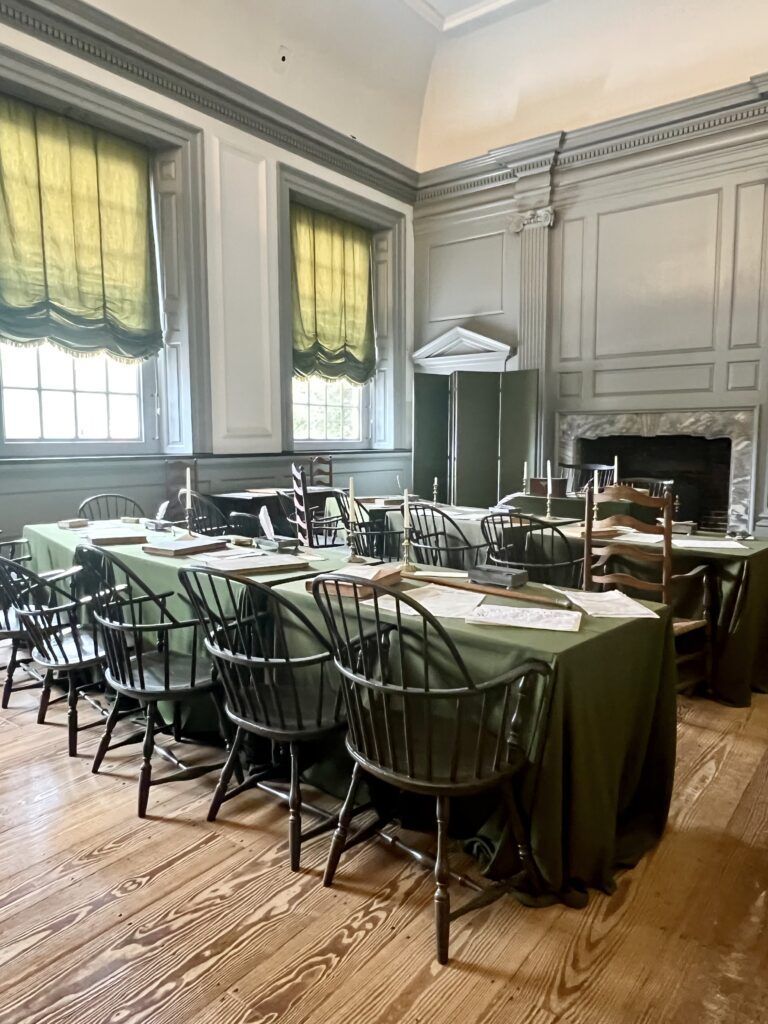 The Assembly Room is where the phrase "We the People" rung out. This room was the primary meeting place for the Second Continental Congress between 1775 and 1783.
It witnessed the signing of both the Declaration of Independence on July 4, 1776, and the U.S. Constitution on September 17, 1787.
Decorated in subdued gray and green tones, the room has wooden desks and benches are arranged in a semi-circle, reflecting the democratic ideals of the era.
At the center of attention is George Washington's iconic Rising Sun chair. It's the sole piece of original furniture in the room.
>>> Click here to book a founding fathers guided tour
Address: 520 Chestnut Street
Hours: Open daly 9:00 am to 5:00 pm
Tickets: You can only visit on a 20 minute guided tour. Tickets are just $1. You can reserve a time slot online

here

.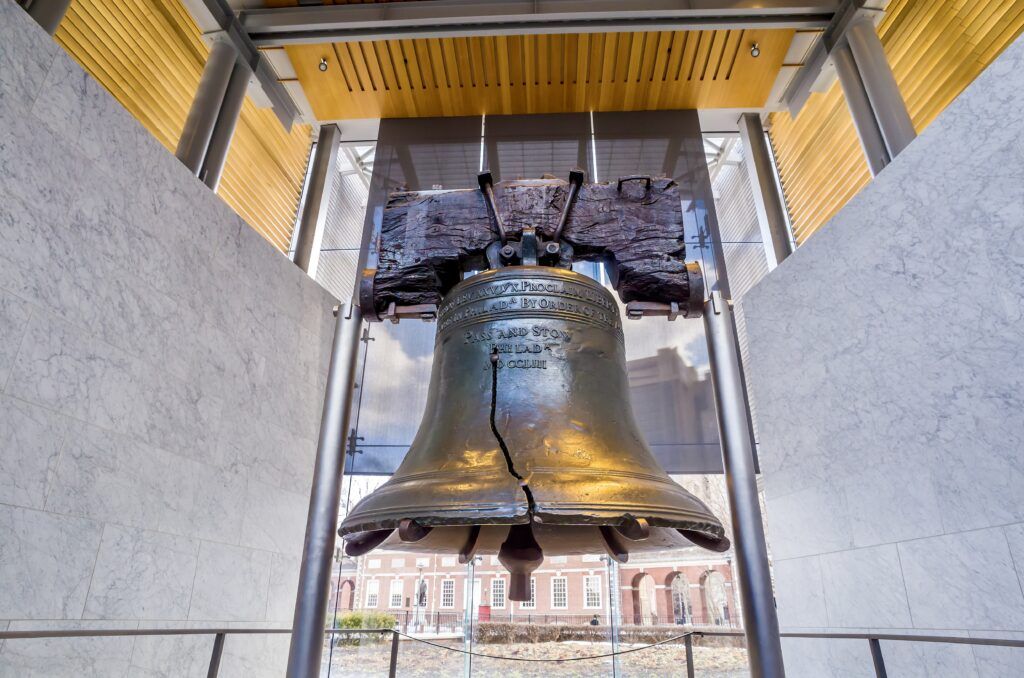 2. Liberty Bell Center
Just steps away from Independence Hall, you'll find the Liberty Bell Center. It's home to the iconic Liberty Bell — a powerful symbol of American freedom and liberty.
Commissioned in 1751 by the Philadelphia Assembly to commemorate the 50th anniversary of the state's constitution, the Liberty Bell was cast in London and originally perched atop Independence Hall.
This bell is renowned for its distinctive gap, often referred to as a crack. The bell was always brittle due to an unstable metal alloy mix. Attempts to repair it failed.
By 1846, it was toneless and silenced forever. The bell was later repurposed and adopted as a symbol of the anti-slavery movement.
Within the center, informative exhibits delve into the bell's history, from its origins and casting to the pivotal events that catapulted it to fame.
Admission to the center is free, with a security check required for entry. If you prefer to avoid the interior crowds, you can still admire this iconic symbol through the glass exterior wall.
Address: 101 South Independence Mall West
Hours: Open daily 9:00 am to 5:00 pm
Tickets: Free
3. National Constitution Center
The National Constitution Center is an interactive museum dedicated to the United States Constitution. It's America's leading platform for constitutional education and debate.
Start your visit to this Philadelphia history museum with Freedom Rising, a powerful 10-minute live multimedia performance providing historical context.
On the ground floor, discover rare artifacts covering the American Revolution and Civil War. Exhibits explore themes like liberty versus slavery, the anti-slavery movement, and women's suffrage.
You'll see portraits of Abraham Lincoln, a cast of his hands, Sandra Day O'Connor's judicial robe, and even a Ku Klux Klan uniform.
Upstairs, don't miss Signers' Hall, an immersive room housing 42 life-sized statues of delegates who signed the U.S. Constitution in 1787. The lifelike statues were created by 50 artists from Studio EIS.
The exhibit features a digital version of the Constitution, which you can sign electronically. Throughout the museum, interactive exhibits allow visitors to vote on Supreme Court cases, swear the presidential oath, and engage with this crucial piece of American heritage.
Address: 525 Arch Street
Hours: Wednesday through Sunday from 10:00 am to 5:00 pm. Closed Monday and Tuesday.
Tickets: $19 adult, seniors + students + youths are $15
4. Museum of the American Revolution
The Museum of the American Revolution chronicles the nation's history from British America to the Revolutionary War's aftermath. In the front of the museum, you'll find 5 canons from the war.
Like the National Constitution Center, you can begin your visit with a 15 minute orientation film, Revolution, in the Lenfest Myer Theater.
You'll find artifacts, artworks, manuscripts, immersive exhibits, and interactive displays depicting America's fight for independence — 18th-century war gear, Washington's headquarters flag, a privateer ship, and booties crafted from a Redcoat's jacket.
Among its most iconic treasures, George Washington's field tent takes center stage in a specially designed theater. It served as his mobile command center during the Revolutionary War.
In 2016, the museum recreated America's inaugural Liberty Tree, symbolizing the 13 original colonies with hanging lanterns.
For history enthusiasts, a comprehensive exploration of the museum's exhibits could occupy 2-3 hours of your time.
Address: 101 3rd Street
Hours: Open daily 10:00 to 5:00 pm
Tickets: Adults $24. Seniors & students $19
5. Penn Museum
Founded in 1887, the Penn Museum is a world renowned archaeological institution. It boasts a vast and diverse collection of over one million objects that spans millennia and continents.
Visitors to the Penn Museum embark on a journey through the annals of human history and anthropology.
The museum's galleries house an array of artifacts, from ancient Egyptian mummies to towering Maya stelae, offering a profound insight into the cultures and civilizations that have shaped our world.
The museum's hallmark is the majestic (and now renovated) Harrison Rotunda. The entire museum has been newly restored, adding 10,000 feet of gallery space, at the tune of $33 million.
In the newly renovated main entrance, the colossal 3,000 year old granite Sphinx of Ramses II stands as a sentinel. It's the largest sphinx in the Americas, weighing in at 12 tons, and the 6th largest in the world.
The main entrance with arched doorways evokes a palace. It has a bright blue wall covered floor to ceiling with geometric shapes in black steel by Brazilian artist Jorge dos Anjos.
Other must sees in the museum are the Aphrodite Statue from ancient Greece, the Ram in the Thicket from Iraq, the Gilded Mask from Egypt, and a Roman mosaic from Tunisia.
Address: 3260 South Street
Hours: Tuesday through Sunday from 10:00 am to 5:00 pm, closed Mondays
Tickets: $18 for adults, $16 for seniors, and $13 for students with ID
6. Mütter Museum
The Mutter Museum describes itself as "weird" and "disturbingly informative." So you might guess that it offers an unconventional museum-going experience.
Its collection, curated by Thomas Dent Mutter and donated to the College of Physicians of Philadelphia in 1859, is a testament to medical history and human suffering.
The museum houses over 20,000 objects, though only a fraction is on public display. It's Victorian-era museum where you journey back in time. The Mutter confronts themes of death, illness, and unusual pathologies with unflinching honesty.
There is an array of skulls, skeletons, anatomical specimens, wax models, and preserved abnormalities. It serves as a stark reminder of a time when medical science grappled with the unknown.
While it draws over 160,000 visitors annually, this museum may not be suitable for the faint of heart. Some exhibits are unsettling, shedding light on how human tragedy was once treated as a spectacle.
Address: 19 S 22nd Street Philadelphia PA 19103
Hours: Wednesdays–Mondays, 10:00 am to 5:00 pm, closed Tuesdays
Tickets: Tickets are $18. Unfortunately, the Mutter Museum is no longer included in the Philadelphia Go City Pass.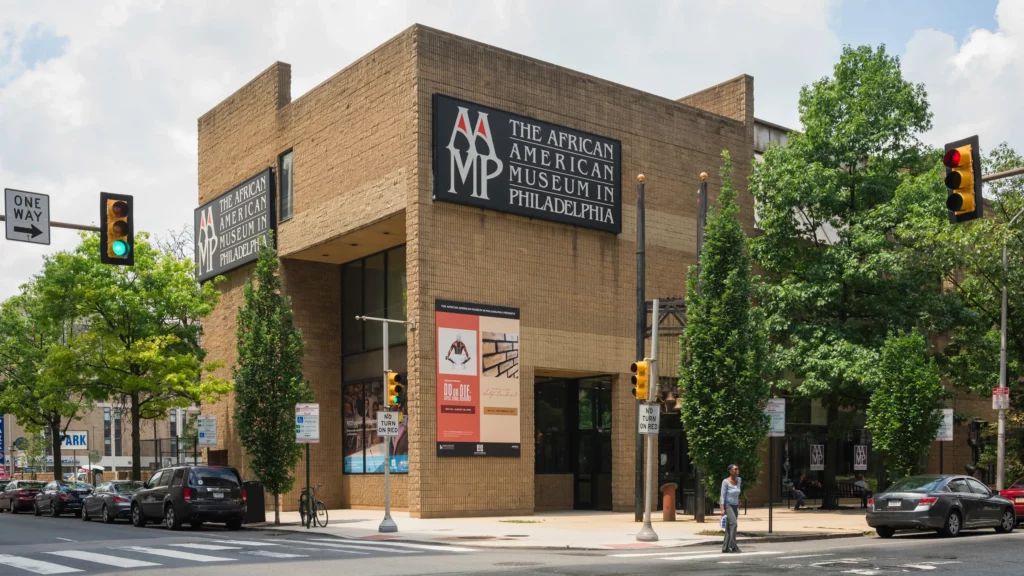 7. African American Museum in Philadelphia
The city's African American Museum holds a significant place in the cultural landscape of the city. Established in 1976 during the US Bicentennial celebration, the museum's mission is to honor and educate the public about the African American experience throughout American history.
Conveniently located in Old City, near iconic sites like Independence Hall and the Liberty Bell, AAMP showcases a diverse collection of artifacts, art, documents, and multimedia exhibitions.
These exhibits cover a wide spectrum of topics: early Colonial experience, the African diaspora, the Civil Rights Movement, and contemporary African American culture.
Visitors can explore art, photography, historical documents, and interactive displays that illuminate the history, achievements, and struggles of African Americans.
The Jack T. Franklin Collection is particularly impressive. He was a journalist who documented the Civil Rights Movement in Philadelphia and the South. His photographs are a who's who of America in the 1960s.
The museum offers more than just static exhibits. It also hosts educational programs, workshops, lectures, and special events that engage visitors and foster a deeper understanding of African American heritage.
Address: 701 Arch Street
Hours: Open Thursday through Sunday from 10:00 am to 5:00 pm
Tickets: Free
8. Eastern State Penitentiary
Eastern State Penitentiary is a former prison in ruins turned into a historic site. Even its acronym — ESP — is creepy.
Established in 1829, ESP was a groundbreaking prison aimed at fostering genuine remorse in inmates. Its design of radial floor plans and unique use of solitary confinement laid the foundation for global prison reform efforts.
ESP's exterior featured impressive Neo-Gothic architecture, including towering walls, turrets, and eerie gargoyles. Inside, it resembled a monastery with high vaulted ceilings and cells equipped with "eye of God" skylights.
In alignment with progressive Enlightenment principles, prisoners were isolated. This was to encourage self-reflection and a desire for repentance and transformation.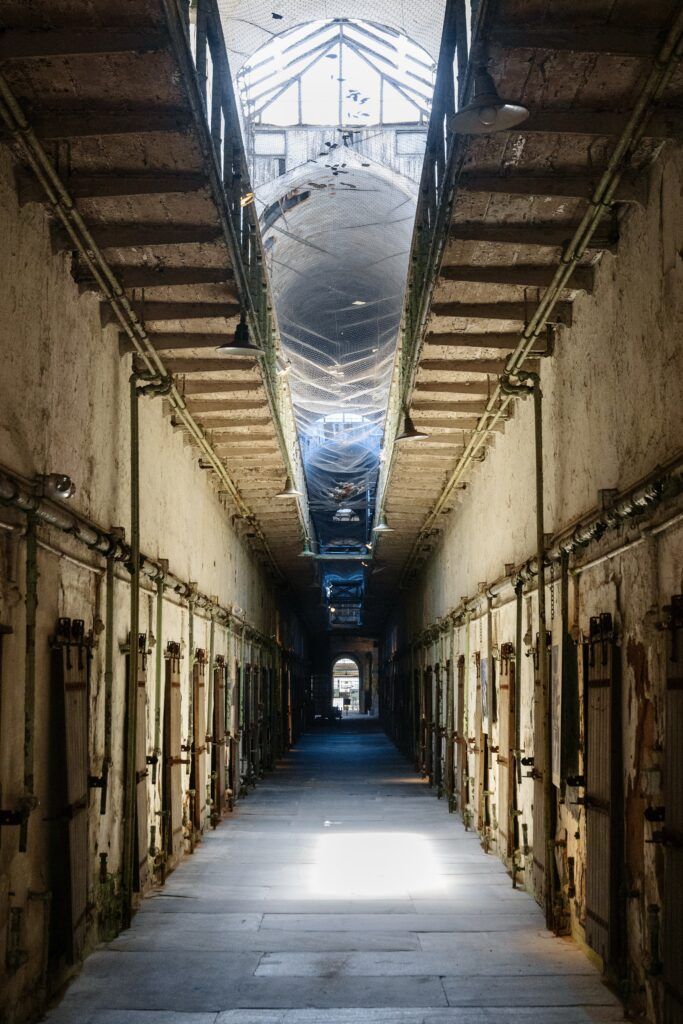 However, this Quaker-inspired approach, while noble in intent, failed to miraculously rehabilitate prisoners. As Charles Dickens had predicted, isolation was "cruel" and "brain-altering."
Regrettably, many inmates remained unremediated and turned into repeat offenders. Furthermore, ESP suffered from overcrowding, disease outbreaks, and crumbling infrastructure, leading to its permanent closure in 1971.
Today, you can tour the semi ruined cellblocks, see Al Capone's restored cell, learn about famous prisoners, and learn about the state of the American penal system.
Address: 2027 Fairmount Avenue, Philadelphia, PA 19130
Hours: Open daily 10:00 am to 5:00 pm
Tickets: Self guided tours are $21. Click

here

to pre-book a ticket.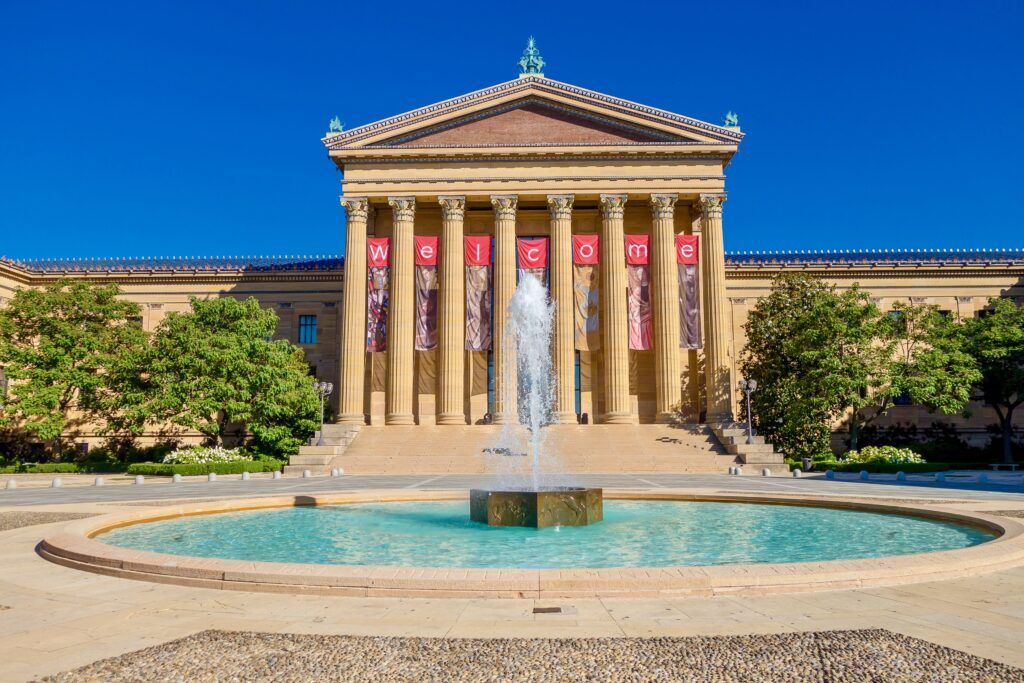 9. Philadelphia Museum of Art
While primarily an art museum, it does feature a historical collection of armor and arms, from the Middle Ages to the 19th century. it's one of the best of its kind in the world.
Within this collection, visitors can explore an array of European armor that shed light on European warfare, fashion, and craftsmanship through the ages. The core of the collection was gifted to the museum by Carl Otto Kretzschmar von Keinbusch.
Alongside these European treasures, the museum houses a diverse selection of Asian and Middle Eastern weaponry, including samurai armor and swords. You can learn about the martial traditions of these countries.
What sets this collection apart is not just its functional aspects but also its aesthetic appeal. Many pieces are adorned with intricate engravings, etchings, and decorative elements, showcasing the artistic talents of the time.
You'll be astonished to find a full set of armor made for a child.
Address: 2600 Benjamin Franklin Parkway
Hours: Open Thursday through Monday from 10:00 am to 5:00 pm. On Friday night, it's open until 8:45 pm.
Tickets: adults $30, seniors $28, students $14, under 18 free
10. National Liberty Museum
Liberty comes to life at the National Liberty Museum. The museum explores the concepts of freedom, liberty, and civic responsibility through art and interactive exhibits.
The collection is displayed over four floors. It includes a wide range of exhibits, focusing on themes such as human rights, diversity, and the importance of civic engagement.
Visitors can explore art and artifacts, with a particular emphasis on the stories of individuals who have made a positive impact on their communities and the world.
Through its displays and educational programs, the museum aims to inspire visitors to champion liberty, equality, and social justice.
Address: 321 Chestnut Street
Hours: Open 10:00 am to 5:00 pm, closed Tuesday and Wednesday
Tickets: $12 adult, seniors $10, students $8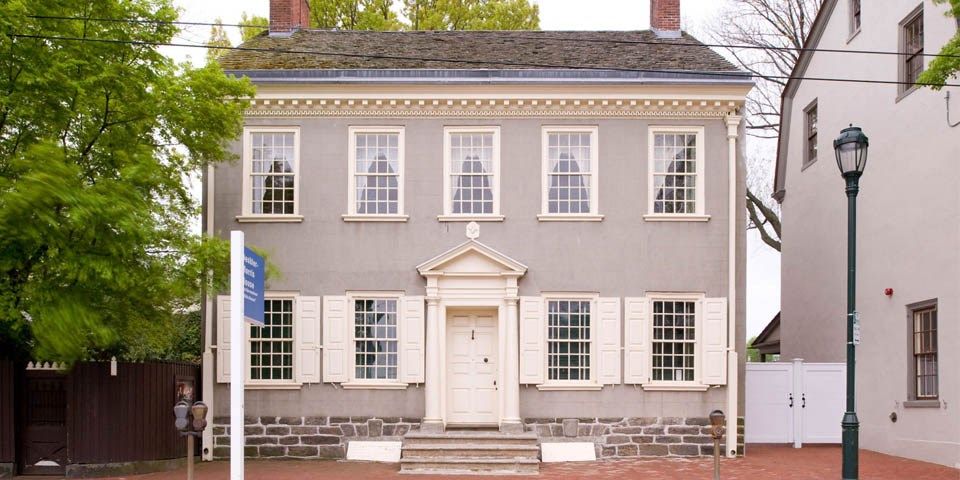 11. Germantown White House
The Germantown White House, also known as the Deshler-Morris House, is a historic house located in Philly's Germantown neighborhood. Built in 1752, it's the oldest surviving presidential residence in the United States. The house was listed on the National Register of Historic Places in 1972.
The home once served as the residence and headquarters of President George Washington during a portion of his presidency.
In 1793, Philadelphia was the temporary capital of the United States. During a Yellow Fever outbreak, President Washington moved to the Germantown White House to escape the disease prevalent in the city. He lived and conducted official business from the house for several months.
The Germantown White House is now a Philadelphia history museum and historic site, open to the public. Visitors can explore its historical significance, view accurate 18th century period furnishings, and learn about the history of President Washington's time there.
The original furnishings and personal belongings of George Washington and his family are not there. They are held in various museum collections, including at Mount Vernon.
Address: 5442 Germantown Avenue
Hours: temporarily closed
Tickets: No ticket is required
12. Fireman's Hall Museum
The Fireman's Hall Museum is a specialty history museum that showcases and pays tribute to the history of firefighting in Philadelphia. It's housed in a restored fire house built in 1902.
It boasts a premiere collection of vintage equipment and exhibits on the city's fire companies.
You'll see fire apparatus, firefighting tools, uniforms, photographs, prints, and fire masks. There are even hand drawn engines from the 18th century.
There are hands on and interactive exhibits for kids. You can hop on and "steer" a fireboat. Or play the museum's "when to call 911 game."
Address: 147 North Second Street
Hours: Tuesday through Saturday from 10:00 am to 4:00 pm. Open until 9:00 pm on the first Friday of the month. Closed Sunday and Monday
Tickets: Free with donations welcome
13. Weitzman National Museum of American Jewish History
This museum is dedicated to preserving and showcasing the profound historical contributions of American Jews to the United States.
The museum's exhibits and collections cover a wide spectrum of themes and historical eras. Its core exhibition recounts the journey of Jewish immigrants to America, emphasizing their experiences, challenges, and accomplishments, and highlighting their enduring influence on American culture, politics, and society.
Interactive exhibits engage visitors in a hands-on exploration of Jewish history and identity. The museum also regularly hosts temporary exhibitions that delve into specific aspects of American Jewish history and contemporary issues facing the American Jewish community.
There is a diverse array of artifacts, documents, photographs, and personal stories. In addition, the museum provides educational programs for all age groups.
Address: 101 South Independence Mall East Philadelphia PA
Hours: Friday through Sunday 10:00 am to 5:00 pm. Docent tours are 11:00 am and 2:00 pm. Admission is on a first come first served basis.
Tickets: Free
14. Betsy Ross House
The Betsy Ross House is a historic site and history museum in Philadelphia's Old City. This was the home of Betsy Ross, who may or may not have been the creator of the first American flag.
Born in 1752, Betsy Ross is a beloved figure in American history. She was a skilled and prolific upholsterer and seamstress.
According to legend, George Washington visited her to ask her to make the first Stars and Stripes flag. She made some changes to his design, like putting the stars in a circle with five points instead of six.
True or not, the legend has persisted for more than a century. The early design for the American flag is still known as the Betsy Ross Flag.
On a visit to her home, you can see 6 restored rooms with period furniture from the 18th century and a replica flag. There is a Betsy reenactor on hand in the upholstery room, who will regale you with tales from past times.
Address: 239 Arch St
Hours: Open daily 10:00 am to 5:00 pm. December through February, the museum is closed on Tuesday.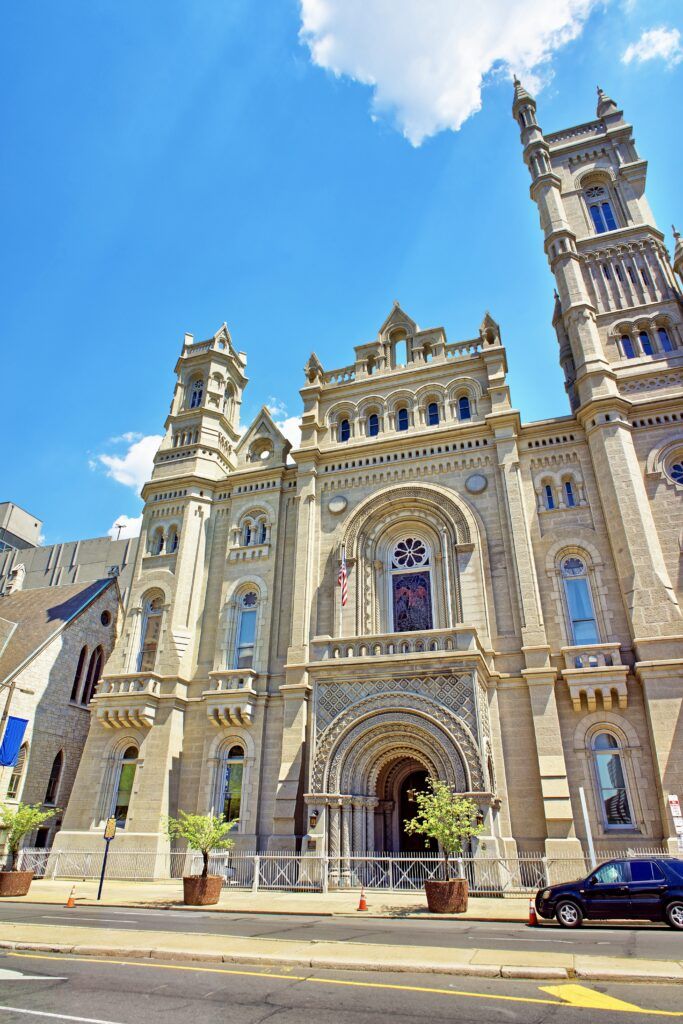 15. The Masonic Temple
The Masonic Temple is right by City Hall. For 150 years, it's been home to the Grand Lodge of Free and Accepted Masons of Pennsylvania. It's the world's oldest continuously existing mens only fraternal organization.
And their digs are fantastic! It's a beautiful building, an architectural jewel really. It was designed in the Norman medieval style by James Windrim, one of the finest architects of the era. It almost looks like a cathedral.
Inside, there are seven lodge rooms, a library, museum, Renaissance Hall, and Egyptian Hall. You'll be dazzled by the rich interior, exquisite furnishings, frescos, and statuary.
The Grand Lodge Room is a highlight, featuring a stunning ceiling with a large central dome surrounded by murals and symbols significant to Freemasonry.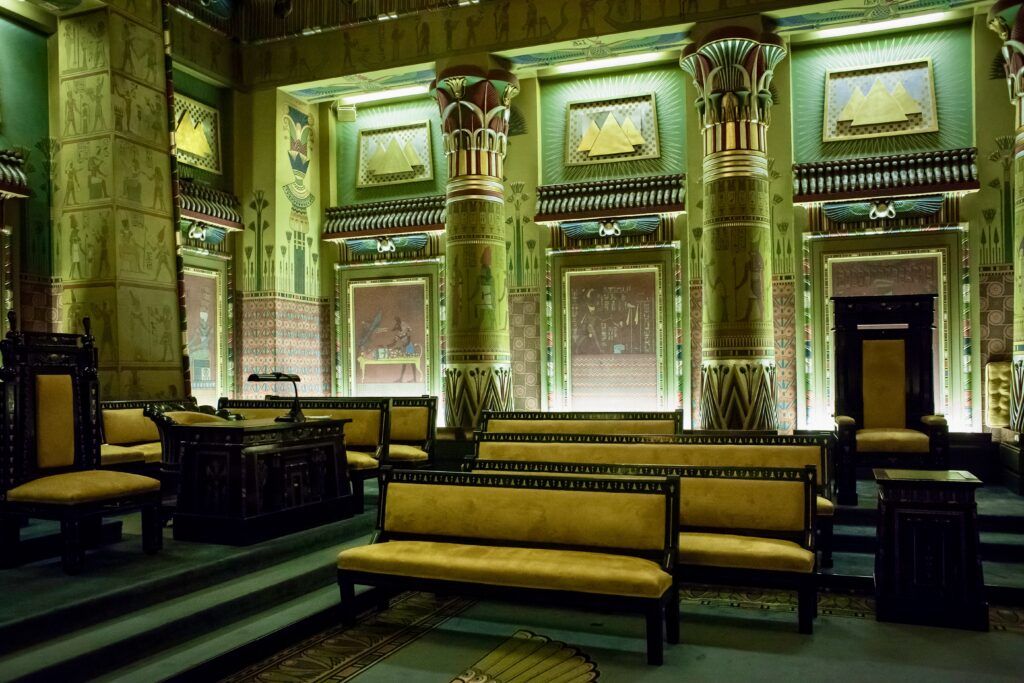 The Egyptian Hall is the real showstopper and crowd favorite. It's an incredibly ornate space. 12 huge columns flank the walls of the room. The walls are decorated with scenes and gods similar to those found on ancient Egyptian walls and tombs.
The museum houses a vast collection of 30,000 artifacts and Masonic items, including General George Washington's apron and Benjamin Franklin's sash. There's a famous portrait of Andrew Jackson by Charles Willson Peale.
Address: One North Broad Street
Hours: 9:00 am to 5:00 pm, closed Sunday and Monday
Tickets: You can only visit on a $15 one hour guided tour. They are offered Tuesday through Saturday at 1);00 am, 11:00 am, 1:00 pm, 2:00 pm, and 3:00 pm.
I hope you've enjoyed my guide to the best history museum in Philadelphia. You may enjoy these other Philadelphia travel guides and resources:
If you'd like to visit Philadelphia's amazing history museums, pin it for later.