The Pennsylvania Academy of Fine Arts ("PAFA") is the country's oldest art academy and museum. It houses some of the greatest hits of American art from the 18th to the 20th centuries.
There's a noble group of portraits by Gilbert Stuart and magnificent artworks by Benjamin West, Thomas Sully, John Neagle, Thomas Eakins, Charles Willson Peale, and other painters.
It's a collection as rich in historic portraiture as it is in historic art. And it's all displayed in a gorgeous Victorian interior, which makes it a joy for serious art lovers.
But PAFA isn't just full of famous faces of the Founding Fathers. The museum has consistently added modern works to its expand and diversify its collection, sticking with its theme of American artists.
Inexplicably, despite its treasure trove, the museum is an underrated hidden gem in Center City. It's a serene temple-like museum where you can contemplate great art in peace. I've visited twice and the galleries were practically empty.
Plus, the building itself is gorgeous. It's a national historical landmark that's been fully restored.
This PAFA guide gives you a short history of the museum and identifies and describes its must see masterpieces. I think you'll find that the PAFA is well worth visiting!
History Of The PAFA
The Academy was established in 1805 by artist Charles Willson Peale, his son Rembrandt, sculptor William Rush, and 68 other Philadelphians. It opened on Chestnut Street in 1806 at a time when Thomas Jefferson was president.
In 1807, the academy had its first exhibition, featuring artworks by the Peales, British artists of the time, and Benjamin West.
West was an influential American artist who spent much of his life in England. But he still played a significant role in the museum's early years. And many of America's finest artists were his pupils.
After a fire in 1845, the academy moved to its current home in 1876. It's the creation of Frank Furness, a master of Victorian Gothic architecture. The facade is polychromed red brick overlaid with sculptures.
The museum interior is elaborately decorated. The three story staircase was studded with silver stars and topped with a cerulean blue ceiling. The walls are covered in stylized flowers against a rich red background.
Even the marble floors are gorgeous. All this is lit with natural light from skylights above.
At one point, purists decided it was all a bit too much and the ornate decor was covered. Thankfully, this was corrected during a renovation in the early 1970s.
In 2005, the academy opened the Samuel M.V. Hamilton Building next door. It's on the other side of the Claes Oldenburg's towering Paint Torch sculpture. 25,000 square feet of exhibition space feature works by students and contemporary artists.
The museum recently cleared out the bulk of its permanent collection for a major exhibit called Rising Sun. It will be interesting to see how it reimagines the collection when it returns home. And how long it will take to get the works in place.
Guide To The Pennsylvania Academy Of Arts: What To See
Here are some of the must see masterpieces and things you can't miss at the PAFA.
1. Benjamin West, Death on a Pale Horse
This is an enormous canvas by West, over 25 x 14 feet. It's inspired by the biblical passage from the Book of Revelation, which reads: "And I looked, and behold a pale horse: and his name that sat on him was Death, and Hell followed with him."
It's a dramatic and chaotic painting. The Four Horseman of the Apocalypse destroy man and all living things in every direction. Buildings are in ruins, and people are in distress, fleeing from the relentless advance of death.
In the painting's foreground, a mother and infant son are struck down. Lions and a wild bull attack the crowd.
West was a Neo-Classical painter. But this work shows his style moving in the direction of the Romantics. Did they inspire him or did he inspire them?
The painting was almost destroyed during the fire of 1845. It was only saved by a gallant fireman who cut the painting from its frame. It was West's last major work.
2. Gilbert Stuart, George Washington (Landsdowne Portrait)
The academy owns a whopping 24 paintings by Gilbert Stuart. It's the best representation of his work in any museum, period.
In 1775, Gilbert Stuart set sail for London where Benjamin West welcomed the destitute young man into his home. Stuart later painted in Philadelphia from 1795 to 1805, a time when he was at the height of his powers. He was especially renowned as painter of men of vigorous personality and intellect.
His first successful painting was The Skater (Portrait of William Grant), which is now in the National Gallery of Art in Washington D.C. in 1782, Stuart's avowed purpose in returning to the United States was to paint the portrait of the president.
His Portrait of George Washington, known as the Landsdowne Portrait, is the piece de resistance of the PAFA. It's a full length portrait of Washington. It's a ceremonial picture in the "Grand Manner" of European painting of the time, full of dignity and representing Washington as the head of the nation.
Stuart painted several copies of the portrait. The academy's, however, is the original. The museum also owns an Athenaeum-style portrait of Washington, a head shot of the great man.
3. Charles Willson Peale, Artist in his Museum
Peale was one of the first portrait painters in the colonies. His Artist in his Museum painting is one of the academy's most interesting historical portraits.
Peale painted in when he was 83. It was his last major painting, and is part advertisement and part philosophical statement about the value of art.
It contains a full length self portrait of Peale. He has all the markings of an aging (but not decrepit) man. His face commands your attention.
Peale is shown in the act of lifting a large curtain in front of his natural history collection (then in Independence Hall). In the distance, you see visitors garbed in the costumes of the day. A large mammal skeleton is on the right.
4. Rembrandt Peale, Portrait of Jacques-Louis David
Peale had a bevy of children, who seemed to be all named after artists. The most talented among them was his son Rembrandt, who painted several portraits of George Washington.
Rembrandt studied with his father and with Benjamin West. He painted this canvas, of the famous French Romantic artist, when he was living in Paris in the early 19th century.
He captures the artist with a vivacious expression and character.
5. Thomas Sully, George Frederick Cooke as Richard III
The academy also owns quite a few paintings by Thomas Sully, who became the preeminent portrait painter after Stuart's death.
One of his most notable works is the extraordinary picture of the actor George Frederick Cooke playing Richard III. Cooke was an eminent actor of the time.
The portrait has more of a wow factor than serious artistic merit. But Cooke's face is a revelation. And you may feel like you've stepped into a play.
6. John Neagel, Pat Lyon at the Forge
Neagle was another of the prominent Philadelphia portrait painters.
Neagle's portraits are characterized by meticulous attention to detail and a lifelike rendering of his subjects. He painted many notable individuals of his time, including politicians, scholars, and public figures.
Of the academy's Neagle holdings, Pat Lyon at the Forge is the best known. The original is in the Boston Museum of Fine Arts. This is a replica that Neagle painted in 1829.
The subject is Pat Lyon, a jolly smith and eccentric character in Philadelphia. He acquired a fortune in his trade and commissioned the portrait himself. Despite his wealth, he wanted to be captured as a working class man.
7. Charles Willson Peale, George Washington at Princeton
Charles Willson Peale's portrait of George Washington at Princeton is a renowned depiction of the first President of the United States. Painted in 1779, this artwork portrays Washington, standing confidently in front of a military campaign map.
The painting symbolizes Washington's leadership during the American Revolutionary War, particularly the victory at the Battle of Princeton. It's an iconic representation of Washington's role as a military leader and a pivotal figure in American history.
Dressed in uniform, Washington stands upright and dignified. He exudes a sense of authority and determination. He gazes into the distance, symbolizing his vision and leadership.
8. David Martin, Portrait of Benjamin Franklin
David Martin was an accomplished 18th century portrait painter. He's especially celebrated for his iconic portrayal of Benjamin Franklin, one of America's revered Founding Fathers.
It was painted in 1767 when Franklin was 61 years old. This masterpiece is the most recognizable depiction of the statesman.
In the painting, Benjamin Franklin is seated at a desk, clutching a copy of his renowned Poor Richard's Almanack, a publication he authored under the pseudonym Richard Saunders.
The portrait radiates an aura of sagacity and intellectual inquisitiveness, aptly capturing Franklin's diverse talents as a scientist, writer, inventor, and statesman.
9. Winslow Homer, Fox Hunt
Winslow Homer's painting Fox Hunt is one of the PAFA's masterpieces. The academy purchased the painting in 1893. It was the first of Homer's works to enter a public collection.
Homer was an American Realist painter known for his masterful depictions of American life, nature, and the human experience.
This painting is an unusual composition of extraordinary power. It's a vivid depiction of a red fox in a snowy winter countryside. It portrays the harshness of winter along the Maine coast, as the fox desperately leaps through deep snow to escape a group of hungry crows.
The preying blackbirds descend ominously with outstretched wings. You read the painting from the fox's point of view and can feel his fear and tension.
10. Thomas Eakins, Walt Whitman
This portrait was created by the renowned American artist Thomas Eakins in 1887. Eakins was known for his meticulous and detailed portraiture, and this work is no exception.
In the portrait, Walt Whitman is depicted in a contemplative pose, his eyes gazing into the distance.
He is portrayed with a full white beard, which became one of his distinctive features in his later years. The painting effectively conveys Whitman's introspective and thoughtful demeanor.
11. Thomas Eakins, The Gross Clinic
Another famous Eakins masterpiece is The Gross Clinic, which the museum co-owns with with the Philadelphia Museum of Art. It's considered one of the greatest ever American paintings.
It portrays a vivid surgical scene in a lecture room at Philadelphia's Jefferson Medical College. Dr. Samuel D. Gross, a prominent surgeon, skillfully operates on a patient's leg while surrounded by a group of attentive medical students and colleagues.
Notable for its meticulous realism, the painting unflinchingly depicts the surgical procedure, complete with blood and surgical instruments. Although initially deemed too graphic for polite society, it's as a testament to Eakins' mastery of detail, light, and shadow.
12. William Merritt Chase, Woman with a White Shawl
William Merritt Chase was a prominent American painter known for his contributions to American Impressionism and his exceptional portraiture skills. This painting is one of his best and most beautiful pieces.
The museum acquired it just two years after it was painted. It has all the best qualities of great portraiture and pure painting.
The subject is shown with great dignity and sincerity. Your gaze is fixated on her appealing face, without distracting backgrounds or painterly flourishes.
13. Mary Cassat, Young Thomas and His Mother
Mary Cassatt was a renowned Impressionist artist. She honed her artistic skills at the academy.
But she spent most of her life in Paris, where she became known for her Impressionistic paintings capturing the beauty of maternal relationships.
Created in 1893, this painting captures a quiet moment between a mother and her child. In it, a young boy named Thomas is standing on his mother's lap.
The mother gazes lovingly at her child, while Thomas plays with some yarn. Cassatt's use of soft pastel colors and loose brushwork enhances the sense of warmth and affection in the scene.
14. Kehinde Wiley, Three Wise Men Greeting Entry Into Lagos
Kehinde Wiley is a contemporary American artist renowned for his vibrant, large-scale paintings of black individuals that challenge traditional notions of race, power, and representation. They're usually set against elaborate, patterned backgrounds.
Wiley is famous for painting the official portrait of President Obama, which is now in the National Portrait Gallery in Washington DC.
In this painting, Wiley portrays three young men (in traditional African cloth) in a pose of greeting. The three young men look down on viewers with self-assuredness and confidence.
The PAFA acquired the painting in 2008 — just before the price of Wiley's paintings skyrocketed.
15. Temporary Exhibitions
The museum is known for its cutting edge exhibitions as well. When I last visited, almost the entire permanent collection had been put in storage for the Rising Sun exhibition.
The theme of the collection is based on a famous Benjamin Franklin quote about Washington's Rising Sun chair in Independence Hall. He pondered whether the sun was actually rising or setting.
This exhibition looks at how democracy is faring in these uncertain political times. It's jointly hosted by the African American Museum of Philadelphia. The PAFA commissioned a dozen works for the exhibition by living artists.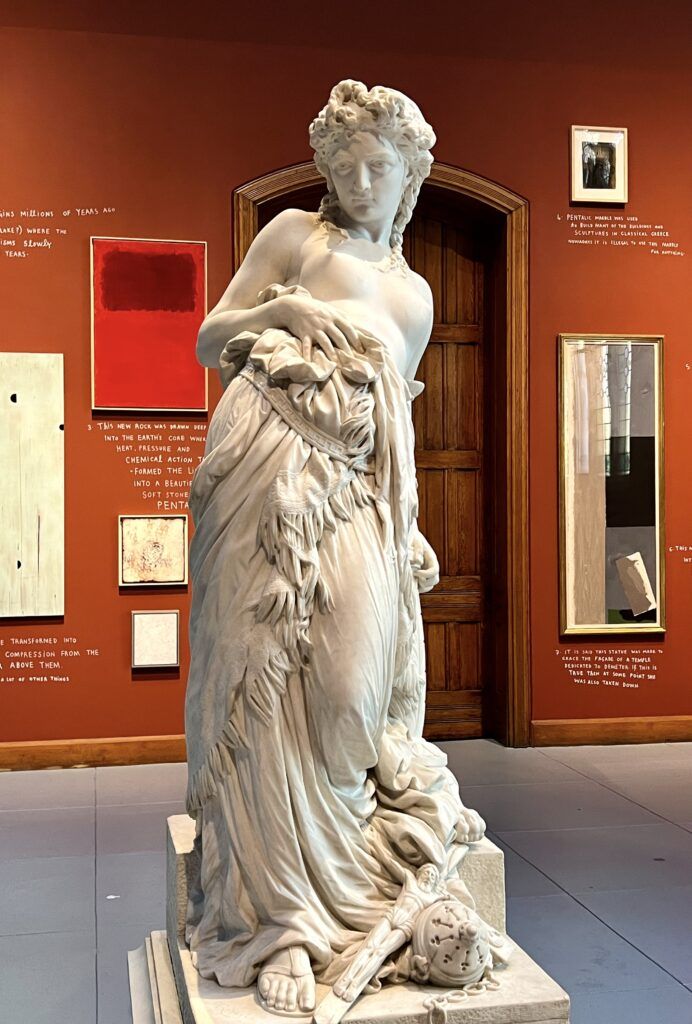 Practical Guide & Tips For Visiting the PAFA
Address: 118-128 Broad Street
Hours: Thursday through Friday from 10:00 am to 4:00 pm. Saturday and Sunday from 11:00 am to 5:00 pm.
Tickets: $18 for adults, $15 for seniors and students, $10 under 18. The museum is free on Sundays. Entry to the museum is included in the Philadelphia Go City Pass.
How Long To Visit?
On average, a visit to PAFA takes approximately 1 to 2 hours to see the highlights and key exhibitions. However, if you are an art enthusiast who enjoys spending more time examining artworks and reading about their historical and artistic significance, you might want to allocate 2 to 3 hours for a more in-depth visit.
I hope you've enjoyed my guide to the Pennsylvania Academy of Fine Arts. You may enjoy these other Philadelphia travel guides and resources:
If you'd like to visit the Pennsylvania Academy of Fine Arts, pin it for later.