"You should never call a psychopath a psychopath. It upsets them." — Villanelle
Here's my guide to the filming locations in Europe for BBC America's darkly comedic show, Killing Eve. The TV series was shot in some exotic locations — Paris, Rome, London, Berlin, and Bucharest.
I especially love the twisty psychology of the show's unstable psychopath Villanelle. She's played by Jodie Comer.
The award-winning show manages to be feisty and funny, despite revolving around death, assassination, and multiple layers of secret spy organizations.
Killing Eve centers on the off kilter relationship and romantic tension between Eve Polastri and Villanelle. Eve is a bored but relentless MI5 bureaucrat whose desk job leaves her spy fantasies unfulfilled. Villanelle is a slick hit woman with her own inimitable style.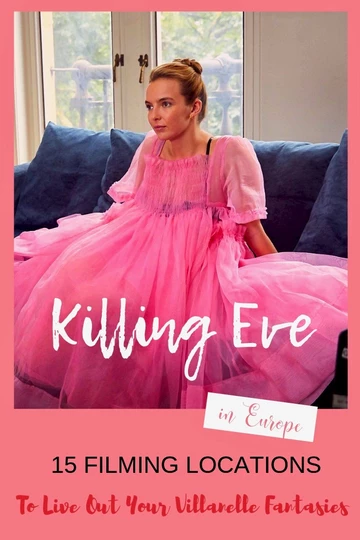 When a frumpy Eve is tasked with capturing the elusive assassin, the two women circle each other in a cat and mouse game. Both women are cats. Eve is domesticated and Villanelle is decidedly feral.
It's unclear whether Eve wants to catch Villanelle or be with Villanelle. Or to break bad and actually be Villanelle IRL.
In Season 2 Episode 6, Villanelle says: "Don't speak to me like that, Eve. I like you, but I don't like you that much. Don't forget: The only thing that makes you interesting is me."
Villanelle's Quirky Character
To me, Villanelle's quirky, charismatic character is the most intriguing.
She's a badass who subverts the spy thriller tradition of men doing the dangerous work, which I'm always drawn to. She commits homicides to get attention, which I'm not usually drawn to.
Villanelle is cold, calculating, brilliant, and multilingual. And very theatrical. She's a student of human behavior and a chameleon, both of which make her very good at her day job.
Villanelle doesn't just live on the edge; she swan dives off it. With a roguish and wicked smile.
Even though Villanelle's awful, there's some humanity inside and she has a peculiar sense of humor. She's likable despite the trail of bodies in her wake.
She's a different bird than TV's other stony faced killers and spies, like Dexter or Walter White.
They're rigid, seeming rarely to experience pleasure or emotion. Villanelle, on the other hands, is a bubbly, frenetic, and unpredictable free spirit. She sighs, smirks, rips into food, and screams at children. She relishes being bad.
It's not just me that likes her. She's got obsessive fans. The show's creator even said of her acting: "If she doesn't win everything for where she took this character, I'm going to eat shepherd's pie until I'm sick."
And, thankfully, she's not your typical femme fatale.
To be sure, she's obsessed with luxury brands and the show's an ode to avant garde style. But Villanelle can happily wear Chanel or dirty cut offs and onesies.
She dresses for herself and no one else. She's a little bit messy and vulnerable, and therefore relatable.
Killing Eve is based on a series of novellas called Villanelle by Luke Jennings. They were originally self-published by the author to be read on Amazon Kindle. Now you can buy the novellas in book form.
The BBC TV series was created by Phoebe Waller-Bridge, the writer and star of the popular BBC comedy Fleabag. She wrote and produced Season 1. Season 2, which is more macabre, is Emerald Fennell's product.
Filming Locations for Killing Eve:
Killing Eve was filmed in some of Europe's darkest and quirkiest hidden gems. It's filmed in five countries: England, France, Italy, Germany, and Romania.
The filming locations were mostly an intentional mix of eclectic, little known destinations (well, except Paris of course).
Here are some of the iconic Killing Eve's filming locations. There's far too many filming spots to actually describe in one blog post!
1. Warwick House Street, London (MI6 Investigation Office)
Carolyn Marten plays Eve's boss, the Head of the Russia Desk at MI6 in London. Carolyn, Eve, Kenny, Bill, and Elena plot and try to hunt down Villanelle (and the Ghost) from a dingy hidden stone house.
You can't go inside their off-the-books headquarters, funded by a secret discretionary budget.
But you can catch a glimpse of the exterior of the place near Trafalgar Square. A few steps down Warwick House Street, you'll find the entrance at the second door on your right, recognizable by its circular window.
Other locations in London that make brief appearances include Guy's Hospital, the Counting House in Southwark, Hampstead Parish Church, Momo Cafe in Mayfair, Westminster School Sports Centre, Shoreditch, St George-in-the-East Church, Tower 42, Hammersmith Town Hall, and Charring Cross Station.
2. Place Vendôme, Paris
Some of the show's most impressive scenes are set in Paris. The Place Vendôme in Paris' 1st arrondissement is one of them.
In Season 1 Episode 2, we witness Villanelle confront her handler Konstantin on the Place Vendôme. Villanelle's just finished a psychiatric exam to determine whether she's still villain worthy after a messy murder. For the interview, she dons a cotton candy pink fantasy of a dress, which is meant to shock.
The pink dress' appearance "broke the internet" and was TV's "biggest fashion moment of the year." The dress symbolizes Villanelle's subversive streak, her complete disdain for social constraints.
It also reveals how she tricks her victims — power disguised behind an angelic feminine facade.
If you're in desperate need of your own flouncy Villanelle dress, Galeries Lafayette is just 10 minutes away. It stocks Molly Goddard, the designer behind Villanelle's famous pink dress, among other luxury brands.
3. Paris' 6th Arrondissement
Villanelle's chic Paris apartment is in the upscale 6th arrondissement. In the series, we see scenes of her walking through Rue Guénégaud and Rue Mazarine to her apartment block.
The inside of her chic apartment is actually a set in a London studio. Typical of Villanelle, it's shabby chic, heavenly, and kind of a perfect artsy pad.
There is also a Paris scene where a wounded Villanelle stumbles down Cité du Wauxhall in the 10th arrondissement after Eve has stabbed her. Villanelle steals a tramp's vodka and coat and pours alcohol on her injury.
4. Weberwiese Station, Berlin
Berlin is also a filming location for Killing Eve. Berlin's canary yellow U-Bahn trains and the yellow-tiled Weberwiese Station are the perfect monochromatic backdrop to Bill and Villanelle's first meeting.
Bill recognizes Villanelle on the subway platform, where she's very obviously spying on Eve.
Bill realizes who she is at once. He follows Villanelle when she leaves, oblivious of the fact that she's smirking the entire time.
As a side note, there was also a metro scene shot at Paris' Gambetta Metro stop in Paris' 20th arrondissement near Père Lachaise Cemetery.
5. Fabric Nightclub, London (Club, Berlin)
Villanelle has ruined nightclubs for many.
During Season 1 Episode 3, a foolishly intrepid Bill underestimates his killer. Bill unwittngly follows Villanelle out of the Berlin metro station, a fatal spy mistake. In an eerie scene, Bill enters a Berlin nightclub and searches for Villanelle on the raucous dance floor.
Bill spots her. He's surprised when Villanelle turns around, smiles, and ominously heads toward him. Bill tries to run, but is trapped by dancing bodies. Villanelle easily catches him, stabbing him repeatedly with a knife. He bleeds out on the dance floor.
This lovely moment wasn't actually filmed in Berlin. It was filmed in London at Fabric Nightclub, which is near the Barbican Centre. The nightclub is known for its vibrating dance floor attached to loud bass transducers, which lets clubbers feel as well as hear the music.
To accomplish her gory task, Villanelle is outfitted in one of her most iconic outfits — a brocade Dries Van Noten power suit.
Jody Comer loved the suit so much that she wanted to take it home. But she ultimately decided that it was too "weird,""too much," and too recognizable to wear on the streets of London.
6. Turville and Chiltern Hills, U.K. (Bletcham)
The idyllic English countryside is where the safe house of MI6 boss Frank is located. It's seen in Season 1, Episode 4. An unsavory character, Frank needs a safe house because Villanelle is after him.
Unfortunately, the safe house isn't safe enough. And it's another grisly murder for Villanelle. Frank is brushing his teeth in the safe house.
Villanelle appears behind him in the mirror with a switchblade. Frank asks if she can kill him in the bedroom. Villanelle responds that she has "a thing for bathrooms."
Villanelle does a "knob bob"and dresses Frank in Eve's dress, thereby symbolically killing Eve.
The scenes are not filmed in Bletcham, despite being labelled that way. Instead, the scenes with Villanelle, the car chase with Frank, and Eve's face-to-face with Villanelle were filmed in Turville and Chiltern Hills.
Chiltern Hills is a designated Area of Outstanding Natural Beauty, about an hour and a half northwest of central London.
7. Hornsey Town Hall, London (Hotel Atlasov, Moscow)
The most striking English filming location for Killing Eve is the beautifully preserved Hornsey Town Hall in London. Built in 1933, Hornsey plays the role of Moscow's Hotel Atlasov in the show. With its stark, modernist interiors and decorative ironwork, the hotel is gorgeous.
This is where Eve and her boss Carolyn stay, as they close in on Villanelle in Moscow. The hotel lobby, bar, and restaurant scenes were all filmed here (as were scenes from the Oscar-winning Bohemian Rhapsody and Netflix's The Crown).
Today, the town hall is being developed into a hotel, co-working space, and art center. Its historic architecture is being saved and restored.
8. Lake Snagov, Bucharest (Konstantin's Home)
Lake Sagnov in Romania, north of Bucharest, is home to Konstantin's safe house. It's a perfectly isolated white villa, and is actually bookable through Kid & Coe. About 40 minutes north of downtown Bucharest, the home comes complete with a boat house and dock, which are seen during Konstantin's getaway.
Lake Sagnov is also where Villanelle and Irina meet on a mysterious tree lined street.
If you're a Villanelle fan, you'll want to check out the nearby Snagov Monastery. It's on an island in the middle of the lake, accessible by footbridge, and holds Vlad the Impaler's remains.
9. Bode Museum, Germany (Berlin)
Many of Killing Eve's street scenes were filmed in Berlin. Especially around the beautiful Bode Museum on the River Spree. In the plot, Villanelle lures Eve to Berlin after committing another murder, so a lot of action takes place in this edgy city.
Bode Museum was completed in 2005. It houses collections and sculptures from medieval times to the late 18th century. You enter the Baroque photogenic museum in via a stone bridge.
10. Tuscany
We first see Villanelle in Italy when she tears through the Tuscan countryside on a motorbike.
And remember the show's opening scene, where we see Villanelle eating an ice cream while pulling faces at a young girl at another table? That was shot at Cafe Garibaldi in Colle di Val d'Elsa, northwest of Sienna in Tuscany. (The credits on the show state that this scene takes place in Vienna, but that's inaccurate.)
On her way out, Villanelle deliberately knocks the girl's ice cream over, establishing her character.
READ: 10 Day Itinerary for Tuscany
Other scenes shot in Tuscany involve Villanelle's mission to assassinate Cesare Greco. It was the first time we saw her in action: climbing a drainpipe, dressing up, and THAT hairpin.
The Italian villa was a superb setting, the Villa Lusso Grande in Siena.
READ: 1 Day Itinerary for Siena
11. Mildmay Club & Pubs (London)
Eve meets her husband Niko at the Mildmay Club in Stoke Newington. The working mens' club boasts vintage wood panels and was the perfect backdrop for the show.
They later meet up with colleagues at the classic dark wood pub, The Old Nick in Sandland Street. In that scene, The Albert Pub on Victoria Street is used for external shots.
12. Oxford University, England
Some of the high drama of Season 2 of Killing Eve takes place at the famous Oxford University. The show's scenes were filmed at Magdalen College, one of the fanciest of the the 38 college that comprise Oxford.
Eve's husband Niko is dispatched Oxford, unwittingly chaperoning a field trip orchestrated by Carolyn to get him out of the way. That doesn't deter Villanelle from hunting him down.
She bumps into Niko, seemingly by accident at Oxford, and criticizes his fudge-y mustache. She sees him chatting with a fellow teacher, Gemma. She realizes that Gemma has designs on Niko, a situation that Villanelle can manipulate to disrupt Eve and Niko's marriage.
Villanelle tells Niko that she's forgiven Eve for the stabbing; they're "friends" now. Then, she pops off with the phrase "Smell you later!"
For this scene, Villanelle debuts another iconic disguise. It's an androgynous Brideshead Revisited type outfit. She's almost comically attired as an "academic" — dressed in khakis, a tie, and a white dress shirt draped with a cable-knit sweater. The outfit consisted of vintage finds and Raey trousers.
13. Romanian Athenaeum in Bucharest (Cafe Radozhny, Moscow)
The neoclassical concert hall, the Romanian Athenaeum in Romania, was converted into a decadent cafe for a key scene in the series.
Bucharest was used both to double for Moscow and for some Parisian backstreets.
Lee Morris, executive producer on Killing Eve remarked that Romania is woefully "under exploited" by international producers who often overlook the country in favor of attractive incentives offered by its neighbours.
The lobby of Bucharest's opulent concert hall was transformed into a restaurant for the final, gun-slinging showdown of Season one — when Eve, Konstantin, Villanelle, and Konstantin's daughter Irina all meet.
Villanelle has kinapped Irina in her attempt to kill Konstantin. When Eve and Konstantin arrive at the restaurant, Villanelle aims her revolver at them. She gets what she came for: her passport and her savings. And she shoots Konstantin.
Eve and Villanelle train guns on each other. But Villanelle knows that Eve can't pull the trigger. Villanelle makes a run for it, unscathed.
If you want to visit the Athenaeum, visitors are only allowed inside the main auditorium of the beautiful hall during concerts. But you can sneak a peek of the lobby during regular hours.
14. Rome
In the Season 2 finale "You're Mine" — which I won't spoil! — Villanelle leads Eve through the literal underworld of Rome before they resurface in ancient Roman ruins.
First, they appear at the Teatro Marittimo and the Grandi Terme. Then, they arrive at the 2nd century ruins of Hadrian's Villa in Tivoli. It's their Thelma and Louise moment, but it doesn't quite work out as planned.
READ: 5 Day Itinerary for Rome
Another Rome location, where both Villanelle and Carolyn meet Konstantin, is the wonderful brick stairs at Via di Sant'Onofrio.
In Rome, Villanelle also arrives at the Palazzo Baldoca Muccioli, charging up the Via Giulia in crazy Aaron Peel's Porsche. She certainly looks impressed with the baroque beauty of its exquisite inner courtyard.
The interior scenes at Aaron's Palazzo weren't filmed in Rome though. They were filmed at three English country houses.
The extraordinary Syon House, in Brentford England 10 miles outside London, was the filming site for three interior rooms in the Palazzo. Syon House is notable for its exquisite Italianate styling, designed by Robert Adam in the 1760s.
15. Rijksmuseum, Amsterdam
In Season 2, Episode 4, Konstantin and Villanelle are getting ready to embark on their first joint murder project in Amsterdam. Konstantin takes her to the Rijksmuseum, a museum dedicated to Dutch art and history, for inspiration. The museum gave the production team permission to film after the museum closed for the day.
Villanelle is bored by most of the paintings. But one masterpiece catches her eye: The Corpses of the de Witt Brothers by Jan de Baen.
It's a gruesome portrait of a true event: the 1672 lynching of two aristocratic Dutch politicians, Johan and Cornelis de Witt, and the display of their mutilated corpses. "They look like bacon," Villanelle muses to Konstantin, transfixed.
READ: Best Cities in Europe For Art Lovers
The Rijksmuseum is well worth a visit. It's one of the world's finest museums. Its most famous works include Rembrandt's Night Watch and Vermeer's Milkmaid. Fans of the show can see out the Jan de Baen's gruesome painting.
Although not really a long scene, there's also a shot in Season 2 Episode 5 of Villanelle outside another museum, the Tate Modern in London. Konstantin finds Villanelle having a staring contest with a human statue.
READ: Guide To Free Museums in London
16. Amsterdam
Amsterdam is a beautiful city. It's no surprise that Villanelle reflects this in her fashion choices in Season 2.
In one scene, a glamorous Villanelle is writing a postcard to Eve as she sits along the bridge over the canal on Herengracht, staking out her next victim.
A girl approaches and asks if she can take her picture for Instagram. Villanelle swats her away and tells her to "Get a real life!"
For Villanelle's burlesque show in Amsterdam in Season 2 Episode 4, Villanelle dons a playful Swiss dirndl and pig's mask.
Her costume is a frothy pink, a nod to her famous pink dress on the Place Vendome. Amsterdam's red light district is the scene of her most theatrical killing in front of a rapt crowd. The killing replicates the gory Rijksmuseum painting.
To Villanelle, this was an attention getting "love letter to Eve." She wanted it to be her most creative crime, a true work of art.
The Amsterdam brothel scene is shot in two locations: 4 Oude Niewstraat and Korte Koningsstraat 7 (the actual brothel).
Images source: BBC and Killing Eve Locations, @KillingEveSites, on twitter.
I hope you've enjoyed my guide to the filming locations for Killing Eve. You may enjoy these other Europe travel guides and resources:
Most Beautiful Secret Town in France
Most Beautiful Secret Towns in Spain
Most Beautiful Towns in Germany
Most Beautiful Towns in Andalusia
45 best UNESCO Sites in Europe
If you'd like to visit the filming locations for Killing Eve in Europe, pin it for later.