Here's my guide to spending one perfect day in Sintra Portugal.
This Sintra itinerary covers all the top attractions and best things to do in UNESCO-listed Sintra. I also give you must know tips for visiting, including transportation, tours, and tickets.
Beautiful Sintra is one of the best day trips from Lisbon. Sintra is a dazzling and romantic town that Lord Byron once described as a "glorious Eden."
It's a lush mystical world that was once the preserve of royals, aristocrats, artists, and poets. Sintra seems far removed from the hustle and bustle of Lisbon. Verdant forests and greenery extend in every direction.
A bundle of unforgettable fantasy castles dot the tropical landscapes and craggy hilltops. Even though the plush and lush town is typically mobbed with tourists, it's still quite magnificent and well worth a day trip.
Overview Of One Day In Sintra Itinerary
Here's a snapshot of what you'll do with one day in Sintra in the order in which you should visit the sites.
Pena Palace and Park: After arriving in Sintra town, take a tuk tuk, taxi, or Bus 434 up to Pena Palace and explore the palace and park.
Moorish Castle: Walk from Pena Palace down to the Castle of the Moors, explore, and enjoy the views
Lunch in Sintra Town: Walk or take the bus back to the center of Sintra for lunch.
Sintra National Palace: After lunch, walk to Sintra National Palace. Be sure to go inside to admire the lavish rooms.
Quinta da Regaleira: Walk to Quinta da Regaleira and explore this Neo-Gothic palace. Once you are done exploring, it's a short walk back to the Sintra train station.
Monserrate Palace: If you have any time left, drive or taxi out to Monserrate Palace, which closes at 7:00 pm.
Tickets For Sintra
Here are some of the top ticket and tours you will want to consider purchasing to visit Sintra: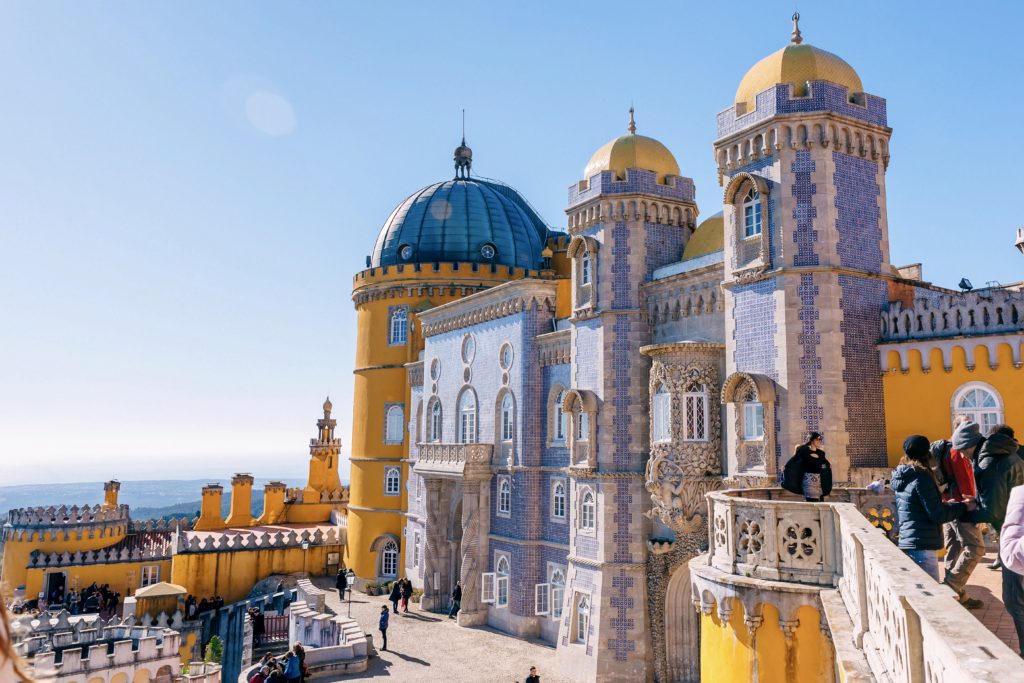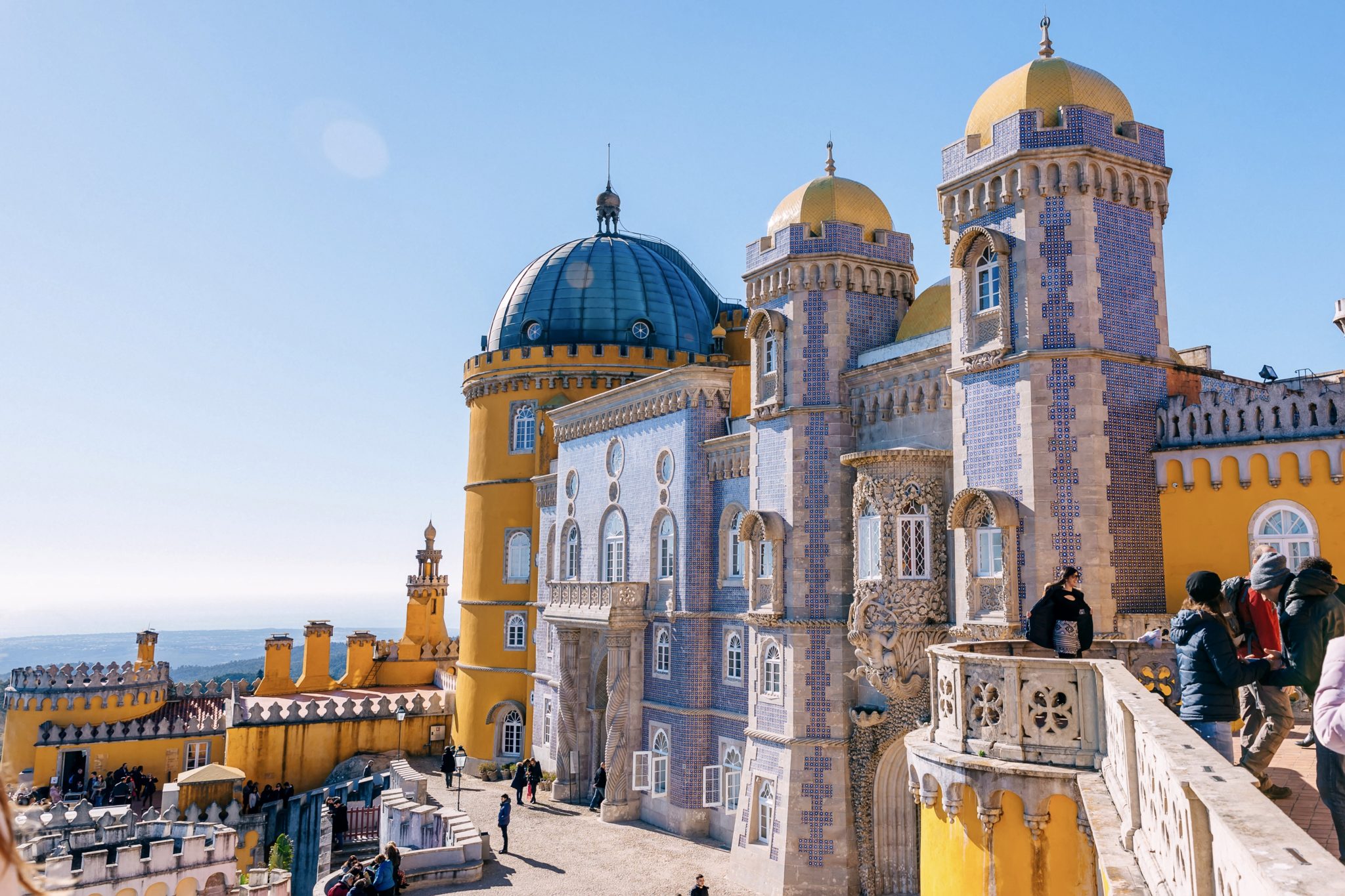 A Short History Of Sintra
Like so much of Portugal, Sintra was settled by the Romans in the 1st and 2nd centuries. After the fall of Rome, the Moors took over. In 1147, Portugal's first king, Afonso, conquered Sintra and took over the Moorish Castle.
In the centuries that followed, Sintra became the private hideaway of Portuguese royalty and aristocracy. Sintra provided a quiet and breezy escape from the politics of Lisbon.
In the mid 1800s, King Ferdinand II arrived in Sintra. He got busy turning a ruined monastery into an ornate palace.
Under his influence, Sintra became the first center of European Romantic architecture.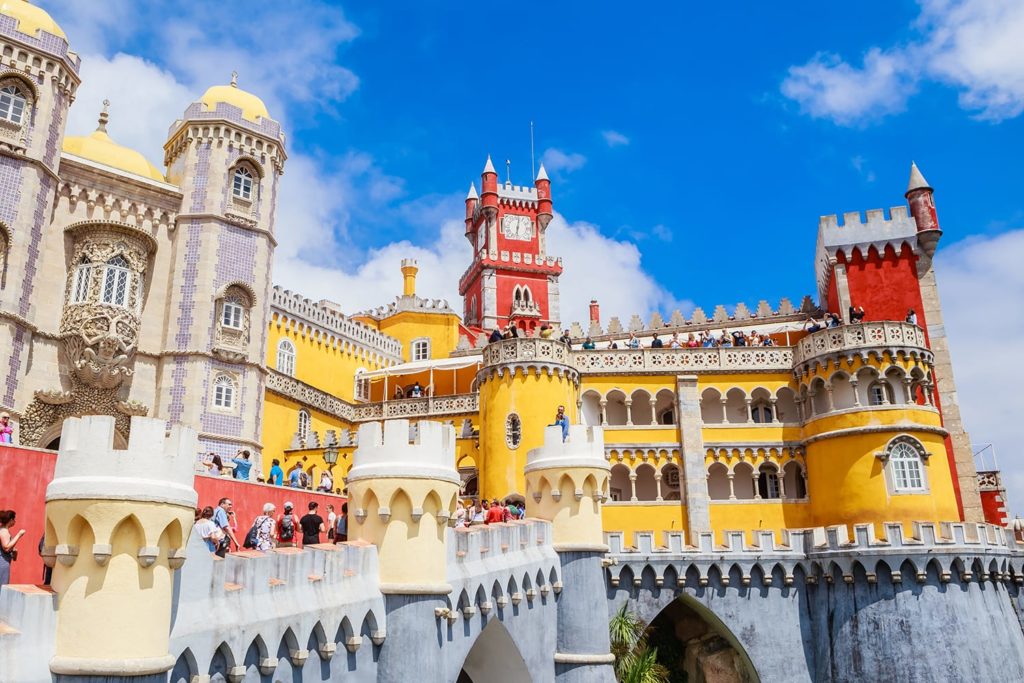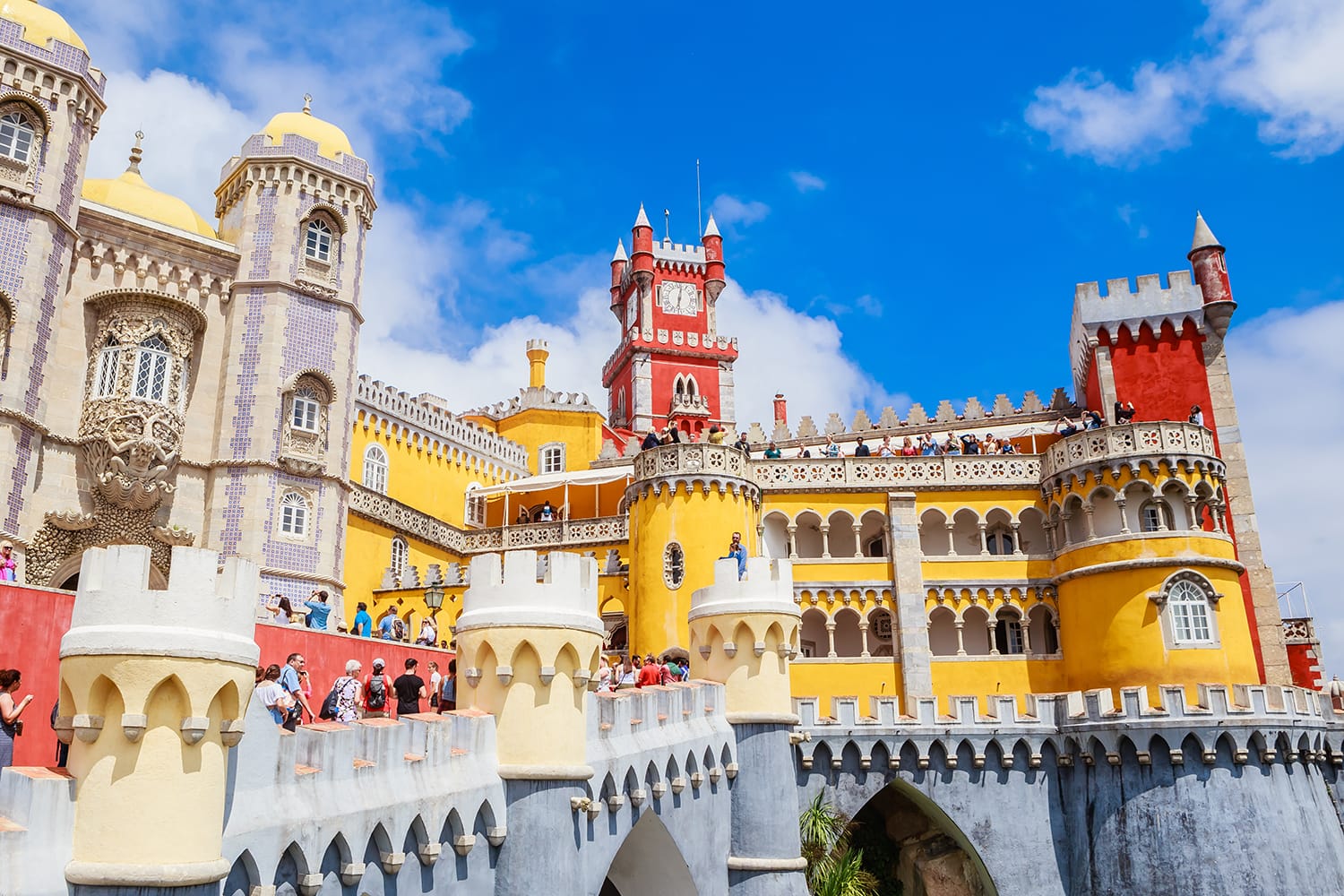 One Day In Sintra Itinerary
Here's my itinerary to help you have the most efficient 1 day in Sintra.
As with all of my suggested itineraries, I recommend that you use this one day Sintra itinerary as a guide. You can tailor it to suit your individual interests, needs, and pace of travel.
1. Pena Palace
Pena Palace is the most popular palace in Sintra and one of the seven wonders of Portugal. It opens at 9:30 am. This is where you'll start your one day in Sintra.
You'll want to have a pre-booked skip the line ticket and get there a bit early. Otherwise, you'll be waiting in a long queue and waste precious time.
You can book a ticket for the castle grounds and park or one that also allows you to go inside.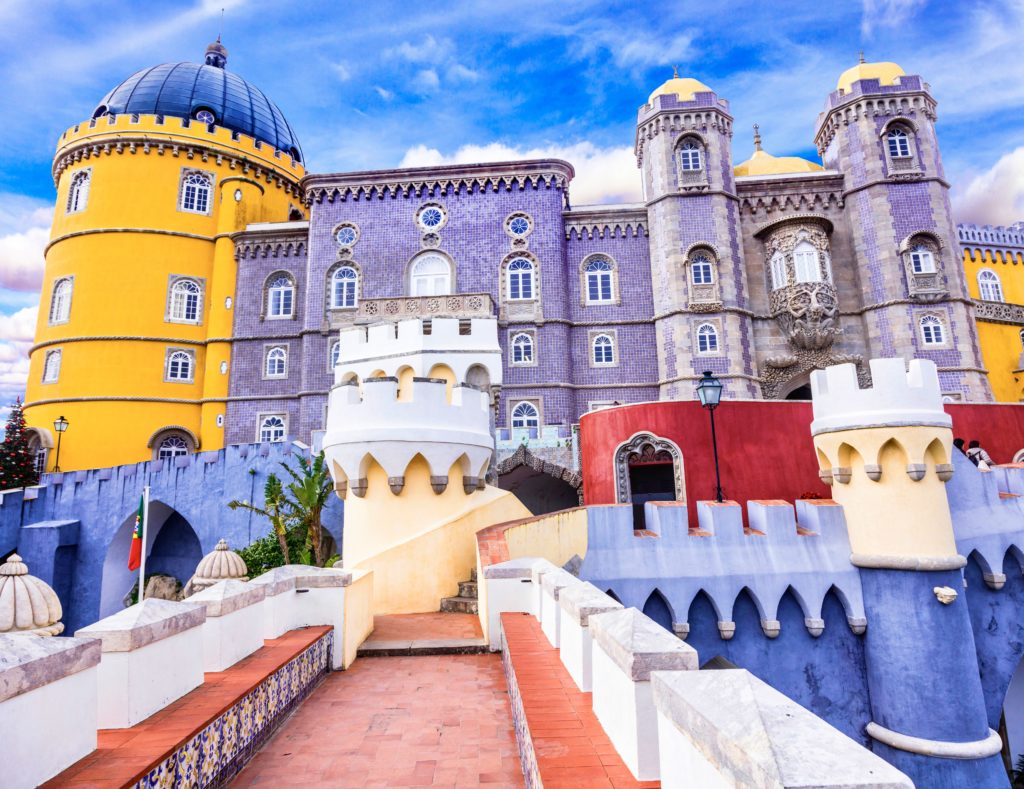 It's a 45-60 minute steep hike up to the palace. To save time, you'll probably want to take an Uber, tuk tuk, or Bus 434 to the top.
You'll enter the castle through an Islamic-style gateway that's reminiscent of the Alhambra in Granada Spain.
Pena Palace is a place of unmistakable whimsy. With its anything goes ethos, the palace is an attraction that's launched a thousand clicks.
It's a dizzying hodgepodge of primary colors and architectural styles — with Medieval, Manueline, and Moorish elements.
The palace looks like several castles smooshed together. There's a whirlwind of onion domes, turrets, crenellated ramparts, and fanciful sneering gargoyles.
If you want to visit the interior of the palace, there's a separate line. Which is not terribly romantic. You enter through the Triton Arch, with its leering gargoyle set amid shells and coral.
The passageway leads you to a Manueline cloister. The next series of rooms is an equally opulent hodgepodge.
There's a veritable warehouse of oriental rugs, Chinese porcelain, Portuguese style teak furniture, and tromp l'oeil murals. The walls are decorated with 16th century Hispano-Arabic tiles.
Like the outside, none of it really matches or is in a cohesive style. It's rather amazing that someone wanted it all under the same roof.
The balconies, parapets, and breathtaking mountain views are surreal, especially from the Queen's Terrace.
Besides the palace itself, the estate boasts a lush green park of over 200 hectares, with plenty of trails and a treasure trove of sights and follies to keep you busy.
King Ferdinand and his Countess wanted the gardens to be a wild maze of romantic paths. They sought out and imported plants from all over the world.
The highlights are the Chalet of the Countess of Edla, the Fountain of Small Birds, the statue of Ferdinand, the lush fern gardens, and the grottos.
The chalet was built for Ferdinand's wife Elisa as a recreational escape pad. The outside is painted stucco. It's made to resemble a log cabin. Inside, there are beautiful cork ceilings and murals.
The chalet was restored and opened to the public in 2011.
Hours: The palace is open from 9:30 to 6:30 pm. The park is open from 9:00 am to 7:00 pm.
Entry fee: Palace + park = 14 euros, Park only is 7.50 euros
For more information, here's my complete guide to visiting Pena Palace.
2. Castle of the Moors
When you're done at Pena Palace, the next stop on your one day in Sintra itinerary is the Moorish Castle. It's a short 10 minute walk from Pena Palace and signs point you toward it.
The 8th century Moorish Castle is a no nonsense holdover from Arab rule. It's a craggy fortress restored over the years. It's actually more of a wall than a fortress, snaking over the mountaintop.
Once you pass through the ticket gate, you'll see a garden with stone steps leading upwards. It's a bit of a steep hike (maybe 15 minutes) to get to the top. There's a quarter mile loop along the ramparts.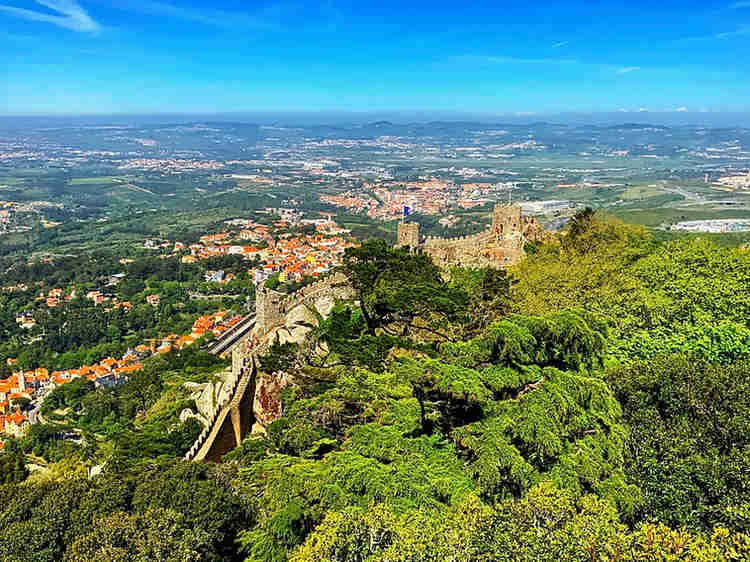 You'll have stunning 360 panoramic views over Sintra and Pena Palace. You can almost imagine knights of old ascending the turrets to guard the town.
Hours: 9:30 am to 6:30 pm
Entry fee: 8 euros
From the Moorish Castle, you have four options to get back down to the town center: 434 Bus, Tuk Tuk, Uber, or walking. Each of these options takes roughly 30 minutes. If you're there in the off season, a vehicle is the fastest way.
3. Lunch
You may want to consider packing a lunch for your one day in Sintra. There are just a smattering of restaurants and mom-and-pop shops. Plus, eating quickly will give you more time to see the myriad attractions.
If you want a proper meal, you can try Romaria de Baco or Sopa d'Avó.
The local specialty is Queijada de Sintra. It's a sweet pastry with a cheesecake-like filling. You can get these at Piriquita.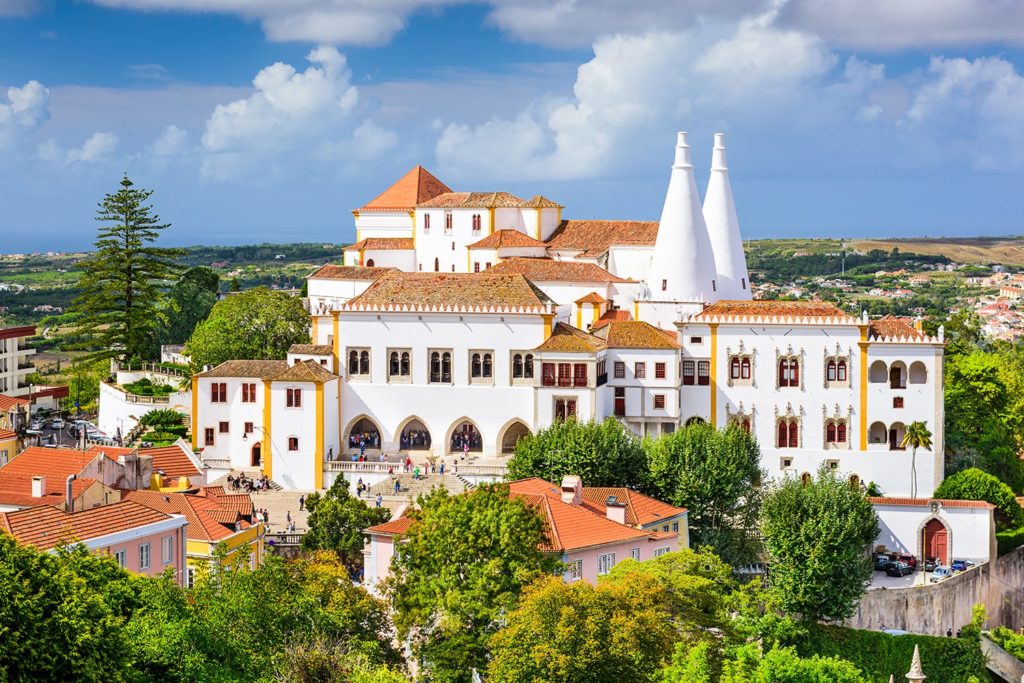 4. Sintra National Palace
The National Palace is the third stop on your one day in Sintra itinerary. It sits right in the center of the town and is the oldest surviving royal palace in Portugal, with 800 years of history.
Sometimes people skip this palace. Don't do it.
It's a lavish showpiece, whose faded white exterior belies what lies inside. And it won't be crowded like Pena Palace.
The palace was originally home to the Moors. But what you see today is the work of King Joao I and Manuel I from the 15th and 16th centuries.
You enter through a Gothic arch and head up a spiral staircase. You can visit the Swan Room, the Magpie Room, Blazon's Hall, the Arab Room, King Sebastian's Bedroom, the Palace Chapel, and the Coat of Arms room.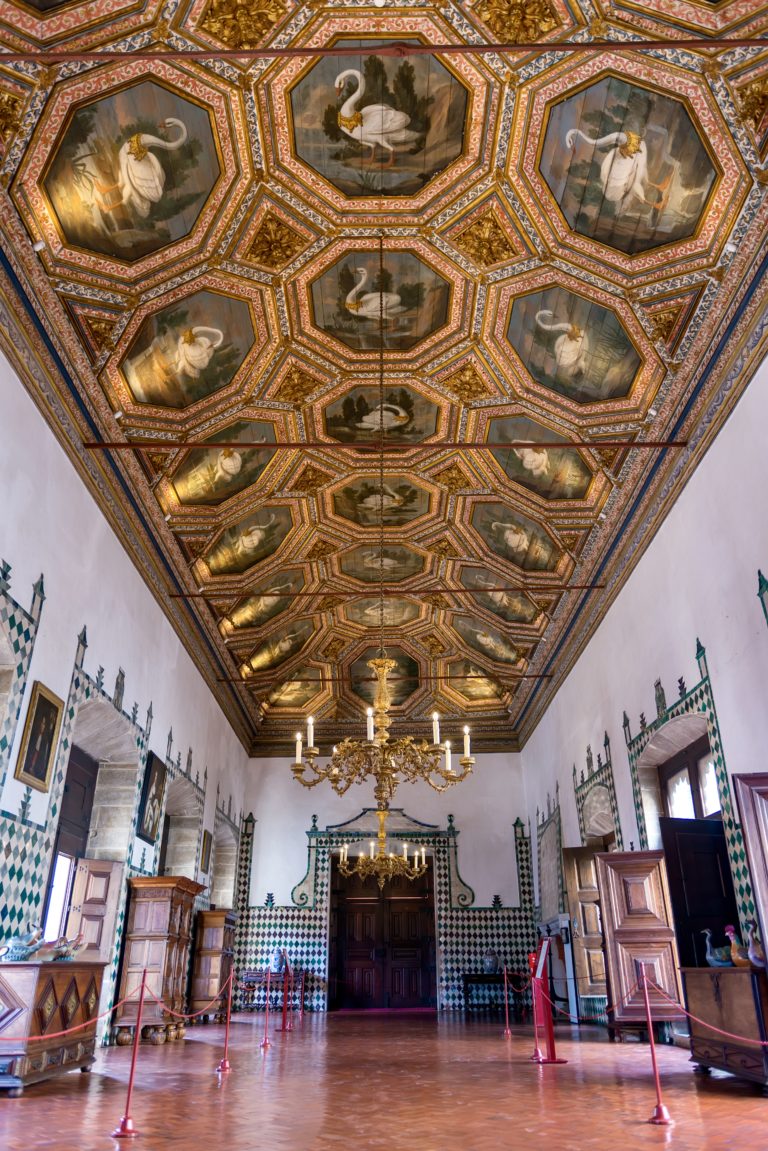 The most striking room is Coat of Arms Room. It's wallpapered in blue and white azulejo tiles depicting historical scenes.
The Swan Room is the largest room in the palace and was used for banquets and official receptions. 27 swans are painted on the ceiling.
Similarly, the Magpies Room has 136 magpies on the ceiling spouting the king's motto "for the best."
Blazon's Hall juts out over the garden and has splendid views. There are paintings of stags and portraits of the royal children. The room has heraldic decoration, azulejos tiles, and Manueline decoration.
Outside in the central courtyard, there's a grotto tiled with 18th century azulejos.
The National Palace was used by Portuguese nobility from the 15th to 19th centuries, making it the most consistently used royal residence in Portugal.
It was damaged in the great Lisbon Earthquake in 1755, but was fully restored to its original state.
Hours: 9:30 am to 6:30 pm
Entry fee: 10 euros
From the National Palace, it's just a 15 minute walk to your next destination, Quinta da Regaleira Palace.
5. Quinta da Regaleira
Quinta da Regaleira is my absolute favorite fairytale palace in Sintra. The name "Quinta" refers to a private estate or mansion, and this place truly lives up to its enchanting title.
Built in the 19th century by the eccentric and superstitious millionaire Antonio Monteiro, the palace exudes personality at every turn. As you explore, you'll quickly understand why Quinta is described as an "imaginary universe of symbolism and metaphor" in the brochure.
Prepare to be mesmerized by the stunning gardens, which boast grottos, fountains, towers. There are even mysterious damp caves connected by a labyrinth of tunnels.
The palace itself, along with its architectural ensemble, is a sight to behold. It combines Gothic, Egyptian, Moorish, and Renaissance influences, creating a magnificent fusion of styles. Intricate carvings associated with Masonry, the Knights Templar, and the Rosicrucians further add to the palace's mystique.
The garden complex of Quinta is a treasure trove of architectural wonders. As you wander through, you'll encounter charming follies, picturesque gazebos, and even a quaint chapel. But it's the Promenade of the Gods that truly steals the show.
Along this pathway, stone statues of Greek deities such as Venus, Hermes, and Dionysus gracefully adorn the landscape, adding a touch of mythological allure.
However, the real showstopper awaits in the form of an astonishing "initiation well." This inverted tower served as a setting for secretive initiation rites.
You descend the spiral staircase down 90 feet, which can be a tad slippery. You'll enter an underground tunnel that leads you back to the enchanting gardens.
The well itself is an architectural marvel, featuring nine platforms. It is believed that these platforms symbolize the nine circles of Hell, the nine sections of Purgatory, and the nine celestial realms of Paradise, drawing inspiration from Dante's Divine Comedy.
Once inside the palace, you can only visit the first floor. There are formal rooms, such as the dining room, music room, etc. You'll see intricate inlaid mosaic floors, ornate fireplaces, and elaborate wooden ceilings.
For more information, here's my complete guide to visiting Quinta da Regaleira. You should pre-book a skip the line ticket to avoid a wait in line. Your ticket comes with a map showing you what to see on the grounds.
If you just want to see Quinta on your visit to Sintra, you can book this 4 hour guided tour from Lisbon. It might be worth it given the palace's unique history and architecture.
Hours: 10:00 am to 6:30 pm
Entry fee: 8 euros without a guided tour
Guided tour: The palace offers 90 minute guided tours from Tuesday to Saturday.
6. Monserrate Palace
The beautiful Monserrate Palace is just a couple miles to the west of the town center.
You probably won't be able to visit it with only one day in Sintra. But it doesn't close until 7:00 pm.
If you've had an efficient day and are traveling by car, you may be able to squeeze it in. You can also take a bus or taxi to get to the palace.
The candy pink palace was built as a summer home for Sir Francis Cook in 1863. It's an extravagant Arab and Romantic style architectural set piece that looks simply divine.
It's not very large, so you can explore it in 30-40 minutes.
The palace's name derives from a religious order that once lived there. The palace was neglected for decades, but was fully restored in the 1990s.
The interior has lattice carvings, geometric patterns, and an exotic vibe that may make you feel you've been transported to the Middle East.
The palace has over 80 acres of gardens, which invite a stroll. There are cypresses, rhododendrons, and other exotic species that like the humid climate.
As you stroll, you'll find the ruins of a chapel and the ornate Arch of India that Cook brought back. There's also a cafe in the former stables.
Hours: 9:00 am to 7:00 pm
Entry fee: 8 euros
Tips For Visiting Sintra
1. How To Get To Sintra
By Car:
Sintra is 20 miles from Lisbon. It takes about 30 minutes to drive there.
Park on the outskirts of Sintra and walk 5-10 minutes into the village center. You don't want to drive into the town center. You'll almost certainly get lost and your GPS might not work.
By Train:
You can take the train from Lisbon's Rossio Staton. Three trains leave every hour.
It takes 40-50 minutes to get to Sintra. It's a 20 minute walk from the train station to the town center.
By Guided Tour:
There's a lot to do in one day in Sintra and it's a bit of a hassle to get to the sites.
If you don't want to juggle train schedules and buses, you may want to book a guided tour from Lisbon, just for ease.
Check out this 6 hour guided day trip from Lisbon. You can also book a guided day tour that includes Pena Palace and Quinta da Regaleira or a guided tour that includes Sintra and the Lisbon Riviera.
You can also opt for a private tour from Lisbon.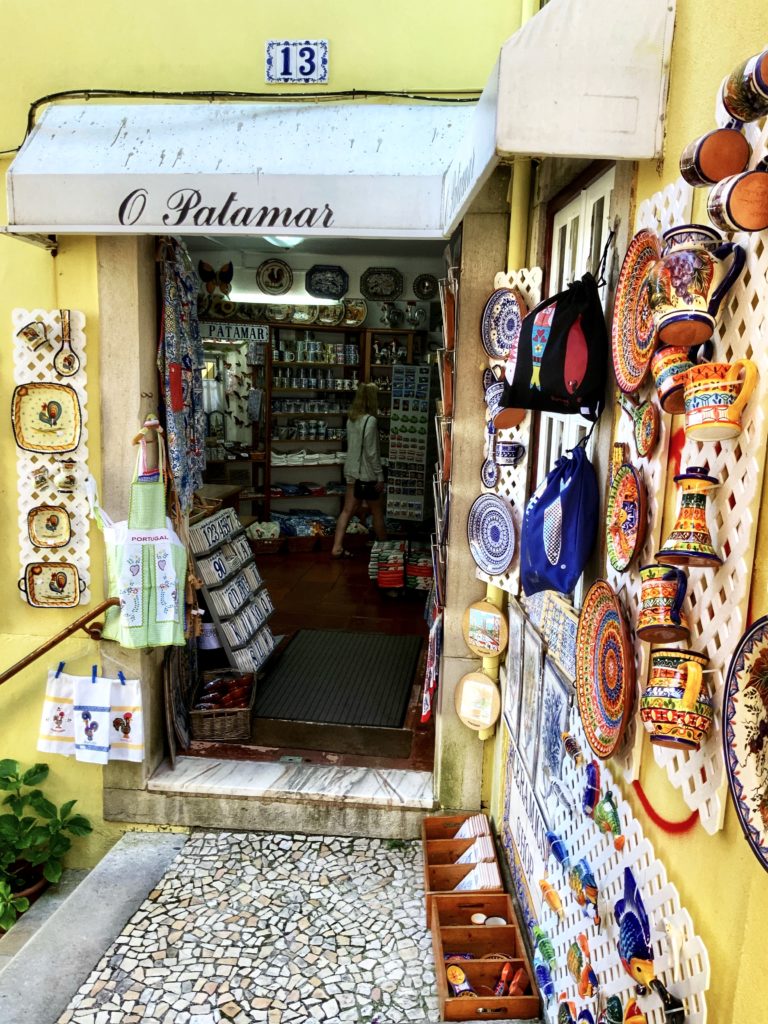 2. How To Get Around Sintra
Sintra is rather tough to get around. It's congested and wasn't made for heavy traffic and massive crowds. The town's roads are narrow, winding, and not really suitable for two way traffic.
You can get around Sintra by walking, tuk tuks, taxis, and Ubers. Uber is the cheapest method.
You'll do a lot of walking and climbing to get to the various sites. Wear comfortable shoes.
You can also use the 434 tourist bus. The bus runs in a one way loop from 9:15 am to 7:50 pm in the summer and 9:30 am to 6:20 pm in the winter.
It stops at the Sintra train station, Sintra center, and three palaces: the National Palace, the Moorish Castle, and Pena Palace. You have to take a separate bus, 435, to get to Quinta da Regaleira or Monserrate Palace.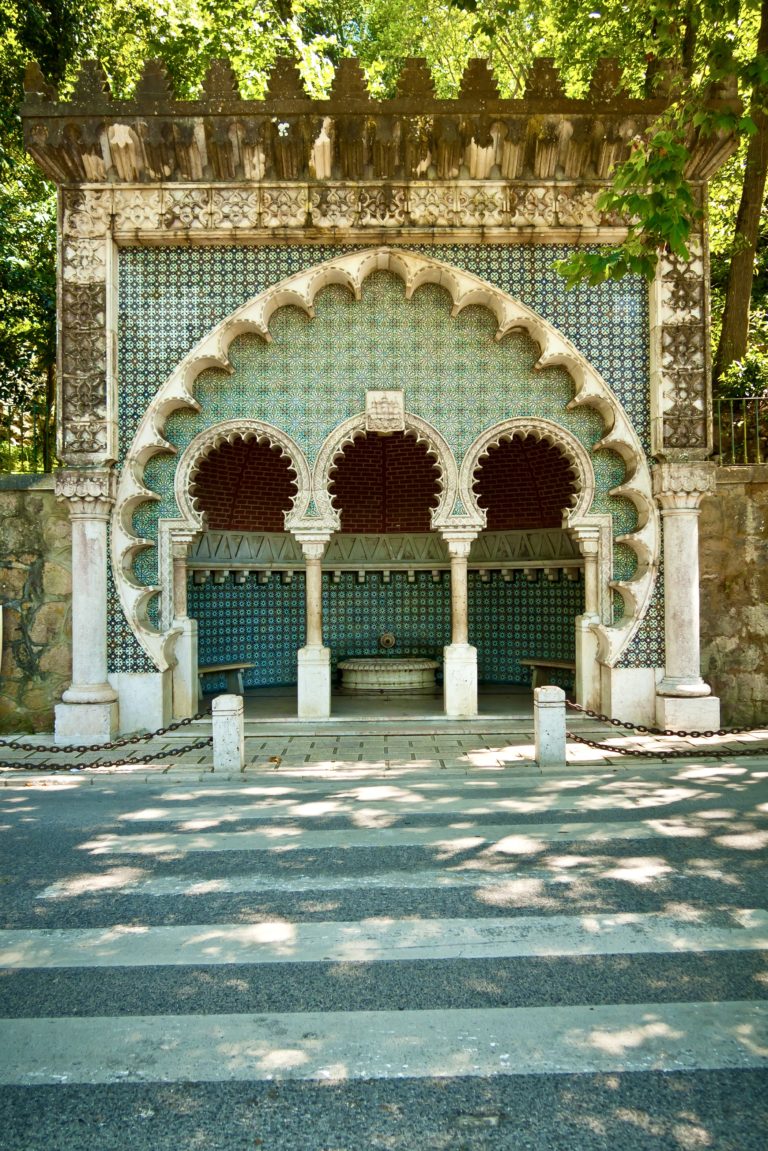 You can rent a small electric car or scooter from Go2Cintra. This may be a decent option, but then you have to do the hazardous driving.
Another mode of transportation to get around Sintra is by EBike. Parkebike.com provides ebikes with an app by Routzz. There are 6 self-guided routes to choose from.
You can also book a 4 hour jeep tour of Sintra and the surrounding villages.
3. Is One Day Enough In Sintra?
One day is enough to see some of the highlights of Sintra if you start early. But you won't see everything with just one day in Sintra. There's just too many attractions to fit into a day.
There are ancient castles, sumptuous palaces, convents, and parks. There's even a new attraction, the News Museum in town.
And you can't avoid wasting some time in transit between sites. If you want to experience everything Sintra has on offer, stay overnight and spend 2 days in the area.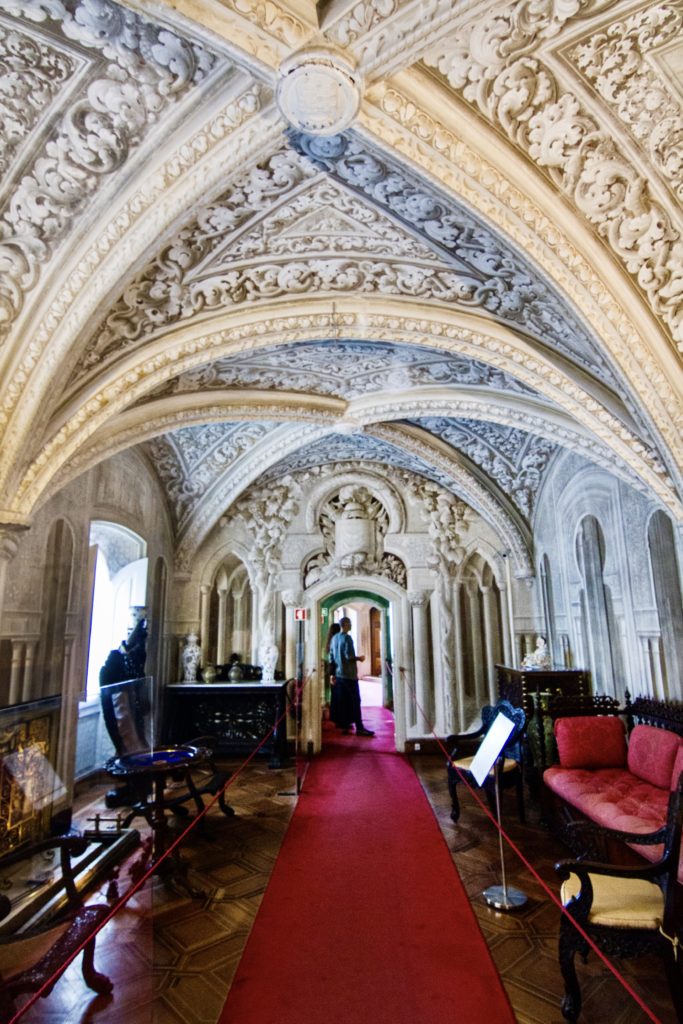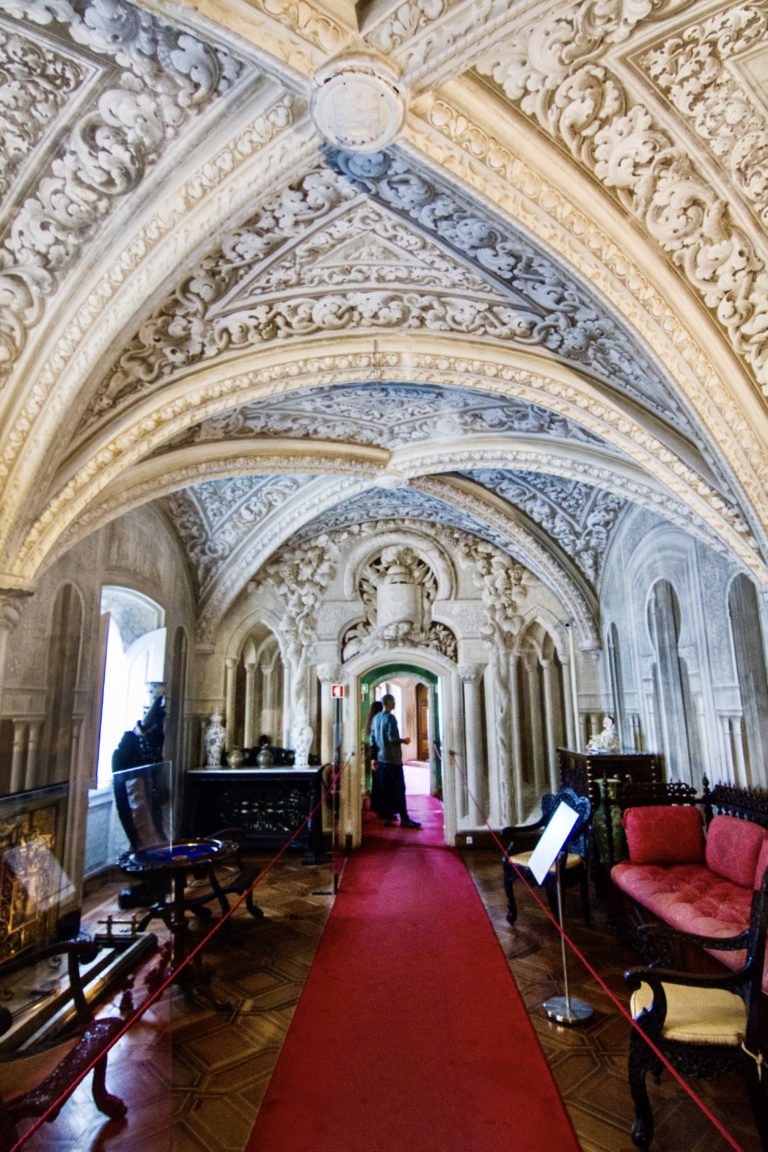 4. Where To Stay In Sintra
It might make sense to spend the night in Sintra before you begin touring the castles and palaces. That way, you'll have a full day without rushing from Lisbon.
The 18th century Palacio de Seteais is a luxury hotel with wonderful views. The interior has grand staircases and delicate murals.
Penha Longa Resort is one of the best hotels in Portugal. It has a spa, indoor and outdoor pools, and 10 restaurants.
Chalet Saudade is a lovely hotel decorated with vintage furniture. It's near the train station and has a rooftop terrace.
Literary buffs should check out the luxurious Lawrence's Hotel. It's the oldest hotel in Portugal and has hosted famous writers. Its 16 guest rooms are filled with antiques.
5. When To Visit Sintra
Since Sintra is always packed in the summer, you should try to visit during shoulder season in the spring or fall.
If possible, you should aim to visit mid-week. That way, you can avoid the cruise ship crowds visiting around the weekend.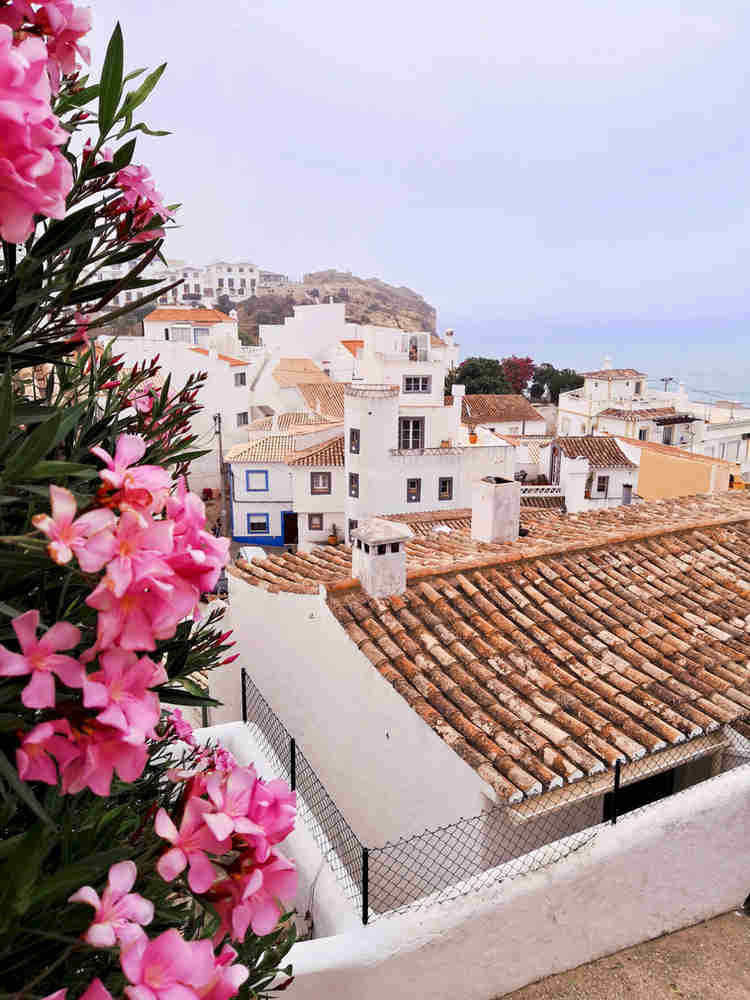 6. Can You Do Sintra And Cascais In One Day?
Cascais is a charming beach town just 30 minutes from Sintra.
It's a coastal resort with pedestrian friendly streets and a posh ambiance. The town boasts world class beaches, historic architecture, an enticing lineup of restaurants, and a buzzing marina.
You can combine Sintra and Cascais on a day trip from Lisbon, but you would have to see fewer things in Sintra.
If you want to squeeze both places in, you may want to book a guided tour from Lisbon.
7. More Than One Day in Sintra?
If you have more than one day in Sintra, there are plenty of interesting places to visit nearby.
Cabo da Roca
Cabo da Roca is a natural viewpoint on the edge of Sintra's national park. It's the westernmost part of Europe, set high on a windswept cliff just 25 minutes from Sintra.
Portugal's most famous poet, Luis de Camoes, described it as "where the land ends and the sea begins."
The 360 views are fantastic. But don't approach the edge of the cliff! There are strong winds and tourists have disappeared trying to get the perfect photo.
Below the cliffs are a few hidden beaches. If you want to stand on the end of the world, you can book a guided tour that includes both Sintra and Cabo da Roca.
Convent of the Capuchos
The Convent of the Capuchos was established in 1560 by Franciscan monks who embraced the ideals of St. Francis of Assisi. The convent will be a relief from all the opulence you experienced in Sintra.
The simple convent is barely distinguishable from the surrounding vegetation. It's built into and out of the surrounding granite. The only decoration is the use of cork inside the convent.
Continuously inhabited for nearly 300 years, the site was abandoned when religious orders were dissolved in Portugal in 1834.
The convent is 5 miles outside Sintra. You'll need to drive or take a taxi to get there.
Hours: 9:00 am to 6:00 pm
Entry fee: 7 euros
Queluz Palace
Often referred to as Lisbon's Versailles, this gorgeous 18th century palace is between Sintra and Lisbon. If you decide to visit, stop here before or after your day in Sintra.
In 1747, Dom Pedro III (then prince regent) transformed his hunting lodge into a swishy Rococo residence. The palace was later extended to add a pavilion, gardens, a throne room, and music room.
The palace facade is stately and sober. It overlooks the spectacular Neptune's Fountain. The formal gardens are decorated with mythological statuary.
The highly decorated interiors are stunning. The highlights are the Ambassadors Hall, the Throne Room, and the Music Room. Click here to purchase a skip-the-line ticket for the palace.
Hours: 9:00 am to 6:00 pm
Entry fee: Palace + gardens = 10 euros. Gardens only is 5 euros
I hope you've enjoyed my guide to spending one day in Sintra. You may enjoy these other Portugal travel guides and itineraries:
If you need a one day in Sintra itinerary, pin it for later.