Here's my guide to spending 2 amazing days in Porto, a magnetic fairytale city with an unrivaled location on the Douro River in Portugal.
This Porto itinerary covers all the top attractions and best things to do and see in Porto in two days. You'll discover where to eat, play, and stay in Porto.
Porto is a stunning city that makes a perfect weekend break. The city is a mosaic of Medieval, Gothic, Renaissance, and Neo-Classical architecture with a pinch of picturesque crumbling buildings. Church spires vie with draped laundry to set an atmospheric stage.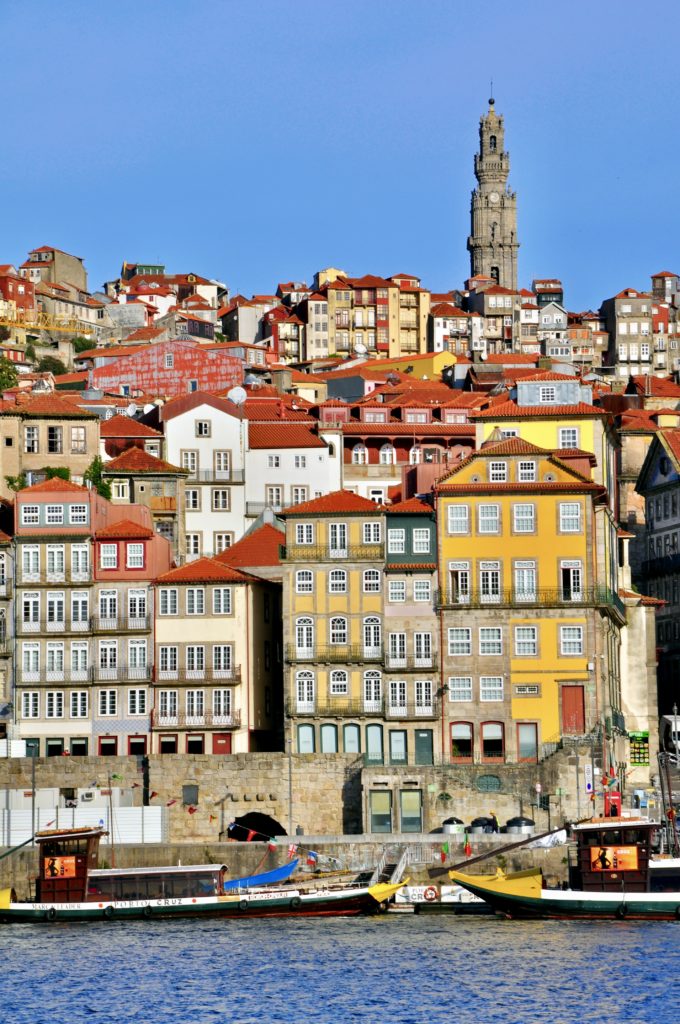 Porto has magnificent churches clad in wild sky blue azulejo tiles, orange terra cotta rooftops, and stunning views of the shimmering Douro River.
Its entire historic center is a UNESCO World Heritage Site. And it seems unplanned — a hodgepodge of steep crisscrossing streets with colorful facades.
On top of that, Porto is becoming known as a foodie destination where food and wine take center stage. There's a slew of top quality restaurants and plentiful wine and port bars.
Overview of 2 Days in Porto Itinerary
Two days in Porto is ample time to explore the city. Porto is a small walkable city. You can easily cover the top attractions and landmarks in a weekend visit.
Here's an overview of my recommended 2 days in Porto itinerary:
Chapel des Almas
Carmo and Carmelitas Churches
São Bento Train Station
Clérigos Tower and Church
Ribeira District
Fado or Casa da Musica
Lello Bookstore
Porto Cathedral
Miradouro Da Vitória
Bolsa Palace
Dom Luis I Bridge
Jardin do Morro
Vila Nova de Gaia
Port wine tour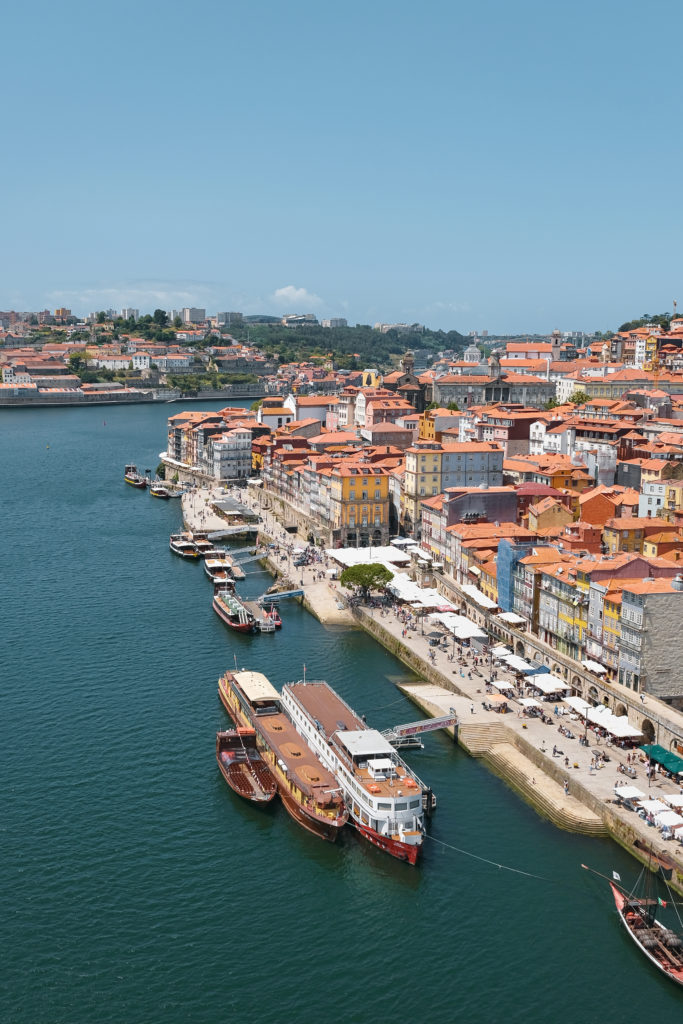 A Short History Of Porto
Porto is an ancient city that was a proto-Celtic settlement before the Romans arrived. In 417 A.D., the Romans built a fort and settled the Roman town of Portus Cale.
After the fall of Rome in the 6th century, Porto was captured by the Visigoths. In 716, like the rest of the Iberian Peninsula, the Moors invaded and took over the city.
In 868, the city was clawed back by King Alfonso III. He became the ruler and dubbed Porto the "County of Portugal."
In the 12th century, Porto profited from crusaders en route to the holy land. In the medieval era, Porto benefited from the wealth generated by Portugal's maritime industry.
Porto was at the height of its power during the Age of Discoveries. The city's most famous explorer was Henry the Navigator.
He set out to find treasures and launch military conquests in faraway lands and returned triumphant. He brought back booty from west Africa.
With this booty, Porto became a major trading port. Eventually, however, Porto lost the lucrative spice trade.
Not to be kept down, in the 17th and 18th centuries, Porto really hit the jackpot with its port wine industry. This was mostly due to squabbles between England and France, who instead sought out Porto to fill their flasks.
The too was the heyday of the Baroque era in Porto, a style that left its mark on the city's churches.
Today, the port wine industry is still Porto's main's gig, though fishing and textiles also contribute to the local economy.
2 Days In Porto Itinerary
Here's how I recommend spending 2 perfect days in Porto. As with all of my suggested itineraries, you should use this Porto itinerary as a guide. You can tailor it to suit your individual interests, needs, and pace of travel.
If you have extra time in Porto, you can easily turn this 2 day Porto itinerary into a 3 day itinerary by moving at a slower pace.
Day 1 Of 2 Days in Porto
Start your first day in Porto with an espresso and puffy pastry cake known as an arrufada. Try Leitaria da Quinto do Paco or Confeitaria do Bolhao.
To get acquainted with the city, you might consider beginning your day with a guided walking tour or a tuk-tuk tour.
The tuk tuk tour lets you breeze through the city getting a quick look at the main highlights. Your guides will also give you restaurant recommendations or other tips and drop you off where you choose.
Otherwise, just dive in and start seeing the attractions.
1. Chapel des Almas
The Capela das Almos is little charmer of a church in Porto. It's completely wrapped with an ornate blue and white tile mural on its exterior.
The bright blue mural was added in 1912, though it's painted in an 18th century style. Its 15,947 tiles depict scenes from the death of St. Francis of Assisi and the martyrdom of Santa Caterina.
The chapel was one of the most extraordinary things I saw in Porto. So unique.
The enchanting little church is on the Rua Santa Caterina and is sometimes called the Chapel of Santa Caterina. Santa Caterina is a popular pedestrianized street you can't miss. It's filled with shops and cafes, near Bolhão Market.
That's the one downside. It's hard to get a proper photo of the church, so many people are milling about and gawking at it.
But plenty of people still nabbed photos against the beautiful azulejos. So be patient and you'll be rewarded.
Address: Rua de Santa Catarina, 428 Porto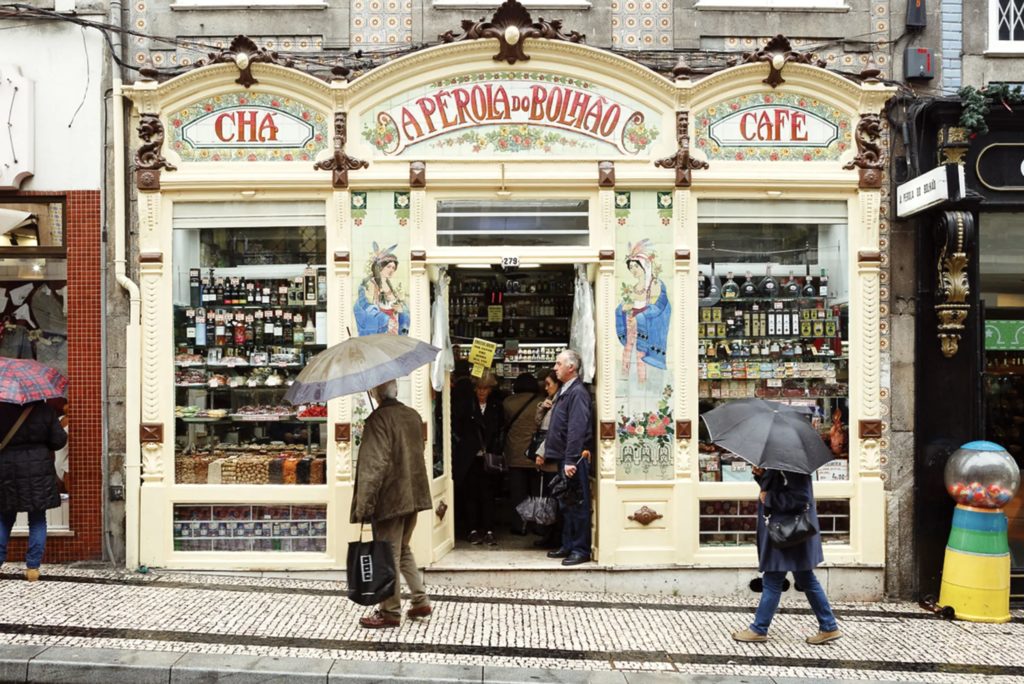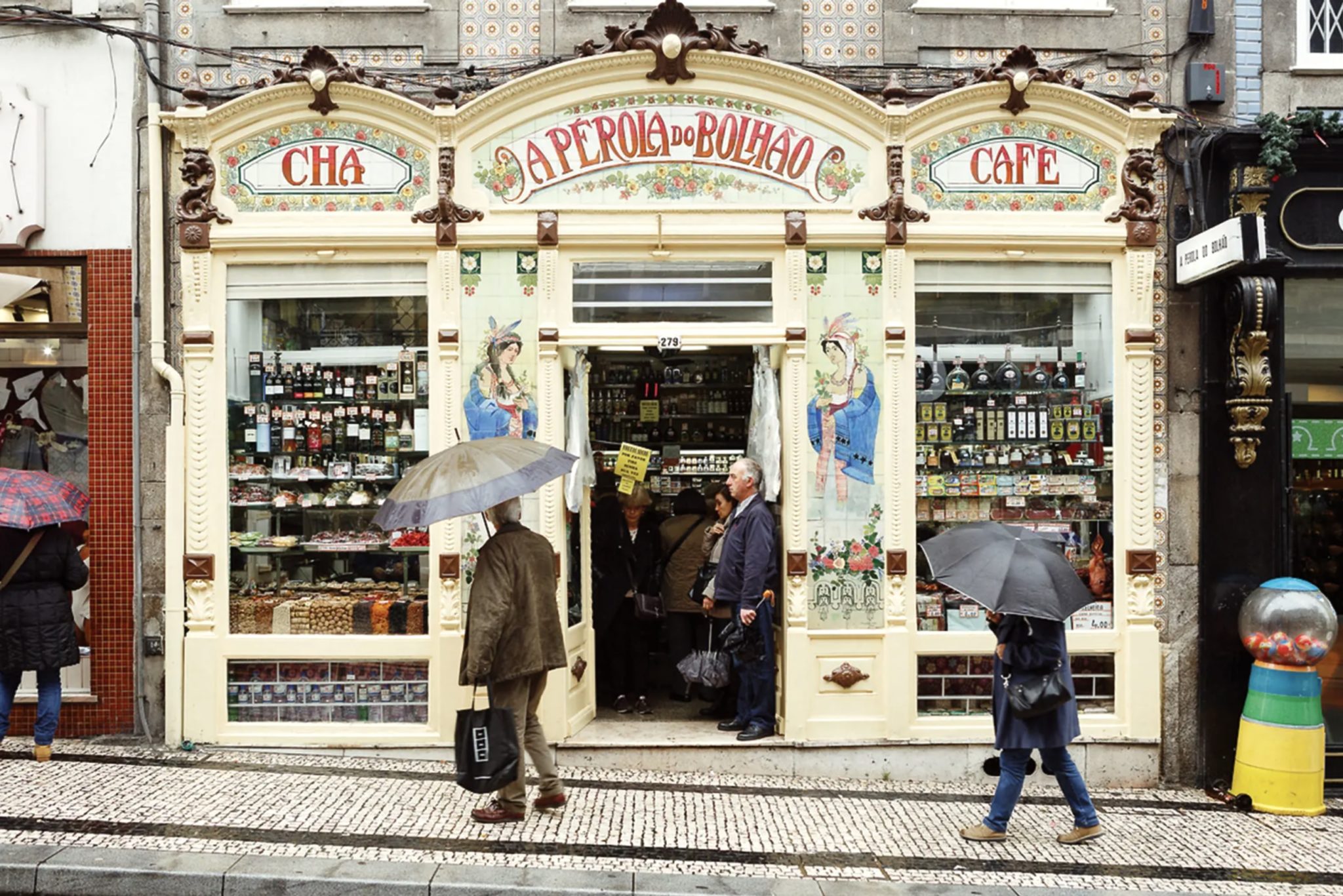 2. Bolhão Market
If you want to pick up your own groceries for your 2 days in Porto or just want to experience a Portuguese market, head to A Perola do Bolhao.
Founded in 1914, it's a market with a beautiful Art Nouveau facade and time warp interior. In 2013, it was designated a Monument of Public Interest.
It stocks virtually every Portuguese product under the sun. It's temporarily closed for renovations, but will reopen soon.
Address: R. Formosa, 4000-214 Porto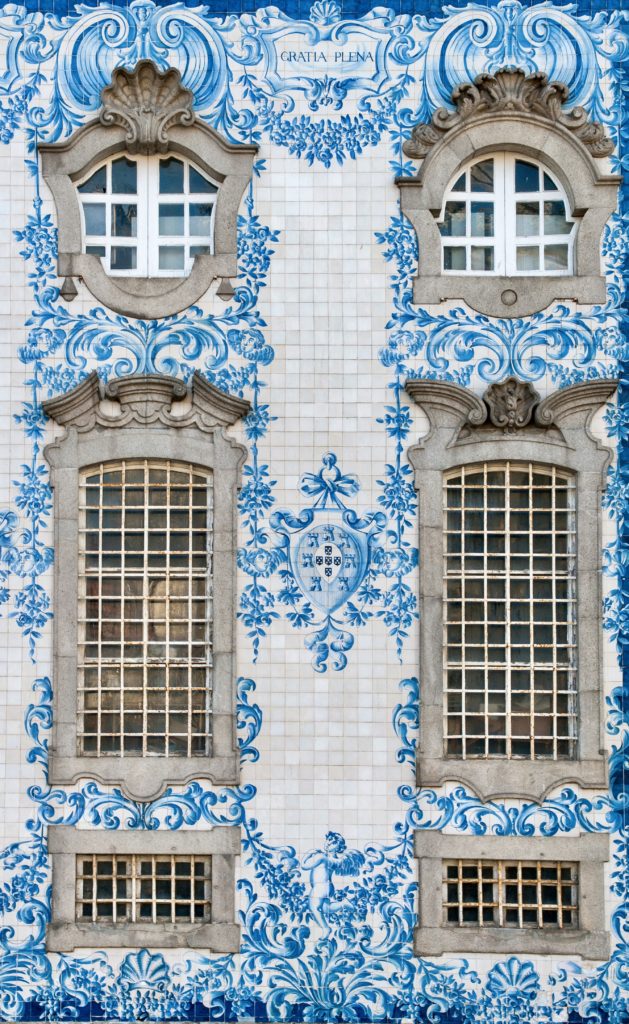 3. Carmo and Carmelitas Churches
The lovely Igreja do Carmo is another beautiful azulejo-clad landmark in Porto. It's close to Livraria Lello and the Palacio da Bolsa. The church is Instagram famous for its grandiose and exquisite side panel festooned with azulejo tiles.
The Baroque and Rococco style church was built in the 18th century and had its exterior tiles installed in 1910. The tiles depict the founding of the Carmelites religious order, when the nuns take the veil.
The church seems big, and looks like two churches smooshed together. And it is.
It's actually two churches, Igreja do Carmo and Igreja dos Carmelitas, separated by a tiny thin house — the narrowest house in Porto. The nuns lived and worked at Igreja dos Carmelitas and the monks at Igreja do Carmo.
Like Capela das Almas, people line up and take turns getting photos against the famous side wall.
Address: Rua Carmo, Porto 4050-164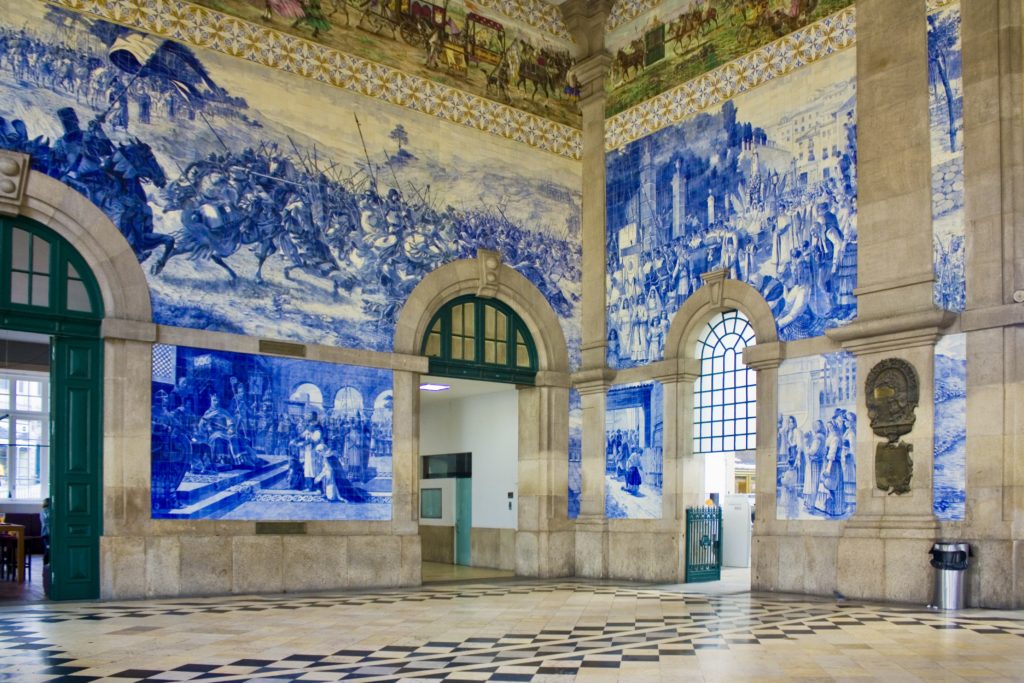 4. São Bento Train Station
You may arrive at the Belle Epoque São Bento Station without realizing what treasures await you. The train station is wallpapered with blue and white azulejo murals. They literally put the "romance" into train travel.
The station station was built in the 20th century and is considered a fine example of Art Nouveau architecture.
You walk in and find an extraordinary soaring atrium covered with 20,000 azulejo tiles from 1905-16, courtesy of Jorge Colaço. He also created the tiles for Porto's Igreja de Ildefonso.
Colaço sought to depict important moments in Portuguese history, including bloody battles and rural festivities.
Address: Praça de Almeida Garrett, 4000-069 Porto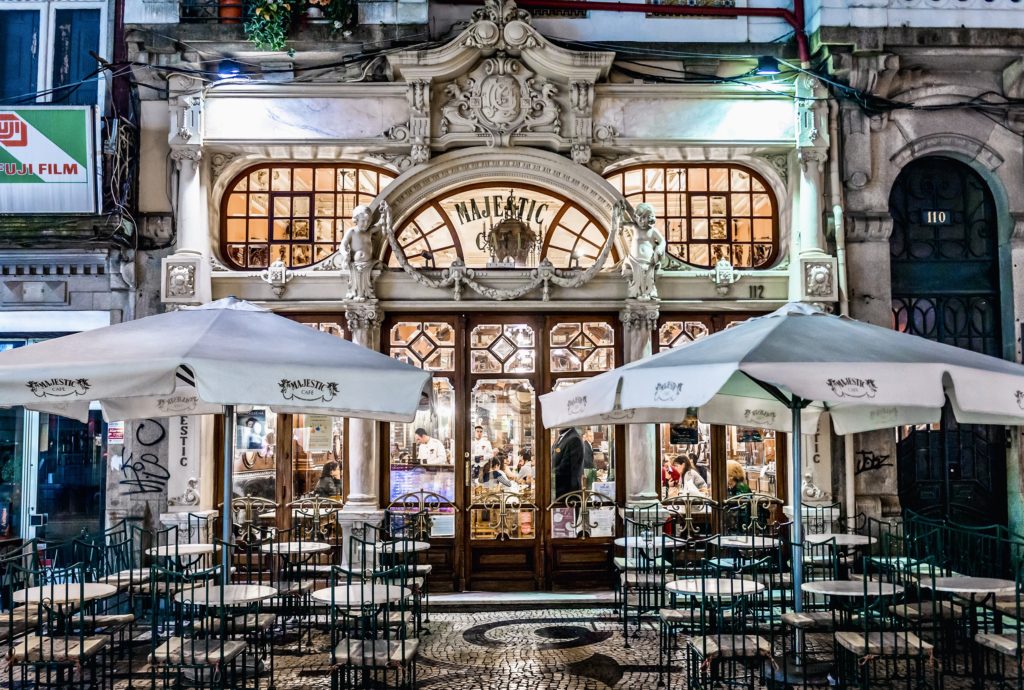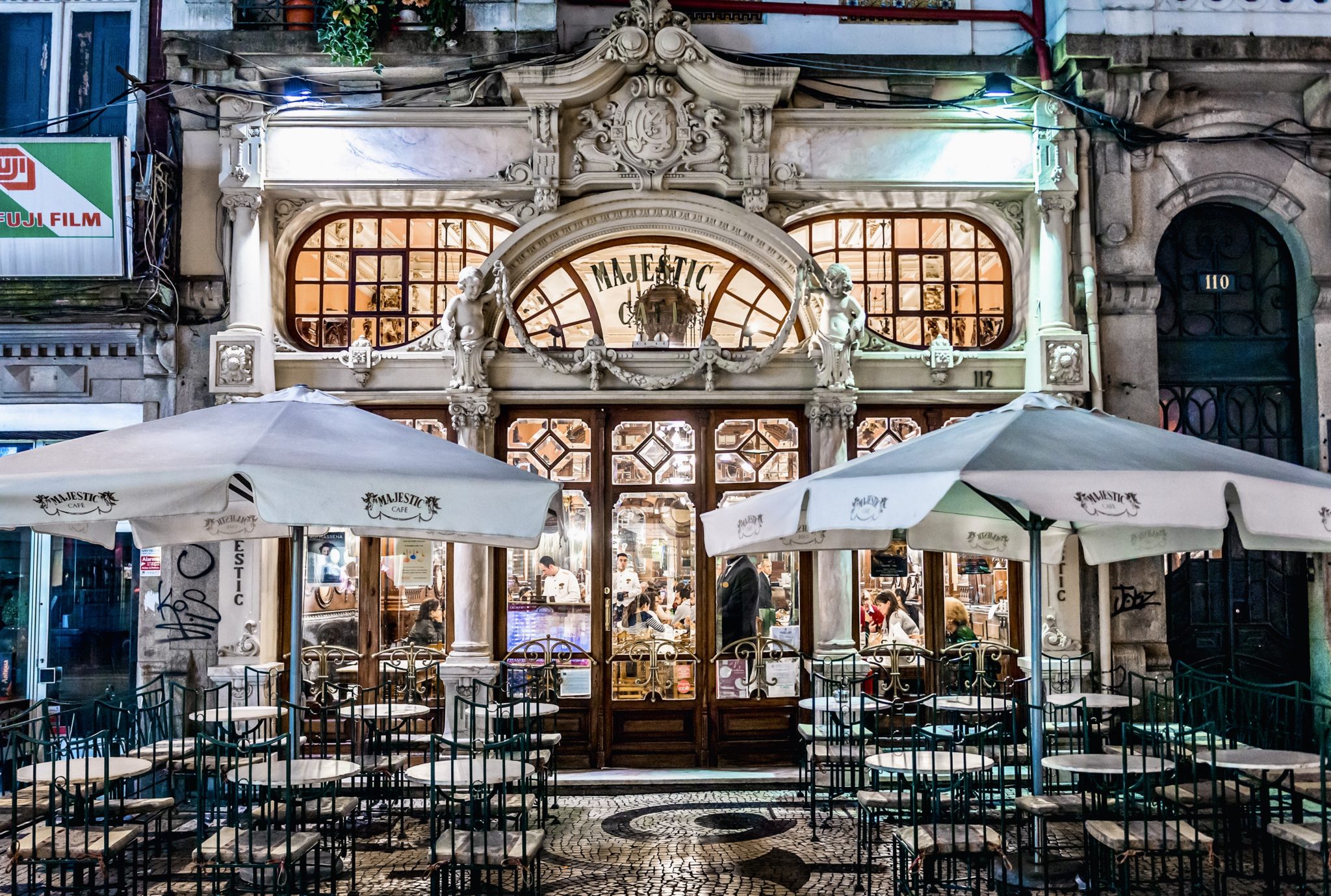 5. Lunch
Rue da Flores is a busy street right near the train station. There are plenty of cafes if you want to grab lunch.
Miss Opo is a trendy place on Rua dos Caldeireiros 261. Or, you could head to the Majestic Cafe, just a 7 minute walk from São Bento.
Opened in 1921, this eye-catching Belle Époque cafe was designed by Joao Queiros. It's considered one of the most beautiful cafes in the world.
It appears regularly on top ten lists. It's certainly the prettiest one I've been inside or eaten at.
It's a bit expensive. But I have to say it was worth it.
Everywhere you look, it was beautiful, down to the tiniest details. I loved the period lighting, ornately carved wood, and the vintage mirrors. They also serve afternoon tea.
If you want something simpler, check out the world's most beautiful McDonalds on Avenida dos Aliados, right next to City Hall and near Porto Cathedral.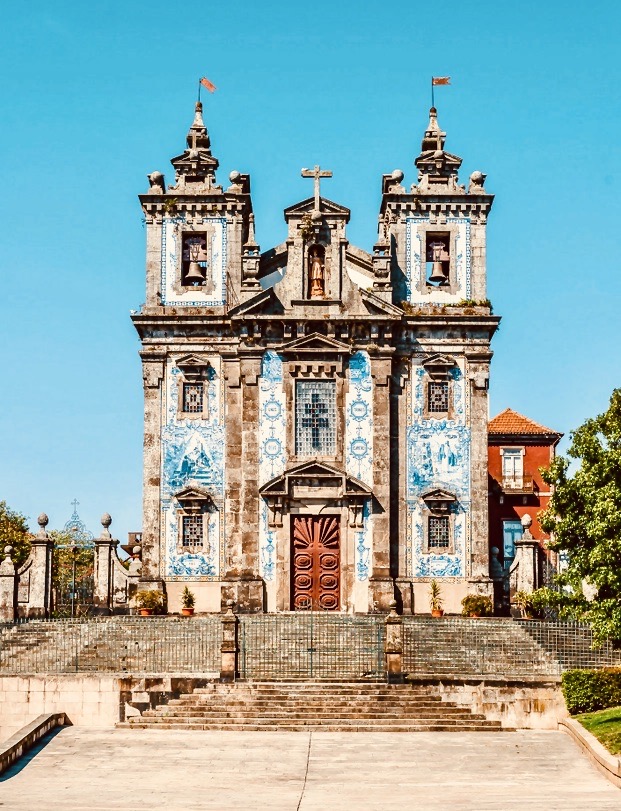 6. Igreja de Santo Ildefonso
Your next stop on your 2 days in porto itinerary is the Church of St. Idlefonso in the center of town.
This arresting church stands on an isolated perch. It looks almost defiantly vertical, as if it might take off in flight or be weaponized.
It was built in 1739 and named in honor of the Bishop of Toledo. There are 11,000 tiles covering the facade depicting the life of Saint Idlefonso, created by Jorge Colaço and added in 1932.
The church appears a bit in need of renovation. But it had a lovely vintage feel, one that might be wiped out by restoration.
Address: R. de Santo Ildefonso 11, 4000-542 Porto

7. Clérigos Tower
Clérigos Tower is the tallest campanile and a famous landmark in Portugal. It's a Baroque masterpiece, dating from the 18th century that stands 250 feet tall.
For €5, you can climb the 225 steps for a privileged and unbeatable view over Porto, the Douro River, and Vila Nova de Gaia.
Be forewarned, it's a rather dizzying climb. The steps are narrow and packed with tourists. It may be a chore to get to the top unless it's off season.
The rooms of the stairs house exhibits documenting the tower's history and its architects.
Address: Rua de São Filipe de Nery, 4050
8. Porto Cathedral
Porto's stern looking cathedral, the Sé do Porto, is in the heart of Porto's old town. The Sé is a must visit attraction with 2 days in Porto.
The imposing fortress-like cathedral is part of Porto's UNESCO designation, it's so old.
Construction began in the second half of the 12th century. In the 17th and 18th centuries it was renovated and now sports three different architectural styles — Roman, Gothic, and Baroque.
The church facade has two towers topped with crowned cupolas, buttresses, a rose window, and a crenellated arch. Inside, the barrel vaulted ceiling, the nave, and the altar are fabulous.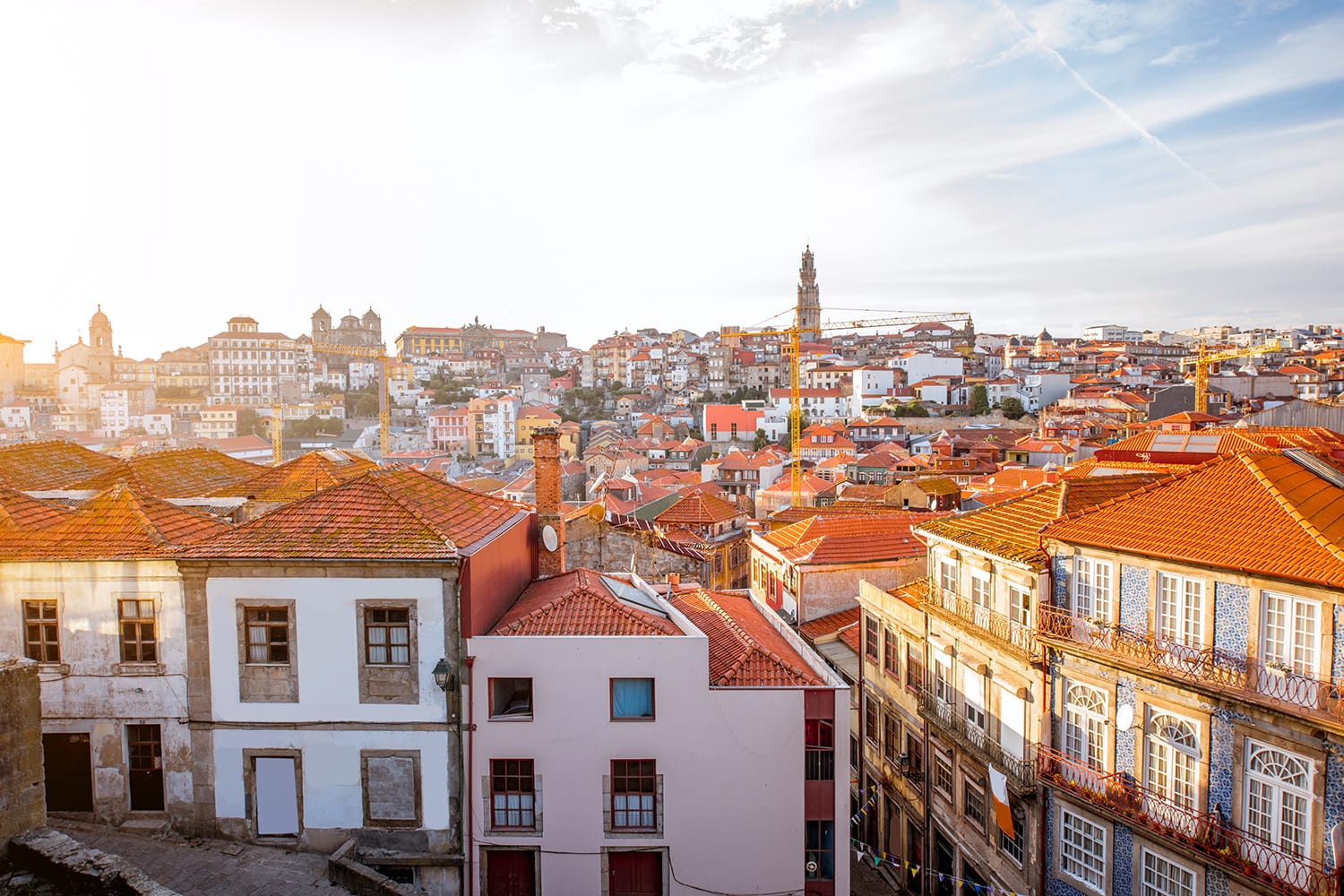 But the 14th century Gothic Cloister is the Se's must see highlight. Entry to the cathedral is free, but you'll have to pony up a few euros to visit the cloisters.
The entrance to the cloister is located inside the cathedral, through a door to the right of the temple. It's worth parting with the cash just to view the gorgeous 17th century blue and white azulejo tiles.
These tiles were created by the artist Valentim Almeida. One set depicts the Life of the Virgin while the other depicts scenes from Ovid's Metamorphoses.
Be sure to climb the grand staircase to the upper gallery. You can step out onto a terrace for one of the best views of Porto. There's also a small museum onsite displaying 12th century Romanesque sculptures.
Address: Terreiro da Sé, 4050-573 Porto
9. Miradouro Da Vitória
Shabby chic Porto becomes picture perfect from its most iconic viewpoint, Miradouro da Vitoria. You can't miss it. The miradouro is signposted and in an empty lot behind a church.
It's perched right above the Ribeira. And, if you time it right, you may be there at sunset on your 2 days in Porto itinerary.
From the viewpoint, you can see all of Porto — Vila Nova de Gaia, its wine lodges, the Dom Luis I Bridge, the Monastery Serra do Pilar, the large glass dome of the Palacio da Bolsa, and Sé Catedral.
It's all of Porto and Gaia in one fell swoop!
And it's the perfect spot in Porto for photographers or Instagrammers. There's plenty of room to set up a tripod and shoot away. And you'll have no trouble getting selfies.
Address: R. de São Bento da Vitória 11, 4050-265 Porto

10. Ribeira District
After you get your photos at the miradouro, keep heading downhill to the Ribeira, Porto's buzzing UNESCO neighborhood. It has an irresistible pull in the evening.
The Ribeira is a medieval warren of narrow winding streets and pastel painted facades in faded glory. Tall and colorful row houses are crammed along the river bank.
Trendy bars, cafes, shops, street artists, and entertainers spill out into the sun. This is a great place to relax and grab a cocktail or appetizer.
When you're strolling down the riverside, you'll see people lining up for river cruises. If you want to cruise down the river, you can pre-book a 50 minute 6 bridges cruise. This is a fun way to see Porto and Gaia from a different perspective on the water.
You need to book a time slot. If you miss your time slot, you may be able to hop on the next boat.
In the Ribeira area, you can also visit the Museu da Misericordia do Porto. Founded in 1499 as a charitable foundation, the museum is spread out over 4 floors. Click here to book a ticket.
The museum traces the history of the organization's philanthropy. It also has an impressive collection of 16th to 19th century paintings and religious artifacts.
The museum's prize possession is the large scale Flemish Renaissance painting Fountain of Life, which was donated by Manuel I. It depicts the king and his family kneeling before Christ.
The work's attribution is unclear. But some thinks it's the work of Northern Renaissance painter Hans Holbein.
From the museum, you can also visit the Igreja da Misericordia. It's decorated with the usual blue and white azulejo tiles.
Address: R. das Flores 15, 4050-292 Porto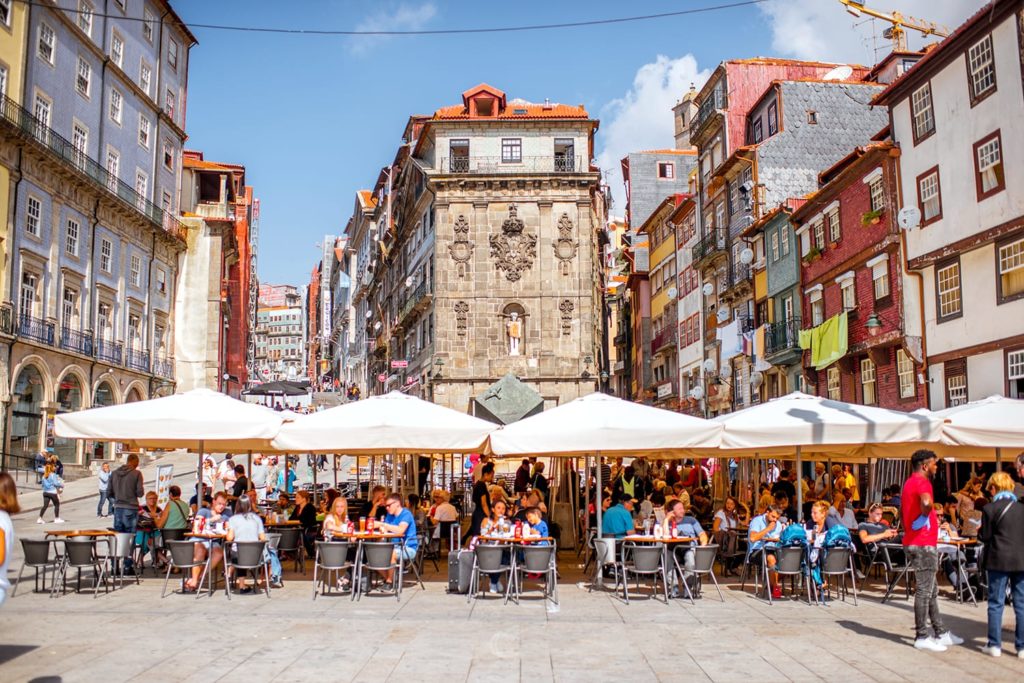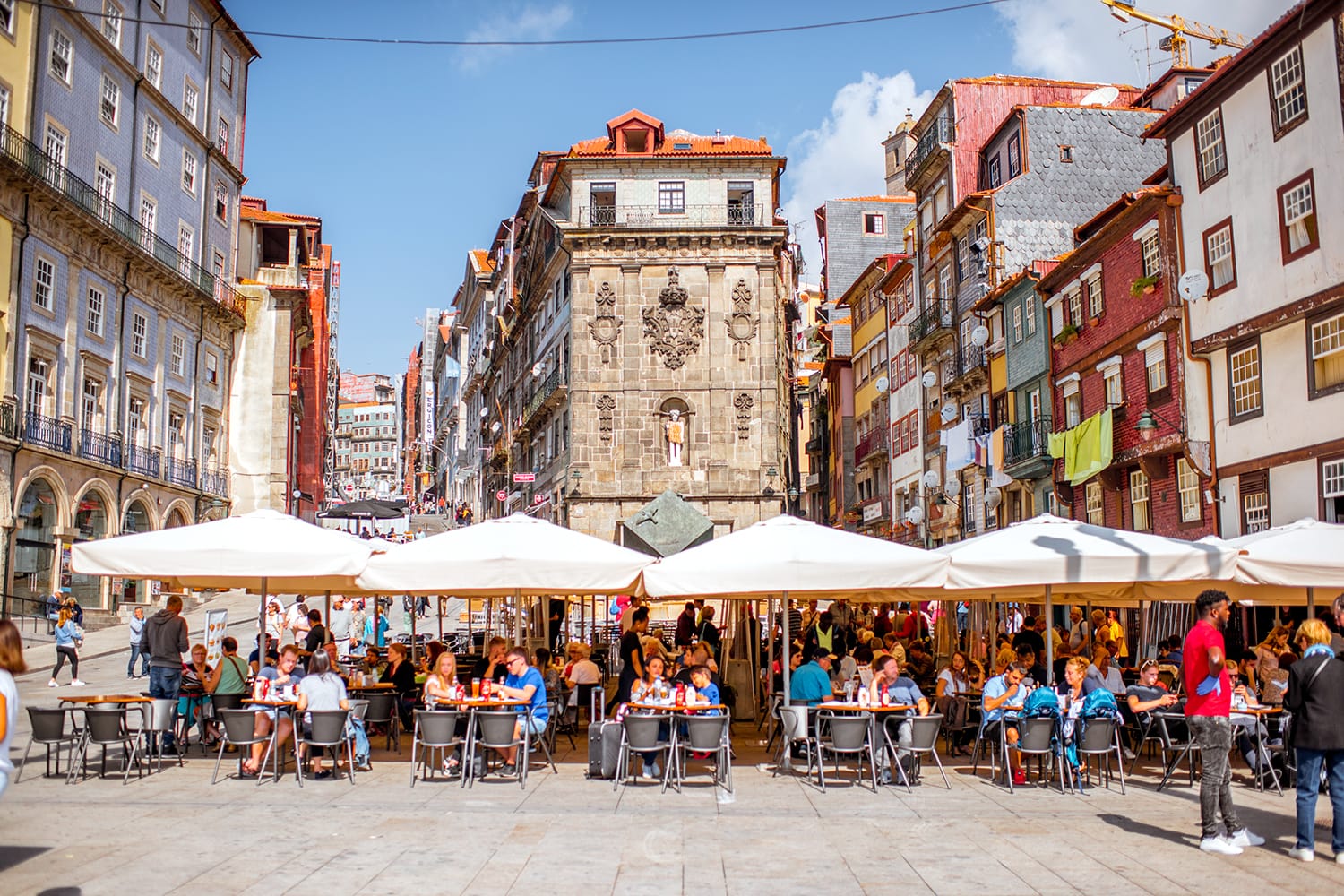 11. Dinner
If you have an appetite for hearty and heavy, you should try Porto's gutbuster sandwich called the Francesinha. It's a meat and these sandwich slathered with a spicy beer and tomato sauce.
You can buy them at shops throughout the city. But for the best sandwich in Porto, head to Lado B.
Another Porto-themed option is an an award winning "hot dog" called a Cachorrinho.
It's a sausage that's grilled and stuffed inside a baguette with butter, cheese, and a spicy sauce. It's then flattened on a grill and cut into small pieces. You can pick one up at a Gazela bar in Porto.
But Porto isn't just a quantity over quality when it comes to food. There are scads of Michelin restaurants in Porto now. I had dinner at Almeja and it was fantastic.
Other excellent restaurant options are Traca on the Rue das Flores (good oven roasted bacalhau), Terra Nova on the Cais de Ribeira, and Jimao Tapas e Vinhos (Portuguese tapas).
You can also book a cooking class in Porto.
12. Evening Fado Show
If you've never been to a Fado show, you might want to put that on your evening itinerary. The shows are held in an intimate setting where you can sip port wine and listen to this classic Portuguese type of blues balladering.
There are plenty of Fado venues in the Ribeira area. You can also combine a Fado show and nighttime city tour. Or enjoy a show in one of Porto's famous wine cellars with a wine tasting.
13. Casa da Musica
Alternatively, you can take in a show at the the avant garde Casa da Musica. It's a rather strange looking concert hall in the shape of a cuboid designed by Rem Koolhas. Two walls are made of glass.
It's the home of the Porto Symphony Orchestra. The space is firmly established as Porto's principle cultural venue, hosting classical music and jazz concerts.
The views from the Grand Auditorium are stunning. The interior is lined with beautiful traditional blue and white azulejos.
If you don't want to take in a show, guided tours in English leave everyday at 11:00 am and 4:00 pm.
Address: Av. da Boavista 604-610, 4149-071 Porto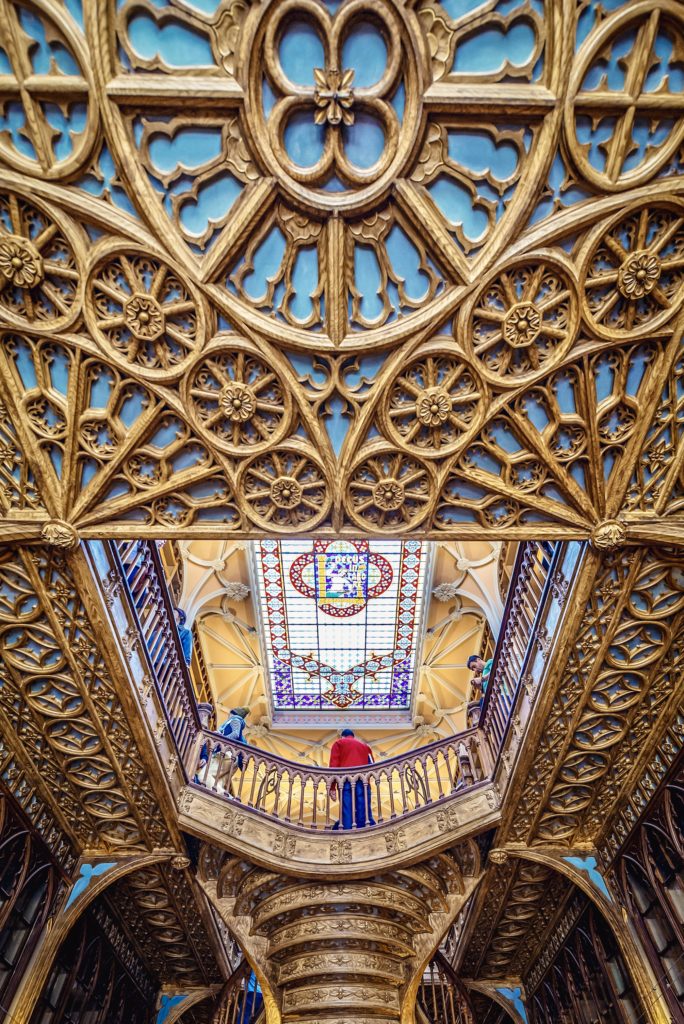 Day 2 Of 2 Days In Porto Itinerary
1. Lello Bookstore
Livraria Lello is one of the world's most beautiful bookstores, clocking in at #3 on Lonely Planet's ranking. It's the ultimate in biblioporn.
Time Magazine placed it among the world's 15 most interesting bookstores. In 2014, CNN declared it the most beautiful bookstore in the world. It's now classified as a National Monument.
Tourists flock to Lello Bookstore to see its lovely Art Deco, Art Nouveau, and Gothic interior. It also claims bragging rights as the rumored inspiration for J.K. Rowling's Harry Potter book series, so draws Potterheads.
It's 5 euros to enter the bookstore. But that cost is credited back against your book purchase. You should buy online tickets in advance at the bookstore website because it's extremely popular and there will be lines.
Another bookstore right near Lello is Gostar de Ler. This tiny bookshop is part film set, part living room.
Address: R. das Carmelitas 144, 4050-161 Porto
2. Bolsa Palace
Porto's Old Stock Exchange Palace was built next to the Church of São Francisco in 1832. The exterior was finished in 1850 and has a Neo-Classical design.
The eclectic interiors were decorated right up to the start of the 20th century. It's an underrated tourist attraction in Porto, in my view.
You need to go inside to comprehend the richness of the elaborate sculpture, decorative carvings, plasterwork, frescos, chandeliers, and tiles.
The stuccoed Moorish Revival Salão Árabe is almost overwhelming, while the monumental Pátio das Nações courtyard is lit by an octagonal metal and glass roof.
It was recreated by Gustavo Adolfo Gonçalves de Sousa. He was inspired by the Alhambra palace in Granda Spain.
You can only visit the palace on a guided tour, which lasts 30 minutes.
3. Igreja de São Francisco
As if the Se were not enough, the Ribeira's other monumental church is the Igreja de São Francisco.
This stunning Neo-Baroque church is just a short walk from Bolsa Palace. It's a must visit with 2 days in Porto.
On the outside, the church is austerely Gothic. Inside, it has an almost blinding over-the-top Baroque interior.
You'll feel smothered in orange gold detail. The church is encrusted with 450 pounds of gold on its pillars, columns, and high altar.
One of Sao Francisco's prized treasures is a sculpture of Jesus' family tree, known as the "Gold Church." Much more subdued is the statue of St. Francis himself in a niche to the right of the entrance.
On your visit, you can also tour the catacombs, with rather macabre decorations of skulls and extraordinary carved sculptures.
There's also a museum housing relics from the church's monastery, which was destroyed in 1832.
Address: Rua do Infante Dom Henrique
4. Serralves Museum
Fancy a bit of culture before dinner? Head to the west of Porto and visit the Serralves Museum.
It's one of Portugal's leading cultural institutions and a jewel in porto's cultural crown. It's a 15 minute taxi ride from the historic center.
The Serralves is a contemporary art museum in an ultra-modern boxy pinkish Art Deco building. It was designed by Porto's celebrity architect Alvaro Siza Viiera.
The low lying building is best described as Bauhaus meets Miami Beach. The museum display post 1968 art works.
It also hosts major contemporary art exhibitions and performances. Serralves is also the home of Porto's annual jazz festival.
The real joy is the adjoining 44 acre sculpture park and vast formal gardens. You'll get a bit of green time and see sculptures by Claes Oldenburg and Richard Serra.
There's also a treetop walk where you can sit on a bench and listen to the birds. And have afternoon tea at a delightful teahouse.
Address: R. Dom João de Castro 210, 4150-417 Porto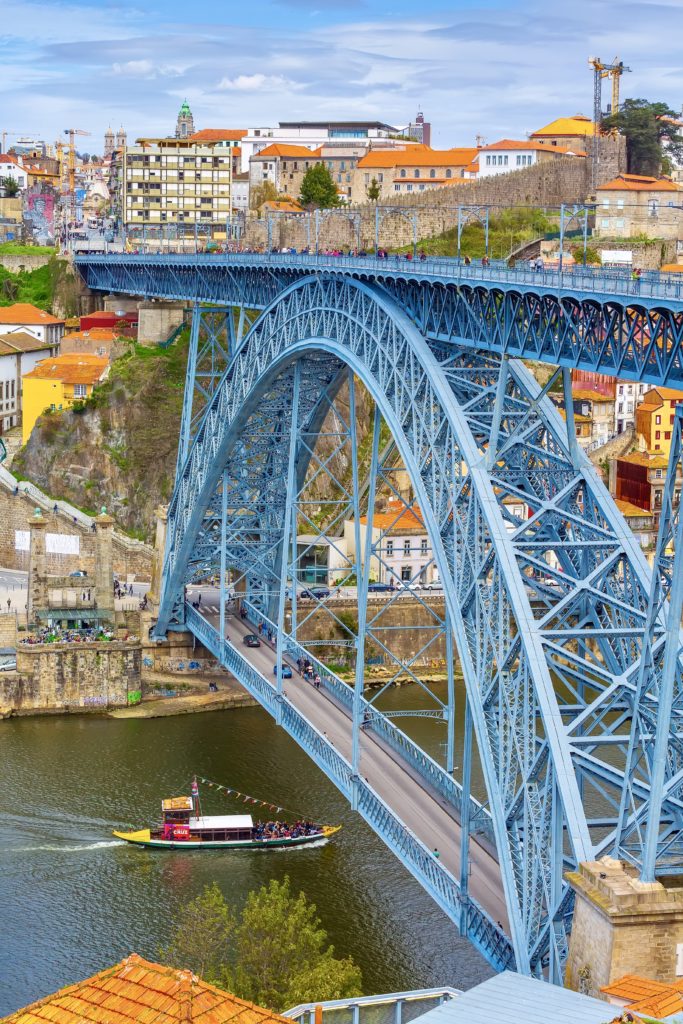 5. Dom Luis I Bridge
Now it's time to head to Porto's next door neighbor, Vila Nova de Gaia, for some evening fun.
You can travel there in the most picturesque way, by walking over the top level of the Dom Luis I Bridge. It's sure to give you a little vertigo along with the staggering views.
The metal arched bridge was designed by one of the pupils of famous French engineer Gustave Eiffel, Théophile Seyrig.
Its construction began in 1881 and required 3,054 tons of metal. When built, Don Luis was the longest metal bridge in the world.
Usually there are young kids and men jumping from the lower level of the bridge in exchange for euros. Visitors can walk over it, drive over it, or take the train.
I walked on both the upper and lower levels. Views on the top are obviously better.
Address: Pte. Luiz I, Porto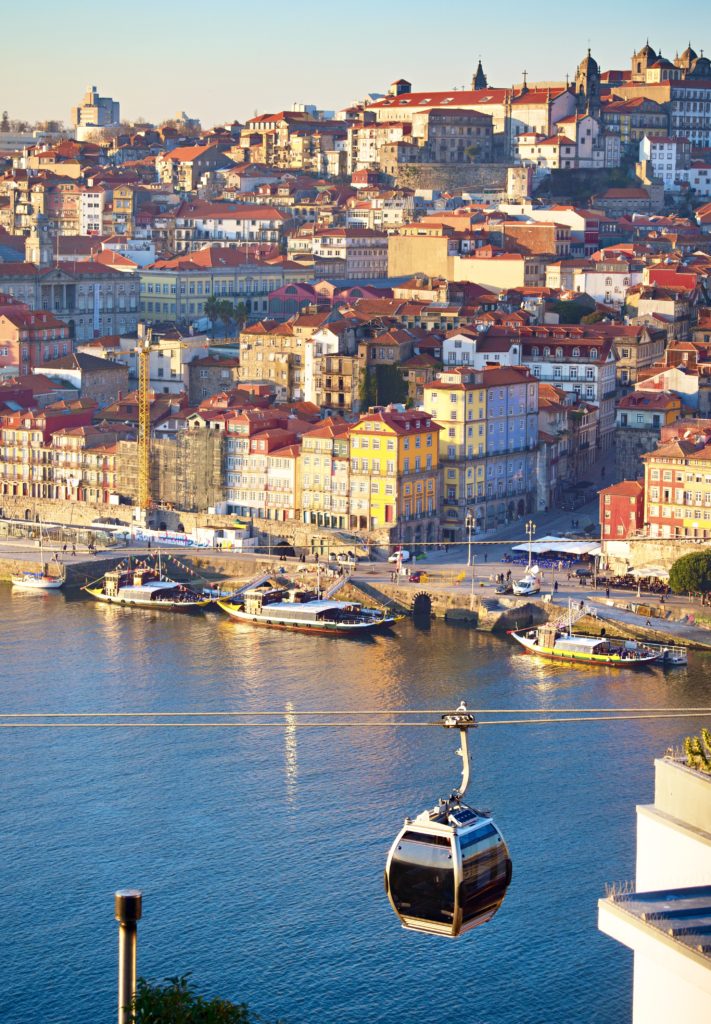 6. Teleférico de Gaia
The Teleférico de Gaia cable car provides great views and photo opps over the Duoro River. To catch the cable car, cross the lower level of the Luís I bridge from Porto.
Turn right and walk along the river in Vila Nova de Gaia past the vendors and wine caves. Eventually, you'll come to the ticket office for the cable car on the river.
You can get a one way ticket or a return ticket. But the one way ticket is likely the best. It's the ascent and will save you a steep hike upon landing.
The Teleférico is only a 5 minute ride, but I loved it. You'll have great views of the port wine lodges.
When you disembark, you can hang out in the Jardim de Morro gardens and catch the sunset views.
There are benches. You can also just plop down on the grass like the locals, perhaps under a shady palm tree. Access to the park is free and it's open 24/7.
Address: R. Rocha Leão 236, 4430-148 Vila Nova de Gaia
7. Monastery of Serro do Pilar
After a lounge in the gardens, you can make the relatively short hike up to the Monastery of Serro do Pilar. It's a former 16th century convent that's now a military barrack.
The circular Renaissance building looks quite beautiful illuminated at night. But the real reason to visit is for its terrace — it gives you one of the best viewpoints in the city.
From there, you can also see a length of Porto's 14th century fortress battlements, which are actually pretty interesting and part of Porto's UNESCO designation.
Watch the sunset and then head down to Vila Nova de Gaia for dinner and a port wine experience.
Address: Largo de Avis, Vila Nova de Gaia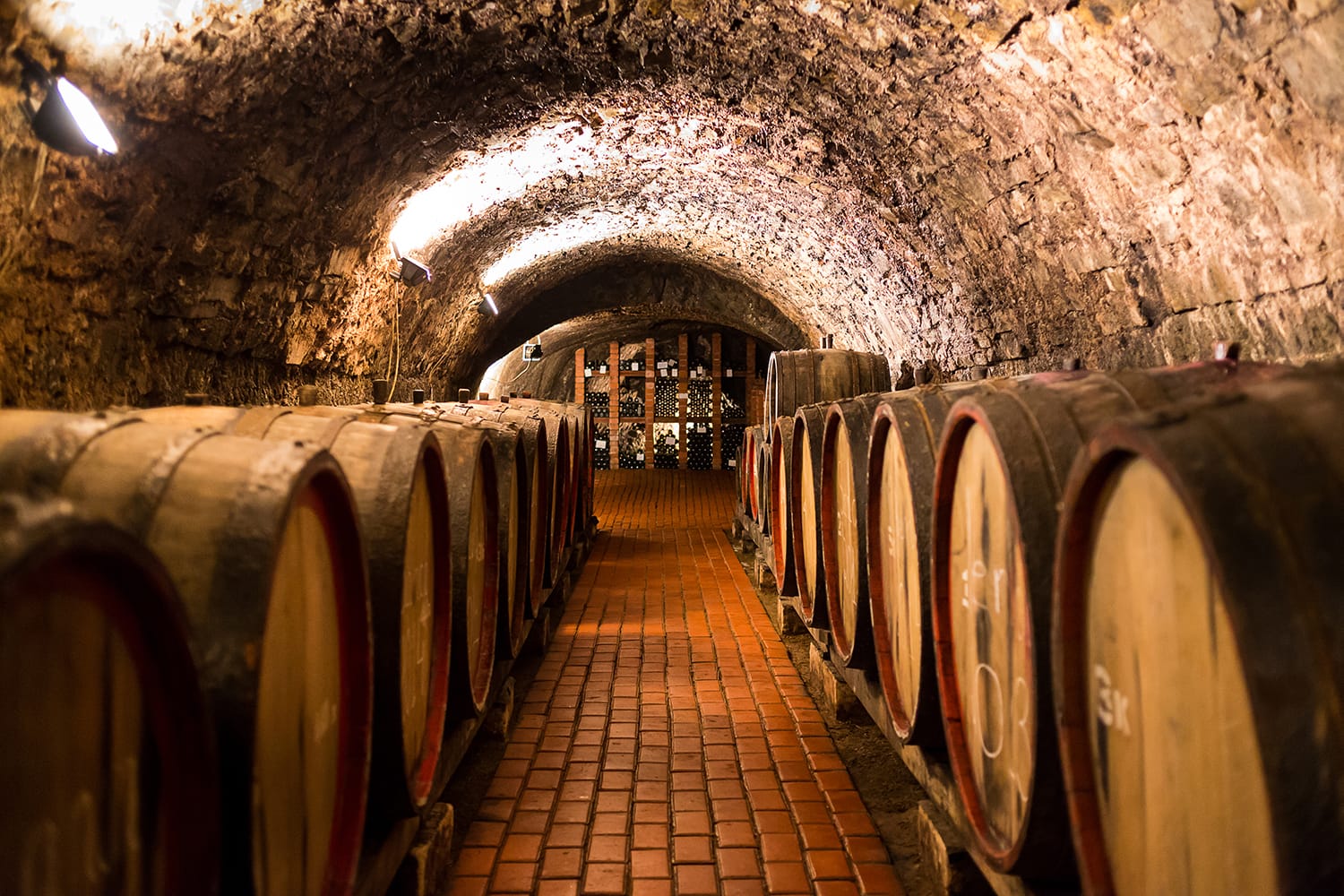 8. Vila Nova de Gaia
No 2 days in Porto itinerary would be complete without a visit to Vila Nova de Gaia. It's a village across from Porto that's home to Porto's red brick port wine lodges. It also gives you great views of Porto's Medieval-Mediterranean setting.
Begin your visit with a stroll down the Riva Promenade where you'll have superb views of Porto's historic center from across the river. You'll see rabelo boats used to transport wine barrels and vendors selling artisan crafts.
Port has been produced in Gaia since the 18th century. The wine is made from grapes grown in the nearby Douro Valley and matured in cellars in Vila Nova de Gaia.
Port wine is quite a bit stronger than regular wine, so be careful not to get port-marinated. There are many different types — tawny port, vintage port, and ruby port.
One of the most famous cellars is Graham's Port Lodge, established in 1890.
They also have an onsite restaurant, VINUM, where you can have a meal with views. You can also book a guided tour of the Graham wine cellars with tastings.
If you want to visit several cellars, this guided port wine tasting tour takes you to seven different places where you can sample and compare the goods.
If it's views you want, you can also have a port wine cocktail at the rooftop bar at the Terrace Lounge 360. The space also has a wine shop, tasting rooms, and a restaurant.
There's also a new attraction opened in Gaia, the World of Wine known as "WOW." It's a cultural center in the historic wine district that aims to demystify wine.
It's not just limited to Porto's famed port wine. The center explores wine production throughout Portugal. You can prebook a ticket for the WOW wine experience.
Aside from sipping some port, you can also wander the charming side streets of Gaia. You'll see a magnificent art installation: Half Rabbit by Lisbon street artist Bordalo II.
It's part of his Trash Animals series (dogs, fish, bees, rabbits). Bordalo II is known for creating works of art from "waste" as a statement on the impact of consumerism.
Half Rabbit was simply arresting. If you love street art, you can see more of it on this 2 hour guided mural tour by Tuk-Tuk.
If you don't want to eat at a port wine lodge, there are several restaurant options in Vila Nova de Gaia. I had excellent meals at Tempêro d'Maria and Restaurante Mario Luso.
For a splurge, you can try the Michelin star restaurant The Yeatman.
Tips For Visiting Porto
1. How To Get To Porto
Porto is located in northern Portugal. Portugal is a European Union member and uses euros as its currency. Here are the different ways you can get to Porto.
By Train:
If you're coming from Lisbon, the easiest way to get to Porto is by high speed train. It's 3:15 to get from Lisbon's Oriente station to Porto's Campanha Station.
From Porto's train station, you can catch a bus, subway, or taxi to get into the city center. Taxi is the fastest option, at about 13 minutes.
By Plane:
The easiest way to get to Porto from the United States is to fly into Lisbon. From the airport, you can drive, take the subway, or get a taxi into the city center. You can also book a private transfer from the airport to your hotel or accommodation.
By Guided Tour or Private Transfer From Lisbon:
If you're in Lisbon and don't want to relocate, you might consider booking a full day guided tour to Porto. You can also book a private transfer from Lisbon to Porto.
2. How To Get Around Porto
Porto is a very walkable city and easy to navigate with a map.
You can book a guided walking tour to get around. You can also take Uber and taxis, with Uber being slightly cheaper.
Other fun ways to get around Porto include a guided e-bike tour, a regular bike tour, or a 2 hour tuk tuk tour. You can also take the hop on hop off bus.
3. Porto Card
You might consider investing in a Porto Card.
The card includes free and discounted access to attractions and museums. It can be upgraded to include free public transportation.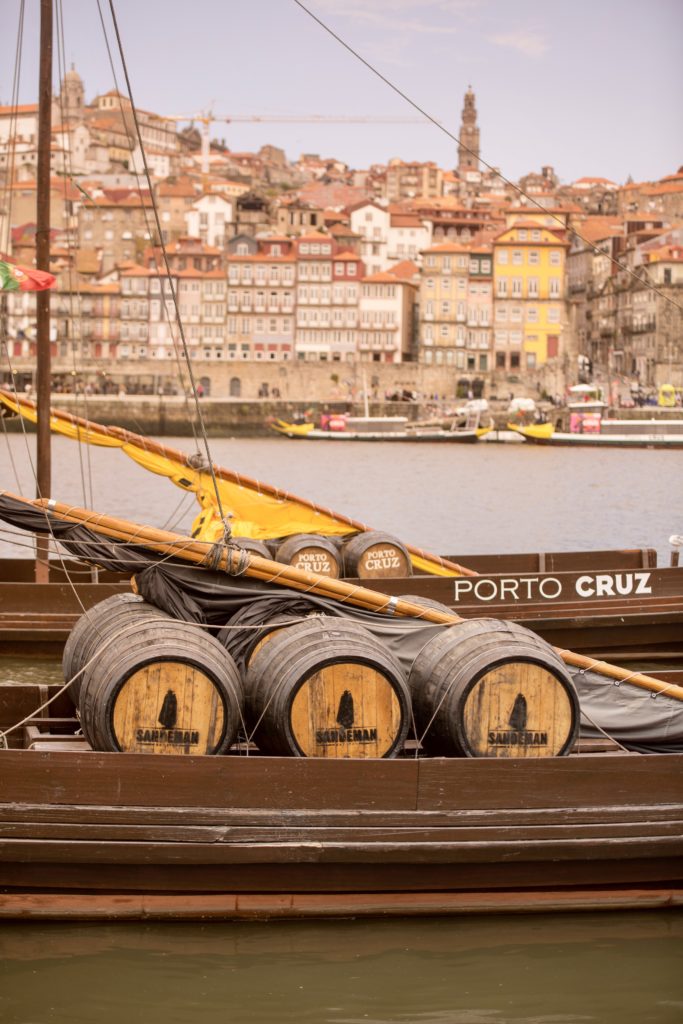 4. Where To Stay In Porto
Porto has some incredible luxury hotels.
One outstanding historic hotel is the Maison Albar Hotels Le Monumental Palace. The beautiful hotel is near Clergios Tower and has an indoor swimming pool and spa.
The Pestana Palacio do Freixo is a luxury hotel in an 18th century Baroque building with view of the Duoro River. Just opened in 2019, the Torel Palace Porto is an elegant hotel with a tranquil outdoor patio.
Porto Bay Flores is a romantic hotel in a tastefully renovated historic building with spa and wellness facilities. The Torel Avantgarde is an award-winning hotel with a stunning outdoor pool and panoramic views over the city.
5. When To Visit Porto
The best time to visit Porto is late spring, early summer, or fall.
In July and August, the temperatures may cause heat stroke. In the winter, you'll get cold and wet weather.
If you want to time your visit with a festival, the Festival of St. John is one of Europe's biggest celebrations.
The festival takes place in late June and pays tribute, in a sacred and profane way, to St. John the Baptist. It's essentially a big street party with barbecues, music, culture, and fireworks.
In March and April, you'll find Easter celebrations in Porto. If you're a destination runner, the Porto Marathon takes place in November.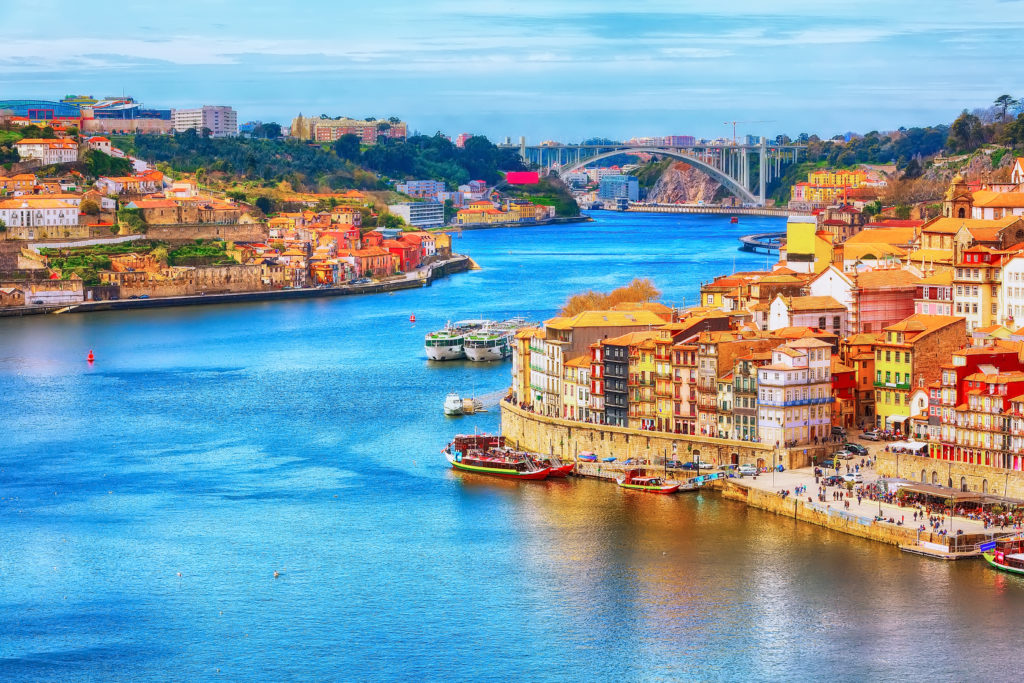 6. Is Porto Better Than Lisbon?
While both have old world charm galore, Lisbon and Porto are just different in terms of city visits.
Lisbon is the first city people flock to when visiting Portugal. It's the capital of Portugal, larger, and more sophisticated. Plus, it's much easier to get to with connecting flights across Europe.
Porto is smaller and easier to navigate than its bigger sibling. Yet it doesn't have an inferiority complex from being Portugal's second city at all.
It's 100% walkable and less expensive. It's one of Europe's best small cities.
Unlike Lisbon, Porto wasn't damaged by the 1755 earthquake. Thus, it has a lot of authentic and crumbling buildings from the Middle Ages.
More Than 2 Days In Porto?
Do you have more than 2 days in Porto? If so, there are plenty of great day trips to take from Porto.
1. Guimaraes
Guimaraes is an incredibly charming town just 30 minutes from Porto. The Old Quarter is filled with narrow cobblestone streets, old stone homes, and beautiful squares. Guimaraes has two must see historic attractions.
Guimaraes Castle is famous as the birthplace of D. Afonso Henriques, the first king of Portugal, and is part of the town's UNESCO designation.
The foundations of the current castle date back to the late 10th century. It was built to protect a nearby monastery. Its jagged crenellations will conjure images of crusaders on horseback.
The medieval castle is picturesque from below. But when you begin to climb its walls … wow. You have beautiful views of the countryside.
Next door is the Palace of the Dukes of Braganza. The fully renovated ducal palace is mostly a museum for artifacts and 17th century furniture, but still worth a visit.
You can buy a combination ticket with Guimaraes Castle. The palace has unique chimneys that pop out of the rooftops.
From Porto, you can book a guided day trip to both Guimaraes and Braga.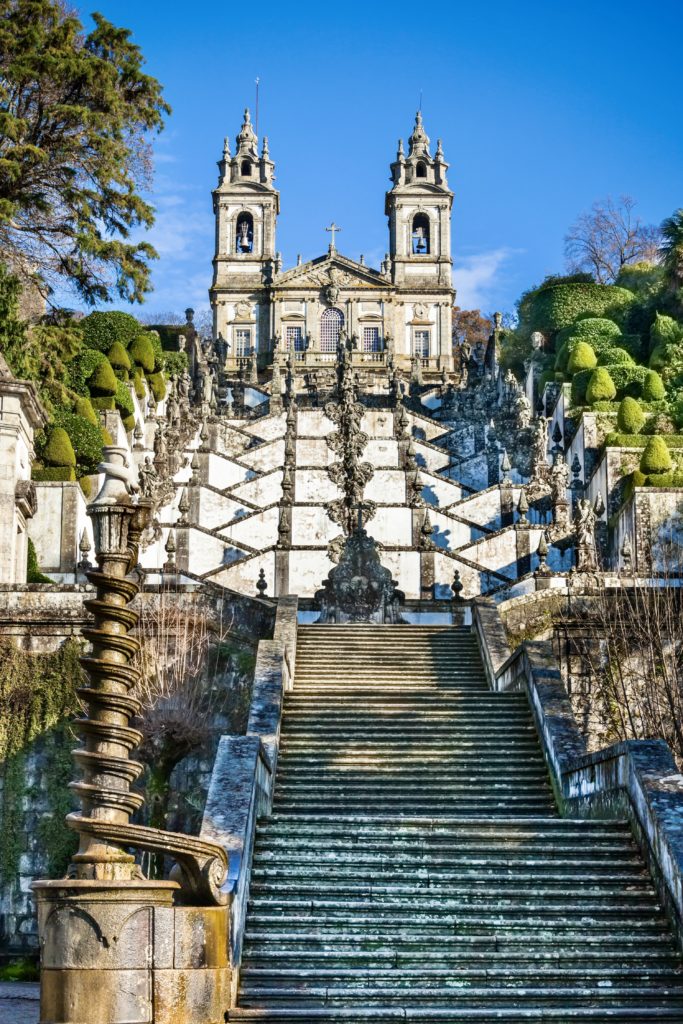 2. Braga
Braga is a beautiful town less than 40 minutes from Porto. Founded by Roman Emperor Augustus, it's the third largest city in Portugal.
Braga's historic center is UNESCO-listed. It's full of pretty 18th century homes, elegant churches, and lovely gardens. You can take a tuk tuk tour to discover all the highlights.
Braga Cathedral is the oldest in Portugal, dating from the 11th century. It's a Romanesque building that houses a museum of sacred art. It has a cloister, courtyard, gilt wood organs, and several chapels.
Braga's biggest attraction is the Dom Jesus do Monte basilica. To reach it, you've got to climb up 630 zig zagging steps. For a few euros, you can also take the funicular to the top.
The path is lined with intricate fountains. At the top, you'll find a beautiful Neo-Classical church. When you're done, have a sip of vinho verde in the Praca da Republica.
To get to Braga, you can book a half day guided tour from Porto.
3. Douro Valley
One of the best day trips from Porto is a tour of the Douro Valley. The Douro Valley is incredible, a glorious spot.
And the rest of the world is beginning to discover what the Portuguese have known forever. The Duomo is one of the world's oldest demarcated wine regions.
The dramatic valley showcases steep terrace vineyards carved into mountains, granite bluffs, pretty villages, and 18th century wine cellars.
It's really easiest to visit on a tour. But there are so many it's hard to choose.
Here some tours you can consider:
4. Foz do Douro
To blow away the cobwebs, head out to Foz do Douro, a 10-15 minute drive or tram ride from Porto. (Tram 1 from Infante to Passeio Alegre.)
It's a trendy oceanside village with the best beaches near Porto. This is where you can go swimming.
There's a long oceanside promenade with palms, pines, turn-of-the-century mansions, and killer seafood restaurants. When the sun is setting you couldn't ask for a more romantic backdrop for stroll.
There's a pergola that you might recognize if you've been to Nice. It was installed in the 1930s after the mayor's wife fell in love with the one on the Promenade des Anglais.
The Serralves Museum that I mentioned above is also in Foz do Douro.
I hope you've enjoyed my 2 days in Porto itinerary. You may enjoy these other Portugal travel guides and resources:
If you'd like to spend 2 days in Porto, pin it for later.