Wondering how to spend one day in Coimbra Portugal? I've got you covered.
This 1 day Coimbra itinerary covers all the top attractions and best things to do and see in beautiful Coimbra.
Dating from the 9th century, Coimbra is a surefire charmer with no end to its embarrassment of riches. The city is one of the best day trips from Porto and also makes the perfect midway stop between Lisbon and Porto.
Coimbra is known as the "Athens of Portugal" for its heritage and culture. Coimbra was the capital of Portugal from 1139 to 1385, and was the birthplace of six Portuguese monarchs.
The city never fails to appeal, with a combination of old world charm and a lively student population.
The prestigious UNESCO-listed Coimbra University crowns the top of the hill. You'll see students swirling their black cape uniforms everywhere you go.
Overview Of One Day In Coimbra Itinerary
Here's a quick breakdown of what you'll see with this 1 day in Coimbra itinerary:
Coimbra Univeristy
Botanical Garden
Se Novo
Se Velha
Historic Center
Santa Clara-a-Nova
Santa Clara-a-Velha
Santa Cruz Church
Machado Museum
Dinner & Fado
One Day In Coimbra Itinerary
Here is my recommended itinerary to help you have the most efficient 1 day in Coimbra. It covers all the best things to do in Coimbra in a day. I also give you tips on where to eat, where to stay, transportation, tours, and tickets.
As with all of my suggested itineraries, I recommend that you use this Coimbra itinerary as a guide. You can tailor it to suit your individual interests, needs, and pace of travel.
If you have extra time in Coimbra, you can easily turn this 1 day itinerary into a 2 day itinerary by moving at a slower pace.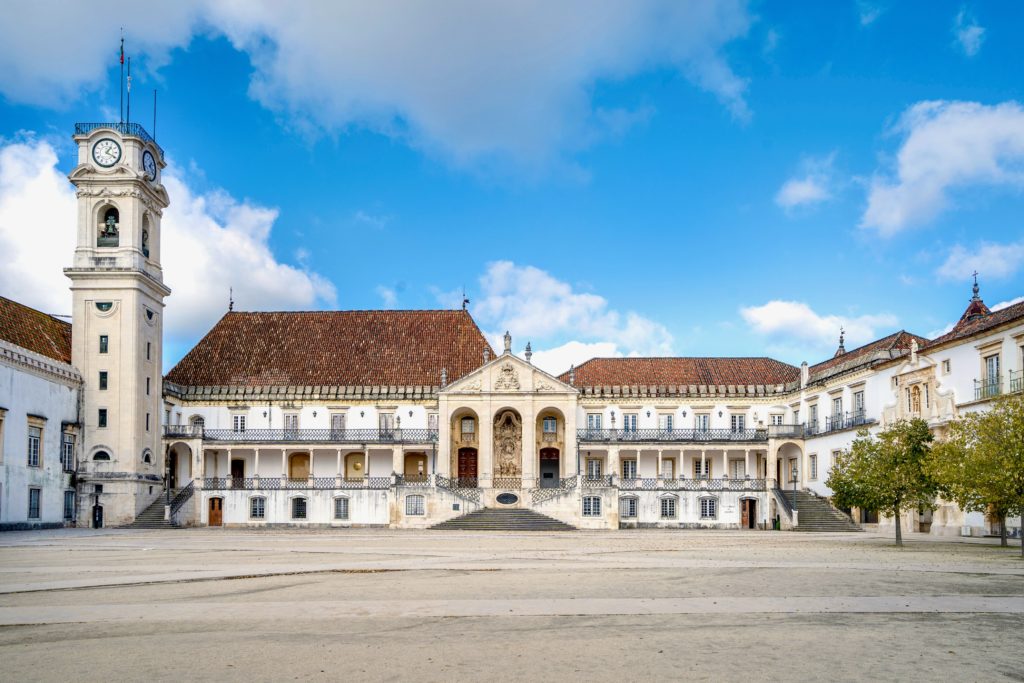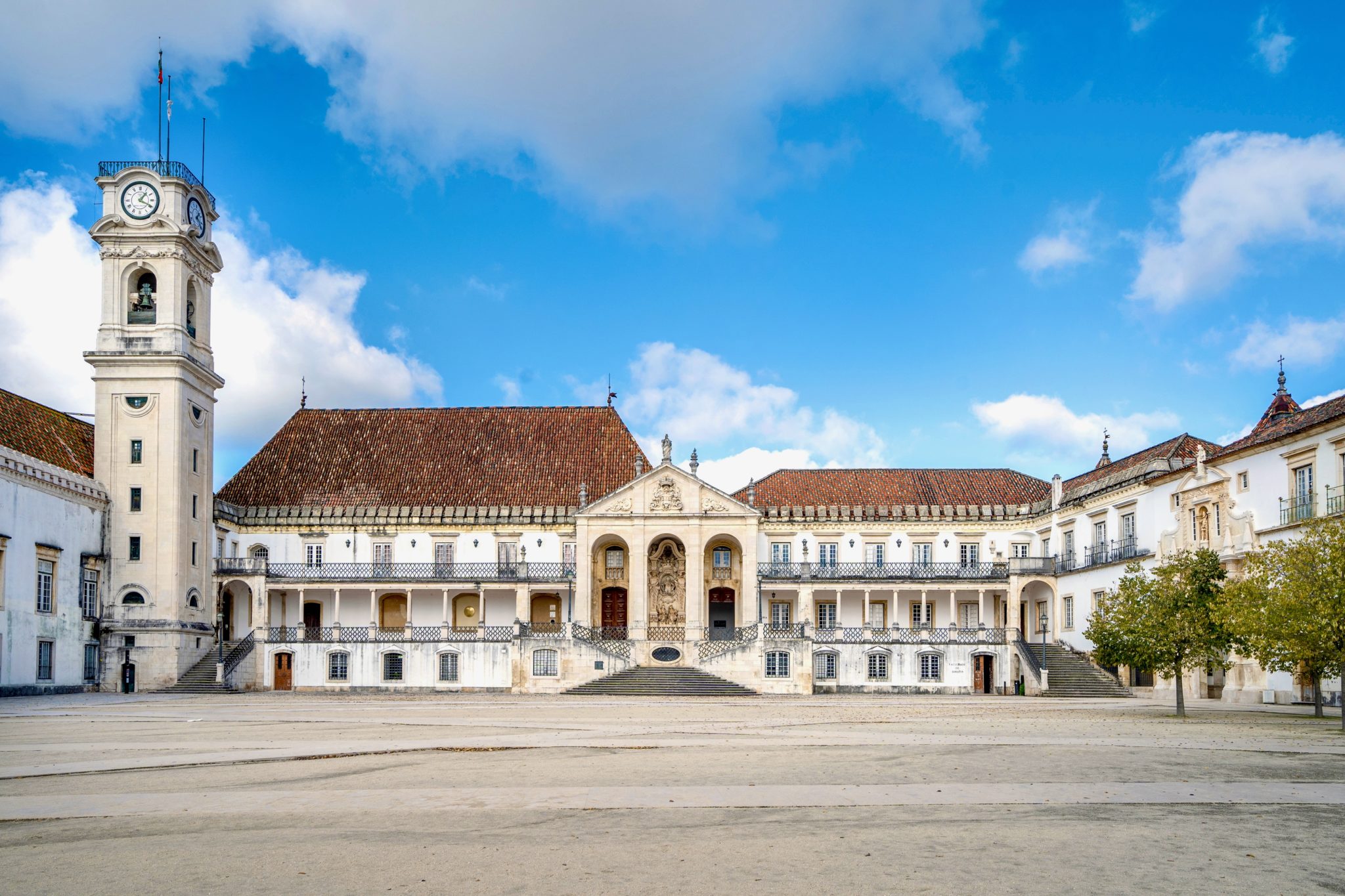 1. Coimbra University
Perched on the top of Coimbra is the fortress-like Coimbra University. It's an ancient UNESCO-listed site and a must see with one day in Coimbra.
It's one of the oldest universities in the world, older than Oxford University. The university was founded by royal charter in 1290.
The university is a U shaped structure that started life as a Moorish fortress. The scale and sturdiness of the structure was intended to symbolize the power of the caliphate of Córdoba.
The Royal Palace of Alcaçova was formerly the home of King Alfonso Henriques. Today, it houses the Great Hall of Acts, whose current design dates from 1655. This room is where doctoral theses are defended.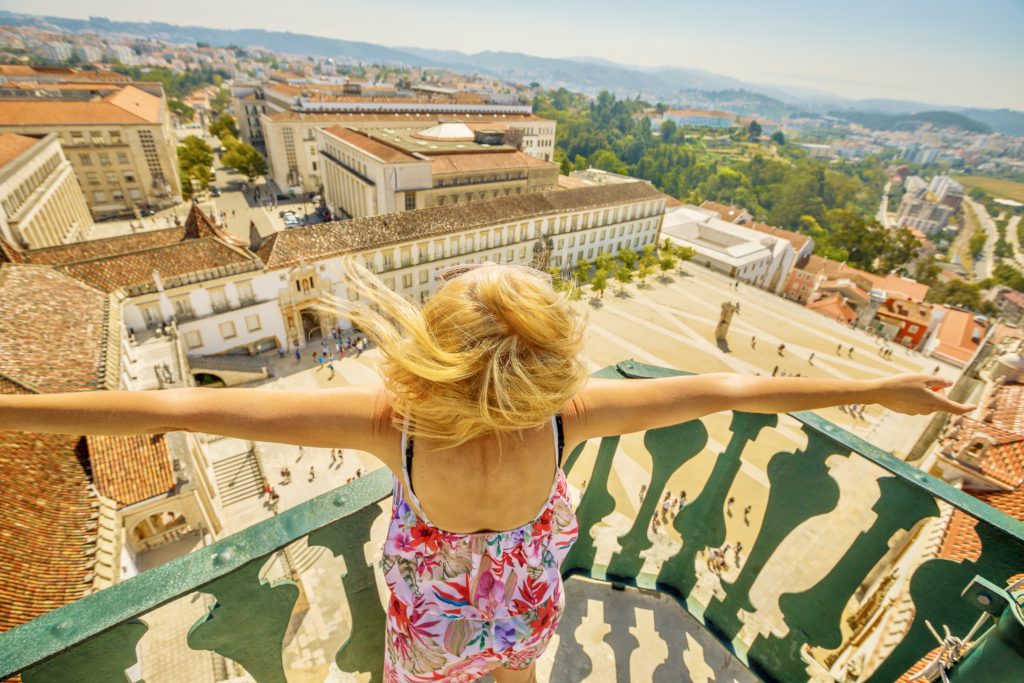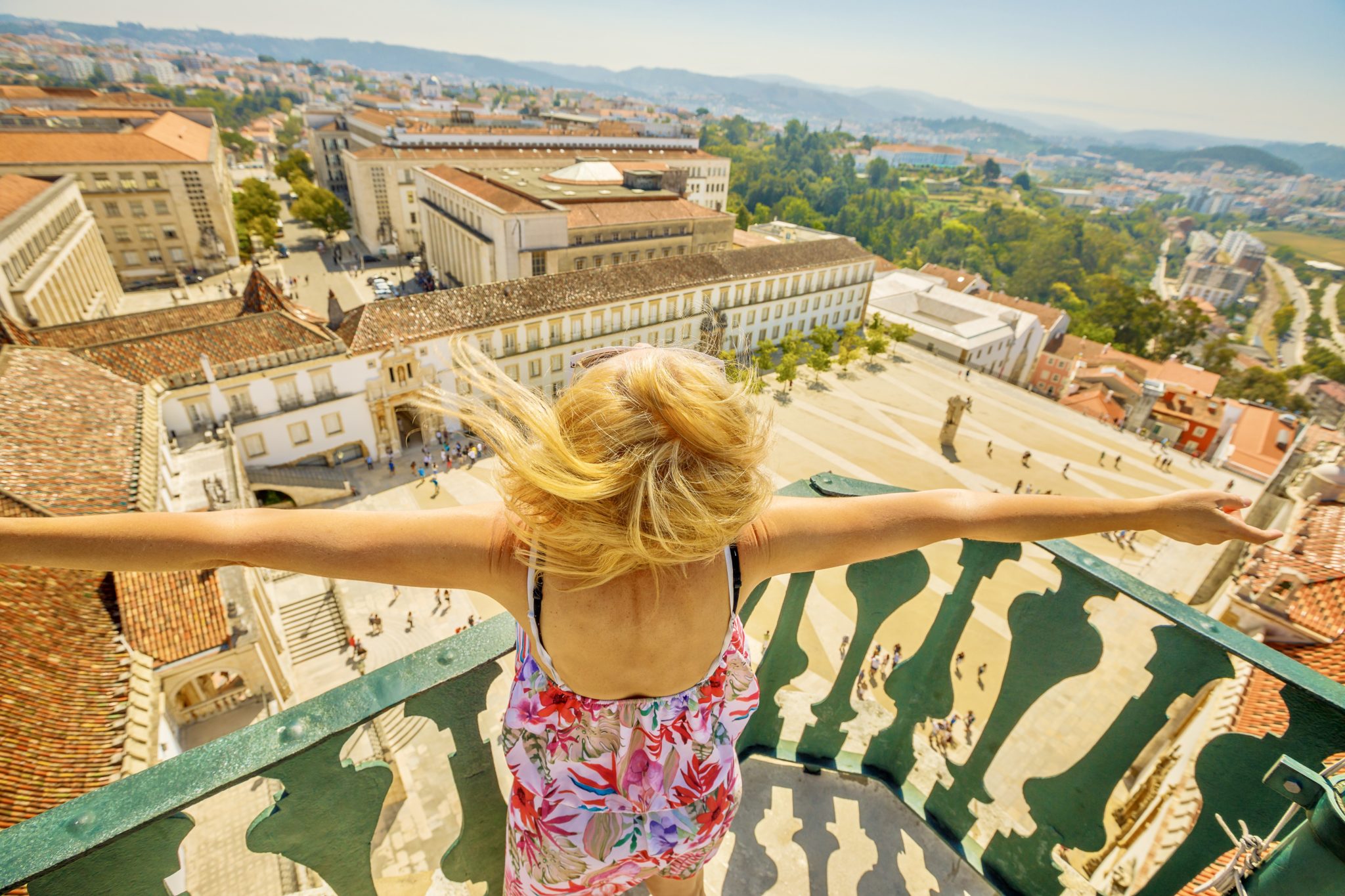 This grand room was originally meant to be the throne room, and it still feels palatial. The wooden ceiling is fantastical and dates from the 17th century.
The Private Exam room is also stunning. It has a colorful painted ceiling dating from 1701.
The room is lined with 38 rather stiff portraits depicting the rectors from the 16th to the 18th centuries. The lower walls are lined with blue and white Coimbra tiles. Don't miss the balcony with views over the city.
You can also climb the Palace Tower. The 184 steps aren't for the claustrophobic, with an exceedingly narrow stone staircase.
Your next stop is St. Michael's Chapel, which you enter through an intricate Manueline doorway. The chapel's vaulted ceilings are covered in delicate frescos.
The walls are spectacular, clad in "azulejos de tappet," carpet tiles forming a repeating pattern. There's a magnificent organ in a carved and painted casing.
But the chapel is just a warm up for the extravagance of the university's over-the-top Joanina Library. Think Baroque delirium.
You enter the library on the left side of the main entrance via the Minerva Stairs. You must enter during your designated time slot, no exceptions.
The magnificent Nobel Floor is jaw dropping, sheer visual delight. The tour guide opens the grand double doors and you are ushered in, as if entering a sacred temple. Your first impression is that gold is everywhere.
The famous library was built from 1717-28 during the reign of Joao V. It was designed by Gaspar Ferreira in Baroque style and is known as the Baroque Library.
It has a large central hall with a nave like structure divided into three lofty main rooms.
Tapering small columns support some gilded and painted bookcases. The upper levels are accessed by a ladder.
There's a large painting of Dom Joao V, founder of the library. A statue of the corpulent man stands outside.
The university sits on top of the Alcaçova hill. It's a somewhat back breaking flight of stairs. If steep hills aren't your thing, you can hop on a bus to get to the university.
Take the one marked "Botanica," directly across from the tourist office downtown. I took the bus up to save time and then walked back down. But if you like climbing, it's a steep 30 minute walk down narrow winding streets past beautiful sites.
Once there, you queue up to purchase your ticket. Get Program 1, which includes all sites.
No other ticket includes the Joanina Library, and you can't miss that. 60 people are admitted every 20 minutes to the library, so pay attention to your admission time.
There are placards, at least in the palace rooms, giving you information on what you're seeing. But you may want to book a 2 hour private guided tour to get the full scoop.
Address: Pacos das Escolas, 3004-531 Coimbra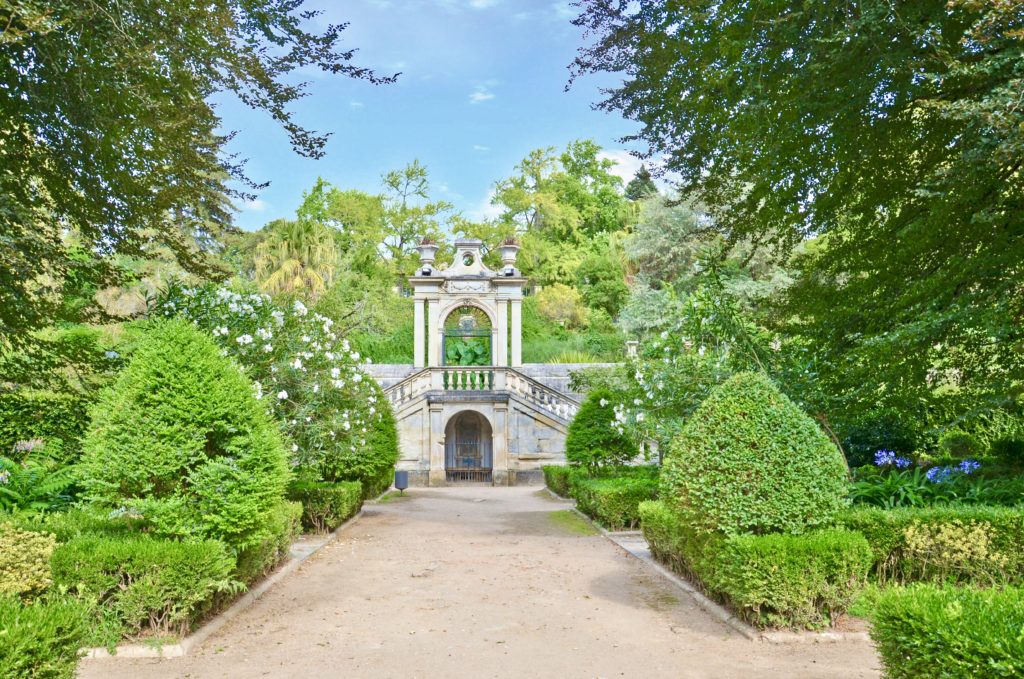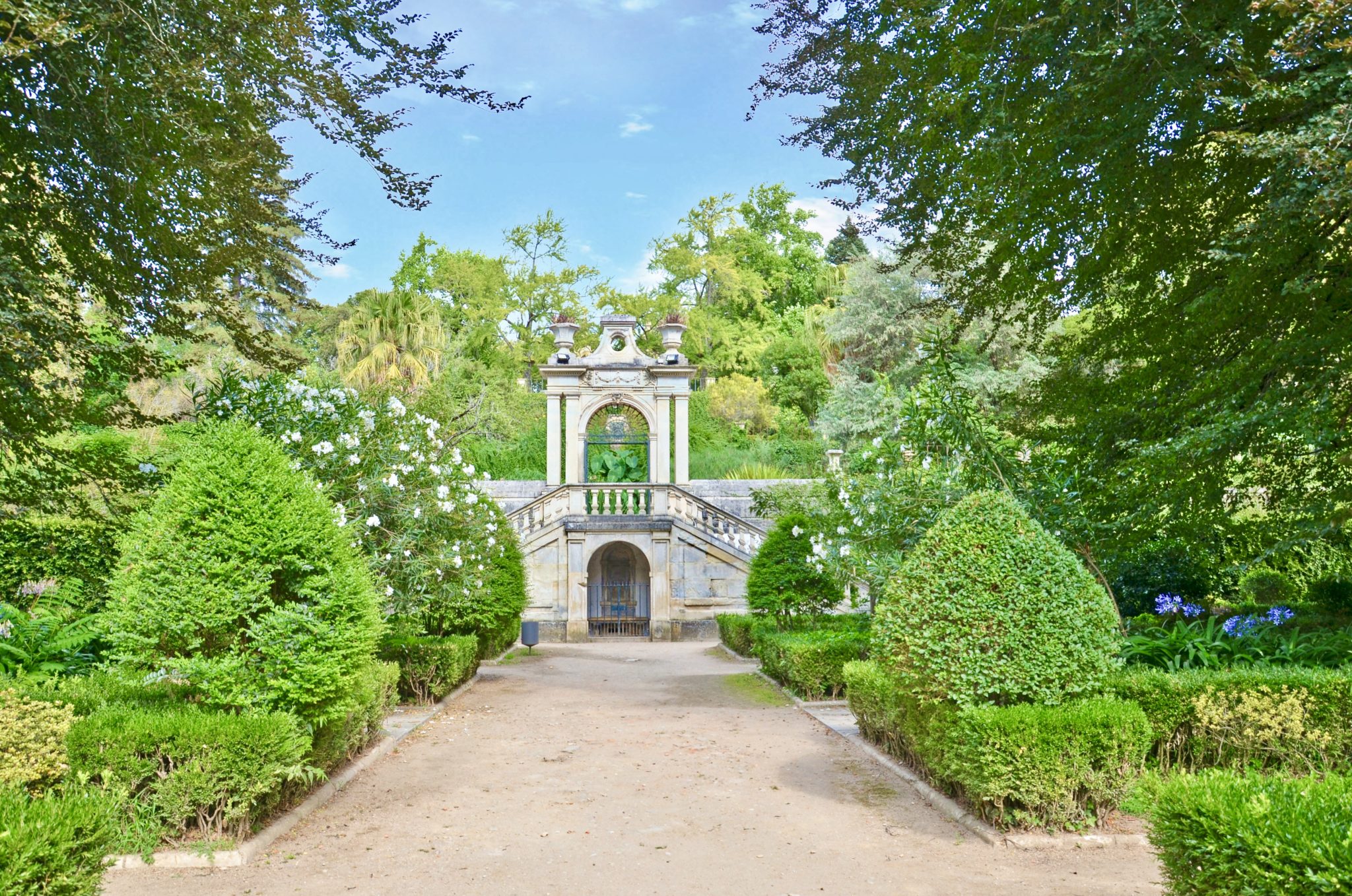 2. Coimbra Botanical Garden
From the university, walk down Rua Larga. You'll see the arches of the San Sebastián Aqueduct and the entry to Coimbra's Botanical Garden.
Founded in 1772 by the Marquee de Pommel, it's the largest botanical garden in Portugal. And admission is completely free.
The garden has an orchard, bamboo grove, a Neo-Classical fountain, and an ornamental terrace.
From the Sky Garden, you can even zip line through the trees.
Address: Calcada Martim de Freitas 3000-456 Coimbra
3. New Cathedral, Se Nova
Se Nova is Coimbra's "new" church, founded by Jesuits in 1598. It's just a short walk from the university.
It's one of the best examples of new Jesuit buildings. Jesuit saints even look at you from the grand facade.
Inside, the interior is much more spacious than the "old" cathedral. It has a barrel vaulted ceiling with a dome over the crossing.
There's a Manueline style baptismal font and wooden choir stalls. The altar is flanked by a pair of 18th century organs.
Address: Largo Feira dos Estudantes, 3000-214 Coimbra
4. Old Cathedral, Se Velha
Off the main drag, you find some steep and narrower streets. This is where you'll find Coimbra's Old Cathedral, Se Velha, a beautiful old structure.
The austere 12th century Sé is Portugal's finest example of Romanesque architecture. It austere design was the product of two Frenchmen.
The main portal and facade are particularly striking, almost gold in the warm afternoon sunshine.
The cathedral has been on its present site since the Visigothic period. The early 10th century basilica was destroyed in 1117. You can see the votive foundation of the earlier church in the Sé.
The first king of Portugal, Afonso Henriques, financed construction of the current structure, along with another austere beauty the UNESCO site of Alcobaça Monastery.
As appropriate for a church built during the Reconquista era, the Sé has a crenellated, fortress-like exterior and narrow, slit-like lower windows.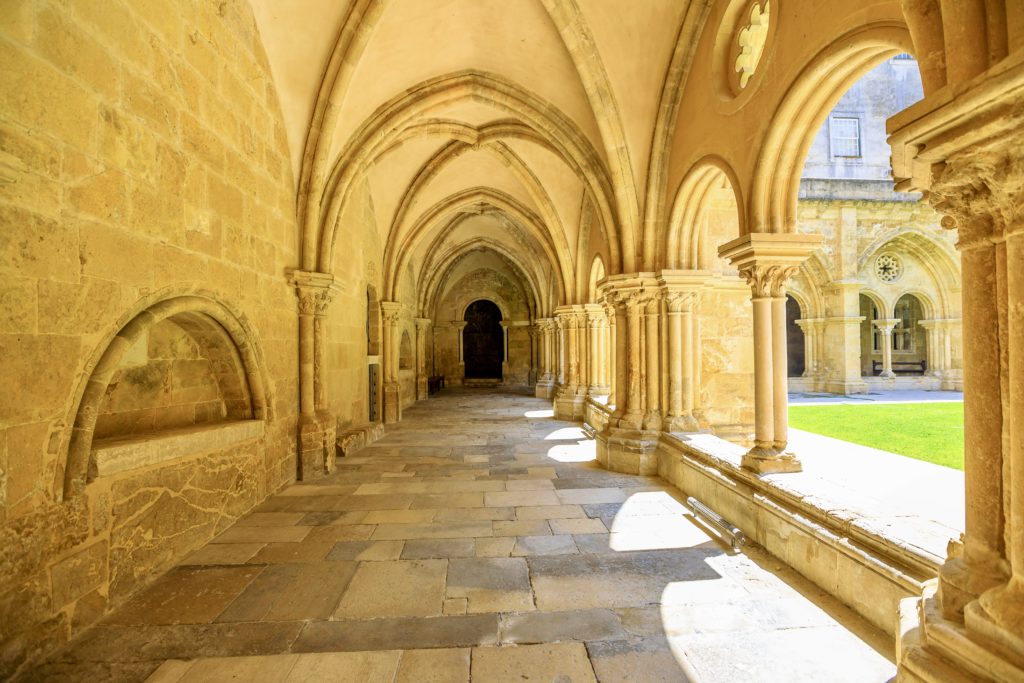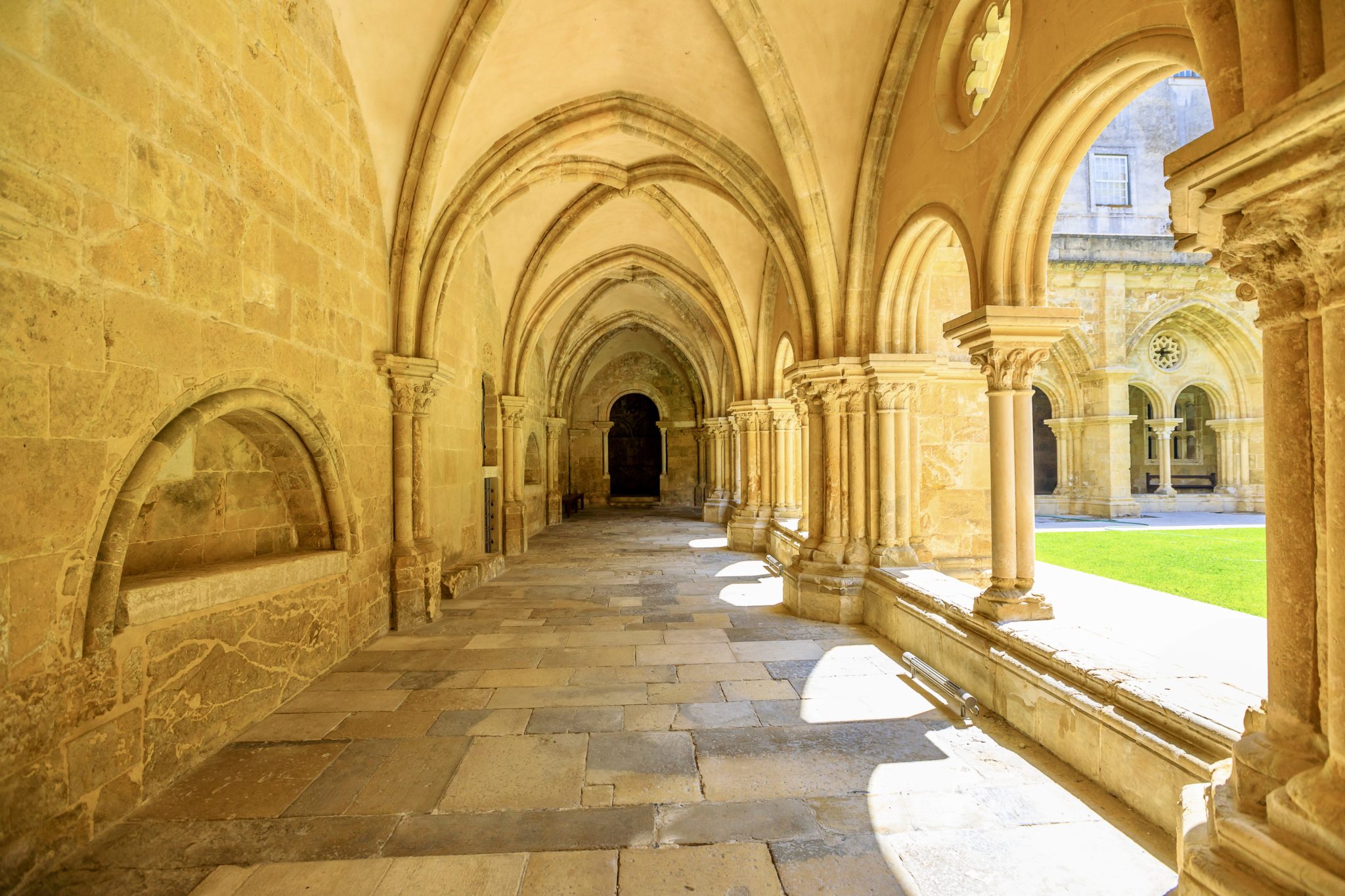 Inside, the focal point is an ornate late Gothic retable altar. There's also a delightful 13th century cloister, from which you have a unique view of the university.
The high barrel vaulted nave preserves the Sé's main Romanesque features. There are many side altars and well-preserved Gothic tombs of bishops and saints, backed by bright 16th century Mudéjar tiles from Seville.
Once outside again, you can walk around the building and stand in front of the Especiosa Door, or Beautiful Door, a symbol of the Renaissance.
Address: Large da Se Velha 3000-383 Coimbra
5. Lunch
You'll have endless options for great food in Coimbra. We settled in at DUX Taberna Urbana, for a contemporary take on traditional dishes.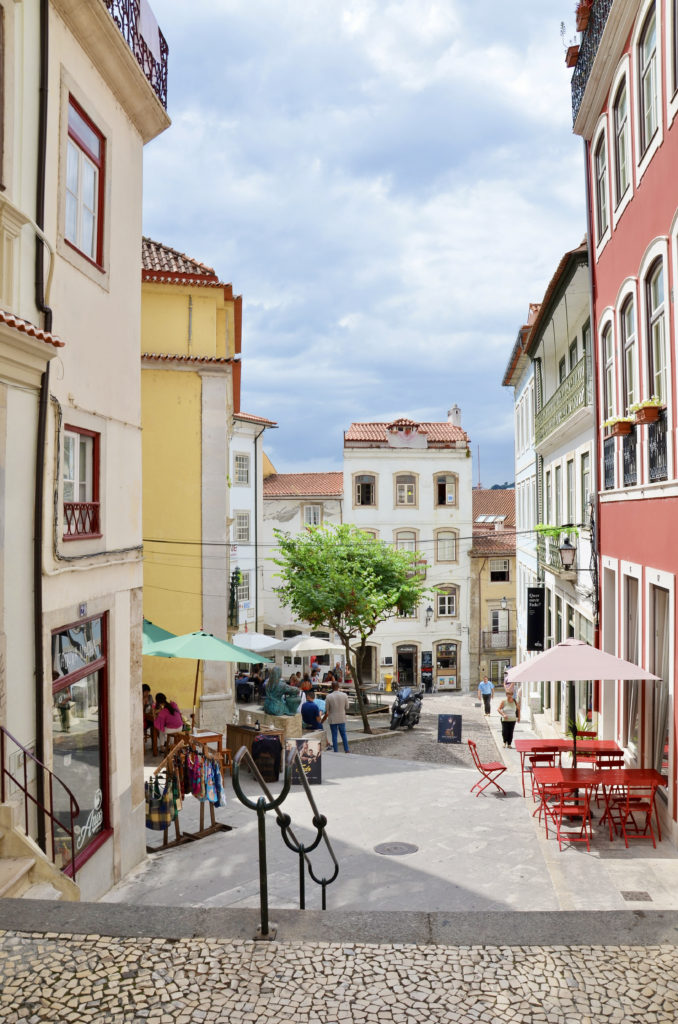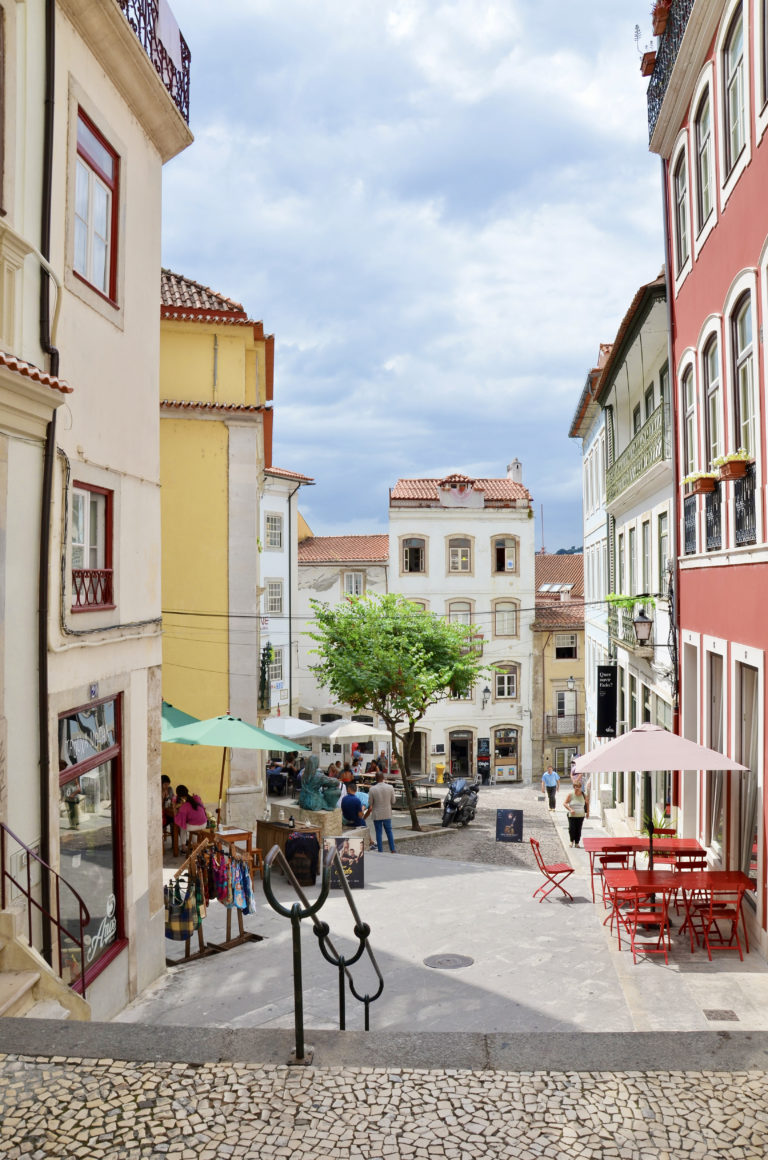 You could also try Pastelaria, a bakery-cafe. It's very popular. You should expect a line. For desert, try the gourmet brownies at Doce Amor.
You can also sample some of the port wine Portugal is famous for.
6. Strolling The Old Town
Coimbra's pedestrianized main drag is the very photogenic Rua Ferreira Borges, accessed by the Arco de Almedina.
The arch is the remaining entrance gate of Coimbra and one of the city's last examples of Moorish architecture.
Rua Ferreira Borges is the oldest cobbled street in Coimbra. It stretches from Santa Cruz Church down to the pretty square of Largo da Portagem. Its cobbled stone lanes seem like steep stacked slopes.
The street is filled with bookstores, cozy shops, patisseries, and stores with objet d'arts.
You may want to do some ceramic shopping. Coimbra has a special ceramic style, distinct from the simpler designs of Porto or Lisbon.
Coimbra pottery is based on museum reproductions dating back to 15th century with polychromatic styles in geometric forms and images of rosters, fish, and peacocks. The pottery has definite Asian and Moorish influences.
The best place is Carlos Tomás Handicrafts. You can even see the artist at work in his studio.
Address: Largo da Sé Velha 4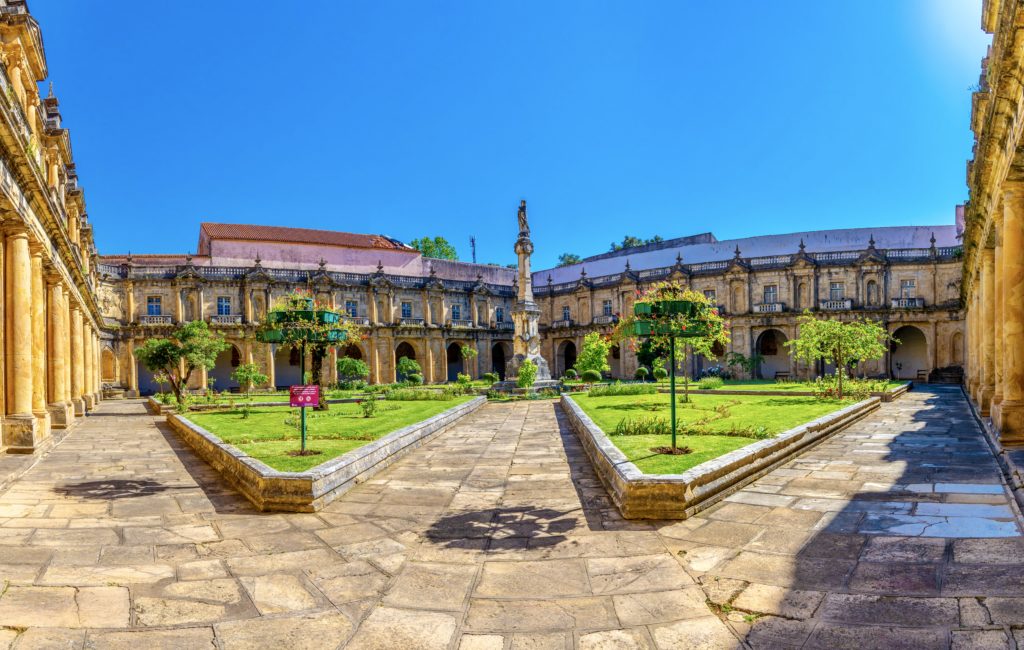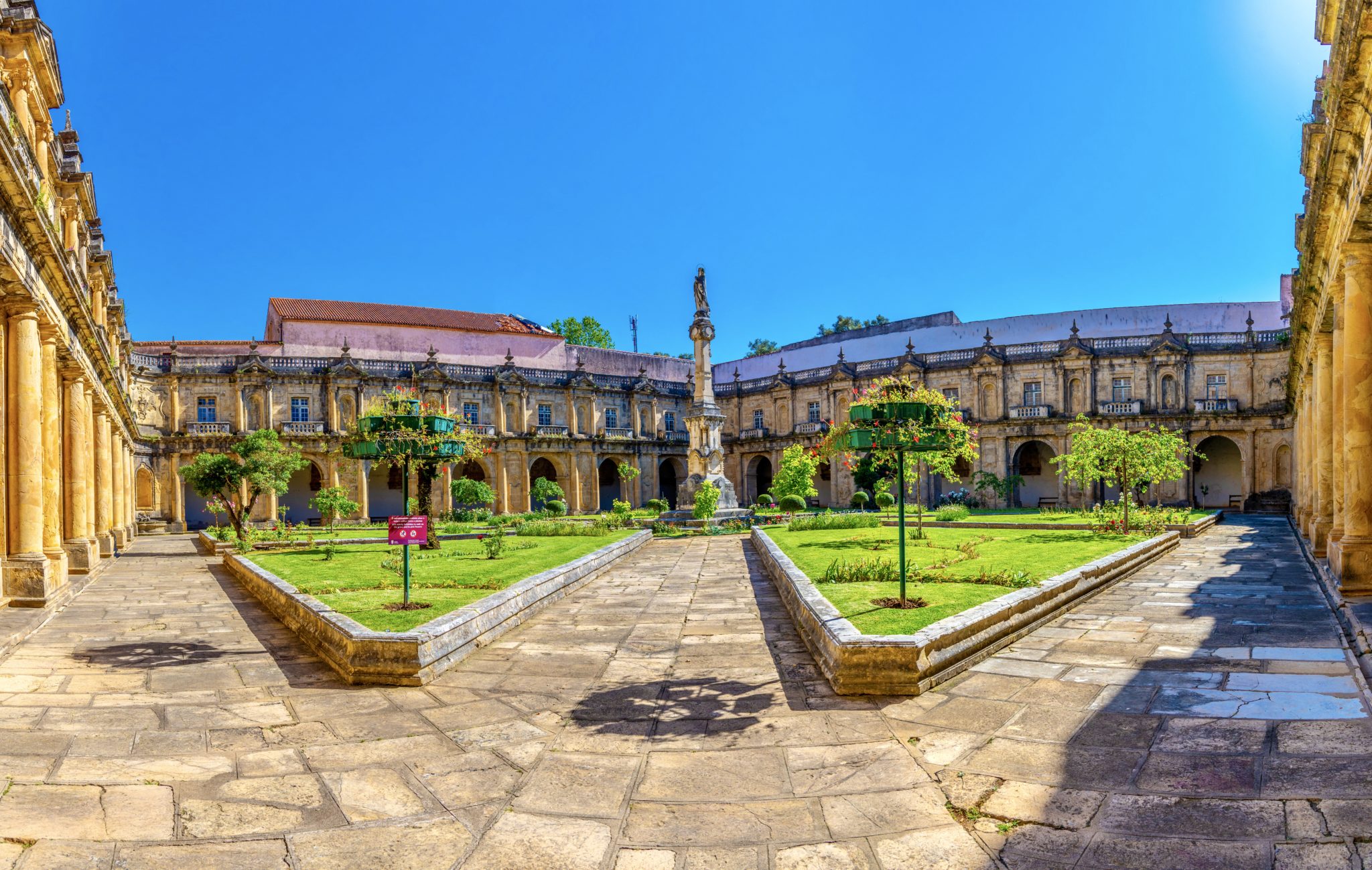 7. Convent of Santa Clare-a-Nova
As with the cathedrals, there's a new and old convent in Coimbra.
Sanat Clara-Nova is the new convent. It's one the other side of the Mondega River, so a bit of a trek to visit.
It was built between 1649-1677 to house the Poor Clare nuns from the old convent, whose home was repeatedly ruined by flooding.
The convent has a lovely Baroque church. It's must see masterpieces are a 17th century gilt and wood sculpture of a saint and the silver and crystal tomb of Queen Isabel, the wife of Dom Dinis I and Coimbra patron saint.
The convent also has a magnificent large cloister. It was funded by Joao V, a generous benefactor to nuns.
Address: Calcadsa Santa Isabel 3040-270 Coimbra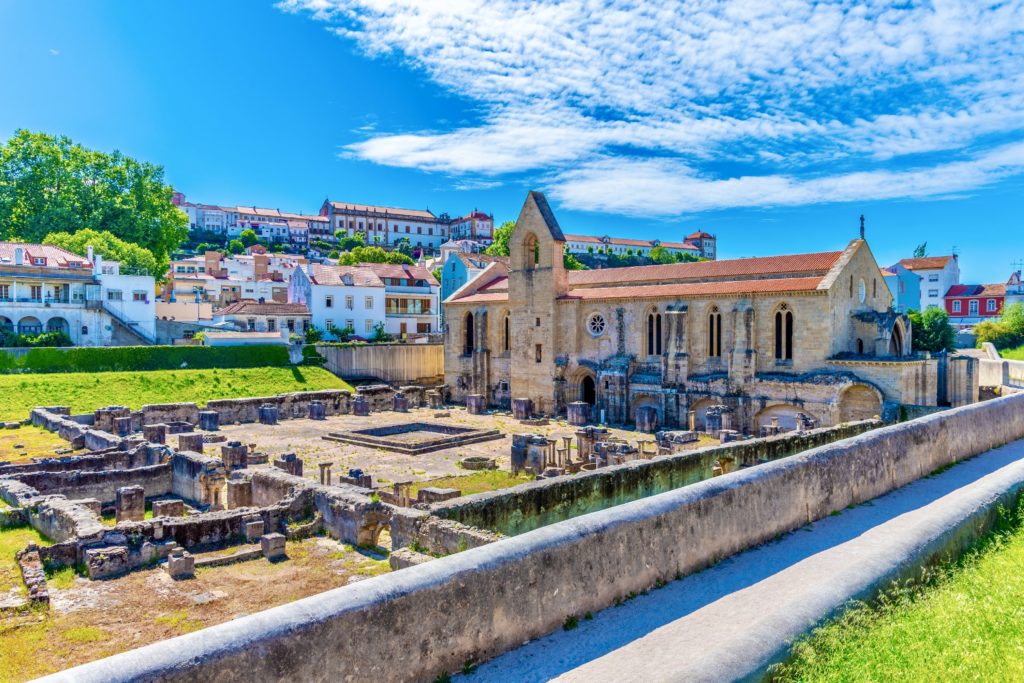 8. Convent of Santa Clara-a-Velha
This 13th century convent complex has been eerily abandoned since it was flooded in the 17th century. It was once home to the Poor Clare nuns.
Almost from the day it was built, the convent suffered from flooding. It was finally abandoned in 1677 and lies in well preserved ruins.
The original Gothic church, at least, has been restored
The convent has an intriguing mini-museum and useful pamphlets providing information on the everyday lives of the monastic community who once lived there.
Address: Calcada Santa isabel 3040-270 Coimbra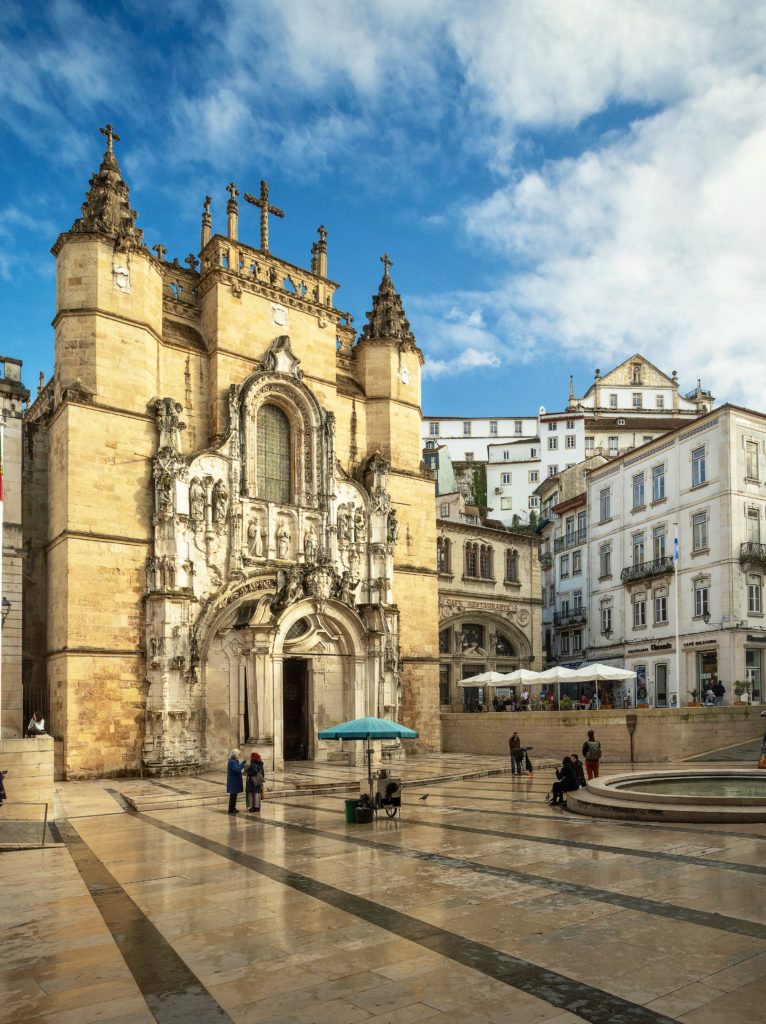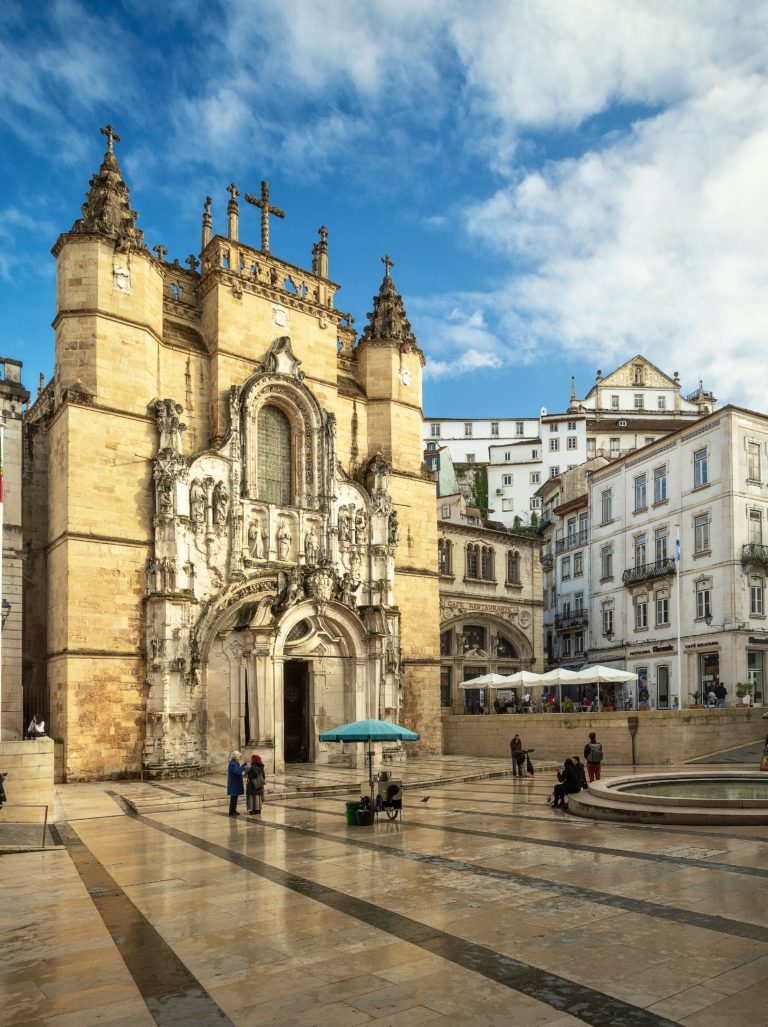 9. Igreja de Santa Cruz
This grand church sits in a lovely square, Praca 8 de Maio. It was founded in 1131 by the canons of St. Augustine.
The interior has beautiful blue and white azulejo tiles, which line both sides of the church. They tell the story of Portugal's history and St. Augustine's life.
The monastery is also the final resting place for two historical figures, the first two kings of Portugal, Afonso Henriques and Sancho I.
There's also a superb Renaissance pulpit. You can also visit the Chapter House and an elegant Manueline cloister.
Address: Praca 8 de Maio 3001-300 Coimbra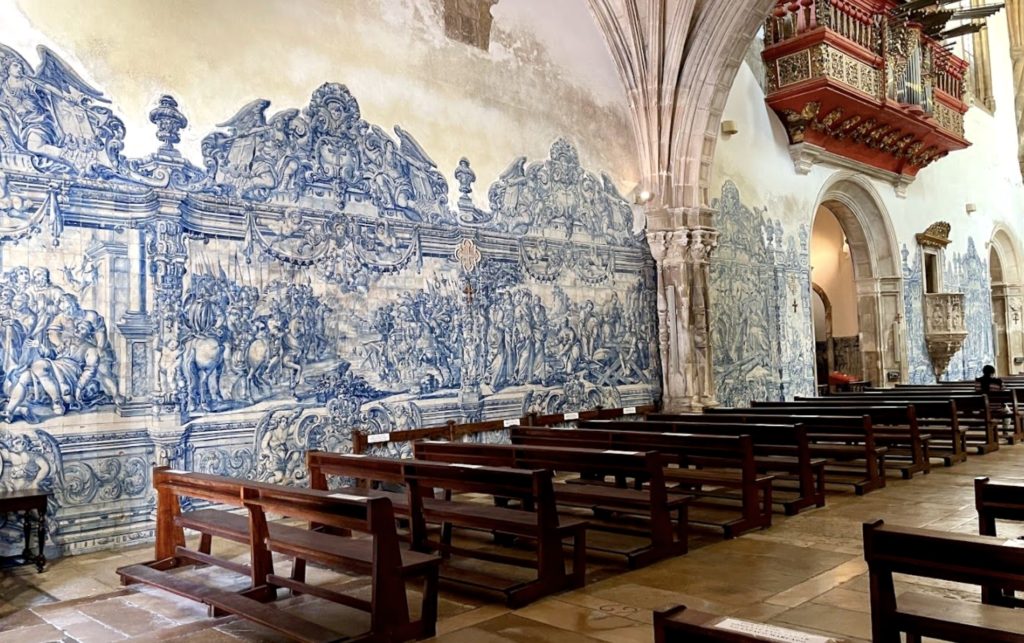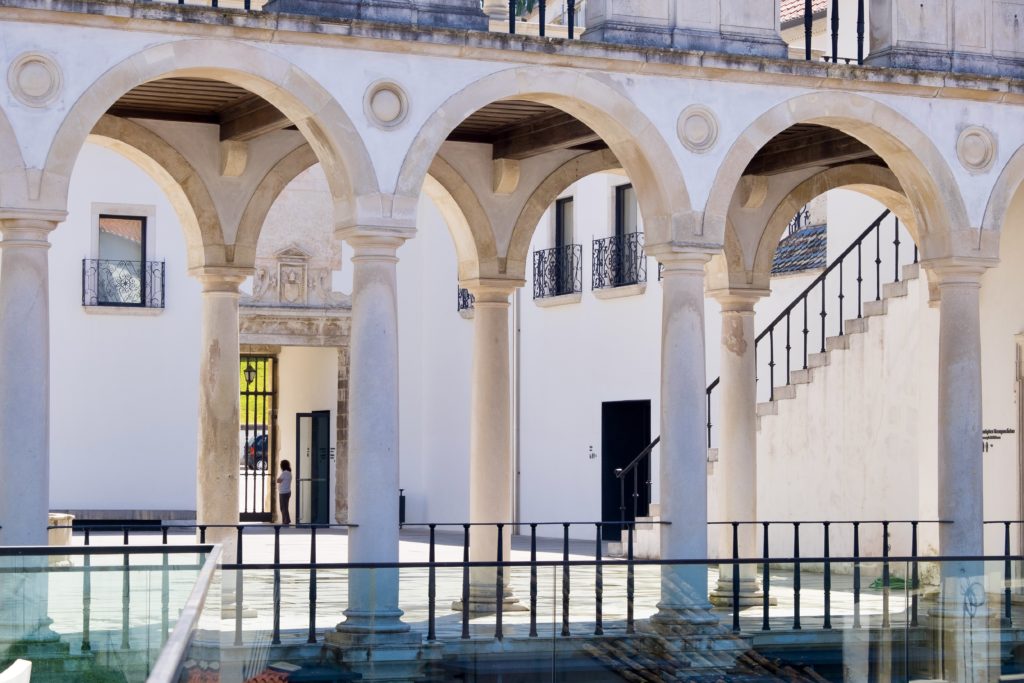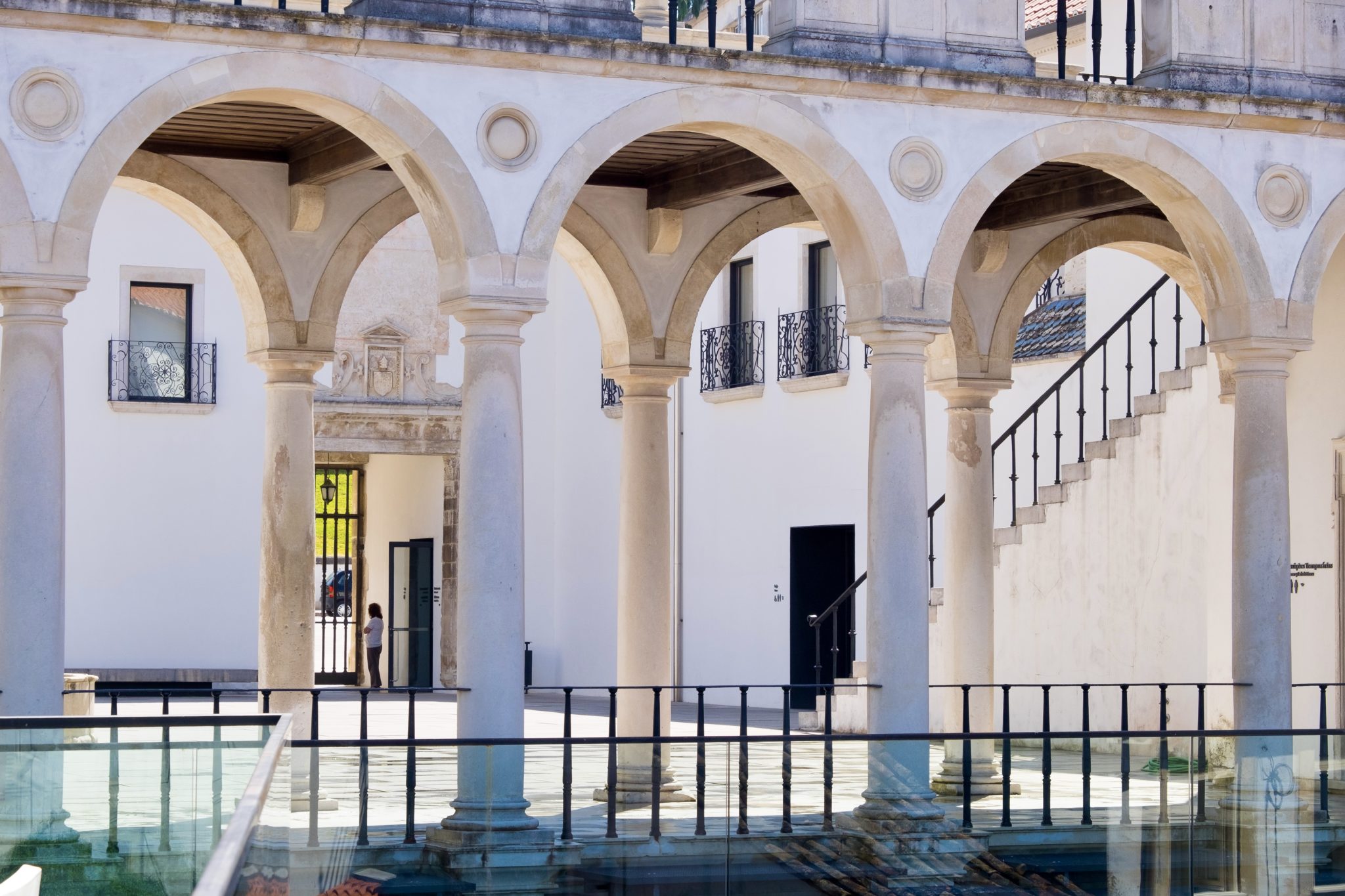 10. Machado de Castro National Museum
This art museum is named after the renowned Portuguese sculptor Joaquim Machado de Castro. It's housed in a former bishop's palace.
The museum is Portugal's foremost sculpture museum. There are also paintings from the 12th to 20th century.
A cool spot is the Criptoportico. It'a a maze of underground passages displaying Roman sculptures and Visigothic artifacts.
The museum also has a fine restaurant, Loggia, where you can grab dinner.
Address: 3000-236 Coimbra
11. Dinner
Rua das Azeiteiras, a pedestrian only street, is loaded with restaurants.
O Trovador is a traditional Portuguese place near the old cathedral. Notes Bar & Kitchen is a bistro style restaurant that serves up excellent steak.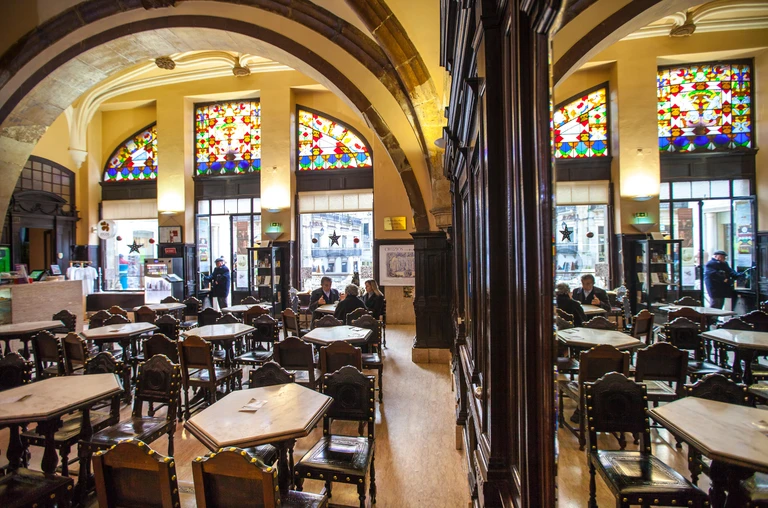 12. Fado
Why not listen to some fado to end your one day in Coimbra?
Like its pottery, Coimbra has a distinctive type of bluesy fado, the melancholy music about unrequited love. It's more boisterous and romantic than Lisbon's fado.
A lone singer is accompanied by two guitars. The traditional costume, like the university students, is a black cape. In Coimbra, the singer is always a man.
You can usually catch some fado at Cafe Santa Cruz. The restaurant-bar is built into the cavernous former Church of São João, which dates to 1530.
Dappled light streams in through the intricate stained glass entrance. You can plunk down on medieval style wooden chairs and sit under impressive stone arches. The cafe is known for its Pastél de Santa Clara – a pastry made with flour, sugar, butter, eggs, and almond filling.
You can also book a ticket to listen to fado at the Coimbra's Fado Center.
Tips For Spending One Day In Coimbra
Here are some must know tips for day tripping to Coimbra or spending one day in Coimbra.
1. How To Get To Coimbra
Coimbra is located in central Portugal. It's a convenient mid way stop between Lisbon and Porto. You can day trip to Coimbra from either city, but Porto is closer.
By Train:
Coimbra is a 90 minute ride on the high speed train from Lisbon's Santa Apolonia Station. Alternatively, if you're coming from Porto, it's 1 hour from Porto to Coimbra.
From either destination, you will arrive at Coimbra B Train Station. From there, it'a about a 20 minute walk to the historic center.
By Car:
Coimbra is a 2 hour drive from Lisbon Airport and about 90 minutes from Lisbon. Coimbra is also 90 minutes from Porto.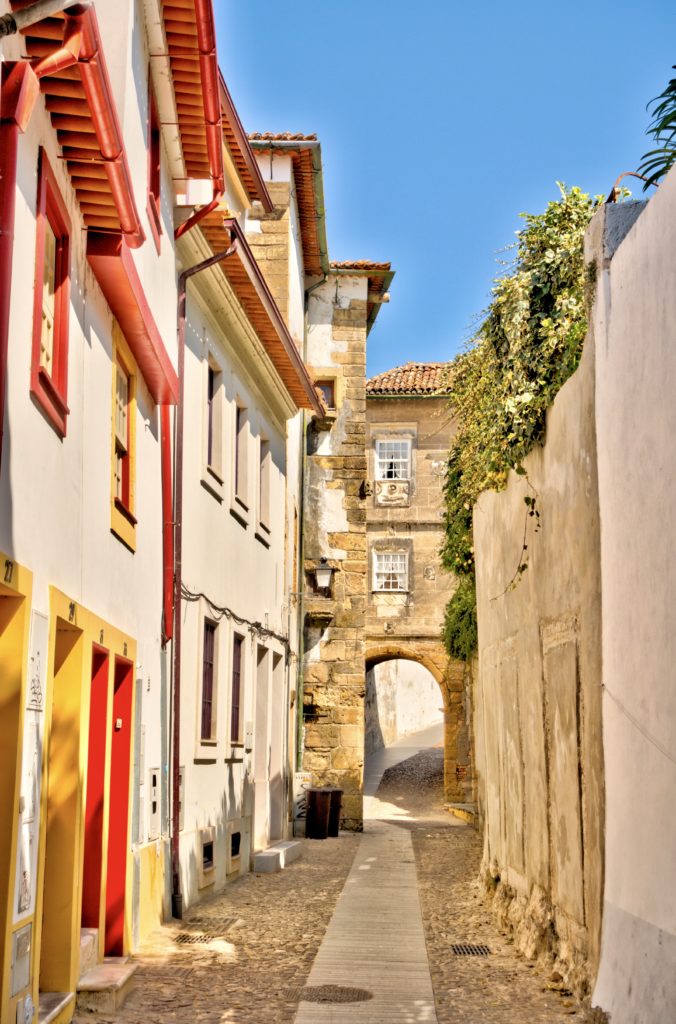 There is ample public parking at the Hotel Quinta das Lagrimas. If you park on the street, be sure to pay for parking at the kiosk.
By Guided Tour:
If you don't have a car, you can book a guided day tour from Porto. You can also book a day tour to Coimbra and Aveiro from Lisbon or a private tour from Lisbon.
2. How To Get Around Coimbra
Coimbra has a compact historic center. You can get everywhere on foot and see all the main attractions in one day.
You may want to start your one day in Coimbra with a guided walking tour. Coimbra has steep hills, so be sure to wear comfy shoes.
You can also hop aboard a riverboat for a 50 minute cruise on the Mondego River. Cruises leave from the quay, south of the Santa Clara Bridge. The company also gives tuk tuk tours of Coimbra.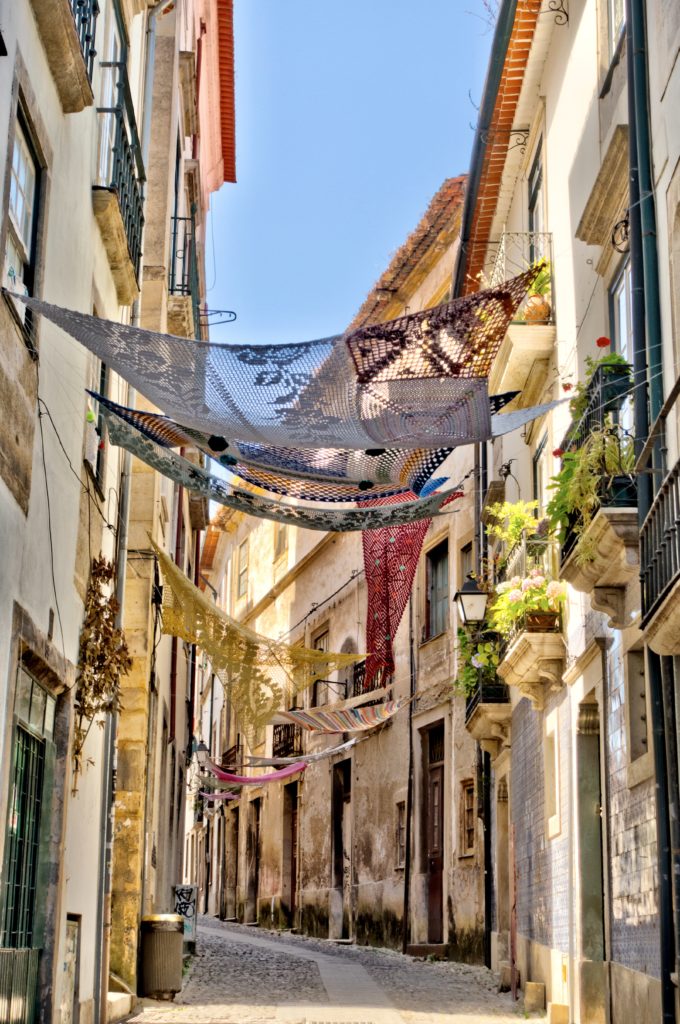 4. Where To Stay In Coimbra
Coimbra makes an ideal base for touring central Portugal and it's less expensive than Lisbon or Porto.
If you'd like to stay overnight or more than one day in Coimbra, there are some great hotels you can check out.
Solar Antigo Luxury Coimbra is a great place to stay. The hotel has charming rooms with exposed stone walls.
The Sapientia Boutique Hotel is a pretty hotel in a historic building right by the university. Some of the rooms have amazing city and river views.
The Hotel Quinta das Lagrimas is a small luxury hotel. It has a library filled with ancient books and a spa. This is where I stayed in Coimbra.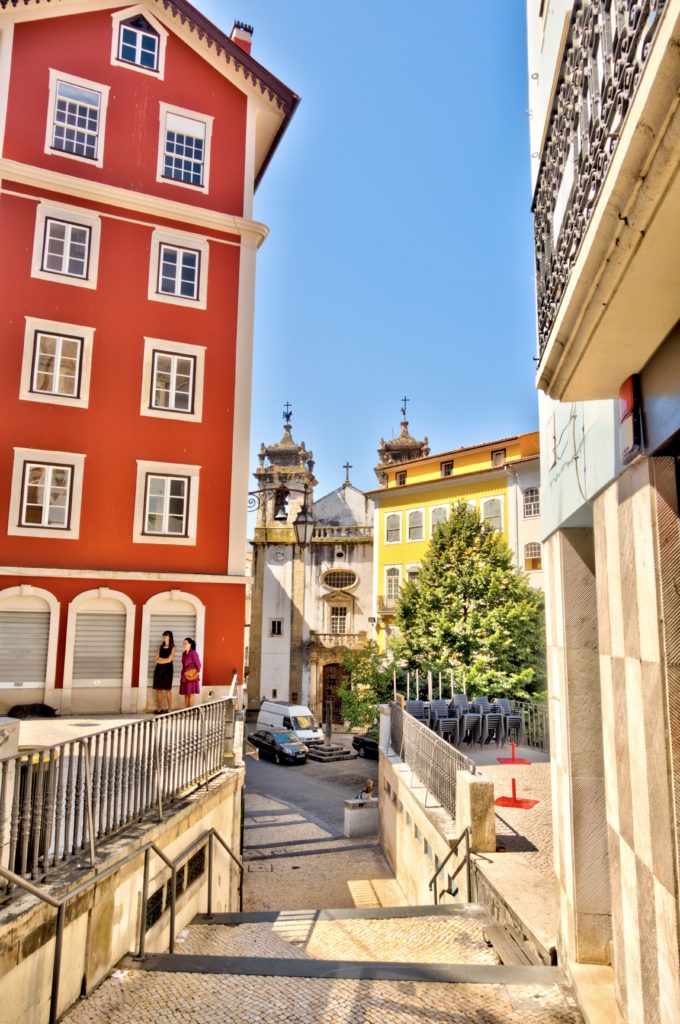 5. When To Visit Coimbra
I don't advise spending one day in Coimbra in high season, which is July and August. It's just too hot and more crowded.
The shoulder season, May or October, is a good time to visit.
In May, you can experience one of Coimbra's famous festivals, The Burning of the Ribbons, Queima das Fitas. It's a symbolic burning of faculty ribbons.
It marks the end of university life for graduating seniors with a week-long series of galas, parades, and partying.
6. Is Coimbra Worth Visiting?
100% yes. It's a charming and underrated city in Portugal that's not teeming with tourists. It will make a nice city break after the crowds in Lisbon or Porto.
Plus, you can check off a magnificent UNESCO site, enjoy the city's medieval architecture, and relax at a quaint cafe.
7. Places To Visit Near Coimbra
Do you have more than one day in Coimbra?
There are plenty of other places to visit near Coimbra, either as a day trip or combined visit. Here are a few attractions that are close to Coimbra.
Conimbriga
Conimbriga is just 20+ minutes from Porto. It was once a flourishing Roman settlement.
It's one of the largest Roman settlements outside Italy, dating from as early as the 9th century B.C. But it really flourished under the reign of Emperor Augustus.
Romans built an amphitheater for over 10,000 people, city walls, three bathing complexes (with stone heating ducts) temples, an aqueduct, and several residences.
Conimbriga wasn't excavated until the late 19th century. Only about 20% of the entire city is currently unearthed.
The highlight of Conimbriga is its exquisite and well-preserved collection of colorful mosaic floors. The ones at the House of Fountains are especially remarkable.
You can also visit the onsite museum, which offers a good introduction to the archaeological site.
You can book a small group guided tour from Porto to Conimbriga. If you're traveling from Lisbon by car, you can also stop here before heading to Coimbra University to start your own day in Coimbra.
Alcobaca
Just a little over an hour from Coimbra is the he breathtaking Alçobaca Monastery. If you love history or architecture, the 800 year old Alcobaça Monastery is a must visit destination in Portugal.
The monastery became a UNESCO site in 1989 because of its "size, the purity of its architectural style, the beauty of the materials and the care with which it was built make this a masterpiece of Cistercian Gothic art."
Construction took place over centuries and it's a mix of Gothic and Cistercian architecture with intricate workmanship. The monks moved into their new stone digs in 1223, and the church was finished in 1252.
When you approach the great edifice from the street, you are confronted with an imposing and ornate Baroque facade from 1702.
Once you enter the doors, everything changes. The monastery is actually a monument to simplicity that feels light and airy.
You can visit the monastery church, completed in 1269, for free.
In the transept, you'll find the marble tombs of the star crossed lovers King Pedro I of Portugal and the catastrophically beautiful Inês de Castro of Spain. The doomed pair are the Romeo and Juliet of Portugal.
You can visit Alcobaca and other monasteries on a guided day tour from Coimbra.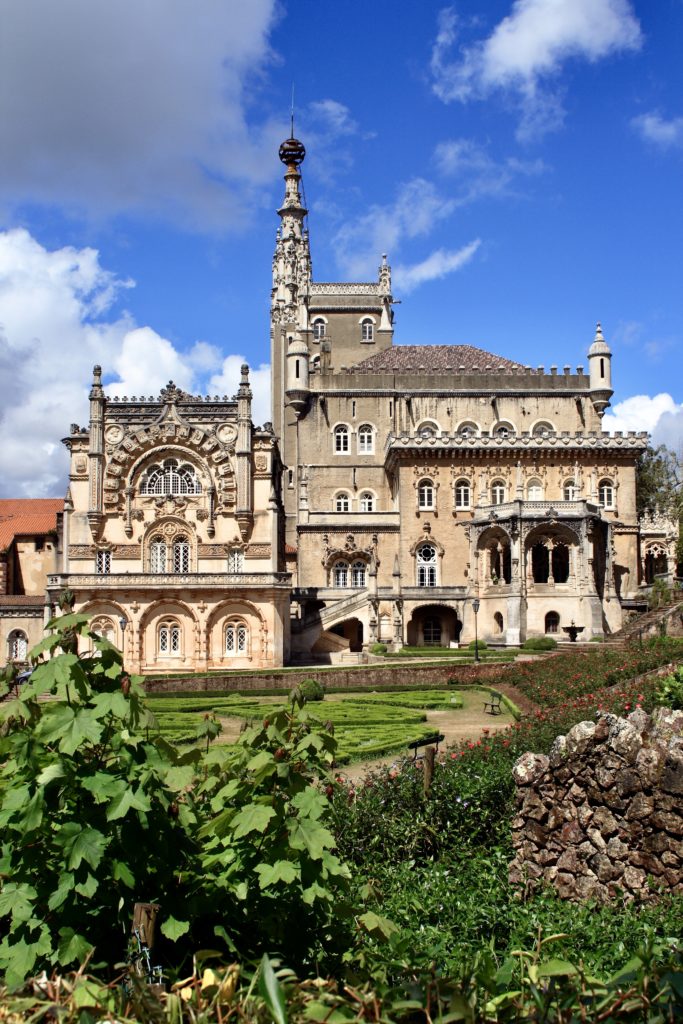 Buçaco
About 18 miles from Coimbra lies the National Forest of Buçaco. It's one of the most bucolic woodland spaces in all of Portugal.
The park was a monastic retreat and home to the Carmelite monastery for over 1,000 years. In the magical and secluded forest, they maintained a strict vow of silence.
The monks also set about propagating some exotic species. There are approximately 700 species of trees in the forest. At the highest point, Cruz Alta, you'll have fine views of the sea.
As you wander the moss covered paths, you can also check out the faded splendor of the Bussaco Palace. It's a Neo-Manueline building commissioned by King Carlos.
Inside, you'll find a lavish interior decorated with murals and beautiful azulejo tiles. In 1907, the palace was reborn as a luxury hotel.
You can visit the national park on a guided day tour from Coimbra.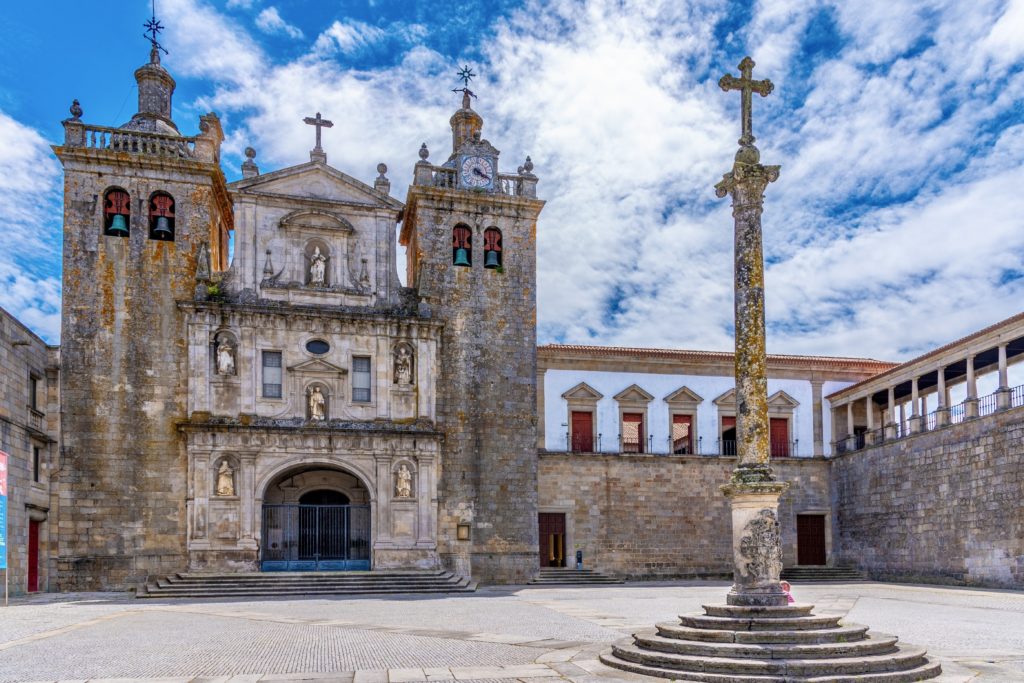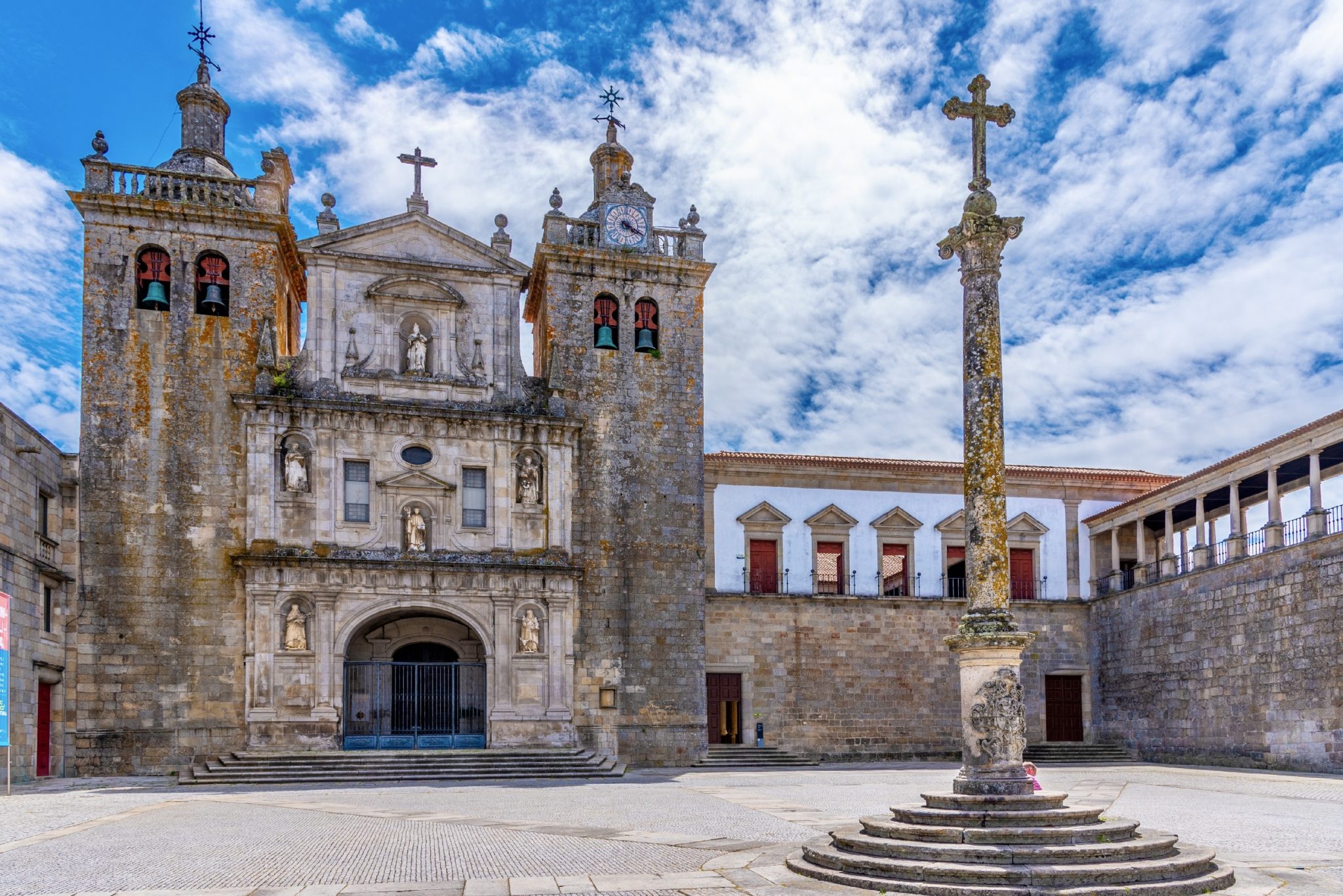 Viseu
About 80 miles northeast of Coimbra is the lively town of Viseu. It's the center of the Dao wine-growing region and packed with history.
The medieval old town is well preserved. There's a remnant of the ancient city walls. The Town Hall in the main square has a grand azulejo-clad stairway.
But the real star of Viseu is the town's cathedral, Viseu Se.
The cathedral has a Manueline-style facade and forbidding granite towers. Inside, there's a magnificent triple nave that's flooded with light.
In the north chapel, are fine 18th century azulejos. In the Manueline cloister, the azulejos are a century older and wrap around the walls.
Here's my complete guide to the best things to do in Viseu.
I hope you've enjoyed my one day in Coimbra itinerary. You may enjoy these other Portugal travel guides and resources:
If you'd like to spend one day in Coimbra, pin it for later.