Wondering how to spend one day in Guimaraes Portugal? I've got you covered. This 1 day in Guimaraes itinerary covers all the top attractions and best things to do in Guimaraes.
Dating from the 9th century, the UNESCO-listed Guimaraes is a surefire charmer with no end to the embarrassment of riches. It's one of the easiest and best day trips from Porto.
Guimaraes is known as the birthplace of Portugal's founder-king Afonso Henriques. It boasts a brooding 10th century castle, a Gothic-Renaissance palace, and a 15th century Town Hall.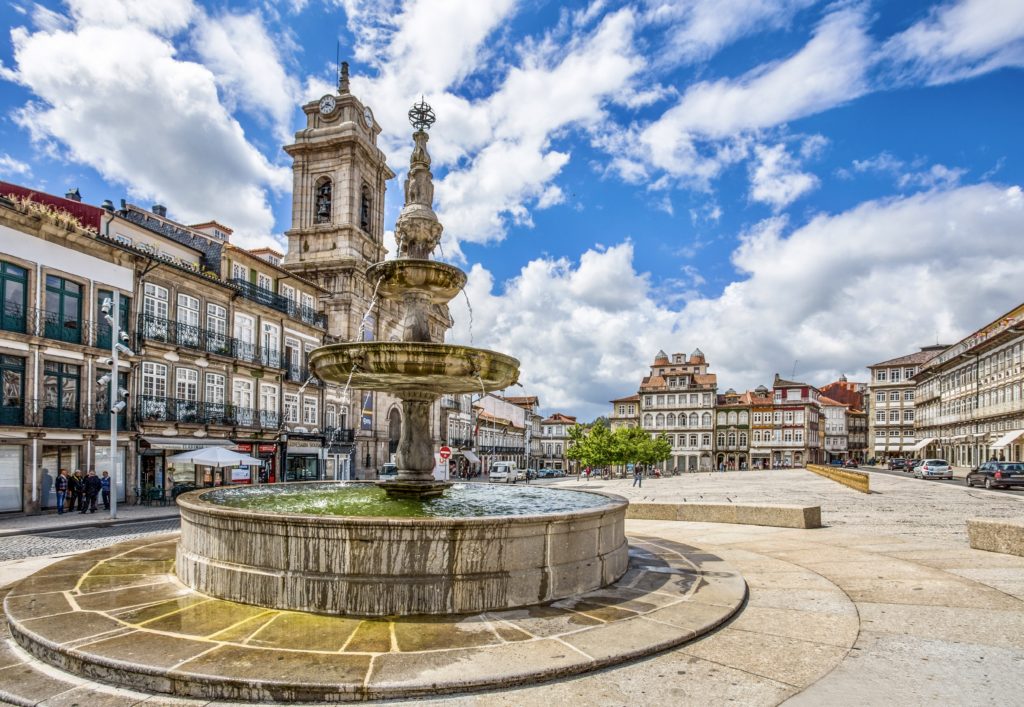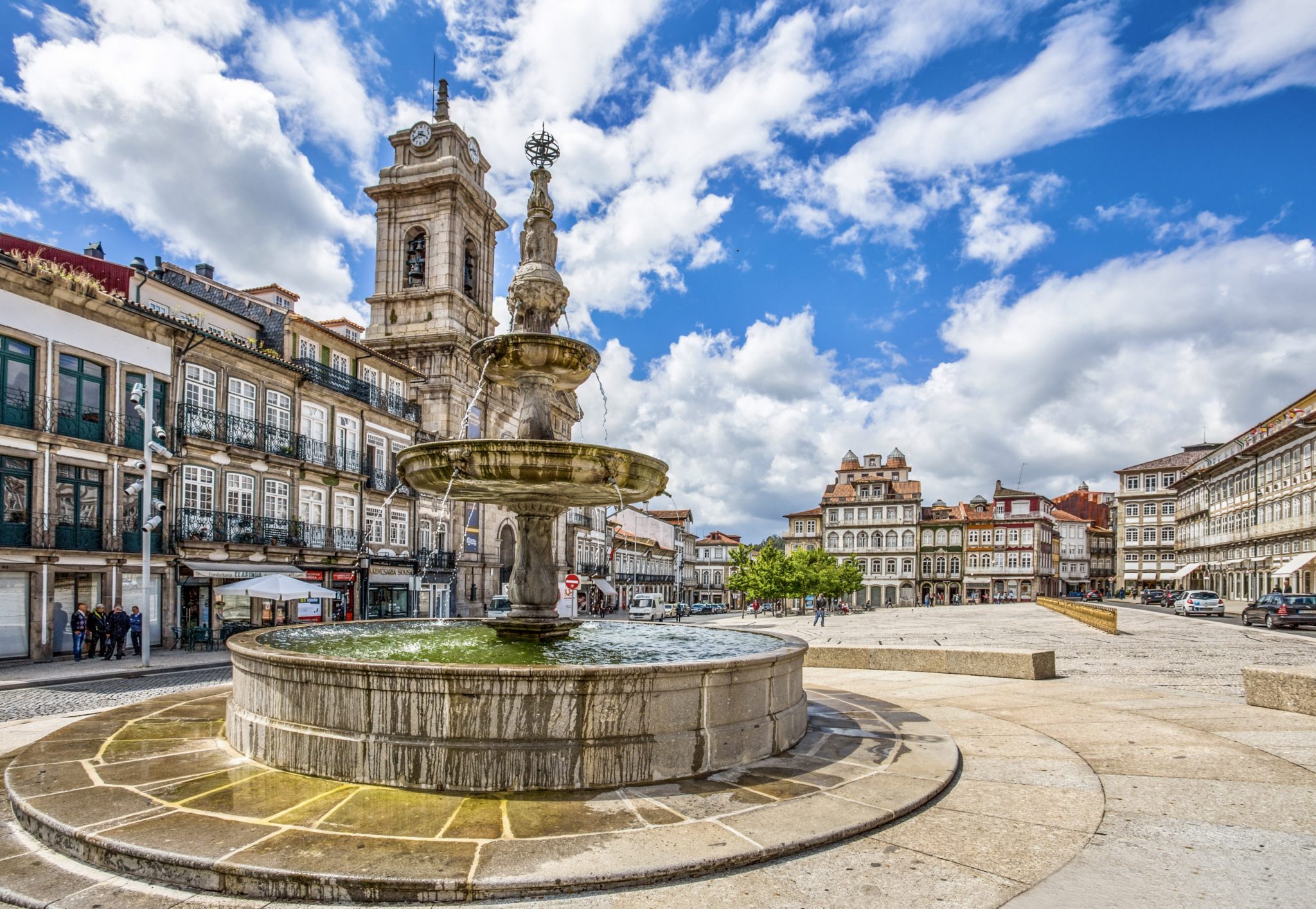 Guimaraes has an astonishingly well-preserved medieval core, giving the town a genuine timeless quality. The town is a warren of quiet cobbled lands, colorful facades, and azulejo-clad Baroque churches.
In 2001, the town became a designated UNESCO site. In 2012, it was named a European Capital of Culture. It's definitely worth a visit if you're taking a road trip in Portugal.
A Short History Of Guimaraes
Guimaraes has been intertwined with the history of Portugal for eight centuries.
In the 10th century, the town was held by the Counts of Portucale. After the death of Henry of Burgundy, his wife Teresa of León proclaimed herself ruler of Guimaraes.
But she wasn't a strong ruler. She was more preoccupied with her lover than actually governing. In 1139, her son, Alfonso Henriques, rebelled against her in the Battle of São Mamede and won.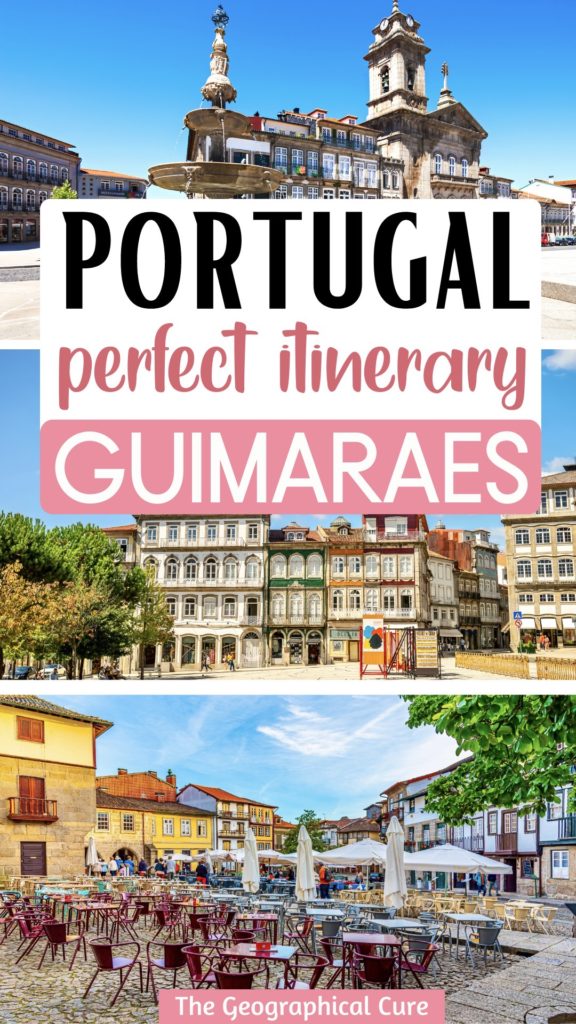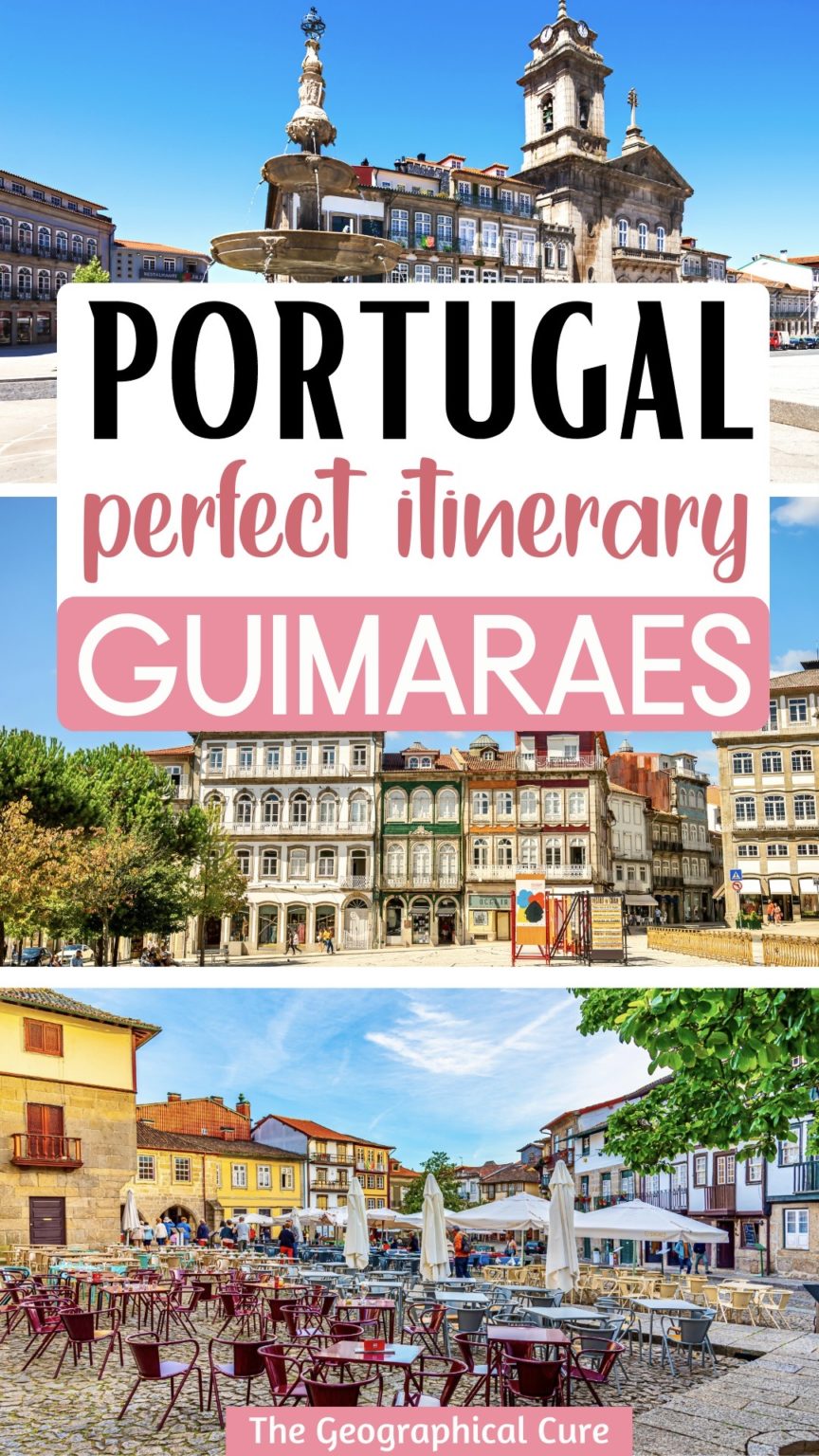 He declared himself king of Portugal and chose Guimaraes, his birthplace, as his capital. Guimaraes is thus known as the cradle of Portugal.
After establishing himself, Afonso rode out to claw back the rest of Portugal from the hands of the Moors.
Throughout his life, he expanded his kingdom, liberated lands, fought against enemy armies, and shaped Portugal into what it is today.
In the Middle Ages, Guimaraes began to expand, fortified by the maritime trade. The medieval town remained largely unchanged for centuries, with the exception that its walls were demolished.
There's still a tiny scrap of old wall left near the entrance to the town. On it, in white letters, is the phrase Aqui Nasceu Portugal, meaning Portugal was born here.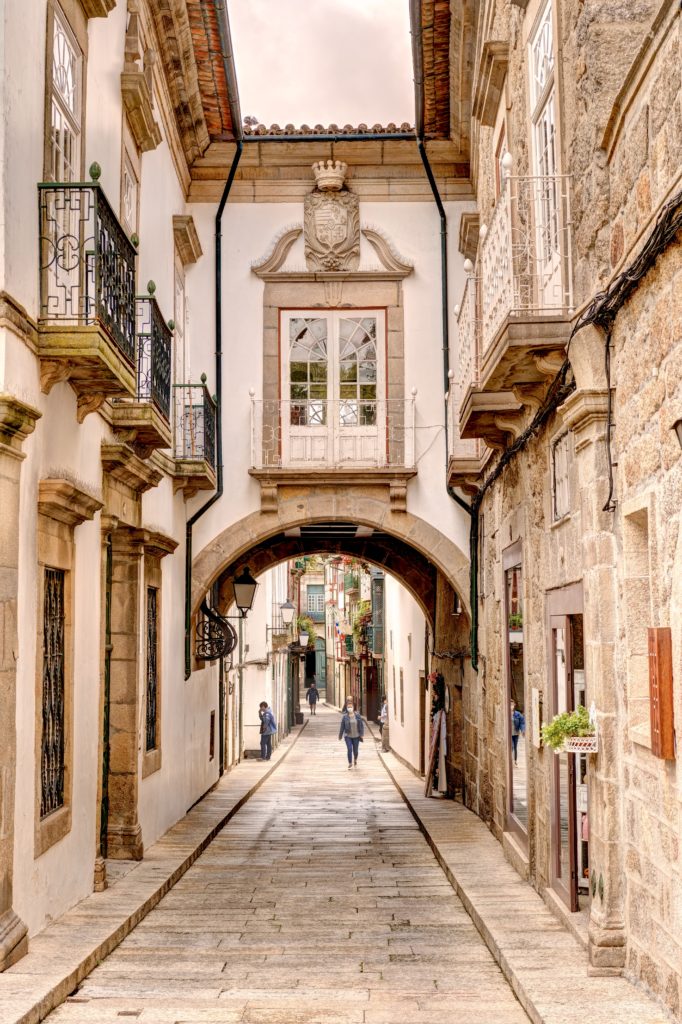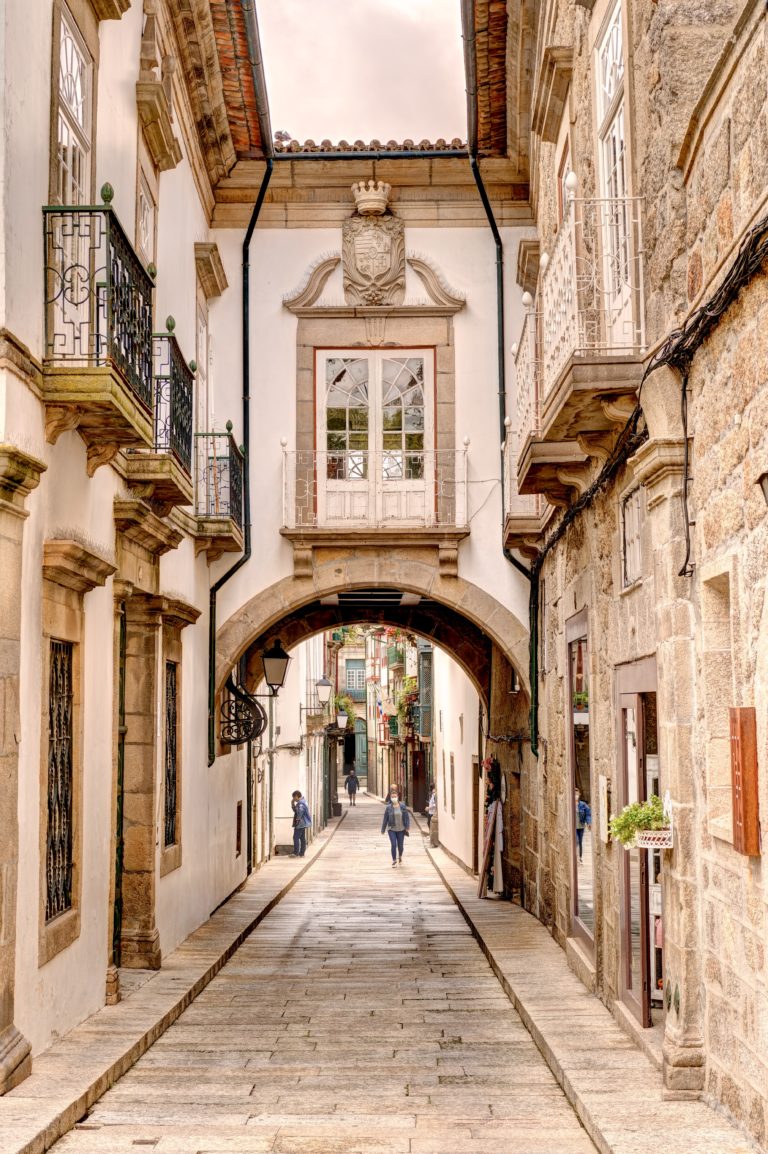 Overview Of One Day In Guimaraes Itinerary
Here'a a quick snapshot of what you'll see with this one day in Guimaraes itinerary:
Ducal Palace
Guimaraes Castle
Church of San Miguel do Castelo
Igreja de Nossa Senhora do Carmo
Guimaraes Town Hall
Largo da Oliveira
Igreja de Nossa Senhora Oliveira
Sampaio Museum
Largo de Sao Tiago
Igreja de Sao Francisco
Largo da Republica do Brasil
Teleférico de Guimarães
Vila Flor
One Day In Guimaraes Itinerary, A Day Trip From Porto
Here is my itinerary to help you have the most efficient 1 day in Guimaraes. It covers all the best things to do and see in Guimaraes in a day. I also give you tips on where to eat, where to stay, transportation, tours, and tickets.
As with all of my suggested itineraries, I recommend that you use this Guimaraes itinerary as a guide. You can tailor it to suit your individual interests, needs, and pace of travel.
1. Palace of the Dukes of Braganza
The first stop on your Guimaraes itinerary is the Palace of the Dukes of Braganza.
It's a striking building bristling with brick chimney pots. It was built by Dom Alfonso, the 1st Duke of Braganza.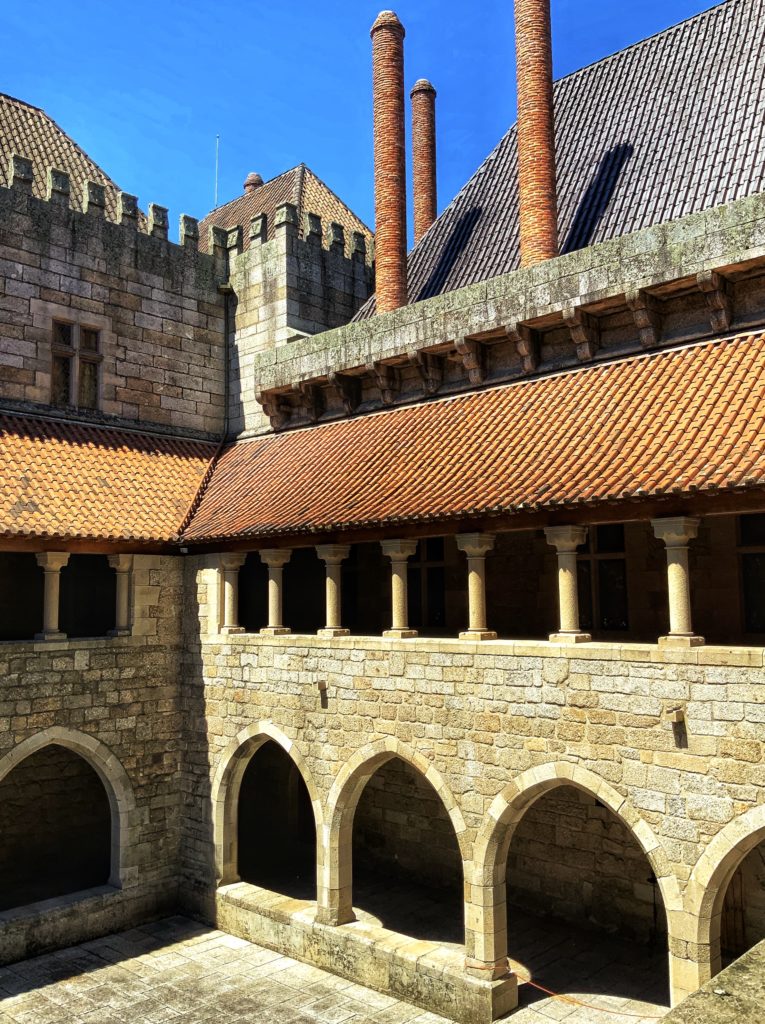 He was the illegitimate son of King Joao I. But, at that time, he was one of the wealthiest men in Portugal. His family and descendants would occupy the palace for 200 years.
The palace is more Renaissance than Gothic and, technically, is known as "Burgundian" architecture. The king had been traveling in Europe and was influenced by what he saw particularly in France.
The court decamped for good in the 16th century and the palace fell into ruin. In the 1930s, it was fully restored to its original appearance.
The palace was also refurnished at the time. The furniture you see inside is from the 18th and 19th centuries.
You'll find huge fireplaces, Aubusson and Brussels tapestries, Persian rugs, porcelains, faience, and coffered ceilings.
The palace's chapel also has stunning stained glass windows depicting saints and other distinguished Portuguese royals.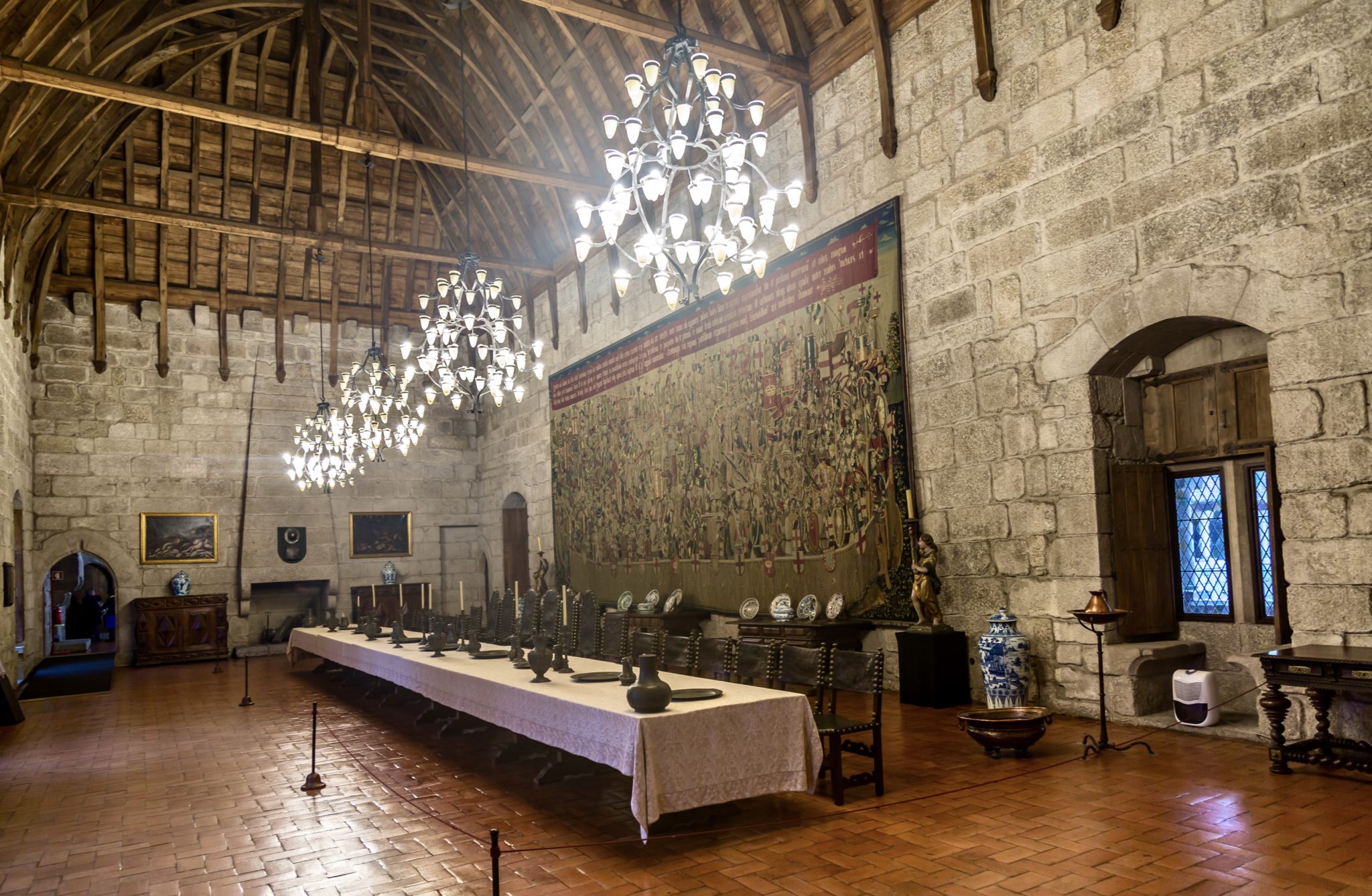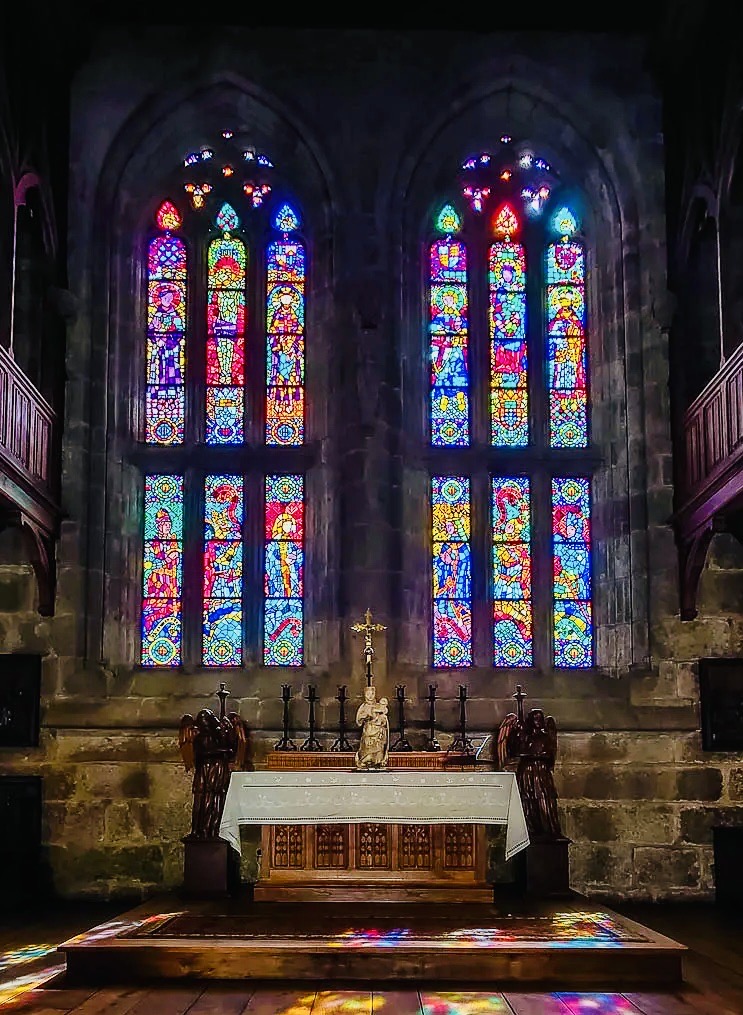 The palace is now classified as a National Monument. Outside stands a statue of Afonso Henrique, just to remind you who founded the Portuguese nation.
The palace is mostly a museum for artifacts and 17th century furniture. But I thought it was still worth a visit.
When you visit, you should buy a combination ticket for the palace and Guimaraes Castle, which are just minutes away from each other. The palace is open daily from 10:00 am to 6:00 pm.
Address: R. Conde Dom Henrique 3, 4800-412 Guimarães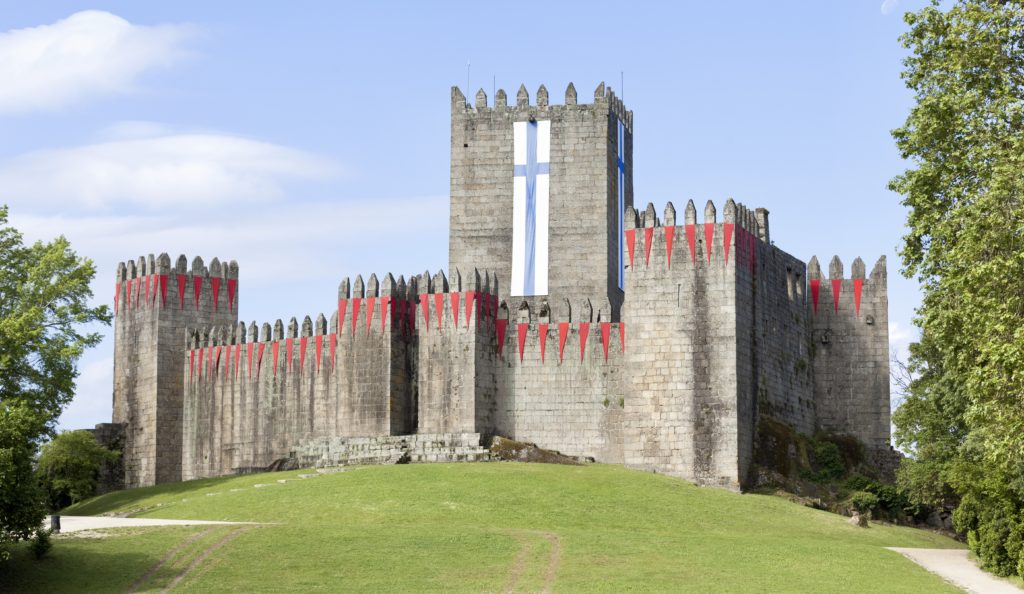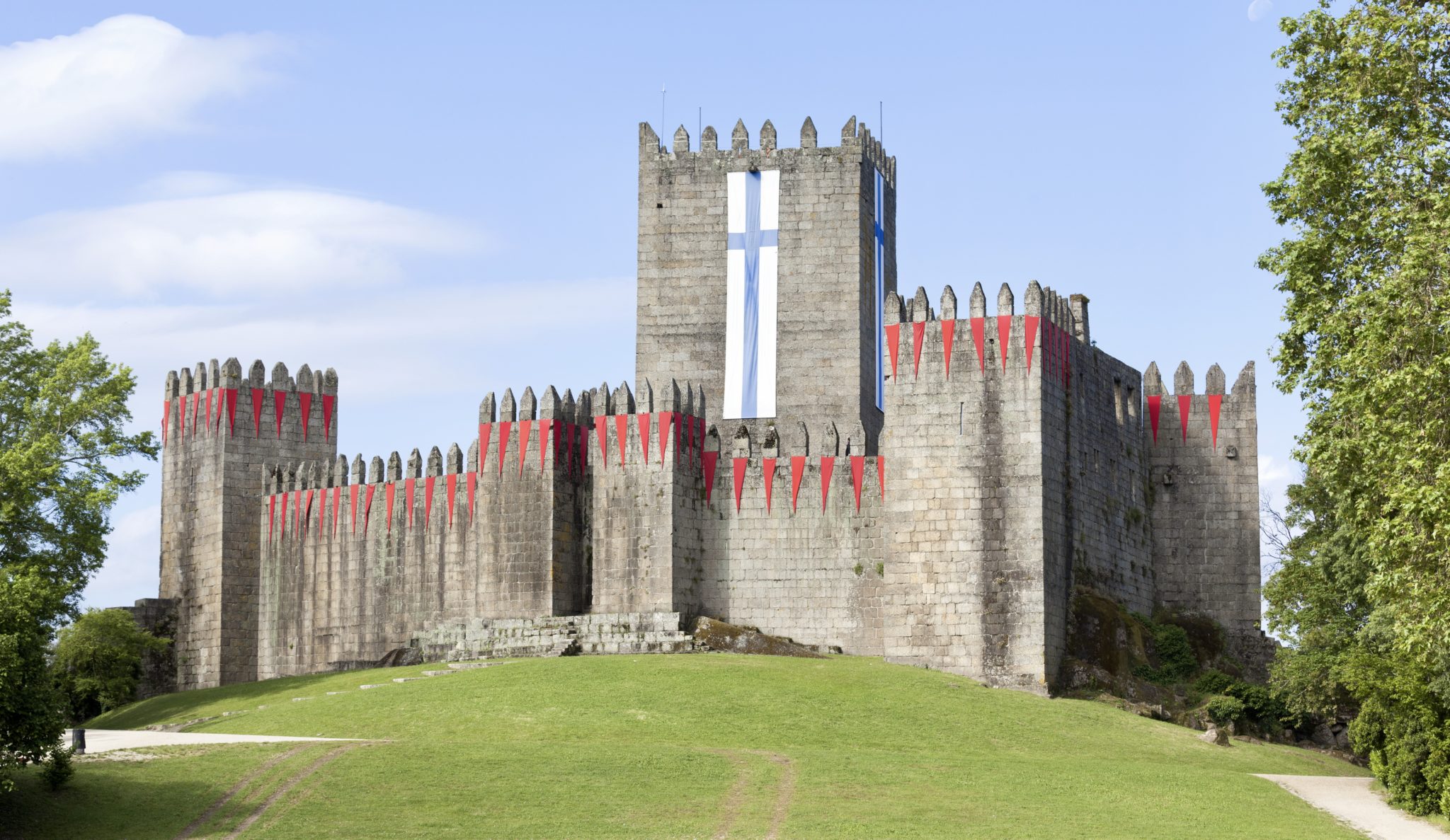 2. Guimaraes Castle
Guimaraes Castle is famous as the birthplace of Afonso Henriques.
The craggy castle is part of the town's UNESCO designation. It's one of the seven wonders of Portugal, sitting at the top of a hill overlooking the town.
The foundations of the current castle date back to the late 10th century. It was built to protect a nearby monastery from attacks by the Normans and Moors.
The castle is exactly how you imagine a medieval castle would look. Its jagged crenellations may even conjure images of crusaders on horseback.
The medieval castle has a large central keep encircled by 8 towers. But when you climb up its ramparts and towers … wow. You have beautiful views of the countryside.
There's a muscular statue of King Afonso brandishing a sword outside the fortress. It was cast in bronze in 1887 by renowned Portuguese sculptor Antonio Soares dos Reis.
There's no ticket office at the castle. You need to buy a combination ticket at the ducal palace. There's an animated movie about Afonso Henriques onsite to get you started.
Address: Rua Conde D. Henrique 4810-245 Guimarães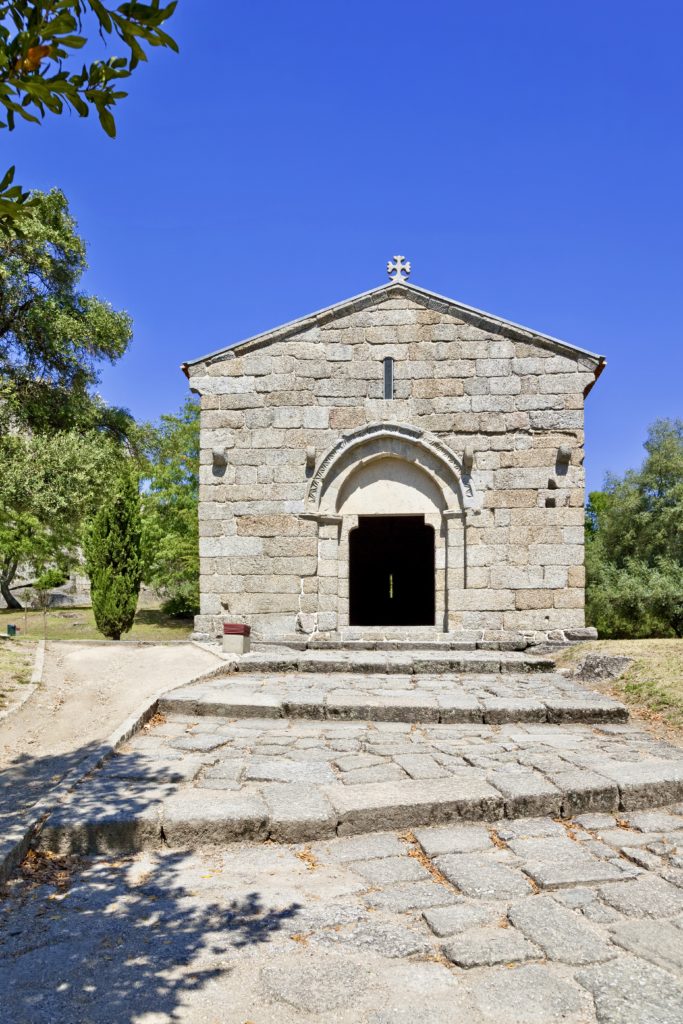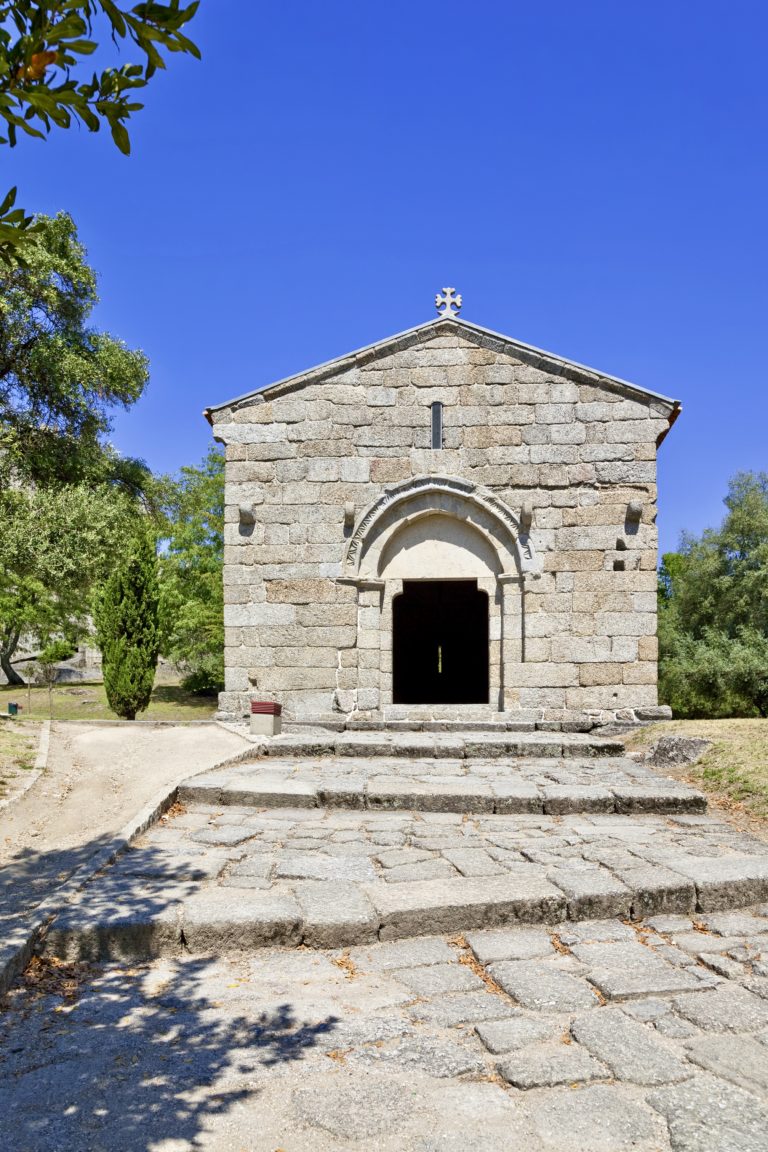 3. Church of San Miguel do Castelo
The Church of San Miguel do Castelo de Guimarães is a simple unadorned chapel dating from the 12th century.
But the citizens of Guimaraes nonetheless attach great importance to it. It was here that King Alfonso Henriques, the first king of Portugal, was baptized.
You can even see his baptismal font. You can also see the tombs of Portugal's first warriors etched into the floor.
Like the castle, the chapel fell into ruins and was neglected until the 19th century. Thanks to public funding, it was restored and is listed as a National Monument in 1910.
It's definitely worth a quick visit. Admission is free of charge.
Address: R. Conde Dom Henrique3, 4800-412 Guimarães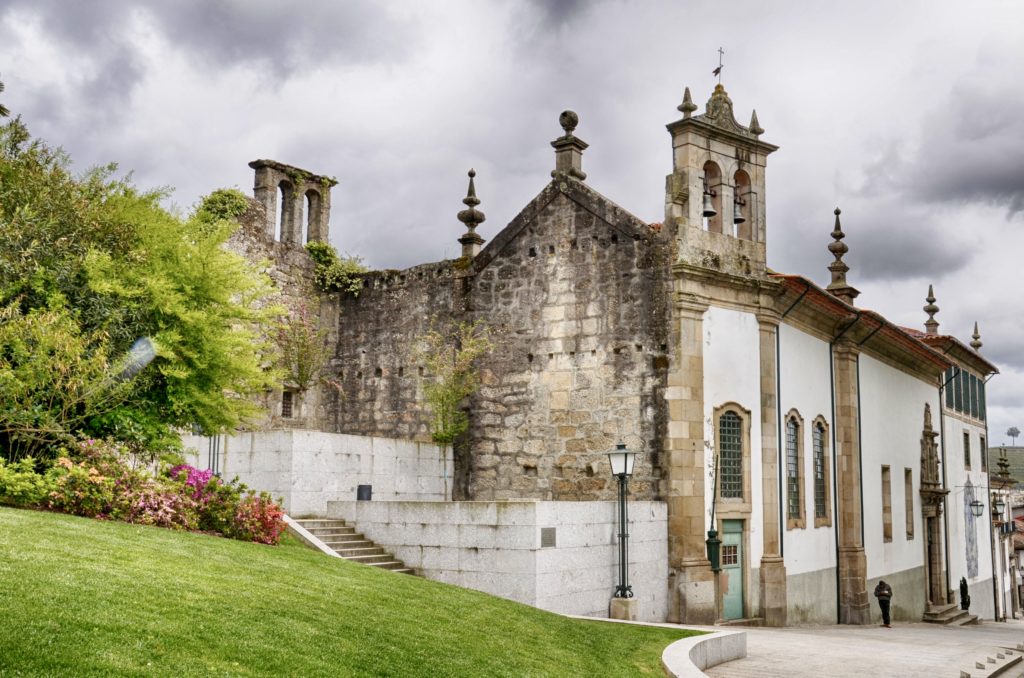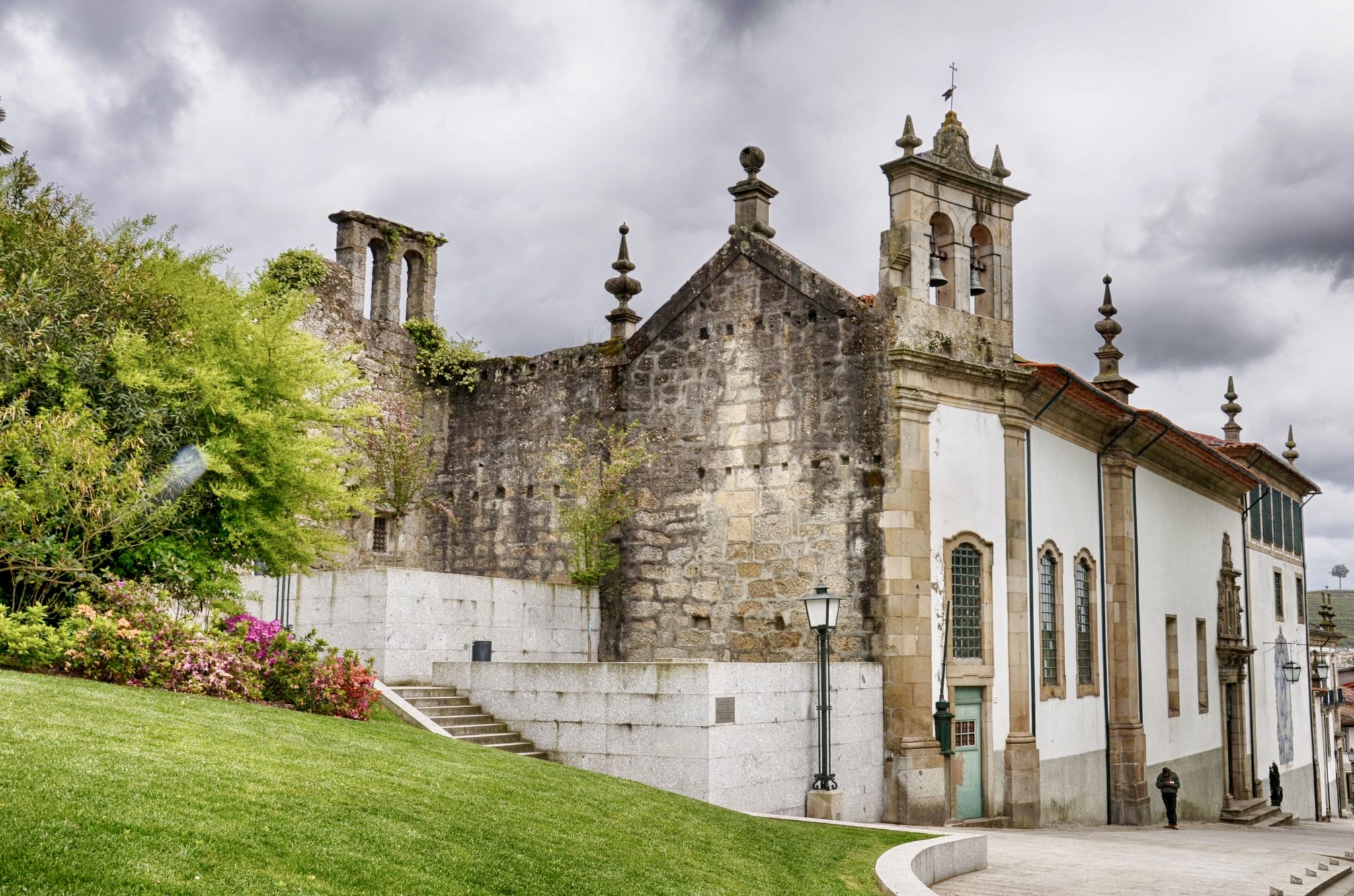 4. Igreja de Nossa Senhora do Carmo
The Church of Our Lady of Mount Carmel is a 17th century church dedicated to Saint Theresa, a Carmelite nun. It's also just a few minutes from the castle.
The exterior of the church is austerely white. But there are some lovely blue and white azulejo panels on the facade.
Inside, it's an oasis of calm. The main altar, a rather gaudy Baroque affair, is an homage to the Virgin Mary, Our Lady of Carmo.
There's a beautiful wooden choir you reach via a staircase to the right of the entrance. It's decorated with portraits of saints. Above it are pastel colored frescos.
Address: Largo Martins Sarmento Guimaraes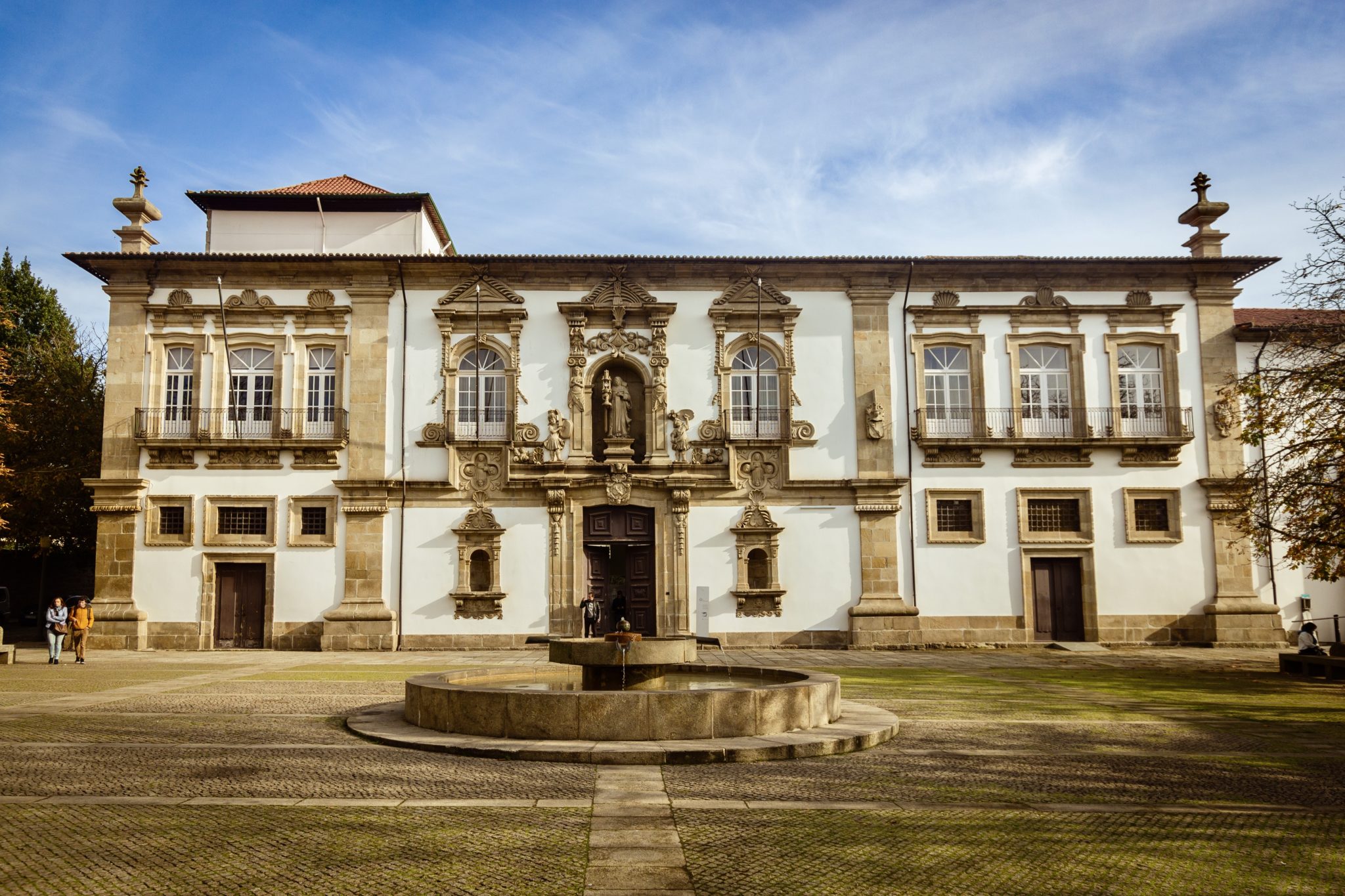 5. Guimaraes Town Hall
Guimaraes Town Hall is housed in the 15th century convent of Santa Clara. It has a beautiful Baroque facade on the outside and a classical style on the inside.
In the central niche above the entry, you can see a statue of St. Clare. She was one of the first followers of St. Francis of Assisi.
The convent was disbanded in 1834 after Portugal dissolved the religious orders.
The building has a beautiful banquet hall with wooden ceilings and an extensive collection of portraits and furnishings from its convent days.
Address: Largo Conego Jose Maria Gomes, S/N, Guimarães
6. Largo da Oliveira
Named after a centuries old olive tree, the social square of Largo da Oliveira is one of the city's cultural focal points.
The square is separated form the adjoining square by an arcaded walkway.
This small largo is flanked with important historic buildings. In the middle is a spectacular arched Gothic shrine, the Padrão do Salado.
The square was built in the reign of Alfonso IV to commemorate the battle of Salado, where Portuguese and Castilian forces drove back the Moorish army in 1339.
You should admire the old town hall. It's a vibrant red crenelated building held up by massive arches. It's crowned by a statue representing the town of Guimaraes itself.
In the summer months, much of the square is invaded by sidewalk cafes. It's the perfect place to stop and have lunch. It's a bit quieter than the main square, Largo do Toural.
Admire the architecture. Preferably while sipping Portuguese coffee or, better yet, a glass of vinho verde wine.
And try one of Guimaraes' traditional sweets. Many shops sell the egg-rich pastries that are based on recipes originally developed by the nuns.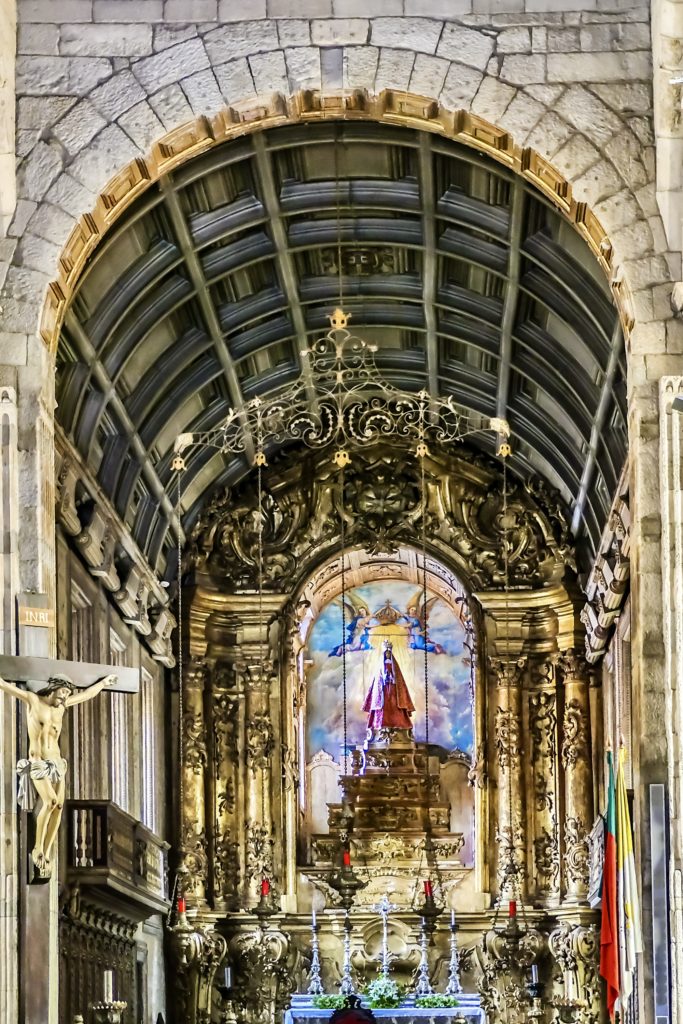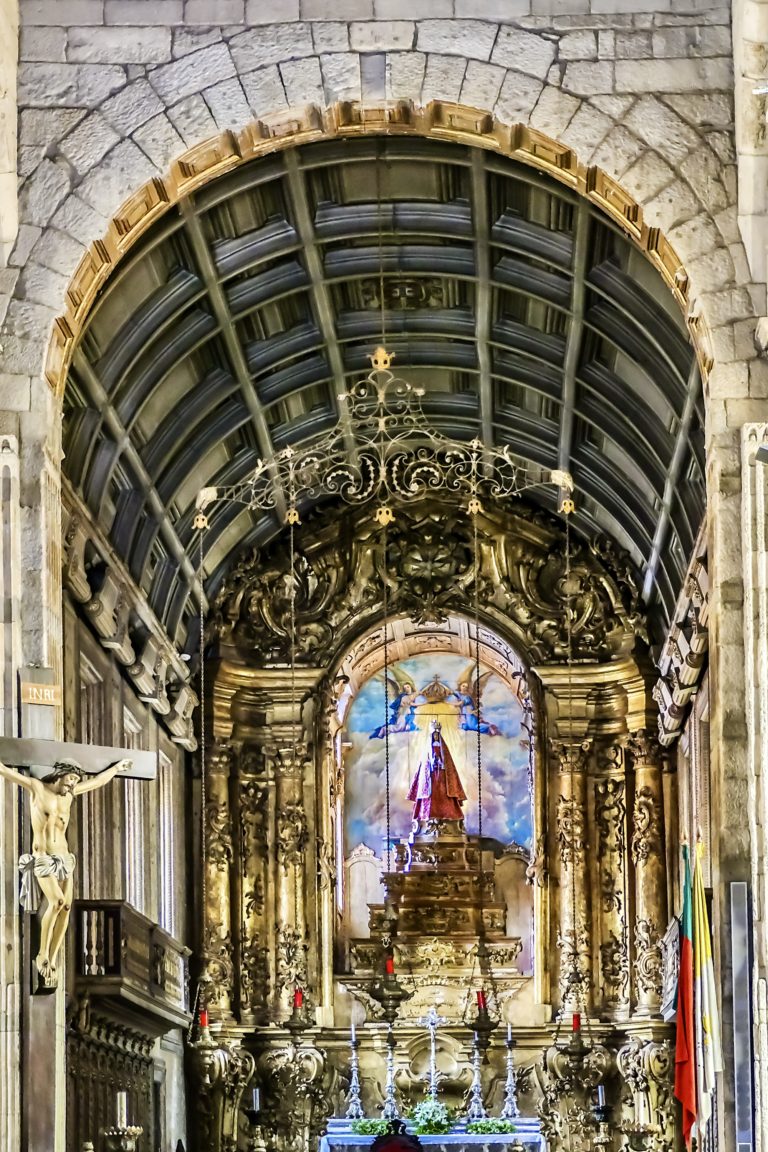 7. Nossa Senhora da Oliveira + Sampaio Museum
The Church of Nossa Senhora da Oliveira dates from around the 13th or 14th century. It's undergone many architectural revisions.
The church was founded by Afonso Henrique and restored by Joao I. All that remains of its Romanesque bits are a chapter house and cloister. Naturally, there are some azulejos to admire.
Parts of the church are home to the Museu de Alberto Sampaio. Founded in 1928, it's a great little museum stuffed with religious and medieval art.
It's housed in a former monastery, whose peaceful lush cloisters you can still visit. In July and August, the museum is open at night.
The collection includes sculptures, sarcophaguses, azulejos, gold and silver wares, paintings, holy relics, weaponry, and altarpieces. One of the highlights is the chain mail tunic of Jõao I from the battle of Aljubarrota in 1395.
Address: Rua Alfredo Guimarães 4810-251 Guimarães
8. Stroll The Old Town
Be sure to stroll down the main pedestrianized drag, Rua de Santa Maria. You'll have seen it on your way to the castle.
It's Guimaraes' most picturesque street and possibly 1,000 years old.
It's lined with granite townhouses embellished with statuary and quirky local shops and boutiques.
This might be the time to do some shopping. Guimaraes is known for its pottery, textiles, silver, and embroidery.
I even found an utterly adorable baby store. And you should pop into Meia Tiger and Verde Inveja to check out the local Portuguese products.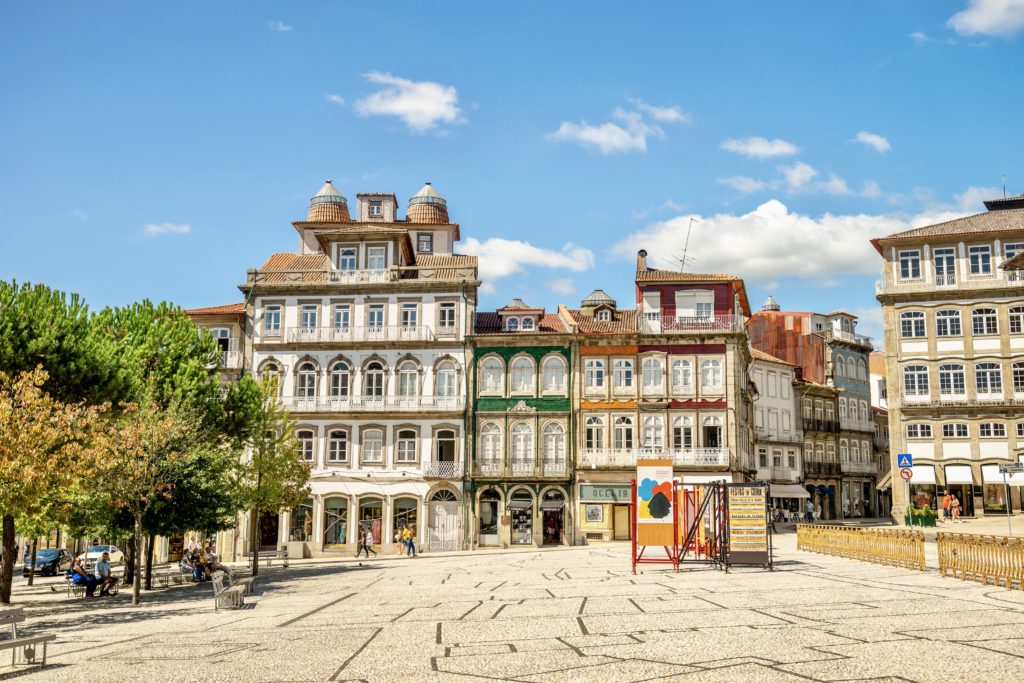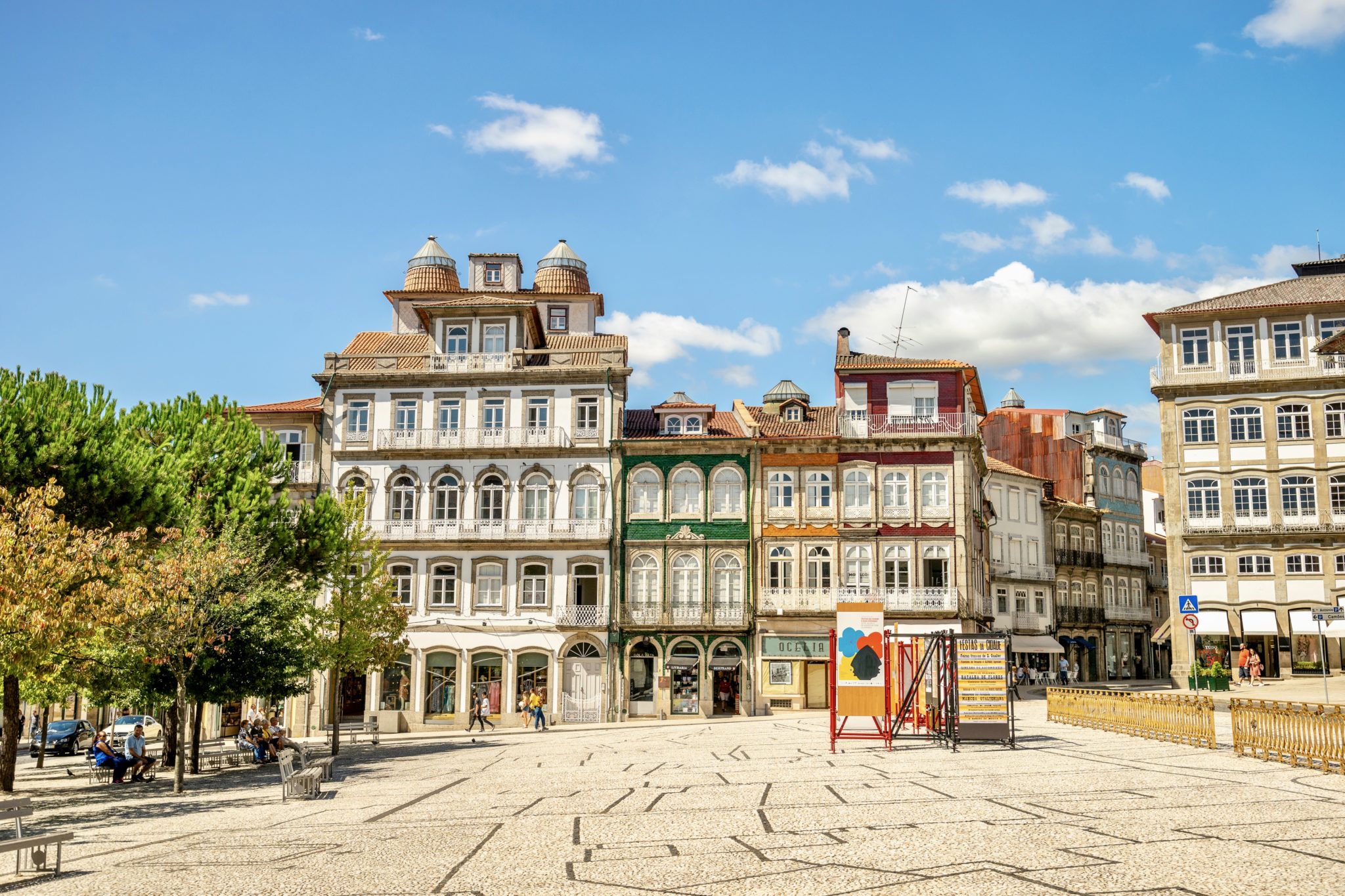 9. Largo do Toural
This is a bustling commercial square in the south of Guimaraes adjacent to the historic old town. It once served as a cattle market in the 18th century and its name translates to "bull square."
It has a magnificent fountain and is surrounded with grand architecture, including the Neo-Classical Church of San Pedro.
This is where you can take a photo of the Aui Nasceue Portugal inscription on the old city wall. You can also sit down and admire the views or go on a mini shopping spree.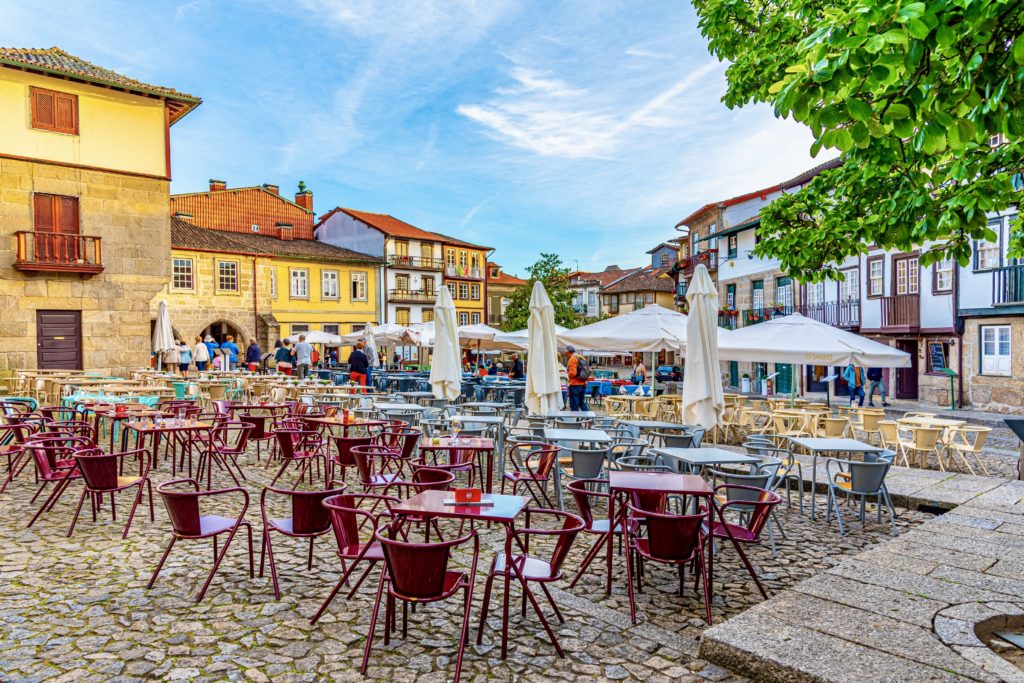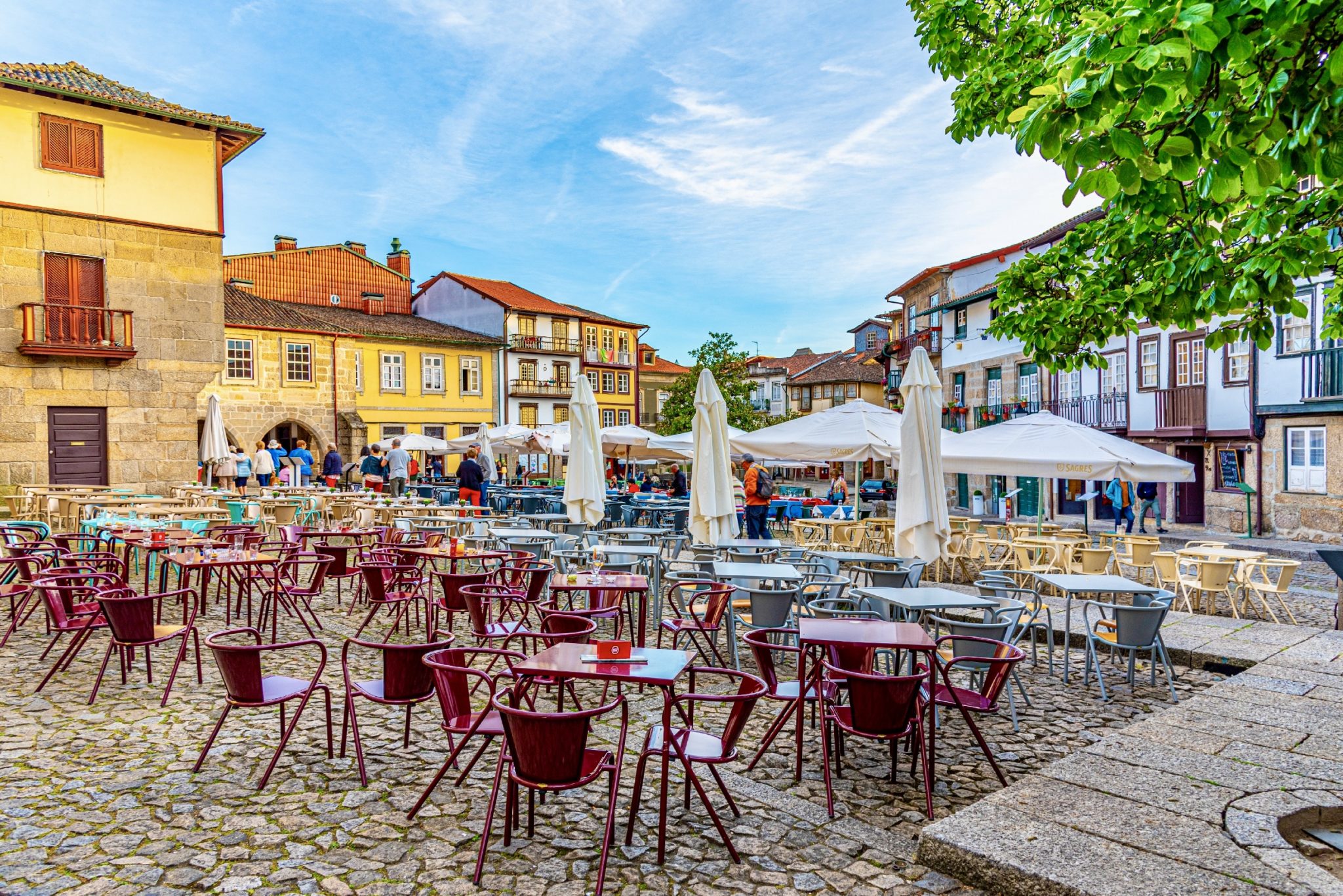 10. Largo de Sao Tiago
The Largo de Sao Tigo is an absolutely charming square in Guimaraes.
According to the legend, the Apostle James brought an image of the Virgin Mary and placed it in the square, which is why it is called St. Tiago's Square.
The square is surrounded by stone houses with colorful facades and flowers tumbling down from balconies.
This is yet another great spot to plop down in an outdoor cafe. You'll immersed in the beauty and history of Guimaraes.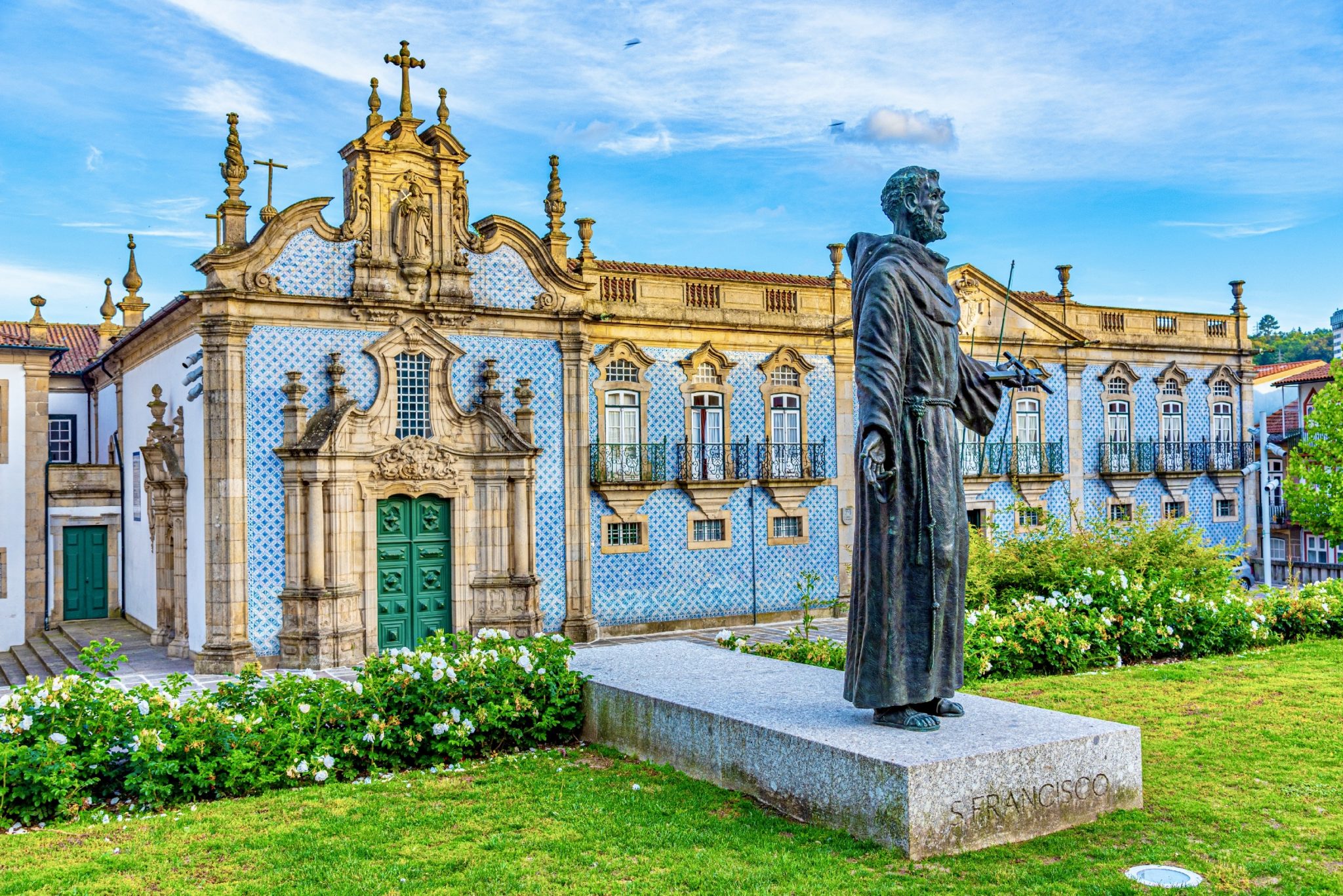 11. Igreja de São Francisco
Just one more church before you end your one day in Guimaraes, the Igreja de São Francisco.
The Convent and Church of Sao Francisco is a major architectural and historic piece of Portuguese identity. It stands as a lasting relic of the Franciscan order in Guimaraes, which dates to the 12th century.
The church is a splendid example of architectural blends. These include Gothic, Mannerist, and Baroque styles.
It's been reworked over many centuries, creating the beautiful amalgamation you see today.
When you walk through the Manueline entry, you'll be wowed. It's definitely the most stunning interior in Guimaraes.
There are gilded cravings, traditional blue and white azulejo tiles, and an altar with a polychrome tree of life.
The sacristy rests under a beautiful coffered ceiling decorated with grotesques and a stunning Arrabida marble table.
Address: R. Padre Gaspar Roriz 124, 4810-531 Guimarães
12. Largo da Republica do Brasil
This large square has a lovely manicured garden just a short walk from the historic center. You'll likely pass the square on the way to the castle or cable car.
It's an impressive square for a small town. And it's full of traffic, so take care when visiting the garden.
The square honors and commemorates Brazil's proclamation of a republican form of government. It was Portugal that founded Brazil as a colony back in 1500.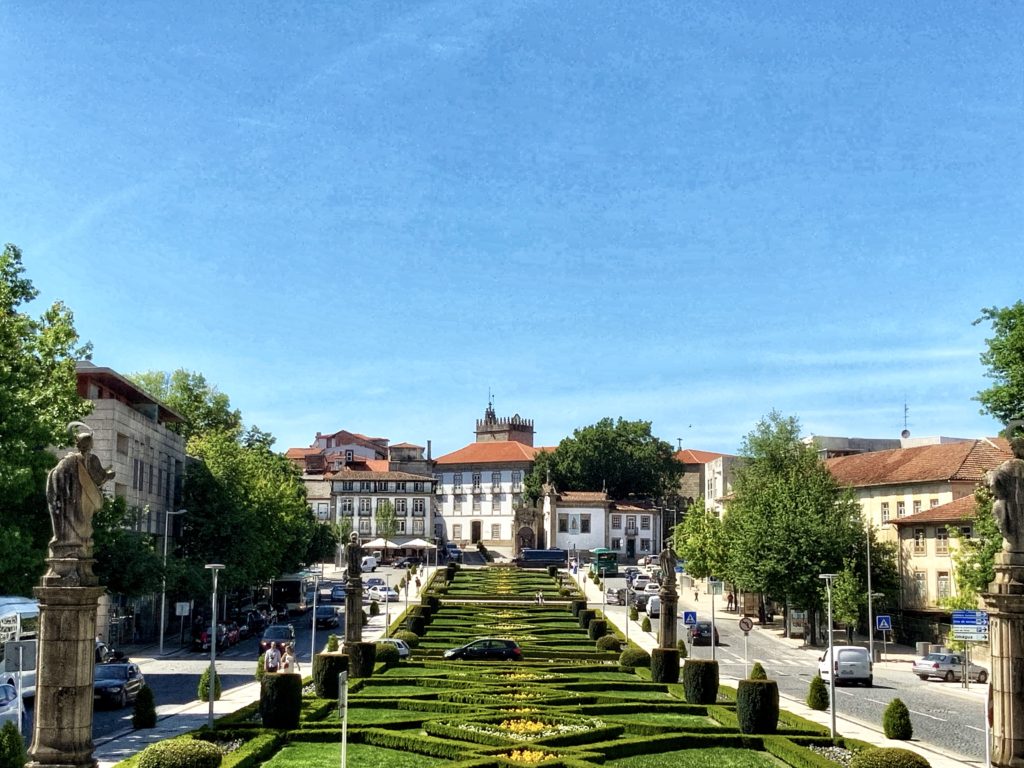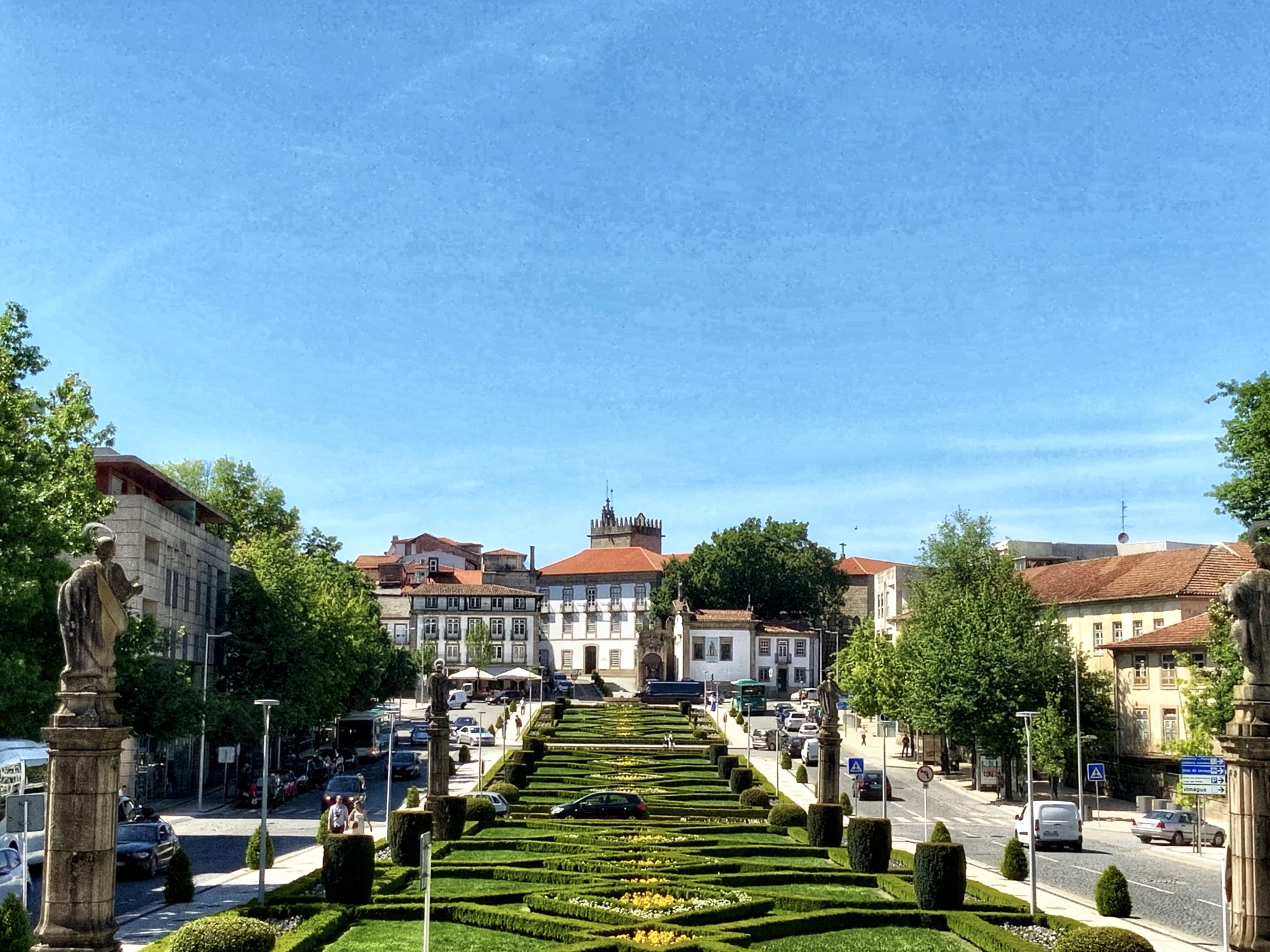 There are cafes on the square and you can plop down for a drink. There are also bakeries and ice cream shops.
At one end is the 18th century Church of Our Lady of Consolation, listed as a National Monument. It's a tall skinny Baroque church flanked by bell towers.
The arresting church looks almost defiantly vertical, as if it might take off in flight or be weaponized. It reminded me of the Church of St. Idlefonso in Porto.
During the Christmas season, every inch of the facade is covered with sparkling lights.
The interior is Neo-Classical and, frankly, didn't do much for me. There are white walls, stone and bronze ornamentation, and a very plain ceiling.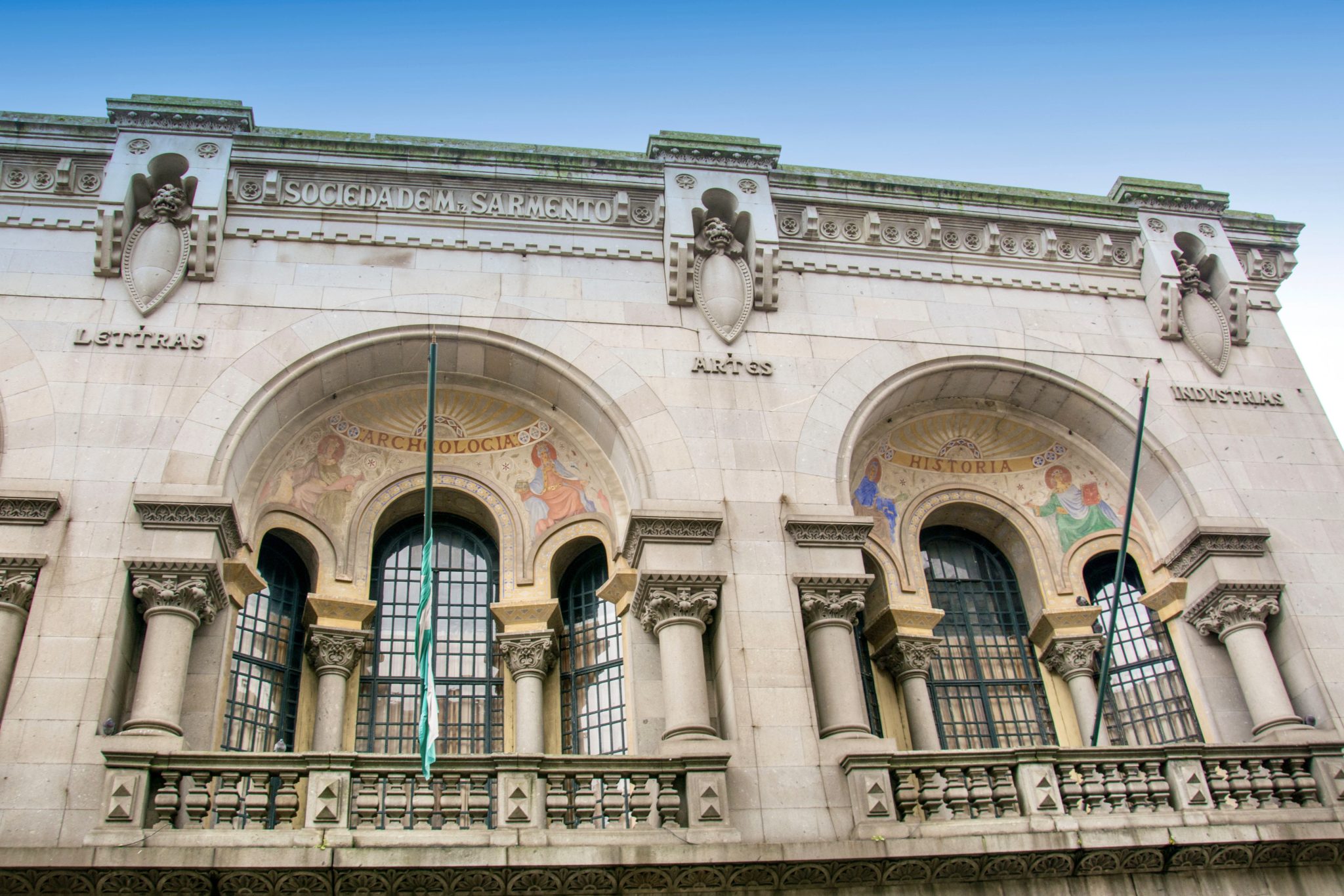 13. Other Museums In Guimaraes
If you're an art lover or history buff, there are a couple museums besides the Sampaio you may want to squeeze into your one day in Guimaraes.
The Museu Arquelogico Martins Sarmento is located in the former convent of São Domingos Church. This is a museum for archaeology buffs, specializing in finds from excavated sites.
It houses artifacts from the nearby archaeological site of Citania de Briteiros (which I discuss below). In the cloister you'll see stone objects Roman columns, Roman artifacts, and even a Celtic sarcophagus.
Address: Rua Paio Galvão, 4814-509 Guimarães
The Centro Internacional das Artes José de Guimarães is dedicated to contemporary art. It's housed in an award winning modernist building.
The museums displays modern art by José Guimarães and other Portuguese artists. It also features the personal collection of José Guimarães with African Tribal Art, Pre-Columbian Art, and Ancient Chinese Art.
Address: Av. Conde Margaride Guimarães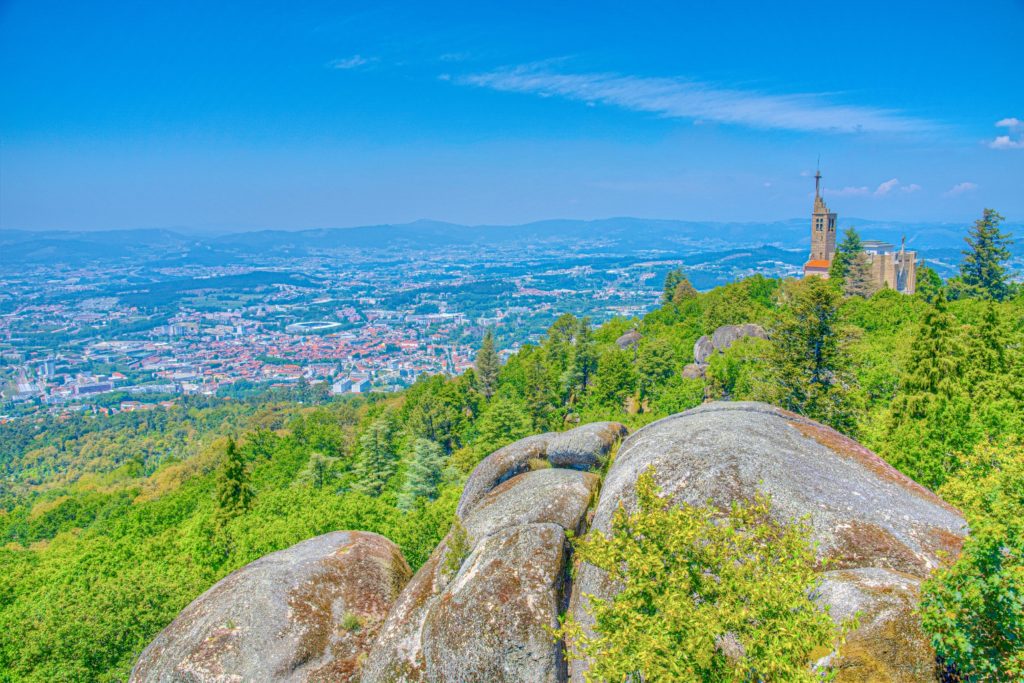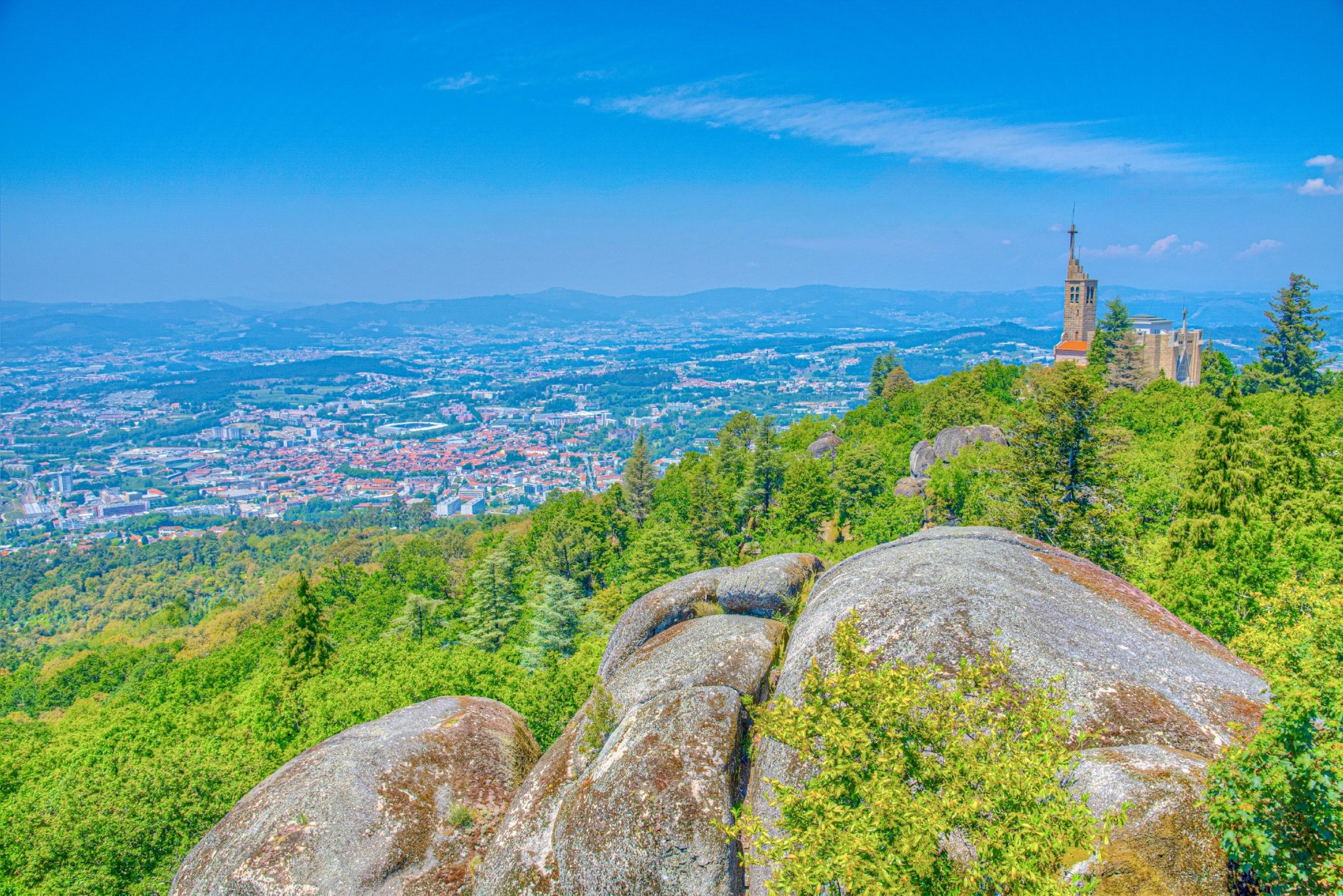 14. Teleférico de Guimarães
Want a bird eye view of Guimaraes? If so, end your one day in Guimaraes with a cable car ride on the Teleférico de Guimaraes.
It's considered to be the first cable car in Portugal. It's a must do for aficionados of heights and views.
Head to Parques das Hortas. For 5 euros, you can secure a round trip. In 10 minutes, the cable car rises over 1,300 meters up to the summit of Mount Penha.
At the top, you're in a huge area of giant mossy boulders that create a fairytale-like landscape.
You can also visit the stunning mid-20th century Sanctuary of Penha. It's a granite church built in an Art Deco style in the 1930s. It seems to grow straight from the rocks.
The viewpoint behind the sanctuary offers stunning panoramic views back over the city and the plains to the north.
The cable car only operates between Friday and Sunday, so factor that into your one day in Guimaraes itinerary. You can also drive up to the Penha sanctuary to visit if you have a car.
Address: R. do Rei Pegú Guimarães
15. Dinner
If you have time to stay for dinner, Guimaraes has some good restaurants.
Adega dos Caquinhos Histórico is located in a 17th century palace. You can drink Douro Valley wine and dine on bacalhau (cod).
A Cozinha is a Michelin restaurant with inventive Portuguese and Mediterranean food.
Just a 15 minute drive outside town is Sao Giao. It's refined take on Portuguese cuisine has earned it a reputation as one of the best restaurants in northern Portugal.
If you want to sample some of Guimaraes famed sweets, pop into Casa Torta.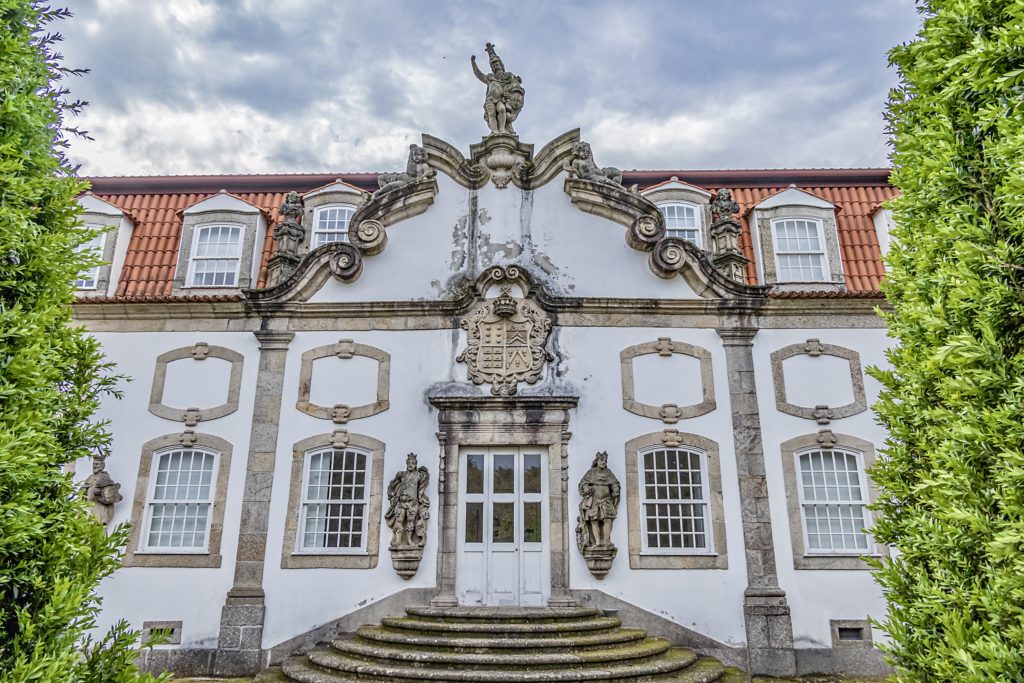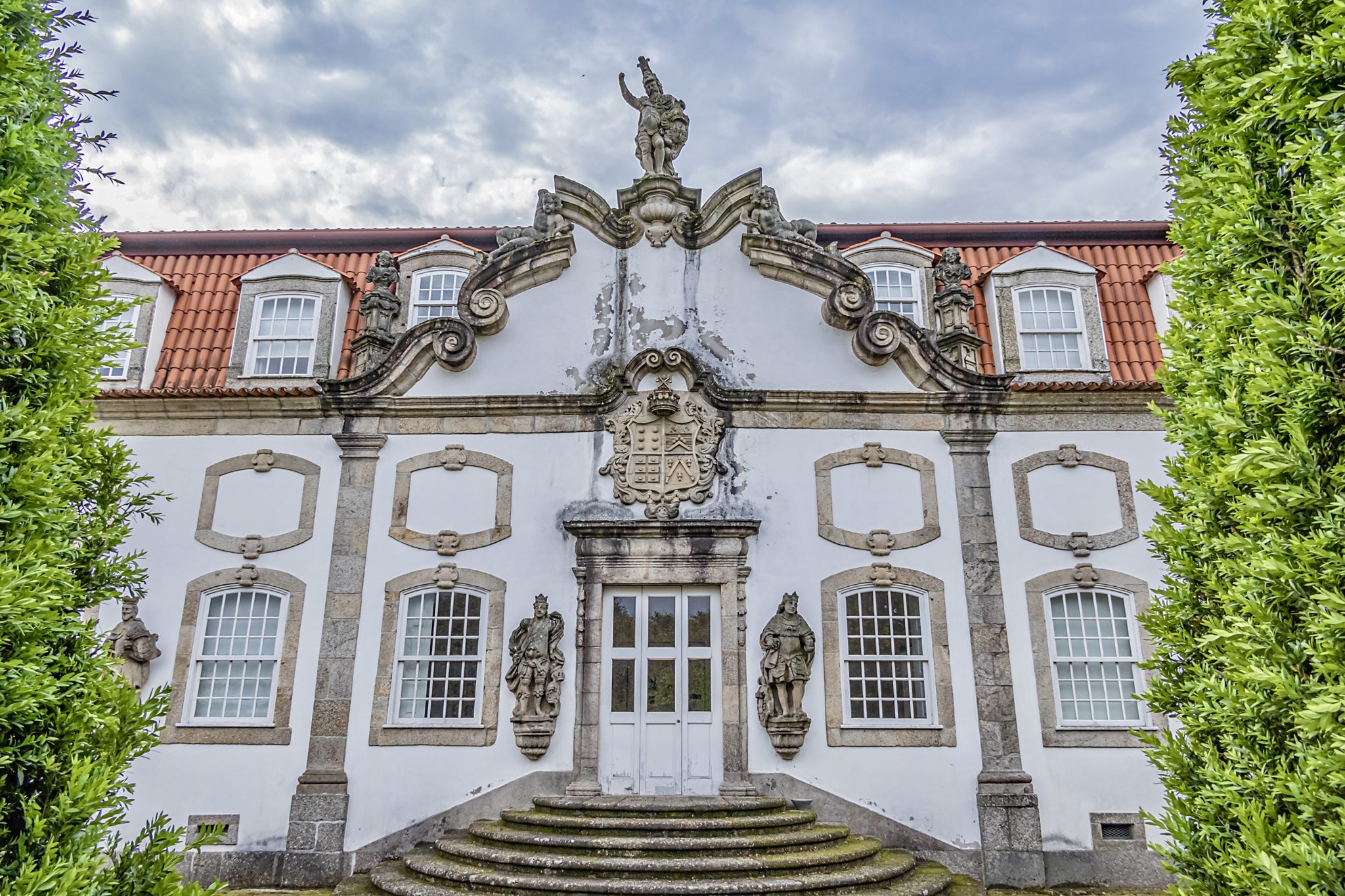 16. Vila Flor
Fancy a performance in the evening of your one day in Guimaraes? The 18th century Vila Flor has been transformed into a sprawling theater and exhibition venue in Guimaraes.
The venue hosts everything from open air Shakespeare festivals to the annual Guimaraes Jazz Festival.
Vila Flor is housed in a beautiful 18th century Baroque palace. The facade is adorned with sculptures of Portugal kings. In 2005, it was restored and transformed into the current cultural centre.
In the modern wing, there are two auditoriums, one seating 800 spectators and the other 200. You can attend talks, conferences, and music performances from classical to rock.
There's also a futuristic exhibition space for temporary art shows.
Address: Av. Dom Afonso Henriques 701, 4810-431 Guimarães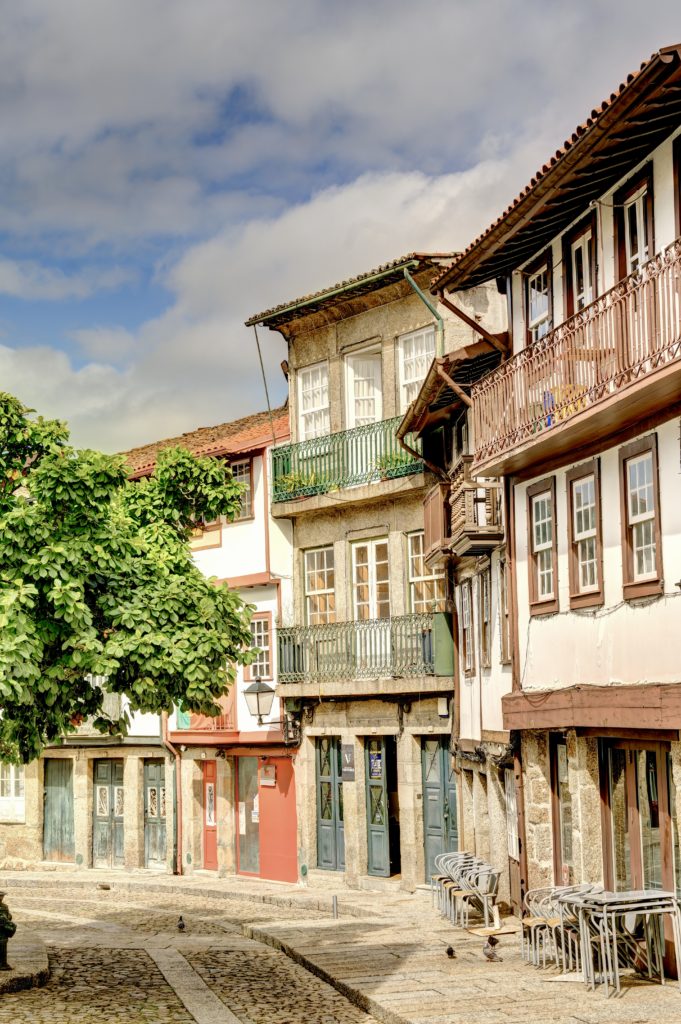 Tips For Visiting Guimaraes
1. How To Get To Guimaraes
By Car:
Guimares is a 45 minute drive from Porto, which is only 30 miles away. That's how I got there. You can park at the train station or in a lot near Guimaraes Castle gardens.
By Train:
Guimaraes is less than an hour by train from Porto's Campanhã Station. When you arrive in Guimaraes, it's a 10 minute walk to the historic center.
By Guided Tour:
You can visit Guimarares on a half day guided day tour from Porto. You can also book a full day tour from Porto that includes skip the line tickets and a cable car ride.
You can also visit both Guimaraes and Braga on a full day tour from Porto.
2. How To Get Around Guimaraes
Guimaraes is a small town and completely walkable. You can do it by yourself using the one day in Guimaraes itinerary.
Alternatively, you can also book a guided walking tour in Guimaraes that includes food tastings.
You can also get around on Guimaraes sightseeing bus.
3. Where To Stay In Guimaraes
If you decide to stay overnight after one day in Guimaraes, the town haș a nice collection of historic small hotels and guest houses.
On a hillside overlooking the city is the luxurious Pousada Moister de Guimaraes. It's housed in a 12th century monastery and is one of Portugal's top pousadas.
Hotel da Oliveira is a nice 4 star hotel smack in the middle of the historic center.
The lovely Casa de Sezim is a medieval manor know for its wall decorations.
4. Citania de Briteiros
If you are driving to and from Porto, which I was, you can easily make a pit stop to visit Citania de Briteiros. Citania is just a 25+ minute drive from Guimaraes.
It's one of the most remarkable archaeological sites in Portugal and you will have it mostly to yourself.
The ancient archaeological site fans out over the top of the boulder strewn hill of Saint Romão. It's accessed by a very long and winding road (which may make you a tad carsick).
Citania is an obscure early Iron Age archaeological site. It's a type of "hill fort" called an oppidum. It's the largest of a scattering of porto-urban Celtic hill settlements on the Iberian Peninsula.
The site was likely inhabited between 200 B.C. and A.D. 300. It may have been the Celtiberians last stronghold against advancing Romans.
In addition to the ruined walls, there's a complex of streets, waterways, and a public fountain. As I mentioned above, artifacts excavated at the site are in the Sarmento Museum.
Address: Estrada Nacional 309, km 55, 4805-181 Salvador de Briteiros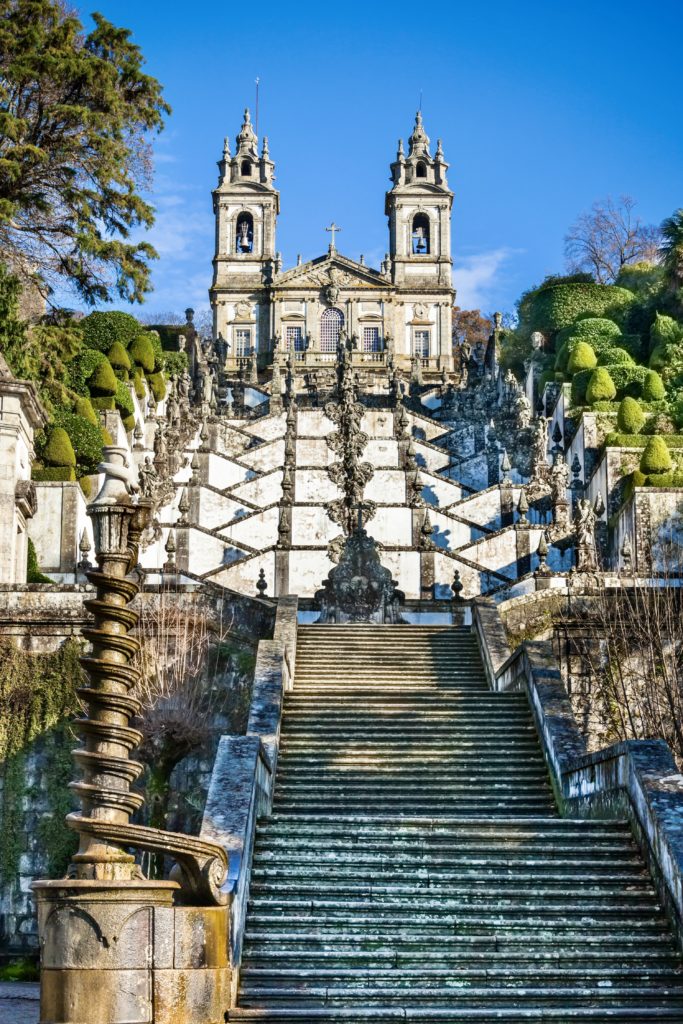 5. Can You Visit Guimaraes And Braga In One Day?
You can visit both Guimaraes and Braga in one day. They're only 20+ minutes apart.
But it will be a hectic and jam packed day. You may want to book a guided tour from Porto that includes both Braga and Guimaraes to make the travel logistics easier.
Braga's historic center is also UNESCO-listed. It's full of pretty 18th century homes, elegant churches, and lovely gardens.
Braga Cathedral is the oldest in Portugal, dating from the 11th century. It's a Romanesque building that houses a museum of sacred art. It has a cloister, courtyard, gilt wood organs, and several chapels.
Braga's biggest attraction is the Dom Jesus do Monte basilica. To reach it, you've got to climb up 630 zig zagging steps. At the top, you'll find a beautiful Neo-Classical church.
I hope you've enjoyed my one day in Guimaraes itinerary. You may enjoy these other Portugal travel guides and resources:
If you'd like to spend one day in Guimaraes, pin it for later.