Planning a trip to Sintra Portugal? Here's my guide to visiting the remarkable Pena Palace. Sintra is an easy day trip from Lisbon and should be on your Portugal itinerary.
This Pena Palace guide tells you everything to do and see at the popular palace. The romantic Pena Palace is one of the most magical landmarks in Portugal. But is there such a thing as too much romance?
Pena Palace, or the Palácio Nacional da Pena, is an attraction that's launched a thousand clicks.
Before I ever clapped eyes on it IRL, I was stunned. It looked downright wacky to me with its "anything goes" design ethos, albeit in a somewhat alluring way.
Pena Palace is an extravagant 19th century Romantic palace in Sintra, which is an easy 30 minute drive from Lisbon.
It's one of Europe's notable UNESCO sites, an unmissable landmark in Portugal, and one of the Seven Wonders of Portugal. It towers above the town of Sintra, often wrapped in fog.
Pena Palace is beloved by its adoring visitors.It's the most romantic of the romantic palaces out there.
I've just never seen a monarch adopt a Ronald McDonald theme for his or her palace before.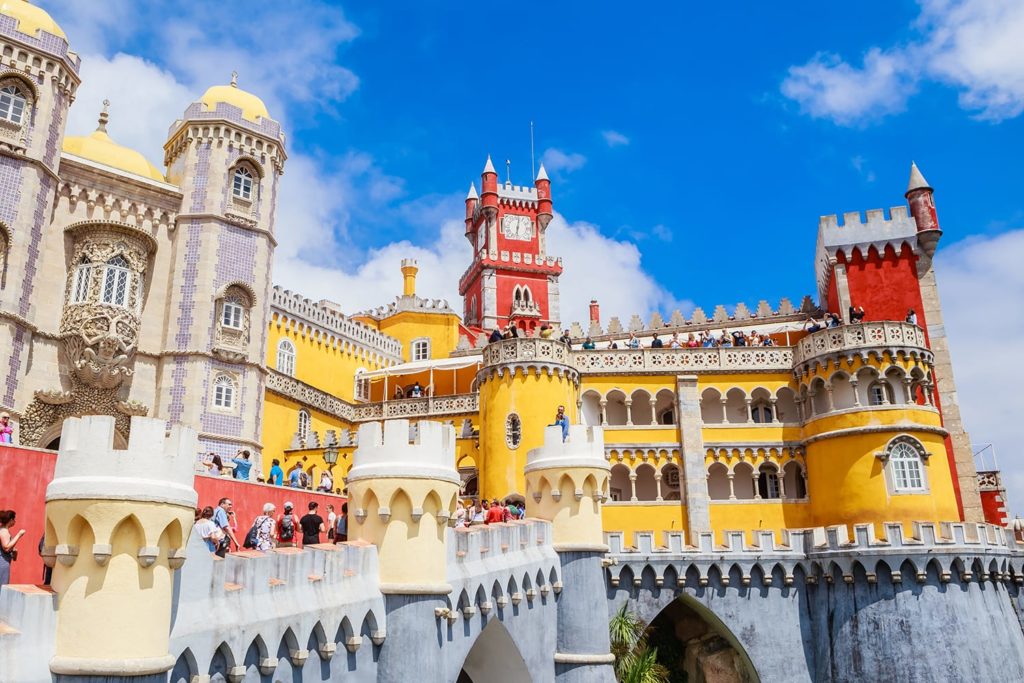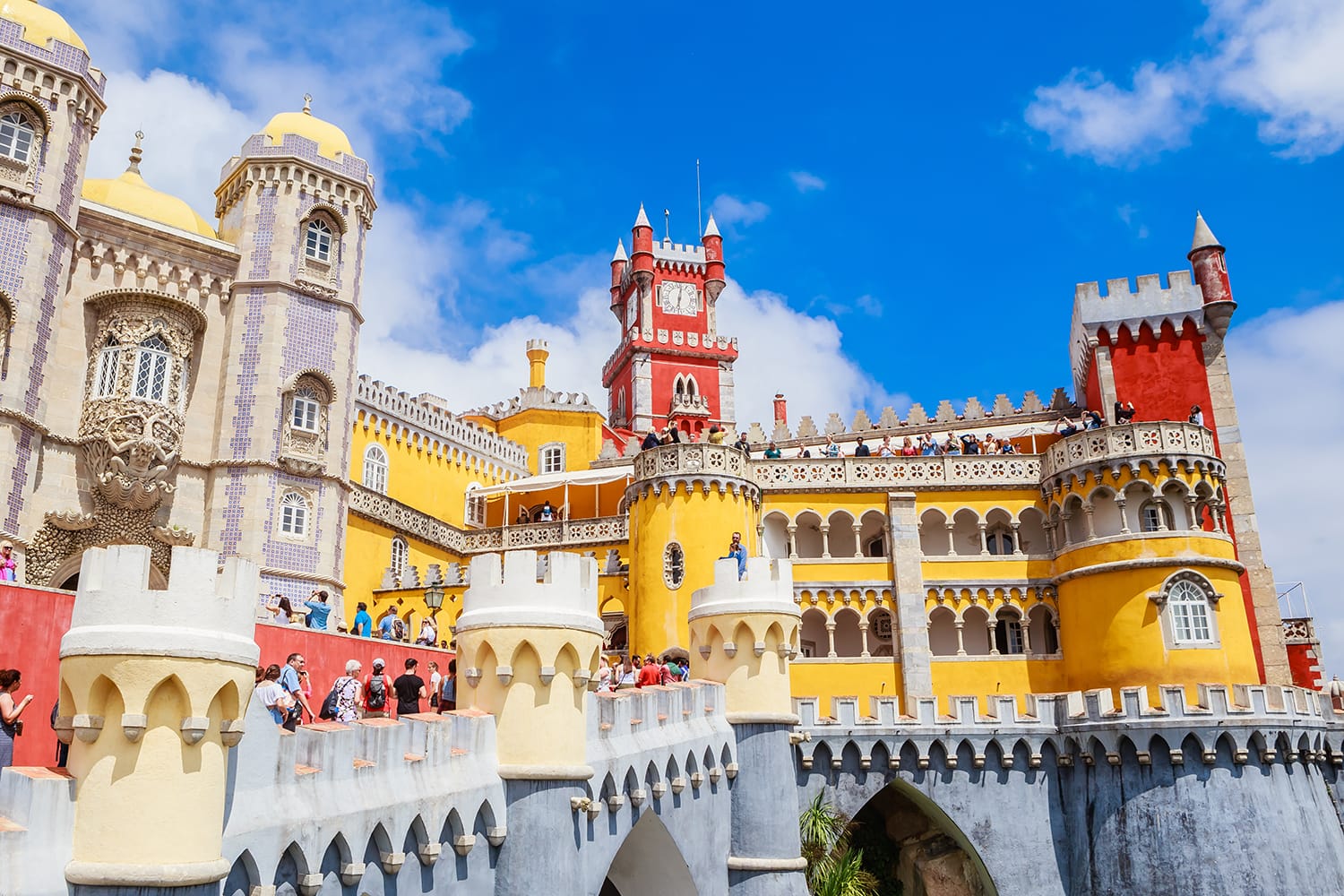 Overview Of Pena Palace
Pena Palace has a real Mad King Ludwig feel, and it's no surprise that Ferdinand and Ludwig were relatives.
I couldn't decide whether the colorful palace was a real life "fairytale" or a tacky pastiche on steroids.
Every travel article I'd read was very one sided and came down on the side of "fairytale" … I'd read the word fairytale so often I started to dislike it as a descriptor.
Not only is Pena Palace startlingly colorful, it's a heavy handed mish mash of different architectural styles. It looks like several castles smooshed together. It's a schizophrenic whirlwind of onion domes, turrets, crenellation, and fanciful sneering gargoyles.
Architectural experts say Pena Palace has bad proportions and is a grotesque sore thumb. It's not exactly a harmonious whole.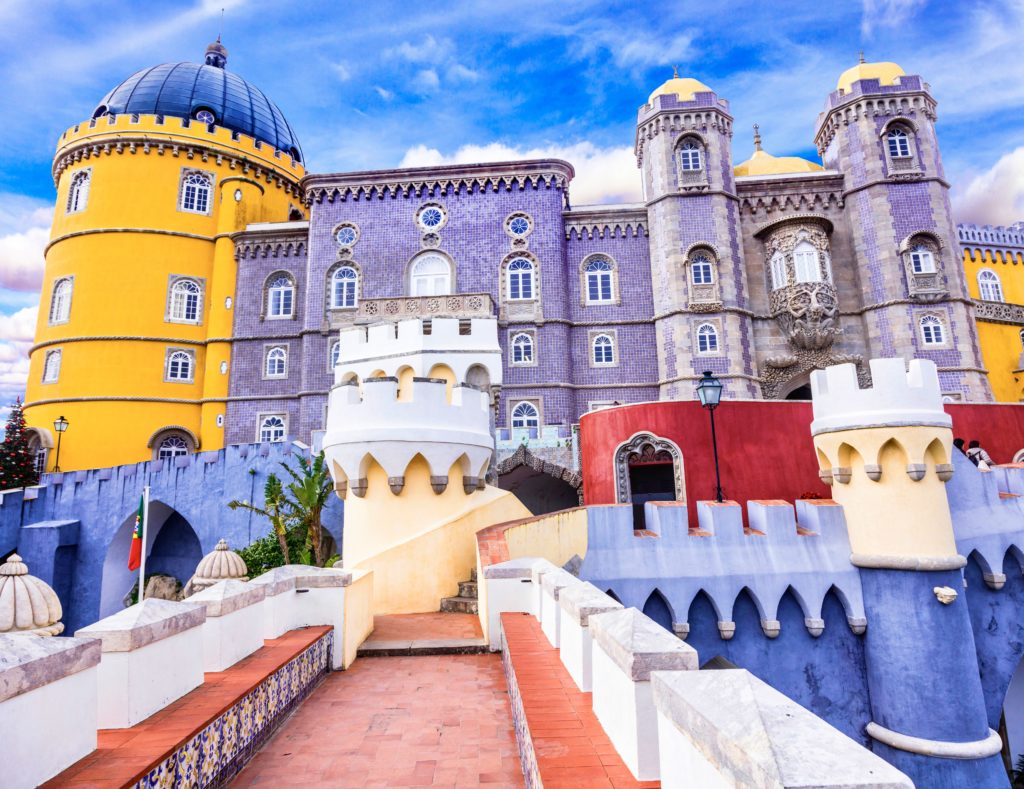 In the final analysis, I couldn't really decide whether it was charmingly quirky or overweeningly kitschy. It's probably both.
While I was there, I decided just to enjoy the extreme whimsy and differentness of the place. I'm always a fan of differentness. And eccentricity.
You have to love a mad genius like its inventor King Ferdinand II — someone who's willing to dare to be constantly who they are over decades.
That's even more uncommon in life than Pena's architecture.
Unless you hate crowds or are an architecture snob, Pena Palace is a non-negotiable stop on your Sintra palace crawl.
Though I confess to preferring Sintra's Quinta da Regaleira. Quinta also earns the "fairytale" sobriquet, but entrances in a more mysterious Gothic way.
King Ferdinand II, Architect of Pena Palace
Pena Palace was commissioned by King Ferdinand II in 1842, possibly in an attempt to rival the Neuschwanstein Castle in Bavaria.
Born a German prince, Ferdinand Saxe-Coburg and Gotha was known in Portugal as Dom Fernando II, the "artist king." Like his cousin Albert, who married England's Queen Victoria, he loved art and nature. He was adept at etching, pottery, and even painted watercolors.
In 1836, Ferdinand married Maria II, the Queen Regnant of Portugal. They had 11 children before Maria died in childbirth in 1853.
He was destined to outlive 8 of his children, watching 3 of them die of typhoid fever. A terrible fate indeed.
But love saved him, as it so often does. In 1860, Ferdinand met and fell for Elise Hensler, an opera singer, when he saw her perform a Verdi opera.
They began dating, traveled through Europe, and married in 1869. Ferdinand titled her the Countess of Edla.
The couple had a mutual obsession for nature, so common in the Romantic Period. They collected botanical specimens for the Pena Park gardens.
They also built a love nest, far from the madding crowd, called the Chalet da Condessa D'Edla in Pena Park. To me, it looks rather like an alpine chalet.
In a controversial will, Ferdinand bequeathed his love the Pena Palace, Pena Park, and the Chalet. Not surprisingly, this didn't agree with the reigning Portuguese monarch.
King Luís I contested the will. After some negotiation, the state acquired the assets in 1890, with the Countess becoming the lifetime beneficiary of the Chalet.
Sadly, the original Chalet was mostly destroyed in a fire not long ago. So what you see is a reproduction, the result of major renovation, which slightly cuts into the authenticity of the experience.
A Short History of Pena Palace
Back to the palace. In 1840, Ferdinand II acquired the grounds and various other estates to create a swishy new summer palace for the royal family.
He hired an amateur German architect, Baron Wilhelm Ludwig von Schwege, to bring his whimsical vision to life.
On the grounds was a former 15th century monastery of the Hieronymite monks. It had been abandoned following the state's extinction of religious orders in 1834.
The monastery consisted of a cloister, chapel, sacristy, belltower, and guesthouse. Collectively, these buildings comprise the northern nucleus of Pena Palace.
Ferdinand began a lengthy program of repairs and renovations. He decided to enlarge the palace by constructing a new wing with more spacious rooms, such as the Great Hall.
Ferdinand was strongly influenced by German Romanticism. Romantic architecture emphasized the subjective, the irrational, the imaginative, and the spontaneous.
The style rejected rationality or balance — begone with order and formal rules! It embraced the extravagance and variety found in nature.
Ferdinand may have drawn inspiration from two other romantic castles on the Rhine, Stolzenfels and Rheinstein, as well as the residence of Babelsberg in Potsdam. While you can see the similarity, none of them are as overwrought and distinctive as Pena Palace.
Pena Palace was finally completed over 40 years later in 1885, the year Ferdinand died. Queen Maria, as I said, died in 1853 and never lived in the palace.
Pena Palace was a royal family residence for decades. In 1889, it was purchased by the Portuguese State.
After the 1920 Republican Revolution, Pena Palace was classified as a National Monument and transformed into a museum. The rooms were left exactly as is with no modifications.
Over time, the bright exterior colors faded and the palace was almost entirely gray. Not very romantic at all.
At the end of the 20th century, it was repainted to its original vibrant hues. In 1995, it was classified as a UNESCO World Heritage Site.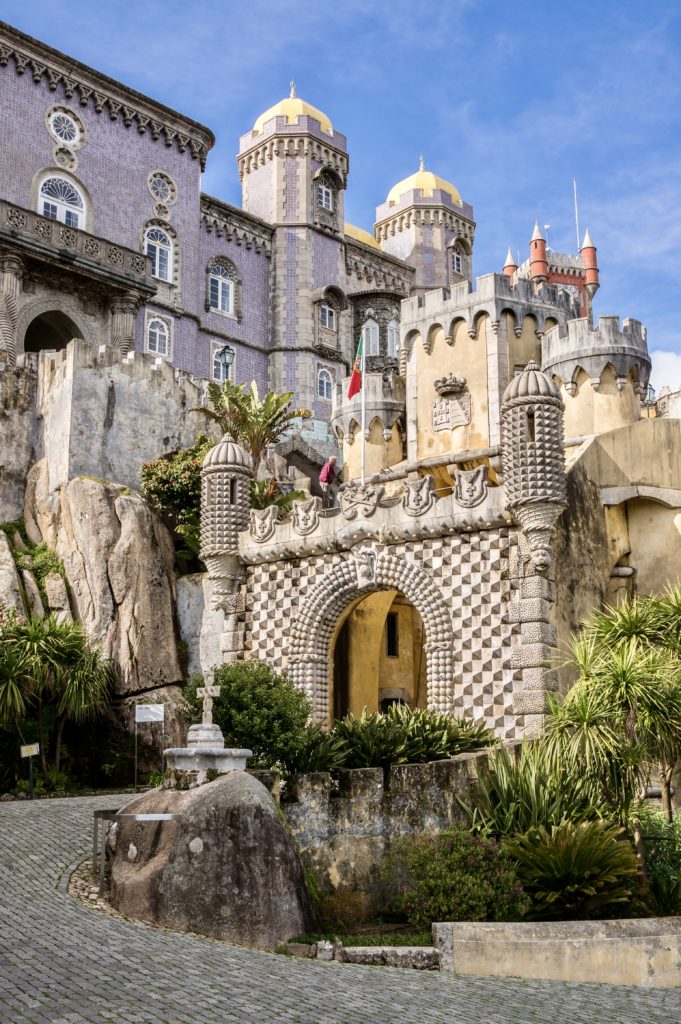 Guide To Pena Palace: Best Things To See
Here are the top things to see at Pena Palace.
1. The Pena Palace Exterior
At the entrance is an elaborate carved stone portal. The palace's facade serves as a color-coded legend.
The red portion of the castle is the oldest part, built on top of the 15th century monastery that was destroyed in the Lisbon Earthquake of 1755.
The ochre or yellow arches and domes showcase the Moorish influence. The blue tiled structures are reminiscent of the Manueline style.
It's unclear whether the mixture was the architect's taste or not. It likely sprung from Ferdinand's imagination.
It's interesting that Ferdinand asked for medieval elements — turrets, towers, crenellated ramparts, secret passages, and fortified gates. Perhaps they're in honor of the former medieval monastery.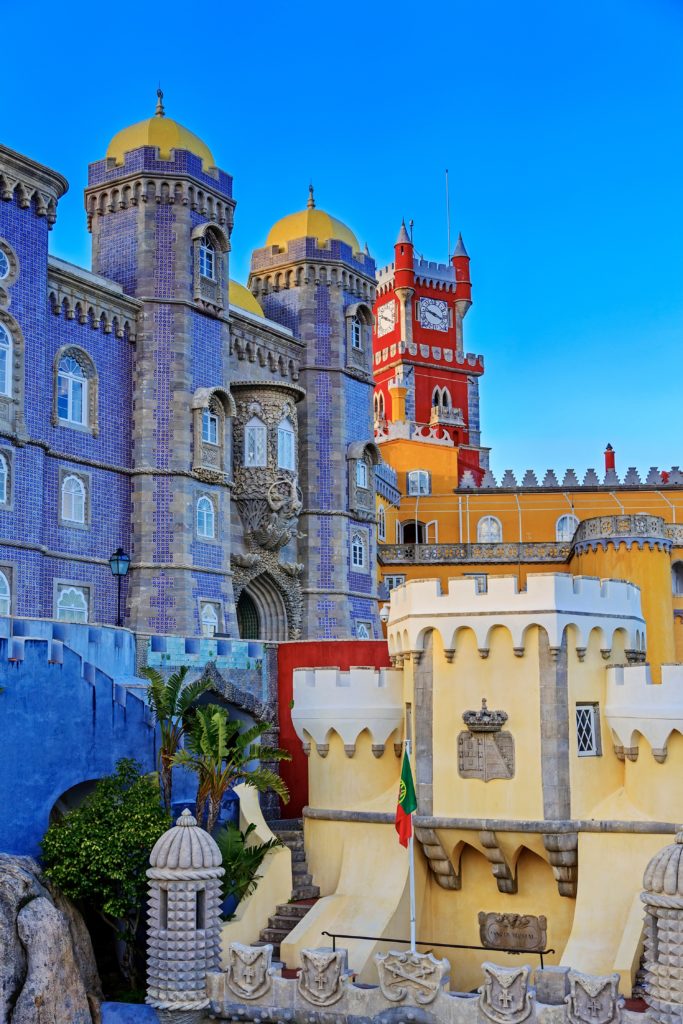 I especially liked the Moorish flourishes in ochre.
It struck me as rather odd that Ferdinand adopted 12th century Moorish architecture for his 19th century palace. But perhaps the Moors had a lasting influence despite being evicted.
Or not all of them were evicted and their sensibilities persisted. Or, like me, Ferdinand simply liked this particular architectural style
2. The Pena Palace Interior
If you want to visit the interior of the palace, there's a separate line. Which is not terribly romantic.
Quite the opposite in fact. The queue's long and moves at a painful snail's pace. You shuffle along on a one way route with little personal space.
On balance, I think it wasn't worth the wait to go inside Pena Palace. Or the extra cost.
You can visit just the exterior and the park for only € 7 euro. It's an extra € 8 to go inside.
But if you want the sweeping view from the Queen's Terrace, that can only be accessed from inside.
If you're pressed for time or money, skip the interior. Don't let anyone tell you it's a "must do." It's not.
There are many sites to behold in Sintra, including the stunning Quinta da Regaleira and Monserrate Palace. The interior of Pena Palace is the least of Sintra's myriad glories.
If you proceed inside, you'll find there's less riotous color. But it's still pretty outlandish.
There's a veritable warehouse of oriental rugs, Chineseporcelain, Portuguese style teak furniture, and tromp l'oeil murals. The walls are decorated with 16th century Hispano-Arabic tiles.
Like the outside, none of it really matches or is in a cohesive style. It's rather amazing that someone wanted it all under the same roof.
3. Pena Palace Park
Besides the palace itself, the estate boasts a lush green park of over 200 hectares, with plenty of trails and a treasure trove of sights and follies to keep you busy.
King Ferdinand and his Countess wanted the gardens to be a wild maze of romantic paths. They sought out and imported plants from all over the world.
The highlights are the Chalet, the Fountain of Small Birds, the statue of Ferdinand, the lush fern gardens, and the grottos.
If you want to swap the "fairytale" vibes of Pena Palace for Gothic or Masonic mystery, head straight to Quinta da Regaleira, a magnificent Sintra estate built by a secret society millionaire.
If you've tired of romance entirely and have ruin lust, head to the 8-9th century Moorish Castle for some vastly older ruins. (You also have a great view of Pena Palace from the Moorish Castle.)
If you want to get out of Sintra altogether because of the overbearing crowds, head to Monserrate Palace.
Tips For Visiting Pena Palace
1. Tickets
There are a few options for buying your entrance ticket to Pena Palace. If you buy them on arrival at the palace and have a Lisboa Pass, you'll get a small discount.
But there'll be a long ticket line with ticketing machines. This is a popular place.
If you don't have a Lisboa Card, buy your tickets in advance through the Parques de Sintra website. This will allow you to skip one ticket queue and you'll get a 5% discount on the ticket price.
You can either print the voucher or the guards will scan it on your mobile.
There are 2 tickets types to choose from – a Park ticket (about € 7) or a Park and Palace ticket (about € 14). They can sell out fast. Click here to pre-book a park and palace ticket.
The Park only ticket will grant you access to everything except for the palace interior. You can walk around the grounds and access some terraces for photos.
As I mentioned above, the Queen's Terrace can only be accessed with the Park and Palace ticket.
Or you can do what I did and buy the more expensive $16 skip the line pass. I'm an impatient person and there's a lot of waiting in Sintra.
2. Getting To Pena Palace
By Guided Tour:
There's a lot to do in Sintra and it's a bit of a hassle to get to.
You may want to book a guided tour from Lisbon for the day, just for ease. You can also book a guided day tour that includes Pena Palace and Quinta da Regaleira or a guided tour that includes Sintra and the Lisbon Riviera.
By Car:
It's a 30 minute drive from Lisbon. Park on the outskirts of town and walk 10 minutes to the center. The roads and hairpin turns in the historic center are hazardous.
By Train:
You can also take a train from Rossio Square in the central Baixa neighborhood. The historic center of Sintra is a 20 minute walk from the Sintra train station.
3. Getting Around Sintra
Once in Sintra, you can take either the 434 tourist bus, a tuk tuk, or an Uber up to Pena Palace. I was told that it was a one hour steep hike otherwise.
4. Address & Hours
Address: Strada da Pena, 2710-609 Sintra, Portugal
Hours: Palace 9:30 am– 7:00 pm, Park 9:30 am – 8:00 pm
I hope you've enjoyed my guide to Pena Palace. If you're traveling to Lisbon, you may enjoy these other Portugal guides:
If you'd need a guide for Pena Palace in Sintra Portugal, pin it for later.