Here's my guide to spending 2 days in Lisbon, a magnetic fairytale city with an amazing location on the Tagus River in Portugal.
This Lisbon itinerary covers all the top attractions and best things to do and see in Lisbon in 2 days. I've also included helpful tips to make sure you enjoy your time in Lisbon, including where to eat, play, and stay and how to get around.
Lisbon is a stunning city that makes the perfect weekend break. It's a city I fell absolutely in love with straight away.
The city is a gorgeous mosaic of Medieval, Manueline, and Baroque architecture with a pinch of picturesque crumbling buildings in the older neighborhoods like the Alfama.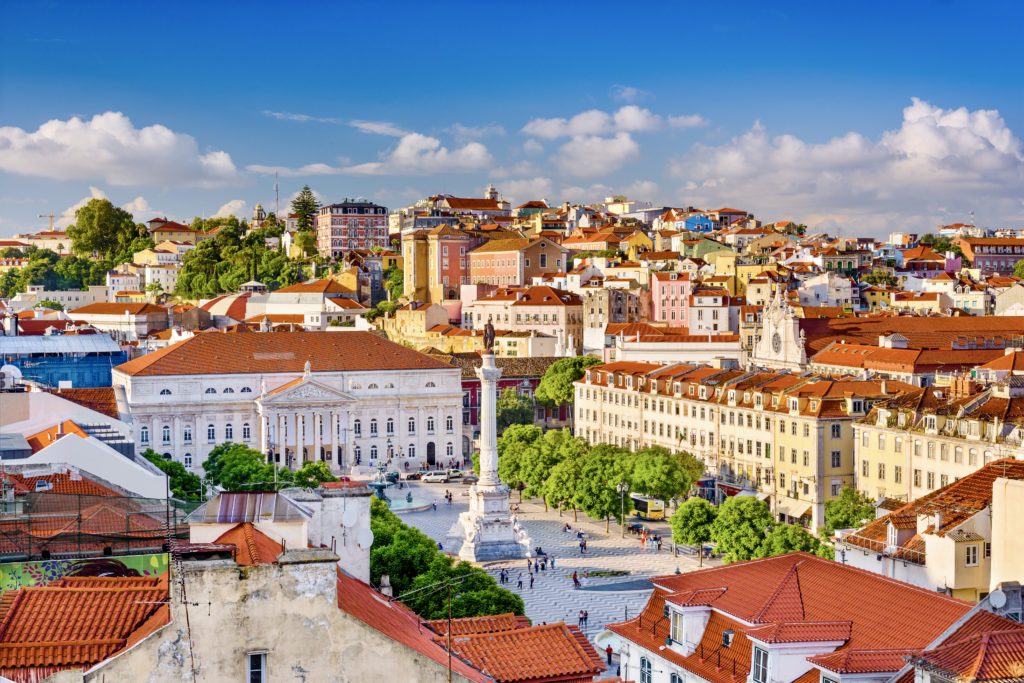 Lisbon has all the elements of what you need for a great vacation or weekend getaway — magnificent churches clad in sky blue azulejo tiles, glamorous palaces, and romantic viewpoints called miradouros where you can gaze out over an expanse of pastel facades.
On top of that, Lisbon is becoming known as a foodie destination where food and wine take center stage. There's a slew of top quality restaurants and plentiful wine and port bars.
Much of what you see in Lisbon today reflects its history. Lisbon was at its zenith during the Age of Discoveries in the 15th to 17th centuries.
Through feats of navigation, money poured in from the spice trade. The cash-rich country splurged on monumental building projects and religious monuments.
But on November 1, 1755, Lisbon was forever changed. A powerful earthquake destroyed many neighborhoods and killed over 50,000 inhabitants.
The prime minister of Portugal, the formidable Marques de Pombal, immediately began rebuilding Lisbon.
He used a simple, earthquake-proof style — dubbed Pombaline Architecture. It's a rather restrained Neo-Classical look that gives parts of Lisbon a more modern vibe.
Overview Of 2 Days In Lisbon Itinerary
Two days in Lisbon is enough time to explore the city, though you won't be able to see everything.
Lisbon is a mostly walkable city and has good public transport options. You can easily cover the top attractions and landmarks in a weekend visit.
Here's an overview of my recommended 2 days in Lisbon itinerary. It starts in the highest point of eastern Lisbon in Alfama and moves westward through Chiado, Bairro Alto, Baixa, and Belem.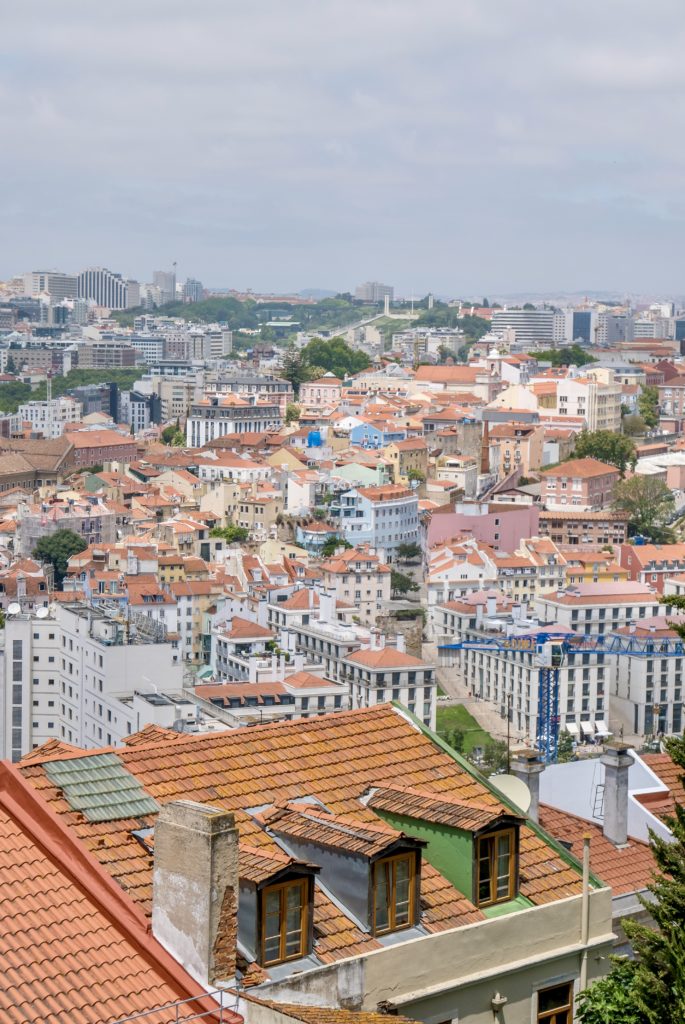 Alfama
St. George's Castle
Se Cathedral
National Pantheon
Museums in Alfama
Monastery Sao Vicente de Fora
Chiado
Carmo Convent
Barrio Alto
Time Out Market
Fado Show
Baixa
Praça do Comércio
Rua Augusta
Rossio Square
Belem
Jeronimos Monastery
Tower of Belem
Monument to the Discoveries
Sunset Cruise
LX Factory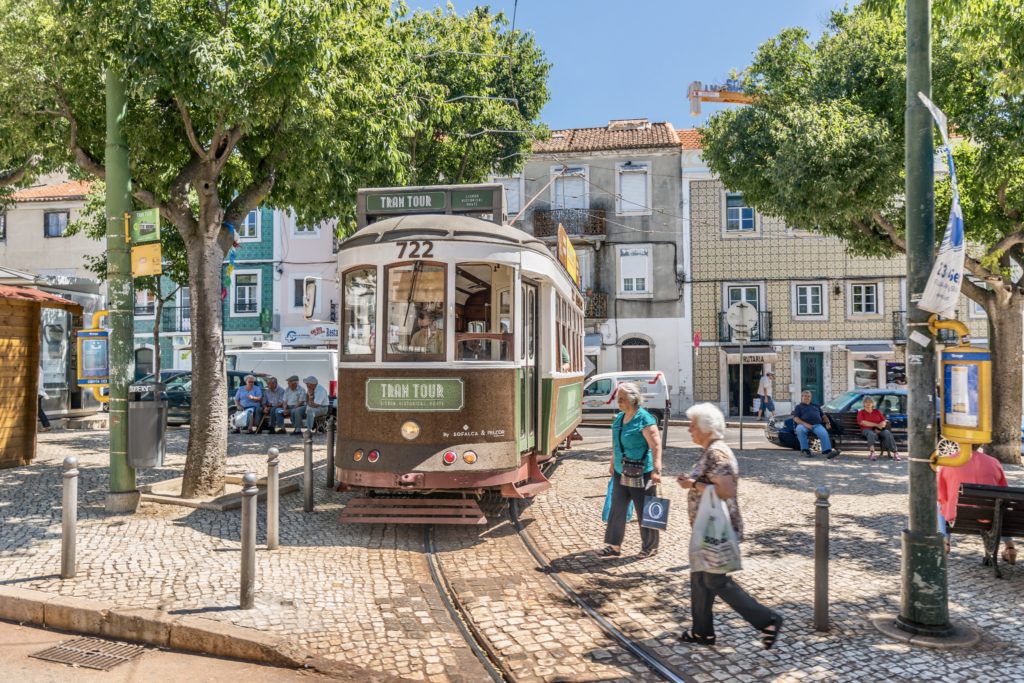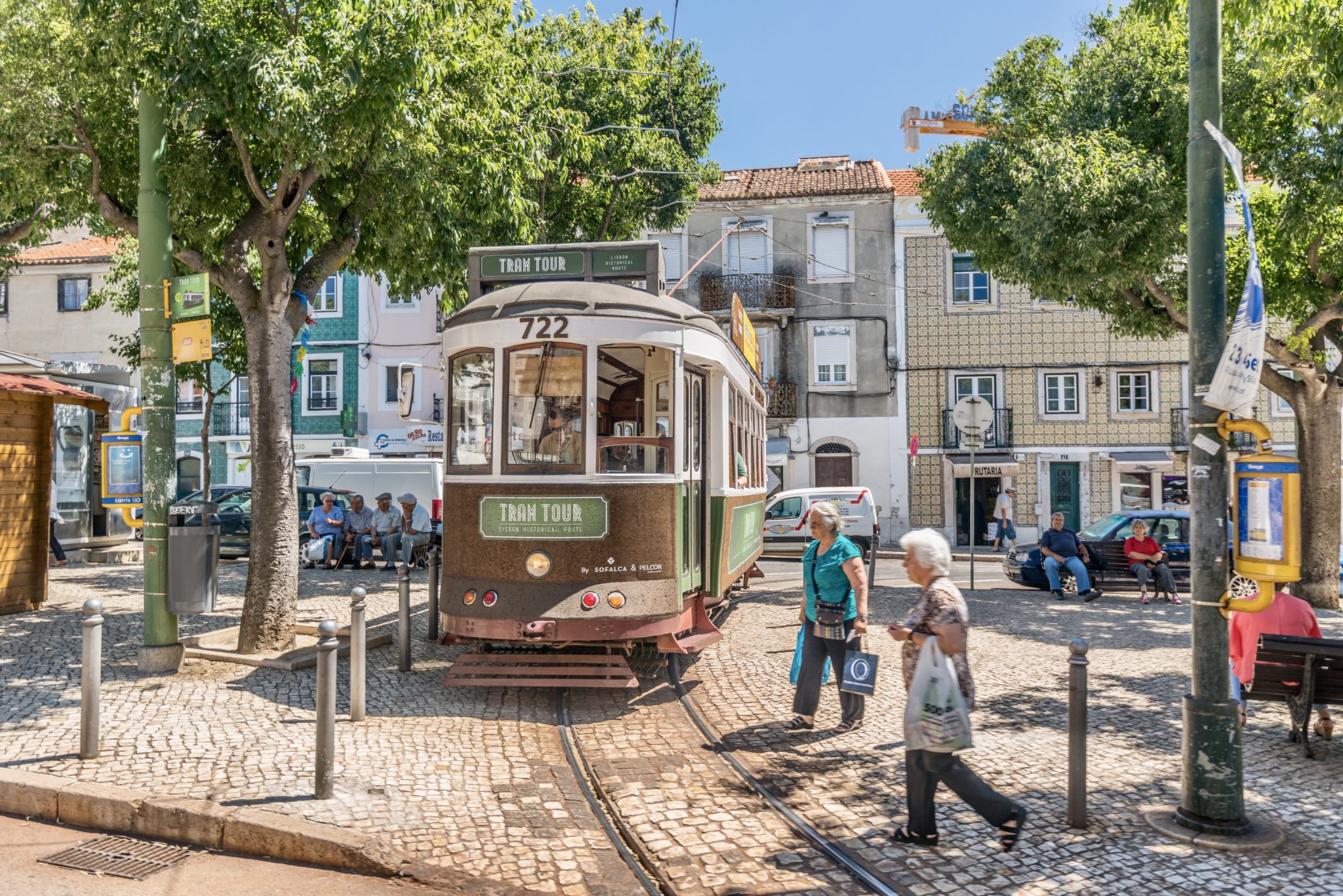 2 Days In Lisbon Itinerary
Here's how I recommend spending 2 perfect days in Lisbon.
As with all of my suggested itineraries, you should use this Lisbon itinerary as a guide. You can tailor it to suit your individual interests, needs, and pace of travel.
If you have extra time in Lisbon, you can easily turn this 2 day Lisbon itinerary into a 3 day itinerary by moving at a slower pace.
Day 1 Of 2 Days in Lisbon
On day 1 of your 2 days in Lisbon, you're off to the hills. Begin your first day with a visit to the Alfama district.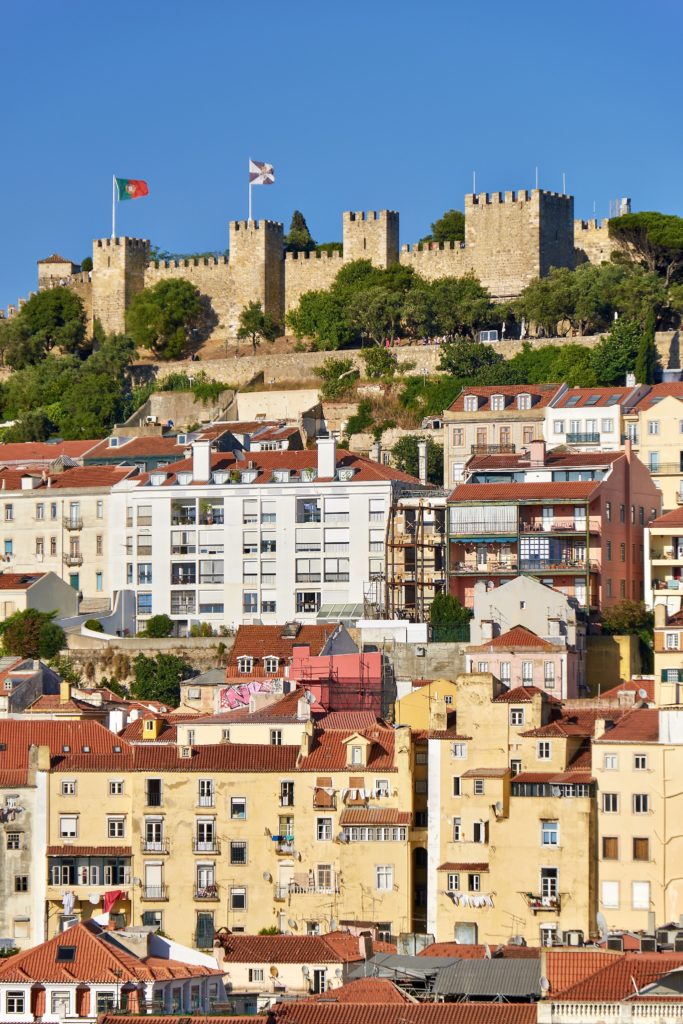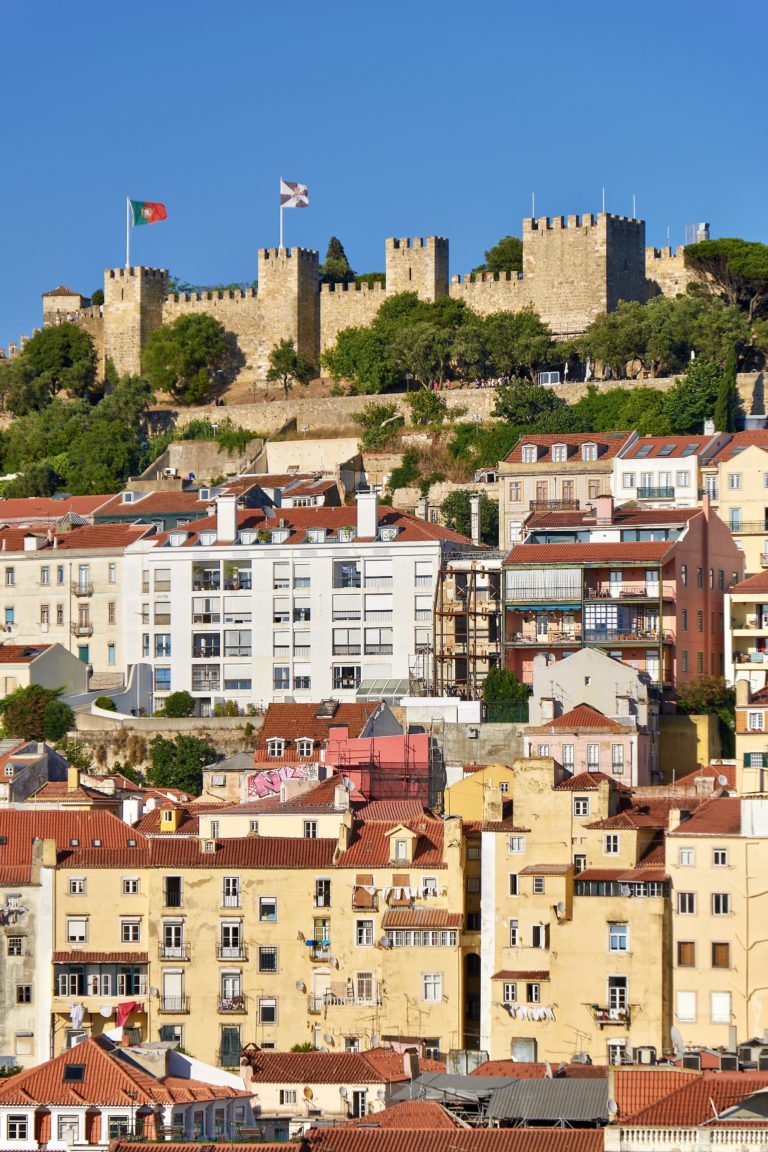 Alfama
Steeped in history, immortalized in Fado, and rising over Lisbon, Alfama is Lisbon's oldest neighborhood and most authentic district.
With steep stairways tumbling down to Baixa below and Castelo São Jorge standing guard above, Alfama is incredibly photogenic and nostalgic.
The Alfama is a maze of tangled streets, where laundry lines zigzag across narrow lanes. It's super easy to get lost.
If you want to see all the top attractions in the Alfama, you may want to book a small group guided tour. You can also visit on a tuk tuk tour, Segway tour, or electric bike tour.
If you don't like hills, you could easily taxi, tux tuk, or take Tram 28 up to the highest point, Castelo Sao Jorge, to start exploring the neighborhood. Visit the castle and then just begin walking downhill.
St. George's Castle
Castelo São Jorge is a 20th century recreation of a historic Moorish castle that previously existed there.
You don't have to pay the somewhat hefty fee to go inside. It's skippable because there's not that much authentic castle-related stuff to see really.
On the other hand, the castle does offer fantastic views over Lisbon and a cafe. If you do want to go inside, you should definitely pre-book a skip the line ticket because there will be long queues in high season.
There's a large courtyard inside with peacocks and 10 towers to climb for a bird's eye view. In the Tower of Ulysses, you'll find a periscope. It gives you an unusual view of Lisbon with ingenious mirror and screen tricks.
Lisbon Cathedral
The Sé stands on the southern slope of castle hill. The sober cathedral was build in the late 13th century.
Like the castle, it was largely destroyed during the 1755 earthquake and rebuilt in the 20th century. Just admire the Romanesque facade, take a peak inside, and carry on.
Miradouro das Portas do Sol
The Miradouro das Portas do Sol in the lower part of the Alfama hill. It's a large open terrace that will be filled with tourists, tuk tuks, and street musicians.
From the miradouro, you can see the red roofs of Lisbon, the National Pantheon, and the Monastery of Sao Vicente de Fora.
If you're willing to walk further, the view is slightly more interesting from Lisbon's highest hill, at the Miradouro da Senhora do Monte ("Our Lady of the Hill Viewpoint").
Museums In Alfama
Music lovers should stop into the Fado Museum. Housed in a pink building near the waterfront, the museum pays homage to the traditional music of Lisbon.
The museum calls itself an interactive place to see, hear, and feel Fado. You'll find some listening stations, video clips of Fado performances, and a vintage guitar.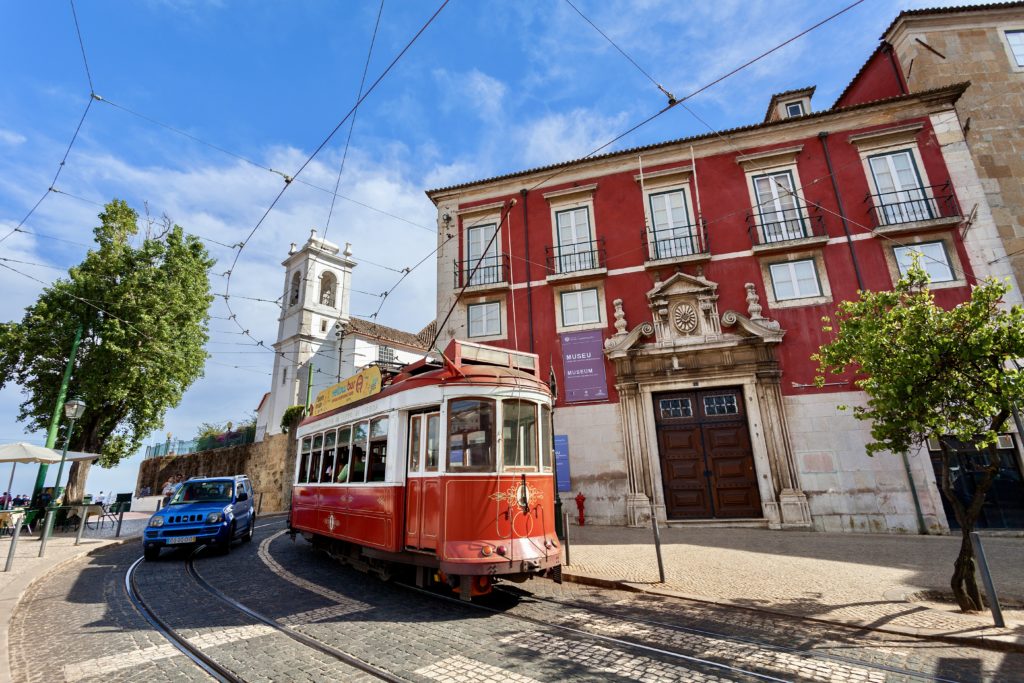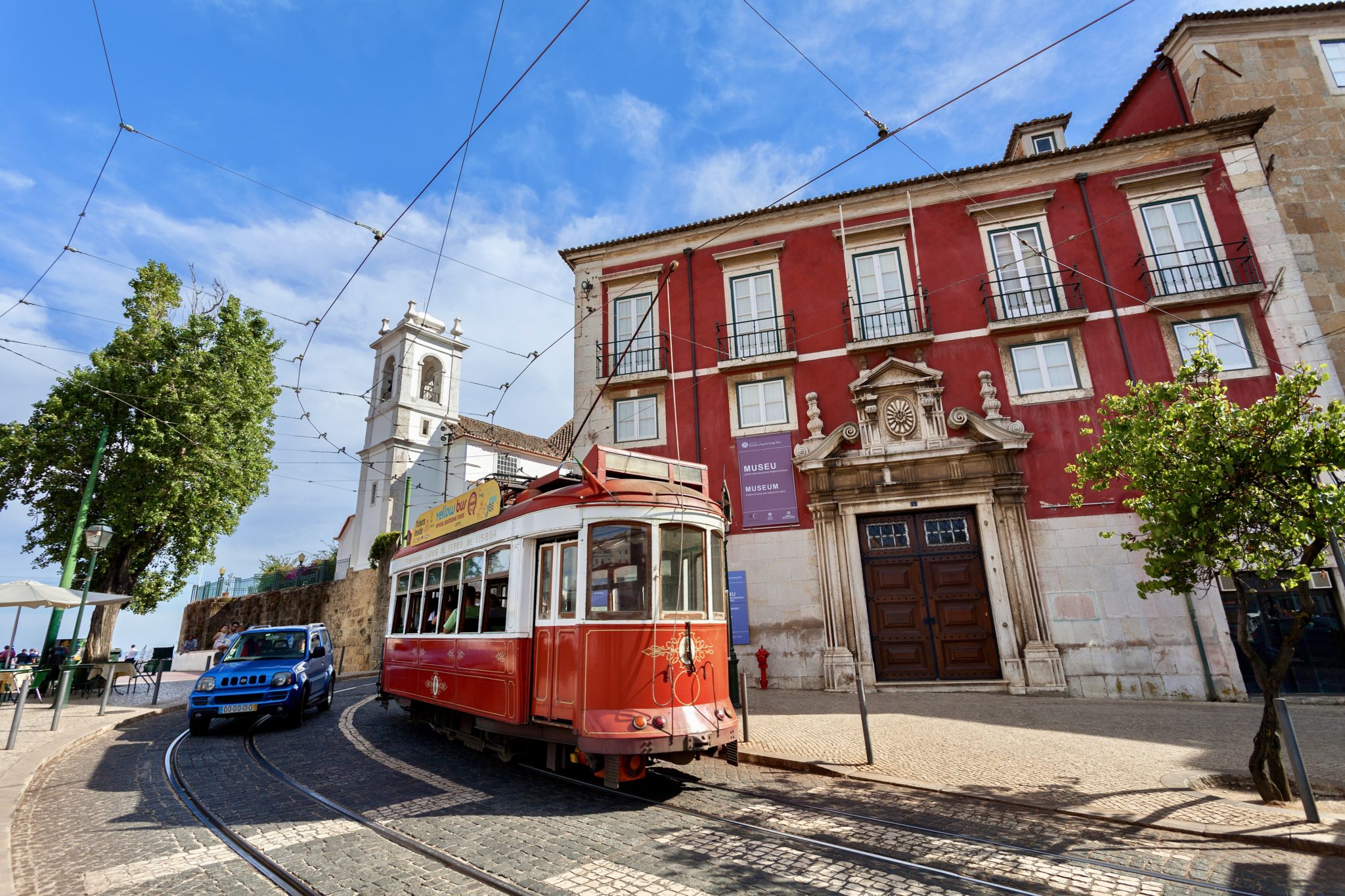 Azulejo lovers may want to visit the Museum of Decorative Arts.
This small museum is housed in the petite 17th century Azurara Palace. This sweetbox house-museum groans with blingy treasures.
It displays the private decorative arts collection of Ricardo Ribeiro do Espírito Santo Silva.
He was a nobleman and well known art collector from the 20th century. You'll also see some beautiful azulejo panels.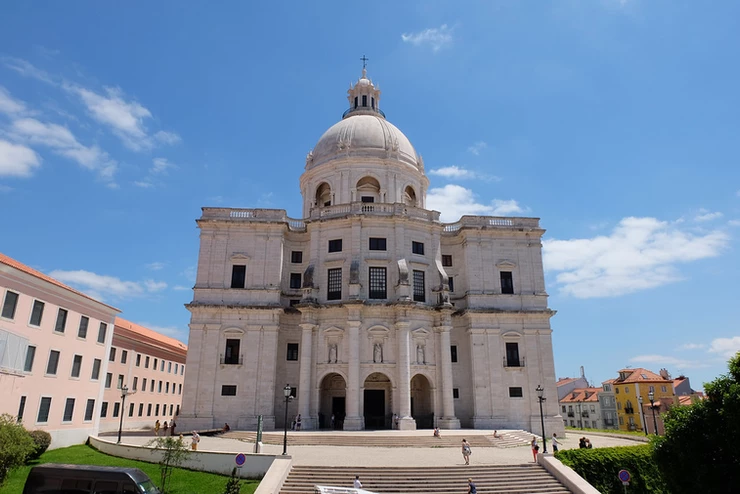 National Pantheon
Stop in quickly to admire the National Pantheon, the burial place of Portuguese celebrities. It's cool, calm, and uncrowded.
From the steps, you have a good view down over Lisbon. You pay 4 € to enter. The interior is quite lovely and houses the graves of various Lisbon luminaries and national heroes.
You can also head up to the roof for another miradouro type view, which makes the entry fee eminently worthwhile.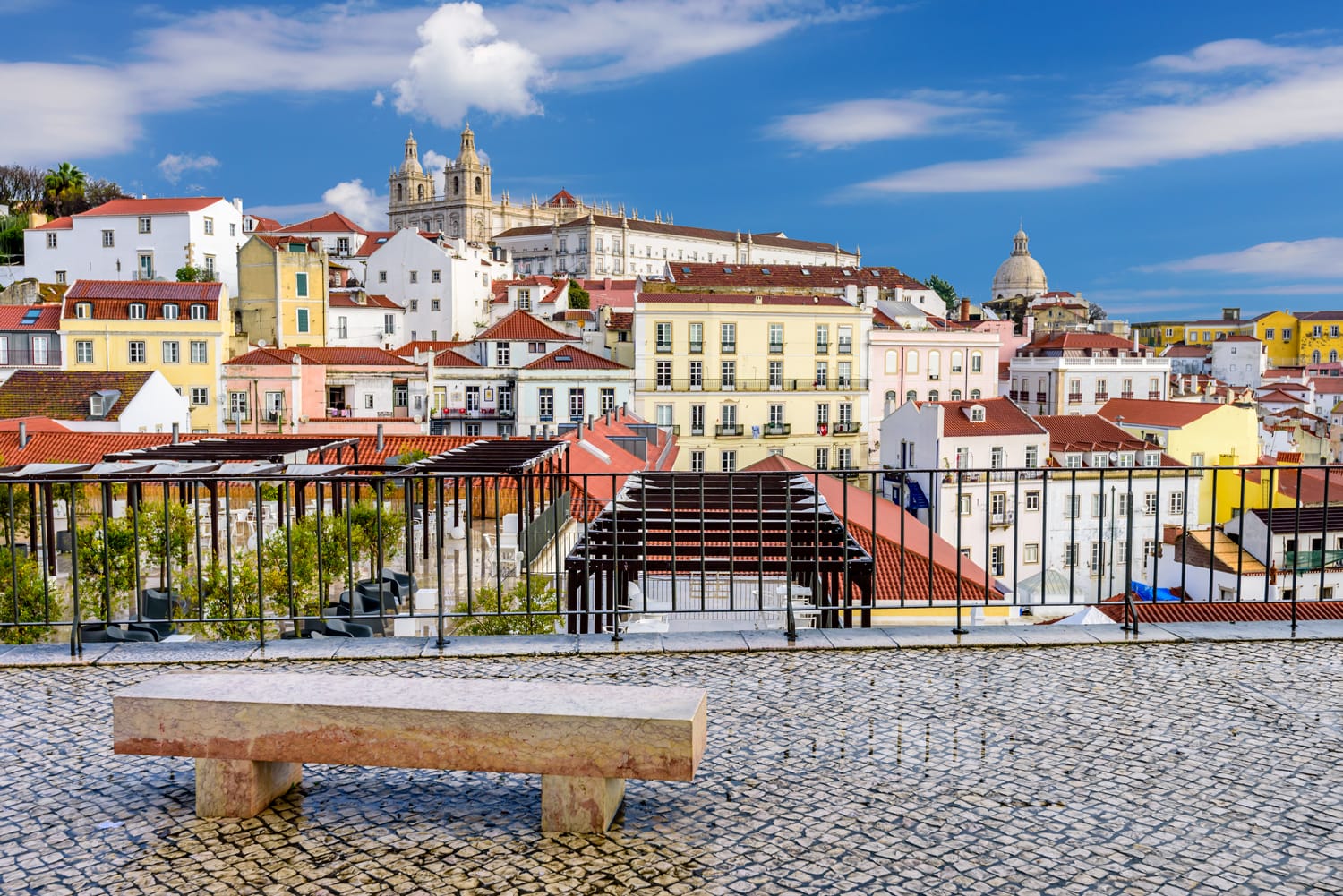 Monastery Sao Vicente de Fora
Just steps from the National Pantheon is the jaw dropping white stone Monastery of São Vicente de Fora. Build in the 16th century, its cloister is a must see for its lovely panels of white and blue azulejo tiles.
Apart from its beauty, the monastery is inexpensive, crowd free, and has a killer rooftop view.
The square behind the monastery is Campo do Santa Clara. This is where the famous Thieves Market is held on Tuesday and Saturday.
In terms of organizing your Alfama visit, you can follow my walking tour of the top attractions in Alfama. Or, you can book a 3 hour guided walking tour.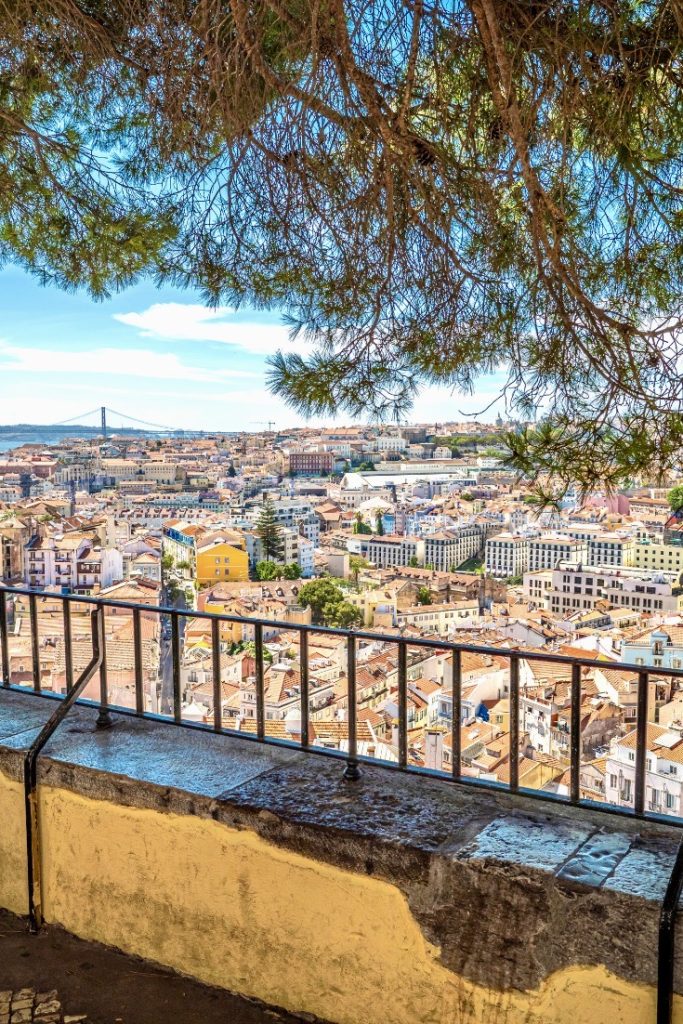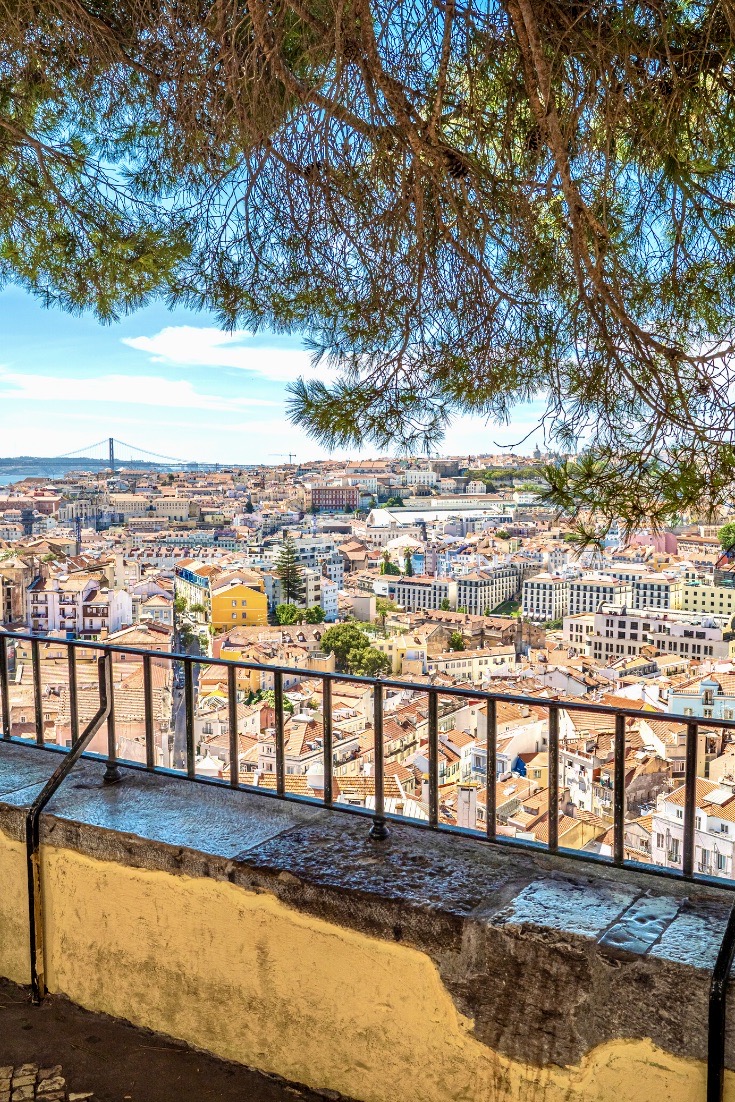 Graça
If you have time or you have visited the Alfama before, you might head up even higher to the neighborhood of Graça. Tram 28 also goes to Graça.
It has two of the best miradouros in Lisbon. Graça is also full of cool street art and locals hanging out in cafes in the street drinking coffee. Be sure to pop into the Convent of Graça, an enormous Baroque complex.
Chiado
From Alfama, it's a 15 minute walk to Chiado or you can take the tram. If you'd like a guide to the neighborhood, you can book a 3 hour guided walking tour.
Chiado is a chic and rather arty upscale neighborhood filled with lovely cafes, art galleries, bookshops, and tony boutiques.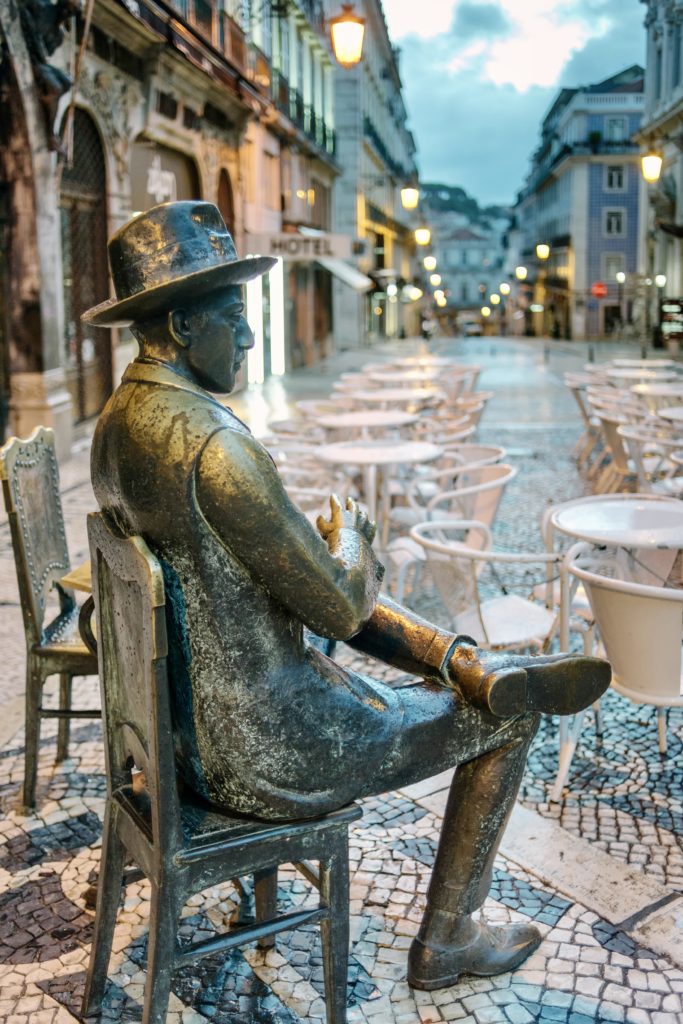 You will find statues of poets and writers sprinkled all across this neighborhood. Largo do Chiado is home to Lisbon's fanciest shops.
Be sure to pop into the world's oldest bookstore, Livraria Bertrand. And check out one of the most beautiful azulejo facades in Lisbon — the House of Ferreira das Tabuletas.
You might also stop in for a snack at Pastelaria Benard. Opened in 1868, it's one of the oldest patisseries in Lisbon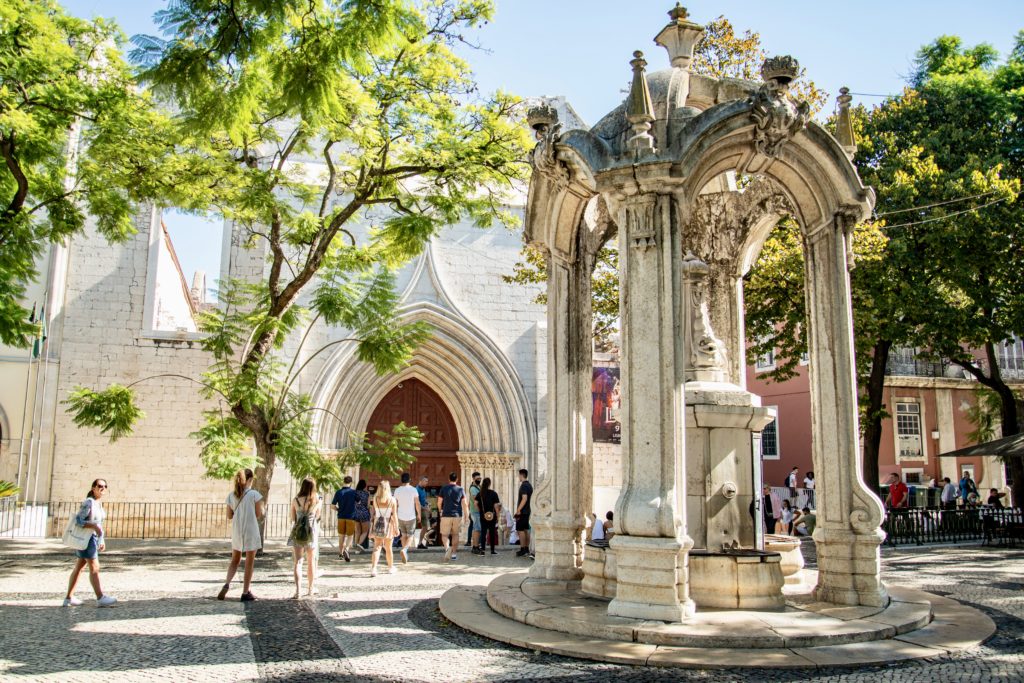 Carmo Convent
While in Chiado, you can't miss Carmo Convent. It's an open air memorial to the worst day of Lisbon's history, when the 1755 earthquake demolished much of the city.
The Gothic ruins lay in a picturesque state of disarray with the roofless skeleton of the convent remaining.
Inside is a fascinating archaeological museum in the church nave, the Museu Arqueologico do Carmo. It displays architectural fragments left from the earthquake, medieval tomb sculptures, and even some mummies.
The convent is a great spot for photos. It overlooks Rossio Square and you can see across to St. George's Castle in Alfama.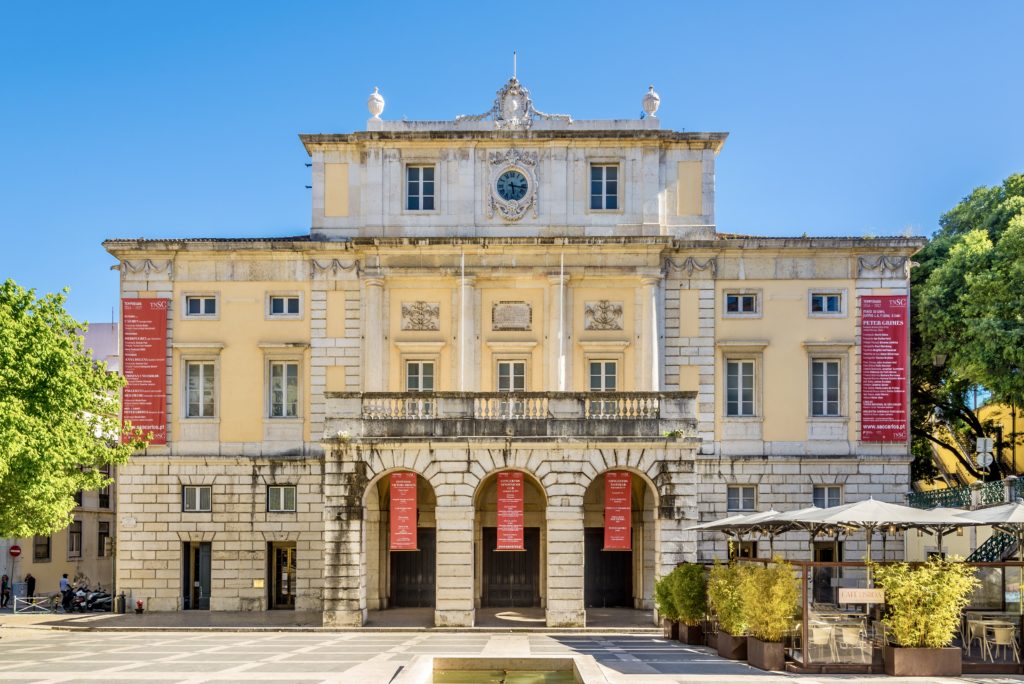 National Theater
At the southern end of Chiado lies the Teatro Nacional de Sao Carlos.
Built in 1793, it's a Baroque-style theater was inspired by La Scala in Milan. You can ogle the opulent interior decor if you attend an opera, ballet, or concert.
One block south is the National Museum of Contemporary Art. The museum is in a renovated monastery with airy spaces perfect for modern art exhibitions.
Don't miss the suspended staircase leading down to the cafe, terrace, and sculpture garden.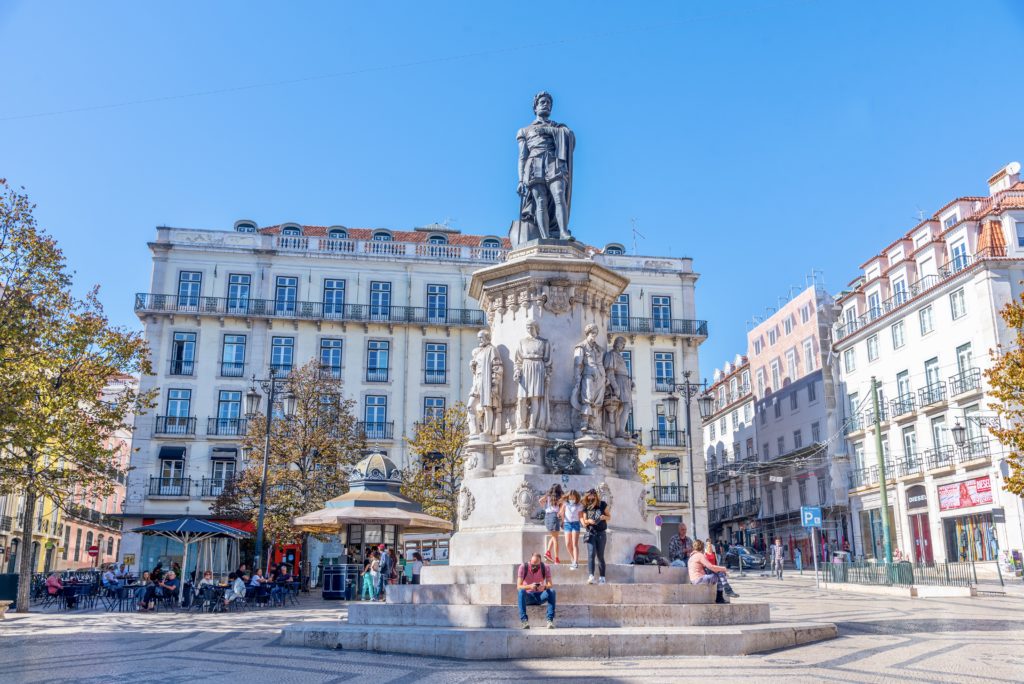 Bairro Alto
From Chiado, head to the neighboring Bairro Alto, which translates as "high town."
Boho Bairro Alto is a noisy place and the nightlife hub of Lisbon. It's a grid of narrow streets, with touristy fado dives and packed restaurants smushed together.
The Main Street is Rua Garrett. If you're a night owl, you can dance all night to live music or street art performances.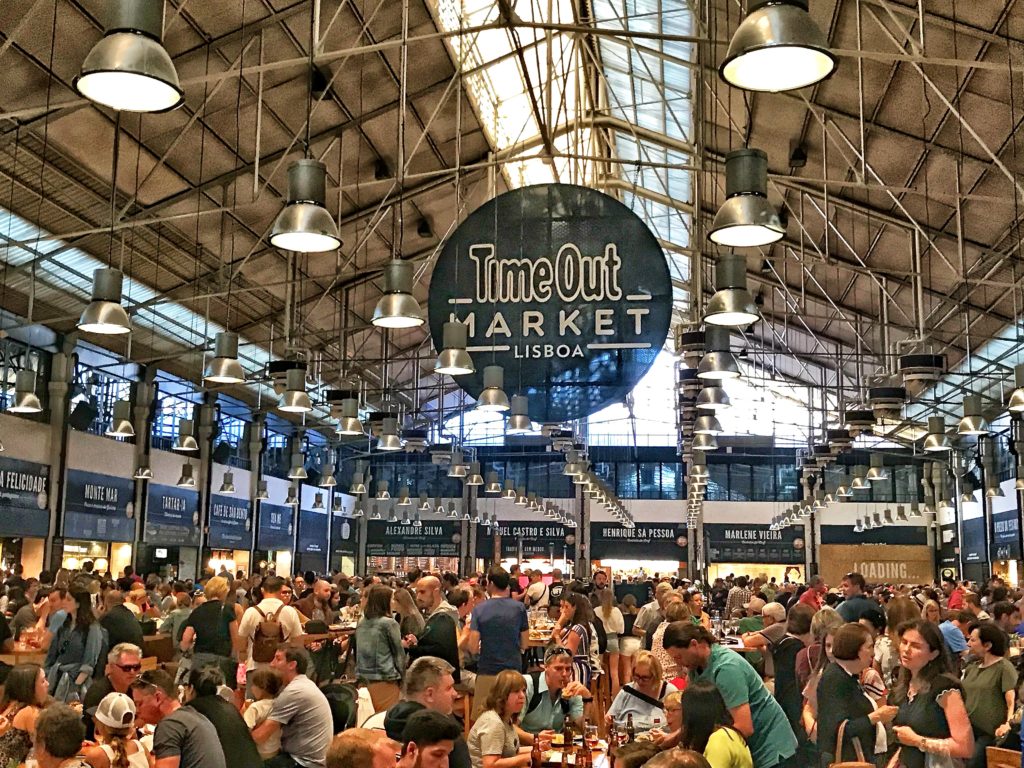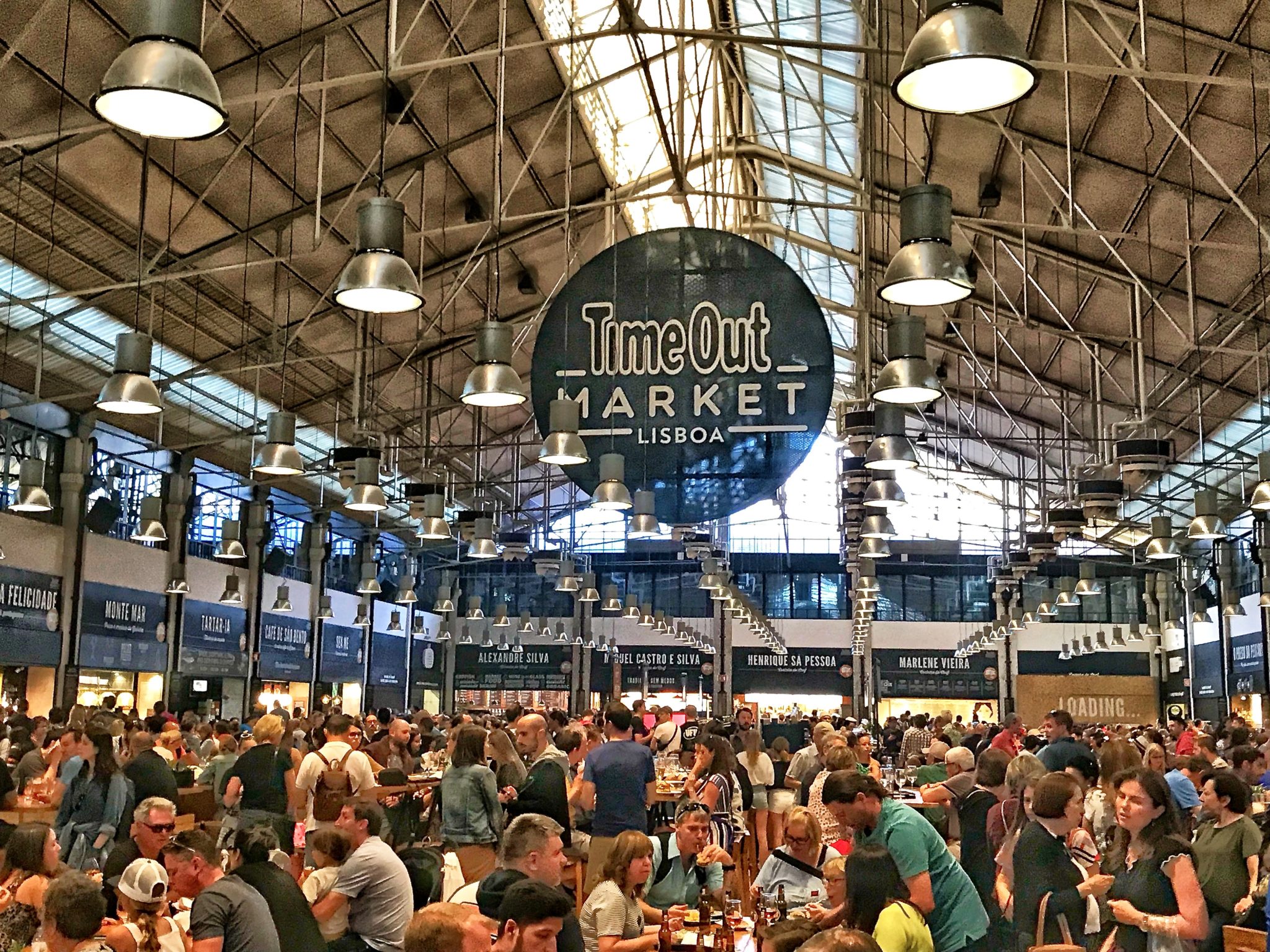 Grab some dinner in this area. Try to avoid the tourist traps with tourist menus. A great option is A Salgadeiras, a cozy place known for its bacalhau (cod).
Alternatively, the famed Time Out Market is just 10 minutes away. It's a Neo-Industrial food court where the top Lisbon chefs and upscale food shops ply their goods. It's a perfect spot for your dinner tonight.
Alternatively, you can book a 3.5 nighttime guided food tour that takes you to six different restaurants in Bairro Alto.
You'll get a primer on Portuguese cuisine and can sample everything from bacalhau (cod), petiscos (tapas), alheira (sausage), and of course pastel de nata.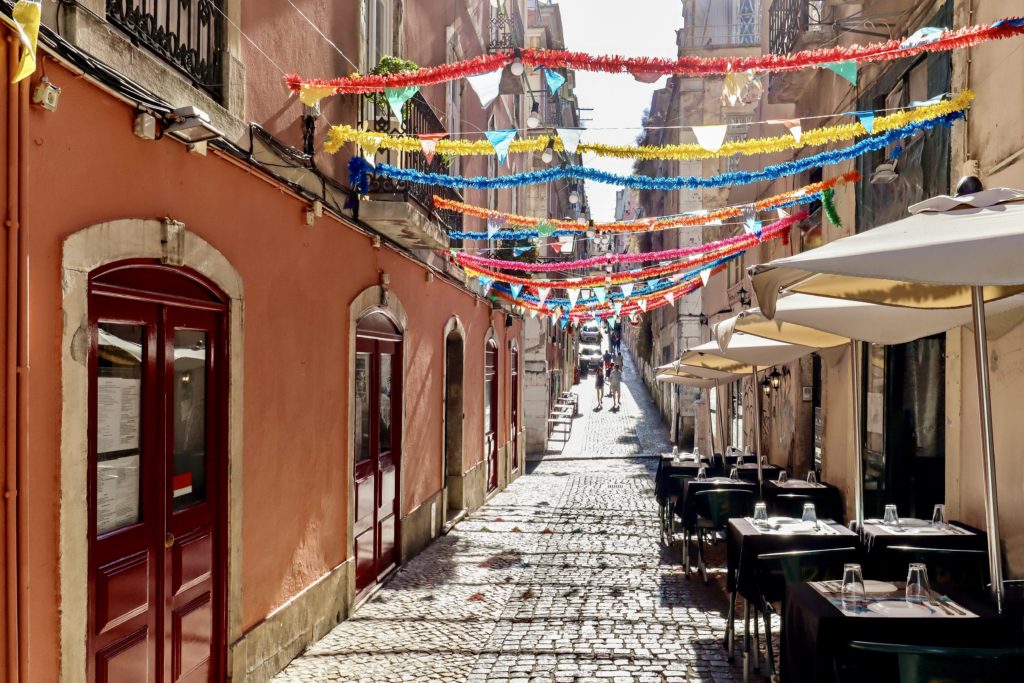 Evening Fado Show
Bairro Alto is also an excellent place to take in a Fado show. Fado is the folk music of Lisbon's rustic neighborhoods. The word fado means "fate."
It's a distinctive form of blues consisting of mournfully sung ballads about lament, broken hearts, and unrequited love.
You can book a fado show in advance or just wander the district to see which funky bars are having shows that night.
They might just have a note on the door saying "fado tonight." You can also book a Fado show in nearby Chiado. Or combine a Fado show with a nighttime tour of the city and see it lit up at night.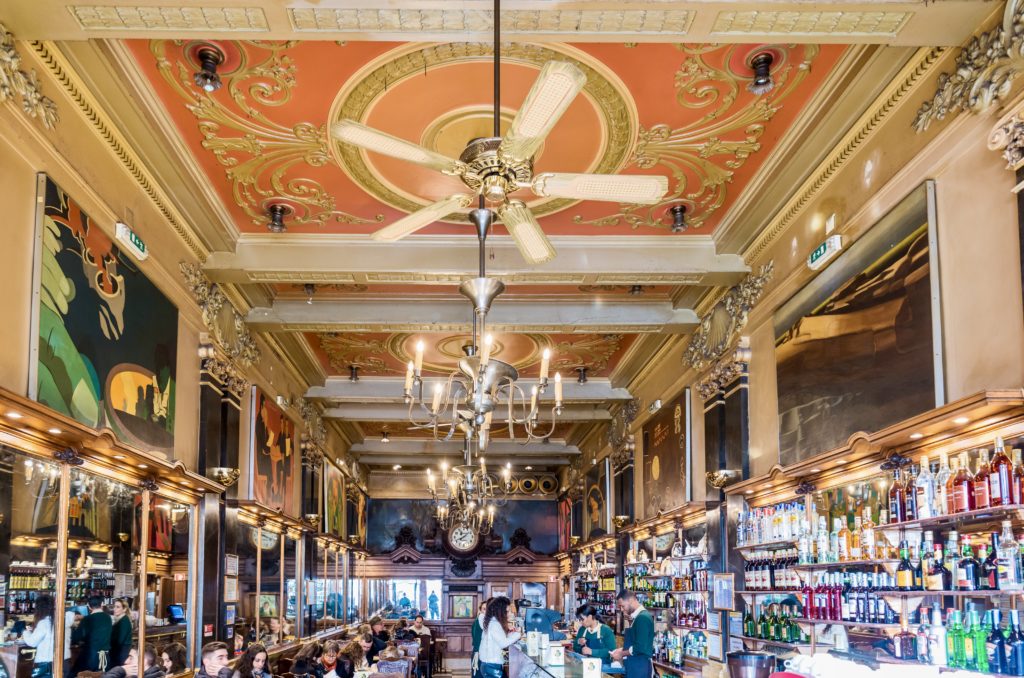 Day 2 Of Days In Lisbon Itinerary
Start day 2 of your 2 days in Lisbon with breakfast at Cafe A Brasileira. It's one of Lisbon's oldest and most famous cafes.
It has a beautiful Art Nouveau interior with dark wood, mirrors, and splashes of brass. This 100 year old cafe is located just outside of the Baixa-Chiado metro stop.
This is also the place where the Lisbon history and stories walking tour begins.
Baixa
Since you covered Lisbon's charming neighborhoods on your first day in Lisbon, now it's time to take a look at the city's commercial heart on day 2 of your 2 days in Lisbon itinerary.
That is the Baixa district, a word which means "lower town."
Praça do Comércio, or the Comércio Square, is the main square and huge waterfront plaza. It opens to the river and is lined with bright yellow facades, restaurants, and offices.
It was originally the site of a grand imperial palace. That was destroyed in the earthquake. But the square is still referred to as "palace square."
On the northern side of the Comércio Square is the triumphal arch, the Arco da Rua Augusta. It's topped with allegorical sculptures by Célestin Anatole Calmels of Glory crowning Genius and Valor.
The top of the arch opened to visitors in 2013 and offers up great views of Baixa. You can see all the way down Rua Augusta, which is Lisbon's main promenading street.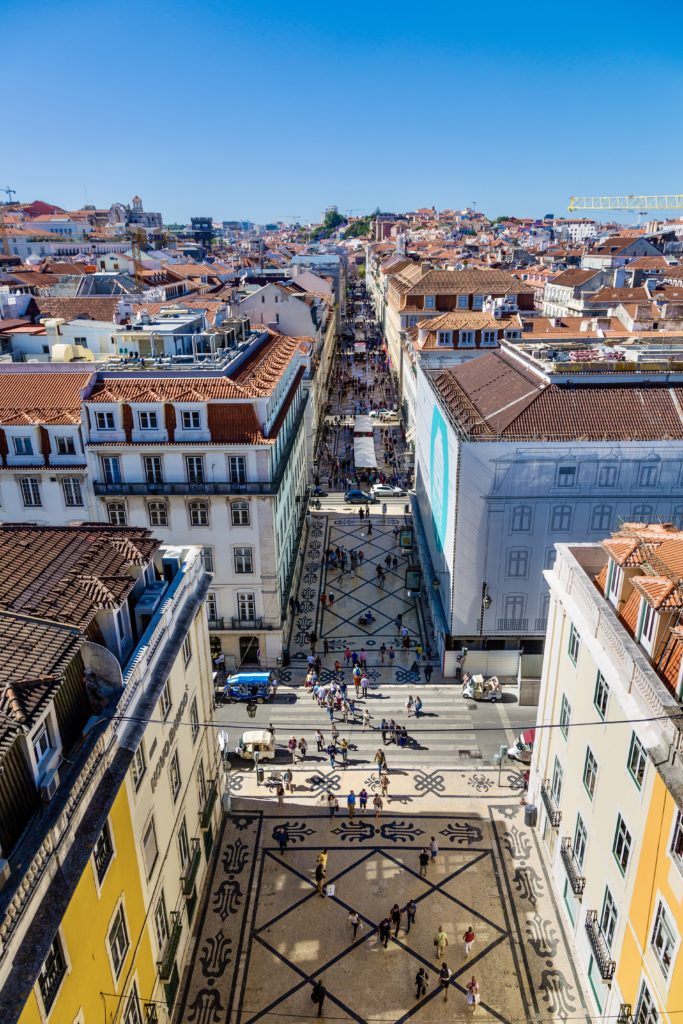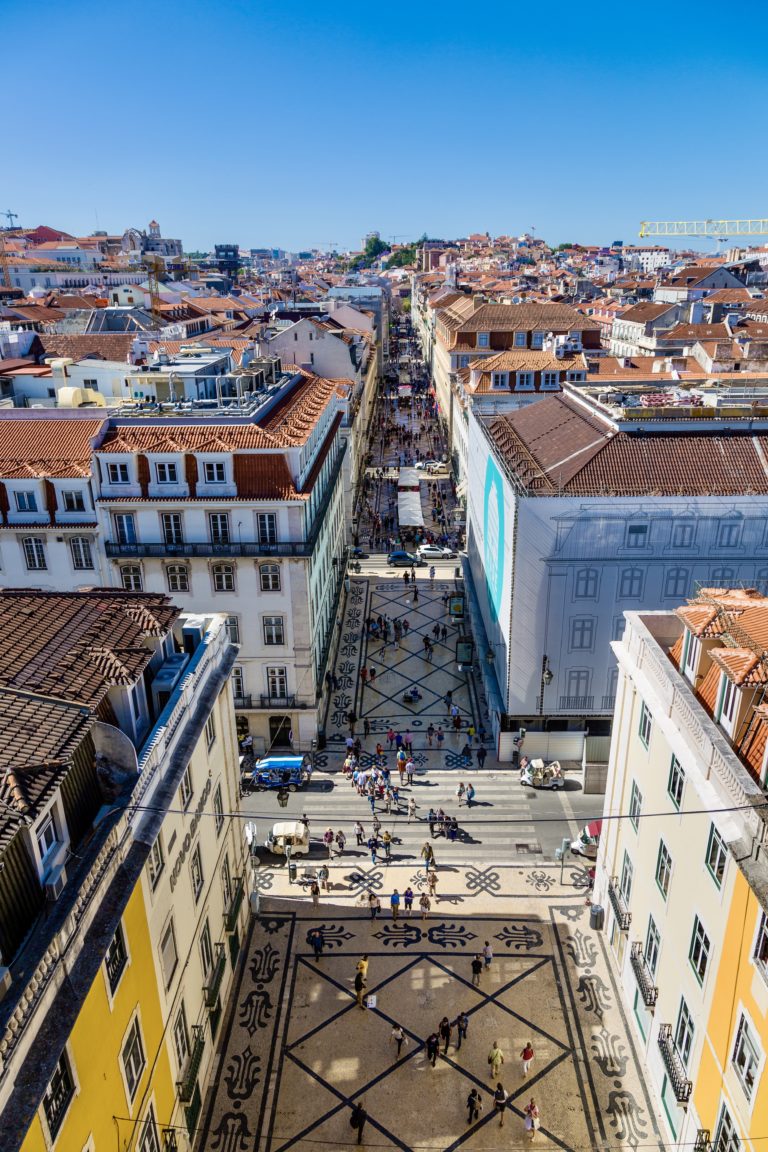 Rua Augusta is home to the MUDE museum, dedicated to 20th century fashion and design. The building itself is interesting to see. (Please note that it's temporarily closed at the moment.)
If you want to find out more about the history of Lisbon, on the east side of the square is the Lisboa Story Centre.
It's a museum dedicated to the history of Lisbon. You can watch a 60 minute video, which takes you on a journey from Lisbon's foundation to modern day times.
In the square's center is an imposing statue of King Jose I. At the far end, steps lead to the river and you should stop to admire the view.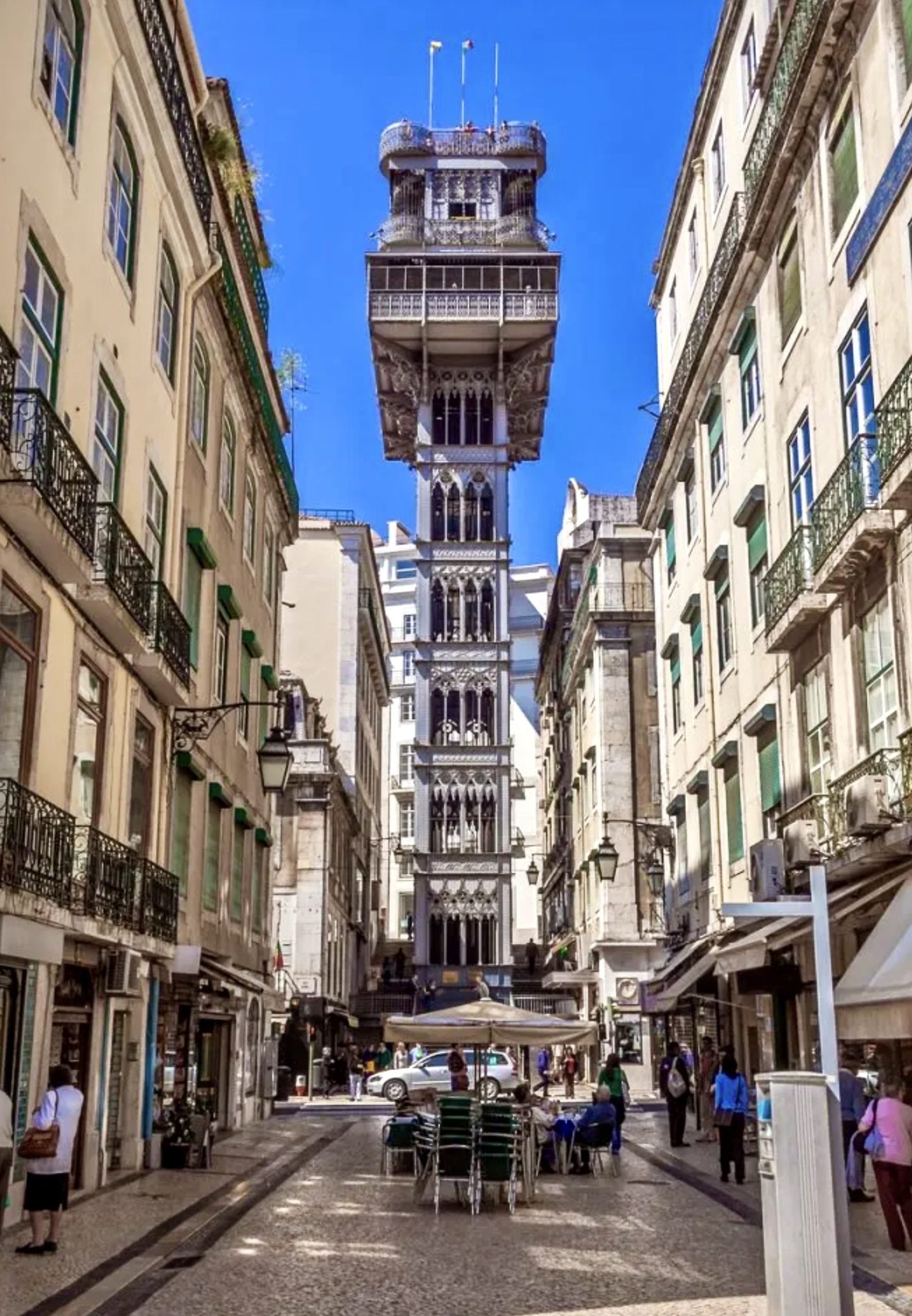 Santa Justa Elevator
Then, start heading down Rua Augusta. You can't miss the Santa Justa elevator.
Dating from 1902, it's a stunning lift built to transport people up to Carmo Square in Chiado. It's also called the Carmo Lift.
You can go to the top for amazing views. But the lines are always horrifically long and people start lining up before it opens at 7:30 am.
I'd say it's not worth the wait because there are so many perfectly free miradouros in Lisbon.
Rossio Square
Rossio Square is the trendiest square in Lisbon with a beautiful black and white wave patterned pavement.
The square is named after the King of Portugal, King Pedro IV. In the center is the massive Column of Pedro IV and an elegant fountain.
The square is home to some grand buildings, including the 19th century National Theater Dona Maria II.
This is a good place to break for lunch. Try Restaurante Figus or El Dei Frango. You can also grab a pastel de nata at Fabrica da Nata.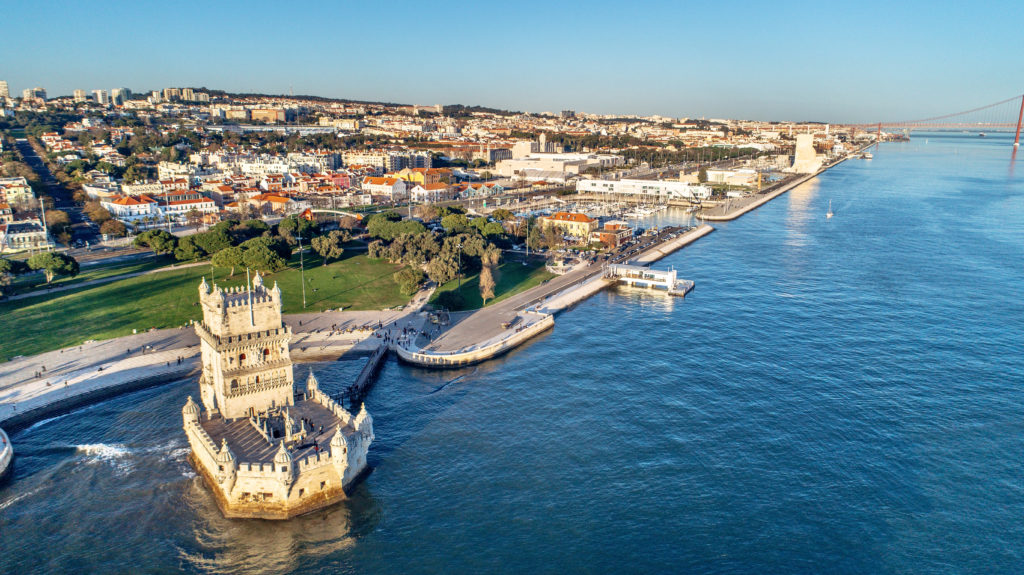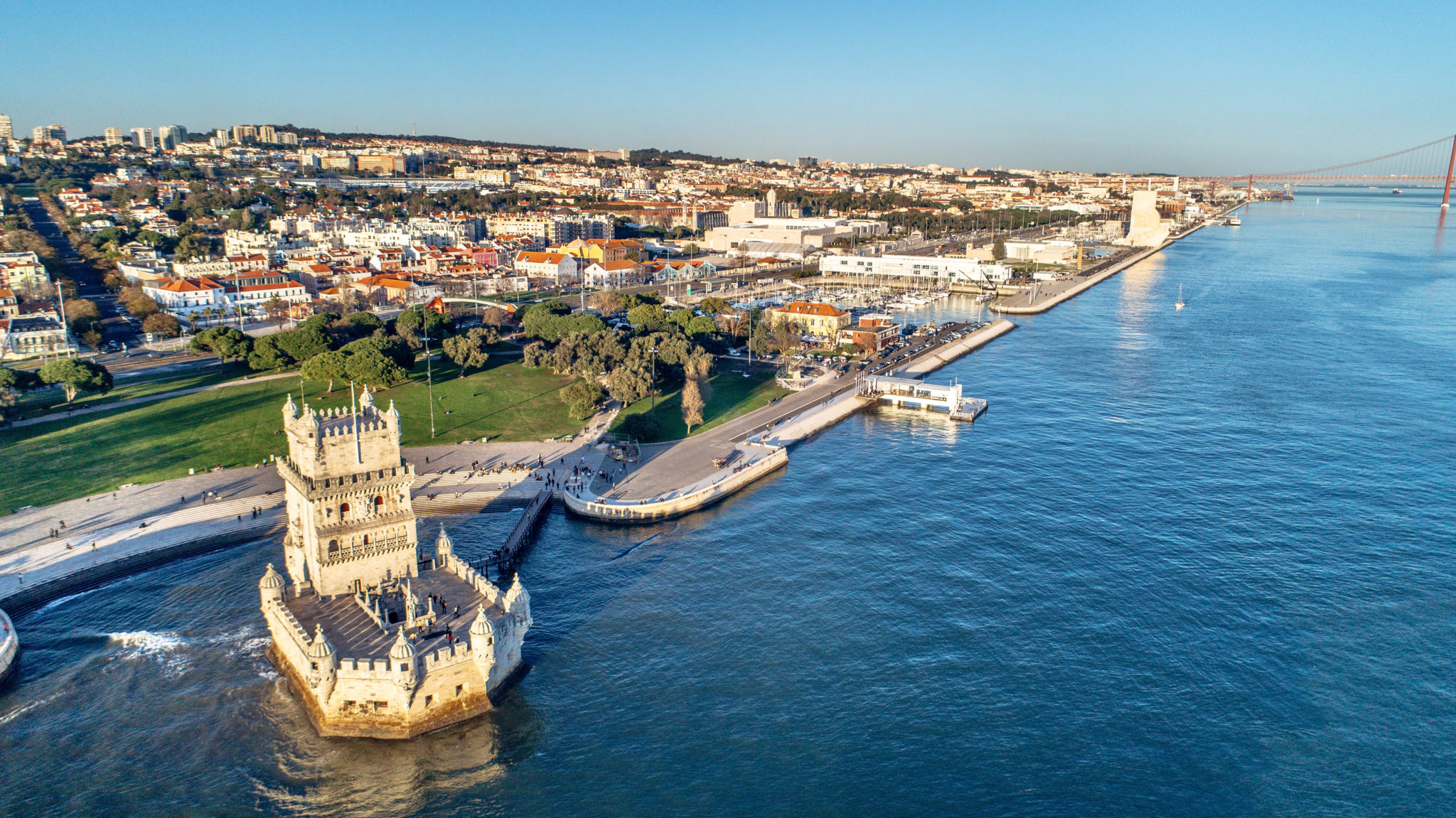 Belem
No 2 days in Lisbon itinerary would be complete without a visit to the city's Belem neighborhood. So this is where you should spend your afternoon on day 2.
Belem is Lisbon's famous port neighborhood with a cluster of monumental UNESCO-listed buildings. This is the best place to get a sense of Lisbon's grand past in the Age of Discoveries.
Hop aboard the number 15 tram from Baixa and watch the city go by as you head out to Belem. If you're driving, there's a parking lot in front of Jeronimos Monastery.
The hop on hop off bus also stops in Belem.
Jerónimos Monastery
Get off the tram at Jeronimos Monastery, your first stop. This is the most famous monastery in Portugal, a masterpiece of Manueline architecture.
The ornate look-at-me building was built by Manuel I, when he was flush with spice money. It's a grand monument commemorating Portugal's marine dominance during the Age of Discoveries. Miraculously, it survived the great earthquake.
The 500 year old Jeronimos Monastery complex consists of a church, cloisters, library, grand halls, and museums.
It's a twisting mass of honey colored stone that glows like gold in the sunshine. Everywhere you look is extravagant tracery and maritime decoration. You'll see coral chains, sailors' knots, exotic fruits, and shells.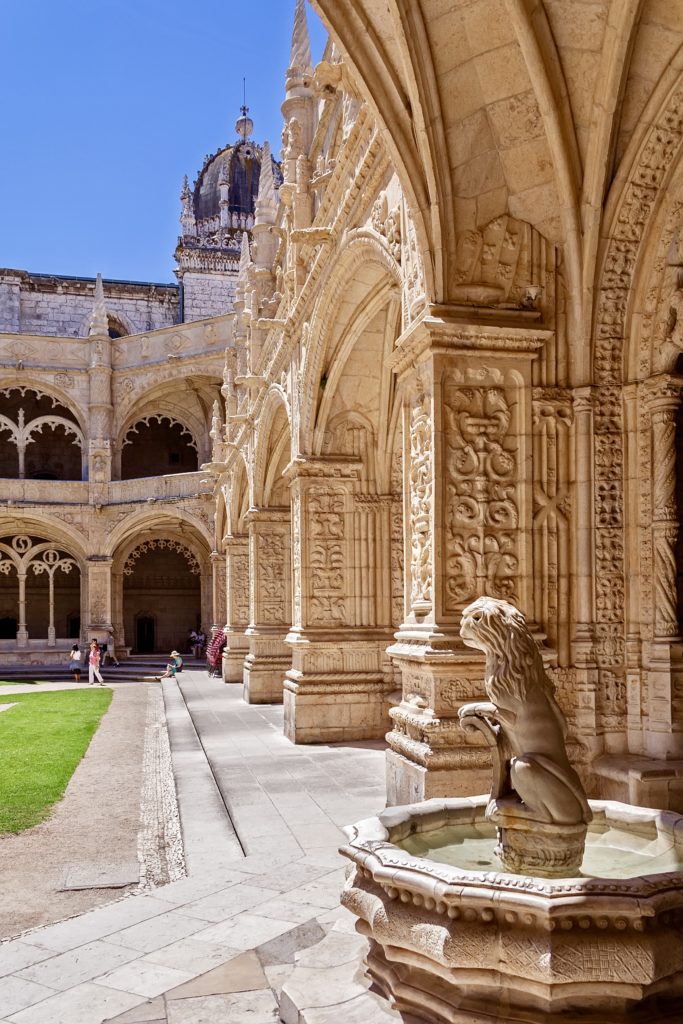 There's also a marble esplanade dotted with gardens and fountains. In the 19th century "modern" wing of the monastery, you'll find an archaeology and maritime museum.
There are separate lines and entrances for the church and monastery. You can visit the church for free.
For the monastery, you should definitely purchase a skip the line ticket from a third party vendor. If you want to get the full historic backdrop, you can also book a private tour of Belem and the monastery.
If you don't, expect epic lines. And there are two of them to wait in, one to buy a ticket and one to enter the monastery.
Tower of Belem
Next visit the Tower of Belem. It's a 500 year stone bulkwark constructed in a fetching Manueline-Gothic style structure.
The Tower is just a 15 minute stroll along the river from Jerónimos Monastery. There are plenty of places to sit, relax, and admire the tower.
There will likely be a lengthy queue to get inside. And it's a stony cramped experience. So you might skip going inside.
But, if you do, the views are fantastic. You can imagine how the tower was a beacon for Portuguese navigators returning with their booty.
There are usually long lines to enter the tower. To avoid the wait, you should book a skip the line ticket.
Monument To The Discoveries
The next attraction to visit in Belem is the Monument to the Discoveries. It's perched proudly on the Belém's waterfront. It's a massive 183 foot statue-monument.
Built in 1960, the Monument to the Discoveries was commissioned to mark the 500th anniversary of the death of Henry the Navigator.
The monument is designed in the shape of a caravel with Portugal's coat of arms on both sides. The sword of the royal house guards the entrance. At the far end, Henry the Navigator stands with a caravel in his hand.
On each sides, in two sloping lines, are 33 of the Portuguese heroes linked to the 16th and 17th century Age of Discoveries.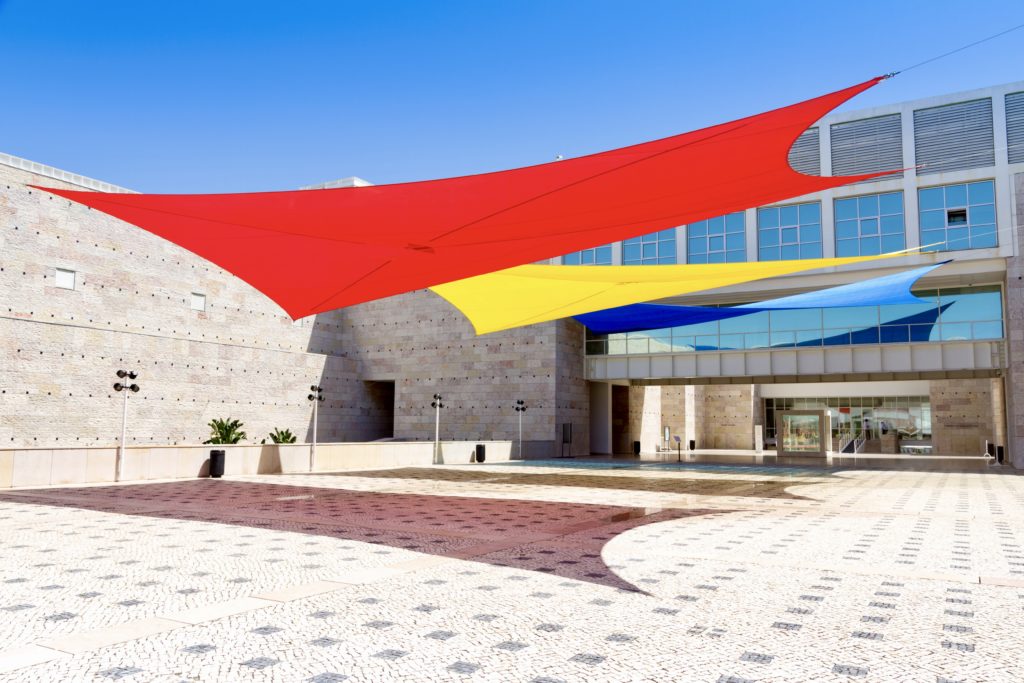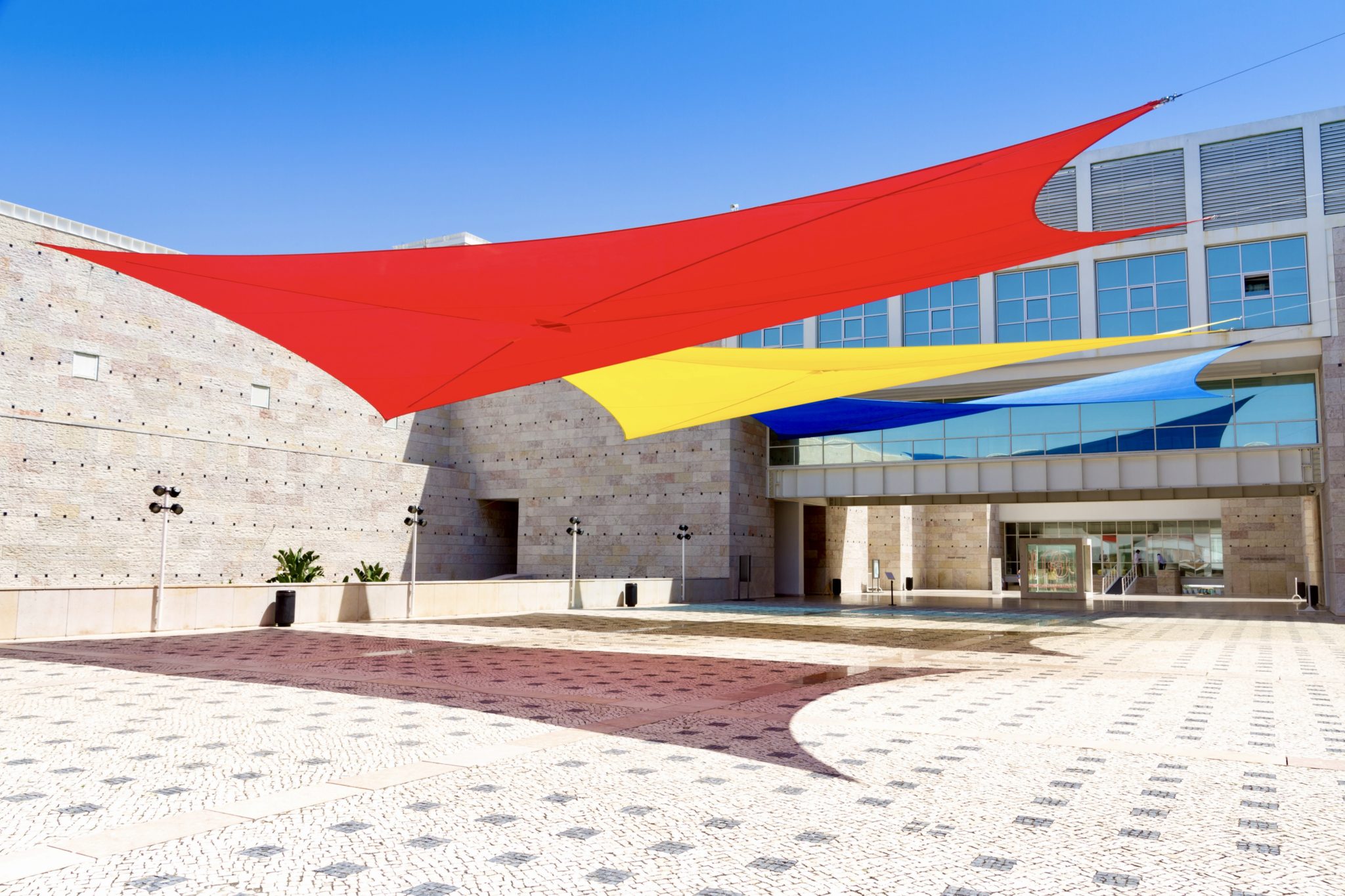 Museu Coleção Bernardo
Art lovers can get their modern art fix at Belém's Bernardo Museum, the Museu Coleção Berardo.
This is a fabulous small museum with 1,000 works from the 20th and 21st centuries.
Opened in 2007, the museum is housed in an ultra-white, minimalist gallery. It displays billionaire José Berardo's eye-popping collection.
You'll find canvases by Picasso, David Hockney, Roy Lichtenstein, Andy Warhol, Jackson Pollock, Francis Bacon, and Willem de Kooning.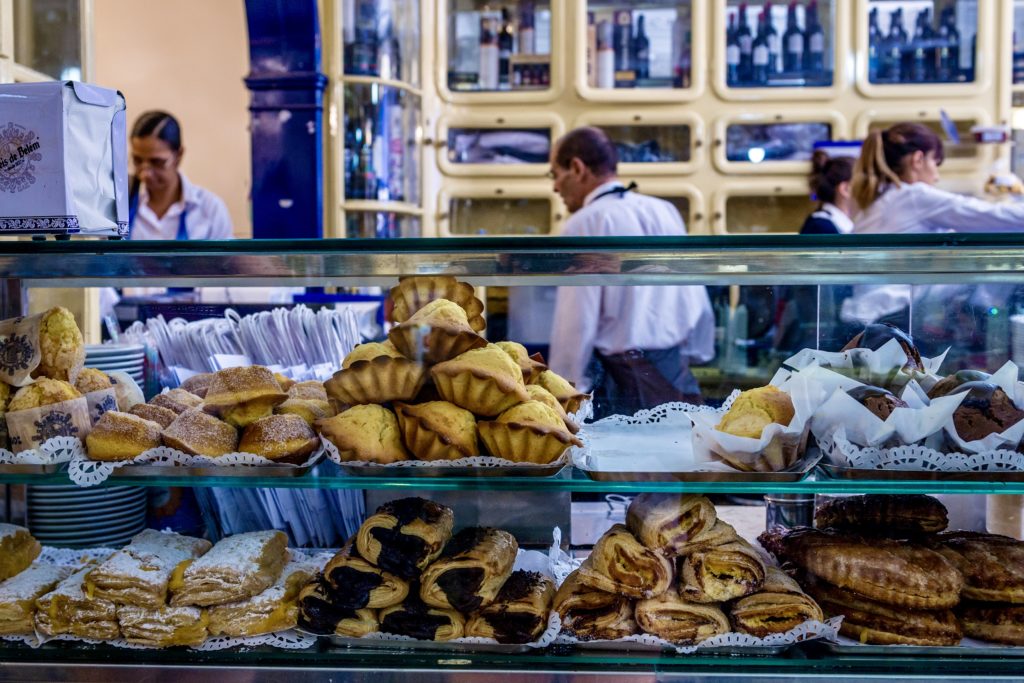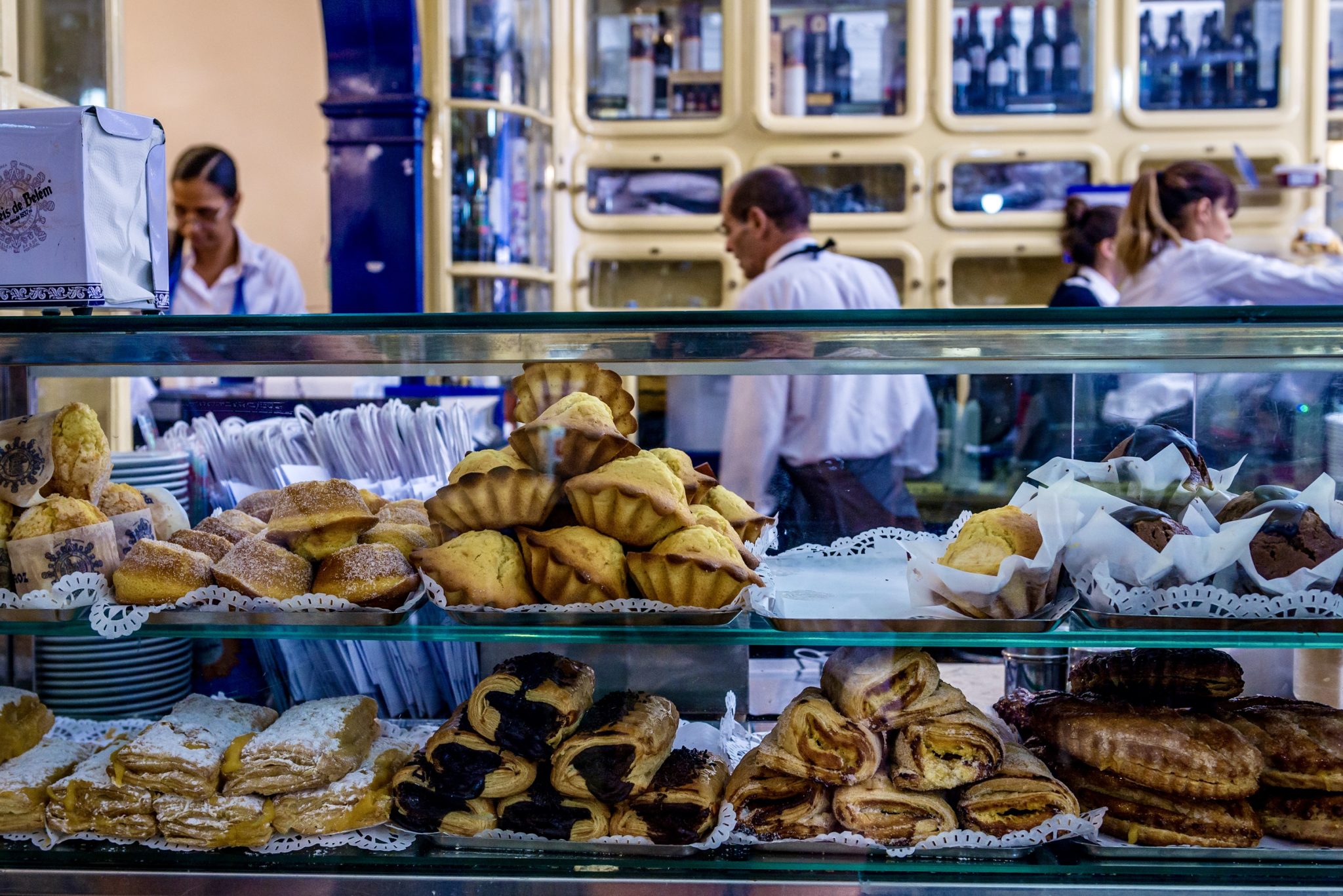 Pasteis de Belem
Your last stop in Belem should be Lisbon's most illustrious pastry shop, Pasteis de Belem. It's a labyrinthian tea room that dates back to the 19th century, decorated with azulejos.
The shop serves up custard tarts made from a secret recipe created long ago by the neighboring monks. Sprinkle your tart with cinnamon for the full gastronomic effect.
25 de Abril Bridge
While you are in Belem, you will see the beautiful cruise port of Lisbon.
From a distance, the long 25 de Abril Bridge is also visible. The bridge links Lisbon with the far bank of the Tagus River.
At one end of the bridge, you'll see the Sanctuary of Christ the King monument. You could make a stop here to see it up close.
Finish your sightseeing in Belem by taking a sunset cruise on the Tagus River from Belem. You can see the city's monuments lit up as you glide down the river.
LX Factory
This area of town is close to one of Lisbon's more recent additions, the LX Factory, where you can have dinner.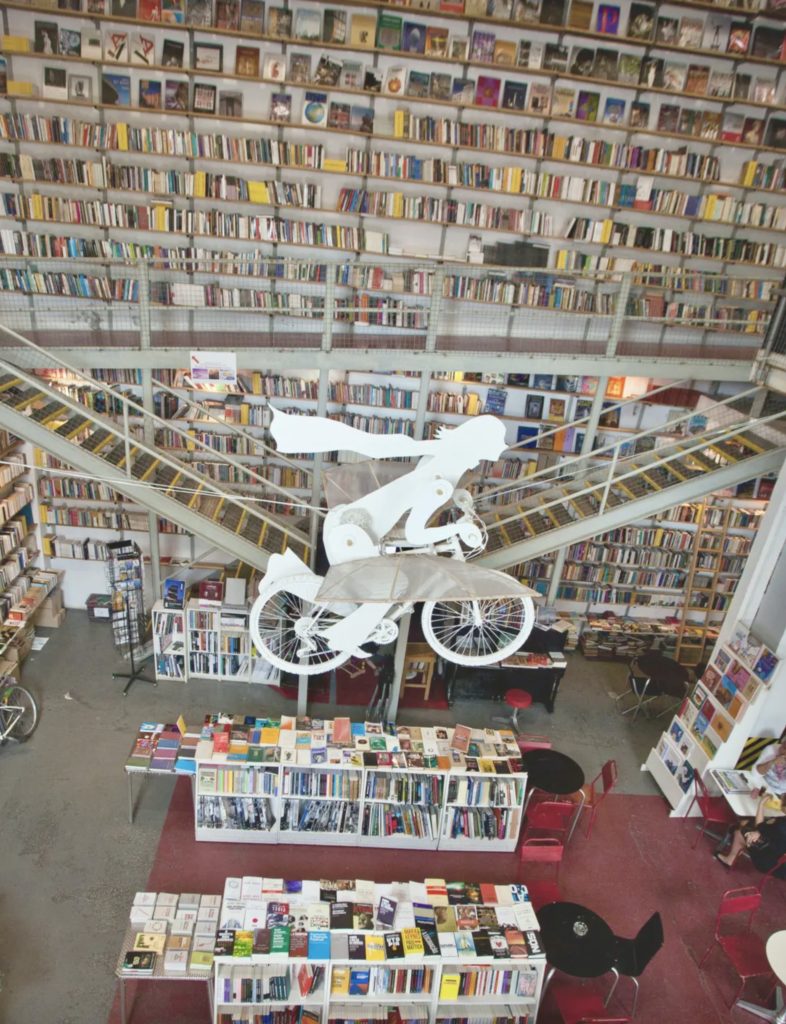 It's a formerly abandoned cluster of buildings that have been turned into a hip mecca for cooks, artists, and designers. It's a great place to grab a drink and finish your second day in Lisbon.
Bookworms should pop into Ler Devager bookstore. In addition to being lined ceiling to floor with books, the shop hosts concerts, readings, and other events.
Alternatively, if you're up for a splurge, try Alma for dinner. It's easily the best place I ate in Lisbon. It's a Michelin-starred restaurant housed in a renovated 18th century warehouse in Chiado.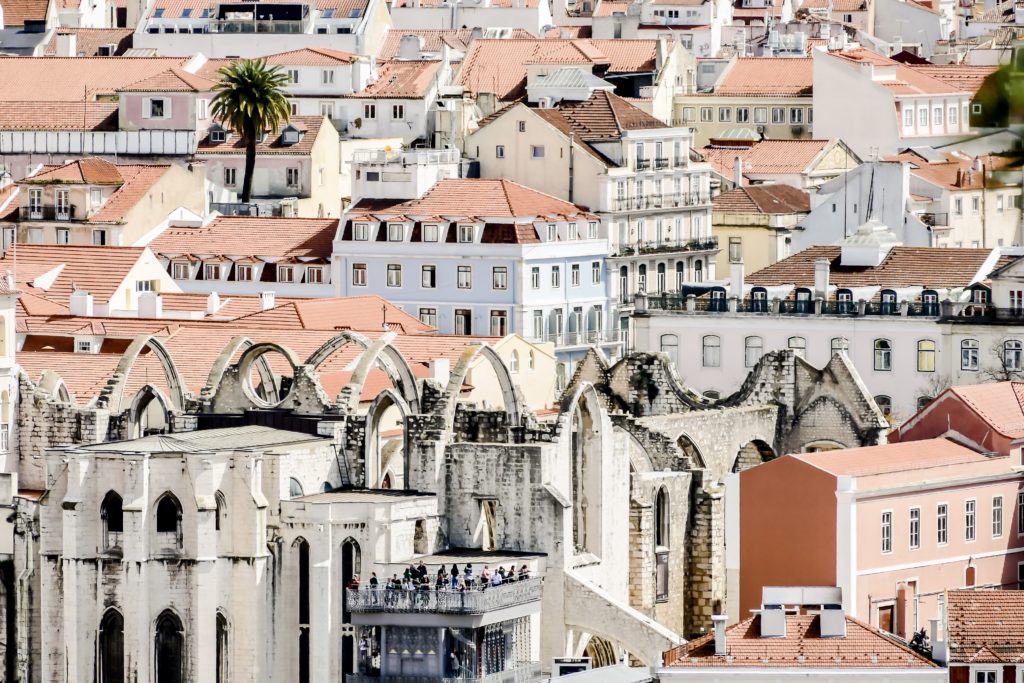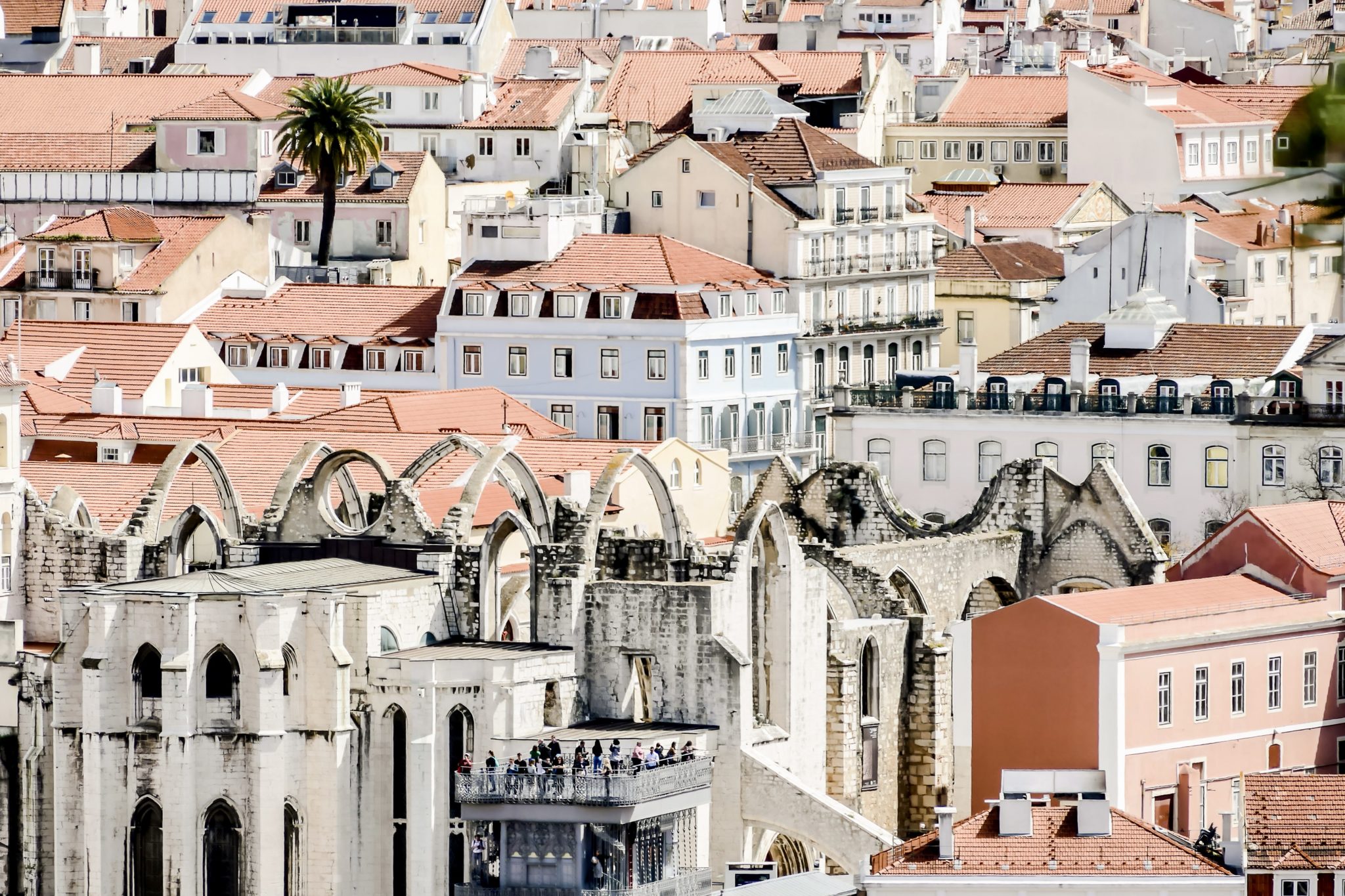 Tips For For Visiting Lisbon
1. How To Get To Lisbon
Lisbon is located in central Portugal. Portugal is a European Union member and uses euros as its currency. Here are the different ways you can get to Lisbon.
By Train:
You can get to Lisbon via high speed train from many major cities. Santa Apolonia is the primary departure station for all international rail routes.
If you're traveling from a city in Portugal, you'll arrive at Lisbon's Oriente Train Station, which is itself a stunning building.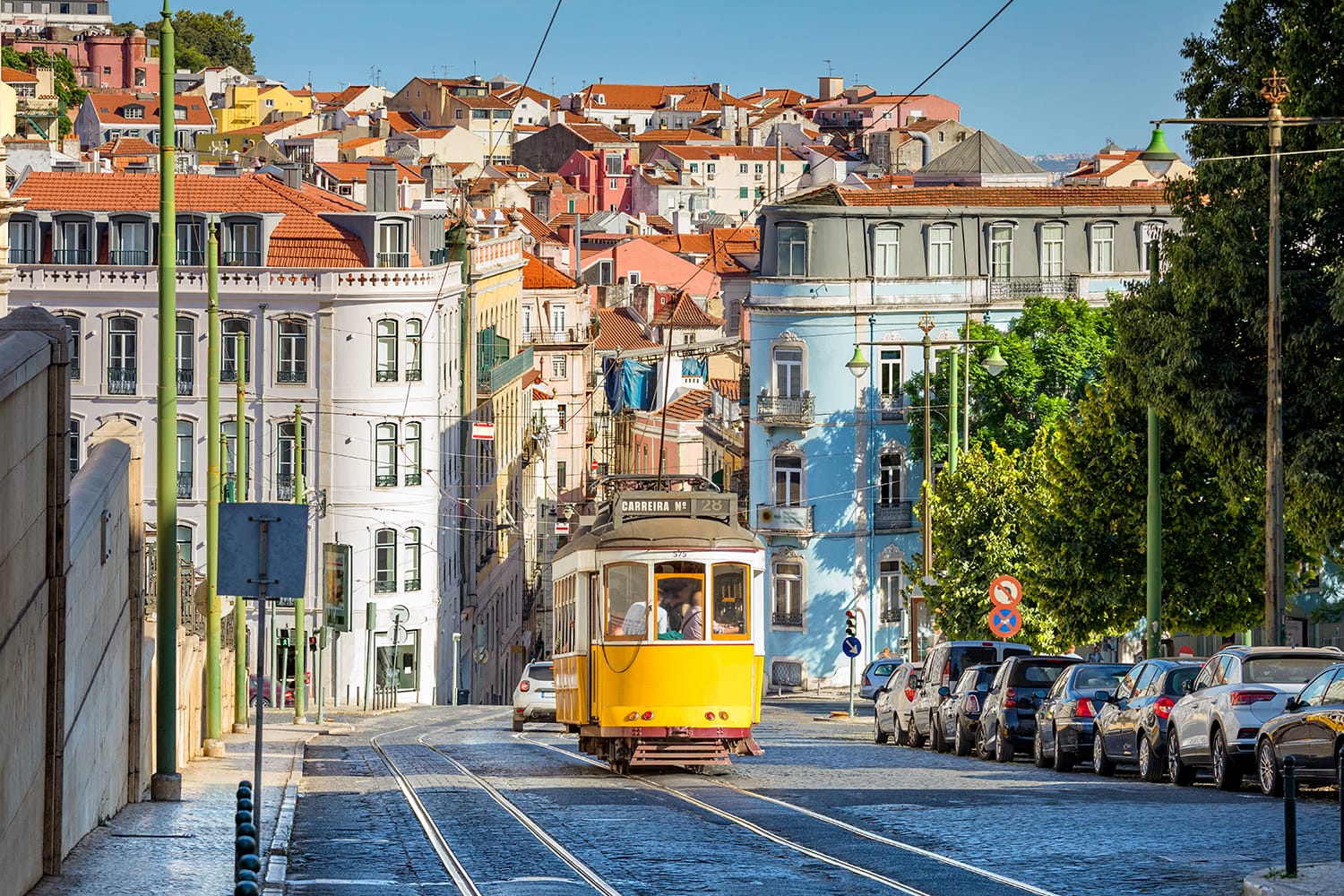 From Lisbon's train station, you can catch a bus, subway, or taxi to get into the city center. Taxi is the fastest option, at about 20 minutes.
By Plane:
The easiest way to get to Lisbon from the United States is to fly into Lisbon Portela Airport (LIS).
From the airport, you can drive, take the metro (1-2 train changes),or get a taxi into the city center.
You can also get from the airport to the city center via AeroBus. Tickets cost about $4 and can be bought in advance here.
You can also book a private transfer from the airport to your hotel or other accommodation.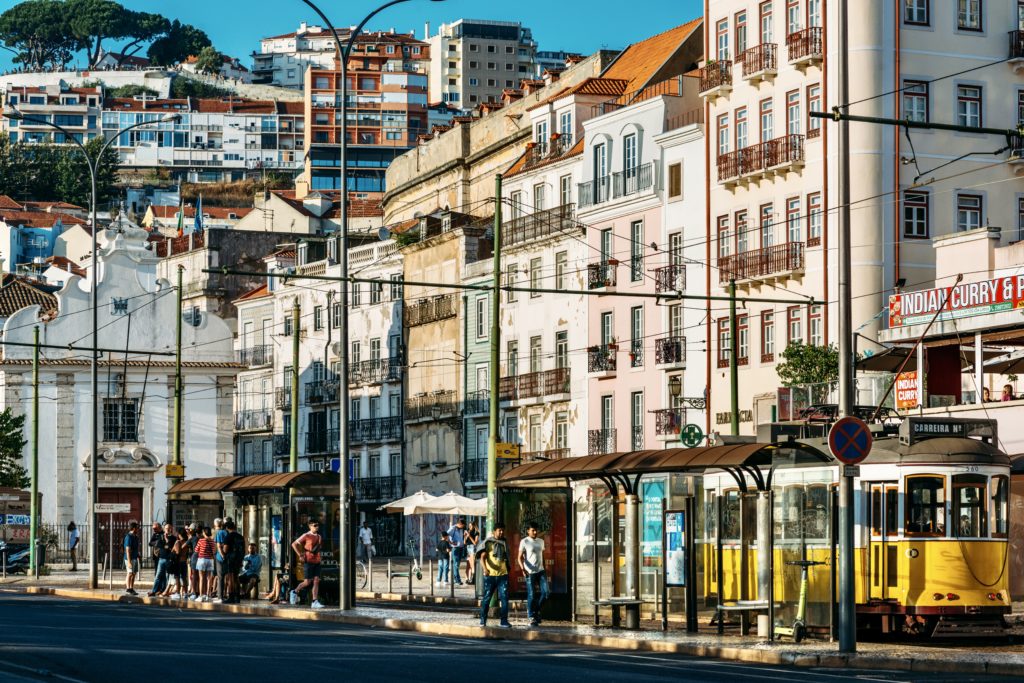 By Car:
The last time I visited Lisbon, I had a car. But I didn't use it in the city.
The driving is too crazy. I only used it for taking day trips from Lisbon and going to Belem.
By Bus:
Lisbon has two bus stations, Sete Rios (town center) and Lisbon Oriente. The latter is in the Parque das Nacoes area of Lisbon. It's a stunning modern building designed by Spanish architect Santiago Calatrava.
2. How To Get Around Lisbon
Lisbon is a very walkable city and easy to navigate with a map. You can also book a guided walking tour to get around and get a history lesson at the same time.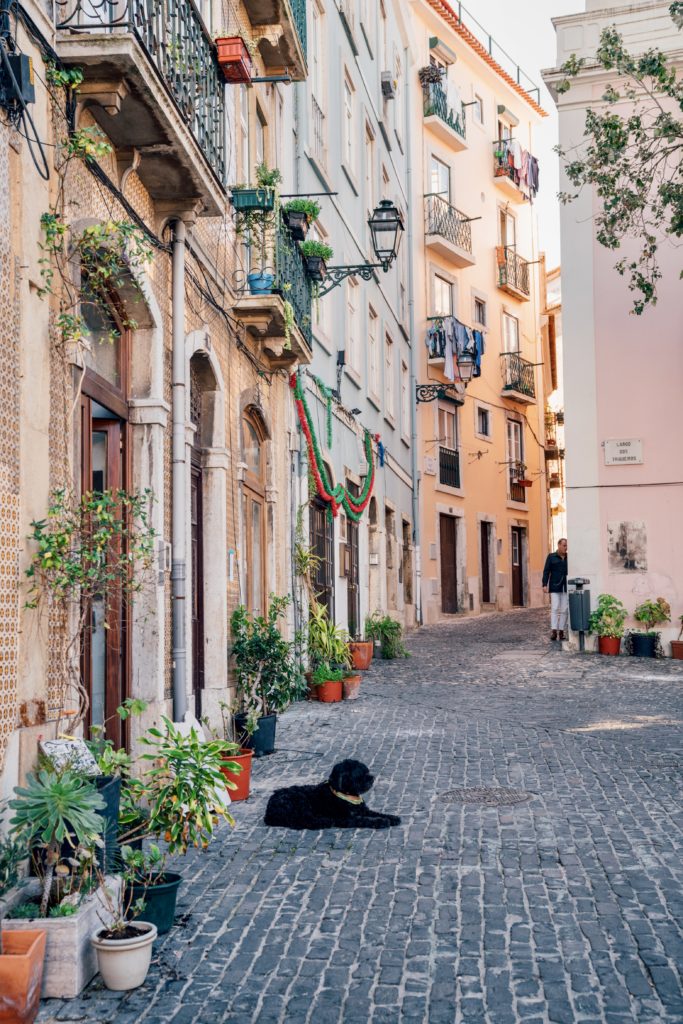 Still, Lisbon is still quite spread out and you may need to use public transport. On that score, Lisbon has loads of colorful vintage trams and funiculars rattling down the streets. You might want to ride one of them just for fun.
The most popular is the iconic yellow Tram 28. It's been weaving its way through Lisbon's narrow and winding streets since 1928. The tram isn't just for sightseeing; the locals use it too.
You can also take Uber and taxis, with Uber being slightly cheaper.
Other fun ways to get around Lisbon include:
You can also take the hop on hop off bus.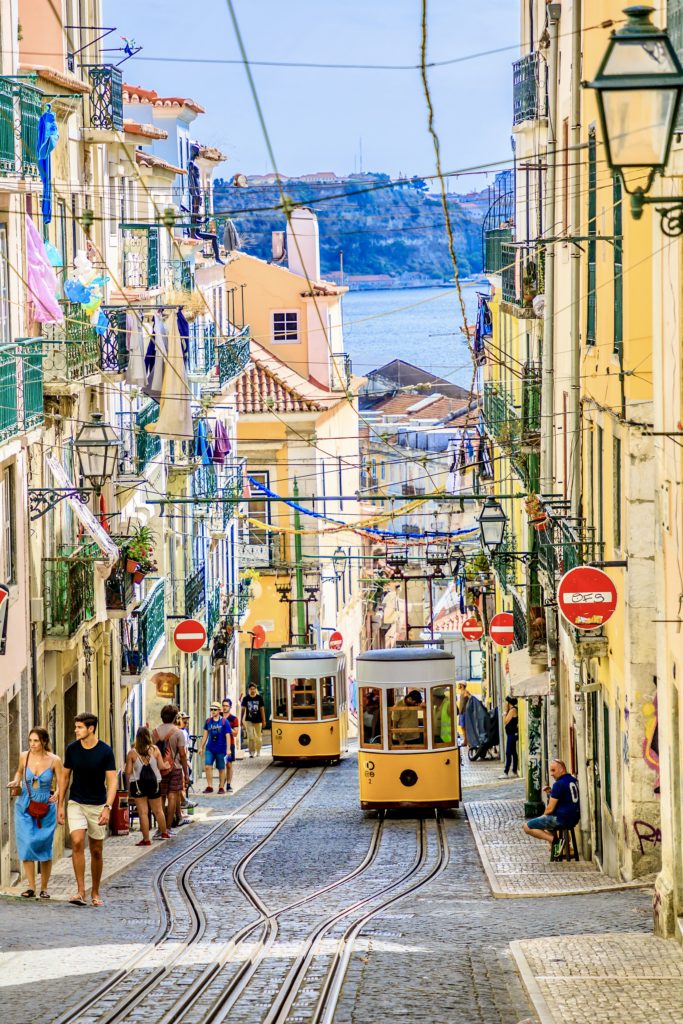 3. Lisbon Card
If you're planning on seeing most of the popular attractions, you should consider purchasing the Lisboa Card.
You'll save money and the hassle of waiting in ticket lines. It also gives you free transportation. You can purchase it in 1, 2, or 3 days increments.
4. Food Tours in Lisbon
The food I've had in Portugal is uniformly delicious and you should be sure to indulge. You can take a food tour or cooking class to taste the local cuisine and/or learn how to make it.
In this pasteis de nata baking class, you can learn the traditional craft of the most known famous Portuguese sweet. You can also take a 3 hour cooking workshop and learn to make traditional dishes like bacalhau.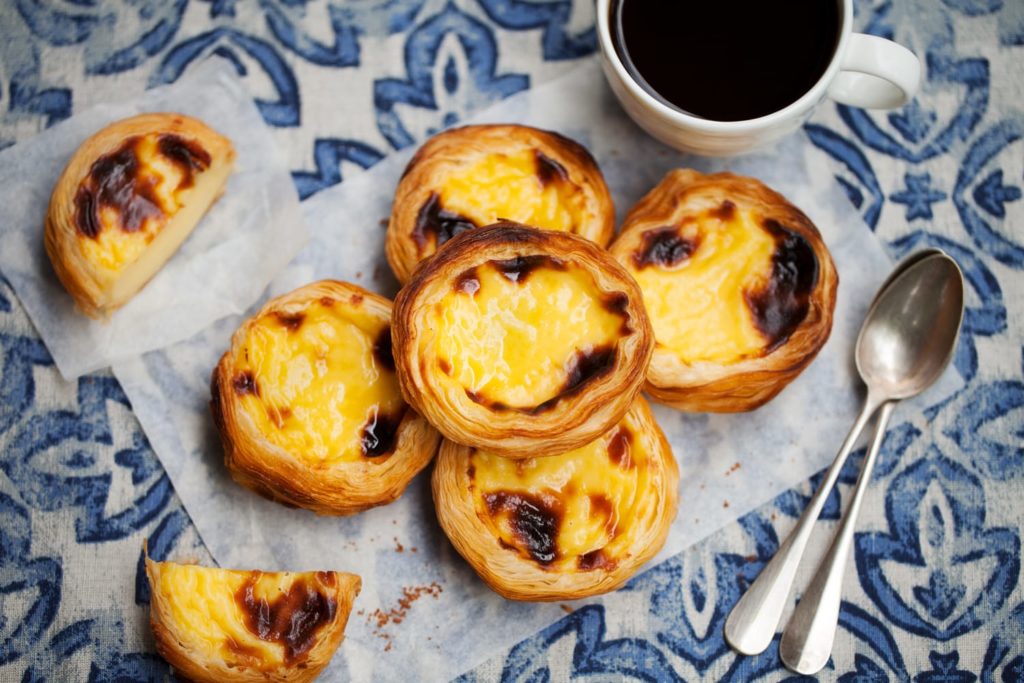 Just want to eat and not cook? Check out this 3 hour "10 tastings" of Lisbon food tour.
This immersive 3.5 hour tastings tour takes you to the Alfama, Baixa, and Mouraria neighborhoods where you sample everything — pastries, meat, seafood, and local liqueurs.
Another Lisbon tradition is ginjinha. It's the local cherry brandy sold by the shot or in a chocolate cup. A Ginjinha is a tiny bar in Rossio Square where you can sample the goods.
5. Where To Stay In Lisbon
I would recommend staying in or near the Chiado neighborhood. The Verride Palacio Santa Catarina is a boutique hotel in a renovated palace with incredible views.
LX Boutique is a pretty luxury hotel with a maritime themes and blue colors.
The Memmo Principe Real is a historic hotel in a quiet area. It has limestone floors, original paintings, and a rooftop mosaic infinity pool.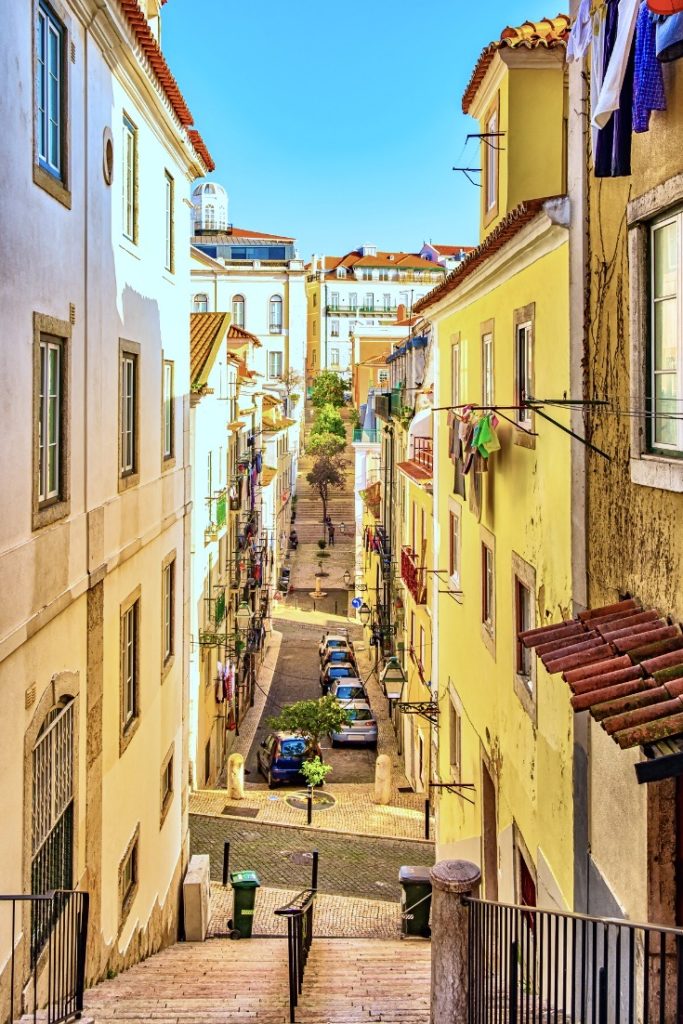 If you want to stay in Alfama instead, the Santiago de Alfama is a wonderful 5 star boutique hotel. Positioned below the Sao Jorge Castle, it boasts panoramic views and refined styling.
For a really romantic getaway, you should consider the Olissippo Lapa Palace. It's a luxurious palace hotel nestled in the hills with a a beautiful pool.
6. When To Visit Lisbon
If you have the flexibility, the best time to visit Lisbon is the shoulder season, in the spring or fall. In the summer, the city crammed jowl to jowl with tourists and swelteringly hot. You have to be a sun lover.
I've gone several times in May. But even then the temperatures were already in the high 80s.
Many tourist sites in Lisbon are closed on Mondays, so factor that into planning your Lisbon visit.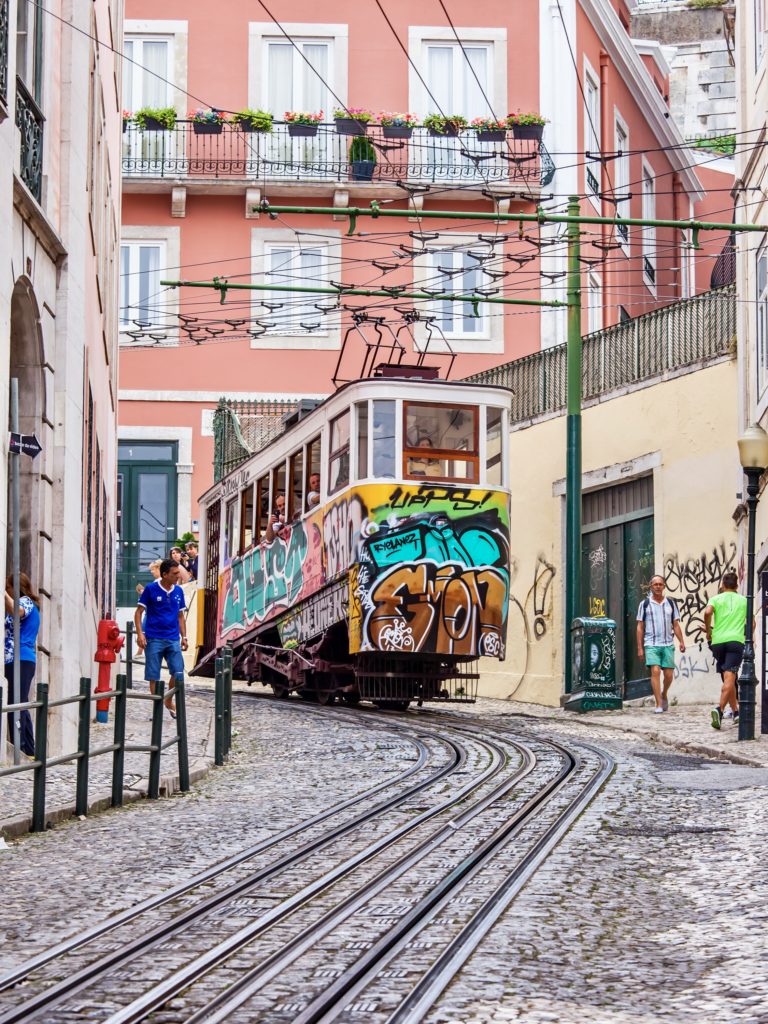 7. Is 2 Days In Lisbon Enough?
Maybe and maybe not. If you plan effectively, 2 days in Lisbon is a good amount of time to get a quick overview of the city. But you'll still miss out on some things.
The good thing is that you'll know you'll want to book another trip right away.
8. Lisbon Or Porto, Which City To Visit
Trying to decide between a visit to Lisbon or Porto?
While both have old world charm galore, they two cities are very different in terms of city visits. Each has its own personality.
Lisbon is one of Europe's most beautiful cities. It's the first city people flock to when visiting Portugal. It's the super cool capital of Portugal.
Lisbon is much larger and more sophisticated than Porto. Plus, it's much easier to get to with connecting flights across Europe.
Lisbon has more attractions and museums than Porto, as you would expect for a larger city. Porto has more azulejos.
Porto is smaller, more laid back, and easier to navigate than its bigger sibling. It's 100% walkable and less expensive. It's one of Europe's best small cities.
Unlike Lisbon, Porto wasn't damaged by the 1755 earthquake. Thus, it has a lot of authentic medieval buildings.
9. Is Lisbon Safe?
For a big city on the whole, Lisbon is a safe destination. Like all European cities, you need to be careful of pickpockets in busy or crowded areas and especially on the trams. I always carry a small PacSafe backpack.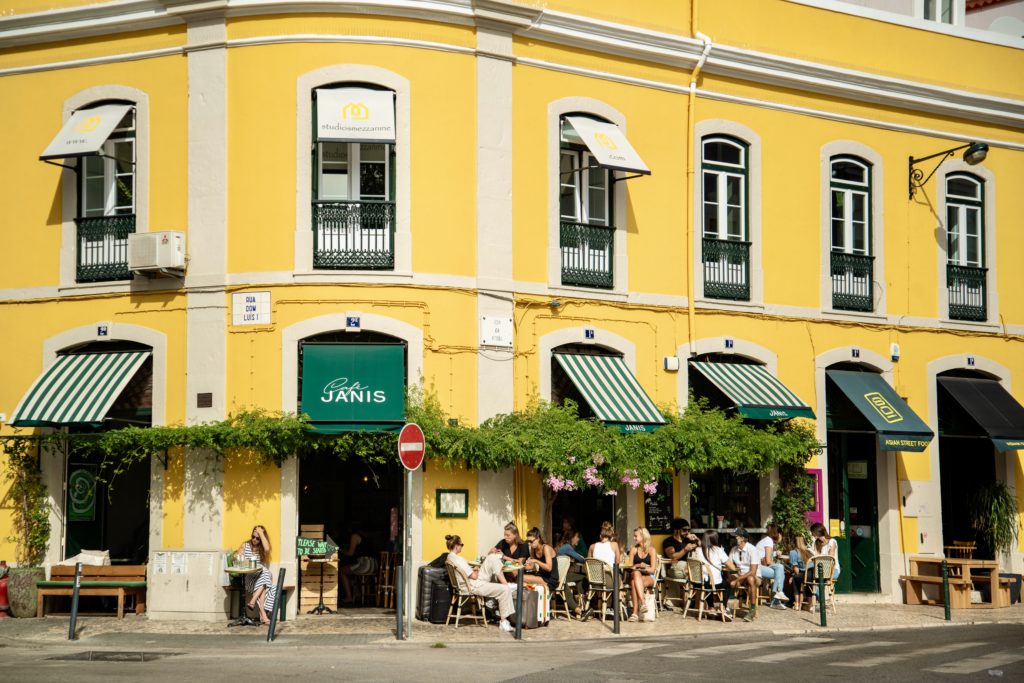 10. More Than 2 Days In Lisbon?
Do you have more than 2 days in Lisbon? If so, check out my 4 days in Lisbon itinerary and my guide to Lisbon's hidden gems.
There are plenty of great day trips to take from Lisbon. I won't list them all here.
You can check out my guide to the 21 best day trips from Lisbon. My favorite day trips from Lisbon are to Sintra, Obidos, and Tomar.
So, that's a wrap. I hope you've enjoyed my 2 days in Lisbon itinerary. You may enjoy these other Portugal travel guides and resources:
If you'd like to spend 2 days in Lisbon, pin it for later.