Cheltenham is a lovely Gloucestershire town that's a gateway to the Cotswolds. While it's not cut from honey colored stone like a proper Cotswold village, the city has other pleasures on offer.
Cheltenham is a posh Regency spa town known for its elegant architecture, cultural events, festivals, shopping, and dining. It's a sophisticated mini-metropolis that's home to some of Britain's finest Regency architecture.
Plus, Cheltenham is low key, serene, and not nearly as crowded as England's other famous regency city — Bath. And just a pinch or two less beautiful.
One Day in Cheltenham At A Glance
Here's a snapshot of what you can see with one day in Cheltenham.
Promenade
Pittville Pump Room
Montpellier
Cheltenham Racecourse
The Wilson art gallery
One Day In Cheltenham Itinerary
Cheltenham Promenade
Begin your day in Cheltenham with a stroll along the iconic Regency-era Promenade. Admire the elegant Georgian architecture.
The promenade is lined with flowers, a splendid Neptune fountain, and exclusive shops.
You might also stroll down High Street in the town center. It's one of the primary shopping destinations in Cheltenham. You'll find a variety of shops offering clothing, accessories, electronics, books, and more.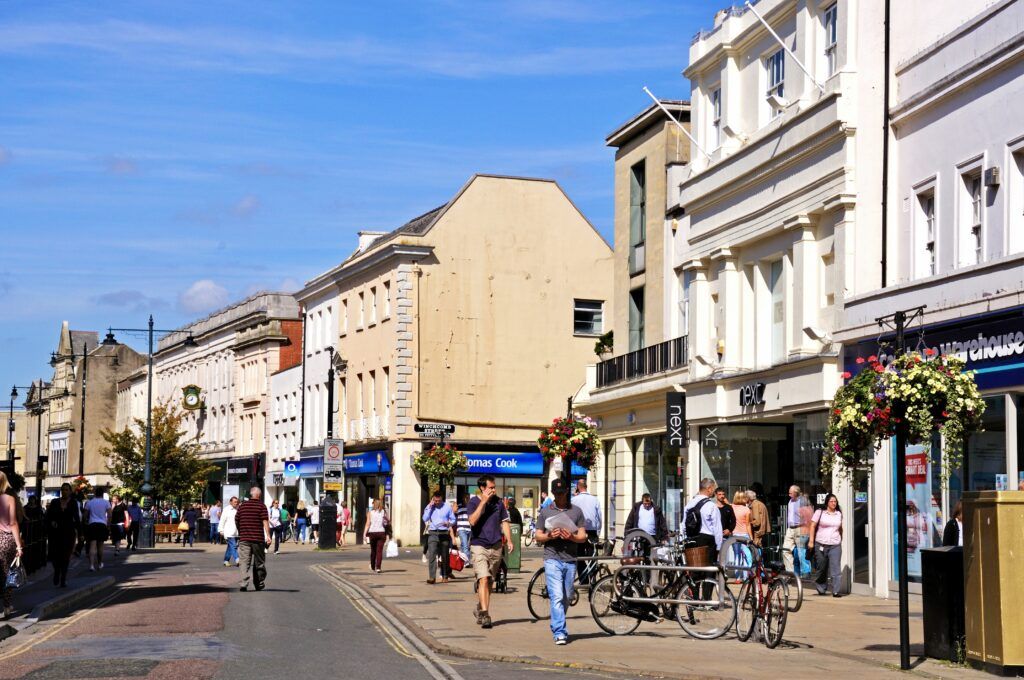 Pittville Pump Room
Next, visit the Pittville Pump Room in Pittville Park. It's one of Cheltenham's most iconic landmarks and a significant historical site in the town.
The pump room was built between 1825 and 1830 as part of the Pittville Estate, a development project by Joseph Pitt, a local entrepreneur. It was designed by the architect John Forbes.
The building is an excellent example of Regency-era architecture. It's known for its neoclassical design, complete with columns, pediments, and ornate decorations.
The Pump Room was originally constructed to provide access to the mineral springs, which were believed to have health benefits. Today, you can sample the mineral-rich spa water for free.
Montpellier District
The Montpellier quarter is a picturesque area renowned for its graceful Regency architecture, which was erected between the 1790s and the 1850s. It's immaculate!
Here, you'll find an array of high-end boutiques, inviting cafes, and exquisite restaurants. As you stroll through, the soft jingle of bells may serenade you.
The buildings in Montpellier are adorned with intricate wrought iron trellises and charming balconies that add to the district's allure.
Make sure not to overlook the striking green-domed Rotunda, where you'll discover the Ivy Montpellier Brasserie.
The restaurant pays homage to the town's racing heritage, featuring a prominent horse mural adorning one of its walls. It's a delightful blend of culinary excellence and local charm.
Montpellier is also where you'll find the Royal Crescent in Cheltenham, similar to the famous Royal Crescent in Bath.
Cheltenham's Royal Crescent is a row of terraced townhouses that forms a crescent-shaped architectural ensemble. It's a fine example of Georgian and Regency-era architecture, characterized by its elegant design and symmetry.
Montpellier also has a park, Montpellier Gardens. There are paths, a bandstand, and play area for kids.
While in Montpellier, you should lunch in one of the district's charming eateries. For a quick lunch, check out The Find or L'Artisan.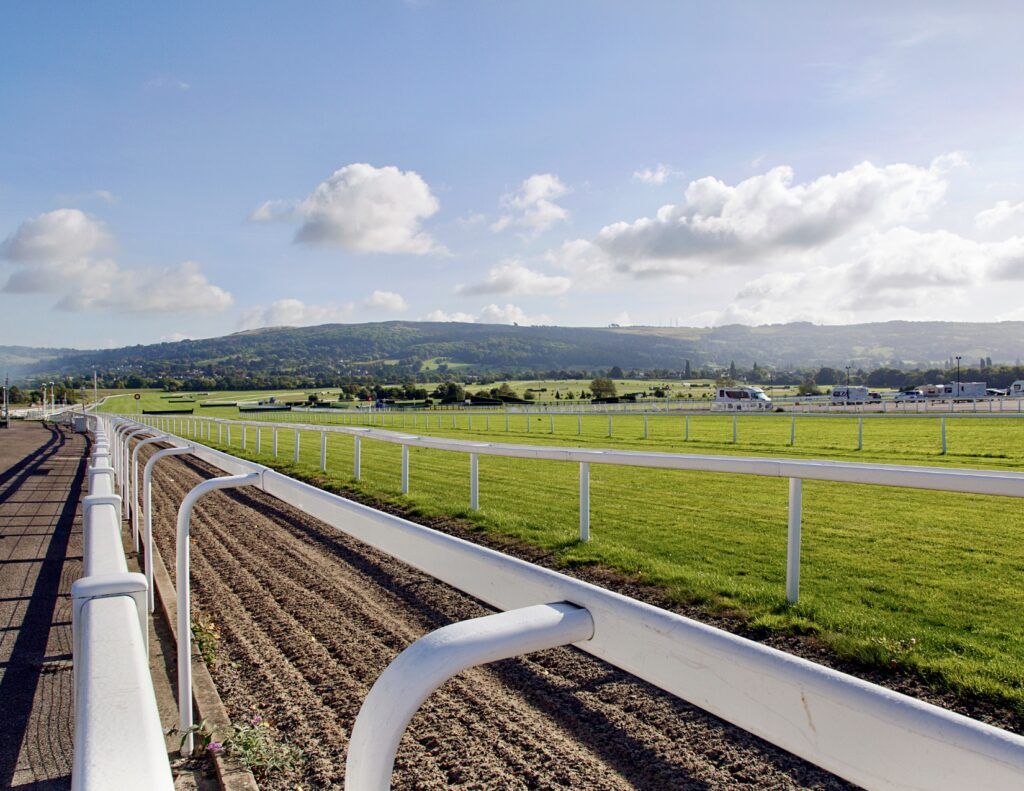 Cheltenham Racecourse
No one day in Cheltenham would be complete without experiencing the thrill of horse racing.
Racing season typically runs from October to April. The highlight of the racing calendar being the 4 day Cheltenham Festival, which takes place in March over St. Patrick's Day. So you may want to time your visit to coincide with that.
The Cheltenham Festival is one of the most illustrious events in jump racing. It includes several days of high-profile races, including the Cheltenham Gold Cup.
Horse racing is big business in Britain. But the Cheltenham Gold Cup may be the most prestigious horse race in the world, even over Ascot.
The Wilson
If you're an art lover, leave time to check out The Wilson. It's a splendidly updated art gallery on Clarence Street and the premier gallery in Gloucestershire.
The museum houses an international collection of exceptional quality, including fine art, archaeological artifacts and an outstanding Arts and Crafts collection.
Admission is free with a suggested donation of £3.
Just down the road from the museum, you can also visit the Gustav Holst Birthplace Museum. It's dedicated to the life and work of Gustav Holst, the best known for his orchestral suite The Planets.
The museum is recreated to reflect his era. You can see the actual piano Holst composed on and get a snapshot of the Victorian lifestyle of the times.
You can also stop by Cheltenham's minster on Clarence Street, St. Mary's Church. It's the city's only remaining medieval building.
It was built in a Gothic style in the 11th century. You'll see pointed arches, ribbed vaults, a large rose window, and elaborate decorative detailing.
The churchyard, known as Minster Gardens, has been fully restored. And there's a circular seating area to rest your feet.
Dinner
Head back to Montpellier for cocktail hour and dinner. Here are a few restaurants that I recommend:
Le Champignon Sauvage: a Michelin-starred restaurant known for its contemporary French cuisine
The Daffodil: modern British cuisine in an elegant Art Deco setting
Prithvi: Indian food with a modern twist
Giggling Squid: Thai food under a wisteria pergola
If you are interested, you should check for any evening performances or events at Cheltenham Town Hall and the Rococo-style Everyman Theatre — live music, theater, or comedy.
Alternatively, you could hit some of the town's historic pubs. Cheltenham has quite a few quaint boozers where you can sample the local ale, including The Royal Oak, the Beehive, Sandford Park Alehouse, and the Feathered Fish.
>>> Click here for a distillery tour and tasting
Tips For Spending One Day in Cheltenham
1. How To Get There
Cheltenham is about 100 miles from London. It would be tough to do as a London day trip unless you started very early. The drive is about 2 hours each way.
The most common way to get to Cheltenham is by train. The train takes approximately 2 to 2.5 hours, depending on the specific train service and route you choose. Trains depart from London Paddington Station and arrive at Cheltenham Spa Station.
From the train station, you can hop in a taxi or take a 20-25 minute walk into town.
2. How To Get Around
Cheltenham is best explored on foot. It's a compact town with a pedestrian-friendly town center. Many of the town's attractions, shops, restaurants, and parks are within walking distance of each other.
Exploring on foot allows you to fully enjoy the town's charm and architecture. But there are also buses and taxi.
3. Where To Stay
There are quite a few nice hotels in Cheltenham, with something for every taste.
Ellenborough Park: This is a 5 star luxury hotel set in a historic 15th century manor house. It offers elegant rooms, a spa, fine dining, and beautiful grounds. It's located on the outskirts of Cheltenham, offering a tranquil escape.
No. 38 The Park: This is a boutique luxury hotel with stylishly designed rooms. It provides a chic and intimate atmosphere, with easy access to the town center, Montpellier district, and the racecourse.
No. 131: This is the sister hotel of No. 38 and is located on the Promenade. It mixes Georgian architecture with more modern design. The hotel has a bi-level restaurant and bar that are always packed.
The Queens Hotel: This is a grand and historic hotel located in the heart of Cheltenham at one end of Montpellier. It offers luxurious rooms, a restaurant, and a bar.
Malmaison Cheltenham: Part of the Malmaison chain, this stylish boutique hotel features contemporary design, comfortable rooms, and an excellent Brasserie serving modern British cuisine.
4. When To Visit
Cheltenham is a festival city.
If you enjoy crowds and want a rollicking time, visit during the Cheltenham Festival around St. Patrick's Day. It's all about passion, gambling, and quaffing a few pints.
Spring is a lovely time to visit as the town comes alive with blooming flowers. The Cheltenham Jazz Festival, which usually takes place in May, is a major event for music enthusiasts.
The Cheltenham Literature Festival is one of the most prestigious literary festivals in the UK. It takes place over 10 days in the autumn each year and draws some big names.
For the best weather, visit in spring or fall.
5. More Than 1 Day?
If you have more than one day in Cheltenham or don't care for horse racing, you might visit the nearby village of Painswick.
It's a ridge top hamlet with a celebrated churchyard containing 100 yew trees and ornate 18th century tombs. The village is so quaint it may inspire you to retire to the country.
I hope you've enjoyed my guide to spending one day in Cheltenham. you may enjoy these other England travel guides and resources:
If you want to spend 1 day in Cheltenham, pin it for later.