Here's my guide to top attractions and best things to do in the Alfama neighborhood of Lisbon. The Alfama is an atmospheric district built by the Moors in the 11th century.
Steeped in history, immortalized in Fado, and rising over Lisbon, Alfama is one of Lisbon's most authentic districts. It's really Lisbon's premiere neighborhood — a quaint and distinctive city outside a city.
With steep stairways tumbling down to Baixa below and Castelo São Jorge standing guard above, Alfama is incredibly beautiful and photogenic.
It was one of my favorite places to wander in Lisbon. I gazed at the hanging laundry billowing across the tangled serpentine alleys and enchanting little squares. And wondered what those cobblestones had seen over the centuries.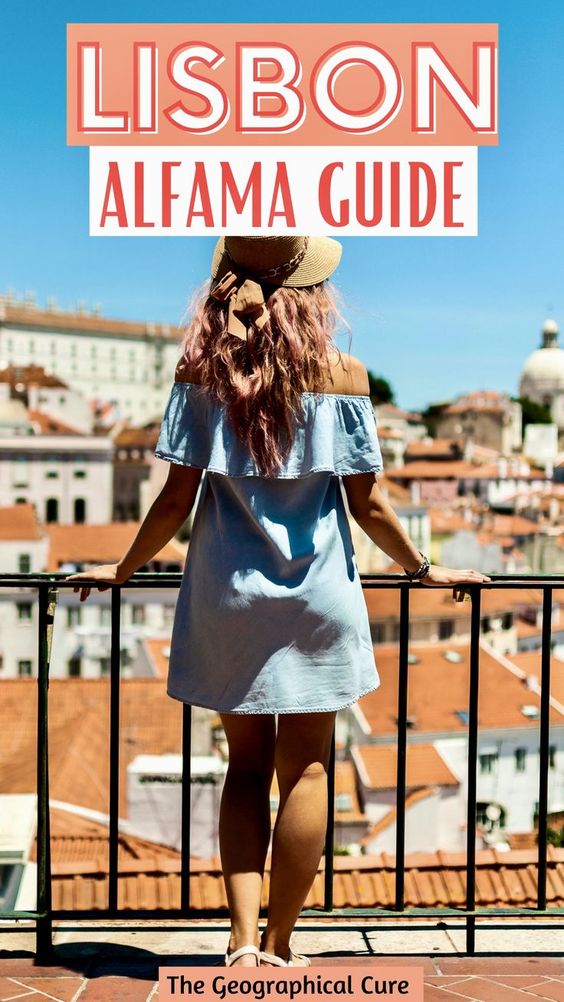 A Short History of Alfama
Before we get to the top attractions in Alfama, let me give you a brief history of the neighborhood.
Alfama is the oldest and liveliest district of Lisbon. The name Alfama comes from the Arabic word al-hamma, which refers to baths and fountains.
The district's white washed buildings are a callback to Moorish times. Then, Alfama was a neighborhood for the wealthy.
Alfama was initially inhabited by Romans and then by the Visigoths. After that, it became a Moorish foothold. When the Moors were vanquished, the rich moved out and Alfama became inhabited by fishermen and the poor.
By the 19th century, it was a gloomy depressing area. After the reign of dictator António de Oliveira Salazar, Alfama was largely abandoned. Crime started to raise. The city of Lisbon considered demolishing the district.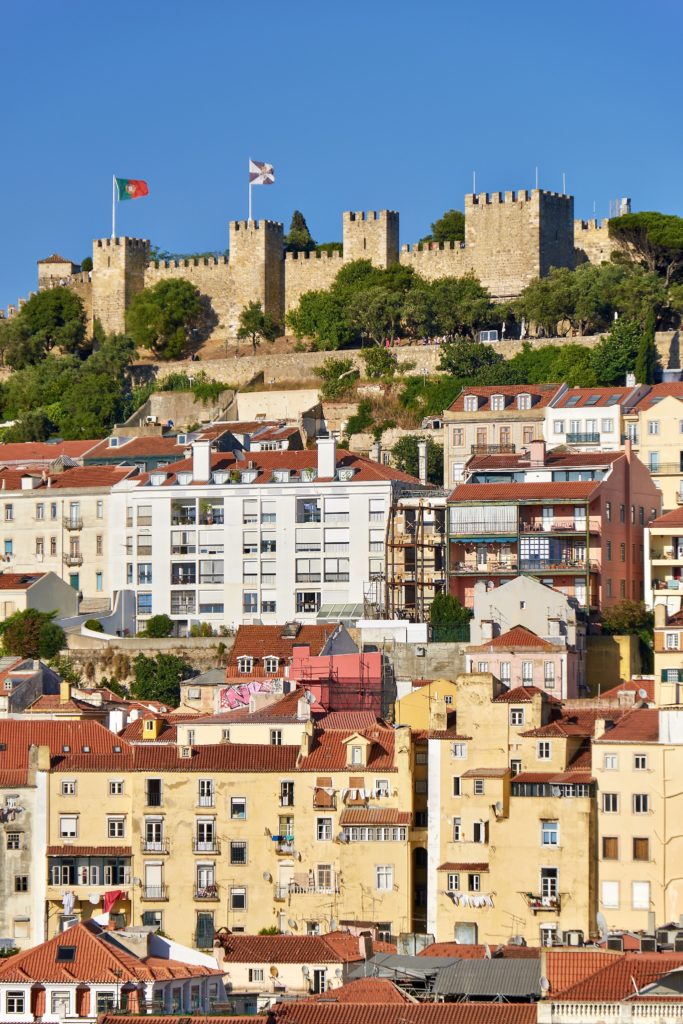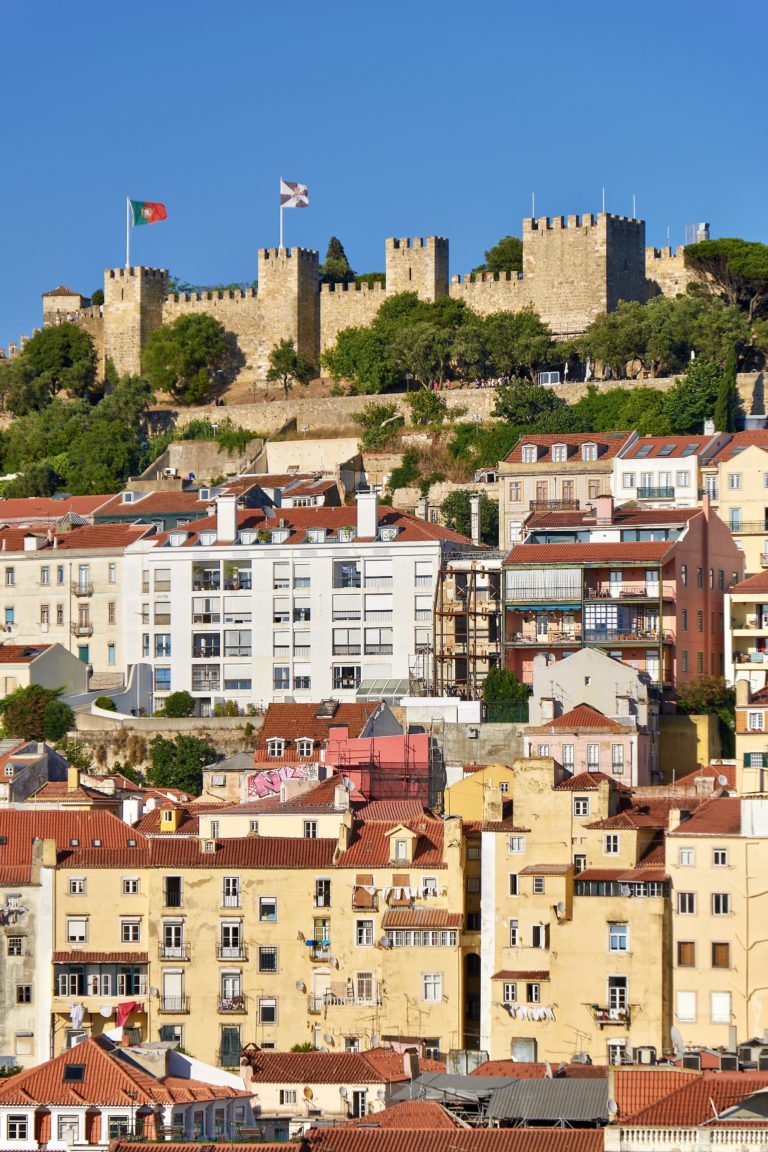 But it persisted and has been partially renovated. Now, Alfama is Lisbon's most authentic relic from the period preceding the 1755 Great Earthquake.
That natural disaster destroyed most of Lisbon except for Alfama, Bairro Alto, and the suburb of Belém.
Guided Tours Of The Alfama
The Alfama is a maze of tangled streets. If you want to see all the top attractions in the Alfama, you may want to book a small group guided tour.
You can also visit on a tuk tuk tour, Segway tour, or electric bike tour. You can even take a street art tour.
Top Attractions In Lisbon's Alfama Neighborhood
Here are my picks for the top attractions and best things to do and see in the Alamfa.
If you don't like hills, you could easily taxi or tux tuk up to the high point, Castelo Sao Jorge, to get started. And then just begin walking downhill.
I'd plan to spend at least half a day poking in and out of these Alfama attractions.
1. Igreja da Madalena
From the Baixa area, start on the far western edge of Alfama with the Igreja da Madalena.
Lisbon is of course overflowing with lovely churches. And the Igreja da Madalena is one of them. The facade is rather plain, but the interior is more interesting and quite ornate.
Word of warning though. You can't take photos inside. But it's free of charge to enter, so you might as well pop in on your way to the Sé Cathedral.
The Igreja da Madalena has a storied history. It's been destroyed and rebuilt three times. It was first constructed in 1150. The church burned down in 1363 and was rebuilt.
Then, it was partially destroyed in a cyclone before being obliterated in the Great Earthquake of 1755 — with most of Lisbon. Queen Maria I replaced it in 1783. It's now a national monument.
Address: Largo Madalena 1, 1100-404 Lisboa
Hours: 9:00 am to 1:30 pm & 2:30 pm to 6:30 pm, Weekend 9:00 am to 1:30 pm
Entry fee: free
2. Lisbon's Sé Cathedral
Two minutes away from Madalena is Lisbon's Sé Cathedral. It's a must see landmarks and one of the top attractions in Alfama.
It's often called simply the Sé. It's a Roman Catholic church with a fortress like exterior. Like St. George's Castle, it's been rebuilt.
The church and its imposing facade fit in nicely with the vintage look of Lisbon. So stop to admire it on your walkabout.
The Sé dates from the 12th century. But it was largely destroyed during the 1755 earthquake. It took on its current form in the 20th century.
Inside, it's nothing special, and rather homely, especially compared to your first church. Entrance is free, but there are long lines to access it. I wouldn't bother, unless you are extremely serious about church interiors. The cloister also costs € 2.50.
Address: Largo da Se, 1100-585 Lisboa
Hours: Tues through Sun 10:00 am to 5:00 pm
Entry fee: church is free, cloisters are € 2.50.
3. Palacete Chafarix d'El Rei
Palacete Chafarix d'El Rei is a beautiful place in the Alfama.
Chafarix means "fountains." On your way there, poke into the Arcos de Jesus. It's a secret passageway covered with blue tiles.
The Palacete is an imposing Neo-Moorish building from the 19th century. The facade is made out of pink and blue tiles. It's a hidden gem in Lisbon.
You can actually stay at the Palacete, as it's now a swishy romantic hotel.
Address: Tv. do Chafariz de El_rei 6, 1100-140 Lisboa
4. Igreja de Sao Miguel
About two minutes away, right in the center of Alfama, is the Igreja de Sao Miguel. The exterior of this church is deceivingly bland with its white washed facade. It has a somewhat Mannerist exterior with its two bell towers.
The church dates from the 12th century. But what you see now was built between 1673 and 1720, under the direction of the renowned architect João Nunes Tinoco.
Inside, the opulent interior is very Baroque with gilded wood and paintings aplenty. The paintings are attribute to the court painter of Kind Pedro II, Bento Coelho da Silveira.
When you're done admiring the edifice, make your way to the right of the church and up the steps. Make sure to do a "look back" at the top of the steps.
Address: Largo de Sao Miguel 6, 1100-117 Lisboa
Hours: Opens only on Wednesday and Friday (4:00 am to 6:00 pm) and Sunday (8:00 am to 10:00 pm)
Entry: free
5. Miradouro das Portas da Sol
The Miradouro das Portas da Sol in Alfama offers a very good view over the Alfama neighborhood and is one of the best things to do and see in the Alfama.
If you're willing to walk further, the view is slightly more interesting from Lisbon's highest hill, at the Miradouro da Senhora do Monte ("Our Lady of the Hill Viewpoint").
It's in the adjacent residential neighborhood of Graça, Lisbon's street art hub.
Address: Largo Portas do Sol, 1100-411 Lisboa
Address of Graça Miradouro: Largo Monte, 1170-107 Lisboa
6. Secret Lisbon Tunnel
Lisbon is of course famous for its street art. And a tiny secret tunnel, near signs for the public W.C., has a cool piece.
Inside, it's covered on both sides with the curved "History of Lisbon" painting by muralist Nuno Saraiva.
The drawings are comic book strip style. They depict the history of Lisbon from the Phoenicians through the Carnation Revolution in 1974.
Address: Near the Mioradoura das Portas da Sol, near the stairs of the Street Norberto Arauje.
7. Amalia Rodrigues Mural
Two minutes away, you'll find another fantastic piece of urban street art. It's a mosaic made of cobblestone pavers built into the sidewalk depicting the reknowned Fado singer Amalia Rodrigues.
It was created by street artist Alexandro Farto aka Vhils in 2016 using the traditional technique of the "Portuguese sidewalk."
When it rains, Amalia appears to be crying. This is intentional, as the real singer often became emotional and cried when singing.
Address: Rua de S. Tome 1100-465 Lisboa
8. Miradouro do Recolhimento
While the hordes stream pass just feet away, on their way to or from the Castelo de São Jorge, almost nobody notices a little path leading around a school.
It takes you into a park with a wonderful view over the river and the neighborhood.
To reach this spot, you head through an abandoned building covered with street art. When you get to the top, you're rewarded with stunning views. This miradouro is less crowded than many others.
Address: R. do Recolhimento, 1100-563 Lisboa
9. St. George's Castle
Despite what you may have read, Castelo de São Jorge or St. George's Castle is not an "ancient" Moorish Castle.
It's a mid 20th century reconstruction built by dictator António de Oliveira Salazar in 1938-40. But it looks old because they adhered to the original design.
The castle is a top attraction in the Alfama. I must admit it's rather atmospheric and has amazing views.
But you'll have to wait in line and pay € 8.50 to see them. If you want to visit, you should pre-book a skip the line ticket.
There are other free miradouros in Alfama, including Largo das Portas do Sol and, further afield, Miradouro da Graça and Miradouro da Senhora do Monte in the adjacent Graça neighborhood.
Aside from the gorgeous views, the best thing about the castle is its showy peacocks.
Address: Rua de Santa Cruz do Castelo, Alfama
Hours: Daily, Nov 1 to Feb 28: 9:00 am to 6:00 p.m., March 1 to Oct 31: 9:00 a.m. to 9:00 p.m.
Entry fee: € 8.50, free 9 & under, family ticket € 20
Pro tip: There are 3 free guided castle tours at 10:30am, 1:00 pm, and 4:00 pm
10. Monastery and Church of Sao Vicente da Fora
The Monastery of Sao Vicente da Fora is one of the top attractions in the Alfama. I think the monastery is one of Lisbon's best hidden gems.
The Monastery of São Vicente de Fora is a jaw dropping 17th century monastery designed by Filippo Terzi. It's dedicated to St. Vincent, who was proclaimed Lisbon's patron saint in 1173.
Its marble halls, arcaded interior corridors, and sun dappled cloisters sport stunning azulejo mosaics telling historical stories.
Upstairs, an unbroken tiled pattern winds throughout the entire monastery. 100,000 tiles were used, making it the world's largest collection of Baroque tiles.
There are scenes (historically inaccurate ones) of Afonso Henriques attacking Lisbon. Floral designs and cherubs also illustrate the fables of Jean de La Fontaine.
He was a fabulist who pointed out the consequences of sin (vanity, idleness, and extravagance) and the rewards of kindness and hard work.
You should also check out the sacristy, famous for its different kinds of marble. Built in the 18th century, it has vibrant multi-color inlaid marble walls covered in floral patterns.
The Braganza Pantheon is right under the sacristy. It's home to the tombs of the Portuguese kings from the house of Braganza, who ruled from 1640 to 1910. The tomb of Joao IV takes pride of place.
If you can't get to Belém to see Jeronimos Monastery, this is a fantastic alternative.
Address: Largo de Sao Vicente, 1100-572 Lisboa
Hours: Tues through Sun 10:00 am to 6:00 pm
Entry fee: Adult 5 €, Senior 2.50 €
11. National Pantheon
Two minutes away from Sao Vicente da Fora is a cluster of sites, starting with the grand, imposing National Pantheon.
The National Pantheon was formerly the Church of Saint Engracia. Construction started in the 16th century, but was only completed in the 20th century.
This 400 year delay spawned the Portuguese proverb "Obras de Santa Engracia," meaning a work that never ends.
It's cool, calm, and uncrowded. From the steps, you have a good view down over Lisbon. You pay 4 € to enter. The interior is quite lovely and houses the graves of various Lisbon luminaries and national heroes.
You can also head up to the roof for another miradouro type view, which makes the entry fee eminently worthwhile.
Address: Campo de Santa Clara, 1100-471 Lisboa
Hours: Tue to Sun 10:00 am to 5:00 pm
Entry fee: 4 €
Note: There is no elevator to the top, so you have to hoof it.
12. Thieve's Market
Lisbon is famous for its open air markets. One of the most popular is its flea market, called the thieve's market or Feira da Ladra in Portuguese.
The word "ladra" means female thief, but the term actually derives from the bugs or fleas found at a flea market.
You'll find everything here. Absolute junk to a possible artisan piece or antique that's a hidden treasure. You need luck and patience. The market's held every Tuesday and Saturday.
Address: Campo de Santa Clara, 1100-472 Lisboa
13. André Savairo Azulejo Mural
In 2016, on one side of the thieve's market, artist André Saraiva installed Lisbon's largest expanse of azulejos in the Motto Machado Gardens — an 11,625-square-foot mural. It was commissioned by MUDE, the local museum of design and fashion.
It's a playful, whimsical sight. "The wall is my dream city," explains Saraiva, who's also known as Mr. A. The mural captures the stories and travels of Saraiva's life, with scenes from Portugal, Paris, and New York.
The mural consists of 52,738 hand painted tiles, each one fabricated at the historic Viúva Lamego factory (discussed above). The work wraps the perimeter of the garden, inspiring selfies and serving as a graphic backdrop to one of the city's bustling flea markets.
Address: Campo de Santa Clara, 1100-472 Lisboa
14. House at Campo de Santa Clara, 124-26
In a city overflowing with beautiful azulejos facades, this is arguably Lisbon's most beautiful tiled building. It's an elegant residence in a beautiful square.
It dates from 1860, created in the romantic style of the time, with Baroque inspiration. Blue, yellow and white azulejos are used to depict and frame busts imitating marble.
The tiles were painted by the famous Luís Ferreira and manufactured at the Viúva Lamego Ceramics Factory.
Address: Campo de Santa Clara, 124-26, Alfama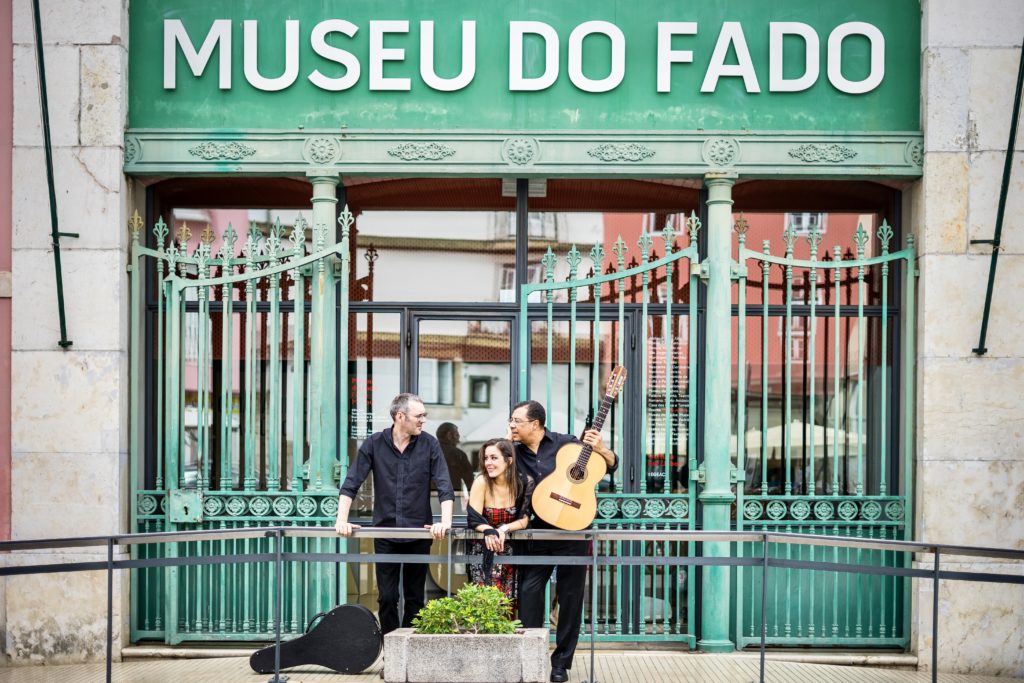 15. Fado Museum
Music lovers should stop into the Fado Museum. It pays homage to the tradition of Fado music, a genre that was placed on the UNESCO list in 2011.
Opened in 1998, the museum calls itself an interactive place to see, hear, and feel Fado. With an audio guide, you'll learn about the the instruments, posters, costumes on display.
You can also watch informative videos and listen to recorded performances. The museum would be a good place to visit before attending a Fado show.
Address: Alfama, Largo do Chafariz de Dentro 1, 1100-139 Lisboa
Hours: Open daily 10:00 am to 6:00 pm except closed Monday.
Entry fee: €5, 20% discount with the Lisboa Card.
16. Livraria Simão
In western Alfama, you'll find one of the world's tiniest and most whimsical bookshops, Livraria Simão.
Only one person can fit inside it. Despite its diminutive size, there are 4,000 books. Most of them are in Portuguese, but there are some in other languages.
If you want to browse, the owner steps out and you step in.
Address: Escadinhas de São Cristóvão 18, 1100-119 Lisbon
Hours: Open Mon through Fri from 10:30 am to 1:00 pm & 3:00 pm to 7:00 pm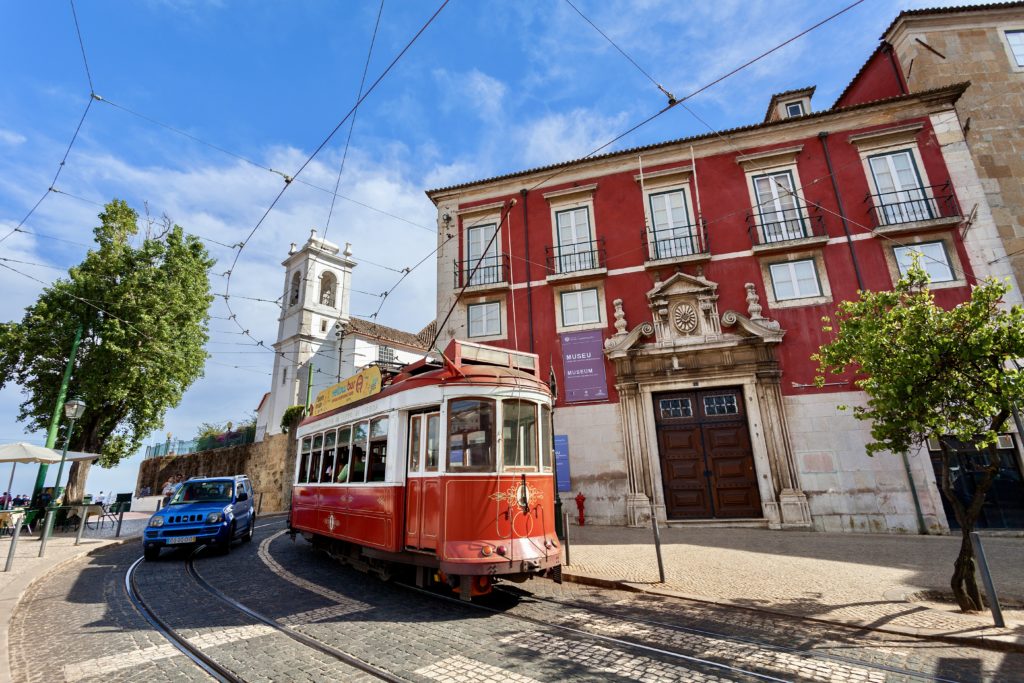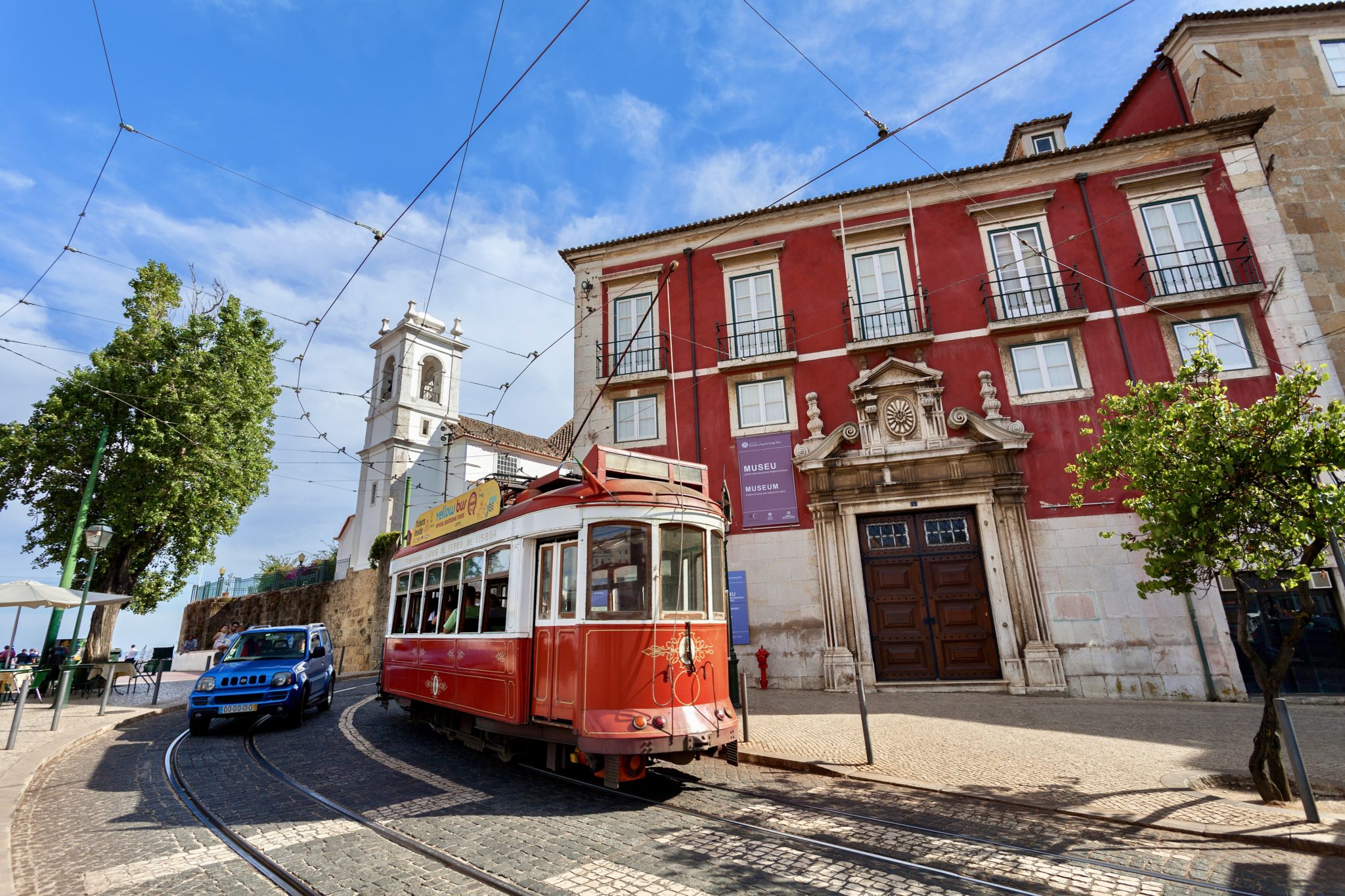 17. Museum of Decorative Arts
The petite 17th century Azurara Palace houses the luxurious Alfama Museum of Decorative Arts. This is a must visit top attraction in the Alfama.
This sweetbox is a house-museum that groans with blingy treasures. It displays the private decorative arts collection of Ricardo Ribeiro do Espírito Santo Silva. He was a nobleman and well known art collector from the 20th century.
The outside isn't too impressive. Inside, however, it's one of Lisbon's hidden gems.
It showcases carved wood furniture, tapestries, paintings, and china — all in the style of Versailles. It's a microcosm of how Portuguese nobility lived in the 17th and 18th centuries.
In 1953, Silva donated the palace and its contents to a private foundation. To this day, the foundation remains dedicated to the study and protection of decorative arts, with artisan workshops onsite.
Address: Largo das Porta do Sol 2 Lisbon
Hours: Wed-Mon 10:00 am to 5:00 pm
Entry fee: 2 euros
18. Igreja de Santo Estêvão
The Igreja de Santo Estêvão in Alfama is an 18th century Baroque church built over the 12th century original. Like so much else in Lisbon, it was damaged in the 1755 Lisbon Earthquake losing one of its towers.
In 1773, it was restored and reopened for worship. Now it's the church is a distinctive part of the skyline.
The church is Baroque in design, although definitely less glitzy than other Lisbon churches. The altar is done in stone with many fine sculptures in gilded wood by sculptor José de Almeida. There are also the typical 18th century blue and white azulejos.
The Miradouro de Santo Estêvão is at the south side of the church. It's a classic Lisbon viewpoint with splendid views over the Tagus and Alfama.
Address: Largo de Santo Estêvão 13, 1100-435 Lisboa
Hours: open 10:00 am to 6:00 pm, except closed Mondays
Entry fee: free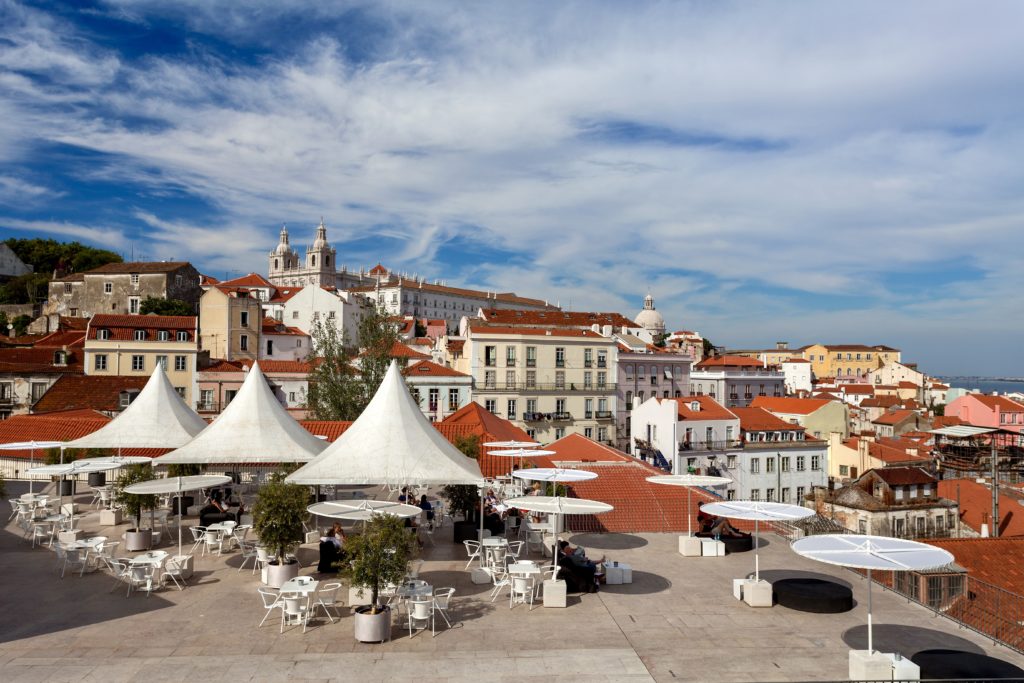 19. Miradouro de Santa Luzia
I end with one of the Alfama's top attractions and Lisbon's most iconic viewpoints, the Miradouro de Santa Luzia. The viewing terrace is right next to the Church of Santa Luzia.
It offers sweeping views over the Alfama and Tagus River. As you sit and admire the views, you'll hear trams pass by and sound their bells. You can see the domes of the surrounding churches in the Alfama.
The south wall has azulejo panels by Antonio Quaresma. They show what the Praca do Comercio looked like before the earthquake.
Address: Largo Santa Luzia, 1100-487 Lisboa
I hope you've enjoyed my guide to the to attractions in Lisbon's Alfama neighborhood. You may enjoy these other Portugal travel guides and resources:
​
If you'd like to visit the top attractions in Lisbon's Alfama neighborhood, pin it for later.