Planning a trip to Portugal and wondering where to go? If so, here's my 4 day itinerary for visiting the sun-kissed capital of Lisbon.
Lisbon is a feast for the eyes, and one of my favorite places in Europe. With its alluring old world charm, you could spend weeks in Lisbon and not see and experience all its treasures.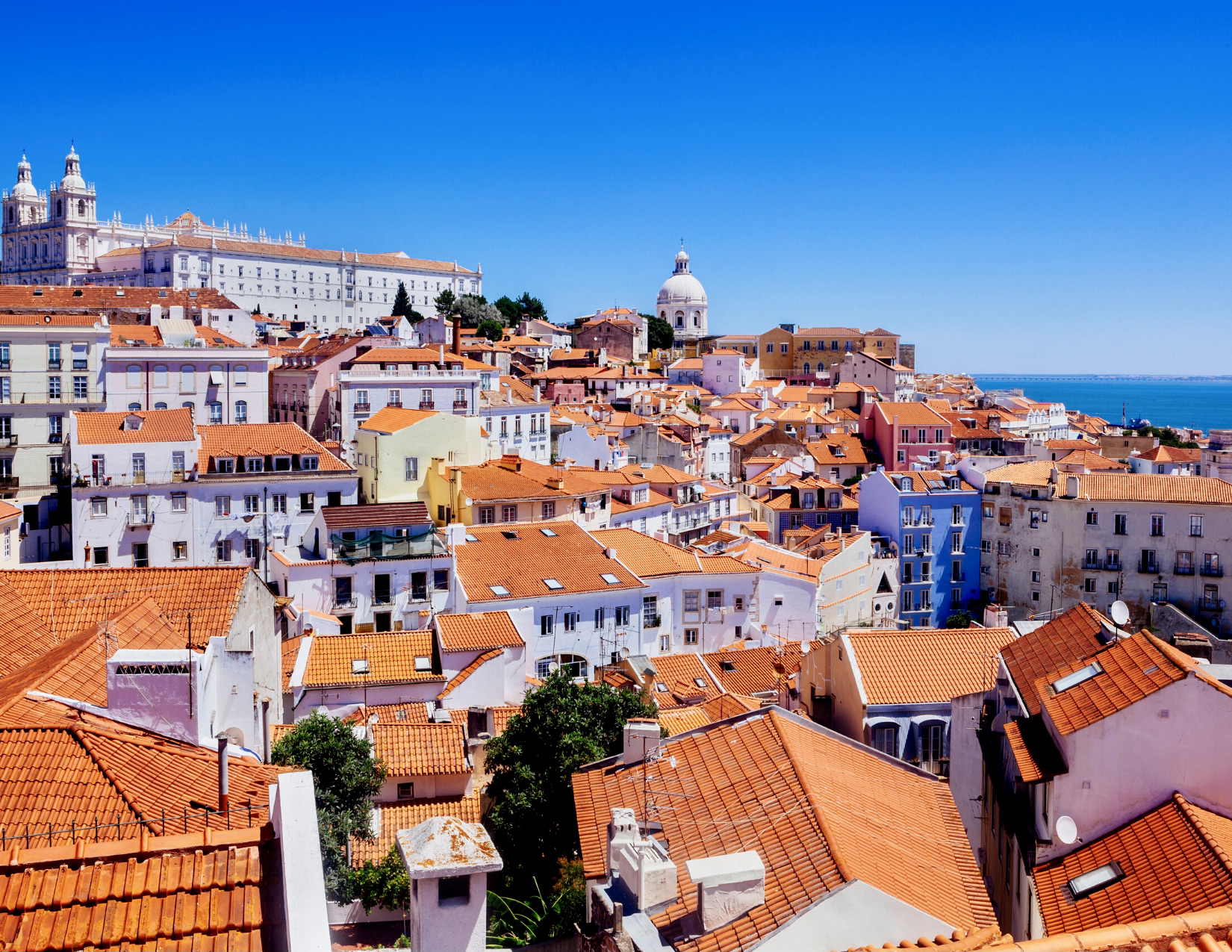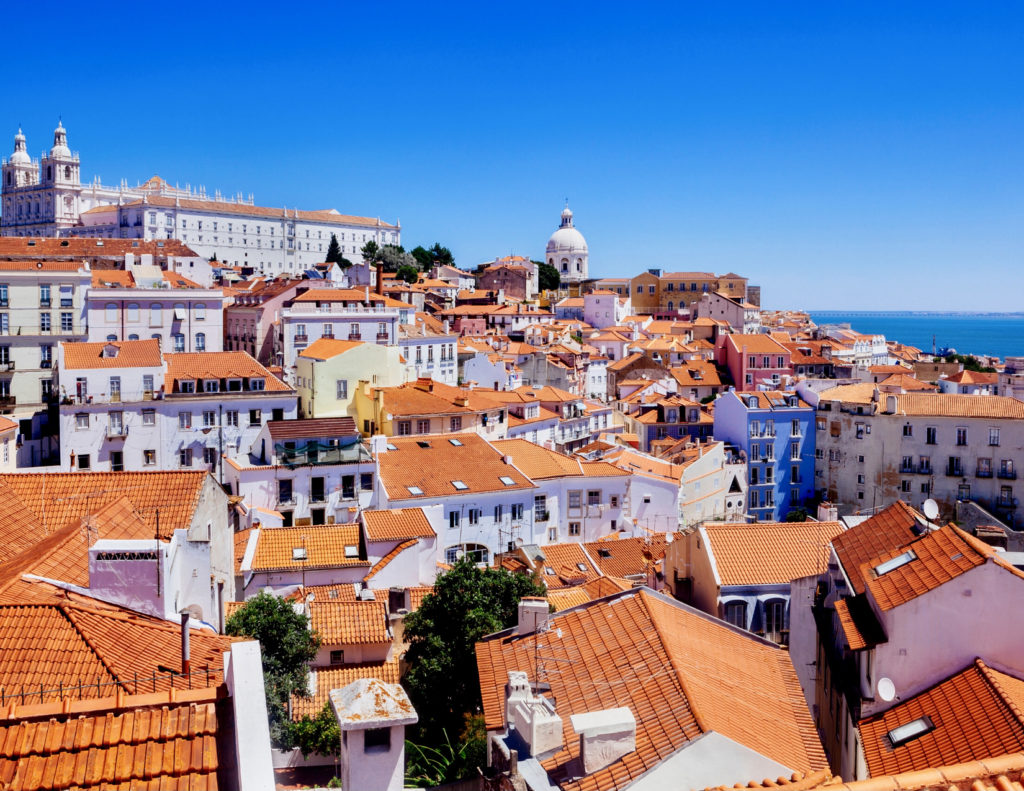 But most of us don't have scads of time on our geographical cures. To help you along, I've created a 4 day itinerary that takes you to Lisbon's best sites and historic neighborhoods.
Be prepared to swoon in stunned admiration over Lisbon's sparkling azulejo facades, miradouros, cobblestone streets, and glamorous palaces.
If you only have a long weekend in Lisbon, just cut out day 4 on the itinerary, where I have you day tripping to Sintra or Obidos.
There are no true "must see" attractions in Lisbon. Lisbon's true beauty lies in its laid back artistic ensemble, more than any specific sites.
But there are plenty of tourist traps you should skip in your short time there, like the Santa Justa Elevator or Tram 28. If you want to get off the beaten path, here's my guide to Lisbon's hidden gems.
A Short History of Lisbon
The Phoenicians settled in Lisbon 3000 years ago, calling the city Alis Ubbo, which translates as Delightful Shore. In 205 BC, the Romans arrived.
They stayed until the 5th century A.D. But, in the 8th century, the Moors seized control of Lisbon. They fortified the city and fended off pesky Christians.
In 1147, Dom Afonso Henriques reclaimed the city from the Moors. In 1255, Afonso III moved his capital from Coimbra to Lisbon. The 15th and 16th centuries were the Age of Discoveries. Portugal was at the height of its prosperity.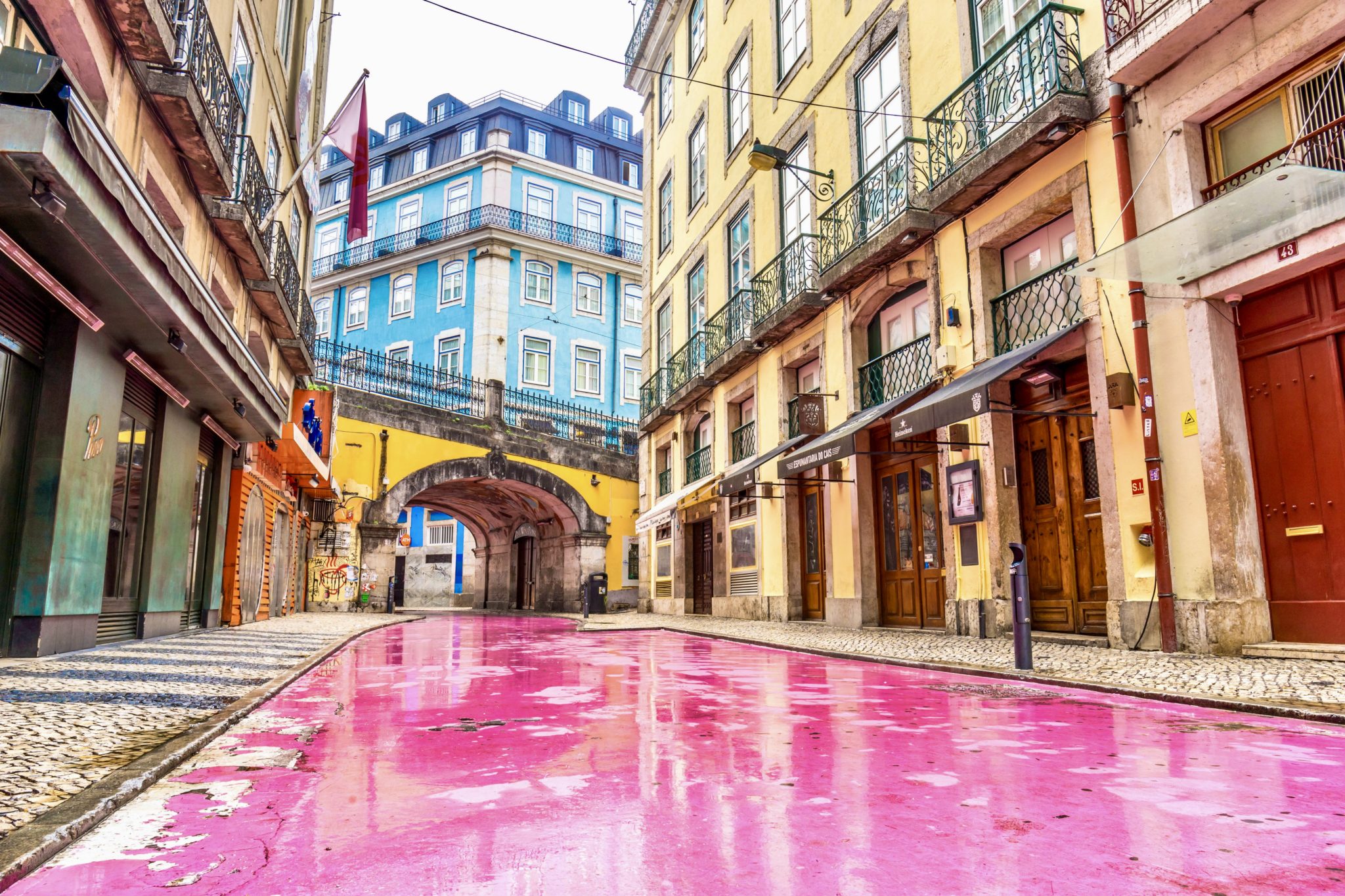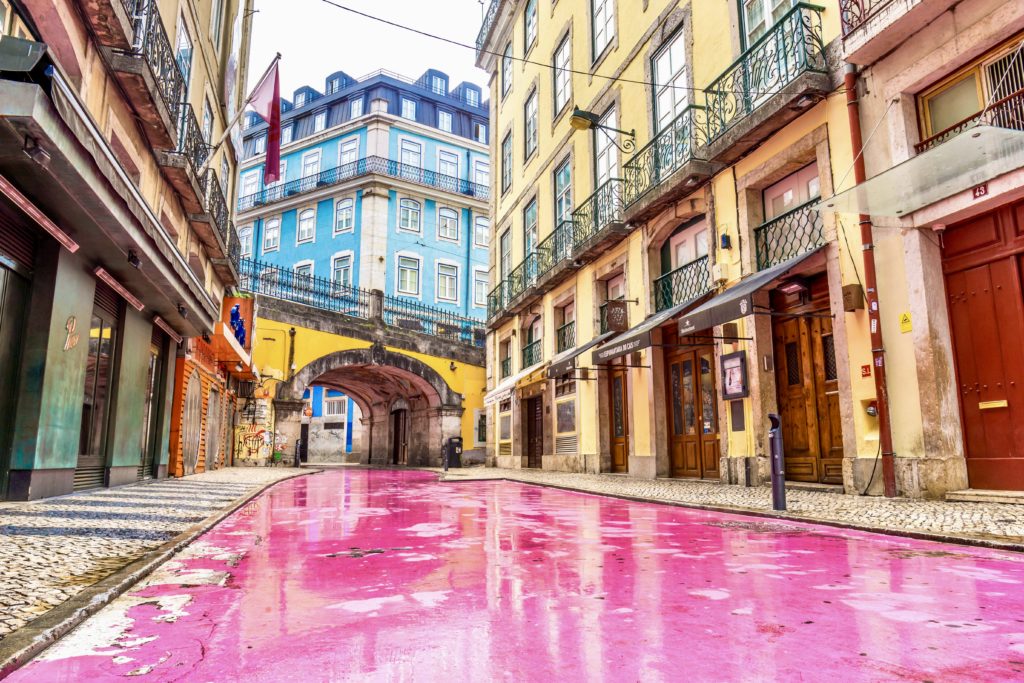 Vasco da Gama found a sea route to India and money poured in from the spice trade. King Manuel launched an extravagant building frenzy. Manueline architecture was born.
But on November 1, 1755, Lisbon was forever changed. Powerful earthquakes hit, as the residents celebrated All Saints Day.
Much of Lisbon was destroyed and a catastrophic fire raged. 100,000 of Lisbon's 270,000 inhabitants perished.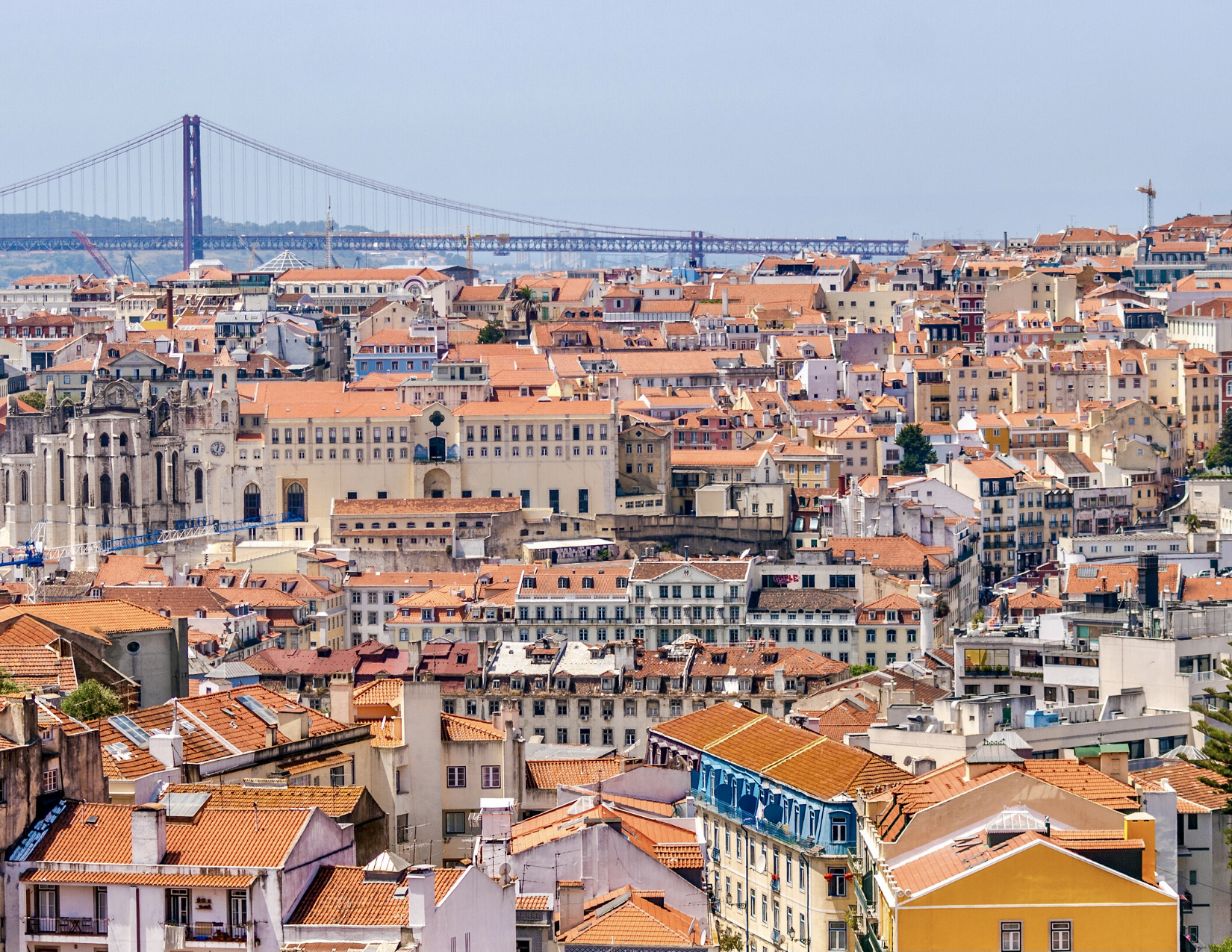 Dom Joao I's chief minister, the formidable Marques de Pombal, immediately began rebuilding Lisbon. He used a simple, earthquake-proof style — dubbed Pombaline Architecture.
You see it today in the downtown area of Baixa. It's a rather restrained neo-Classical look.
In 1908, amid social and economic turmoil, the Portuguese monarchy came to an abrupt and violent end. King Dom Carlos I was assassinated.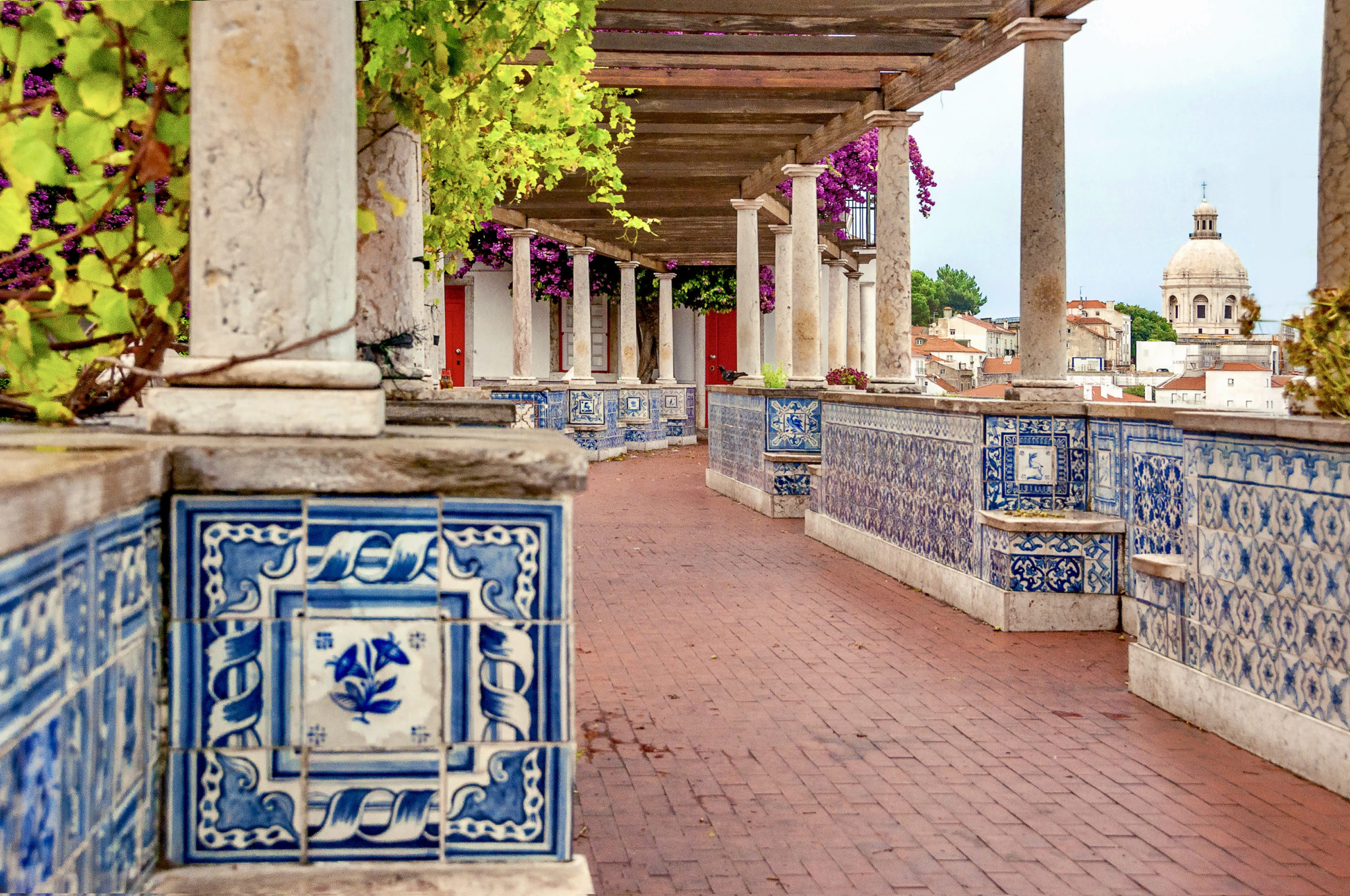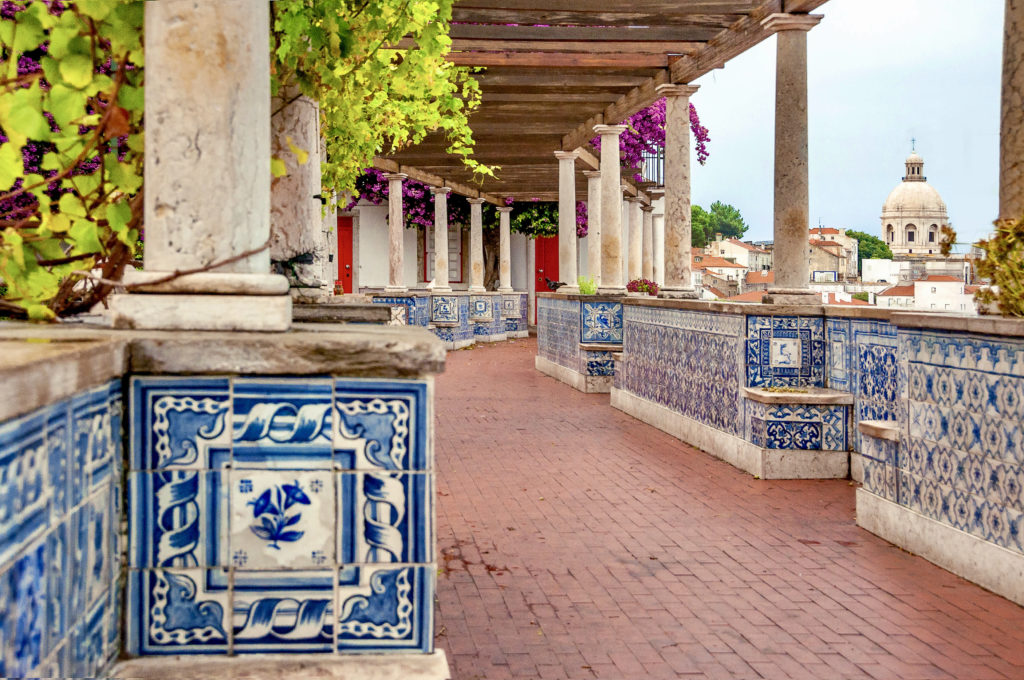 Two bloodless coups followed. In 1974, the Carnation Revolution finally ended Europe's longest authoritarian dictatorship.
In 1986, Portugal joined the EU. Lisbon used to be an off the beaten path destination. Not anymore.
It's now a popular European hotspot. Visitors flock in droves to see Lisbon's postcard perfect panoramas and its seven cinematic hills overlooking the Rio Tejo.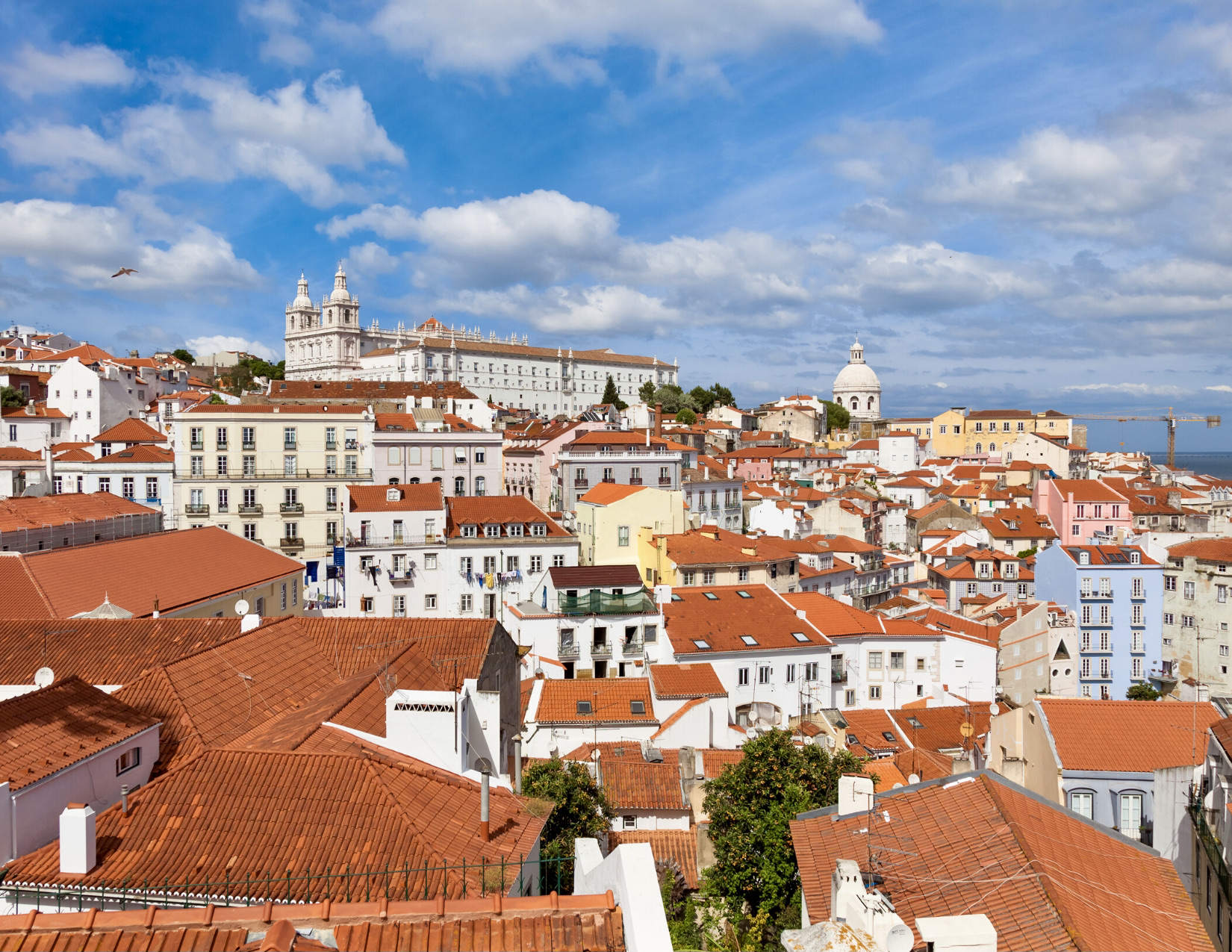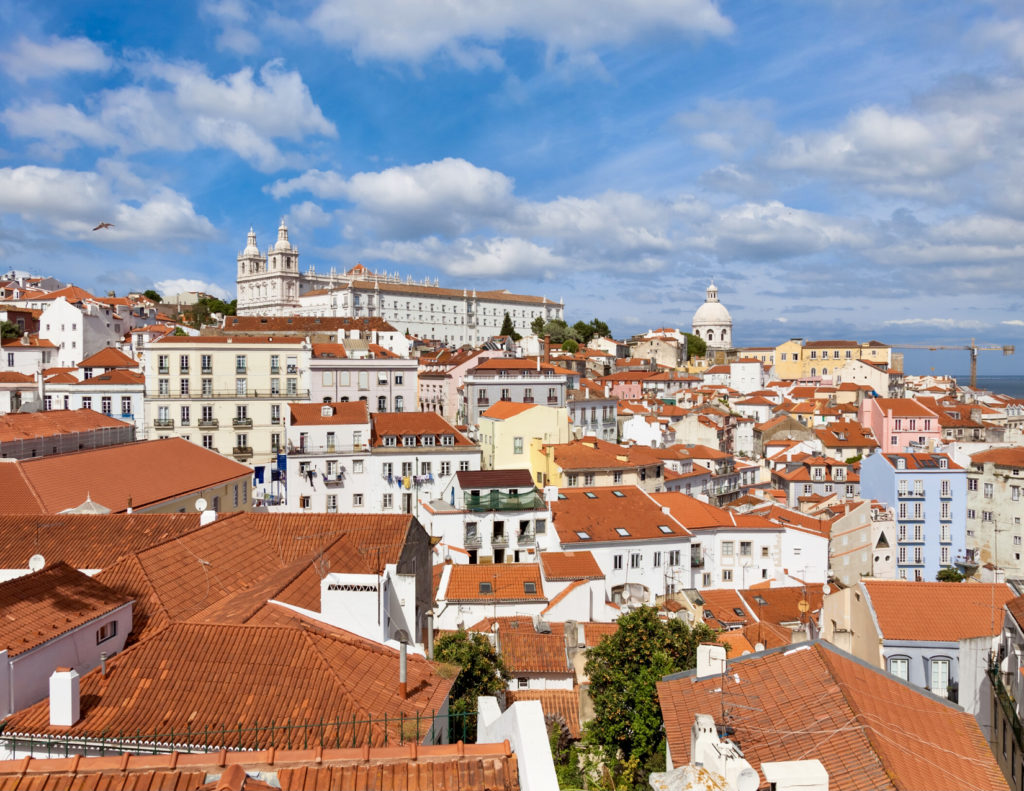 An Epic 4 Days in Lisbon Itinerary
Let's take a look at what to see and do in Lisbon in four days.
Day 1: Arrive in and Explore Lisbon's Center
You're likely going to arrive in Lisbon in the early to mid afternoon. To get oriented, you may want to book a guided walking tour.
Otherwise, begin by exploring the main city squares. Start in the Pombaline-designed Rossio Square, also known as Praça Dom Pedro IV.
It's a lively place with flower vendors and eye catching sidewalks with an optical illusion wave style. Two Baroque fountains stand at each end.
Then head down the main drag, Rua Augusta, to the Praça de Comércio, the showy 18th century square with a triumphal arch.
But don't dine or shop here; the squares are mostly filled with tourist traps. Be sure to walk through the arch so you can take in the views from the other side.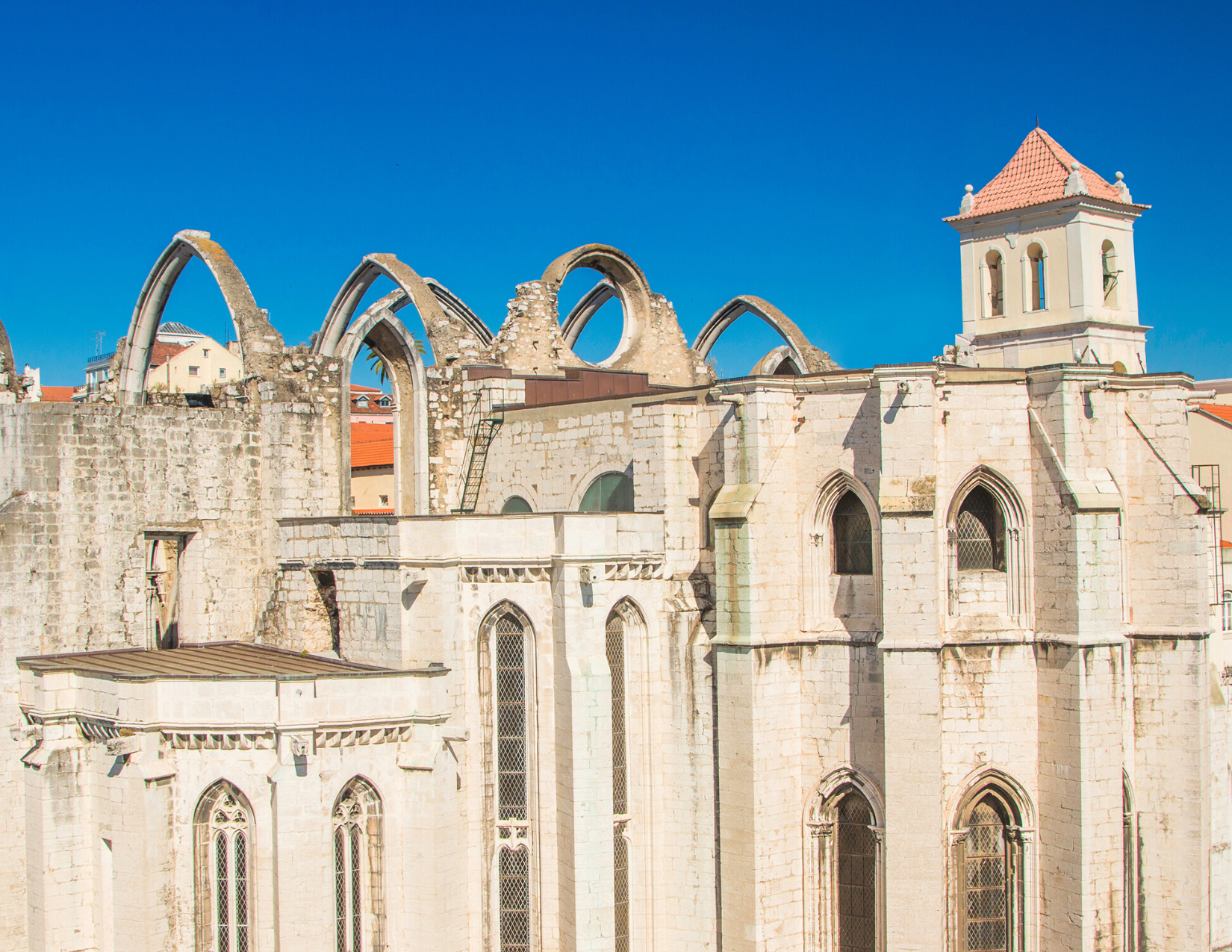 After poking around, head to Lisbon's adjacent Chiado neighborhood. It's a rather arty upscale neighborhood filled with lovely cafes, chic art galleries, bookshops, and tony boutiques.
You can even book a 3 hour guided walking tour of Chiado.
Be sure to pop into the world's oldest bookstore, Livraria Bertrand. And check out one of the most beautiful azulejo facades in Lisbon — the House of Ferreira das Tabuletas.
Take in the evocative Carmo Convent. It's probably Lisbon's best historical site Lisbon and a open air memorial to the worst day of Lisbon's history, when the 1755 earthquake demolished much of the city.
After visiting Carmo Convent, settle in at an authentic eatery in Chiado, like Taberna da Rua das Flores or Cantinho do Avillez.
If you want a Michelin experience, try Alma. This tony restaurant claims to serve up "emotions, identity, knowledge."
Day 2: Explore Lisbon's Neighborhoods
Wake up on day 2 of your 4 day sin Lisbon itinerary and and head to Lisbon's most charming must see neighborhood, the Alfama.
Steeped in history, immortalized in Fado, and rising over Lisbon, Alfama is Lisbon's most authentic district. It largely escaped the earthquake's wrath.
Alfama is city outside a city. Steep stairways tumble down to Baixa below and Castelo São Jorge (St. George's Castle) stands guard above on Lisbon's highest hill. As a result, Alfama is incredibly beautiful and photogenic.
You don't have to go inside St. George's Castle. It's a 20th century recreation of the Moorish castle that previously existed there. But if you want to, you should pre-book a skip the line ticket.
But it does boast a fantastic view. But there are other free miradouros, or viewpoints, nearby in Alfama — Largo das Portas do Sol and Miradouro da Graça. Portas do Sol even has a nice viewing deck.
You can follow my walking tour in Alfama. You can book a 3 hour guided walking tour.
Or just surrender to the lively chaos and get lost in the maze of tangled streets, decorated with street art, flowers, and the residents' laundry.
While you're in Alfama, admire the sparkling azulejos (hand painted tiles) that adorn the buildings and streets.
I like to think that Lisbon was given the nickname "Queen of the Sea" because its tile-bedecked buildings resemble the precious stones that decorate crowns.
In the afternoon, take in a museum. I'm biased. But my favorite museum in Lisbon is definitely the National Tile Museum.
Housed in a sublime 16th century convent, this unique museum is uniquely Portuguese and covers the entire history of the azulejo. If you love ceramics, you can book a guided tour of the museum with a tile making class.
My second favorite Lisbon museum is the Calouste Gulbenkian Museum. It's a gem of a museum.
Click here to pre-book a skip the line ticket. Click here to book a guided tour of the museum and its gardens.
It's stuffed with a stunning range of treasures spanning 4,000 years, including Egyptian, Greek, Roman, Islamic, Asian, and European art. The collection was assembled by an oil tycoon, who gifted his collection to Portugal on his death.
Both museums are somewhat off-center. But Ubers are very cheap in Lisbon. And both museums are worth your time.
In the evening, head to Time Out Market for dinner. It's located in a cool converted warehouse.
It's foodie heaven, with some of Lisbon's best chefs serving incredible food in the many food stalls. There are also wine bars galore.
Portuguese wine is both cheap and tasty. Time Out is crowded, but still well worth the experience.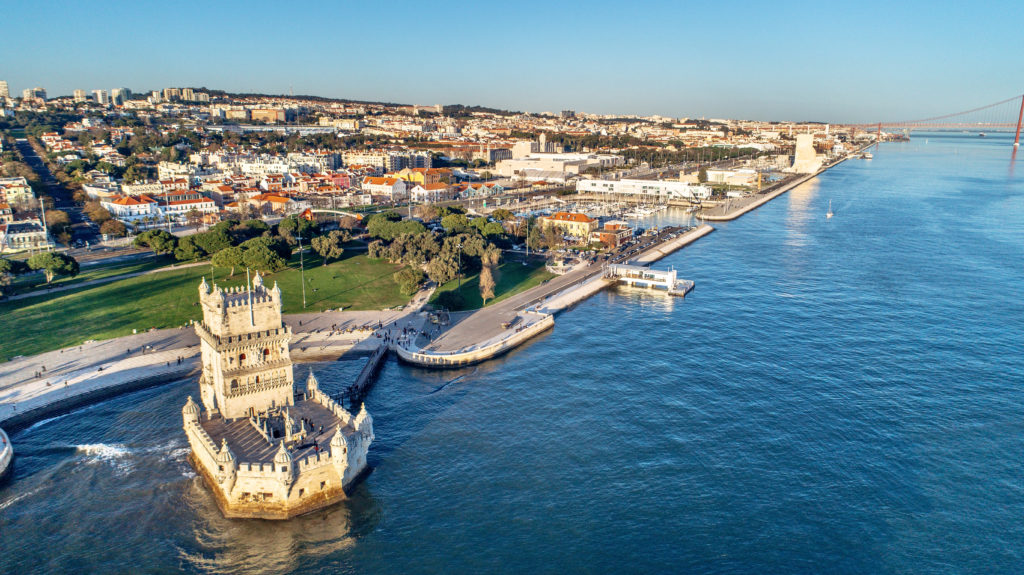 Day 3: Explore Belem, Lisbon's Must See UNESCO Neighborhood
On day 3 of your 4 days in Lisbon, head to the architecturally-rich suburb of Belém. There, you'll have a respite from the hustle and bustle of glamorous Lisbon.
Atlantic breezes flow, grandiose Manueline monuments dazzle, and boats glide along the wide Tagus River. You'll be cast back to the Age of Discoveries, when the world was Portugal's colonial oyster.
Belem is a must see part of Lisbon. The neighborhood could take up your entire day, if you're so inclined. Here's my guide to the top attractions in Belem.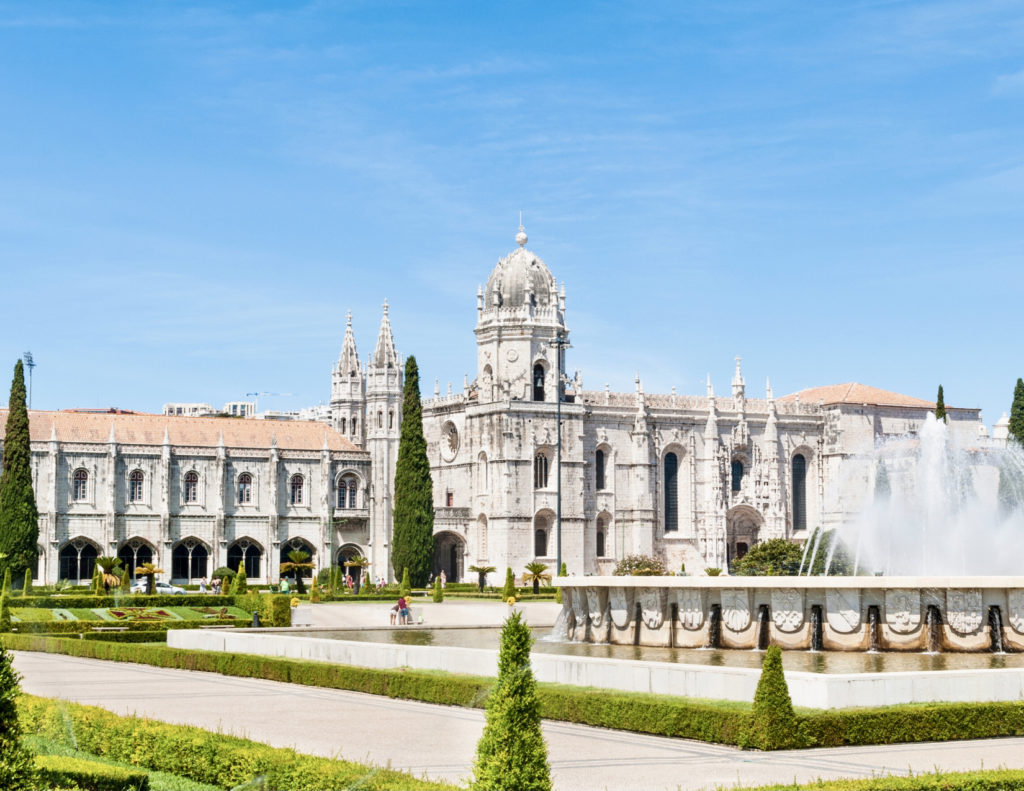 Your top priority in Belem is Jeronimos Monastery. It's a 500 year old UNESCO site and a mandatory destination in Lisbon.
You must pre-book a skip the line ticket or you'll wait in incredibly long lines. You can also book a 3 hour guided walking tour of Belem that includes a skip the line ticket to the monastery.
Jeronimos Monastery is the premiere example of Manueline architecture in Portugal and the #1 site in Lisbon's Belem district.
Manueline architecture was a short lived late Gothic artistic movement that lasted 30 years in the early 16th century. It's a distinctively Portuguese style, named after its key influencer, King Manuel I, who reigned from 1495 to 1521.
There's nothing like the moment you walk into the monastery's two level cloister, honey colored and dripping with organic detail.
You'll be wowed by the delicately scalloped arches, twisting turrets, and columns intertwined with leaves, vines, and knots. And the gargoyles and beasties on the upper facade.
You can also visit the Tower of Belem and the Monument to the Discoveries. Both are included in Belem's UNESCO designation.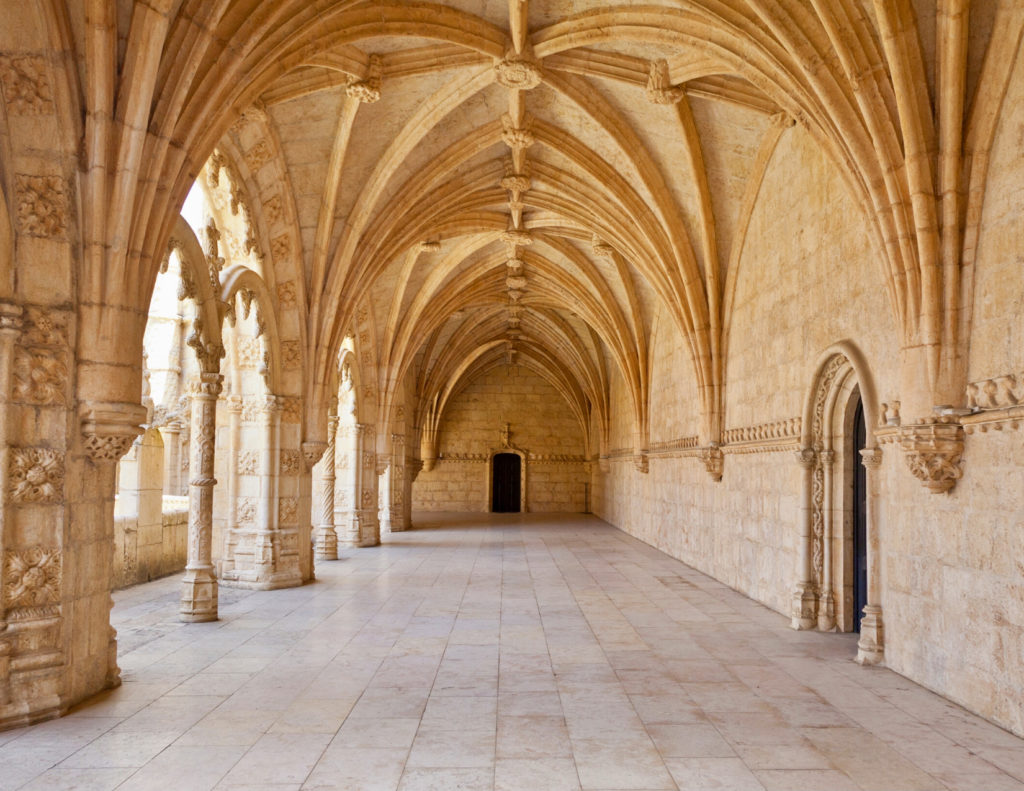 You can admire them from the outside or explore inside. Be forewarned, crowds will be intense and there will be long lines to visit the interiors.
Belem Tower is a fortress-like structure also built by Manuel I. It had a very Game of Thrones like feel to me with its filigree stonework. A very narrow spiral staircase leads you to the top for fantastic views.
If you're prepared to queue up to go inside, the best time is in the late afternoon just before closing. There's only one staircase, and it's a bit time consuming.
There's only one way traffic. A light signals when you can go up and down.
You can also book a 2 hour skip the line guided tour the includes the monastery and the tower.
Built in 1960, the Monument to the Discoveries was commissioned to mark the 500th anniversary of the death of Henry the Navigator.
It's designed in the shape of a caravel, which is a speedy highly maneuverable sailing ship. It has Portugal's coat of arms on both sides.
When you're done gorging on Manueline architecture and Belem's famous Pasteis de Belem custard tarts, travel back to Lisbon.
At night, head to Lisbon's nightlife spot, the hilly neighborhood of Bairro Alto for food and drink. Or take in a Fado show.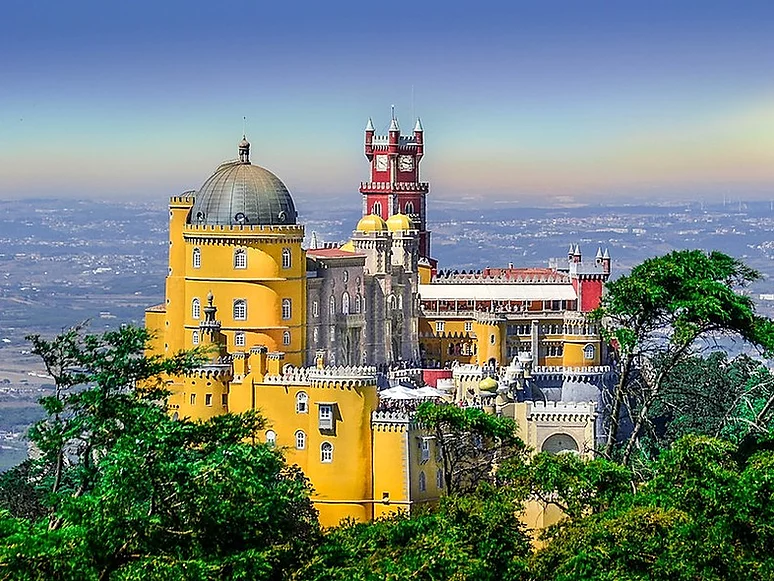 Day 4: Best Day Trips From Lisbon: Sintra or Obidos
On day 4 of your Lisbon itinerary, it's time to venture out of Lisbon on a day trip.
There are scads of possible day trips from Lisbon. Here's my guide to 15 popular day trips from Lisbon.
I've narrowed this itinerary down to two of my favorites UNESCO towns, Sintra and Obidos.
1. Sintra: a UNESCO Wonder With Castles and Palaces Galore
Sintra is the most popular day trip from Lisbon, only 30 minutes away. Sintra is a rock star gorgeous, with numerous UNESCO castles and palaces.
But it's a town that's a tricky place to visit on a day trip. The attractions are spread out and the transportation options are iffy.
To avoid the wait and lines, you should pre-book a guided skip the line tour for Pena Palace, the top attraction. Or go on a guided tour of the Sintra's highlights with a historian.
If you don't want to worry about transportation, book a guided tour full day tour from Lisbon or a guided day tour that includes the coastal Cascais and Cabo da Roca.
I have decided views about how to tackle Sintra. Here are my tips for decoding Sintra. Some of them are unconventional, but I felt enhanced the efficiency and happiness of my recent visit.
Most people adore Pena Palace, Sintra's #1 site. And the lines to go inside are epic. Pena Palace has a real Mad King Ludwig feel. I couldn't decide whether the colorful palace was a real life "fairytale" or a tacky pastiche on steroids.
I decided just to enjoy the extreme whimsy and differentness of the place, a creation of King Ferdinand II, a genius who dared to be different.
As for the interior of Pena Palace, I'd say it's entirely skippable. You shuffle along crunched in with tourists in a single file line. What you see inside is only mildly interesting.
My only caveat is that, if you want the best view, it's from the Queen's Balcony. That balcony can only be accessed from inside the palace.
My personal favorite palace in Sintra is the bewitching Quinta da Regaleira, an extravagant stony affair with follies and a mysterious Masonic initiation well. The palace and its garden ensemble are a bit of an architectural curiosity.
The buildings are adorned with a heady mix of Gothic, Egyptian, Moorish, Neo-Manueline, and Renaissance features. Naturally, there are gothic turrets, gargoyles, and Masonic symbols. Quinta is divine.
If you want the best view in Sintra, head to the Moorish Castle. It's just a short 10 minute hike from Pena Palace.
Dating from the 10th century, the craggy Moorish Castle is a dominating fortress in every sense of the word. I liked the vibe there. And it was relatively empty compared to crowd pleaser Pena Palace.
2. Obidos: a Medieval Gem in Portugal
If you'd like to skip the craziness in Sintra, try a day trip to the adorable village of Obidos instead. Obidos is a fantastic and easy day trip from Lisbon, just an hour north.
Beginning in 1282, each king of Portugal gave the town of Obidos as a wedding present to his future queen.
The dreamy UNESCO village of Obidos is perched fetchingly on a hill. It' encircled with stout medieval walls.
The town's well preserved whitewashed buildings are decorated with splashes of blue and yellow paint and vibrant bougainvilla. You'll be seduced by Obidos' beauty and shabby chic romantic aura.
The main drag is Rue Direita, a cobbled street dating from the 13th or 14th century. It's stuffed with whitewashed buildings, quirky bars and cafes, exquisite shops, and ubiquitous ginjinha stands. The iron street lamps and chipped stone facades complete the vintage look.
Here's my complete guide to Obidos, a small town that had my heart. You may want to book a guided day tour from Lisbon.
Back to Lisbon: Fine Dining on Your Final Night
When you're done day tripping, travel back to Lisbon and enjoy your last night in the enchanting city.
If you want a lively place for dinner, try the hipster LX Factory. Housed in a former industrial complex in Alcantara, it's been repurposed and boasts some of Lisbon's hottest restaurants, bars, boutiques, and street art.
Mez Cais LX is especially delicious. On Sundays from 11:00 am to 7:00 pm, there's also an open air market at LX Factory.
If you're bushed from your day of sightseeing and want a quiet dinner, I have several suggestions.
You can try Casa do Alentejo, off Rossio Square and housed in a former 17th century Moorish Palace. This beautiful restaurant is Instagram popular and makes you feel as if you've been power beamed to Morocco.
If you're bushed from your day of sightseeing and want a quiet dinner, I have several suggestions.
You can try Casa do Alentejo, off Rossio Square and housed in a former 17th century Moorish Palace. This beautiful restaurant is Instagram popular and makes you feel as if you've been power beamed to Morocco.
If you want to away from the main drag, try Adega Victor Horta in the Alfama neighborhood. It's a low lit cave with beautifully presented food and an authentic Portuguese vibe.
If you're organized and book well in advance, you'll be dazzled by the tasting menu and cuisine at 100 Maneiras on Rua do Teixeira in Bairro Alto.
You may also want to book a food tour of Lisbon or a wine and tapas tour.
Tips for Spending 4 Days in Lisbon
1. Currency and Cash
The currency of Portugal is the Euro (€). Credit cards are accepted at most places. But not everywhere.
So you'll want to have some cash to pay for the odd coffee or snack. Portuguese is the official language of Portugal. But most people speak at least a little English, especially at Lisbon's popular tourist sites.
2. When To Go To Lisbon
The best time to visit Lisbon is the shoulder season, in the spring or fall.Many tourist sites in Lisbon are closed on Mondays, so plan for that in advance.
In the summer, it's crammed jowl to jowl with tourists and swelteringly hot. I was last there in late May and temperatures were already in the 80s.
3. How To Get Around Lisbon
Lisbon has a decent transportation system. Funiculars to take you up the steep hills.
But Lisbon is fairly compact, so I walked most places. Be sure to bring comfy footwear for the hills and cobblestones. When necessary, I took an Uber. Uber is relatively cheap there.
There are other fun ways to get around Lisbon too. You can take a 3 hour Segway tour, a 2 hour electric bike tour, a guided tuk-tuk tour, or a sunset cruise on the Tagus River.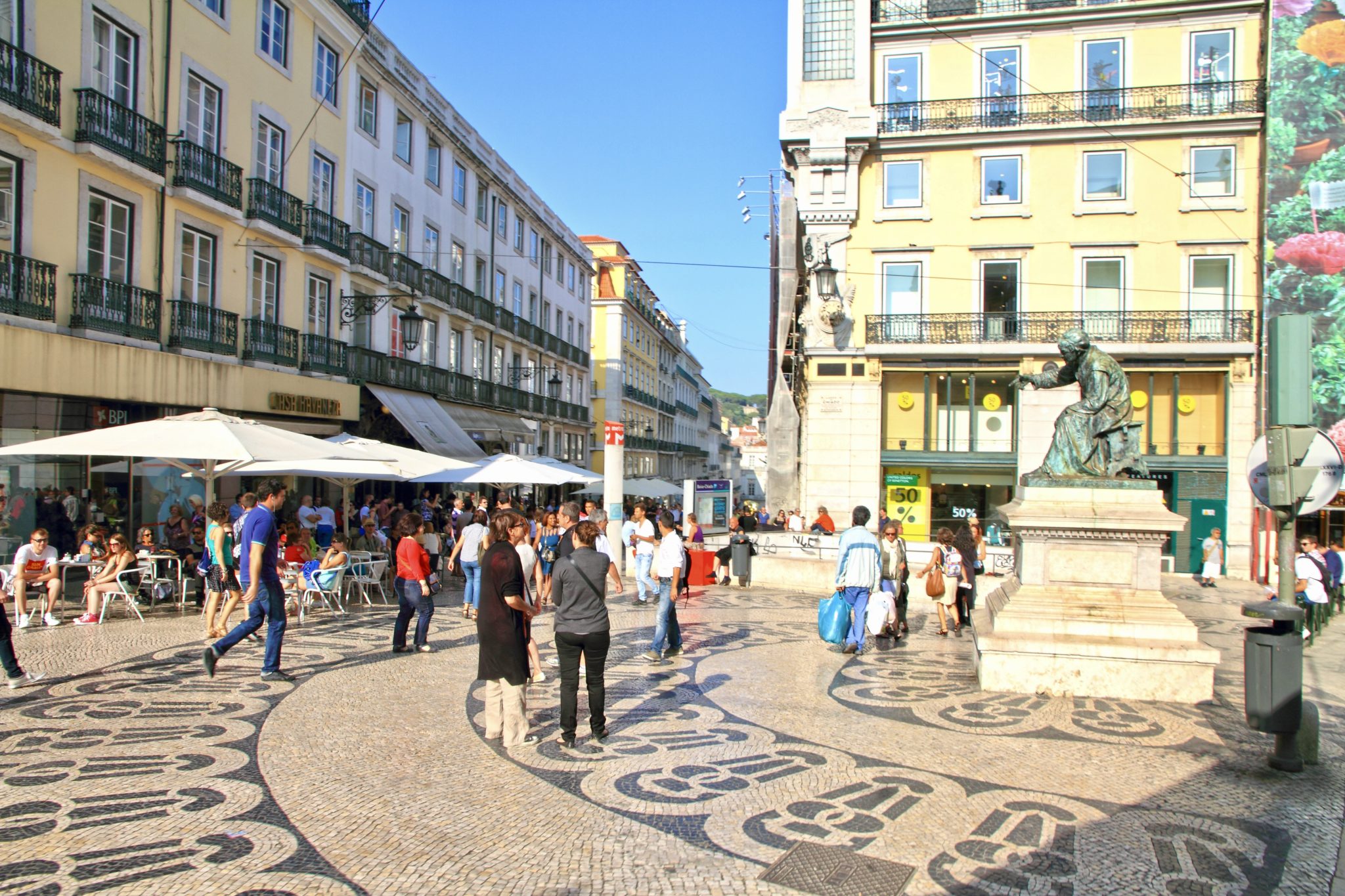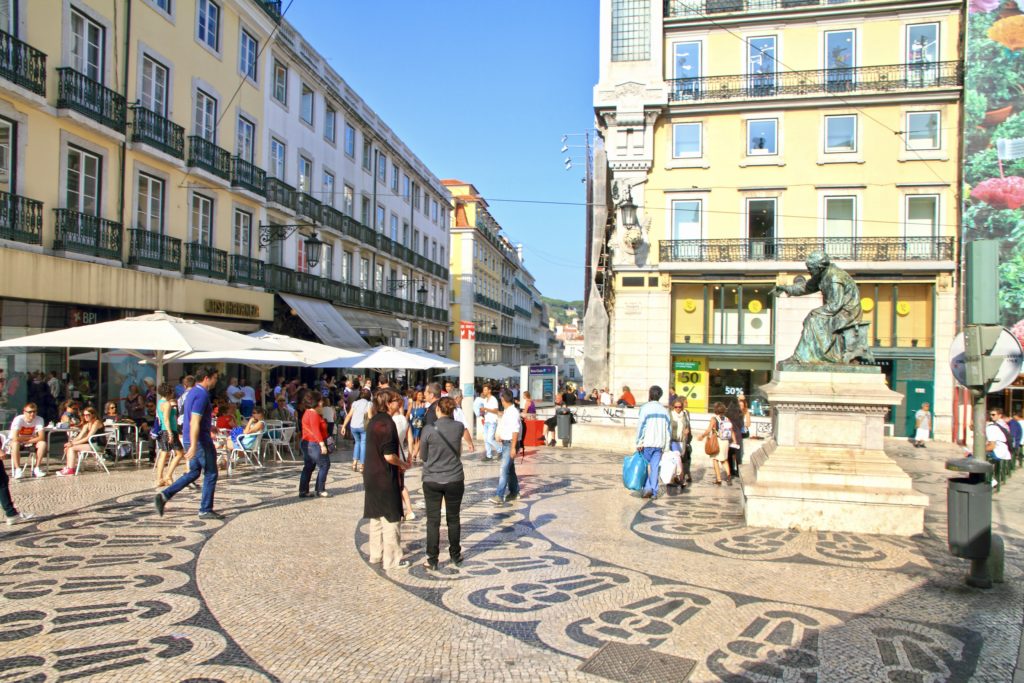 4. Lisboa Card
If you're planning on seeing the most popular sites, you should consider purchasing the Lisboa Card. You'll save money and the hassle of waiting in ticket lines. You can purchase it for 1, 2, or 3 days.
5. Where To Stay In Lisbon
I would recommend staying in or near the Chiado neighborhood. The Verride Palacio Santa Catarina is a boutique hotel in a renovated palace with incredible views.
LX Boutique is a pretty luxury hotel with a maritime themes and blue colors. The Memmo Principe Real is a historic hotel in a quiet area. It has limestone floors and original paintings.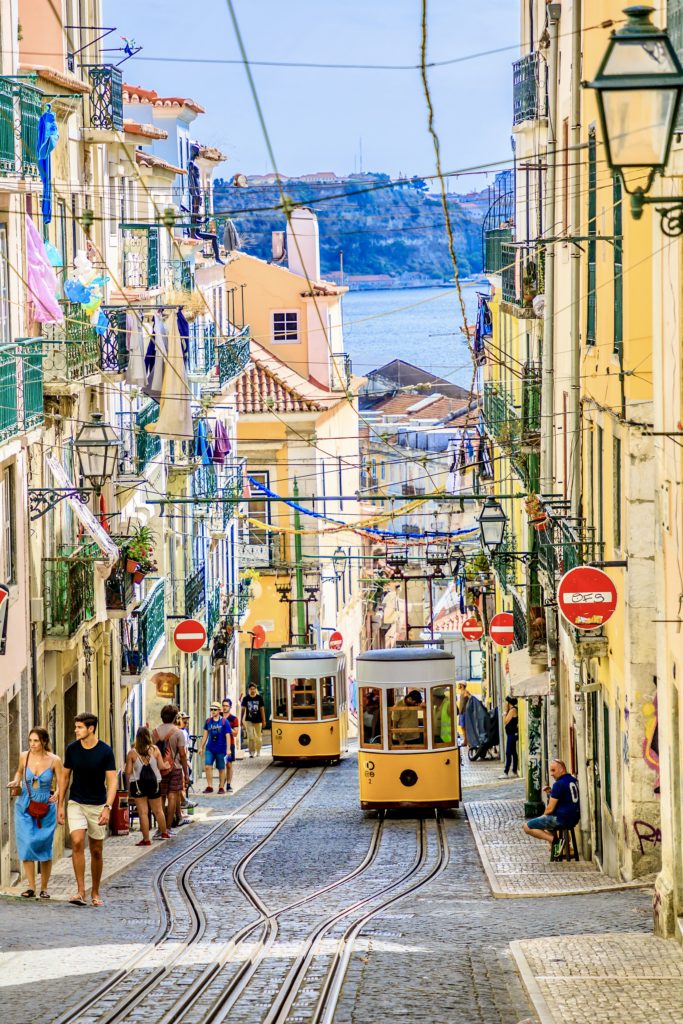 If you want to stay in the cobbled Alfama district, the Solar Do Castelo is a beautiful boutique hotel housed in a romantic 18th century mansion.
The Eurostars Museum is a beautiful historic hotel that's also a good choice. It comes complete with a spa, sauna, and Turkish bath.
I hope you've enjoyed my 4 days in Lisbon itinerary. Here are my other Lisbon travel guides:
​
If you'd liked to spend 4 days in Lisbon, pin it for later.