Lisbon is a sun-kissed capital known as the "Queen of the Sea."
With a unique blend of sophistication and faded old world charm, it's one of my favorite cities in Europe.
You could spend weeks in Lisbon and not see and experience all its treasures. But most of us don't have scads of time on our geographical cures.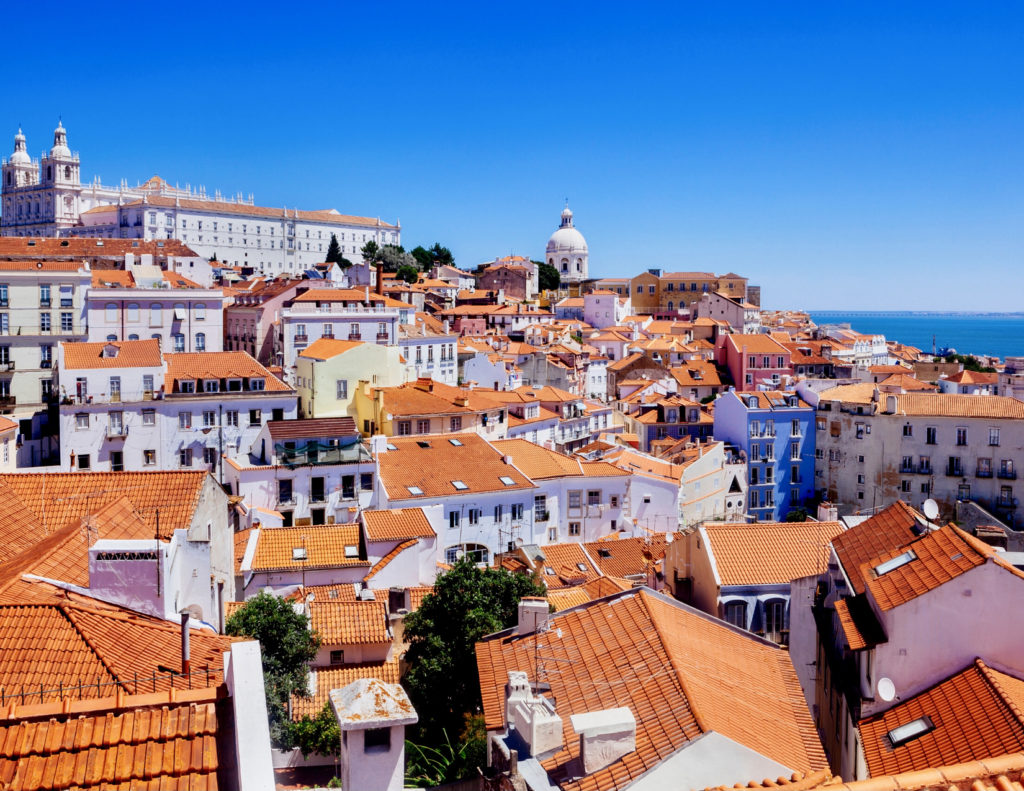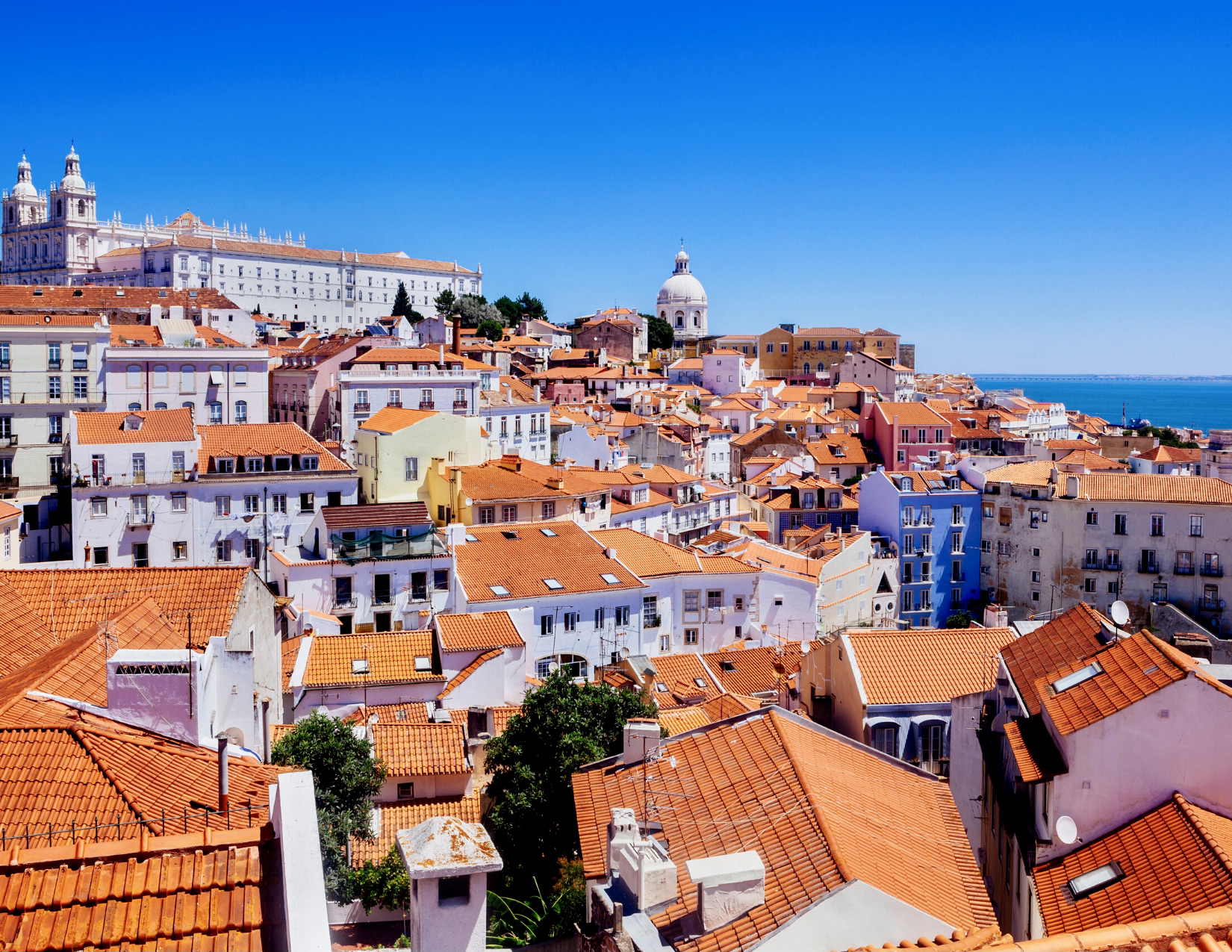 To help you along, I've created a 4 day Lisbon itinerary that takes you to city's top attractions, historic neighborhoods, and beautiful views.
The main districts of Lisbon are Baixa, Chiado, Bairro Alto, and the Alfama. To the west lies the Belem district, a must visit for its cluster of UNESCO monuments.
Be prepared to swoon in stunned admiration over Lisbon's sparkling azulejo facades, miradouros, cobblestone streets, and glamorous palaces. And listen to melancholy Fado music wafting from cafes.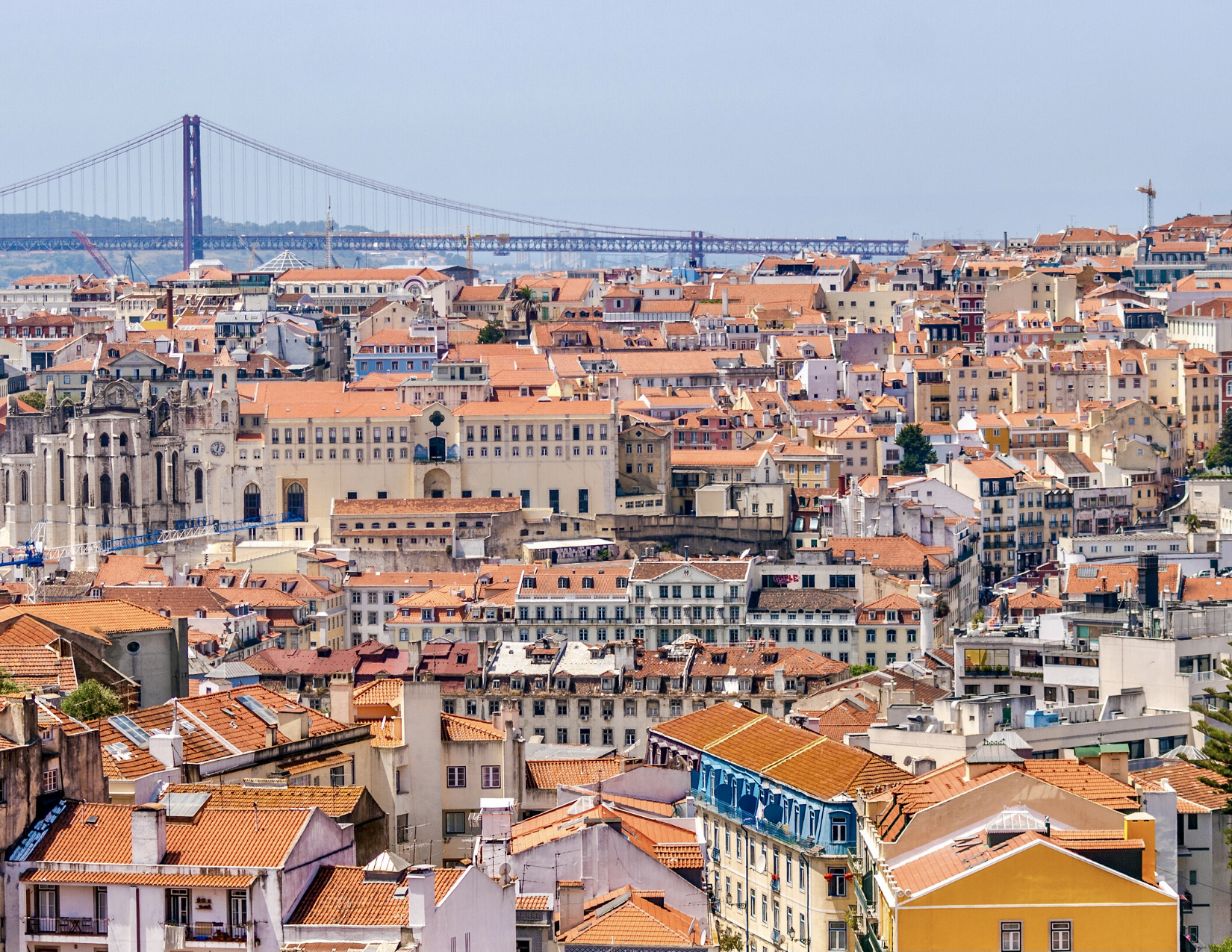 If you only have a long weekend in Lisbon, just cut out day 4 on the itinerary, where I have you day tripping to Sintra or Obidos.
There are really no true "must see" attractions in Lisbon. Lisbon's true beauty lies in its laid back artistic ensemble, more than any specific sites.
But there are plenty of tourist traps you should skip in your short time there, like the Santa Justa Elevator or Tram 28.
If you want to get off the beaten path, here's my guide to Lisbon's hidden gems.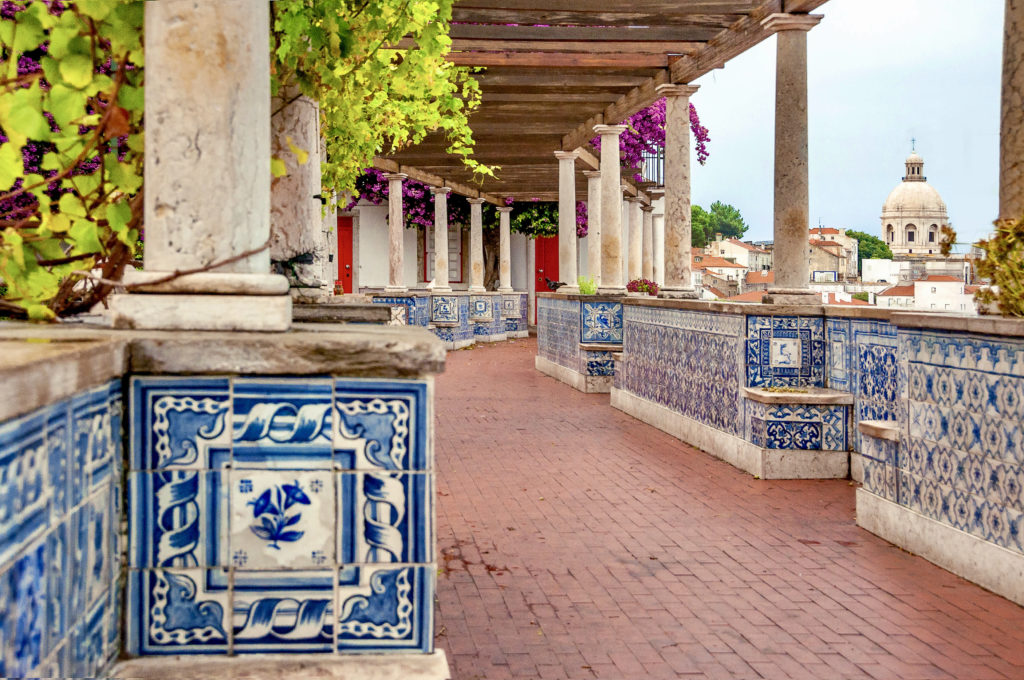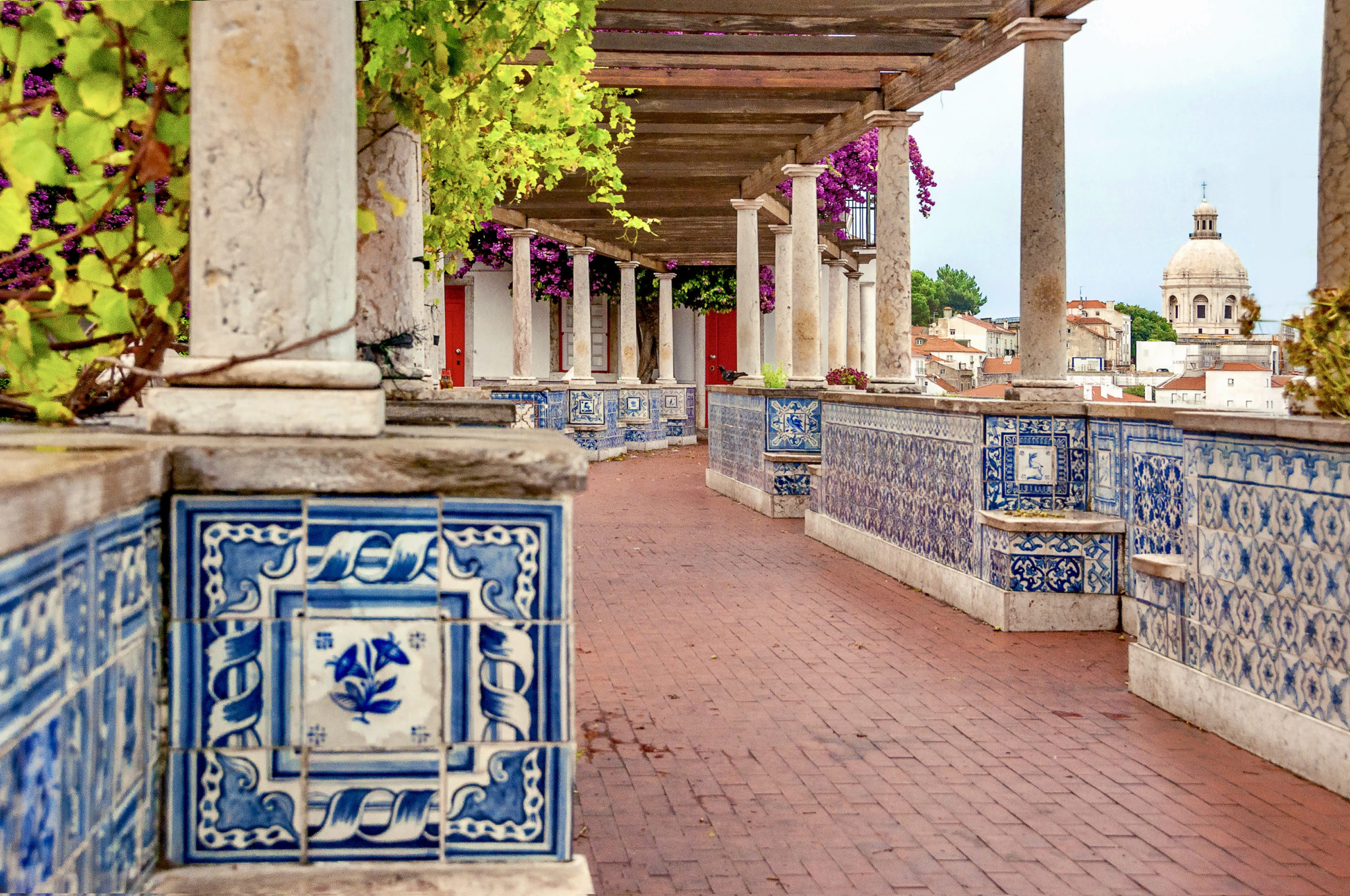 Overview Of 4 Days In Lisbon Itinerary
Here's a quick snapshot of what's you'll see on this 4 day Lisbon itinerary.
Day 1: Rossio Square, Praça de Comércio, Chiado, Carmo Convent, Bairro Alto
Day 2: St. George's Castle, Alfama, Mouraria, National Tile Museum or Calouste Gulbenkian Museum, Time Out Market
Day 3: Visit Belem, Lisbon's UNESCO neighborhood, Jeronimos Monastery, Tower of Belem, Monument to the Discoveries
Day 4: Day Trip to Sintra or Obidos
Here are some of the top tours and experiences you might consider pre-booking, especially in high season: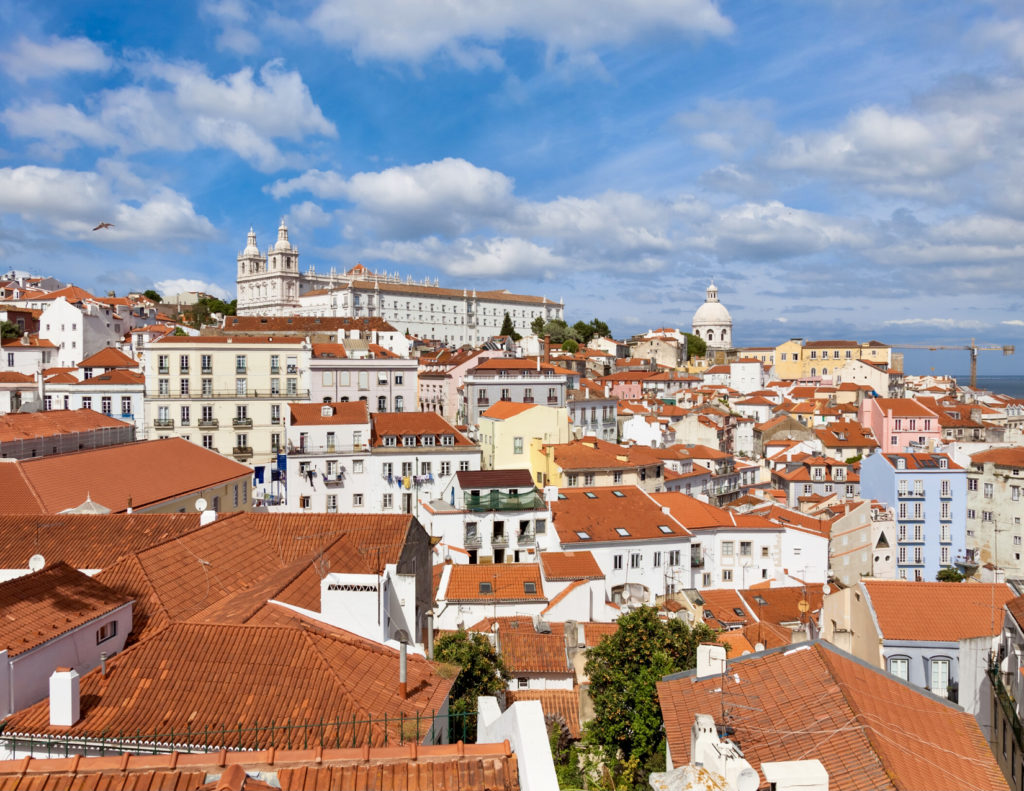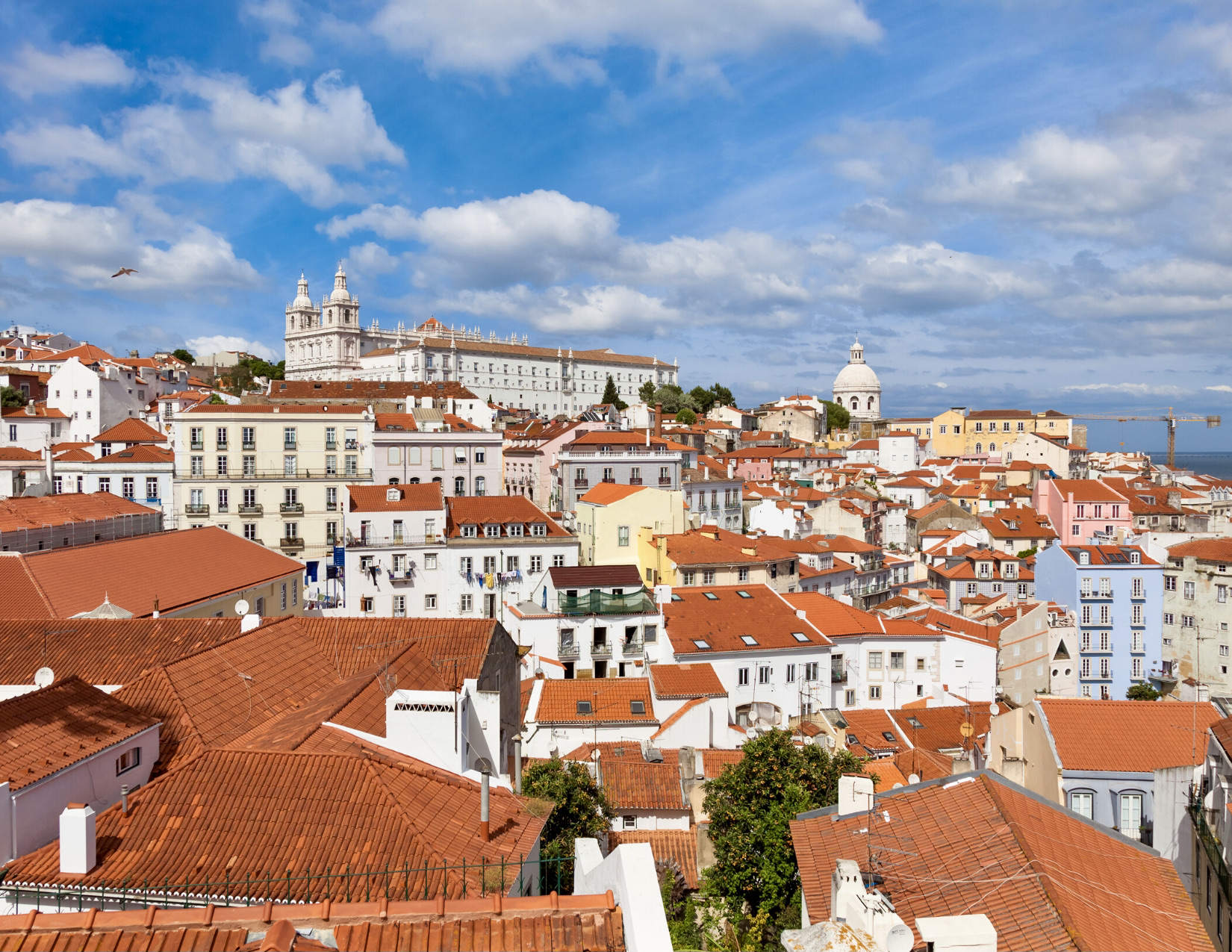 4 Days In Lisbon Itinerary
Here's my recommended itinerary to help you have the most efficient 4 days in Lisbon.
It covers all the top attractions and best things to do in Lisbon. I also give you tips on where to eat, where to stay, transportation, tours, and tickets.
As with all of my suggested itineraries, I recommend that you use this Lisbon itinerary as a guide. You can tailor it to suit your individual interests, needs, and pace of travel.
Day 1: Arrive And Explore Lisbon's Center
You're likely going to arrive in Lisbon in the early to mid afternoon.
To get the lay of the land and see what attractions catch your interest, you may want to start with a guided walking tour or guided tuk tuk tour.
1. Baixa
Otherwise, begin by exploring the main city squares in Baixa. This neighborhood is Lisbon's commerical heart. The main drag is Rua Augusta.
Start in the Pombaline-designed Rossio Square, also known as Praça Dom Pedro IV.
It's a lively place with flower vendors and eye catching sidewalks with an optical illusion wave style. Two Baroque fountains stand at each end.
Then head down the black and white cobbles of the main promenade, Rua Augusta. This street leads to the Praça de Comércio, the showy 18th century square with a triumphal arch.
Along the way, stop to admire the Santa Justa Elevator. It's an iconic ironwork structure dating from 1902. It transports people up to the Chiado neighborhood.
I'm not sure it's worth the wait in the long queue to head to the top. You might want to just admire it from the street.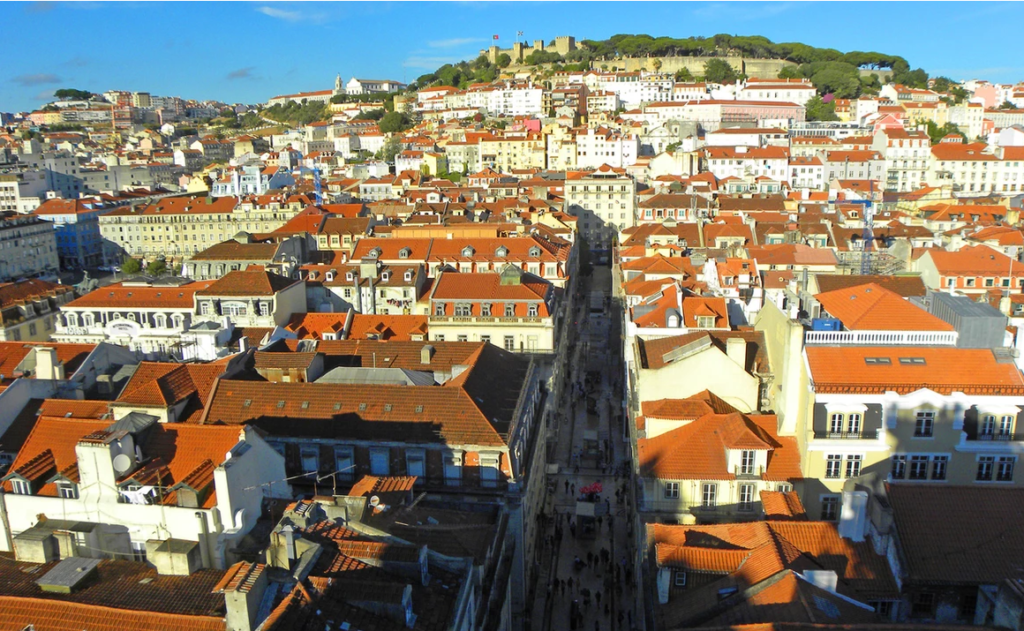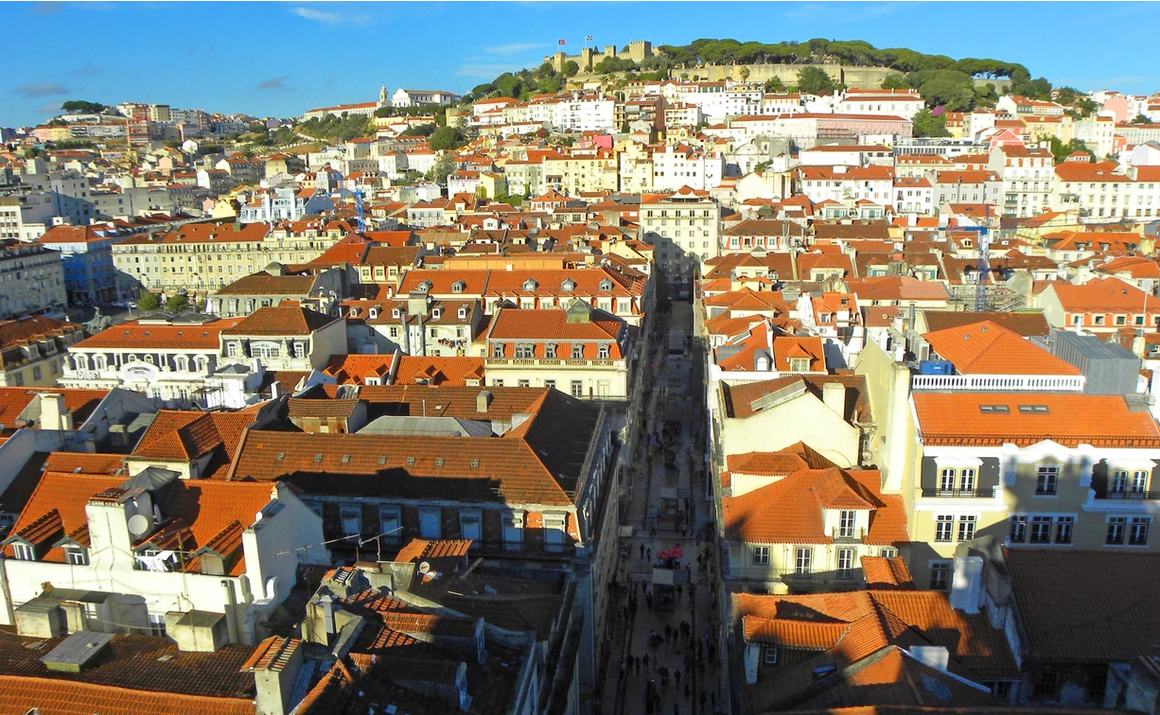 A better funicular option for later is the adorable Gloria funicular, which takes you from Baixa to Bairro Alto.
When you reach the Praça de Comércio, admire the beautiful arcaded square.
If you want to watch a film on the history of Lisbon, pop into the Lisboa Story Centre. You'll also see the statue of Christ, the Cristo Dei, on the other side of the river.
I wouldn't stop to snack or shop Baixa; these two squares are mostly filled with Lisbon tourist traps. Be sure to walk through the arch so you can take in the views from the other side.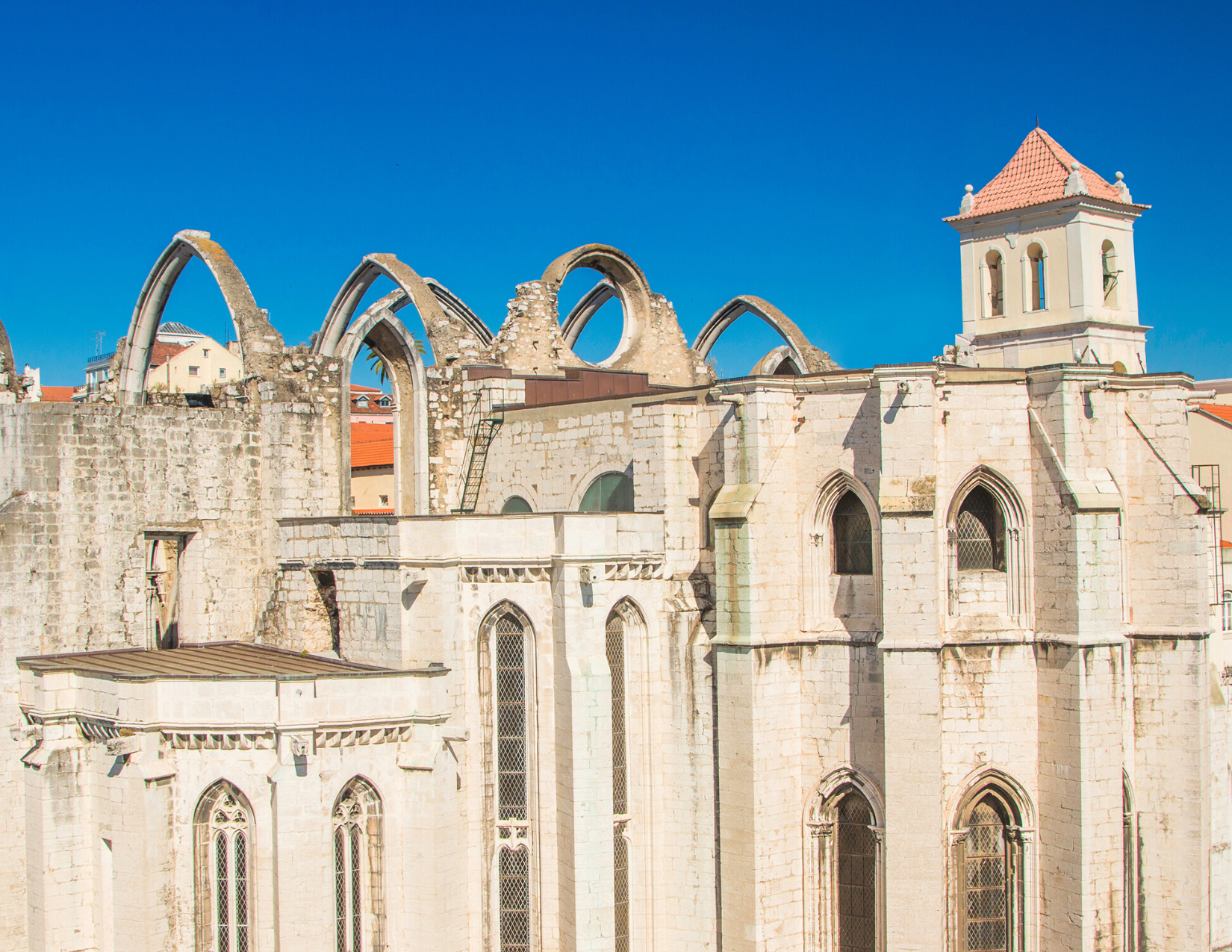 2. Chiado
After poking around, head to Lisbon's adjacent Chiado neighborhood.
It's a rather arty upscale neighborhood filled with lovely cafes, chic art galleries, bookshops, and tony boutiques. There's even an excellent archaeological museum
You can even book a 3 hour guided walking tour of Chiado.
Be sure to pop into the world's oldest bookstore, Livraria Bertrand. And check out one of the most beautiful azulejo facades in Lisbon — the House of Ferreira das Tabuletas.
Chiado is also a good place to try one of Lisbon's famed pasteis de nata pastries. Its a flaky tart with a creamy egg custard filling. The best place to sample one is Pastelaria Alcoa.
3. Carmo Convent
Take in the evocative Carmo Convent. It's probably Lisbon's best historical site Lisbon.
It's an open air memorial to the worst day of Lisbon's history, when the 1755 earthquake demolished much of the city.
In the church nave, you'll find the Museu Arqueologico do Carmo. It displays architectural fragments left from the earthquake, medieval tomb sculptures, and and some mummies.
After visiting the neighborhood, settle in for lunch at an authentic eatery in Chiado, like Taberna da Rua das Flores, the Art Deco-style A Brasileira, or Cantinho do Avillez.
For a mid day pick me up, grab an espresso at Fabrica Coffee Roasters.
If you want a Michelin experience, consider booking at Alma for dinner later. This tony restaurant claims to serve up "emotions, identity, knowledge."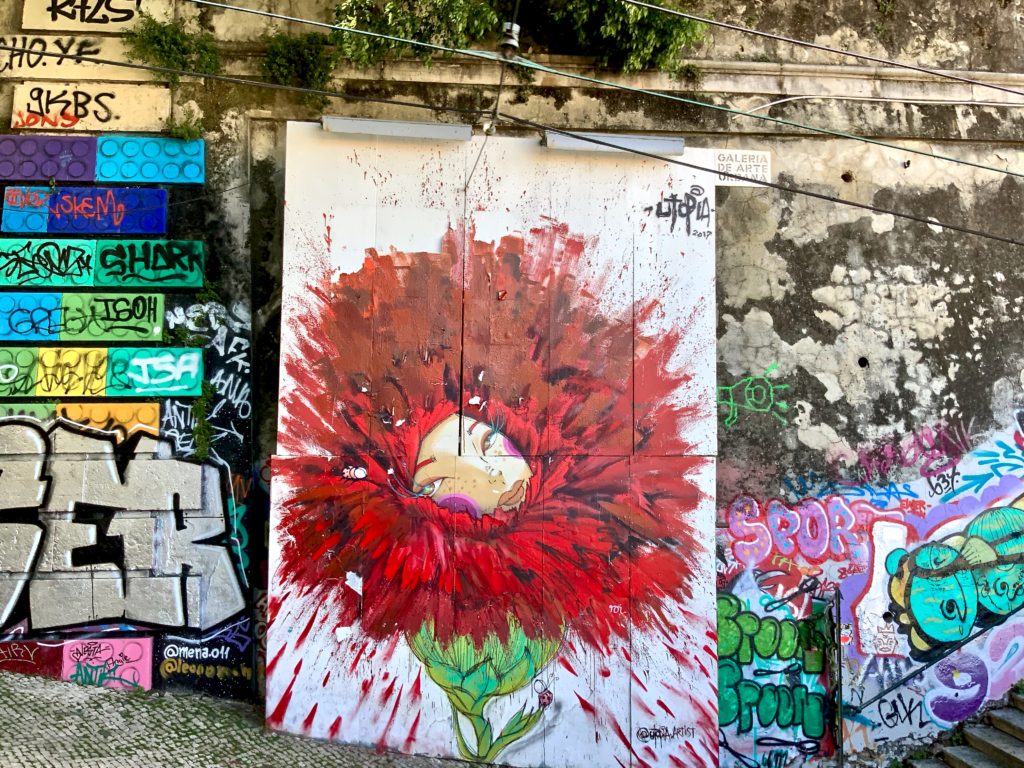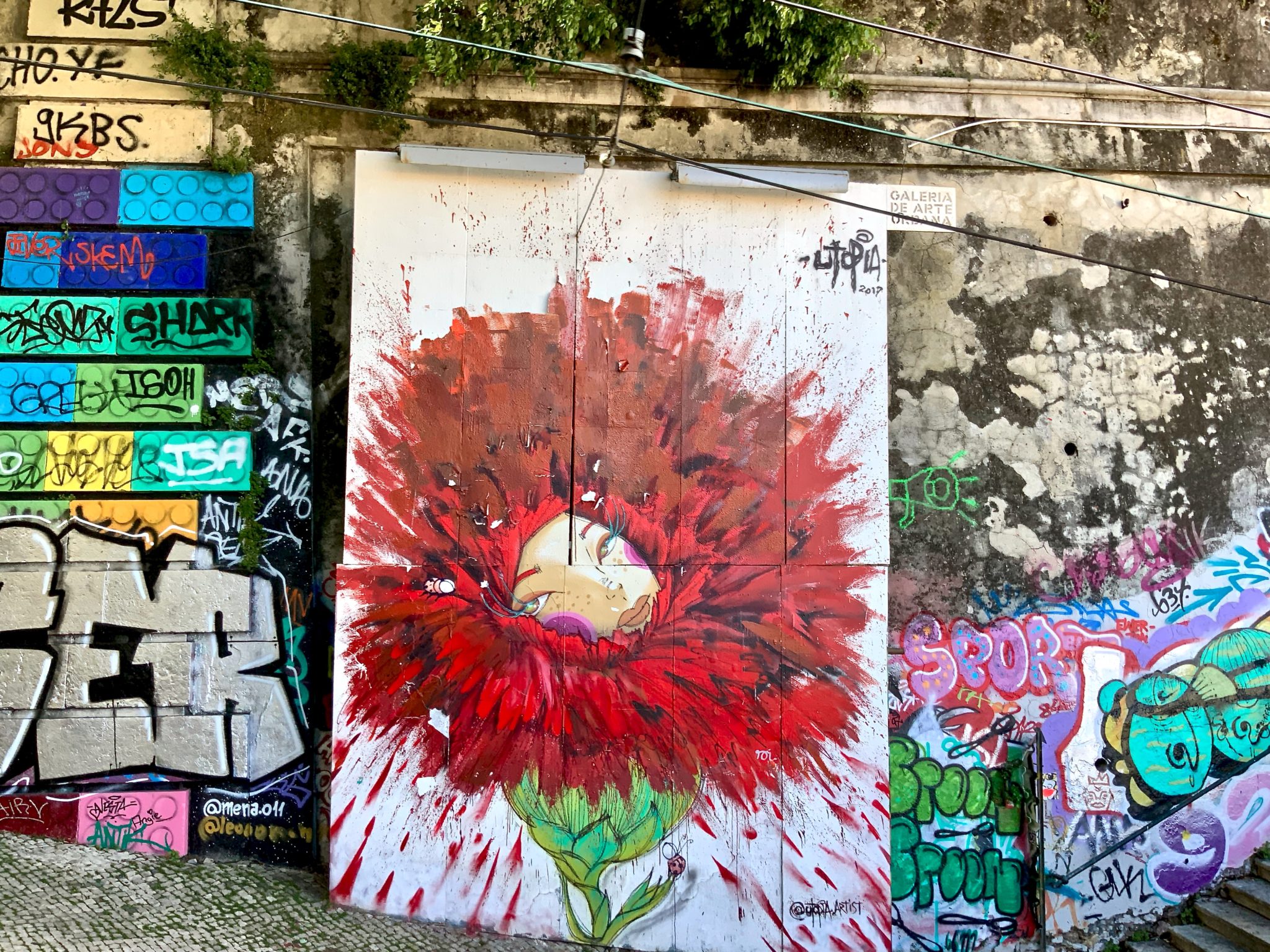 4. Bairro Alto
From Chiado, head to Bairro Alto, which translates as "high town."
Bairro Alto is the nightlife hub of Lisbon. It's a grid of narrow streets, with touristy fado dives and packed restaurants smushed together.
You should definitely pop into the Sao Roque Church in Trinidad Coelho Square. It's a 16th century Jesuit church adorned with gold leaf and marble and lavish paintings on the ceiling and walls.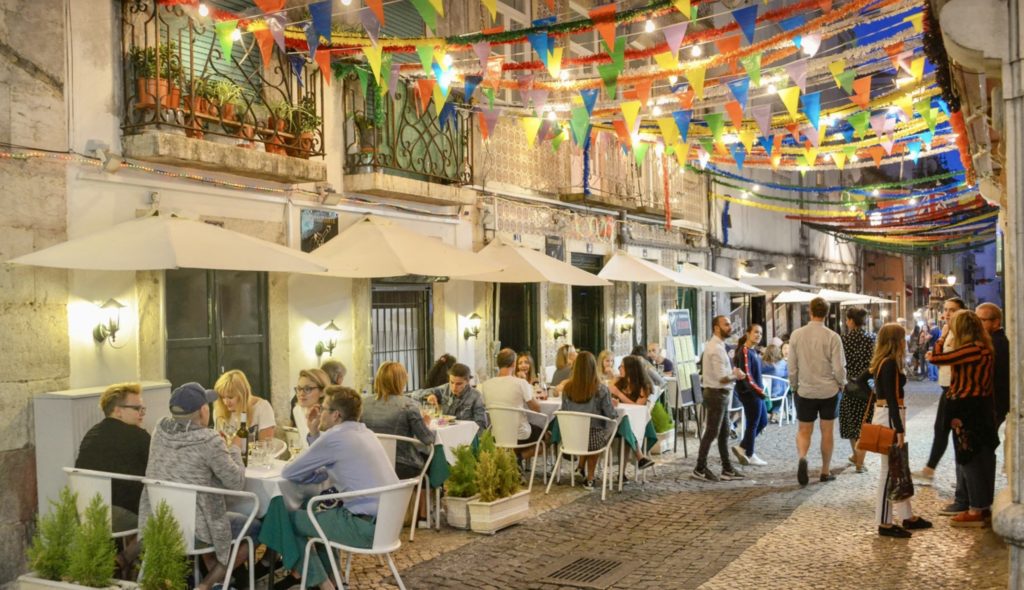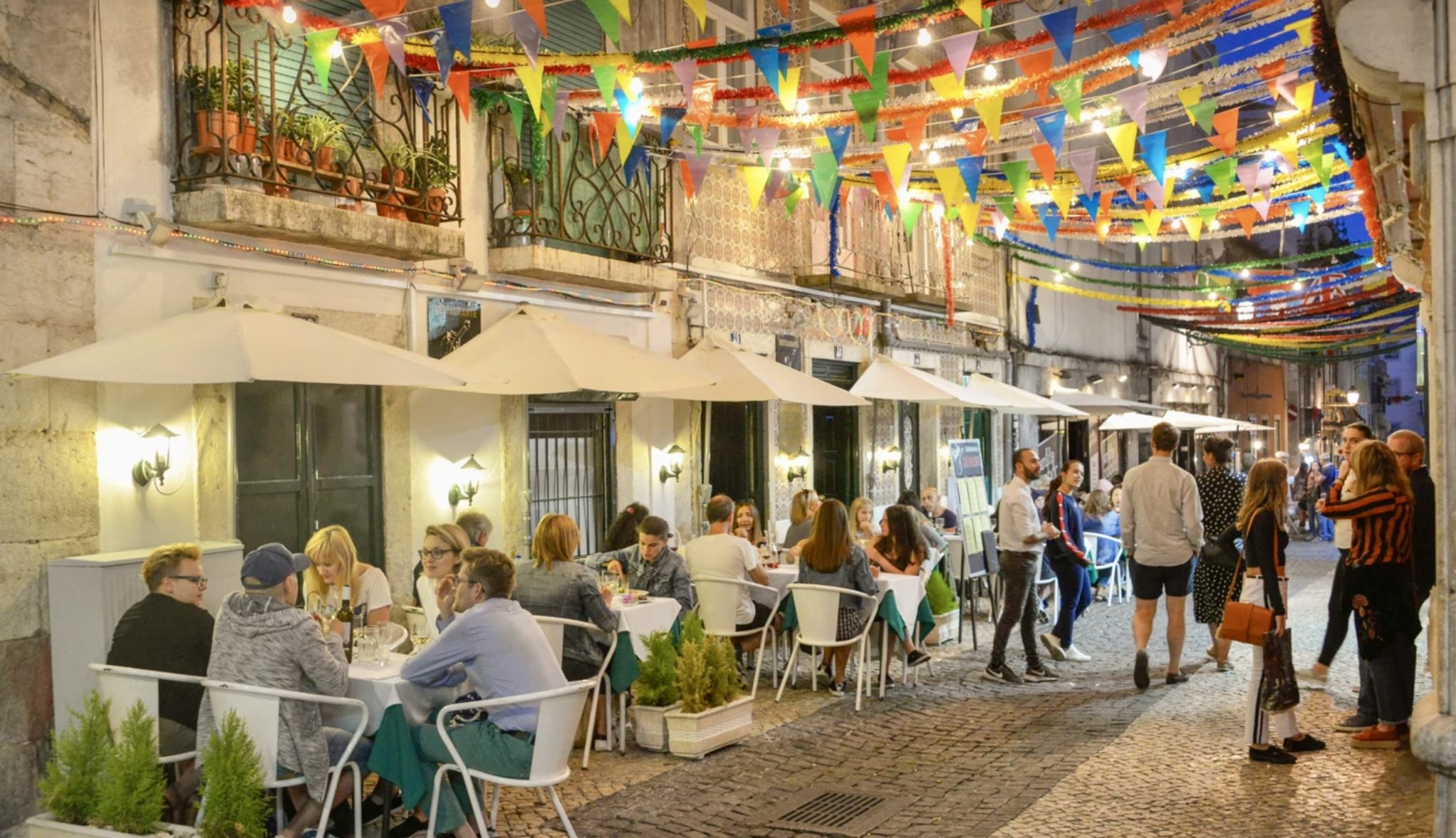 When you're done strolling the district, head to the Miradouro de Santa Caterina for sunset views. Then, enjoy a cocktail at one of the neighborhood's rooftop bars like Insolito.
There are some good places to eat dinner as well.
A Cevicheria serves up seafood and Peruvian food. Queimado serves up grilled food cooked over hot coals. If you are craving a pizza, head to Valdo Gatti.
After dinner, you can enjoy the night life of Bairro Alto.
Alternatively, you may want want to take a sunset cruise on the Tagus River or a sailboat cruise with wine tasting.
Day 2: Explore Lisbon's Neighborhoods
Wake up on day 2 of your 4 days in Lisbon itinerary and and head to Lisbon's most charming must see neighborhood, the Alfama.
Alfama
Steeped in history, immortalized in Fado, and rising over Lisbon, Alfama is Lisbon's oldest and most authentic district. It largely escaped the earthquake's wrath.
Alfama is city outside a city. Steep stairways tumble down to Baixa below and Castelo São Jorge (St. George's Castle) stands guard above on Lisbon's highest hill.
The lanes are draped with bougainvillea. As a result, Alfama is incredibly beautiful and photogenic.
The classic way to get up the hill to the castle is to take Tram 28. You can also hoof it up or take a tuk tuk.
You don't have to go inside St. George's Castle. It's mostly a 20th century recreation of a historic Moorish castle that previously existed there.
But the castle does offer fantastic views and a cafe. If you want to, you should pre-book a skip the line ticket.
There are other free miradouros, or viewpoints, nearby in Alfama — Largo das Portas do Sol and Miradouro da Graça. Portas do Sol even has a nice viewing deck.
Fado Museum
Music lovers should stop into the Fado Museum. It pays homage to the traditional music of Lisbon. The museum calls itself an interactive place to see, hear, and feel Fado.
In terms of organizing your Alfama visit, you can follow my walking tour of the top attractions in Alfama. Or, you can book a 3 hour guided walking tour.
Alternatively, just surrender to the lively chaos and get lost in the maze of tangled streets, decorated with street art, flowers, and the residents' laundry.
While you're in Alfama, be sure to admire the sparkling azulejos (hand painted tiles) that adorn the buildings and streets.
From Alfama, you may want to take some time to visit the adjacent Mouraria district behind the castle. It may be Lisbon's hippest new neighborhood.
Mouraria is a colorful less touristy district where the Moors once lived that's the birthplace of Fado music. Until recently, it was pretty gritty. But with gentrification, it's now a colorful district with street art and a wealth of eateries.
Monastery of São Vicente de Fora
Right near Alfama is the magnificent white stone Monastery of São Vicente de Fora. Build in the 16th century, its cloister is a must see for its lovely panels of white and blue azulejo tiles.
Apart from its beauty, the monastery is inexpensive, crowd free, and has a killer rooftop view.
The square behind the monastery is Campo do Santa Clara. This is where the famous Thieves Market is held on Tuesday and Saturday. It's a good place for lovers of flea markets and antiques.
National Tile Museum
In the afternoon, take in a museum. I'm biased. But my favorite museum in Lisbon is definitely the National Tile Museum. It's 1.5 miles northeast of the Alfama.
Housed in a sublime 16th century convent, this unique museum is uniquely Portuguese and covers the entire history of the azulejo.
If you love ceramics, you can book a guided tour of the museum with a tile making class.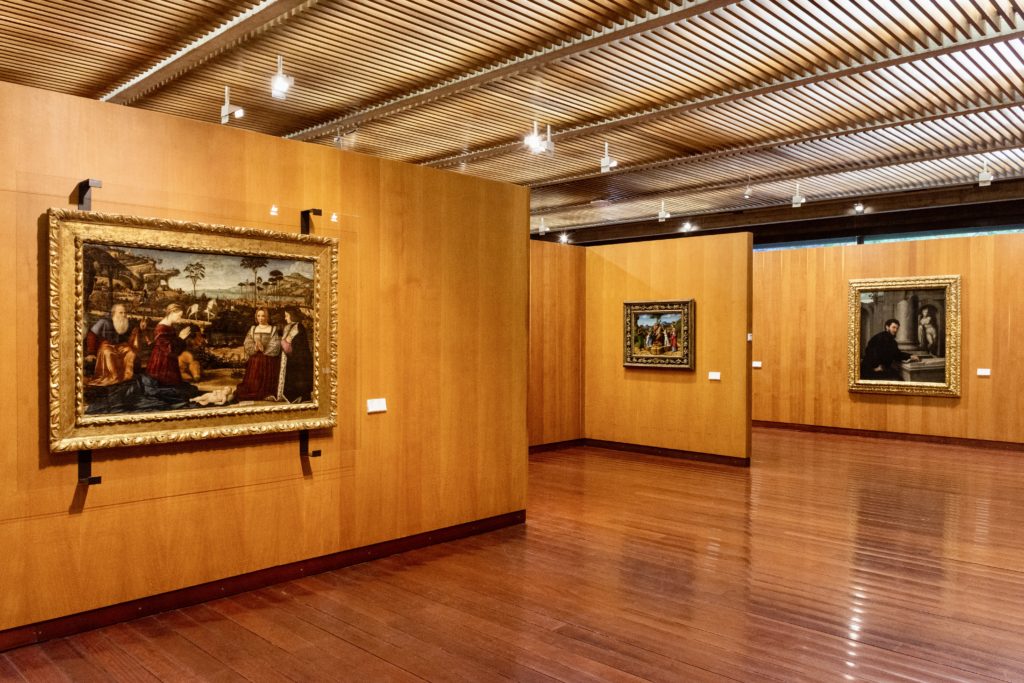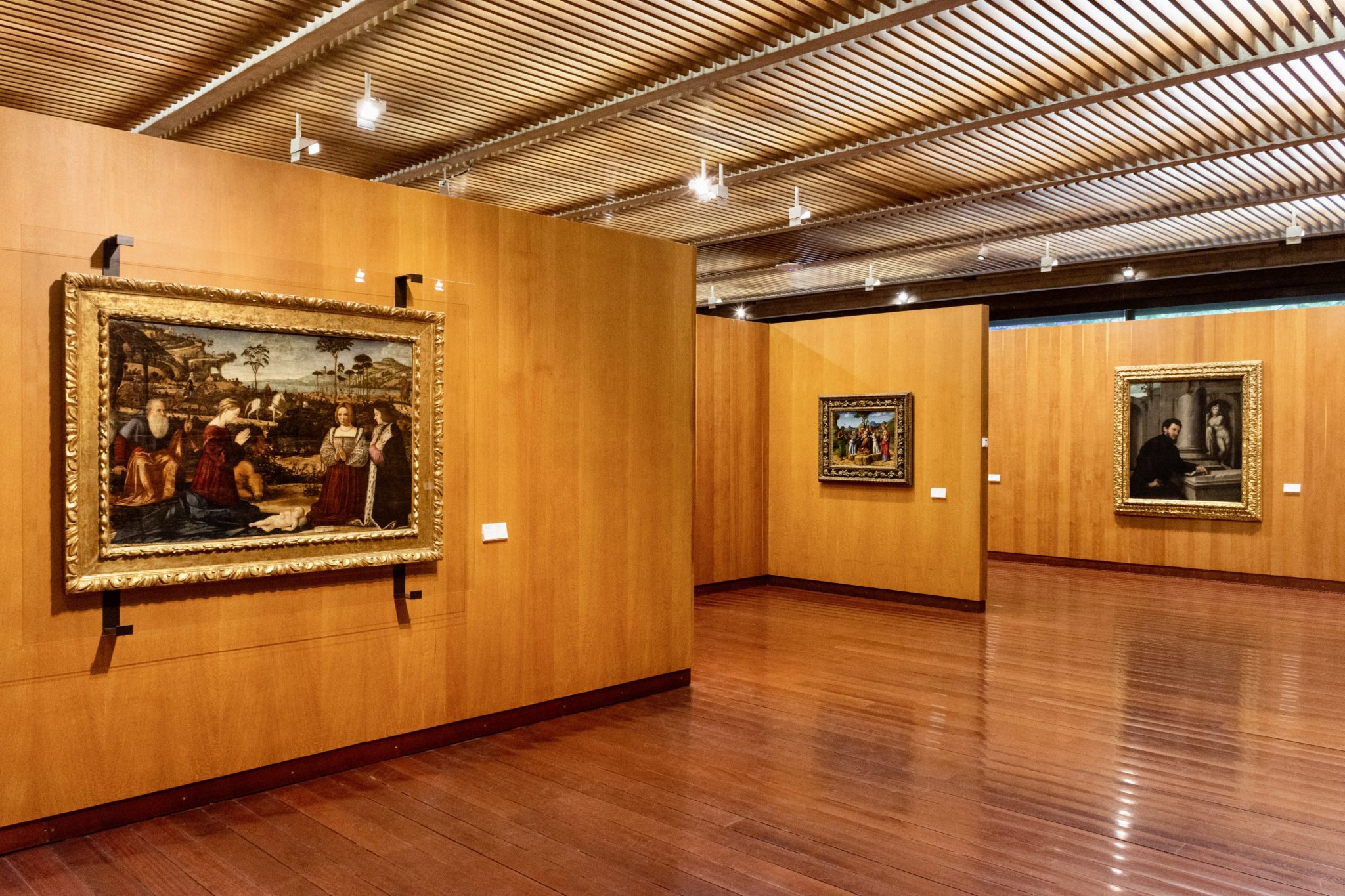 Gulbenkian Museum
My second favorite Lisbon museum is the Calouste Gulbenkian Museum. It's a gem of a museum. From the Alfama, you can get there in 5 minutes by taxi.
The collection was assembled by an oil tycoon, who gifted his collection to Portugal on his death. It's stuffed with a stunning range of treasures spanning 4,000 years, including Egyptian, Greek, Roman, Islamic, Asian, and European art.
You can pre-book a skip the line ticket. You can also book a guided tour of the museum and its gardens.
Both museums are somewhat off-center. But Ubers are very cheap in Lisbon. And both museums are worth your time.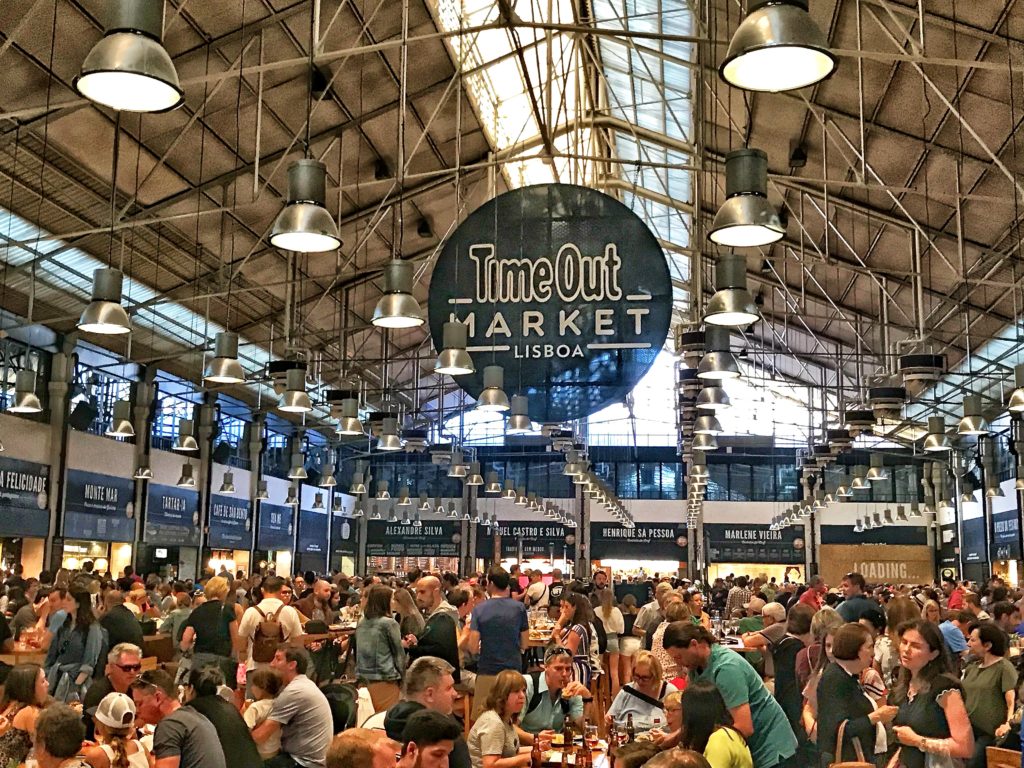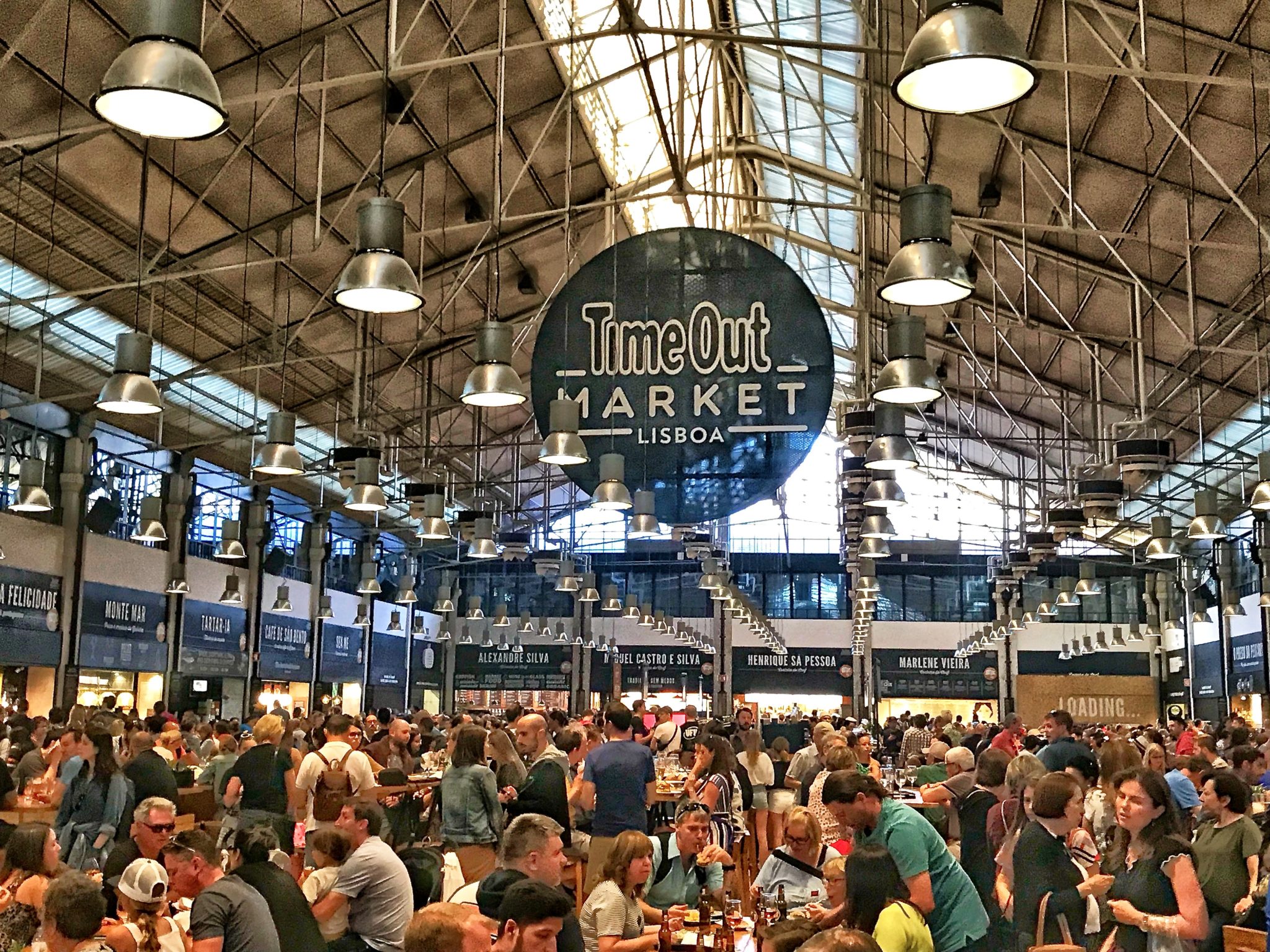 Cocktails & Dinner
If you want to sip wine before dinner, a good place is Topo Chiado. It's an open air lounge with tables overlooking St. George's Castle and the Santa Just a life.
Then, head to Time Out Market for dinner. It's located in a cool converted warehouse.
It's foodie heaven, with some of Lisbon's best chefs serving incredible food in the many food stalls. There are also wine bars galore.
Portuguese wine is both cheap and tasty. Time Out is crowded, but still well worth the experience.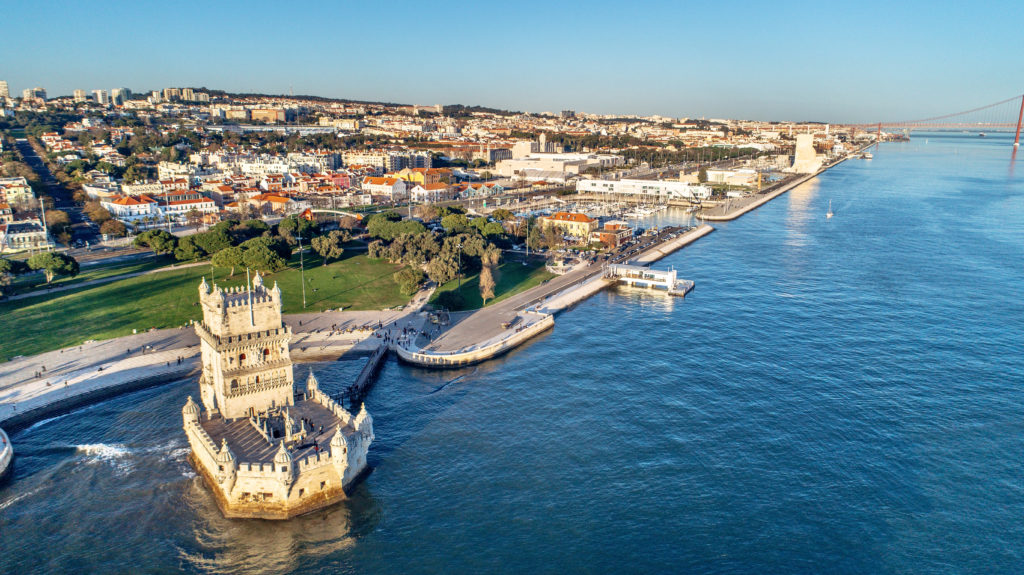 Day 3: Explore Belem, Lisbon's UNESCO Neighborhood
On day 3 of your 4 days in Lisbon, head to the architecturally-rich suburb of Belém. There, you'll have a respite from the hustle and bustle of glamorous Lisbon.
Atlantic breezes flow, grandiose Manueline monuments dazzle, and boats glide along the wide Tagus River. You'll be cast back to the Age of Discoveries, when the world was Portugal's colonial oyster.
Belem is Lisbon's pretty riverside district defined by its UNESCO landmarks. The neighborhood could easily take up your entire day, if you're so inclined. Here's my guide to the top attractions in Belem.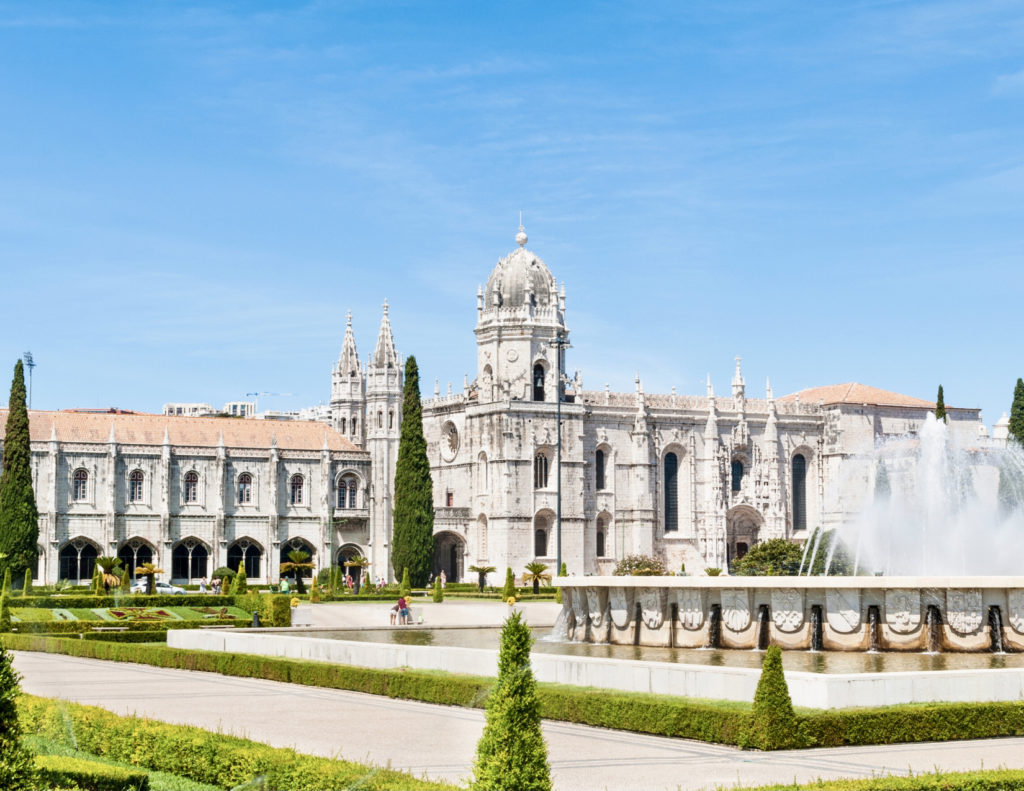 Jerónimos Monastery
Your top priority in Belem is Jeronimos Monastery. It's a 500 year old UNESCO site and a mandatory destination in Lisbon.
You must pre-book a skip the line ticket or you'll wait in incredibly long lines. You can also book a 3 hour guided walking tour of Belem that includes a skip the line ticket to the monastery.
Jeronimos Monastery is the premiere example of Manueline architecture in Portugal and the #1 site in Lisbon's Belem district.
Manueline architecture was a short lived late Gothic artistic movement that lasted 30 years in the early 16th century. It's a distinctively Portuguese style, named after its key influencer, King Manuel I, who reigned from 1495 to 1521.
There's nothing like the moment you walk into the monastery's two level cloister, honey colored and dripping with organic detail.
You'll be wowed by the delicately scalloped arches, twisting turrets, and columns intertwined with leaves, vines, and knots. And the gargoyles and beasties on the upper facade.
Tower of Belem & Monument to the Discoveries
You can also visit the Tower of Belem and the Monument to the Discoveries. Both are included in Belem's UNESCO designation.
You can admire them from the outside or explore inside. Be forewarned, crowds will be intense and there will be long lines to visit the interiors.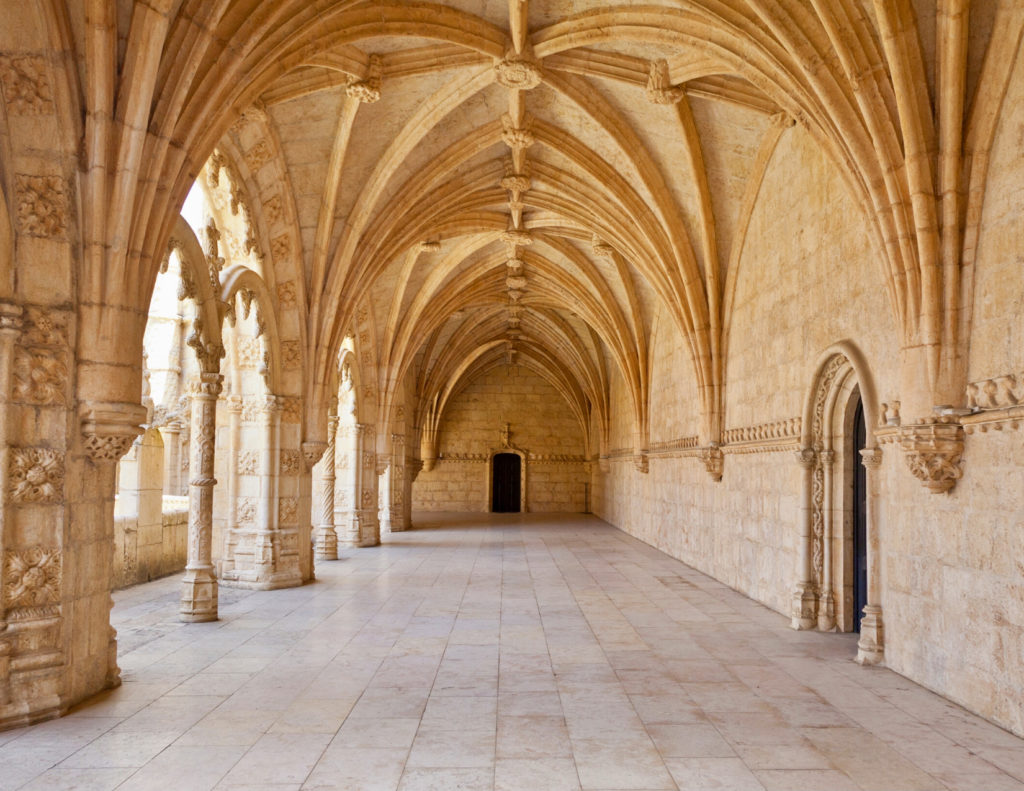 Belem Tower is a bulky fortress-like structure also built by Manuel I. It had a very Game of Thrones like feel to me with its filigree stonework. A very narrow spiral staircase leads you to the top for fantastic views.
If you're prepared to queue up to go inside, the best time is in the late afternoon just before closing. There's only one staircase, and it's a bit time consuming.
There's only one way traffic. A light signals when you can go up and down.
You should prebook a skip the line ticket. You can also book a 2 hour skip the line guided tour both the includes the monastery and the tower.
Built in 1960, the Monument to the Discoveries was commissioned to mark the 500th anniversary of the death of Henry the Navigator.
It's designed in the shape of a caravel, which is a speedy highly maneuverable sailing ship. It has Portugal's coat of arms on both sides.
When you're done gorging on Manueline architecture and Belem's famous Pasteis de Belem custard tarts, travel back to Lisbon.
At night, head to Lisbon's nightlife spot, the hilly neighborhood of Bairro Alto for food and drink.
Alternatively, you can take in a Fado show in Chiado. You might also consider a 4 hour guided tour that includes sunset walking tour, dinner, and a fado show.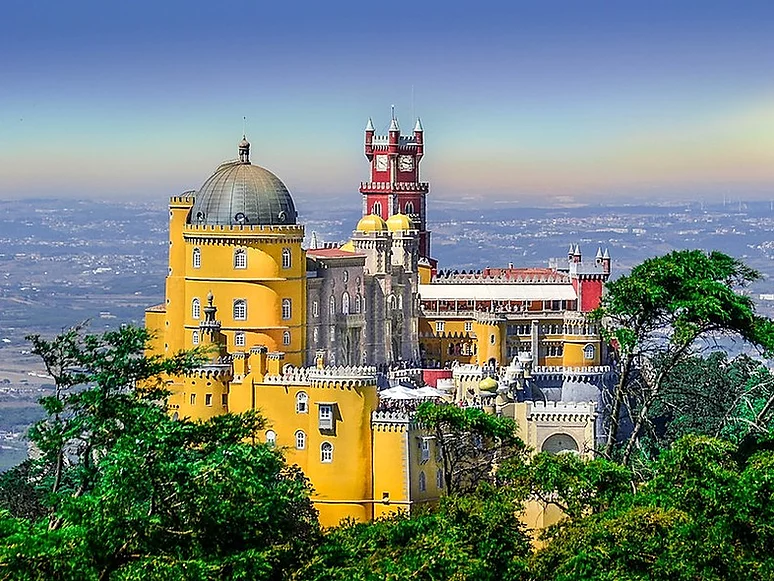 Day 4: Best Day Trips From Lisbon: Sintra or Obidos
On day 4 of your 4-day Lisbon itinerary, it's time to venture out of Lisbon on a day trip.
There are scads of possible day trips from Lisbon. Here's my guide to 15 popular day trips from Lisbon.
I've narrowed this Lisbon itinerary down to two of my favorites UNESCO towns, Sintra and Obidos.
1. Sintra: a UNESCO Wonder With Castles and Palaces Galore
Sintra is the most popular day trip from Lisbon, only 30 minutes away. Sintra is a rock star gorgeous, with numerous UNESCO-listed castles and palaces.
But it's a town that's a tricky place to visit on a day trip. The attractions are spread out and the transportation options are iffy.
To avoid the wait and lines, you should pre-book a guided skip the line tour for Pena Palace, the top attraction. Or go on a guided tour of the Sintra's highlights with a historian.
If you don't want to worry about transportation, book a guided tour full day tour from Lisbon or a guided day tour that includes the coastal Cascais and Cabo da Roca.
I have decided views about how to tackle Sintra. Here are my tips for decoding and visiting Sintra. Some of them are unconventional, but I felt enhanced the efficiency and happiness of my recent visit.
Most people adore Pena Palace, Sintra's #1 site. And the lines to go inside are epic.
Pena Palace has a real Mad King Ludwig feel. I couldn't decide whether the colorful palace was a real life "fairytale" or a tacky pastiche on steroids.
I decided just to enjoy the extreme whimsy and differentness of the place, a creation of King Ferdinand II, a genius who dared to be different.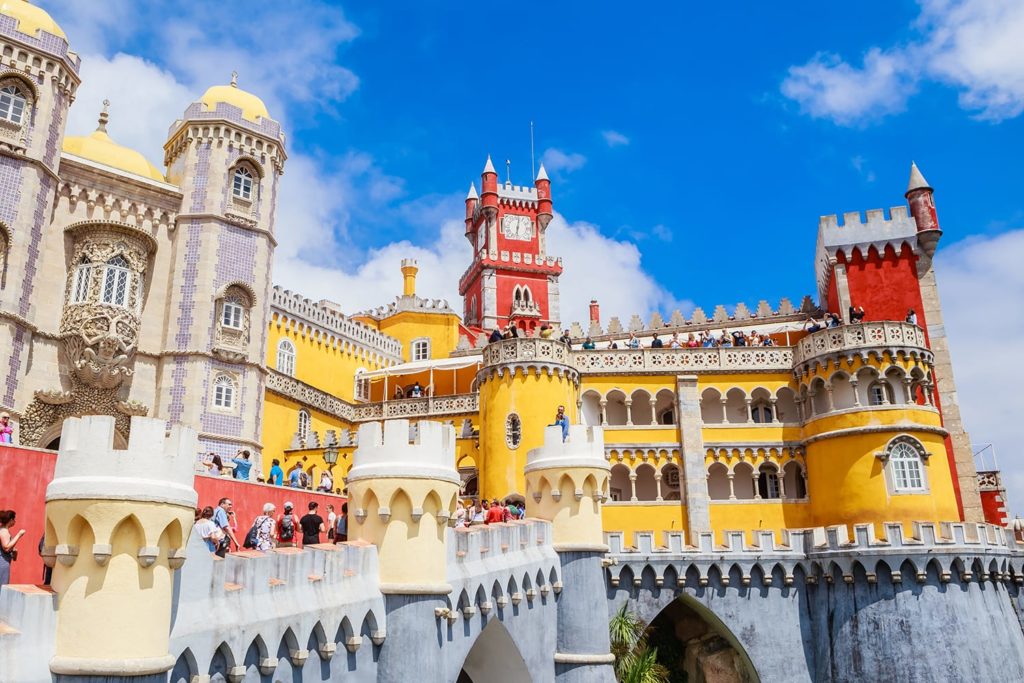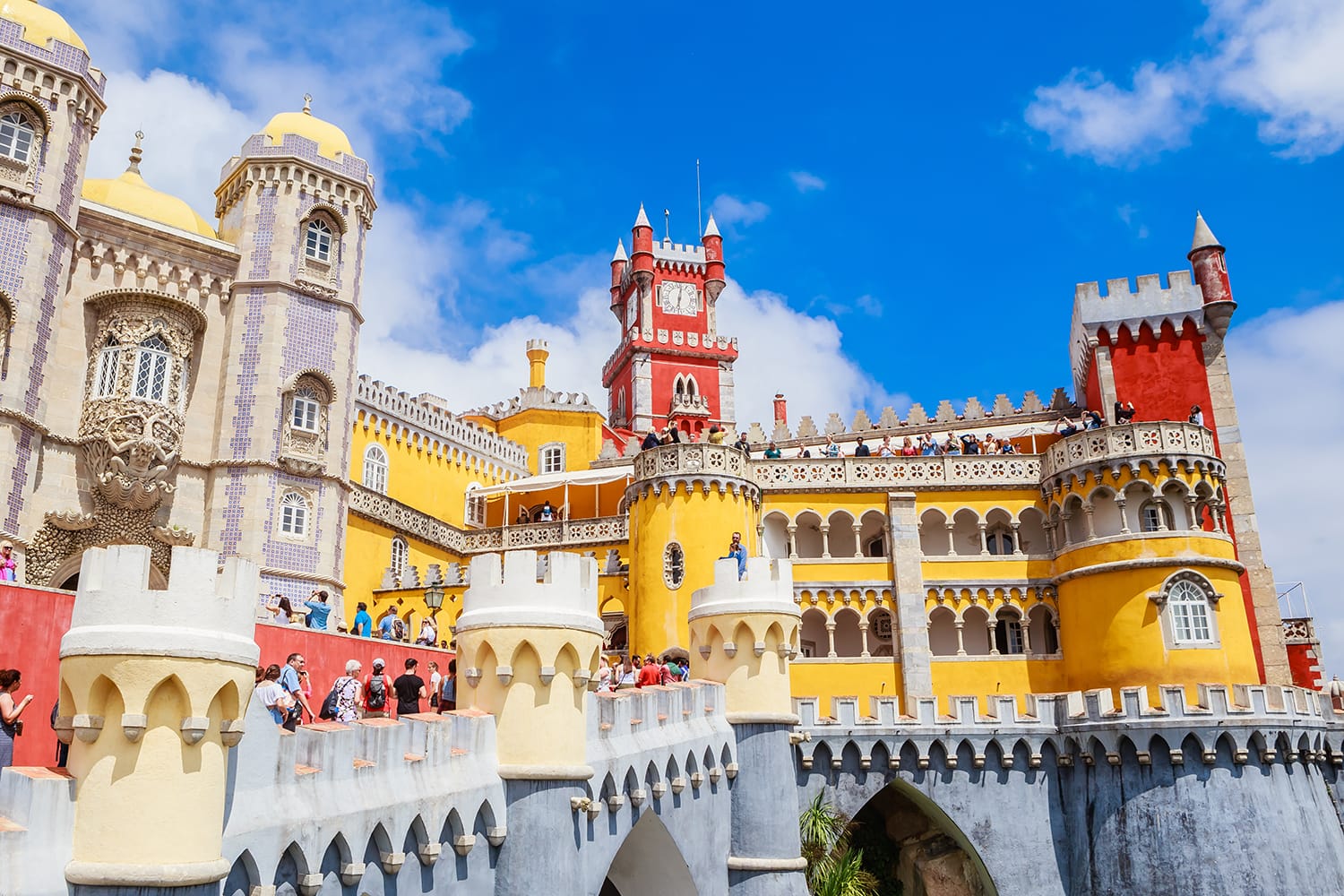 As for the interior of Pena Palace, I'd say it's entirely skippable given the long wait. You shuffle along crunched in with tourists in a single file line. What you see inside is only mildly interesting and there's so much else to do on a Sintra day trip.
My only caveat is that, if you want the best view, it's from the Queen's Balcony. That balcony can only be accessed from inside the palace.
My personal favorite palace in Sintra is the bewitching Quinta da Regaleira. The palace is an extravagant stony affair with both Gothic and Manueline styles, built by the eccentric millionaire Antonio Carvalho Monteiro.
There are follies, grottos, and a mysterious Masonic initiation well. The palace and its garden ensemble are a bit of an architectural curiosity.
There's so much to explore at Quinta, you may want to book a guided tour.
The buildings are adorned with a heady mix of Gothic, Egyptian, Moorish, Neo-Manueline, and Renaissance features. Naturally, there are gothic turrets, gargoyles, and Masonic symbols. Quinta is divine.
If you want the best view in Sintra, head to the Moorish Castle. It's just a short 10 minute hike from Pena Palace.
Dating from the 10th century, the craggy Moorish Castle is a dominating fortress in every sense of the word.
I liked the vibe there. And it was relatively empty compared to crowd pleaser Pena Palace.
2. Obidos: a Medieval Gem in Portugal
If you'd like to skip the craziness in Sintra, try a day trip to the adorable village of Obidos instead. Obidos is a fantastic and easy day trip from Lisbon, just an hour north.
Beginning in 1282, each king of Portugal gave the town of Obidos as a wedding present to his future queen.
The dreamy UNESCO-listed village of Obidos is perched fetchingly on a hill. It' encircled with stout medieval walls.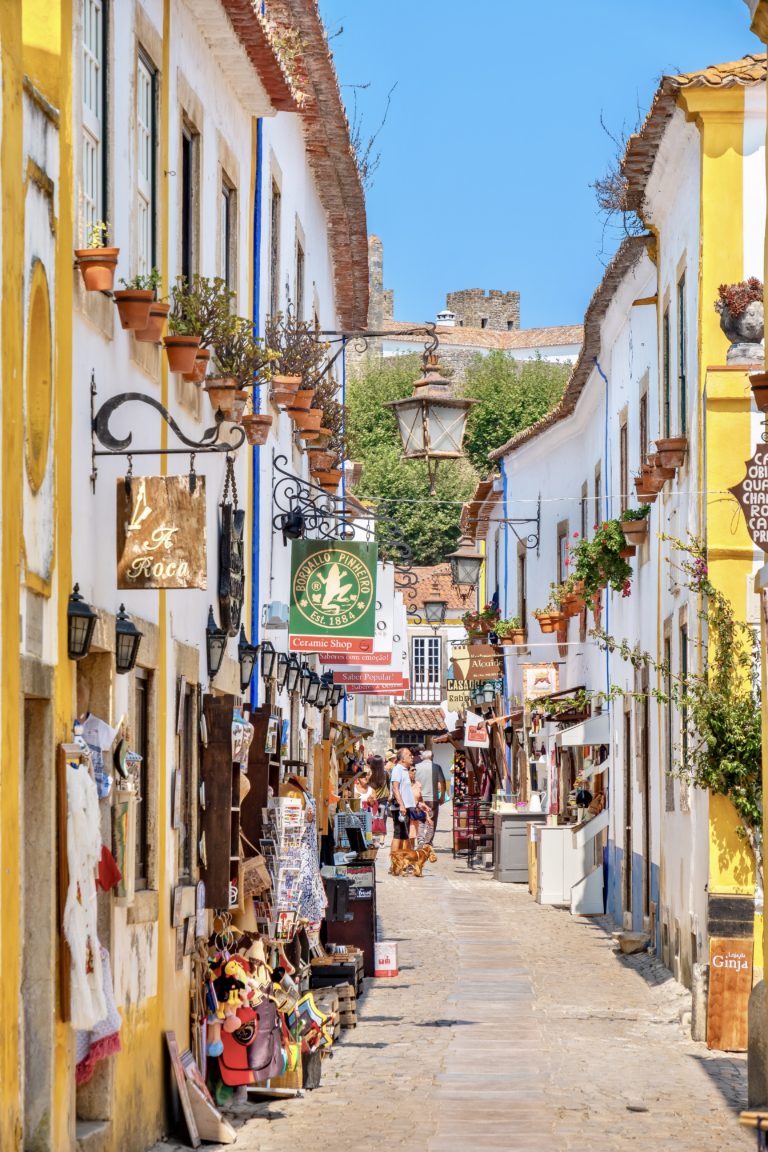 The town's well preserved whitewashed buildings are decorated with splashes of blue and yellow paint and vibrant bougainvilla. You'll be seduced by Obidos' beauty and shabby chic romantic aura.
The main drag is Rue Direita, a cobbled street dating from the 13th or 14th century. It's stuffed with whitewashed buildings, quirky bars and cafes, exquisite shops, and ubiquitous ginjinha stands.
The iron street lamps and chipped stone facades complete the vintage look.
Here's my complete guide to the best things to do Obidos, a small town that had my heart. If you want someone else to worry about the logistics, you can book a guided day tour from Lisbon.
3. Back To Lisbon | Dinner
When you're done day tripping, travel back to Lisbon and enjoy your last night in the enchanting city.
If you want a lively place for dinner, try the hipster LX Factory. It's a collective of businesses and creative spaces housed in a converted industrial warehouse complex.
LX Factory is located in the neighborhood of Alcântara, less than 2 miles from the Lisbon's city center. It boasts some of Lisbon's hottest restaurants, bars, boutiques, galleries, and street art.
On the fourth floor, there's a bar, Rio Maravilja, which offers great views of the Tagus River and 25 de Abrili Bridge. On Sundays from 11:00 am to 7:00 pm, there's also an open air market at LX Factory.
If you're bushed from your day of sightseeing and want a quiet dinner, I have several suggestions.
You can try Casa do Alentejo, off Rossio Square and housed in a former 17th century Moorish Palace. This beautiful restaurant is Instagram popular and makes you feel as if you've been power beamed to Morocco.
If you're organized and book well in advance, you'll be dazzled by the tasting menu and cuisine at the Michelin starred 100 Maneiras on Rua do Teixeira in Bairro Alto.
For you final night in Lisbon, you may also want to book a food tour of Lisbon or a wine and tapas tour.
Tips For Spending 4 Days In Lisbon
1. Currency and Cash
The currency of Portugal is the Euro (€). Credit cards are accepted at most places. But not everywhere.
So you'll want to have some cash to pay for the odd coffee or snack.
Portuguese is the official language of Portugal. But most people speak at least a little English, especially at Lisbon's popular tourist sites.
2. How To Get To Lisbon
Lisbon is served by Airport Portela Airport (LIS). The airport is located just over 4 miles northeast of the city center.
From the airport, it's a 20-25 minute metro ride to the city center. You can also book a private transfer.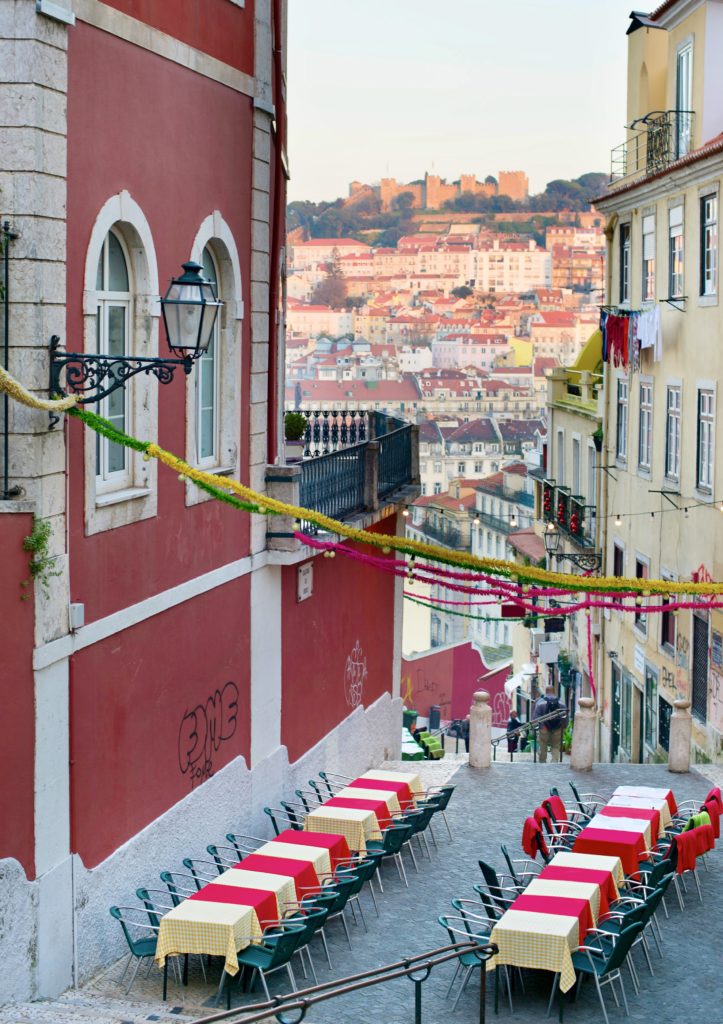 You can also take the high speed train into Lisbon's Santa Apolonia Station from most major cities.
I wouldn't drive in Lisbon, although I used Lisbon as my base and used the car for day tripping. You don't want to drive in the city itself.
3. When To Go To Lisbon
The best time to visit Lisbon is the shoulder season, in the spring or fall. Many tourist sites in Lisbon are closed on Mondays, factor that into your Lisbon itinerary.
In the summer, the city crammed jowl to jowl with tourists and swelteringly hot. I was last there in late May and temperatures were already in the high 80s.
4. How To Get Around Lisbon
Lisbon has a decent transportation system. Funiculars take you up and down the steep hills. There are buses, trams, and trains that take you where you need to go. The Lisbon Card will give you free transportation.
Lisbon is also fairly compact, so you can explore most of the city on foot. Be sure to bring comfy footwear for the hills and cobblestones.
When necessary, I took an Uber. Uber is relatively cheap in Lisbon. You can also sightsee with the hop on hop off bus.
There are other fun ways to get around Lisbon too. You can take a: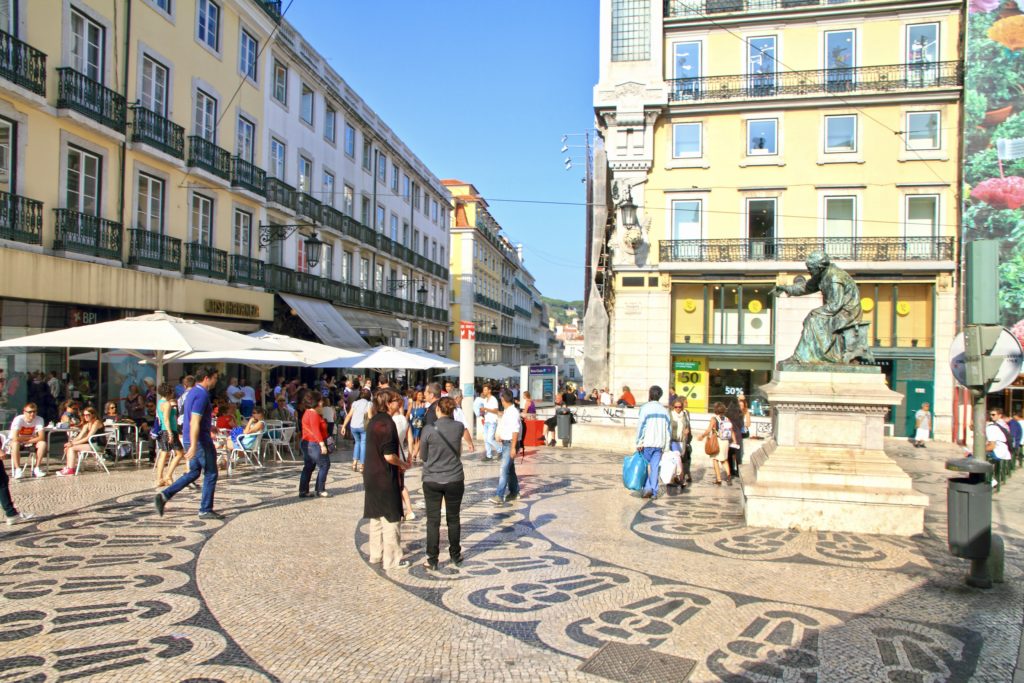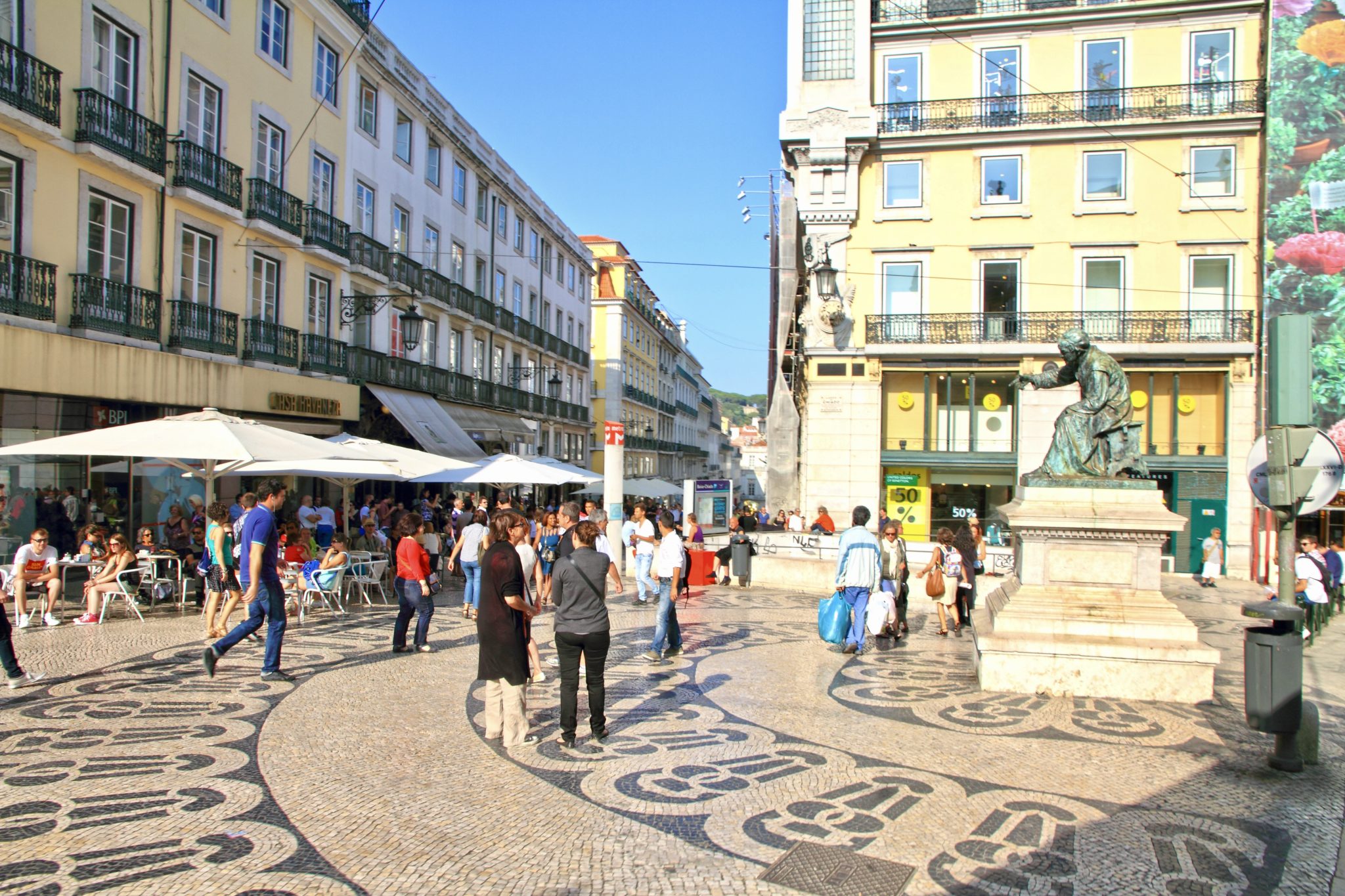 5. Lisboa Card
If you're planning on seeing the most popular sites, you should consider purchasing the Lisboa Card.
You'll save money and the hassle of waiting in ticket lines. it also gives you free transportation. You can purchase it for 1, 2, or 3 days increments.
6. Where To Stay In Lisbon
I would recommend staying in or near the Chiado neighborhood. The Verride Palacio Santa Catarina is a boutique hotel in a renovated palace with incredible views.
LX Boutique is a pretty luxury hotel with a maritime themes and blue colors. The Memmo Principe Real is a historic hotel in a quiet area. It has limestone floors and original paintings.
If you want to stay in a palace, check out the Hotel Palacio Principe Real. Just opened in 2020, the luxe hotel sports a "pared down palatial" style and has a lovely garden.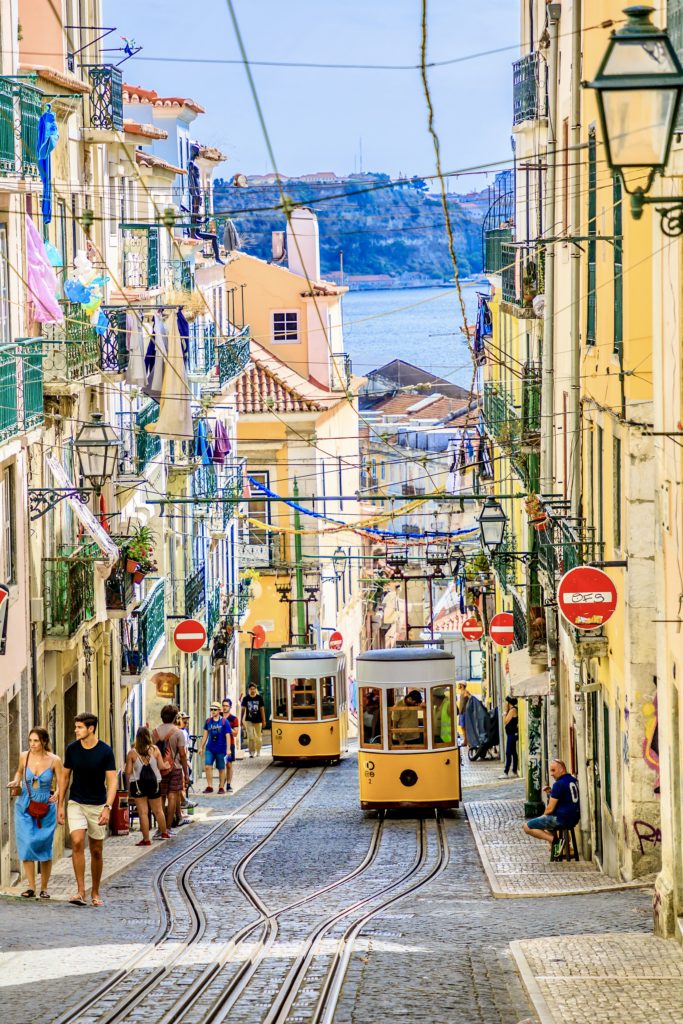 If you want to stay in the cobbled Alfama district, the Solar Do Castelo is a beautiful boutique hotel housed in a romantic 18th century mansion.
The Eurostars Museum is a beautiful historic hotel that's also a good choice. It comes complete with a spa, sauna, and Turkish bath.
7. Day Trips From Lisbon
Lisbon makes a great base for exploring Portugal. In addition to Obidos and Sintra which I discussed above, check out my guide to the best day trips from Lisbon.
I hope you've enjoyed my 4 days in Lisbon itinerary. Here are my other Portugal travel guides and resources:
​If you'd liked to spend 4 days in Lisbon, pin it for later.