Doing some trip planning for a visit to Sintra Portugal? Here are my must know tips for visiting Sintra, which is an easy day trip from Lisbon.
These useful Sintra tips will help you have an efficient visit and avoid making mistakes.
Beautiful Sintra Portugal is the most popular day trip from Lisbon. As a result, in high season, the town is pure chaos. You need a clear strategy and plan of attack to make the most of your time in Sintra.
There's a reason tourists are so besotted with Sintra. It's rock star glamorous. Sintra has UNESCO-listed castles and palaces galore. It's dazzling, colorful, and romantic. The towns top attractions are some of the most famous landmarks in Portugal.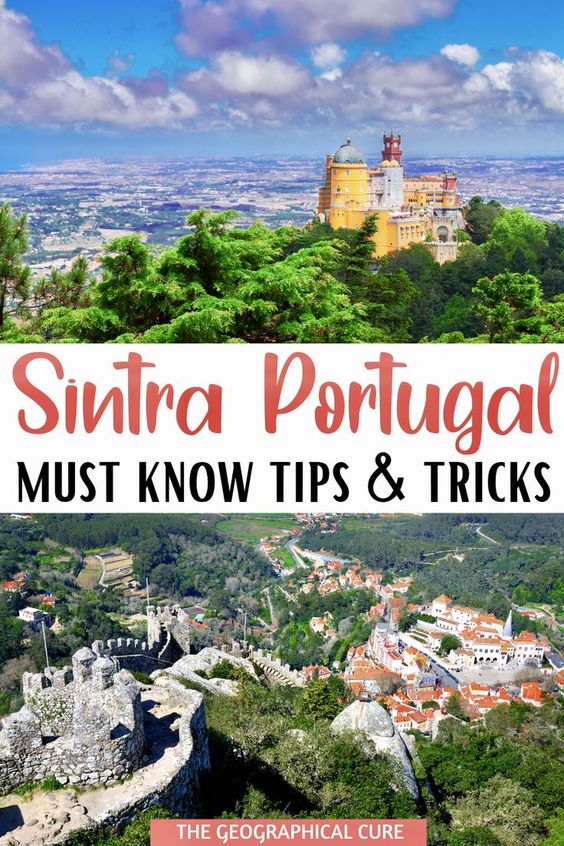 Even the town itself is quaint. It's filled with artisan shops and well worth exploring. Sintra packs a punch and delivers on its hype.
I recently returned from a geographical cure in Portugal and have some decided views on how to approach visiting the medieval town crammed with UNESCO sites. Views that are different than the standard advice that I read.
>>> Click here to book a private walking tour of Sintra
Key Tips for Visiting Sintra Portugal and Avoiding Mistakes
Here's what you need to know to plan your visit to Sintra:
1. One Day Isn't Enough
I know you don't want to hear this first Sintra tip. Everyone wants to do Sintra as a day trip from Lisbon. You can, but you won't see everything that way. Not even remotely.
And there's a lot to see. There are ancient castles and sumptuous palaces. There are convents, parks, and nearby quaint villages and beaches.
I left feeling cheated with only 1 day.
Part of the problem is that Sintra is congested and wan't made for heavy traffic and massive crowds. Its road are narrow and winding. Getting around is flat out difficult.
And there's cars, tuk tuks, taxis, ubers, and pedestrians sharing the roads. Ancient roads, flanked with stone walls, that are completely unsuited for two way traffic.
You can't avoid spending some time in transit. If you want more than a breezy drive by view, stay overnight.
2. How To Get To Sintra Portugal: Drive
I know you're rolling your eyes at my driving recommendation. I know this is counter-intuitive advice, contrary to everything you've read. But trust me, if you have a rental car, drive to Sintra.
It's quicker. We left from our Air Bnb and clocked in at 28 minutes. You'll save time and have the most flexibility with your arrival and departure times.
Most people take a train from the Rossi Square Station in the Baixa neighborhood of Lisbon. It's cheap at under 5 euros for a return trip. It's not a bad option, to be sure.
The downsides are: (1) you have to spent time getting to the train station; (2) you can't pre-purchase your tickets online; (3) there's a long line to purchase a ticket at the station; (4) though trains leave hourly, some make pit stops along the way.
At best, it's a 40 minute train ride. Then, when you arrive in Sintra, you've still got a 20 minute hike from the train station to the village of Sintra.
All this takes a huge chunk of time out of your day, time you can ill afford.
So drive. But drive smart. Park on the outskirts of Sintra and walk 5-10 minutes into the village center. I arrived around 9:30 am and found a spot without a problem.
Then, leave your car there until it's time to return to Lisbon or drive to an outlying site (Monserrate Palace, Caba da Roca, or Azenhos do Mar).
Don't drive into the center of Sintra. Don't try driving to the palaces.
There are very few, if any, parking spots at the palaces. And driving in Sintra is treacherous. The roads are terrible — narrow, hilly, winding, and with an aggravating number of blind corners and hairpin turns.
Unless you're a professional race car driver, don't venture into Sintra.
I say this so insistently because, like an idiot, I inadvertently ventured into Sintra with my clutch car before later parking on the outskirts of town. And it was incredibly nerve wracking and heart attack inducing.
I got lost, as I always seem to, when there was no parking on the streets around Quinta de Regaleira. My GPS didn't work well either. I was quite literally saved by a kind Portugese man who saw that I was befuddled and came to my rescue.
He had me follow his car and guided me back down to the outskirts of town on dirt roads until I was able to park safely. I owe him a debt.
And I'm heartened that the kindness of strangers is still a real thing in this crazy life. It semi-restored my faith in humanity, which has been at an all time low as of late.
3. Forget the Famous 434 Sintra Bus
I know, this Sintra tip is counter-intuitive advice too. All travel bloggers seem to advise you to take this wretched tourist bus.
If you want to spend all your time standing in line waiting for a bus and looking through dirty windows, do that. If you want to watch in frustration as overcrowded and full buses pass by your stop, do that.
The 434 bus is inefficient and severely overrated. It may be the cheapest option, but relying on it will waste valuable time. You'll be hot, harried, and aggravated.
Plus, it only goes to three places: the National Palace, the Moorish Castle, and Pena Palace. You have to take a separate bus, 435, to get to Quinta da Regaleira or Monserrate.
>>> Click here to book a jeep tour of Sintra
4. Take Ubers or Tuk-Tuks
Use Uber or take a tuk tuk to get around. This is especially useful to get to and from the scattered castles and palaces. And Uber and Tuk-Tuks aren't that expensive in Sintra.
Tuk tuks are the more pricey option, at 5 euros per person. Ubers are cheaper if you're a bigger party. You'll save valuable time taking these modes of transport.
This is not the time to be cheap. Put this in your budget and pony up a few extra euros to get around more quickly and improve your day. You'll still get stuck in some traffic. But it won't be quite as painful.
>>> Click here to book a tuk tuk tour of Sintra
I've also read that you can rent a small electric car to get around at Go Sintra. This may be a decent option, but then you have to do the hazardous driving.
Oh, and walking isn't the best option either. You can't walk to the highest palaces, Pena Palace and the Moorish Castle. Unless you have a spare hour or two and fancy a severe vertical grade.
However, you can easily walk to Quinta da Regaleira from the center of town (the 434 doesn't stop there FYI). And there's plenty of walking to be had within Sintra's palaces' grounds and gardens.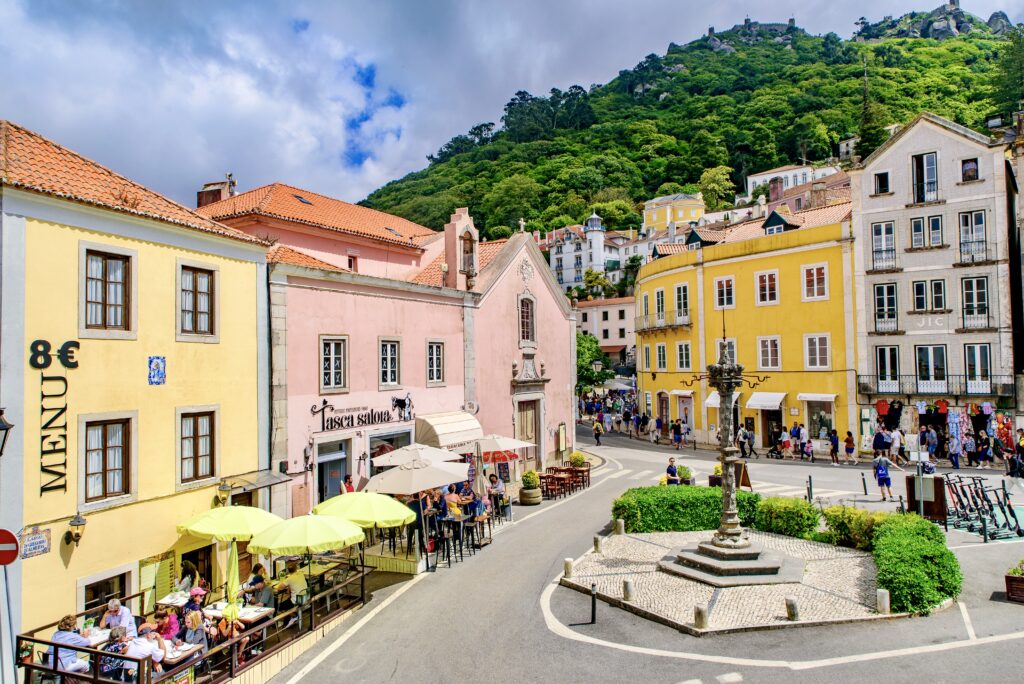 5. Guided Day Tour
There's a lot to do in one day in Sintra and it's a bit of a hassle to get to the sites. To relax and avoid some of these transportation hassles, you may want to consider visiting on a guided day tour from Lisbon.
Check out this 6 hour guided day trip from Lisbon. You can also book a guided day tour that includes Pena Palace and Quinta da Regaleira or a guided tour that includes Sintra and the Lisbon Riviera.
You can also opt for a private tour from Lisbon.
6. The Moorish Castle Has the Best Views
If you like views, here's another good tip for Sintra. The best view is from the rugged 9th century Moorish Castle.
It's the least visited spot in Sintra. I'm not sure why. I loved the ancient atmospheric castle. You can have views without the crowds.
The Moorish Castle is an easy 10 minute walk from Pena Palace. Once you arrive, it's a bit of a steep hike (maybe 15 minutes) to get to the top of the ramparts. But it's so worth it and, unlike Pena Palace, there was no wait.
You'll have stunning 360 panoramic views over Sintra and of the Pena Palace. Just a word of caution. The castle walls have almost no railings and the stone path is uneven. I got bumped by a careless tourist and thought I might fall over the edge.
>>> Click here to book a ticket to the Moorish Castle
7. Start Your day Early in Sintra
I'm a night owl. I don't like to get up early. Really I don't.
But for Sintra you have to. It's crowded and you need to get there first. I arrived at 9:30 am, but 8:30 am would have been far better. I know, the last thing you want to do on your vacation is get up early, right?
Plus, the palaces close between 5-7 pm. You can't stay late to avoid the tour buses. So if you're day tripping, it's best to get an early start.
Plan on visiting Pena Palace either very early or later in the afternoon, maybe around 3:00 pm. It's packed at mid-day.
8. Pre-Pick Your Sintra Castles Itinerary
My next tp for Sintra is that you shouldn't just winging it. Really it isn't advisable.
Do some research and decide which palaces you want to see ahead of time. You can't see them all. You have to choose.
I would say you could see 2-3 in a day. I saw 3 and I felt like I was rushing and missed some things. For example, I didn't explore Pena Park or see Monserrate. That's why 2 days is better than 1 day for this UNESCO town.
My itinerary and order of viewing was Quinta da Regaleira, Pena Palace, and then the Moorish Castle.
If I had a do over, I would change up the order and do Pena Palace either first or last and not at midday. The lines were much smaller when we left Pena at 3:00 pm then when we entered around noon.
I regret not seeing Monserrate Palace. The candy pink palace with ornate Moorish and Romantic architecture looks divine.
If you can't stay overnight, I recommend skipping Monserrate Palace (too far afield) or substituting Monserrate Palace for the overcrowded, line-ridden Pena Palace.
You can skip the National Palace of Sintra in the center of town. You'll get a good look at it's exterior anyway, and it's the least impressive. If you only like luxurious palaces, you can skip the 10th century Moorish Castle.
9. Quinta da Regaleira Is The Best Attraction
In my opinion, Quinta da Regaleira is the best palace in Sintra. I'm always a little suspicious of places that are so universally loved, like the much more famous Pena Palace.
I confess Pena is lovely and eye catching with its contrasting sparkly colors and schizophrenic architecture. It's very Disneyesque. But the extravagant stony Quinta da Regaleira stole my heart.
Quinta was built by eccentric and superstitious millionaire Antonio Monteiro. It's an eerie romantic place with stunning gardens featuring grottos, fountains, towers, and tunnels. It's part of Sintra's UNESCO designation.
And it's a short 10 minute walk from the historic center of Sintra. Quinta is the easiest palace to access.
The palace and its architectural ensemble are magnificent, with Gothic, Egyptian, Moorish, and Renaissance features. There are carvings associated with Masonry, the Knights Templar, and the Rosicrucians.
In the brochure you can get, Quinta is described as an "imaginary universe of symbolism and metaphor." It felt that way to me, very Pans Labyrinth-esque.
The gardens feature a startling "initiation well" that was used for secret initiation rites.
You walk 90 feet down the spiral (and somewhat slippery) staircase. Then, you enter underground tunnels that take you into the gardens.
The well contains nine platforms, which are said to be "reminiscent of the Divine Comedy by Dante and the nine circles of Hell, the nine sections of Purgatory and the nine skies which constitute Paradise."
In high season, you should pre-book a skip the line ticket to avoid a wait in line. Your ticket comes with a map showing you what to see on the grounds. You can also book a guided tour of the castle.
10. The Pena Palace Double Line Trick
I feel like this was a trick.
I had purchased online skip the line entry tickets to Pena Palace is rather expensive as far as sites in Portugal go. You'll definitely want to pre-book a skip the line ticket and get there a bit early. Otherwise, you'll be waiting in a long queue and waste precious time.
With a ticket, I avoided the long queue to enter the palace grounds and waltzed in.
But, unbeknownst to me, there was an even longer line to see the palace interior with no "skip the line" option. I waited.
On balance, however, I'd say it's absolutely not worth the long wait. (I'm an impatient person.)
To be sure, the interior was opulent. The balconies, parapets, and views were surreal, especially from the Queen's Terrace.
But the real beauty of Pena Palace is its gaudy operatic exterior with a riot of color and architectural styles and its gardens. So decide in advance whether you want to see the interior and budget time to wait in line, if you do.
11. There's Not Much Food in Sintra
Apart from the center of town where there are some pastry shops and cafes, there's not much to eat in Sintra.
Pena Palace has snacks available for purchase. And there are vending machines for water and soda.
But you can't get real food at any of the main sites. I felt hungry during my visit. So consider bringing food for a picnic lunch at one of the parks.
I hope you've enjoyed my must know tips for visiting Sintra. You may enjoy these other Portugal travel guides and resources:
If you need tips for visiting Sintra Portugal, pin it for later.