"Words are, in my not-so-humble opinion, our most inexhaustible source of my inspiration" — J. K. Rowling
Here's my guide to visiting Livraria Lello Bookstore in Porto Portugal, with key tips for visiting. You may be wondering if it's worth visiting and the answer is maybe, depending on your tolerance for crowds.
The 110 year old Lello Bookstore is one of the most beautiful bookstores in the world and a must see site in Porto. It's a stunning old world bookshop filled to the rafters with new and antiquarians books.
Livraria Lello is one of Portugal's must visit historic landmarks, thanks mostly to its links to Harry Potter. I hesitate to use the phrase "tourist trap" to describe such an indisputably beautiful place. That somehow suggests it isn't worth seeing.
Porto's Livraria Lello is definitely worth seeing. It's quite stunning. But, like a Gothic cathedral, it attracts fervent worshippers, over 4,000 a day.
It's one of Porto's most popular destinations because of its stunning Art Deco, Art Nouveau, and Gothic interior. But mostly it claims bragging rights as the rumored inspiration for J.K. Rowling's Harry Potter book series.
Livraria Lello is absolutely worthy of admiration. I'm just not sure that you can admire it properly anymore. Or that it's a "haven" for bookworms and architecture lovers.
Like the Louvre's Mona Lisa, it's become cultish. It's been mostly sacrificed to the masses, who make the pilgrimage to worship at the altar of Harry Potter like moths to a flame.
I'm not saying don't go. It depends on how crowd shy you are.
You have to factor this reality into your decision-making about which of Porto's must see sites to visit. Livraira Lello welcomes up to 5,000 visitors per day and it's tiny.
But most often there's a reason a site is so universally loved.
History of the Lello Bookstore
Livraria Lello lies in the heart of the Clérigos neighborhood of now trendy Porto. It opened in 1906, built by engineer Xavier Esteves. It was the brainchild and passion project of two brothers, Jose and Antonio Lello.
Jose was a bookworm who dreamed of owning a bookstore. Antonio was a more practical man of science. They intended Livraria Lello to be an extravagant, intellectual temple of letters and arts.
Reflecting their intent is the bookstore's neo-gothic facade with two figures, painted by José Bielman, representing art and science.
The bookstore was an immediate success. It received media coverage and was frequented by famous writers.
It became a social mecca and cultural touchstone for 20th century Porto. The Lello brothers published, printed, and sold books, effectively becoming ambassadors of Portuguese literature.
Livraria Lello is considered one of the most beautiful bookstores in the world, clocking in at #3 on Lonely Planet's ranking. Time Magazine placed it among the world's 15 most interesting bookstores.
In 2014, CNN declared it was the most beautiful bookstore in the world. It's now classified as a National Monument.
Was Livraria Lello An Inspiration for J.K. Rowling?
The Lello bookstore was allegedly an inspiration for J.K. Rowling's Harry Potter series. She lived in Porto for two years in 1991-92 teaching English and was a frequent patron of the bookstore.
And apparently of the nearby art nouveau cafe, Cafe Majestic, which is also quite stunning but crowded and overpriced. It may have been overpriced back then, which suggests that this could be an urban myth.
In any event, it's clear that Rowling designed the framework and wrote the first few chapters of her first book, The Philosopher's Stone, while in Porto. On her website, Rowling writes:
"in those first few weeks in Portugal I wrote what has become my favourite chapter in the Philosopher's Ston, "The Mirror of Erised" — and hoped that, when I returned form Portugal I would have finished a book under my arm. In fact, I had something even better: my daughter Jessica."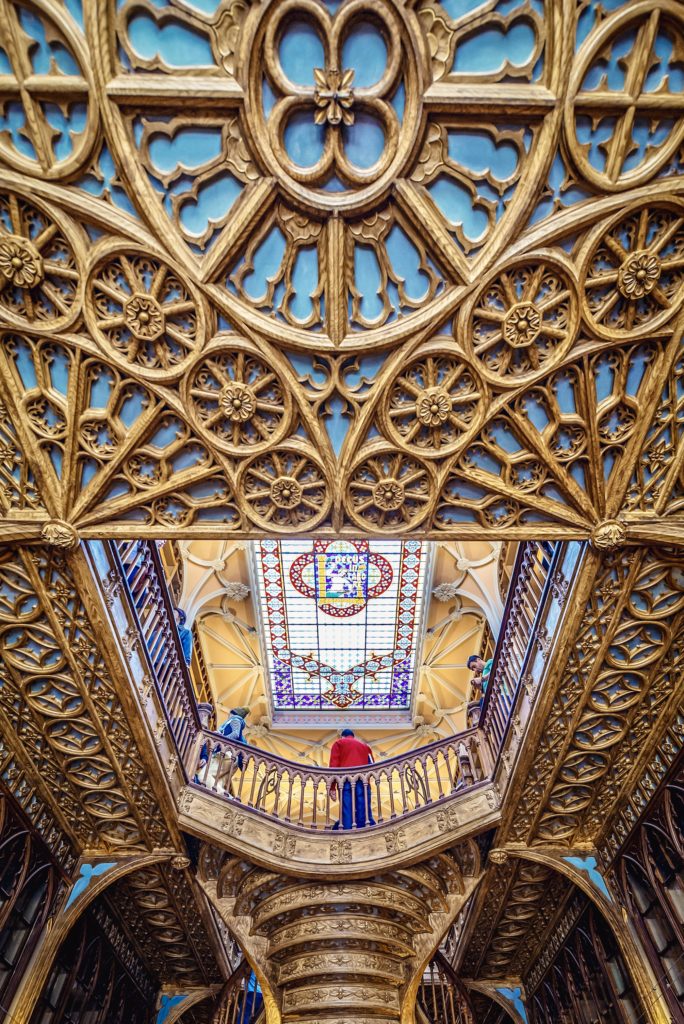 There's somewhat of a resemblance between Livraria Lello's spiraling red staircase and the moving Grand Staircase at Hogwart's School of Wizardry (thought one is curved and one is straight).
Livraria Lello is also reminiscent of Flourish and Blotts, where students purchased their magic manuals. Others compare it to Ollivanders, the shop where fledgling wizards purchased wands.
The flowing capes of the Harry Potter wizards are decidedly similar to those worn by students of Porto and Coimbra University.
Throughout the bookstore, you can find many different versions, with beautiful covers, of all the Harry Potter books in many languages. There is even a Harry Potter room at the back of the first floor.
Tickets For Livraria Lello Bookstore
Livraria Lello opens at 9:30 am. I was visiting the Porto bookstore on a Thursday in May, not on a weekend or during prime high season.
Other Porto sites didn't sport long queues. So I thought if I got there early to purchase a ticket, that would be sufficient.
I was dead wrong. Bonkers queues.
I was a victim of failure to do proper research. In fairness to myself, I hadn't realized "research" was needed to visit a bookstore.
Yes, it's a medieval themed bookstore, but it's not a UNESCO site or the key attraction in Porto.
My daughter and I arrived at Livraria Lello at 9:15 am and were greeted with an enormous line. We stood in line for a few minutes and eventually heard someone yelling "this is the entrance line, not the ticket line."
Wait, what? A quick google revealed that, indeed, there was a separate ticket line a few doors down.
While my daughter waited in the entrance line, I strolled over to the ticket line to investigate. There was another horrifically long queue.
I mean, it looked a mile long, Alexandroff size. I should have taken a photo to prove it.
I returned to my daughter and announced that I wouldn't wait in that death march. She was quasi annoyed, but understood that our time in Porto was not unlimited. And we were on our way to Guimaraes, an actual UNESCO site.
How To Buy Tickets for Livraria Lello
We immediately tried to buy online tickets on my iPad to save the visit. It wasn't that easy.
Livraria Lello's online site is a tad confusing and wouldn't load properly. Finally, after consulting with some kindly Europeans who spoke English and refreshing the page, we managed to procure online vouchers. Then it took 8 minutes for the ticket vouchers to download.
But eventually, and thankfully, we were granted entry and walked inside. With a thousand other people.
You can pay for tickets online here. Know that you'll still have to wait in a long line even with a ticket. At the entrance, a store representative will check your ticket.
You can also visit Lello Bookstore on a guided walking tour of Porto.
Is Lello Bookstore Worth Visiting?
I thought it was rather novel for a bookstore to charge admission. The price is designed to reduce the number of visitors.
It doesn't succeed. The bookstore has such a cult-like status that people come anyway. Budget travelers are not dissuaded.
And, unfortunately, the bookstore allows in too many people at a time. It was massively crowded with tourists.
There was no personal space in that bookstore, not even an inch. It was like a concert venue. I had to take pictures of small things to avoid over-peopled photos.
This could be somewhat alleviated by restricting entry to X number of people or designating specific time slots for entry.
This is how traffic is managed at the ancient, and much more authentic, UNESCO library in Coimbra Portugal. That would definitely have improved our experience.
Absent that, I was rather disappointed and a bit miffed about not being able to really absorb the artsy gestalt of the place.
It's difficult to feel the magic or immerse yourself in exquisite architecture with throngs of people elbowing you, pushing past you, and wielding selfie sticks.
I could see with my eyes, but couldn't feel it in my soul.
If I'd been alone, I might have been in and out in 15 minutes, so besieged did I feel on what was supposed to be a geographical cure.
But my daughter was smitten and wanted the Harry Potter type experience.
I understood her fascination. I've read all the Harry Potter books too. And so I stayed, suffered, and tried to browse.
Sometimes you have to play the tambourine, meaning you're second fiddle. (Wow, I used a metaphor to explain a metaphor.)
Unfortunately, people weren't terribly interested in books. There were a few nerdy bookworms like me there.
But the vast majority of visitors were just shooting photos and videos on the lolloping Insta-famous red staircase.
The Fabulous Interior Of Lello Bookstore
But you can grudgingly see why.
It's a fabulous showstopper that flows like a stream of water. In the 1930 Livraria Lello catalogue, the iconic flowing staircase is described thusly:
"Thou who walked the room, shall then see a staircase which is a piece of surprising allure, for its apparent lightness which masks the audacity of its design. One feels the urge to climb it yet fears one's weight may make it crumble."
Aside from the beautiful staircase, every inch of Lello is heavily decorated with art nouveau and medieval touches.
The stairs are ornamented. The lacy spiraled ceiling is arresting, though it's actually made of painted plaster not wood (a new artistic technique at the time).
Throughout the bookstore, there are the bronze busts of important Portuguese writers sculpted by Romão Júnior, including Antero de Quental, Eça de Queirós, Camilo Castelo Branco, Teófilo Braga, Tomás Ribeiro, and Guerra Junqueiro.
There are small busts imbedded in the stacks of books. The floors are lined with tracks for moving books.
After 10 minutes, I managed to get a photo near the ladder, which was less popular than the staircase
The red staircase leads to a balconied second floor with ornate curved balusters.
There, you can study the 8 x 3.5 meter stained glass skylight. It sports the Livraria Lello motto, Venus in Labore, dignity in work. In 2016, the 55 pieces were dismantled for the first time and cleaned and repaired. Now, it sparkles.
There's also a tiny cafe upstairs beneath the stained-glass skylight.
Buy a Book at Lello Bookstore
Don't be that person who doesn't buy a book. Lello is an independent bookstore. True, the books are ecidedly overpriced.
But, if you do buy books, you can redeem your entry fee voucher as a credit against the price. My daughter basically got a book for free.
Naturally, most of the books are in Portuguese. But there are plenty of books in English and other languages. The bookstore also has lovely bookmarks.
Livraria Lello is hands down the most beautiful bookstore I've ever encountered. Without the tourists, I would have been in a drunken book daze and stayed for hours.
I think the owners could better manage it as a popular Porto tourist attraction. But with the mobs, it's hard to really appreciate the beauty or magic of the place.
I selfishly wish I'd had this magnificent work of art all to myself.
Practical Information for Visiting Livraria Lello in Porto
Address: 144 Rua R. das Carmelitas 111, Porto
Hours: Monday to Friday: 10:00 am to 7:30 pm, Saturdays and Sundays 11:00 am to 7:00 pm.
You may enjoy these other guides to Portugal:
If you'd like to visit Livraria Lello Bookstore in Porto, pin it for later.