Here's my guide to the best places to take photos in Porto Portugal.
Colorful vintage-y Porto Portugal is a travel photographer's dream. Or just a dream. It's so dreamy that, right now, Porto is one of Europe's hottest city destinations.
Portugal's second largest city has a pretty palette. Medieval townhouses are stacked above the Duoro River like legos.
You'll find a cavalcade of Gothic, Renaissance, Baroque, and Neo-Classical architecture.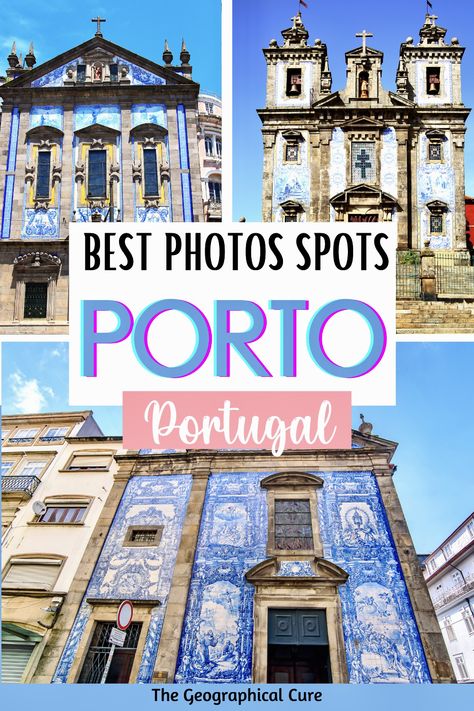 Porto's is full of Baroque churches. They wear their exquisite azulejo tiles, for which Porto is famous, inside and out.
Porto is a highly walkable city. You'll stroll down dreamy cobblestone streets and admire balconies adored with flowers.
And hike up hills. Many hills.
While those hills may make your quads burn, they provide amazing vistas to view some of Porto's visual treats.
Best Photo Spots in Porto
Here are my picks for the best places to take photos of the magnificent sights in Porto.
1. Capela das Almas
Capela das Almas is a little charmer of a church. It's completely wrapped with a ornate blue and white tile mural on its entire exterior.
The bright blue mural was added in 1912. But it's painted in an 18th century style.
Its 15,947 tiles depict scenes from the death of St. Francis of Assisi and the martyrdom of Santa Caterina. It was one of the most extraordinary things I saw in Porto. So unique.
The enchanting little church is on the Rua Santa Caterina and is sometimes called the Chapel of Santa Caterina. Santa Caterina is a popular pedestrianized street filled with shops and cafes, near Bolhão Market.
That's the one downside. It's hard to get a proper photo of the church, so many people are milling about and gawking at it.
But plenty of people still nabbed photos against the beautiful azulejos. So be patient and you'll be rewarded.
Address: Rua de Santa Catarina, 428 Porto
Cost: free
Hours: exterior visible 24/7, 7:30 am-7:00 pm Mon-Fri, 7.30 am-1:00 pm & 6-7 pm Sat
2. Livraria Lello Bookstore
Porto's Livraria Lello is stunning. It's considered one of the most beautiful bookstores in the world, clocking in at #3 on Lonely Planet's ranking.
Time Magazine placed it among the world's 15 most interesting bookstores. In 2014, CNN declared it was the most beautiful bookstore in the world. It's now classified as a National Monument.
It's one of Porto's most popular and photogenic destinations. People come in droves to see its lovely art deco, art nouveau, and gothic interior.
It also claims bragging rights as the rumored inspiration for J.K. Rowling's Harry Potter book series. Rowling has disclaimed this rumor, but that doesn't stop the tourists from coming.
The downside of all this beauty and the bookstore's Harry Potter affiliation is that it's very crowded.
The bookstore lets in too many people at once. So it can be difficult to get quality photos with Instagrammers vying for a coveted spot on the iconic red staircase.
My advice is to come an hour or so before closing when the crowds may have dissipated. Don't bother coming right when it opens or a half hour early. There will already be a significant line. For visiting tips, read my separate article on Livraria Lello.
Address: 144 Rua R. das Carmelitas 111, Porto
Cost: 5 euros, credited back against book purchase, online tickets
Hours: Mon to Fri: 10:00 am to 7:30 pm, Sat & Sun 11:00 am to 7:00 pm.
3. São Bento Train Station
Another great place for photos is the São Bento Train Station. A train station, you say?
Isn't that rather utilitarian? Why yes, but it's unexpectedly gorgeous.
I think it would've been extremely cool to have purchased a train ticket to Porto, and arrived at the Bell Epoque station without realizing that amazing azulejo murals await you.
That would have put the "romance" into into train travel, a phrase I frequently hear but can't often agree with.
Alas, I was driving on this geographical cure. And so I paid a tourist visit. With scads of other tourists. It's a popular place.
You enter the station and there is an extraordinary soaring atrium covered with 20,000 azulejo tiles from 1905-16.
They come courtesy of Jorge Colaço. He also created the tiles for the Igreja de Ildefonso. Colaço sought to depict important moments in Portuguese history, including bloody battles and rural festivities.
Address: Praça Almeida Garrett, 4000-069 Porto
Open: 24/7
Cost: free
4. Majestic Café
The Belle Epoque is alive and well at Porto's beautiful Majestic Café. The eye- catching cafe is considered one of the most beautiful cafes in the world.
It appears regularly on top ten lists. It's certainly the prettiest one I've been inside or eaten at.
My daughter and I had dinner there our last night in Porto. It was one of the more touristy things that we did. And the cafe is definitely overpriced.
But I have to say, it was completely worth it just to see the extraordinarily beautiful Art Nouveau architecture and setting. And grab more photos in Porto.
Everywhere you look, it was beautiful, down to the tiniest details. I loved the period lighting, ornately carved wood, and the vintage mirrors.
And the food was actually quite good. The pastel de nata and the hot chocolate were especially delicious. A great chance to both eat and snap photos.
If you want something simpler, check out the world's most beautiful McDonalds on Avenida dos Aliados, right next to City Hall and near Porto Cathedral.
Address: Rua Santa Catarina 112, 4000-442 Porto
Hours: Mon to Sat 9:00 am to 11:30 pm
5. Igreja do Carmo
The lovely Igreja do Carmo is close to Livraria Lello and the Palacio da Bolsa. It's Instagram famous for its grandiose and exquisite side panel festooned with azulejo tiles.
The Baroque and Rococco style church was built in the 18th century and had its exterior tiles installed in 1910. The tiles depict the founding of the Carmelites religious order.
The church seems big, and looks like two churches smooshed together. And it is.
The Carmo is actually two churches, Igreja do Carmo and Igreja dos Carmelitas. They are separated by a tiny thin house, which is the narrowest house in Porto. The nuns lived and worked at Igreja dos Carmelitas and the monks at Igreja do Carmo.
Like Capela das Almas, people line up and take turns getting photos against the famous wall.
Address: Rua Carmo, Porto 4050-164
Cost: free
Hours: exterior 24/7, open 8 am-noon & 1-6 pm Mon & Wed, 9 am-6 pm Tue & Thu, to 5:30 pm Fri, to 4 pm Sat, to 1:30 pm Sun
6. Miradouro Da Vitória
Shabby chic Porto becomes picture perfect from the superb Miradouro da Vitoria.
You can see all of Porto — Vila Nova de Gaia, its wine lodges, the Dom Luis I bridge, the monastery Serra do Pilar, the large glass dome of the Palacio da Bolsa, Sé Catedral.
It's all of Porto and Gaia in one fell swoop!
And it's the perfect spot in Porto for photographers or Instagrammers. Plenty of room to set up a tripod and shoot away. And you'll have no trouble getting selfies.
And it's the perfect spot for photographers or Instagrammers. Plenty of room to set up a tripod and shoot away. And you'll have no trouble getting selfies.
7. The Top Level of the Ponte de Dom Luís I
Another great place for photos in Porto is the Luís I bridge. You can walk across the top of the twin level bridge for stunning views.
This bridge connects the city of Porto with Vila Nova de Gaia. Gaia is a town south of the city. It's famous for its port wine warehouses.
The metal arched bridge was designed by one of the famous French engineer Gustave Eiffel's pupils, Théophile Seyrig.
Its construction began in 1881 and required 3,054 tons of metal. When built, it was the longest metal bridge in the world.
When I was there in May, young men in wetsuits lined up to jump off the bridge. It didn't look appealing to me. But they earned a few euros.
Address: Ponte Luís I, Porto, Portugal
8. Sé Cathedral Terrace
You get a two for one at Porto's stern looking cathedral, the Sé do Porto. The twin towered cathedral is a Porto landmark located right in the heart of the old town. It's Instagram worthy inside and out.
You can feast your eyes on photogenic azulejo tiles. You also get grand view for more photos of the pretty city.
The imposing fortress-like cathedral is part of Porto's UNESCO designation, it's so old. Construction began in the second half of the 12th century.
It's been renovated and now sports three different architectural styles — Roman, Gothic, and Baroque.
The church features a facade of two towers topped by 2 crowned cupolas, 2 buttresses, a rose window and a crenellated arch.
The barrel vault ceiling, the nave and the altar are fabulous.
But it's the Gothic Cloister that's a must see. Entry to the main part of the cathedral is free. But you'll pay 3 euros to visit the cloisters and museum.
The entrance to the cloister is located inside the cathedral, through a door to the right of the temple.
It's worth parting with the cash, just to view the gorgeous azulejos.
These 17th century baroque tiles were created by the artist Valentim Almeida. One set depicts the Life of the Virgin while the other depicts scenes from Ovid's Metamorphoses.
Be sure to step out onto the terrace for one of the best views in Porto.
Address: Terreiro da Sé, 4050-573 Porto
Cost: Cathedral: Free entrance, Cloister: € 3.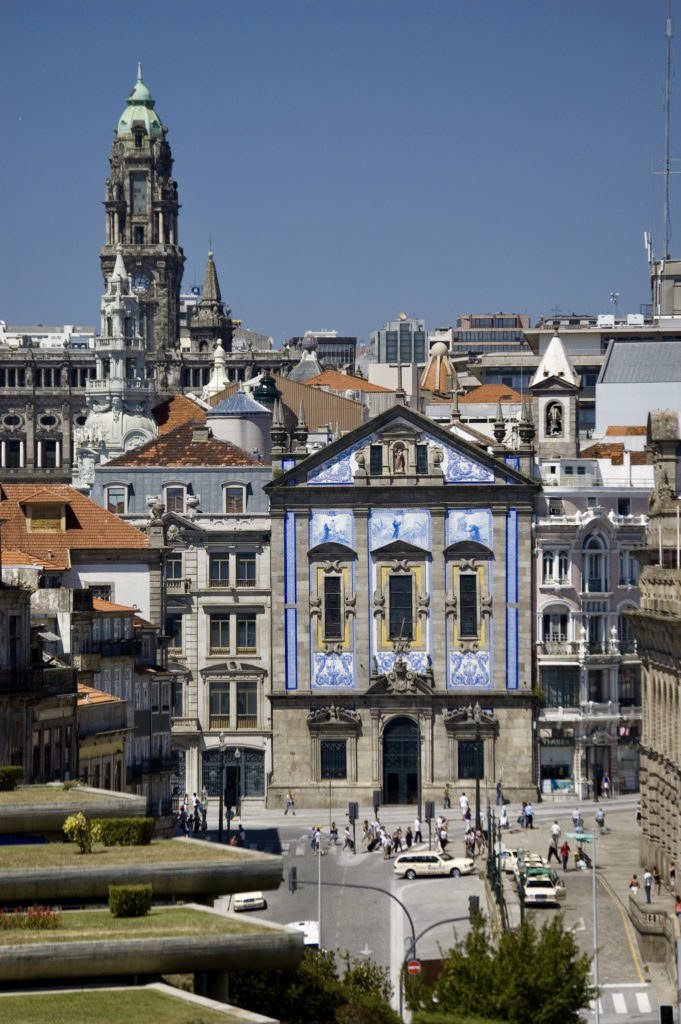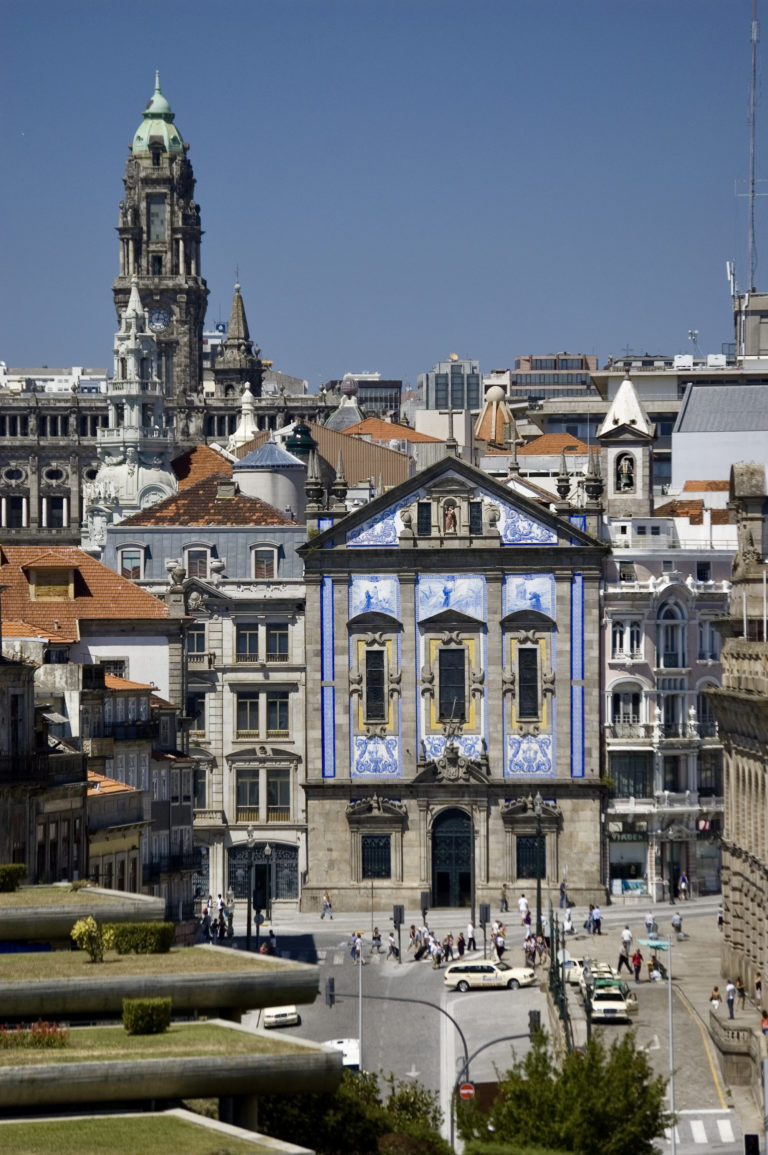 9. Clergios Tower
Clérigos Tower is the tallest campanile and a famous landmark in Portugal. It's a Baroque masterpiece, dating from the 18th century that stands 250 feet tall.
For €5, you can climb the 225 steps for a privileged and unbeatable view over Porto, the Douro River, and Vila Nova de Gaia.
Be forewarned that the steps are narrow and packed with tourists. It may be a chore to get to the top unless it's off season.
The rooms of the stairs house exhibits documenting the tower's history and its architects.
An interesting factoid about the tower is that, in 1917, it was successfully scaled by two Spanish acrobats in front of an enormous crowd.
Looking at the tower, such a feat seems impossible.
Address: Rua de São Filipe de Nery, 4050
Cost: € 8
Hours: 9:00 am to 7:00 pm
10. Palácio da Bolsa
Porto's old stock exchange was built next to the Church of São Francisco in 1832. The exterior was finished in 1850 and has a Neoclassical design.
The eclectic interiors were decorated right up to the start of the 20th century. It's an underrated tourist attraction in Porto, in my view.
You need to go inside to comprehend the richness of the elaborate sculpture, decorative carvings, plasterwork, frescos, chandeliers, and tiles.
The stuccoed Moorish Revival Salão Árabe is almost overwhelming. The style is Moorish, a type of architecture that dates back to the 13th/14th century.
It was recreated here by Gustavo Adolfo Gonçalves de Sousa. He was inspired by the Alhambra palace in Granda Spain.
The monumental Pátio das Nações courtyard is lit by an octagonal metal and glass roof. Click here to book a ticket and guided tour.
Address: Rua do Infante Dom Henrique, 4050
Cost: € 12, students & seniors € 5
Hours: Apr to Oct: 9 am – 6:30 pm, Nov to Mar: 9 am – 12:30 pm & 2 pm – 5:30 pm.
11. Church of Sao Francisco
The Church of Sao Francisco is also a stunner. It's the most prominent Gothic landmark in porto. The outside is pure Gothic and the inside is all Baroque.
You'll feel smothered in orange gold detail. The church is encrusted with 450 pounds of gold on its pillars, columns, and high altar. Unfortunately, no photos are allowed in the church.
One of Sao Francisco's prized treasures is a sculpture of Jesus' family tree, known as the "Gold Church."
On your visit, you can also tour the catacombs, with rather macabre decorations of skulls and extraordinary carved sculptures. There's also a museum housing relics from the church's monastery, which was destroyed in 1832.
Address: Rua do Infante Dom Henrique
Hours: Open daily 9:00 am to 6:00 pm
Entry fee: € 7.50
12. Teleférico de Gaia
The Teleférico de Gaia cable car provides great views and photo opps over the Duoro River. To catch the cable car, cross the lower level of the Luís I bridge from Porto.
Turn right and walk along the river in Vila Nova de Gaia past the vendors and wine caves. Eventually, you'll come to the ticket office for the cable car on the river.
You can get a one way ticket or a return ticket. But the one way ticket is likely the best. It's the ascent and will save you a steep hike upon landing.
When you disembark, you can hang out in the Jardim de Morro gardens.
Alternatively, make the relatively short hike up to the Monastery of Serro do Pilar for more views.
The Teleférico is only a 5 minute ride, but we loved it.
Address: R. Rocha Leão 236, 4430-148 Vila Nova de Gaia
Price: One way trip adult € 5, return trip € 10
13. Serra do Pilar Monastery Miradouro
If you have the legs for it, head to the Serra do Pilar Monastery miradouro for more photo opportunities.
The monastery sits loftily on a hilltop across from the Luís I Bridge. It's in the town of Vila Nova de Gaia. It has a prime position overlooking the Douro River and Porto.
The monastery itself wasn't open when were were there. But the views from its miradouro are well worth the hike up.
You have a good look at a length of Porto's 14th century fortress battlements, which are actually pretty interesting and part of Porto's UNESCO designation.
The nearby Jardim de Morro also has good views. You can sit down and rest in the grass with the young hipsters of Porto.
The day we were there, music was blasting and people were recruiting voters. It had a fun, relaxed vibe.
Address: Largo de Avis, Vila Nova de Gaia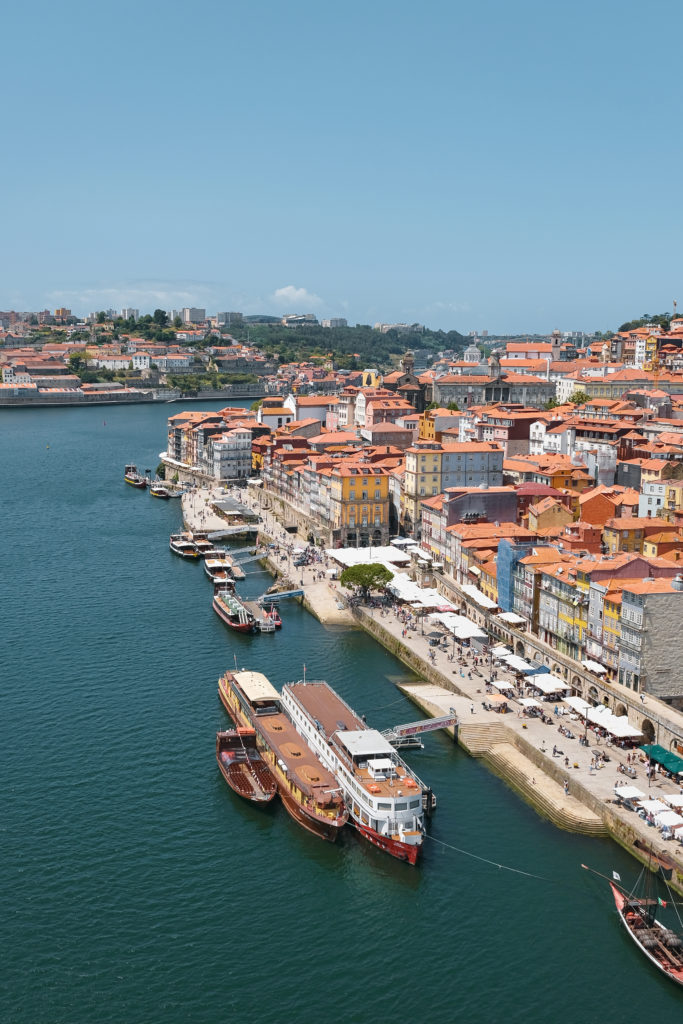 14. Walk along The Riverbanks Of Porto's Ribeira or Vila Nova de Gaia
Nothing beats a stroll along the Cais de Ribeira. You'll have some of the best photo ops in Porto.
The riverside quarter of Porto is a medieval warren of narrow winding streets and pastel painted facades in faded glory.
Tall and colorful row houses are crammed along the river bank. And there are plenty of trendy bars, cafes, shops, street artists, and entertainers.
Waking along the riverbanks of the Vila Nova de Gaia affords great views back on the Ribeira. You can also inspect the wine carrying boats called rabelos.
If you peak down the side streets as you go, to the left you'll see a magnificent art installation: Half Rabbit by Lisbon street artist Bordalo II.
It's part of his Trash Animals series (dogs, fish, bees, rabbits). Bordalo II is known for creating works of art from "waste" as a statement on the impact of consumerism.
Half Rabbit was simply arresting. If you love street art, you can take a 2 hour guided mural tour by Tuk-Tuk.
15. River Cruise
One of the best places for photos in Porto is on the river itself. You have a unique perspective of the city from the water.
On a cruise, you'll see the famous six bridges of Porto and all the colorful buildings that line the riverbank. This is also a good way to snap sunset photos.
Click here to book the 6 bridges river cruise.
I hope you've enjoyed my guide to the best photos spots in Porto.You may enjoy these other travel guides and resources for Portugal:
If you'd like to see the best photos spots in Porto Portugal, pin it for later.