Exploring Lisbon? Here's my guide to the best places to find beautiful azulejo tiles in Lisbon Portugal.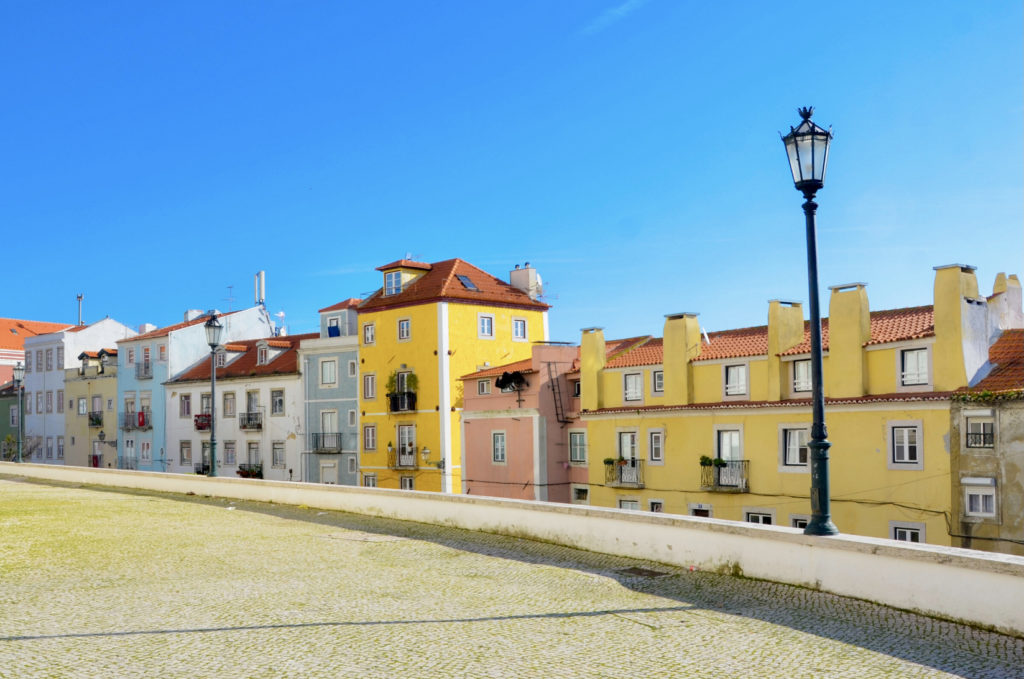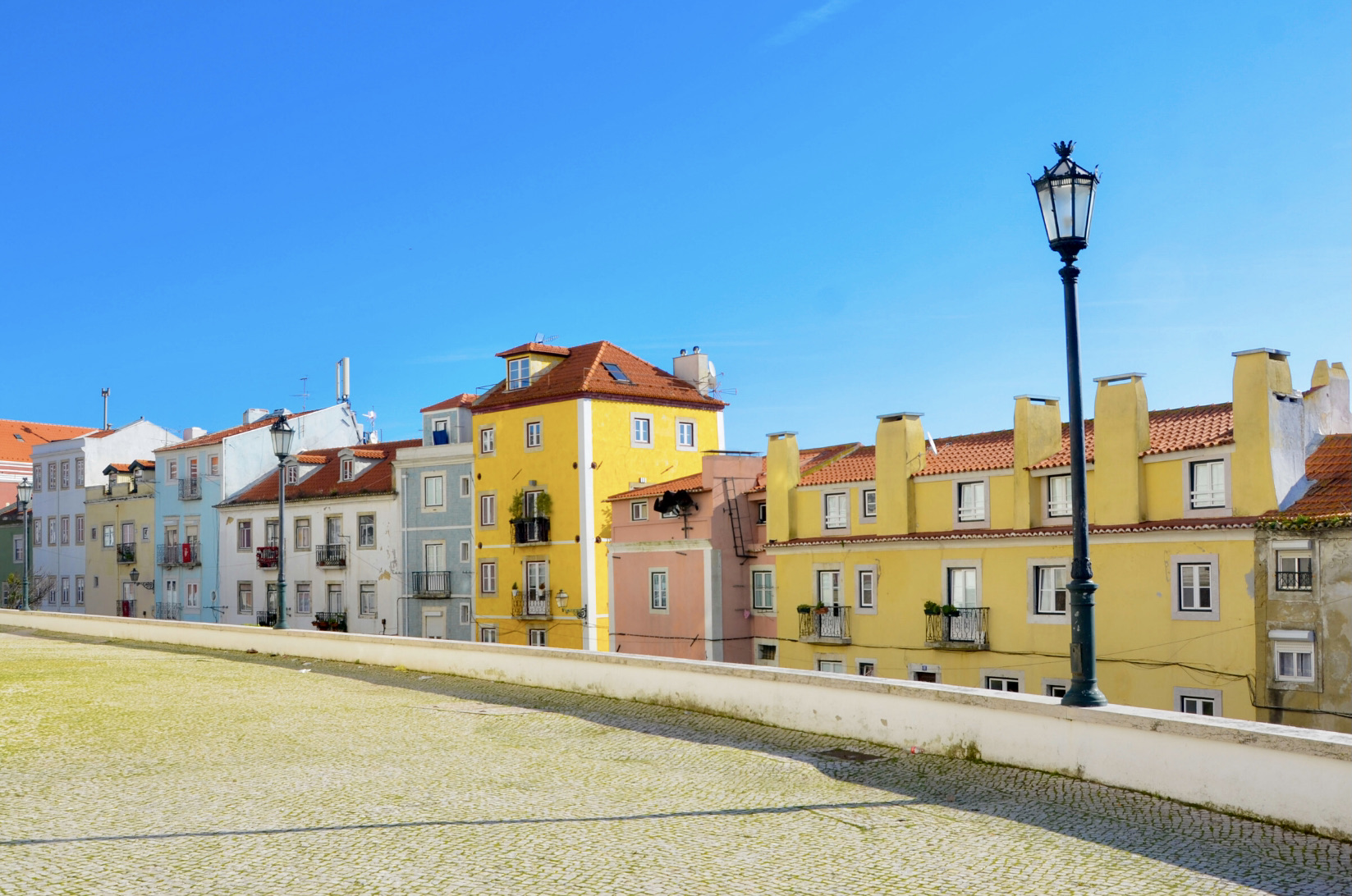 I have a confession to make. I'm obsessed with Portuguese tiles. While on a geographical cure in Lisbon, I poked in and out of so many ceramic shops that I lost count.
I came home with so much pottery my bag was groaning. But mostly, I arched my neck, squinted the sun from my eyes, and looked around in stunned admiration.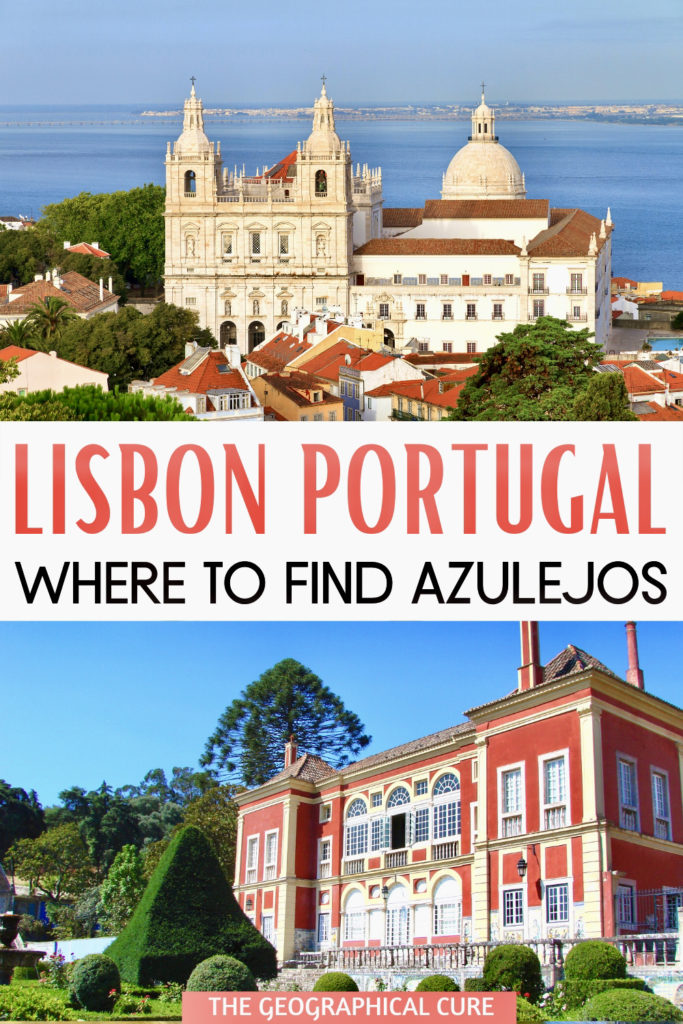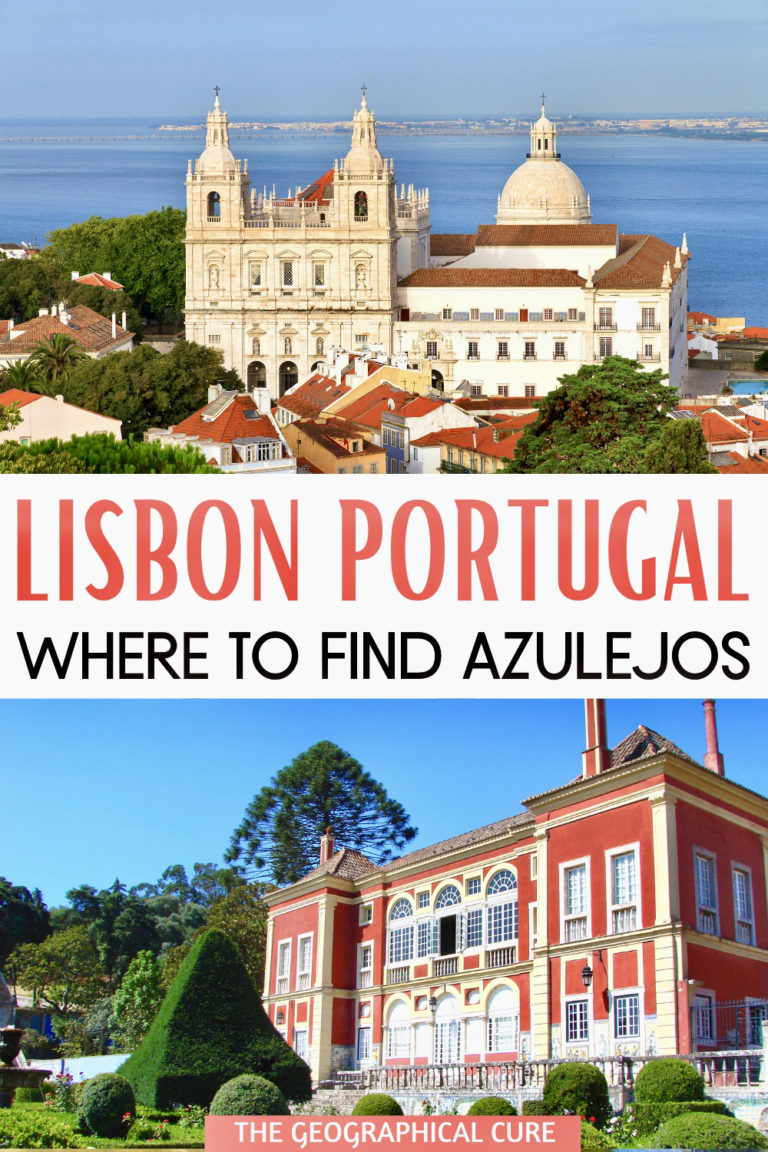 The artistic decadence of Lisbon's streets is unparalleled and enticing. Everywhere you look, there's color and beautiful azulejo tiles. It's easy to fall in love, fall back in time, and geek out.
In this detailed guide, I take you on an azulejo tour of Lisbon. And it's not just the obvious places. I've included some true off the beaten path hidden gems that you should be on your Lisbon itinerary, if time permits.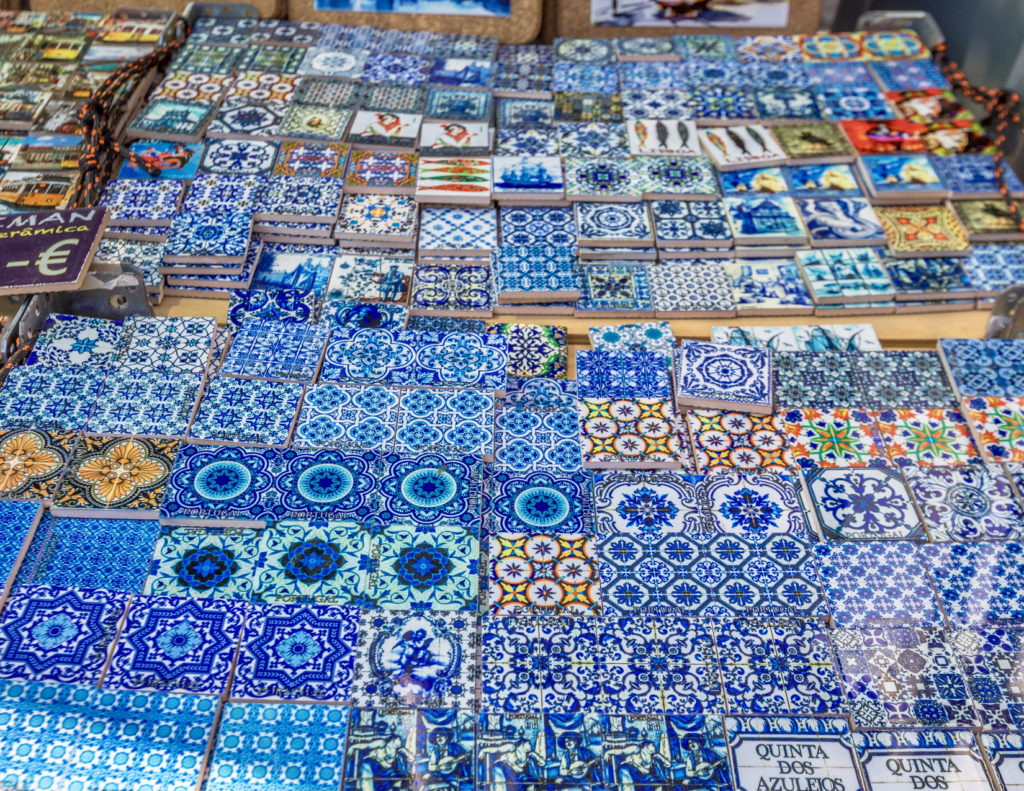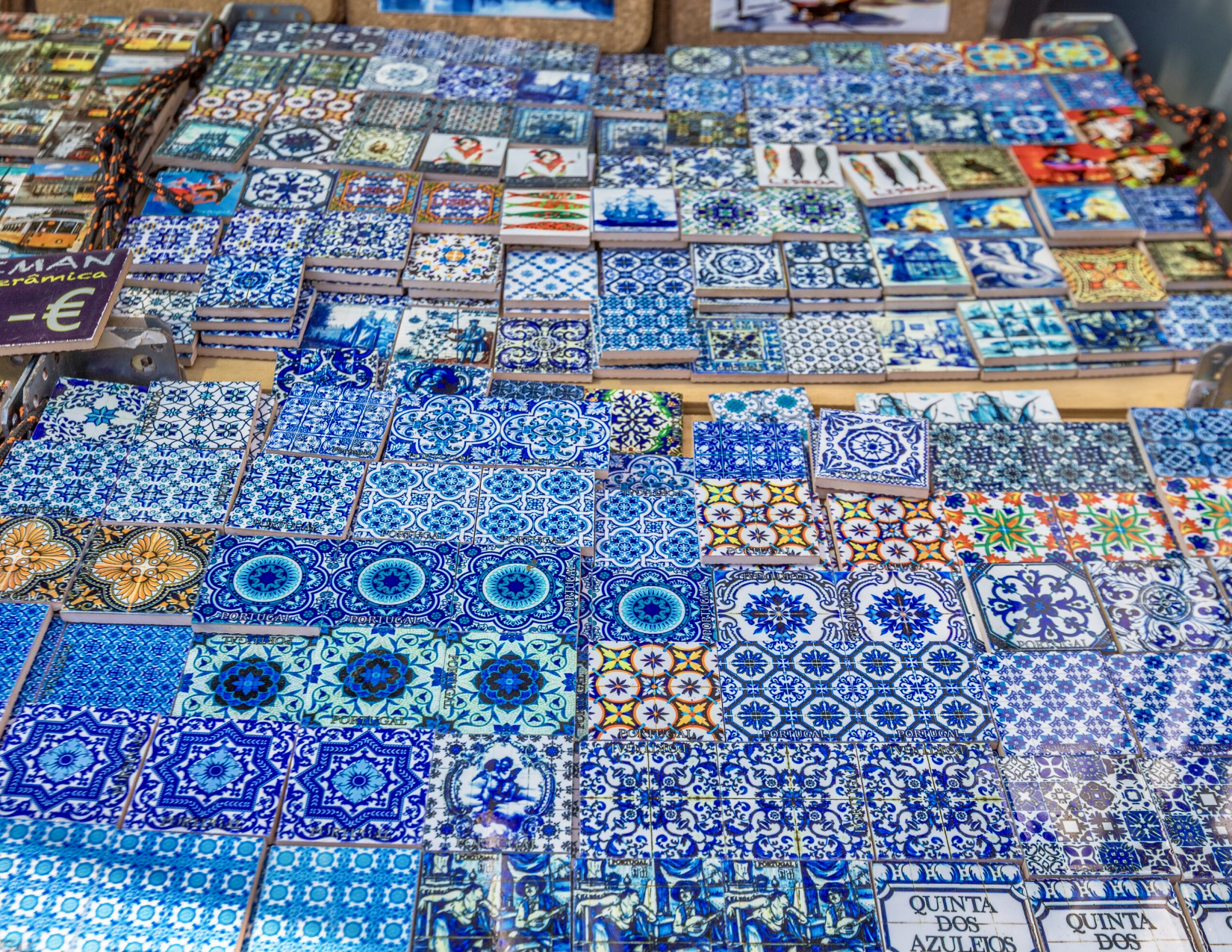 History of Portuguese Azulejos
The word azulejo is derived from the Arabic word "al-zulaich," which means "polished stone." Some azulejos are placed in repeating patterns and fanciful swirls. Others are fashioned into stunning figurative images and murals.
Azulejos are Portuguese to the core. In the beginning, azulejo tiles were geometric and mostly blue, hewing to their namesake word, "azul," which is Portuguese for blue. Slowly, azulejos became more elaborate.
In the 17th century, artists created designs with flowers, birds, dolphins, and cherubs. Tiles were no longer the sole province of the aristocracy or church either. The wealthy middle class could now afford them. They splashed out and used them to decorate their homes, inside and out
The 18th century is considered the "Golden Age of the Azulejo." Complex religious and historical motifs emerged. Sometimes they engulfed entire walls of buildings.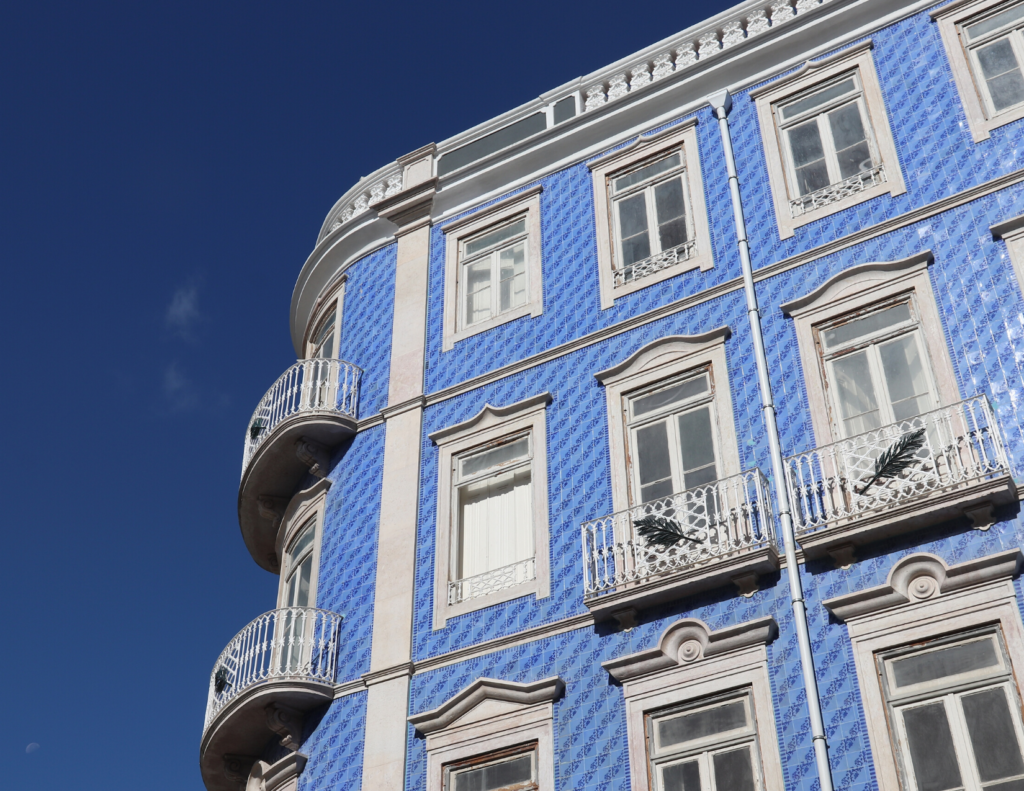 Azulejos fell out of favor in the early 20th century. They were deemed "lower class" and outdated.
In the 1950s, the construction of the Lisbon Metro halted the snobby azulejo demotion. The new metro stations were decorated with the tiles, and were an acclaimed hit. This jump started an azulejo revival. Large public works were commissioned. Diverse and abstract azulejos took over the streets.
Now, the venerable tradition prospers, with contemporary artists embracing the ancient craft. It's a source of national pride. And a delight for us tourists.
In fact, azulejos are so popular and sought after that Lisbon has an azulejo theft problem.
In Porto, I had a languorous azulejo binging day, and I did the same on my Lisbon getaway. You don't even have to ferret them out. Every corner you turn, there's a veritable feast for the eyes.
Where To Find the Best Azulejos in Lisbon
Ready for an azulejo hunt? here are the best places to see azulejo tiles in Lisbon.
1. House at Campo de Santa Clara, 124-26
This is arguably Lisbon's most beautiful tiled building. It's an elegant residence on a beautiful square in Alfama, near the National Pantheon and the city's flea market, the Feira da Ladra (or thieves market).
The home dates from 1860, created in the romantic style of the time, with some spectacular Baroque inspiration. Blue, yellow, and white azulejos are used to depict and frame busts, imitating marble.
The tiles were painted by Luís Ferreira, a famous Lisbon painter, and produced at the Viúva Lamego Ceramics Factory.
Address: Campo de Santa Clara, 124-26 Alfama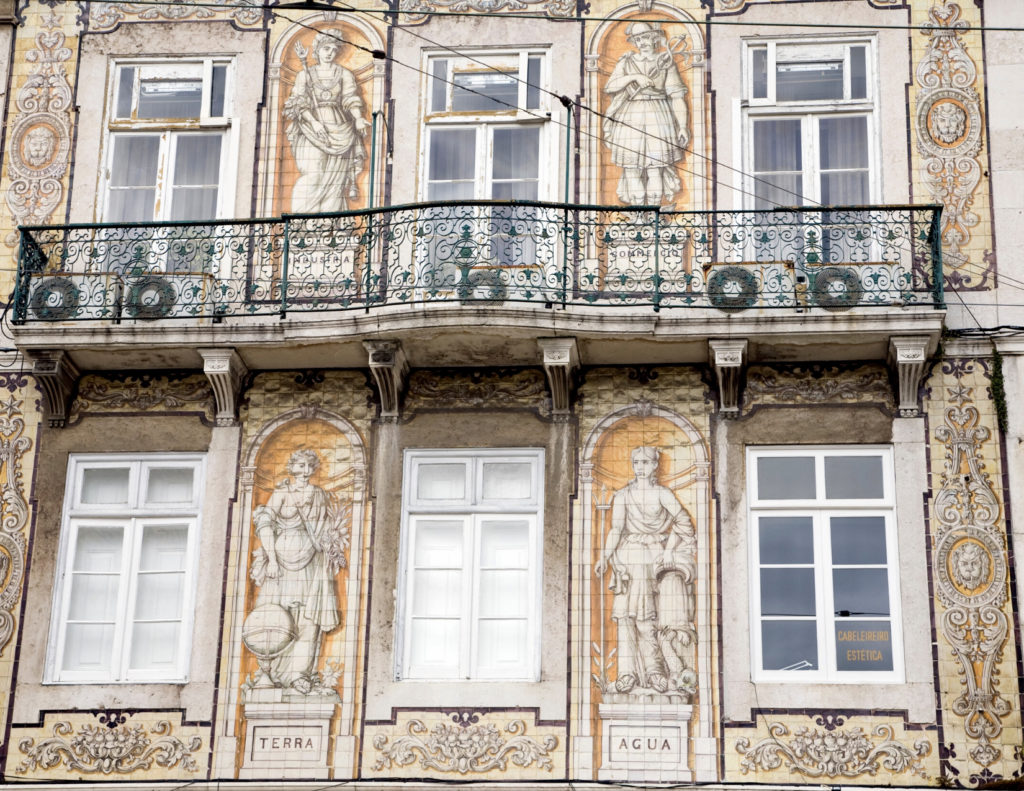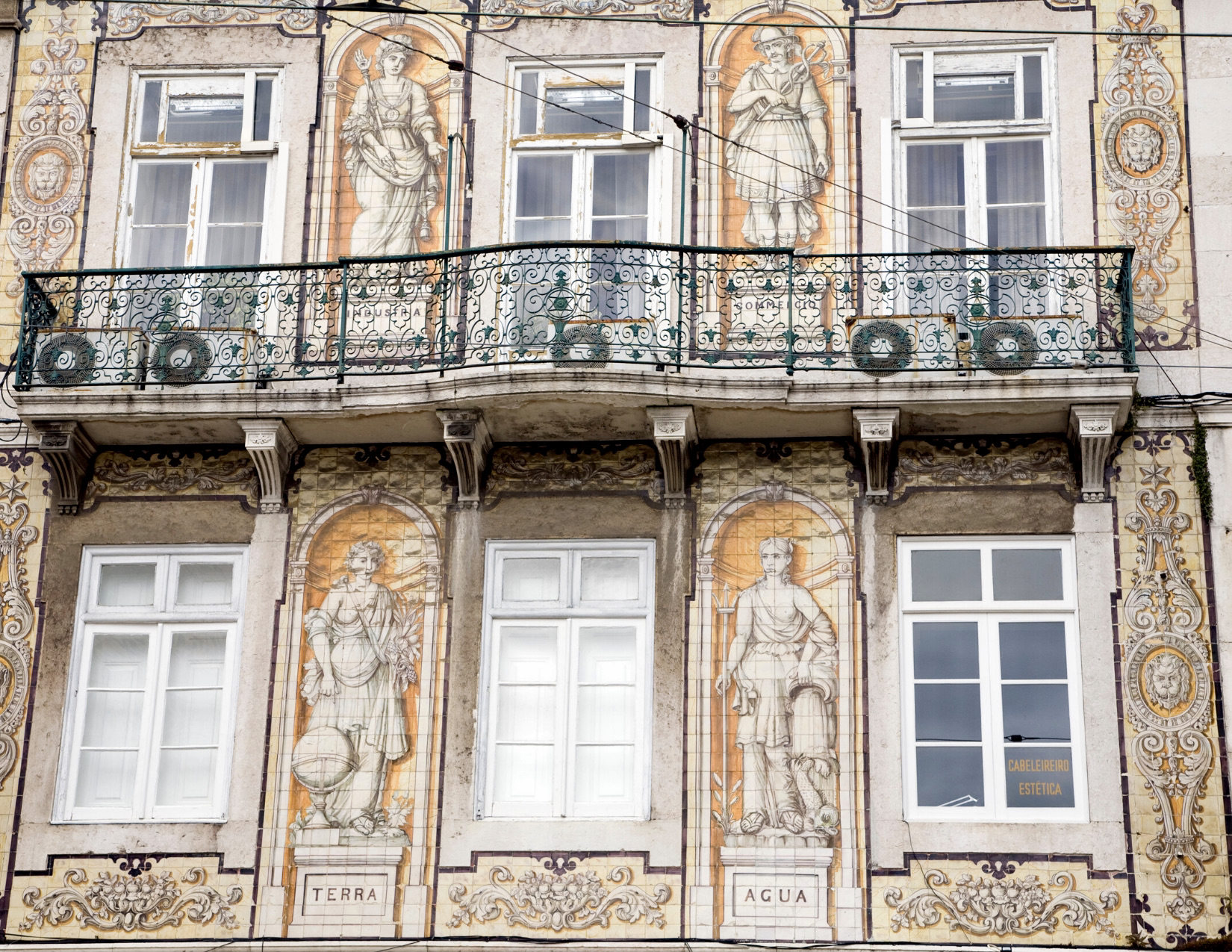 2. House of Ferreira das Tabuletas
This may be the most photographed tiled building in Lisbon. It's located in the center of the city, in the Chiado neighborhood. Chances are you'll stumble across it while exploring.
Dating from 1863, it's covered in yellow and orange tiles depicting mythological images that represent earth, science, agriculture, and commerce. At the top is a sun with an eye in the center.
Its azulejos are rumored to have Masonic meanings. But, of course, masons are so secret that we'll never know what they are …
This eye catching facade is also by the famous Luís Ferreira.
My daughter and I had dinner at Chiado Terrasse, a tapas restaurant on the bottom floor of the building. The food was pretty good, not amazing. But honestly we sat down just to admire the azulejos up close.
Address: Largo Rafael Bordalo Pinheiro/ Rua Trindade in Chiado.
3. Viúva Lamego Ceramics Factory
The beautiful facade of the Viúva Lamego Factory is a romantic stunner.
It was founded in 1849 by António da Costa Lamego. Now, it's an azulejo shop. It's worth visiting for the exterior alone.
The old factory's front facade is covered in flamboyant tile work — with courtiers in fancy dress and multi-colored flowers in full bloom.
On the pediment at the top, a pair of angels hold up the phrase "Anno 1865," marking the factory's opening year. Figurative characters stand guard by the doorways.
Inside, visitors can shop for tiles at competitive prices or commission custom orders for the ultimate souvenir. The shop has an impressive archive of hundreds of old tile patterns, which are the source for designs made today.
Address: Largo do Intendente Pina Manique, 25, 1100-088 Lisboa
Hours: 10:00 am to 5:00 pm
Metro: Intendente (on Linha Verde / Green Line).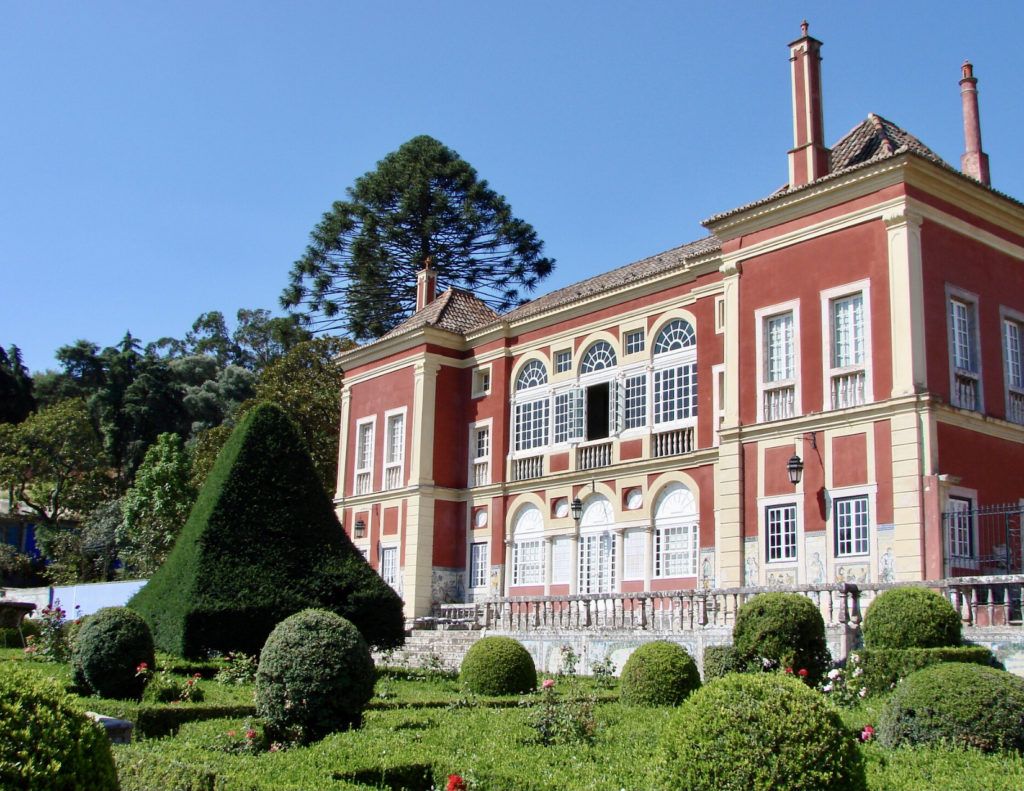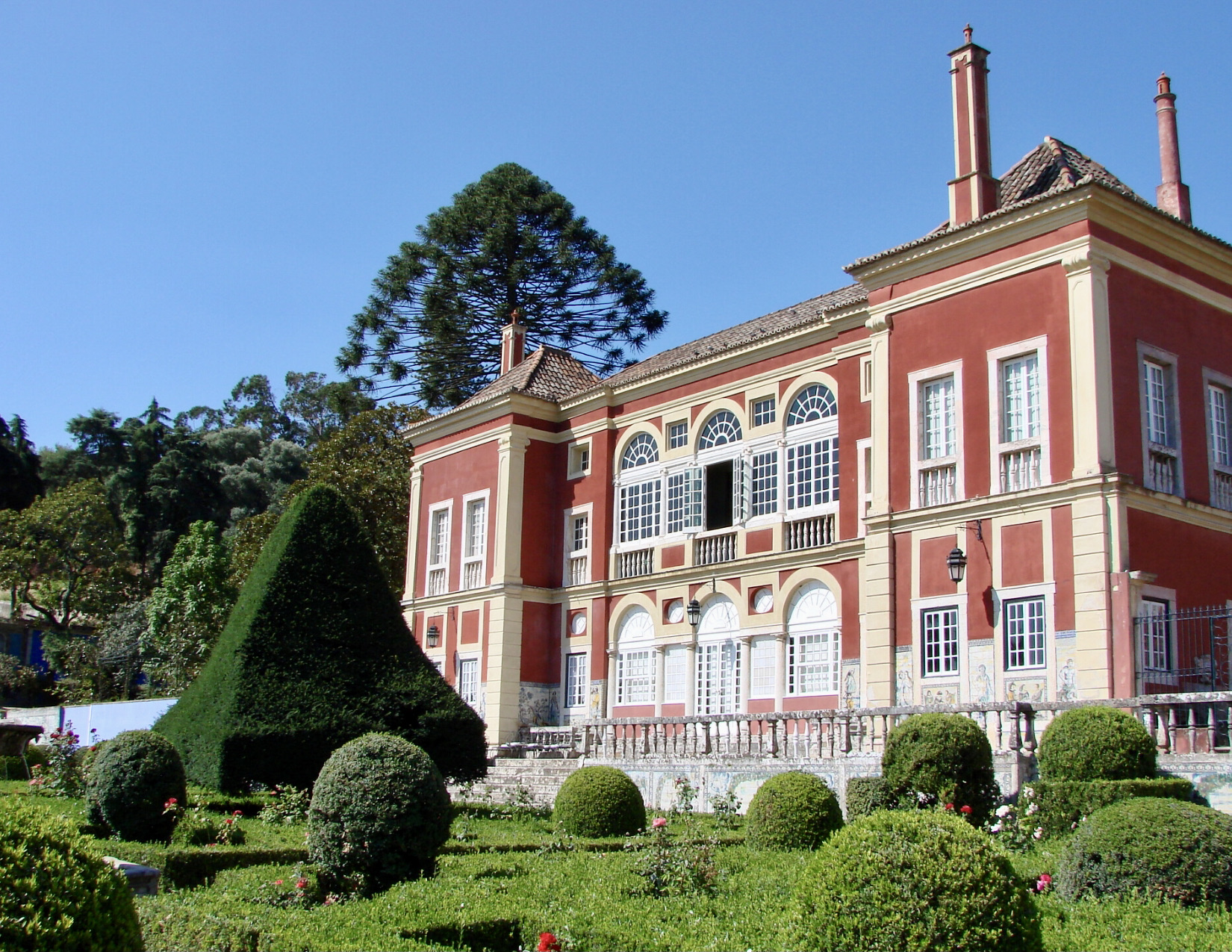 4. Palace of the Marquises of Fronteira
The lovely 17th century Fronteira Palace is located just outside Lisbon's city center, far from the madding crowd. It's one of Lisbon's best hidden gems, perhaps because it takes a bit of effort to get there.
Fronteira Palace was built in 1640. It's home to beautiful gardens and amazing tile work.
The azulejos are considered some of Portugal's finest. It could definitely use some TLC and restoration. But it's impressive nonetheless. And so unique.
The palace's Room of Battles is sometimes described as "the Sistine Chapel of Tilework." It depicts scenes from the battle for Portuguese independence against the Spanish.
Address: Largo Sao Domingos de Benifca 1, 1500-554 Lisboa
Hours: Mon-Fri 9:30 am to 5:00pm, Sat 9:30 am to 1:00 pm
Entry fee: 11 € for the palace and garden. You can only visit the palace during guided visits at 11AM or 12PM. If you miss the tour, then you can only see the garden for 6 €.
Getting there: 10-15 minute drive from Lisbon center. Or use Uber. You can walk from the Jardim Zoologico Metro Station or take a bus from the station to the front of the palace (No. 754 or 770).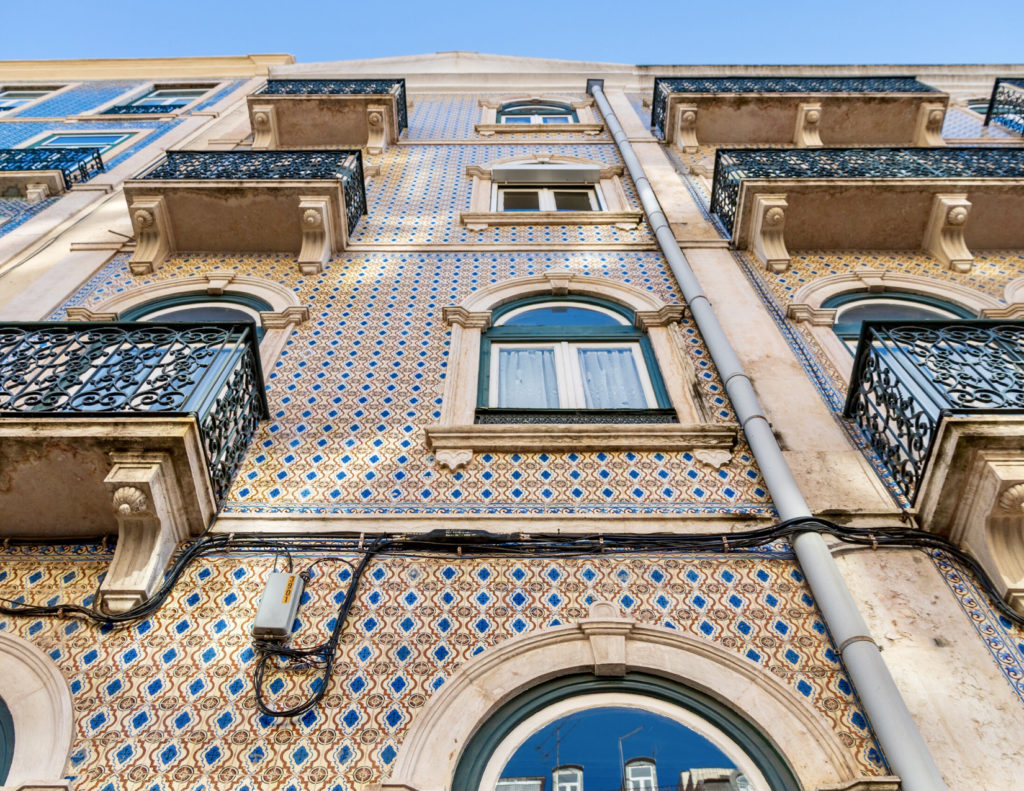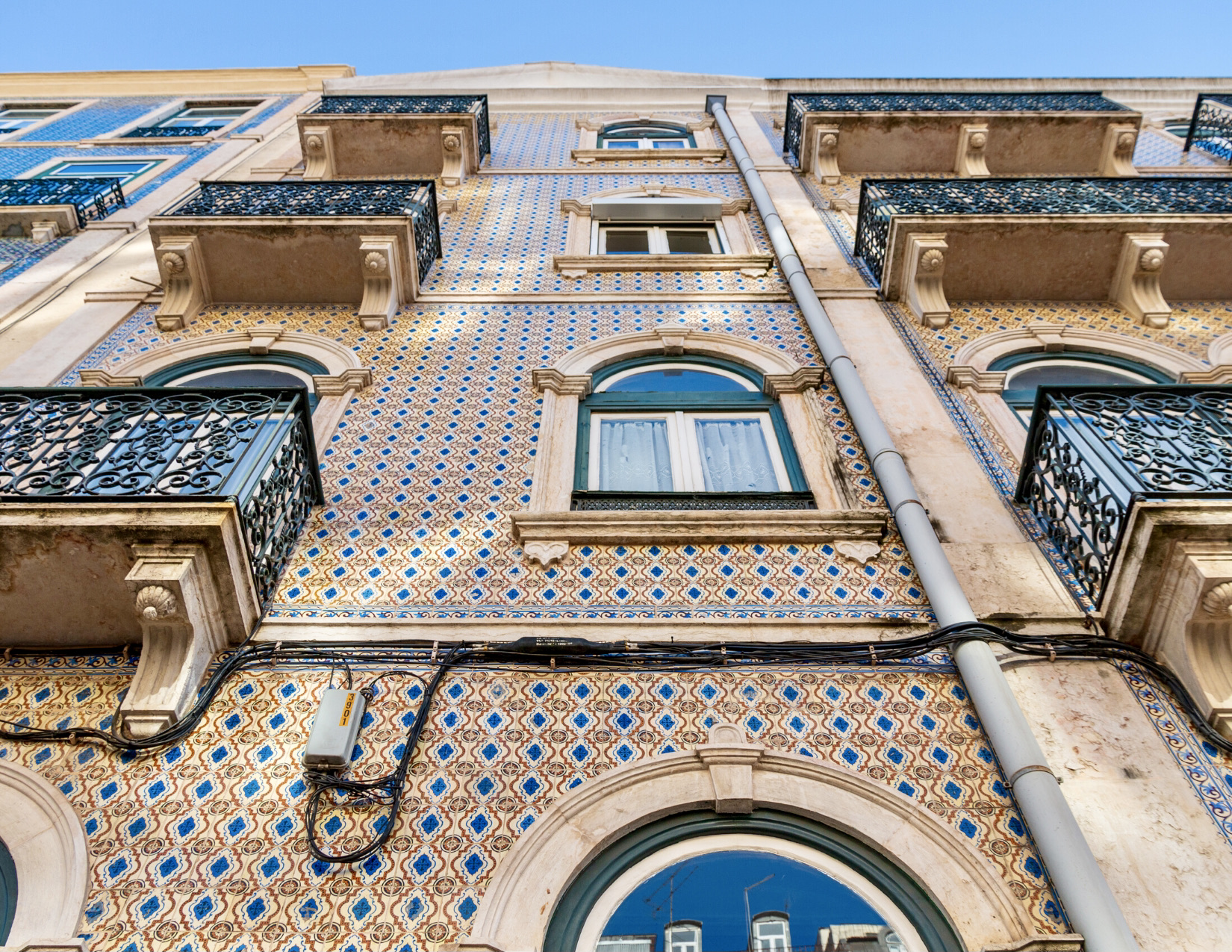 5. Alfama
Alfama is Lisbon's oldest neighborhood. It survived the 1755 earthquake and Lisbon' subsequent rebuild and gentrification.
As a result, perhaps it's Lisbon's most charming and authentic district. Here's my guide to Alfama.
Forget the map, you'll likely get lost anyway. As you wander through the steep cobbled streets you'll find a mix of artistic and colorful azulejos. Some are murals, others decorate homes, and still others are street art.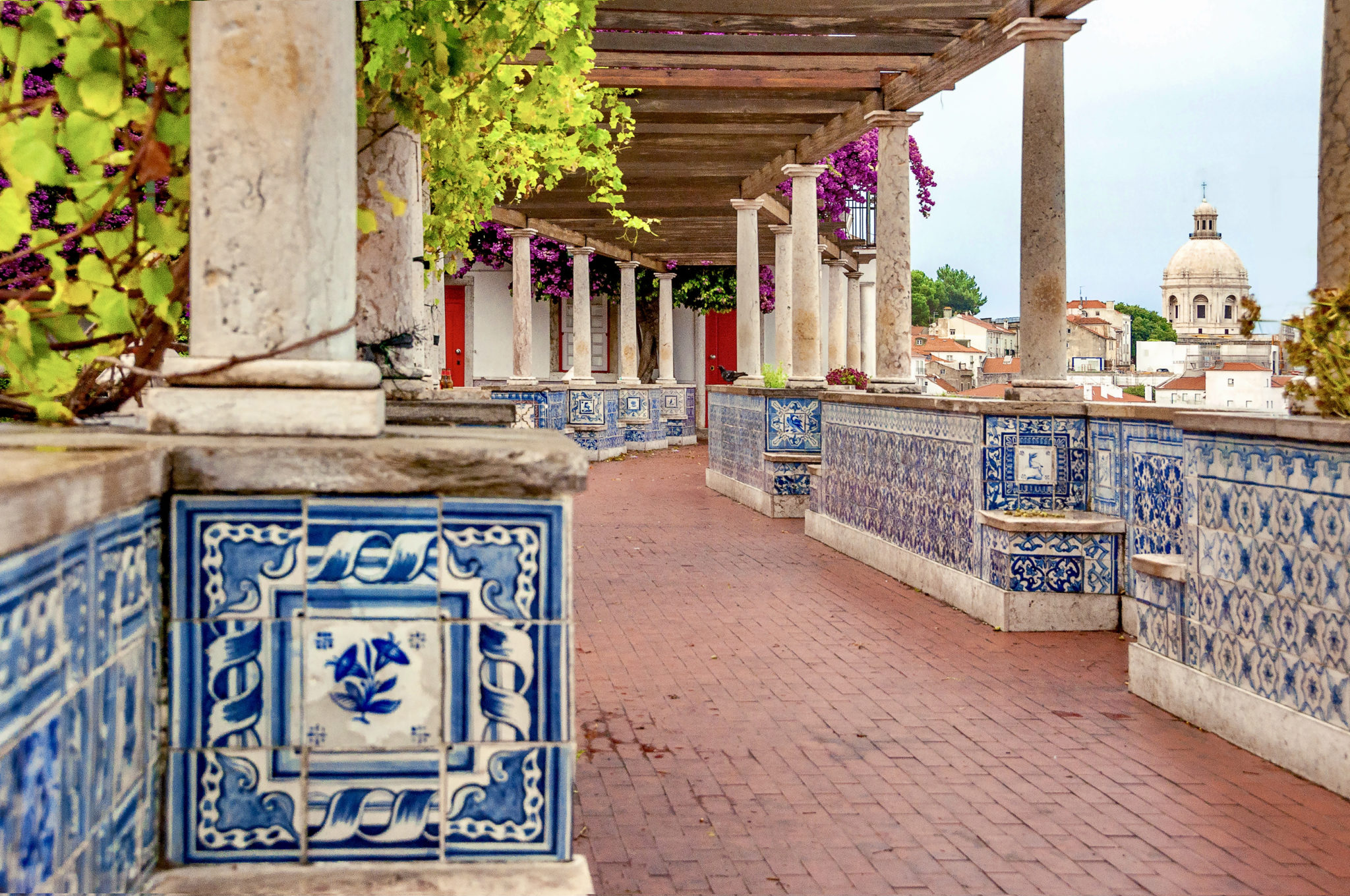 6. Miradouro de Santa Luzia
This is one of Lisbon's most romantic lookout points. It has a stunning terrace wrapped in azulejos. The azulejos are traditional white and blue.
You walk up from Lisbon Cathedral. The Miradouro gives you sweeping views over the Alfama district. But I'd say the viewpoint itself is prettiest than the views.
There's a cafe right there. After a sip, go to the back of the Church of Sant Luzia. There, you'll find two large tiled panels.
One shows the Praca do Comercio before the earthquake. The other depicts the historical moment when Christian crusaders captured St. George's Castle. When you're done admiring the view, you can make the climb to St. George's Castle nearby.
Address: Rua do Limoeiroa Alfama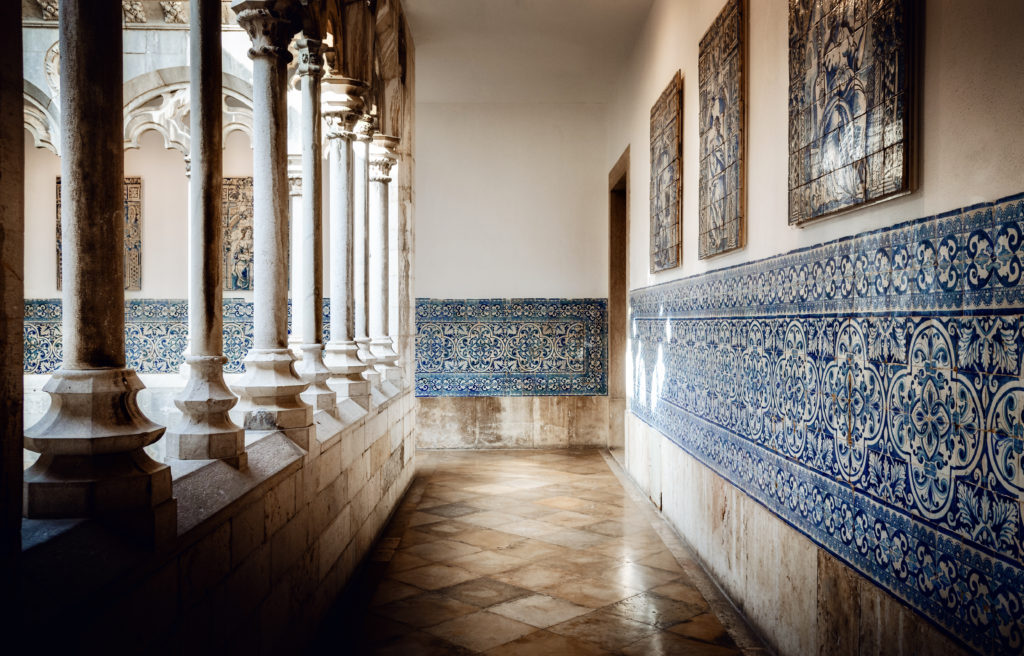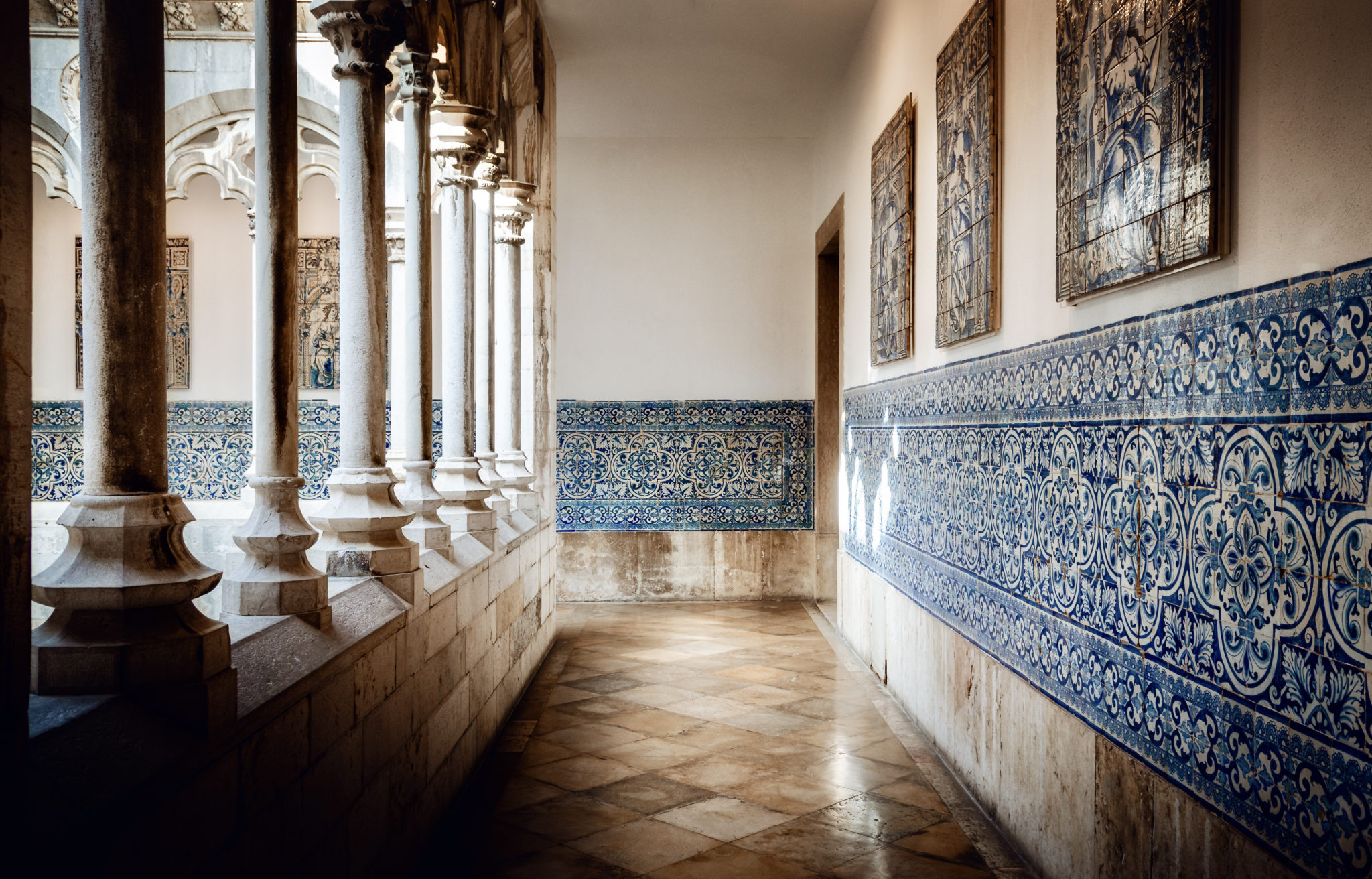 7. Madre de Deus Convent
Madre de Deus is Lisbon's most opulent church. The azulejos in the cloisters are among the best in Lisbon.
They are truly entrancing. They tell bible stories in engrossing detail: Moses and the Burning Bush, the life of Santa Clara, and the works of St. Francis of Assisi.
The convent is also home to Lisbon's fantastic National Tile Museum, another hidden gem that people sometimes skip because it's off center.
It was my favorite museum in Lisbon. There, you'll see azulejos from the 15th century to the present and learn about the history and production of azulejos.
The piece de resistance comes right at the end, on the upper story in Room G— a 75 foot long panel made of more than 1,300 tiles, created in 1738. It shows Lisbon, in all its glory, as it existed before the 1755 earthquake.
Address: Rua Madre de Deus 4B, Lisbon 1900-312, Portugal
How to get there: Catch the 794 bus from the river side of Praça do Comércio. The nearest train station is Santa Apolonia, from which you then have an approximately 20 minute walk. You can also Uber, which is inexpensive.
Entry fee: adults 5 Euros, children: free; free admission with Lisboa Card
Hours: 2:00 pm to 6:00 pm Tues,10:00 am to 6:00 pm Wed-Sun, closed Mon
Website: www.museudoazulejo.pt
Pro tip: The museum has a mobile app that works like an audio guide to explain the permanent collection and the history of the convent. You can download it from Google Play store or through the museum's website.
8. Lisbon Metros
Just taking public transport will allow you to see some of the best azulejos in Lisbon.
There are beautiful azulejo decorations at the original 1950s stations of Parque and Restauradores. They're the work of the prolific Portuguese artist Maria Keil, whose husband Francisco Keil do Amaral was the stations' architect.
Her decorative flair can be seen in 19 of Lisbon's metro stations.
For the World Exhibition in 1998, Lisbon built a new metro line with more elaborate tile decorations.
At Alameda Station, Costa Pinheiro created images of explorers and ships to honor Portugal's seafaring navigation history. At Olivais, there are olive trees on the tiles.
At Oriente, you'll find a wild aquatic azulejo world. Artists from five continents were given space to create individual works with a maritime theme.
It's truly breathtaking and you can't believe something so interesting is inside a utilitarian metro station.
Address of Oriente Station: Av. Dom João II, 1900-233 Lisboa
9. Monastery of Sao Vicente de Fora
The Monastery of São Vicente de Fora is a jaw dropping 17th century monastery designed by Filippo Terzi. It's dedicated to St. Vincent, who was proclaimed Lisbon's patron saint in 1173.
In Sao Vicente, you'll find marble halls, arcaded interior corridors, and sun dappled cloisters. The beautiful cloisters sport stunning azulejo mosaics telling historical stories.
Upstairs, an unbroken tiled pattern winds throughout the entire monastery. 100,000 tiles were used, making it the world's largest collection of Baroque tiles.
There are scenes (historically inaccurate ones) of Afonso Henriques attacking Lisbon. Floral designs and cherubs also illustrate the stories of Jean de La Fontaine.
He was a fabulist who pointed out the consequences of sin (vanity, idleness, and extravagance) and the rewards of kindness and hard work.
Here's my complete guide to the Monastery of Sao Vicente de Fora. It's a hidden gem in Lisbon that's much less crowded than the more popular Jerónimos Monastery.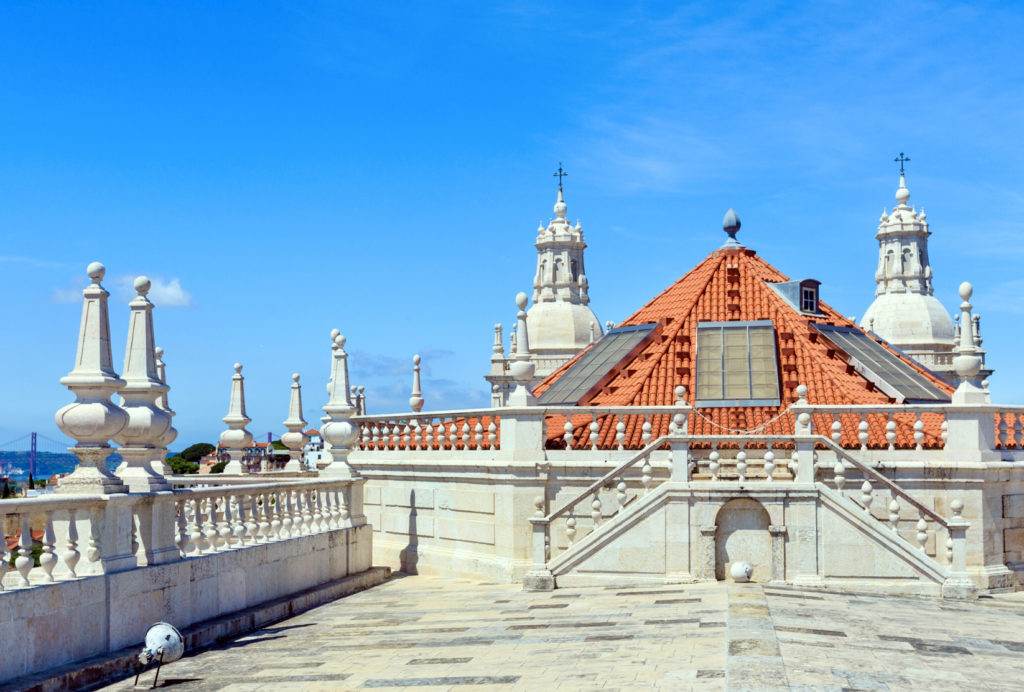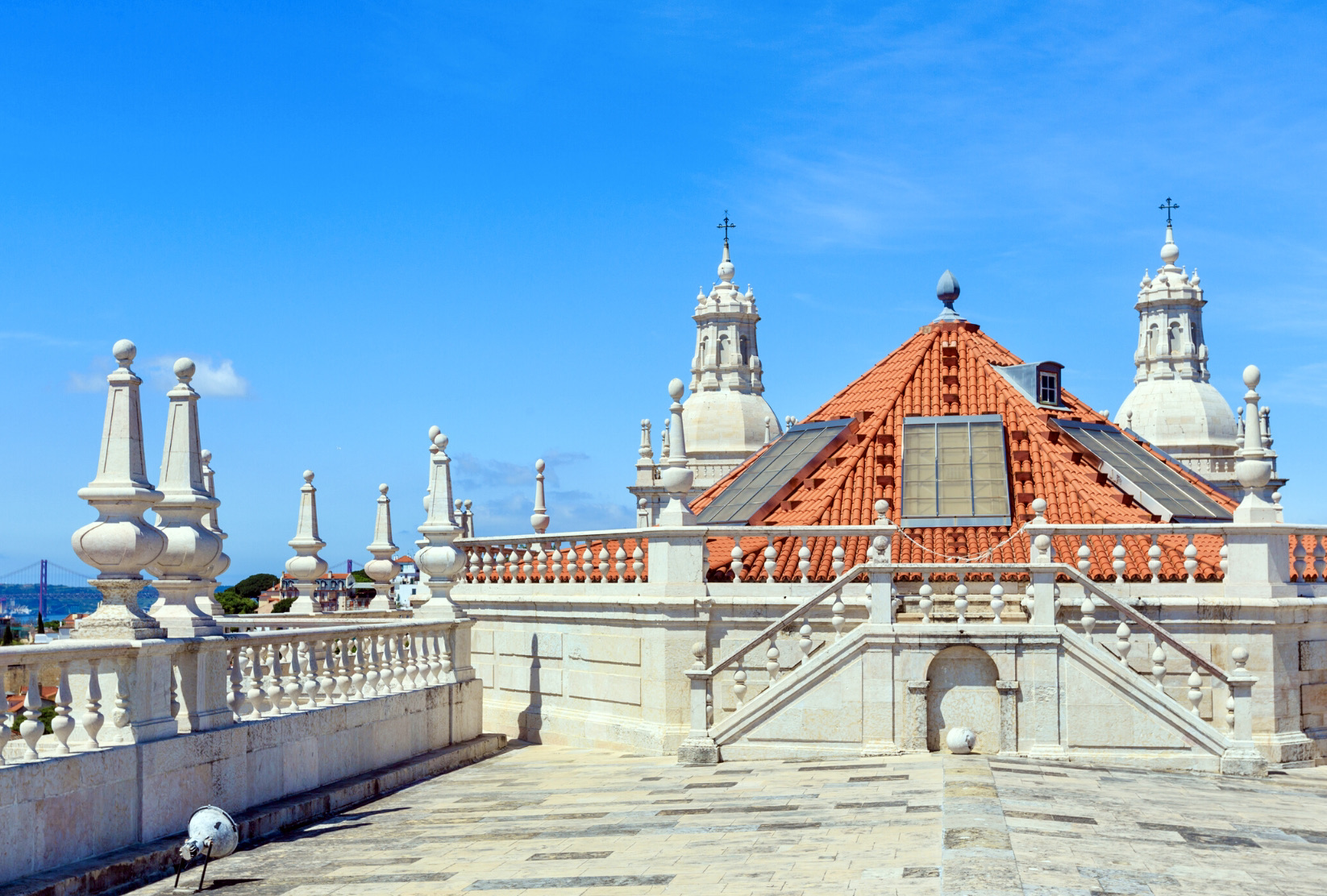 After your tour, go up to the rooftop of the church. There, you'll have stunning views over the Tagus River and the city.
Address: Largo de São Vicente, 1100-572 Lisboa
Hours: Open daily Tues to Sun from 10:00 am to 5:00 pm
Entry fee: Access to the rather dull church is free. It's 5 euros to see the real treasures — the cloisters, crypt, cistern — and have access to the rooftop.
Pro tip: If you don't want to journey to the Jerónimos Monastery in Belem or pay its rather large fee, this monastery is a fantastic alternative. It's inexpensive and crowd free.
10. Cloisters of the Jerónimos Monastery in Belém
The 16th century Jerónimos Monastery is a must see UNESCO site in Lisbon's Belém suburb.
It's an impressive symbol of Portugal's power and wealth during the Age of Discoveries. King Manuel I built the monastery in 1502 on the site of a hermitage founded by Prince Henry the Navigator. There, Vasco da Gama spent his last night in Portugal, praying for a safe first voyage to India.
The monastery was built to commemorate da Gama's successful voyage. In the 19th century, da Gama's remains were collected from his home town and re-interred in a Neo-Manueline tomb in the attached church.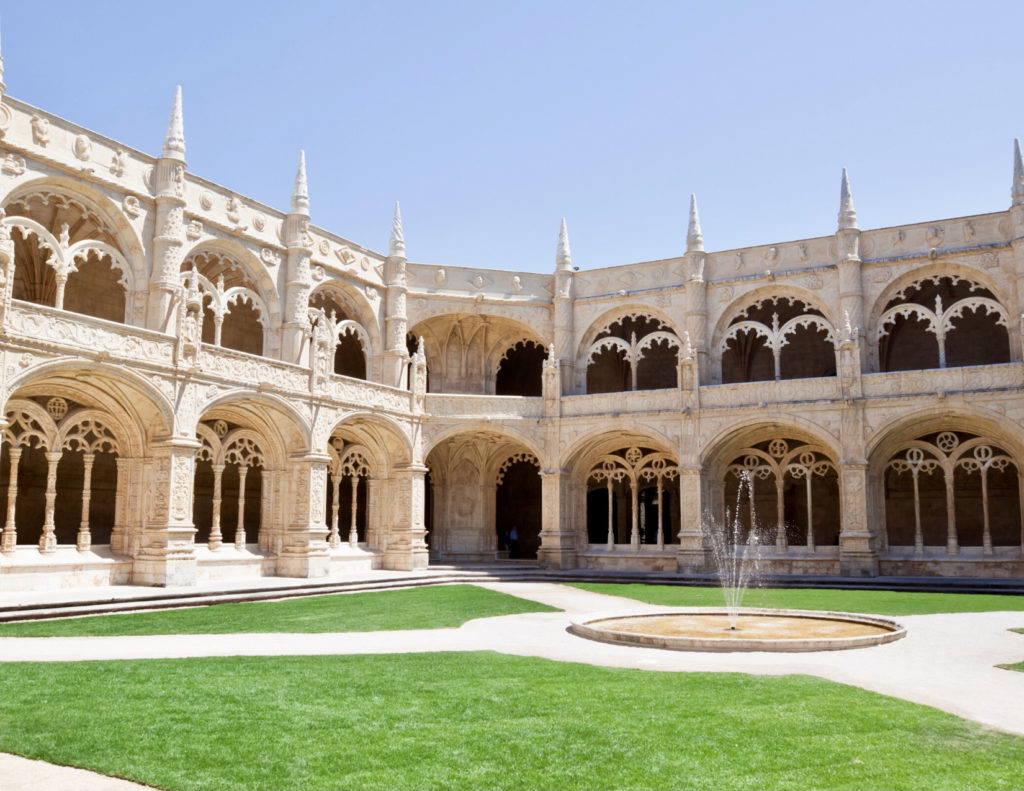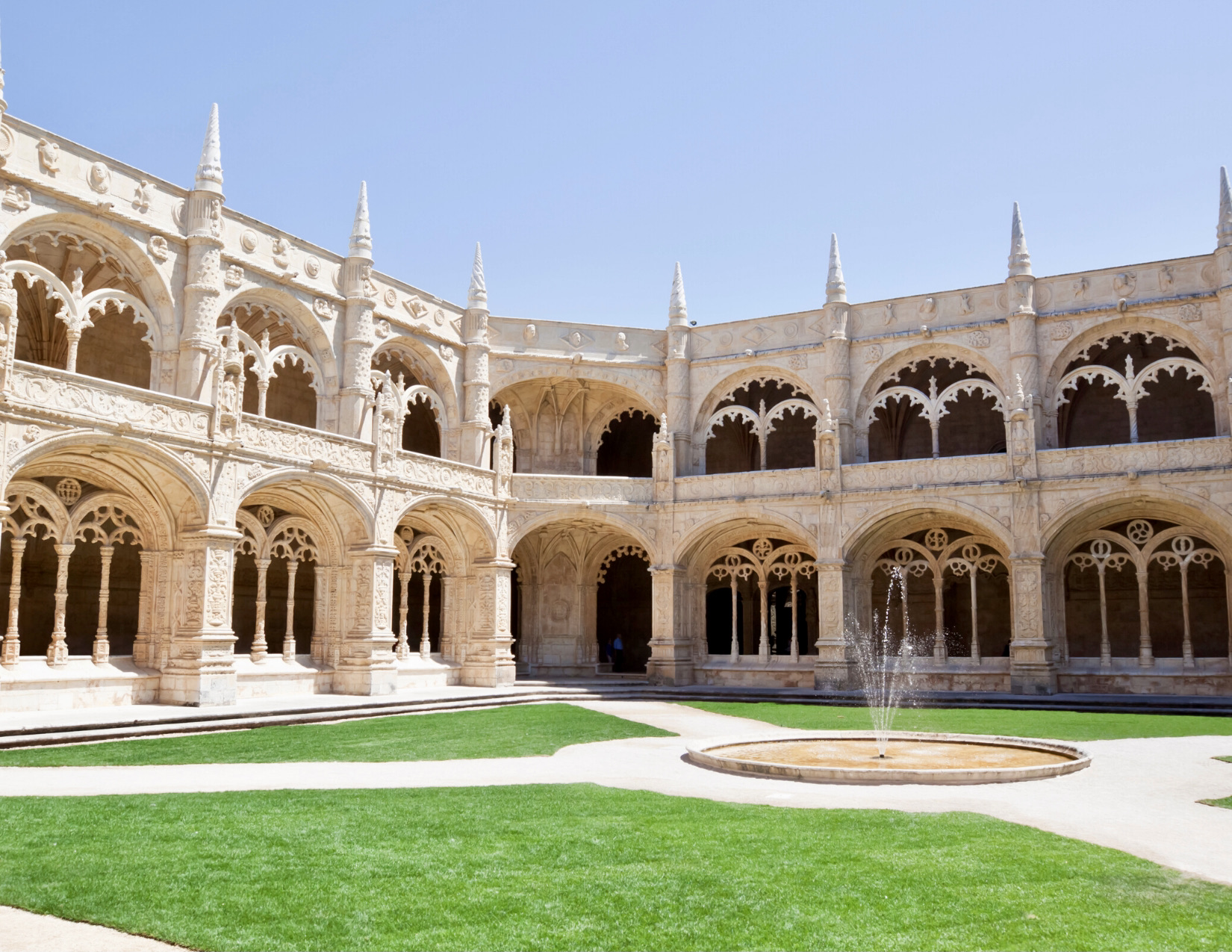 In the Refectory, you'll find beautiful azulejos.
Below the thick stone ropes, the walls are covered with blue, yellow, and green azulejo tile panels dating from 1780-85.
The panels depict the Miracle of the Bread and Fish in the New Testament (north end) and scenes from the life of Joseph in Egypt from the Old Testament (side walls).
Here's my complete guide to Jeronimos Monastery
Address: Praça do Império 1400-206 Lisboa
Entry fee: Church free, Cloisters adult: € 10
Pro tips:
The monastery is free with Lisbon Card. Don't take the long sweaty tram. Uber, taxi, or drive. There is no viable online option for the monastery.
The ticket office is to the left of the monastery entrance. If you want to skip that long line, head to the Archaeological Museum and buy a combined ticket for that and the monastery for € 12.
11. House of the Viscount of Sacavém
This storied mansion is simply exuberant.
It's both Baroque and Art Nouveau in design, and a symbol of the Romantic Period. It stands between grand embassies in the Lapa district. It seems a bit Gaudí-esque, to my mind.
It was built in the late 1800s as a noble residence. Its Neo-Manueline windows are covered in tiles and ceramics. They were produced by José Joaquim Pinto da Silva, 2nd Viscount of Sacavém, a notable ceramist.
Address: Rua do Sacramento à Lapa 24, Lisboa
12. André Saraiva Mural In the Motto Machado Gardens
In 2016, artist André Saraiva installed Lisbon's largest expanse of azulejos in the Motto Machado Gardens — an 11,625-square-foot mural. It was commissioned by MUDE, the local museum of design and fashion.
It's a playful, whimsical sight. "The wall is my dream city," explains Saraiva, who's also known as Mr. A. The mural captures the stories and travels of Saraiva's life, with scenes from Portugal, Paris, and New York.
The mural consists of 52,738 hand painted tiles. Each one fabricated at the historic Viúva Lamego factory (discussed above).
The work wraps the perimeter of the garden, inspiring selfies and serving as a graphic backdrop to one of the city's bustling flea markets.
If you've visited Campo de Santa Clara 124-26 (#1 above), this is on the same square.
Address: Campo de Santa Clara, 1100-472 Lisboa
13. Museum of Decorative Arts
The petite 17th century Azurara Palace houses this Alfama museum. It's a former nobleman's home that groans with blingy treasures.
It displays the private decorative arts collection of Ricardo Ribeiro do Espírito Santo Silva, a well known art collector from the 20th century. The outside isn't too impressive. Inside, however, it's one of Lisbon's hidden gems.
In 1953, Silva donated the palace and its contents to a private foundation. To this day, it remains dedicated to the study and protection of decorative arts.
Address: Largo Portas do Sol 2 Lisbon (Alfama)
Hours: 10:00 am to 5:00 pm Wed-Mon
Entry fee: € 4
Getting there: Walk up from Baixa. Or take Tram 28 or Bus 737.
14. Church of São Roque
While stern and bland on the outside, the Church of São Roque glitters on the inside.
It's lavishly decorated with gilded wood, gemstones, and azulejos. In fact, it's home to the oldest surviving azulejo panel in Portugal, from 1584.
The famous tiles cover the walls of its star attraction, the Capela de São João Baptist. They're signed by Francisco de Matos. The diamond point tiles under the choir gallery are from Seville and date to 1596.
There's a museum adjoining the church packed with sacred art and holy relics.
Address: Largo Trindade Coelho, 1200-470 Lisboa
Hours: 2:00 to 7:00 pm Mon, 10:00 am to 7:00 pm Tues, Wed & Fri-Sun, 10:00 am to 8:00 pm Thur, shorter hours in winter
Entry fee: The church is free. The attached museum adult €2.50, child free, usually is free from 10:00 am to 2:00 pm on Sun
Pro tip: For a free guided tour in English, arrive on Thursday (3pm), Friday (11:30 am and 4:30 pm), Saturday (10:00 am) and Sunday (3:00 pm).
15. Quinta dos Azulejos Garden
If the phrase "hidden gem" has any meaning, this Lisbon haven embodies it. Quinta dos Azulejos is a rare secret spot in Lisbon. No one's there, it's so off the beaten path.
As a result, it's an oasis of peace and tranquility. To top that, it's one of the best places to see azulejos in Lisbon.
With the scent of jasmine wafting in the air, it's a wonderful outdoor salon, cut off from the grimier realities of life beyond its high walls. The garden is designed in the Moorish tradition. It's therefore entirely inward looking.
Quinta dos Azulejos was built for António Colaço Torres. It was an unusual design, even in the golden age of azulejos.
Here, the tiling went crazy. It took on three dimensions — engulfing pillars, columns, arches, benches, and other architectural surfaces.
It's a sublime 360 experience. The tiles are actual architecture. They depict elaborate scenes of chivalry, hunting, and religion.
The garden is owned by a small college, Colegio Manuel Bernardes. You can visit free of charge. But you need permission to enter. Visit the main entrance gate of the school during normal hours and ask for a visitor's pass.
Address: 1600-549 Paço do Lumiar (Colégio Manuel Bernardes)
Hours: Monday to Friday from 9:00 am to 10:00 am, and from 3:00 pm to 5:00 pm
Entry fee: free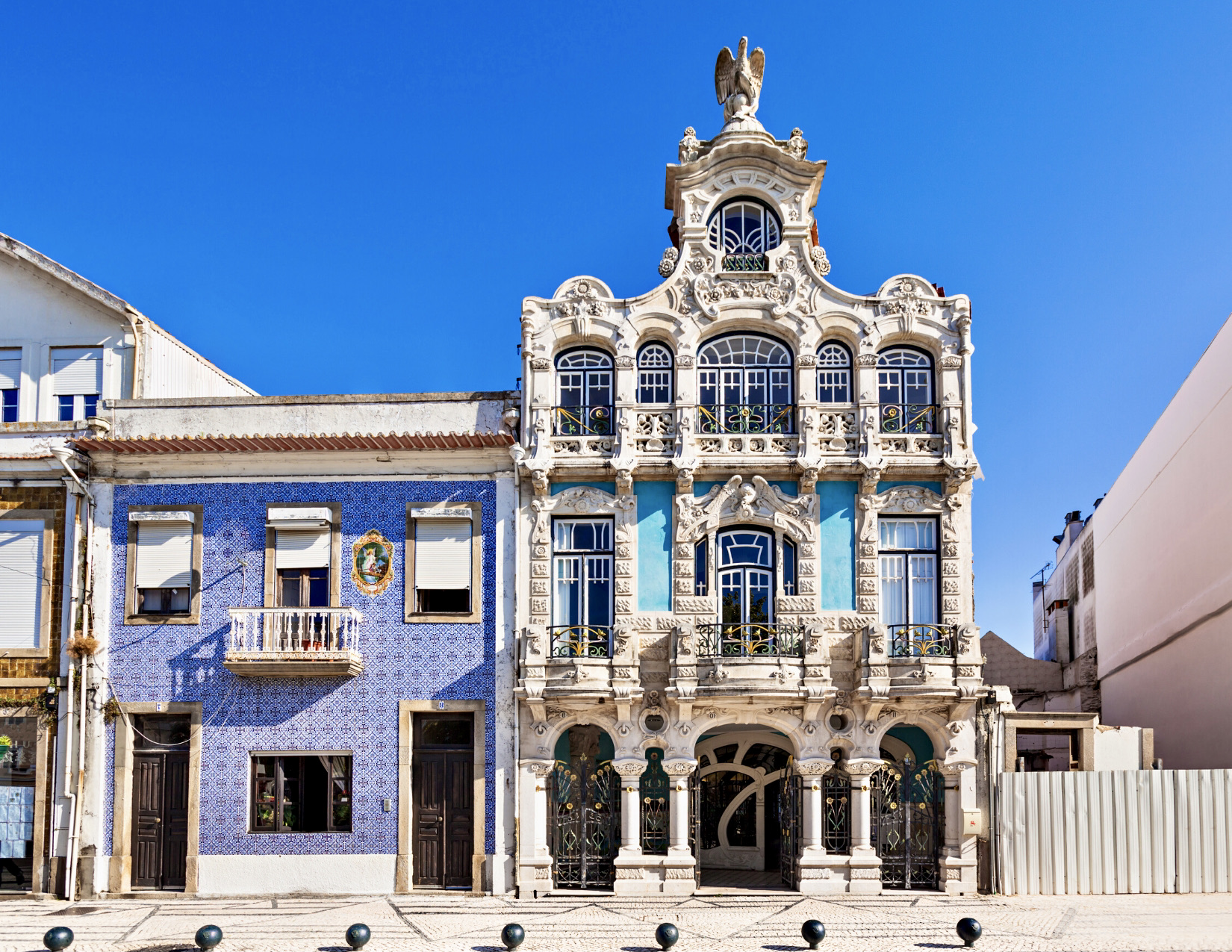 16. Bernardo Art Deco Museum
The Bernardo Art Deco Museum is a new attraction in Lisbon. it was found in in April 2021.
The collection includes works by contemporary artist. You'll find all manner of decorative art — jewelry, glass, lamps, ceramics, etc. The collection is one of the most significant of its kind in the world.
The museum is housed in a stunning 18th century building. It's the former house of the Marquis of Abrantes. The historic mansion was fully renovated prior to the museum opening.
Address: Rua 1º de Maio, 28 Alcântara 1300-474 Lisboa
Admission: Admission is free. Visits must be booked in advance and are accompanied by a guide.
Hours: Tours are at 10 am, 11 am, 2:30 pm, 3:30 pm, 4:30 pm and 5 pm.
17. Sidewalks
I can't end without adding that Lisbon's sidewalks are glorious. I know it sounds odd to be praising a city's sidewalks. But Lisbon's are just lovely, so be sure to look down.
Sometimes you're not sure whether to look up or look down when you're walking about the city. This niggling conundrum caused me to trip several times.
The sidewalks aren't made of azulejos, but are crafted by master pavers out of limestone. Some are works of art in and of themselves, like the pavement in Alfama shown below.
I hope you've enjoyed this guide to the best places to find azulejos in Lisbon. You may enjoy these other Lisbon travel guides and resources:
• Guide to the Alfama neighborhood
• Guide to the Belem neighborhood
• Guide to Jeronimos Monastery
If you'd like to find azulejos in Lisbon, pin it for later.