The Guildhall Art Gallery houses the City of London's art collection. Opened in 1886, it's located in the Square Mile, the historic and financial district of the city.
The Guildhall aims to be a gallery "about London for London." The collection consists of 4,00 artworks (oil paintings, drawings, sculptures). It's particularly rich in Victorian era art, including some dreamy Pre-Raphaelites paintings.
In 1987, the ruins of a Roman amphitheater were discovered onsite during a building project. They were excavated and opened to the public in 2002.
This guide tells you everything to see at the Guildhall Art Gallery and gives you tips for visiting. It's a hidden gem in London that's well worth visiting for art lovers and fans of Roman ruins. Plus, it's perfectly free!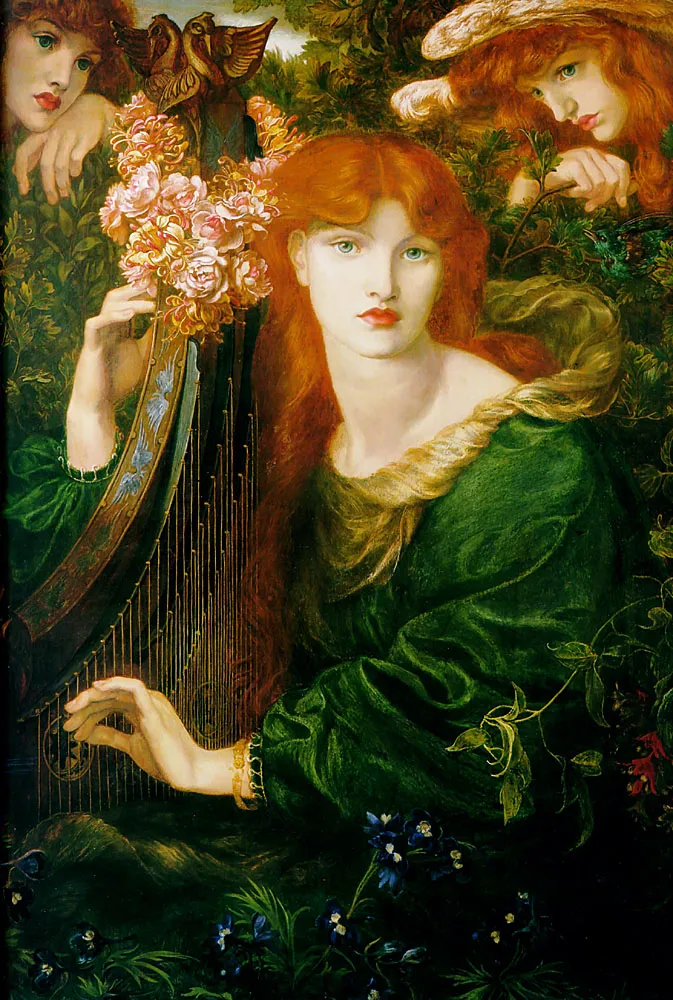 Guildhall Art Gallery: What To See
Here are the highlights and things you can't miss on a visit to the Guildhall:
1. Dante Gabriel Rossetti, La Ghirlandata
This painting is perhaps the museum's most renowned piece. But, be forewarned, it's often on loan, so you might miss it during your visit.
Dante Gabriel Rossetti's La Ghirlandata translates to "The Garlanded Lady" or "The Lady of the Wreath." The artist called it "the greenest picture in the world."
The artwork is often seen as a representation of love and beauty. It portrays a red headed woman playing a harp while surrounded by angels, flowers, and lush greenery. Her green dress blends seamlessly into the landscape.
Painted in 1873, La Ghirlandata belongs to the later phase of Rossetti's career, which is characterized by a strong aesthetic and sensual style.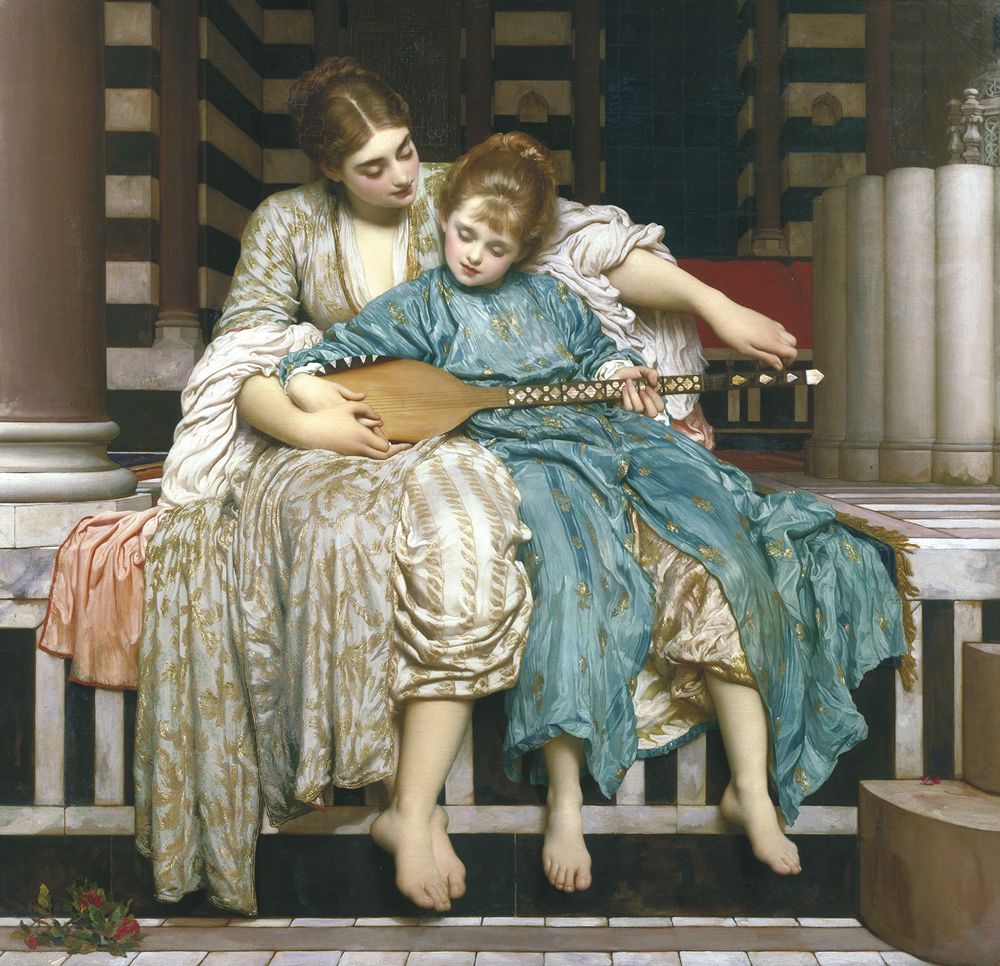 2. Frederick Leighton, The Music Lesson
Frederic Leighton was a British artist and one of the leading figures of the Victorian Neo-classical art movement. He was known for his mastery of classical techniques and his ability to create highly detailed and visually stunning paintings.
One of his notable works is The Music Lesson, which is a rather exotic and highly romanticized painting. It depicts a young girl playing a a stringed instrument while an older girl sits beside her, listening intently.
The painting follows Leighton's dictum that a painting should be "beauty of beauty's sake." It's about the senses — sounds from the string instrument and touch from texture of the luxurious flowing costumes.
3. William Shakespeare Burton, The Wounded Cavalier
Burton was a genre painting and historical painter of the Victorian era. The Wounded Cavalier is his most famous painting.
In this visually arresting piece, Burton depicts a Royalist soldier, who has been wounded during the English Civil War in the mid-17th century.
The soldier is portrayed in a heroic and romanticized manner, symbolizing the loyalty and sacrifice of Royalist supporters.
Apart from the compelling narrative, the painting is simply visually arresting, with exquisite color and attention to detail.
4. James Tissot, Too Early
Tissot is a French painter of the Victorian era. He's known for his portraits and genre scenes depicting fashionable Parisian society.
This Tissot painting is a detailed and perfect study of character and expression. It captures a witty moment in Victorian polite society.
The central group is particularly expressive. Look at the side eye of the woman in coral and white and the slight upward look of the elderly man.
Are they trying to escape from an embarrassing social situation, having arrived too early? Aside from the comedy in the painting, you can see Tissot's painting virtuosity in the exquisite detail of the gowns.
5. Paul Delaroche, The Execution of Lady Jane Grey
You may recognize this painting. It's a enormously popular image of the execution of Lady Jane Grey, the "nine days queen."
The large scale original is in the National Gallery of Art. The Guildhall owns a smaller study.
Delaroche is known for his emotionally charged subject matter and theatricality. Here, he depicts the final moments of the would-be queen as she awaits her death.
6. John Singleton Copley, Defeat of the Floating Batteries at Gibraltar
John Singleton Copley was an American painter of the 18th century known for his skillful and detailed portraits, historical paintings, and scenes of everyday life.
Defeat is a massive painting with a double height wall specifically designed for its display. In it, Copley depicts a key naval engagement during the Great Siege of Gibraltar, which took place from 1779 to 1783 during the American Revolutionary War.
Copley's fully restored painting is celebrated for its meticulous attention to detail and its ability to convey the tension and action of the battle.
7. William Holman Hunt, Eve of St. Agnes
Hunt was a founding member of the Pre-Raphaelite brotherhood. His paintings are know for their colorful hyperrealistic style.
This painting illustrates an episode from Keat's poem of 1819, The Eve of St. Anges. It tells the tale of Madeleine's escape with her lover Porphyry from her father's house.
It's strongly moralistic in detail. Two men are passed out while revellers party in the background. Porphyry's hand on the sword suggests danger.
8. William Logsdail, The Ninth of November
William Logsdail was a British artist known for his urban landscapes, particularly his scenes of London.
He gained recognition for his detailed and realistic depictions of everyday life in the city, capturing the atmosphere, architecture, and people of late 19th and early 20th century London.
In this painting, the backdrop is a cold, wet, and gloomy November day in London on the Lord Mayor's Day. The weather hasn't put off the spectators.
In contrast to the drab weather, you see a gleaming stagecoach and splendidly dressed footmen.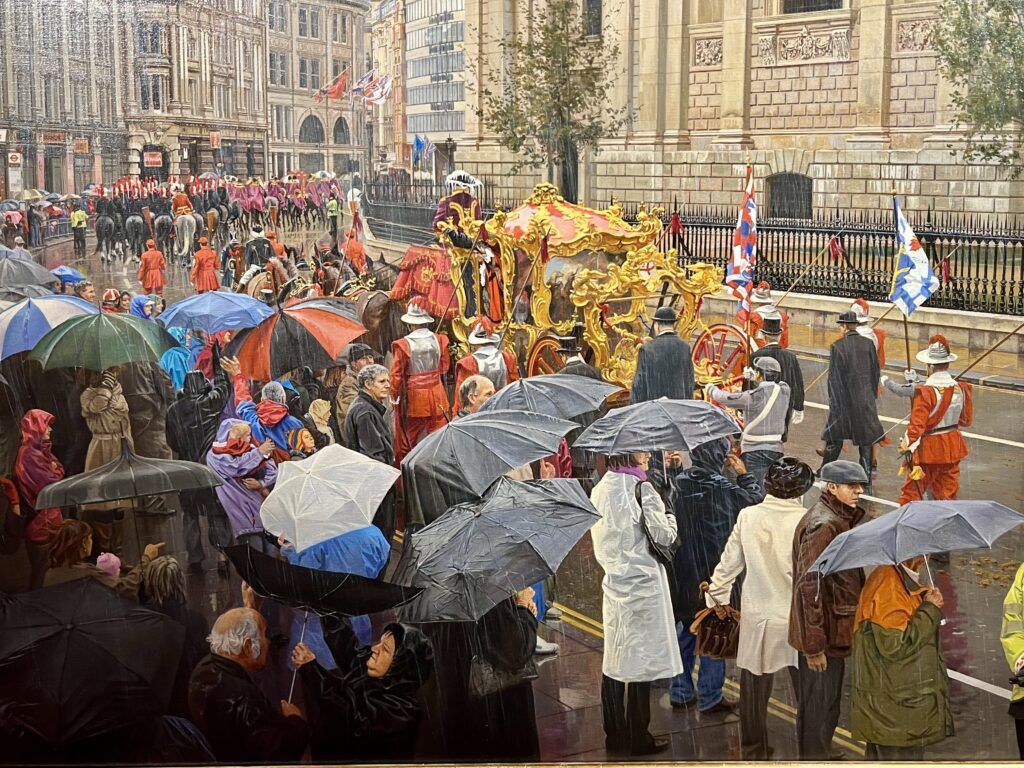 9. Carl Laubin, 12.18 and 10 Seconds
Carl Laubin is a contemporary British artist known for his architectural paintings.
He was formerly an architect, and hist paintings reflect that. They are meticulously detailed and highly realistic representations of classical and neoclassical buildings and landscapes.
This painting depicts another Lord Mayor's Show in 2009. The title refers to the military precision timing of the parade.
As in Logsdail's painting above from a century earlier, the drab weather is offset by the glittering gold coach and colorful umbrellas.
10. John Everett Millais, My Second Sermon
The Guildhall has four beautiful paintings by Pre-Raphaelite artist John Everett Millais.
My Second Sermon is one of two paintings the artist created of a child listening to sermons.
In the fist one, she is sitting upright and listening. In this one, not as popular with the clergy, the child's enthusiasm has waned and she's napping. It serves as a warning to preacher's to keep their sermons short.
I also loved Millais' Lorenzo and Isabella painting in the museum. It's based on a Keats' poem and depicts the moment her brothers discover she has a secret love.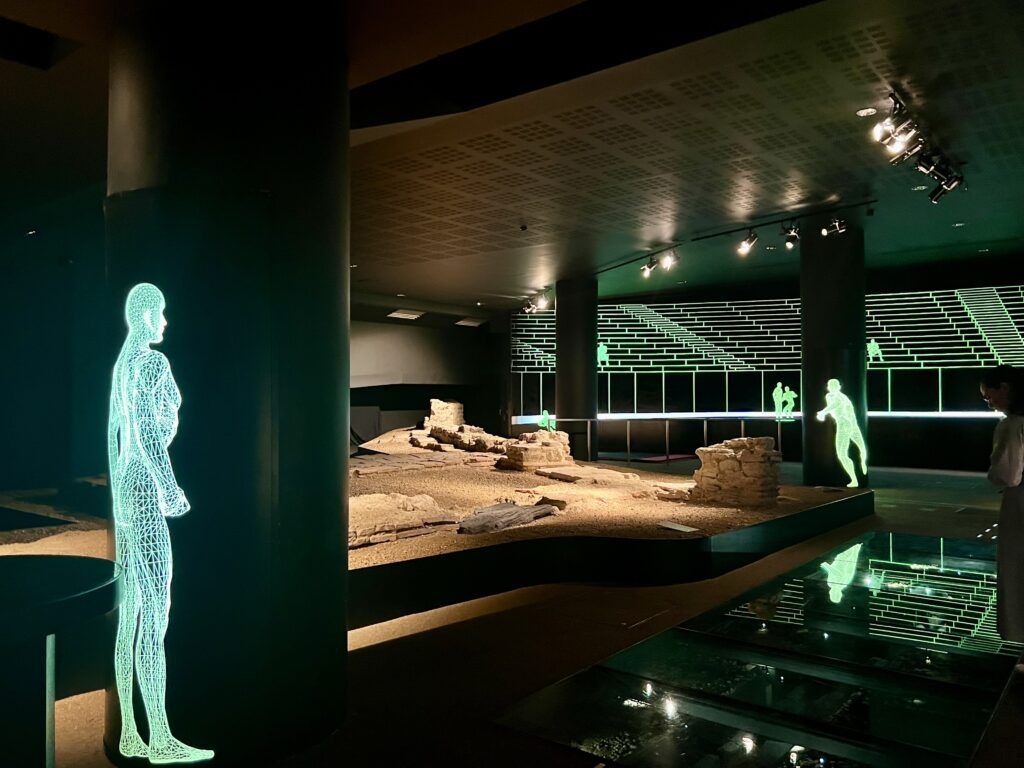 11. Roman Amphitheater
It was long suspected that ancient Londinium would have had an amphitheater. But the ruins were only discovered in 1988, while excavating to build the new Guildhall gallery.
The Romand built the amphitheater in about 70 A.D. It was elliptical shape, approximately 330 feet by 230 feet.
It was later expanded to seat 6,000 spectators, who came to see the gladiatorial games. At the time, Londinium was only about 20,000 people, so this was popular stuff.
Today the ruins are buried about 26 feet below ground in the museum's basement. You can see remains of the original walls, the drainage system, and even sand used to soak up blood from wounded gladiators.
A digital projection fills in gaps of the ruins.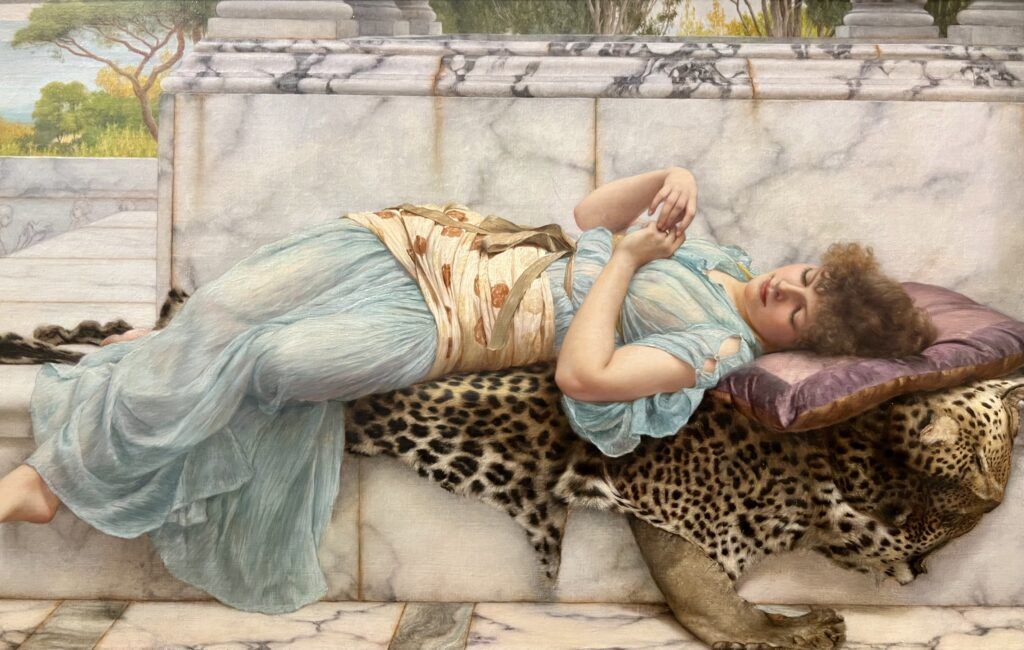 Practical Guide & Tips For The Guildhall Art Gallery
Address: Basinghall St, London EC2V 5AE, UK
Hours: Open daily 10:30 am to 4:00 pm
Ticket: Free. You can scan a QR code to get the free audio guide.
Tours: There are free introductory tours at 12:15 pm and 1:15 pm on Tuesday, Thursday, Friday, and Saturday. They last about 45 minutes and you don't need to book in advance.
How Long To Spend?
The Guildhall is a small museum. I would plan to spend about an hour to see the highlights, longer if you are an art lover.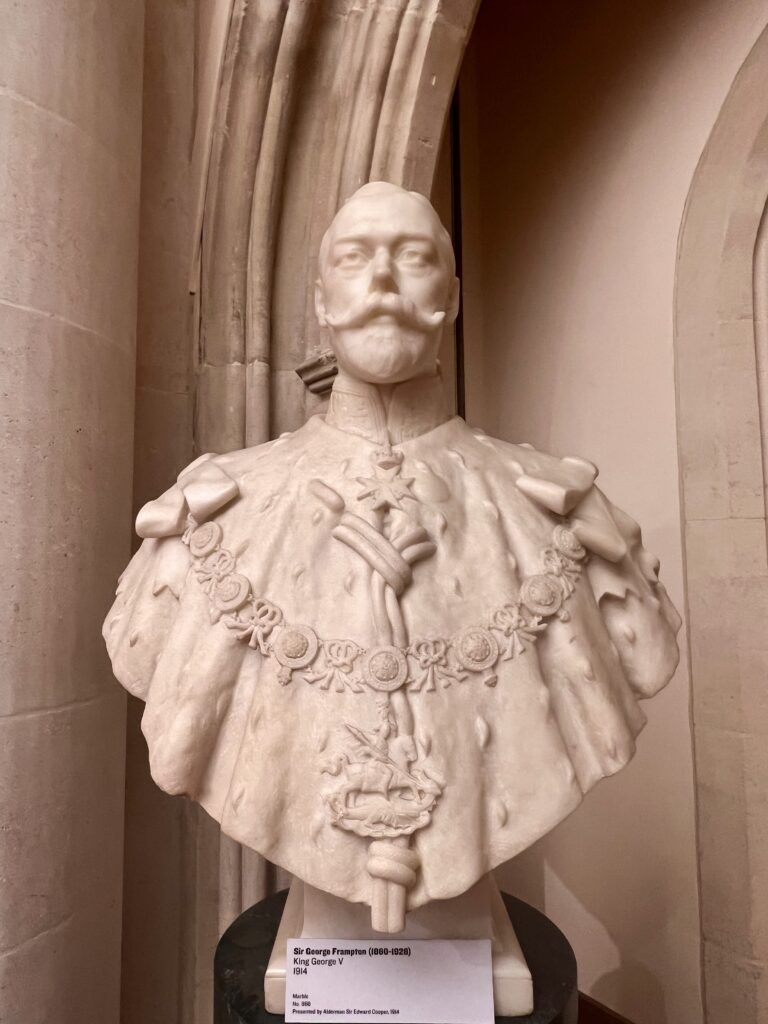 Is the Guildhall Art Gallery Worth It?
I think the Guildhall Art Gallery is worth visiting, especially if you're a repeat visitor to London looking for some hidden gems. It advertises itself as the "city's best kept secret."
It's also a must do if you love the Pre-Raphaelites or want to see some rare Roman ruins in London.
Plus, it's hard to beat free.
I hope you've enjoyed my guide to the Guildhall Art Gallery. You may enjoy these other London travel guides and resources:
If you'd like to visit the Guildhall Art Gallery, pin it for later.