Chic, compact, and colorful – that's the city on the cliff for you – Taormina! There is no shortage of things to do in Taormina, making it the perfect day trip or weekend getaway. Here is the perfect one day in Taormina itinerary to make the most of your visit.
The "Pearl of the Ionian Sea," Taormina is spectacular. The old world resort town is perched on a dramatic promontory that drops 700 feet down to the blue Mediterranean. The town looks out over a fiery volcano in the distance.
It's a touristy town that's been attracting travelers for centuries. However, to remark that Taormina is a tourist town in no way disparages its beauty.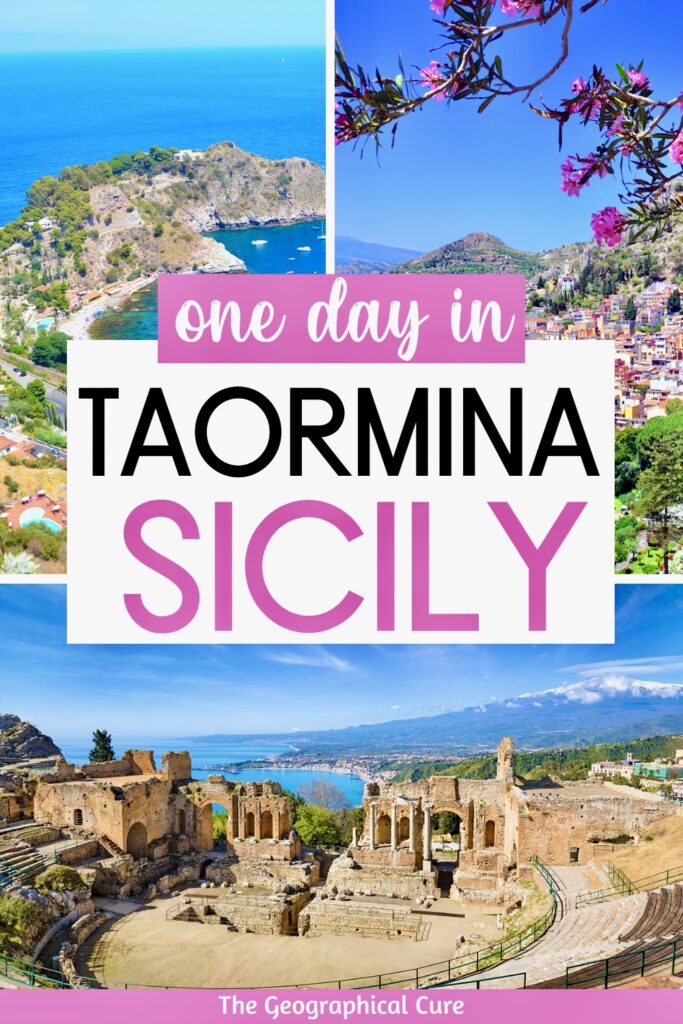 Taormina is steeped in everything "old town charm" from cobbled lanes, Baroque churches, sweeping sea views, and a buzzing foodie scene. Orange and palm trees swing in the sea breezes.
At a glance, your one day in Taormina will look like this:
Greek Theater
Villa Communale
Palazzo Corvaja
Corso Umberto
Piazza IX Aprile
San Guiseppe Church
Clock Tower
Duomo
Porta Catania
Isola Bella, Castelmola, or Mt. Etna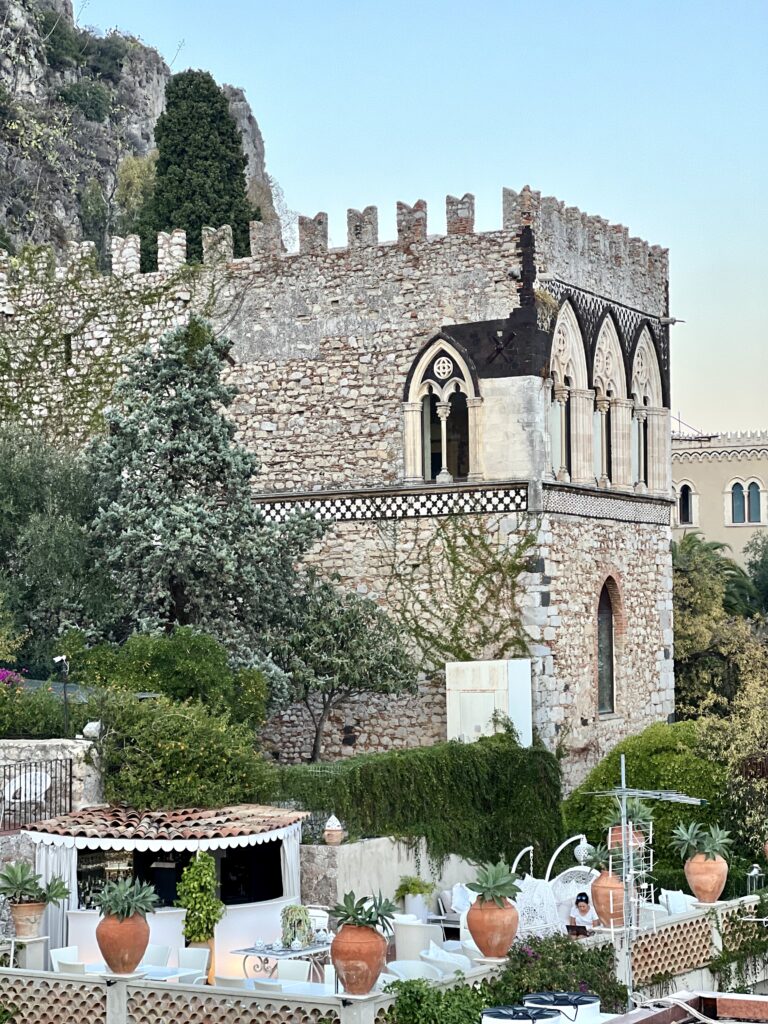 A Short History Of Taormina
Taormina is a small mountain town on the east coast of Sicily. It was first inhabited by the Sicels, an ancient people who pre-dated the Greeks.
In 734 B.C., the Greeks arrived from the island of Naxos looking for fertile land in the west. They founded the little village known today as Giardini Naxos.
Unfortunately, the colony was at near constant war with its neighbors. In 403.C., the town was crushed by Syracuse. The survivors moved further up the hill and founded Tauromenion, which means "the mountain shaped like a bull."
The Romans arrived in 212 B.C. Roman aristocrats viewed Taormina as a restful retreat, thereby kickstarting the town's reputation as dreamy holiday spot.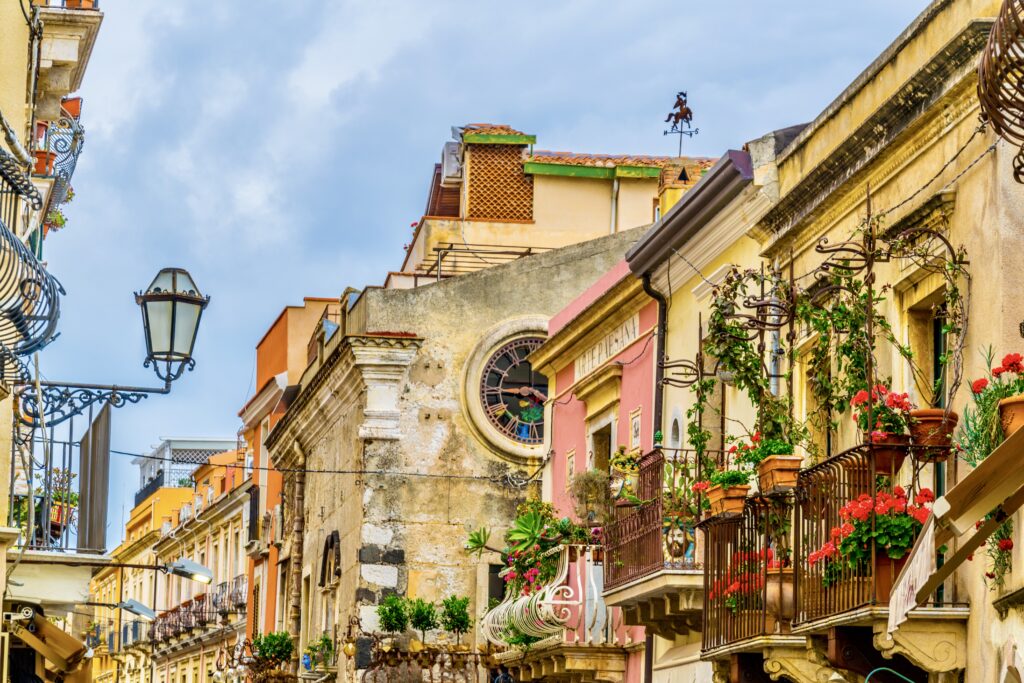 After the fall of Rome in the 5th century, the Byzantine rulers took over, followed by the Arabs in 962. In 1079, the Normans conquered the Arabs and expanded the city until it fell under Spanish control. The town slowly declined in importance.
But, in the 19th century, Taormina was rediscovered. It became a popular destination of the "Grand Tour" itineraries.
These tours were undertaken by wealthy Europeans seeking out the ancient world. It was considered a rite of passage and part of their education.
A long list of celebrities visited Taormina including D.H. Lawrence, Greto Garbo, Truman Capote, Cary Grant, and Elizabeth Taylor.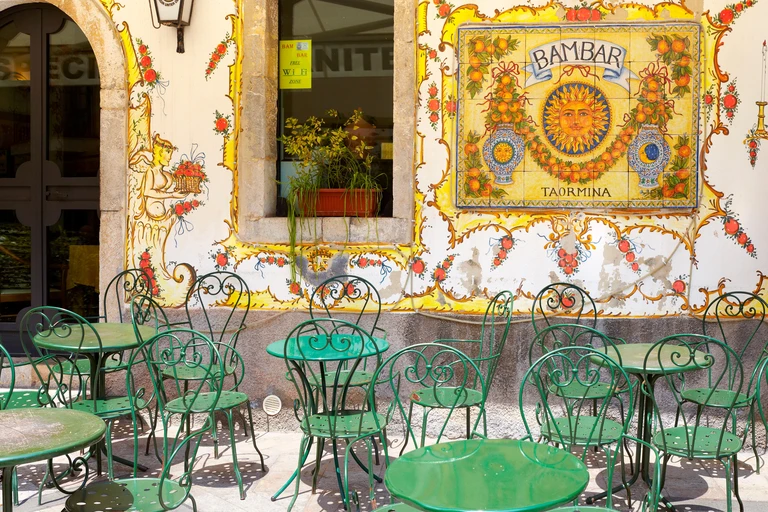 One Day In Taormina Itinerary
This one day in Taormina itinerary assumes you are in the city the night before or have arrived early in the morning to make the most out of your day.
Morning
Start off your one day in Taormina with breakfast at Bam Bar. Have what the locals do — granita on a warm brioche. Granita is an icy gelato-type confection that's less creamy and more grainy (almost glassy).
I know it sounds like an odd thing to have for breakfast. But it's the Sicilian way.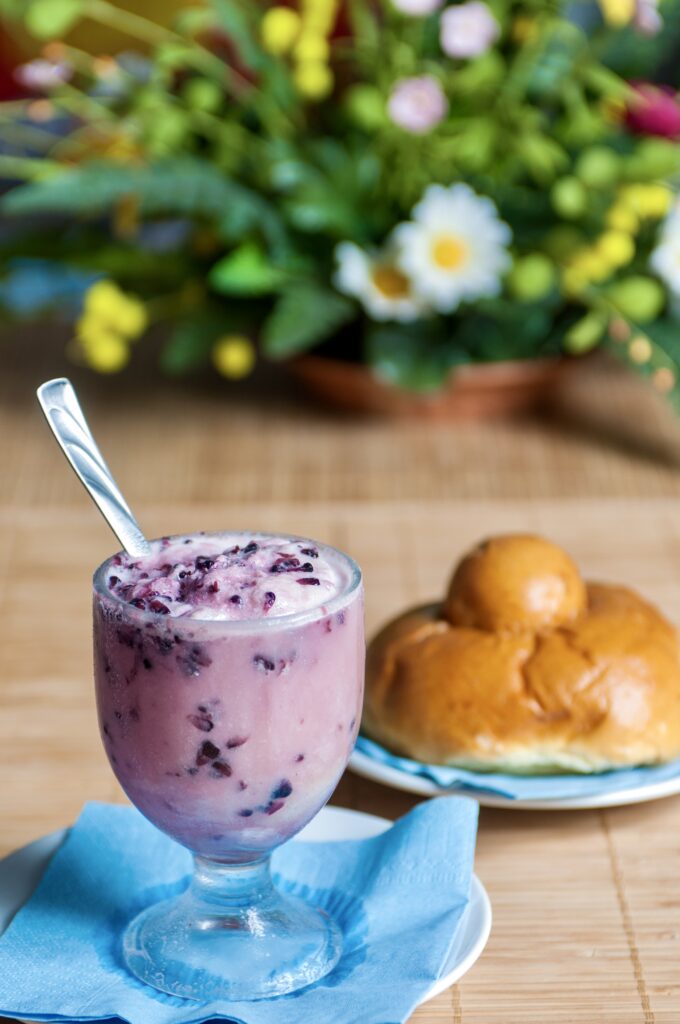 Old Town
Taormina is a tiny and immaculate town. "Downtown" Taormina centers around a single .5 mile pedestrian street, Corso Umberto, that tumbles past chic shops and tempting restaurants.
A slow stroll down this scrupulously clean route is a lovely way to acquaint yourself on a first visit.
For more of the historic backdrop, you might considered starting your sightseeing with a guided walking tour. I had a walking tour with Franco D'Angelo and he was excellent.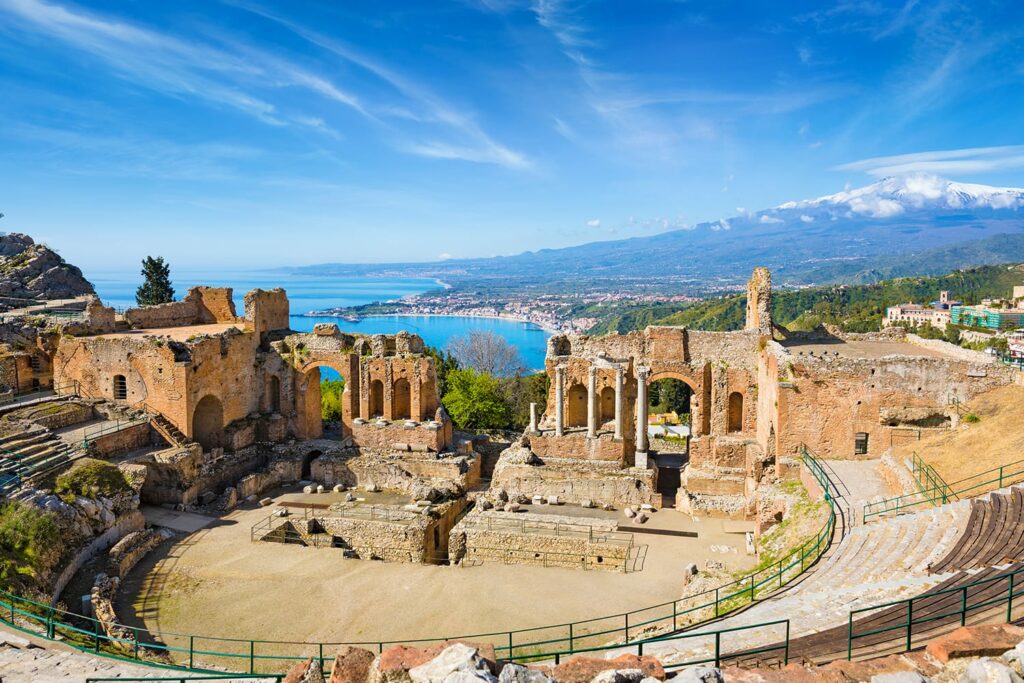 Greco-Roman Theater
After you're fueled up, head to Taormina's top attraction, its Greco-Roman Theater. It opens at 9:00 am. An early visit is ideal if you want to beat the cruise ship crowds.
The theater has a spectacular setting, hanging off a cliff between sea and sky and boasting killer views of Mt. Etna and the Ionian Sea. It's the second largest Greek theater in Sicily and Italy, after the one in Syracuse.
Theaters were important to the Greeks and this one was dedicated to Dionysis. In its glory days, Taormina's theater could hold crowds of up to 10,000 people and was likely acoustically perfect.
The theater's scenic location was chosen intentionally. It combined four elements important to the ancient Greeks — earth, water, air, and fire. The fire was provided by the smoking volcano in the distance. The sea breezes helped clean the theater.
The theater was semi-circular in shape ensuring everyone had a good view of the stage. The red wall on the top level once held bronze urns and marble statues.
We know from the writings of Vitruvian that the Greeks built the original theater in the 3rd century B.C. But most of what you see today came courtesy of Romans, who significantly remodeled the theater in the first half of the 2nd century.
Five centuries after it was built, the theater was "Romanized," an amphitheater superimposed upon it.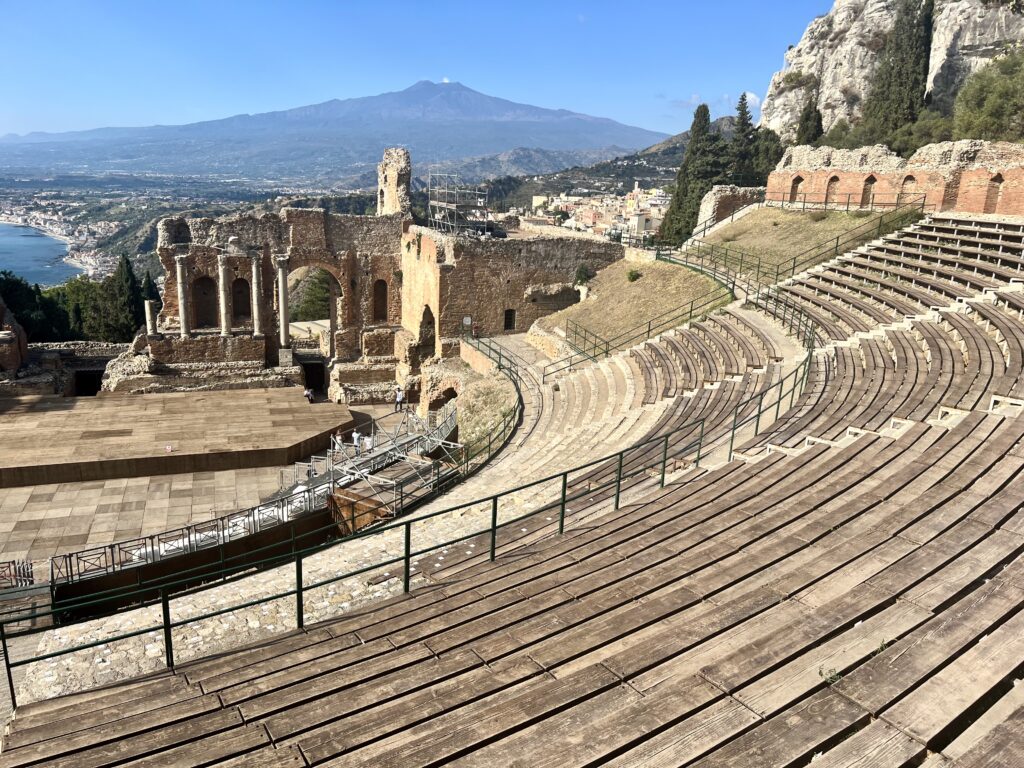 The Romans removed the first 10 rows of seats to make an arena space large enough for gladiators and built a wall to prevent the wild beasts from having the spectators for dinner. The wall, however picturesque, essentially blocks the view.
It's not a perfect blending of styles, and perhaps why the theater is not a UNESCO site.
Excavations of the site began in 1748. The theater is still in use today and concerts are held in the summer. There's a small museum onsite and a wonderful viewing platform next to the museum.
Click here to pre-book a ticket and guided tour of the theater.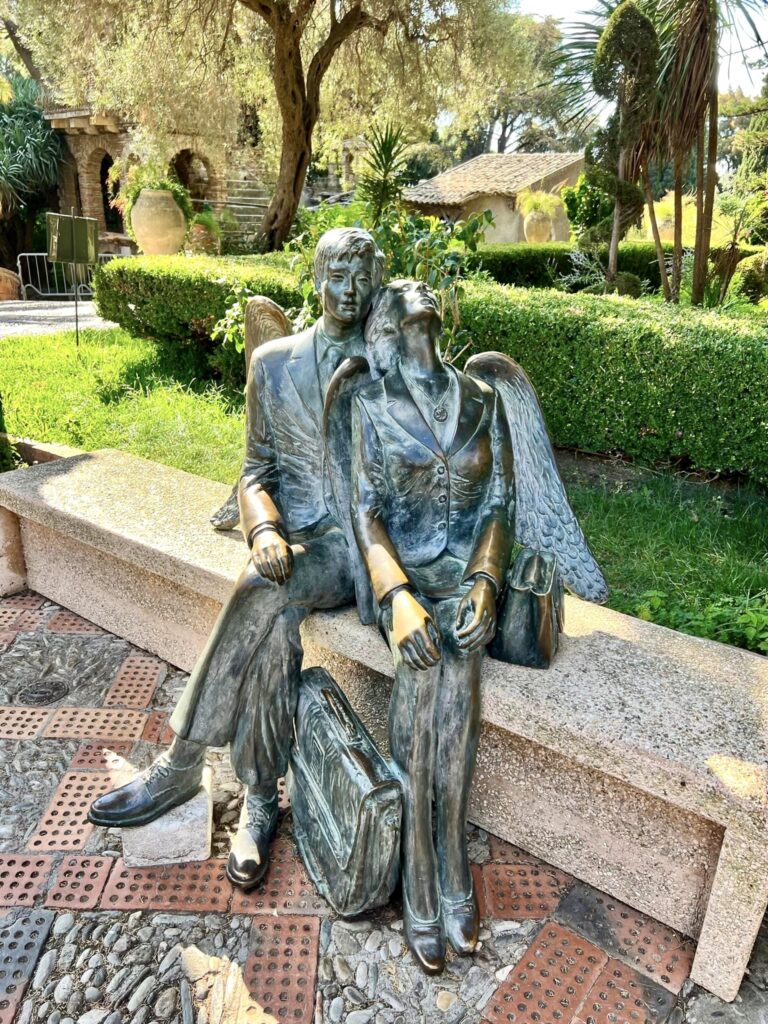 Villa Communale
Taormina's lush pubic gardens are just below the theater and worthy of a short stroll. They were once the private gardens of Florence Trevelyan, an English ex-pat.
Florence fell in love with Sicily on her "grand tour." At the end of the 1800s, she and her husband moved permanently to Taormina.
Florence loved nature and was an expert gardener. To enjoy her garden and have a place to take tea, she built some quirky Victorian follies that she called "beehives."
The gardens are at their prettiest in June and July when the flowers are blooming.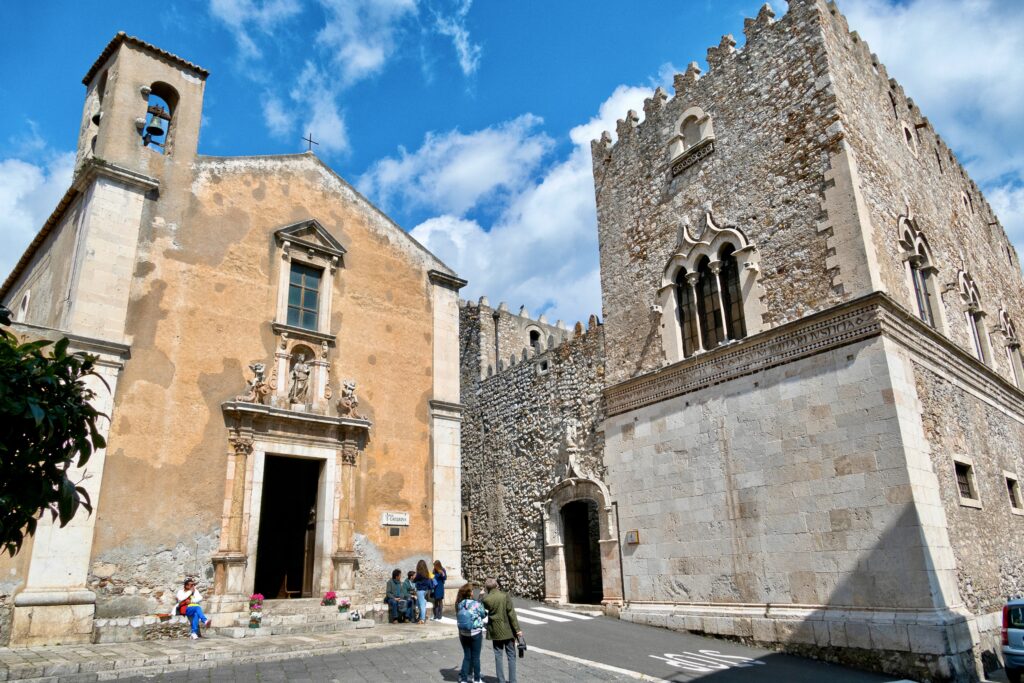 Piazza Vittorio Emanuele
After your garden stroll, head toward Piazza Vittorio Emanuele. Here, you'll find some Roman ruins, Palazzo Corvaja, and the Church of Santa Catarina.
The Arab palace was built in the 10th century on top of a Roman forum. Its crenelated roof shows that it was intended as a defensive tower. The Spanish expanded the palace in the 15th century.
Today, Corvaja Palace houses the tourist office and the Museo di Arte e Tradizioni Popolari, which consists of a collection of Sicilian puppets and folk art.
Santa Caterina is a 17th century church that was built on top of a Greek temple. Glass panels inside the church reveal traces of the Greek ruins. Behind the church are some ruins of a Roman theater.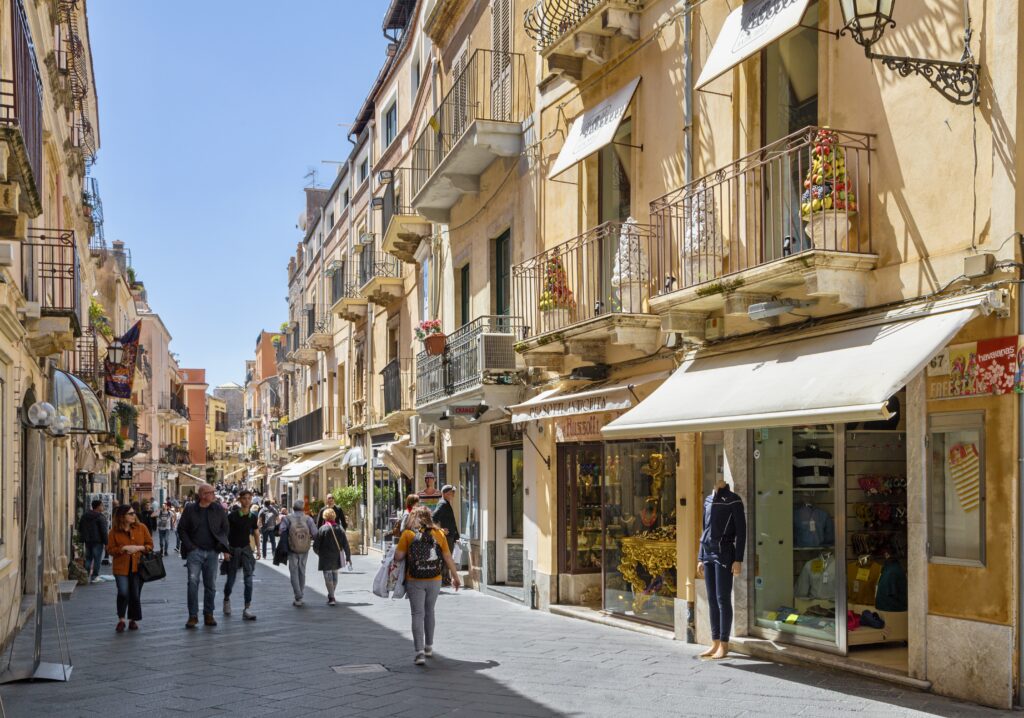 Corso Umberto
Turning onto the main drag, Corso Umberto, you'll find another Roman ruin, the Naumachie. It's a 400 foot long Roman wall dating from the 1st or 2nd century A.D. intended to support a large water reservoir.
The word Naumachie refers to the mock naval battles the Roman liked to stage. Though there's no evidence they took place here.
The reservoir was used as a gymnasium. The 18 red brick niches once held sculptures overlooking the athletes.
Now, it's time to just enjoy Corso Umberto and its piazzas. The pedestrianized Corso is flanked with designer shops, bars, galleries, and boutiques. You'll see some beautiful ceramics, antiques, and leather goods.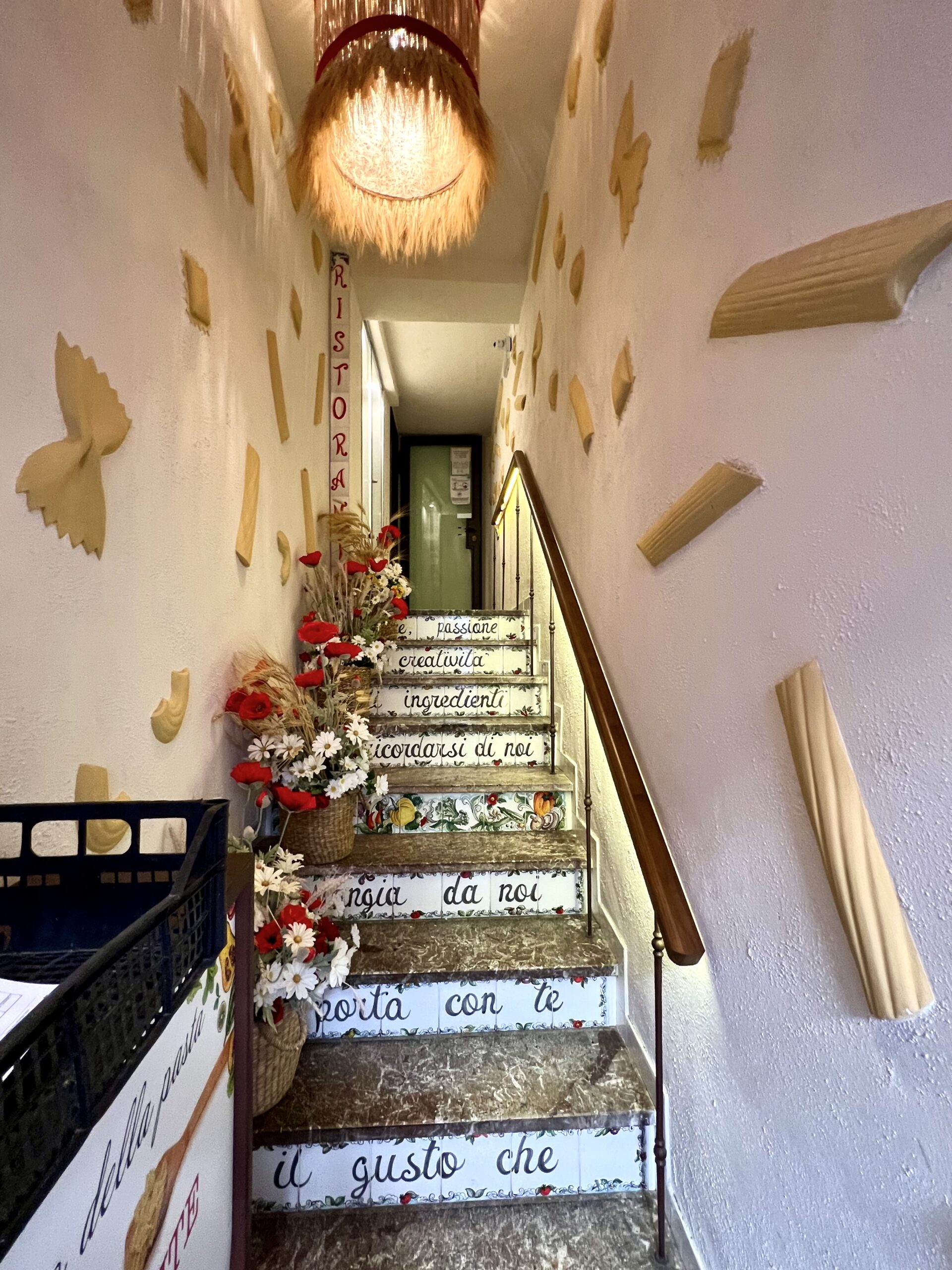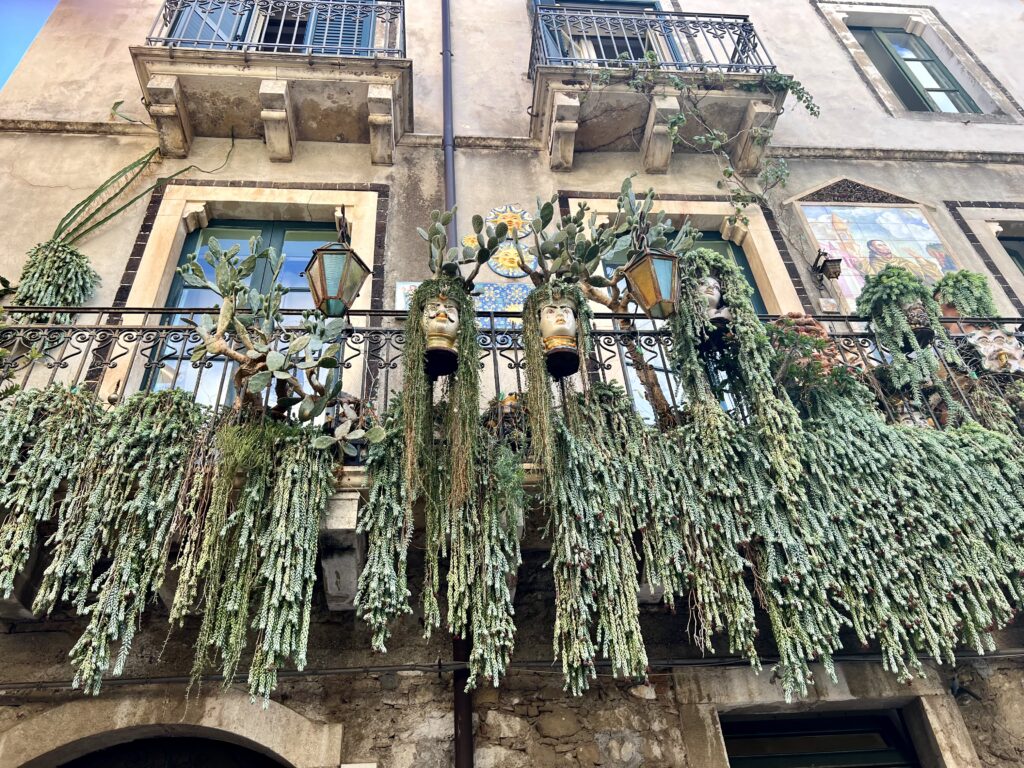 None of it comes cheap. Taormina is not the place to get a bargain. So you can either splurge or window shop with a gelato in hand.
Be sure to head down the tiny side streets spoking off the Corso. It will involve some uphill climbing. But the back streets are less crowded and you'll discover secret restaurants or shops.
Along the way, stop to admire the beautiful balconies. Many have "Head of the Moor" planters, with the head of an Arab and the head of a fair skinned women.
They're not very politically correct, but based on an old legend about an illicit love affair. Depending on which version you hear, either one or both of them ends up dead.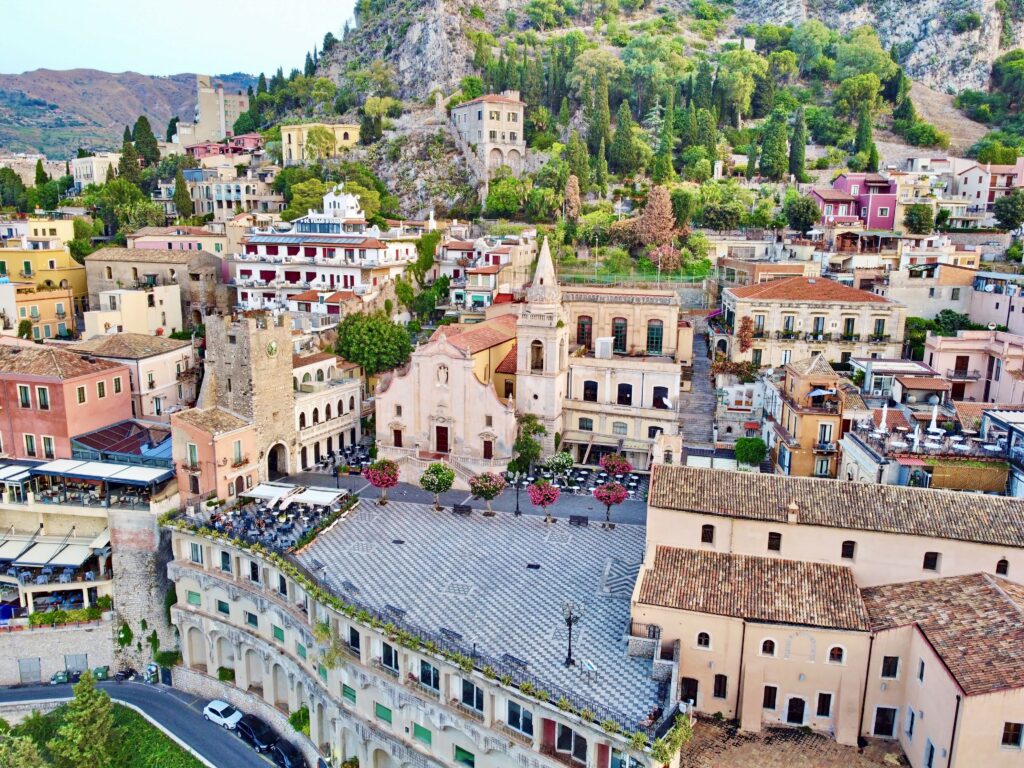 Piazza IX Aprile
Soon enough, you'll arrive at Taormina's grand central square, Piazza IX Aprile. It's known as Taormina's "living room." From its balcony, you'll have views of the Bay of Naxos and Mt. Etna that can only be described as scenic overkill.
The piazza is dominated by the severe facade of the Church of San Guiseppe, which is known locally as the Purgatory Church. This was where people came to pray for relatives in purgatory.
The square is also home to the Porta di Mezzo gates and is topped by a 16th century clock tower. As you pass through the gate, you'll a well preserved mosaic of a madonna.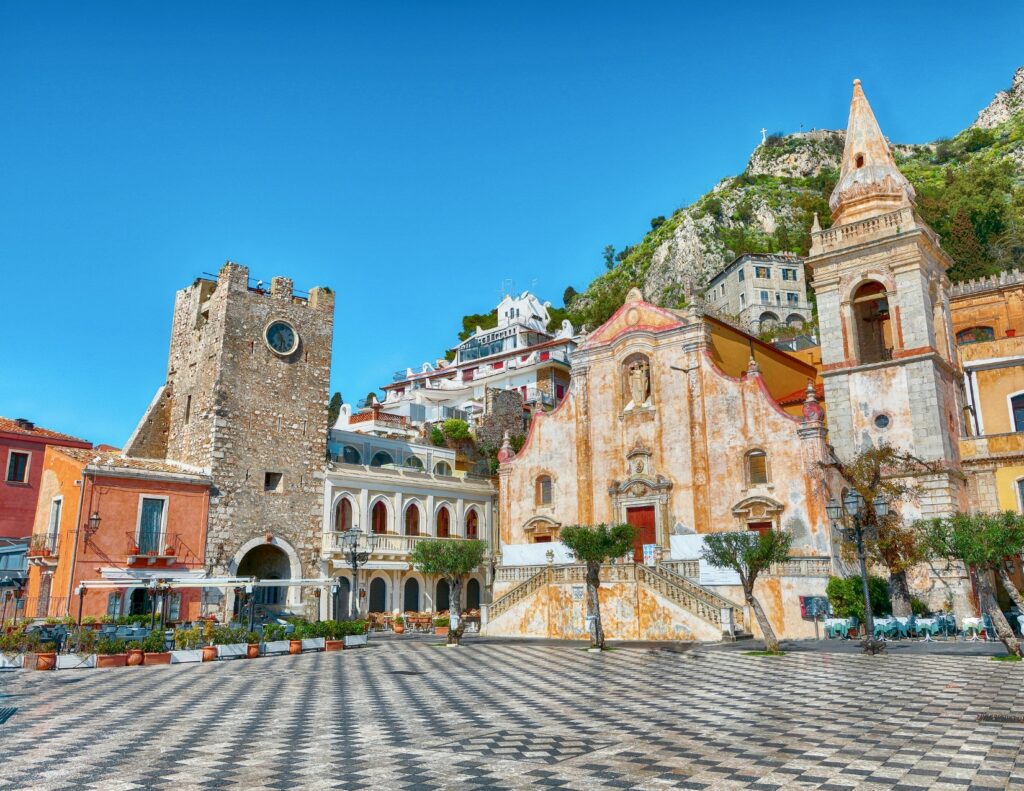 You may want to plop down at the iconic Caffe Wunderbar for a glass of wine or aperitivo. It's been a Taormina landmark since the 1960s and is the quintessential Taormina watering hole.
If you're up for a hike, a staircase next to the bar leads up to the Madonna della Rocca sanctuary. It's 500 steps to the church.
Piazza del Duomo
Further along, you'll land in Piazza del Duomo. Taormina's small cathedral resembles a mini fortress.
Its blocky exterior its from the 13th century. Inside, you'll see 6 massive pink granite columns. They were likely plundered from the theater.
There's a Baroque fountain in the center of the piazza. Its minotaur-like sculptures represent the ancient city, which was a "bull shaped mountain." A crowned women sits on top holding a globe and scepter.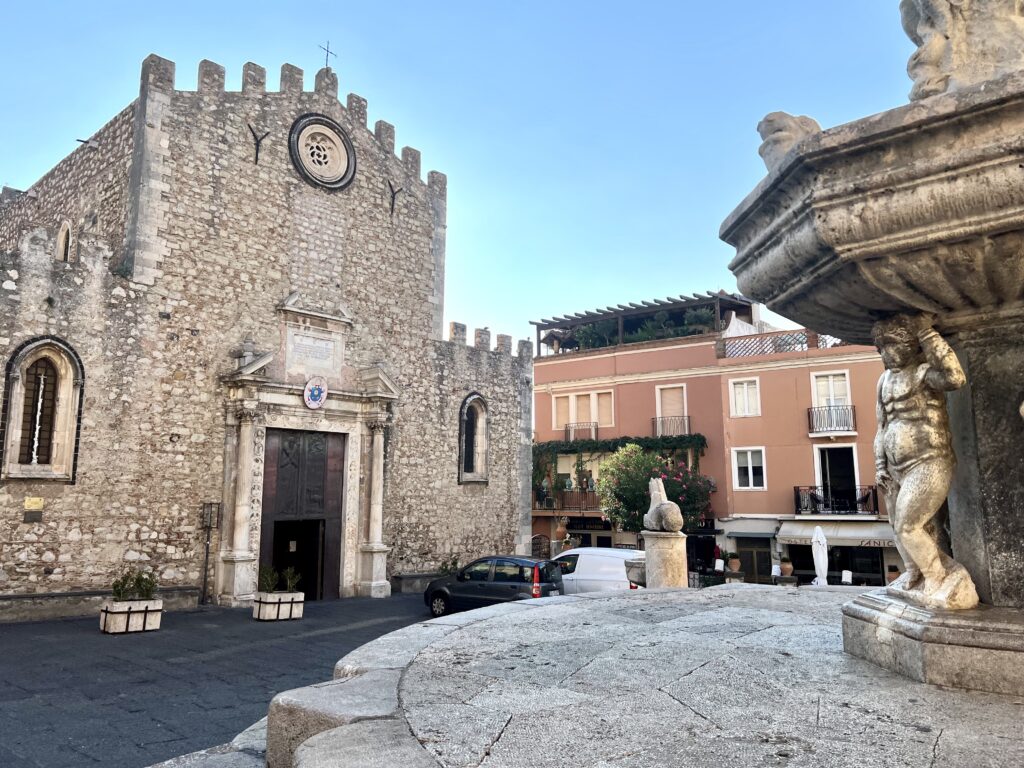 You're almost at the end of the road. You can stop to admire San Domenico Church (now a luxury hotel), the small church of San Michele, and Porta Catania. The mighty gate marks the end of the city. There are some fresco fragments from the 9th century.
Don't forget to admire the Palazzo Duchi di Santo Stefano. The exterior is a combination of Norman and Neo-Norman styles, with some pointy Gothic windows thrown in for good measure. The rooftop is decorated with lava stone.
Today, the palace hosts modern art exhibitions.
Afternoon
Break for lunch. Consider avoiding eateries on Corso Umberto and find a small trattoria on a side street. Save room for a freshly filled cannolo from Pasticceria D'Amore for dessert.
In the afternoon, you have 3 options to fill your time. You can take the gondola down to Isola Bella and its pebbly beach; (2) visit the clifftop village of Castelmola; or (3) take a sunset tour to Mt. Etna.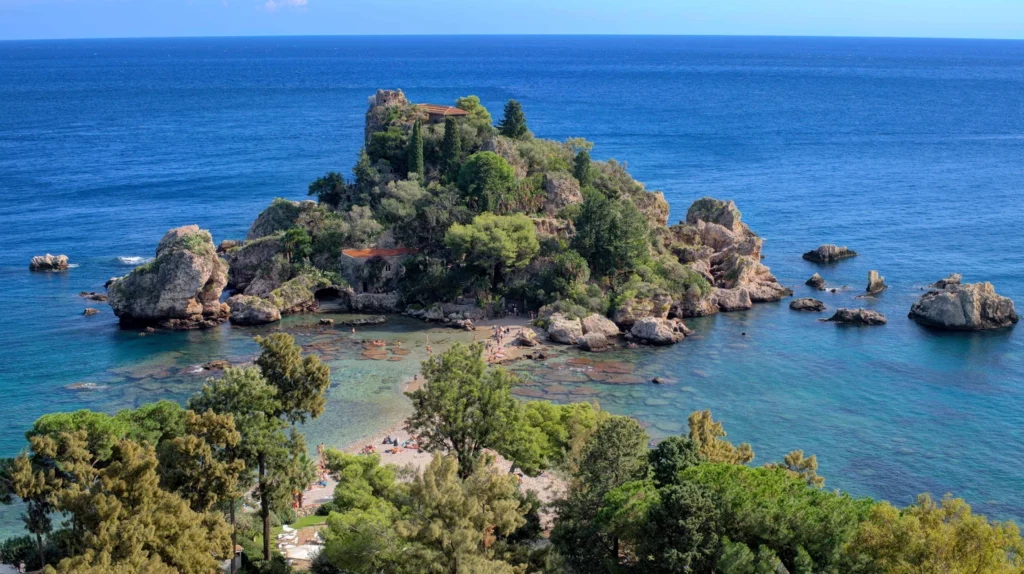 Isola Bella
Beach lovers should head to the photogenic Isola Bella for the afternoon. The "beautiful island" is tucked below Taormina.
The island is tethered to the mainland by a pebbly beach. There's not much to see on the island itself.
To get there, you take a gondola that leaves from Via Pirandello near Porta Messina and the Greek Theater. They leave every 15 minutes and cost 3 euros.
You can also book a snorkeling tour around Isola Bella and the famous Blue Grotto or take a boat tour.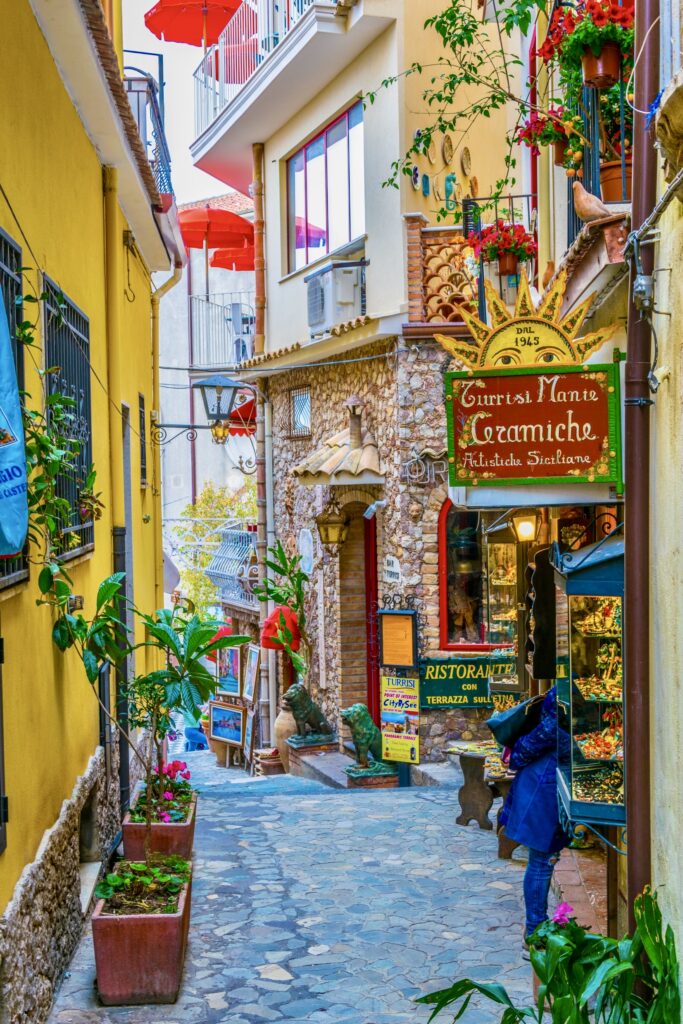 Castelmola
About a mile from Taormina, and on an even higher perch, is the charming medieval town of Castlelmola. It's worth a visit just for the eye popping views of Taormina and Mt. Etna. Plus, its twisty cobbled alleys are a delight to strolll.
The main square is Piazza Sant'Atonio. Uphill from the piazza are the ruins of a Norman Castle, with terraced viewpoints. You can sit down at a cafe, have a gelato, or browse the cute shops.
There are several ways to get to Castelmola — car, bus, taxi, or hiking. You can hop on the local blue bus (pay when you board). I wanted to use this option. But if the bus is full, it will whiz past you. That happened to me and the next bus was in 2 hours.
So, I opted to hop in a cab on the way up. It's $30 dollars one way. You can also negotiate for a $60 round trip, which includes a quick stop at the Madonna della Rocca sanctuary.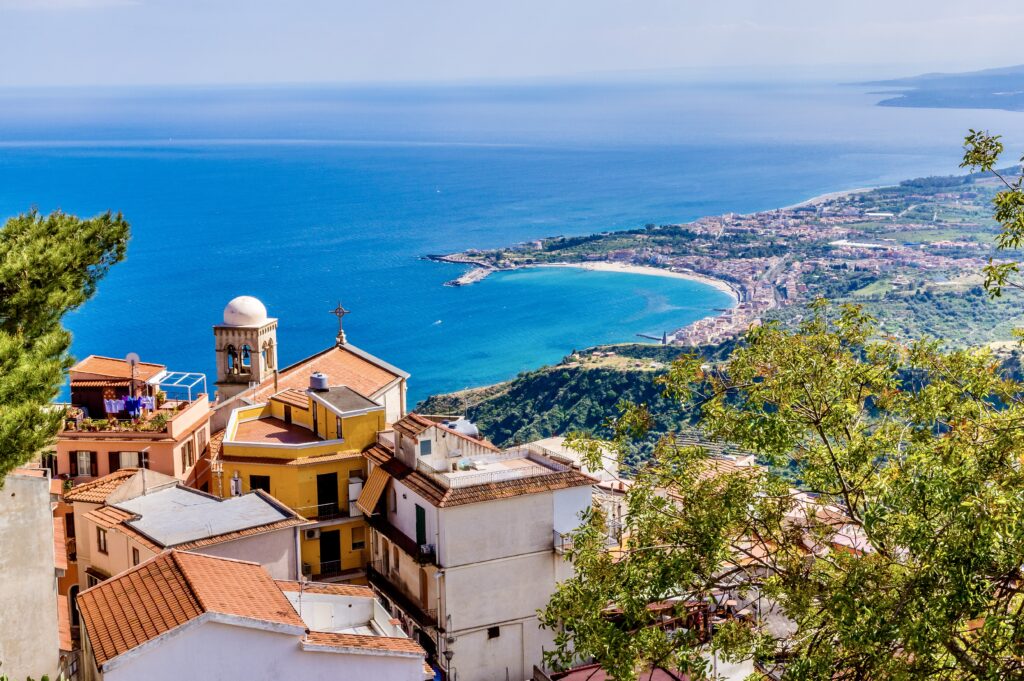 You can also walk the 2 miles up to Castelmola. This option is for fit adventures.
It's a 1,200 foot vertical gain. The roads zig zag back and forth, so it's not incredibly steep.
But you'll also be sharing the road with cars. I walked down and it was an easy hike of about an hour.
If you are driving, look for the big pay and display parking garage at the bottom of the town. This is the easiest parking option because the town is a ZTL zone (prohibiting non-local cars). Then, hoof it up to the center square.
Mt. Etna
A third way to spend the afternoon of your one day in Taormina is to visit Mt. Etna. "Mamma Etna," is the world's most active volcano. One of the four UNESCO World Heritage Sites in Eastern Sicily, Mt. Etna has been erupting for 500,000 years.
She's perpetually smoking. My guide called her a "chain smoker." Etna's fertile soil provides some of the best produce and wine in Sicily.
To experience the volcanic landscape, you can hike around Silvestri Crater. The lower crater is easy to navigate. The upper crater has a steep climb. To go up even higher on the mountain, hop on the cable car.
This 6 hour guided sunset tour leaves at 5:00 pm. You can scamper around lava caves, hike the craters, and sample honey, olive oil, and wine. With more time, you can tour the Etna wineries and sample the distinctive wines.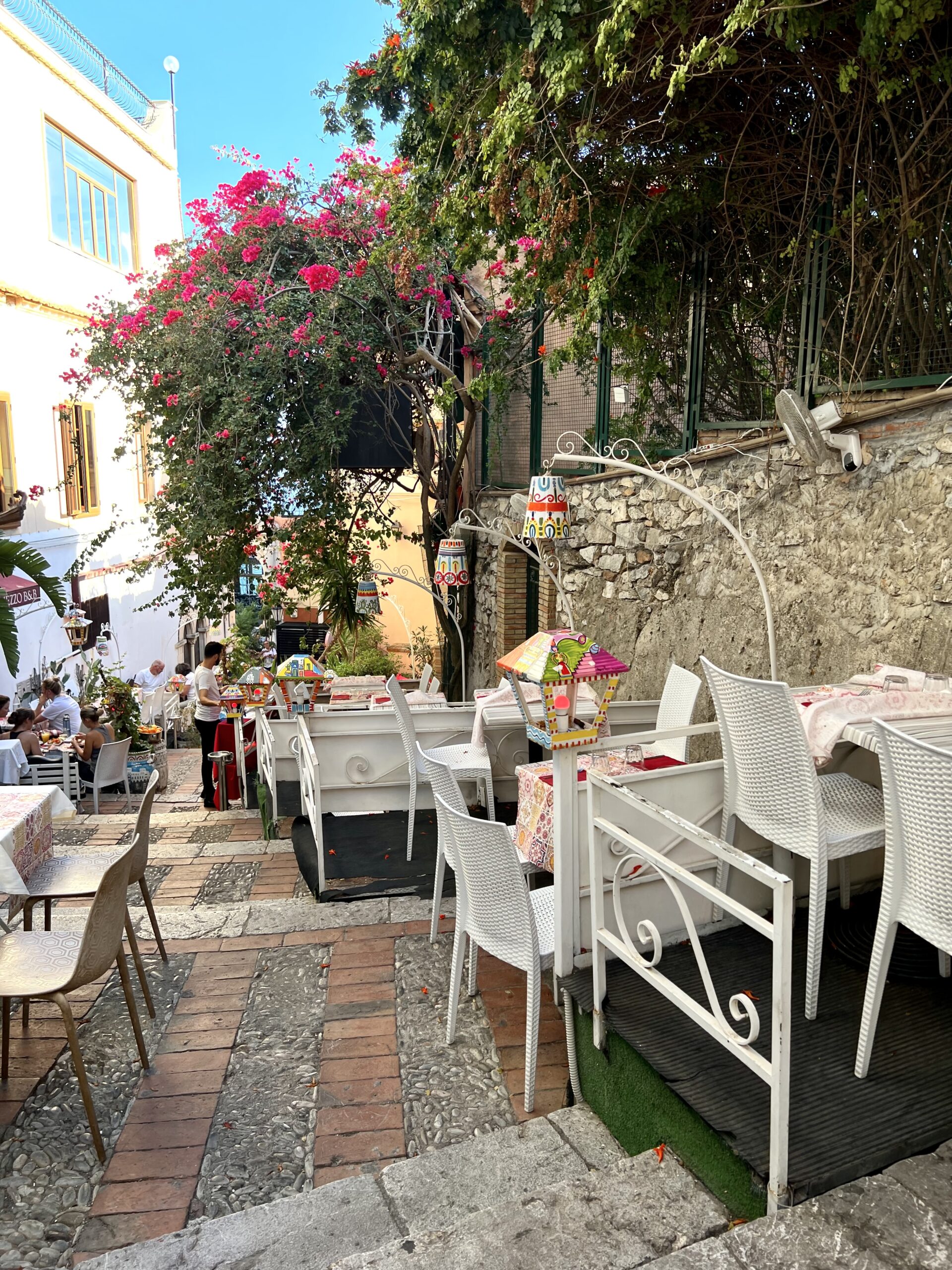 Evening
In the evening, have an apertivo in Piazza IV Aprile. Or, head to Sky Rooftop Bar in the Hotel Continental for great views. Another popular spot for innovative cocktails is Daiquiri in Pizza Paladini.
Then, tuck into some food at a restaurant on a side street away the main drag. I can recommend Adduma. It's tucked away at the top of Vico Giordano Bruno.
Adduma is a relatively new restaurant with a great menu and fine service. We enjoyed the grilled octopus, pasta dishes, and the lamb ragu.
Ristorante Duomo is a good choice too. It's set on a romantic terrace overlooking the Duomo.
If you want Sicilian pizza, I had a good meal at Pizzeria Villa Zuccaria. You can even take a pizza cooking class or sample more things on a street food tour.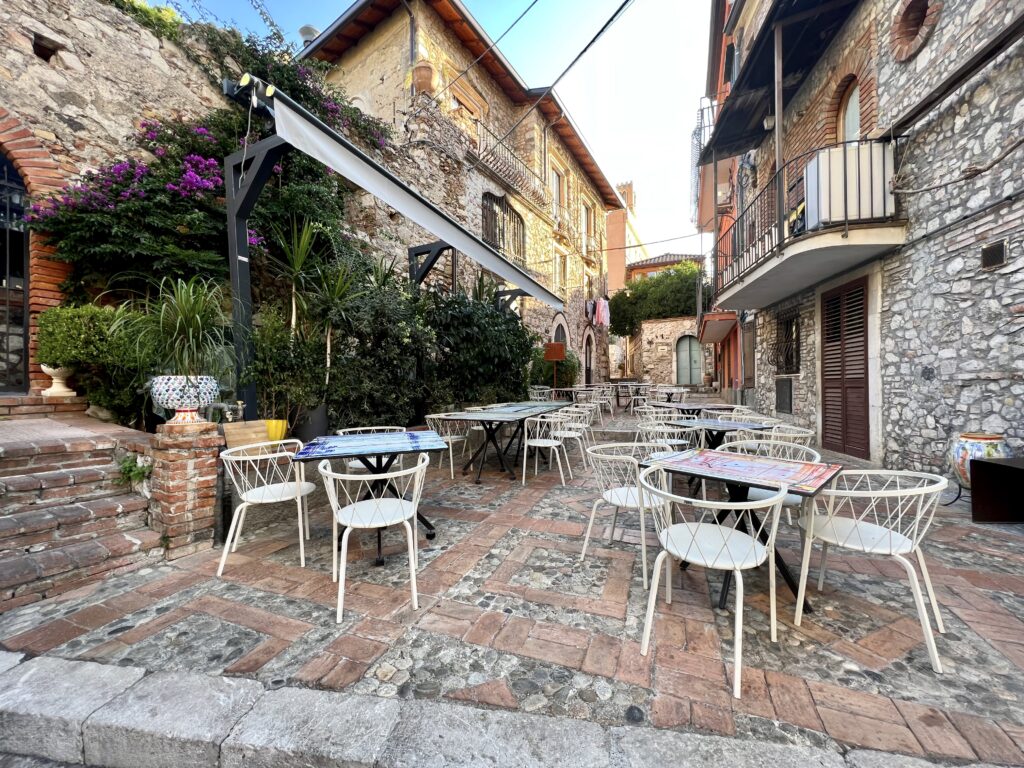 Tips For Visiting Taormina
Here are some must know tips for spending one day in Taormina.
1. How To Get To Taormina
If you're driving to Taormina, you'll need to deposit your car in one of the three car parks outside the historic center. Non-local cars aren't allowed in the town.
The nearest airport is in Catania. You can hop in a taxi or book a private transfer.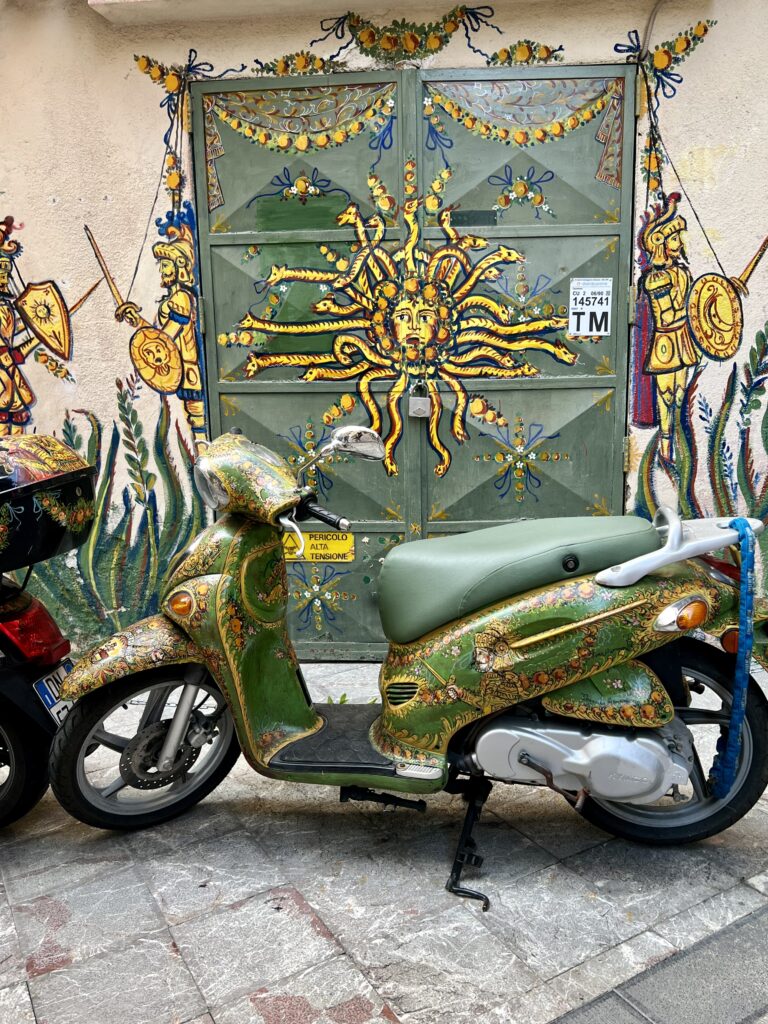 Taormina has a train station and trains run frequently from Catania, Syracuse, and Messina. But the station isn't well-located, being at sea level. You'll need to take a taxi or shuttle bus 20 minutes into town.
Bus is the easiest way to get to Taormina. The bus station is on Via Pirandello near the Greek Theater.
You can also visit Taormina on a guided day tour from Catania or visit both Taormina and Mt. Etna on a full day tour from Catania. You can also day trip to Taormina from Syracuse.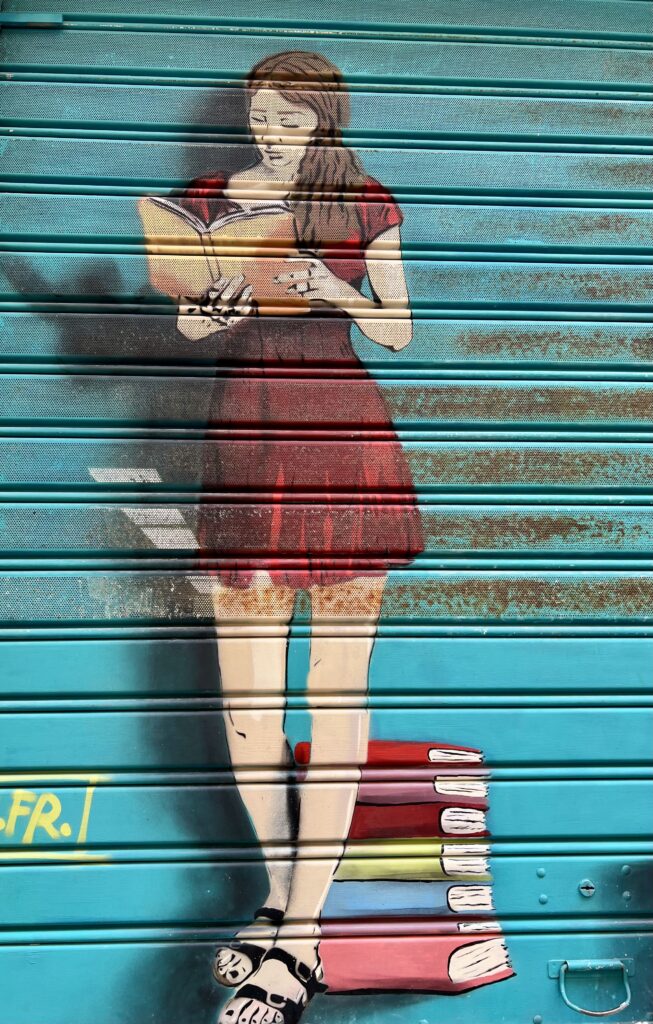 2. How To Get Around Taormina
Taormina is a very small town so you can walk everywhere unless your going further afield to Castelmola or Isola Bella.
You can also zip around on a Segway tour or rent bikes or scooters.
3. Where To Stay in Taormina
As a famous resort town, Taormina is overflowing with luxury hotels where you can truly experience la dolce vita.
Grand Hotel Timeo is a 5 star Belmond hotel in the perfect location near the Greek Theater. It boasts incredible views, pools, spa and restaurant. The rooms are decorated in an Italian Baroque style.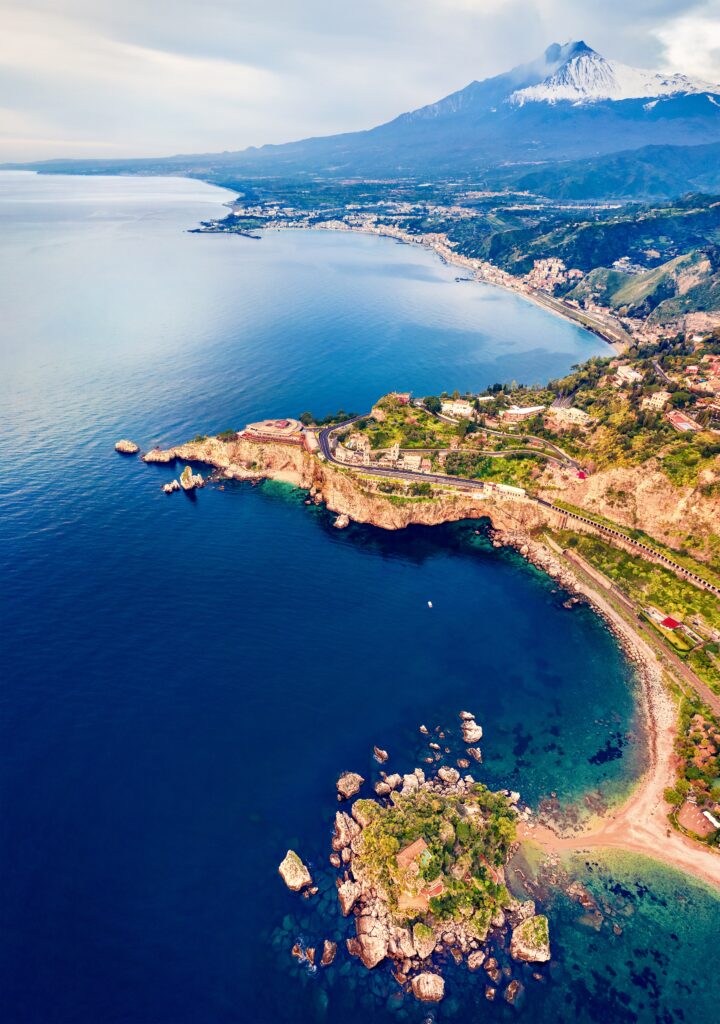 Belmond Villa Sant'Andrea is the understated and elegant sister hotel of the Timeo. It's a short (and free) shuttle ride from town and has its own private beach and cabanas. So this is a great option for relaxing and escaping the crowds.
The San Domenico Palace Hotel is a Four Seasons Hotel housed in a one-time 14th century convent. It's been featured in some Italian movies and the second season of the TV series White Lotus.
Even if you don't stay there, it's a great place to grab an aperitivo perched on a cliff looking out over the Ionian Sea.
Recently, San Domenico was the main filming location for season 2 of the TV series White Lotus.
An easier on the budget option is the Hotel Continental near Porta Catania. The rooms are pretty utilitarian. But the staff is friendly and there's a stunning terrace with views over the sea, another classic place for an aperitivo.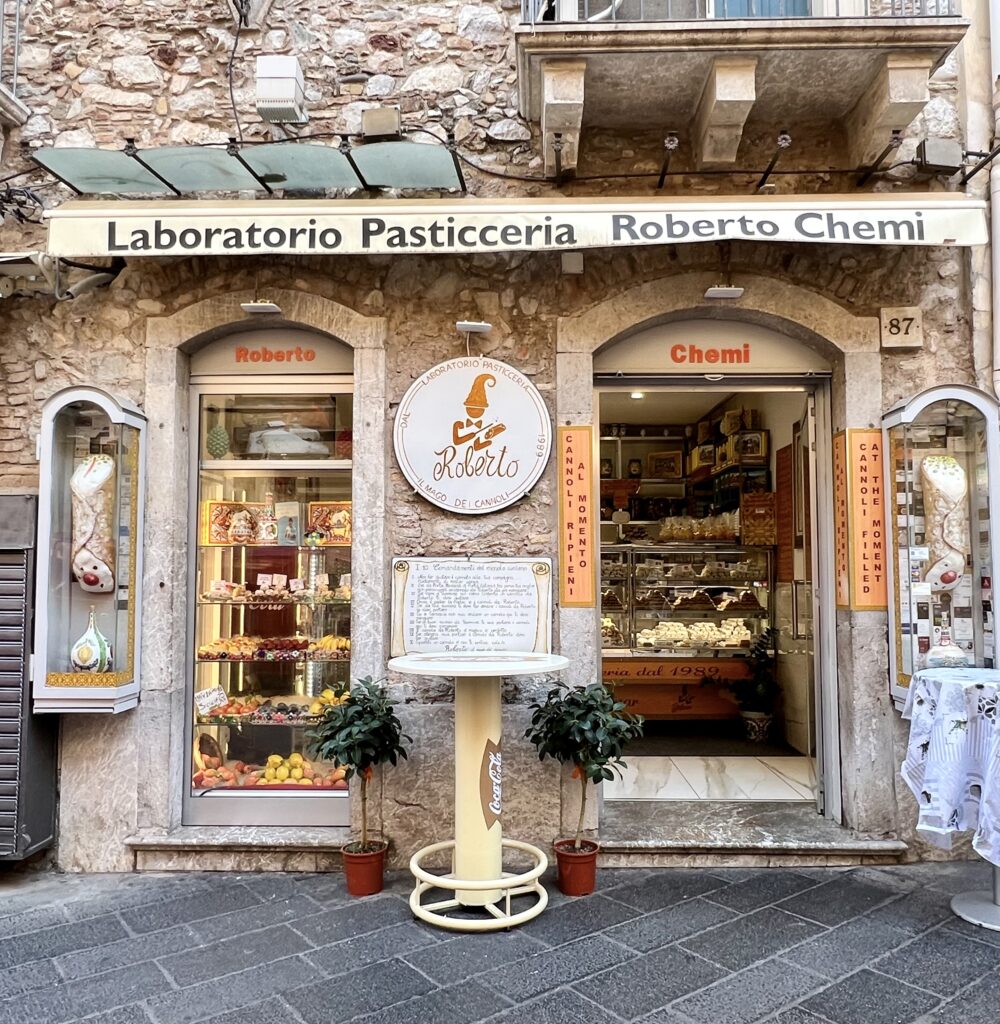 4. Is Taormina Too Touristy?
Taormina often gets a bad rap for being overly touristy. During high season, it can get crowded, especially when the cruise ships are in port.
For this reason, it's better to visit in shoulder season. Though even in October, I found it fairly crowded.
But Taormina is still well worth visiting. It's not a theme park. It's a stunning and immaculate town that's popular for a reason.
Nothing obscures the stunning view of Mt. Etna. And you can always detour off Corso Umberto to escape the maddening crowds.
To have the best experience, it's best to stay overnight and try to avoid weekends. You will have the city to yourself once the day trippers and cruisers depart.
5. Aeolian Islands
If you have more than one day in Taormina, you may want to day trip to the Aeolian Islands.
The Aeolian Islands are a volcanic archipelago off the northeast coast of Sicily. The seven islands were declared a UNESCO World Heritage Site in 2000 for their natural environment and volcanic formations.
On a normal schedule, the islands might take a week to visit. But you can also book a full day tour from Taormina that visits the islands of Panarea and Stromboli by both bus and motor boats.
I hope you've enjoyed my Taormina itinerary. You may enjoy these other Italy travel guides and resources:
If you'd like to spend one day in Taormina, pin it for later.