Here's my guide to visiting beautiful Óbidos, a must see UNESCO site and one of Portugal's most beautiful towns. This guide covers the 10 top attractions and best things to do in Óbidos.
Just an hour north of Lisbon, lies the charming and cobbled Old World cornucopia of medieval Óbidos Portugal. Óbidos is the perfect easy day trip from Lisbon.
It's more laid back than the buzzy tourist town of Sintra, which tops everyone's "best day trips from Lisbon" list. In fact, I think Óbidos is one of Portugal's most adorable and authentic villages.
The dreamy UNESCO village is perched fetchingly on a hill and encircled with stout medieval walls. It's decorated with splashes of blue and yellow paint and filled with bougainvilla-covered whitewashed homes. You'll be seduced by its beauty and shabby chic romantic aura.
My daughter and I arrived via car on a cloudy day in late April. After Lisbon's bustle, Óbidos seemed laid back and bucolic. The clouds didn't deter us one bit. We were entranced, basking in the brisk springtime air and the honeysuckle breeze.
History of Óbidos, the Queen's Present
The word Óbidos derives from the Latin term oppidum, which means citadel or fortified city. If you want to see a really ancient oppidum, visit Citânia de Briteiros in northern Portugal outside Porto.
Óbidos dates back to the 700s. After the fall of the Roman Empire, the Moors occupied the town and built Óbidos Castle. Under Portuguese rule, and due to its strategic location along the Atlantic Ocean, Óbidos flourished into a major trading port.
Beginning in 1282, each king of Portugal gave the town of Óbidos as a wedding present to his future queen.
The tradition was started by King Dinis. When he showed his future wife Dona Isabel the lovely town, she fell instantly in love — a common enough spell for those visiting Óbidos. King Dinis decided to gift her the town as a wedding present.
The tradition continued from the 13th to the 19th centuries. As a result, Óbidos is nicknamed the Queens' Town or the Queens' Present. When you enter the city gates, you'll feel like you're unwrapping a beautiful present as the town spills out before you.
Top 10 Attractions in Óbidos: What To See and Do in the Walled City
1. Porta da Vila
You enter through the double arched Porta da Vila, or the Town Gate (shown above), which dates to around 1380. It contains the shrine of Nossa Senhora da Piedade, Our Lady of Mercy.
The gate richly decorated with 18th century blue azulejo tiles and a Baroque balcony. It show scenes from the passion of Christ.
2. Rua Direita, The Main Drag
We arrived at the main drag, Rua Direita, which runs from the Porta da Vila to Óbidos Castle. Our first order of business was to fortify ourselves with some hot chocolate and pastries at an adorable cafe, Pastelaria D' Avo Adelia.
Then we strolled down Rue Direita with our heads spinning right and left.
Rue Direita is a cobbled street dating from the 13th or 14th century. It's stuffed with whitewashed buildings, quirky bars and cafes, exquisite shops, and ubiquitous ginjinha stands. The iron street lamps and chipped stone facades complete the vintage look.
We were especially taken with the pottery shops and made several purchases. These are not your typical tacky souvenir shops. Most of the shops have one of a kind, artisan quality goods.
Rue Direita in Óbidos
Be sure to tear yourself away from the lovely ceramics on Rua Direita. It's Óbidos' busiest street.
The real magic of Óbidos lies off the main drag. So veer towards Óbidos' quiet maze of pathways to enjoy the quiet, color, and romance. You won't find another person in sight. This is where you'll find the intangible fairy dust of Óbidos, and its greatest gift to the traveler.
3. Ginjinha de Óbidos
Ginjinha bars may be on trend in Lisbon, but there's no escaping them in Óbidos. They're everywhere. Ginjinha is a Portuguese liqueur that's basically a sour cherry brandy. The one from Óbidos is renowned for its quality and strength.
If you buy Ginjinha from a street vendor, you can have it served up in a plastic cup or in a much more satisfying chocolate cup.
4. Igreja de Santa Maria
You'll eventually land in Óbidos' elegant main square, Praça de Santa Maria. There, you'll find the austere and imposing Igreja de Santa Maria. It's free to enter.
The church was was built in the 12th century. It's where the child king King Afonso V (age 10) and his child bride and cousin Isabel I (age 8) were married in the mid 15th century.
The inside is eye catching. There's a beautifully painted barrel ceiling. And 17th century blue and white azulejos decorate the walls. The church is closed on Mondays.
5. Igreja da Misericordia
The street to the right of the main square holds the 16th century Igreja da Misericordia. It's worth a quick look just for its azulejo tiles.
6. Bookstores
Óbidos has been inventing itself as a literally center. Themed bookshops abound. In 2015, Óbidos held its first literary festival, Folio, which is now an annual event. Óbidos was named the UNESCO City of Literature in 2015.
The former church of São Tiago, St James, has been nattily transformed into a bookshop, the Livraria de Santiago. The exterior of the building retains the appearance of the original 12th century church. Inside, there's a colorful altar and the hushed tones make the building bookshop worthy.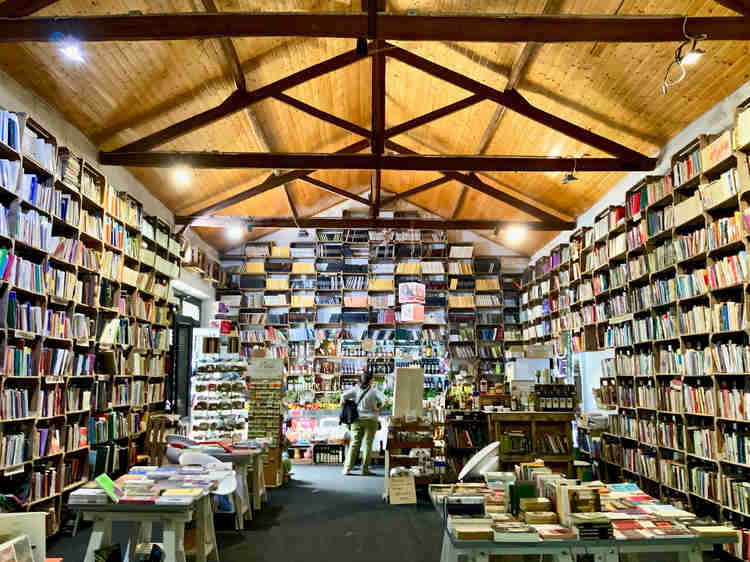 Once a 19th century convent, the bookstore that put Óbidos on the literary map is the Literary Man Hotel Bookshop. It's just off the main drag at Rua D'João d'Ornelas.
It's the world's largest literary hotel. It holds over 65,000 secondhand and rare vintage books. There's a wall of books at every turn.
You can pick anything up off their shelves and check in with reception, if you want to make a purchase. The bookstore's open from 8:00 am until midnight. Book nerds can sip a cocktail at the in house gin bar while they get lost in a book.
7. Óbidos Castle
Óbidos Castle is one of the seven wonders of Portugal. It's ancient. It was built in 713 during the Moorish occupation. In 1148, during the Reconquista, it was captured by Alfonso I, Portugal's first king.
In 1210, Alfonso II expanded the castle and gifted it to his wife. It was a favorite spot for royals when they needed a quiet getaway. In 1755, it was damaged somewhat in the big earthquake that shattered Lisbon. The castle was restored. Here's an aerial view.
Though Óbidos is easily visited as a day trip from Lisbon, there's plenty to keep you busy. And the hilltop castle isn't all views. In 1948, it was converted into a luxurious pousada or inn.
The castle retains its medieval decor. The stairs are narrow and steep. There's no windows, just skinny archer portals.
You'll get a good night's sleep because the walls are 3 meters deep, blocking out all light and noise. You can even book a room in one of the castle's two split level "tower chambers."
8. Walk around the Medieval Walls
The castle walls offer some great views of Óbidos and the countryside. They date from Moorish times, though they've been restored over the years.
It's only a 1.5 kilometer walk and takes approximately one hour. They're a bit perilous because there are no handrails. Unfortunately, when we were there, the walls were closed for renovation.
9. Festivals in Óbidos
Óbidos knows how to host a good festival. Every year, the castle grounds and public squares are taken over by the Chocolate Festival, the Medieval Fair, the Opera Festival, or the Christmas Village.
We were lucky to arrive during the annual Chocolate Festival. This is heaven for chocolate lovers. And the choices were almost overwhelming. We settled on chocolate covered strawberries.
10. Santuario do Senhor da Pedra
Below the town and a bit of a stroll is a rather ramshackle abandoned church, the Santuario do Senhor da Pedra. It's an 19th century Baroque gem in need of some TLC. It's unique for its hexagonal interior.
If you want to give yourself a gift, visit medieval Óbidos, the Queen's Present. It's one of Portugal's most otherworldly pretty villages.
Practical Information and Tips for Visiting Óbidos:
Parking: If you are driving, don't bother driving into the old town. There are parking areas just outside the walls, some free and some not.
By bus: It's easier to take a bus than a train to Obidos. The RodoTejo Verde (green) bus from Campo Grande station in Lisbon takes just over an hour. You can't purchase tickets in advance.
Pro tip: The tourist office is just outside the Porta da Vila, if you want a map or information. It's a small town so it's easy to explore by yourself.
You may enjoy these other Portugal travel guides and resources:
• 10 day itinerary for Portugal
• Historic landmarks in Portugal • 4 day itinerary for Lisbon
• Guide to the Alfama neighborhood
• Guide to the Belem neighborhood
• Best sites and photo spots in Porto
If you'd like to visit the beautiful town of Obidos Portugal, pin it for later.