Exploring Porto and wondering where to find azulejos ? This guide takes you on a DIY walking tour of the best sites and landmarks in Porto with dazzling blue azulejo decorations.
I dedicated an entire day to bingeing on azulejos in Porto. Perhaps I shouldn't use the word "bingeing." It's a bit of a naughty word.
"Bingeing" connotes panicked pleasure or pleasured shame.
It's in the same category as disordered snacking, like when you have 10 Dove bars instead of 1. Maybe "devouring" is a better word. Is that a more positive word, perhaps describing some intense appreciation?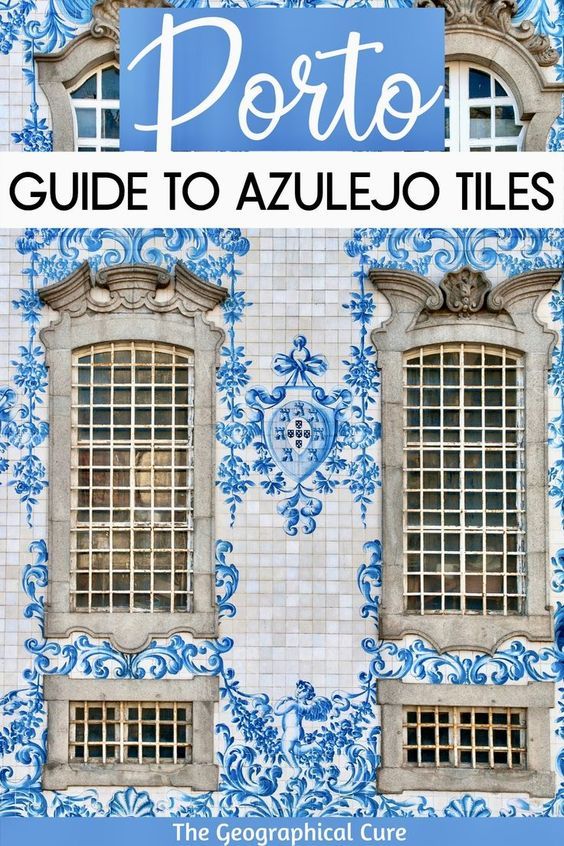 In any event, it was my day to binge and devour the azulejos of Porto on my geographical cure.
My lovely daughter and traveling companion was still recovering from hip surgery. After traipsing gamely around Lisbon, Belem, Sintra, Obidos, and Aveiro, her body needed a break.
So I had a day of freedom before we would head across the river to Vila Nova da Gaia later that afternoon.
I seized the opportunity to do what she wouldn't have cared much for. A treasure hunt.
Fueled up on caffeine and pastel de nata, I binged on a fast paced, but still somewhat serendipitous, hilly walking tour of the stunning azulejo-clad buildings of Porto. Most of them are churches, and I must say they mostly look better from the exterior than interior.
Azulejos have their origin in the Arabic word az-zulayj meaning "polished stone." King Manuel I introduced them into Portugal after a visit to Seville in 1503.
The Portuguese adopted the Moorish tradition of horror vacui – "fear of empty spaces" – and covered walls and buildings completely with azulejos. To beautiful effect.
Where To Find the Best Azulejo Tiles in Porto
Here are my picks for where to find the most beautiful azulejos in Porto.
1. Capela Das Almas
I started with the 18th century Capela das Almas, or Chapel of Souls, fairly near our Air Bnb. I think I failed to "save the best for last," and started out devouring the best.
This little charmer of a church is wrapped with all an over blue and white tile mural on its entire exterior.
The bright blue mural was added in 1912, though it's painted in an 18th century style.
The 15,947 tiles depict scenes from the death of St. Francis of Assisi and the martyrdom of Santa Caterina. It's one of the most extraordinary things I saw in Porto.
The enchanting little church is on the Rua Santa Caterina and is sometimes called the Chapel of Santa Caterina. Santa Caterina is a popular pedestrianized street filled with shops and cafes, near Bolhao Market and Bolhão metro station.
That's the one downside. It's hard to get a proper photo of the church, so many people are milling about and gawking at it.
In Porto, the golden age of the painted ceramic tile was the late 17th to early 18th centuries. But these scenes were painted by Eduardo Leite in the early 20th century.
They're captivating. I wish I had thought to take a picture against the tile wall. But when you're bingeing, sometimes practicalities slip your mind. And I'm terrible at selfies.
2. Church of Saint Ildefonso
Then, I proceeded down Rua de Santa Catarina to the Church of Saint Ildefonso near Batalha Square.
This arresting church stands on an isolated perch. It looks almost defiantly vertical, as if it might take off in flight or be weaponized. In contrast to the Capela das Almas, this imposing church is positioned so as to be vastly photogenic.
It was built in 1739 and named in honor of the Bishop of Toledo (I don't really know why). There are 11,000 tiles covering the facade depicting the life of Saint Idlefonso, created by Jorge Colaço and added in 1932.
The church appears a bit in need of renovation. But it had a lovely vintage feel, one that might be wiped out by restoration.
3. Sé do Porto, Porto's Cathedral
Next, I headed to Porto's stern looking cathedral, the Sé do Porto, in the heart of the old town. The Sé is a must see site in Porto.
The imposing fortress-like cathedral is part of Porto's UNESCO designation, it's so old. Construction began in the second half of the 12th century. It has been renovated and now sports three different architectural styles — Roman, Gothic, and Baroque.
Entry to the main part of the cathedral is free. But you'll pay a 3 euro fee to visit the cloisters and museum.
It's worth parting with the cash, just to view the gorgeous azulejos in the cloisters, which depict events from the "Song of Solomon" the last section of the Hebrew Bible. Be sure to step out onto the terrace for one of the best views in Porto.
Some people say that if you have only one church to visit in Porto, this should be it. I disagree.
I think you should go to the Igreja da Ordem de São Francisco, or the Church of Saint Francis, in the Ribeira. It doesn't have azulejo tiles like the ones here, but it's a fantastic gothic edifice with a riveting gold interior. Just so you know.
But while you are at the Sé, climb the 224 steps of the nearby 18th century Clérigos Tower. I must admit on my visit, there was too long a queue me to wait, as I was intent on bingeing and devouring. So I had to pass it by.
But it's supposed to offer amazing panoramic views. I was scheduled to take the Vila Nova de Gaia funicular later, so I didn't feel like I was particularly missing out. One has to prioritize when bingeing and devouring on a schedule.
4. São Bento Train Station
Next, I headed off to the São Bento Train Station. A train station, you say? Isn't that rather utilitarian? Why yes, that's where I was headed.
I think it would have been extremely cool to have purchased a train ticket to Porto, and arrived at the Bell Epoque station without realizing what amazing azulejo murals await you.
That would have put the "romance" into into train travel, a phrase I frequently hear but can't often agree with.
And so I paid a tourist visit. With scads of other tourists. It's a popular place.
You enter the station and there is an extraordinary soaring atrium. It's covered with 20,000 azulejo tiles from 1905-16, courtesy of Jorge Colaço,
He also created the tiles for Ildefonso. Colaço sought to depict important moments in Portuguese history, including bloody battles and rural festivities.
5. Igreja dos Congregados
If you're visiting the train station, then you're near the Igreja dos Congregados, another tile bedecked church. This one even has yellow tiles, a daring contrast to the standard blue and white ones.
It's directly to your right as you're leaving the station on Rua Sa da Bandeira. It's dedicated to Saint Anthony, a Franciscan priest.
The interior may be a little disturbing to some.
As with so many churches in Portugal, there are creepy painted mannequins inside. Here, you've got Mary with six swords in her chest and the head of John the Baptist with a large hole in the forehead.
I'm not sure why glass caskets and painted statuary mannequins are a thing in Portugal. But I like that phenomenon vastly less than its azulejo obsession.
I finally took a break from tile bingeing and turned my attention to food bingeing. I was craving a salad.
You'd think that would be an easy thing to find in Portugal. Eh, not so much.
You're more likely to find Porto's cardiac arrest sandwich, the Francesinha. It's made of 5 different kind of meats and slathered in cheese and a tomato beer sauce.
I was bingeing, to be sure. But didn't want to binge that way. Even though I always try the local specialities (I had already tried bacalhau), this sounded dreadful.
When I spied Noshi Coffee at Rua do Carmo 11, I almost sighed in relief.
It's a hip and healthy cafe with an inviting garden that serves many different salads and fancy open toasties. I settled in with their Asian Salad and read more about Porto and its famous azulejos.
6. Igreja do Carmo and Igreja dos Carmelita
Right next door to Noshi Coffee is the lovely Igreja do Carmo, which is Instagram famous for its grandiose and exquisite side panel festooned with azulejo tiles.
It's also next to Livraria Lello bookstore, another architectural wonder, if you want to pop in there (though it may be crowded).
This Baroque and Rococco style church was built in the 18th century and had its exterior tiles installed in 1910. The tiles depict the founding of the Carmelites religious order.
The church seems big, and looks like two churches smooshed together. And it is.
It's actually two churches, Igreja do Carmo and Igreja dos Carmelitas, separated by a tiny thin house — the narrowest house in Porto. The nuns lived and worked at Igreja dos Carmelitas and the monks at Igreja do Carmo.
The exterior facade of the Carmo church is richly crafted with a rectangular portal, flanked by two religious sculptures of the prophets Elijah and Elisha carved in Italy.
The interior of the church has a single nave with seven lavish gilt altars and fine oil paintings. They're the work of sculptor Francisco Pereira Campanha.
7. Igreja de São Nicolau
If you're a real binger and fanatic, like me, you'll also make it to Igreja de São Nicolau, right on the banks of the Duoro River in the Ribera district.
This skinny little Baroque church is representative of 18th century Porto.
The facade's Neoclassical with some Baroque elements. The blue and white azulejos were added in the 1860s.
Inside, it's simple except for the gilded Rococo style retabulum.
I even found a quirky piece of azulejo art, some large boulders with blue and white tiles near the São Bento train station. This city doesn't discriminate. It will tile or paint tiles on anything.
I also found a slug dripping down a blue tiled building. A rather unusual sighting.
And pretty blue tiled homes.
8. Júlio Resende's Azulejo Art Mural
On a more contemporary note, there's also this cool azulejo panel by by Júlio Resende that's become part of Porto's landscape. The panel is next to the Luis I Bridge, inside the Ribeira Tunnel.
It was inaugurated in 1987 and restored in 2012, a year after the Resende's death. The panel shows his childhood memories from the Ribeira area, a daily life full of hardship but also solidarity.
Even our Air Bnb was decorated with teal colored tiles.
By 4:00 pm, I felt like I'd had a successful binge. I was full, stuffed to the gills with azulejo tiles dancing in my brain.
I collected my daughter and we ventured off to do another type of bingeing — taking in the sweeping panoramic views and port wine caves in Vila Nova da Gaia across the Duoro River.
It was a happy evening indeed. We return sated and content to our own tile bedecked hideaway where we plotted the next day's bingeing on UNESCO sites.
I hope you've enjoyed my guide to the azulejos of Porto. You may enjoy these other Portugal travel guides:
If you'd like to explore Porto's stunning azulejo decorations, pin it for later.