The mere mention of Alcobaça Monastery in Portugal conjures a mini history lesson on one of Europe's oldest and best UNESCO sites. Alcobaça is a 12th century masterpiece of Gothic Cistercian art, after all. Its vaunted architecture and history make it a must see site on a tour of Portugal. But that's the topic of another blog post.
What you'll get instead is what fascinated me most — the monastery's compelling and heartbreaking back story. It's the stuff of movies and great novels, a tragic tale of obsessive love and political intrigue, the Portuguese equivalent of Romeo & Juliet.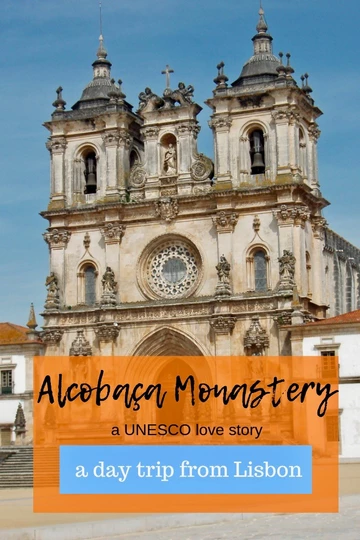 It's the story of the medieval love affair between Dom Pedro, crown prince and then king of Portugal, and the catastrophically beautiful 15 year old Inês de Castro of Spain. There's a lovely portrait of her in the Quinta da Regaleira Palace in Sintra, outside Lisbon.
Pedro was the only son of King Alfonso IV and Queen Beatrice of Portugal. Destined to the throne, he was naturally consigned to a loveless arranged marriage. But he was a reluctant fiancee.
As was the fashion of the time, Pedro's parents affianced him to the Infanta Constança of Castile, to solidify ties between Portugal and Spain. Constança arrived in Portugal in 1340.
Among her coterie was her lady-in-waiting, Inês de Castro, the daughter-in-law of a powerful Castilian nobleman. Her eyes were blue and her skin "so white that when she drank wine one could see it flowing through her throat."
Unfortunately for poor Constança, sparks flew and it was love at first sight for Pedro and Inês. Neither Constança's disapproval nor the machinations of Pedro's parents could keep the two lovebirds apart. Constança was betrayed.
Despite Pedro's marriage, Pedro and Inês began a torrid, forbidden, and not terribly secret, love affair. It was more doomed than Shakespeare's Romeo and Juliet, which came centuries later on the famous Italian balcony. It was reminiscent of Henry VIII's great, unstoppable 16th century passion for Ann Boleyn. Consequences be damned and all.
Pedro's wife Constança tried to stop the affair by naming Inês godmother to her first child and heir, Infante Dom Luís (who died weeks later). To no avail. King Alfonso IV then took the extreme step of banishing Inês back to Spain in 1344. But that didn't deter Pedro either. He visited his beloved regularly.
In 1349, Pedro's wife Constança died in childbirth, leaving one heir to the throne, Dom Fernando. Pedro took this as his get out of jail free card. Pedro collected Inês from Spain and installed her in the Quinta das Lágrimas estate in Coimbra in central Portugal. He lived openly with her there, their love at full throttle. Pedro and Inês amassed four children.
Befuddled by love, Pedro granted some important posts to Inês' brothers and other Castilian relatives. Bad move for a Portuguese prince. Pedro's tyrannical father King Alfonso was horrified.
He would not consent to Pedro marrying Inês. Pedro was supposed to obey and make another convenient dynastic alliance. Getting on in age, the king also worried about Pedro's devotion to Inês and his connections with her relatives. He feared Pedro's illegitimate children might swipe the crown of Portugal from his grandson, the rightful heir, thereby starting a war with Spain.
Given Inês' influence, Alfonso decided that she was too much of a threat to remain alive. He ordered her murder.
Three assassins carried out the horrific deed in 1355. When the killers arrived, they purportedly found Inês and her children near Fonte dos Amores, the Fountain of Tears at the Coimbra estate, a trysting place for Inês and Pedro. Some legends hold that that Inês was stabbed to death; others say she was beheaded in front of her children. She was only 29.
Inês' body was buried at the Monastery of Santa Clara in Coimbra, a gorgeous building itself but not rivaling Alcobaça in beauty or stature. According to legend, a spring began to flow near the Fountain of Tears upon her death. The red stones in the spring bed are said to be her reconstituted tears.
The inconsolable Pedro could do little to avenge Inês' death while his father lived. But when King Alfonso died in 1357, Pedro acted swiftly. First, he sought revenge on Inês' assailants, literally ripping their hearts out of their bodies. (It's unclear, though, whether he had the right culprits.) He was thereafter known as Pedro the Cruel.
Next, Pedro stunned the royal court by announcing that he and Inês had secretly wed in 1354 at the Igreja de São Vicente in Bragança, thereby legitimizing their children. But it gets even more macabre. According to the royal chronicler Fernão Lopes, Pedro was consumed by a "great madness."
Pedro exhumed and coronated Inês' decomposing body. He dressed her corpse in royal regalia, seated her on the throne beside him, and commanded his court to kiss her hand as if she were a living queen. Pedro wanted in death what he couldn't have in life. And so Inês became "the Queen who was crowned after death."
In 1361, in a regal ceremony, Pedro buried her in Alcobaça Monastery in a white marble tomb. Legend holds that Inês' body was led to Alcobaça between" two lines of stars" — thousands of soldiers holding candles.
Pedro had his own matching tomb prepared, to face hers in the Alcobaça Monastery. Pedro declared that Inês' was the first person he wanted to see when he rose on Judgment Day. To this end, both of their tombs are carved with the phrase Até ao Fim do Mundo, which means "Until the End of the World. "
Pedro died in 1367 and was buried according to his wishes. Pedro's tomb rests on lions and shows scenes from the life of St. Bartholomew. It has a "life wheel" at one end, which looks like a rose window, depicting the life of the two lovers. Pedro also has a dog at his feet representing his fidelity to Inês.
Like Pedro, Inês' effigy is supported by 6 angels. Her tomb depicts Pedro and Inês reunited in Paradise. It shows scenes from the life and death of Jesus. And it's supported by figures that are half-men and half-beast, representing her assassins.
Their love story has since been immortalized in paintings, plays, operas, novels, and ballets. It's been mythologized and embraced by the Portuguese people. In 2018, a feature film, The Dead Queen, aired in Portugal. The town of Alcobaça has a Pedro and Inês route with ceramics depicting episodes from Luís Vaz de Camões' retelling of their story in Os Lusíadas.
And "the Queen who was crowned after death" seems not to have died in vain. In an ironic twist of fate, Constança's son, Dom Fernando, would be the last king of the First Dynasty. He married one of Inês granddaughters. Thus, her lineage is part of the Portuguese royal lineage.
If you are in a romantic frame of mind and near Lisbon, Alcobaça Monastery should be on your to do list for Portugal. It's one of my very favorite Portuguese sites, a hidden away place without crowds. Plus, Alcobaca is an easy day trip from Lisbon.
Practical information for visiting Alcobaça Monastery:
Getting there: Alcobaça can be done as a day trip from Lisbon. It's about a 1:20 drive.
Address: Praca 25 de Abril, Alcobaca 2460-018, Portugal
Hours: Oct to Mar 9:00 am to 5:00 am, Apr to Sept 9:00 am to 7:00 pm
Entry fee: € 6
Pro tip: You can get a combined entrance for the Heritage Trail (Ruta do Patrimonio which includes Alcobaça, Batalha, Convento de Cristo) for 15 €
You may enjoy these other Portugal travel guides and resources:
• 10 day itinerary for Portugal
• Historic landmarks in Portugal
• Guide to the Alfama neighborhood
• Guide to the Belem neighborhood
•Best sites and photo spots in Porto
If you'd like to visit Alcobaca Monastery in Portugal, pin it for later.