Ready for a French fairytale? Here's my guide to the 18 most beautiful towns in historic Normandy.
Many of these pretty Normandy hamlets are easy day trips or weekend getaways from Paris. Parisians refer to Normandy as the "21st Arondissment" and its beautiful coastline as the "Parisian Riviera." Normandy is also easily accessed from England.
Some of these stunning Norman towns, like Giverny and Honfleur, are tourist hotspots. Others are secret hidden gem villages in France. You can combine these lovely towns for a road trip through northern France.
Normandy is steeped in history. In Normandy, legendary figures like William the Conquerer and Joan of Arc changed the course of history.
Normandy's landscapes inspired the Impressionists, as did Rouen Cathedral. D-Day beaches commemorate the horror of WWII. In Bayeux, a 1,000 year old tapestry tells the story of medieval warfare and sieges.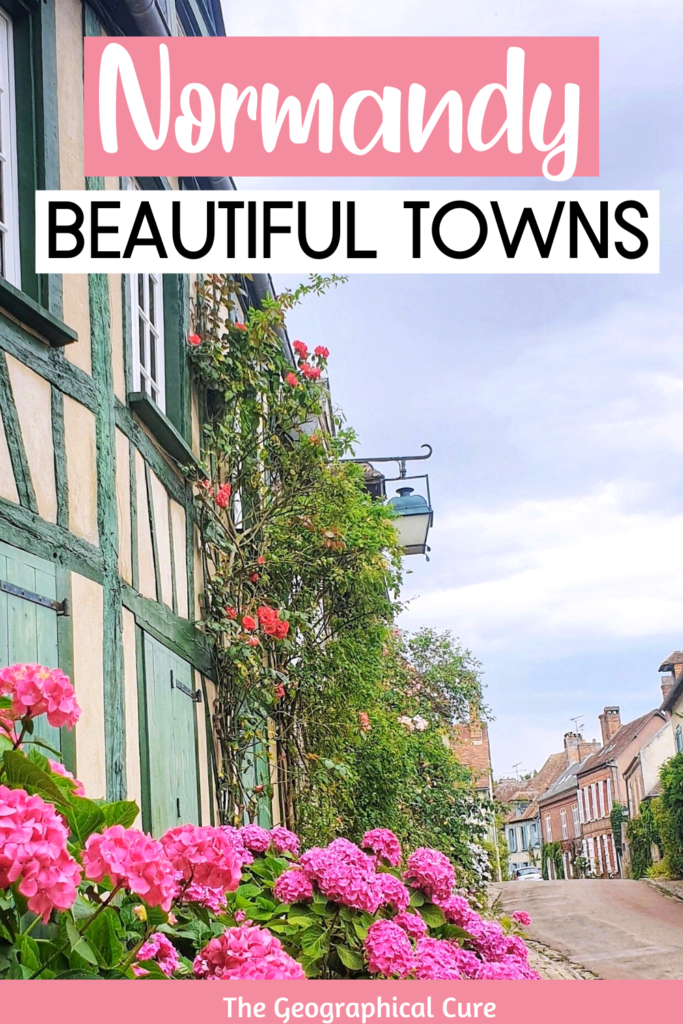 Handsome Normandy is crammed with appealingly diverse landscapes. From its picturesque pastures to its ancient urban centers, Normandy is a romantic melange of medieval towns, sun-drenched seaside resorts, and towering Gothic cathedrals.
Colorful half timbered architecture, windows bursting with flower boxes, is everywhere. Weathered slate-steepled churches decorate apple orchards, which produce the region's famed cider. Seaside pleasures, set against chalky cliffs, cater to the senses.
Normandy is the birthplace of the Impressionism movement. You can even follow the Impressionist Trail in Normandy.
Impressionists didn't just share a unique style of painting, focused on light and color. The artists found a common muse in Normandy.
Most Beautiful Towns In Normandy
Here are my picks for the 18 most beautiful towns and destinations Normandy:
1. Barfleur: Mussels and Medieval Vibe
The lovely medieval port town of Barfleur on France's Cotentin coast is one of France's prettiest secret villages. Barfleur was as a principal embarkation point to England during the Middle Ages. The English influence characterizes Barfleur's architectural features, like the Church of Saint-Nicholas.
Today, a fishing community thrives among its 500+ residents. Barfleur is especially famous for its wild "blond" mussels. While most of France's mussels come from livestock, Barfleur's mussels are fished in east of Cotentin peninsula. Having mussels in white wine in a quaint port restaurant is a must do activity in Barfleur.
Barfleur's historic center sits on a peninsula that juts out into the ocean, surrounded with boats dancing atop the water. Sainte Catherine courtyard, with the only house dating back to the Middle Ages, has mullioned windows and an external staircase. Along the main drag, Saint-Thomas-Becket Street, you can admire the old houses from the 16th to 19th centuries.
Where to stay: Le Conquerant, Hotel des Ormes
Where to eat: Restaurant et Epicerie du Phare, Cafe de France, Le Moderne
2. Bayeux: Famous Tapestry
Bayeux is one of Normandy's most beautiful towns. It's a town that played an outsized role in French history. It's the perfect base for historic Normandy — the site of the Norman invasion of France in 1066 and WWII's D-Day landings of 1944.
Most people go to Bayeux to see the thousand year old, and exceedingly long (230 feet), Bayeux Tapestry. Housed in the Bayeux Tapestry Museum, the tapestry chronicles the events leading up to William's invasion of France. In 50 scenes, it focuses on the battle of Hastings and the showdown between William and King Harold II.
It's unclear when the Bayeux Tapestry (actually an embroidery) was created. But historians speculate that it was not long after the events it depicts.
The tapestry is remarkably well-preserved given its age, though it has been restored several times. The tapestry was most likely created by William's queen, Matilda, and her court.
The Nazis seized the tapestry during WWII and took it to the Louvre, which they had commandeered and were using as a clearinghouse for art theft. After the war, the tapestry was returned to Bayeux, its rightful owner.
READ: Underrated Masterpieces of the Louvre
But Bayeux isn't just a piece of cloth, however impressive. Full of medieval architecture, the town itself is delightful and fairytale-like.
Honey colored stone buildings are topped with black slate roofs. Flowing flower boxes spill into the narrow lanes.
While you're strolling, pop into Bayeux's Notre Dame Cathedral. This extremely large Norman-Romanesque church was consecrated in 1077. It's thought to be the original home of the Bayeux Tapestry. Fierce gargoyles on the exterior scowl down at you.
For history buffs, the D-Day beaches are nearby. Bayeux makes the perfect base for visiting.
You can immerse yourself in the history of Operation Overlord. For background, visit the America Gold Beach Museum, the Memorial Museum of the Battle of Normandy, and the Bayeux War Cemetery.
You can book a guided day tour of the beaches from Bayeux.
Where to stay: Hotel Villa Lara, Hotel Tardiff Noble Guesthouse, Hotel d'Argouges
Where to eat: La Rapiere, L'Angle Saint Laurent, Le Pommier, La Reine Mathilde (breakfast), Le Volet Qui Penche
3. Beuvron-en-Auge: Classic French Village
Set in the countryside of Normandy's dairy region, Beuvron-en-Auge is a quaint Norman village, not far from Caen. It's listed as one of France's Les Plus Beaux Villages. It's a pretty Norman burgh famous for its cheese and cider. It would be hard to find a more authentic French village.
Looking like a film set, tiny Beuvron-en-Auge has a central medieval square flanked with colorful 16th century half timbered homes. The most famous is the 16th century Vieux Manoir.
Beuvron is also on the designated 40 mile Normandy "cider route." There's a flower festival in May and a cider festival in August.
Where to stay: Le Pave d'Hotes
Where to eat: Pave d'Auge Restaurant, La Colomauge Creperie
4. Caen: D-Day Beaches
Caen is a lively university town steeped in history. Caen (pronounced "kahn") was mostly destroyed during the Battle or Normandy in 1944.
But some ancient heritage buildings survived and the rest of the town was rebuilt in the 1950s and 1960s. As a result, it's a blend of old and new, with some chic boutiques and pretty public squares in the Vageux quarter.
Caen is home to the Chateau de Caen, a doughty medieval castle built by William the Conqueror. Turreted and encircled by a moat, the chateau is one of Europe's largest and oldest military complexes. The chateau houses the Musee de Normandie, charting Normandy's history and one
If you're a WWII buff, Caen is your mecca. The Caen Memorial Museum is a must visit. It's located on the site of an important German headquarters during WWII.
The museum is highly informative, detailing, in emotive fashion, the events and tragedies of WWII. Your visit should start with a 15 minute D-Day video on the lead up to the battle.
Like Bayeux, Caen is just a short drive from the D-Day Beaches. There, the US successfully carried out the largest military operation in history on June 6, 1944. On this day, US troops gained a foothold in France, which led to the crumbling of Nazi Germany.
There is a 54 mile stretch of coast from Sword beach in the east to Utah beach in the west. This area is dotted with WWII museums, cemeteries, monuments, and battle remains.
For a comprehensive guide to the D-Day beaches, click here.
Where to stay: Chez Laurence du Tilly, Chateau les Cedres
Where to eat: A Contra Sens, Bistro Basque, Le Bistrot Saint Michel
5. Chartres: Sacred Sites
Step off the train in Chartres and the two very different steeples of its glorious 13th-century cathedral loom above.
Chartres is typically a day trip for visitors from Paris. But it's ideal to spend a night or two away from the crowds thronging Paris and savor the tranquility of Chartres.
Chartres has a rich history, charming streets, interesting medieval churches, and museums focusing on French art. There are splendid half-timbered buildings on the Place de la Poissonerie.
Chartres is most famed for its massive 13th century Cathedrale Notre-Dame, designated a UNESCO site in 1979. Famed French architect Eugene Viollet-le-Duc called Chartres Cathedral "the greatest and surely the most beautiful monument of this kind that we possess in France."
Finished in 1220, the Gothic cathedral features 2 towering spires, flying buttresses, ornate sculptures, a 16th century astrological clock, relics, and elaborate rose windows — all you'd expect in an architectural wonder.
Interestingly, however, the 2 steeples don't match. One's in the Gothic style and one's in a Romanesque style. The cathedral's south, west, and north entrances all boast ornate triple portals.
The cathedral's interior is intimidating, built on a superhuman scale. The most stunning feature is its dramatically hued stained glass, almost 3/4 of an acre of gentle light. Chartres is especially renowned for its "Chartres Blue" color tones.
The cathedral also has a collection of relics, including the Sainte Voile (Holy Veil). The veil was reputedly worn by Mary when she gave birth to Jesus. It has lured pilgrims since the Middle Ages.
You can also climb 350 steps up the lacy north tower, known as Clocher Neuf. There, you can inspect the rooftop and the flying butresses.
An $18 million restoration of the cathedral began in 2009. It's been controversial. It's so squeaky clean that some critics labelled its interior restoration a "catastrophe," "cultural vandalism," and a "gaudy pastiche."
You should also visit Chartres' Musee des Beaux-Arts. It's a fine arts museum housed in the former home of Chartres' bishops.
The museum is creaky and dusty, but there are treasures worth admiring. The collection includes works by Francisco de Zurbaran, Jean-Baptiste-Simeon Chardin, Maurice Vlaminck, and Chaim Soutine.
Where to stay: Hotel Jehan de Beauce, Maison Ailleurs, Maison Blanche Chartres
Where to eat: La Cour Brasseries (Michelin), Le Cloitre Gourmand, Le Saint-Hilaire
6. Deauville: Chic Seaside Resort Town
Glamorous Deauville is a favorite spot of wealthy Parisians. Deauville is like the Hamptons of Paris, a convenient beach resort just far enough away from city life. The town is part of the "Parisian Riviera."
Deauville is a beautiful town, stuffed with aristocratic Anglo-Norman mansions from the Victorian era. They're elegant old world half timbered homes with Queen Anne style accents. They're even more distinctive and ornamental than those in Alsace.
Aside from architecture, Deauville is renowned for its stately seaside strand (Promenade des Planches), horse racing, luxury shopping, delicious cuisine, and film festivals.
In addition to attracting Parisians, Deauville also enamored the Impressionist painters. Those included Monet, Berthe Morisot, Boudin, and Gustave Caillebotte.
Lured by the setting, they set up their easels outside on the beach and painted Deauville's beautiful coastal landscapes.
Where to stay: Hotel Barriere Le Normandy, Royal Barriere Hotel
Where to eat: Restaurants Augusto Chez Laurent, Le Cirro Barriere (Michelin), Le Spinnaker
7. Etretat: Dramatic Cliffs
Etretat is another must visit town on the Impressionist Trail in Normandy. Sleepy Etretat is a classic old world French town with absolutely mesmerizing scenery.
Etretat is set on the sea. Waves crash against the shores of a jagged chalky coastline, with a pretty beach promenade. A monumental arch, Porte d'Aval, plunges into the sea. It's France's version of England's White Cliffs of Dover.
The town's indescribable natural beauty inspired artists like Claude Monet, Henri Matisse, Eugene Boudin, and Gustave Courbet. The cliffs, known as the Elephant and the Needle, were one of the artists' favorite spots to paint. They're huge and beautiful; softly undulating and momentous.
READ: Impressionism Trail in Normandy
The best way to admire the seascape is to walk along the cliffs. On your walk, you'll come across the Chapel of Notre-Dame-de-la-Garde. The original was destroyed in WWII, but it was rebuilt in the 1950s.
As you walk along the seaside path, you'll find placards depicting the precise spots where Monet painted some of his most famous paintings. You can hike to the top of the arch via a pathway and stairs to see different perspective of the alabaster cliffs.
When you're done admiring the caves and tunnels carved into the cliffs, head down to the sparkling turquoise waters of Etretat Beach. The water is cold, but the pebbles are soft and smooth, not hard on the feet.
Etretat's town center is quaint and shouldn't be ignored. It's bursting with shops, eateries, and art galleries. Cider is a local specialty and there are plenty of crepes. There's also quite a number of small bed and breakfasts — a testament to Etretat's appeal to (mostly) French tourists.
Where to stay: Dormy House, Les Tilleuls, Maison Gersdorff
Where to eat: La Marie Antoinette, Domaine Saint Clair (Michelin), L'Auberge de la Motte
8. Gerberoy: Town of Roses
Located in the Oise region, the storybook small town of Gerberoy is definitely one of the most beautiful towns in Normandy. It's even listed as a "plus beaux village de France."
Time warp Gerberoy is filled with charming cobbled streets and half timbered buildings clad in painted shutters and flowers.
It's known as the "City of Roses." Gerberoy is a perfect day trip from Paris.
The early 20th century artist Henri Le Sidaner put Gerberoy on the map. The town was recommended to him by sculptor Auguste Rodin. Sidaner captured its 17th and 18th century houses, winding lanes, and profusion of roses.
READ: Guide to the Rodin Museum in Paris
The Gardens of Sidaner are one of Gerberoy's must see sites. It's a three level Italianate garden, filled with roses and wisteria, boasting views over Gerberoy.
You an also visit the Jardin des Ifs. This garden is listed as a Jardin Remarquable, with a stunning topiary yew garden.
Gerberoy also has plenty of adorable squares, eateries, galleries, and museums to keep you busy. Have lunch at Les Remparts.
Check out the Collegiate Church of Saint Pierre, begun in the 11th century and completed in the 15th century.
Where to stay: Chateau du Landel, Le Logis de Gerberoy
Where to eat: Les Remparts, Les Jardins du Vidame, Le Jardin Des Ifs
9. Giverny: Monet's Impressionistic Garden Masterpiece
Just 50 miles northwest of Paris lies Giverny, home to artist Claude Monet's stunning house and gardens. Giverny is a one-of-a-kind pastoral paradise, born from the great artist's obsession. It's a must see site for art lovers and Monet addicts in France.
Monet lived half his life in Giverny. You won't find any original Monet paintings. Instead, you'll feel as if you've stepped into one of his utopian paintings.
In Giverny, Monet, a devoted horticulturist, created an ethereal and exquisitely staged garden in the French-Norman countryside. With the scent of roses wafting in the air, Monet's garden is one of the world's most beautiful and popular gardens.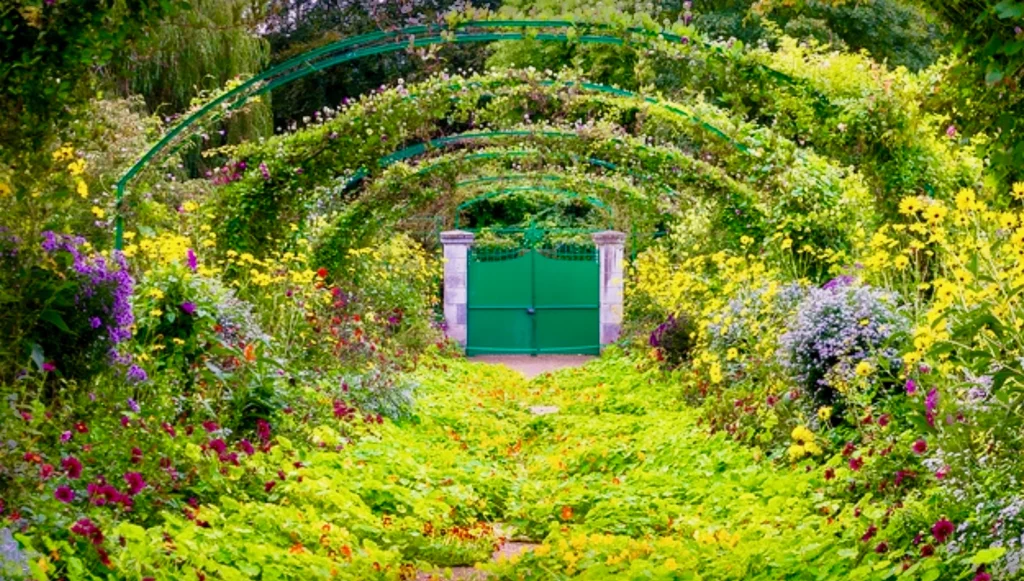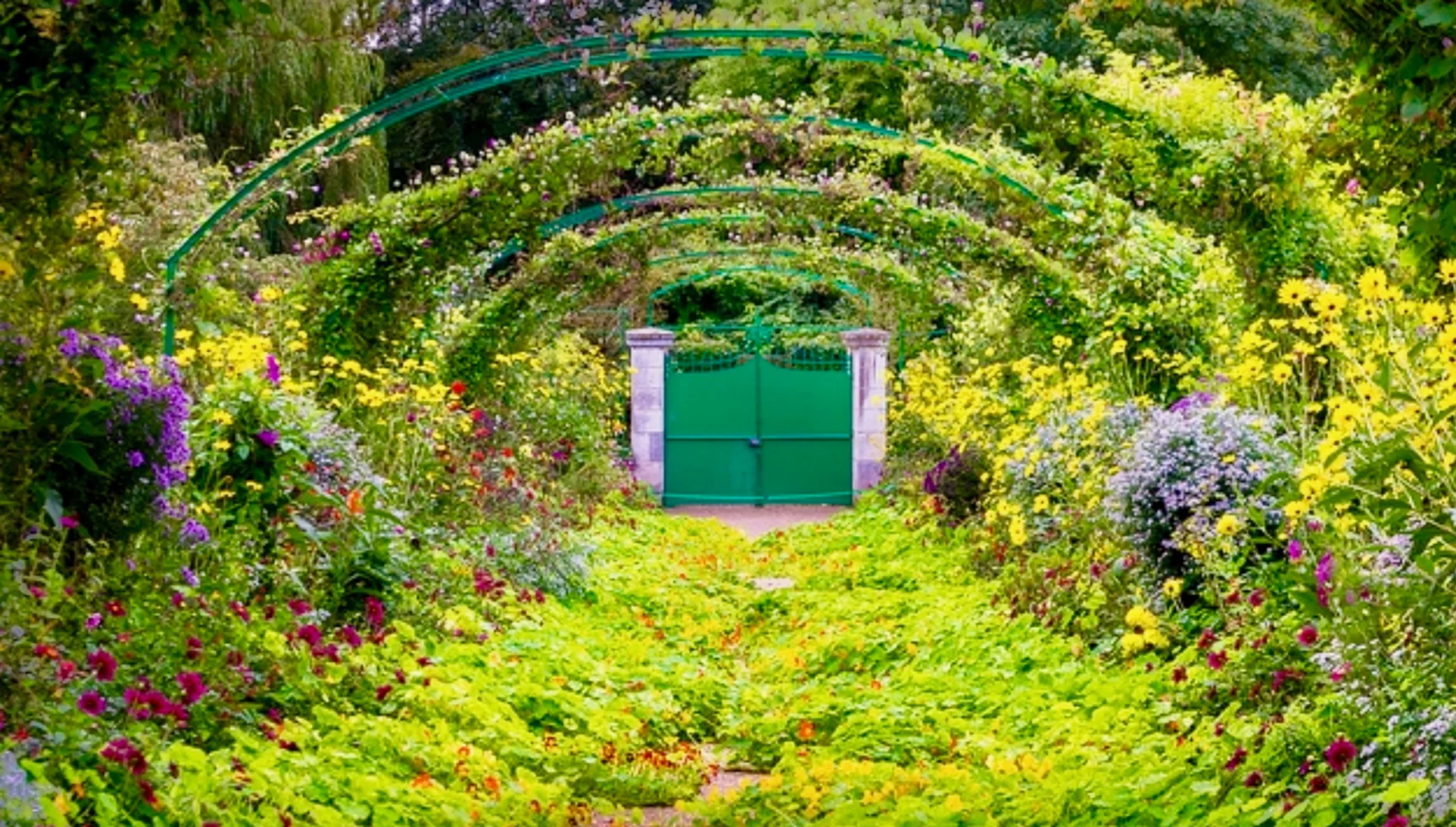 To wander through Monet's Garden is akin to living in one of his paintings. A world of flowers of every color fills your field of view, nodding slightly in the breeze. It looks like a paint factory explosion, or a few flicks of Monet's paintbrush.
There are two parts to Monet's labor-of-love gardens — the Clos Normand flower garden and the Water Garden. The Clos Norman is a boldly colored display and expressly Western. The Water garden is organic, Asian, and more exotic.
The two gardens are connected by a tunnel passing under the road. The gardens are immensely popular — a pilgrimage and mecca for Monet fans, Francophiles, and avid gardeners.
Here's my complete guide to visiting Giverny. You can visit on a half day guided tour from Paris.
Where to stay: La Dime de Giverny, Jardin des Plumes, La Mar aux Oiseaux
Where to eat: Ancient Hotel Baudy, Le Jardin des Plumes (Michelin), L'Esquisse Gourmand, Crêperie la Musardiere
10. Honfleur: Picture Perfect Harbor
Honfleur is a classic Norman town, dubbed "the jewel of Normandy." In Honfleur, the Seine flows into the English Channel, reflections mirrored in the Vieux Bassin or old harbor.
The novelist Baudelaire once declared, "Honfleur has always been the dearest of my dreams." I advise booking a guided walking tour.
Honfleur is lined with gorgeous 16th to 18th century row houses with slate roofs and facades. Honfleur also has some beautiful churches and is laced with a maze of tiny cobbled streets.
The medieval Church of Saint Catherine is the largest wooden church in France, and Honfleur's spiritual heart. It was built in the 15th century by sailors.
All this beauty besotted the Impressionists and fellow artists and writers. Art historians claimed that Honfleur was the "birthplace of Impressionism. There, local artist Eugene Boudin urged Monet to paint outside in "plein air," changing the course of art history.
READ: The Monet Guide To Paris
Honfleur is a cultural treasure. The town boasts 95 art galleries, with works by contemporary painters keeping Boudin's spirit alive.
Housed in a 19th century chapel, the Musee Eugene Boudin is a pleasing small museum. You'll find myriad samples of Normandy Impressionism, especially the Honfleur School.
There are plenty of meteorological coastal scenes by its namesake painter Boudin. There are also paintings by the likes of Courbet, Monet, Vuillard, Sisley, and Pissarro. You can see how Boudin inspired later masters, who took Boudin's techniques to the next level.
Where to stay: Hotel de la Cheval Blanc, Horel de l'Ecrin, Hotel du Dauphin
Where to eat: La Bouilland Normand, Cote Resto, Restaurante la Lieutenance
11. Le Bec-Hellouin: Religious Heritage
Picturesque and colorful, the hamlet of Le Bec-Hellouin is listed as one of France's Les Plus Beaux Villages. It's a study in Norman architecture nestled in a rural landscape. Le Bec-Hellouin is peaceful place, filled with half timbered cottages, flower gardens, and artisan shops.
The town's most important monument is the majestic Abbaye Notre-Dame du Bec, with frequent guided tours. Though owned by the French government, Benedictine monks still live in the abbey. You may catch a glimpse of their flowing white robes. On Sundays, the monks and the neighboring community of Benedictine nuns sing together in the church.
There's a cloister with simple gardens that was rebuilt in the 17th century. The sky is pierced by Tour Saint-Nicolas, a pale stone tower dominating the valley. You can climb the 201 steps to the top for a view of the Risle Valley and its thatched roof farmhouses.
Where to stay: Chateau Salverte, Petit Manoir du Bosc, Chateau de Brenon
Where to eat: L'Archange, Auberge de L'Abbaye, L'Atelier du Bon Gout
12. Le Havre: Monument To Modernism
Le Havre was largely obliterated during WWII. The town was rebuilt by the Belgian architect Auguste Perret, a mentor to Le Corbusier. His post-war modernist vision still marks the town, earning a UNESCO designation.
Le Havre was a favorite haunt of the Impressionist artists. Its location at the mouth of the Seine estuary gave the town exceptional light.
The water runs in a current, giving off glimmer and glints as the light catches it. Le Havre's port, dockyards, beaches, and regattas inspired all the major players in Impressionism.
Claude Monet grew up in le Havre. In 1872, when he was 32, he painted the groundbreaking harbor scene Impression: Sunrise. It's in a small secret museum in Paris, the Musee Marmottan Monet. The Post-Impressionist Raoul Dufy was also born in Le Havre.
READ: Guide to Paris' Musee Marmottan Monet
You may not have Le Havre on your Normandy bucket list because the town is modern rather than quaint. But the once gritty town has become a dynamic art center. The Andre Malraux Museum of Modern Art (known as MUMA) is an excellent reason to visit Le Havre.
Housed in a light-filled building overlooking the Seine, MUMA boasts one of the largest collections of French Impressionism in the world. It's a mini Musee d'Orsay without the Paris crowds. There are works by Boudin, Monet, Renoir, Degas, Sisley, Pissarro, Courbet, and Dufy.
Where to stay: Le Ferme Saint Simeon, La Maison du Parc, Hotel Vent D'Ouest
Where to eat: Restaurant Le Lyonnais, Bagatelle, La Bouche a Oreille, Jean-Luc Tartarin (Michelin)
13. Lyons-la-Forêt: Fairytale Pretty
In Haute Normandy, the charming small town of Lyons-la-Foret is charmingly set in a large beech forest. The town is one of France's Les Plus Beaux Villages. It's surrounded by the kind of idyllic farmland that people associate with the Norman and Breton countryside.
Lyons-la-Foret is a classic French village with half-timbered houses, mostly dating from the 17th and 18th century. The town has cozy cafes, quaint antique shops, and a
covered marketplace. On Thursdays, in the town's heart, shops are abuzz with trade.
Many artists were attracted to the pretty town, including Claude Monet. The town was also a filming location for two different versions of the film Madame Bovary.
While there, be sure to see Saint-Denis Church, dating from the 15th century, and the Cordeliers and Benedictines Convents. The Place des Trois Moulins has three picturesque water mills and a small garden.
This area also has some great hiking options. The Chemin des Ecoliers is a pleasant 3 mile forested stroll.
Where to stay: Chateau Fleury-la-Foret, Chateau Hotel de la Rapee
Where to eat: Le Bistro du Grand Cerf, Le Petit Lyons, La Licorne
14. Mont Saint-Michel: Touristy Island Abbey
A crown jewel of the Normandy, Mont Saint-Michel is a pretty-as-a mirage island abbey. A almost surreal medieval stage set, the Mont's slender spires, stout ramparts and rocky outcrops rise dramatically from the sea. They stand guard over gleaming sands laid bare at low tide.
The hulking abbey is one of the most visited pilgrimage sites in Christendom. The Mont's star attraction is the abbey crowning its top, called La Merveille, or the Marvel.
The mystical abbey was settled in 996 by Benedictine monks. The abbey is a mix of architectural styles, with religious and military overtones. The beautiful cloister is a highlight, with a double row of delicate carved arches rising on granite pillars.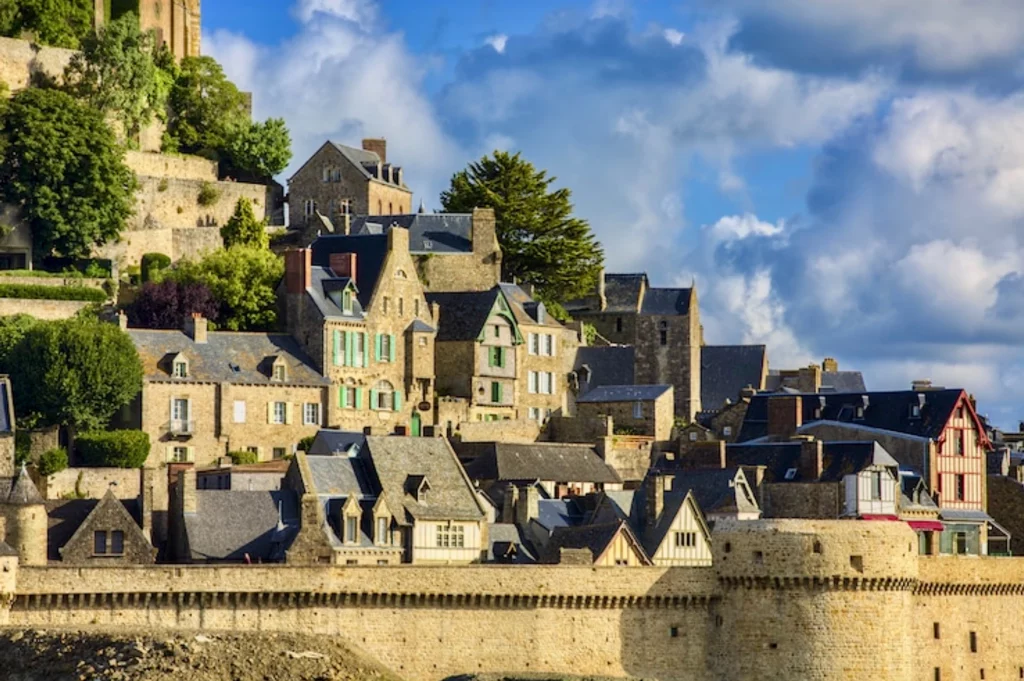 After the French Revolution, when France was de-Christianized, the abbey became a prison. It was closed in 1863. In 1979, Mont St. Michel was declared a UNESCO site.
Here's my complete guide to visiting Mont Saint-Michel. Click here to pre-book a skip the line ticket.
You can visit on a full day guided tour from Paris. Alternatively, you can book a guided tour from Bayeux.
Where to stay: Auberge St. Pierre, Hotel Croix Blanche
Where to eat: Le Mouton Blanc, La Sirene, Auberge Saint-Pierre
15. Pont l'Eveque: Norman Architecture
The quaint town of Pont l'Eveque is located in the Calvados region of Normandy. It was the site of an epic 2-3 day battle just after D-Day during WWII.
The village suffered great damage, but was skillfully rebuilt to its original Norman style. It's difficult to distinguish between old and new.
Visit the 15th century Saint-Michel church. From the Place l'Eglise, stroll down Rue Saint Michel and Rue de Vaucelles. The town only takes an hour or two to explore. One of the most beautiful buildings is the public library, trimmed in red brick and pale stone, with a slate roof.
Pont l'Eveque is also the name of one of France's creamiest and most delicious cheeses. It's a cow's milk cheese with a washed yellow rind, served at the end of a meal in France. It's no longer made in the town, but the town proudly bears its name.
Where to stay: Par Hasard, Hotel et Spa Le Lion d'Or
Where to eat: Le Bouchon Normand, La Cle de Sole, L'Angelot
16. Rouen: History and Architecture
Medieval Rouen is 2000 years old. It's one of Normandy's most engaging and historically rich destinations, with half-timbered homes and winding medieval lanes.
With its lantern tower piercing the clouds, Cathedrale Notre-Dame de Rouen is Rouen's crown jewel.
Rouen's central square is where Joan of Arc, the teen who rallied France to drive out the English, was tried for heresy and burned at the stake in 1431. During WWII, Allied bombing raids laid waste to the city. A lot to endure, no?
But Rouen is still lovely and its cobbled old town is a joy to wander. Stroll the length of the Rue du Gros Horloge, the pedestrianized main drag, to Notre-Dame Cathedral.
Along the way, take in all the colorful half timbers, the Place du Vieux Marche, the massively ornate Great Clock, and the Joan of Arc Church. If you have time, climb the clock tower's 100 steps for panoramic views.
Rouen's Notre Dame Cathedral is a landmark of art history, one of Europe's best cathedrals. Constructed between the 12th and 14th centuries, the cathedral was built on the foundations of a 4th century basilica.
The cathedral rises 151 meters tall, making it one of the tallest in France. The Dukes of Normandy were traditionally crowned and buried there. Richard the Lionhearted insisted his heart be kept there.
You can still see what Impressionist artist Claude Monet painted more than a century ago. In 1892 and 1893, Monet painted 31 versions of the cathedral, extreme close ups of one part of the pale filigreed stone facade. Sometimes he worked on 14 canvases at once. Monet groaned: "Everything changes, even stone."
Inside, Rouen Cathedral is High Gothic at its best. The nave soars four stories high. In length, only Amiens Cathedral and Reims Cathedral are longer.
Many of Normandy's most famous citizens are buried there, including Richard the Lionheart and early Norman rulers Rollo and William I.
Rouen also has a wonderful museum, the Musée des Beaux-Arts. It has masterpieces from the 15th century to the 21st century, including works from Velazquez, Van Dyke, Delacroix, Gericault, Delaroche, and the Impressionists.
Rouen is so fascinating that you may want to book a guided walking tour.
Where to stay: Hotel de Bourgtheroulde, Chateau de Belmesnil, Le Manoir de Villers
Where to eat: Restaurant Gill (Michelin), Restaurant Origine, l'Odas (Michelin), La Pecherie
17. Trouville-sur-Mer: Casual Beachy Town
Like its neighbor Deauville, Trouville is an elegant Belle Epoque resort town, although more down to earth. In Trouville, majestic villas flank a golden beach with a boardwalk. In summer, the beach is dotted with colorful beach huts. The sea air is bracing.
If you think you've seen Trouville before, you may have. The artists Claude Monet and Eugene Boudin especially loved Trouville.
They were lured by the long sandy beach and seaside ambience. They painted memorable scenes of the 19th century bourgeoisie, in all their finery, promenading along the beachfront. Monet even spent his honeymoon there, after marrying his first wife Camille.
Where to stay: Hotel Cures Marines Trouville
Where to eat: Les Affiches, La Regence, La Petit Auberge
18. Veules-les-Roses: City of Roses
The charming coastal hamlet of Veules-les-Roses is one of Normandy's prettiest and oldest spots. So lovely is Veules-les-Roses that's it's been voted one of France's Les Plux Beaux Villages.
The village is a hidden gem in Normandy, usually overlooked by tourists. Victor Hugo famously frequented the town, spending his summers at the home of playwright Paul Meurice. There's a memorial to Hugo on the town beach.
READ: Guide to the Victor Hugo Museum in Paris
Perched on the River Veules, the town has been inhabited since the 4th century. Veules-les-Roses has more thatched cottages, stone houses, and picturesque water mills than any photographer could want.
The road that winds through town is dubbed the Champs-Elysées. Be sure to pop into the 13th century Church of Saint Martin.
Thanks to its seaside location, Veules-les-Roses also has a pebbly beach set amid dramatic white cliffs. You can walk the cliff path for amazing vistas. The town is known for its oysters and fresh seafood. It even has four Michelin starred restaurants, including Les Galets on Rue Victor Hugo.
Where to stay: Chateau de Cleuville, Relais Hotelier Douce France
Where to eat: Les Galets, L'Abreuvoir, le Bistrot des Roses
Tips for Visiting Normandy
The best time to visit Normandy's beautiful villages is in late spring and summer. Then, the weather is pleasant, the days are longer, and the flowers are in full bloom.
After summer, some villages go into hibernation mode and there's not as much to see and do in Normandy.
Ideally, you should rent a car to explore Normandy. Normandy's villages are best explored by car because public transportation is scarce.
Trains from Paris serve Rouen, Caen, Bayeux, and Mont St-Michel. But service interconnecting these Normandy destinations is frustrating or non-existent.
READ: Tips for Renting and Driving a Car in Europe
In terms of cuisine, Normandy is known for the "four C's" — camembert, cider, calvados (apple brandy), and cream. Creperies and galette cafes are omnipresent.
There's no local wine in Normandy. You'll have to make do with cider or the white Muscadet wines made in neighboring Loire region.
I hope you've enjoyed my guide to Normandy's most beautiful towns. You may enjoy these other France travel guides and resources:
If you'd like to visit the most beautiful and historic towns in Normandy, pin it for later.