Here's my guide to the 15+ most beautiful churches in Paris.
Some of Paris' most popular attractions are its religious buildings. Paris' churches have a spectacular diversity of style — from Romanesque to Gothic to Baroque.
Some of them hold important tombs. Others sport spectacular domes, stained glass, and beautiful frescos.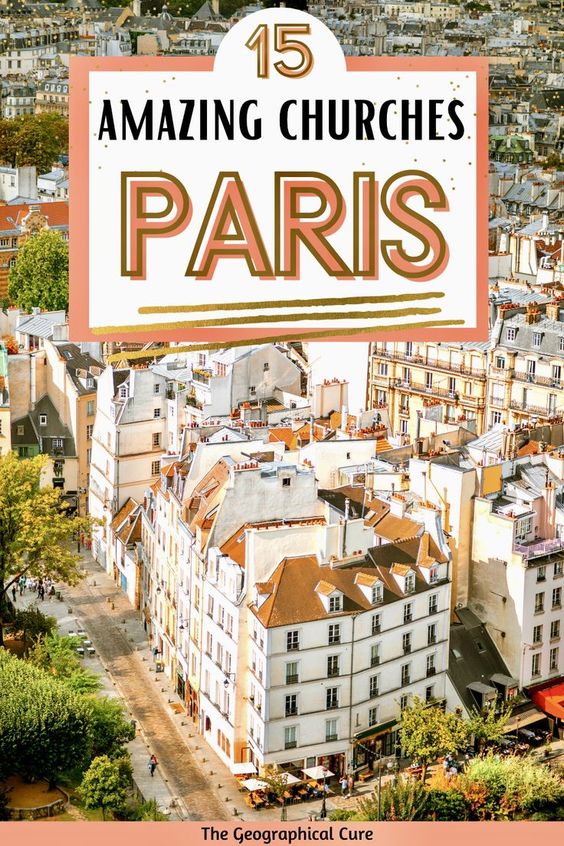 Notre Dame may be closed for the foreseeable future. But Paris is overflowing with both magnificent and quaint churches. There's a wide range of architectural styles, which you'd expect from a cosmopolitan city like Paris.
Many of Paris' churches fell into near ruin during the French Revolution, but were restored in the 19th century. Some were — oh horror — converted into barns. I'm a secular person (like Paris itself). But that still seems shocking.
If you're traveling in winter and it's rainy or dreary, popping into a church is a great way to escape Paris' winter weather. Plus, most of them are absolutely free. Free is hard to beat in an expensive city like Paris.
The Most Beautiful Churches In Paris
Here are my picks for the best churches to visit in Paris.
1. Cathédrale Notre-Dame de Paris
Located on the Île de la Cité in the middle of the Seine River, Notre Dame is the most beautiful church in Paris. The famous Gothic cathedral with dramatic flying buttresses is 859 year old.
The first stone of the Notre Dame was laid in 1163. Paris' flagship cathedral was completed in 1345. Since then, Notre Dame has been the toast of Europe, a utopian symbol of western civilization, literature, and culture.
Notre Dame has a storied history. Louis IX deposited the crown of thrones there in 1239. Henry VI was crowned king there in 1431, after the 100 Year War.
Mary Queen of Scots was married there. Napoleon was coronated as emperor and married there. In 1909, Joan of Arc was beatified by the pope.
After the French Revolution, the cathedral was an eyesore, crumbling and half ruined. When Victor Hugo published the Hunchback of Notre Dame, in 1831, things changed.
The Hunchback was a bestselling potboiler, but it was also a historical-sociological event. The novel set in motion a massive rescue operation.
In April 2019, a fire gutted Notre Dame and threatened to topple the cathedral. It was stabilized and restorations are still underway, hopefully to be complete by the summer of 2024.
Address: 6 Parvis Notre-Dame | Place Jean-Paul II, 75004 Paris
Status: closed
Metro: Cité, Line 4
2. Eglise Saint-Sulpice
If you're in the chic Saint-Germain-des-Pres area, take in the 17th century Saint Sulpice. The church has charmingly mismatched towers.
They seem to float over a quasi-Greek temple. The church is the Pantheon lit right next to the Luxembourg Gardens.
Saint Sulpice is a vast church. It's a massive hodgepodge really, second in size only to Notre Dame.
Victor Hugo disliked "pretentious" neoclassical architecture. He derided Saint-Sulpice's two towers as "two giant clarinets."
Part of the movie The Da Vinci Code was set in Saint Sulpice, though filming was prohibited inside the church. The church doubled as the headquarters of the Priory of Sion.
But the real beauty of Saint-Sulpice lies inside.
There, you'll find three gorgeous murals by famed Romantic Period painter Eugene Delacroix in the Chapel of Holy Angles. (His masterpiece Liberty Leading the People draws crowds at the Louvre.)
The murals were restored in 2015. They may be the most famous mural paintings in Paris.
The Expulsion of Heliodorus was inspired by a Raphael painting of the same name in the Raphael Rooms of the Vatican Museums.
The irony is that Delacroix was a religious skeptic and possible atheist; art was his religion.
Just a few minutes away is the small and quirky Delacroix Museum in Paris, housed in the artist's former atelier on the pretty Rue de Furstenberg.
Address: 2 Rue Palatine, 75006 Paris
Hours: Open daily 7:30 am to 7:30 pm
Entry fee: free
Metro: Saint-Sulpice, line 4
3. Eglise Saint-Séverin
Set on a charming square in the Latin Quarter, Saint-Séverin is one of my favorite Paris churches.
It's a quirky ancient church, dating from the 6th century. Saint-Séverin was rebuilt in 13th century and named after a devout hermit. It once served as the main church of the Left Bank.
Saint-Séverin was badly damaged by fire during the 100 Years War, but was restored. It's free to visit and has glowering gargoyles (added by Viollet-le-Duc) and impressive stained glass.
While you're there, stop into the adjacent Eglise Julien Le Pauvre, another rather stout but truly ancient edifice.
Saint-Séverin was the subject of a series of paintings by French artist Robert Delaunay. Delaunay's studio was near the church. He depicts the church's cavernous interior.
Address: 2 Rue des Prêtres Saint-Séverin
Hours: Monday through Saturday 9:30 am to 7:30 pm. Sunday from 9:00 am to 8:00 pm
Entry fee: free
4. The Pantheon
The Pantheon is a grand neoclassical basilica dominating. It dominates rather ironically, an artsy area of Paris, the Latin Quarter.
It was built after a king's near death experience and celebrates the greatest dead heros of France. The church was initially disliked.
But he building is now a fixture on the Paris skyline. The dislike was transferred to Montparnasse Tower.
The Paris Pantheon was modeled, rather obviously, on the Pantheon on Rome. With its doughty 272 foot dome, it also resembles St. Paul's Cathedral in London.
While the exterior is Romanesque, the gigantic interior resembles a Gothic cathedral. The overall design is that of a Greek cross, with Corinthian columns and elaborate marble floors everywhere.
People tend to glide by the Pantheon and just snap a photo. That's a mistake. Despite the disappointing lack of windows inside, the interior's the most fascinating part of the Pantheon.
You can see a copy of Foucault's Pendulum. As an added bonus, the rooftop boasts one of the best viewing points in Paris.
The French state rather schizophrenically converted the Pantheon back and forth from basilica to temple. But when the esteemed Victor Hugo was Pantheonized in 1885, it remained evermore a mausoleum for France's greatest heroes and martyrs.
You'll also find the tombs of Alexandre Dumas, Emile Zola, and Marie Curie on your tour of the crypt. But I like to commune with Hugo's tomb the most.
It's like a transmitter broadcasting his appealing Romantic ideals — he was a hero of the downtrodden and battled against misery and slavery.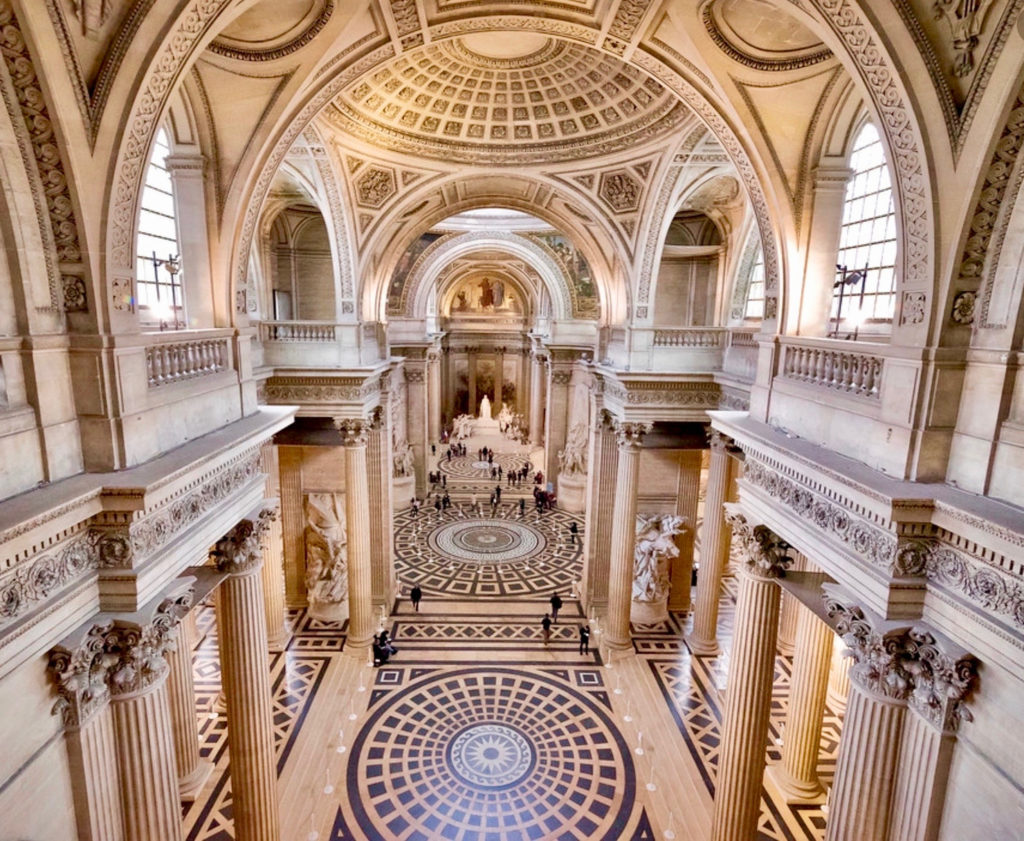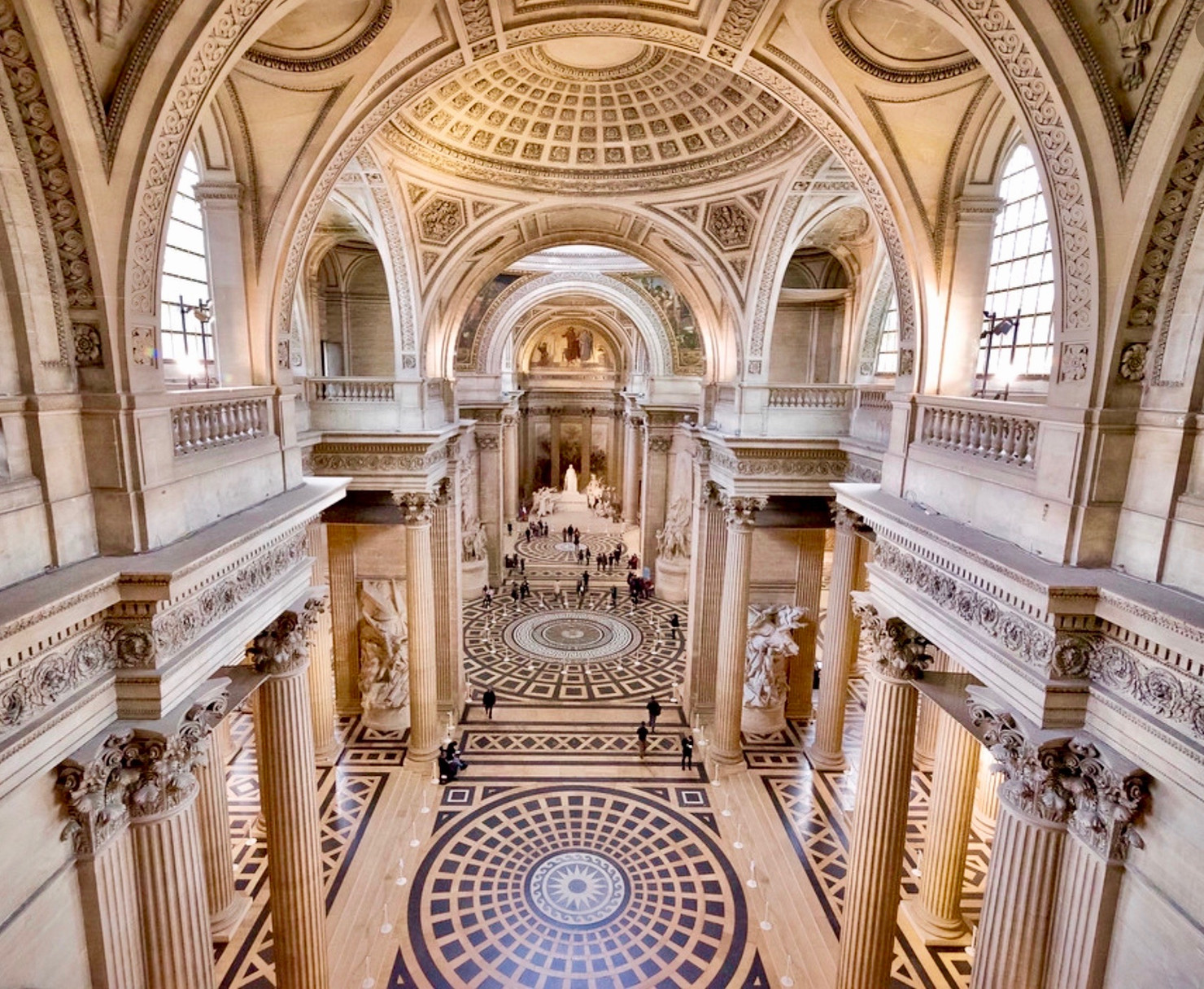 Be sure to admire the Pantheon's beautiful paintings. They honor the rulers and religious leaders of France.
They tell the tempestuous history of France in the 18th and 19th centuries. Though sometimes called murals, they're actual oil paintings glued to the walls.
For more details, read my guide to the Pantheon. Click here to book a skip the line ticket. The Paris Museum Pass is also accepted.
Address: Place du Panthéon 75005 Paris
Hours: 10:00 am to 6:30 pm from April to September. Closing at 6:00 on from October to March
Entry fee: €9, €3 extra to access the upper parts of the Panthéon from April to October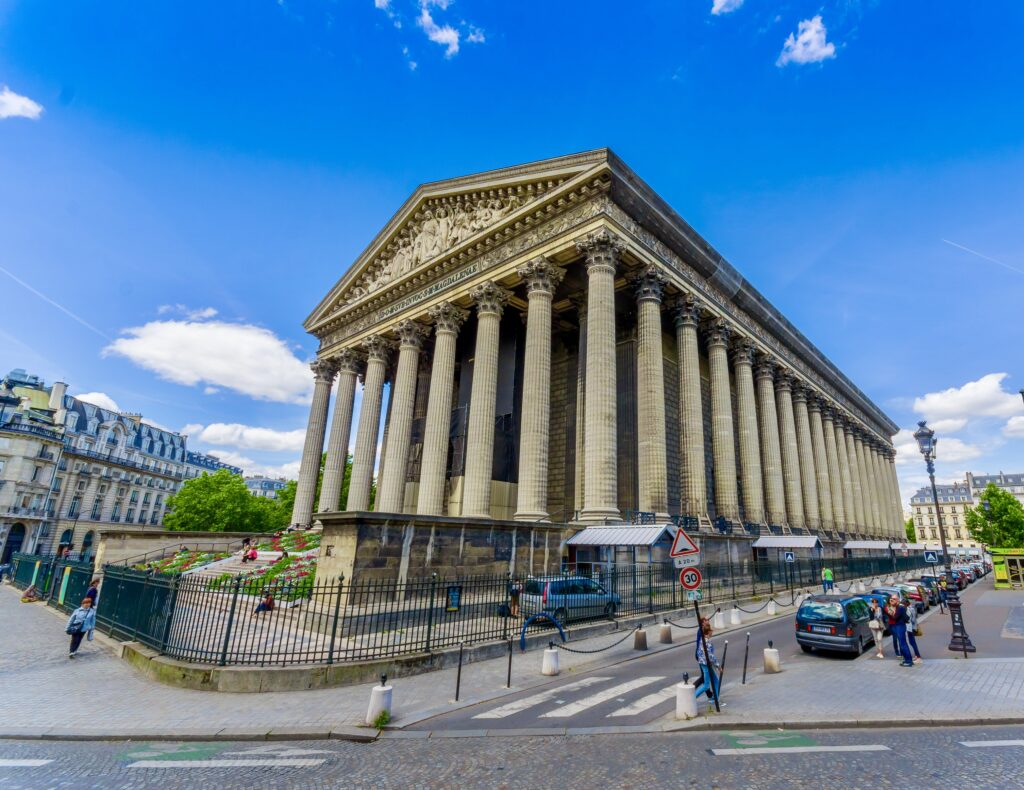 5. La Madeleine Church
If you're in Paris' Opera district, take in the majestic La Madeline Church. The church has seen many incarnations. The church you see today dates from 1806.
That year, Napoleon took charge. He sought to build a "Temple to the Glory of the Great Army." As a result, Madeleine has a military feel and is different from other churches you'll see in Paris.
It's based on a Greco-Roman temple design, with 52 massive Corinthian columns. On the pediment, there's a sculpture of The Last Judgment.
The bronze door reliefs represent the 10 commandments. The interior of the church is dark, almost foreboding because of the lack of windows.
There's a single nave with three domes. There are very few decorative elements, but a veritable treasure trove of Romantic era staturaoruy.
There is a nice statue of Joan of Arc wielding a sword. At the altar is a monumental sculpture of Mary Magdalene, topped by frescos and a mosaic freeze.
The Madeline's claim to fame is its dramatic pipe organs, designed by Aristide Cavaille-Coll and one of the best organs in Paris. The church regularly holds classical music concerts.
Right now, the Madeleine is under extensive renovation. To fund the restoration project, the church has allowed advertisements on the facade. It is hoped restoration will be complete by the Paris Olympics in 2024.
Address: Place de la Madeleine, at the end of Rue Royale
Hours: Daily 9:30 am to 7:00 pm
Entry fee: free
Metro: Madeline, line 8, 12, and 14
6. Collège des Bernardins
Tucked away on a little side street on Rue de Poissy in Paris' Latin Quarter, lies the the 13th century Collège des Bernardins.
The college was first founded as a part of the prestigious University of Paris by the abbot of Clairvaux, Stephen of Lexington. It's a former residence of Cistercian Monks, who were trained there for centuries until the French Revolution.
In 2008, the college was the last medieval building to be renovated in Paris. Now, it's used as a cultural and spiritual center. I visited this edifice on my Paris Walks French Revolution tour of the Left Bank.
Address: 20 rue de Poissy, 75005 Paris
Entry fee: free self-guided tour of nave and sacristy, guided tours at 4:00 pm for €6
Hours: Mon to Sat, 10:00 am to 6:00 pm, Sunday 2:00 pm to 6:00 pm
7. Eglise Saint-Eustache
Located in the heart of Paris' Les Halles neighborhood, Saint-Eustache is one of the most visited churches in Paris. It's a beautiful church is Paris, renowned for its unusually large dimensions.
It took 100 years to build, constructed between 1532 and 1632. It was the last Gothic church built in Paris.
The outside predictably looks late Gothic, while the inside is Renaissance, being built and restored in different centuries. But what Saint-Eustache is known for (like La Madeleine) is its pipe organ, the largest in France.
The church was frequented by French celebrities, including Louis XIV who took communion there.
Address: 2 impasse Saint Eustache, 75001 Paris
Hours: Monday to Friday: 9:30 am to 7:00 pm, Saturday: 10:00 am to 7:15 pm, Sunday: 9:15 am to 7:15 pm
Entry fee: free
Pro tip: There are organ recitals on Sundays from 5:30 pm to 6:00 pm
8. Église Notre-Dame-de-Lorette
At the bottom of the Rue des Martyrs in the 9th arrondissement is a graceful Paris hidden gem, the Notre-Dame-de-Lorette church.
Built between 1822-36, it was classified as a historic monument in 1984. Don't let the name fool you.
It's not Gothic like it's namesake. It's a more classical Romanesque style.
If you walk down Rue Laffitte, you'll see Notre Dame-de-Lorette with the Sacre Coeur as a backdrop. It's a gorgeous view.
Notre Dame-de-Lorette is somber and monumental on the outside. But on the inside, it's richly decorated and beautiful. It has a sumptuous dome and a highly detailed ceiling with floral accents.
Address: 18 bis rue de Châteaudun 75009 Paris
Hours: Mon to Fri 9:30 am to 7:30 pm, Sat & Sun 9:00 am to 7:30 pm
Entry fee: free
Metro: Notre-Dame-de-Lorette
9. Eglise Saint-Étienne-du-Mont
If you're visiting the Pantheon in the Latin Quarter, don't miss this secret spot next door. Saint-Étienne-du-Mont is the final resting place of Paris' patron saint, Saint Genevieve.
And it's a beautiful must visit church in Paris. The exterior has an asymmetrical design, with a tall belfry on the left side. It was originally just extra space for an abbey founded by Paris' first king, Clovis.
But the French revolutionaries didn't like abbeys and targeted established religion, so the abbey was suppressed.
The abbey was demolished except for the Clovis Tower, which can still be seen from the church grounds.
Inside, there's an elaborate and rather unique rood screen, which separates the chancel from the nave. It's the only one of its kind in Paris — an architectural marvel sculpted by Biard l'Aine.
The rood screen has a 30 foot arch spanning the choir. It's flanked by two distinctive spiral staircases in open stone work.
The church's stained glass dates from the 16th and 17th centuries. The church was heavily damaged during the French Revolution, like so much else, but was restored in the 19th century.
Address: Place Sainte-Geneviève, 75005 Pari
Entry fee: free
Hours: Tuesday-Friday: 8:00 am-7:45 pm; Saturday: 8.45 am to noon, & 2:00pm-7:45pm; Sunday: 8:45 am-12:15 & 2:00 pm-7:45 pm.
Metro: Sorbonne
10. Cathédrale Saint-Louis-des-Invalides
Les Invalides' fabled glittering dome is an unmissable landmark in Paris. The dome is spectacular, both inside and out, with an otherworldly opulence.
You cannot help but feel awed. To ensure continuing adoration, Paris re-gilded the dome in 1989. 12 kilograms of gold were required for the new coat of gold.
In 1677, Louis XIV commissioned the architect Jules Hardouin-Mansart to build the dome and the royal chapel. It's known as the Cathedral of St. Louis des Invalides.
The church was built between 1679-1708. The cathedral was Paris' tallest building until the Eiffel Tower was erected in 1887.
You enter the royal chapel through monumental bronze doors decorated with fleurs-de-lys and Louis XIV's initials. Inside, the decoration is sumptuous — painted cupolas, pilasters, columns, low-relief sculptures, and stained glass windows.
Inside St. Jerome's Chapel, you'll find the tomb of Napoleon I under the spectacular dome. Napoleon, of course, was one of the most important and colorful alpha men in French history. His tomb contains a nest of six concentric coffins.
It's fashioned from red Finnish porphyry and purple quartzite, and set on a green granite pedestal. On the floor, a polychrome mosaic illustrates key battles of the Empire.
In the circular gallery, 12 marble statutes of winged women in classical garb represent Napoleon's military victories.
Here's my complete guide to Les Invalides and the Army Museum. Click here to book a skip the line ticket.
Address: 129 rue de Grenelle, 7th arrondissement
Hours: Open daily 10:00 am to 6:00 pm. Tuesday evenings it's open until 9:00 pm.
Entry fee: Full price: €14, audio guide €6 (you need ID for the audioguide).

Paris Museum Pass

is accepted.
Metro: Varennes La Tour Maubourg or Invalides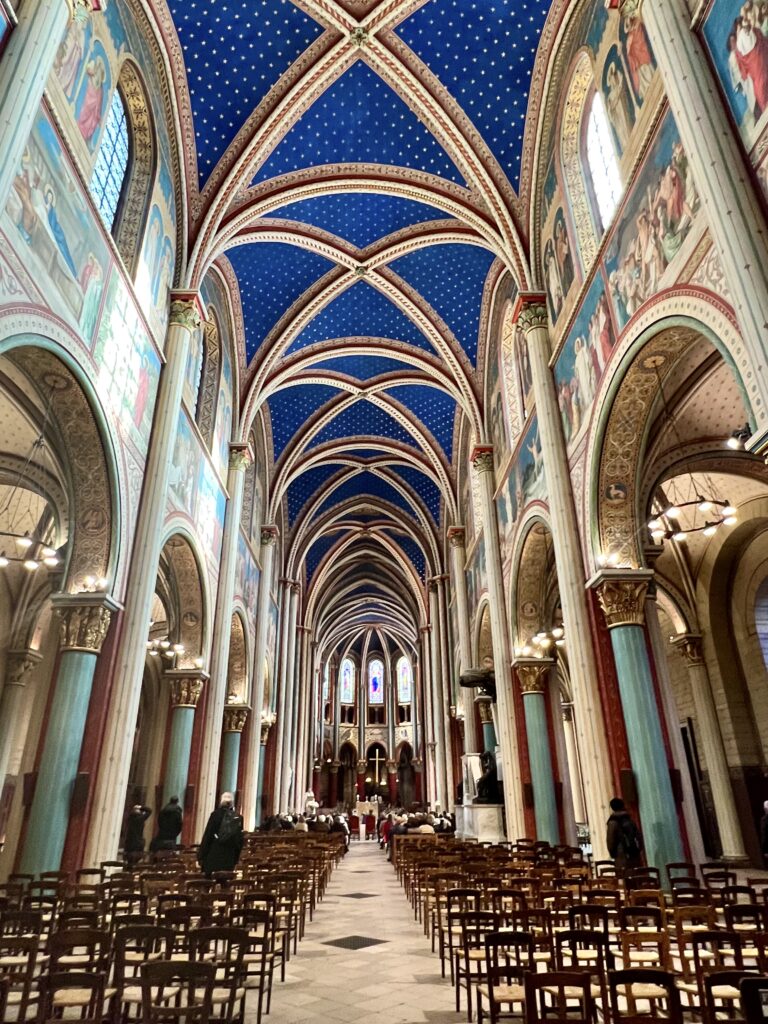 11. Eglise Saint-Germain-des-Pres
Paris' mythical Saint-Germain-des-Prés district is rich in history, culture, and architecture. And it's home to Paris' oldest church: Eglise Saint-Germain-des-Pres.
It dates from 542, when King Childebert built a basilica and abbey to house ancient relics. Saint-Germain was an immensely powerful abbey until it was suppressed during the French Revolution.
The abbey was torn down. All that remained was the church. Saint-Germain was rebuilt in the 11th century and restored in the 19th century.
Only one of the three original towers survives, housing one of France's oldest belfries. Inside, the somber church is mostly Romanesque, with some Baroque flourishes such as the 1840 murals.
Until the 7th century, luminaries were buried in Saint-Germain. But King Dagobert changed that when he built the Basilica Saint-Denis, which became the new royal necropolis.
Address: 3 place Saint-Germain-des-Prés 75006 Paris
Hours: Monday to Saturday: 8:00 am to 7:45 pm, Sunday: 9:00 am to 8:00 pm
Entry fee: free
Metro: Saint-Germain-des-Prés
Pro tip: On Tuesday & Thursday there are guided tours at 3:00 pm
12. Eglise Saint-Jean-Baptiste de Bellville
Tucked away in the 19th arrondissement, where tourists don't typically venture, is a lovely Gothic edifice, the Saint-Jean-Baptiste Church of Belleville.
The church was build in 1548, with major restoration in 1635. It's one of Paris' oldest Neo-Gothic churches.
And the interior is stunning, rather reminiscent of Notre Dame. Admire the beautiful stained glass.
It's definitely worth a quick stop, especially if you're paying a visit to the brilliant minds of France in the nearby Pere Lachaise Cemetery.
Address: 139 rue de Belleville, 75019 Paris
Hours: Mon 9:30 am to 8:30 pm; Sun, Tues, Wed, Thurs, & Sat, 8:15 am to 7:45 pm; Friday, 8:15 am to 8:30 pm
Entry fee: free
Metro: Belleville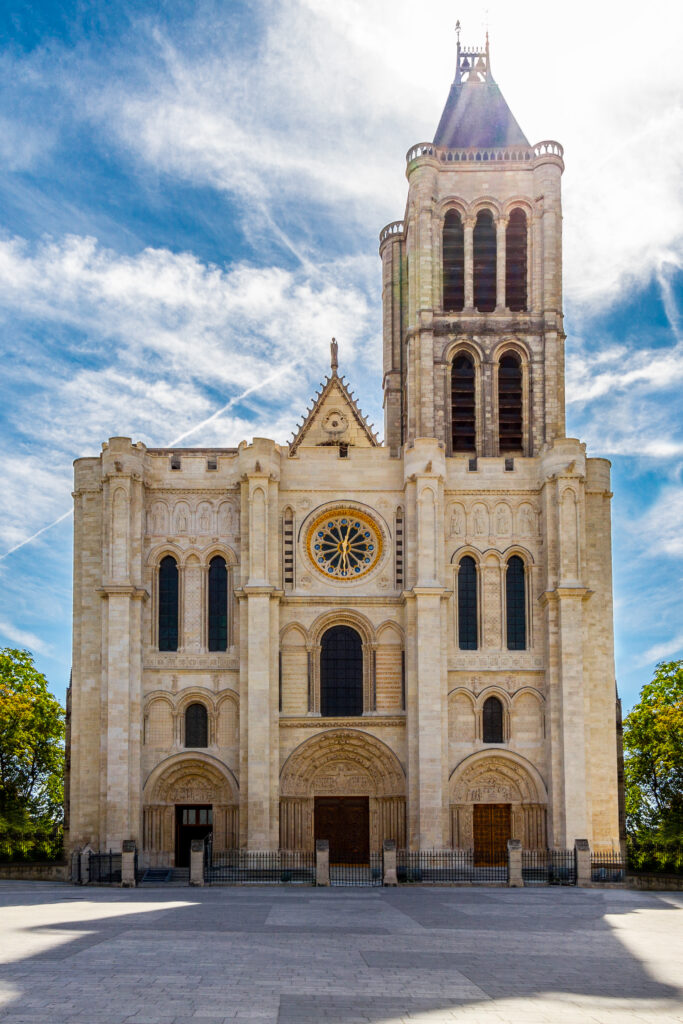 13. Cathedral Basilica de Saint-Denis
Saint-Denis is a completely overlooked hidden gem in Paris and one of its most underrated churches. Perhaps because it's off center, in a northern suburb of Paris. Though it's easily reached by metro.
Saint-Denis has a serious pedigree. It's the birthplace of Gothic architecture.
The basilica heralded Europe's transition from a clunky Romanesque style to a more elegant Gothic one. It's one of the most historic and religiously important buildings in Paris and, indeed, all of France.
Saint-Denis is essentially a museum of monumental French religious sculpture. As the world's first Gothic church, the basilica is even on the tentative UNESCO list. If it still had its north tower, it might already be listed.
Saint-Denis is a veritable treasure trove of French history. Its namesake is a 3rd century decapitated saint.
Saint-Denis is the preferred burial site of French royalty, showcasing the death styles of the rich and famous. There, you'll find the tomb of Marie Antoinette, among others.
For the complete scoop, check out my guide to Saint-Denis. Click here to book a skip the line ticket.
If you're interested in the controversial French queen, I have a guide to all Marie Antoinette sites in Paris.
Address: 1 rue de la Legion D Honneur, 93200 Saint-Denis, France
Hours: Open Apr 1 to Sept 30: Mon to Sat from 10:00 am to 6:15 pm & Sun from noon to 6:15 pm. From Oct 1 to Mar 31: Mon to Sat from 10:00 am to 5:15 pm & Sunday noon to 5:15 pm
Entry fee: Entry to the main nave is free. Access to the tombs and crypt is adults 9 €, audioguide, 4.50 €
Metro: Gare Saint-Lazare and the Champs-Élysées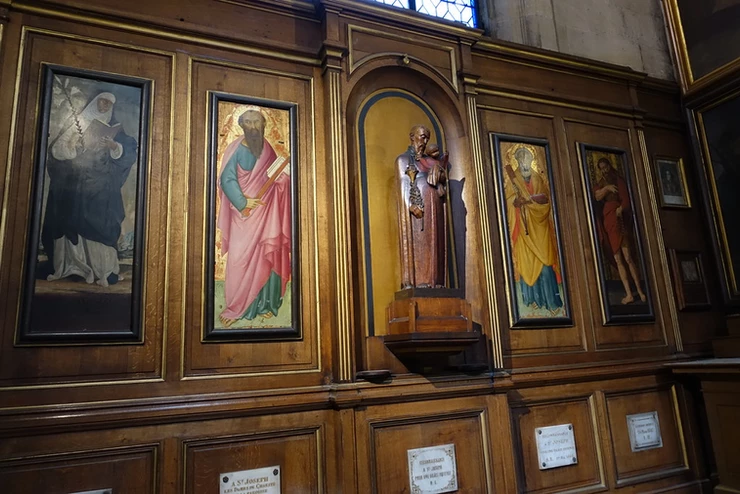 14. Eglise Saint-Louis-en-L'Île
This little Catholic church is located on the Île Saint-Louis in the 4th arrondissement. It's a jaunty mix of Baroque and Classical styles.
Contruction lasted almost 80 years, beginning in 1664 and ending in 1726. When finished, it was dedicated to Saint-Louis.
It was largely built by architect François le Vau, brother of the architect of Versailles. The city of Paris purchased the church in 1817 and launched a frenzy of gilding.
Hence, inside the church is luxuriously decorated. You'll find some serious art, including a rare Fra Angelico early Renaissance painting.
Address: 19 bis rue Saint-Louis-en-l'Île 75004 Paris
Hours: Mon-Sat, 9:30 am to1:00 pm & 2:00 pm to 7:30 pm; Sunday, 9:00 am to1:00 pm and 2:00 pm to 7:00 pm.
Entry fee: free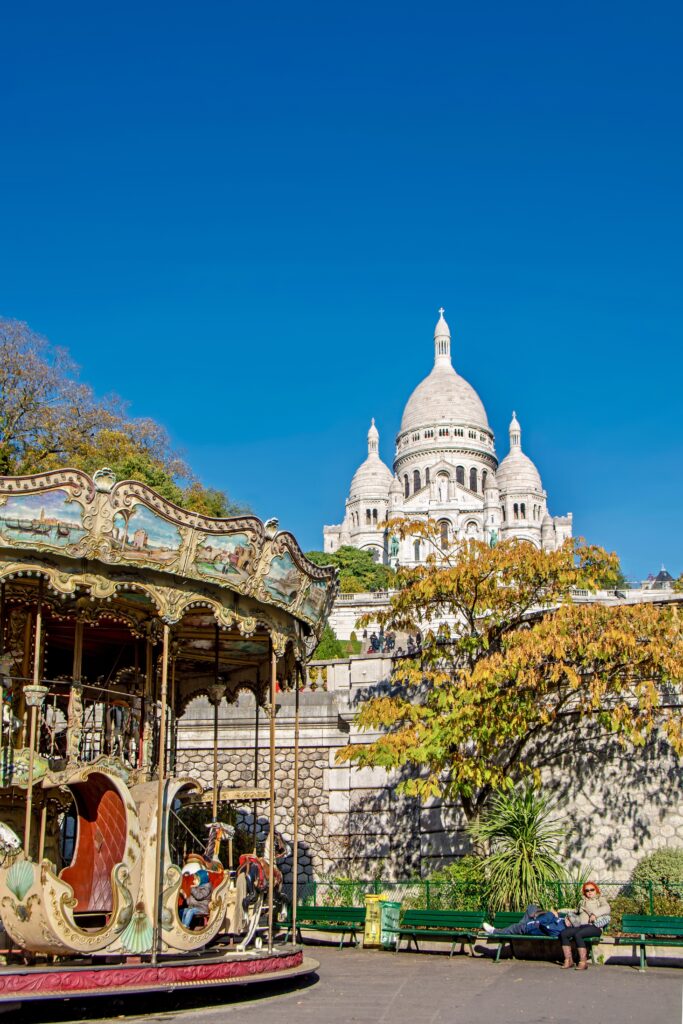 15. Sacre-Coeur Basilica
The striking onion domed Sacre-Coeur is one of the most iconic attractions in Paris' popular Montmartre neighborhood. The Romano Byzantine style basilica sits atop Montmartre Hill, the highest point in Paris, overlooking the city.
The ice-white Sacre Coeur isn't ancient Paris. It's surprisingly new.
It was only completed in the early 1900s. The church was built in penitence for Paris attacking its own citizens during the French Commune.
Some people find it stunningly beautiful. But I think there are many more ancient and more beautiful churches in Paris.
The basilica's creamy white stone is pristine, due to self-cleaning calcite in the stone. The interior is nothing special.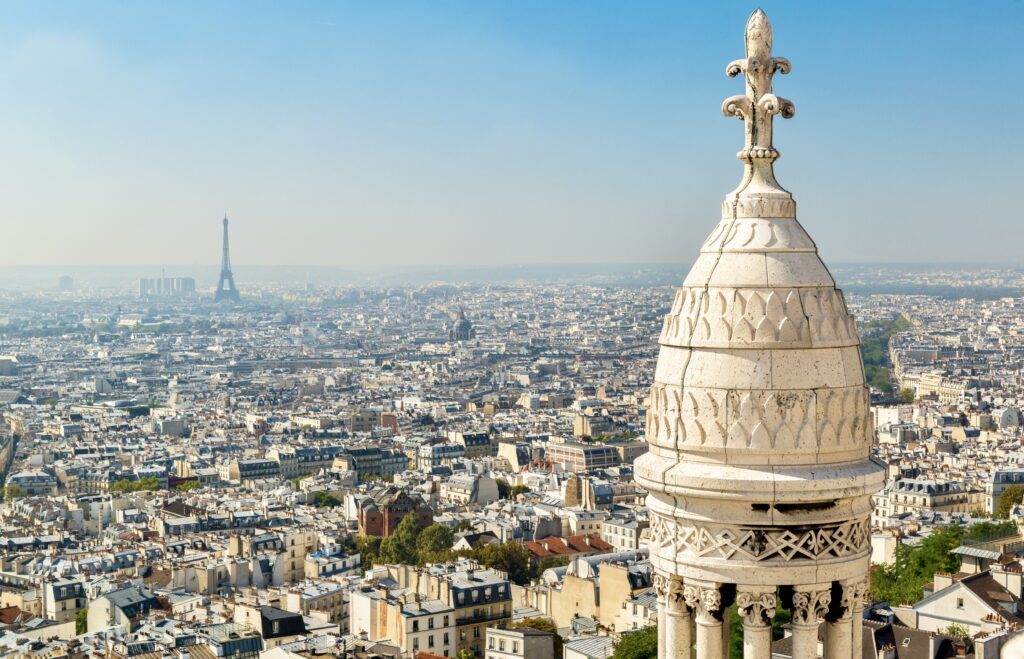 But the panoramic views from the dome are sublime. The entrance for the climb is on the side of Sacre Coeur.
Just follow the signs. It's 300 steps to the top and there's no elevator.
As of now, you can still purchase a love lock at a kiosk to attach to a fence atop the hill. But Paris has announced it may cut down on this practice in Montmartre.
Click here to book a guided tour of Sacre Coeur and Montmartre.
Address: 35 Rue du Chevalier de la Barre
Hours: Open daily from 6:30 am to 10:30 pm.
Entry fee: Entrance to the church is free. There are various rates to access the dome.
16. Sainte-Chapelle
I've saved the best for last: the stunningly beautiful Sainte-Chapelle on the Île de la Cité. Sainte-Chapelle is an extraordinary example of medieval architecture. It's the most beautiful church in Paris.
It's embedded in a cluster of government buildings. And it's a glistening jewel box inside.
Sainte-Chapelle was built in the 13th century. Louis IX commissioned it to house one of the world's greatest reliquaries, the Crown of Thorns.
Because the relic was so important in medieval culture, building was expedited. The chapel was finished in just 6 years. The outsize spire was later added by Viollet-le-Duc.
The upper chapel is a kingdom of light, and one of the world's most dazzling Gothic interiors. Saint Chapelle boasts 15 panels of vibrant stained glass.
The windows are densely decorated, depicting scenes from the old testament, the new testament, and the aquisition of the relic. The walls are essentially just window holder-mullions, whose sole purpose is to display the showy stained glass.
And that's not all. The visual sensory overload continues.
Golden fleurs-de-lis shimmer down from azure vaults. There are sculptures of apostles, quatrefoils, angels in the spandrels, and vivid painted surfaces. It just doesn't seem like a building made of stone.
During the Christmas season, there are also classical music concerts held at Sainte- Chapelle. I can't imagine a more perfect venue.
Here's my complete guide to Sainte-Chapelle. Click here to pre-book a skip the line ticket.
Address: 8 Boulevard du Palais, 75001 Paris
Hours: Daily Jan 2 to March 31: 9:00 am to 5:00, April 1 to Sept 30: 9:00 am to 7:00 pm, Oct 31 to Dec 31: 9:00 am to 5:00 pm
Entry fee: 10 €
Pro tips:
You can buy a combined ticket at the Conciergerie for both the Conciergerie and Sainte-Chapelle. This way, you'll save time and have a much shorter line. Sainte-Chapelle accepts the Paris Museum Pass. But it isn't a no-queuing option.
I hope you've enjoyed my guide to Paris' most beautiful churches. You may enjoy these other Paris travel guides and resources:
If you'd like to visit the best and most beautiful churches in Paris, pin it for later.