Here's my guide to the 23 best restaurants in Boulder Colorado.
I visit Boulder frequently because my daughter lives there. I'm a foodie and always trying new restaurants. I have personally dined at each Boulder restaurant that I list below.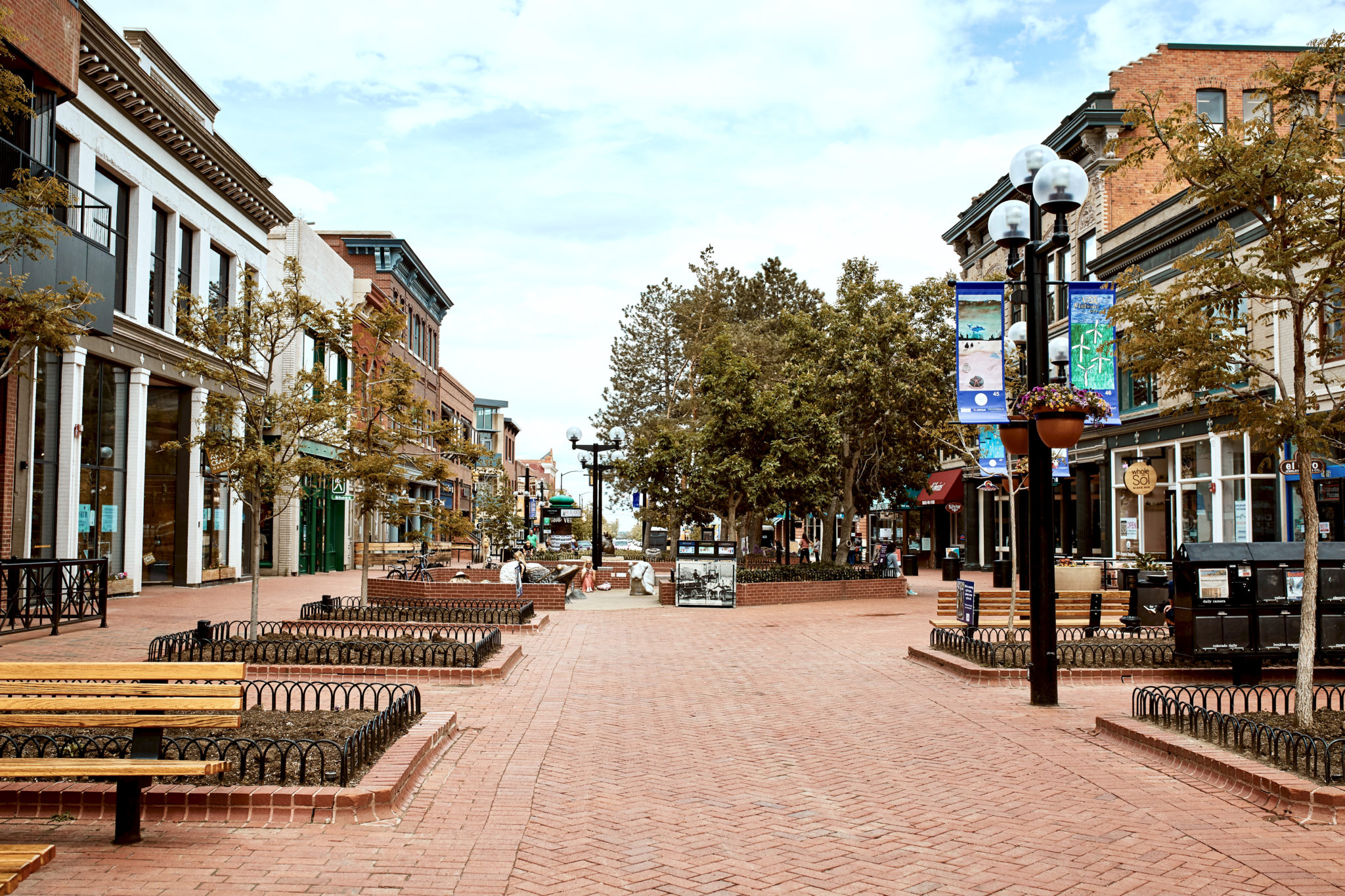 Boulder isn't just a glorious outdoor haven. It has some serious culinary cred, with a farm to table vibe.
You're spoiled for choice in Boulder. The city has an incredible roster of restaurants, from tiny sidewalk cafes to James Beard award-winning restaurants.
You can find a wide variety of international cuisine, from Italian to Spanish to Mexican cuisine.
20+ Best Restaurants in Boulder
Here are the best restaurants in Boulder that I can personally recommend. I've listed them in alphabetical order for ease of reference.
These Boulder restaurants cover the gamut — breakfast, brunch, lunch, and dinner.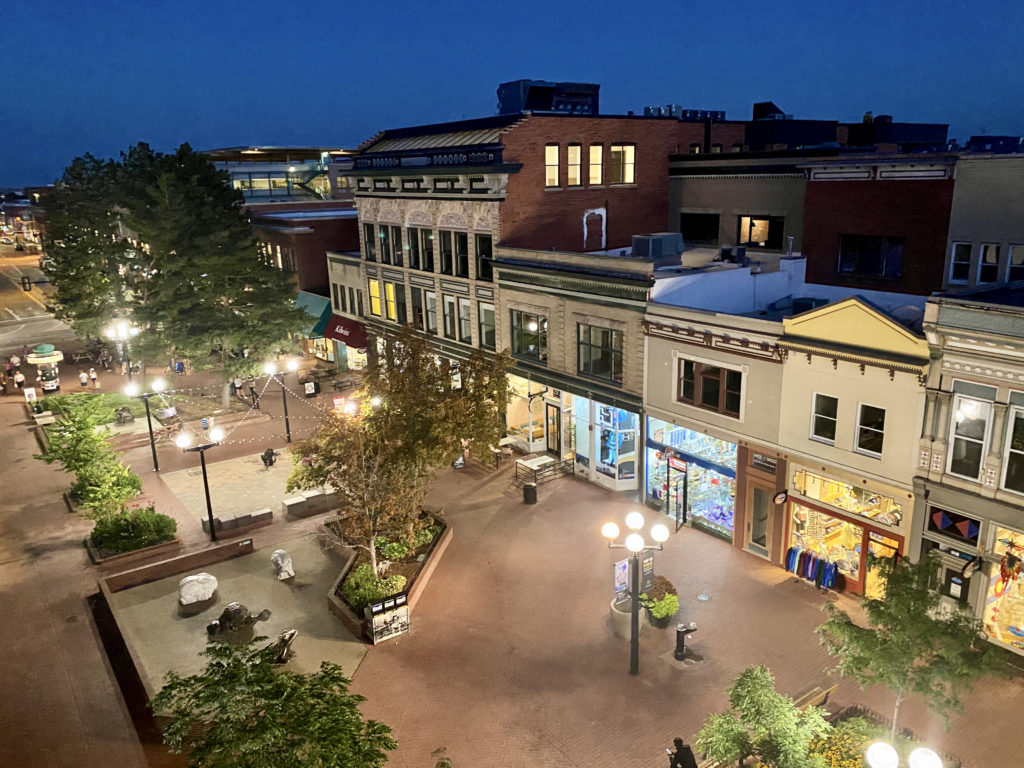 1. Avanti Food and Beverage
Avanti is a collective eatery and food hall. It houses seven restaurants serving up Middle Eastern, Asian, American, Venezuelan, and Jewish cuisine.
It's all delicious. I ordered the crispy pork belly gua bao buns and beef noodle soup from Pig and Tiger.
Inside, you'll find butcher block waterfall tables, vinyl banquettes, and industrial light fixtures.
The indoor-outdoor rooftop on the fourth story is a happening spot. It offers up scenic views of Boulder and the Flatirons.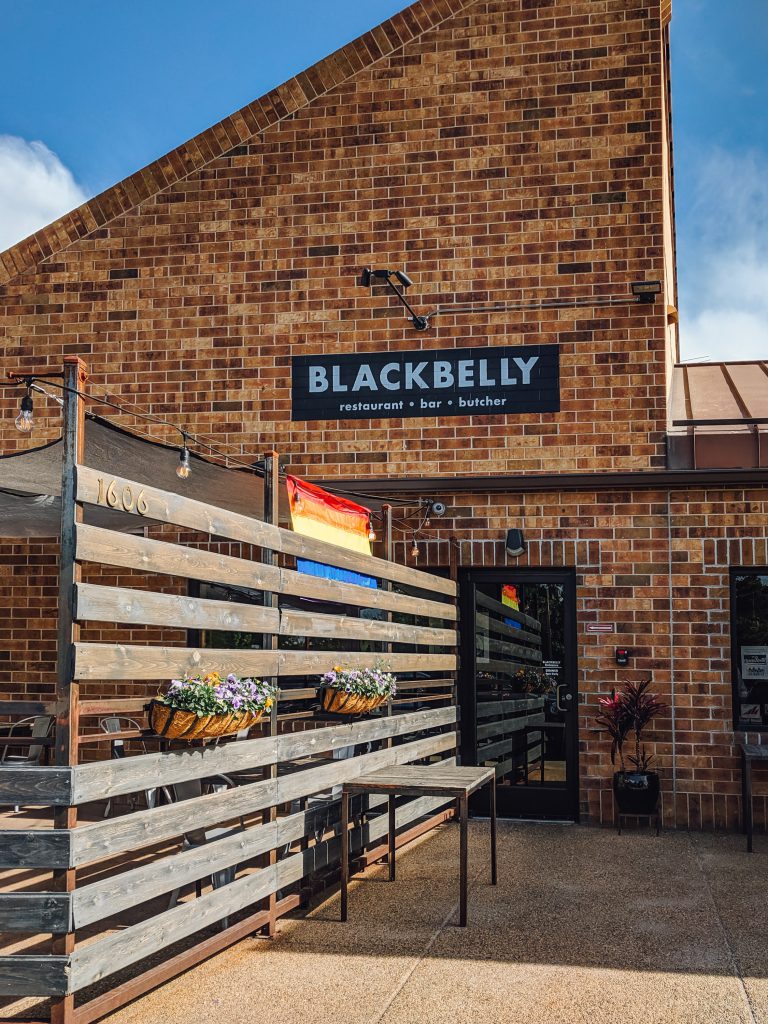 2. Blackbelly Market
Blackbelly Market is definitely one of the best restaurants in Boulder. It's a hidden treasure in Arapaho, across from the Flatirons Golf Course. The restaurant is a haven for carnivores, though vegetarians will find good options too.
Blackbelly cooks up meat-centered dishes using only the finest cuts of meat. There are also some creative cocktails.
Blackbelly is highly seasonal and has an ever-changing list of daily specials influenced by whatever is comes from their purveyors. Don't get the charcuterie plate if you're ordering main courses. It's huge!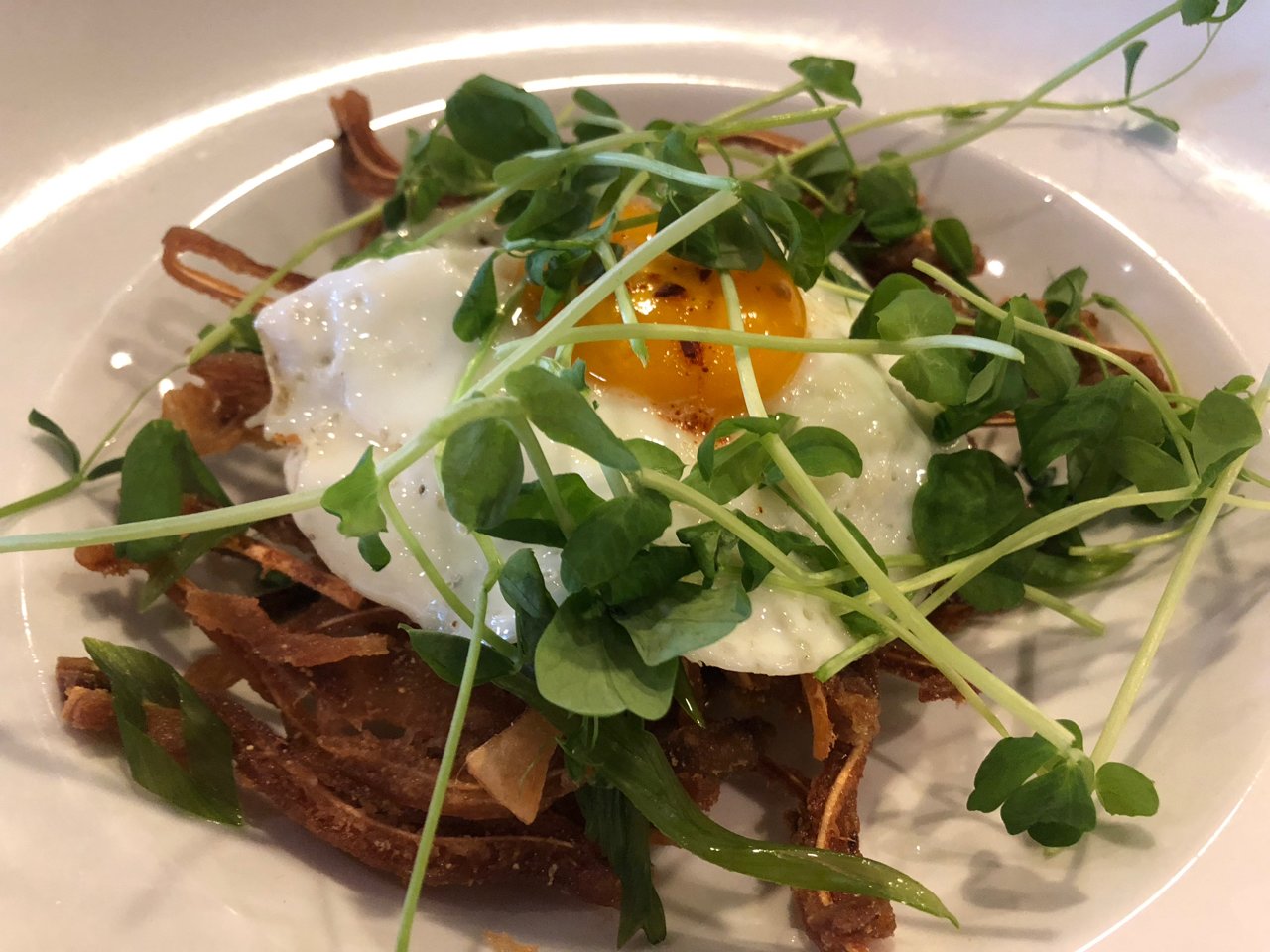 Start with a burrata or ricotta. Move on to a small plate like heirloom carrots, the house made sausage, or pig ears. Then, have one of the delicious entrees.
You can dine outdoors or indoors. Blackbelly is sleek and casual. The service is top notch, with knowledgable wait staff. There's also an adjacent butcher's market.
Don't expect quiet at Blackbelly. This is a bustling restaurant with high ceilings. It's quieter outside on the patio.
3. Black Cat Farm Dinners
Black Cat Farm is just outside Boulder. It's the most rustic-romantic restaurant you can imagine.
Black Cat Farm isn't just a meal. It's an experience, an intimate farm to table dining adventure set on a picturesque rural farm.
Black Cat Farm features fresh picked hearty cuisine, served up amid farm animals, a beautiful sunset, and candle light.
Dinner starts promptly at 6:00 pm. You're greeted with a mason jar champagne cocktail upon arrival and escorted to your private dining room.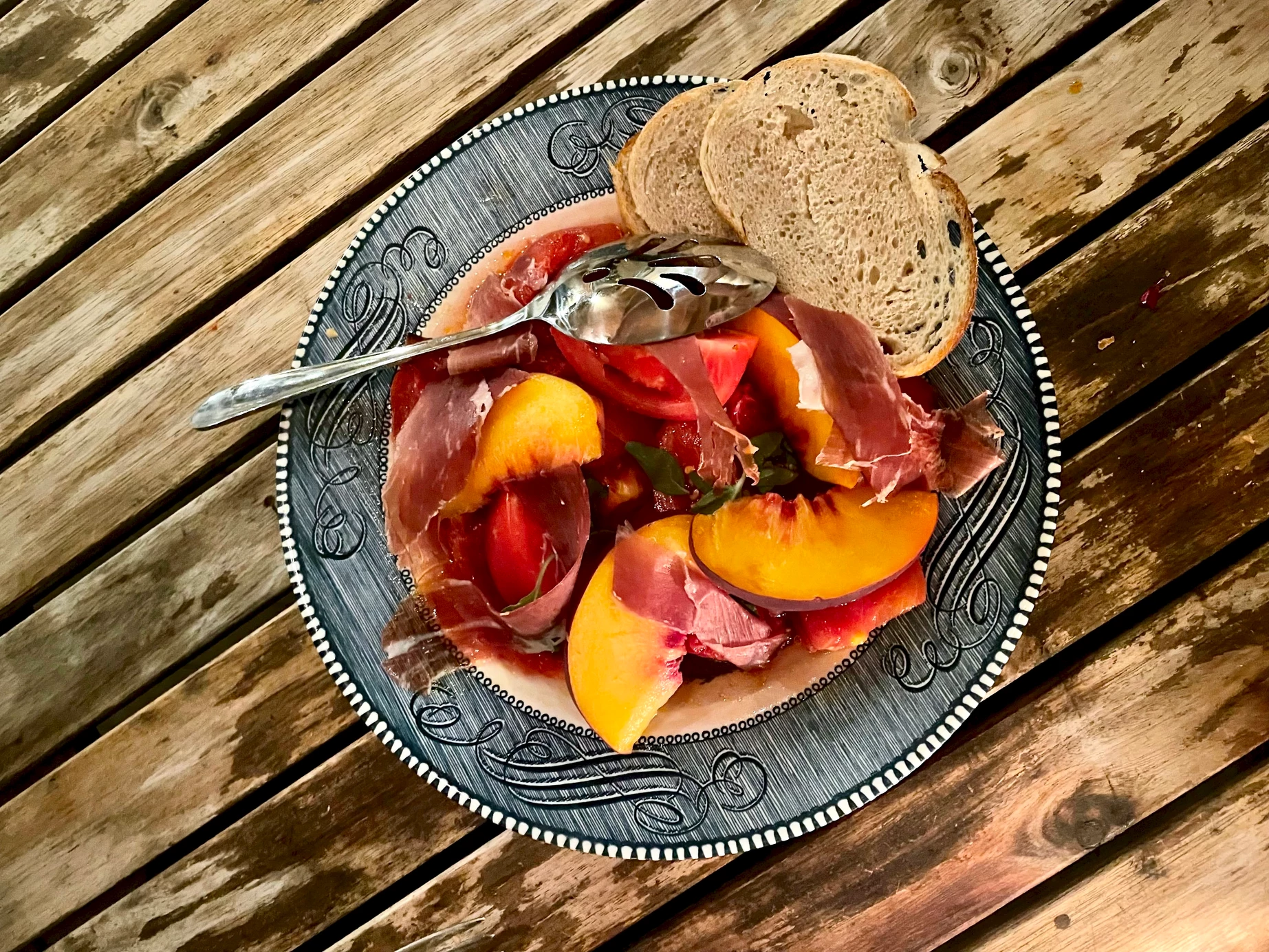 Inside, the ambiance is enticing. There are private dining rooms chicly decorated with worn plank tables, translucent drapes, sheepskin throws, candles, and fresh cut flowers.
Black Cat Farm features a fixed "blind" menu priced at $125 per person. It's comprised of what is harvested at the farm the day you dine. The menu is planned the night before.
Here's my full review of Black Cat Farm Dinners.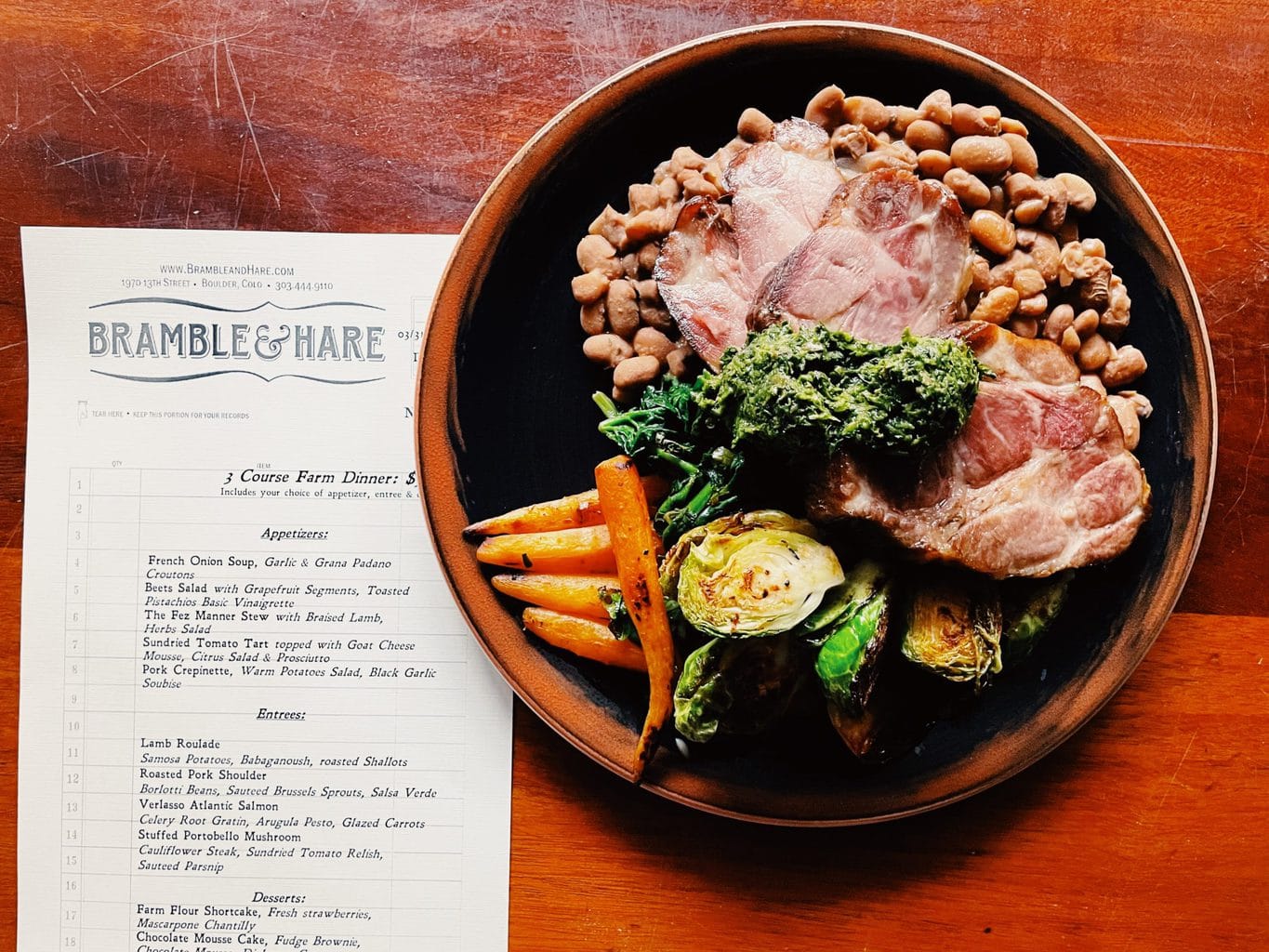 4. Bramble and Hare
Bramble and Hare is the sister restaurant of Black Cat Farm Dinners. It's a farmhouse kitchen and pub located right off Pearl Street on 13th Street.
The restaurant's ambience is similar to Black Cat. it's a cozy quaint place a world apart from your typical modern restaurant.
The small menu features farm fresh food and a three course fixed price menu. You'll enjoy simple rustic dishes with everything house-made in a casual vintage atmosphere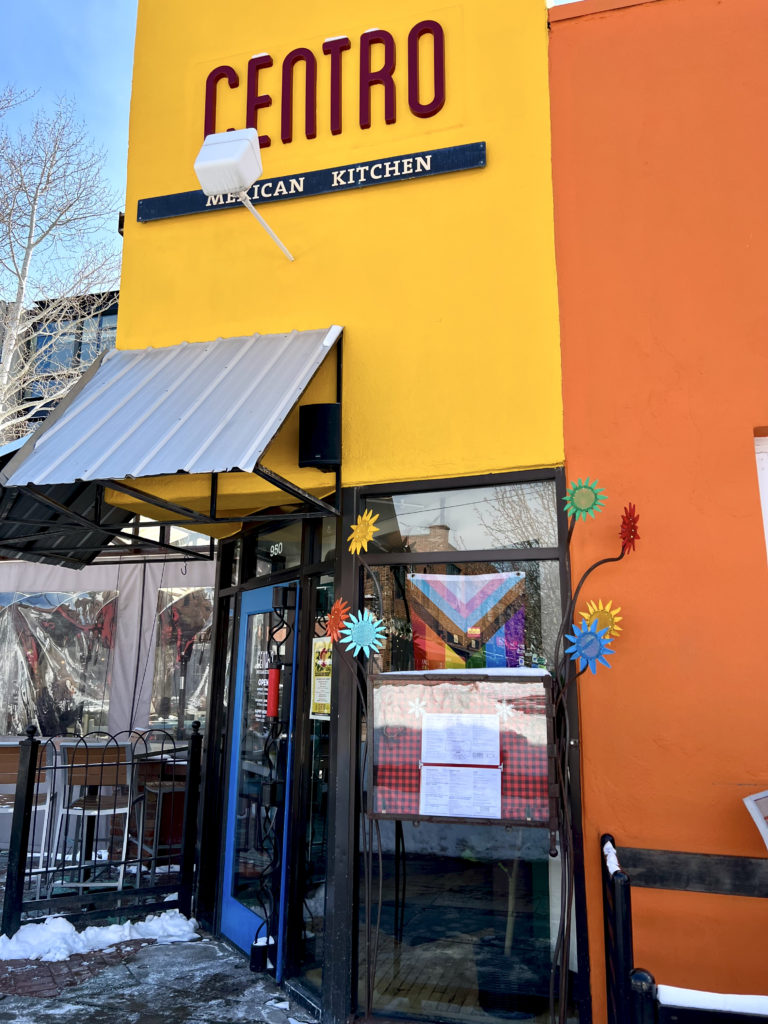 5. Centro Mexican Kitchen
Centro Mexican Kitchen is a full service Mexican and Latin inspired restaurant in Boulder. It serves up imaginative fare for lunch and dinner in a hip atmosphere.
The restaurant has a year round covered patio with heaters, a smart happy hour, and even breakfast to go. The bustling bar specializes in fresh squeezed cocktails, with a fantastic tequila selection.
Expect bright bold flavors and fresh ingredients. Start off with the salsa flight and spicy guacamole. Then move on to the fish taco board, carnitas burrito, and lobster or Zolo chicken enchiladas.
6. Corrida
Corrida is a sophisticated steakhouse on a rooftop in Boulder, accessed by elevator. It's inspired by Basque cuisine in Northern Spain. To my mind, Corrida is one of Boulder's best restaurants.
Corrida has unusual tapas, an amazing with a wine list, and incredible mountain views. The plates are pretty small, so keep that in mind the ordering.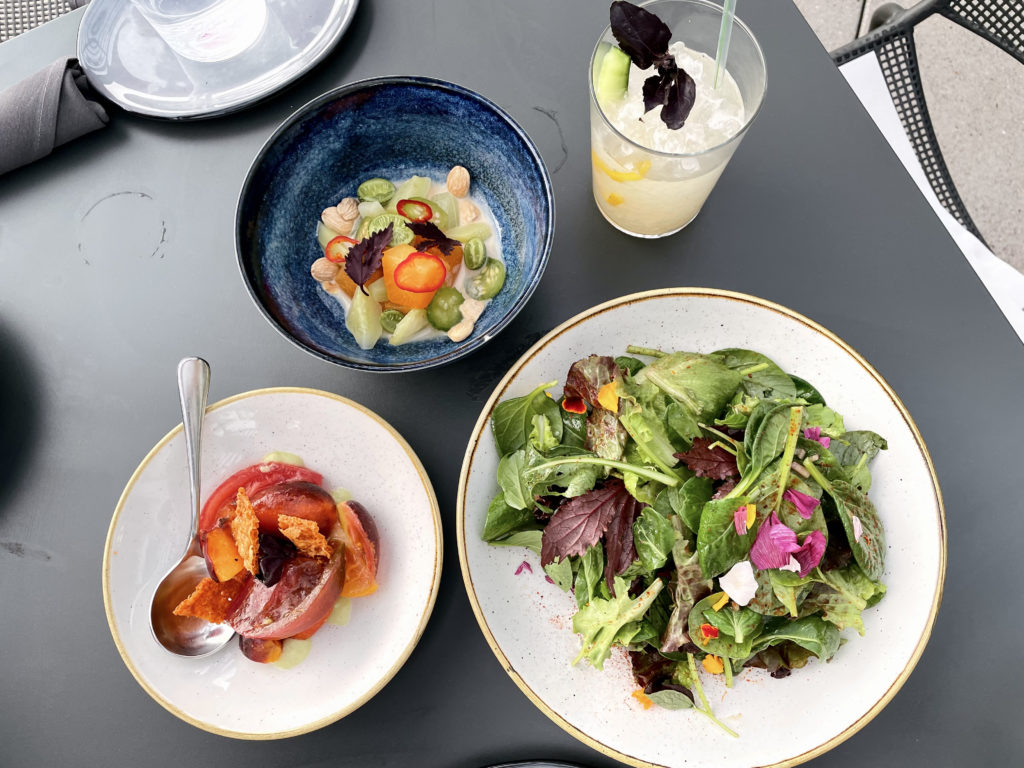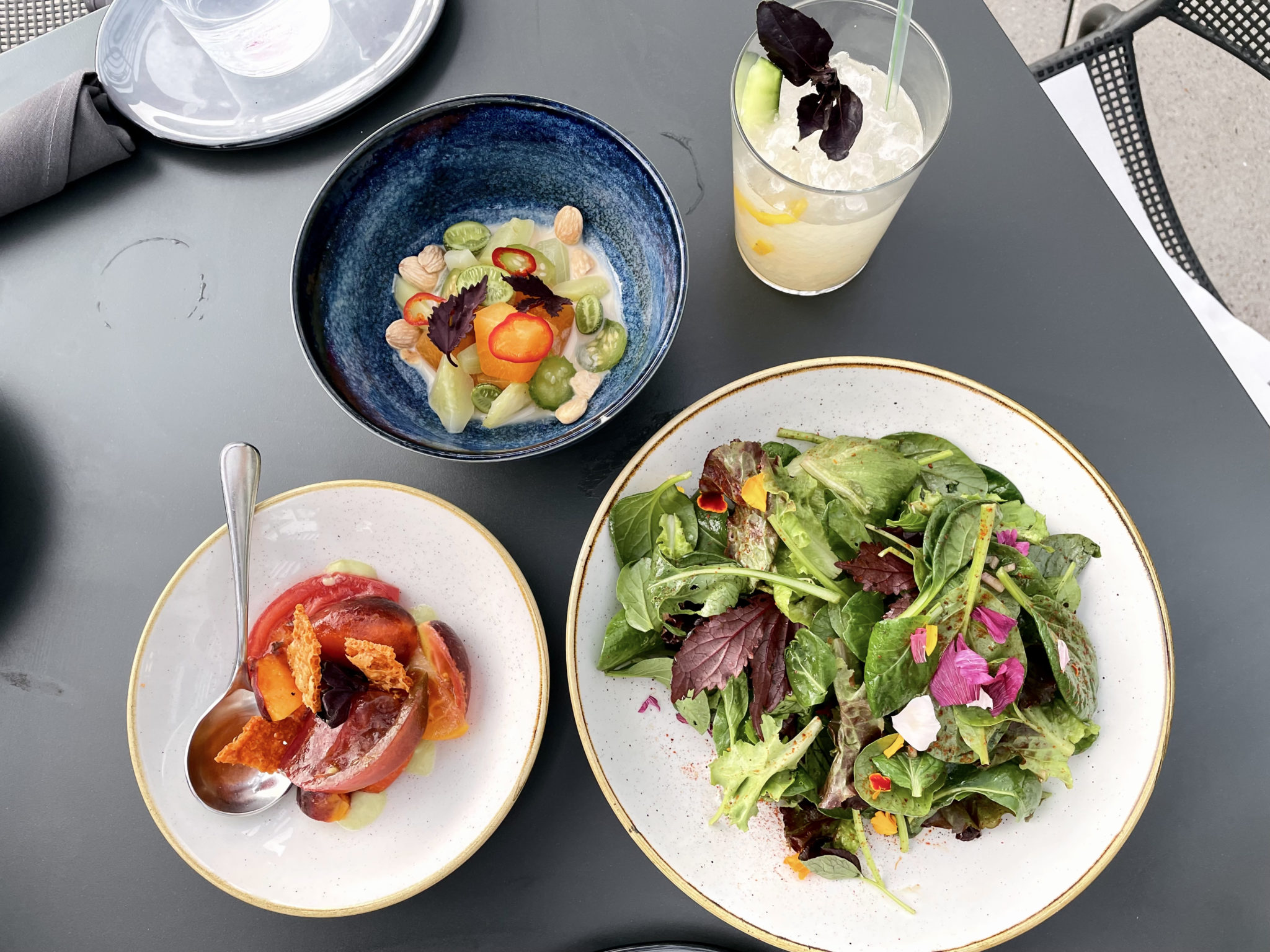 Corrida's service is excellent. This Boulder restaurant offers Tapas Hour on the patio from 3:00 to 5:00 pm and dinner service indoors from 5:00 to 9:00 pm, until 10:00 pm on weekends.
You can also eat dinner in one of Corrida's cozy outdoor yurts. You have to reserve these separately.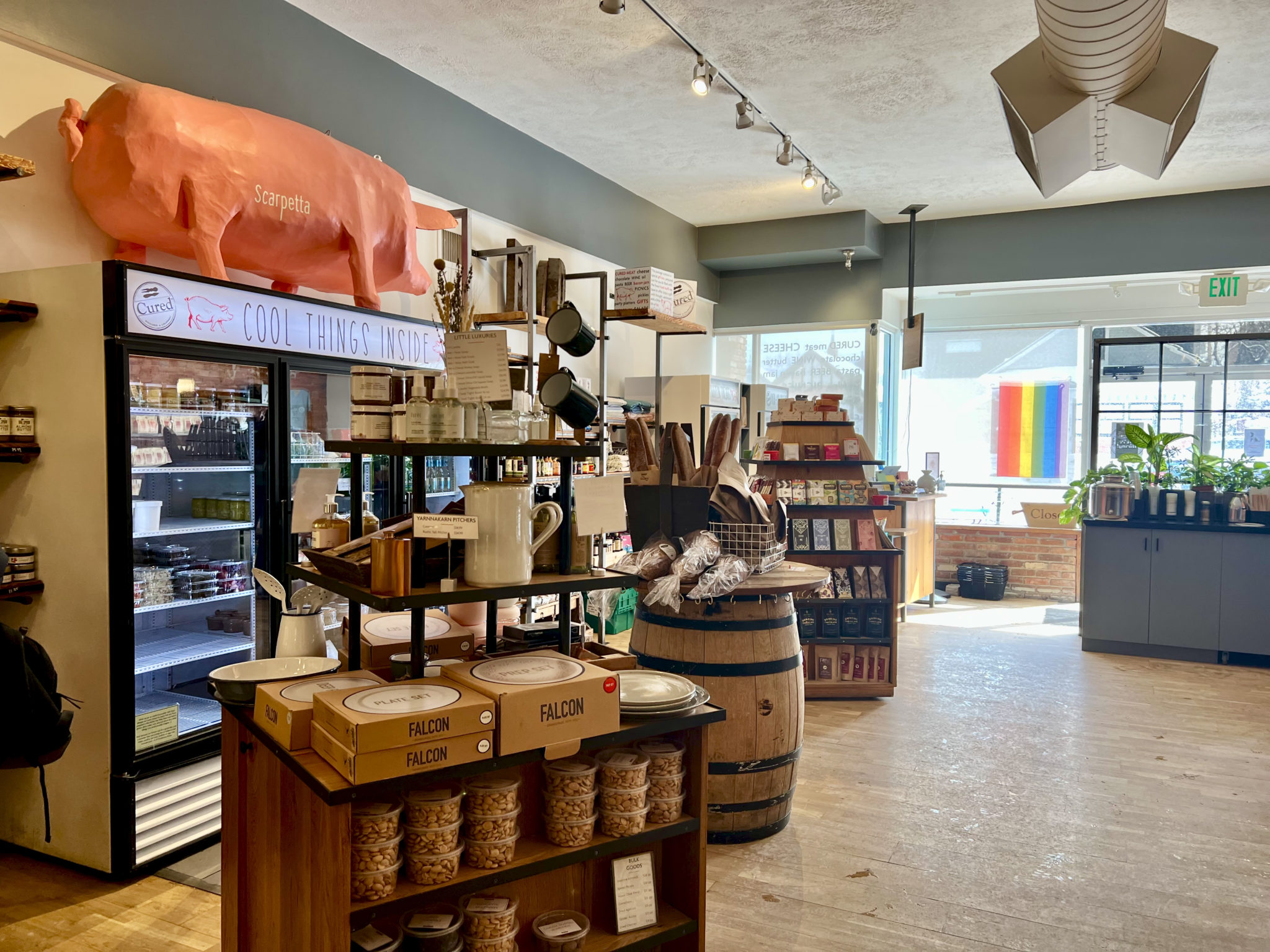 7. Dedalus
Dedalus is a cool shop and full service deli at one end of Pearl Street. You can visit online or order for pick up or delivery.
Dedalus offers a hip place to settle in and have lunch. You can get a charcuterie plate or gourmet sandwich.
You can also just stop by to grab a hand-picked selection of charcuterie, cheese, or a bottle of wine.
The sommelier is super helpful, if you want to pick out a specific wine. You can also have cheese cut in exact portions.
And there are wonderful dips you can buy to go. My favorite is the baba ghanoush.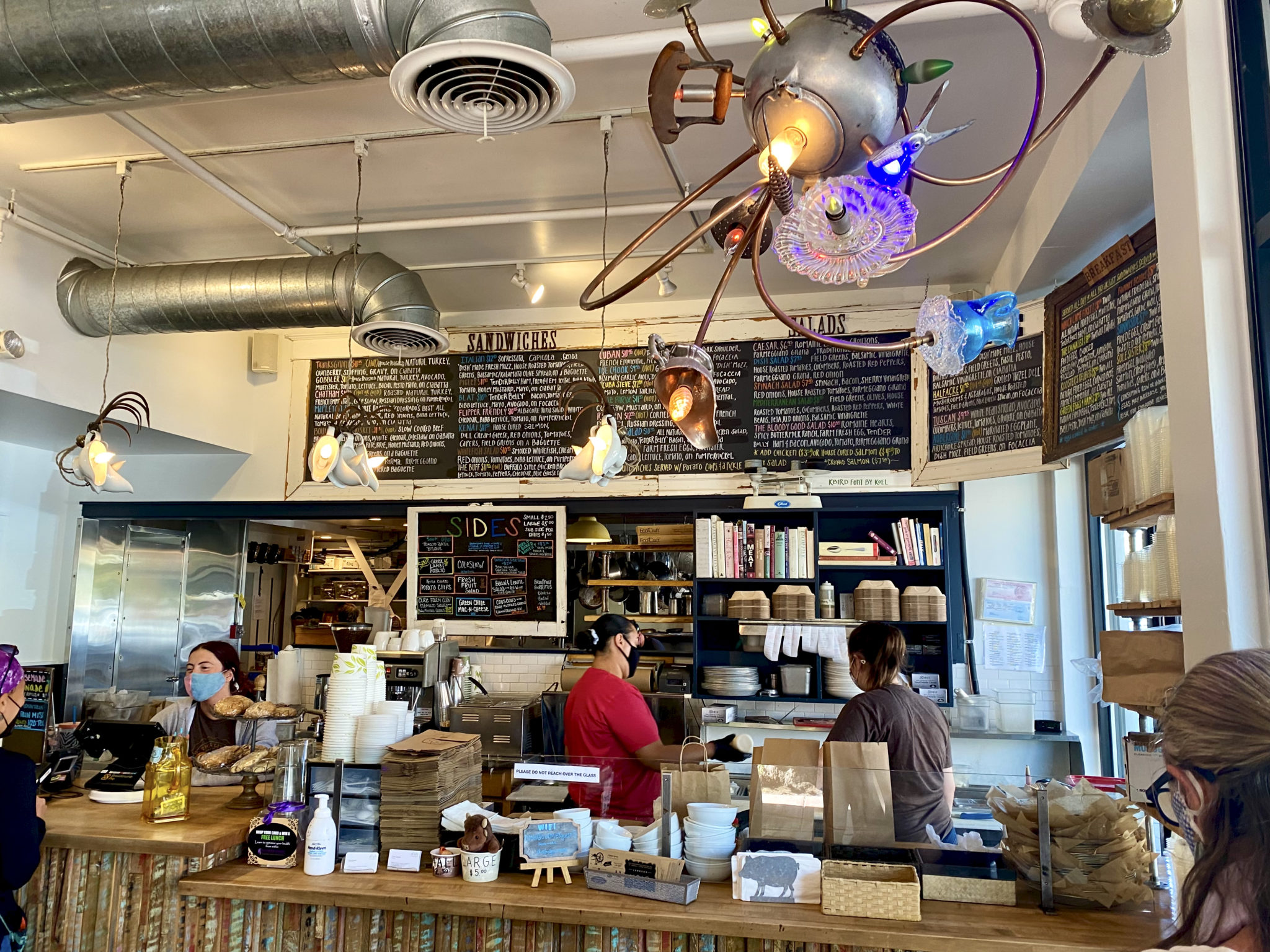 8. Dish Gourmet
Dish is the ultimate sandwich shop on Pearl Street. It's a gourmet deli offering fun gourmet sandwiches, prepared foods to eat in or takeout, boxed lunches, sandwich platters, and specialty foods.
Dish is a small place, a tiny nook really, with indoor and outdoor seating. The bread is amazing. The options are nearly endless.
Dish is a great restaurant for lunch in Boulder. It's similar to the Organic Sandwich Shop (see below).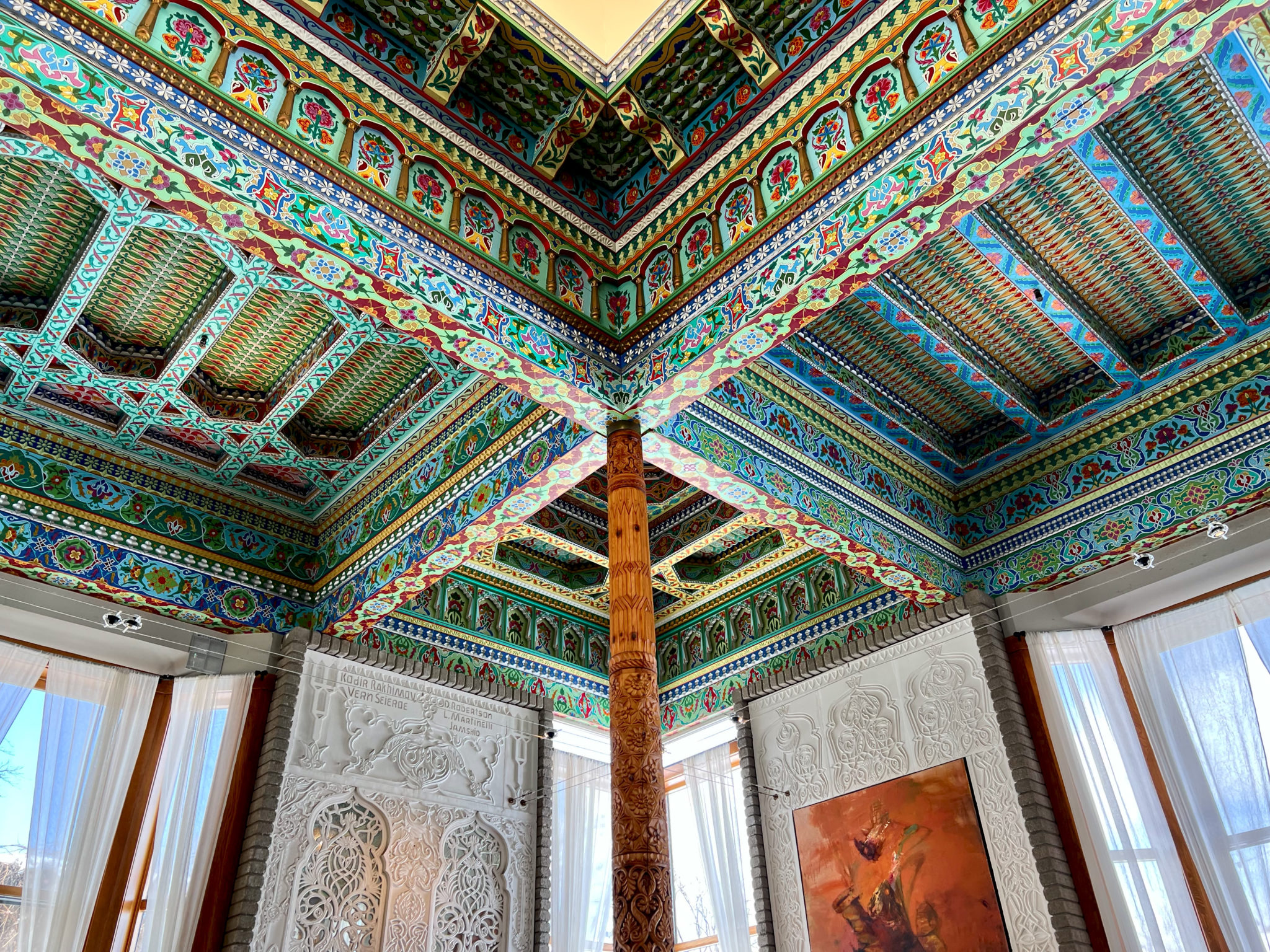 9. Dushanbe Tea House
Dushanbe Tea House is a landmark in Boulder. It's a Tajik teahouse at the foot of the Rocky Mountains. The stunning building was gifted to Boulder by its sister city of Dushanbe Tajikistan.
The building was handcrafted in a Persian style architecture by master artisans. Inside, you're covered by the calming turquoise and green carved ceiling in intricate designs. In the center is a fountain with 7 bronze sculptures.
Dushanbe has over 100 premium loose leaf teas. Reserve for the restaurant's special afternoon tea.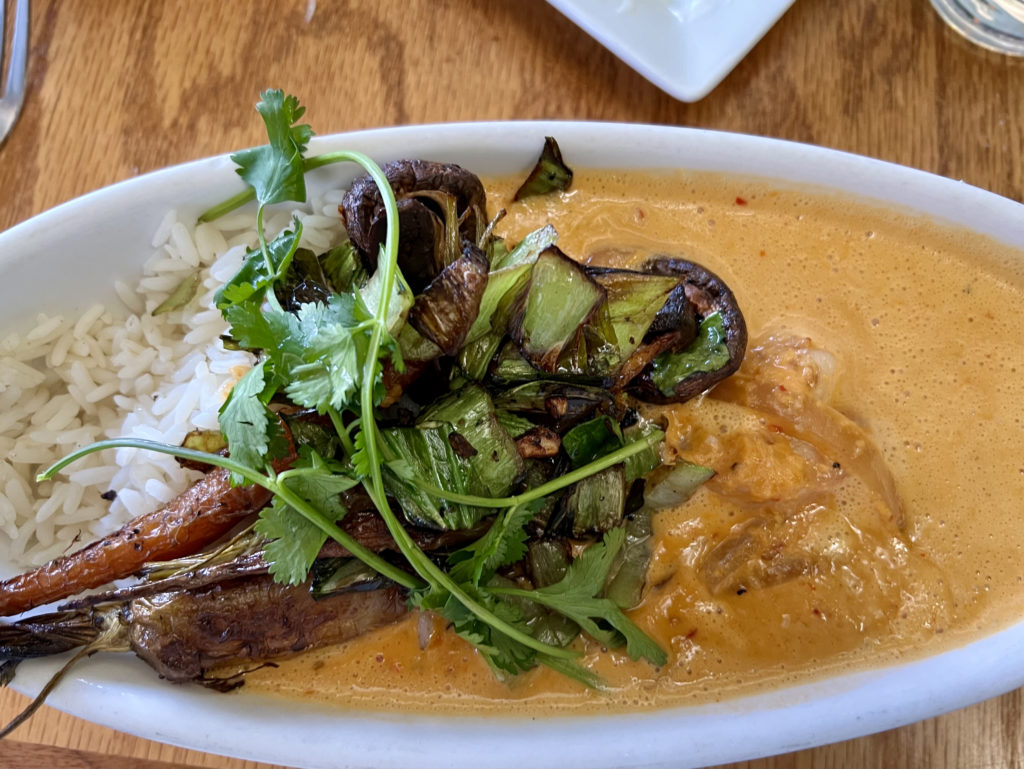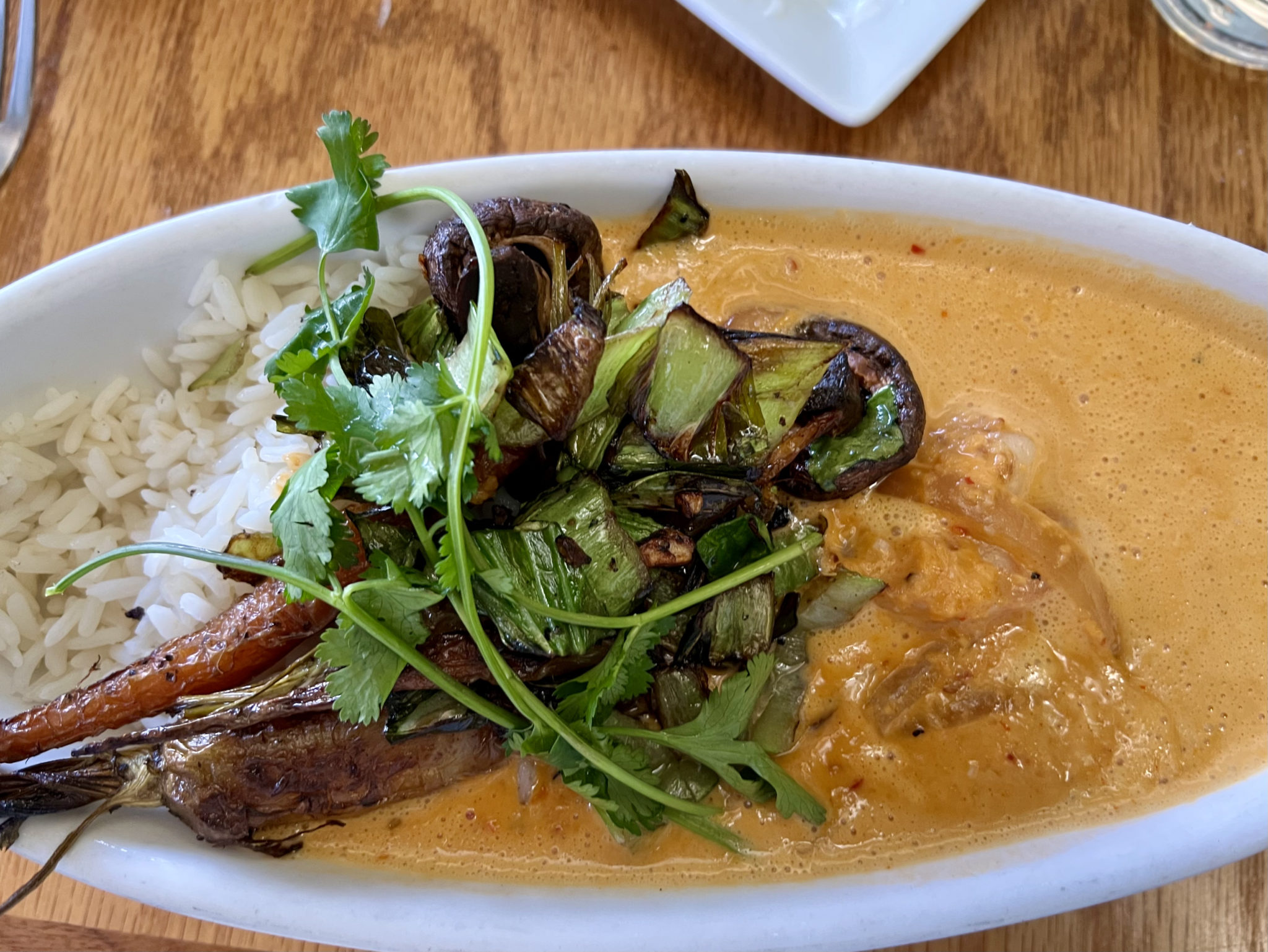 Dushanbe offers a fine selection of internationally inspired dishes. On my last visit, I had a delicious shrimp Malaysian curry and samosas with cucumber yogurt.
The restaurant's signature dish is plov. It's a spicy and richly flavored heap of rice, meat, and dried fruits served with naan bread.
If you're at Dushanbe for brunch on the weekend, try the Indian dosa. It's a delicious curried crepe with eggs, spinach, potato, and onion.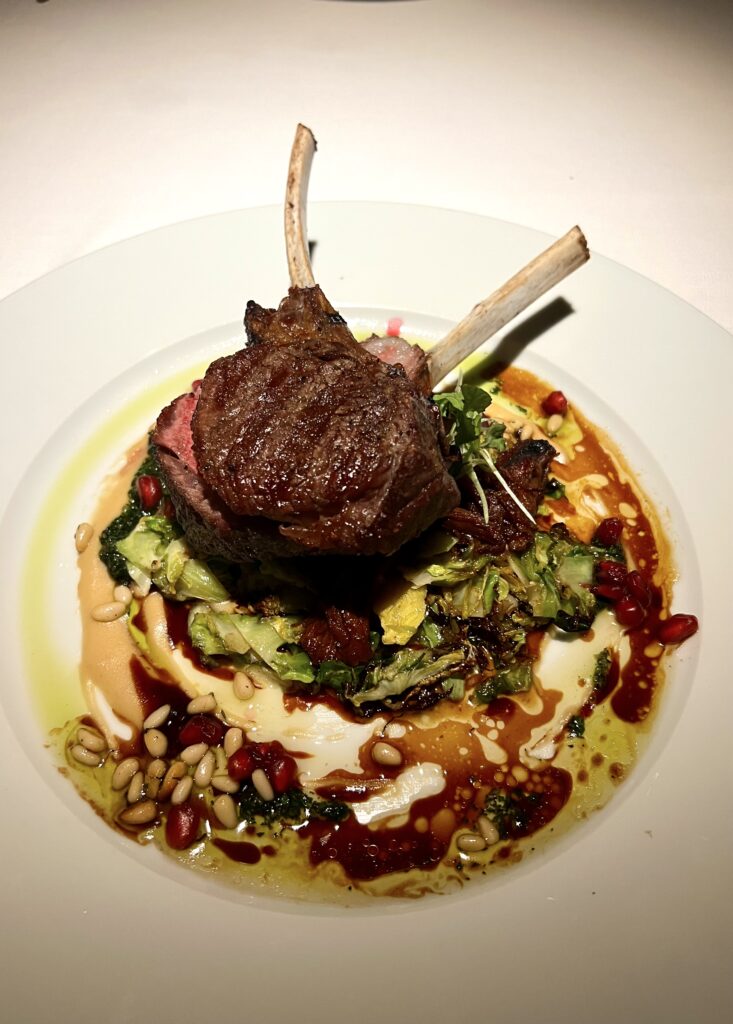 10. Flagstaff House
Flagstaff is an American fine dining establishment and a bit of an icon in Bolder. It has a breathtaking location on Flagstaff Mountain and offers up fantastic views of the city.
Though it has a reputation for excellence, I personally wouldn't say Flagstaff is one of the best restaurants in Boulder. But perhaps I dined there on an off night.
Flagstaff offers a four course menu for $128 and a chef's tasting menu for $165. The latter promises to take you on a "gastronomic journey."
We ordered the 4 course option. I found the service to be slow. We waited an hour and 15 minutes just to get our appetizers.
The food was beautifully presented, but not that flavorful. For the price point, I'd say Flagstaff is overrated. And prepare yourself to be there for 3 hours.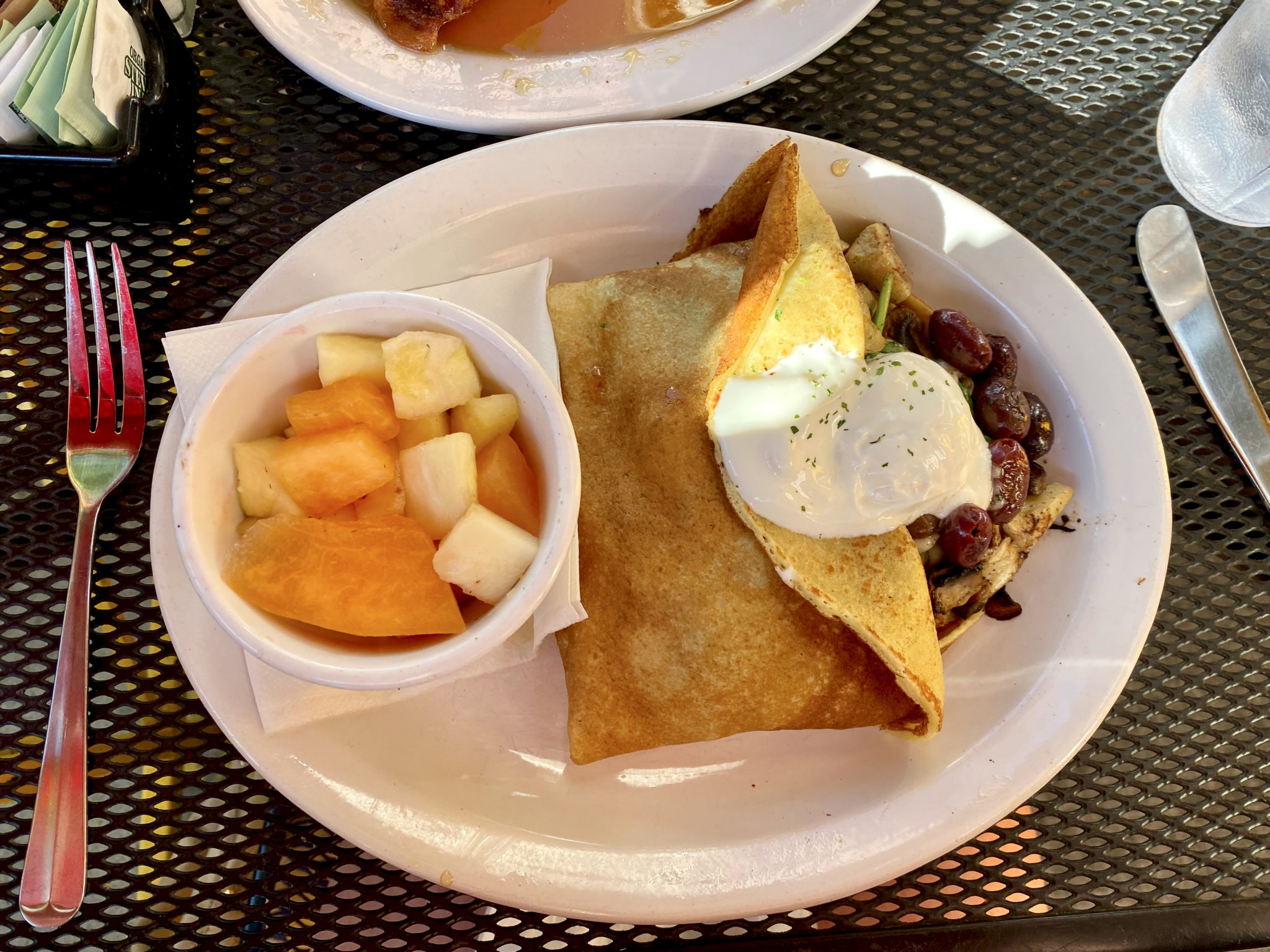 11. Foolish Craigs
Foolish Craig's is one of the best breakfast and brunch restaurants in Boulder. It's a good option if the next door Snooze has lines.
Foolish Craig's is a fun, owner operated cafe in Boulder. The diner is mostly known for its crepes.
It also offers omelets, sandwiches, burgers, and salads. And who can resist the millionaire bacon served with organic maple syrup?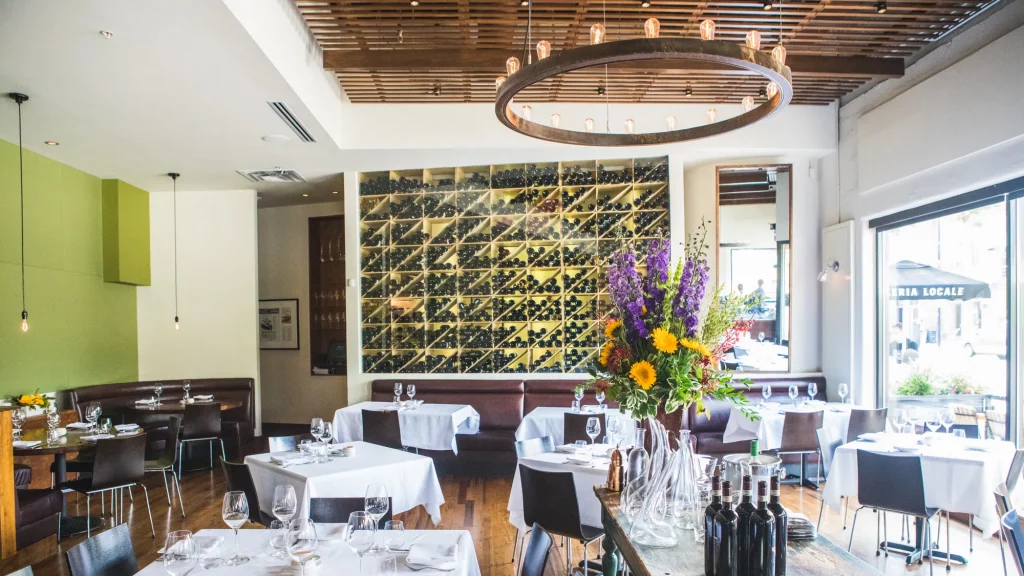 12. Frasca
Frasca is where you go for fine dining. It's a special occasion restaurant in Boulder for foodies and oenophiles.
Frasca specializes in northern Italian cuisine. In particular, it features dishes and wine from the sub-alpine Fruili-Venezia region of northeast Italy.
Frasca has won three James Beard awards for excellence in dining.
The restaurant is owned by a master sommelier, Bobby Stuckey. It's exhibited staying power in a demanding industry, in business since 2004.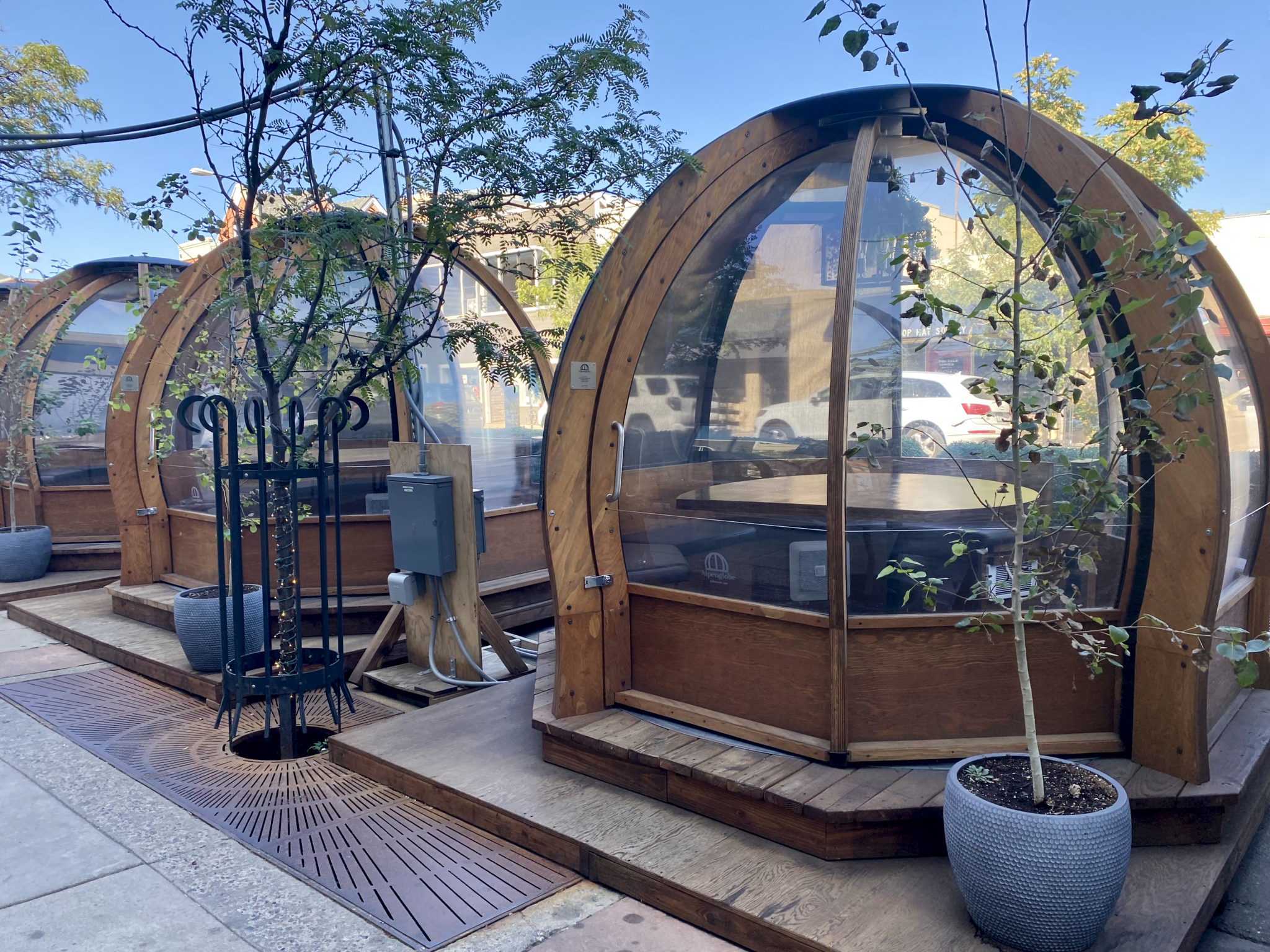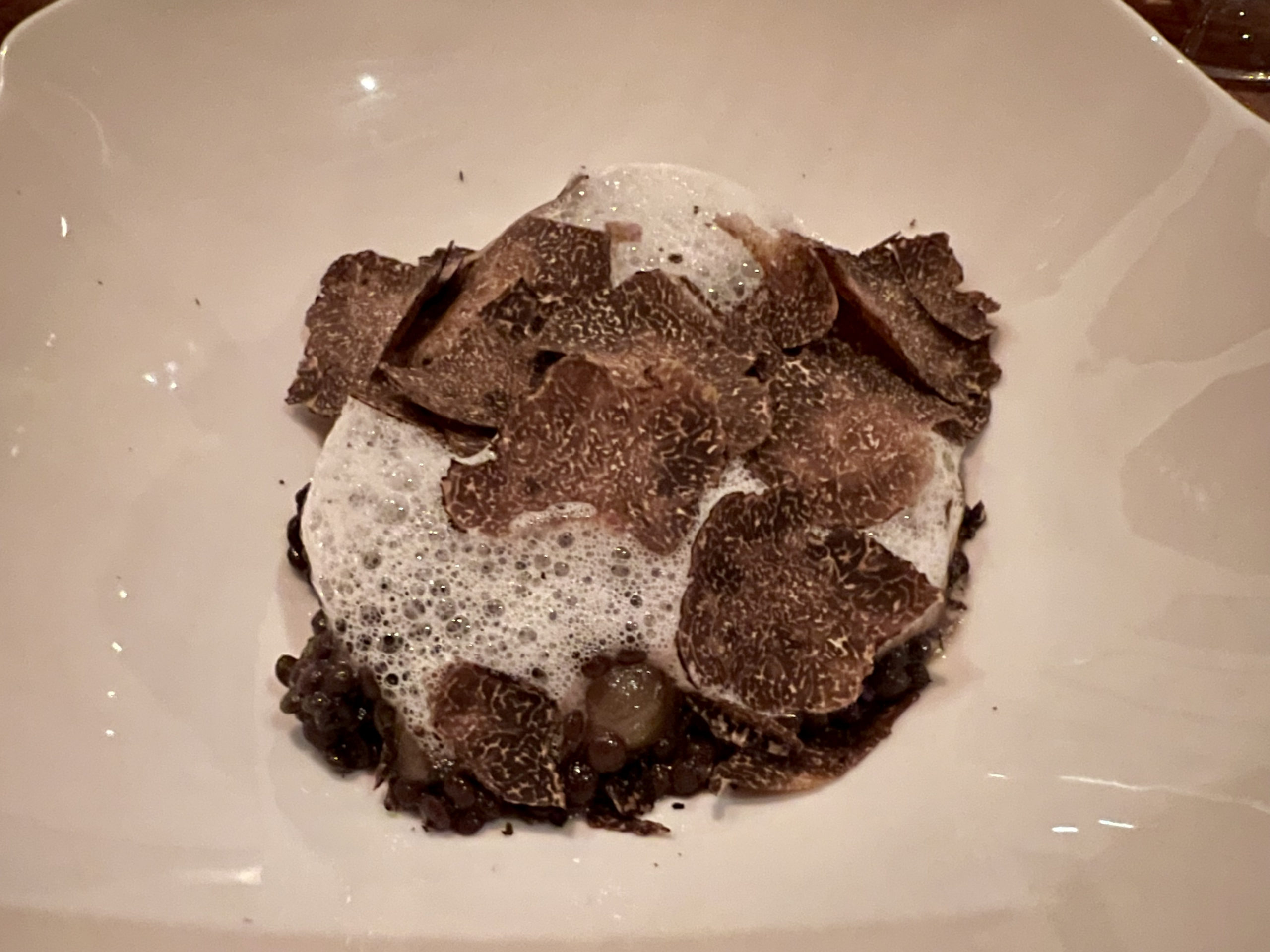 The restaurant has a minimalist modern decor and has been recently renovated. This means the focus in on the food, not the decor. If you want the full tasting menu, you can book in outdoor igloos.
Frasca's menu changes seasonally. When I was there, it featured intricate appetizers, handmade pasta, and roasted meats. The desserts were unusual and delicious, especially the fior di latte e miele.
I thought the service and wait staff were excellent. They happily answered questions and recommended wines in a unpretentious way. The Fruili region wines were excellent.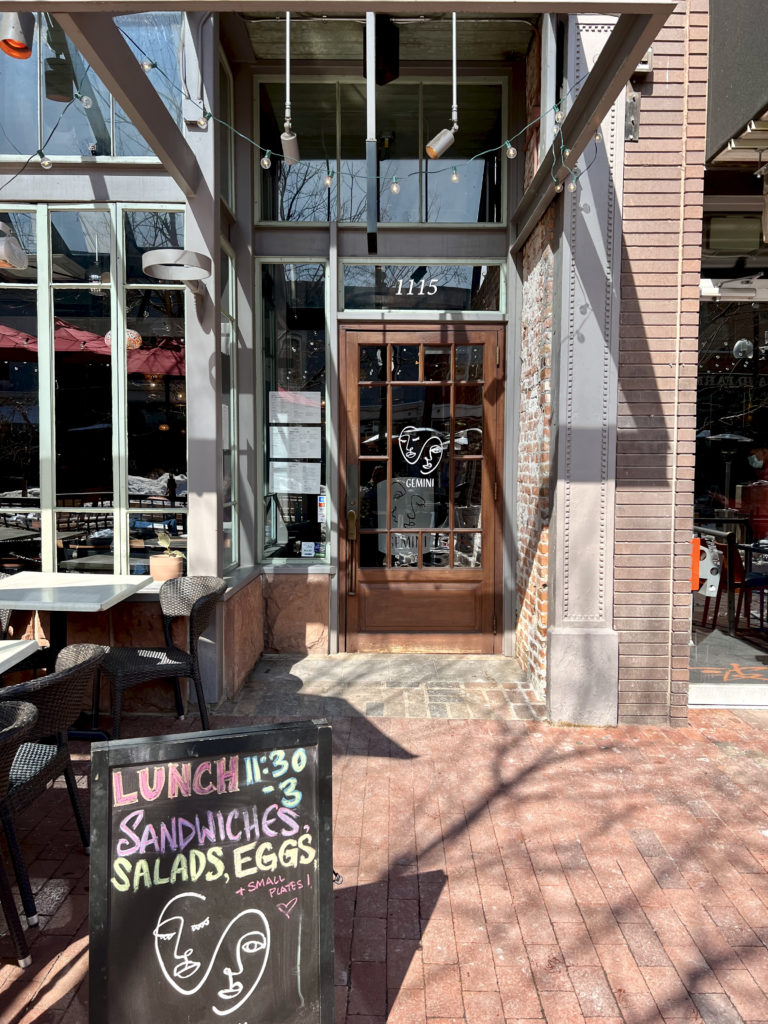 13. Gemini
Gemini is a brand new restaurant on Pearl Street. It serves up contemporary and classic tapas.
If you've been craving a new place to try out small plates and fresh Mediterranean-inspired seafood, this is your spot. Brian Pierce heads up the kitchen.
Favorites are the roasted squash, albondigas, and patatas bravas.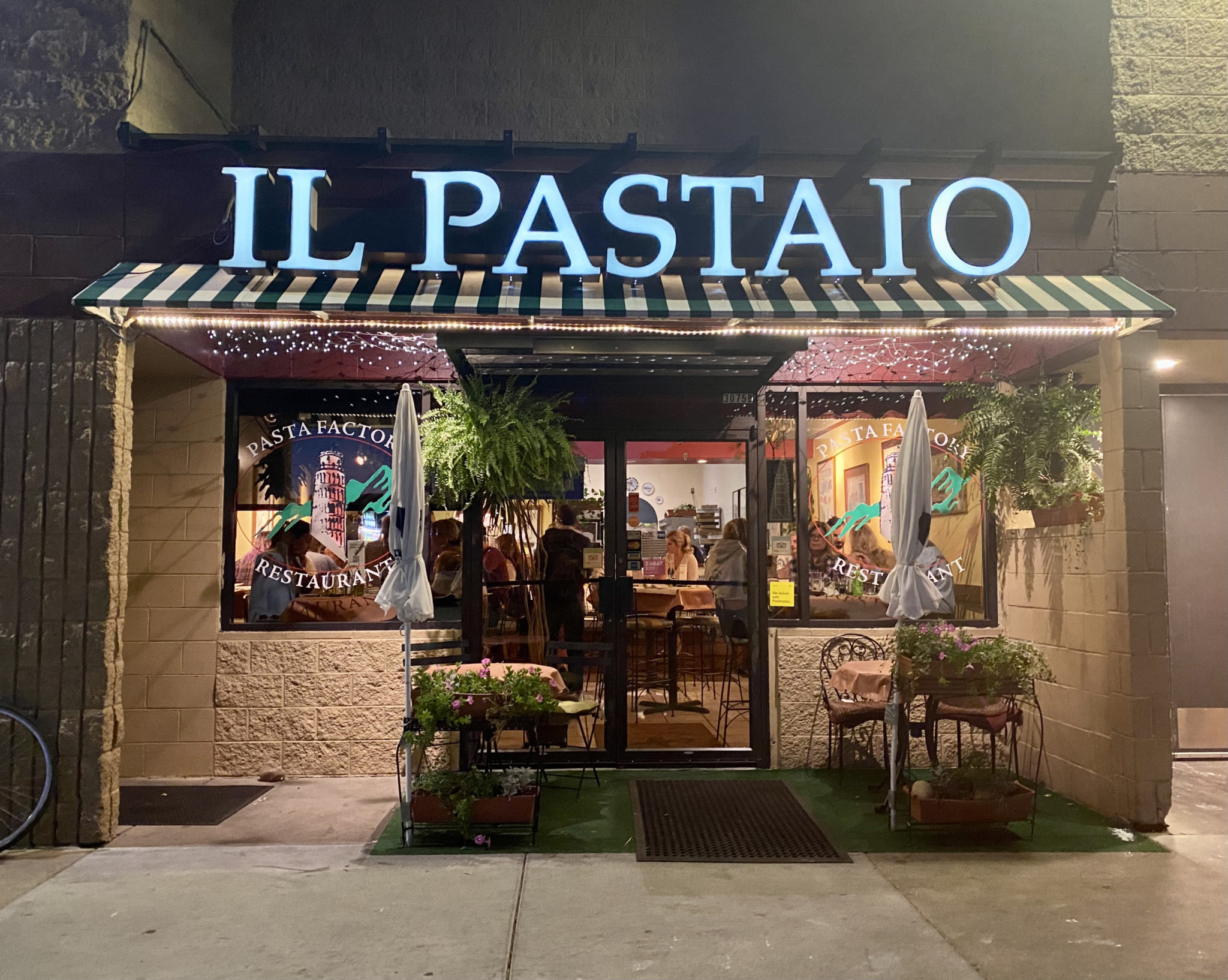 14. Il Pastaio
Il Pastaio doubles as a cute Italian restaurant and pasta factory. It's a tiny mom and pop venture that serves up "hearty Italian food with heart."
You can eat in, take out, or stock up on pasta. There's a dizzying number of different pastas and sauces. One of my favorites is the goat cheese ravioli with the aurora sauce.
Lunch is served cafeteria style. Dinner is a sit down affair in a quaint setting.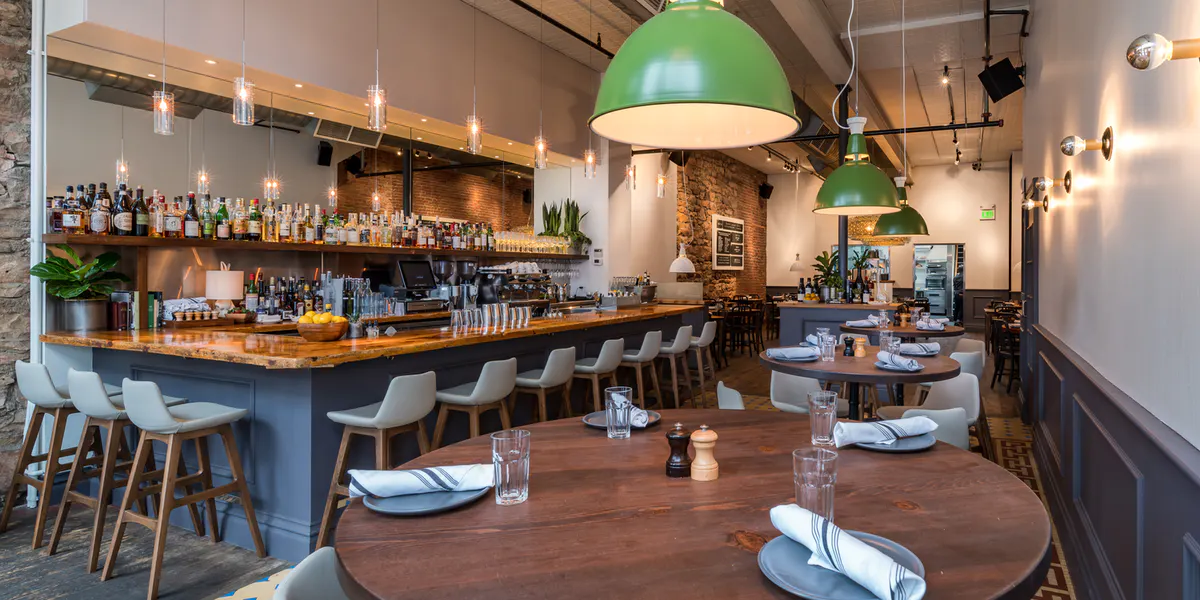 15. Kitchen American Bistro
Kitchen is a Boulder staple. It evokes a casual atmosphere akin to one's kitchen at home.
The Kitchen is styled as a "community bistro." It has a cool decor with exposed brick, leather chairs, and distinctive lighting.
The menu features an imaginative array of delicious and locally-sourced international dishes and killer drinks. You'll find crave-worthy dishes that are approachable and not pretentious.
I've had their halloumi cheese and carrot dishes for lunch. Delicious!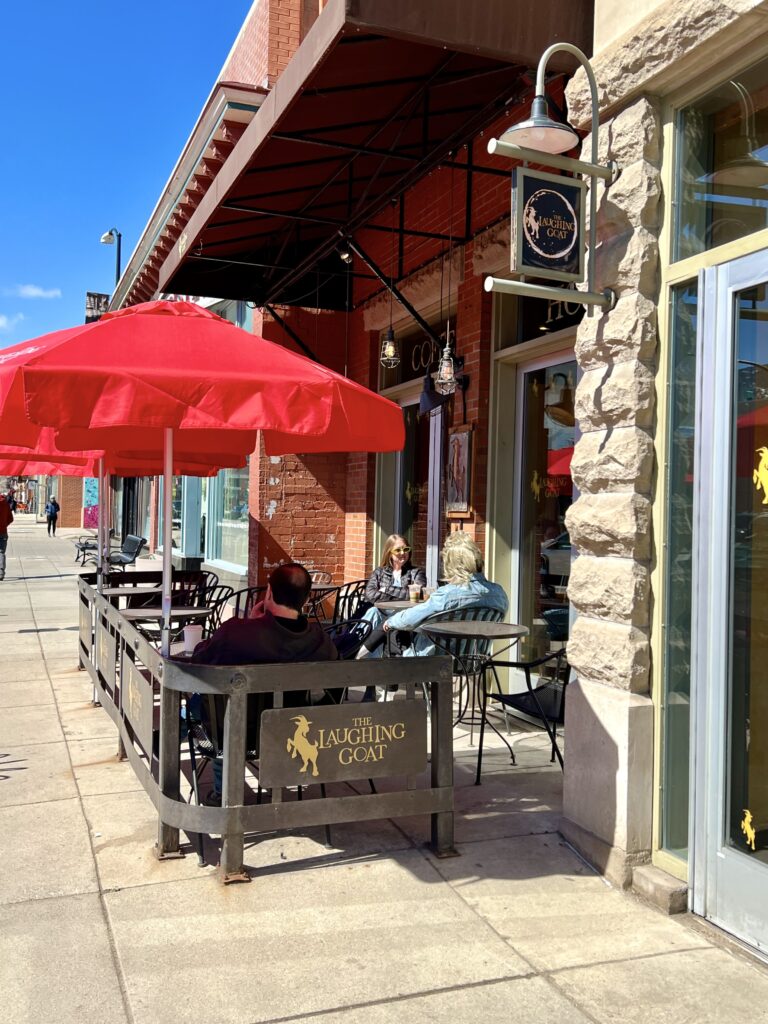 16. Laughing Goat
The Laughing Goat isn't a restaurant in Boulder exactly. It's a quintessentially hip coffee house and wine bar. I give it dibs on the best coffee in Boulder.
The Laughing Goat serves up a high quality selection of espresso, cappuccino, coffee, teas, and hot chocolate. To go with them, you can pick from pastries, cookies, sandwiches, and breads.
In the evening, you can choose from its selection of beer and wine. Sometimes there's even live music.
Seating is both indoor and outdoor, with lots of nooks. You'll find people hanging out with laptops working away while sipping beverages.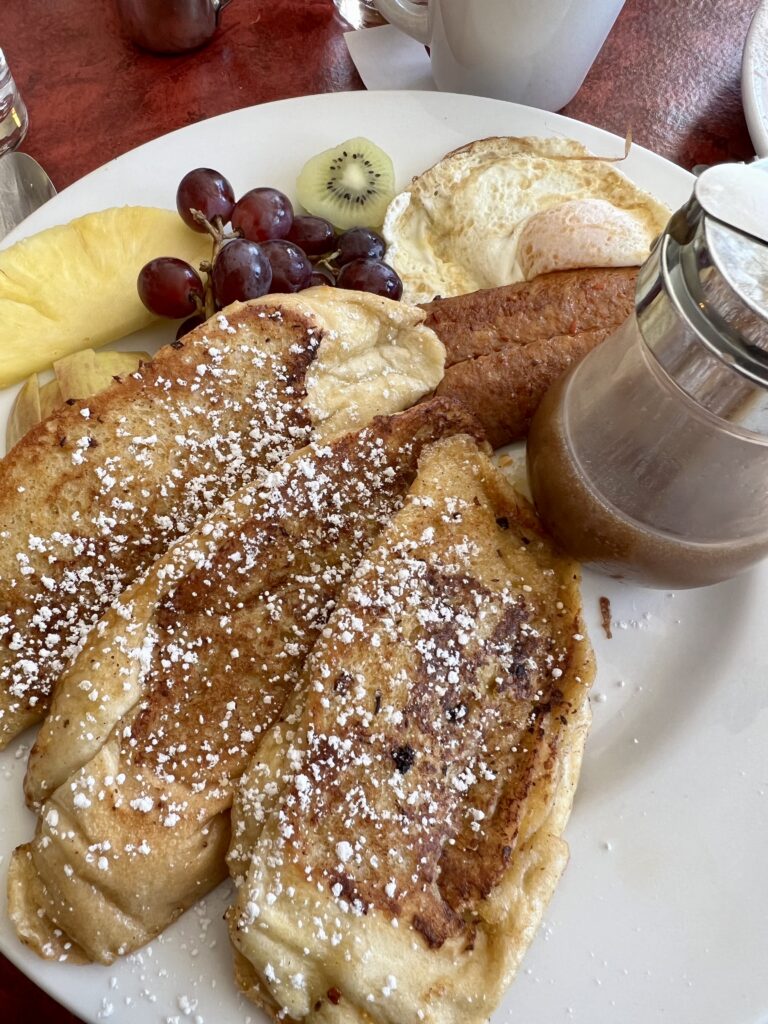 17. Lucile's Creole Cafe
Lucile's is another of Boulder's great breakfast and brunch spots. It's a casual spot with lemon colored walls, decorated with musical instruments.
I wouldn't say it's exactly "creole." But it makes a run at it and is the only place in Boulder to try creole flavors.
We started out with the beignets, a New Orleans tradition. Then, we tried the Eggs Jennifer, French toast, and creole omelet.
All were very good. The portions are large, and we took leftovers to go.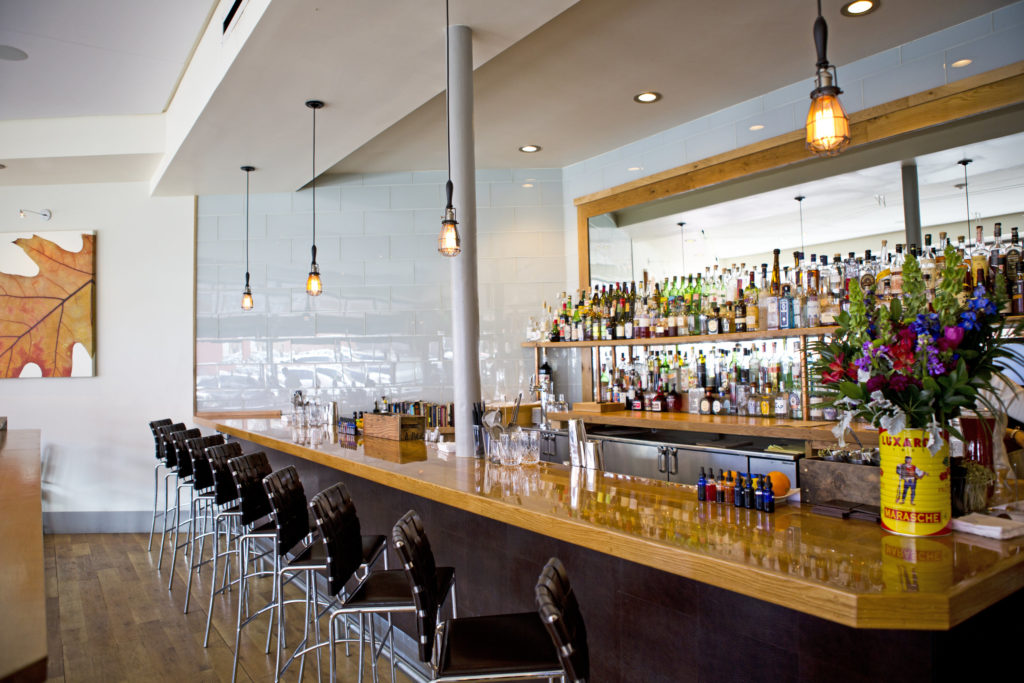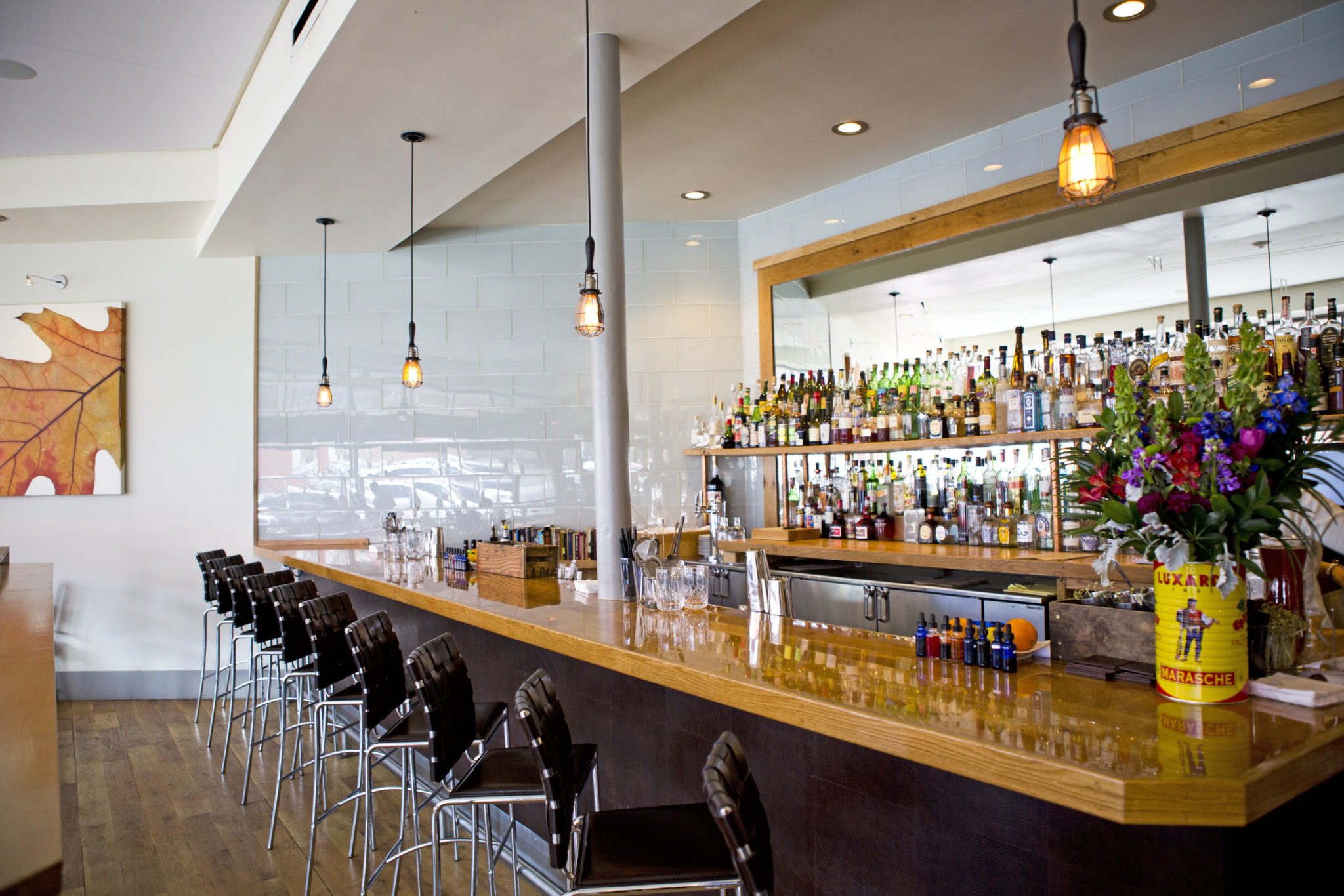 18. Oak At Fourteenth
Opened in 2010, Oak is a sleek and elegant upscale restaurant serving up local and seasonal modern American cuisine. It's named after the oak-fired oven and grill that produces some of the restaurant's signature dishes.
Like so many restaurants in Boulder, Oak focuses on fresh locally sourced ingredients. There are small plates and large plates that can be shared.
The mushroom tempura and oak roasted carrots make great appetizers.
If you like a good cocktail, Oak will suit.
The restaurant is owned by a mixologist and has some unusual hand crafted cocktails, plus an artisan wine and beer list.
Oak is always busy, so be sure to make reservations. One thing to consider … I found it chilly inside on a winter visit.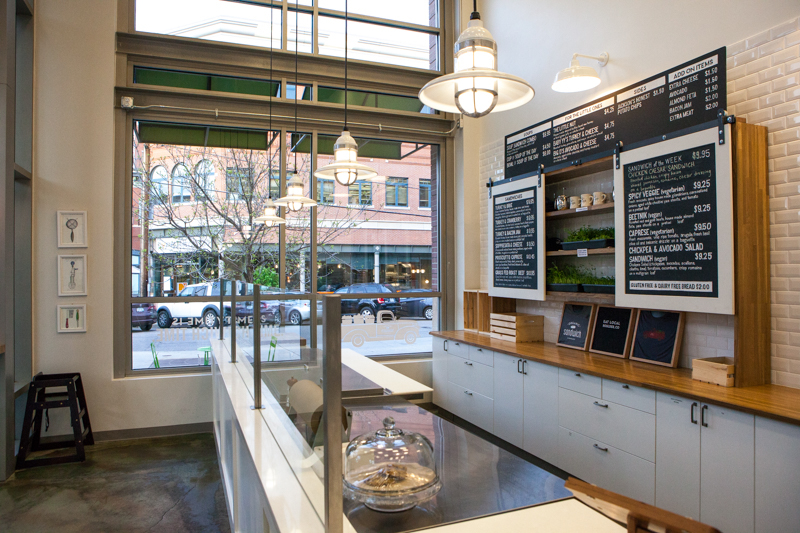 19. Organic Sandwich Shop
Organic Sandwich Shop is a dynamite lunch place in Boulder with organic and locally sourced food. You'll find tasty options for carnivores, vegetarians, and vegans. You can also customize your sandwich order.
I've sampled the prosciutto caprese and the chickpea and avocado options. They were delicious. This is the perfect lunch spot in Boulder.
Plus, the shop supports Boulder's local farmers and gives back to the community.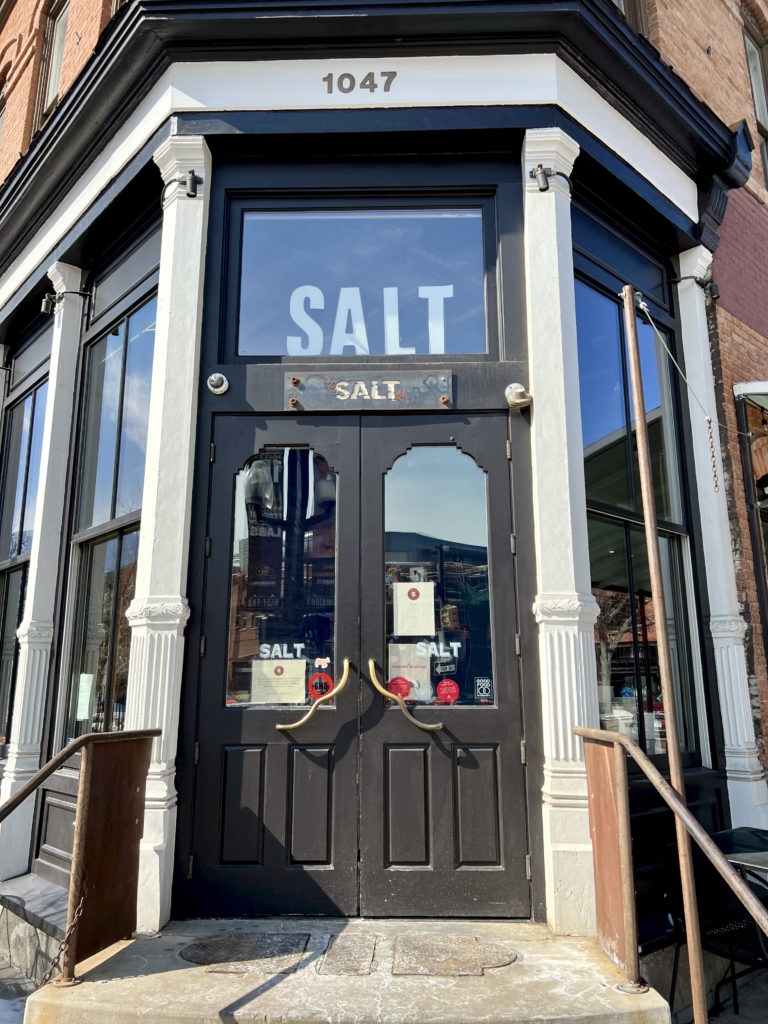 20. SALT
SALT is a quaint Boulder restaurant on the west end of Pearl Street. The menu supports local Colorado farmers
Sustainability drives SALT's food. The menu includes wood-fired winter flatbread, burgers, homemade pasta, and seafood.
The bistro serves up grass-finished beef, GMO-free chicken and pork, and organic eggs from Rogue Farms. They also have amazing charcuterie boards.
SALT also pays homage to Colorado's microbrewery scene. There's a vast assortment of local bottles and a mix-and-match cocktail menu.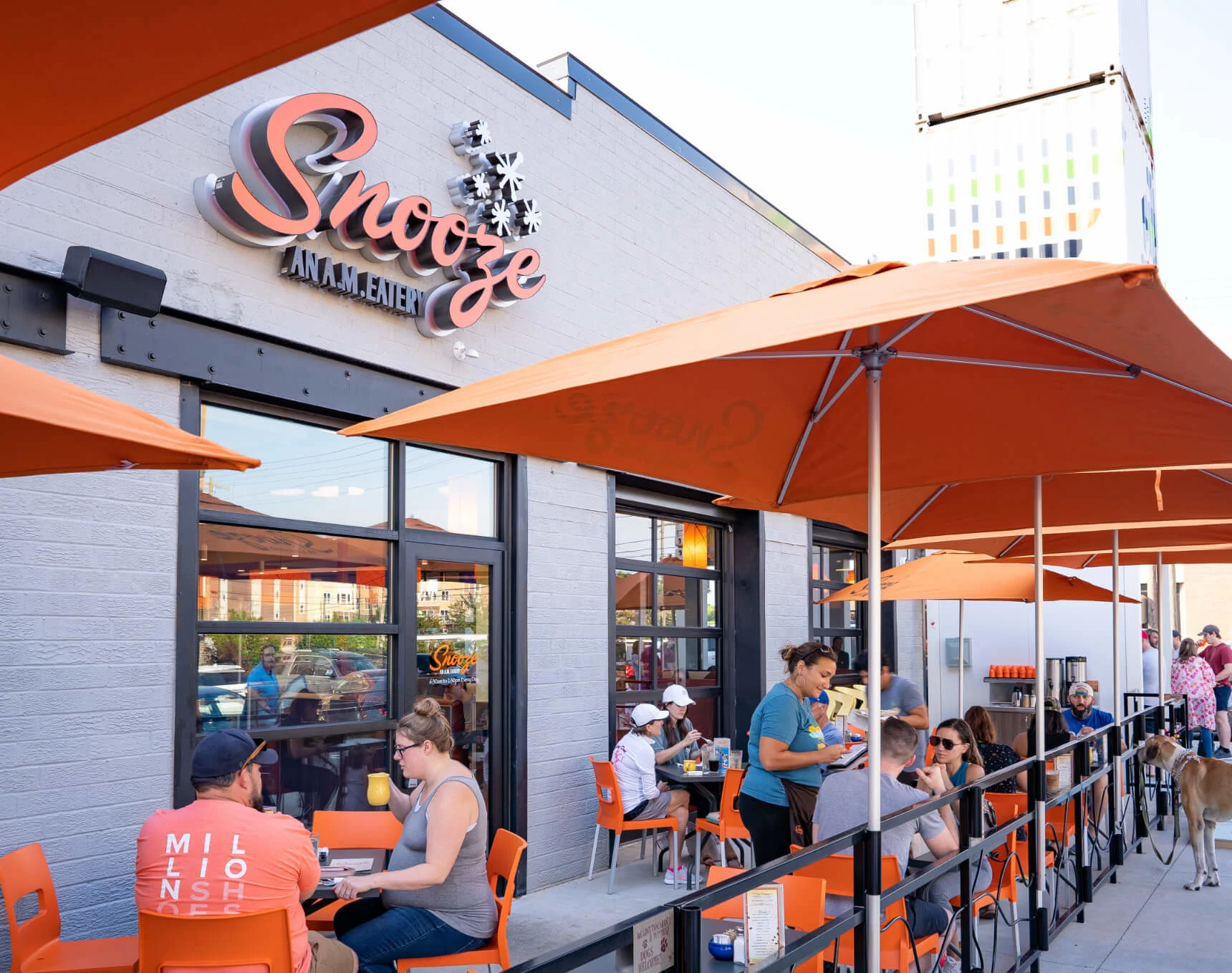 21. Snooze
Snooze is Boulder's most popular diner for breakfast and brunch. There's also a Snooze branch in Denver.
Snooze offers a unique take on classic brunch food — eggs, pancakes, coffee, etc. Snooze has cold pressed juices, excellent coffee and espresso, as well as a full cocktail bar where you can sip mimosas and bloody Marys.
I've eaten at Snooze a bunch of times. My favorites are the Barbacoa Chile Verde Benny, the Garden Harvest Omelet, Avocado Eggs Benedict, and Huevos Tostados.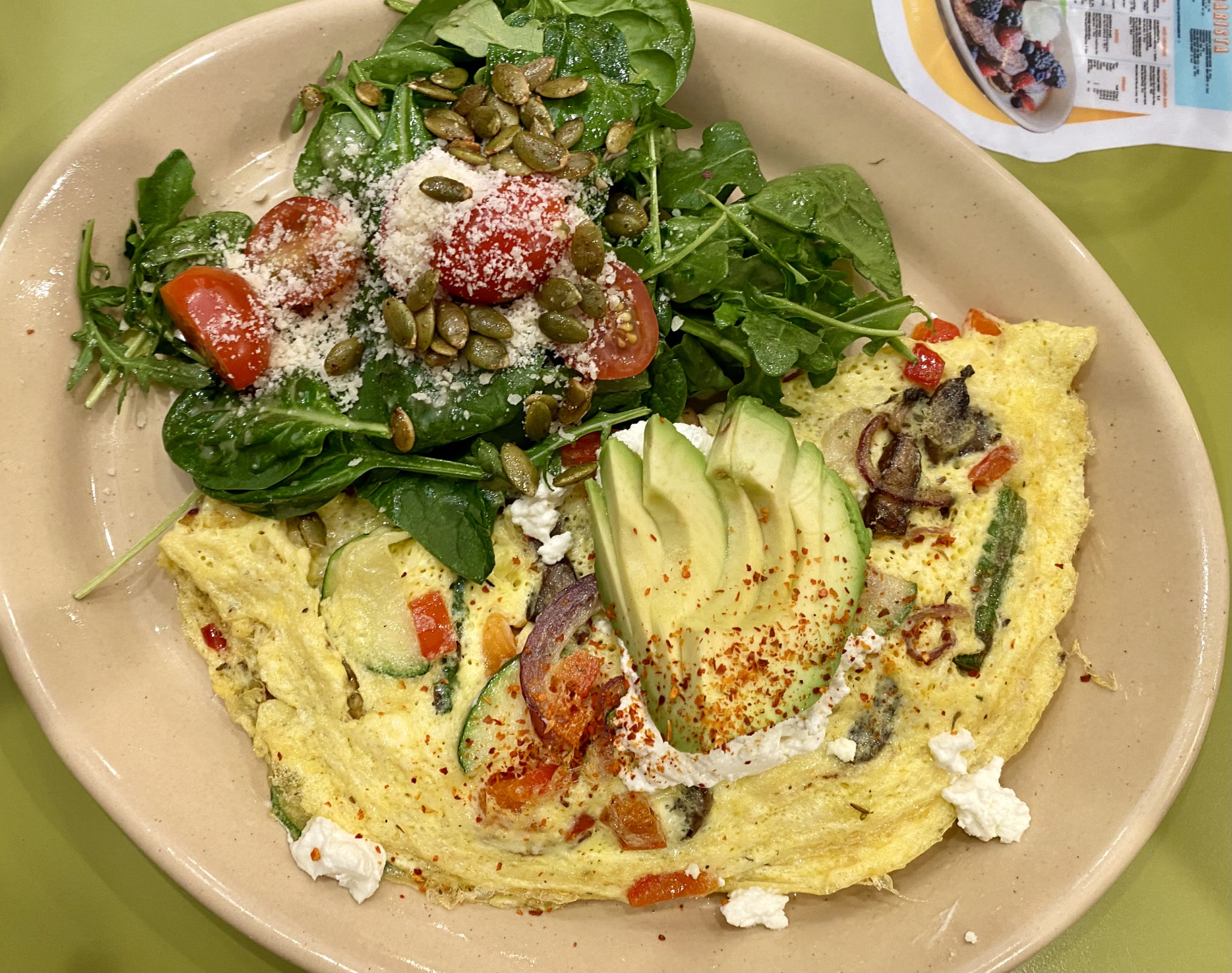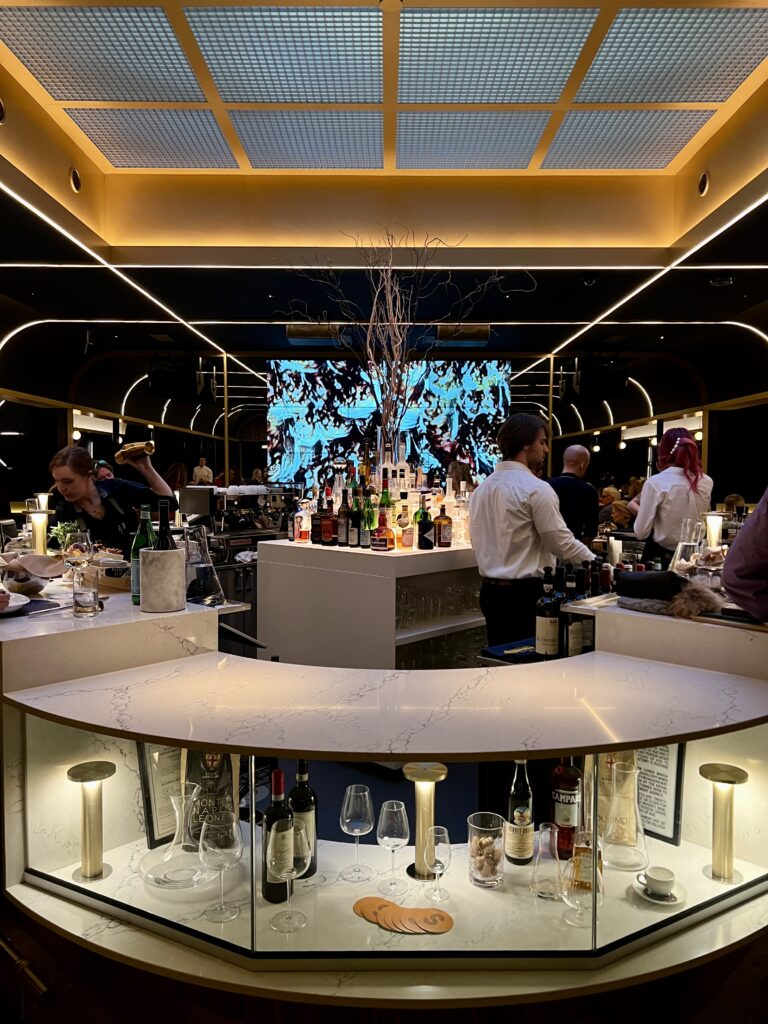 22. Stella's Cucina
Stella's Cucina opened in January 2023. I feasted there in March and definitely think it's one of the best restaurants in Boulder. Hidden in the heart of downtown Boulder, the restaurant is a total dining experience.
The Art Deco decor is fabulous and well though out. There's a massive round bar in the center of the restaurant and a jazz band playing in a corner (on weekends).
A large screen at the back has a rotating series of images designed by AU artist Benjamin Gordon.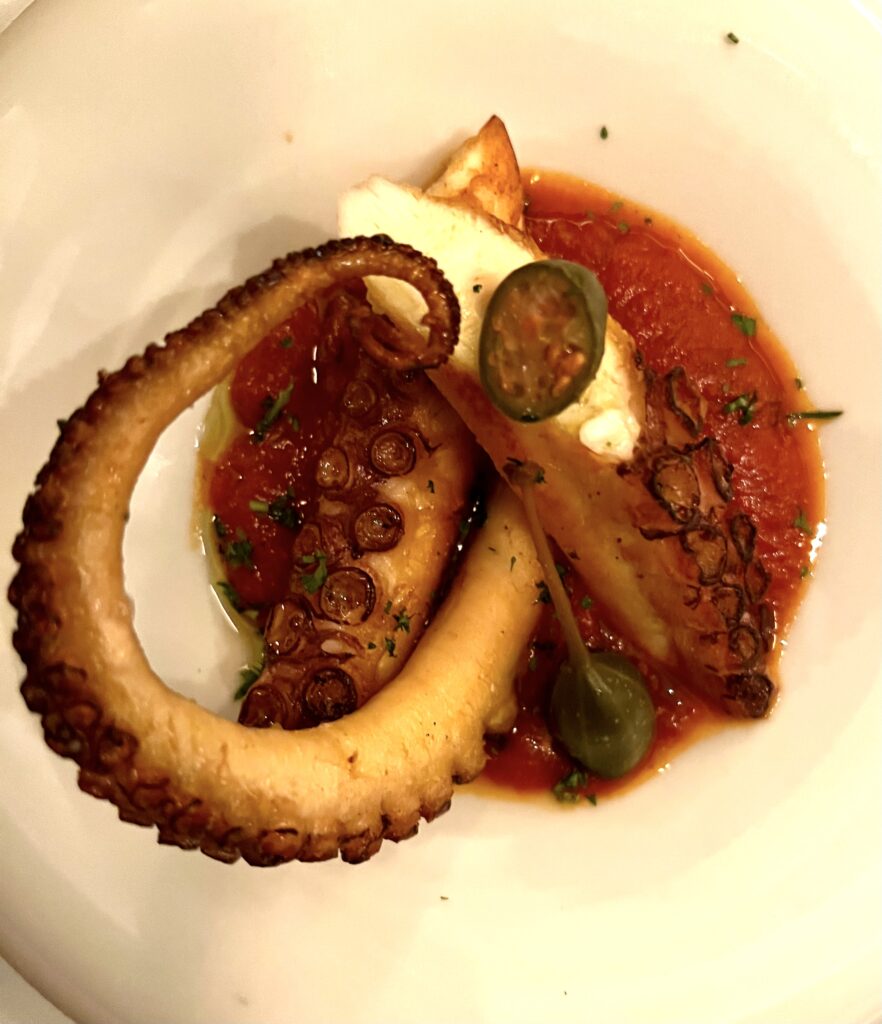 The restaurant serves up Italian cuisine with a modern spin. There are vegetarian, vegan, gluten free, and dairy free options.
My party feasted on baby artichokes, grilled octopus, and charcuterie to start. For our mains, we were delighted with the paccheri pasta, filet, and artisanal spaghetti with red shrimp and caviar. There are also daily specials.
Everything was delicious. I think Stella's might be my new favorite restaurants in Boulder. Highly recommend!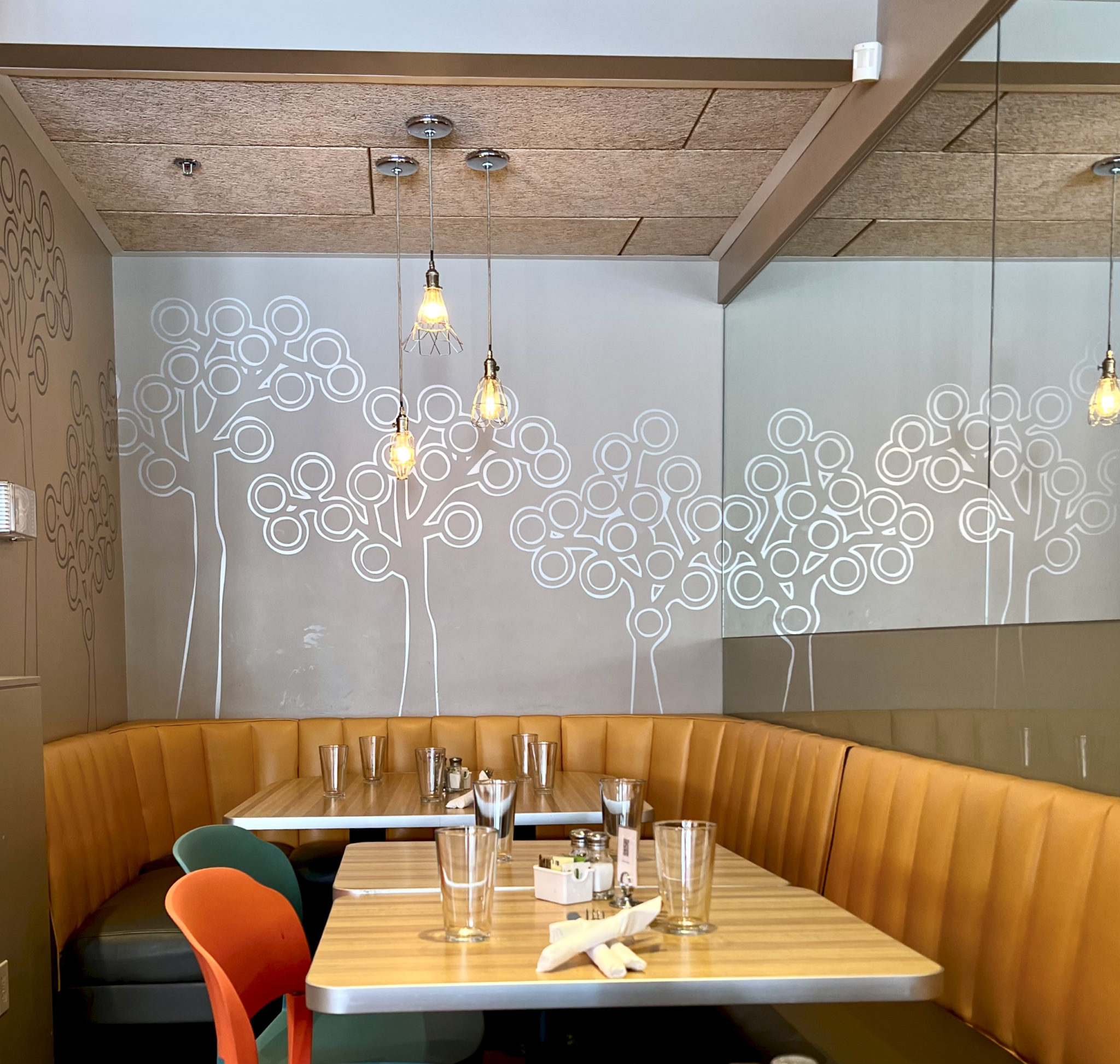 23. Tangerine
Open for 10 years, Tangerine is another of Boulder's best breakfast and brunch places. It's located in north Boulder.
The cheery decor reflects the name — there are pops of orange everywhere down to your coffee mug.
Like Snooze, Tangerine gives you an innovative take on traditional brunch fare. The focus is on fresh ingredients and locally roasted Salto coffees. There's plenty of vegan fare.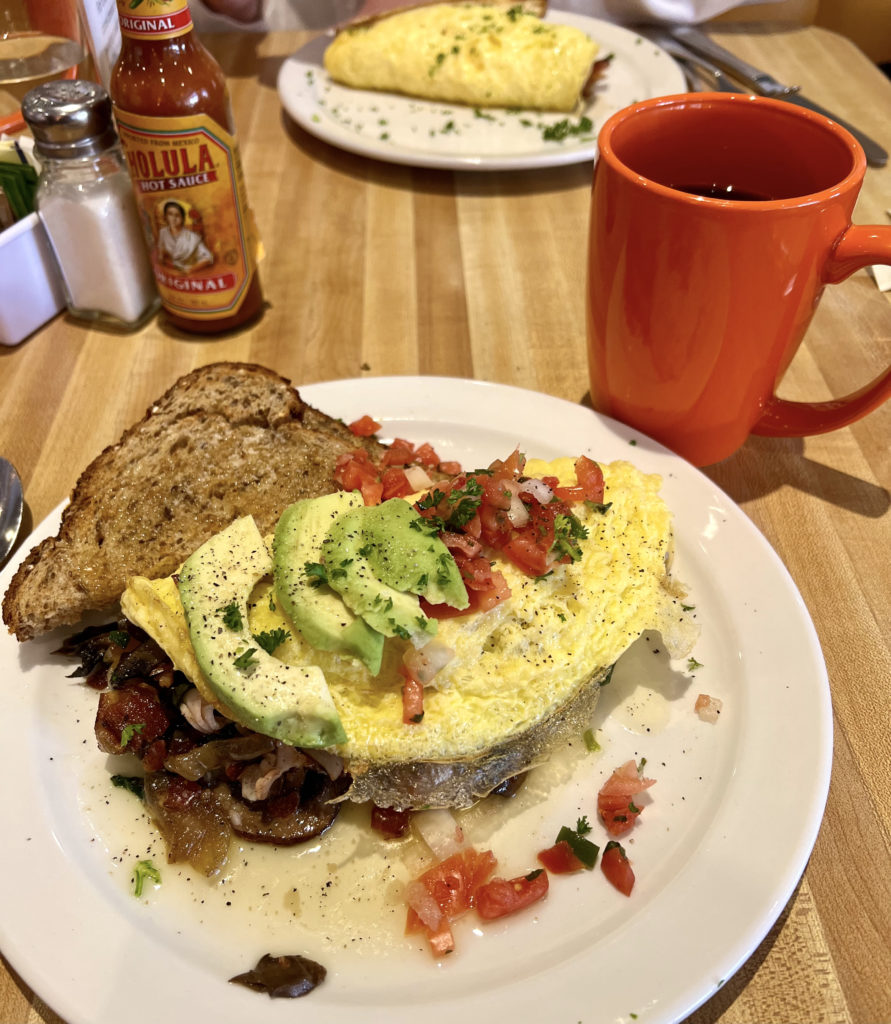 Where To Stay in Boulder
So where should you stay in Boulder while you're sampling all its delicious restaurants?
I usually stay at the Hilton Garden Inn. But they're plenty of good hotels in Boulder all clustered together, including the Hilton Embassy Suites, Hyatt Place, or the Marriott.
For a quirky place, check out the Bradley Boulder Inn. For a splurge, book at the St. Julien Hotel & Spa.
If you are coming to Boulder in the fall, be sure to book months in advance. Boulder is booked up with school move ins and parent weekends at that time.
I hope you've enjoyed my guide to the best restaurants in Boulder. You may enjoy these other United States travel guides and itineraries:
If you'd like to eat your way through the best restaurants in Boulder, pin it for later.