Here's my guide to dining at Black Cat Farm in Longmont Colorado. Black Cat Farm is just outside Boulder. It's the most rustic-romantic restaurant you can imagine.
Dining at Black Cat Farm was the absolute culinary highlight on one of my last Boulder trip. Perhaps it was the singular highlight, especially for a foodie like me visiting a foodie town like Boulder.
Black Cat Farm wasn't just a meal. It was an experience, an intimate farm to table dining adventure on a picturesque rural farm.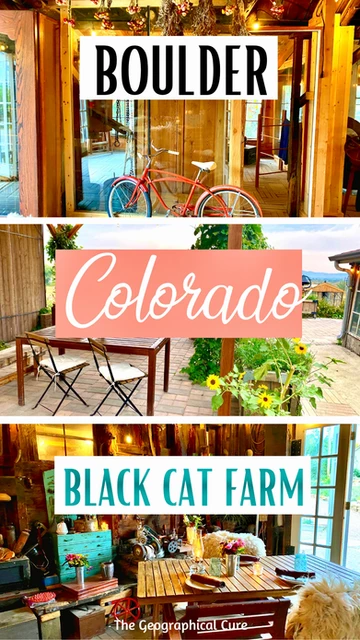 Black Cat Farms served up one of the tastiest meals of my life, in a unique palette and setting. It was reminiscent of eating al fresco at a country restaurant in southern France.
The restaurant rivals a Michelin restaurant, without the stiffness, starchiness, or need to wear fine attire.
Instead, Black Cat Farm features fresh picked hearty cuisine, served up amid farm animals, a beautiful sunset, and candle light. You'd have to be a Scrooge not to be taken with the romantic spot.
History of Black Cat Farm
The Black Cat Farm restaurant is owned by Eric and Jill Skokan, located adjacent to their organic farm in Longwood. It's just 15 minutes outside Boulder. Or, it's a 50 minute drive from Denver.
Black Cat is a year round farm to table operation. It combines a restaurant, a turn of the century organic farm, and farmer's market stand. The owners grew the farm from a backyard garden to more than 425 acres of farmland.
Everything they serve is grown and produced in house. They raise heritage sheep and pigs and grow more than 250 heirloom tomatoes, vegetables, herbs, and grains.
The on-site Black Cat Farm dinners are a recent phenomenon, a rare success story of the pandemic. When the pandemic closed the farm owners' Boulder restaurants, the Skokan pivoted.
The family decided to create a dining venue outside on their farm, set on a dahlia and strawberry covered hillside. They carefully renovated the historic buildings on the property.
Overview of Black Cat Farm Dinners
There's an antique old world feel to the farm restaurant. There's a main dining barn born from an 1883 blacksmith tool house, a chicken coup, greenhouses, and private dining pergolas.
Fairy lights are everywhere. You even have spectacular views of the Front Range Mountains.
Dinner starts promptly at 6:00 pm. We didn't leave until 9:30 pm. You're greeted with a mason jar champagne cocktail upon arrival and escorted to your private dining room.
Inside, the ambiance is enticing. There are private dining rooms chicly decorated with worn plank tables, translucent drapes, sheepskin throws, candles, and fresh cut flowers. There's an open kitchen where you can watch the food being prepared.
Outside are greenhouse-like cabanas for private dining. They're enclosed with glass and stocked with vintage wood stoves for heat in winter. You need to specially reserve the pergolas.
You can walk around the farm and see chickens, ducks, geese, and massive Akbash dogs wandering around. (But oddly no black cats.) There's plenty of time for strolling between courses too.
The Chef
The food is prepared by the self professed "chef-farmer" Eric Shokan. He excels at both driving a tractor and imaging and creating world class meals.
He's also a grieving father. On the evening of July 24, 2020, the Skokans lost their 17 year old son, Kelsey, in a car accident that also injured their son Ian.
The dump truck even plowed into their farmhouse. Boulder rallied behind the farm owners, with go fund me accounts and other support.
In 2020, a wildfire threatened the farm. The staff saved the day, digging fire lines.
The Menu
Black Cat Farm features a fixed "blind" menu priced at $125 per person. It's comprised of what is harvested at the farm the day you dine. The menu is planned the night before.
You won't know what you'll be dining on in advance. It's a charming surprise, with a beautiful and unrushed flow.
In addition to the menu, there is a magnificent wine list and craft beer selections. Many of the wines are from Colorado grown fruit. When a half bottle we ordered was sold out, we were offered a similar full bottle at the same price.
Here was the menu I experienced on September 23, 2021. They promise you three courses but deliver so much more. There are plenty of options for carnivores, vegetarians, and pescatarians alike.
Bread: White Sonoran flour sour dough bread served with butter with carnation petals and coriander flowers.
Appetizer: Roasted eggplant fritters and tomato chutney, served with ginger, olive oil, baby onions, and garlic aromatics. We also received some fresh peaches served with thinly sliced prosciutto and a tasty balsamic vinaigrette.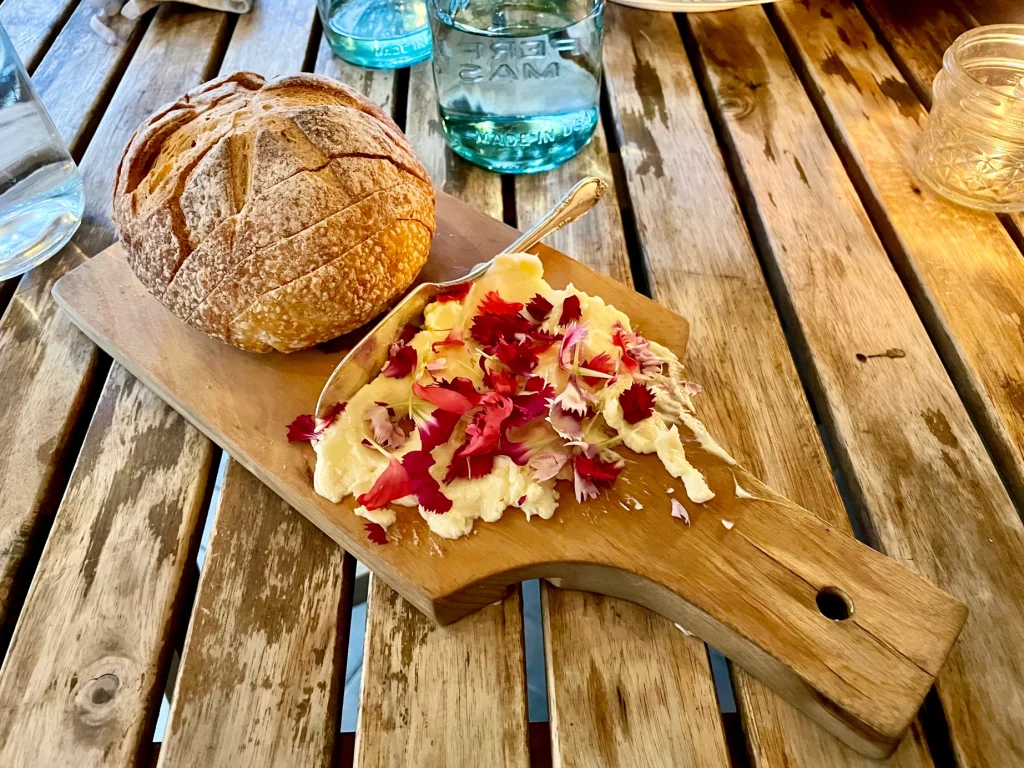 Another appetizer: Blistered shishito peppers topped with citrus and sea salt. This was paired with a lamb ragu braised with tomatos and herbs served with squash, butter cup cheese, and fresh basil.
Salad course: Baby romaine lettuce, gorgonzola cheese, pickled onions, and smoked apple relish topped with a house vinaigrette. It seemed simple, but was delicious.
Entree: Seared Colorado stripped bass on a ragu topped with tomatillo salsa
Sides: Potatoes brava, roasted squash ragu with chickpeas, tomatoes and basil, and sauteed kale with garlic
Dessert: Gateaux Basque and braised pear with sauvignon blanc and chocolate truffles
How do I know all hese details when I'm not a food blogger? Because the wonderfully friendly waitress consulted the chef and wrote it all down for me. (You're not given a written menu.)
The service was also impeccable. I honestly can't wait to go back on my next visit to Boulder.
Practical Information for Visiting Black Cat Farms
Address: 9889 North 51st Street Longmont, CO 80503
Telephone: 303-444-5500
Price: $125 per person, wine and taxes extra. It's a special occasion kind of place.
Reservations: Click here.
Dinner Protocol: Click here for a guide to dinners at the farm. There's so much food you may want to starve yourself in advance.
Dress: Casual. Wear comfortable shoes for trekking around the farm.
More Tips
Right now, Black Cat Farm opens reservations on OpenTable on Monday at 5:00 pm for the next two weeks. Set a timer on your phone to grab a coveted spot.
If you're a cheese monger, before your meal at Black Cat, stop in at the Cheese Importers in Longwood. According to Corrida restaurant in Boulder, where I also dined to my immense satisfaction, this is the premiere cheese shop in the Boulder area. You'll find delicious cheeses, salamis, pasta, and other sweet treats.
Black Cat Farm also has a sister restaurant, Bramble & Hare, located in downtown Boulder just off the Pearl Street Mall. It's a casual farmhouse kitchen and pub. Bramble & Hare features fresh food from the farm with a three course fixed price menu.
The Skokans also have a Black Cat Farm stand at the Boulder County Farmers' Market. It runs from 8:00 a.m. to 2:00 p.m. every Saturday at 13th Street and Canyon Boulevard in Boulder. The Farmer's Market is one of the best things to do in Boulder.
I hope I've persuaded you to visit Black Cat Farm for a magical dining experience. You may enjoy these other Colorado travel guides and itineraries:
If you'd like to have a farm to table dinner at Black Cat Farms, pin it for later.