Scoping out day trip ideas from Lisbon? Here's my guide to the 21 best day trips from Lisbon.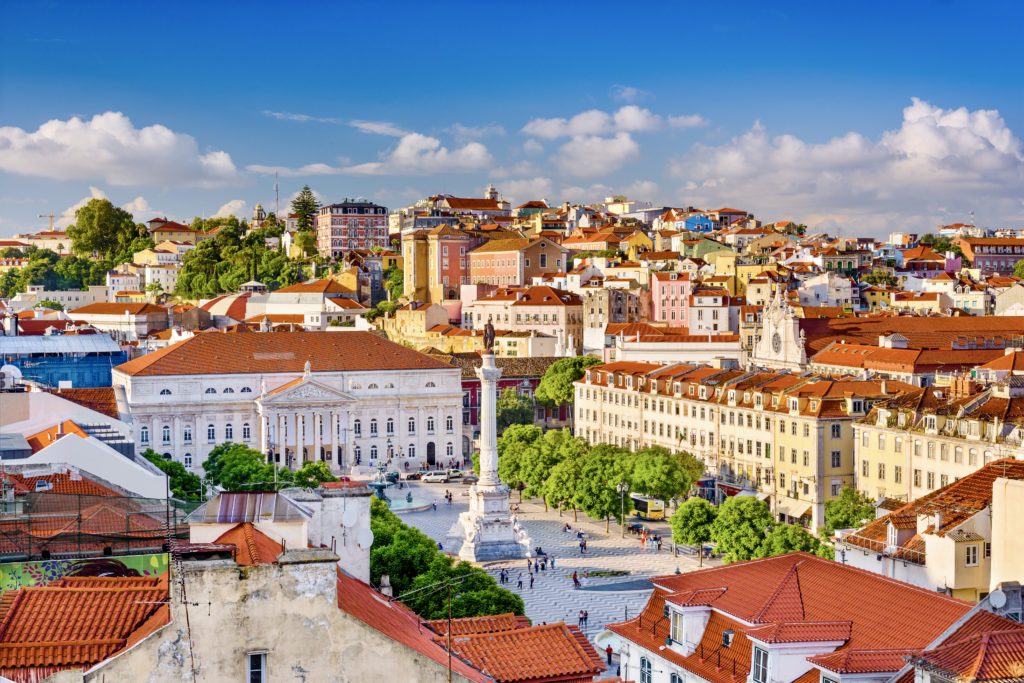 Lisbon is a feast for the eyes, and one of my favorite cities in Europe. With its alluring old world charm, you may never want to leave.
You could stay busy for days there and be perfectly content. But if you want to get out of the city, there are some great day trips and weekend getaways from Lisbon.
You can indulge your passion for cozy villages, UNESCO sites, beaches, and architectural wonders. Whatever strikes your fancy.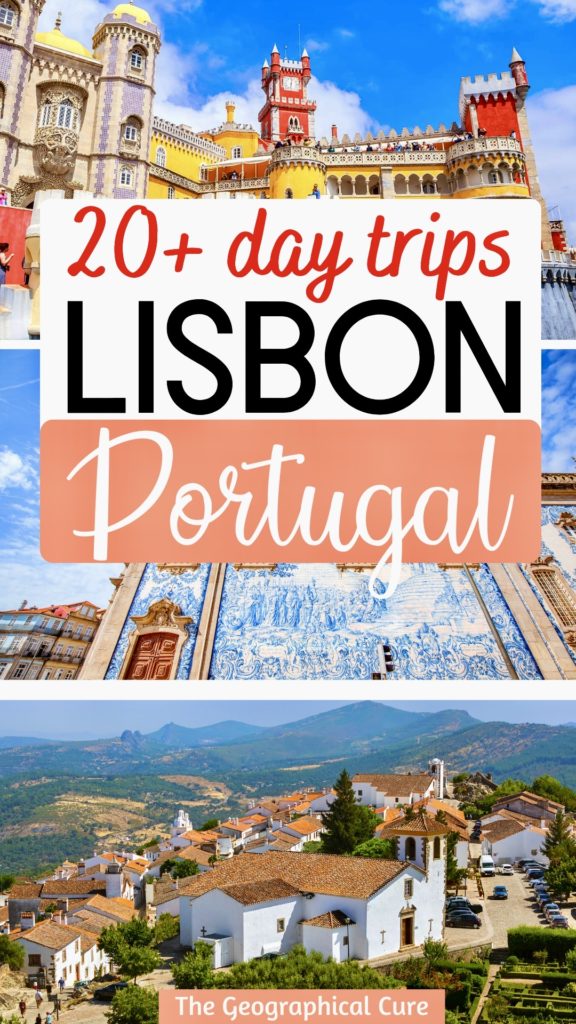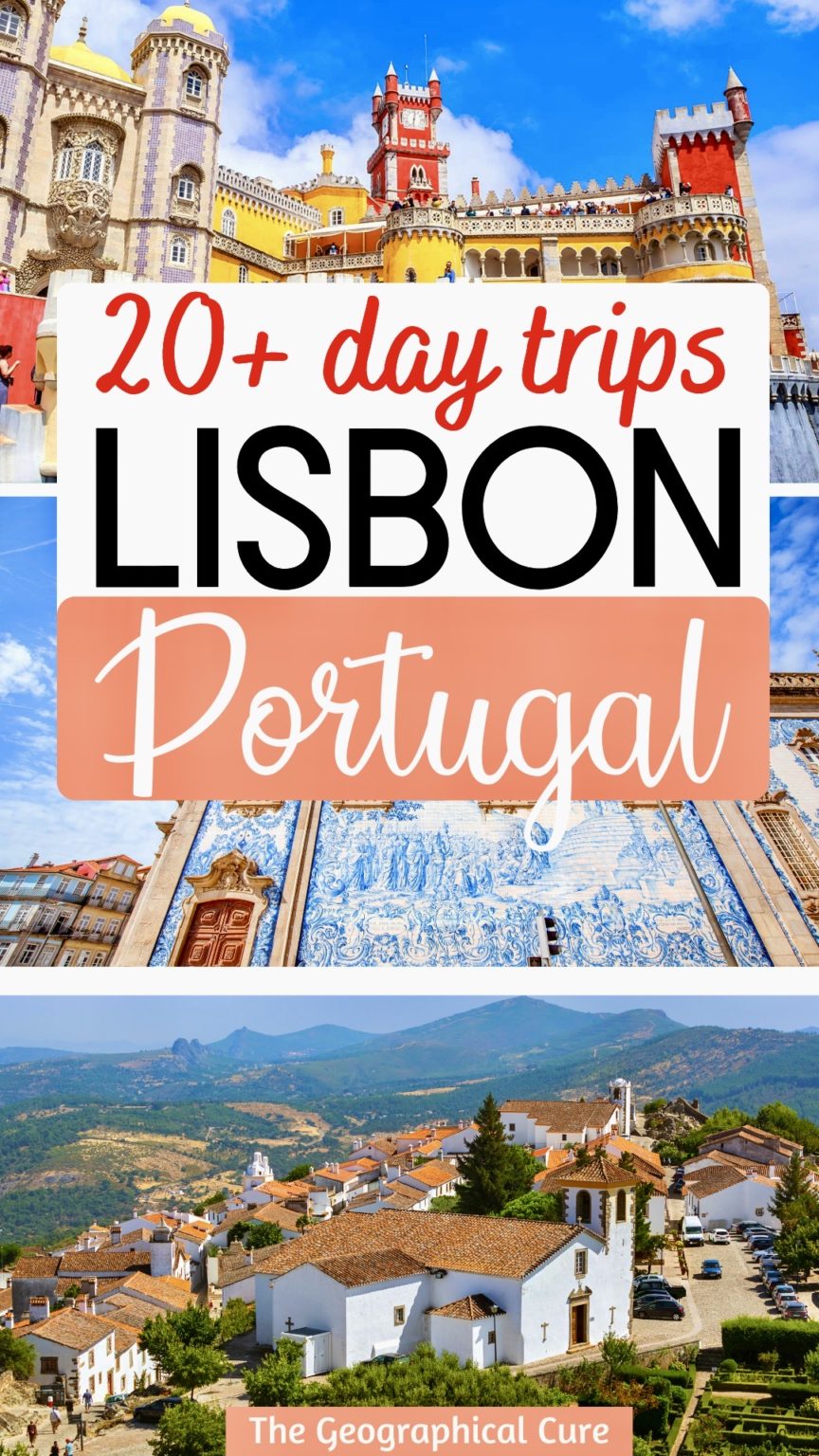 I've found it easiest to drive around Portugal. With a car, you have ultimate flexibility and can sometimes combine a couple sites in one day. Just be sure not to drive into the center of an ancient town. Park on the outskirts.
READ: Tips for Renting a Car and Driving in Europe
You can also visit these by bus, train, and guided tour. I also explain how some of the Lisbon day trip destinations can be combined in a single day for maximum sightseeing punch.
Here's a complete guide to all the train stations in Lisbon. You can click here to check bus schedules for the Rede Espressos buses.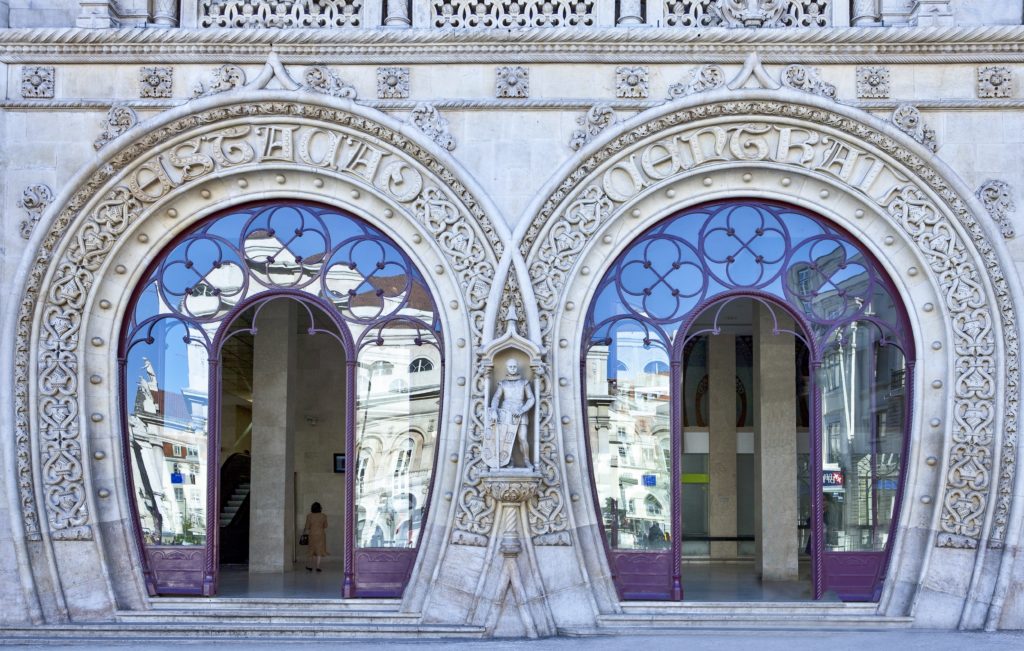 Day Trips From Lisbon At A Glance
Here are the 21 best day trips from Lisbon that we'll explore in this blog post:
1. Obidos
2. Sintra
3. Batalha Monastery
4. Alcobaca Monastery
5. Evora
6. Coimbra
7. Queluz Palace
8. Marvao
9. Cascais
10. Tomar
11. Fatima
12. Aveiro
13. Mafra
14. Conimbriga
15. Monsaraz
16. Abrantes
17. Estoril
18. Montserrate Palace
19. Alcacer do Sal
20. Porto
21. Belem
20+ Best Day Trips and Weekend Getaways From Lisbon
Here's my list of 21 of Portugal's most beautiful towns and destination near Lisbon that make great day trips.
1. Obidos: the Queen's Present
Just an hour north of Lisbon, lies the charming and cobbled Old World cornucopia of medieval Óbidos Portugal. Obidos is the perfect easy day trip from Lisbon.
The town is more laid back than the buzzy tourist town of Sintra. In fact, I think Obidos may be Portugal's most adorable and authentic village.
The dreamy UNESCO town is perched fetchingly on a hill and encircled with stout medieval walls. It's decorated with splashes of blue and yellow paint and filled with bougainvilla-covered whitewashed homes.
You'll be seduced by its beauty and shabby chic romantic aura.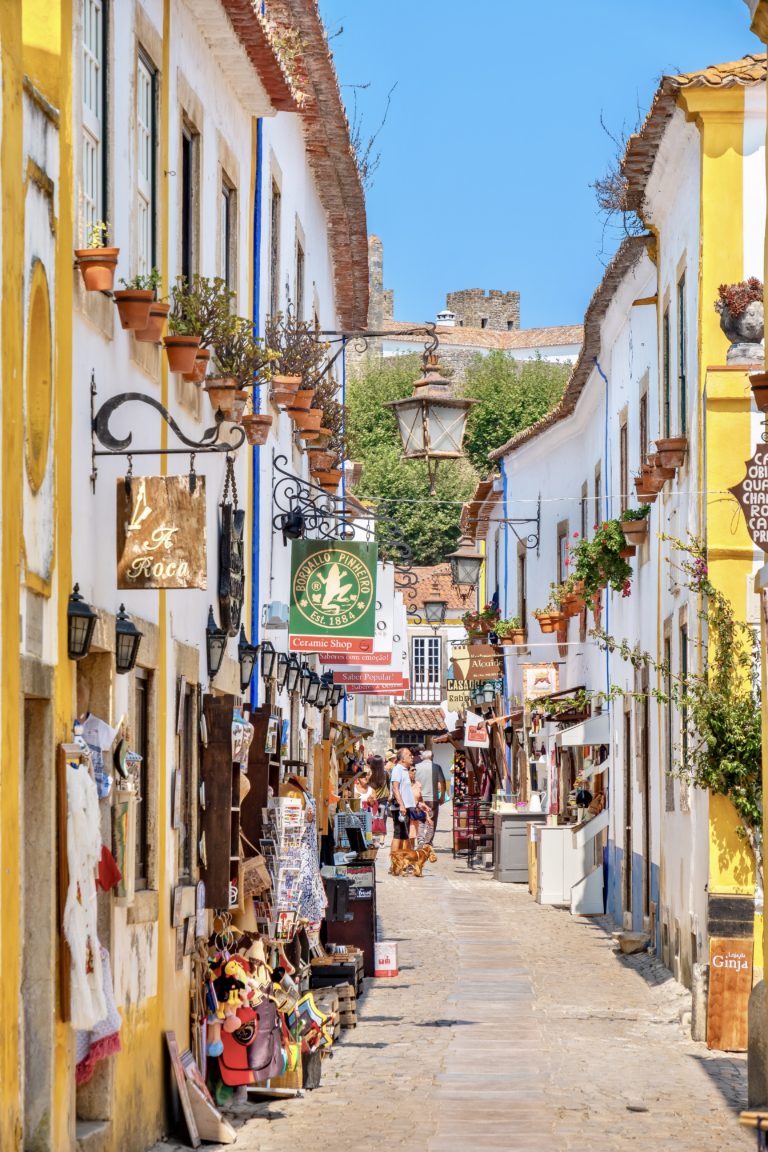 What You Can't Miss In Obidos:
• Rua Diureita: After entering the gate, you arrive at the cobbled main drag, Rua Direita. It runs from the Porta da Vila to Óbidos Castle. It's stuffed with whitewashed buildings, quirky bars and cafes, exquisite shops, and ginjinha stands.
• City Walls: The fortified walls give you stunning views over Obidos' pretty town center and tiled rooftops.
• Obidos Castle: Though the doughty castle is dominates the skyline. The fortress-like castle is one of the seven wonders of Portugal. It's been converted into the luxurious Pousada do Castelo de Óbidos, which is a great place to stay in Obidos.
• Bookstores: Obidos is a UNESCO city of literature and overflowing with adorable bookstores.
• Ginja: Ginja is the local specialty in Obidos, a cherry flavored liquor served in shots. The one from Óbidos is renowned for its quality and strength and is typical served with chocolate.
How To Get To Obidos From Lisbon:
Obidos is a one hour drive from Lisbon. There are car parks outside the town.
An express bus service leaves from the Campo Grande bus station in Lisbon. The train is not a good option because it takes 2 hours.
Taking a guided day tour is a great way to explore Obidos as well and makes logistic easier. This full day trip tour from Lisbon takes you to Obidos, Fatima, and Nazare. This full day tour also includes Batalha Monastery.
2. Sintra Portugal: UNESCO Palaces Galore
Sintra Portugal is the most popular day trip from Lisbon. It's rock star glamorous town that never fails to seduce.
Sintra has ancient castles and unforgettable palaces galore. It's dazzling, colorful, and romantic. Even the town itself is quaint, filled with artisan shops, and well worth exploring.
Sintra packs a punch and delivers on its hype. But it's chaotic and a tad overexposed. There's a lot to see and do there on a day trip from Lisbon.
You'll need to have a plan of attack to see everything efficiently. There are castles, convents, parks, and nearby quaint villages and beaches. You may feel cheated with just one day in Sintra.
What You Can't Miss In Sintra:
• Quinta da Regateira: This is my favorite palace in Sintra. It's divine and bewitching, a misty Gothic building seeped in opulence and mysticism and set amid leafy palms and hot pink bougainvillea.
• Pena Palace: The romantic and colorful Pena Palace is a must see Sintra site, one of the seven wonders of Portugal. Built by King Ferdinand II, it's a Disney-like mishmash of architectural styles that still dazzles.
• Moorish Palace: The Moorish palace is a 9th century fortress-castle that offers the best views in Sintra. It's a hike up to the ramparts, but well worth it.
• Sintra Historic Center: The town is lovely. There's not an abundance of food. But you can wander the cobbled streets and snap up some souvenirs.
• Sintra National Palace: Dominating the old town, this is Portugal's oldest palace. The 800 year old edifice, with superb decorations from the Manueline period. The patio has a stunning grotto with walls faced in azulejo tiles.
How To Get To Sintra From Lisbon:
You can drive, park outside the town, and walk into the town.
Alternatively, you can take the 434 train from Rossio Station in Lisbon and walk 15 minutes into town from Sintra's train station.
If you'd understandably want to go on an organized tour for this must see city, here's an excellent full day trip to Sintra from Lisbon tour.
Sintra can be combined with: nearby Monserrate Palace, a beautiful palace just 10-15 minutes away, or with Queluz Palace, which I discuss below.
3. Batalha Monastery: A Gothic Masterpiece
If you are on the monastery trail in Portugal, take a day trip from Lisbon to Batalha. In Batalha, you'll be dazzled by the Dominican Monastery of Santa Maria de Vitoria.
The ornate UNESCO-listed complex has Gothic and Manueline elements. Building began in 1388 and continued for centuries.
The historic structure was built to celebrate a pivotal 1385 battle, when Portugal overcame the mighty Spaniards in the Battle of Aljubarrota.
The monastery and its church, the symbol of Portugal's national pride, were built by Portugal's prolific builder King Joao I, whose tomb is inside.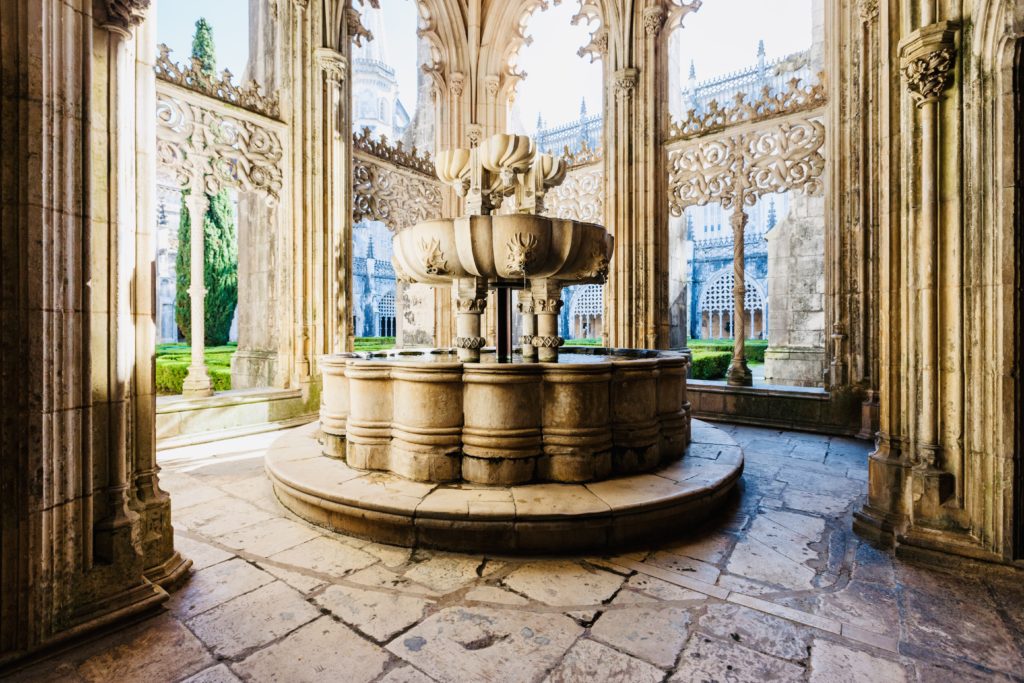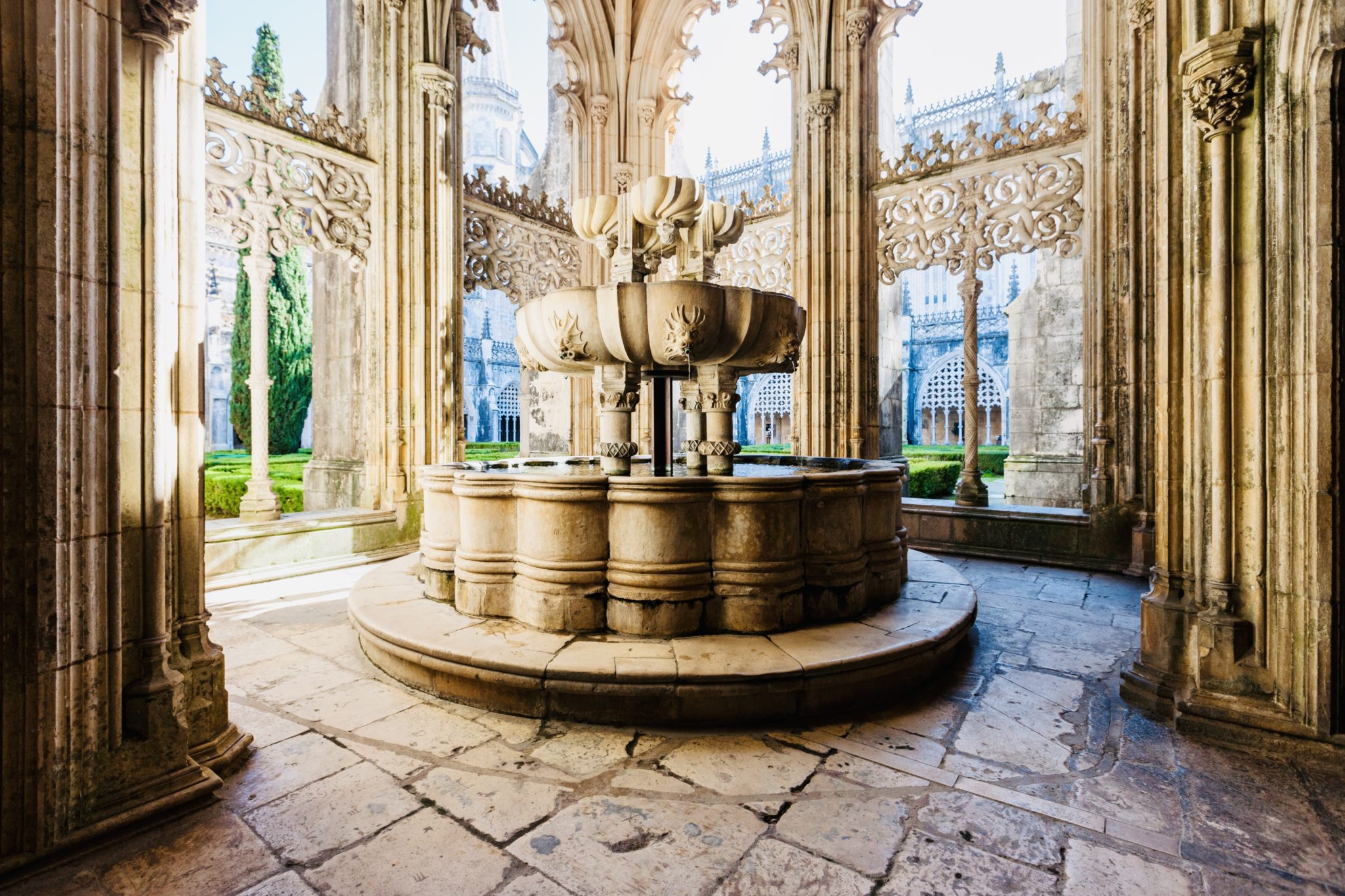 Characteristic of Gothic-Manueline architecture, you'll be delighted by the intricate carved floral and marine elements. The monastery is a must see for lovers of architecture, history, religion, or warfare.
You can visit the church for free, but must pay to see the beautiful cloisters.
How To Get To Batalha Monastery From Lisbon:
It's a 1.5 hour drive from Lisbon. It's over 2 hours by bus from Lisbon's Sete Rios station.
You can also book a guided day trip from Lisbon that includes both Batalha and Alcobaca monasteries.
Batalha can be combined with: Fatima, Obidos, or Alcobaca Monastery
4. Alcobaca Monastery: Portugal's First Gothic Building
If you love history or architecture, the UNESCO-listed Alcobaça Monastery is a must see site in Portugal. Alcobaca is a pretty town on the Silver Coast.
It lies between Coimbra and Lisbon and can be accessed as a day trip from either city or visited en route between them.
The town is dominated by the austere and atmospheric 800 year old Monastery of Santa Maria de Alcobaça. It's the largest Gothic religious structure in Portugal.
Alcobaca is one of Europe's oldest and best UNESCO sites. Alcobaça is a 12th century masterpiece of Gothic Cistercian art. Its vaunted architecture and history are bewitching.
I found it more beautiful and compelling than the vastly more crowded Jeronimos Monastery outside Lisbon. Inside, you'll fine the ornate tombs of King Pedro I and Ines de Castro, Portugal's own star crossed Romeo and Juliet duo.
How To Get To Alcobaca Monastery From Lisbon:
It's about a 1:20 minute drive from Lisbon. There's a parking lot in front of the monastery. It could be full in high season. If so, just park on a street nearby.
If you'd prefer to take a guided tour, this 8 hour full day trip from Lisbon covers Alcobaca, Obidos, and other monasteries.
Alcobaca can be combined with: Fatima, Batalha, Obidos, or Coimbra.
5. Evora: Strategic Roman Town
The UNESCO-listed town of Evora is a wonderful day trip from Lisbon. The attractive town is tucked away in the Alentejo region of central Portugal.
Evora was untouched by the great earthquake of 1755 and its historic center is well preserved.
Evora is topped by a grand 14th century cathedral, commonly refered to as Evora Cathedral. While not particularly pretty itself, it's worth it to go inside just for the beautiful vistas over Evora from its balcony.
The star of Evora is an ossuary, the Chapel of Bones, attached to the large Royal Church of St. Francis. Franciscan monks slaved away in the early 17th century building this unusual site when cemeteries were overflowing.
Evora was also an important Roman town, lying on a trade route to Rome. In Evora's center, you'll see 14 Corinthian columns rising to the sky.
What You Can't Miss In Evora:
• Praca do Giraldo: This is Evora's atmospheric main square. Sit in the sun and watch the world go by, preferable while sipping a suitably chilled beverage. You can admire the 16th century fountain and the Church of Santo Antao.
• Historic Center: Evora is a maze of cobbled streets where you'll easily get lost. Around each corner, there's a piece of exceptional Gothic, Renaissance, or Manueline architecture.
• Igreja de São Francisco: This Gothic-Manueline Church dates from the years of Manuel I and Joao II. As a result, it has some beautiful Manueline decorations.
• Chapel of Bones: But the highlight of São Francisco is the Chapel of Bones. 17th century monks created this chilling chapel to solve the problems of overflowing cemeteries. The bones and skulls of 5,000 people line the chapel.
• Evora Cathedral: Guarded by rose granite towers, Evora's fortress-like medieval cathedral boats fabulous cloisters and religious relics.
• Roman Temple: The temple, erroneously dedicated to Diana, is regarded as the best preserved Roman ruin in Portugal.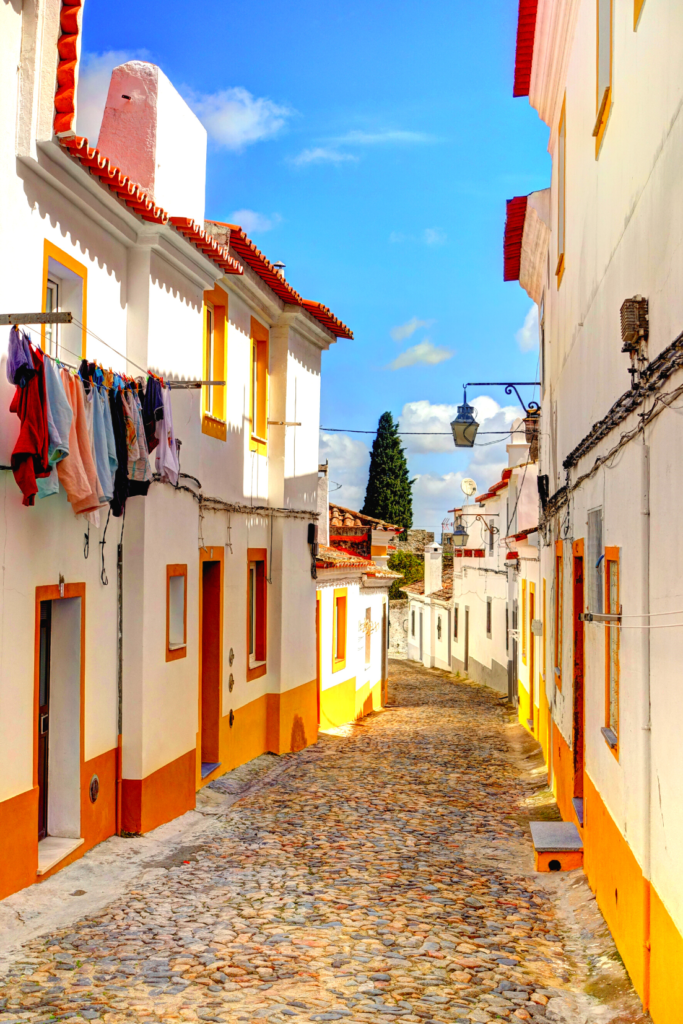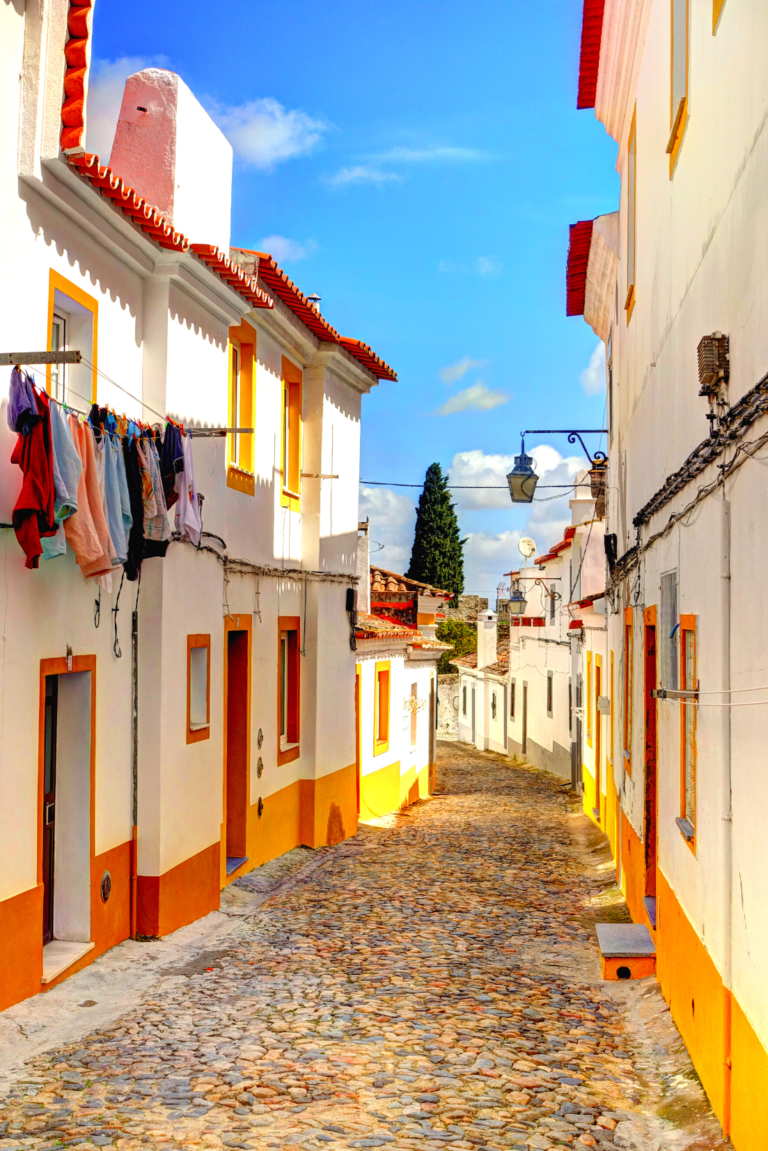 How To Get To Evora From Lisbon:
Evora is a 2 hour drive from Lisbon, the best way to get there. There's free parking right outside the historic center. Four trains per day go to Evora.
Evora's train station is a beauty, decorated with azulejos. It's a 20 minute walk into the town center.
If you'd rather take a guided day tour from Lisbon, click here to book one.
Evora can be combined with: Monsaraz, a stunning town just 50 minutes away. which has spectacular pottery. It's whitewashed homes nestle in a hill topped by Monsaraz Castle.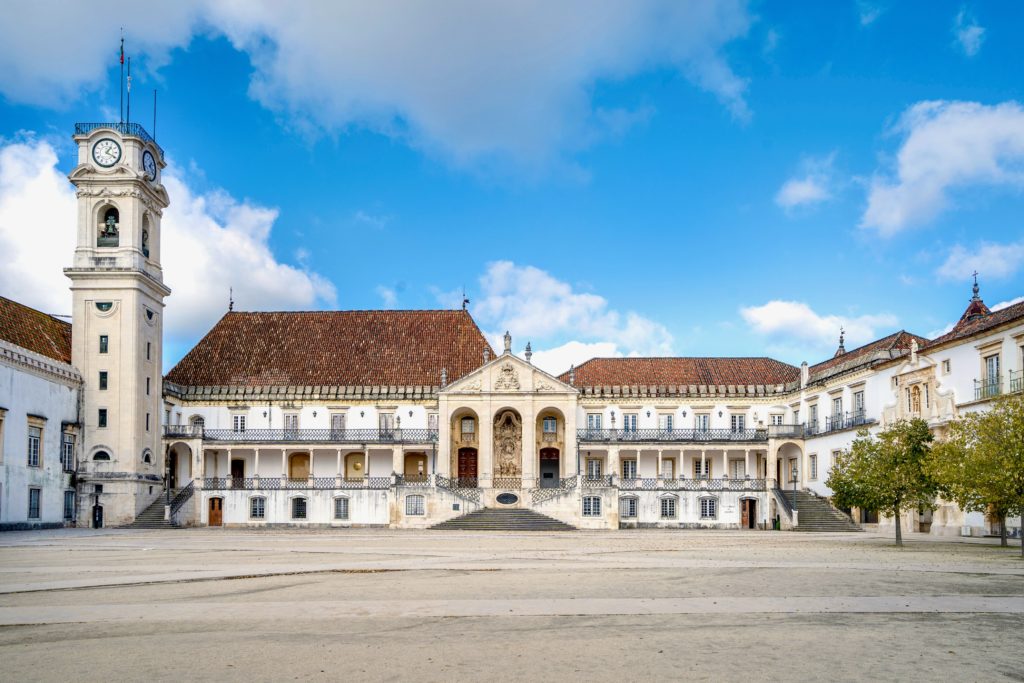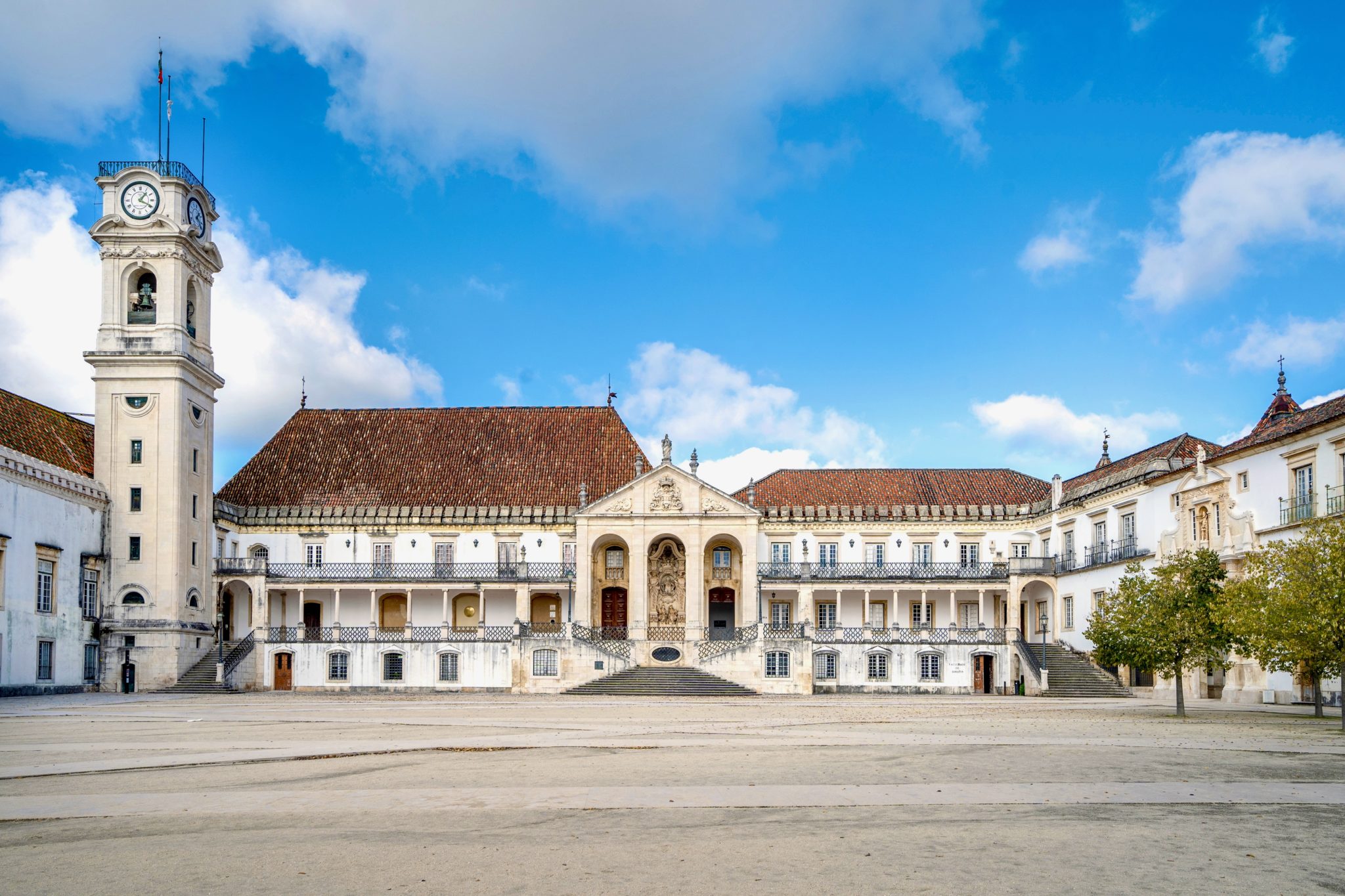 6. Coimbra: The "Athens of Portugal"
Coimbra is an atmospheric town that should definitely be on your Portugal. bucket list. Known as the "Athens of Portugal," Coimbra has a melancholy beauty all its own.
Coimbra has its own pottery style, its own version of Fado, the oldest library in Portugal, and an attitude. It's a stylish place, where black caped students, tony cafes, and ancient monuments all blissfully co-mingle.
The star of Coimbra is its UNESCO-listed Coimbra University. Perched on the town's hilltop, it's one of the oldest universities in the world, older than Oxford University. It boasts some of the most ornate, richly decorated buildings of any university.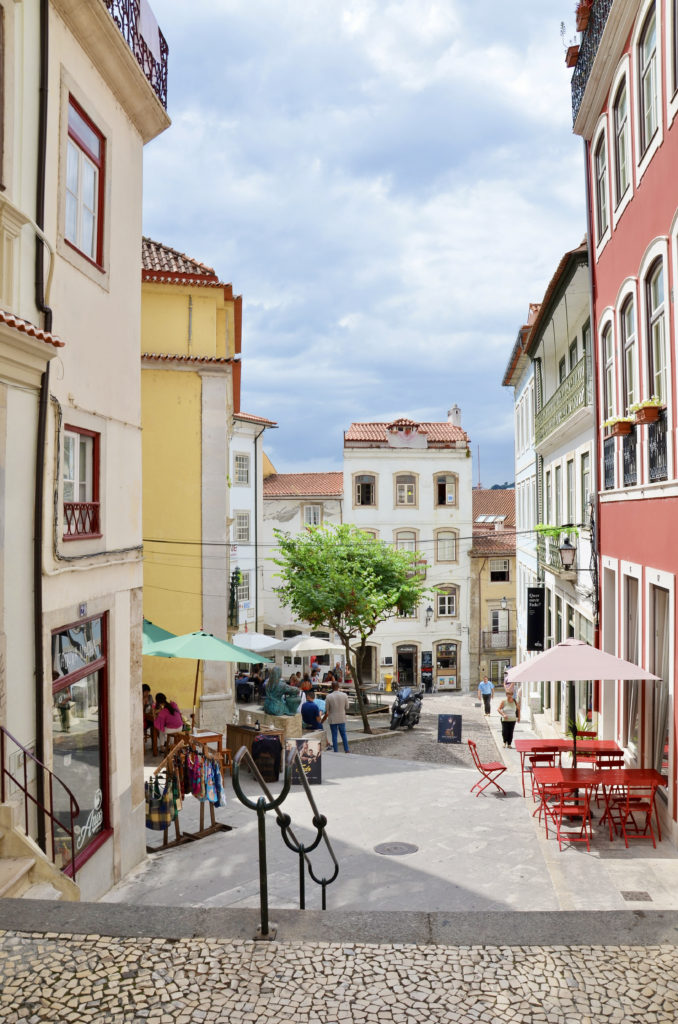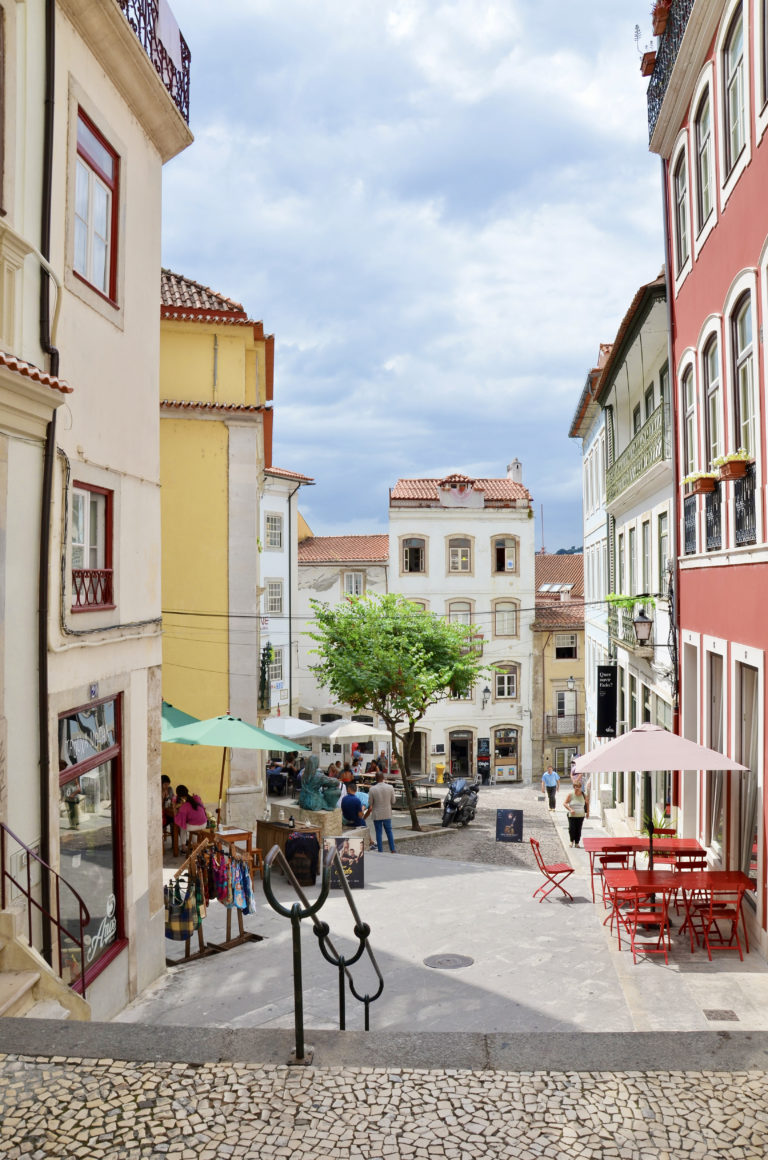 What You Can't Miss In Coimbra:
• Coimbra University: Be sure to see the Royal Palace, the Hall of Great Acts, the Private Exam Room, and the glorious Baroque Joanina Library. Climb the 18th century bell tower for panoramic views.
You can also book a guided tour of this magnificent UNESCO site. Or book a private tour here.
• Coimbra's Old Cathedral: The austere 12th century Sé is Portugal's finest example of Romanesque architecture. The Sé has a crenellated fortress-like exterior and narrow slit-like lower windows. There's also a delightful 13th century Gothic cloister.
• Monastery of Santa Clara-a-Velha: This 17th century Gothic convent was founded in 1330 by the saintly Queen Isabel.
• Coimbra pottery shops: Stop in at Carlos Tomás Studio to inspect the unique style of Coimbra pottery.
• Santa Cruz Church: This grand church sits in a lovely square, Praca 8 de Maio. It was founded in 1131 by the canons of St. Augustine. The interior has beautiful blue and white azulejo tiles, which line both sides of the church.
How To Get To Coimbra From Lisbon:
Coimbra is a 2 hours drive from Lisbon on the A1. High speed trains run every hour, taking 2 hours. You can also book a 9 hour guided day trip from Lisbon to Coimbra.
Coimbra can be combined with: Coimbra really merits an entire day. The best attraction to combine it with is the Conimbriga Ruins, just 30 minutes away.
Coimbra also makes a good base in Portugal. From there, you can easily access Tomar, Batalha, Alcobaca, or Aveiro.
7. Queluz National Palace: the "Versailles of Portugal"
Often referred to as Lisbon's Versailles, this gorgeous 18th century palace is located 15 minutes from either Lisbon or Sintra. It's a national monument and hidden jewel-like gem in Portugal.
In 1747, Dom Pedro III (then prince regent) commissioned an architect to transform his hunting lodge into a swishy Rococo residence. Queluz Palace was later extended to add a pavilion, gardens, a throne room, and music room.
Dom Pedro lived there with his wife Maria. But there history is sad. Maria reputedly suffered from severe bouts of melancholy. When her son Jose died of smallpox, she went mad, suffering hallucinations and was confined to the palace.
The palace facade is stately and sober. It overlooks the spectacular Neptune's Fountain. The formal gardens were decorated with mythological statuary and used for entertaining. There's also a canal decorated with azulejos depicting the royal family.
The highly decorated interiors are stunning. The highlights are the Ambassadors Hall, the Throne Room, and the Music Room. Click here to purchase skip-the-line tickets for the palace.
How To Get to Queluz Palace From Lisbon:
Queluz is located between Lisbon and Sintra. It's a 20 minute drive from Lisbon. The train ride from Rossio Station is 20 minutes, with a 15 minute walk from Queluz train station.
Queluz Palace can be combined with: Sintra, although it's best done as a day trip from Sintra or Lisbon.
8. Marvao: Hidden Gem in the Alentejo Region
Marvao is a scenic medieval hamlet that's a wonderful day trip from Lisbon. It's got a dramatic setting, on a craggy escapement facing Spain.
Marvao was formerly an impregnable stronghold occupied by the Romans, the Moors, and then the Christians.
The city walls enclose a collection of whitewashed sugar cube homes. The village is dominated by the well preserved Marvao Castle. It was built by King Dinis in 1299 to help push out the Moors.
Now, there's an artist's shop inside. This is a proper castle indeed, with breathtaking views.
What You Can't Miss In Marvao:
• Marvao Castle: Built by King Dinis in 11299, Marvao Castle is a perfect example of a crusader era medieval castle. It's impressively set among granite mountains.
• Marvao Museum: The museum is housed inside St. Mary's Church. It houses quirky artifacts, including archaeological finds from Paleolithic to Roman times.
How to get to Marvao from Lisbon: The easiest way to get to Marvao is by car. It's a 2.5 hour drive.
Marvao can be combined with: Marvao is pretty remote. But the pretty spa town of Castelo de Vide is just 20 minutes away. It's a better spot to find restaurants and such.
9. Cascais: Beachy Paradise
Only 19 miles from Lisbon, Cascais is an incredibly beautiful place, dressed in blues and yellows. If you want a nice beach to sunbathe, it's the perfect day trip from Lisbon.
Cascais boasts some incredible beaches nearby — Carcavelos Beach and Guincho Beach.
In addition to its pristine white beaches, Cascais' historic town center is quite pretty. It's home to 19th century villas of the Portuguese nobility.
If you're an art lover, there's plenty of museums and other artsy enclaves. It's also a culinary delight.
What You Can't Miss In Cascais:
• Cascais Fortress: The Cidadela de Cascais is a 15th century fortress. It sits on a promontory overlooking the bay and harbor, offering up lovely views. The fortress is now home to a Pousada and fashionable restaurants.
• Condes de Castro Museum: This museum is housed in a Revivalist style mini-palace. The sumptuous interior displays paintings, decorative arts, period furniture, and ancient artifacts.
• Boca do Inferno: This is the most visited site in Cascais. It's a scenic spot where white waves tumble through a gorge.
• Parque Marechal Carmona: Pretty park in Cascais, the perfect place for a stroll amid peacocks and turtles.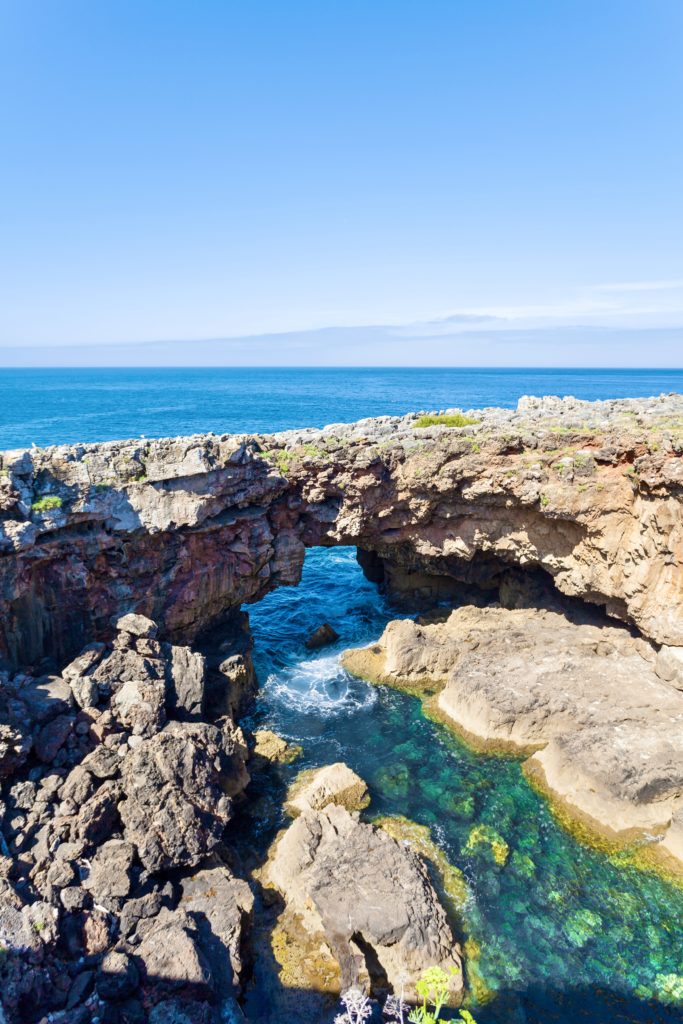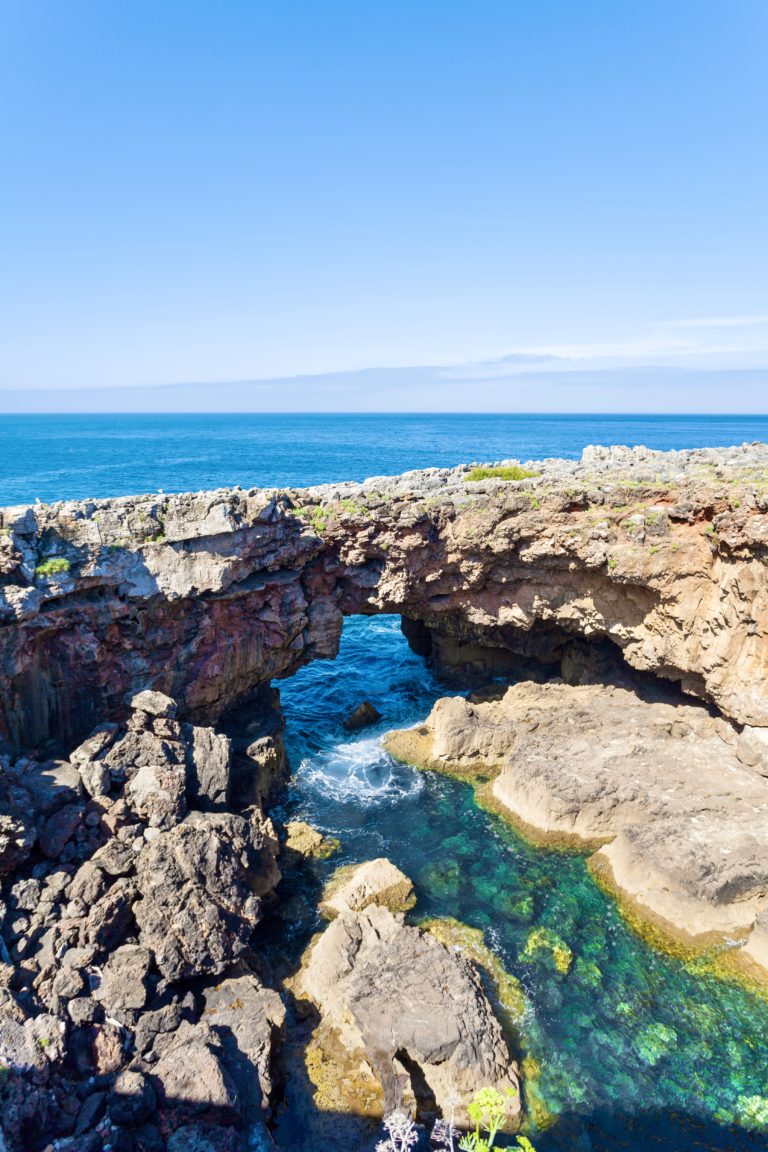 How To Get To Cascais From Lisbon:
Cascais is a 35 minute drive from Lisbon. Use one of the public car parks.
Trains leave frequently from Lisbon's Cais do Sodre train station, which is connected to green line metro. Get off at the last stop, Cascais Station. Once there, you can book a ticket on the Sintra-Cascais hop on hop off bus.
You can also visit Cascais on a guided day trip tour from Lisbon, along with Sintra.
Cascais can be combined with: Estoril, another resort town with gleaming white sand beaches, is only 15 minutes away.
10. Tomar: Architectural Wonderland
Often overlooked, Tomar is hidden away in central Portugal. And it's a great day trip from Lisbon.
Tomar is a history buff's paradise. For 700 years, Tomar was the headquarters of the Knight's Templar, an elite crusading force. They were later renamed the Order of Christ.
As such, Tomar boasts one of Portugal's most important buildings — the complex of the Convent of Christ. As an ancient building, it has Gothic, Renaissance, and Manueline architectural elements. It became a UNESCO site in 1983.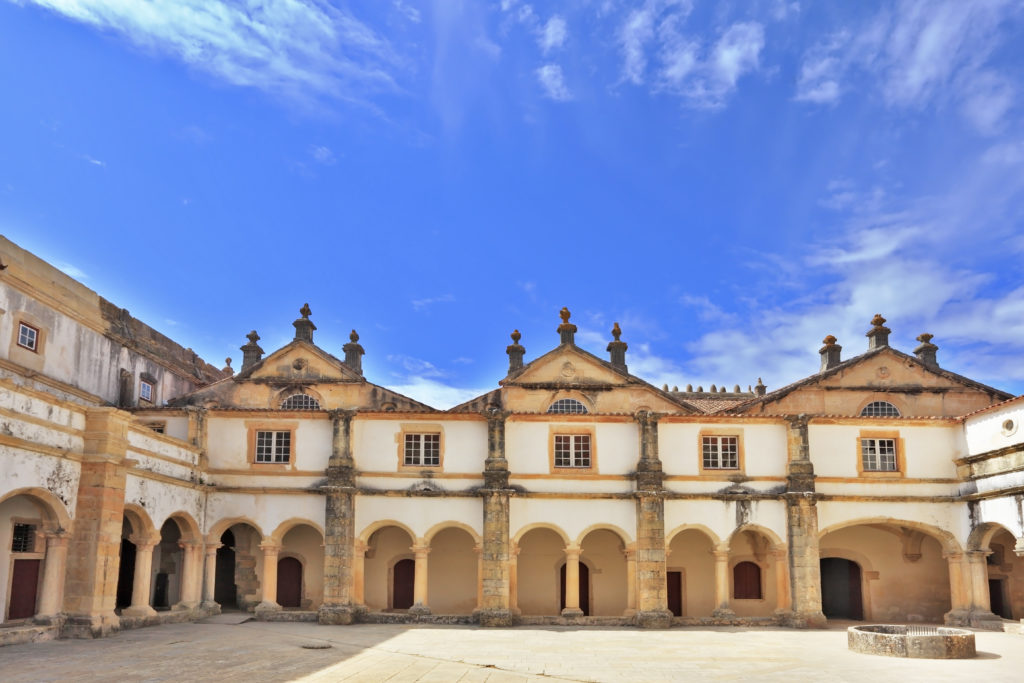 Tomar itself is also charming, sliced in two by the Nabao River. The main square is Republic Square.
It's filled with lovely homes, a 15th century church, and a black and white checkerboard pavement.
Head down the Via Rea de Serpa Pinto for a picturesque stroll of the town. Try one of Tomar's special sweets, Beija-me Depressa (kiss me quick).
What You Can't Miss In Tomar:
• Convent of Christ: Founded in 1160, the UNESCO-listed convent is a magnificent complex consisting of a medieval castle, churches, and Manueline cloisters.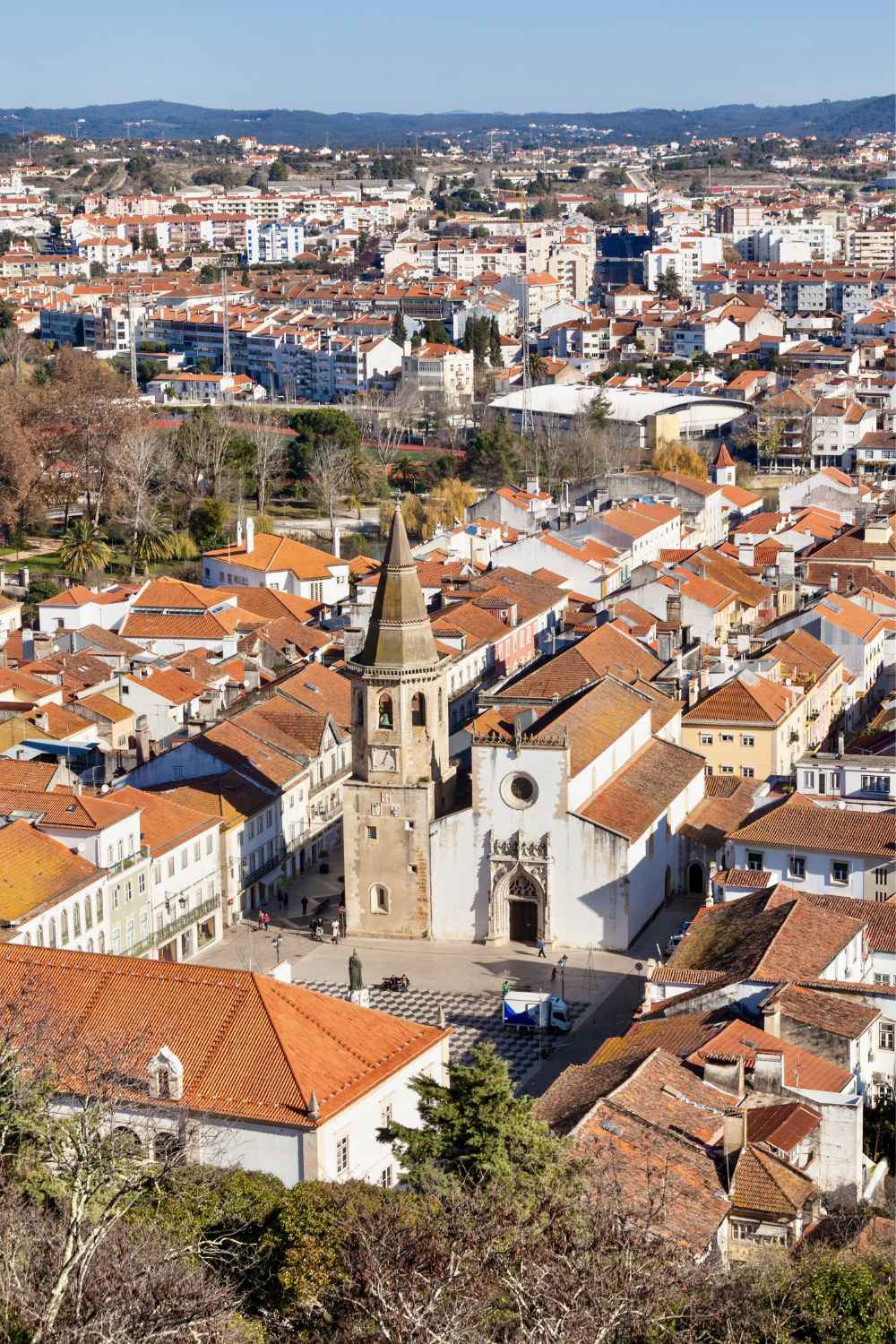 The Templar Church has a massive Gothic nave, ornate ribbed vaulting, and an intricate altar. You can book a small group guided tour or a private tour of the convent.
• Basilica Nossa Senhora da Conceicao: This is a beautiful 16th century basilica on the slopes of a hill. It's the oldest medieval cathedral in Portugal. The interior boasts three towering naves, Corinithian columns, and Manueline designs.
• Pegoes Aqueduct: Dating from the 17 century, this is a four mile aqueduct that was used to transport water from Pegoes to the Convent of Christ.
• Tomar Synagogue: This 15th century building is also a Portugeuse national monument.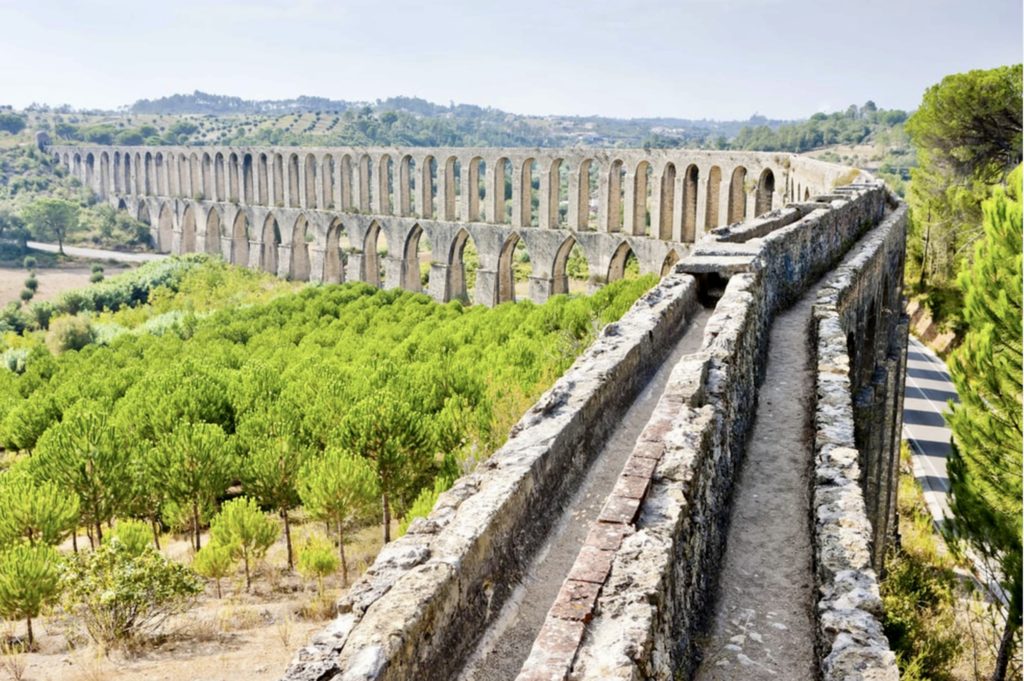 • Tomar Castle: This castle was the headquarters of the Knights Templar, the most important Portuguese military building from the 12th century. The castle walls actually wrap around the convent and are adorned with the Cross of Malta and other arcane symbols.
How To Get To Tomar Fom Lisbon:
To day trip from Lisbon to Tomar, it's a 1:30 drive on the A1 and IC9. You can also take a 2 hour train ride from Lisbon's Santa Apolonia and Oriente stations.
You can also book a full day guided day trip from Lisbon.
Tomar can be combined with:
A visit to the nearby Almourol Castle, a hidden gem on an island of the Tagus River just 20 minutes from Tomar.
You can also combine Tomar with a visit to Portugal's other must see architectural/religious sites: Fatima, Batalha, or Alcobaca.
11. Fatima: Modern Religious Architecture
The tiny town of Fatima, like so much else in Portugal is steeped in legend. This particular legend holds that three shephard children saw visions of Mary, the so- called Marian Apparition.
They returned to the same spot and learned three secret prophecies. The final one was stored in the Vatican until 2000.
From 1928-54, the Sanctuary of Our Lady of Fatima was built on the miraculous site. It's now a popular pilgrimage stop for Catholics. The architecture is impressive with a sweeping circular courtyard, a basilica housing the children's tombs, and the chapel of apparitions.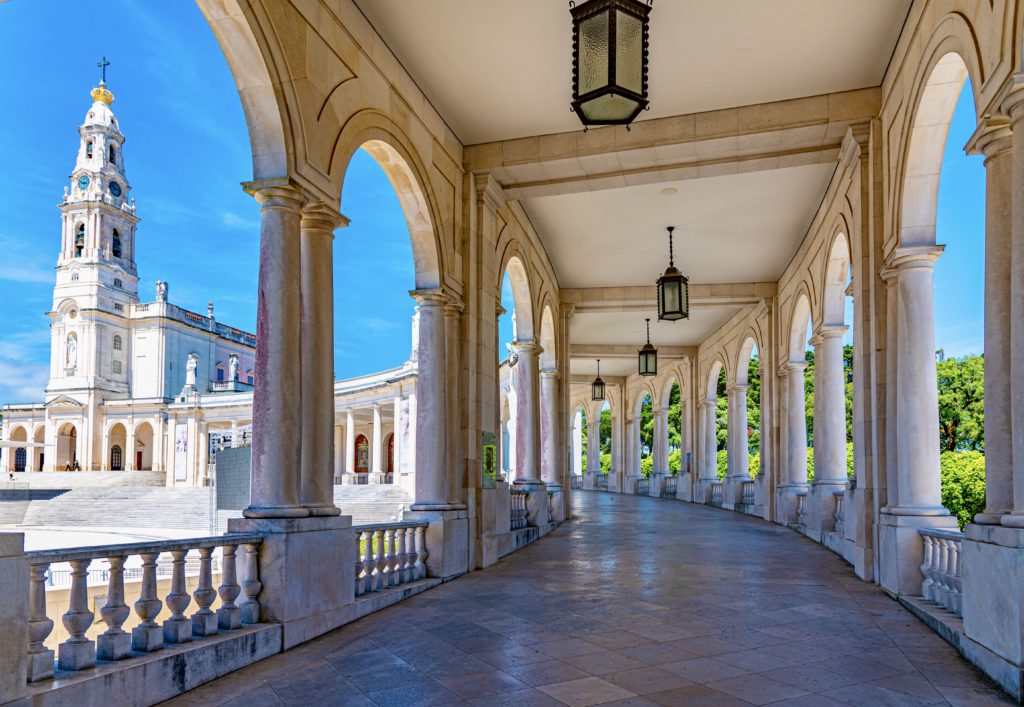 How To Get To Fatima From Lisbon:
Fatima is a 1.5 hour drive from Lisbon on the A1. Rede Express buses run from Lisbon's Sete Rios station, taking about 90 minutes.
There are no train stations in Fatima. You can also book a guided tour from Lisbon.
Fatima can be combined with: Batahla or Obidos. Or channel your inner paleontologist and visit the Natural Monument of Dinosaur Footprints, Pedreira do Galinha.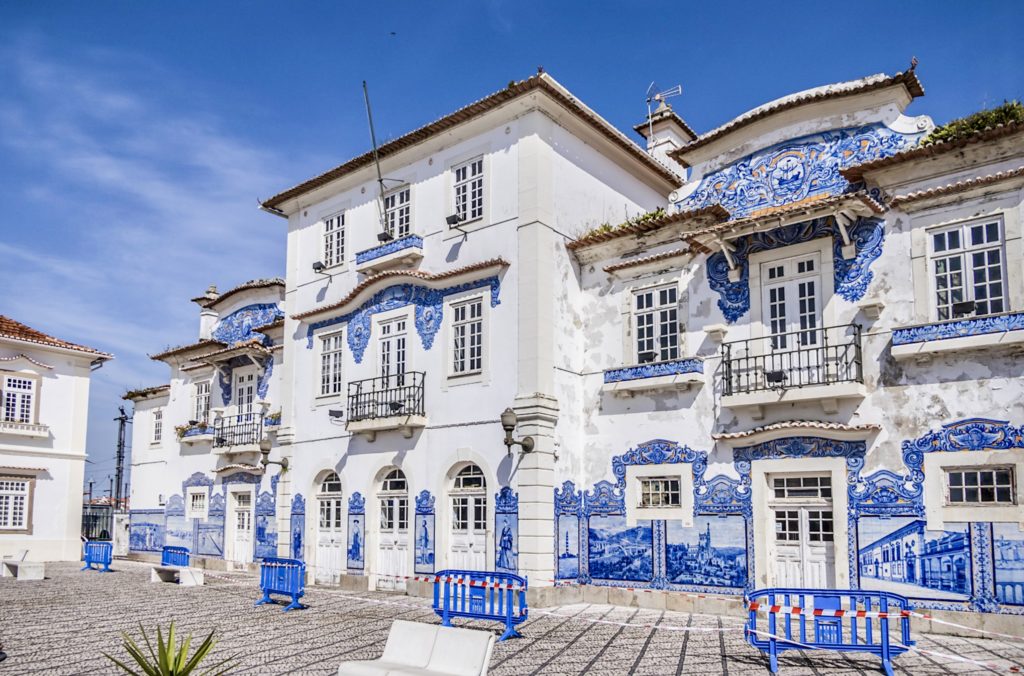 12. Aveiro: Art Nouveau Lagoon Town
On the shore of a lagoon, Aveiro is a popular stop on the way from Lisbon to Porto.
Aveiro is a buzzy town with Art Nouveau architecture and plenty of tony eateries. If you're arriving by train, you'll be dazzled by the old train station adored with azulejo tiles.
Aveiro is occasionally dubbed the "Venice of Portugal" (which is an exaggeration) thanks to its small network of canals. Italians use gondolas, but Aveiro has moliceiros – colorful boats formerly used for seaweed-harvesting now used cruising tourists.
Stroll down the lovely patterned streets, enjoy the pretty pastel architecture, and wile away time in one of Aveiro's cute eateries.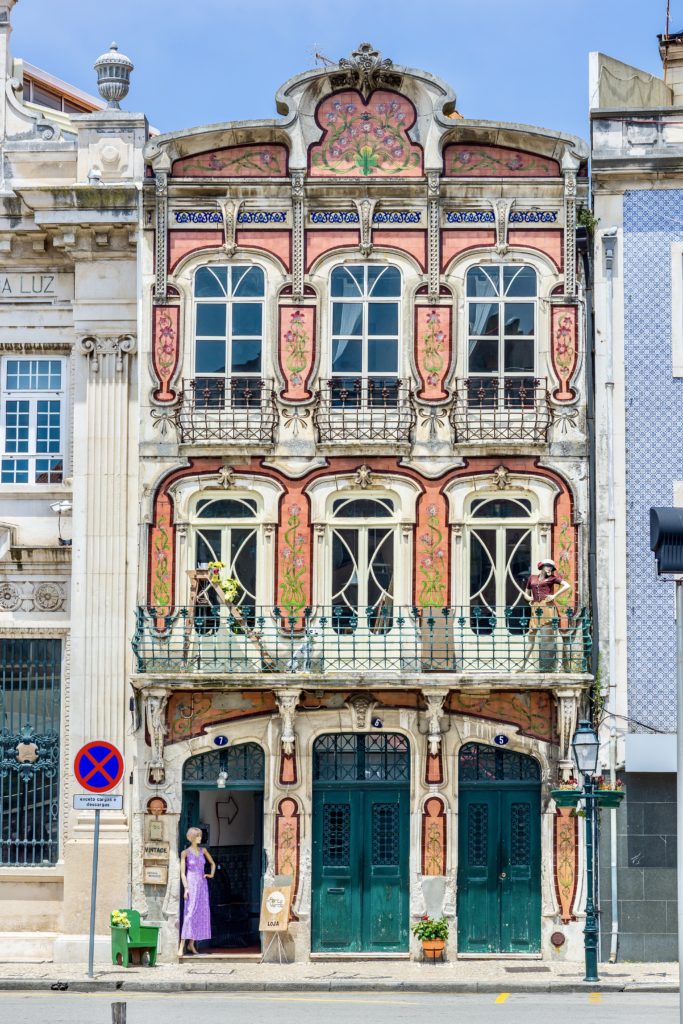 What you can't miss in Aveiro:
• Canal ride in a moliceiro: You can take a canal ride in one of Aviero's colorfully decorated gondolas. The rides last 45 minutes and, from the boat, you can see some of Aveiro's landmarks.
• Igreja da Misericórdia de Aveiro: A pretty 16th century church completely tiled in blue and white azulejos.
• Mosteiro de Jesus: Built between the 15th to 17th centuries, this is Aveiro's prized historic monument.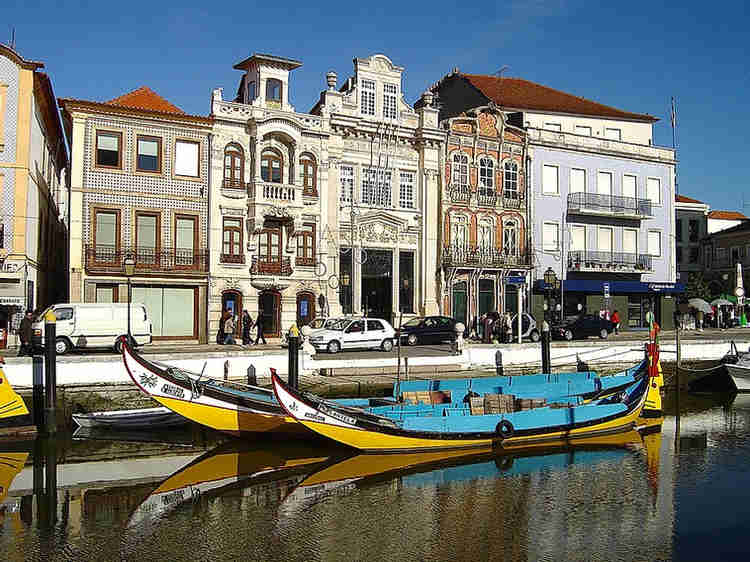 • Art Nouveau Museum: Aveiro has six museums, but I liked this one best. It's worth it just to see the highly decorated interior. There, you can pick up a map of Aveiro's Art Nouveau buildings.
How To Get To Aveiro From Lisbon:
It's a 2.5 hour to Aveiro on a day trip from Lisbon. You can also visit Aveiro on a guided day tour from Lisbon to Porto.
Aveiro can be combined with: Costa Nova Beach, with its pretty striped homes and fresh seafood, is only 20 minutes from Aveiro. Or combine Aveiro with Coimbra, only 50 minutes away.
13. Mafra: Grand Palace Town
There's really one reason to visit Mafra — to see the enormous, extravagant and grand Palace of Mafra.
It's one of Europe's most beautiful palaces. Built in the mid 18th Century by the Portuguese ruler King John, it was intended to impress and intimidate.
A lavish display of wealth and power, the palace was built when Portugal's maritime fortunes were at their zenith. You can spend hours exploring the chambers, corridors and rooms.
How To Get To Mafra From Lisbon:
Mafra is an easy day trip, just 45 minutes from Lisbon by car. Buses to Mafra depart from Campo Grande station and take 1:20. You can also book a guided tour that includes Mafra and Obidos.
Mafra can be combined with: Obidos, which is about 30 minutes away. Ericeira, a seaside resort famous for its beauty and surf break, is 10 minutes away.
14. Conimbriga: Ancient Ruins
The remnants of the Roman Ruins of Conimbriga are an off the beaten path day trip from Porto. History and archaeology buffs will be in 7th heaven. The site is among the best preserved ruins from the Roman Empire.
The town of Conimbriga was one of the largest Roman settlements outside Italy, dating from as early as the first Iron Age.
In the 9th century B.C., Romans built an amphitheater for over 10, 000 people, city walls, three bathing complexes, temples, and several residences.
Conimbriga wasn't excavated until the late 19th century. Only about 20% of the entire city is currently unearthed.
The highlight of Conimbriga is its exquisite and well-preserved collection of colorful mosaic floors. The ones at the House of Fountains are especially remarkable.
How To Get To Conimbriga From Lisbon
It's a 2 hour drive to Conimbriga on a day trip from Lisbon. The train takes 2 hours and the bus take 2.5 hours.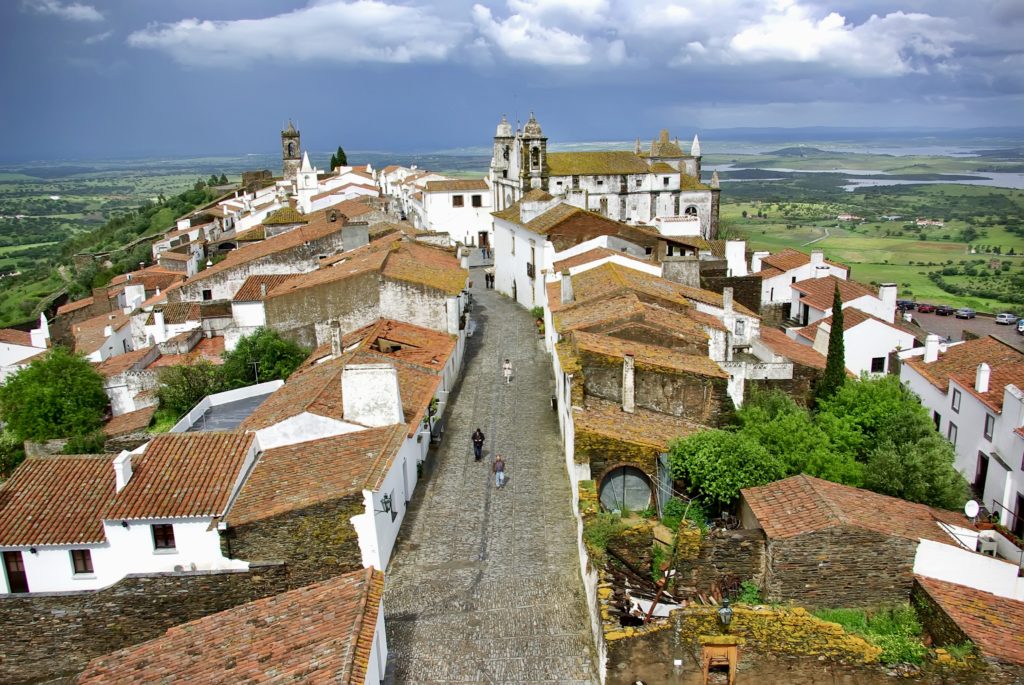 15. Monsaraz: Pretty Alentejo Town
Monsaraz is a tiny hilltop village near Evora in the Alentejo region. It's full of lovely whitewashed homes set against Guadiana Valley.
The stunning walled enclave is known for producing some spectacular pottery. So Monsaraz is a good day trip from Lisbon for ceramic lovers.
You can book a 1.5 hour guided walking tour to find out all the secrets of the town. This is also a common place for a balloon ride over the Alentejo.
What You Can't Miss In Monsaraz
• Monsaraz Castle: The town castle sits at the town's tallest point. It was controlled by the Knights Templar and later the Order of Christ. From the top of the keep, you'll have glorious views of olive groves and the river.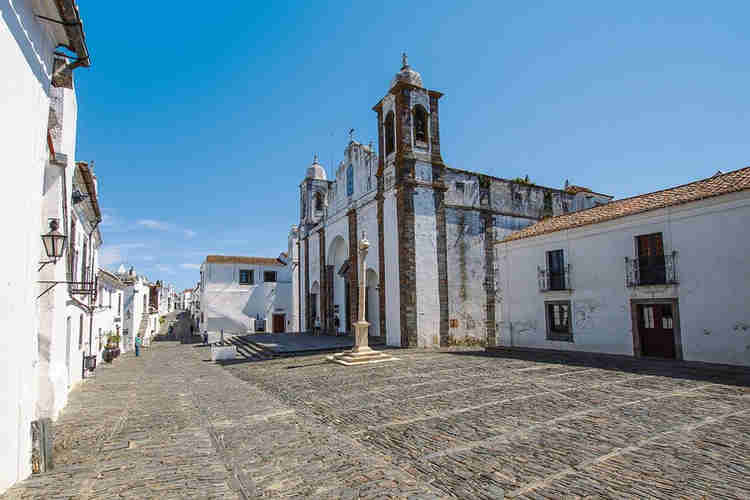 • Church of Santa Maria da Lagoa: This is the village's parish church. Though it dates from the 13th century, the church was rebuilt in the 16th century and then again after the great earthquake of Lisbon in 1755. It has an austere facade and some 14th century marble tombs.
• Museum of Sacred Art: The museum is right next to the church. It's housed in the Gothic Pacos da Audience palace. It houses a collection of religious artifacts and a notable 14th century fresco.
How To Get To Monsaraz From Lisbon
The best way to get to Monsaraz is by train, which takes 2:15. If you're driving, Monsaraz is also a 2:15 hour day trip from Lisbon.
You'll need to park in a lot some distance from the main gateway, the massive Porta da Vila.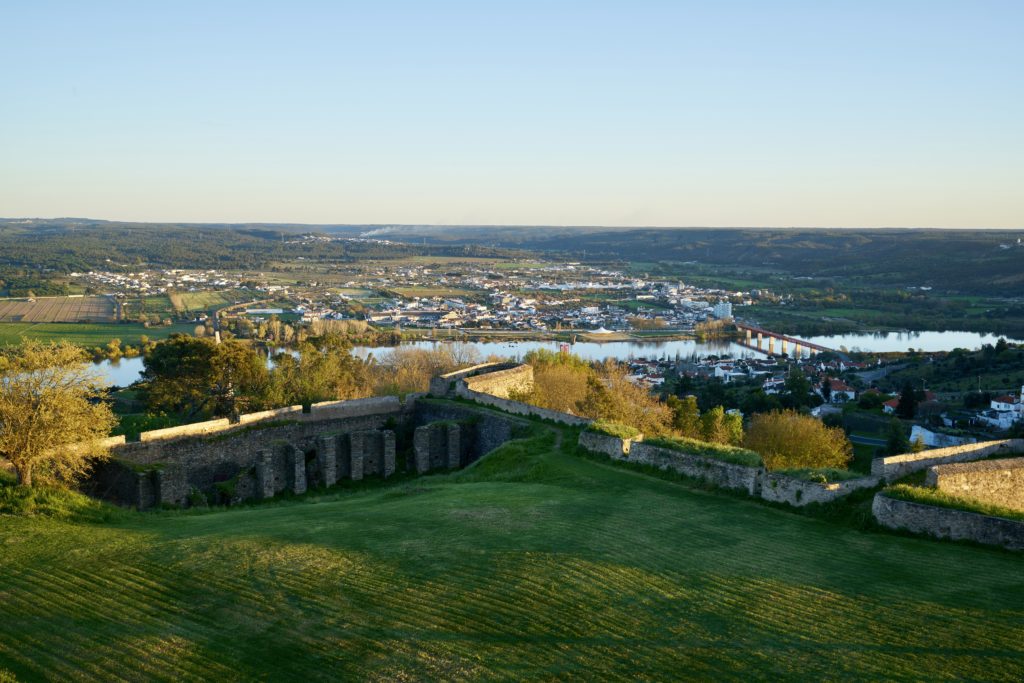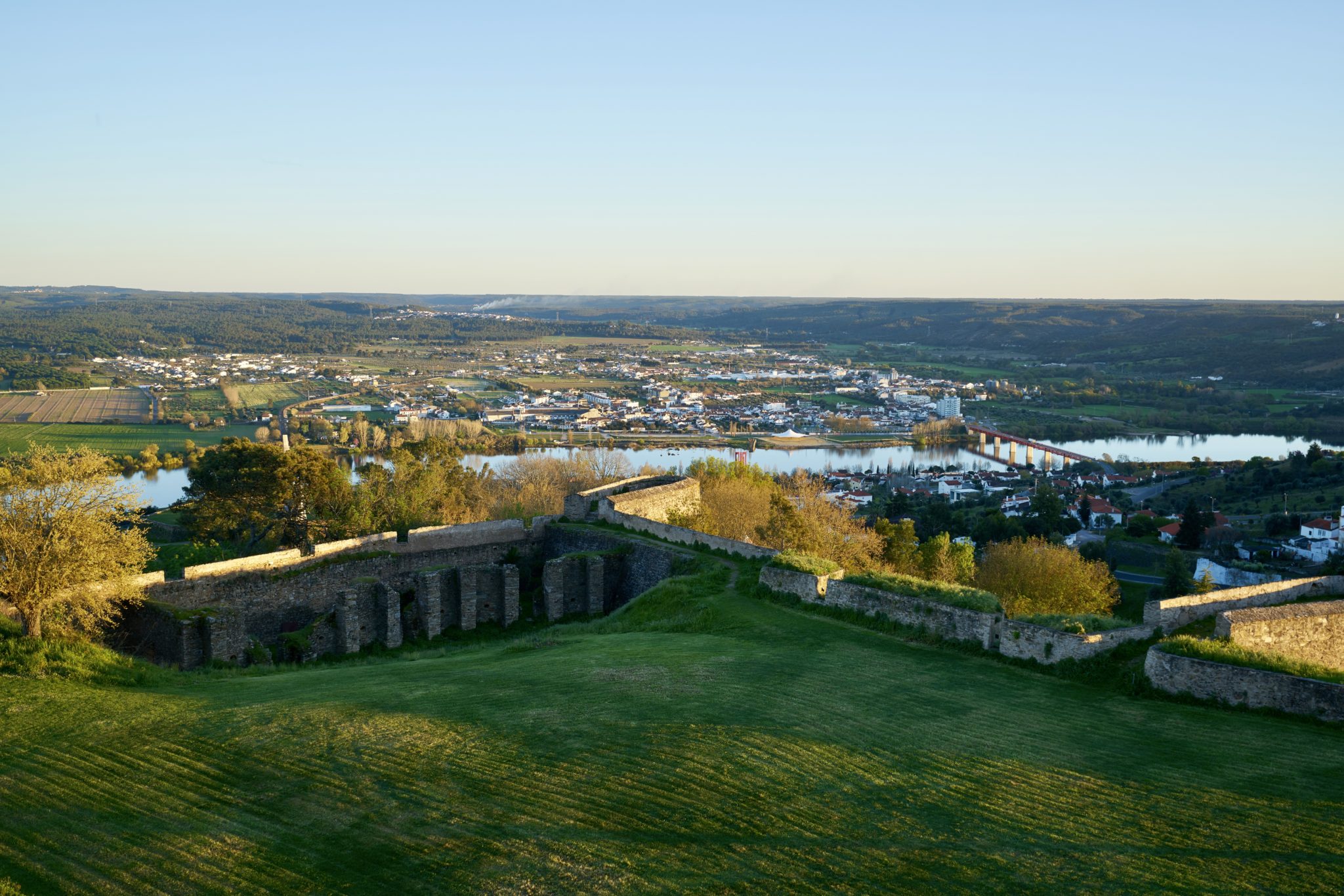 16. Abrantes: Castle Town
Abrantes is a medieval town on the banks of the Tagus River. The old town has quaint squares and cobbled streets. It's known for its renovated 12th century castle and nationally listed churches.
What You Can't Miss In Abrantes:
• Abrantes Castle: The castle crowns a plateau in the narrow streets of Abrante's medieval quarter. Within the castle walls, you'll find a Visigothic necropolis, a governor's palace, and the beautiful 15th century Santa Maria Church (now a museum).
• Santa Maria Church: The church houses some exceptional Manueline tombs, Roman artifacts, and a Gothic-Manueline retable.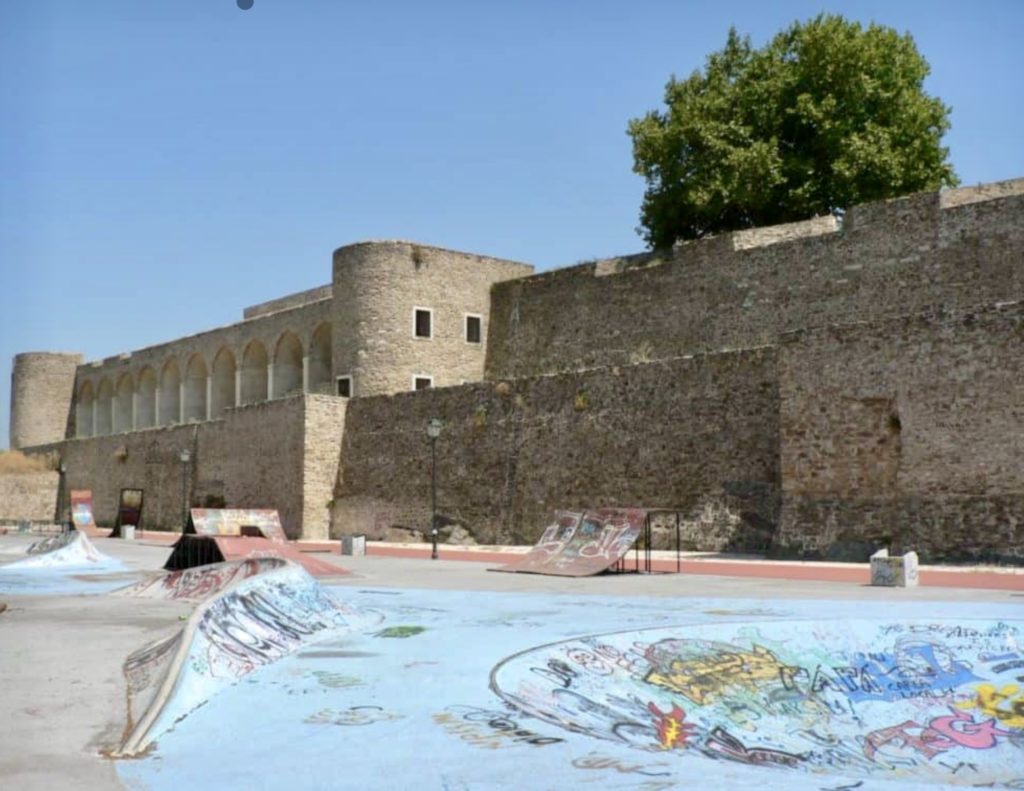 • Igreja de Sao Vicente: This is another church worth visiting. The church was built by the Order of Christ. It's a Mannerist style structure with nine altars inside.
How To Get To Abrantes From Lisbon
It's a 1.5 hour drive to Abrantes on a day trip in Lisbon. You can also take the bus in 1:45 or the train in 1:50.
Abrantes can be combined with: Tomar is just 30 minutes away.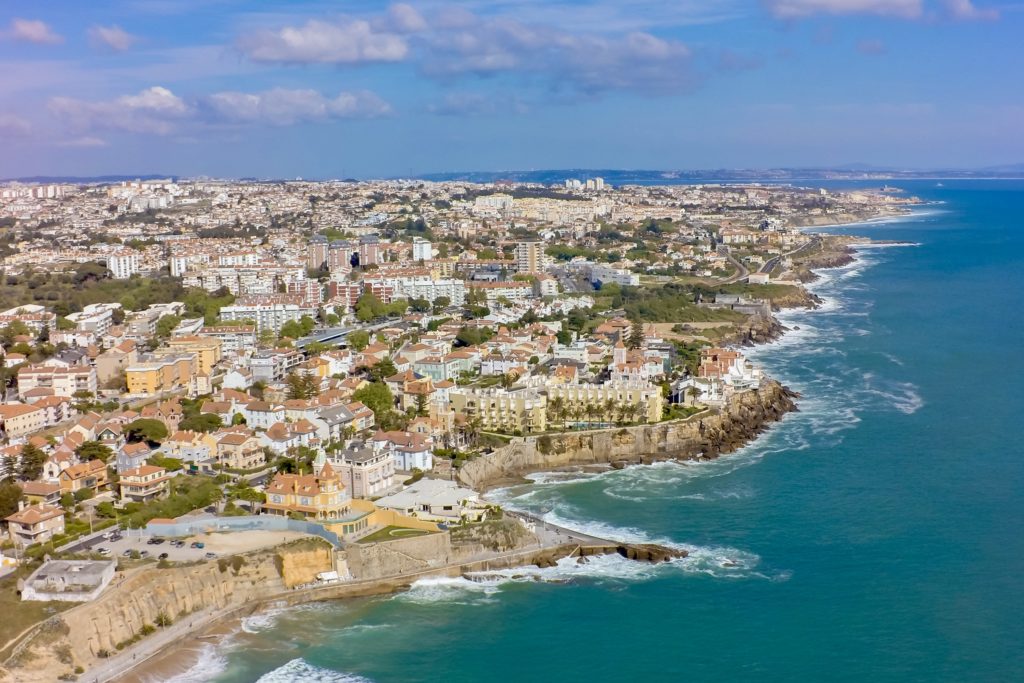 17. Estoril: Beach Resort
Estoril is a lovely resort town if you need a city break. You can hit the beach and relax on an easy day trip from Lisbon.
Estoril has a similar vibe to Cascais and a magnificent riviera-like golden beach promenade. Across from the beach is a palm-lined park flanked by grand buildings.
Estoril also has a popular casino (the largest in Portugal) that attracts high rollers. It's thought to have inspired Ian Fleming's Casino Royale.
How To Get To Estoril From Lisbon
Estoril is a 30 minute drive from Lisbon. You can also take the train from Lisbon's Cais do Sodre train station. It takes 36 minutes.
Estoril can be combined with: Cascais, Sintra, or Montserrate Palace
18. Monserrate Palace
The Palace of Montserrat is another romantic day trip from Lisbon. It's a hidden gem compared to other palace near Lisbon. Built in 1790, the Gothic Revival mansion has had several anglo-owners.
It was first home to an English merchant. It then passed to English novelist William Beckford, and then later to English millionaire and art collector Sir Francis Cook.
Montserrat nearly became a ruin until the Italian state rescued and restored it in 2000.
The ornate palace mixes several architectural styles, from Neo-Moorish to Neo-Gothic. It's topped by a dome inspired by Brunelleschi's dome on Florence Cathedral. Inside, there's a library, chapel, and music room — all featuring beautiful walls and ceilings.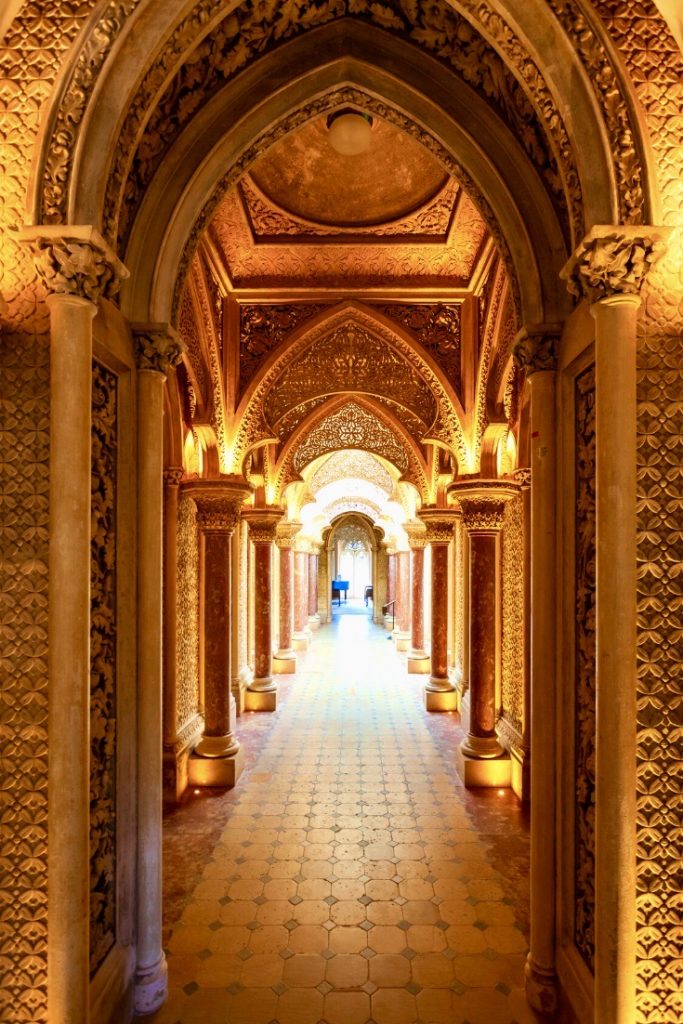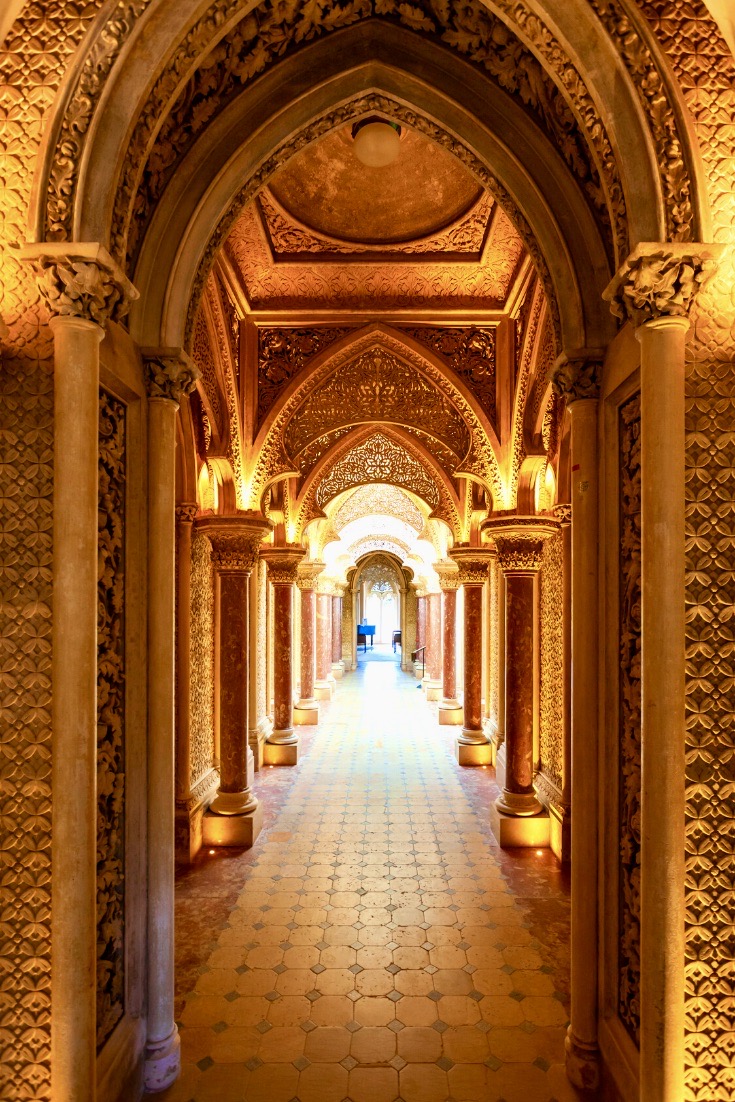 The palace's highlight is its lush and lovely garden, landscaped in the 18th century by Beckford.
The romantic green space is a veritable jungle of exotic flowering trees and shrubs. There's a rose garden, Mexican and Japanese gardens, and subtropical plantings.
How To Get To Montserrate Palace
Montserrate Palace is just 30+ minutes drive from Lisbon. You can also take the bus, Line 403.
You can also visit the palace from Sintra by taking the 435 tourist bus or by bus from the Sintra train station.
The palace can be combined with: You could easily visit the palace in 1-2 hours and combine it with a visit to Sintra, Cascais, or Estoril.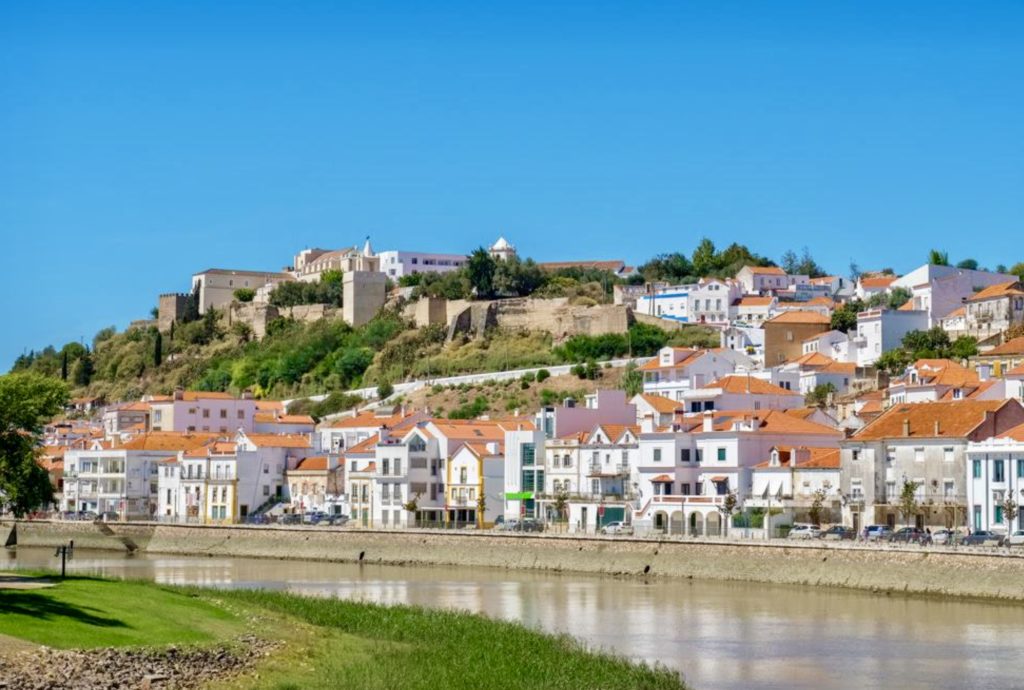 19. Alcácer do Sal: Hidden Gem In Alentejo
Alcácer do Sal is an off the beaten path day trip from Lisbon. The ancient town sits peacefully on the bank of the Sado River in the Alentejo region.
The town has an imposing medieval castle, a superb museum, and pleasant cafes along the riverside promenade.
What You Can't Miss In Alcácer do Sal
• Alcácer Castle: The imposing castle was a hill fort as early as the 6th century B.C. It was used by the Romans, rebuilt by the Moors, and conquered by Afonso II in 1217.
• Castle Archaeological Crypt: Beneath the castle lies 27 centuries of subterranean galleries. The collection includes artifacts from the Iron Age, Roman, Moorish, and Medieval periods.
• Igreja de Santa Maria do Castelo: This is a simple whitewashed church within the castle dating from 1217. It has a striking stone pulpit and other works of Manueline, Gothic, and baroque design.
How To Get To Alcácer do Sal From Lisbon
By far the easiest way to Alcácer do Sal on a day trip from Lisbon is to drive. The drive takes approximately 1 hour. The trains and buses are closer to 3 hours.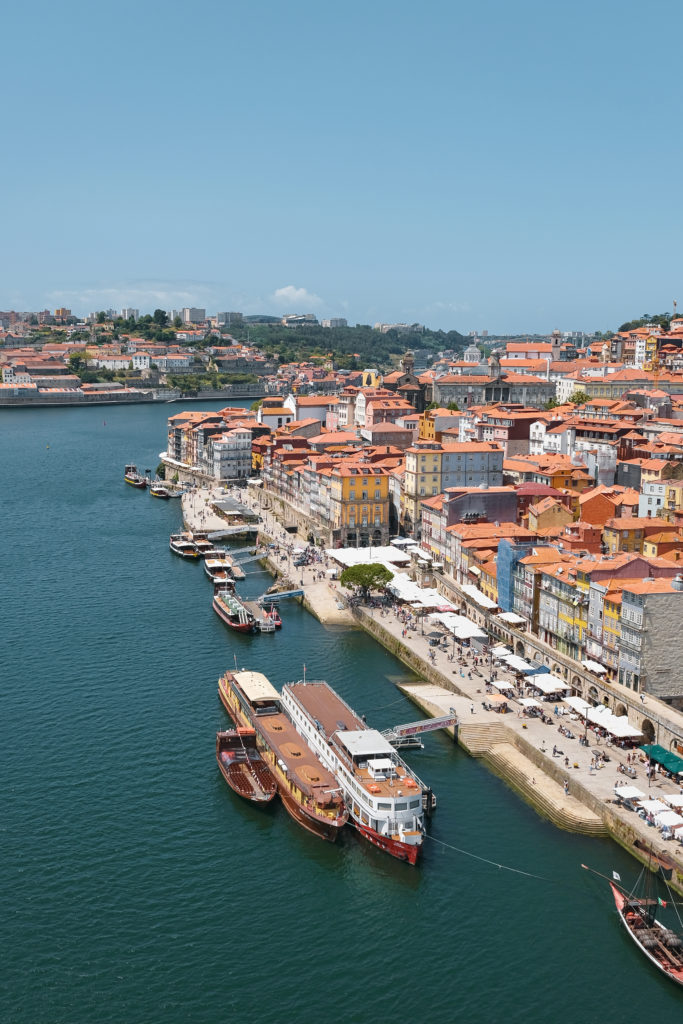 20. Porto: Postcard Perfect Azulejo City
Colorful vintage-y Porto Portugal is a travel photographer's dream. Or just a dream. It's so dreamy that, right now, Porto is one of Europe's hottest destination.
It's doable as a day trip from Lisbon. But it will be a lengthy day indeed. Start early. Porto is overflowing with cultural sites and its historic center is itself a UNESCO-listed site.
Porto boasts Baroque churches, azulejo tiles, and dreamy cobblestone streets. And hills. While those hills may make your quads burn, they provide amazing vistas to view some of Porto's visual treats.
Take a romp around the hilly backstreets and alley-woven mazes of Miragaia, Ribeira and Massarelos. Visit Porto's best photo spots, sky high miradouros (lookouts) and roof terrace bars.
Head across the iconic Luis I bridge to Vila Nova de Gaia to sample port and lounge in the Jardim do Morro.
What You Can't Miss In Porto:
• Porto Cathedral: This hilltop cathedral boasts one of Porto's best views from its terrace and has a pretty Gothic cloister.
• Bolsa Palace: This Neo-Classical monument was Porto's former stock exchange. Inside, you'll be dazzled by the Hall of Nationals and the gilded Arabian Hall.
• Livraria Lello: This bookstore is a neo-Gothic fantasy full of carved wood, boasting a stunning stained glass ceiling and a Harry Potter association.
• Igreja de São Francisco: Outside its austere, but inside this ornate church is smothered in gold.
• Capela das Almas: This little charmer of a church is completely wrapped with an ornate blue and white tile mural on its entire exterior.
How To Get To Porto From Lisbon:
It's a 3 hour drive from Lisbon to Porto. Frequent trains leave from Santa Polónia and Oriente stations. The high speed train takes 3 hours.
Buses leave from the Sete Rios bus terminal or Oriente station and take 3.5 hours.
You can also book a guided day trip tour to Porto. Or, once there, you can book a guided walking tour of Porto, which includes Lello bookstore.
Porto can also be combined with: A visit to Vila Nova de Gaia across the river.
21. Belem: Lisbon's UNESCO Suburb
In the architecturally-rich suburb of Belem, you'll have a respite from the hustle and bustle of glamorous Lisbon.
Atlantic breezes flow, grandiose Manueline monuments dazzle, and boats glide along the wide Tagus River. You'll be cast back to the Age of Discoveries, when the world was Portugal's colonial oyster.
At dusk, the crowds subside and return to Lisbon. The softening light paints the monastery's Manueline turrets gold.
And the riverside UNESCO neighborhood is yours alone for exploring. Belem is an unmissable destination in Portugal, and an easy day trip from Lisbon.
Here's my guide to the top attractions in Belem. You may want to book a small group walking tour.
What you can't miss in Belem:
The monastery is a glorious 500 year old UNESCO site. It's the premiere example of Manueline architecture in Portugal and the #1 site in Belem. The church is free.
But you have to pay to visit the absolutely dazzling cloisters. There will be long lines. You can pre-book a skip-the-line ticket here.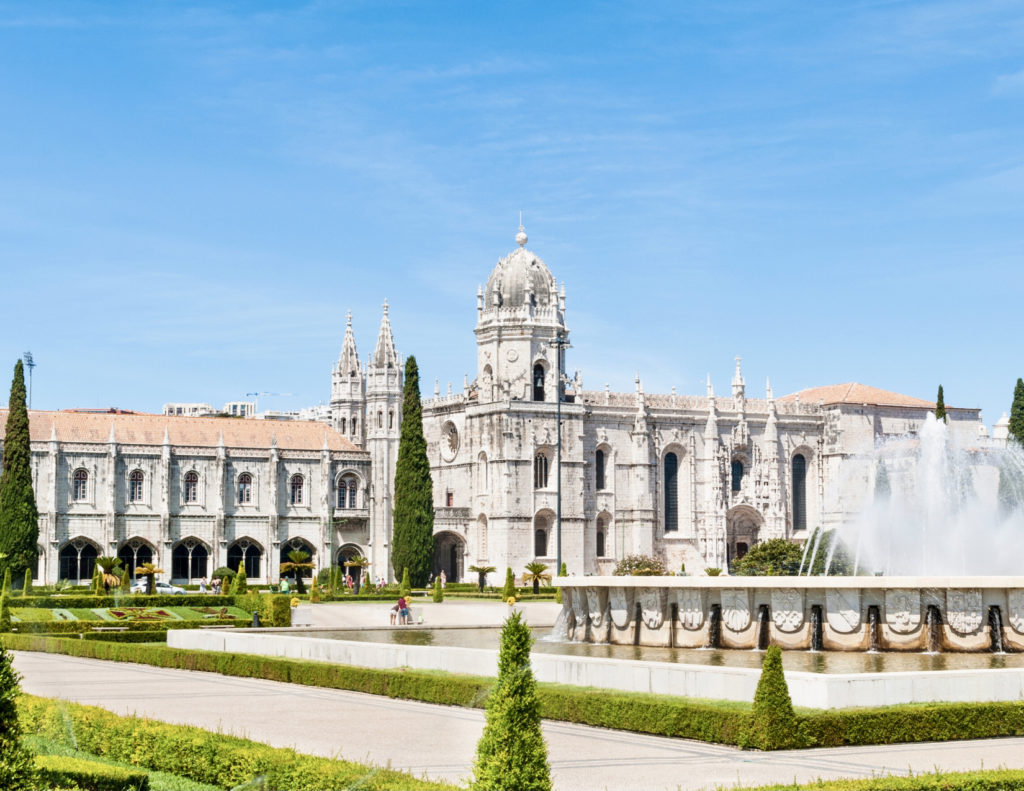 • Tower of Belem: UNESCO has listed the bewitching Game of Thrones-like building as a World Heritage monument. There will long lines for this attraction too. But you can pre-book a skip-the-line ticket here.
• Monument to the Discoveries: Monument to the Discoveries is the cement and rose-tinted stone monument poking out over the Tagus River. It honors Portugal's maritime age.
• Pasteis de Belem: Portugal is famous for its custard tarts. The best place to taste these treats is at the Pastéis de Belém.
• Bernardo Collection Museum: A hidden gem museum just packed with modern and contemporary art.
How To Get To Belem From Lisbon:
Take the number 15E tram or 729 bus from Praca do Comercio. This journey takes 20-30 minutes. It's a quick drive, but you need to leave early to secure a parking space.
I hope you've enjoyed my guide to the 21 best day trips from Lisbon Portugal. You may enjoy these other Portugal travel guides and resources:
​
If you'd like to take some day trips from Lisbon, pin it for later