Planning a trip to southern Germany?
Here's my comprehensive 10 day itinerary for visiting beautiful Bavaria Germany. This Bavaria itinerary takes you to the most beautiful towns and must visit destinations in Bavaria.
In ten days, you'll discover all the top attractions, landmarks, and fantastical architecture in Bavaria.
To me, just the word "Bavaria" conjures blissy visions. I dream of half-timbered houses clad in flowers, onion domed Baroque churches, and majestic castles piercing blue skies.
Ahhhh. I was incredibly excited for my solo road trip through southern Germany. And, I have to say, my blissful cliched thoughts were realized.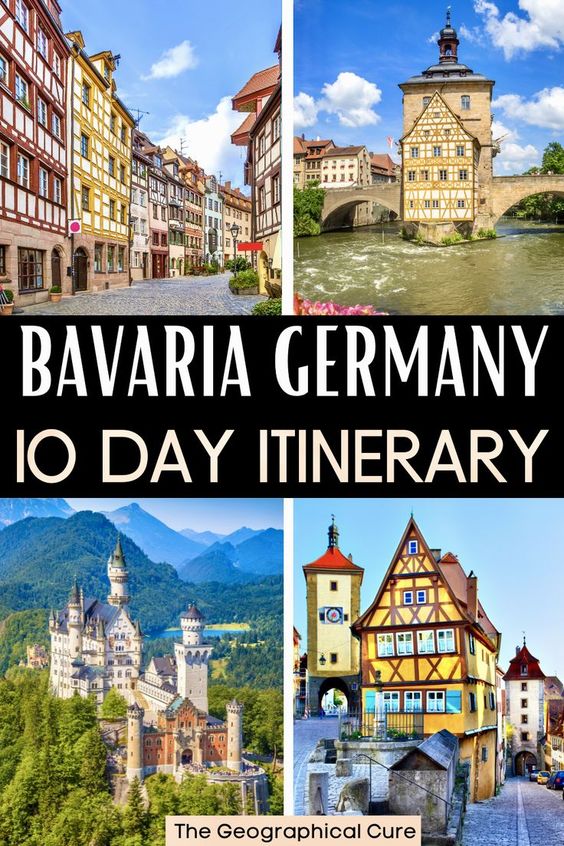 Bavaria is a large swath of southern Germany. Its big city is Munich, the "city of art and beer."
There are storybook towns dotted around the countryside like Nuremberg, Wurzburg, Fussen, and the adorable Rothenburg ob der Tauber.
Most Bavarian itineraries I've seen focus solely on southern Bavaria. Some even include Salzburg. While incredibly lovely, Salzburg is decidedly not in Bavaria.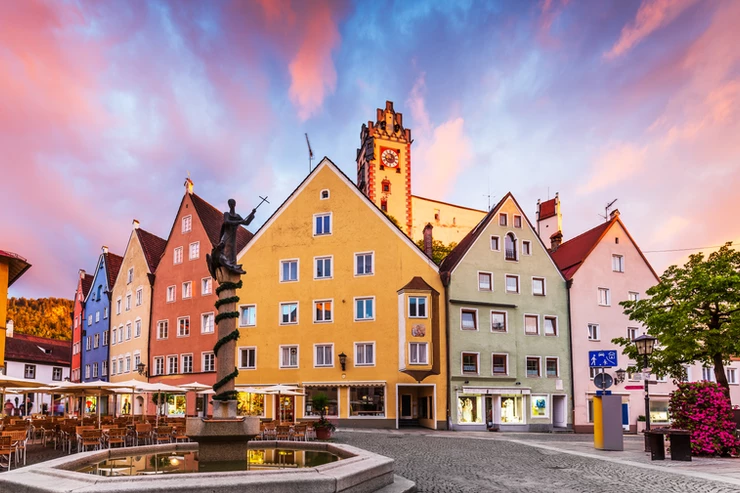 My 10 days in Bavaria itinerary transports you to both southern and northern Bavaria, with the perfect DIY road trip in Germany. I recommend having 3 bases: Munich, Fussen, and Nuremberg.
Munich and Fussen will cover the south and you'll experience a big city and small medieval town. Beautiful Nuremberg is the unofficial capital of northern Bavaria and a perfect base for day trips. It's now my favorite small city.
So how should you proceed? Read on for my perfect 10 road trip itinerary for Bavaria.
If you're on the UNESCO trail, Bavaria is a great place to be. If you'd also like tips for Germany, check out my guide to everything you need to know about visiting Germany.
A Short History of Bavaria
But before we begin our 10 day Bavaria itinerary, a short history of Bavaria is in order.
Bavaria is a creation of the Wittelsbach dynasty. The family ruled over the state of Bavaria for 800 years. The Wittelsbach preferred fine art and grandiose castles to war.
For a brief period, in the 19th century, Bavaria was elevated to the rank of a kingdom. Bavaria became a monarchy. It was ruled by a succession of kings.
Max Joseph I was the first king. He expanded Bavaria, adding chunks of Franconia in the north.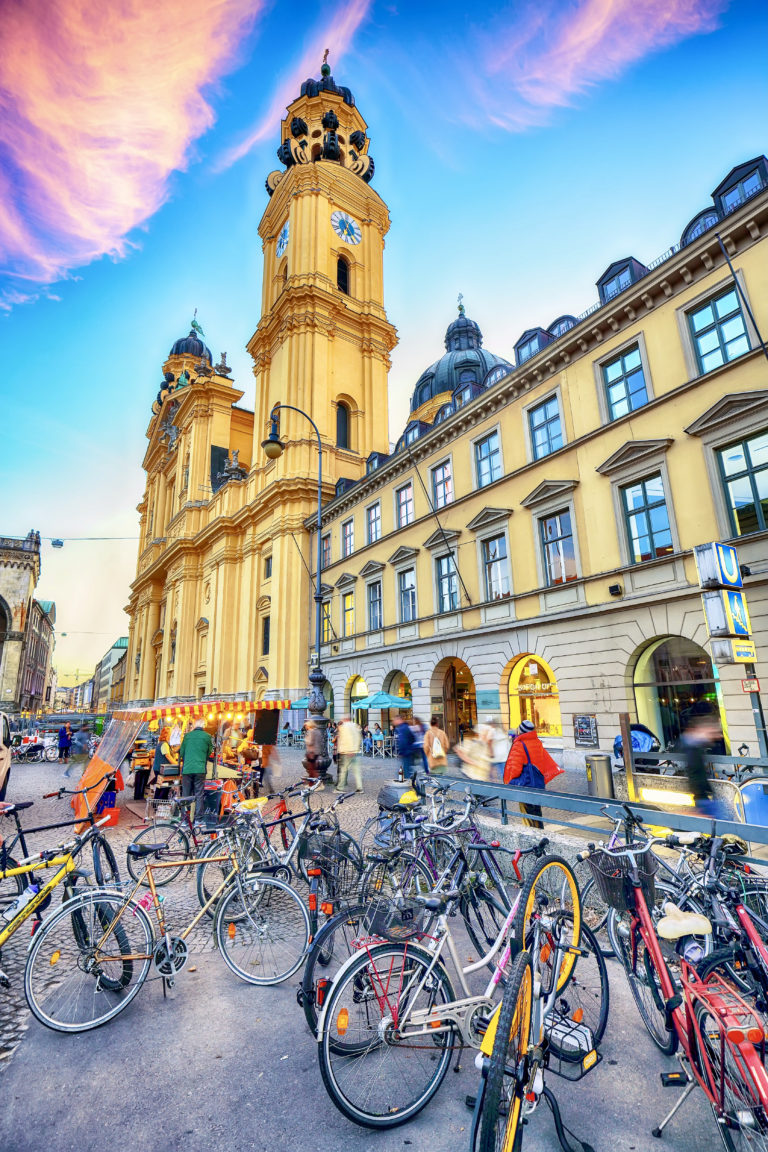 His son, Ludwig I wanted to turn Munich into the "new Athens." He envisioned the city as a sort of Renaissance revival of science, arts, and literature. He built the beautiful Hohenschwangau Castle.
By far the most famous Bavarian king was Ludwig II. Ludwig came to the throne at just 19 in 1864. He reigned until his mysterious death in 1886.
Ludwig was a famous royal personality in 19th century Europe. He was variously known as the Swan King, the Dream King, the Night King, the Moon King, and the Fairytale King.
Ludwig was tall, handsome, wildly eccentric, and a brooding romantic. He was the ultimate introvert. And just so … impractical. That was part of his charm and enduring mystique.
Ludwig was the patron of the great Austrian musician Wagner. He was built outrageously expensive fantasy castles in the Alps. The castles reflect his love of romance, opera, and the make believe.
After Ludwig's death, Kaiser Wilhelm II took the reins of command. He was a happy militarist. But, after protests in Germany, he was forced to abdicate in 1918. That was the end of the Bavarian monarchy.
To this day, though, there is a cult for Made King Ludwig II. Each year millions of tourists now come to see Ludwig's castles. His famous one is Neuschwanstein. It was his vision of a medieval knight's castle.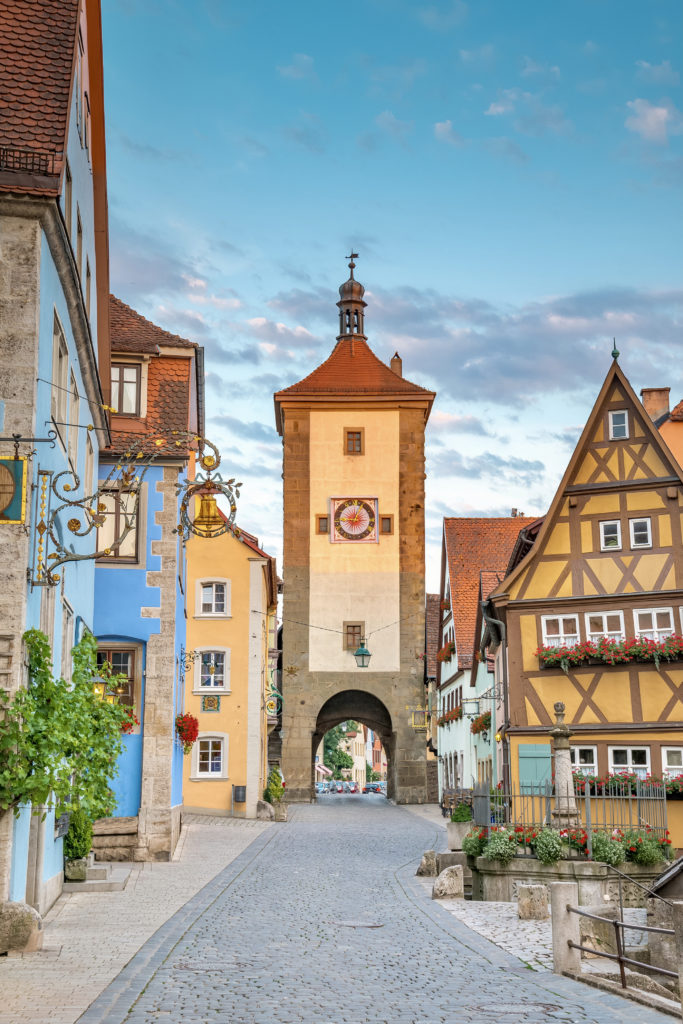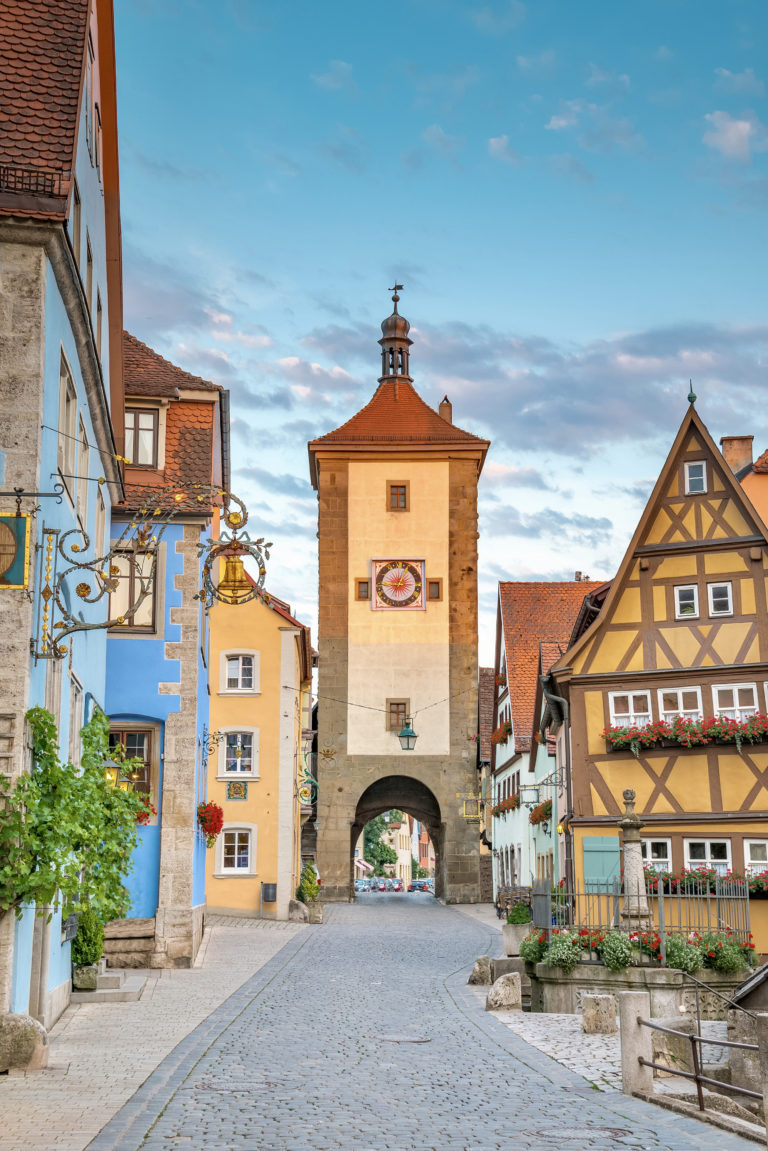 Overview of 10 Days in Bavaria Itinerary
Ready to tour Bavaria? With this 10 days in Bavaria itinerary, you'll visit the following most beautiful and towns and the top attractions in Germany.
Here's a quick snapshot of what you'll do with 10 days in Bavaria.
Day 1: Explore Munich
Day 2: Munich or Day Trip to Salzburg
Day 3: Fussen & Neuschwanstein Castle
Day 4: Linderhof Palace & Ettal Abbey
Day 5: Visit Augsburg En Route To Nuremburg
Day 6: Explore Nuremberg
Day 7: Day Trip to Rothenburg ob der Tauber
Day 8: Day Trip to Bamberg
Day 9: Day Trip to Wurzburg
Day 10: Stop In Regensburg En Route Back To Munich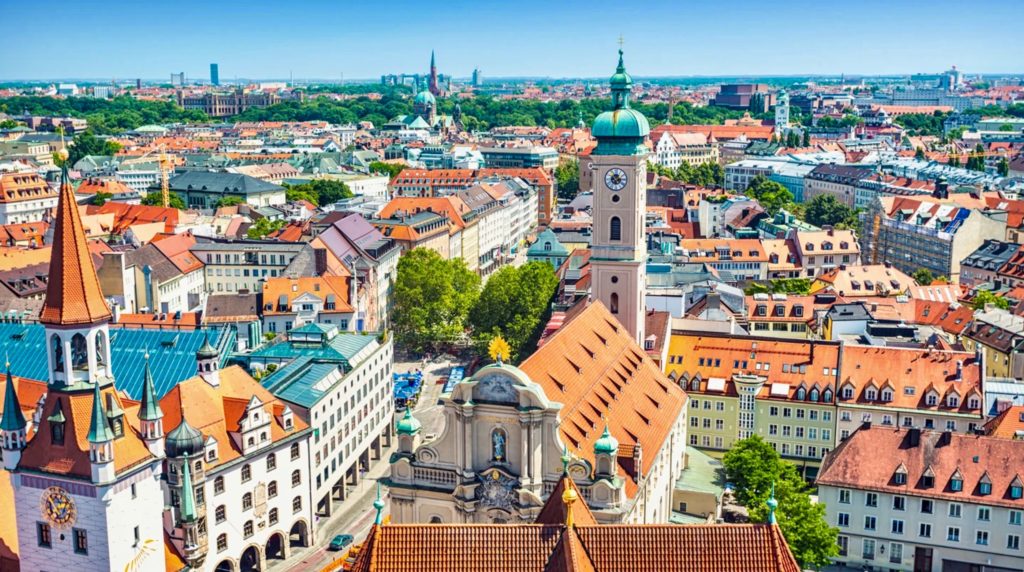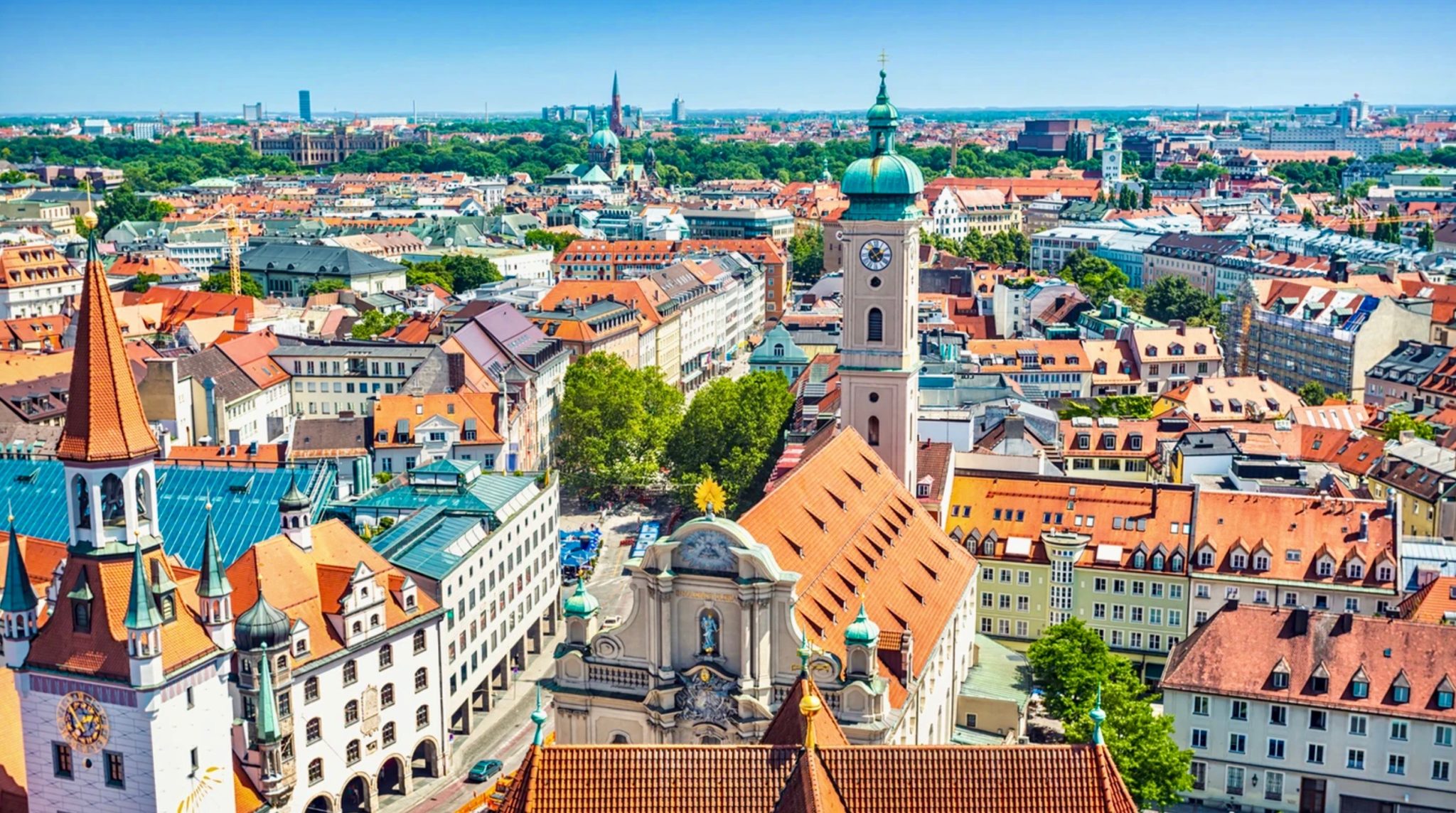 10 Days in Bavaria Itinerary
Here's where you should go on a ten day road trip in Bavaria:
Day 1: Munich
On day 1, arrive in Munich and get settled. Then, head straight to the Marienplatz. Click here if you want to book a 2 hour guided walking tour of the historic center to get oriented.
This is Munich's main square, along with Max-Joseph Platz and Odeonsplatz. Here's where you'll find Munich's eye popping grand buildings, though many have been restored to their former glory.
If you want the best panoramic view, climb the tower of St. Peter's Church. You'll get an eyeful of the majestic Neues Rathaus, or City Hall.
Be forewarned, the tower is a steep cramped experience and gets extremely claustrophobic at the top. You need to be physically fit.
If not, take the elevator in the Rathouse itself. To get a ticket, go into the Tourist Information Center in the Rathaus and ask for a ticket to see the Rathausturm (or the City Hall Tower). You access the elevator through the passageway that leads to the inner courtyard.
If you're a fan of Mad King Ludwig and his romantic castles in Bavaria, head to St. Michael's Church to visit his crypt and pay your respects.
For lunch, head to Munich's Victualienmarkt. It's a thriving outdoor food market with stalls crammed with colorful produce, fresh bites to go, and a bustling beer garden. You can even book a walking tour that includes the market.
For dinner, if you want classic German food, try Bratwurstherzl Restaurant. Or book a classic beer and food tour.
If you don't fancy bratwurst or schnitzel, Munich has a plethora of Italian restaurants. I really liked Limoni, in a trendy neighborhood on Amalienstraße, and Guido al Duomo. You'll need reservations for both these options.
READ: 4 Days in Munich Itinerary
Day 2: Munich or Salzburg
You shouldn't spend just one day in Munich. Unless you're really pressed for time. Today, either spend another day in Munich.
Or day trip to Salzburg. Salzburg is only 1.5 hours from Munich. So, it's totally doable as a day trip.
1. Munich Option
Munich Residenz
If you opt for Munich, begin your day at the Munich Residence. The Residenz is a top attraction.
The Residenz was the luxe city palace and seat of government of the Wittelsbach dynasty. They were the family that ruled as kings of Bavaria until 1918.
The Residenz is a hodgepodge mix of architectural styles — Renaissance, Baroque, Rococo, and Neo-Classicism. But that's befitting a palace that lorded over Bavaria for over 700 years.
Inside, the Residenz Museum consists of over 120 rooms. The palace is awash in tapestries, swirly Rococo gilt, quirky reliquaries, and shell grottos. In fact, the palace has so many tapestries, you might give up admiring them out of sheer visual overstimulation.
It's a big place and cou;d take awhile to visit, especially if you use the long winded audio guide. Grab a museum floor plan when you get there.
You can't purchase tickets online, but there won't be a huge queue, unless its high season.
READ: Guide to the Munich Residenz
Nymphenburg Palace
In the afternoon, you have a choice. Head out to the beautiful Nymphenburg Palace. The opulent palace is just 30 minutes outside the city center. It's another enticing Wittlesbach architectural wonder.
The palace is divine. At Nymphenburg, swans glide, nymphs dance on Rococo ceilings, and thematic follies dot the lavish park.
Nymphenburg Palace is German Rococo at its best. You can get off the beaten Marienplatz and take a royal stroll in a beautiful oasis outside the city.
The 17th century Schloss is one of Europe's best and most beautiful palaces. The grand and lavish palace has witnessed history — a 7 year old Mozart concert, an aged King Ludwig cavorting with femme fatale Lola Montez, and the birth of Mad King Ludwig II.
Click here for to book a guided tour of the palace.
Munich Museums
Alternatively, if you love art more than palace's you can hit the museums. Munich has some absolutely world class museums.
Its most touted museum is the Alto Pinakothek. There, you'll find a couple rare da Vinci paintings, Albrecht Durer's mysterious Self Portrait, and other old master treasures.
It's Bavaria's best museum, with a collection of European masters from the 14th to 19th century. Click here to book a 2 hour tour of the pinakothek.
I also liked the Pinakothek der Moderne for modern art. It has cutting edge modern and contemporary art from the 20th and 21st centuries. The building itself is worth a visit, with a towering glass rotunda designed by the German architect Stephan Brauenfels.
Munich also has a hip new museum, the Lenbachhaus, that you should really make time for. The stunning gold museum has a soaring atrium which glitters with a whirl of colored glass and steel.
The new three story wing, designed by Norman Foster, houses an incredible collection of Expressionist works, including pieces by Wassily Kandinsky, Franz Marc, and Paul Klee.
2. Salzburg Option:
If big cities aren't your jam, this is your chance to day trip to Salzburg. It's an idyllic Baroque city perched on the Salzach River.
To get your oriented, you may want to start out with a guided walking tour with a historian.
Salzburg is just a little over 90 minutes from Munich. And it's the stuff of fairytales, with graceful domes and spires and a commanding hilltop fortress.
In Salzburg, you can dance through the Mirabell Palace Gardens on a Sound of Music tour. Or, hike up to mighty Hohensalzburg Castle on Festungsberg Hill
You can even visit Mozart's birthplace. And there's nothing better than wandering aimlessly through Salzburg's pretty squares.
If you want a dose of culture, head to the DomQuartier Museum. It's a complex of five smaller museums, and the Resident Palace is simply beautiful.
Day 3: Fussen & Neuschwanstein Castle
Day 3 of your Bavaria itinerary is castle day.
1. Fussen
Get up early and drive to Fussen, which will be your base for two nights. Tiny Fussen is an enchanting medieval town nestled in the Bavarian mountains.
It's a old cultural capital Europe. It simply couldn't be more picturesque with its pastel houses and frescoed buildings.
As a former center of violin making, Fussen has a violin and lute museum you can visit. Beautiful Baroque St. Mang's Abbey houses Germany's oldest fresco.
And right next to the abbey is the High Castle, one of Barvaria's largest and best preserved Gothic castle complexes.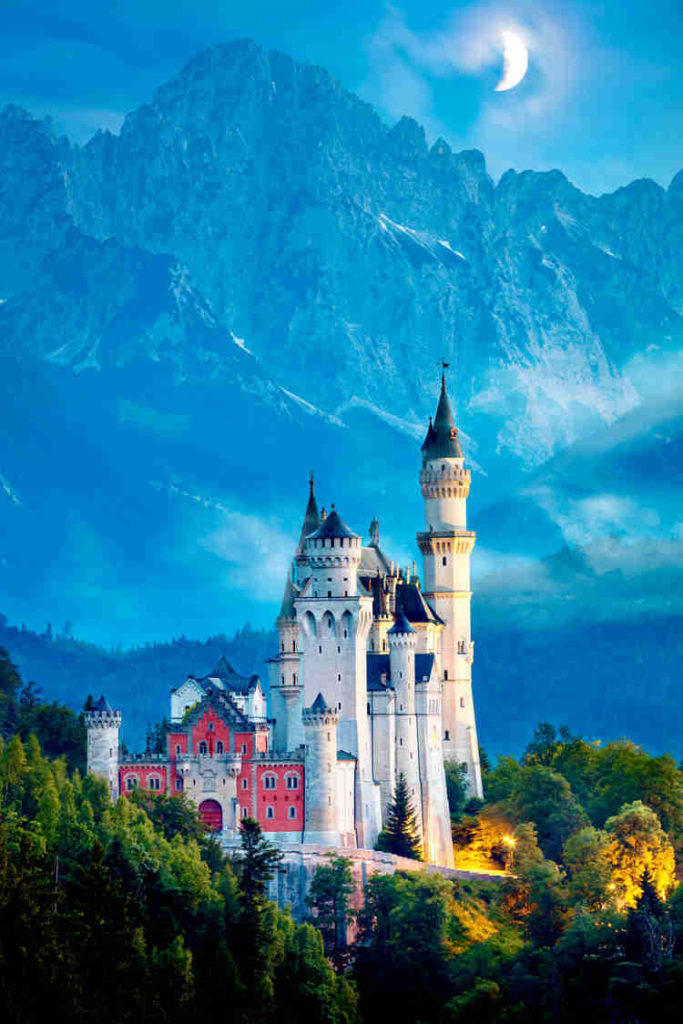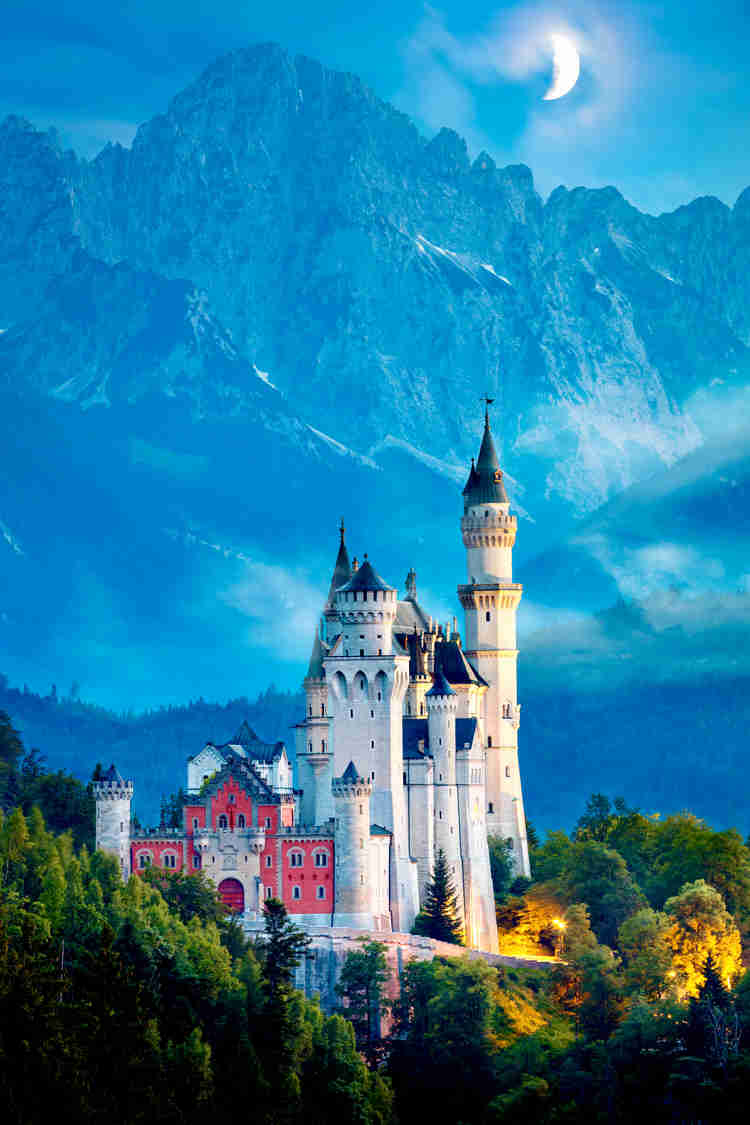 2. Neuschwanstein Castle
From Fussen, you can walk or drive to some of Mad King Ludwig's castles — Neuschwanstein, Hohenschangau, and Linderhof.
If you stay in Munich instead to day trip to the castles, you'll likely have a very long and exhausting day. Although it can definitely be done. And I've done it before.
If you've done your research, you'll have online reservations for Hohenschwangau Castle and Neuschwanstein Castle. Then you won't have to wait in line at the ticket center in Schwangau to (hopefully) purchase a ticket.
With your reservation, you stay to the right and exchange your reservation for a ticket. It's a much shorter line than the one for people vying for last minute tickets, some of whom will be disappointed.
Click here to book a day tour of Neuschwanstein from Munich.
If you are very ambitious, add in Linderhof Palace either on your own or on a guided tour with Neuschwanstein. It's 50 minutes from Neuschwanstein.
3. Hohenschwangau Castle
Not everyone sees Hohenschwangau Castle. You can opt only to see Neuschwanstein. But I thought it completely worthwhile to see both and bought a combo ticket.
Hohenschwangau was where Mad King Ludwig grew up and became a poet-architect-opera lover. It's not as glamorous as Neuschwanstein, to be sure, but still very charming and of great historical interest.
Driving from Munich toward Schwangau/Fussen, I had a reservation for 12:55 pm at Hohenschwangau and 3:35 at Neuschwanstein.
You're supposed to arrive 90 minutes early to collect your ticket. The Germans are punctual, so don't be late or you'll lose your spot and be barred from entry.
The tickets give you a time gap between the two castles because it's a 40+ minute hike up to Neuschwanstein. If you arrive at Neuschwanstein with time to spare, head to the Marienbrucke, or Mary's Bridge, for the postcard view of the castle.
The Museum of the Bavarian Kings is also in the town of Schwangau. There's not enough time to visit the museum between your designated castle time slots.
But if you arrive in Schwangau early, you could spend a half hour (or more) there. That's what I did, and the museum provided a good primer on the history of the Wittelsbach dynasty.
After visiting the castles, you overnight in Fussen. If you want an intimate dining experience, pre-book at Michelin restaurant Gams & Gloria. If it's a cold chilly day and you want some comfort food, try Ristorante Pizzeria Michelangelo.
Day 4: Linderhof Palace & Ettal Abbey
On day 4 of your 10 days in Bavaria itinerary, you're off to another Mad King Ludwig castle. Linderhof Palace is decidedly fancier, inside, than Neuschwanstein.
Ludwig sought to emulate Louis XIV's palace at Versailles. As a result, you'll feel encased in gold inside.
Don't forget to explore outside. The gardens and grounds are filled with architectural follies. Be sure to see at least the Venus Grotto and the Moorish Kiosk.
Here's my complete guide to Linderhof Palace. Click here to book a guided day tour of Linderhof from Munich.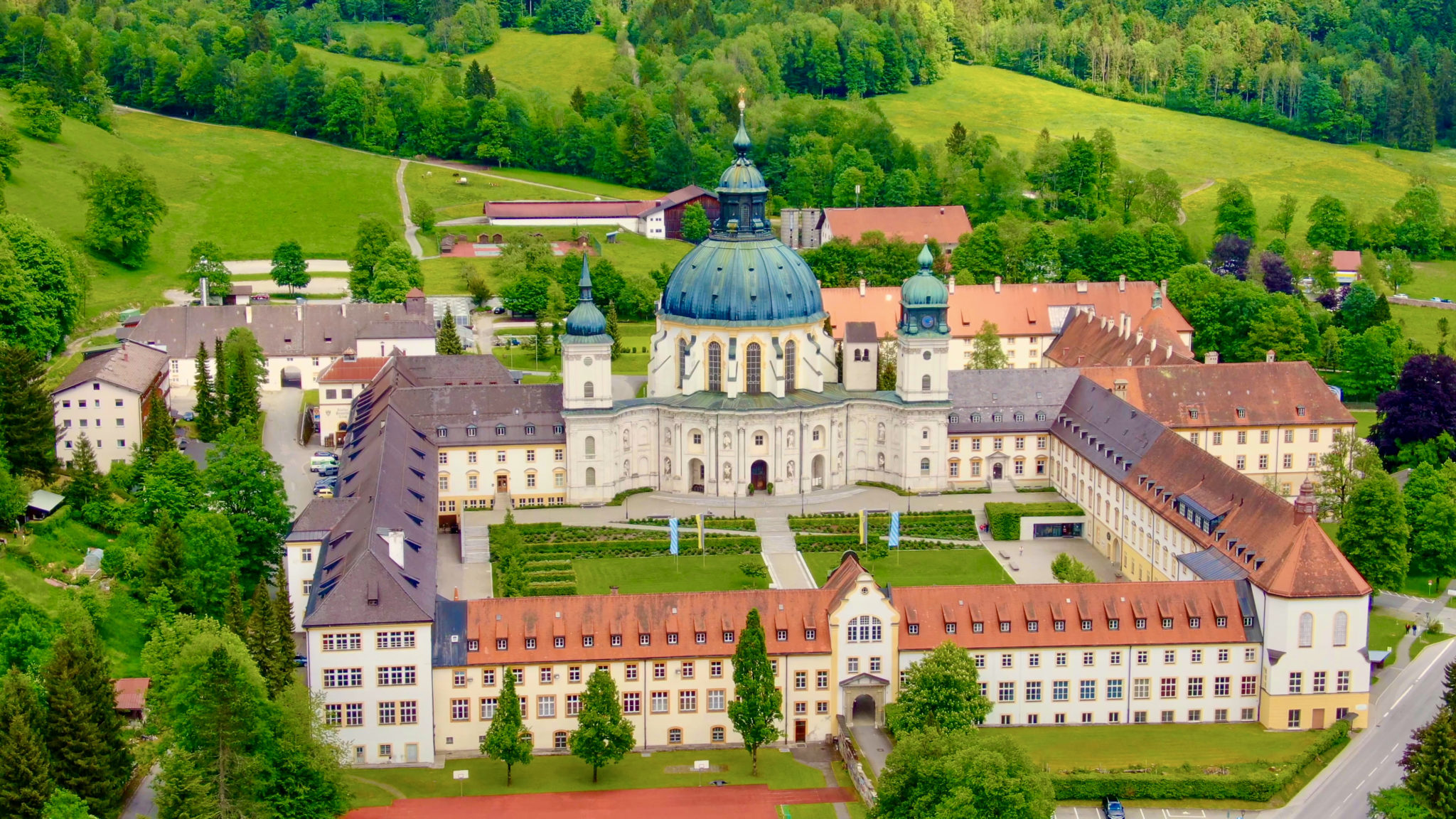 Ettal Abbey is right down the road. You can't miss the giant green dome emerge between the mountains.
The highlight of the abbey is the sugary Rococo basilica. The church houses the monks' prized possession — a marble Madonna brought from Rome by Ludwig der Bayer in 1330.
The grand Baroque abbey was a seat of resistance during WWII. Priests were forced to remain there so he wouldn't spread anti-Nazi rhetoric.
And theologian Dietrich Bonhoeffer – who would later be killed for his role in the resistance against Hitler – spent time at the abbey.
Day 5: Visit Augsburg En Route To Nuremberg
Today, you'll drive from Fussen to your next base, Nuremberg. You'll stay therefor the duration of your trip. For me, Nuremberg was the perfect base for northern Bavaria.
Nuremberg is a small city and entirely walkable. But it has a cosmopolitan vibe. And plenty of great restaurants to come home to after a day of sightseeing.
En route to Nuremberg, stop in Augsburg to break up your drive. It's one of Germany's oldest and most underrated cities.
There, you can check out the cathedral, the swanky town hall with its "golden hall," and the 500 year old ivy covered neighborhood of Fuggerei. Augsburg Cathedral has Romanesque and Gothic elements and boasts paintings by Hans Holbein.
If you have time, and depending on when you want to arrive in Nuremberg, take in Augsburg's Schaezlerpalais.
The palace's art collections includes Albrecht Dürer's famous portrait of Jakob Fugger. The real stunner is the ballroom, a masterpiece of Rococo architecture.
As an alternative to Augsburg, you could pull into Erlanger, just 30 minutes outside Nuremberg.
Erlanger is a serious foodie town with a craft beer tradition and medieval center. For a meal, I recommend Mein Lieber Schwan or Slaz and Pfeffer.
Day 6: Visit Nuremberg
Rest up and spend a leisurely day strolling in Nuremberg. Though there's so much to do you could easily spend 2-3 days there, being happily medievalized in the former imperial city.
Begin with a guided walking tour of the historic center. Then, visit to Kaiserburg Castle, a former imperial castle dating from the 13th century. Be sure to go inside the castle museum to learn about the history of Nuremberg.
Then stroll down the drop dead gorgeous Weissgerbergasse Street, or Tanner's Lane. It's the most quaint half-timbered street in Nuremberg (and maybe all of Germany).
Head to the lively Hauptmarkt Square. Find the magic ring at the Beautiful Fountain.
Indulge in Nuremberg's specialty, "Drei im Weckla," a triple helping of bratwurst links. Visit St. Sebaldus and St. Lorenz churches.
Then sample one of Nuremberg's museums. I loved the Albrecht Dürer House.
Nuremberg's native son Dürer is perhaps the greatest German painter in history. And his house is one of the few remaining medieval half timbers that survived WWII.
You won't see any authentic Durer paintings there. But it's a unique snapshot of his life and his studio.
I can also recommend the Germany National Museum (for history and culture buffs) and the Neue Museum (for fans of contemporary art, with a large Gerhard Richter collection).
If you're a WWII buff, book a half day tour to see WWI and Nazi Third Reich sites in Nuremberg.
Larger than the Roman coliseum, Congress Hall was where the Nazis held party rallies. It houses the Documentation Center in its north wing.
This intense museums shines a light on the insane megalomania of the Nazi party. You can also see Courtroom 600, where the Allies conducted the Nuremberg Trials (if court isn't in session).
Here's my guide to the top attractions in Nuremberg.
Day 7: Day Trip to Rothenburg ob der Tauber
On day 7, you'll head to the picture perfect Rothenburg ob der Tauber. The town is the best preserved medieval city in Germany and possibly all of Europe. You may want to book a guided walking tour to see all the sites.
Some claim Rothenburg is too Disney-esque and exists only for tourists. (This is not the place to buy souvenirs.) That may be the case, but the UNESCO town still dazzles. I've never really seen anything quite like it.
If you're driving like me, park right outside the town limits at the Stadtwerke. Then get lost in the medieval streets and admire the pastel facades.
Hike up the Rathaus Tower for panoramic views or stroll the city walls.
Take in the intriguing Medieval Crime Museum, which exhibits creative torture devices and shame masks.
If you want some lunch, I highly recommend the Cafe Einzigartig, away from the madding crowd on a quaint side street.
If you can tear yourself away from the pastel houses, stop in the town of Ansbach on your way back to Nuremberg. Ansbach also has a pedestrianized medieval center.
Day 8: Day Trip to Bamberg
Just 45 minutes from Nuremberg lies the beautiful UNESCO town of Bamberg. Click here for a 2 hour guided walking tour of the town.
It's most known for its iconic frescoed town hall, perched on the River Regnitz. But it also boasts a doughty cathedral and yet another fancy palace for former German princes, the Neue Residence.
Bamberg is famous for its beer culture. Its specialties are smoke beer and stuffed onion. If you're a fan of craft beer, you can even book a beer tour.
I must admit that I skipped the stuffed onion and planted myself in a super cute cafe, Spitz Rein, and had a looooot of cake and espresso instead.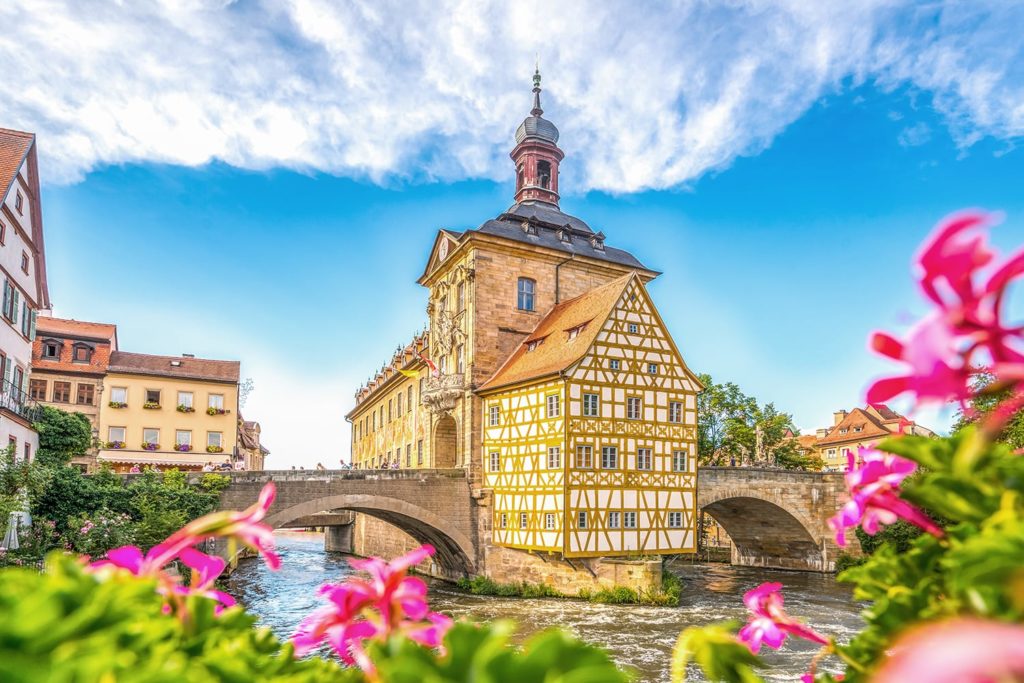 The main activity in Bamberg is just strolling the pretty streets. If you want some exercise, hike up to Michaelsburg Abbey (closed for renovation) for the panoramic views.
You should also stroll along Klein Venedig. It's Bamberg's Little Venice. It's decorated with picturesque canal houses.
If you're super ambitious, hop back in your car and keep driving another 30 minutes north to nearby Coburg.
There, you'll find what may be Germany's greatest castle, Veste Coburg. It's authentically medieval and insanely full of a huge collection of armor, weapons, old master paintings, and fancy sleighs.
READ: Complete Guide to Bamberg
Day 9: Day Trip to Wurzburg
How many cute Bavarian towns are there in the world?
Turns out, quite a few. Wurzburg is yet another delightful UNESCO town in northern Bavaria.
Aside from its adorable medieval streets, its main claim to fame is the famous Wurzburg Residence. This ornate palace was home to the Wurzburg bishop-kings, who aimed to build a Versailles-like palace.
While you're in Wurzburg, sip wine on the old main bridge (a local custom). Admire the Wurzburg Cathedral and the pretty chapel, Marienkapelle, in the old town.
Then hike up to the Marienburg Fortress. It's a fairly steep hike up, but the views are worth the quad strain.
READ: Vistor's Guide to the Wurzburg Residenz
Day 10: Stop In Regensburg En Route Back To Munich
Sadly, your 10 days in Bavaria are almost up. It's time to journey back to Munich to catch your plane home. Or head somewhere else in Europe if you're still vacationing.
But en route to Munich, you can stop in the ravishing town of. Regensburg. The medieval former imperial city and UNESCO town.
I adored medieval Regensburg, beautifully situated on the Danube River. It's not exactly a hidden gem, but it is compared to Rothenburg.
Only 13% of Regensburg was destroyed in WWII. It felt more authentic too, with plenty of Germans milling about enjoying their city.
Regensburg is nicknamed the "northernmost Italy" and filled with pointy towers and cute beer gardens.
It's a 1,000 years older than Munich, Bavaria's capital. Regensburg's crowning glory is its 13th century Gothic cathedral that can be seen from anywhere in the town.
Stroll over the 12th century Stone Bridge for great views and to see the other half of Regensburg, the peaceful Stadtamhof neighborhood. Halfway across the bridge, a small beer garden, Alte Linde, juts out offering drinks with a view.
Regensburg is known for salt, sweet and spicy mustard, and chocolate. Buy mustard at Handlmaier's Laden and chocolate at the ritzy Cafe Prinzess.
Eat a knacker, which consists of sausage, sweet mustard, and pickles on a bun. Or try a Streuseltaler pastry.
READ: Complete Guide to Regensburg
Extra Time in Bavaria?
If you have more than 10 days in Bavaria, here are three other great Bavarian destinations to add to your itinerary.
1. Oberammergau
The painted town of Oberammergau lies in a wide valley. The town is picturesquely surrounded by dark forests and snowy peaks of the Ammergauer Alps.
The town's historic center is packed with traditional painted houses and woodcarving shops. You'll also trip over awestruck tourists. They come here to learn about the town's world-famous Passion Play.
The top attraction here is Passiontheater. This is where the Passion Play is performed only once every decade. The next one is from May to October 2022.. You can visit on a guided tour.
Another top attraction is the Oberammergau Museum. It's one of the best places to view exquisite examples of Oberammergau's famously intricate woodcarving art.
If you want to see Neuschwanstein Castle, Ettal Abbey and Oberammergau all in one day, you can book this guided tour from Munich.
2. Garmisch-Partenkirchen
Garmisch-Partenkirchen is an extremely picturesque Bavarian town. It takes approximately 1.5 hours to get there from Munich. You can take the train.
A highlight of Garmisch is the the AlpspiX. It's a viewing platform high up in the in the Zugspitze Peak. It's reachable only by cable car.
It's a 10 minute ride to the top station of Osterfeldekopf. Even at the outset the view is ridiculously beautiful … because Bavaria.
The cliff face below is steep. The ground drops away sharply. You can walk out a somewhat scary platform to take in the panoramic views of Bavaria and Austria.
3. Dachau Concentration Camp
If you're in Nuremberg for more than a day, you can easily day trip to Dachau Concentration Camp. It's a 1:40 drive from Nuremberg. Be sure to pick up an audio guide to orient yourself. It's a vast space.
Dachau played a significant role in having Hilter's history in Germany. It was one of the first camps set up to hold political prisoners, subversives, Jews, and other "undesirables" during WWII.
On a visit to Dachau, you'll be presented with the camp's history in great detail. You'll learn how the camp morphed from prison to murder factory. All told, over 40,000 people were murdered at Dachau and more than 200,000 people imprisoned.
For more info and insight, you can book a guided day tour from Munich. For real history buffs, you can also book a tour combining a walking tour of Third Reich sites and Dachau.
I hope you've enjoyed my 10 days in Bavaria itinerary. If you're like me, you'll be swooning over these beautiful towns and sites and want to plan a return trip.
You may enjoy these Germany travel guides and resources:
If you'd like to see all the best towns and destinations in Bavaria, pin it for later.