Salzburg is hands down one of the most beautiful cities in Europe. It has a charming old town, Baroque churches, and a formidable medieval fortress looming over the city.
Salzburg is steeped in history. For centuries, the city was governed by archbishops who ruled like kings. Until the Hapsburg Empire gradually gained more influence.
The city is nicknamed the "Rome of the North." Like the Eternal City, Salzburg is dense with churches and cobbled lanes. The Old Town survived WWII bombing perfectly intact.
With 8 million visitors annually, Salzburg is definitely very touristy. Yet, sometimes there's a reason for a place's popularity. Every time I've visited, it's crowded to be sure.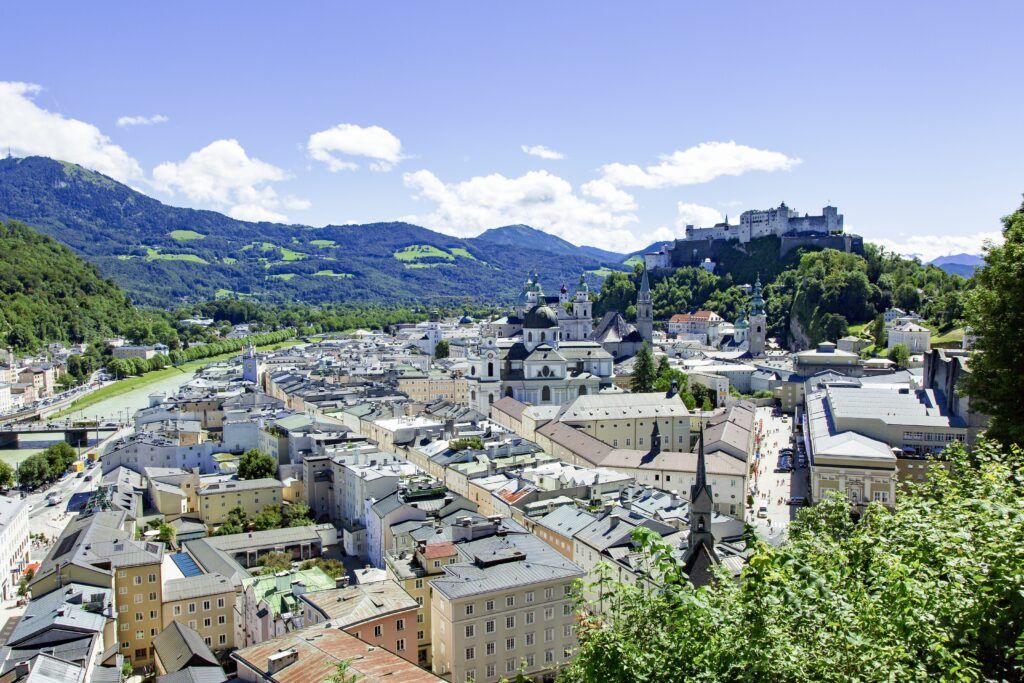 Yet, except during festival season, it's perfectly enjoyable. Salzburg is just too picturesque to resist.
Salzburg is synonymous with Mozart, where he spent much of his first 25 years. It was here that Mozart learned to play piano and violin, and composed his first boy genius works. And you'll find two of his houses to visit.
Americans also famously associate the city with the movie The Sound of Music. The Salzburgians don't think so. But there is a lot of tourism based on the film.
This itinerary covers all the top attractions and things to see in 1 day. It also gives you tips for visiting Salzburg on a day trip from Vienna, which is how many people experience the city.
One Day In Salzburg Itinerary At A Glance
Salazburg is divided into 2 parts, the Old Town and the New Town. They're separated by the Salzach River.
If you're coming by train or tour, you will arrive in the New Town. You'll be about 1 mile from Mirabell Palace.
Here's a snapshot glance of what you can see in a fairly fast paced one day in Salzburg:
Mirabell Palace & Gardens
Mozart Residence
Getreidegasse
Mozart's Birthplace
Old Town
Salzburg Cathedral
St. Peter's Complex
Hohensalzburg
I've seen some one day itineraries that include Hellbrunn Palace. But I honestly don't feel that's doable with just 1 day without sacrificing an enjoyable stroll around the Old Town.
I highly recommend buying a Salzburg City Card. You can buy it for 1, 2, or 3 days. You'll have skip the line entry to attractions and free public transport, including the funicular up to the fortress. If you plan to visit quite a few places, it will save you money.
Here are some of the top tours and experiences you may want to book. Depending on how much time you have, a walking tour with a knowledgeable guide is a splendid idea. Be sure to book well ahead in high season!
One Day in Salzburg Itinerary & Day Trip
Breakfast
If you're in Salzburg early, have breakfast or coffee at Cafe Bazar. This is where all the famous literary figures of Salzburg sipped coffee and read the newspaper. It has a lovely terrace overlooking the river.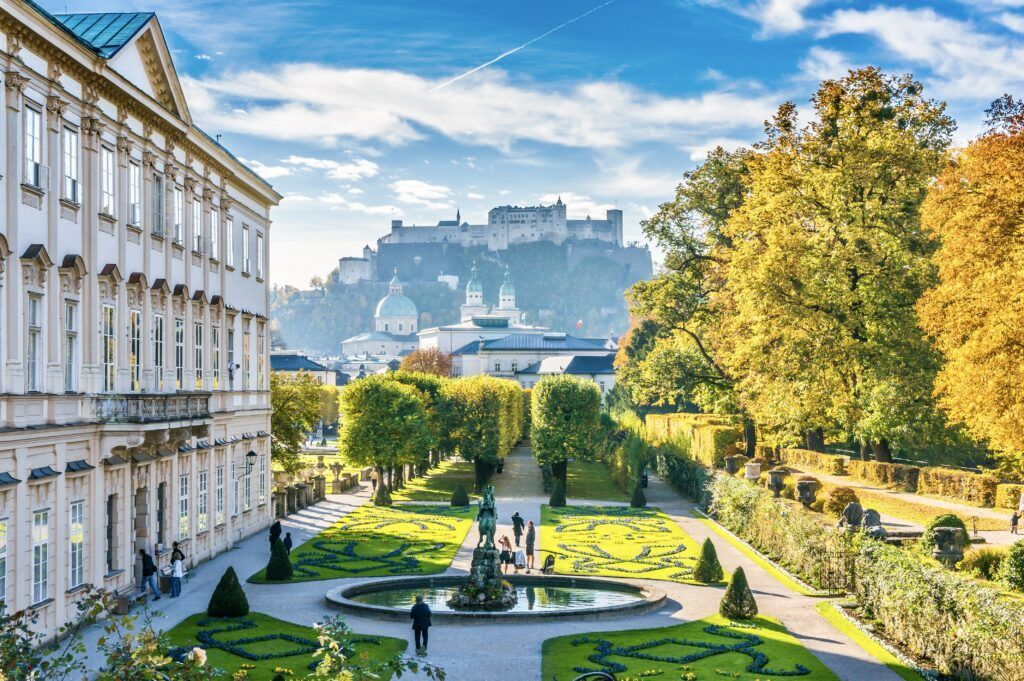 Schloss Mirabell & Mirabell Gardens
Most visits to Salzburg start at the Mirabell Palace in the New Town. It's an Italian style palace.
Mirabell Palace was built by Prince-Archbishop Wolf Dietrich von Raitenau for his mistress, Salome Alt. Construction of the palace began in 1606, and it was originally known as "Altenau Palace" in honor of Salome Alt.
The palace and gardens are free to visit. The gardens are a favorite of locals and tourists alike.
They're known for their exquisite Baroque design, colorful flowers, and meticulous maintenance. There are also some lovely fountains, the Pegasus one being the most famous.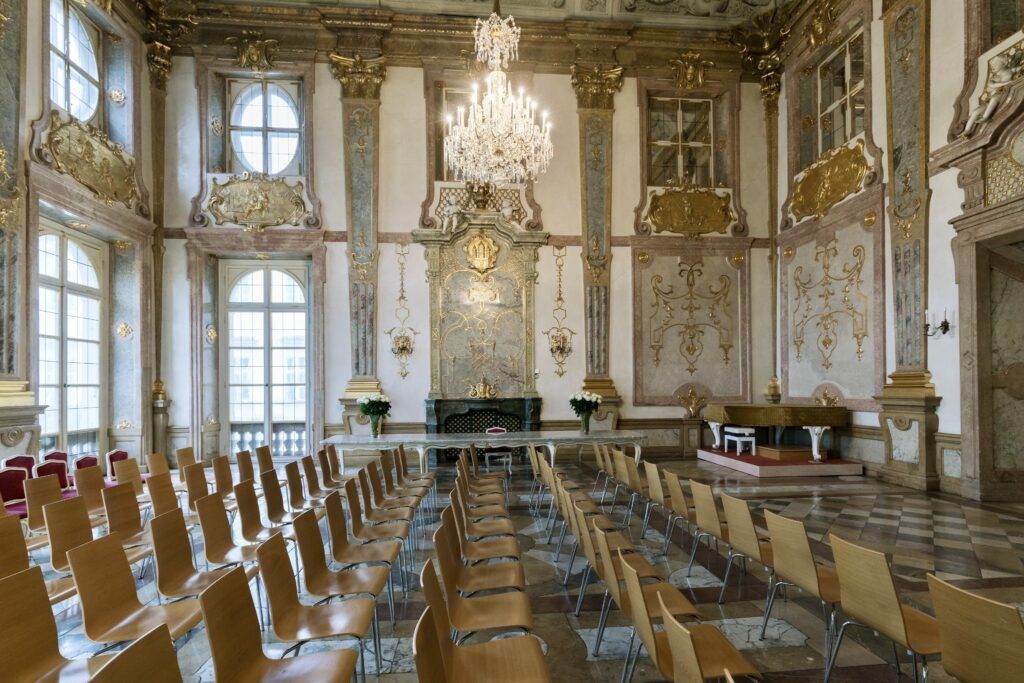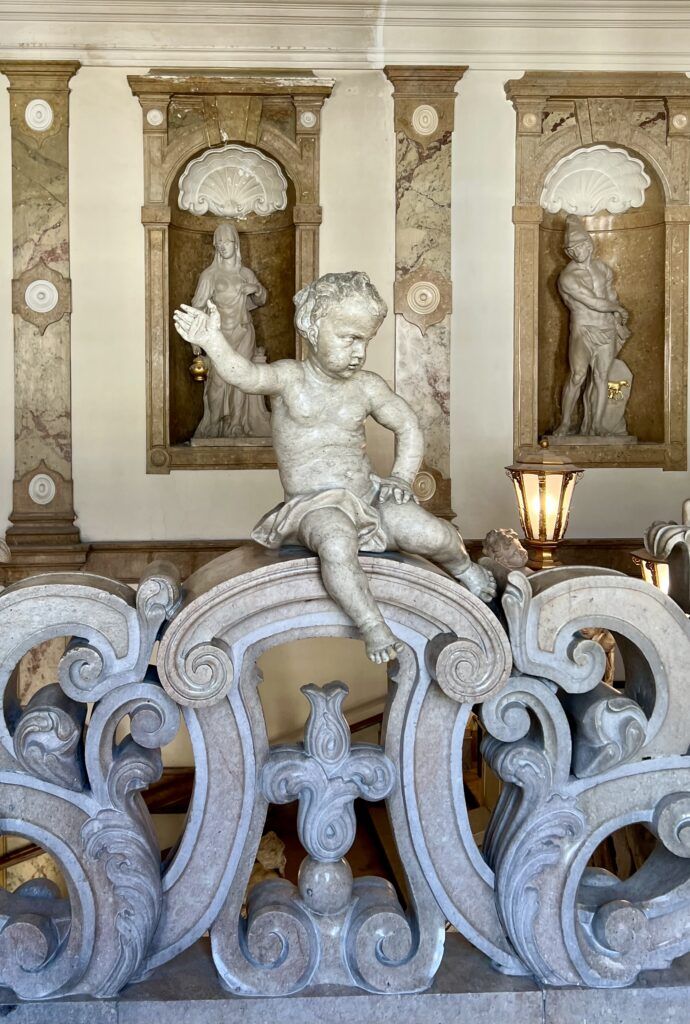 If you're visiting in a season other than winter, don't miss the unique Dwarf Garden. Dating back to 1695, it's the oldest garden of its kind in Europe. There 28 charming marble dwarf sculptures.
These days, the palace primarily serves as government offices. So only a portion is accessible to the public.
Upon entering, you'll be greeted by the Angel Staircase. It's a beautiful white marble staircase adorned with playful cherub sculptures.
At the top, you'll find the Marble Hall—a breathtaking venue for weddings and a place where Mozart once showcased his talents.
Keep in mind that the Marble Hall has limited hours. It's open on Monday, Wednesday, and Thursday from 8:00 am to 4:00 pm, as well as on Tuesday and Friday from 1:00 pm to 4:00 pm. it's been hit or miss for me when I've tried to visit. Sometimes, it just closes unexpectedly.
The palace often hosts classical music concerts in the evenings.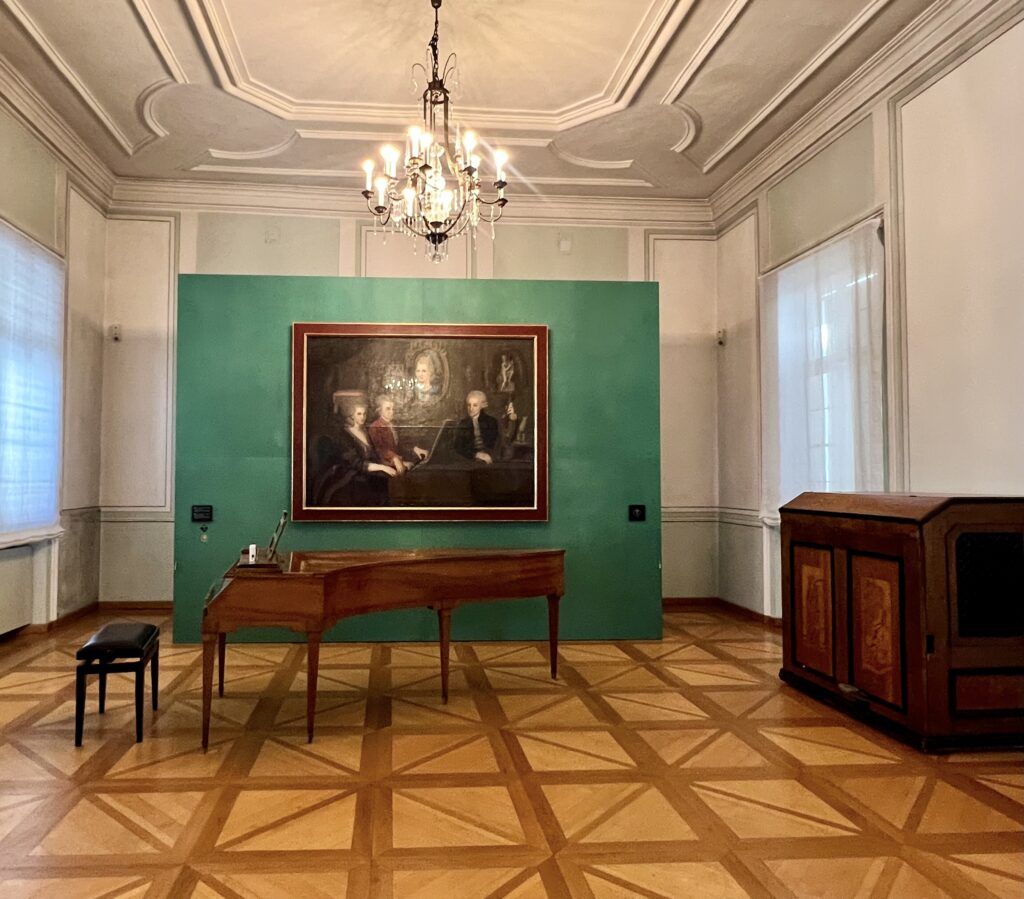 Mozart Residence
Many visitors just visit Mozart's Birthplace in the Old Town. But true enthusiasts should make a stop at the Mozart Residence in New Town after your palace visit.
This is where Mozart lived with his family after they moved from the birthplace residence. It's also called the Dance Master's House.
This museum provides a more comprehensive introduction to Mozart's life compared to the other museum. Inside, you'll discover numerous musical scores, portraits, and insights into his life and family upbringing.
The main living room served as the venue for the Mozart family's gatherings with high society. Here, you'll there's a prominent family portrait and the museum's prized possession: Mozart's piano. You'll find plenty of other instruments too.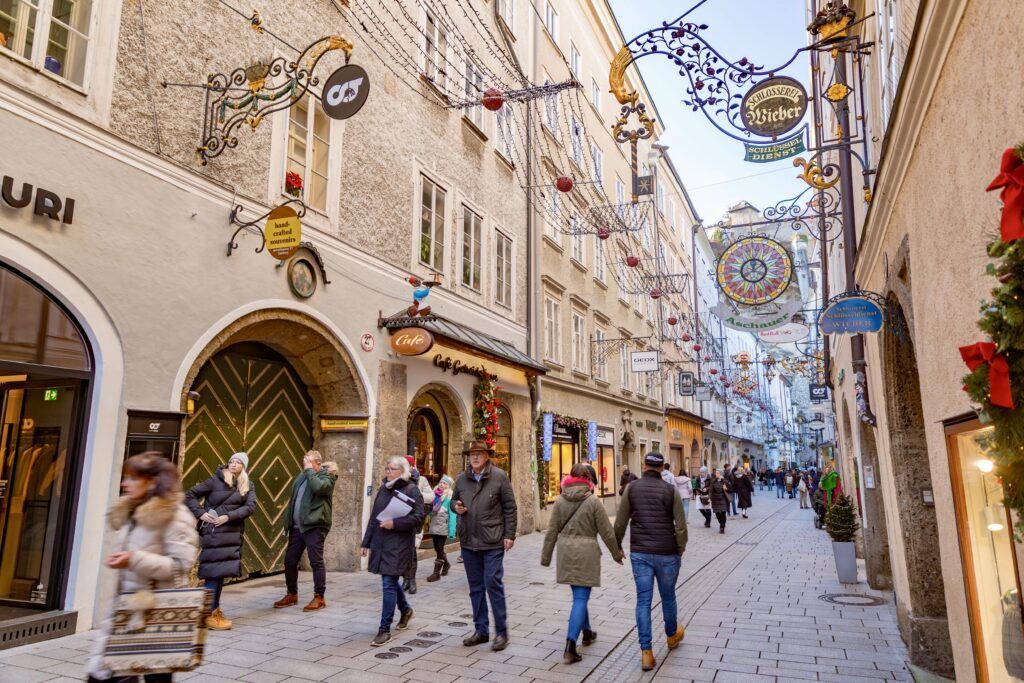 Main Street: Getreidegasse
From the Mozart Residence, cross the river at Makartsteg bor Staatsbrucke bridge. Pop through a passageway or two and you'll emerge onto Getrediegasse, Salzburg's colorful main street. Whether you like shopping or not, you'll want to take a stroll here.
Getreidegasse is gorgeous, filled with classy shops and wrought iron signs. You can shop for dirndls, chocolates, schnapps, Christmas decorations or jewelry.
There are literally hundreds of signs, which were once advertising for artisans and traders. Today they give the place a special elegance.
You'll also want to wander down side alleys and visit Goldgasse, Judengasse, and Pfeifergasse streets.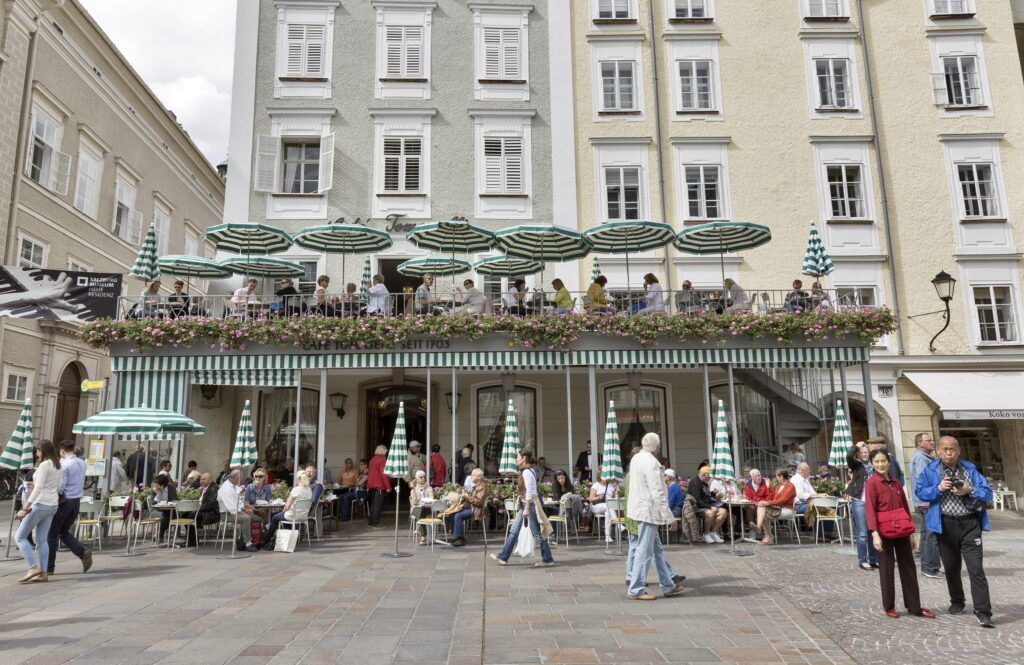 Lunch
After your still, for lunch try one of the city's classic cafes, like Mozart Cafe or Tomaselli Cafe. Tomaselli was the Mozart family's favorite cafe. Be sure to make a reservation!
Another option is to dive into the local culture by visiting a beer garden. There's one near the Augustiner Church, Kostner Mulnn.
You can also try Sternbrau, a pretty place near Getreidegasse. It's in a beautiful leafy courtyard and has an authentic vibe. It's self service, but the food is good and the beer is better.
Or you can just grab a sausage to go at a Würstelstand.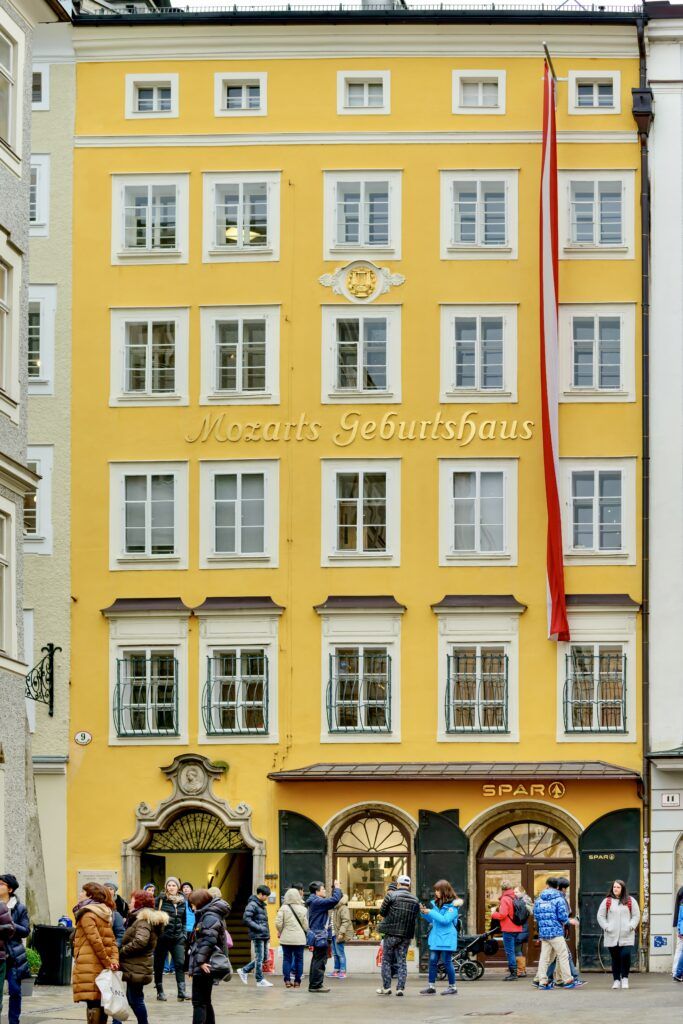 Mozart's Birthplace
Mozart's Birthplace museum is dedicated to the life and works of the famous composer, who was born and lived there until he was 17. It's on the third floor of a 12th century townhouse on Getreidegasse.
For fans of Mozart, it a must do pilgrimage. The museum gives you a solid history of Mozart and his family.
It's filled with a significant collection of authentic memorabilia and family treasures — Mozart's possessions, photographs, musical scores, letters, instruments he played, mini opera stages, etc.
My personal favorite things to see were the instruments and the portraits of Mozart. For more information, you can check out my guide to Mozart's birthplace.
When you're done there, head to the DomsQuartier and Salzburg Cathedral.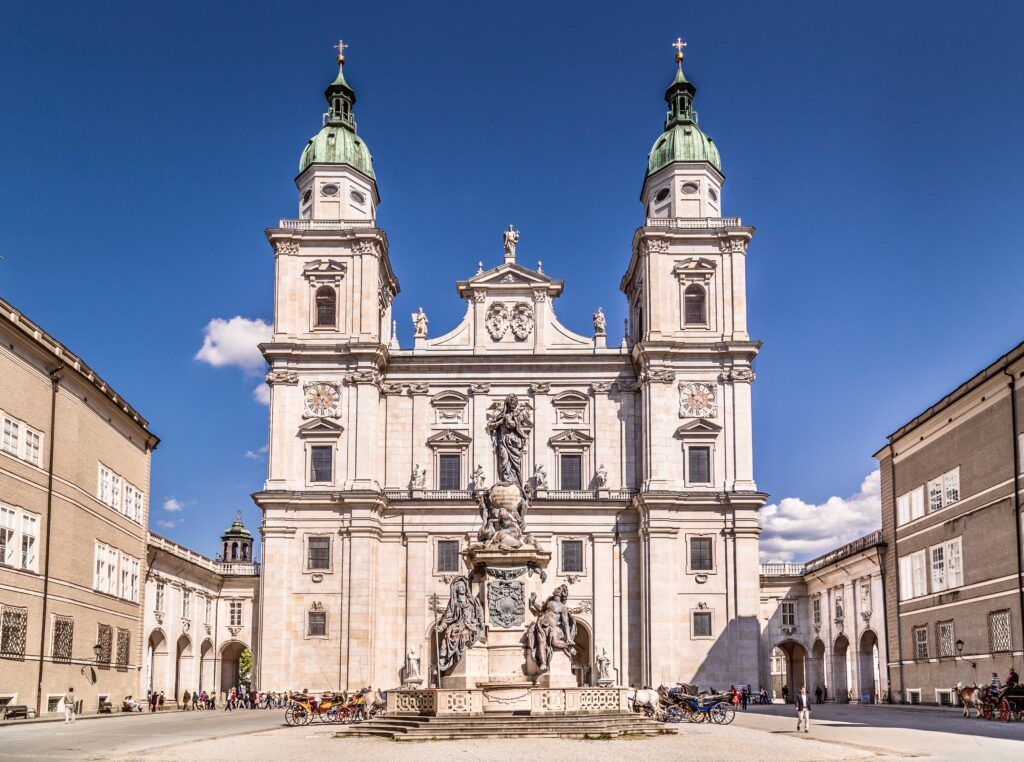 Salzburg Cathedral
Built in the early 1600s, Salzburg Cathedral was one of the first Baroque building constructed north of the alps.
The cathedral features two distinctive towers with copper domes that are visible from around the city. The creamy white facade is adorned with various sculptures of saints and angels.
The interior is pure Baroque grandeur with a central nave and two side aisle. The art is theatrical and the ceiling is famous.
The 16th century frescoes were created by the Italian Baroque artist Ignazio Solari. They are rendered in beautiful rich hues of blue, red, and gold.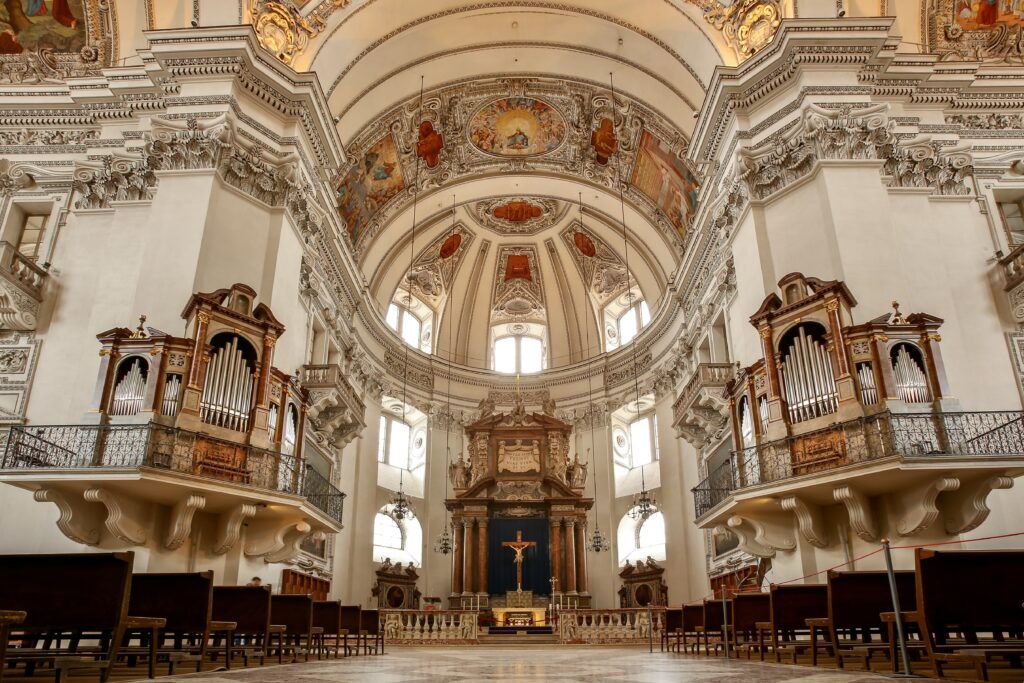 A highlight is the grand organ and the font where Mozart was baptized (just inside the front door). Mozart was the cathedral organist for 1 year.
After leaving the cathedral, make your way to Kapitelplatz. There, you'll see a contemporary sculpture created in 2007 by German artist Stephan Balkenhol.
Known as "Sphaera" or "Sphere," the artwork features a tiny man standing on a large golden globe. In this square, you'll also find the Neptune Foundation and a giant chess set.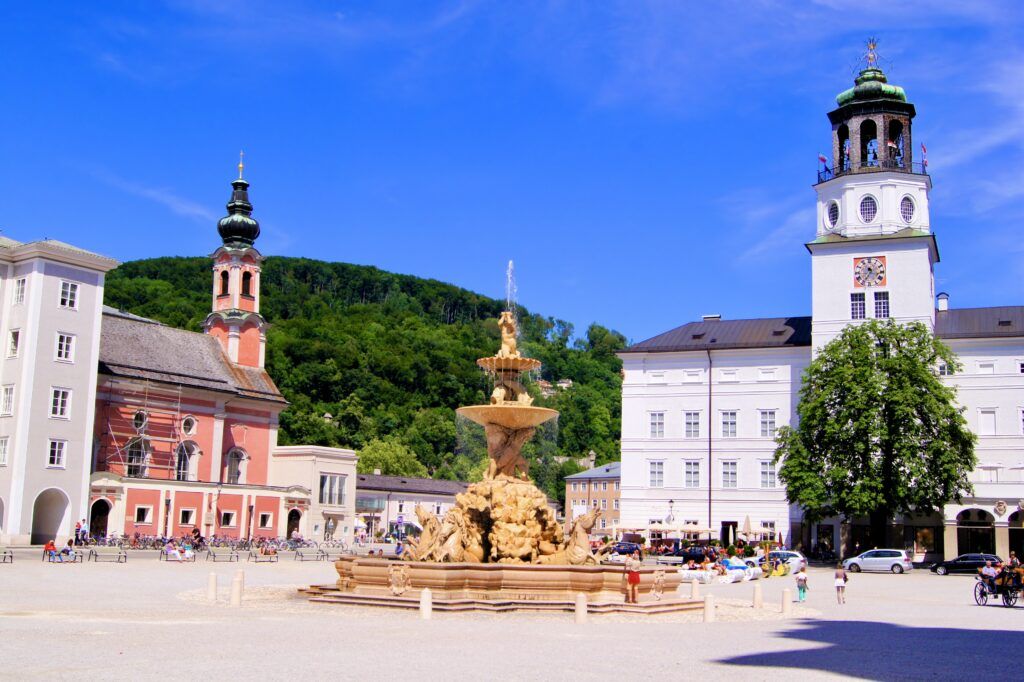 Residence
The Reisdenz is on the largest square in town, Residenzplatz. In front, there is a gorgeous Baroque fountain that makes you feel a bit like you're in Italy.
The Residenz was the seat and home of the prince archbishops. It's an extensive complex enclosing three courtyards. Today, there are several interconnected museums inside.
The best is the art museum on the third floor. It features an impressive collection of European art from the 16th to the 19th centuries, with works by artists such as Rembrandt, Rubens, and Brueghel.
From the third floor gallery, you can access the terrace connecting the Residenz and the Cathedral. This is where the Dom Museum is housed.
You can also visit the Baroque style staterooms on the second floor. A young Mozart used to give concerts in the Knight's Hall.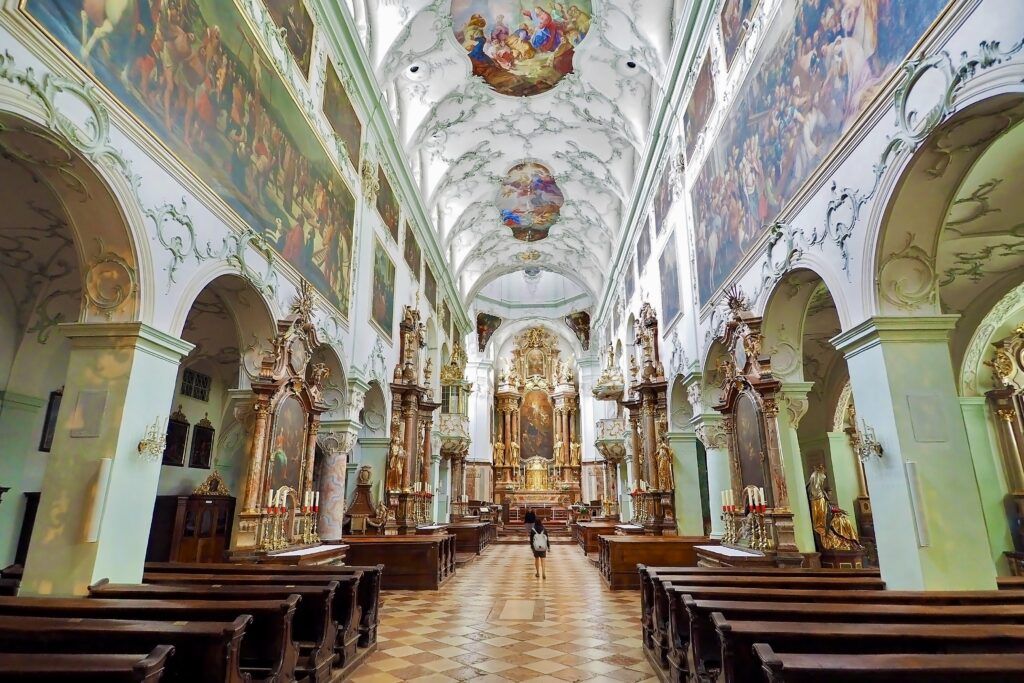 St. Peter's Complex
This is an intriguing complex that includes a church, abbey, chapels, cemetery, and catacombs.
The abbey, established in 1696, is the oldest active monastery in Austria. Its courtyard boasts a charming Baroque exterior with banana-gold accents.
St. Peter's Church, known as Stiftskirche St. Peter, offers a stunning interior filled with vibrant colors. Like almost everything else in Salzburg, the historic church served as the venue for one of Mozart's earliest concerts.
Inside, the ceiling is painted in white with delicate pale green accents and dark blue frescoes. Along the upper walls of the nave, you'll find biblical frescoes. Gold trim decorates the columns and arcades.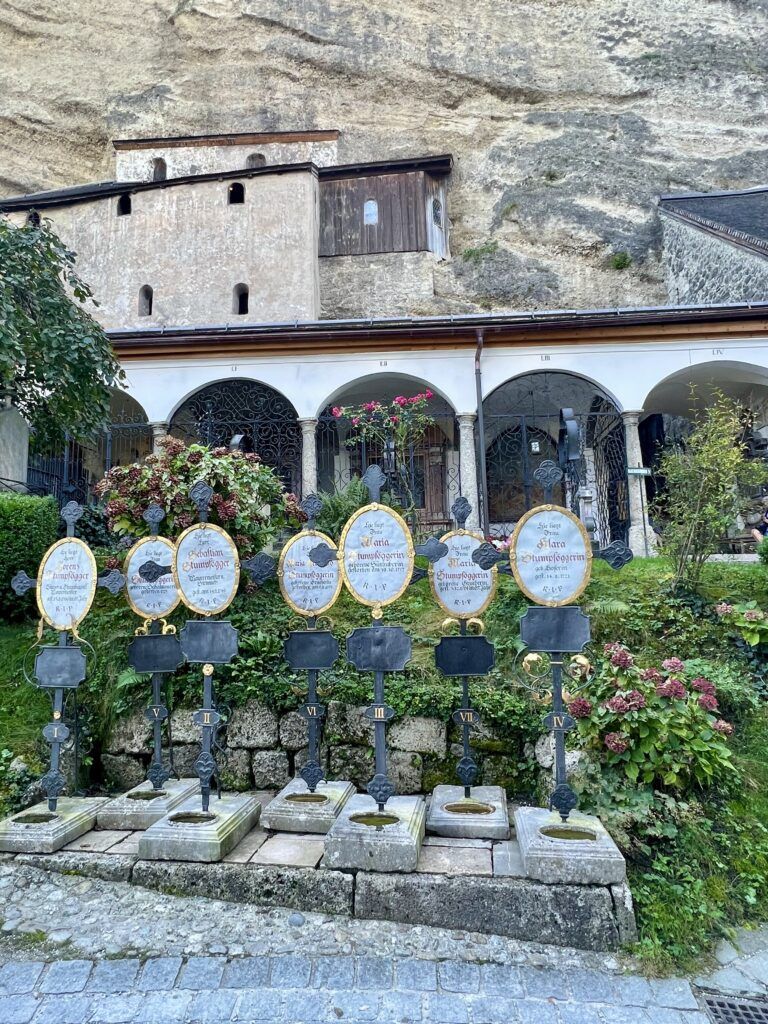 St. Peter's Cemetery is a lovely spot for a leisurely stroll. Its grave markers are adorned with flowers and crowned by elegant wrought-iron crosses.
Located on the cemetery's edge are the renowned Catacombs, which date back to early Christian history.
These catacombs were initially carved into the rock to provide a resting place for early Christian martyrs and notable residents of Salzburg. They consist of a network of rock-cut chambers and tunnels.
Upon entering (for a fee of 2 euros), you'll embark on a somewhat steep ascent, occasionally needing to stoop in certain sections. However, the tiny windows along the way offer splendid views of the church and cathedral.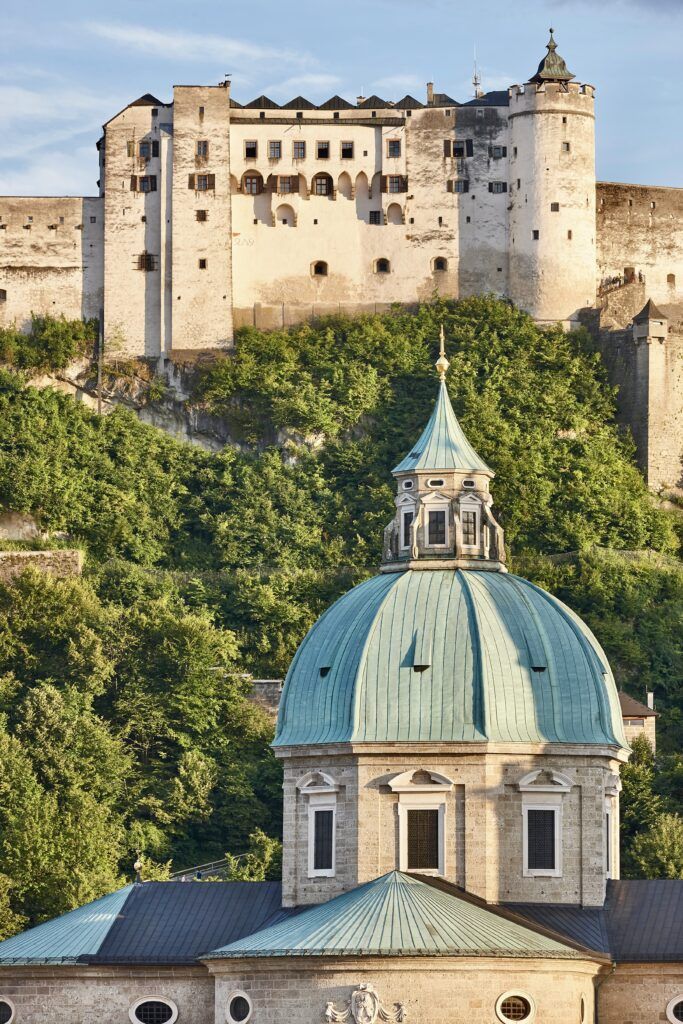 Festung Hohensalzburg
End your one day in Salzburg with a visit to Hohensalzburg Castle. Perched on Mönchsberg mountain, it towers 400 feet above the river.
Access is quick and easy. You can hop on the funicular near St. Peter's Cemetery or walk up. From Domplatz, it's about 15-20 minutes.
The standard ticket includes the funicular, access to the exterior areas, and an audio guide for the interior museums. The staterooms are a small extra fee.
The fortress is open until 7:00 pm during high season and 5:00 pm in off peak season. So plan your visit there accordingly. You'll need at least an hour for a quick visit.
>>> Click here to pre-book a ticket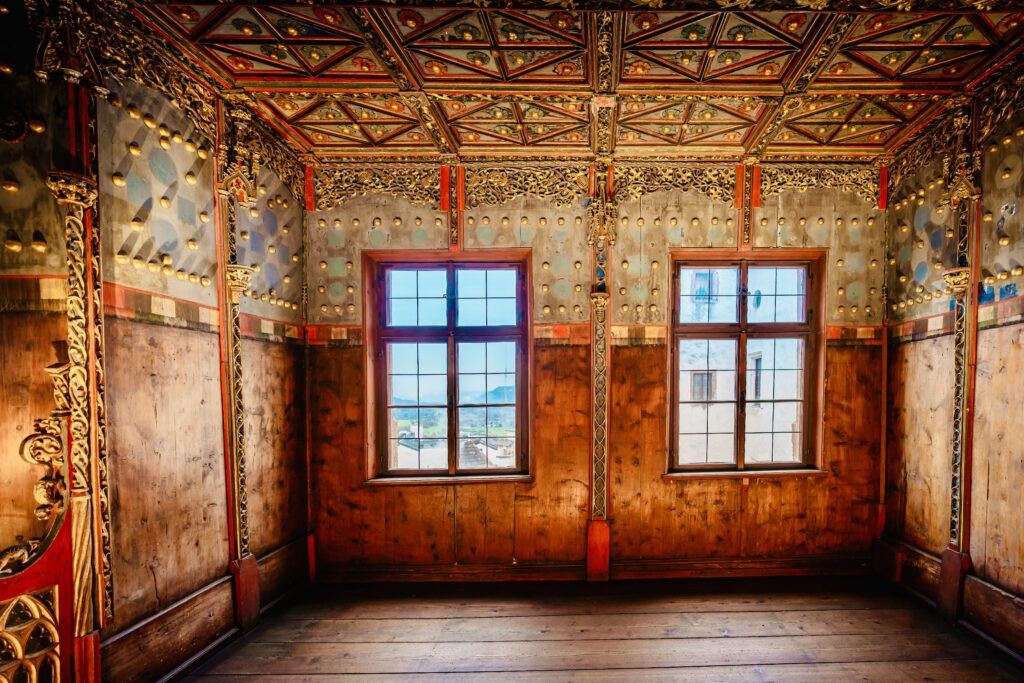 Hohensalzburg is a massive castle built for protection during wars. It's the biggest and best-preserved medieval castle in Europe.
Perhaps thanks to its intimidating looks, it was never attacked. Construction started in 1077 and lasted until the 17th century. It looks like a late Gothic castle.
You can see the whole city from the Panorama Terrace. It's worth going up to the fortress just for that.
If you go inside, don't miss the Golden Chamber (for receptions) and the Golden Hall (for banquets) in the staterooms. Most of the furnishings are original, from the early 16th century.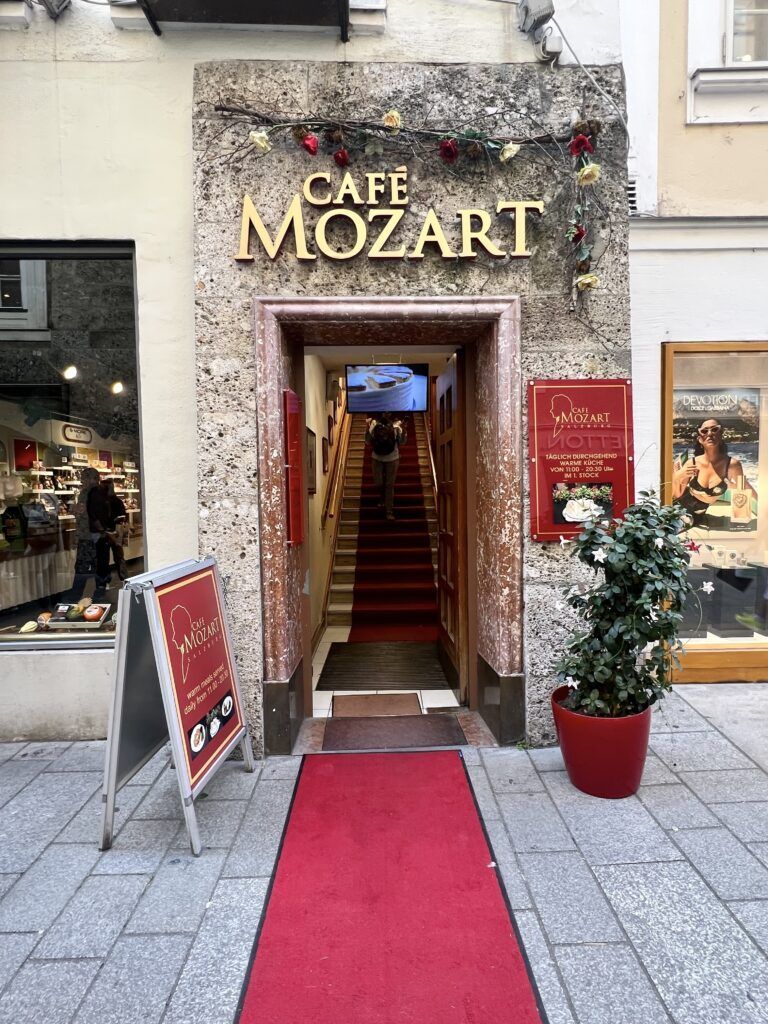 Evening
For dinner, you can check out the beer gardens I mentioned above, if you didn't get a chance at lunch.
Or if you want a traditional Austrian diner, you should go to a "gasthaus" like Zwettler's or Goldener Kugel. They are family run taverns that serve up schnitzel.
If you are staying overnight, Salzburg is one of the best music venues in Europe. There are many options for evening entertainment. You can attend a concert at several venues: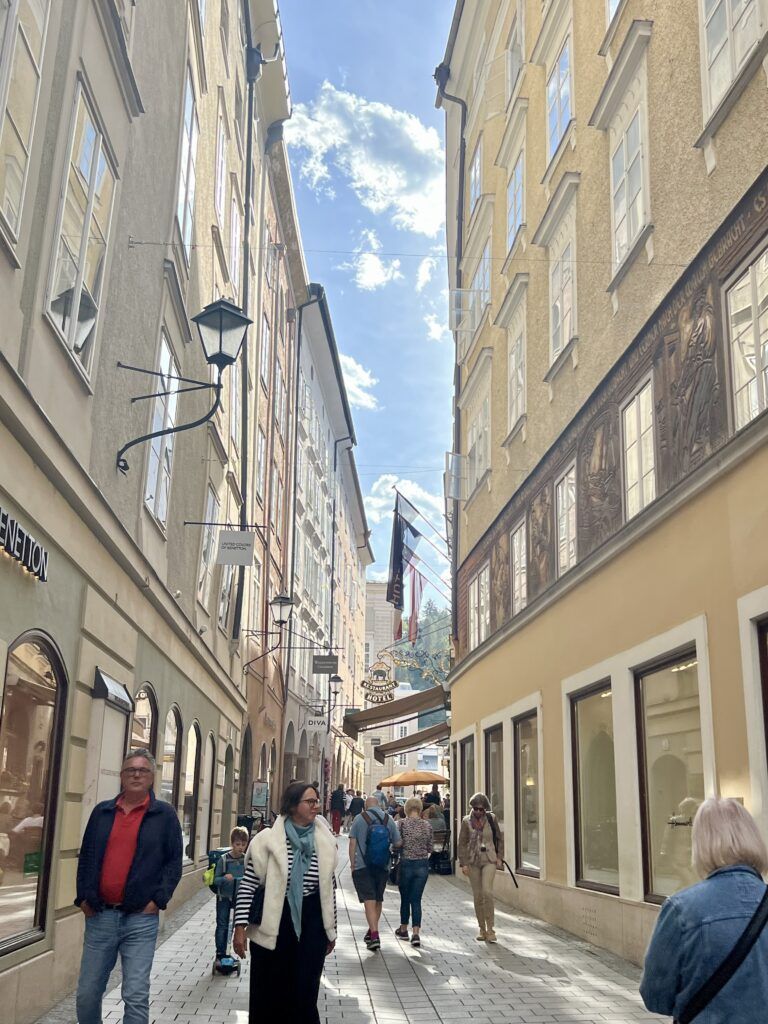 Tips For Visiting Salzburg
How To Get To Salzburg
By Air: Salzburg has its own international airport, W.A. Mozart Airport (SZG), with connections to major European cities. o get from the airport into town, you can get a bus, taxi, or book a private transfer.
By Train: Salzburg has good rail connections to various European cities. The central train station in Salzburg is Salzburg Hauptbahnhof (Salzburg Hbf) in the New Town.
By Car: If you prefer to drive, you can rent a car and reach Salzburg by road. You can deposit your car in the Mirabell Garage for the day.
By Tour: You can also visit by booking a guided day tour from Vienna. I recently took this 12 hour tour and it was excellent. Or guide regaled us with historical tidbits and we stopped at St. Gilgen in the Lake District.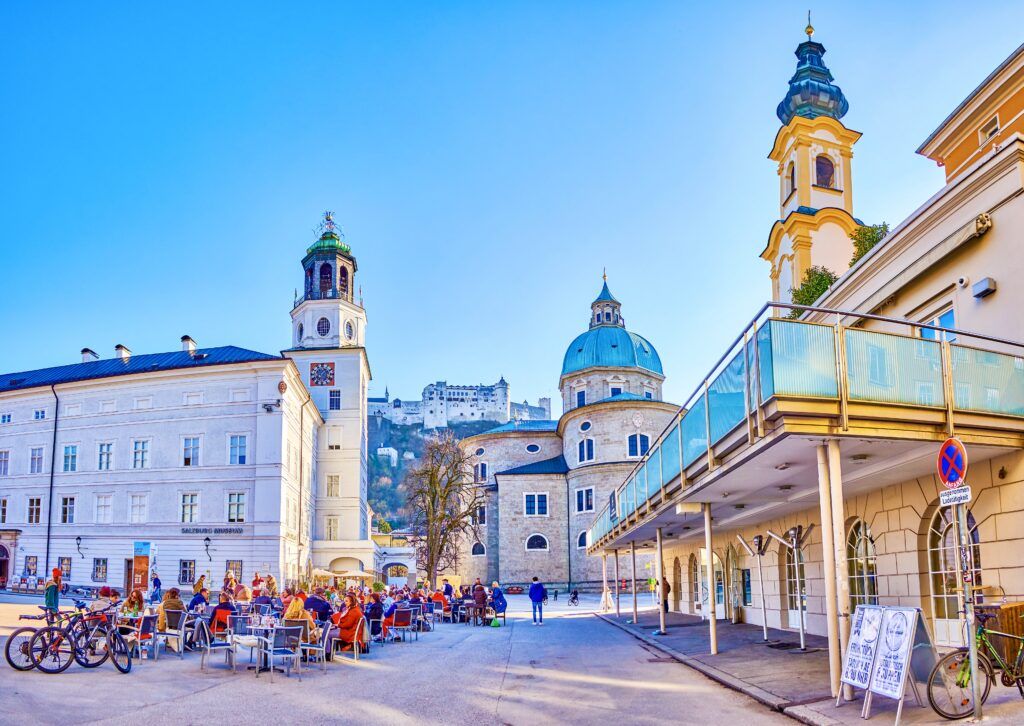 How To Get Around Salzburg
Salzburg is an eminently walkable city. You can also take the hop on hop off bus or use taxi, buses, or bikes.
Where To Stay In Salzburg
Salzburg has some fantastic hotels.
Hotel Sacher Salzburg is an extremely elegant boutique hotel on the banks of the Salzach River. The Hotel Bristol Salzburg is a beautiful hotel just steps from Mirabell Palace with an award winning restaurant.
Hotel Goldener Hirsch is another historic hotel, just steps from Mozart's Birthplace. The rooms are furnished with antiques in a classic Austrian style.
Hotel Rosenvilla is a luxurious small hotel in the exclusive Aigen district, about a 10 minute walk from old town. Another cool boutique hotel is Art Hotel Blaue Gans right at the foot of Hohensalzbuerg Fortress.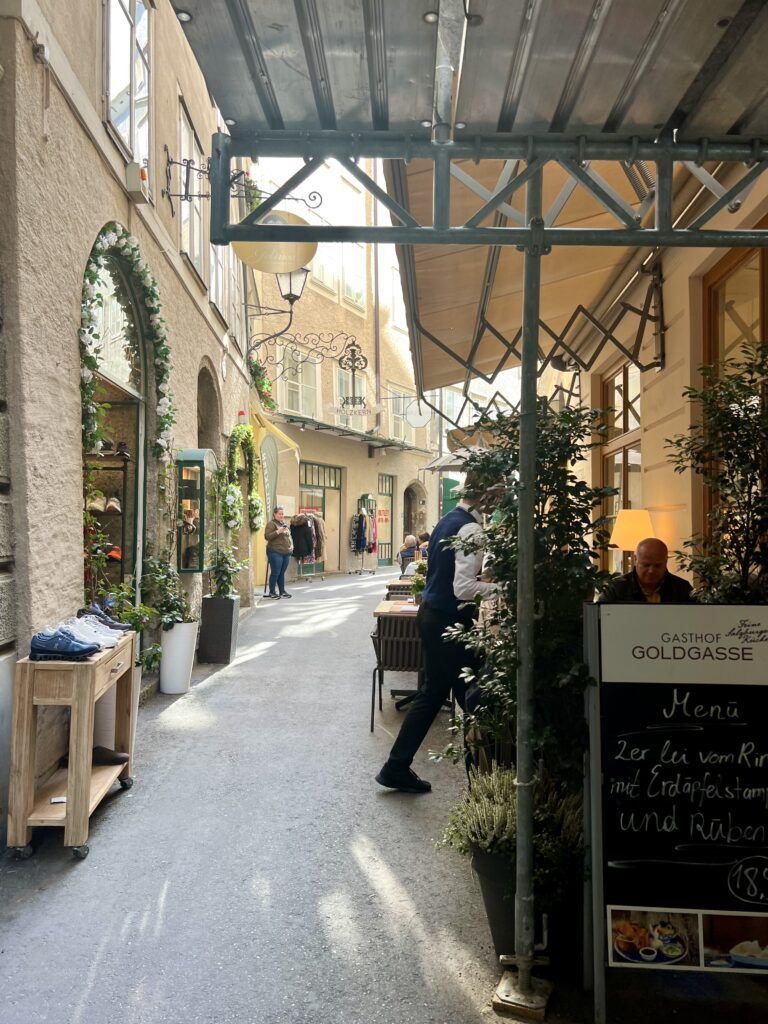 When To Visit Salzburg
The best time to visit Salzburg is during the off-season, as summers tend to be crowded and hot. Even during the quieter times, you may still encounter some crowds.
Salzburg is a city of festivals, with the most famous being the Mozart Festival, held annually from mid-July to late August. If you plan to visit during this period, be sure to book well in advance.
Spring is an excellent time to explore Salzburg. The Mirabell Gardens are in full bloom and the weather is mild.
December transforms Salzburg into a winter wonderland, with Christmas stalls, markets, ice sculptures, and food stands taking over the city.
Salzburg generally has a reputation for being a rainy city, experiencing rain for 3 seasons of the year. I've visited when it's been raining. It definitely makes the city seems gloomy. So check the weather forecast before you go.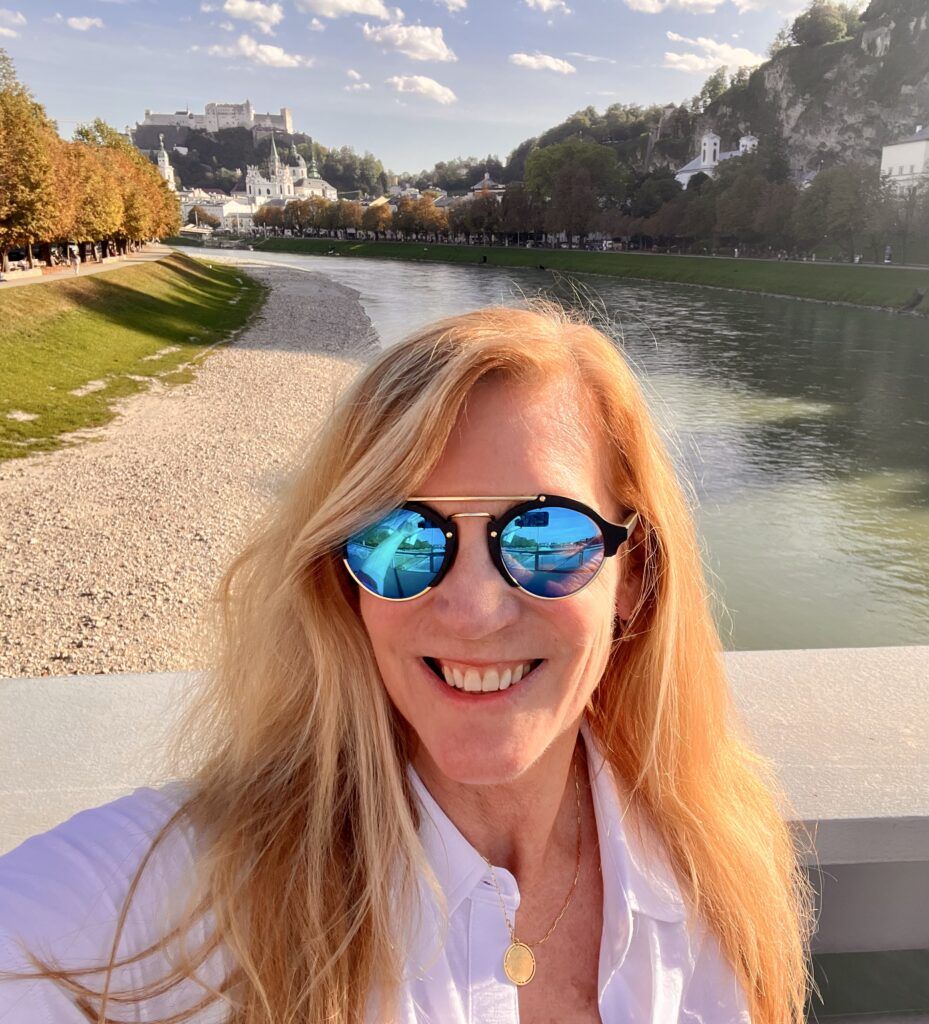 Is One Day in Salzburg Enough?
While it's possible to see Salzburg's main attractions in one day, spending just a single day in Salzburg would mean a relatively quick visit with limited time to explore all the city has to offer.
If 1 day is all you have, it's all you have. But 2 days in Salzburg would give you a more relaxed experience and allow you to see more things.
I hope you've enjoyed my one day in Salzburg itinerary and day trip guide. You may find these other Austria guides helpful:
If you want to spend one day in Salzburg, pin it for later.