Looking for an itinerary for a Spain road trip or vacation? You'll find it here in my comprehensive 10-14 day itinerary for Spain.
This Spain itinerary takes you to the Spain's classic cities: Barcelona, Madrid, Cordoba, Seville, and Granada. The itinerary starts in Barcelona and ends in either Seville or Granada.
I also give you day trip options to some of Spain's prettiest villages.
There's nowhere more romantic (or popular!) than Spain. Spain conjures dreamy visions of tapas and flamenco.
Spain is incredibly diverse and rich in history, culture, and food. Spain's magnificent cities boast some of the world's best cathedrals, palaces, museums, and historic landmarks.
Barcelona is celebrated for its stunning Gaudi architecture and Modernist architecture. Madrid is a genteel capital, a hub of culture and old world elegance.
Cordoba, Seville, and Granada boast the world's most stunning Moorish architecture and pretty whitewashed Andalusian towns. In these incredible Spanish cities, there are vast repositories of art work by Picasso, El Greco, Goya, and Velazquez.
With this 10-14 day Spain itinerary, you'll see the major sites, attractions and landmarks. You can travel via low cost flights, high speed trains, or car.
READ: Tips For Renting a Car and Driving in Europe
Spain has a fantastic train system (Renfe), with high speed trains connecting the major cities. You won't want to have a car in the major cities.
You can take public transportation or book a tour to some of the small town day trip options. But a car will give you more flexibility if you want to veer off course or make more stops along the way.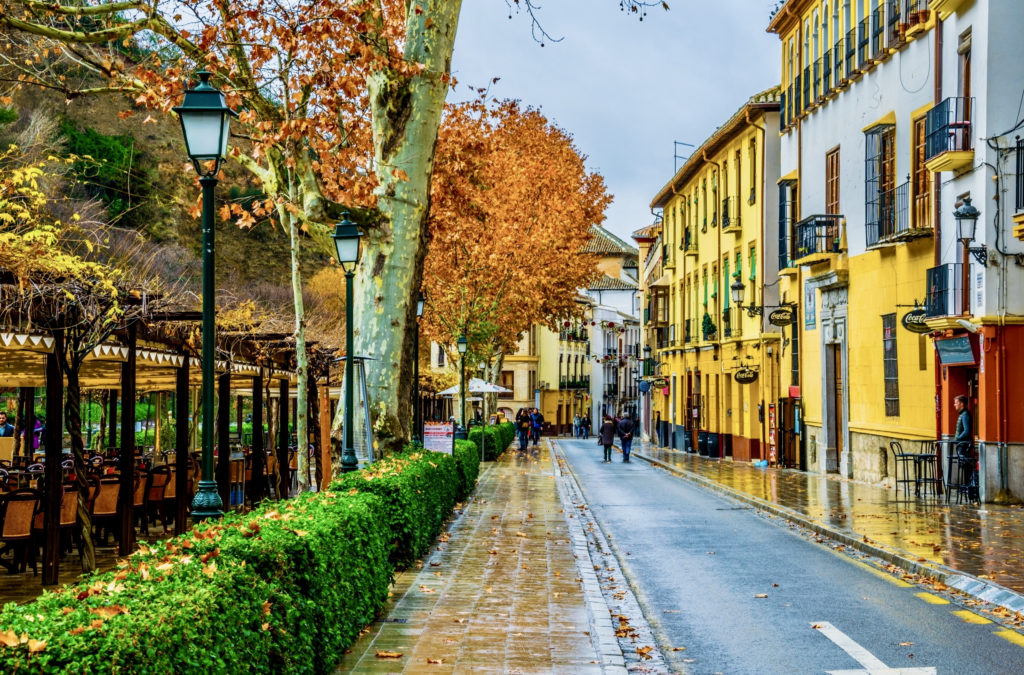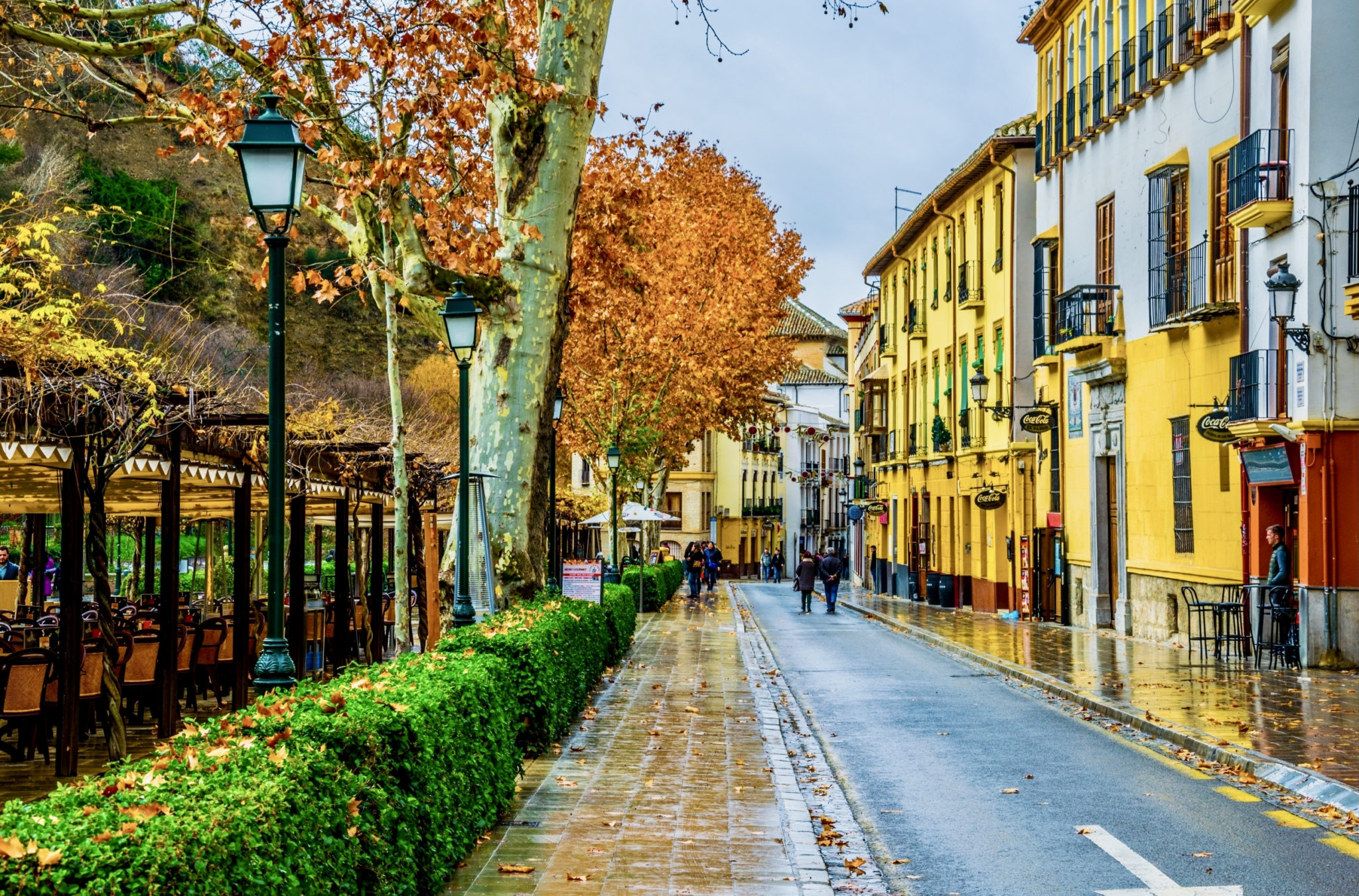 This super detailed Spain itinerary is perfect for first timers and is easily adjustable.
You can make it shorter or longer, depending on your available vacation time and which cities intrigue you the most. Or change the order, depending on which major city you fly into.
If you follow the 10 day itinerary for Spain, you'll have 3 bases: Barcelona (4 nights), Madrid (2 nights), Cordoba (1 night), and Seville (3 nights). I give you tips on where to stay in each city.
If you opt for 2 weeks in Spain, you will add on 4 days with Granada as a base.
Overview Of 10-14 Day Itinerary For Spain
Here's a quick snapshot of what you'll see on this 10 days to two weeks in Spain itinerary:
Day 1: Barcelona
Day 2: Barcelona
Day 3: Day Trip to Montserrat or Girona
Day 4: Train to Madrid
Day 5: Madrid
Day 6: Day Trip To Toledo or Segovia
Day 7: Train to Cordoba
Day 8: Seville
Day 9: Seville
Day 10: Day Trip to Ronda
More time? Add:
Day 11: Drive to Granada, stop in Antequera
Day 12: Granada
Day 13: Granada
Day 14: Day Trip to Frigiliana and Nerja
Even more time? Spend some time in Spain's beautiful Basque Region, to the west of Barcelona, before heading south to Madrid.
Perfect 10-14 Day Itinerary for Spain
Buckle up and let's take a tour of Spain, in 10 days to two weeks depending on how much time you have in Spain.
Here are my top picks for where to go in Spain — all the must visit cities, sites, attractions, and landmarks in this spectacular country.
Day 1: Barcelona's Main Attractions
You'll start your Spain itinerary in Barcelona. This big city has so many amazing things to do and see.
You'll need 3 days to soak up the incredible Gaudi architecture, devour the savory food, and wander in the atmospheric Gothic Quarter.
1. Gothic Quarter
On your first day in Barcelona, head to the Gothic Quarter and stroll down the maze-like Las Ramblas, Barcelona's most famous street. It's a pretty nice (but very crowded) boulevard with a plethora of cafes, restaurants, and souvenir shops.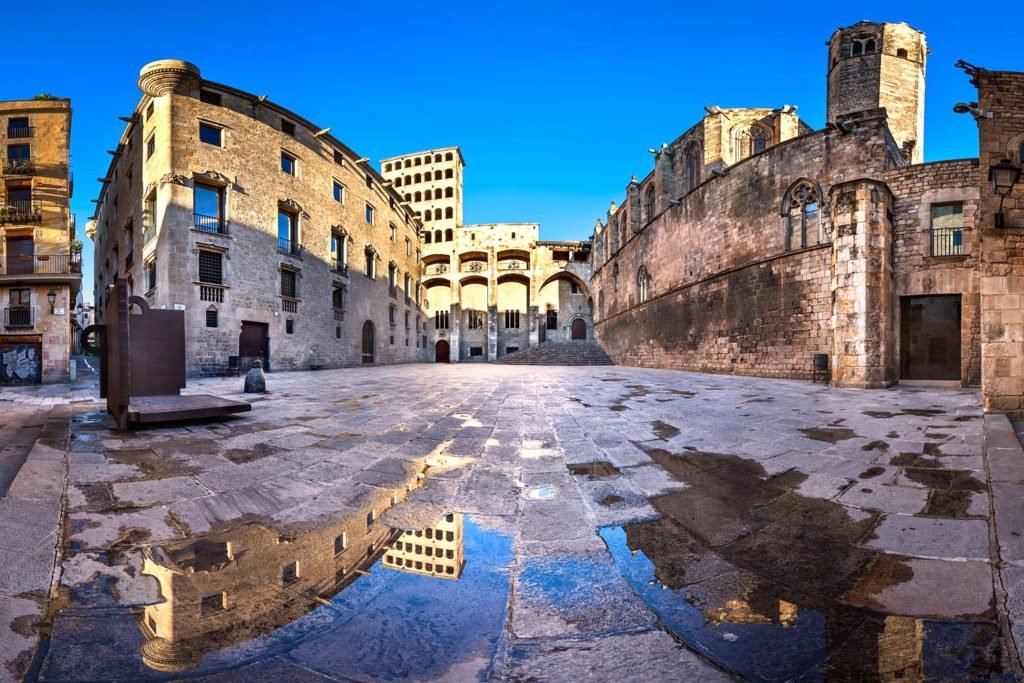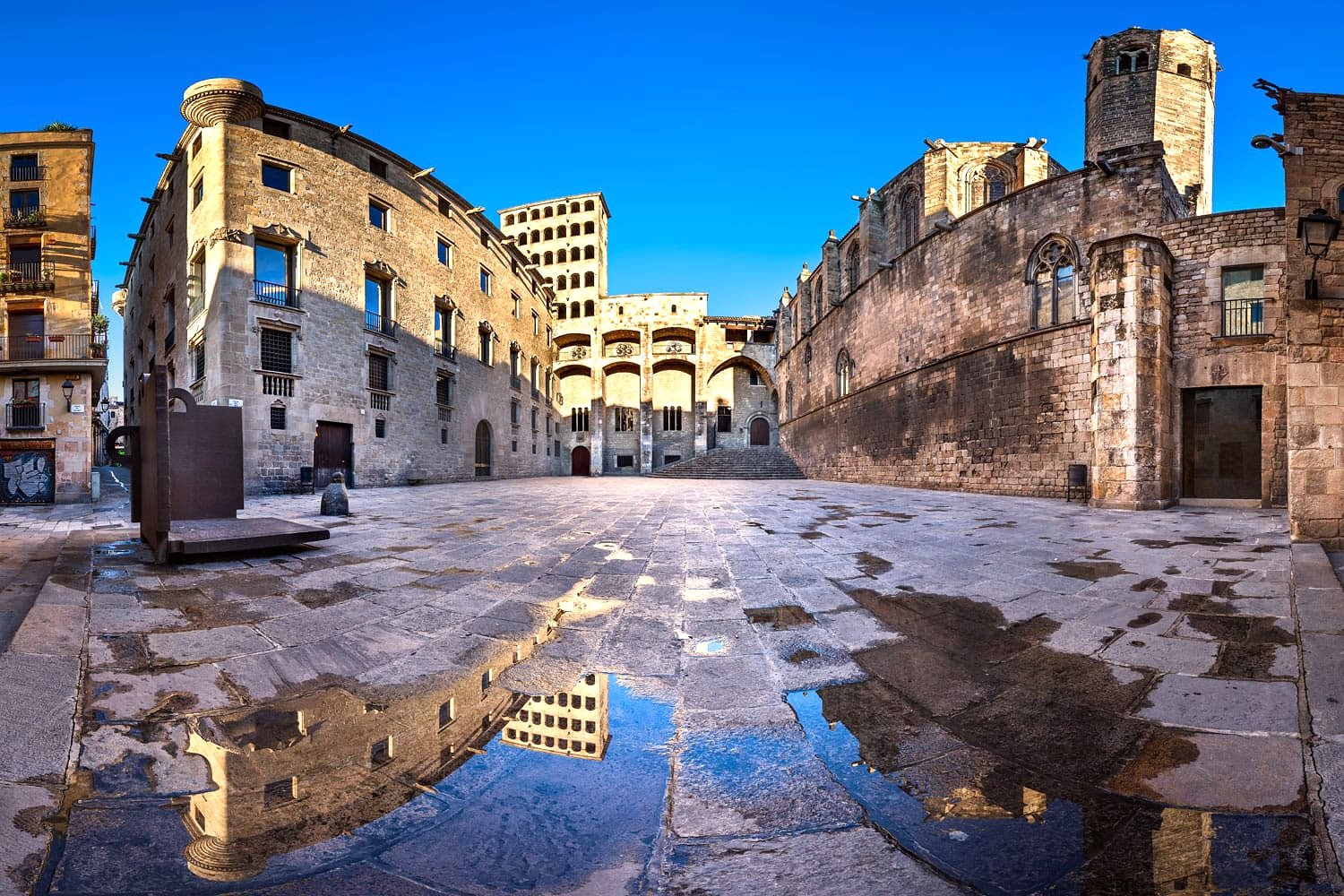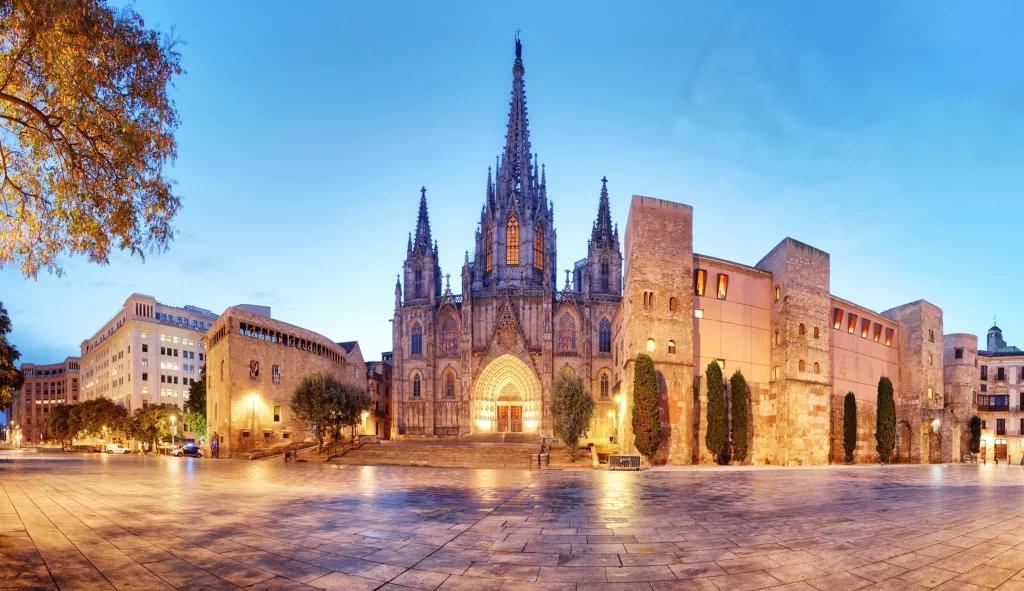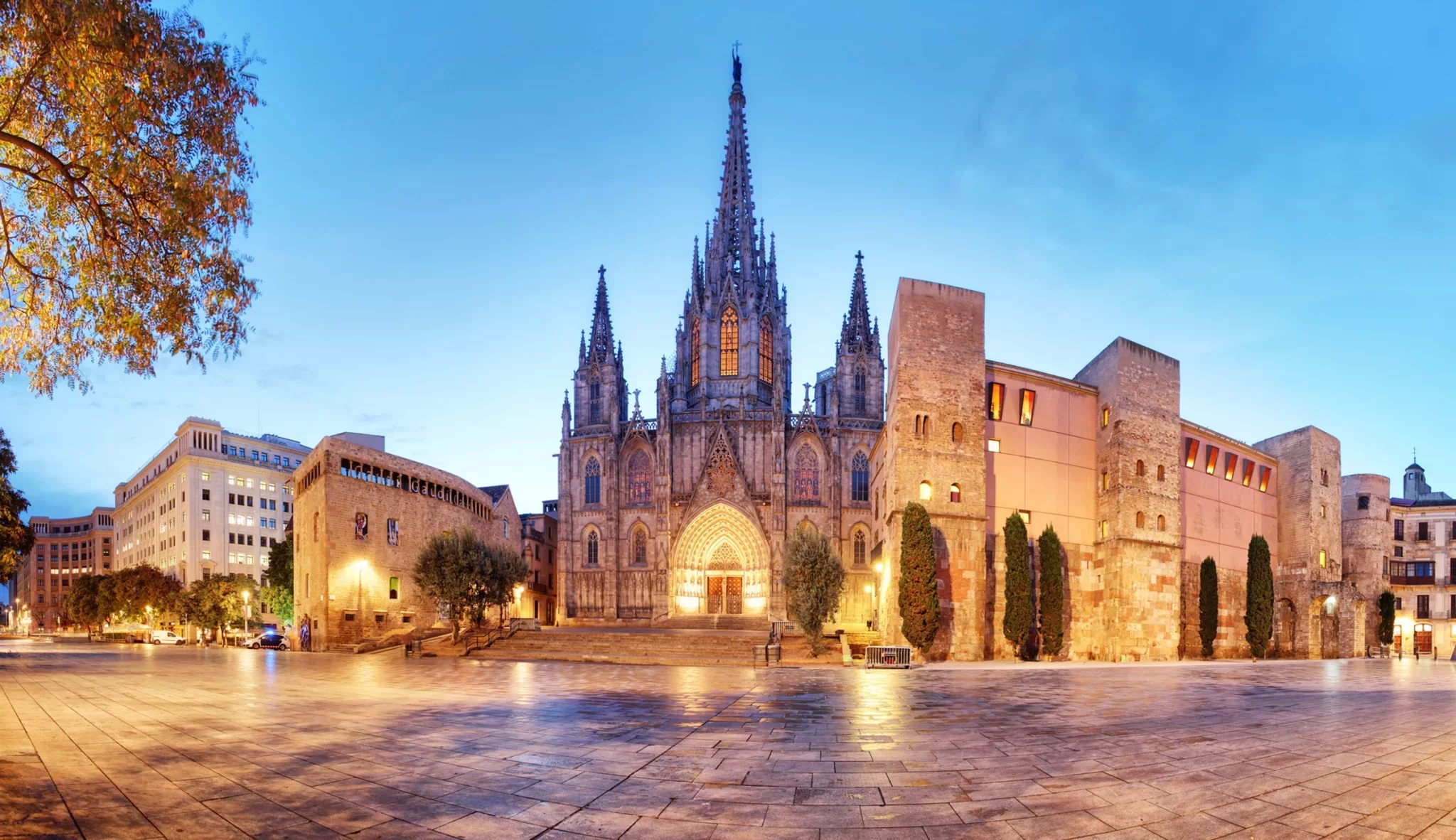 The must see sites in the Gothic Quarter include intact Roman ruins, Barcelona Cathedral, Royal Square, and the Picasso Museum.
There's also a historic market place, La Boqueria, that's well worth checking out, especially if you need a snack.
Here's my complete guide to Barcelona's Gothic Quarter. Click here to book a walking tour of this beautiful neighborhood. Click here to book a tour of La Boqueria and take a cooking class.
2. Sagrada Familia
In the afternoon, head to Gaudi's wildy creative opus, Sagrada Familia (pre-book tickets!) This is one of Spain's most visited landmarks.
Sagrada Familia is a place of superlatives both inside and out. Inside, it's majestic star-lit white forest.
You can marvel at the intricate stained glass windows that create a mesmerizing play of light and colors The exterior showcases impressive facades adorned with biblical scenes and intricate sculptures that embody Gaudí's unique vision.
Here's my comprehensive guide to Sagrada Familia.
Entry is timed, and tickets sell out quickly. You will definitely want to buy your ticket online in advance. Try to reserve a slot for the late afternoon when the sun flows in through the stained glass windows.
There's so much to see at Sagrada Familia that you also might want to book a guided tour. There are several options you can choose from.
At sunset, take the metro or bus to Bunkers del Carmel. Bunkers was an anti-aircraft base set up during the Spanish civil war.
When it was abandoned, Barcleonians adopted it as a hangout and lookout terrace. Bunkers gets pretty crowded in the evenings. But watching the sunset is well worth the climb and wait.
Day 2: Barcelona's Iconic Gaudi Architecture
After fueling up, head to Passeig de Gràcia, one of Barcelon's toniest neighborhoods. This area has some of Barcelona's most iconic architecture, including UNESCO-listed structures created by Antoni Gaudi.
1. Casa Battlo
Casa Batllo is one of the world's most unique buildings. It's Antoni Gaudi at his hallucinatory, dreamlike best.
Casa Battlo's creative facades is an emblem of dragon iconography. Here's my complete guide to Casa Batllo. Click here to purchase a (very necessary) skip the line ticket. Click here to book a 2 hour guide tour + skip the line ticket.
2. La Pedrera
La Pedrera, or Casa Mila, is another Gaudi masterpiece. In terms of ingenuity, architectural design, and style, it was even more revolutionary than Casa Batllo.
The rough hewn building was nicknamed "The Quarry" because of its jagged, rocky facade and weird undulating shape.
But La Pedrera is considered one of the crown jewels of the Art Nouveau movement. It's been used in 15 movies. In classic Gaudi fashion, La Pedrera was heavily influenced by nature — by air, sea, and water.
The building ripples and waves like a burbling ocean. The iconic rooftop has winding pathways and a spiky forest of 30 chimneys.
Here's my complete guide To La Pedrera. Click here to purchase a skip the line ticket for La Pedrera.
In the evenings, a spectacular audiovisual show takes place on the terrace. The rooftop terrace and stairwells are illuminated with projections set to music.
You should also visit Casa Lleo Morera, one of Barcelona's best preserved Modernista buildings.
Casa Lleo Morera was revolutionary in its day for the different forms of artistry on the exterior, including the intricate curved balcony.
Inside, in the dining room, there's a brilliantly colored semi-circular stained glass window created by Antoni Rigalt.
Here's my guide to Modernist Architecture in Barcelona's Eixample Neighborhood. If you want to explore Gaudi's main architectural sites in Barcelona, click here for a 3 hour guided Gaudi tour.
3. Park Guell
In the evening, head to the Park Guell at sunset. Park Guell might be Gaudi's most fantastical creation.
It's a 45 acre public park and garden complex, with stunning mosaic art, located on Carmel Hill in Barcelona. Enjoy a gorgeous sunset experience and stroll in Barcelona's finest park.
Most of the Park Guell is free to visit and you'll have some nice views over the city. But you'll need a ticket to access the central Monumental Zone.
If you want to visit the former home of Gaudi, the house-museum is located just outside the Monumental Zone in the park's free section.
Day 3: Day Trip to Montserrat or Girona
1. Montserrat
You first option is a day trip to magnificent Montserrat. Montserrat means "serrated mountain."
The mountain is a unique fantasia of jagged peaks and rocky spires. Nestled in the rock is a dramatic Benedictine monastery, which is still an important pilgrimage site and the most sacred site in Catalonia.
Take a funicular or rack railway up to the top and explore the basilica and museum. The art-rich museum houses works by El Greco, Dali, and Monet. There are also designated hiking trails ranging from 1 to 3 hours.
The metro will get you there in 2 hours. To save valuable time, you may want to book a tour, which will be much more efficient than public transport. Try not to go to Montserrat on a weekend, when it's busiest.
2. Girona
Alternatively, you can head to the medieval city of Girona. Historic Girona is chock full of beautiful buildings — churches, monasteries, fascinating museums, and the colorful houses of the Onyar River.
Walk the walled Old Quarter of Barri Vella. Visit the Roman ruins of the Forca Vella fortress.
One of Girona's most unmissable sites is the Cathedral de Santa Maria, combining Romanesque cloister and a Gothic nave (one of the world's largest). Located in the old Jewish Quarter, the Arab Baths are also quite breathtaking.
When you're done admiring the sites, take a footbridge across the River Onyar. Sit down at one of the terrace cafes lining the Place de la Independencia.
If you're a Game of Thrones fan, Girona was also a key filming location for Season 6. You can join a guided GOT tour, which will take you to Girona's must see GOT sites. You can also book a guided day tour from Barcelona.
Where To Stay In Barcelona
For a splurge, try the Mandarin Oriental, Cotton House, or the Hotel Arts.
Other nice hotels include The Serras (urban chic hotel overlooking Port Vell), the Hotel Cataloinia Passeig de Gracia (luxury hotel with a sunny terrace), or Hotel Bagues (a sumptuous gem on La Rambla).
If you like boutique hotels (I know I do), check out the H10 Madison, the Hotel Neri, or the Hotel Pulitzer.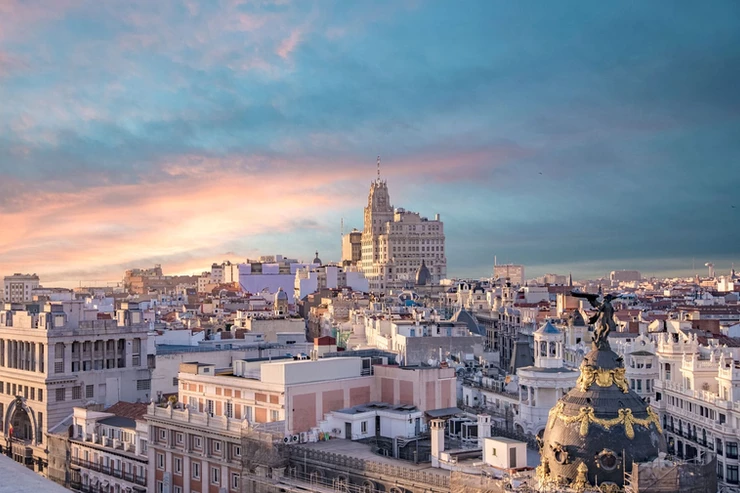 Day 4: Train to Madrid
On day 4 of your 10-14 days in Spain, take a flight or high speed AVE train from Barcelona to Madrid. The train takes 2:45.
Depending on when you leave Barcelona, you will have 1.50 to 2 days in Madrid.
1. Historic Center
Settle into Madrid's vibrant vibe with a stroll in Madrid's historic core, the pedestrianized Calle de las Huertas and the main square of Puerto del Sol.
You may want to book a 2 hour guided walking tour of the historic center to get oriented.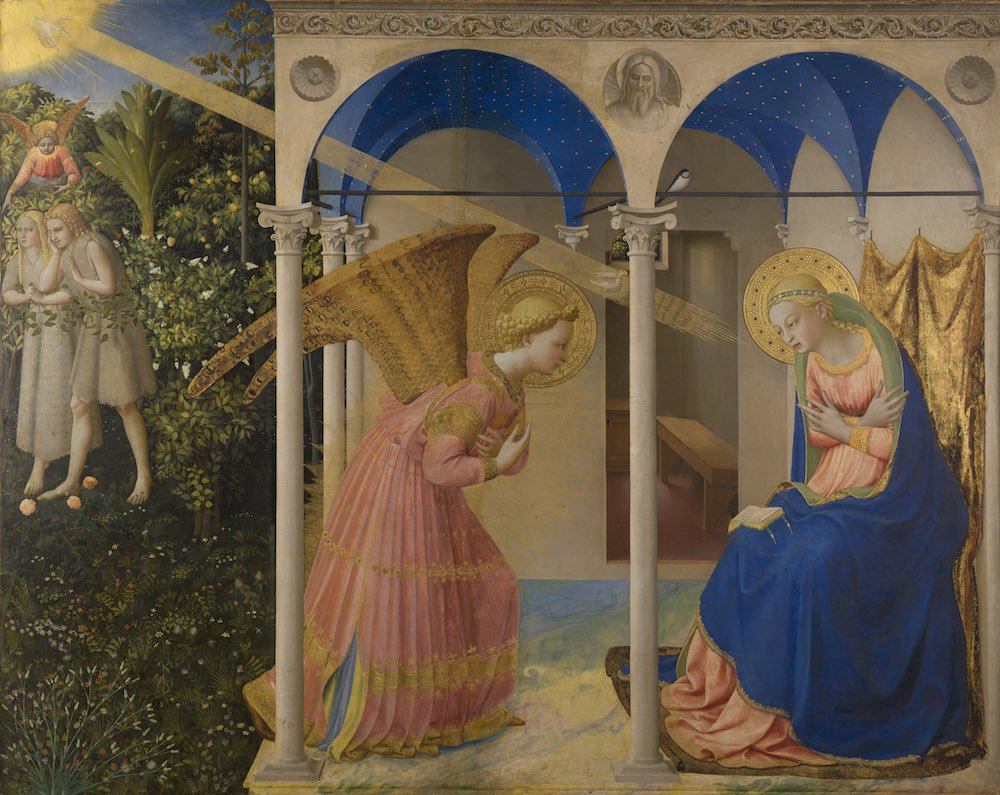 2. Prado Museum
In the afternoon, your first stop is the masterpiece-filled Prado Museum. The Prado is Spain's cultural jewel, boasting one of Europe's finest and most sensuous painting collections. Its artistic anchors are Goya, Velazquez, and Rubens.
Don't miss the haunting Black Paintings by Goya in the subterranean gallery. If you're a Goya devotee, you may want to inspect his frescos in the San Antonio de la Florida Chapel, where he is also buried.
Here's my complete guide to visiting the Prado, with must know tips and all the must see masterpieces.
Click here to book a skip the line ticket. Click here to book a ticket + guided tour of the Prado.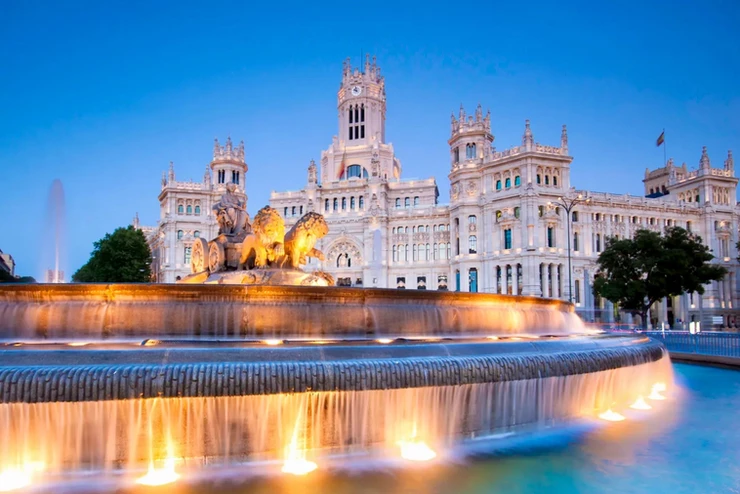 3. Plaza de Cibeles
Near the Prado Museum, you'll also find the Plaza de Cibeles. It's another of Madrid's emblematic squares. This Neo-Classical beauty is home to some stunning architecture.
Click here to book a guided tour of the magnificent palace.
The Buenavista Palace is the oldest building in the plaza. The Cibeles Fountain shows the Greek goddess of fertility, Cybele, seated atop a chariot being pulled by lions.
In the evening, end your day with a progressive tapas dinner. Head to the La Latina neighborhood. The Cava Baja street is just a few blocks south and east of the Royal Palace. This three block stretch is crammed with tapas bars and restaurants.
Day 5: Explore Madrid
1. Royal Palace
On day 2 in Madrid, begin with a visit to the sumptuously decorated Royal Palace, which rivals Versailles.
It's one of Europe's greatest palaces with 2,000 rooms, a king's ransom of gilding and chandeliers, and luxurious tapestries.
The palace is also renowned for its painted frescos and stunning artwork. You'll find paintings by many artistic luminaries — Velazquez, Goya, Rubens, El Greco, and Caravaggio.
You can choose either a skip the line guided tour or an unguided timed entry slot.
2. Plaza Mayor
Continue through Madrid's bustling Puerta del Sol to the elegant Plaza Mayor or to Gran Via. The 17th century Plaza Mayor is the beating heart of Madrid.
Gran Via is a famous shopping street in Madrid, close to other sightseeing attractions like the Plaza de Cibeles and Plaza de Espana.
3. Museum Choices
In the afternoon, head to either the Reina Sofia or the Thyssen-Bornemisza Museum. Opened in 1992, the Reina Sofia is Madrid's well-curated modern art museum. There's a special focus on Spain's favorite sons, Pablo Picasso and Salvador Dali.
The iconic star of the Reina Sofia is Guernica, Picasso's grim depiction of the Nazi bombing of Guernica Spain in 1937.
Click here to book a skip the line ticket for the Reina Sofia. Art lovers should consider a guided tour of the magnificent museum.
The Thyssen-Bornemisza Museum is another wildly popular museum in Madrid. It covers every major period in Western art, from 13th century Italian Renaissance to 20th century Pop Art.
This is where you'll find some fan favorites — Impressionists, Post-Impressionists, German Expressionists, and Surrealists.
Click here to pre-book an entry ticket. Click here to book a guided museum tour.
4. El Retiro Park
If you're not a fan of museums, instead take a bucolic stroll and picnic in Madrid's most popular green space, Retiro Gardens.
El Retiro is filled with royal remnants and wonderful monuments. There's the Crystal Palace, the Statue Walk, the Alfonso XII monument, and a man made lake to explore.
5. Salamanca
Walk through Retiro to the upscale residential neighborhood of Salamanca. Salamanca is a shopper's paradise, home to tony shops and Spain's most expensive street, Calle Serrano.
If you're looking to treat yourself to a fantastic meal, Salamanca has fantastic restaurants.
Start your night with a glass of vino at Angelita Madrid or Valgame Dios, bars in the trendy Chueca neighborhood of central Madrid.
If you want to have dinner in this area, try Mercado San Anton where you can choose from international cuisines.
Day 6: Day Trip To Toledo or Segovia
On day 6 of 10-14 days in Spain, you day trip to either Toledo or Segovia.
Historic Toledo is larger and has a lot to see. Segovia is smaller and cooler, perched in the mountains.
You can't see both in one day. You have to choose.
If you only have time to see place, I would opt for Toledo. But it's a win-win situation either way.
1. Toledo
Just south of Madrid and situated atop a gorge, medieval Toledo is one of Spain's best loved UNESCO cities.
Toledo is an incredibly well preserved town, with a concentrated mix of art and history stashed within its medieval walls. The best sites stretch out from Toledo's lively main square, Plaza de Zocodover.
At the town's center is perhaps Spain's best and most beautiful cathedral. The primarily Gothic Cathedral is one of Europe's best cathedrals, with a richly decorated interior.
>>> Click here to book a tour of the cathedral
The sacristy is a mini-Prado, with an impressive collection of works by the likes of El Greco, Velazquez, Goya, and Caravaggio. Circling the interior are ornate chapels.
If you need even more art, head to the Santa Cruz Museum or the small El Greco Museum for even more El Greco sublime paintings.
Then, head to the Toledo Alcazar, the former imperial residence that dominates Toledo's skyline. History and military buffs will want to visit the Army Museum housed inside.
The high speed train gets you to Toledo in just over 30 minutes. For ease, you can also book a full day tour from Madrid to Toledo.
2. Segovia
Segovia makes the perfect easy day trip from Madrid. Segovia is a history rich town with a beautifully preserved Roman aqueduct. Stroll through the streets of the beautiful town, enjoying the authentic old world charm.
Then visit Segovia's medieval Alcazar fortress, its crowning glory. Built atop a rock with pointy slate spires, the alcazar looks like a castle conjured from a medieval fairytale.
Alfonso VIII lived in the fortress in the 12th century before architectural changes transformed it into a Gothic castle in the 13th century.
>>> Click here to book a ticket to the alcazar
Segovia's aqueduct is one of Spain's the most ancient landmarks, the best preserved example of Roman civic architecture in Spain. Dating from approximately the 2nd century AD, it's a tour de force of Roman engineering that stood the test of time.
The aqueduct is set in a lively square of Segovia, part of everyday life. On Plaza de Azoguejo, a grand stairway leads from the base to the top of the aqueduct.
In its shadows, sits a replica of the She-Wolf of Rome, a statue found in the Capitoline Museums in Rome.
There are frequent departures for the 30 minute train ride to Segovia.
You can also visit Segovia (+ Avila) on a guided day trip tour from Madrid. To get the most out of your day, you can also book a guided tour of both Toledo and Segovia.
Where To Stay In Madrid
You're spoiled for choice for excellent hotels in Madrid.
You can stay at classy well-established hotels like The Westin Palace Madrid, the Four Seasons Hotel Madrid, or the Mandarin Oriental Ritz.
My personal favorites are probably the: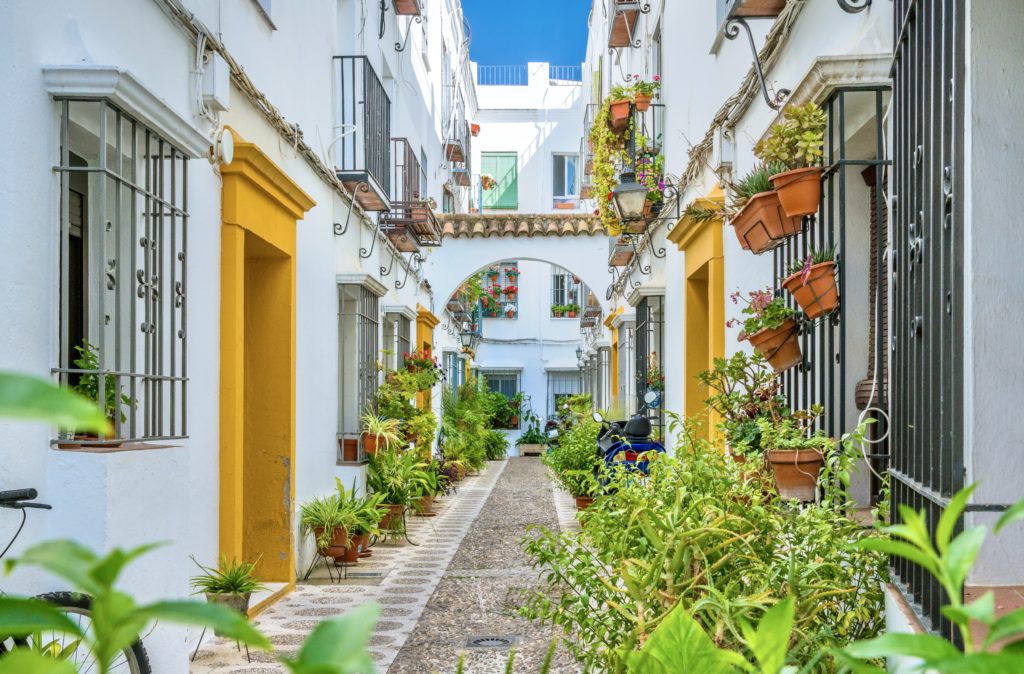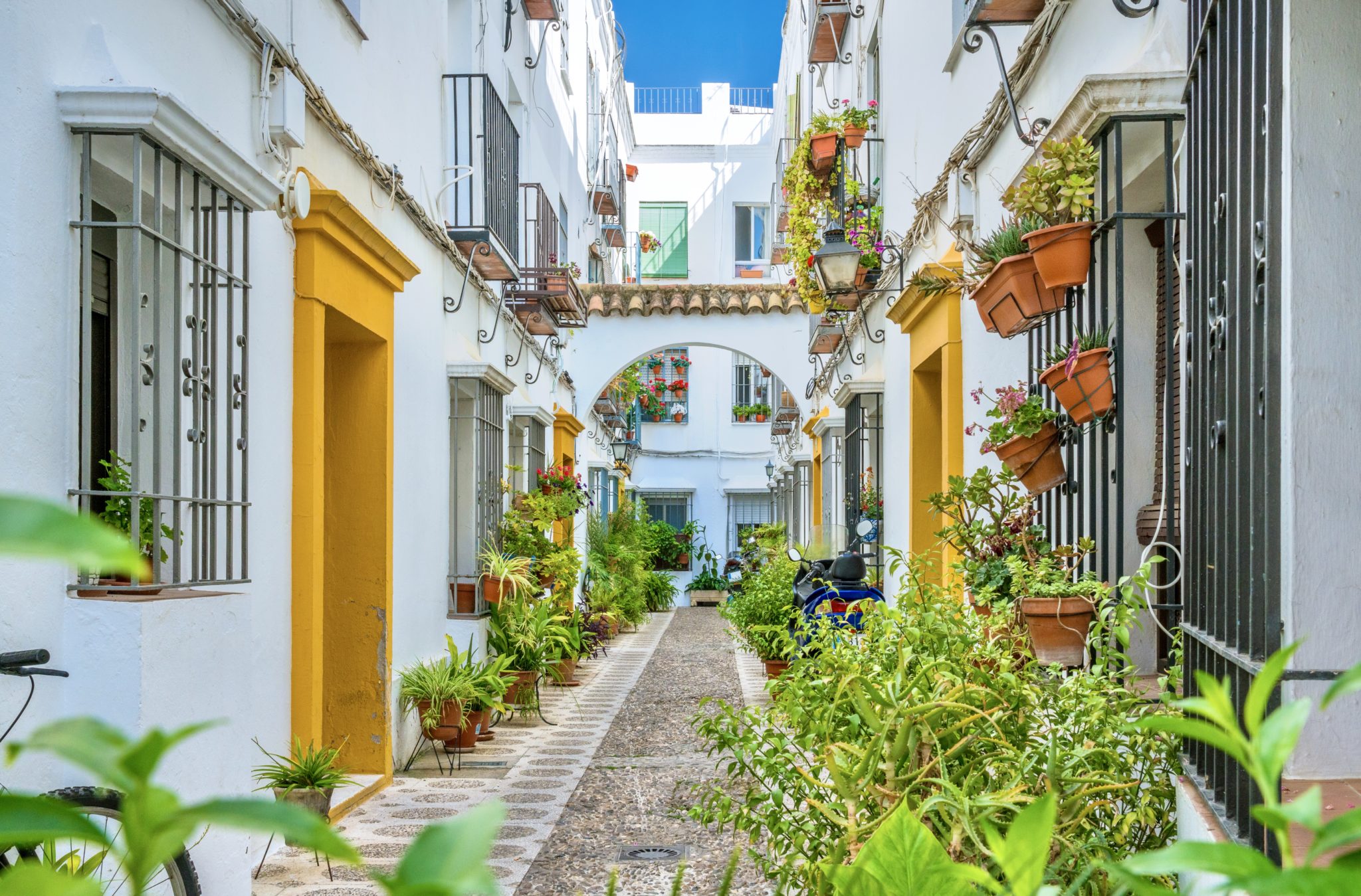 Day 7: Train to Cordoba
On day 3 of your 10-14 day Spain itinerary, take the high speed train 2 hours from Madrid to Cordoba.
Cordoba is an exotic stone paved city with both a Roman and Moorish past. Cordoba is a natural film set, it's just so beautiful. Cordoba has an authentic Spanish vibe with fewer tourists than Seville.
Stroll across the stunning Roman Bridge, both a UNESCO site and a Game of Thrones filming location.
READ: One Day In Cordoba Itinerary
1. Mezquita, the Mosque Cathedral
Most people come just for Cordoba's #1 site: the magnificent Mezquita, the Mosque-Cathedral of Cordoba. Dating from the 10th century, it's a UNESCO site and one of the world's most well-preserved Islamic buildings.
In the 16th century, King Ferdinand and Queen Isabella converted the Mezquita into a cathedral. It's a a snapshot of the sophisticated dual culture that once existed in southern Spain.
Outside, a large courtyard (you can enter for free) welcomes you.
Inside, the Mezquita is vast — an eye catching forest of candy cane horseshoe arches. 800 red and blue granite columns are topped with double arches of alternating red brick and white stone.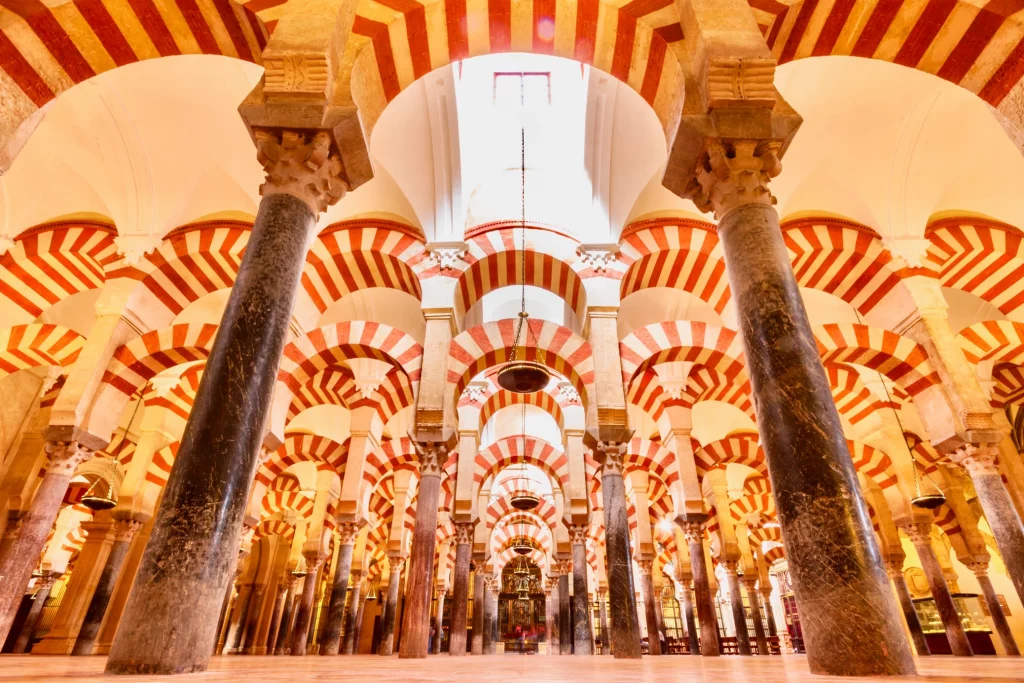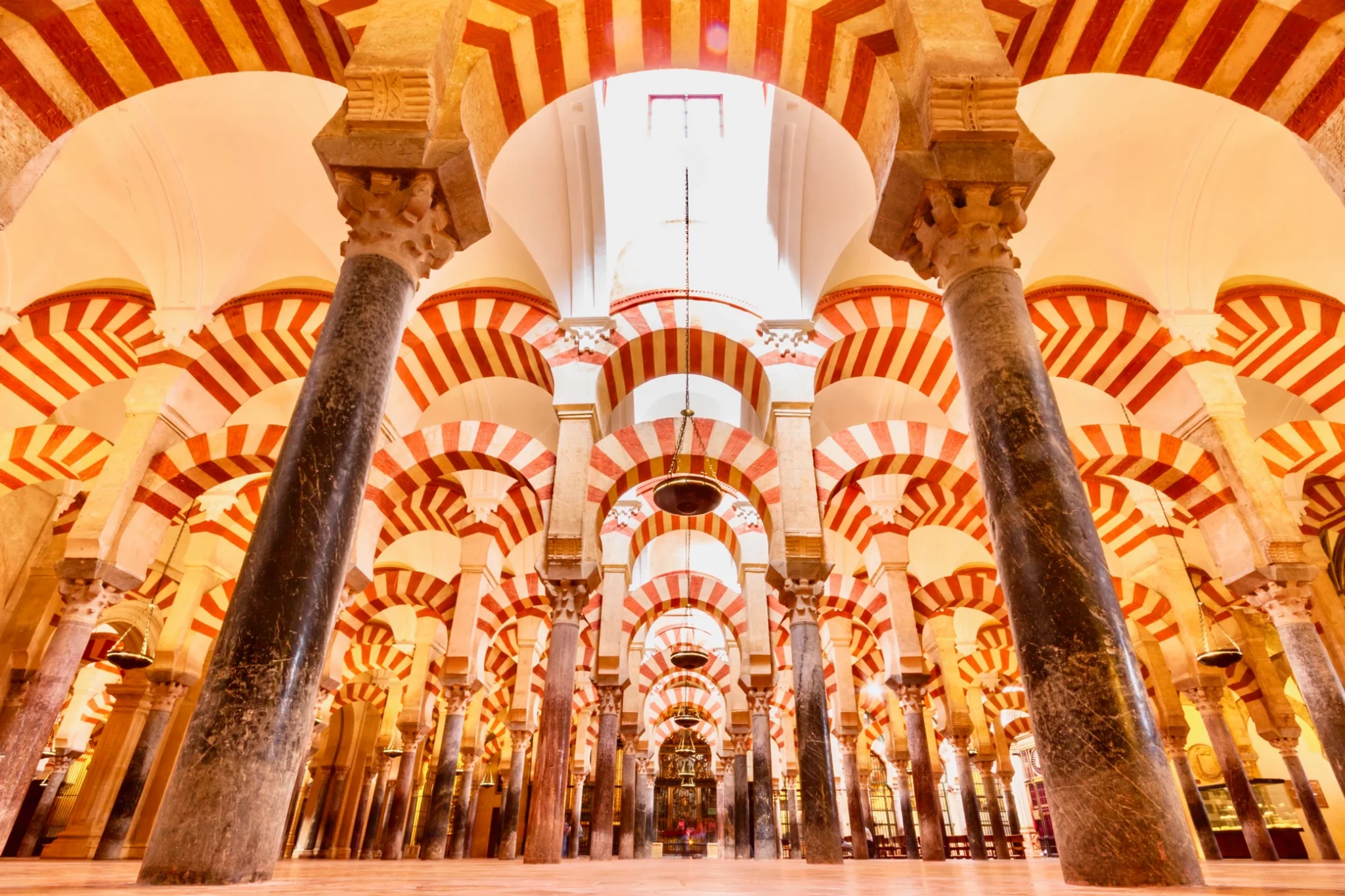 Highlights of the Mezquita are the Mihrab (or high altar in a mosque), the Visigoth mosaics and ruins, the Royal Chapel, and the central golden altar. Newly restored, the Christian altar makes it easy to forget you're in a former mosque.
The mosque also has a bell tower, which you can climb for dramatic views.
If you're visiting in high season, you should definitely purchase online in advance for 11 euros. Click here to pre-purchase a ticket. Click here for a guided history tour of the Mezquita.
The Mezquita is open from 8:30 to 9:30 am, 10 am to 2 pm, and 4 pm to 7 pm daily. At night, you can go to the sound and light show for 18 euros.
2. Old Town
Amble around the narrow streets of the charming old Jewish Quarter. This area was once a vibrant Jewish community from the 10th to the 15th century.
Now, it's the largest old town in Spain and a UNESCO World Heritage site. It's home to many historic monuments. You may want to book a 2 hour guided walking tour of this romantic area.
Inspect the Instagram popular Calleja de las Flores. Wander down Tomás Conde, Almanzor Deanes, Manríquez, Judíos and Romero, and any little lanes meandering off these streets.
3. Alcázar de los Reyes Cristianos
Then, pay a visit the Alcázar de los Reyes Cristianos, or Alcazar of the Christan Monarchs in English. It's similar (but not as elaborate) as the Royal Alcazar in Seville, built in the Mudéjar style. The UNESCO World Heritage site was built in 1328.
The alcazar features an elaborate Moorish bathhouse, King Alfonso XI's castle, and gardens. The gardens have ponds, reflecting pools, plantings.
The alcazar's main tower is known as the "Tower of the Inquisition." During the Spanish Inquisition, in 1482, the circular tower was used a prison, headquarters, and torture and interrogation chambers.
Click here if you'd like to book a 1 hour guided tour of the alcazar. For maximum efficiency, you can also book a combo tour of the Mezquita and the Alcazar.
4. Evening: Medina Azahara
For the perfect end to your 1 day in Cordoba trip, visit the Medina Azahara after hours. You can enjoy wandering about the tranquil ruins, which are lit up to good effect after dark.
Medina Azahara is the largest archaeological site in Spain. Destroyed during a civil war in the 11th century, the Medina is only 10% excavated.
You can explore the private residences, guard houses, a basilica, a mosque, and gardens. The two highlights of the site are the House of Ya'far and the Abd-al-Rahman II Hall in the gardens.
If you'd like to book a tour to see this UNESCO site, click here for a wonderful 3 hour guided tour.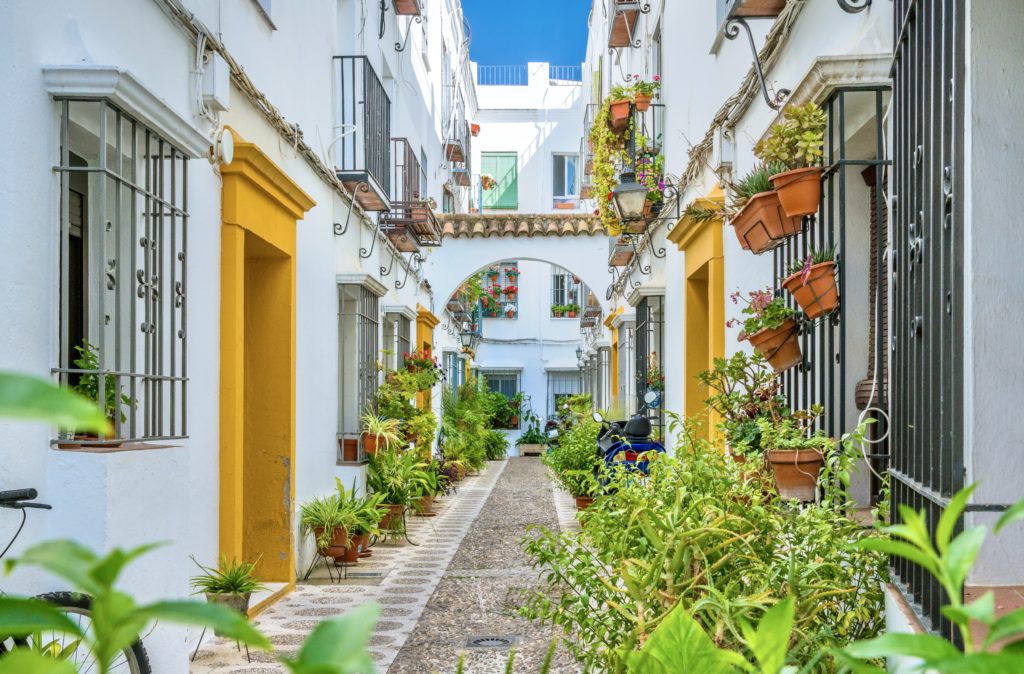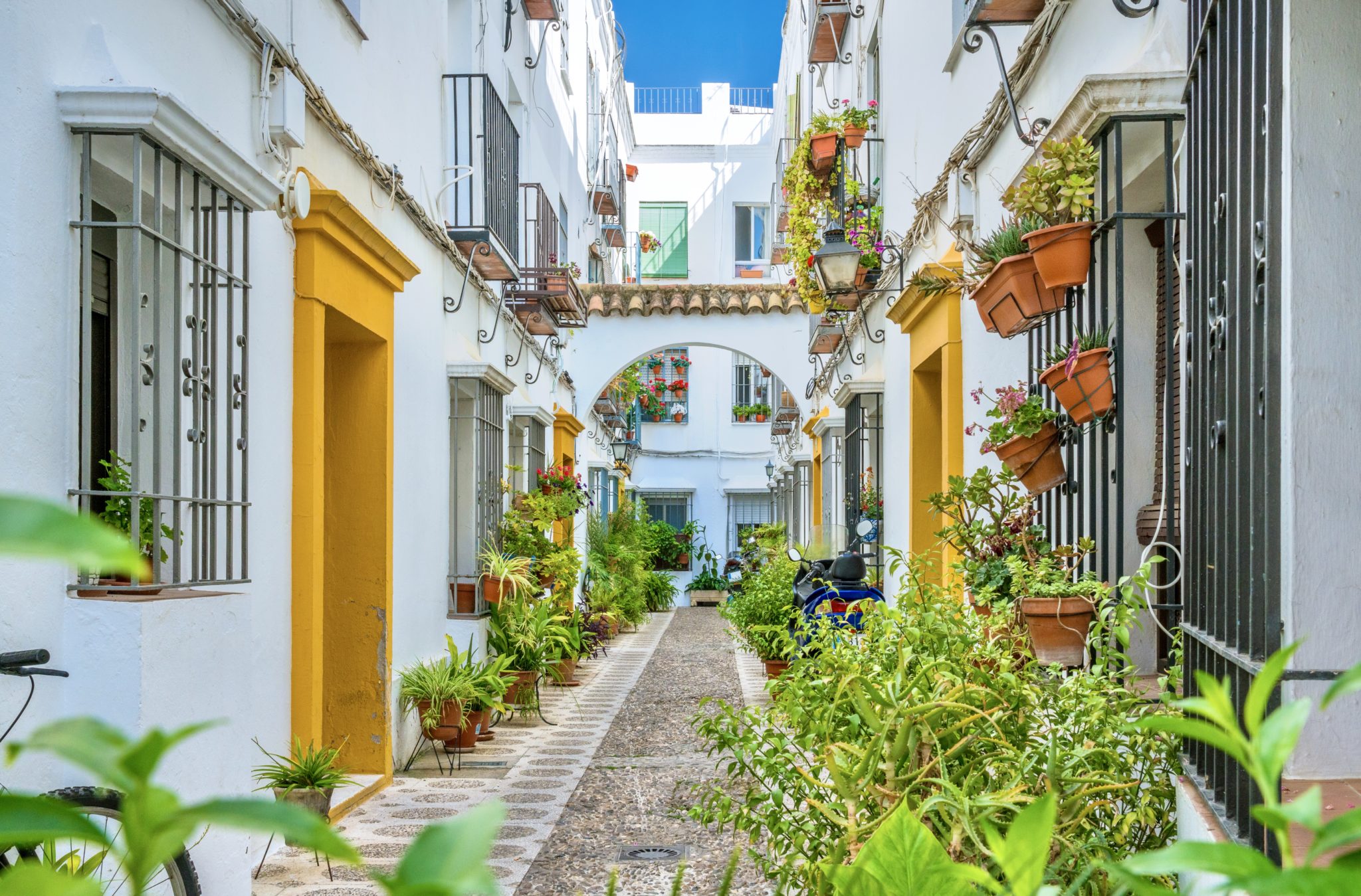 Where To Stay In Cordoba
The Patio del Posadero Hotel Boutique B&B is an ultra chic boutique hotel housed in a fully restored 15th century house. The Hotel Hospes Palacio del Bailio is a luxury hotel in a palatial 16th century building. It comes complete with Moorish flourishes and frescos.
The Hotel Viento 10 is a swish boutique hotel in a Moorish style house. It has a rooftop terrace with a great view of the Mezquita.
Finally, the Hotel Madinat is an upscale hotel housed in a superbly restored 18th century mansion. It's a mix of contemporary styling and Arab flourishes. The hotel has two terraces and a rooftop watch tower.
Day 8: Seville
From Cordoba, it's a quick 45 minute train ride to Seville. If you start early, you can have most of day 8 on your Spain itinerary in Seville to sightsee.
Seville is Andalusia's exquisite capital. You'll likely spend most of day 1 visiting Seville top 2 attractions — the Royal Alcazar and Seville Cathedral.
1. Royal Alcazar
The Royal Alcazar is one of the world's greatest cultural treasures. It's a centuries old complex of palaces and fortifications, lovely courtyards, and extensive water gardens bursting with orange, purple, and green colors.
It's a breathtaking 10th century palace that King Pedro the Cruel gave a 14th century Mudejar facelift.
Inside, the highlights are the Hall of the Ambassadors, the Courtyard of the Maidens, the Courtyard of the Dolls, and the Hall of Tapestries in the Gothic Palace.
The Ambassador's Hall, or Throne Room, is the big showstopper. It's nicknamed the "Half Orange" Room, in honor of its gilded cedar domed ceiling.
Outside, there's a series of verdant lush gardens. They are an exotic, labyrinthian paradise, encompassing 80% of the Alcazar grounds.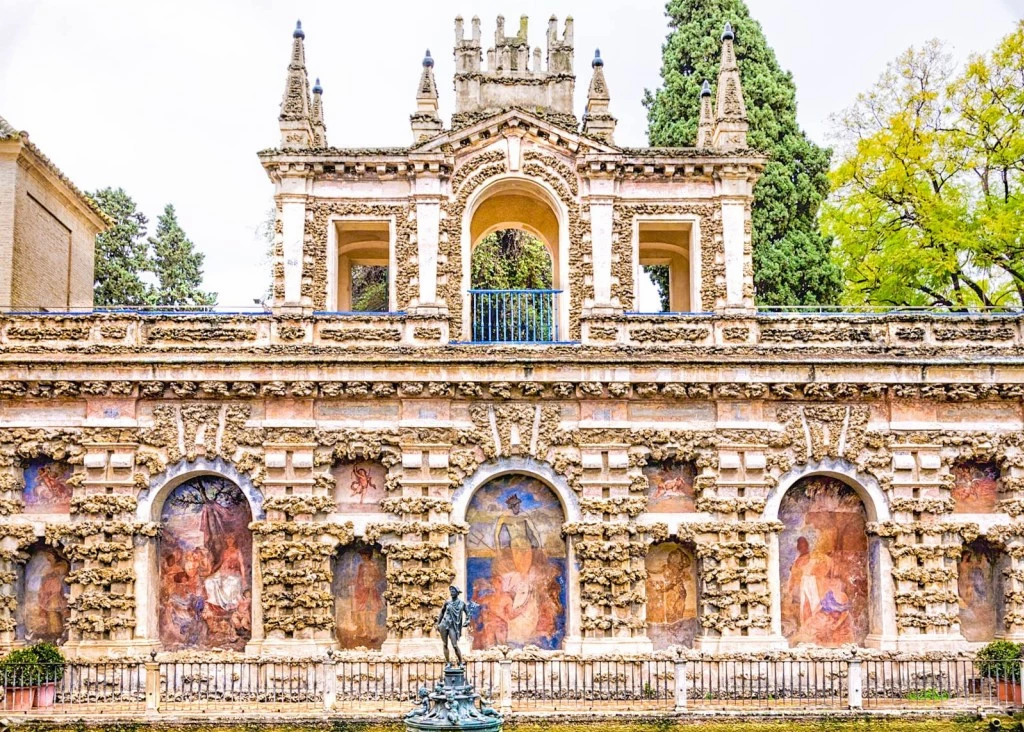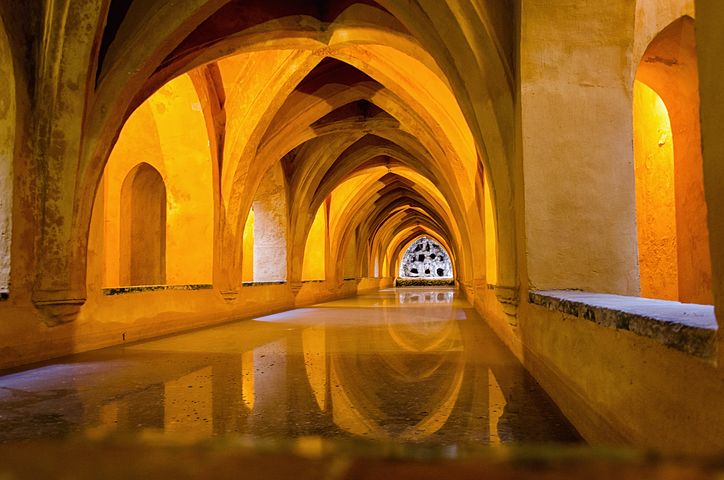 Don't miss the Baths of Maria De Padilla, King Pedro's mistress. The baths are one of the Alcazar's Game of Thrones filming locations, a place where the Sand Snakes plot.
Here's my complete guide to visiting the magnificent Royal Alcazar. It's my favorite place in all of southern Spain.
You absolutely must pre-book tickets for the alcazar in advance, or you'll waste time stuck in a long line. The Alcazar is also well worth booking a guided tour to see the complex.
2. Seville Cathedral
Seville Cathedral, the world's largest, stands as a massive Gothic masterpiece. King Ferdinand and Queen Isabella commissioned it in 1402 to showcase Seville's prosperity and might after the Reconquista.
Adorned with intricate carvings, the cathedral boasts 15 unique doors on its four facades. Inside, the grand nave stretches out as the longest in the world.
The glittering altar, richly gilded in gold leaf, catches the eye. 80 chapels and Christopher Columbus's tomb await exploration along the sides.
Click here for a skip the line ticket to this magnificent cathedral. You can combine the alcazar and the cathedral on a single guided tour as well.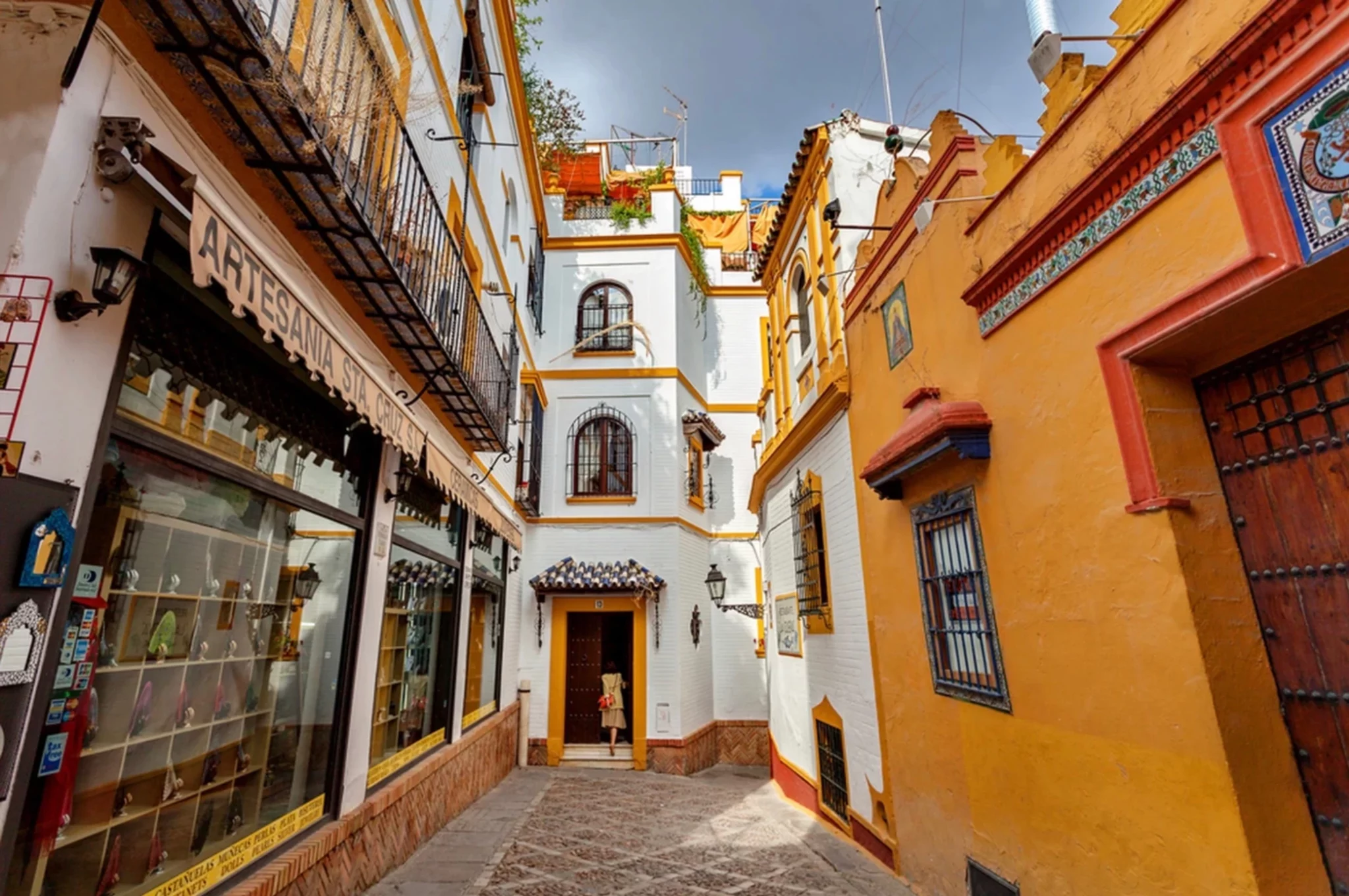 3. Barrio Santa Cruz
In the late afternoon, head to Seville's Barrio Santa Cruz for wandering, cocktails, and dinner. It's a popular district within the city — a mass of tangled cobbled streets with tiny palazzos and tile covered patios.
Some streets are so impossibly narrow, they're called "kissing lanes." There are also orange trees everywhere.
You may want to book a guided walking tour of the pretty barrio.
In the evening, have dinner at classic tapas bar, El Rinconcillo. It's the oldest bar in Seville, with an impressive restaurant.
Day 9: Seville
1. Plaza de Espana
On day 2, head to the Plaza de Espana, one of Seville's most famous landmarks. It was built to host the 1929 Ibero-American Exposition.
The plaza has a fetching mix of Baroque, Renaissance Revival, and Moorish Revival styles. The highlight is the Spanish Pavilion, a sweeping half circle structure with rose gold brick buildings.
The tiles show historical scenes and maps from the 49 provinces of Spain arranged in alphabetical order. Entry to the plaza is completely free.
You can easily spend a couple of hours here, admiring the square, and strolling in the adjacent Maria Louisa Park.
2. Triana
Spend your afternoon in the Triana neighborhood. Triana is sprinkled with history, flamencos, tapas, and everything Andalusian. It's not nearly as crowded as Barrio Santa Cruz.
And it's chock full of the colorful houses, small cafes, mosaic tiles, and the Isabel II Bridge. This is where you can stock up on beautiful ceramics.
Triana is also a good place to take a guided food tour.
Not far from the cathedral, you can grab a casual bite to eat at Bodeguita Romero on Calle Harinas. Or try La Brunilda Restaurant, a great spot for tapas and one of Seville's best restaurants, on Calle Galera.
Brunilda doesn't take reservations. It opens for dinner at 8:30 pm and you should queue up at 8:00 pm. It's completely worth it!
In lieu of a restaurant, you could also go on a tapas crawl, a wine + tapas tour, or a "10 tasting of Seville" guided tour.
Day 10: More of Seville or Day Trip to Ronda
If you don't want to leave beautiful Seville, this is the time to ferret out some of its lovely hidden. There are so many amazing things to see and do in Seville.
Here's my guide to 27 must see attractions in Seville, including some hidden gems. Here's my more detailed 3 day itinerary for Seville.
If you're ready to see a cute white pueblo town, head to Ronda on day 10 of your 2 weeks in Spain. It's Andalusia's third most visited city.
And there's a a reason — it's beyond dramatic. Ronda is perched on a mountainous gash carved by the Rio Guadalevin. Ronda is synonymous with its dramatic 18th century bridge, the Puente Nuevo.
Ronda is also famed as the birthplace of bullfighting. The city's Plaza de Toros is one of Ronda's most popular attractions, thanks to its beautiful architecture.
Aside from the bridge, Ronda itself is beautiful — plenty of cozy town squares, cobblestone alleys, balconies everywhere, and lovely architecture. You can visit the Mondragon Palace and the Arabic Baths, if you're feeling ambitious.
Ronda isn't that easy to get to from Seville.
To avoid transportation hassles, I'd book a guided day tour from Seville to Ronda. You can also book a guided full day tour of the white pueblo villages that includes Ronda.
Where To Stay In Seville
Air Bnb is a good option in Seville. There are also some beautiful boutique hotels.
My picks would be: Hotel Alfonso XIII, Hotel Colon Gran Melia, Suites Machado, or Hotel Casa del Poeta.
I also think Barrio Santa Cruz is also a great, and more quiet, place to stay. In this area, you should check out the Hotel Casa 1800 Seville (timeless elegance) or the EME Catedral Hotel (sumptuous hotel with a roof terrace, Michelin restaurant, and spa).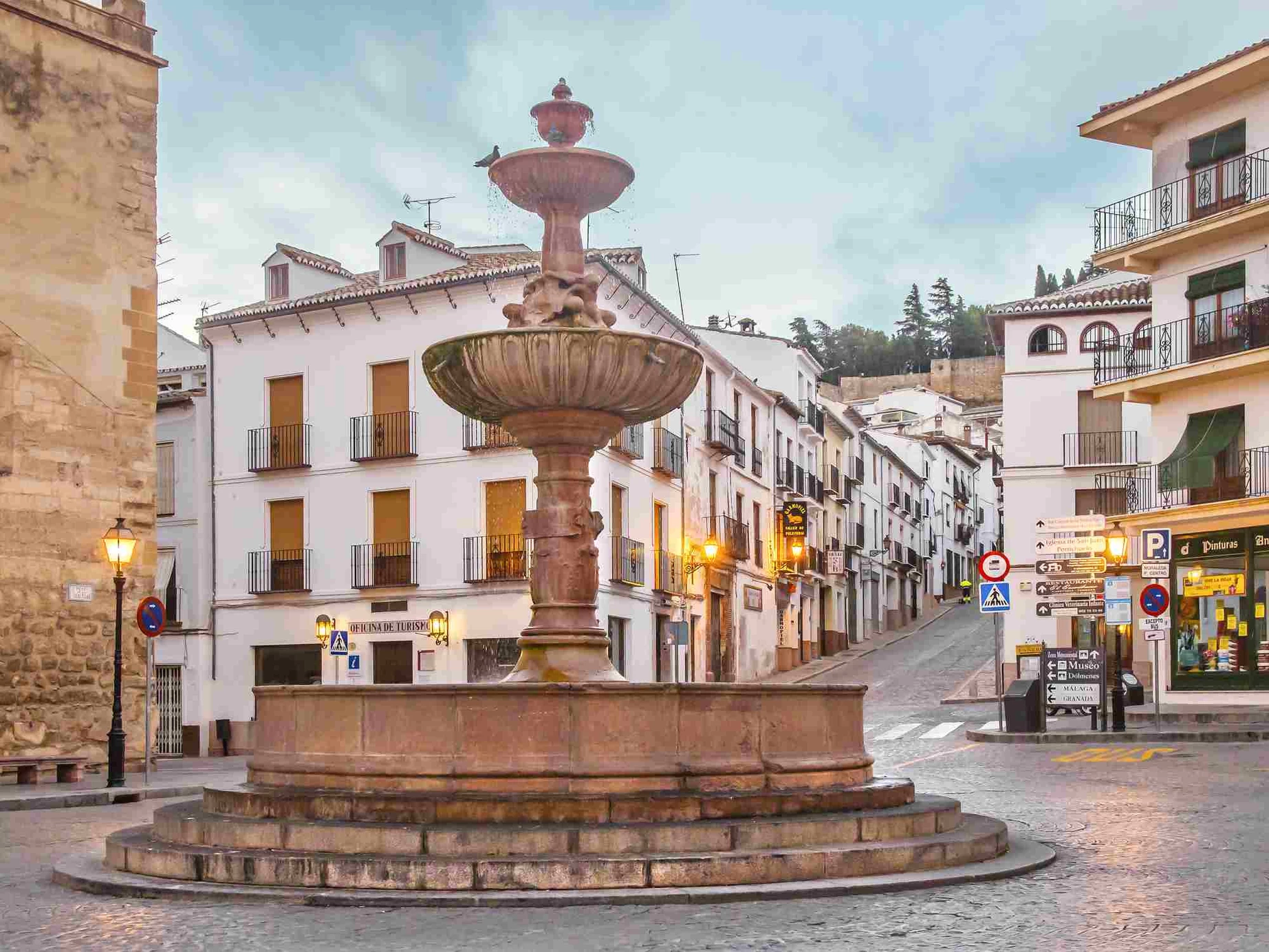 More Than 10 Days In Spain?
If you have more than 10 days in Spain, it's definitely worth staying longer, especially to see and experience Granada. Here's what else you can see with 2 weeks in Spain.
Day 11: Drive to Granada, Stop in Antequera
On day 11 of 14 days in Spain, you'll drive from Seville to Granada. En route, you can stop and savor some of Andalusia's pueblos blancos.
I recommend Antequera, the perfect midway point. It's a 1:45 from Seville to Antequera and another 1:15 from Antequera to Granada.
Antequera is Spanish-Baroque town, fittingly dubbed the "Florence of Andalusia." Plus, the town is utterly unspoiled by over-tourism.
It's a largely undiscovered spot in an Andalucia, a region tourists adore. In 2017, the New York Times identified Antequera as one of "52 Places to Go in 21017" in its annual list of must see destinations. That's quite an endorsement.
Park your car on the outskirts of town and walk up Calle Don Infante, one of Europe's prettiest streets.
Antequera boasts an impressive Moorish Alcazaba, a lovely Renaissance church, and a stunning medieval and baroque historical core. You'll have an eyeful of swoonful scenery.
Antequera has a rich legacy of architecture spanning 2000 years. It's tightly packed, literally awash with white stone houses, Renaissance and Baroque buildings, and 33 old churches dating from the 16th to the 18th centuries.
Antequera's UNESO-listed ancient megaliths/dolmens are outside the old town. You'll see signs.
The dolmens are essentially Spain's Stonehenge. They date from the Bronze Age and are among the oldest things on the planet.
History buffs may want to book a guided tour of the dolmens. You can also book a guided walking tour of Antequera.
Day 12: Granada
On day 12 of 2 weeks in Spain, you can explore Granada. The city will sweep you away with its authentic Spanish vibe and dazzling attractions.
Lorded over by the Sierra Nevada Mountains, it's an absolutely beautiful ancient city with historic architecture.
Granada boasts many atmospheric neighborhoods, each with an earthy distinct character. It's home to the mighty Alhambra, a Moroccan souk, a massive cathedral, flamenco music, and — perhaps best of all — free tapas.
1. Royal Chapel and Granada Cathedral
Start your day with a visit to the ornate tombs of the dynasty-builders Ferdinand and Isabella. They reigned over the Christianization of Granada and the exploration of the "new" Americas.
10 minutes away, visit Granada Cathedral in Granada's historic center.
Granada Cathedral is a massive affair. It's the second largest cathedral in Spain after Seville Cathedral and the fourth largest cathedral in the world.
The cathedral's a mix of Renaissance and Baroque styles. Inside, there's a towering interior, a grand altar, and side chapels.
Click here to book a guided tour of the chapel and cathedral.
2. Historic Center
While you're in Granada's historic center, take time to explore the other sights in the labyrinth of streets in area. A good place to start is with the Alcaiceria. It's a small passageway with the remnants of Granada's old Islamic merchant bazaar.
Then, there's the Madrasah of Granada, the former mosque school which is now part of the University of Granada. And take a stroll along the scenic street of Carrera del Darro.
This cobblestone street along the River Darro, part of the Albaicin, is quite romantic. It takes you to both the El Bañuelo and Casa de Zafra.
El Bañuelo is an ancient Arabic hammam from the 11th century. Housed in a 14th century casa, the Casa de Zafra is a history museum .
3. Albaicin
When you're done being dazzled, wander around and explore the old Arab neighborhood of the Albaicin, or Albayzin. Sprawling up the hillside to the east of the city center, Albaicin is Granada's medieval Moorish quarter.
It's an ancient area with tight tangled winding streets and a bohemian feel. The lively place was declared a UNESCO site in 1984.
The main drags in the Albaicin, which both run parallel to the River Darro, are Paseo de los Tristes and Carrera del Darro.
Amidst a jasmine scented breeze, you'll find restaurants, cafes, tapas bars, and even street performers. You can enjoy a spectacular sunset view of the Alhambra at Mirador San Nicolás.
To explore this beauty and the neighborhood of Sacramonte, click here to book a guided walking tour. I did this tour and thought it was amazing. This is a good place to book a sunset walking tour.
Day 13: Granada
1. Alhambra
Start day 13 of your 2 weeks in Spain at Granada's marquis site, the UNESCO-listed Alhambra. Budget more than half a day for your visit. The Alhambra is one of the most popular and best sites in southern Spain, and even in the world.
It stands on a stunning piece of real estate, high on Sabika Hill, with panoramic views over Granada and the beautiful countryside.
The highlights of the Alhambra are the Alcazaba, the Charles V Palace, and the jaw dropping Nasrid Palace.
The Nasrid Palace offers the world's finest example of the refined, intricate, and elegant architectural style of the Moorish civilization.
Here's my complete guide to visiting the Alhambra.
More than any other attraction I've mentioned, you MUST have a ticket to visit the Alhambra and reserve it well (weeks) in advance. They sell out so fast.
You may want to book a guided tour of this magnificent UNESCO site. Tours are also another way to nab the valuable ticket. They also sell out fast.
Here are some guided tour options:
You'll find room after room of intricate tile mosaics, delicate plaster reliefs, and elaborate coffered ceilings. The rooms are linked by gleaming patios with gurgling fountains and pools.
Highlights are the Courtyard of the Myrtles, the Throne Room, the Salon of the Abencerrajes, the Hall of the Two Sisters, and the Courtyard of the Lions (the most photographed spot).
2. Generalife Gardens
When you're done with the lavish palaces, head over to the beautiful Generalife Gardens. The gardens were the summer pleasure spot of the Nasrid rulers.
Generalife was the lush leisure villa of the last dynasty of Moorish sultans. They summered there to escape the intense heat. The theme is water.
In the Generalife Gardens, narrow paths run alongside flowerbeds. There are terraced gardens, reflecting pools, and fountains.
4. Sacromonte
In the evening, explore the otherworldly barrio of Sacromonte, home to Granada's Roma community. Time stands still in this unusual rustic quarter of Granada.
For centuries, Sacromonte was the home of gypsies, bohemians, artists, and foreign refuges. Sacramonte also sports one of the most mesmerizing views of the Alhambra.
Click here to book a flamenco show in Sacromonte, which has the best venue for performances in Granada.
Day 14: Day Trip to Frigiliana and Nerja
On your last day, day trip to Frigiliana and Nerja. Frigiliana is a gorgeous hillside town. Just 15 minutes down the road from Frigiliana, on the Costa del Sol, is pretty laid back Nerja. If you're a nature lover, also plan time for the Nerja Caves.
1. Frigiliana
Nothing prepares you for the stunning beauty of Frigiliana, just 1:15 from Antequera by car. In Frigiliana, everything is beautiful in a way that it almost never is.
Frigiliana is a spotless, secluded, perfectly coifed cliff town dressed in blue and white, with flowing orange and purple vines and potted blood red geraniums.
The Spanish tourist board voted Frigiliana the prettiest village in Andalusia, and you can see why. Frigiliana's main attraction is its cobbled pedestrianized streets with whitewashed houses with colorful doors.
There's a pathway through the middle of the village called the Calle Real. But you must stray off the path and investigate all the nooks and cranies.
2. Nerja
Just down the road from Frigiliana is the pretty and laid back resort town of Nerja. At the top of the Costa del Sol, Nerja has a natural majesty. It also has 10 miles of powdery sand beaches.

Despite tourism on the Costa del Sol, the city center retains much of its historic village charm. Calle Almirante Ferrandiz is Nerja's restaurant row. Try Pulguilla, Patanegra 57, or Mo Gastro Tapas.
The heart of Nerja is its beautiful Balcón de Europa, a palm-lined promontory built on the foundations of an old fort. The Balcony of Europe juts out like a natural pier and offers panoramic views of the cobalt blue sea and honey colored coast.
Legend holds that the balcony got its moniker from King Alfonso XII. He apparently stood upon the site and, stunned by its beauty, proclaimed: "This is the balcony of Europe." This is no doubt apocryphal, but makes for good storytelling.
I drove to Frigiliana and Nerja. But, if you don't have a car or want to relax, you can book a combo day tour of the two towns from Granada.
3. Nerja Caves
The soft, calm sway of the Mediterranean Sea swells into Nerja's renowned caves. Just 2.5 miles from Nerja, the Nerja Caves are a major attraction in southern Spain. They are home to natural wonders and the world's tallest stalagmite.
You can visit both Frigiliana and the Nerja Caves on a guided day tour from Granada.
After your day trip, head back to Granada and enjoy your last night in Spain.
>>> Click here for a ticket to the Nerja Caves
Where To Stay In Granada
The Eurostars Catedral is a lovely hotel housed in a 16th century manor, just a short walk from the cathedral. The Catalonia Granada is a lovely hotel that comes complete with a plunge pool and open air terrace.
If you want a place where tradition and avant garde style meet, check out the Hospes Palacio de los Patos. It's housed in a UNESCO-listed palace, with sprawling gardens, a spa, and mosaic floors.
If you want to stay near the Alhambra complex, check out the Hotel Alhambra Palace, with ornate decor and viewing points. It's an extremely popular option with tourists.
I hope I've inspired you to take a 10 day to 2 week vacation in Spain. To help you with your Spain trip planning, you may enjoy these other travel guides and resources:
If you need a 10-14 days in Spain itinerary, pin it for later.