Caravaggio, whose real name was Michelangelo Merisi da Caravaggio, was an Italian Baroque painter renowned for his revolutionary approach to art.
He's celebrated for his dramatic use of chiaroscuro, which added a new level of realism and intensity to paintings. He's definitely one of my personal favorite artists.
But Caravaggio was both famous and infamous. He was known as the pittore maledetto, the "cursed painter." In fact, he may have been a clinical sociopath.
With jet black hair and glaring eyes, he led a scandalous life of violence, intrigue, and volatility. He fought, whored, drank, gambled, and dueled his life away. Along the way, he created some of the world's most beautiful and visceral art.
The Life of Caravaggio
This Caravaggio guide gives you a concise nutshell history of the artist's entire life — from his early years to his rise to success to his myriad run ins with the law.
Caravaggio's Early Years
On September 19, 1571, Caravaggio was born in Milan. But at the age of 5, he relocated to a small village called Caravaggio, from which he derived his name.
Misfortune struck early in his life. The bubonic plague swept through his town in 1577, claiming the lives of his entire community. Caravaggio found himself orphaned and destitute as a young teenager, struggling to survive on the streets.
In 1584, Caravaggio embarked on a four year apprenticeship in Milan under the guidance of Simone Peterzano, who had previously studied under the renowned Venetian painter Titian. This apprenticeship marked the beginning of his journey into the world of art.
In 1591, at age 21, Caravaggio moved to Rome after a gang brawl in Milan. It wouldn't be the last time he had to get out of town.
Rome was then the cultural capital of Europe. But Caravaggio was a small fish in a big pond.
Against all odds, he survived by hawking paintings in Piazza Navona.
Caravaggio got another break when Cardinal Francesco Maria Del Monte became an early patron. Caravaggio moved in with the cardinal and created some genre paintings, like Card Sharps and Young Sick Bacchus.
Caravaggio's Bad Temper
However, success didn't quite agree with Caravaggio. He was a hot-tempered and egotistic individual, known for his irritable nature. He balanced careers in both art and brawling.
During this era, Rome was a tumultuous and rowdy city, teeming with criminals, beggars, unemployed mercenaries, and prostitutes of both genders. Artists often lived rather dissolute lives.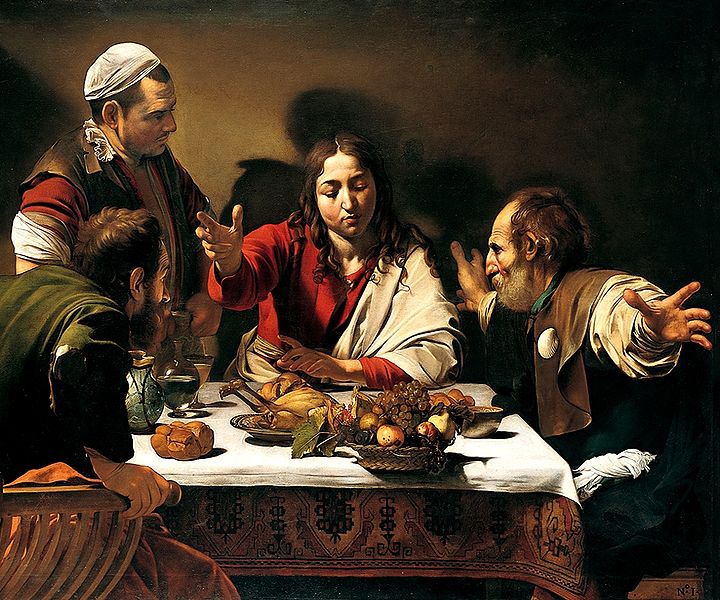 Caravaggio fit right in. He dressed in black and carried daggers, pistols, and swords. Caravaggio was quick to injure people, with either his weapons or his tongue.
He got into one street brawl after another. He may have pimped out his prostitute-models.
Caravaggio seemed to suffer from an extreme hypersensitivity, not uncommon in geniuses. His emotional range was intense, almost bipolar. He could go from celebratory drinking with friends to violent mood wings.
After moving to Rome, Caravaggio quickly got into trouble again, arrested for aggravated assault. He was only released thanks to the cardinal.
Right after that, Caravaggio was arrested for libel, possession of illegal weapons, and for insulting city guards. He was even sued by a restaurant waiter for throwing a plate of artichokes in his face.
In 1605, Caravaggio was forced to flea to Genoa after assaulting another man. He hid there for three weeks before being saved by patrons again.
Caravaggio's Rise To Fame
Caravaggio's controversial new painting style — depicting intense and realistic figures without a perfect past — was a game changer. It enthralled wealthy art patrons. They catapulted his career forward.
Caravaggio won a major commission for the Contarelli Chapel. His triad of paintings there made him an overnight sensation in Rome. A slew of stellar commissions followed.
Caravaggio painted the chapel's biblical scenes as if they were everyday images happening on the rough and rowdy streets of Rome. His paintings were starkly realistic and flood lit. He used chiaroscuro (strong contrasts in light and dark to achieve volume) to dramatic effect.
By 1604, he had produced a string of iconic masterpieces.
Caravaggio's Sexuality
Some art critics suggest that Caravaggio's early paintings of enigmatic and androgynous male figures had homoerotic undertones. There were rumors about Caravaggio's sexuality during his time.
However, these rumors mainly stemmed from his rival, Giovanni Baglione, who was a less talented artist than Caravaggio.
It's possible that Caravaggio created these works to please his patron, Cardinal del Monte, who was known for hosting risqué gatherings.
Historians remain divided on Caravaggio's sexual orientation, with some suggesting he might have been homosexual or bisexual.
While he was once celebrated as a gay artist, recent scholarship has shifted away from that interpretation.
Whatever the suspicions, there's simply no historical evidence of Caravaggio's homosexuality.
Logic refutes any exact linkage between Caravaggio's male nudes and a homosexual identity in his personal life. And Caravaggio definitely had mistresses and adored female prostitutes.
Botched St. Peter's Commission
By 1605, Caravaggio was receiving fewer commissions because of his disreputable conduct.
But that year, with the help of Cardinal Scipione Borghese, he received a commission to paint an altarpiece for St. Peter's Basilica.
It was the dream of every artist in Europe. Caravaggio was effectively given a chance to paint himself out of trouble.
His assigned task was to paint the Virgin Mary shooing away evil in the form of a snake, with baby Jesus and St. Anne by her side. Simple enough, except Caravaggio rendered it a rather blunt way, which he must have known might antagonize the pope.
In Caravaggio's version of the biblical tale, he used a well known prostitute as the model for the virgin, whose face was instantly recognizable. Even though Caravaggio made an attempt at piousness (halos and all), he still refused to compromise.
Caravaggio's virgin is depicted as a voluptuous and tender peasant with a hiked up red dress and ample breasts. Together, she and a frontally nude Jesus crush a snake beneath their feet. St. Anne is seen as a withered old gypsy woman.
Caravaggio's painting was shown for only two days. Then, it was abruptly removed from St. Peters. It wasn't "pure" enough, despite its sense of the miraculous in ordinary reality.
The painting was sold for a pittance to Cardinal Borghese. Any chance of Caravaggio receiving papal favor and future commissions was forever eliminated. Caravaggio was humiliated.
Caravaggio Exile From Rome For Murder
This incident may have influenced Caravaggio's subsequent actions. In 1606, he was involved in the death of Ranuccio Tomassoni.
The Tomassoni family had a certain social status. But Ranuccio himself had a reputation as disreputable as Caravaggio's.
In 2002, historians uncovered evidence suggesting that their fatal encounter was more likely a traditional pre-arranged duel, with each side having seconds present.
During this confrontation, Caravaggio fatally wounded Tomassoni by striking his femoral artery. The location of the wound has led some to speculate that Caravaggio may have been attempting to castrate him.
It sounds appalling, I know. But in the honor culture of Rome, castration was a sign. Caravaggio was likely defending the honor of a popular courtesan and his frequent model, Fillide Melandroni.
Whatever the cause, Pope Paul IV exiled Caravaggio from Rome for life and sentenced him to death. He put a bounty on Caravaggio's head, bando capitale, granting anyone permission to kill him.
Thus, at the height of his career, Caravaggio was forced to flee Rome and live the rest of his life as a fugitive.
With the help of patron and advocate Constanza Colonna, Caravaggio escaped to Naples, where the papal authority was weak. He quickly became a celebrity there and produced more paintings. Not exactly good, however, for keeping a low profile.
Caravaggio In Malta
In 1607, Caravaggio left Naples for Malta to attempt to join the holy and chivalric order of the Knights of St. John. They were an armed religious order and a possible road to redemption for troubled nobles in need of a pardon.
To impress the Maltese locals, Caravaggio created a massive painting (27 feet long), called The Beheading of John the Baptist, for the cathedral in Valletta.
It was the only painting he ever signed. For his efforts, Caravaggio was proclaimed the world's greatest painter, living or dead. And he was invested as a knight.
At last, Caravaggio had some proper accolades. But then, as usual, Caravaggio engaged in self sabotage. Caravaggio's worst enemy was himself.
In 1608, he attacked a senior knight. Caravaggio was arrested, imprisoned, and defrocked. He was thrown in a pit cell. He later escaped, possibly with external help.
In 1609, when he was on the lam, Caravaggio was attacked, his face slashed by armed men in a street brawl. The assailants could've been anyone — knights of Malta, Tomassino's henchmen, or others out for revenge. After this attack, Caravaggio convalesced at Constanza Colonna's palace until July 1610.
Caravaggio Paints For A Pardon, But Dies
After his exile from Rome, Caravaggio attempted to win a papal pardon by gifting Cardinal Borghese one of his masterpieces, David With the Head of Goliath.
In 1610, after a three year wait, Borghese secured the pardon. Caravaggio headed back to Rome via Naples.
But he disappeared on the return journey, without leaving a trace, dead at 38. Historians have speculated for centuries over what exactly became of Caravaggio. It seems like he died as badly as he lived.
Most historians believe that Caravaggio died from his risky lifestyle — from malaria, a bacterial infection, syphilis, lead poisoning from his paints, or complications from alcoholism. Or a combination of them all.
But in 2018, the skeletal remains of the painter were exhumed and tested. It's now believed Caravaggio died of sepsis, a complication from an infected sword wound he received during the 1609 knife attack.
Caravaggio's Legacy and Influence on Painting
Caravaggio pioneered Baroque painting, much as Bernini pioneered Baroque sculpture. He was especially lauded for the originality of his chiaroscuro technique.
His intense use of light and dark became a Caravaggio calling card, called tenebrism (which translates to dark and gloomy). It sometimes paradoxically obscured the human form, contrary to the earlier Renaissance theory that promoted it. But the technique gave his paintings a dramatic, even theatrical, quality.
Caravaggio also departed from academic strictures by depicting sacred subjects in a contemporary and unassuming life-like way. He would often get models from the street, even using prostitutes and other figures from society's underbelly.
But Caravaggio still portrayed them with dignity. He was the people's champ.
Caravaggio was protective of his groundbreaking style. He would threaten painters who attempted to copy his unique renderings.
But he was so revered that he nevertheless became one of the era's most imitated painters. His followers, like Artemisia Gentileschi, were called "Caravaggisti."
I hope you've enjoyed my history of the life of Caravaggio. You may enjoy these other Italy travel guides:
Pin it for later.