Salzburg is the city of Mozart. And no trip is complete without visiting Mozart's Birthplace.
The museum is dedicated to the life and works of the famous composer Wolfgang Amadeus Mozart, who was born and lived there until he was 17. It's on the third floor of a 12th century townhouse on Getreidegasse street, the main drag in Salzburg.
After a disappointing visit to the Mozarthaus in Vienna, I was wondering whether the birthplace was worth a visit. And the answer is maybe. It's best for the casual Mozart fan, not the hard core connoisseur.
It was here that Mozart learned to play piano and violin, and composed his first boy genius works. It's a chance to walk in the footsteps of the famous composer, which is not a small thing after all.
But the museum isn't perfect. Its exhibits are a bit repetitive and old fashioned (though I didn't see the fake baby with a wig that I was expecting).
And there's no music to speak of, except in a small computer room. In a museum of musical history, that's a rather glaring omission.
Still, the museum gives you a solid history of Mozart and his family, though some of appears to be conjecture. It's filled with a significant collection of authentic memorabilia and family treasures — Mozart's possessions, photographs, musical scores, letters, instruments he played, mini opera stages, etc.
You can explore several rooms to discover what the museum calls "the cosmos of Mozart." Each room has a different theme.
There is a QR code to download the museum app. But there's plenty of signage too.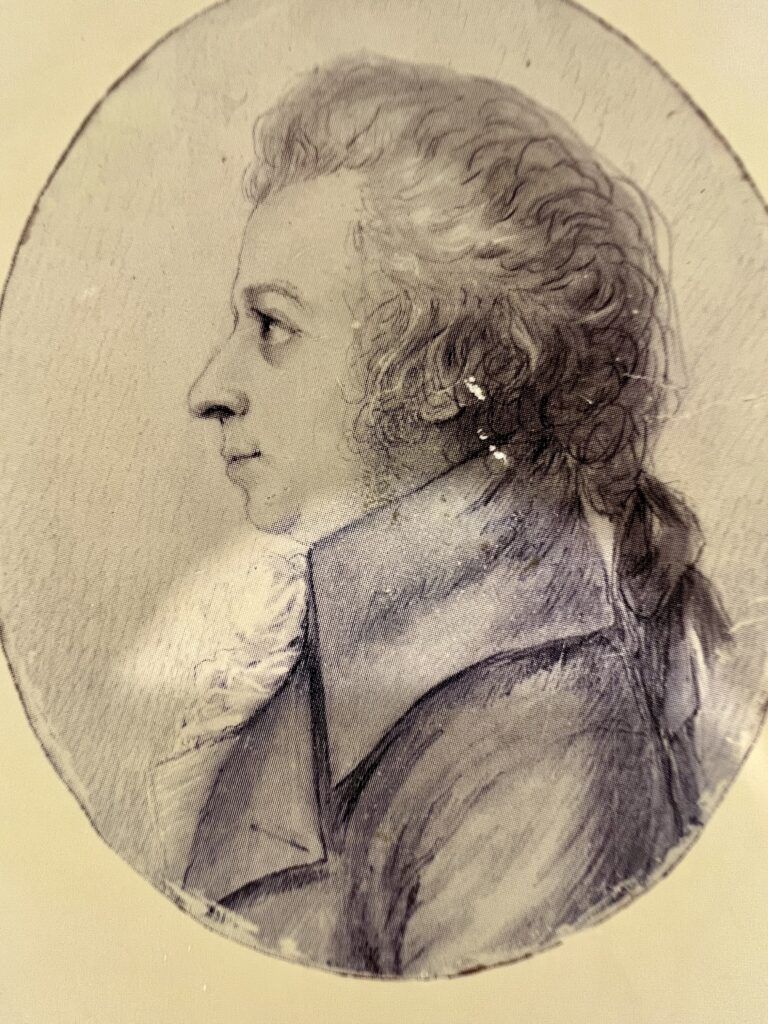 Who Was Mozart?
Mozart was born in this house on January 27, 1756. His dad recognized his amazing musical talent when he was very young and supported it.
By age 5, Wolfgang could already play the violin and piano. In 1761, he performed in public for the first time. A year later, he and his dad went on concert tours to make him famous across Europe as a child prodigy.
At 8, Wolfgang started writing his own music. At eleven, he composed his first piece for the stage. From 1769 to 1773, he had big successes in Italy.
At just 6, he became the concert master of the Salzburg court orchestra. In 1777, he asked his boss to let him leave the orchestra so he could travel and become a composer at a royal court in Europe, but it didn't work out. He returned to Salzburg and became the court organist.
In 1781, when he was 25, Mozart left his job for good and moved to Vienna. A year later, he married Constanze Weber. They had six kids, but only two survived to adulthood. In 1787, Joseph I made Mozart an Imperial and Royal Chamber Musician.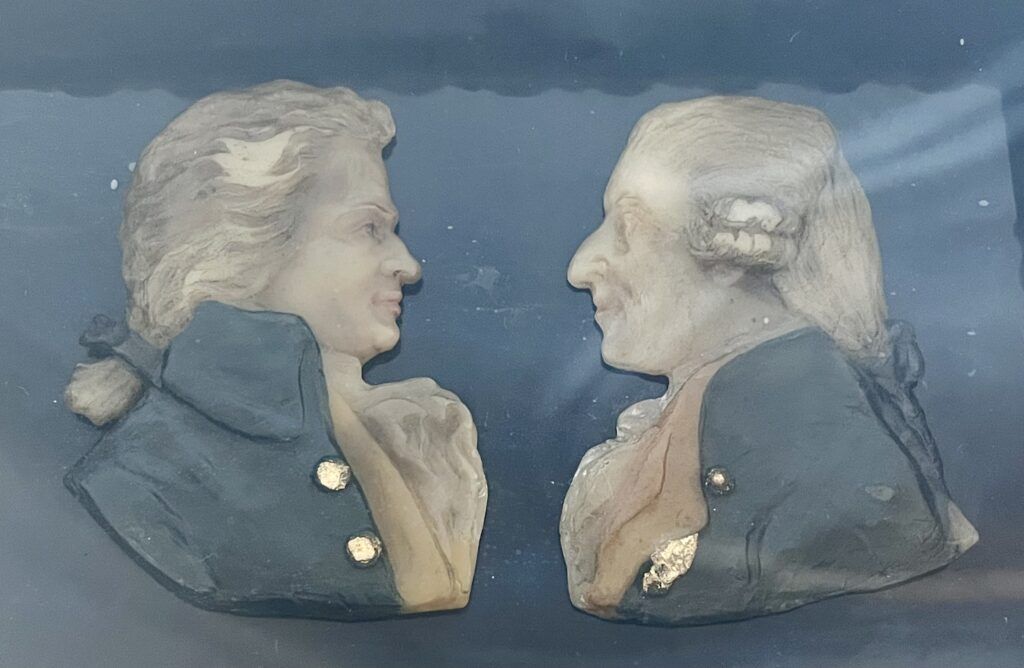 Mozart spent about one third of his life traveling, which is around 3,720 days. In his 35 years of life, he composed over 600 pieces of music, including 22 operas. They are still played in opera houses today.
Despite earning a good income, Mozart was always in financial difficulties. He liked gambling and billiards, frittering away his money.
Mozart died on December 5, 1791, at the age of 35 in Vienna. Historians aren't sure why. But Salieri didn't kill him!
Some theories include rheumatic fever, strep throat, mercury poisoning, or "military fever." A new theory posits that infected kidneys were the culprit.
Mozart famously disliked Salzburg. And the city seemed to erase him from its history for awhile. Today, though, Mozart is a veritable industry. So you should expect crowds at his birthplace museum.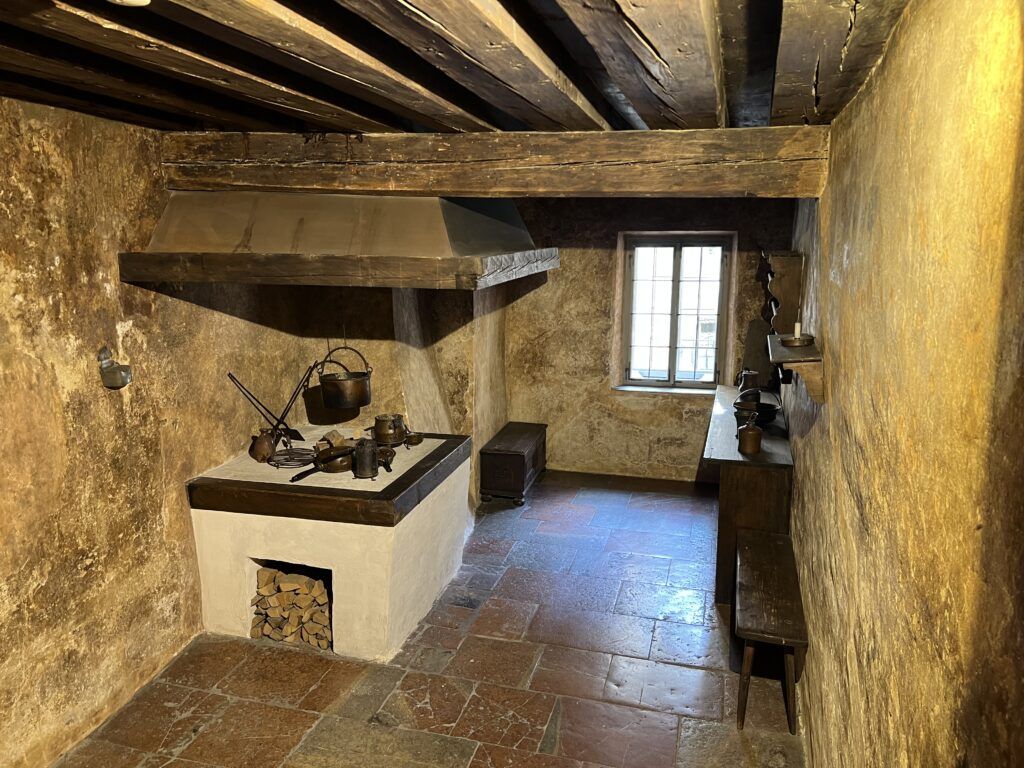 Guide To Mozart's Birthplace: What To See
Built in the 12th century, Mozart's Birthplace consists of a kitchen, study, living room, bedroom (birth room) and study. Here are some things you will see at the museum.
Kitchen
The Mozart kitchen shows cooking worked in the 18th century. Back then, you cooked over open flames on a masonry stove.
Soot would accumulate everywhere. This was why the kitchen was not close to the living area.
It's possible, though not for sure, that Mozart's family kept chickens.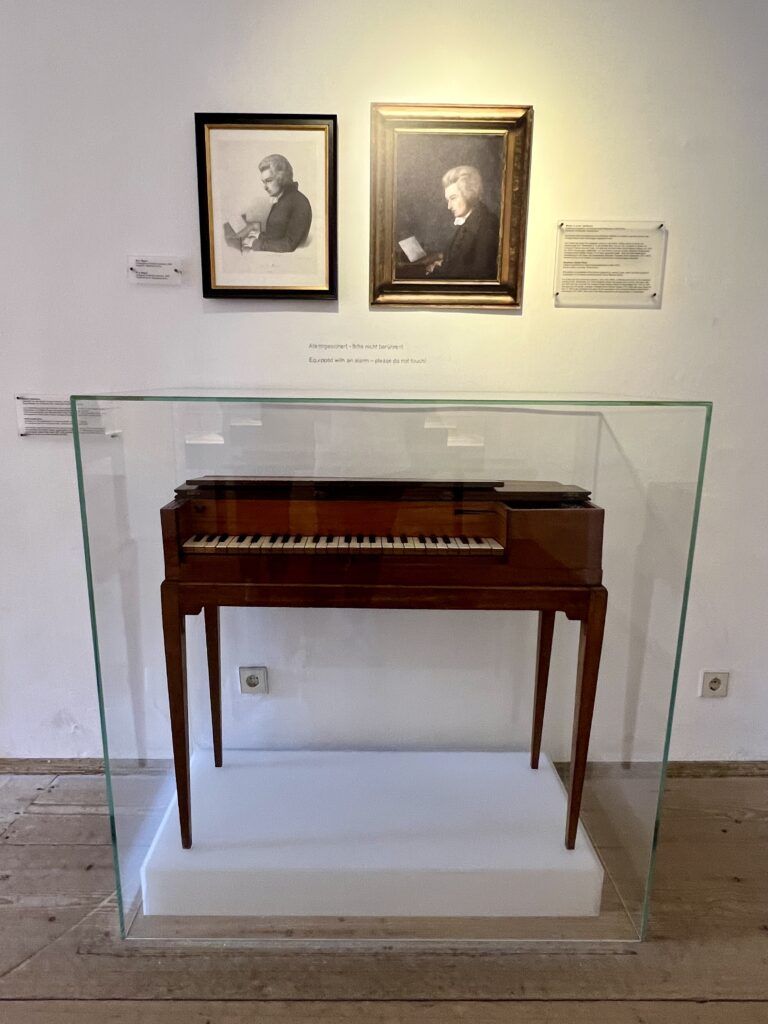 Musical Instruments
The museum is home to instruments Mozart actually played. You'll find his childhood violin, concert violin, square piano, clavichord, and viola.
The real deal — Mozart's pianoforte — is across the river in the Dance Masters' House, another residence in which Mozart and his family lived.
Mozart supposedly used the clavichord to compose his final work — the Requiem, which was played for his own funeral.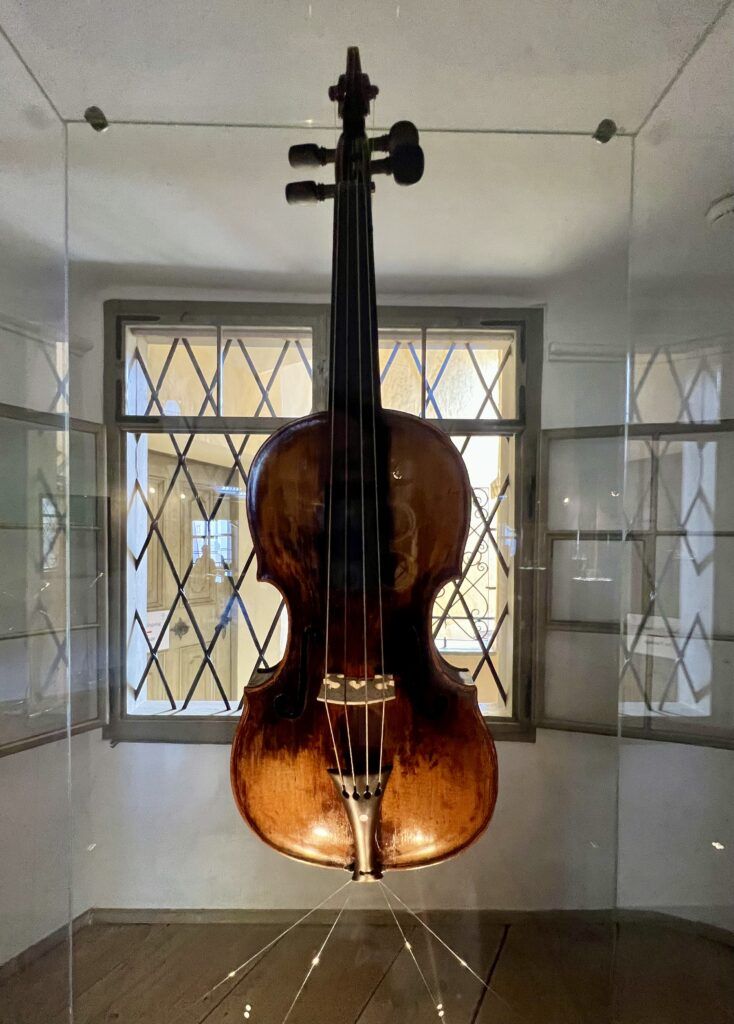 Mozart Portraits
There are quite a few likenesses of Mozart in the museum. Only a handful of paintings and drawings were made of the composer during his adult years.
Thus, the images that do exist have been a source of controversy, with art experts weeding out imposter portraits.
From my point of view, the most interesting paintings of Mozart from his time is called Mozart at the Pianoforte.
It's an unfinished portrait that his brother-in-law, Joseph Lange, started in Vienna two years before Mozart passed away in 1791.
In the painting, Mozart is shown against a very dark background, looking down thoughtfully at a keyboard that was never actually painted. He has his natural chestnut hair, and is not wearing the usual white powdered wig.
It's a very personal picture. Mozart's wife, Constanze, believed that this painting looked the most like him compared to other portraits.
You'll also see a tortoise shell snuffbox, acquired in 1956. It shows an angelic face with curly hair and dark eyes. It's inscribed with "Johann Mozart, 1783," which was the composer's first name.
The Mozart Foundation found a document proving Mozart owned this snuffbox and gifted to a friend. That friend's brother then painted a small portrait of Mozart on it. This snuffbox is the only known head-on portrait of Mozart from after 1781.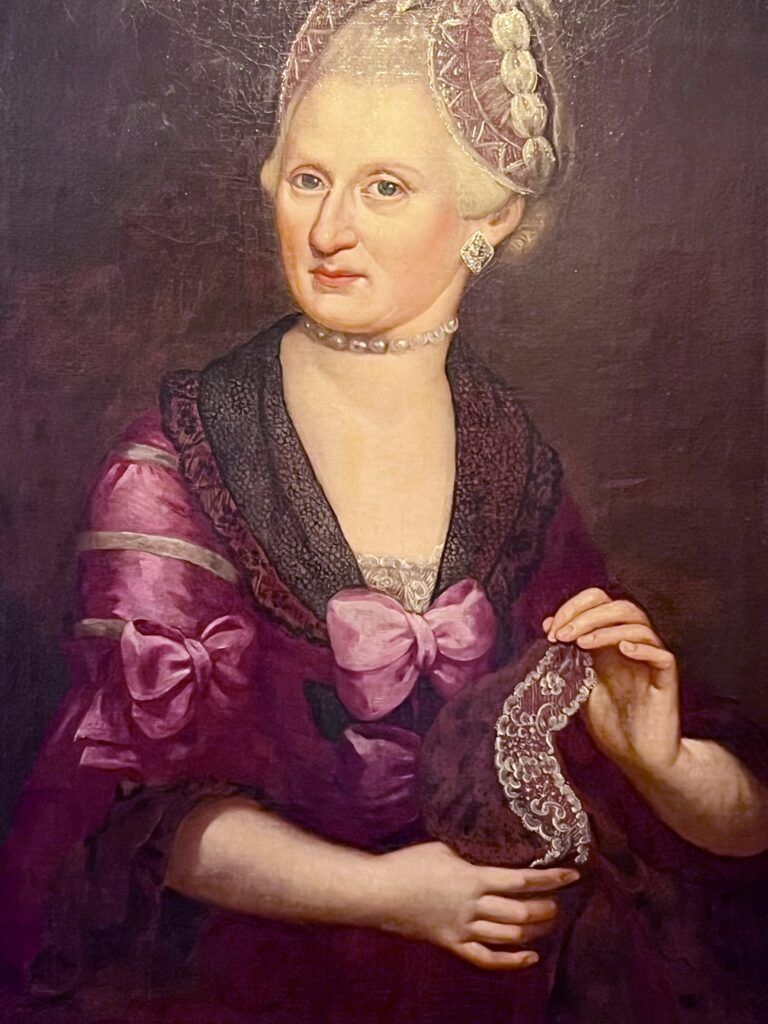 Study
This room was the opera and music composing room.
Today, it's filled with portraits and information about Mozart and his family. Mozart's parents, Anna Maria and Leopold, were a love match and happily married.
Leopold was a court musician. His mother was popular and beloved. And Mozart allegedly resembled her.
Mozart's sister, Nannerl, was quite beautiful and also a musical prodigy. Mozart himself was thin and pale, definitely not a hearty type.
But the museum is basically silent on any of Mozart's negative qualities — extravagance, impetuosity, defiance of authority, and lack of diplomacy.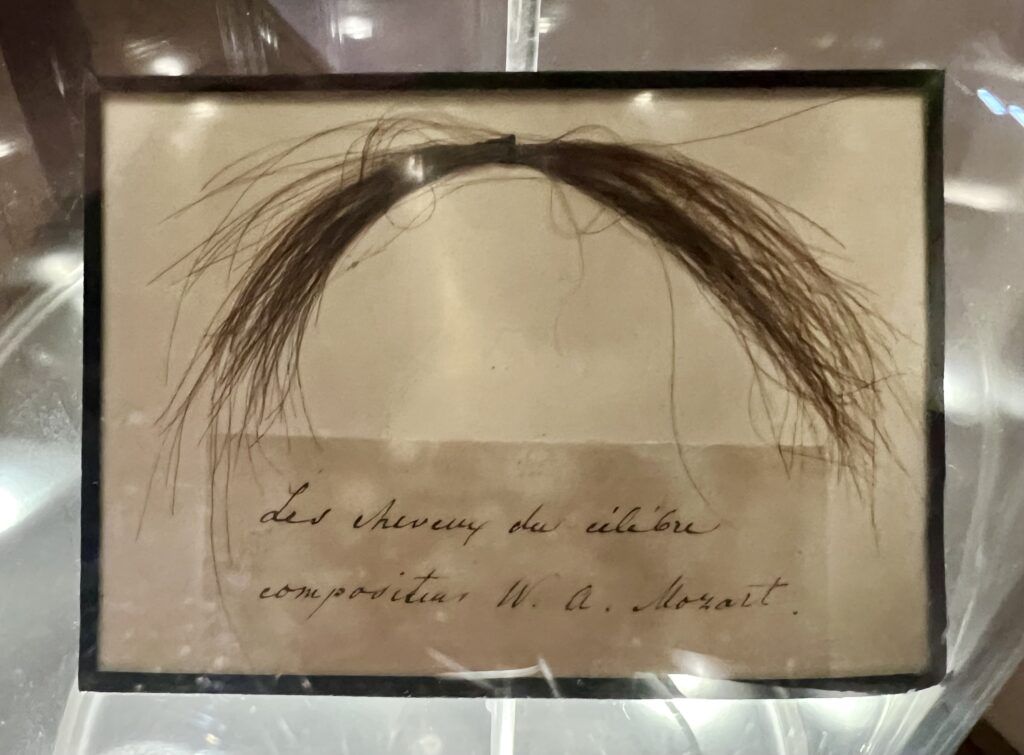 Mozart's Bedroom
This is literally the room where it happened, the room where it happened. There's no furniture or anything left from that fateful day.
But the room is filled with Mozart's personal memorabilia. You'll find a lock of his hair, a ring with precious stones, a pendant, mother of pearl case, a silk wallet, and a tobacco case.
Another highlight of the bedroom is Mozart's childhood violin.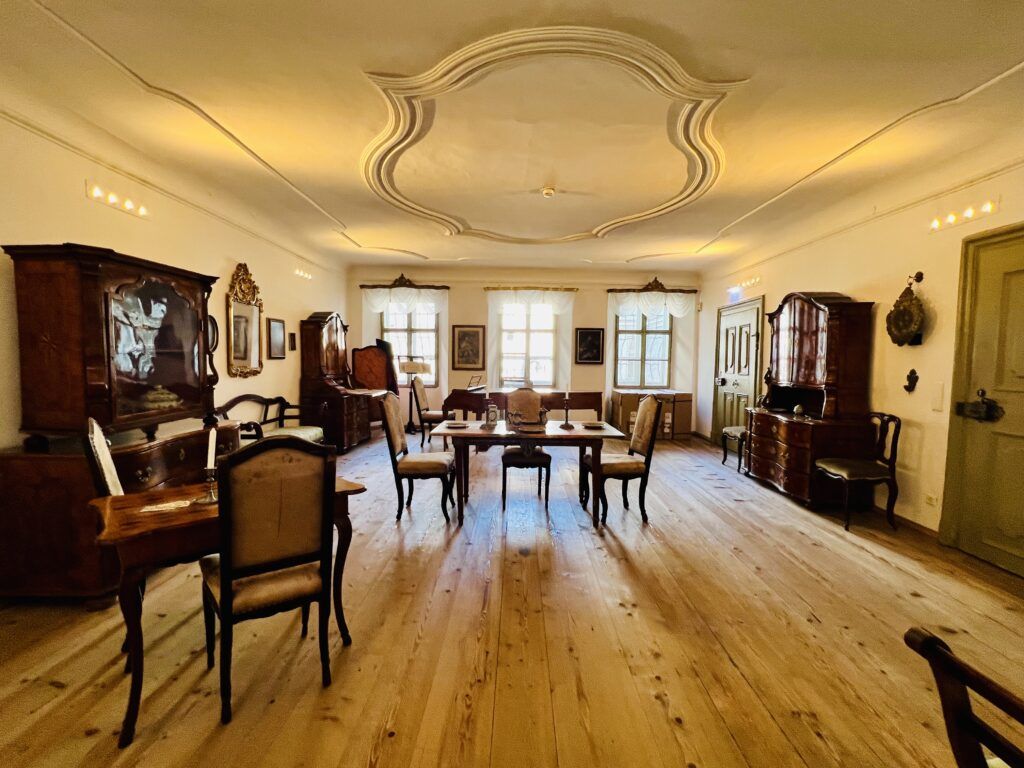 Living Room
This room replicates living conditions in Mozart's day with period furniture. from the middle class.
An anteroom next door is filled with some model opera stages and information about Mozart's constant travels.
During his lifetime, Mozart undertook a total of 17 voyages. He was on the road for 3,720 days.
The museum points out that Mozart did not consider himself to be Salzburgian, Viennese or Austrian. At that time, there was no citizenship as we know it today. Mozart was simply a European.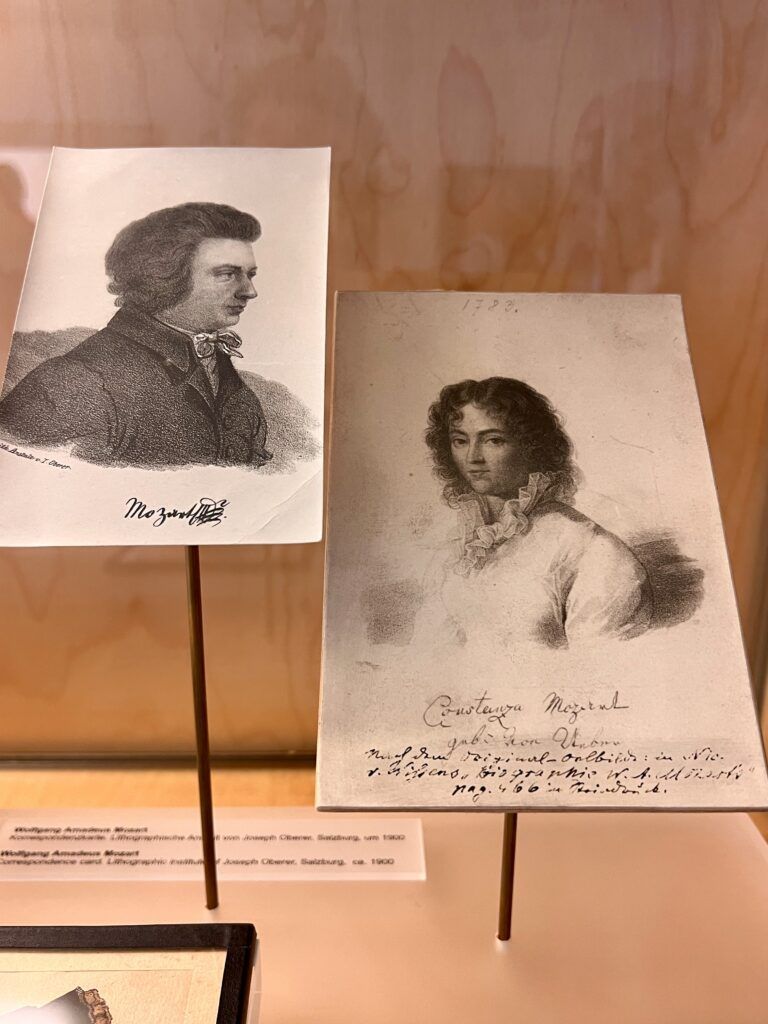 Practical Guide & Tips For Visiting Mozart's Birthplace
Address: Getreidegasse 9, 5020 Salzburg
Hours: Open daily 9:00 am to 5:30 pm.
Tickets: 13.50 euros, with discounts for family and children.
The birthplace museum is included in the Salzburg Card, which I recommend getting for pure ease and a bit of a discount.
Is Mozart's Birthplace Worth Visiting?
The museum is worth visiting, if you have an interest in classical music, history, or the life of Mozart. I'm glad I went.
House museums, however, are a bit of an acquired taste to my mind. They often are just shells, without much on display.
But this one does a decent job, with an excellent introduction to Mozart's. life. Plus, you will, in fact, have walked in Mozart's footsteps on a visit.
How Long To Visit?
You can cover the museum in 1 hour or so, depending on how much you read.
I hope you've enjoyed my guide to Mozart's Birthplace. You may enjoy these other Austria travel guides and resources:
If you need a guide to Mozart's Birthplace, pin it for later.