Vienna's Mozarthaus is a small museum known as the "Mozart Apartment" or the "Figaro House." It's situated in the historic city center, just a few minutes from St. Stephen's Cathedral.
But is it worth a visit? In my honest opinion, no. It's a terrifically unsatisfying museum. There are scads of better museum experiences in Vienna.
The Mozarthaus grandiosely aspires to present the "life and work of Mozart."
Its chief claim to fame is that Mozart lived there for 3 years and it's his only surviving apartment in Vienna. It also says Mozart composed more music here than anywhere else, including the Marriage of Figaro.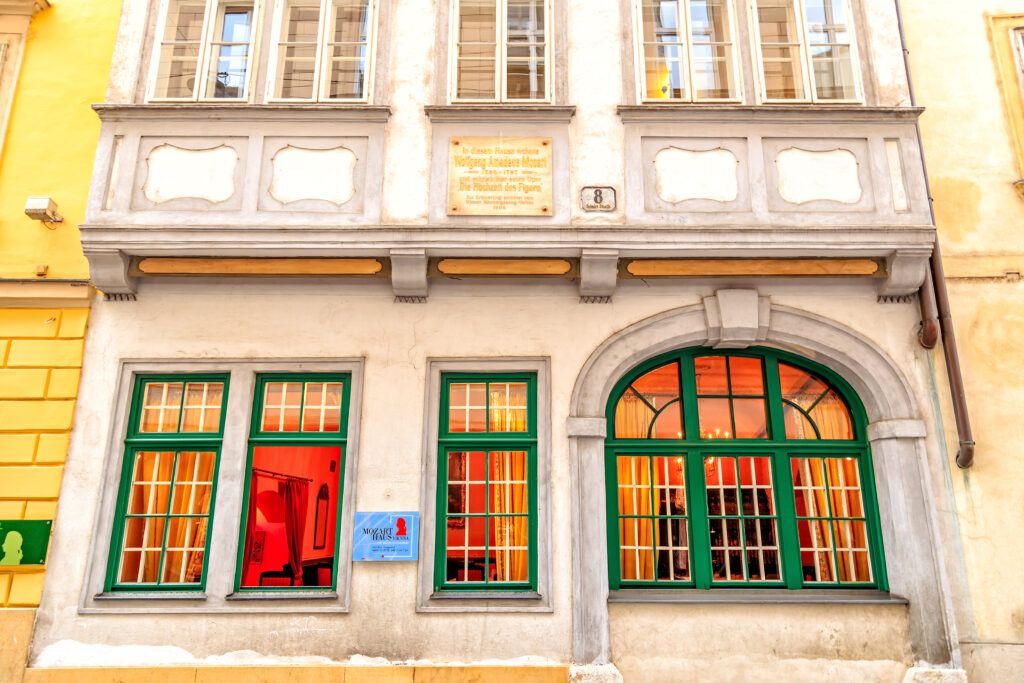 The museum spans four floors. Two floors house the ticket office, coat check, cafe, and shop. One floor hosts an exhibit called "Mozart's World," while another showcases the apartment where he once lived.
However, there are no original interiors or possessions of Mozart on display. There are a few pieces that date back to "Mozart's era."
In essence, the museum is an empty shell. The audio guide even encourages visitors to "imagine" what was once there.
The museum itself isn't even certain about the layout of Mozart's apartment or the specific uses of its rooms. As a result, you'll come across signs questioning the function of various spaces, such as "Study?" or "Salon?" or "Bedroom?"
The exhibits themselves are unrewarding. The museum has replicas of portraits "based on other portraits." There's a copy of his death mask. And copies of various musical compositions and letters, the originals of which are in other museums.
In short, nothing in the museum is authentic. There is nothing that was Mozart's. There is pure conjecture about the rooms in his apartment.
The only thing the museum really offers is a chance to walk in Mozart's footsteps. While that is no small thing, it's not enough to justify the 12 euros admission price.
I love classical music and am a history buff, but this museum was boring to me. I haven't been to a concert there, so perhaps that is worth doing.
I was also bothered by the "no photos allowed" policy, and it wasn't clear if it applied to the entire house or just parts of it. Despite this, I noticed many people taking photos, especially in the apartment.
However, I had an unpleasant experience on the first floor when I attempted to take a photo. The lack of original items made me question why photos were even restricted.
In sum, the Mozarthaus may not be a museum worth visiting, as it lacks any memorabilia or any real musical experiences. You can easily google all the information provided in the audio guide.
The House of Music is a superior attraction. And if you're looking for a worthwhile Mozart-related experience, the Mozart Birthplace in Salzburg is a better choice.
If you nonetheless plan to visit Mozarthaus, consider getting a discount. You can purchase a combined ticket for the apartment and the House of Music, which is priced at 20 €.
The House of Music alone costs 16 €. So, with the combined ticket, you'd only be paying an additional 4 € for both experiences.
In addition, if you have the Vienna Pass, you can enjoy free entrance to Mozarthaus. This cost-effective approach allows you to explore the composer's legacy without breaking the bank.
Practical Information for Mozarthaus
Address: Domgasse 5
Hours: Open daily 10:00 am to 6:00 pm.
Ticket Price: € 12, including an audio guide. Click here to pre-book a ticket. You can also book a museum + concert ticket.
Pin it for later.