Toledo is a gorgeous historic city where you can step back in time and enjoy great art. Its most famous artist in residence was the 16th century European painter El Greco.
The Greek artist left an indelible mark on the city. If you're an El Greco-phile like me, you could easily spend one day in Toledo just seeing his art.
The best places to go are the Santa Cruz Museum, Santo Tomé Church, Toledo Cathedral, and the El Greco Museum.
In this guide, I'll tell you everywhere to find El Greco's art in Toledo and give you a description of the must see masterpieces.
Who Is El Greco?
Dominikos Theotokopoulos, better known as El Greco, was a remarkable painter of the Spanish Renaissance.
Born in Greece, he trained in Venice. Later, he settled in Toledo hoping to get jobs as a painter. It worked, and he remained there for the rest of his life. He forged his signature style and created some of his most famous works in Toledo.
El Greco's paintings are a unique blend of Byzantine, Venetian, and Spanish influences. His icon-like faces came from his Greek homeland. Bold color and twisting poses from Italy. And his mystical Catholic spirituality from his native Spain.
Some art historians think El Greco is hard to classify, and that may be true. But I think he fits in best with the Italian Mannerists, who worked in the late Renaissance after Leonardo and Raphael.
Mannerist artworks break from Renaissance ideals with their unique characteristics: unrealistic depictions, dramatic rejection of idealism, vivid and intense colors, elongated proportions, peculiar poses, and intricate compositions.
Some historians claim it was a self conscious "style based on style." It was "mannered" art — a highly sophisticated art for a highly sophisticated age.
El Greco's style follows this pattern. But his works are also imbued with a profound sense of spirituality. He painted actual souls and their thunderous emotions. He tried to express otherworldly, supernatural events.
Some say El Greco's art still seems "modern" because it diverges from reality. I don't. I think it captures a key moment in history when Renaissance ideals were rejected for something different. From that moment, art changed and El Greco went on to inspire artists like Picasso and the Expressionists.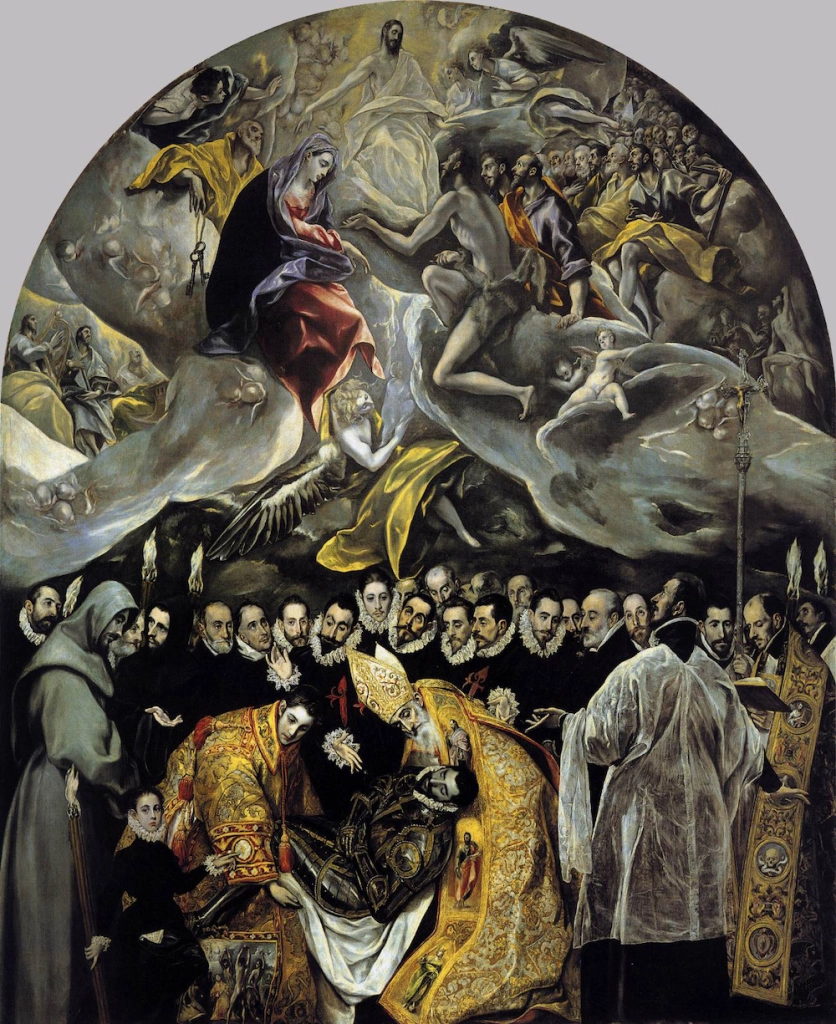 Guide To El Greco's Art In Toledo
Here are the top must see El Greco paintings in Toledo.
1. Burial of the Count of Orgaz, Santo Tomé Church
This is El Greco's most famous painting and the one he loved best. It's a massive painting stands over 15 feet tall. It couples heaven and earth in a way that only El Greco could.
It's divided into two parts by a row of noble faces. Each is a distinct portrait. El Greco even included himself and his son.
The lower half shows the remarkable events surrounding the death of Don Gonzalo Ruiz, mayor of Toledo and the Count of Orgaz. It's a unique take on entombment scenes similar to those by Raphael or Titian. Two important saints, appearing unexpectedly, gently lower the count into his tomb.
The upper half is a free flowing version of a celestial realm. It's filled with important religious figures liked Christ, the Virgin, and St. Peter with his keys.
An angel guides the count's soul, depicted as a baby, toward judgment. The message is that this is the reward for those who serve God and his saints.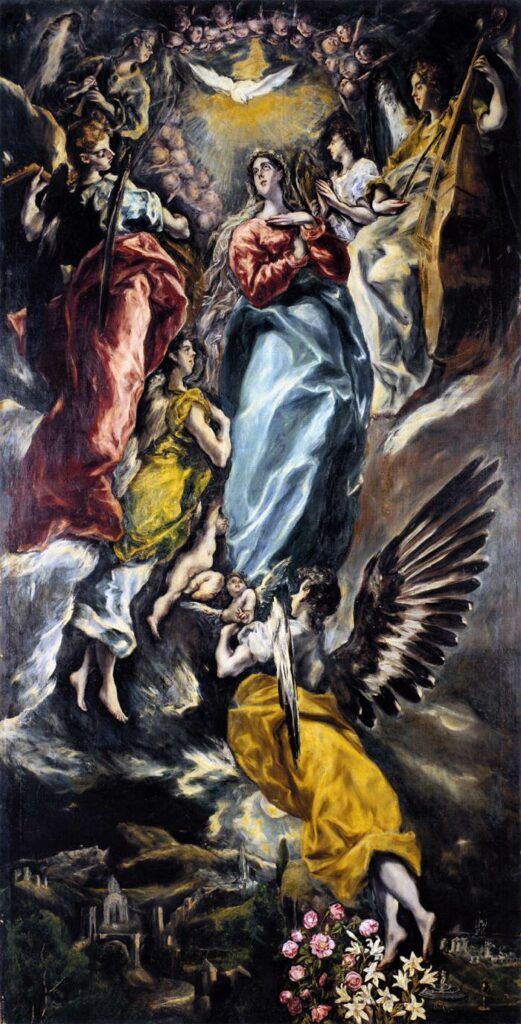 2. Assumption of the Virgin, Santa Cruz Museum
This altarpiece was finished one year before the artist's death. It's the grand culmination of his career.
The painting combines all his signature elements to express an otherworldly event. It's one of the El Greco's greatest masterpieces.
It's a vision. Reality has been completely suspended to focus on the teling the story of the spiritual experience.
An angel greets Mary and she floats up through space, born on billowing clouds, into infinity. Mary is ecstatic and you can fell it.
At the bottom lie the attributes or Mary (roses, lilies) and a tiny bit of the city of Toledo.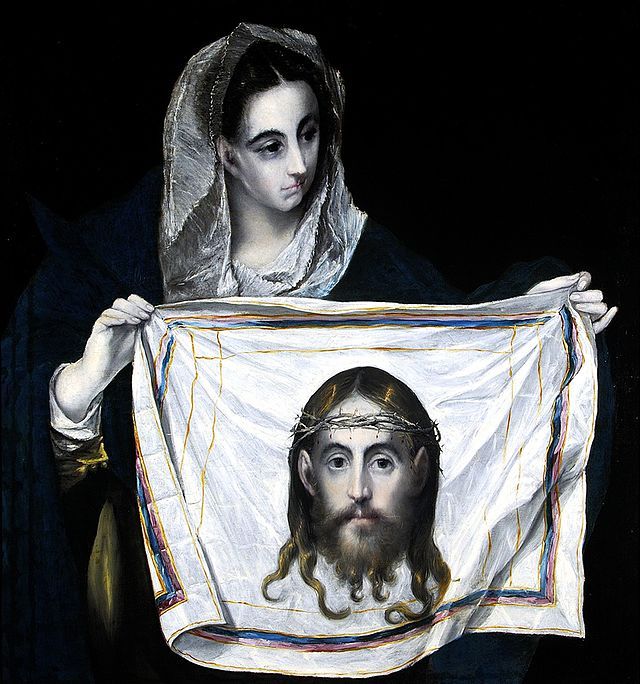 3. St. Veronica Holding the Veil, Sant Cruz Museum
The Veil of Veronica is a Christian relic associated with the story of Saint Veronica and her act of compassion towards Jesus during his journey to the crucifixion.
According to Christian tradition, Saint Veronica, a pious woman, approached Christ and wiped his face with her veil. Miraculously, an imprint of Jesus' face was left on the cloth. It's sometimes called the "sweat cloth."
El Greco painted this theme several times. This painting is not as colorful as his usual Mannerist works. There are cool blues and gray.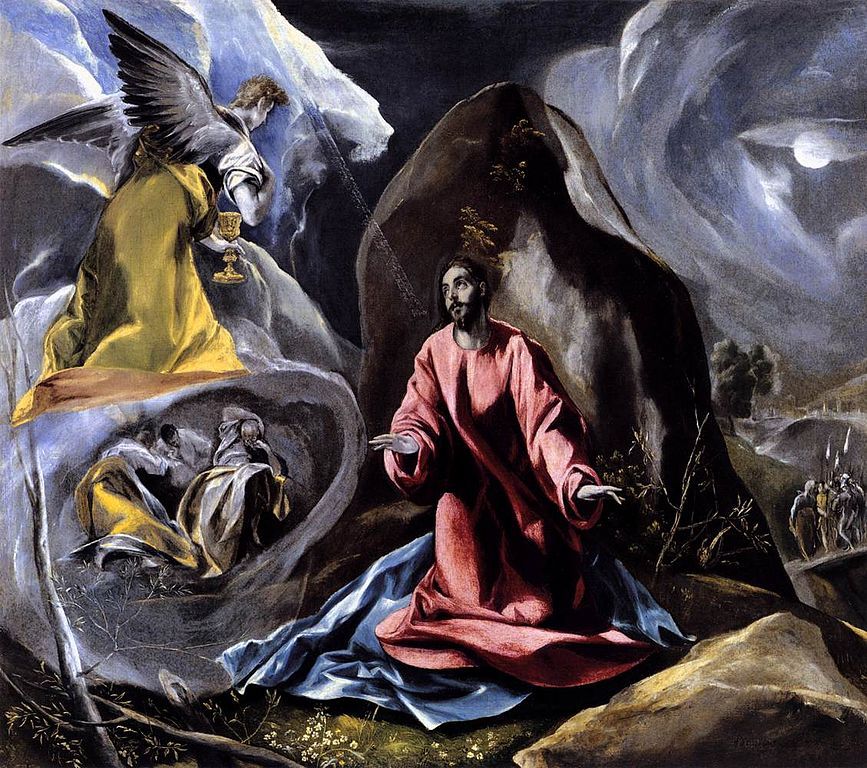 4. Agony in the Garden, Toledo Museum
Agony in the Garden is another of El Greco's emotionally charged religious scenes. Christ is shown praying in a garden outside Jerusalem. He's clad in swirling red toned robes.
To the right, soldiers approach to arrest Christ. You can see his agony of what he knows is coming next. A dark shroud seems to loom above him, separating blue clouds.
Apostles sleep in the bottom left corner while an angel hovers atop them.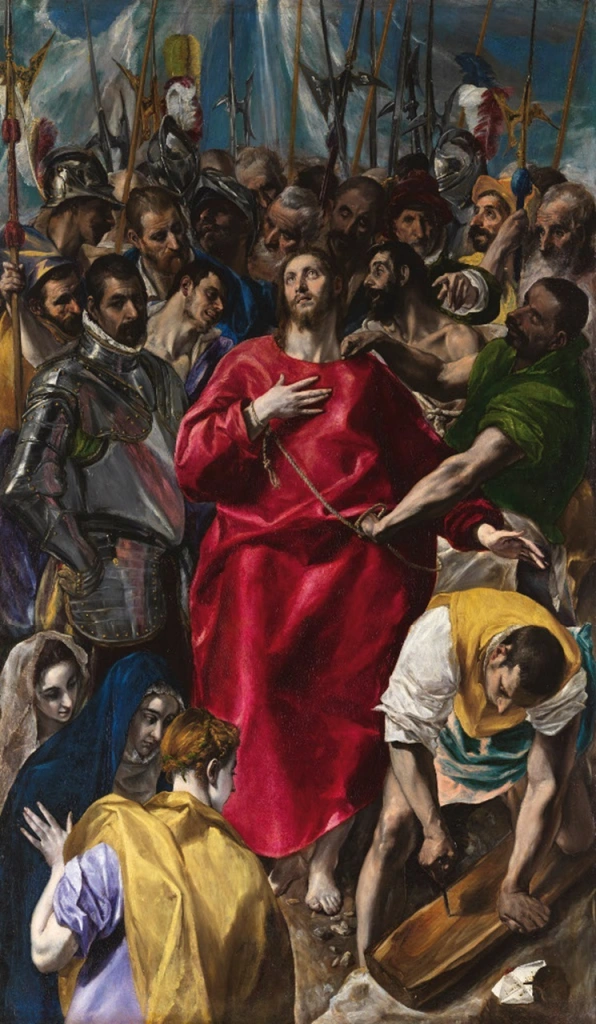 5. Disrobing of Christ, Toledo Cathedral
This is a dramatic painting and a centerpiece in Toledo Cathedral. It was painted shortly after El Greco arrived in the city. And it's hung there ever since, except for a restoration at the Prado Museum.
Christ is in the center. You can't really miss him as he's clad in bright red. In this dramatic scene, Christ is being stripped of his garments before crucifixion.
The painting uses vibrant colors and elongated figures, typical of El Greco's style. The figures are surrounded by a heavenly light, creating a spiritual setting. Christ's suffering and the emotions of those around him are palpable.
6. View and Plan of Toledo, El Greco Museum
This is probably the most important painting in the El Greco Museum. In fact, it's one of the most famous landscapes in art history.
El Greco paints a stunning landscape capturing the city of Toledo with a dramatic and atmospheric flair.
Paintings like this, showing off a grand Imperial city, were extremely unusual in El Greco's time. And El Greco likely knew that.
You can see a detailed plan of urban Toledo in the distance. At the top are swirling, threatening clouds with an incredible azure blue showing in spots. . In the foreground, a young man shows the viewer a map of the city.
7. Apostolates Series, El Greco Museum
This riveting series consists of 13 paintings of Christ and his apostles. It's arranged like a Last Supper painting.
Christ is flanked by 6 apostles on the left and 6 on his right. The only person missing? Judas the betrayer. St. Paul has taken his place.
Each one is beautiful in and of itself. But, in this case, the overall effect may be greater than the individual pieces.
8. Tears of Saint Peter, El Greco Museum
This is one of El Greco's beautiful portraits of saints in Toledo. He's depicted in the standard fashion — as an elderly man with gray hair.
Peter is holding the keys to the kingdom of heaven, his attribute. They symbolize his role as the "gatekeeper" to heaven.
He's wearing a gold and green cloak, and set against an enigmatic dark background. His hands are clasped in prayer and he looks upward toward heaven with expressive eyes. There's a look of profound sorrow on his face.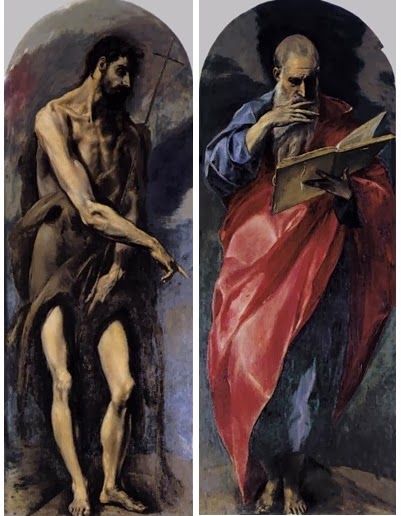 9. Santo Domingo el Antiguo
This church has three paintings by El Greco — The Resurrection, St. John the Baptist, and St. John the Evangelist.
St. John is shown in his customary attire. He's depicted as a bearded man dressed in simple garments made of animal skins His rugged appearance symbolizes his ascetic and humble life in the wilderness. El Greco's elongated limbs make him look almost skeletal.
St. John the Evangelist is shown in intellectual contemplation. He holds a book, representing his role as the author of the Gospel of John and other New Testament writings.
He's clad in flowing red and blue robes. His face is expressive and an elegant hand touches his chin as if he's thinking.
El Greco made other paintings for the church as well. Holy Trinity is in the Prado Museum in Madrid. Assumption of the Virgin is in the Art Institute of Chicago.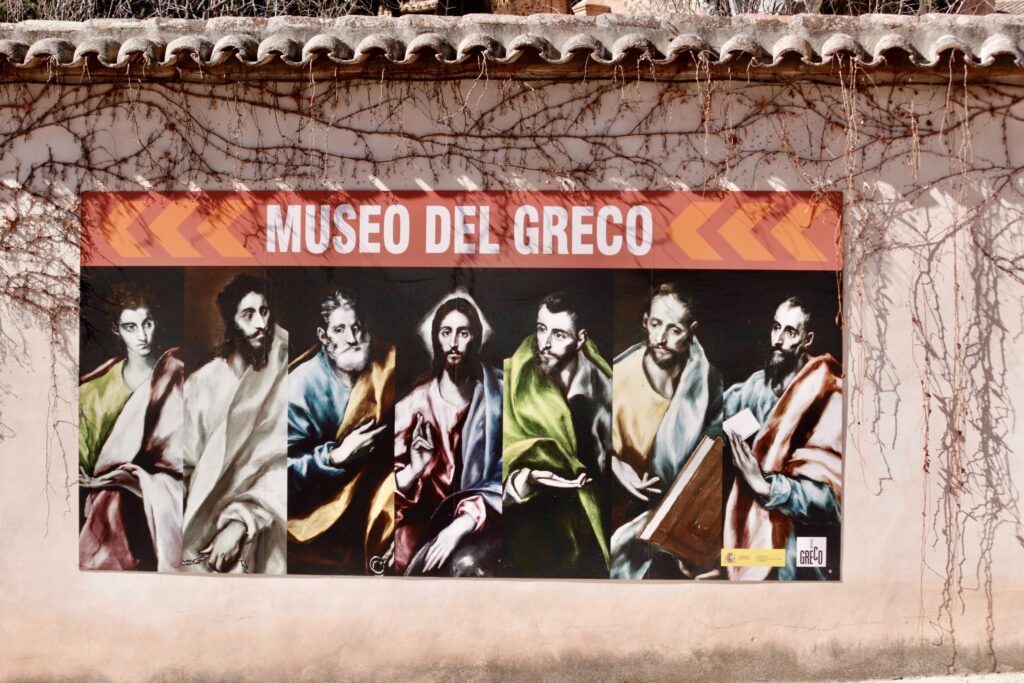 I hope you've enjoyed my guide to the El Greco trail in Toledo. You may enjoy this other Spain travel guides and resources:
Pin it for later.