The Basilica Notre-Dame is Montreal's most famous landmark and a must see.
Built in the Gothic Revival style, its azure blue interior is a revelation. You may feel like you're admiring a rather gaudy classical painting, not standing inside a church.
Built between 1824-29 by James O'Donnell, the basilica was constructed on the site of a former church.
Despite its name — Notre Dame — it wasn't inspired by the Parisian cathedral. In fact, it was inspired by another favorite Paris site and Gothic gem, Sainte-Chapelle.
Like Sainte-Chapelle, Notre Dame boasts intricately painted columns, gold leaf, and carved wood.
There's no stone or marble. With its double level galleries supported by Ionic columns, the basilica looks more like a theater than a church.
The story goes that architect James O'Donnell was so moved by his dramatic creation that he, rather dramatically in response, converted to Catholicism. O'Donnell is the only person buried in the basilica's crypt.
Outside, Notre Dame's two towers define Montreal, much like the Eiffel Tower does Paris.
The western tower, dubbed La Perseverance, was completed in 1841. It houses a massive bell nicknamed Jean-Baptiste, which weights nearly 11 tons. The eastern tower, dubbed La Temperance, was completed in 1843.
>>> Click here to book a Montreal walking tour that includes the cathedral
Guide To Monteal's Notre Dame Basilica: What To See
But the outside is nothing terribly special, compared to other Notre Dames in France. It's the inside that's unique and dazzling.
1. Blue Colored Interior
Because Notre Dame is dedicated to Our Lady, Mary, it's a florid blue inside. Yes, that's Mary's flagship color, not just the whimsy of the artists. Blue is meant to reflect calm and tranquility.
The basilica's soaring nave is adorned with a majestic vaulted ceiling. To heighten the drama, the azure ceiling is studded with tens of thousands of 24 karat gold stars.
The basilica is adorned with numerous paintings, sculptures, and artworks that convey religious themes and figures. The altarpiece, pulpit, and choir stalls feature elaborate wood carvings.
The basilica can seat 4,000 people. In the center is the Crucifixion, with Christ depicted edad on the cross. The Virgin Mary and Saint John flank Christ. Mary Magdalene is kneeling at his feet.
2. The High Altar
The high altar is a grand focal point with a golden reredos adorned with religious statues and intricate detailing. It's the centerpiece for important religious ceremonies.
Under the altar is The Last Supper, based on Leonardo da Vinci's famous masterpiece in Milan.
The Last Supper is a large-scale mural notable for its grandeur and attention to detail. The artwork features Jesus and his twelve disciples gathered around a long table, with Jesus in the center. It captures the poignant moment when Jesus institutes the sacrament of the Eucharist.
Above the altar is the Coronation of Mary. In it, Mary is being crowned by her a seated Christ, who has conquered death through his resurrection.
3. The Pulpit
The pulpit is also a marvelous work of art itself. It was designed by Louis-Phillipe Hebert during the basilica's renovations in the 1870s.
It has an intricately carved wooden staircase. Crouching at its base are the fierce looking statues of Ezekial and Jeremiah.
4. Pipe Organ
At the opposite end from the altar is a massive Casavant pipe organ. Constructed in 1891, it has over 7,000 individual pipes and is the largest in Canada.
This pipe organ offers a vast tonal range, allowing it to produce a wide variety of sounds, from soft and delicate to powerful and majestic. It's capable of reproducing the nuanced sounds required for both liturgical music and concert performances.
5. Stained Glassed Windows
In 1929, during the centennial celebration, Notre Dame received new stained glass windows.
The windows were designed by Quebec artist Jean-Baptiste Lagacé and made at Francis Chigot's workshop in Limoges France. They tell the story of the early history and founding of Montreal.
The colors range from deep blues and vibrant reds to soft pastels, and they are often accented with gold leaf detailing.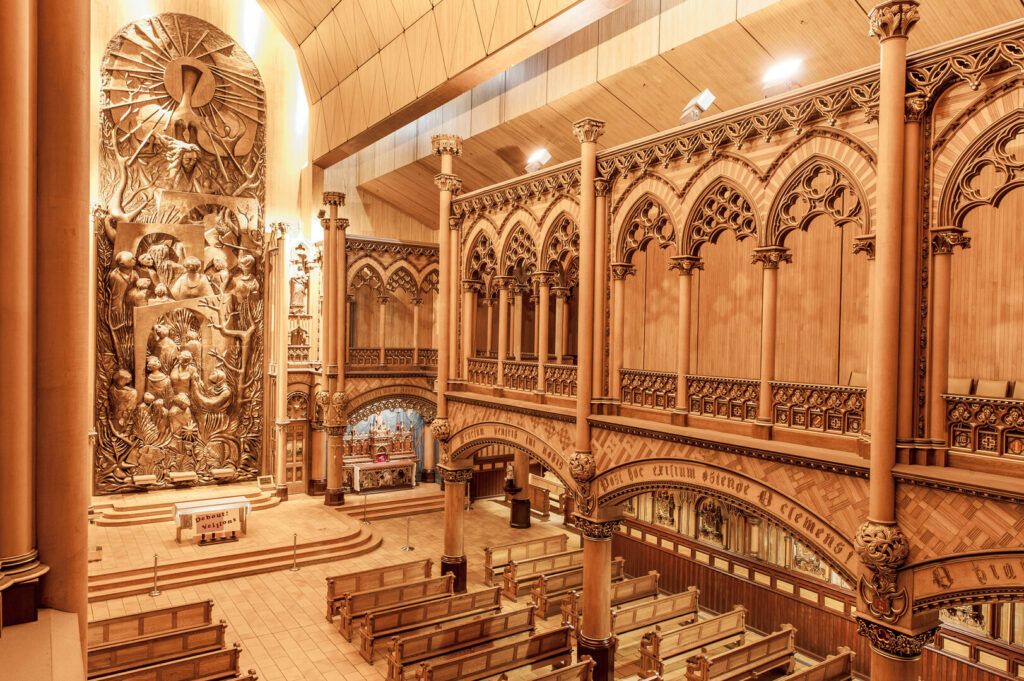 6. Our Lady of the Sacred Heart Chapel
Behind the altar lies the Chapelle Notre-Dame-du-Sacre-Coeur, Our Lady of the Sacred Heart Chapel. This is where dozens of brides get married each year.
The most famous bride was Celine Dion, who helped put the church not the map. Unfortunately, when I was there, I could only peak through the glass door at the chapel because the skylights were being restored.
In 1978, a fire set by an arsonist almost completely destroyed the chapel. In 1979-82, it was rebuilt in a hodgepodge of architectural styles. Its most eye-catching element is the colossal modern floor-to-ceiling bronze altarpiece by Montreal sculptor Charles Daudelin.
7. Night Show Aura
At night, you can return to watch the spectacular sound and light multimedia spectacle called "Aura."
With 6:00 pm and 8:00 pm showings, Aura highlights the basilica's features and brings it to life. It allows you to see Notre Dame's exquisite details that can be lost in the dim light in daytime.
It's not cheap. But it's a fun show and I really enjoyed in.
>>> Click here to book a sightseeing river cruise + Aura show ticket
If you're visiting Montreal, don't hesitate to go inside this gem of a basilica. Basilica Notre-Dame is a joyous must see site in Montreal. It's likely like nothing you've ever seen before!
Practical Guide & Tips for Visiting Basilica Notre-Dame
Here are some must know tips for visiting the basilica.
Address: 110 Notre-Dame St. W, Montreal
Hours: Monday to Friday : 8:00 am to 4:30 pm, Saturday: 8:00 am to 4:00 pm, Sunday:12:30 pm to 4:00 pm. On Saturdays, the last admission is at 1:45 pm due to weddings.
Entry fee: $14, Aura show $32
Metro: Take the Orange line to Place-d'Armes Station. Exit on Saint-Urbain Street and walk uphill toward Place D'Armes.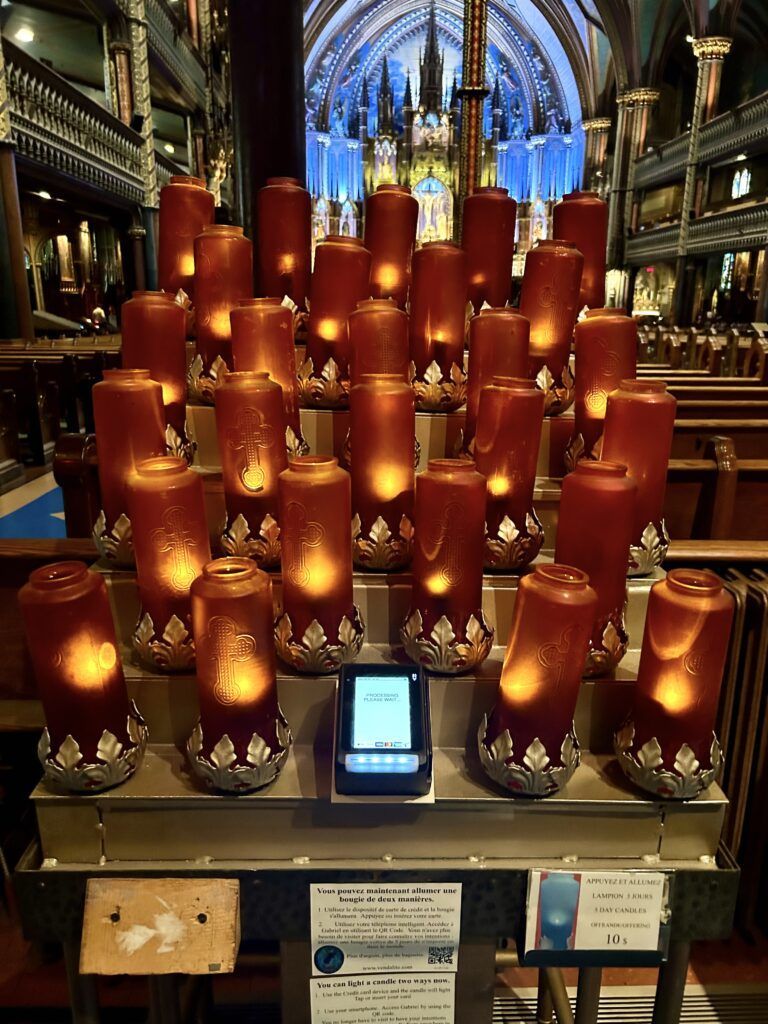 Mass times: Mon-Fri at 7:15 am and 12:15 pm, Sat at 5:00pm. and Sunday at 8:00 am, 9:30 am, 11:00 am, and 5:00 pm.
I hope you've enjoyed my guide to the Basilica of Notre Dame in Montreal. You may enjoy these other Montreal travel guides:
If you need a guide to Montreal's Basilica Notre-Dame, pin it for later.