Here's my guide to visiting Antoni Gaudí's Casa Battlo in Barcelona Spain.
Casa Battlo is an absolute must visit landmark in Barcelona. It's one of the best things to do and see in Barcelona.
Casa Battlo is Gaudí at his hallucinatory, dreamlike best. The building is a must see site in beautiful Barcelona, especially if you love Modernist architecture or are on the Gaudí trail in Barcelona. After Sagrada Familia, it's the most famous Gaudí building in Barcelona.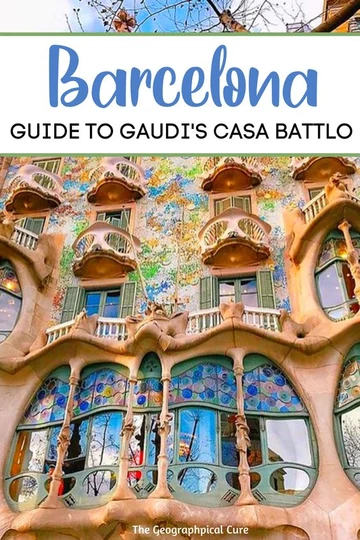 For Casa Batlló, Gaudí conjured a building in the image of a dragon. The strange bone-like facade commands your attention.
It's studded with skull mask balconies and capped by a sinuously scaled roof with a solitary sword-like tower.
Casa Batlló is divine and operatic. And dragon-like. But in a rather pretty way without fearsome overtones.
You can almost imagine Olenna Tyrell from Game of Thrones urgently whispering to a Gaudí-Daenerys: "You're a dragon. Be a dragon."
In this Casa Battlo guide, I give you an overview of the history of the building. And I tell you everything to see at this stunning UNESCO landmark in Spain.
A Block Nicknamed for a Greek Myth
Casa Batlló is located on the prestigious Passeig de Gràcia in Barcelona's Manzana de la Discordia. This Tony area is also known as the "Block of Discord."
The city block's nickname originates not from a dragon legend, but from a famous Greek legend about discord. It goes like this.
All the Greek gods were invited to my big fat Greek wedding. Except for Eris, the unpopular goddess of discord, who sowed misery wherever she went.
Aggrieved and irritated by the snub, Eris gate-crashed the party anyway. She arrived bearing a poisoned "gift" of a golden apple. It was inscribed with the word "kallisti," which means "for the fairest." She flung it into the wedding crowd and started a chaotic battle.
As Eris anticipated, the goddesses viciously fought to claim the apple and its coveted title.
To end the incessant squabbling, Zeus ordered Paris, the Prince of Troy, to select the fairest goddess among the three remaining candidates. Paris offered the apple to Aphrodite and she was crowned fairest.
Barcelona's Block of Discord
The word "manzana" can mean both city block and apple in Spanish. And on the Manzana block, there was a similarly fierce rivalry, akin to the golden apple, albeit in architectural terms.
There were three pretty Modernist buildings on the tony Passeig de Gràcia, all vying for the title of the fairest.
The competition was fierce. Built between 1898-1906, each one tried to better the last one built. They all had disparate Modernist styles.
Right next door to Casa Batlló is Casa Amatller, with colorful neo-Gothic elements. It was built in 1900 for a chocolate baron and the building gives out chocolate samples on tours. In case you have a sweet tooth.
At the end of the block is Casa Lléo Morera, from 1905. It's covered with floral flourishes and an ornate cupola. A fourth house, Casa Mulleras, is sometimes included in the beauty competition.
Casa Batlló likely wins the prized apple. It's uniquely stunning and a UNESCO site to boot. And, after all, no other house is a dragon.
Barcelona's Legend of St. George & the Dragon
Now back to that ancient Catalon dragon legend. Barcelona loves dragons. Dragon statues are a relatively common sight.
Casa Batlló is nicknamed Casa dels Ossos (House of Bones) or Casa del Drac (House of the Dragon). The design of the house itself was inspired by the Catalan legend of Sant Jordi (St. George) and the Dragon.
According to legend, a ferocious dragon — capable of poisoning the air and killing with his venomous breath — terrorized the Barcelona citizens. Traumatized by the dragon's misdeeds, they chose a deadly alternative.
To calm the dragon and prevent wanton destruction, they fed the fire breather one person per day. Random selection.
After several days, the princess was the unlucky designee. As she trudged gloomily towards the dragon and certain death, a chivalrous knight named St. George appeared on the horizon and interceded. Dressed in shining armor and riding a white horse, he swooped in to rescue the beautiful damsel in distress.
He raised his sword and stabbed the dragon, freeing the princess and citizens from its grip. Beautiful red roses spilled out of the dragon's body. The prince gave one to the princess.
Barcelona celebrates this legend with an annual festival on April 23. The festival combines culture and romanticism. Gifts and roses are exchanged between beloveds. This year, 7 million roses were sold.
Casa Batlló is even decorated with roses for the big day.
History of Casa Battlo
The building that was transformed into Casa Batlló dates from 1877. In 1900, Josep Batlló y Casanovas, a wealthy textile industrialist, purchased the building.
In 1903, he hired Gaudì and gave him full creative freedom. That's basically the only way you can hire Gaudì. He has his own ideas.
Gaudì decided not to demolish the building. Instead, he gave it a major makeover — a new facade, a new roof, and a gorgeous new interior.
As a result, unlike Casa Mila (aka La Pedrera), Casa Batlló was not entirely a Gaudì creation from top to bottom. It was a remodeled pre-existing building that he "put his hands" on and reinvented. In dragon style.
Casa Batlló adopts the Art Noveau style in vogue in Barcelona and the world at that time. But it's an extreme curvilinear version.
Nonetheless, it was an instant hit, unlike La Pedrera. With 8 other buildings in Barcelona, it was named a UNESCO World Heritage Site in 1984.
Casa Batlló is privately managed and funded by Casa Batlló S.L.U. In 2002, it was opened to the public. You can see the Noble Floor, the building well and explore the rooftop terrace.
The Dragon Building: What To See Inside Gaudi's Most Famous Barcelona Facade
Casa Batlló might be Gaudì's most iconic facade. It's one of the most creative facades in the world.
Most people come for a look, gasp, and stagger on to the next Gaudì wonder. But the interior's worth a visit too.
And, as promised, the building's an emblem of dragon iconography.
Exterior of Casa Batlló
At Casa Batlló, the entire facade is a kaleidoscope of blue, mauve, and green tiles. A marine-like surface. Though it's a bit hard to see, the facade's actually uneven and slightly wavy, like a calm sea.
You might even think it resembles Monet's famous water lilies at the Orangerie in Paris. Though those paintings post date Casa Batlló.
To decorate the facade, Gaudì used a technique called Trencadís.
It's a method used to cover structures with abstract mosaics, using irregular and broken pieces of ceramic, glass, marble, or even stone. Gaudí liked this technique due to its sustainability and aesthetic value. An intuitive recycler, he was ahead of his time.
Legend holds that the technique was born when Gaudí visited the ceramics workshop of Lluís Bru.
When he saw how slowly Bru was putting tiles in place, Gaudí got impatient, grabbed a tile, broke it. He said: "We have to put them on by the handful, like this, or we'll never finish!"
The Trencadís technique gave Gaudì flexibility in designing his facade patterns. It could be fitted to rounded shapes. He chose vivid clear colors to bring light, dynamism, and energy to his work.
The facade is adorned with macabre balconies. They loom over the facade like leftover skulls from the dragon's meals.
The skull balconies also resemble Venetian masks. This emphasizes the over-the-top operatic nature of the place.
At the very top of the facade, you'll see a small center balcony in the shape of a rose, an ode to St. George. Gaudì was all about the details.
Interior: What To See Inside Casa Batlló
Gaudì also completely revamped and beautified Casa Batlló's interior.
It's filled with beautiful tiles, curved wood, and stained glass — all in organic forms and curvy shapes. The motif is an undersea grotto lit by skylights shaped like tortoise shells. The ceiling droops and swerves poetically.
1. Noble Floor
The long gallery of the main suite is called the Noble Floor. It overlooks the Passeig de Gràcia via a magnificent window.
The oversized window is the floor's most astonishing feature. It's decorated with bone-like pillars and watery colors. The curved wood windows are so large that they have spawned a third nickname for the building — the House of Yawns.
I guess they could also be considered the entrance to the dragon cave or the mouth of the dragon.
The Noble Floor was the Batlló family's residence. It is 7,535 square feet — quite a sizable "apartment" space. It's soft and curvy.
You may feel like you're strolling through the internal organs of the resident dragon or gliding through gentle ocean waves.
From the entrance hall on the ground floor, a sturdy iron railing separates the private access to the Batlló family residence.
A grand wooden staircase leads up from the skylight hall. The bannister is a a dragon-like spine.
2. The Whale Bone Attic
The attic sports 60 catenary arches, in a pristine white space. It conjures the feeling of being inside the ribcage of a great animal.
Perhaps a whale. Or perhaps the dragon that sits above it on the roof.
It was formerly a service area for the tenants of the different apartments in the building, which contained laundry rooms and storage areas.
There's now an air shaft providing light to the apartments, an earlier version of what Gaudí did more effusively at La Pedrea or Casa Mila.
Gaudí enlarged the existing light well and covered the walls in bas relief glazed tiles in varying shades of blue.
The tiles are darker in color at the top and lighter towards the bottom, thus providing an even distribution of light.
3. The Dramatic Rooftop of Casa Batlló
The rooftop adds to the surrealistic feel of Casa Batlló.
You can see it's deliberately scaly. It looks like the back of a dragon or dinosaur with iridescent skin and visible raised spines.
The riotously colored Trencadís tiles represent the blood of its victims. The rooftop spire represents the sword of St. George being plunged into the dragon.
Tips for Visting Casa Batlló
Despite its sticker shock price tag, Casa Batlló is definitely worth visiting while you're in Barcelona. You should at least stroll by and inspect the facade.
It's best to buy your ticket online before your visit to avoid crowds. You can skip the long ticket queues outside the museum and head straight in. If you have a Barcelona City Pass, that will also give you fast track access to Casa Batlló.
Barcelona's busy and overtouristed in high season. Try going off season. If not, go to Casa Batlló early in the morning, at siesta time, or an hour before it closes at night.
If you want to closely inspect the dragon spine and the Trencadís tiles, you can buy tickets to a "Magic Night on the Dragon's Roof Top."
If you like dragons myths, or if you want to be a dragon or slay a dragon, this is the place to visit on your next geographical cure. If you'd like to visit other Gaudi sites, check out my Barcelona page.
Practical Information and Other Tips for Visiting Casa Batlló:
Address: Passeig de Gràcia, 43, 08007 Barcelona
Hours: 9:00 am to 9:00 pm, daily, last entrance at 8:00 pm
Entry fee: expensive, check here
Metro: Passeig de Gràcia (Green Line, L3), Calle Aragó-Rambla Catalunya exit.
I hop you've enjoyed my guide to Casa Battlo. You may enjoy these other Barcelona travel guides and resources:
• 1 day itinerary for Barcelona
• 3 day itinerary for Barcelona
• Architecture Lover's Guide to Eixample
If you'd like to visit Casa Battle in Barcelona, pin it for later.