If you're looking for a taste of Ancient Rome in the heart of Provence, Vaison-la-Romaine fits the bill perfectly! It's a small town with big history. To help you have the best visit, I'm handing over the best one day in Vaison-la-Romaine itinerary, which covers all the best things to do in the town.
The lovely Vaison was one of my favorite stops on a recent visit to Provence. It's a hidden gem in northern Provence, away from Provence's main tourist destinations. Vaison-la-Romaine is an ancient town made almost entirely of stone and dotted with spiky cypress trees.
Seated on the Ouvèze River, the town is dual faceted and split in two, with an upper medieval town and a lower Roman town — an efficient "two for the price of one" dose of history.
Whether you're interested in history, culture, or simply soaking up the laid-back atmosphere of Provence, Vaison la Romaine is a must visit.
A Short History of Viason-la-Romaine
Vaison-la-Romaine is a town that's been around for ages — since pre-Roman times. The Celts, known as the Vocontii, settled in the upper section of the town in the 4th century B.C.
Fast forward a few centuries to the 2nd century B.C., and the Romans came along and conquered the region. They set up a new town below the Celtic settlement and called it Vasio Vocontiorum.
This new town quickly became a hub for trade and commerce in the area. The Romans built a forum, theater, and temples.
Things were going along fine until the 5th century A.D., when barbarian tribes invaded the town and its inhabitants fled. It took a while, but by the 9th century, Vaison was back in business as a center of trade.
In the 14th century, the town became part of the papal territory of Avignon, where it stayed until the French Revolution in the late 18th century. Despite being under papal control, Vaison-la-Romaine continued to thrive. During this time, the town built a beautiful Romanesque cathedral — Notre-Dame-de-Nazareth.
Today, Vaison-la-Romaine is a popular tourist destination because of its rich Roman history, medieval architecture, and its scenic location in the heart of the northern Provence.
One Day In Vaison-la-Romaine Itinerary
Here is my suggested 1 day in Vaison-la-Romaine itinerary that covers the town's most significant attractions. I also give you tips for visiting Vaison and options for day trips if you have extra time.
Roman Vaison
Start your day in the Roman part of the city. It's split into two main sites, Puymin Archaeological Park and La Villasse and entry is 8 euros.
Visit Puymin Archaeological Site first. It covers nearly 5 acres and has all sorts of interesting Roman buildings and structures to check out.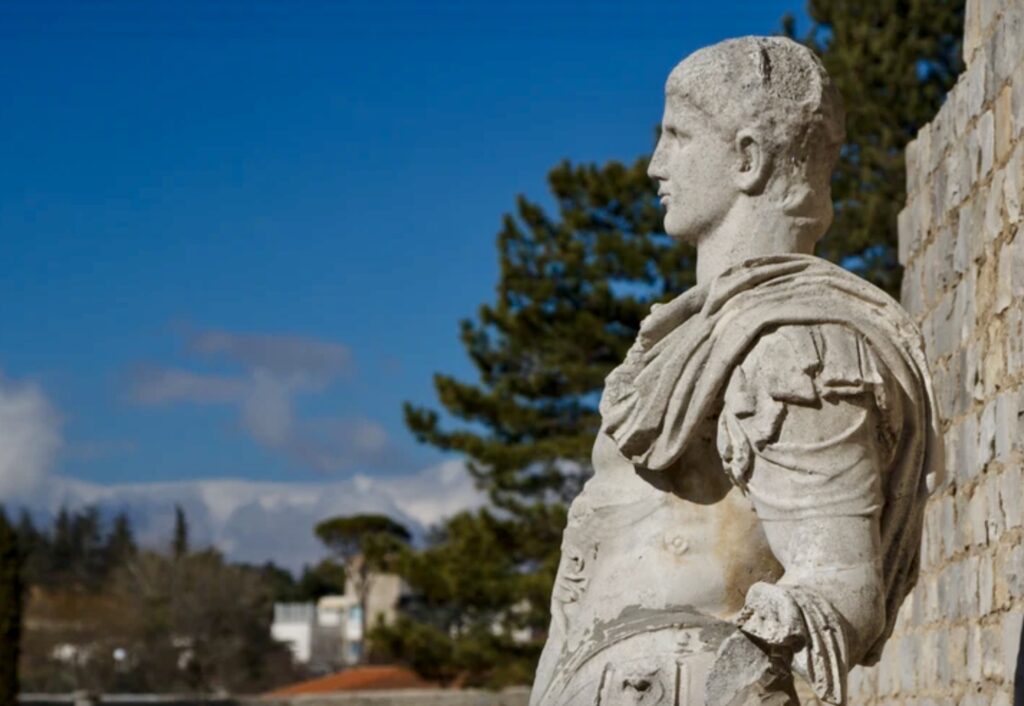 One of the highlights is the House of Laureled Apollo, named after a bust of Apollo excavated from the site.
Archaeologists believe it was the residence of a wealthy family during the 1st century A.D. The house features well-preserved in situ mosaics depicting scenes from Greek mythology, including one of the god Apollo.
Another notable site is the Maison Tornellé, which dates back to the 2nd century AD. The house is named after the Tornellé family, who lived there during the Middle Ages.
You can explore the remains of the house's courtyard, fountain, and various rooms, including a dining room.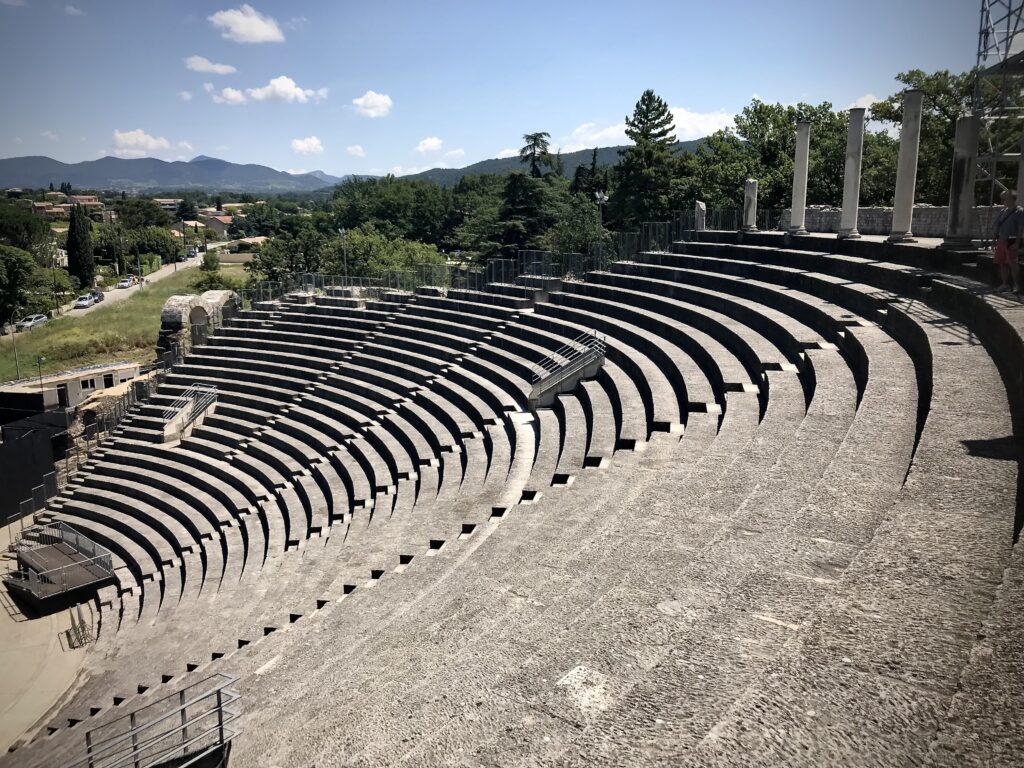 Next up is the Roman Theater, another must see attraction during your one day in Vaison. This historic landmark was an important venue for entertainment in ancient times, hosting everything from plays to concerts to gladiatorial games.
With a seating capacity of up to 6,000 people, this theater was no small feat of engineering. Today, you can explore the remains of the seating area, stage, and wings of the theater, as well as the stonework and arches that supported the structure.
Among things excavated from the theater was the Vaison Diadumenos. It's a Roman marble statue that dates from 120-50 AD. The sculpture is now in the British Museum in London, but you can see a copy in Vaison.
Even though the Roman Theater is partly restored, you can still get a sense of what it was like in its prime. And if you're feeling brave, why not take center stage and sing your own aria? It's highly likely that you'll have the place all to yourself.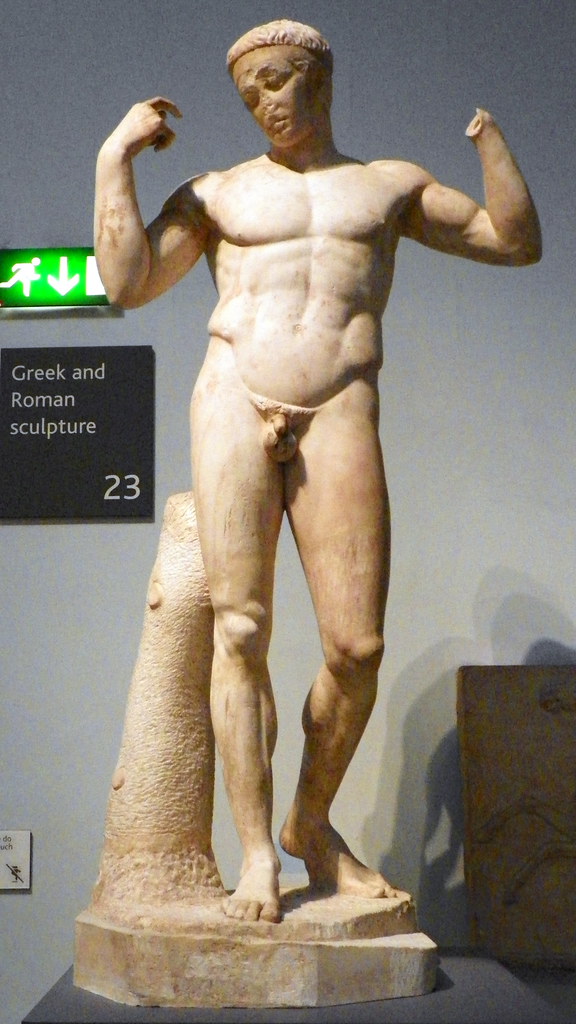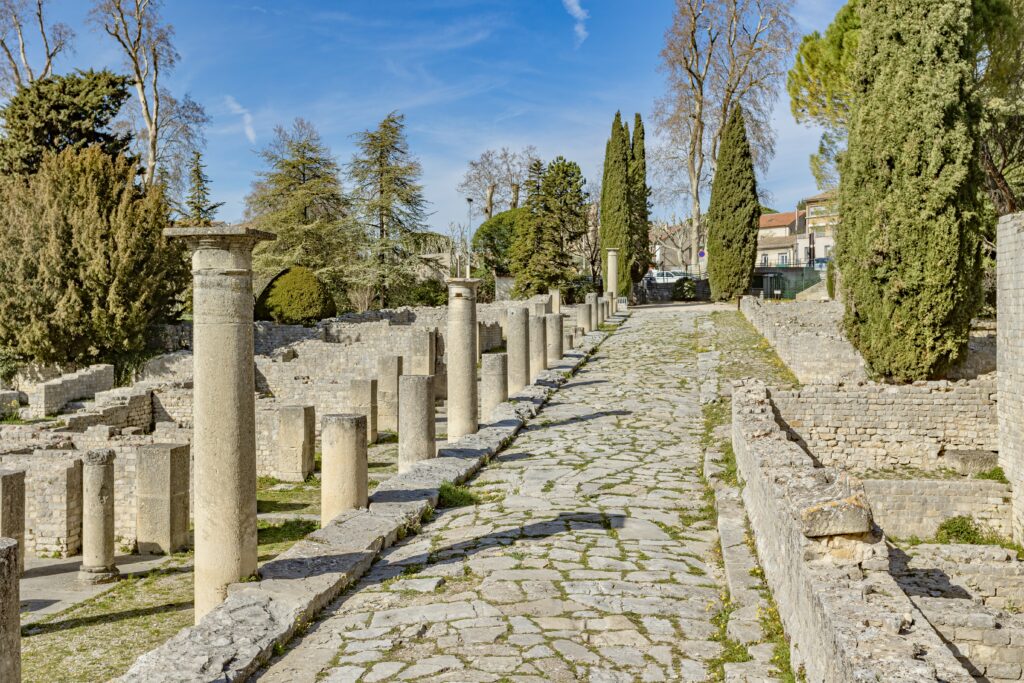 Once you've explored the Puymin Archaeological Park, head to La Villasse to see more fascinating Roman ruins.
Here, you can visit the remains of Dolphin House, a grand Roman domus believed that was owned by a wealthy family during the Roman era.
This domus was particularly noteworthy for its stunning mosaics, which are now in the Archaeological Museum. One to look for is the Triumph of Bacchus.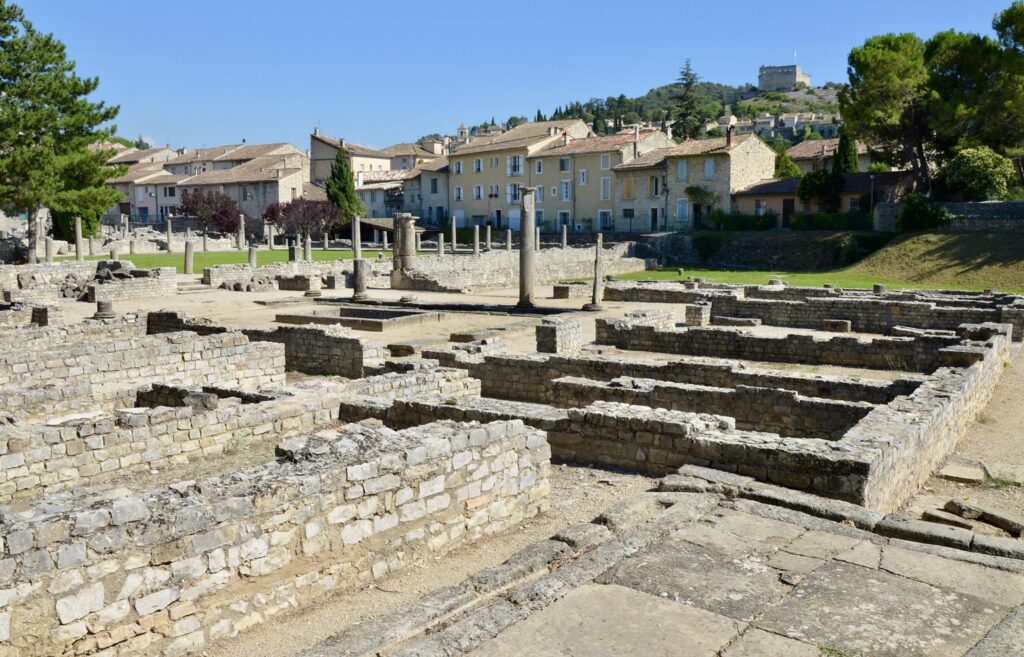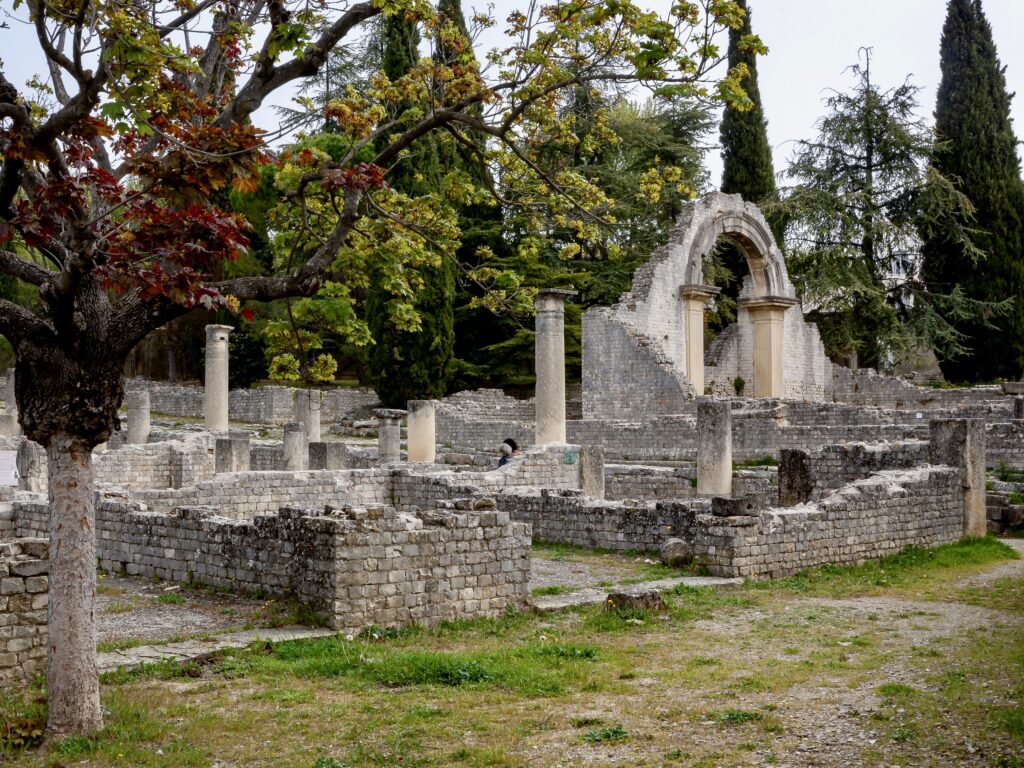 Also check out the ruins of the Roman Baths, which were in use from the 1st to the 3rd century A.D. These baths are an amazing example of Roman engineering and design.
The complex includes a series of pools and hot and cold baths. You can even see the original hypocaust heating system that was used to heat the walls and floors of the baths.
Last but not least, there's a large public square or forum that was once the center of the town's political and social life. The forum was surrounded by important public buildings such as a temple, a basilica, and an arch. You can still see the remains of these structures today.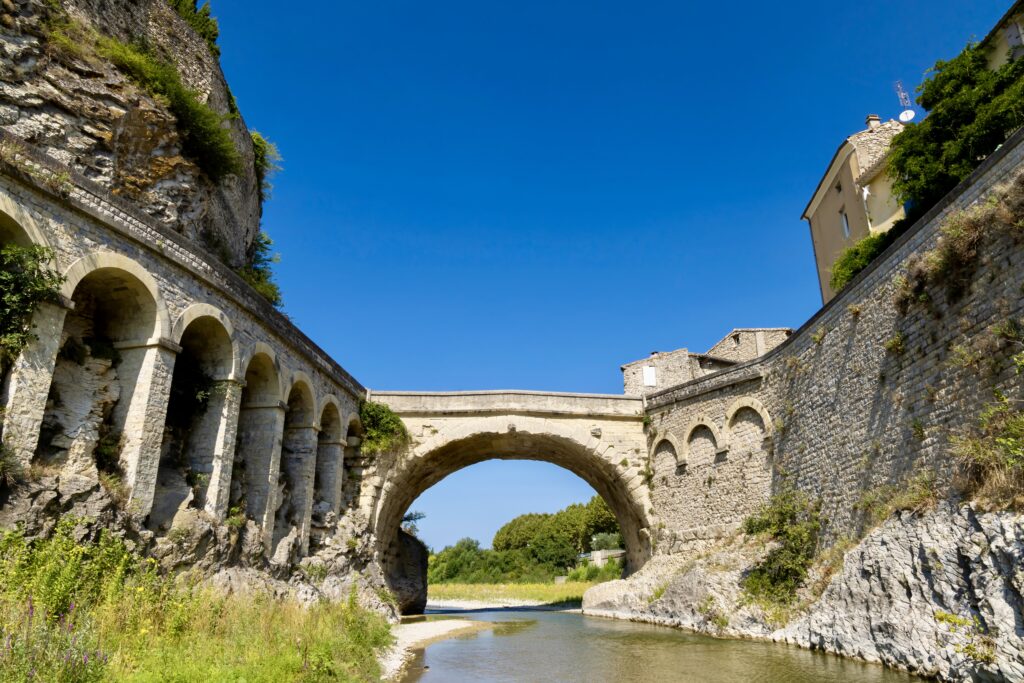 Medieval Vaison
Once you're done discovering the ancient Roman part of Vaison-la-Romaine, cross the Roman bridge over the Ouveze River to reach the medieval section of town.
Roman Bridge
The ancient bridge is over 400 feet long and has six arches, which are specially designed to endure the powerful current of the river. It's amazing to think that it was an essential link in the Roman transportation and trading system in Gaul centuries ago.
After crossing the bridge, make your way up to the Haute Ville, which is the pedestrianized medieval section of Vaison.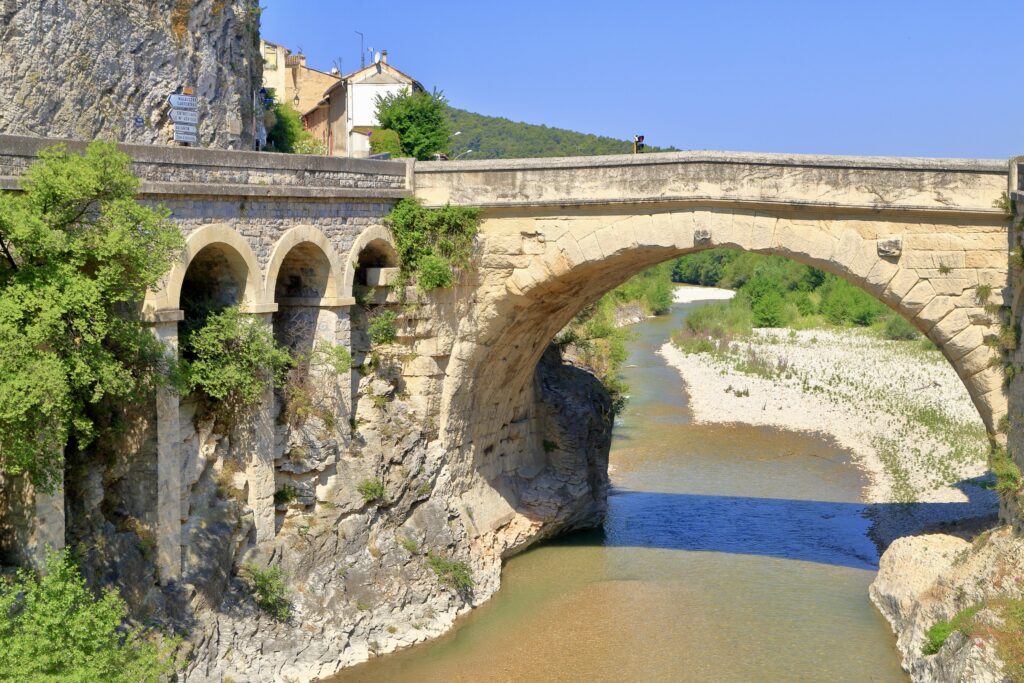 Walking up the steep cobblestone streets, you'll find yourself surrounded by beautiful stone buildings, narrow alleyways, and stunning architecture. You'll feel like you've stepped back in time.
And the best part? The medieval area is perched on a hill above the Roman section, which means you'll be treated to breathtaking views of the town and the surrounding area.
Grab lunch at one of several restaurants with a terrace overlooking the river and relax after your Roman exploits.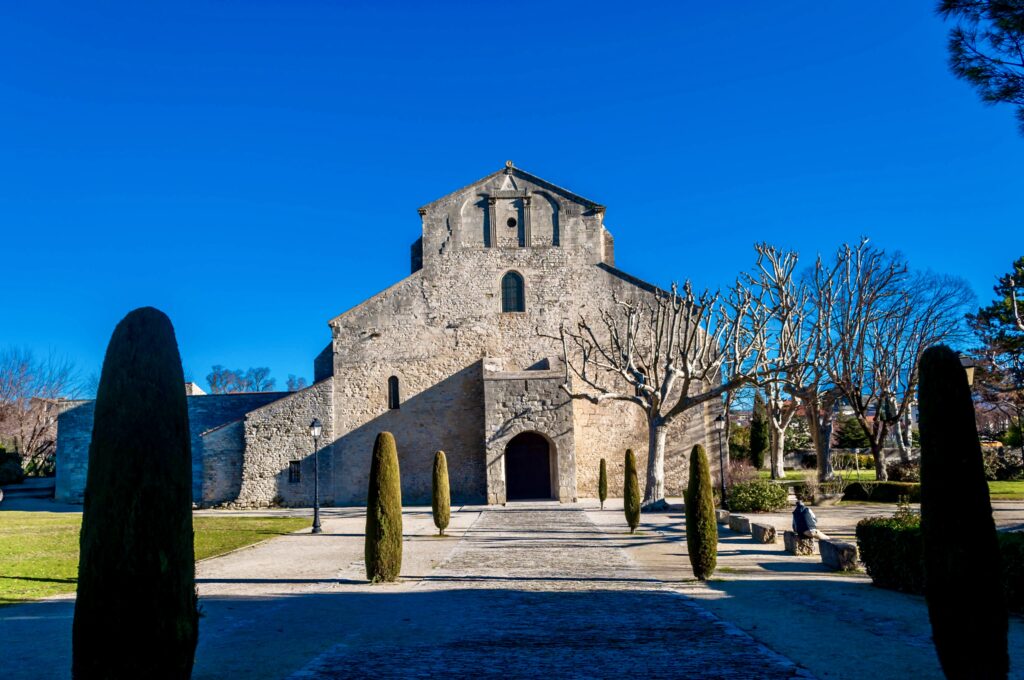 Church of Notre-Dame-de-Nazareth
After lunch, visit the Collegiate Church of Notre-Dame-de-Nazareth, the major monument in medieval Vaison.
This beautiful church dates back to the 11th century and features a mix of architectural styles, including Romanesque and Gothic. Its bell tower (in the back) stands out and is visible from all around the town.
Inside, you'll find stunning works of art, including a 14th century triptych and a 16th century altarpiece. Be sure to take a moment to admire the intricate stained glass windows, which are some of the most impressive in the region.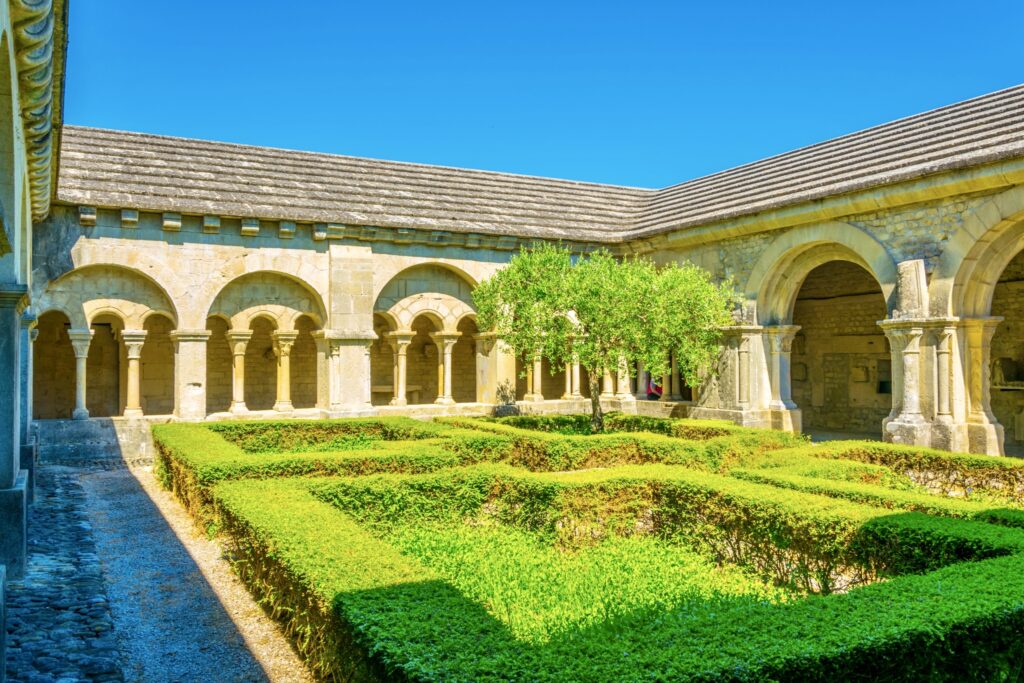 The church has an interesting history too. It was built on the site of a former Gallo-Roman temple and was originally dedicated to the goddess Isis. In the Middle Ages, it was converted to a Christian church and became an important pilgrimage site.
You can climb the 163 steps to the top of the tower to enjoy breathtaking panoramic views of the surrounding area. It's definitely worth the climb, but be prepared for a bit of a workout!
The church also has a small 12th century Romanesque cloister. It's located to the left of the entrance to the cathedral. The cloister has arcades on all four sides and features a small garden and fountain in the center.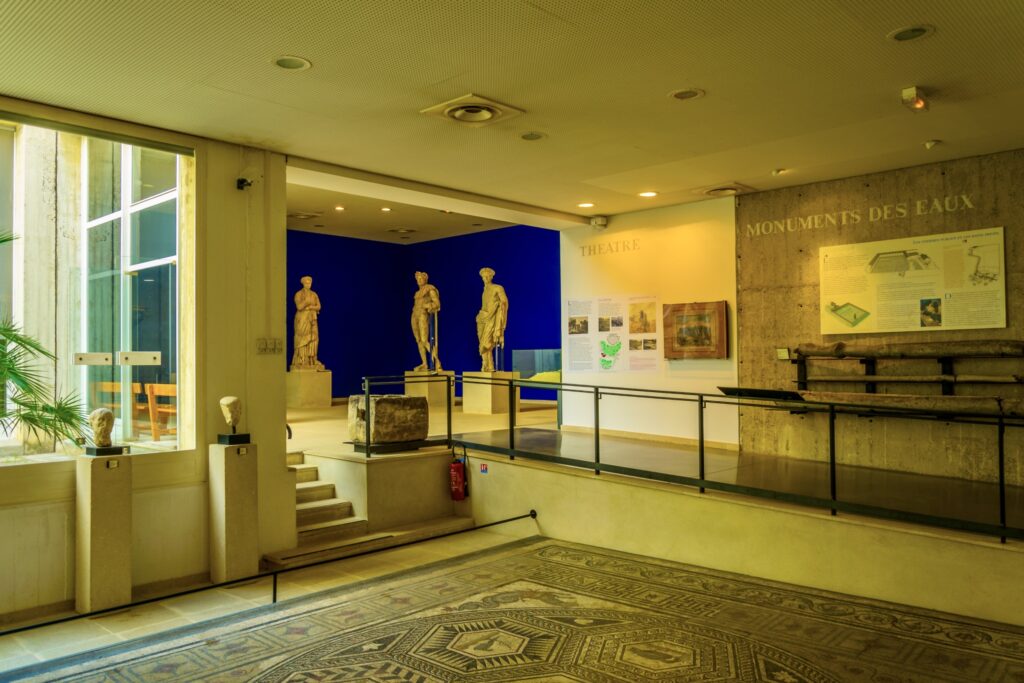 Archaeological Museum
If you're a history buff, you'll definitely want to visit the Archaeological Museum Theo Desplans.
This fascinating museum is housed in a beautiful 17th century building that was once a bishop's palace. The ticket price is 9 euros.
Inside, you'll find a treasure trove of artifacts from both the Roman and medieval periods. One of the museum's standout features is its impressive collection of Roman statues, including some that are remarkably well-preserved. You can also see medieval weaponry on display, including swords, shields, and armor.
But perhaps the most breathtaking exhibits at the museum are the ancient pottery and mosaics. You'll be amazed by the intricate detail and vibrant colors of the Roman mosaics, some of which date back to the 1st century A.D.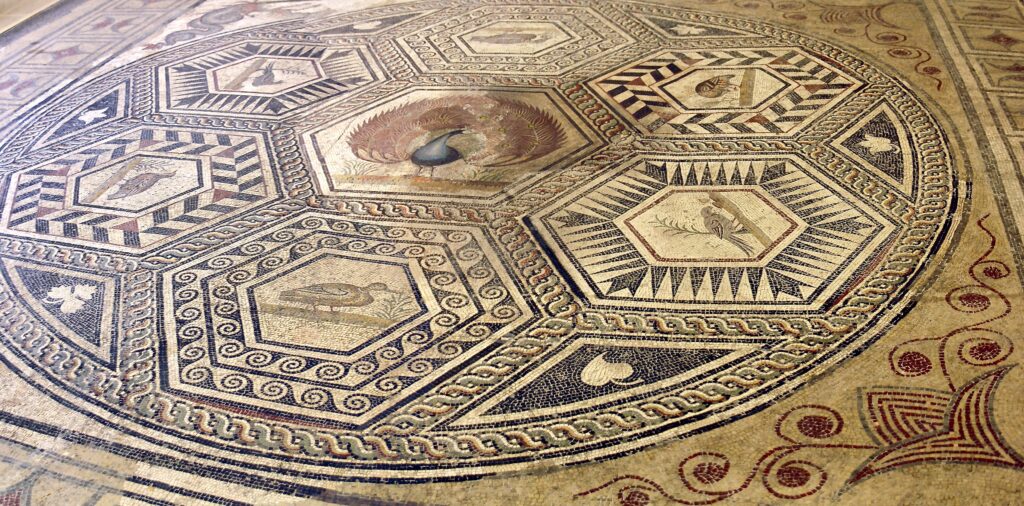 The Peacock and the Venus and Anchises mosaic, in particular, are must sees.
Old Town Ramble
As the sun sets, take a leisurely stroll through the charming cobbled lanes and alleys of Vaison-la-Romaine. You'll be enchanted by the historic buildings, squares, and fountains that dot the landscape.
Don't miss the lovely Place Montfort, named after the famous crusader Simon de Montfort. This picturesque square boasts a stunning fountain and several historic buildings that will transport you back in time.
For more medieval atmosphere, you can head to the Place du Chanoine Sautel. It's a charming square with a beautiful 17th century fountain.
For some retail therapy, check out the many artisan shops and boutiques that line the streets. You can find unique treasures like pottery, jewelry, clothing, and souvenirs.
And if you're a foodie, be sure to sample the locally-produced olive oil, truffle oil, and truffle products. They make for great gifts to bring back home.
If you're a wine lover, you're also in for a treat. The region surrounding Vaison-la-Romaine is renowned for its Côtes du Rhône wines. Sip on a glass of delicious local wine and take in the beautiful vineyards that surround the town.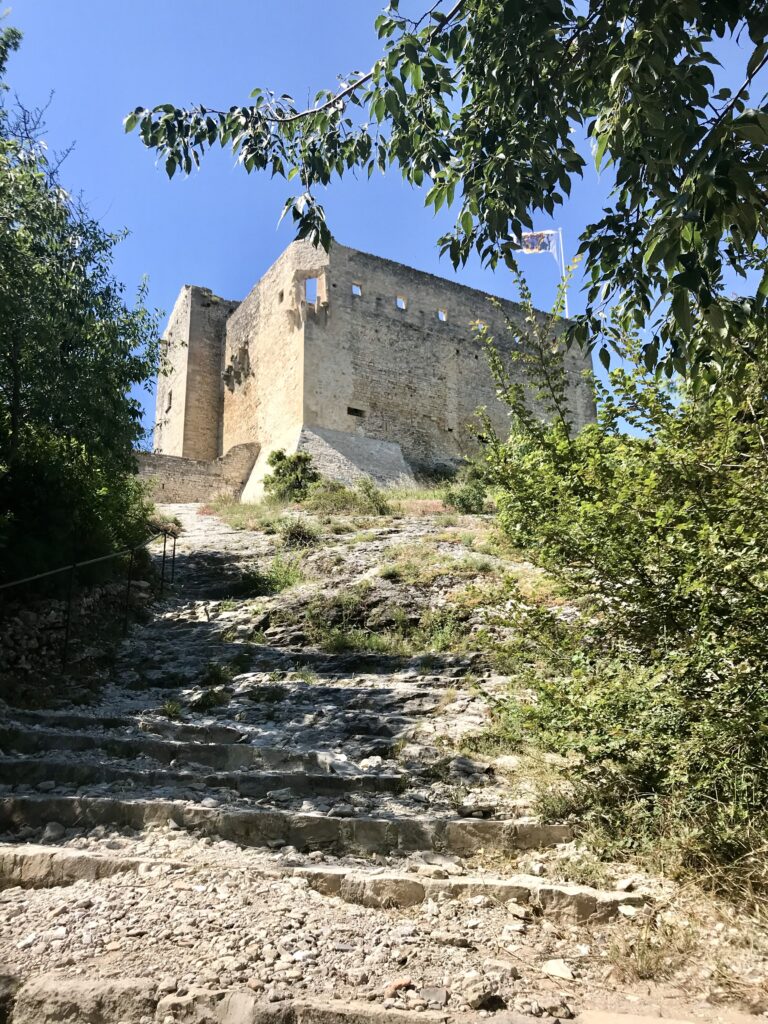 Château des Comtes de Toulouse
If you have any time left in your one day in Vaison-la-Romaine, visit the Château des Comtes de Toulouse, which translates to the Castle of the Counts of Toulouse. It's a medieval castle that was constructed in the 12th century and overlooks the town.
As its name implies, the castle was built by the Counts of Toulouse and was used as a military stronghold during the Middle Ages.
The castle is mostly in ruins. But it offers a glimpse into medieval life and the strategic importance of the site. Plus, the views from the castle hill are simply breathtaking!
The castle takes some effort to get there. You can reach it on foot, which takes about 20-30 minutes. Alternatively, you can drive up to the castle and park nearby.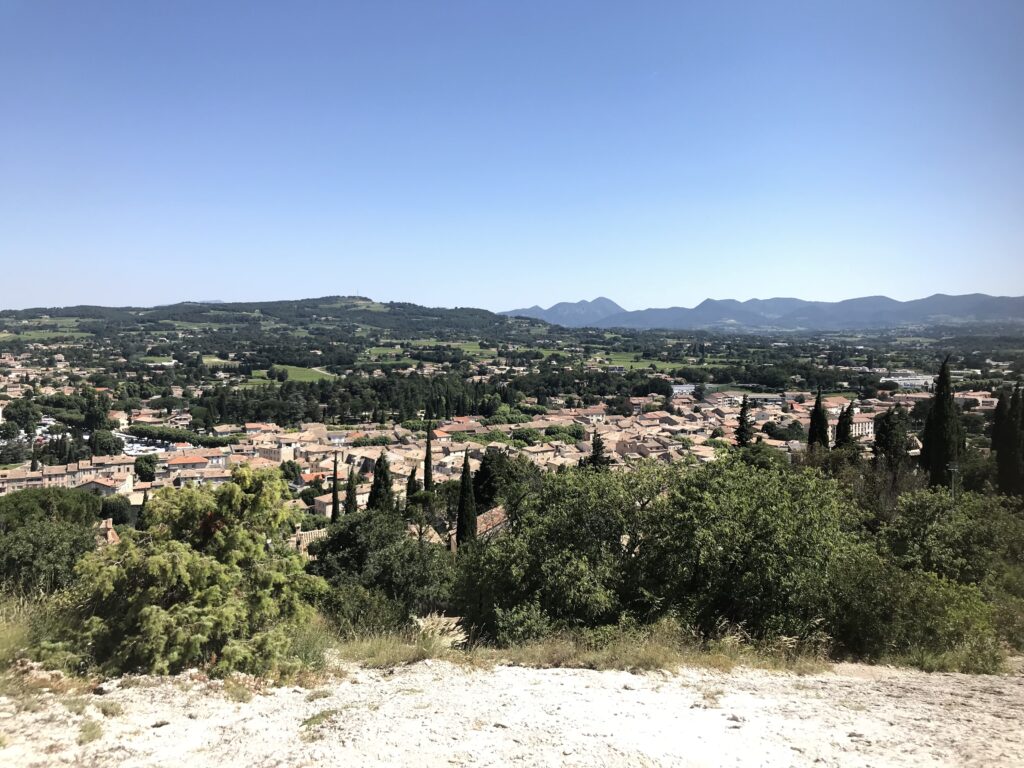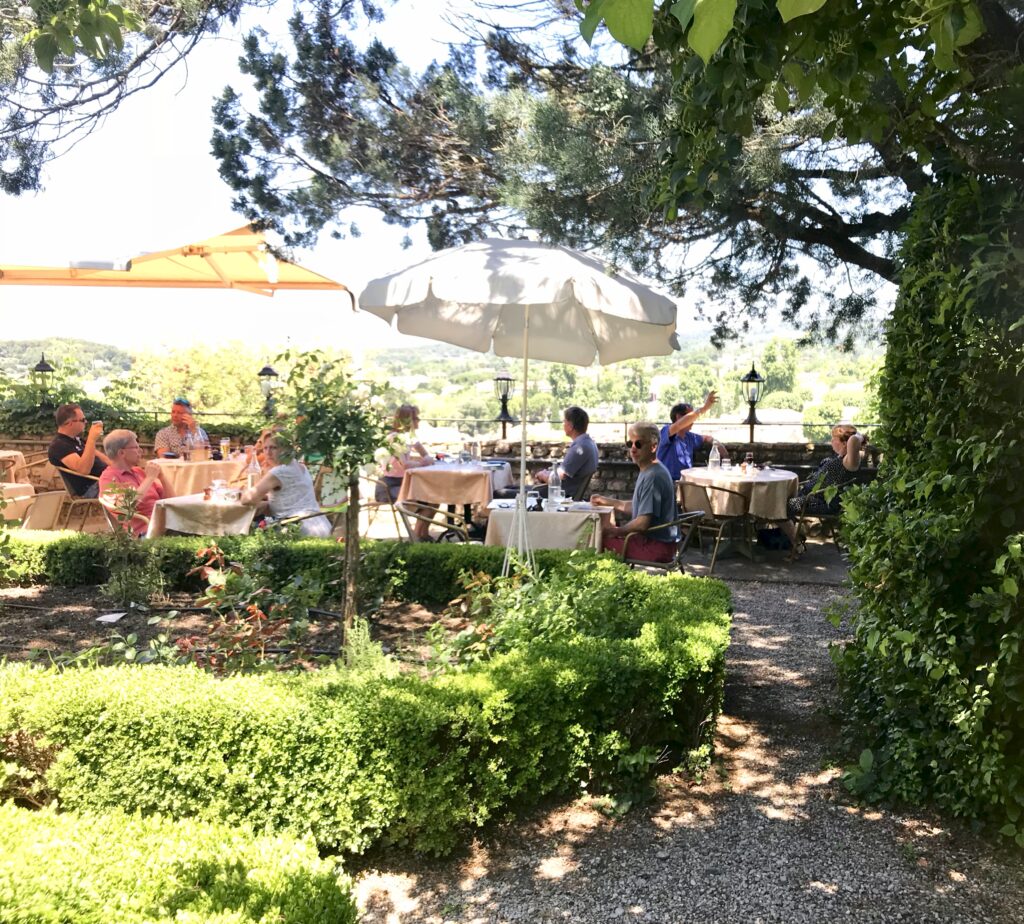 Dinner
Looking for a place to dine in Vaison-la-Romaine? Check out Les Terrasses du Beffroi located on the main square, Place Montfort. This restaurant offers a stunning view of the town from its outdoor terrace and serves creative and contemporary cuisine using locally sourced ingredients.
For a more intimate dining experience, Les Belle Etoiles is a great option. Located on Rue du Jeu de Paume, this restaurant has a cozy indoor dining room and a terrace with views of the medieval town.
If you're looking for traditional Provençal cuisine, head to Bistro d'O on the picturesque Place du Marché. This restaurant has a cozy and intimate atmosphere with rustic decor, featuring exposed stone walls and wooden beams. Their menu focuses on fresh, seasonal ingredients.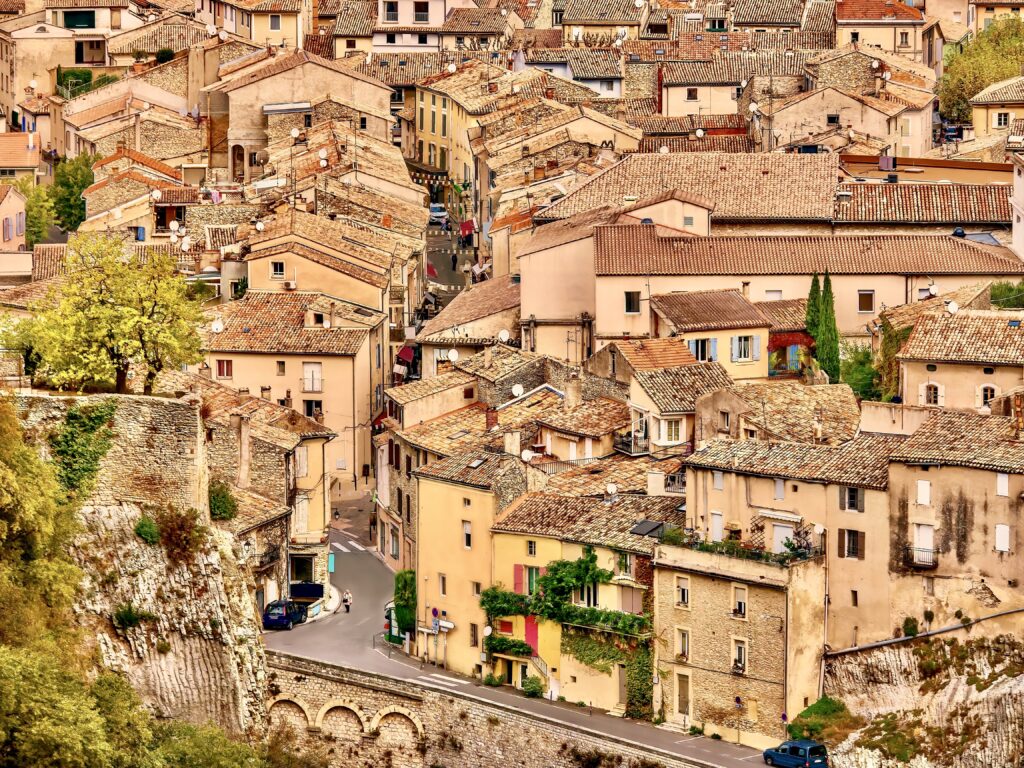 Tips For A One Day In Vaison-la-Romaine Itinerary
Here are some must know tips for spending 1 day in Vaison-la-Romaine.
How To Get To Vaison-la-Romaine
By Car:
It's easiest to drive to Vaison, which is what I did.
From Marseille: Take the A7 motorway towards Lyon and take the exit for Bollène. Then take the D8 and D977 roads to Vaison-la-Romaine.
From Lyon: Take the A7 motorway towards Marseille and take the exit for Orange Sud. Then take the D975 and D977 roads to Vaison-la-Romaine.
From Avignon: Take the D977 road that goes northwards from Avignon towards Carpentras. From Carpentras, you can take the D938 road towards Vaison.
You can put your car in the Parking de la Poste near the Roman ruins or the Parking de la Fusterie lot near the medieval quarter.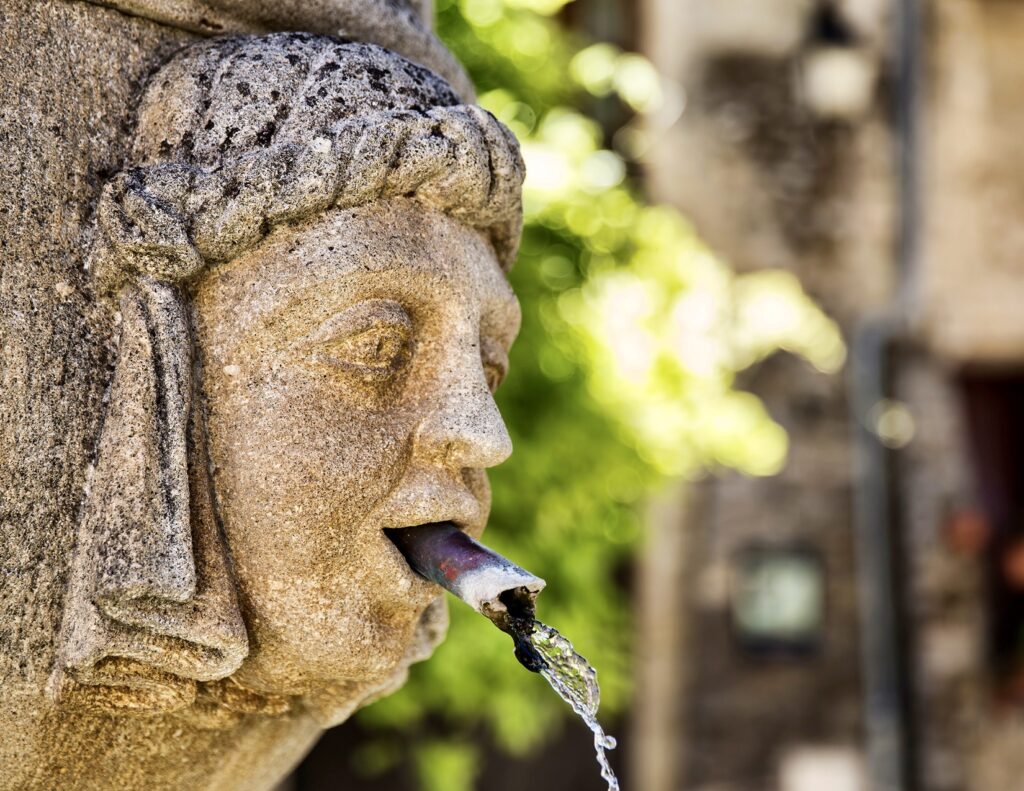 By Train:
The nearest train station to Vaison-la-Romaine is the Orange station. There are regular trains from major cities including Paris, Lyon, Marseille, and Avignon, to Orange. Orange is 15 miles south of Vaison. From there, you can take a bus or taxi to Vaison-la-Romaine.
Once in town, you can walk everywhere. There are some cobbled streets and some steep streets, especially in the medieval quarter. So wear comfortable shoes.
By Guided Tour:
If you don't have wheels, you can also visit Vaison on a guided day tour. This full day wine and cheese tour takes you to both Vaison and Seguret from Avignon. You can also go on a guided e-bike tour to the vineyards outside Vaison.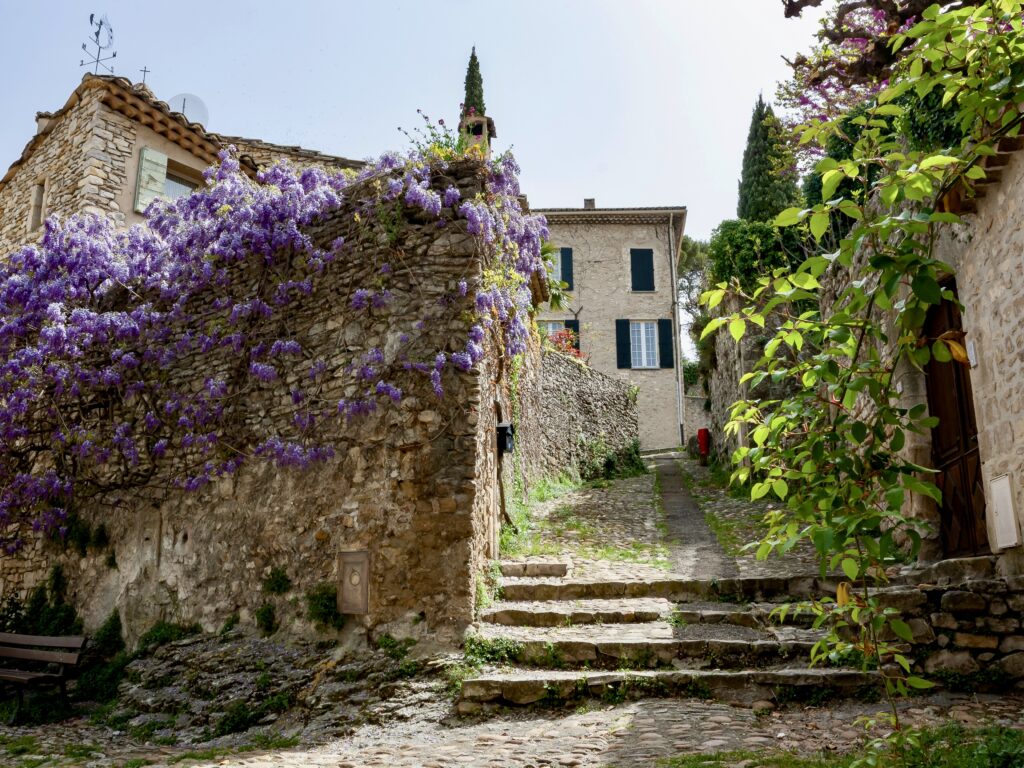 Where To Stay In Vaison-la-Romaine
When it comes to finding accommodations in Vaison-la-Romaine, the options are a bit limited. One tip I have is to stay in the countryside and drive into Vaison for your daily activities.
One great option for a luxurious stay is Domaine de la Baume, a 5 star hotel 15 minutes away in Tourtour. The hotel offers elegant rooms and suites, a swimming pool, tennis courts, gardens, and an on-site restaurant.
Another option is La Coquillade, which is 25 minutes away in the village of Gargas. This luxury hotel boasts spacious rooms and suites, a spa, fitness center, outdoor pool, and restaurants serving gourmet cuisine.
If you prefer to stay in Vaison itself, you might want to consider La Bastide de Vaison, a 4 star hotel located in the medieval area. Another option is Les Maison du O, which is at the foot of the medieval city in a historic building.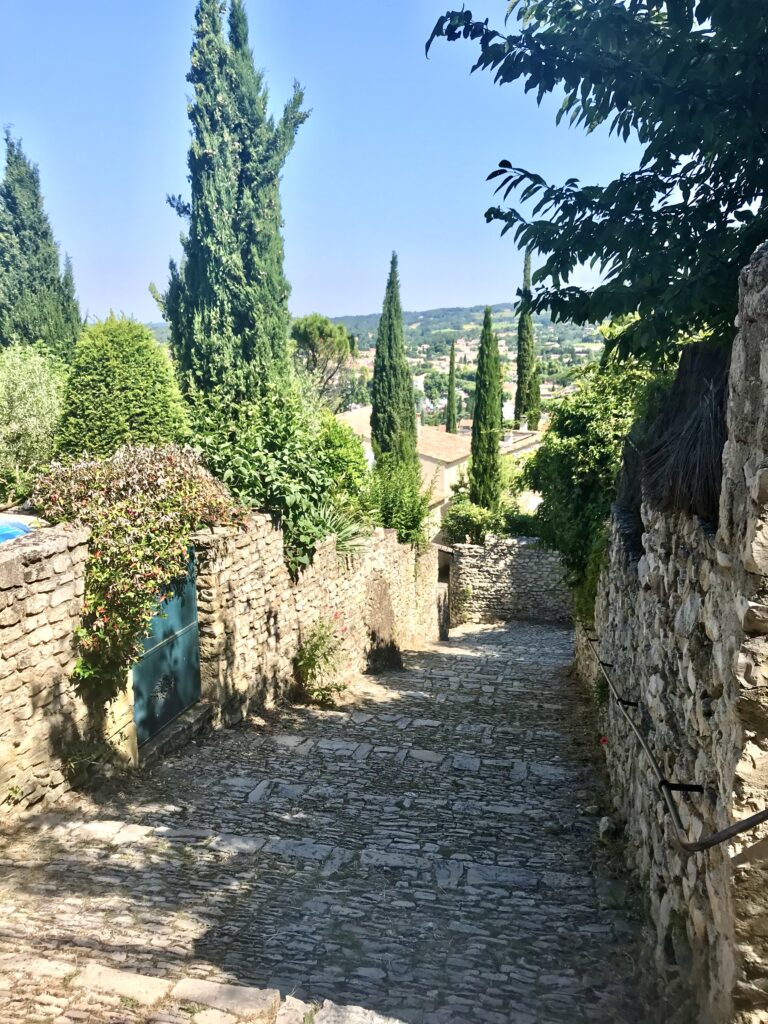 When To Visit Vaison-la-Romaine
The best time to visit Vaison-la-Romaine is from late spring to early fall. The weather is mild and sunny, and most of the town's outdoor attractions are open.
Specifically, in shoulder season, the temperatures are comfortable and there are fewer crowds. It can be extremely hot in the peak summer months.
During the summer, Vaison-la-Romaine hosts several cultural events and festivals, including the Festival de la Danse. It showcases local and international dance performances.
The town also hosts a weekly farmers' market every Tuesday which takes over square inch of sidewalk. This is where you can sample local products and immerse yourself in the Provencal culture. Strawberry season is the best!
Is One Day in Vaison-la-Romaine Enough?
One day is enough to see the main sites in Vaison-la-Romaine. But it's so nice you may want to linger longer.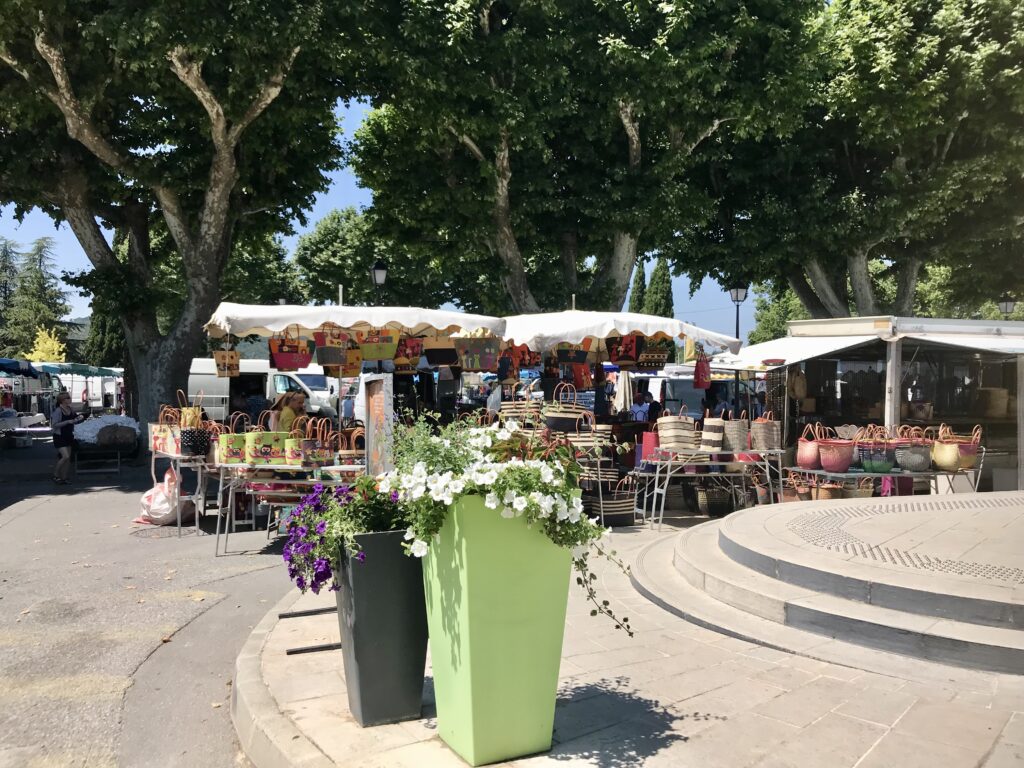 Is Vaison-la-Romaine Worth Visiting?
I adored this little town, so I think it's 100% worth visiting.
Vaison-la-Romaine is a charming town with a beautiful location in the heart of the Vaucluse region of Provence. It's dotted with historic landmarks, cypress trees, and vineyards.
Romanologists will be fascinated with the abundant Roman ruins. But Vaison will also thrill others with its maze-like medieval center, cute shops, and beautiful scenery.
Plus, the town doesn't have nearly the crowds as more well known places like Gordes or Saint-Rémy-de-Provence. What more could you want from a Provencal town?
Things To Do Near Vaison-la-Romaine
If you have more than one day in Vaison-la-Romaine, there are plenty of interesting things to do nearby.
Seguret
Seguret is a spectacular village just 6 miles from Vaison-la-Romaine. Built into a cliff face, it's officially classified as one of France's les plus beaux villages. Despite this distinction, Seguret remains relatively unknown and doesn't attract that many tourists.
The village has narrow cobbled streets lined with stone houses, giving it a unique character and charm. The main square features a 17th century bell tower and a similarly aged fountain called Fontaine des Mascarons.
If you start early, you could visit Vaison and Seguret in the same day.
Sault
Sault is another small picturesque village near Vaison. It's famous for its lavender fields, which typically bloom in late June and early July. The town also has a lavender museum.
Mont Ventoux
The Mont Ventoux is an iconic mountain peak, located just 18 miles south of Vaison. It's a popular destination for hikers, cyclists, and nature enthusiasts. At the summit, you can enjoy panoramic views and even see as far as the Mediterranean on clear days.
Orange
Orange is a historic town that dates back to Roman times that's just 18 miles away. It's known for its well-preserved Roman architecture, including the UNESCO-listed Roman Theatre of Orange and a Triumphal Arch.
In addition to its Roman heritage, Orange also has a charming old town with narrow streets and colorful buildings. The town's attractive main square, the Place de l'Horloge, is lined with cafes and restaurants.
Tourtour
Tourtour is 15 minutes from Vaison-la-Romaine The historic village is often referred to as the "village in the sky in Provence" and is also listed as one of France's les plus beaux villages.
Tourtour is renowned for its wine, especially its dry rose. It also boasts beautiful cobbled streets lined with pretty homes in pastel hues.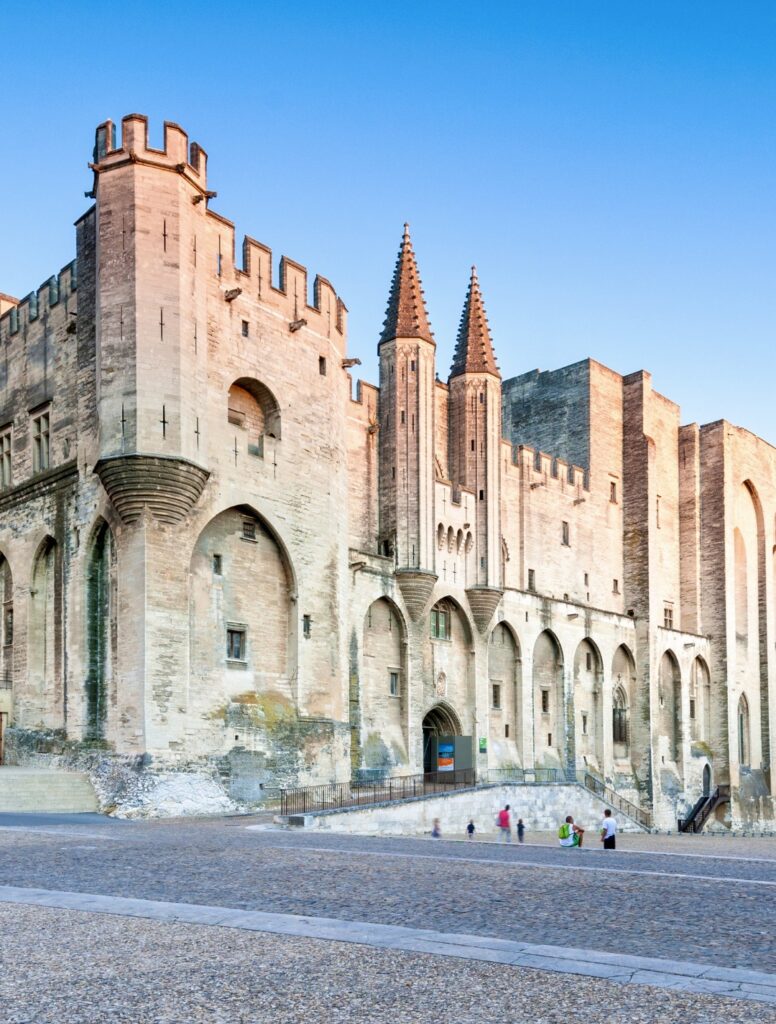 Avignon
The historic city of Avignon is about 30 miles south of Vaison-la-Romaine. It's known for it impressive medieval architecture, lively squares, and chic eateries. The city is the perfect spot to experience Provence's urban side.
Avignon was once the seat of the papacy and you can visit the UNESCO-listed Palais des Papes. For more information, you can check out my one day in Avignon itinerary.
Does Vaison-la-Romaine Make A Good Base In Provence?
Vaison-la-Romaine is a great base for exploring the northern part of Provence, including the places I mentioned above.
However, it's not as well-located for exploring the cute towns of the Luberon region that are now considered "Peter Mayle country." Though it's certainly possible to visit them on a day trip from Vaison.
I hope you've enjoyed my one day in Vaison-la-Romaine itinerary. You may enjoy these other France travel guides and resources:
If you want to spend one day in Vaison-la-Romaine, pin it for later.